If you're planning to spend one day in Reims, you're in for a real treat! This picturesque city, located in the heart of the Champagne region in France, is just a short train ride away from Paris.
Renowned for its Gothic Cathedral, rich history, and world famous champagne caves, Reims is a must visit destination for wine enthusiasts and history buffs alike. The city offers a unique, and potent, double dose of bubbles and culture.
In addition to its architectural treasures, Reims is surrounded by beautiful vineyards and rolling hills, making it an ideal destination for hiking, cycling, and wine tasting. So come along and discover all that this charming city has to offer in one perfect day.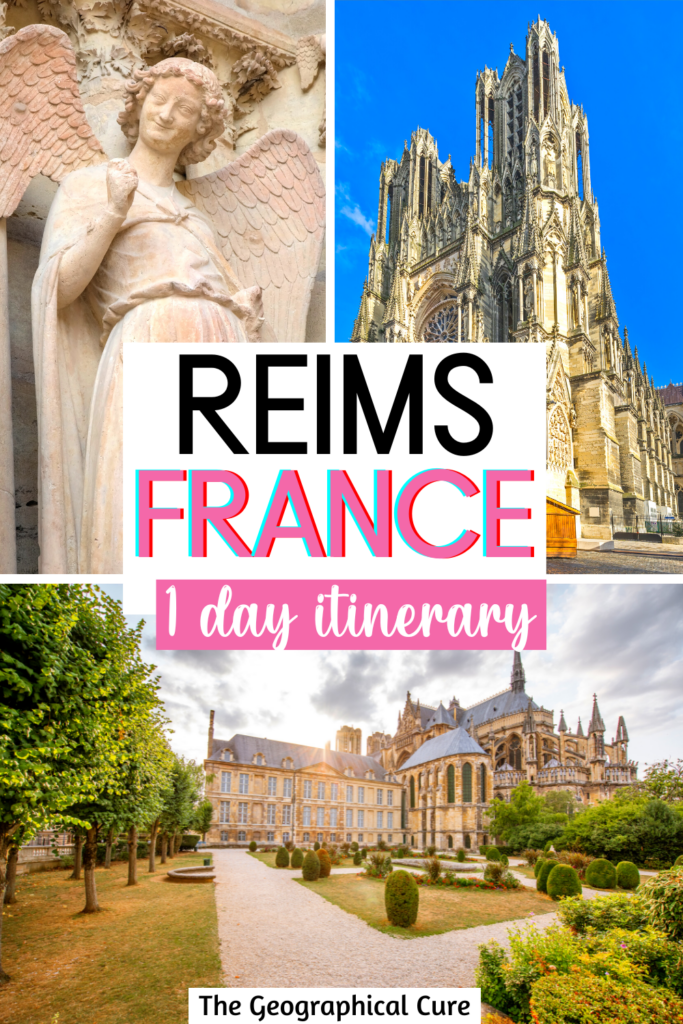 Overview Of One Day In Reims Itinerary
Here's a snapshot glance of what you'll see with one day in Reims:
Basilica of Saint-Remi
Roman Gate
Reims Cathedral
Tau Palace
Old Town
Champagne tasting
Museum of Beaux-Arts
Jardin de la Patte d'Oie
Champagne bar
If you're in a hurry, below are some of the top tours and experiences for Reims. Don't forget to plan ahead when visiting! It's especially important to pre-book tickets well in advance during high season.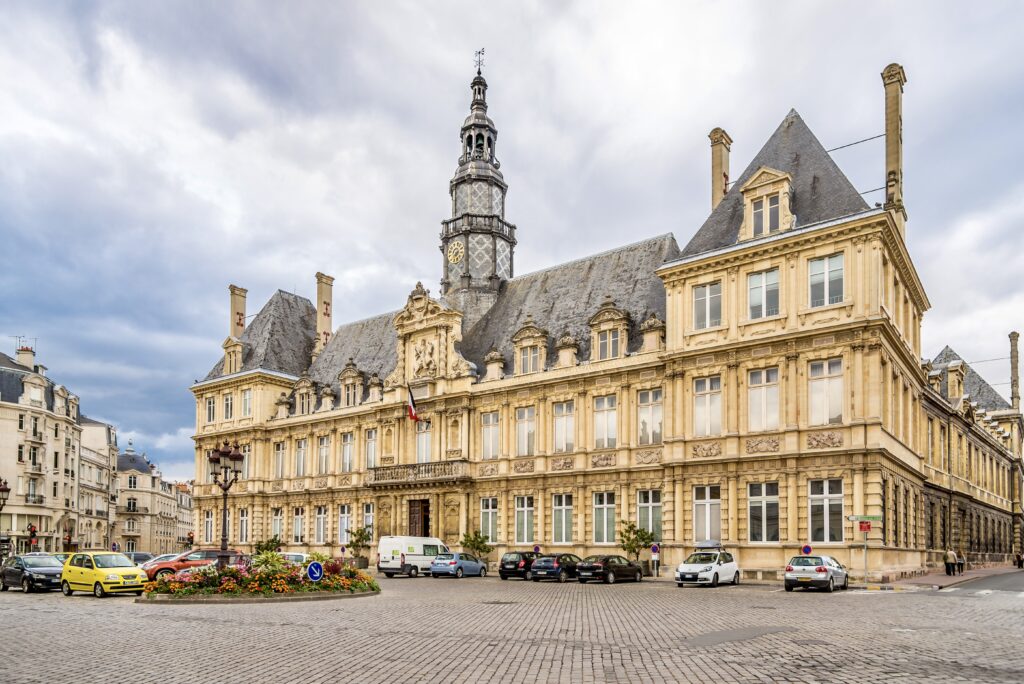 A Short History Of Reims
No one day in Reims itinerary would be complete without a short overview of the city's history.
Reims (pronounced "rance") has a long and rich history. This is where 33 French kings were crowned and where champagne first bubbled.
Reims has been inhabited since prehistoric times. The Romans conquered the area in the 1st century B.C., building a military camp there. As the Romans receded, Christianity tiptoed in.
In the 5th century, the Bishop of Reims baptized Clovis, a Frankish king who ruled from 481 to 511. Clovis converted to Christianity and established the tradition of French kings being crowned in the cathedral. Reims became known as the "Coronation City."
Coronations were a prestige event in Reims. They were celebrated with elaborate ceremonies, feasting, and festivals that took place over a week.
During these events, the city would be bustling with visitors, including nobles, clergy, and merchants from all over France and beyond.
In the Middle Ages, Reims was a major center of trade, learning, and culture with several universities and libraries. Reims Cathedral was built in 1211-17 and is now over 800 years old.
In the late 17th century, champagne came into existence, giving Reims an earthly pleasure to go along with its spiritual pleasures. Legend holds that Dom Pérignon discovered the fizzy delight after experimenting with double fermentation. He famously exclaimed, "Brothers, come quickly… I'm drinking stars!"
Reims suffered significant damage during WWI and WWIIII, particularly during the Battle of Reims in 1944. However, the city was able to rebuild in the Art Deco style and restore many of its historic buildings.
One Day In Reims Itinerary
Here's a detailed hour by hour breakdown of how to spend one day in Reims.
9:00 AM: Basilica of Saint-Remi
To kick off your one day in Reims, I recommend starting with the Basilica of Saint-Remi, a striking church that is named after Saint Remi. This saint was the Bishop of Reims who famously baptized Clovis, the first king of the Franks, way back in 496 AD.
The basilica dates back to the 11th and 12th centuries and boasts a unique blend of Romanesque and Gothic architectural styles. The exterior of the basilica is adorned with beautiful sculptures and stonework, making it a sight to behold.
As you step inside, you'll be greeted with a grand nave, transept, choir, and apse, all of which are adorned with intricate details and stunning stained glass windows.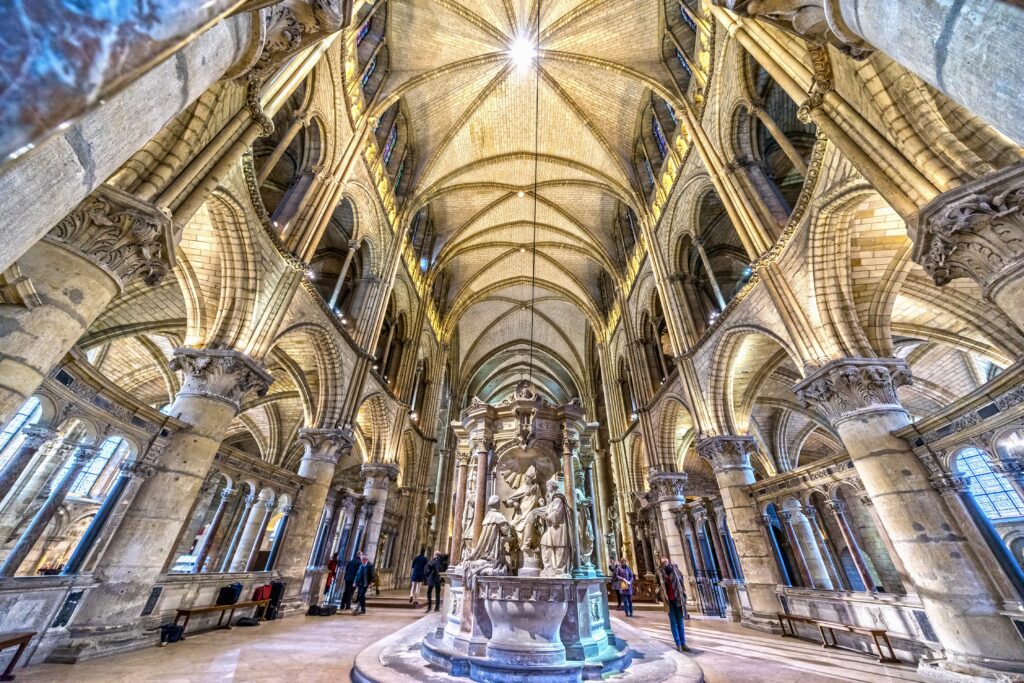 The bell tower was added in the 16th century and is equally impressive. (Unfortunately, you can't climb it.)
In side chapels, you'll find the tomb of Saint Remi and the heart of King Louis XIII. It's definitely worth taking the time to explore the interior and admire the impressive details.
9:30 AM: Porte Mars
If you are a Romanologist, walk to the Porte Mars. It's the largest remaining Roman gate in Reims, located on the north side of the city center.
It was built in the 3rd century AD and served as a monumental entrance to the city. The gate has three archways and is adorned with decorative elements such as columns, friezes, and statues.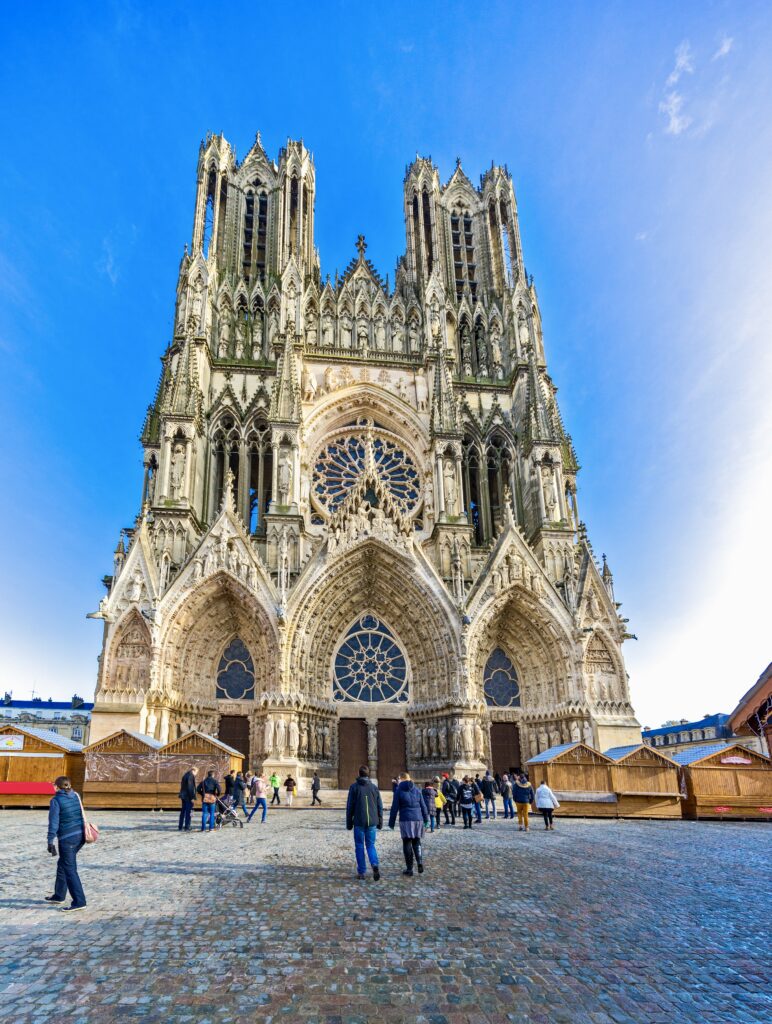 10:00 AM: Reims Cathedral
Then, visit Reim's #1 attraction, the magnificent UNESCO-listed Cathédrale Notre-Dame de Reims.
The cathedral is one of Europe's greatest cathedrals, and some experts believe it surpasses even the famous Notre Dame de Paris as France's most beautiful cathedral. This cathedral is to France what Westminster Abbey is to England.
The Gothic cathedral was completed in the 13th century. It's famous for its beautiful stained glass windows and its role in French history as the site of the coronation of many French kings.
The cathedral was built over a span of 60 years, beginning in 1211. The ornate western portal is particularly noteworthy for its beauty, unity, and harmony.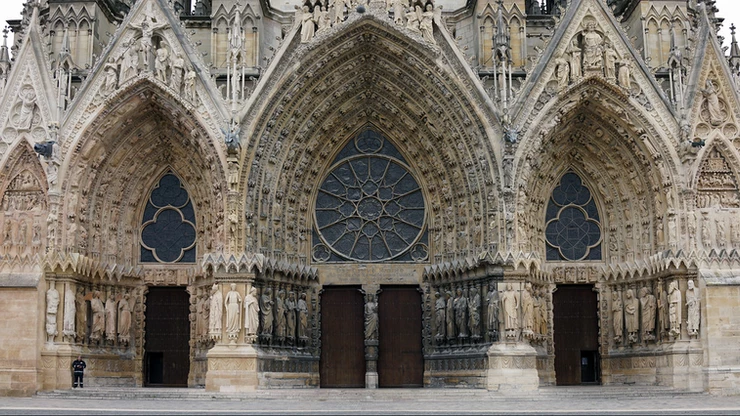 It features three main doors, each carved with a theme in limestone: the passion, the coronation of Mary, and the last judgment (from left to right).
Above the doors is the Gallery of Kings, with statues of 56 unnamed kings of France. On the sides are the massive flying buttresses that support the building.
Inside the cathedral, visitors are greeted by a towering 500 foot nave and a wall of 52 intricately carved statues. The choir and 1954 stained glass windows in the south transept, which replaced those damaged in WWI, are also worth admiring.
However, the undisputed highlight of the interior is in the apse behind the altar. There, you can marvel at the incredibly beautiful stained glass windows created by the painter Marc Chagall in 1974.
It's rare to see a modern artist working to such stunning effect in a world famous church. In 2011, six abstract windows were added, flanking the Chagall pieces.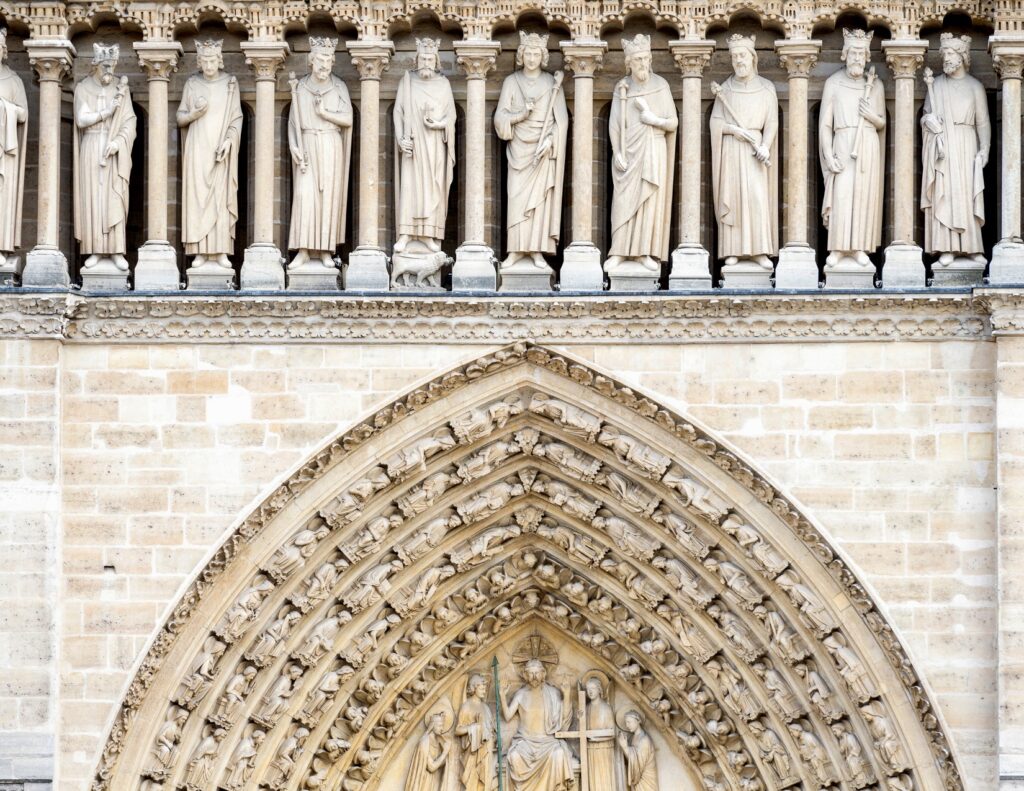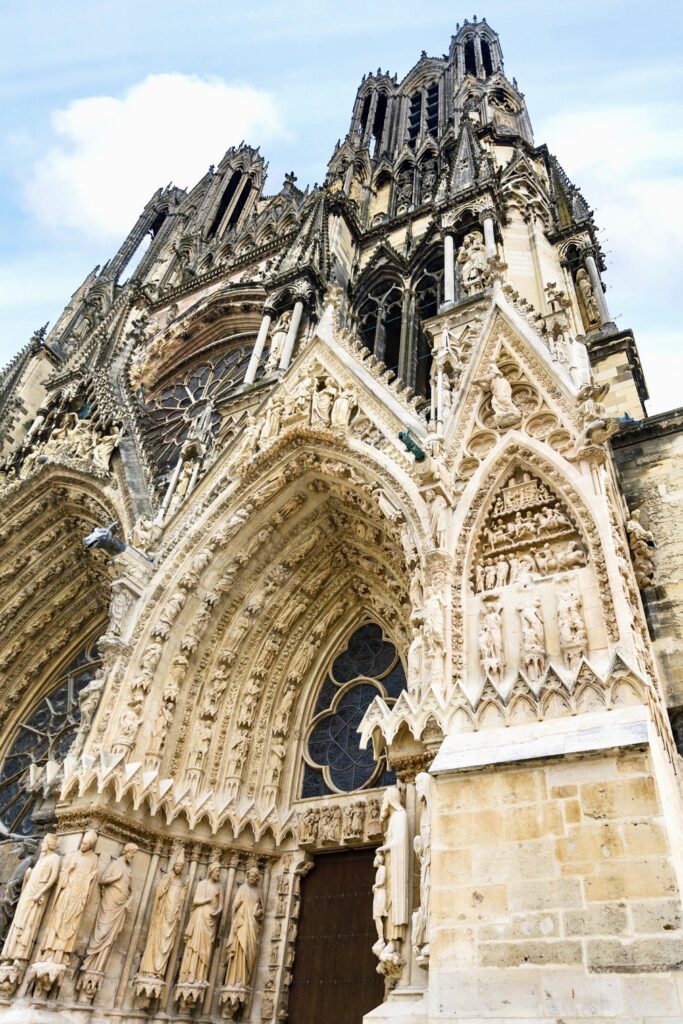 The cathedral's crypt is an underground chamber located beneath the main altar of the cathedral. It is the largest crypt in France, a maze of chapels, tombs, and passageways dating back to the 11th century.
The crypt contains the tombs of many archbishops of Reims and several members of the French royal family, including King Louis VII and his wife. The crypt also houses a museum with a collection of sculptures, paintings, and other works of art related to the cathedral.
Reims Cathedral is also notable as the location for the coronation of French kings, making it the equivalent of England's Westminster Abbey. Joan of Arc made an appearance there, crowning Charles VII in 1429.
Although damaged during WWI, the cathedral's structure survived, with only the roof destroyed. It was completely rebuilt in the 1920s, using heat-resistant concrete in place of timber, resulting in a successful renovation that closely adhered to the original design.
The cathedral is open daily 7:30 am to 6:15 pm. Entry is free. You can rent a tablet video guide.
To visit the tower and crypt, however, you'll have to cough up 10 euros. You access the tower from the cathedral exterior.
It's 249 steps to the top up a narrow spiral staircase. Unfortuantely, there's not elevator.
To get the complete scoop, you can also book a guided tour of the cathedral. On most summer evenings, there is a free 25 minute sound and light show beginning at dark.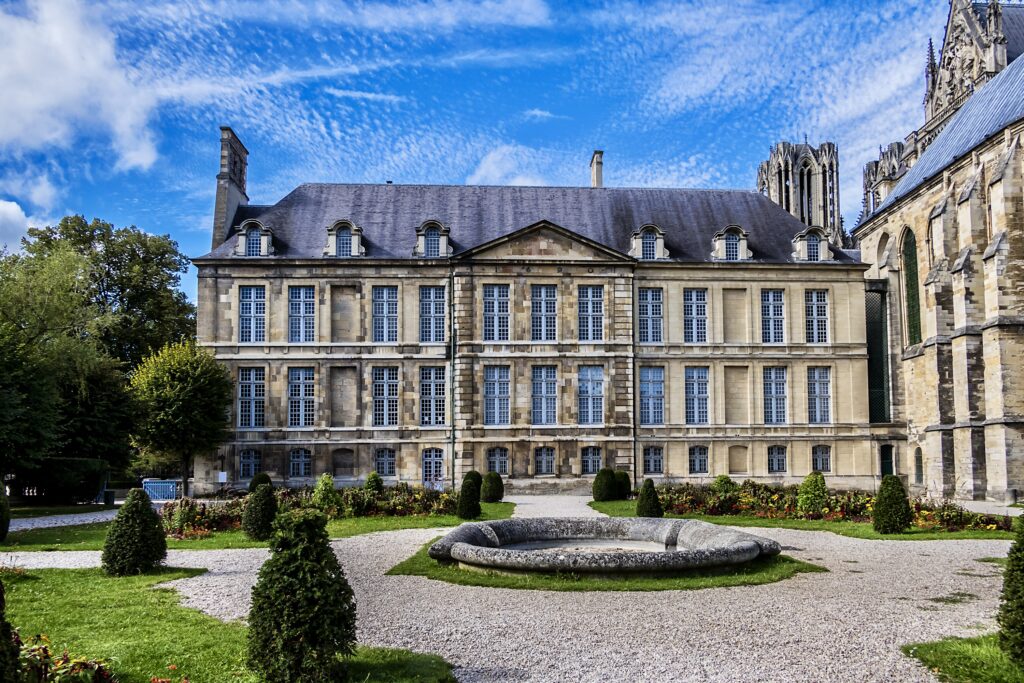 11:30 AM: Palace of Tau
After admiring the beauty of the cathedral, make your way to the nearby Palais du Tau. It's another UNESCO site in Reims and a superb complement to visiting the cathedral.
Constructed in the 17th century, this building served as the residence of the archbishops of Reims and was once a venue for hosting coronation banquets for French kings.
Today, it houses a museum. The collection is divided into three parts: the royal chapel, the treasury, and the cathedral museum section.
You'll find bjects related to the coronation of French kings, such as royal crowns, scepters, and orbs. Among the most noteworthy exhibits is the coronation robe worn by Charles X in 1825.
In addition, you can marvel at the museum's collection of medieval statues from the cathedral, including the famed Smiling Angel statue that was originally part of the cathedral's west facade.
The museum also boasts an impressive collection of tapestries, liturgical objects, chalices, ciboria, and reliquaries.
Visiting the museum provides a unique opportunity to delve into the history of the French monarchy and the significance of the cathedral in French history. It also offers a chance to witness some of the most cherished treasures in the cathedral's collection.
1:00 PM: Lunch & Old Town
Take a break for lunch and head to the Place Drouet d'Erlon, a lively pedestrian street-like square. It's Reim's petit Champs-Élysées.
You'll find some some impressive 19th century buildings. The square's centerpiece is a fountain crowned by a gold-winged statue of Victory.
5 minutes away is the Place du Forum. It's flanked by some lovely 13th to 15th century buildings.
The Hôtel Le Vergeur is a rare remnant of the medieval city. The square is also home to several cafes, restaurants, and shops. I had a delicious lunch at Le Jardin.
>>> Click here to book a 3 hour walking tour of Reims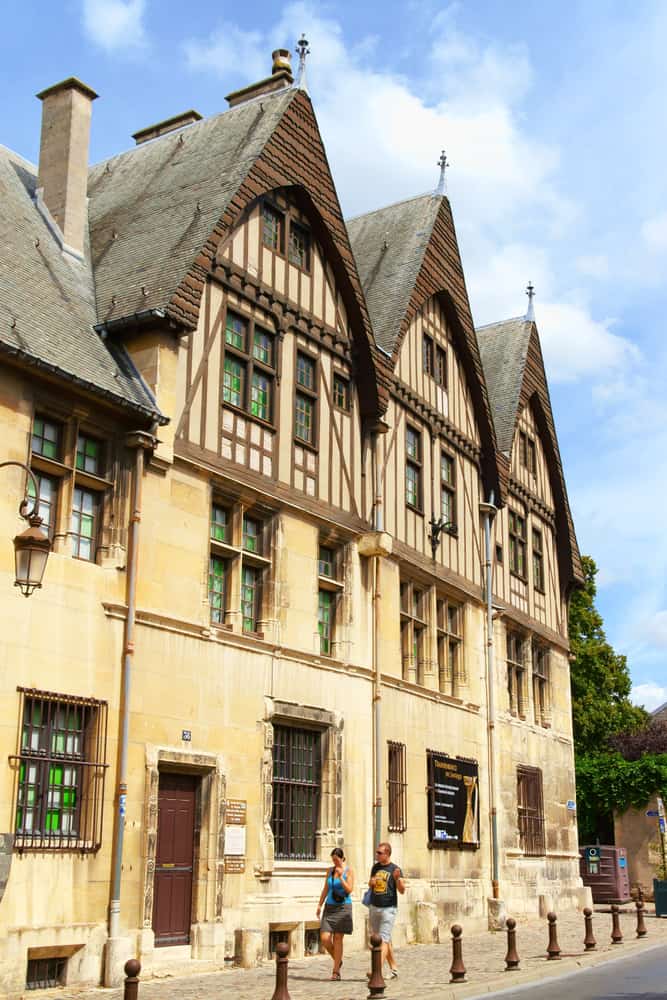 Another beautiful square is Place Royale. It was designed in 1760 in the Neo-Classical style. You'll see balustrades on the roofs, arcades, and cast-iron lanterns.
The square was built in honor of King Louis XV. A statue of him dressed as a Roman Emperor stands at the center.
The original monument to the King was sculpted by the celebrated Jean-Baptiste Pigalle, but was (like so much else) destroyed in the Revolution. The current statue at the center of Place Royale was created in 1818 by Pierre Cartellier.
2:30 PM: Champagne Tasting
Of course, no one day in Reims itinerary is complete with visiting one of the famous champagne caves and tasting something fizzy.
There are over 20 champagne houses in Reims. Some of the most famous ones include Veuve Clicquot, Taittinger, Pommery, Mumm, and Ruinart.
They usually close at 5:00 pm, so this is a good point to visit in your one day in Reims itinerary. You'll also need to make a reservation in advance.
I had a wonderful experience at Veuve Clicquot. On a tour, you will immerse yourself in the history and production of Champagne, from its origins to modern-day practices.
The highlight of the tour is exploring the ancient white chalk caves and the cellars where Champagne is stored and aged. You'll be amazed to see rows of bottles stacked high, waiting to mature and develop their unique flavors.
The Veuve Clicquot tour concludes with a tasting of their signature Champagne, where you can savor its delicate bubbles and rich flavor notes. And for those who can't resist taking a piece of the experience home, you can stock up on Champagne from their gift shop.
If you're looking for another great Champagne house to visit in Reims, consider Taittinger. Their guided tours of the cellars are also a must-try, where you'll have the opportunity to taste their signature blends.
>>> Click here to book this small group champagne tasting tour
4:30 PM: Musee des Beaux-Arts de Reims
After lunch, head to the Musée des Beaux-Arts de Reims, a museum with an impressive collection of art from the 16th to the 21st century.
The collection is particularly strong in 17th and 18th century French art, including works by artists such as Nicolas Poussin, Charles Le Brun, and Jean-Baptiste Chardin.
There is also an extensive collection of 19th century French paintings, including works by Gustave Courbet, Claude Monet, Auguste Renoir, and Edgar Degas. There are also 27 works by the 19th century landscape artist Camille Corot, which is the world's second largest collection.
The museum also has a significant collection of medieval art, including religious objects, illuminated manuscripts, and sculptures.
In addition to the permanent collection, the museum also hosts temporary exhibitions throughout the year.
You can also enjoy the tranquil setting of the museum's gardens, which were designed in the 18th century and feature ornate fountains, statues, and lush greenery.
5:30 PM: Jardin
If you'd like to unwind after your museum visit, take a stroll through the Jardin de la Patte d'Oie. It's a beautiful public garden with fountains, statues, and plenty of greenery to enjoy.
7:00 PM: Evening
Kick off you're evening with — what else? — cocktails at one of Reim's champagne bars. If you couldn't get into a champagne house, this is the next best thing. And you can just walk right in.
Le Clos is a cute and colorful buzzy bar. You can also get champagne tasting flights at Tresors de Champagne – La Boutique.
End your one day in Reims with a dinner at Le Millenaire, a French restaurant located in the heart of the city. The restaurant offers a creative and delicious menu.
Another good option is L'Epicerie au Bon Manger. The restaurants serves up modern French cuisine and is known for its inventive dishes made from fresh, locally-sourced ingredients.
Reims is known for its delicious local cuisine. So look for specialties like jambon de Reims (ham), biscuit rose de Reims (pink biscuit), and andouillette de Troyes (sausage).
If you're up for a show, the Opéra de Reims is a beautiful historic venue that hosts classical music concerts, operas, and ballets throughout the year.
Tips For A One Day in Reims Itinerary
Here are some must know tips for planning your one day in Reims.
How To Get To Reims
Reims is easily accessible by train from major cities in France, including Paris, Lyon, Lille, and Strasbourg, as well as from other European cities like Brussels and London.
If you are traveling from Paris, the easiest way to get to Reims is to take a high-speed train (TGV) from Paris Est station, which takes around 45 minutes to 1 hour. There are frequent departures throughout the day.
Reims train station is located in the city center, making it easy to reach your hotel or start your one day in Reims itinerary. As you exit, taxis are to your left.
If you are driving to Reims, throw your car one of Reim's public parking lots: Parking Erlon and Parking Cathédrale. There is metered parking on the street, but it's limited.
You can also visits Reims on a guided champagne tour from Paris or on an 11 hour guided tour from Paris that includes a cathedral visit.
If you fly into Paris, you can also book a private transfer straight to Reims from Charles de Gaulle Airport. You can also book a private transfer from your hotel in Paris.
How To Get Around Reims
You can walk everywhere you need to go in Reims. And much of the city center is pedestrianized. But there's also a public tram with three lines and several bus lines.
If you prefer a more eco-friendly and healthy way to get around the city, you can rent a bike from the city's bike-sharing system, called "VéloCité".
Where To Stay In Reims
Les Crayères is a 5 star hotel is set in a grand mansion surrounded by gardens. It's known for its Michelin-starred restaurant and elegant rooms.
Hotel de la Paix is a grand hotel located in the heart of Reims and features opulent rooms, a Michelin-starred restaurant, and a spa with a sauna and hammam.
L'Assiette Champenoise is an elegant hotel just outside of Reims. It offers spacious rooms, a renowned restaurant, and a beautiful garden.
If you'd like to stay in the countryside, I loved the Château de Fère Hotel. It's about 28 miles from Reims. It's a beautiful luxury hotel with a spa, gourmet restaurants, and outdoor pool.
The best thing? The hotel overlooks the ruins of an ancient fortress built by the Counts of Fere in the 11th century. The ruins are lit up at night and there's even a viewing nook where you can sip champagne and admire them.
When To Visit Reims?
Reims is a year round destination, with peak tourist season running from June to August. The city is at its best in the spring or fall when the crowds and temperatures ebb.
If you're a wine lover, then visiting Reims during the wine harvest season (late August to early October) is a great time to go. You can experience the grape harvest, see the winemaking process in action, and participate in wine tastings.
Like many cities in France, Reims is known for its magical Christmas markets, which take place from late November to early January. The city comes alive with festive lights, decorations, and holiday cheer.
Is Reims Worth Visiting?
Reims is definitely worth a visit! While it's perhaps not as quaint as other towns in France, it has two big things going for it — champagne and its work-of-art cathedral.
Is One Day Enough In Reims?
You can see Reim's top attractions in one day, either as a day trip from Paris or as a stop en route to or from Paris.
More Than One Day in Reims?
If you have more than one day in Reims, there are plenty of other things to do and places to visit nearby.
Historians in your group may want to visit the Museum of Surrender. The museum is housed in the former headquarters of Allied Commander General Eisenhower. It's where the Germans signed an unconditional surrender.
The museum has an extensive collection of WWII artifacts. When you enter, there's a 10 minute introductory video. The Signing Room is a real highlight, and is covered floor to ceiling with maps.
Epernay is just 19 miles south of Reims. It's officially known as the "capital of Champagne." It's also home to many famous Champagne houses along the Avenue de Champagne.
The town has a cute center, with beautiful Art Nouveau architecture. You can also visit the Musee du Vin and the Gothic Elise Notre-Dame.
Château-Thierry is a picturesque town about 30 miles from Reims. It's known for its hilltop castle and historic fortifications, as well as its connections to American writer and expatriate, Ernest Hemingway.
Laon is 50 miles from Reims. It's a terrifically authentic fortified hilltop town with a rich history dating back to Roman times. It is known for its stunning Gothic cathedral, which features elaborate sculptures and stained glass windows.
I hope you've enjoyed my one day in Reims itinerary. You may enjoy these other France travel guides and resources:
If you'd like to spend one day in Reims, pin it for later.