Avignon is a charming city in southeastern France that exudes history and culture. Its impressive architecture, lively squares, and chic eateries make it the perfect spot to experience Provence's urban side. To help you make the most of your visit, I've put together a one day in Avignon itinerary.
Once the seat of the papacy, Avignon boasts a rich cultural heritage and a number of must see attractions, including the UNESCO-listed Pope's Palace and some charming small museums and churches.
Whether you're interested in history, art, or just soaking up the local atmosphere, Avignon has something to offer everyone. In this itinerary, you'll discover the top attractions and best things to do and see in Avignon in just one day.
Overview Of One Day in Avignon Itinerary
Here's a snapshot glance of what you can see with a one day in Avignon itinerary:
Pope's Palace
Pont d'Avignon
Church of St. Pierre
Les Halles
Old Town
Musee de Petit Palais
Jardin des Doms
Avignon Cathedral
Musee Angladon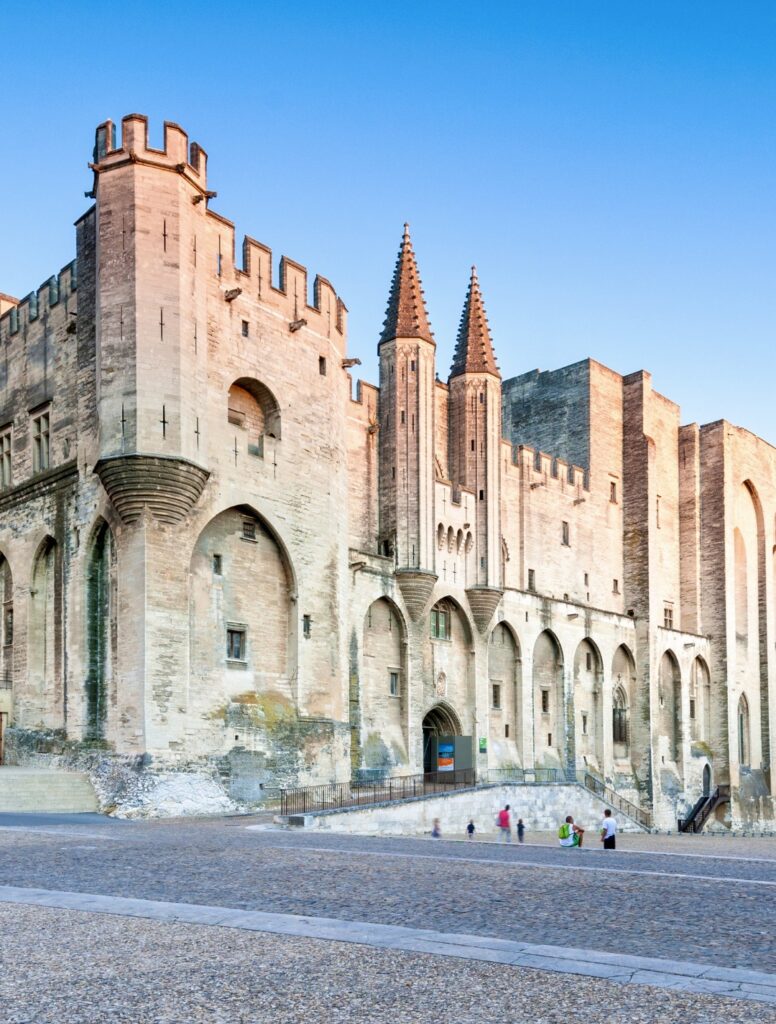 One Day in Avignon Itinerary
Here's my recommended itinerary for spending one day in Avignon. You can tweak it by adding or subtracting sites to suit your own pace of travel. To see it all with a local, you might want to book this 4 hour guided tour.
Pope's Palace
Start your one day in Avignon at its most iconic attraction, the Palais des Papes.
I advise getting a skip the line ticket in high season and visiting at 9:00 am when it opens. It's a vast complex, so you will likely want to dedicate a couple hours to it.
The Pope's Palace is the largest Gothic palace in Europe and one of the most impressive historical landmarks in France. It's the 10th most visited site in the country.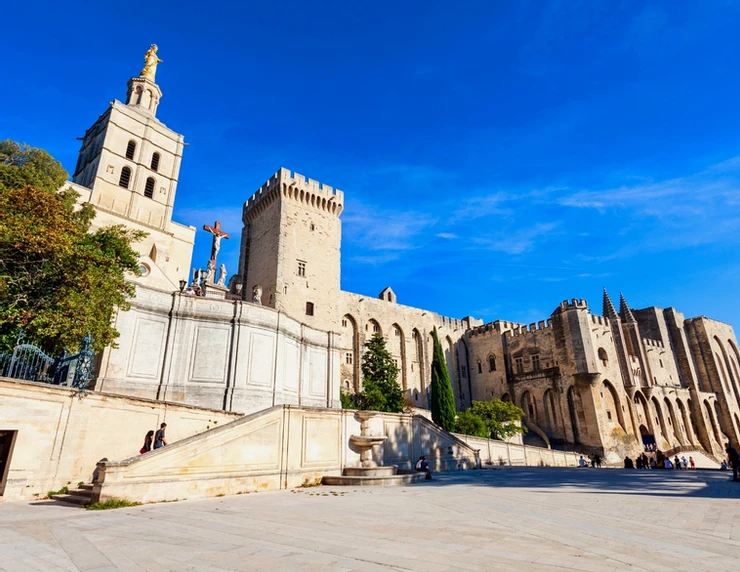 History of the Pope's Palace
Did you know that, for a time in history, the popes didn't reside in Vatican City? Instead, from 1309 to 1377, they lived in Avignon. That period is known as the "Avignon Papacy."
In the early 14th century, Rome was in a state of chaos and unrest, with various factions vying for control.
For his own safety, Pope Clement V moved to Avignon in 1309. To protect themselves from enemies and entertain in style, the Avignon popes built a mighty Gothic fortress.
However, the move led to a schism between France and Italy. This era was rife with drama akin to an HBO mini-series, with dual popes, infighting, and even poisonings.
Finally, upon Rome's pleading, an elderly and more pliable Gregory XI moved "home" in 1377, ending the Avignon Papacy.
However, Gregory's death in 1378 and the breakdown in relations between his successor, Urban VI, and the cardinals resulted in the "Western Schism." This gave rise to a second line of popes in Avignon, known as antipopes. The schism ended for good in 1417.
What To See At The Pope's Palace
The palace is an impressive example of Gothic architecture, featuring towering walls, fortified towers, soaring banquet halls, and vaulted chapels. It spans an area of over 160,000 square feet, making it the top dog in Europe.
The facade is grandiose and imposing. The central section features three tiers of large windows with arches and tracery work.
The roof is crenellated, emphasizing the palace's defensive and medieval character. The most striking feature is the pair of Gothic turrets adorned with intricate carvings.
The palace is divided into two parts: the old palace (built by Pope Benedict XII) and the new palace (added by Pope Clement VI). The old palace is simpler in design, while the new palace is more ornate and includes luxurious living quarters for the pope.
There are plenty of incredible rooms and spaces to explore in the palace. Among the most impressive are:
Grande Audience Hall (the Pope's Audience Chamber)
Grand Tinel (the Pope's banquet hall)
Consistory (the council chamber)
Chapels of St. Martial and St. Jean
Pope's Apartment (beautiful frescos)
As you wander through the palace, you'll see a range of restored frescoes depicting biblical scenes, portraits, allegories, and decorative motifs. There's even a forest scene with a dragon and unicorn.
Other things to see include a replica of the papal throne in the Hall of Conclaves and portraits of all nine Avignon popes in the Notary Room.
The palace also houses a treasury room that contains an impressive collection of religious artifacts and works of art. It offers visitors a fascinating look at the rich history of the palace.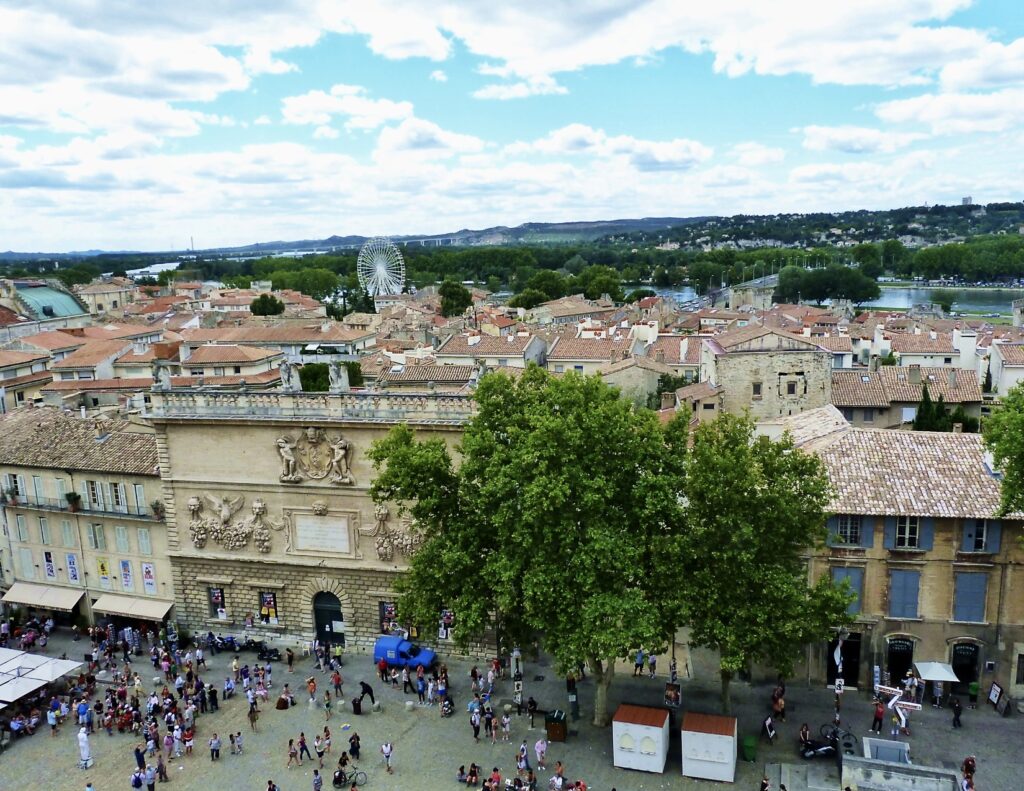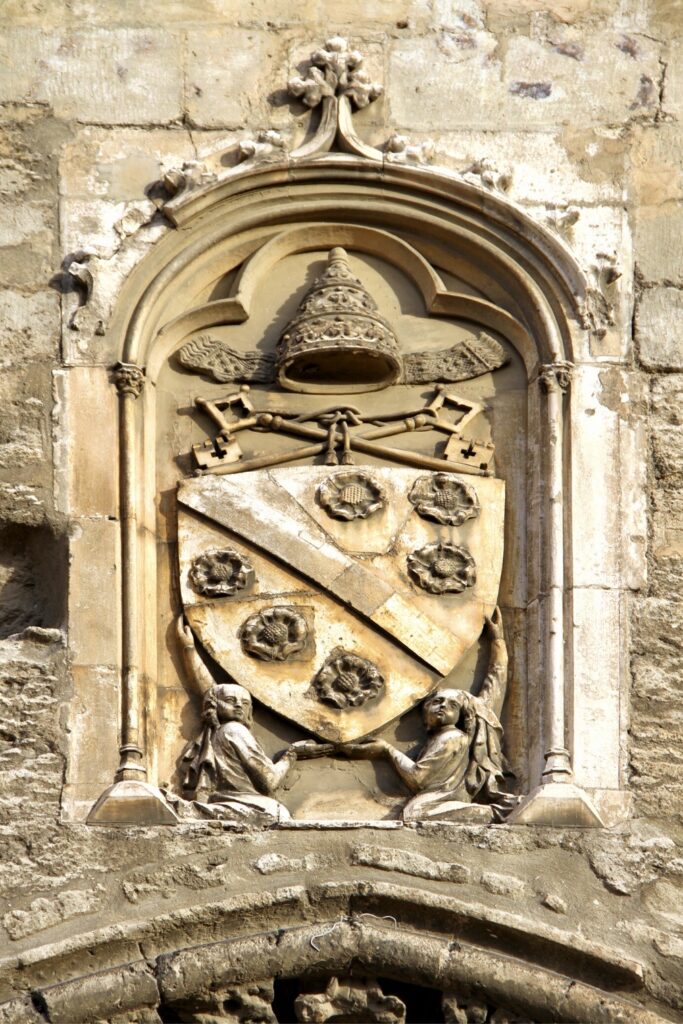 For those who want to take in the stunning views of the surrounding area, you can climb the crenellated Pope's Tower, which stands at an impressive height of 155 feet.
The palace also has a lovely large courtyard, called the Cour d'Honneur, which was used for public events and ceremonies. The courtyard is surrounded by the palace's towering walls and features a central fountain and ornate decorations.
Admission to the palace is € 12. I recommend taking a guided tour to learn about the fascinating history of the palace and its former residents. But there's also a histopad included in the ticket price that is super useful.
The tablet provides an interactive, multimedia experience of the palace's history and architecture. It allows visitors to see how the palace looked in the past, making history come to life.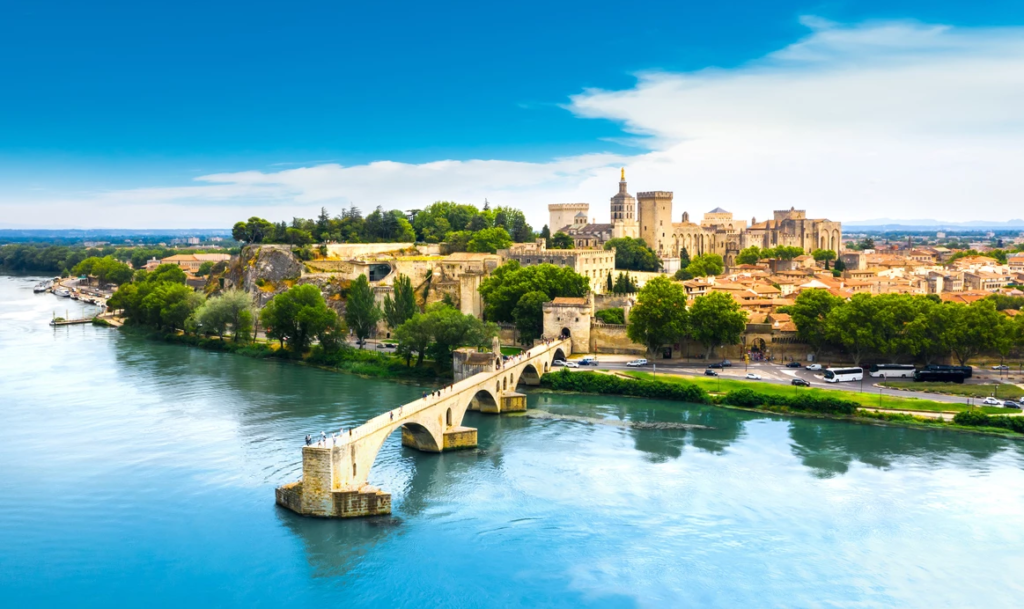 Pont d'Avignon
When you're done at the palace, take a walk to the nearby Pont d'Avignon. The famous bridge is the inspiration behind the popular children's song and is also recognized as a UNESCO World Heritage site.
Construction of the bridge began in 1177. In medieval times, it served as a crucial pilgrimage route for travelers journeying from Italy to Spain.
However, in 1226, the bridge was destroyed by Louis VIII of France during his siege of Avignon. Despite this setback, the citizens of Avignon rebuilt the bridge.
Unfortunately, over time, several of the arches were damaged and swept away due to the frequent flooding of the Rhone River. Today, only four arches and a tower remain as a testament to the bridge's former glory.
You can book a combined ticket for the palace and the bridge. Otherwise, entry to the bridge is 5 euros.
St. Pierre Church
Near the bridge, you'll find the small Church of St. Pierre. It's an ancient church dating back to the 7th century. The church has undergone many revisions, including the 14th century addition of a Flamboyant Gothic facade and Gothic nave.
Inside, there are some beautiful stained glass windows, but otherwise it's rather undistinguished.
In the afternoon of you're one day in Avignon itinerary, head to the Place de l'Horloge, the central square in Avignon, for lunch. There are many cafes and restaurants to choose from, serving traditional French cuisine as well as international dishes.
Another good place to eat, about 10 minutes from the square, is L'Epicerie. It's an unpretentious place decorated like a French grocery store.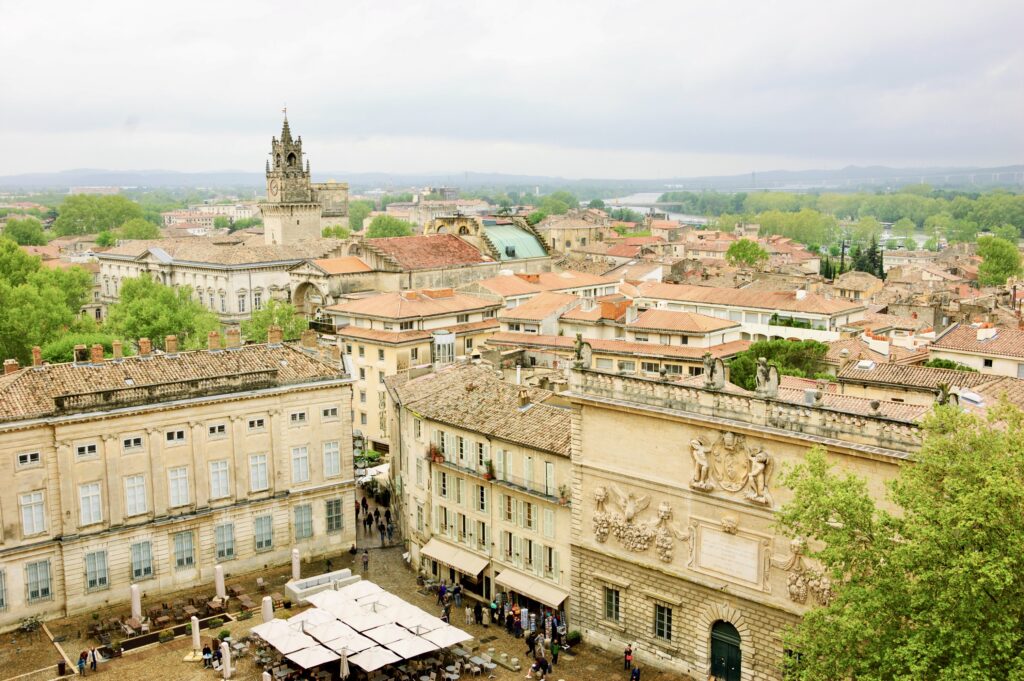 Les Halles d'Avignon
Perhaps the best lunch option is Les Halles d'Avignon, the city's vibrant covered market. With a vertical garden on the exterior, you can't miss it.
The market offers a cornucopia of locally-sourced produce, meats, cheeses, pastries, and flowers.
With numerous vendors selling everything from fresh sandwiches to seafood, you're sure to find something to your liking. Take a seat at the bar, order a glass of wine, and enjoy a tasty lunch while immersing yourself in the local culture.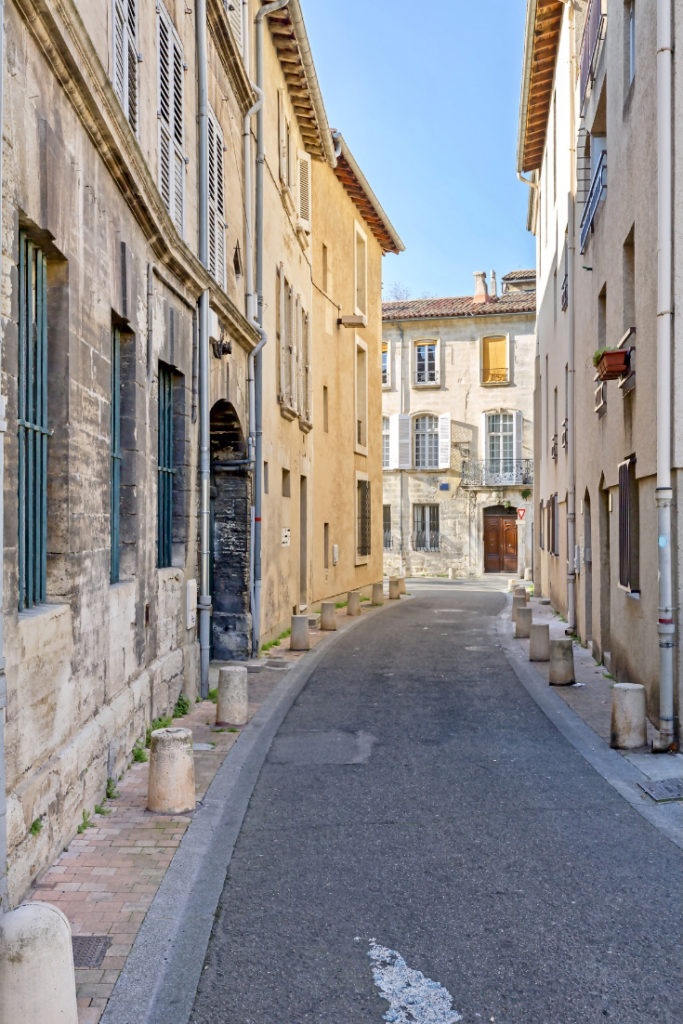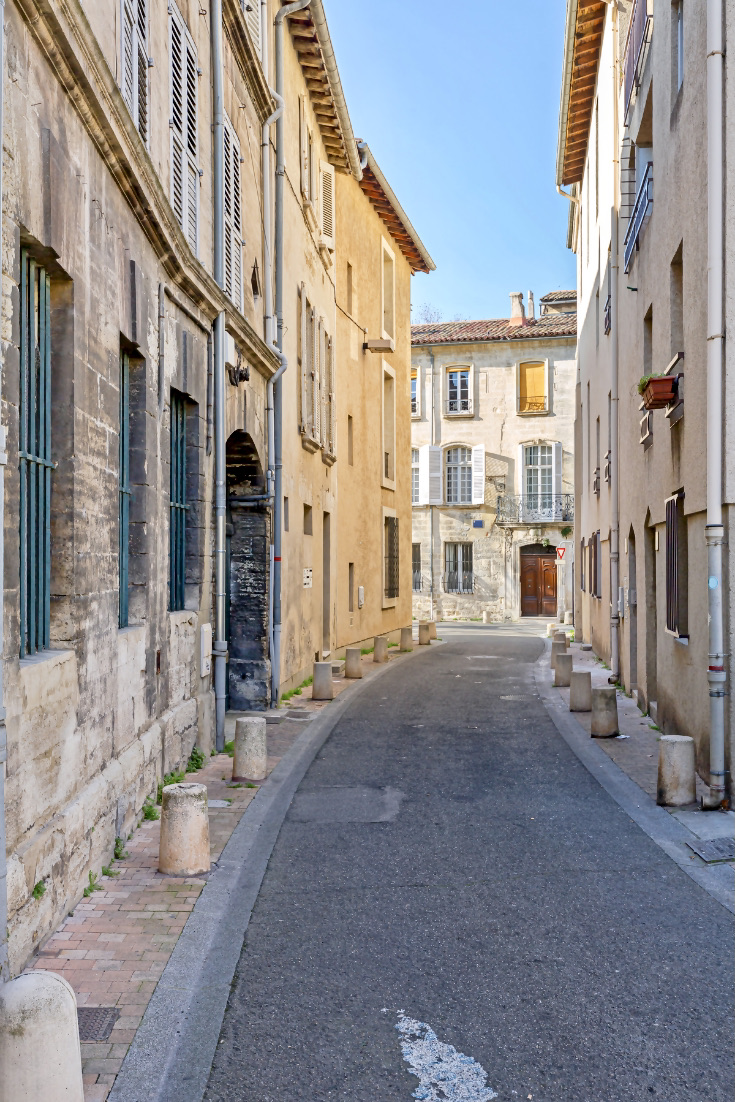 Old Town Stroll
After lunch, take a stroll through Avignon's old town, also known as the "intra-muros" or "walled city." It's a charming and picturesque neighborhood filled with narrow streets, historic buildings, and quaint squares.
Colorful buildings line the streets in shades of pink, yellow, and orange. The streets are also lined with small cafes, boutiques, and galleries.
There are several streets in the old town that are particularly quaint and charming.
Rue des Teinturiers is a narrow street that runs alongside a picturesque canal. This street is known for its lively atmosphere, with outdoor cafes and bars lining its banks.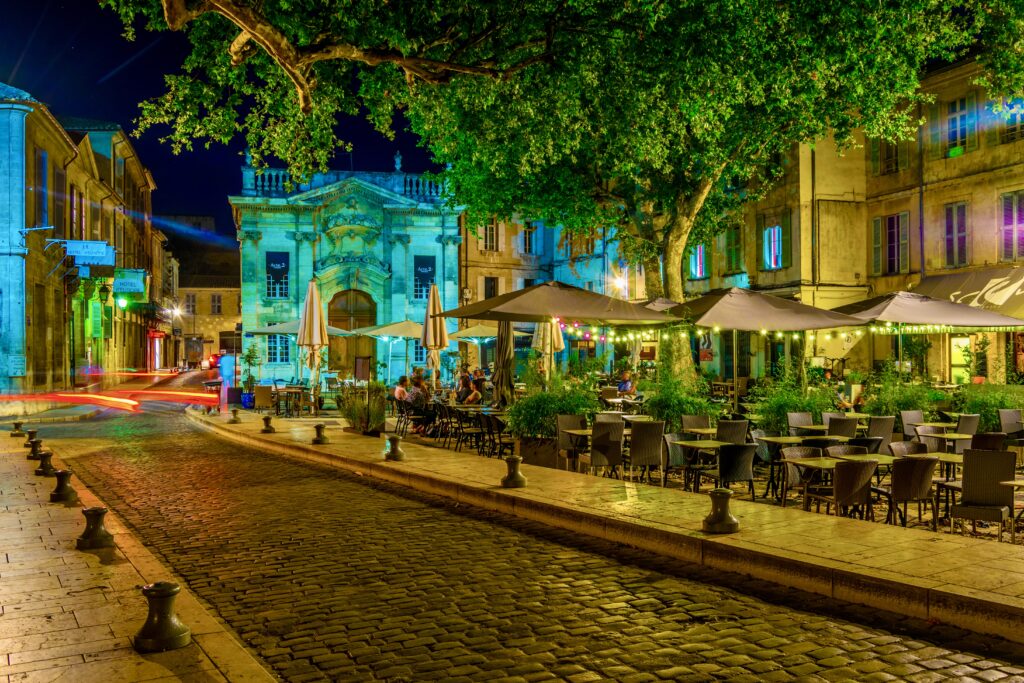 Place Crillon is a charming square located in the heart of the old town. It is surrounded by historic buildings and features a beautiful fountain in its center.
This square is a popular spot for locals and tourists alike, and it is a great place to sit and people watch while enjoying a coffee or a glass of wine.
Finally, another charming street is Rue Joseph Vernet, which is home to several art galleries and shops. The street is named after a famous 18th century painter who was born in Avignon. It has a lovely ambiance that makes it perfect for an afternoon stroll.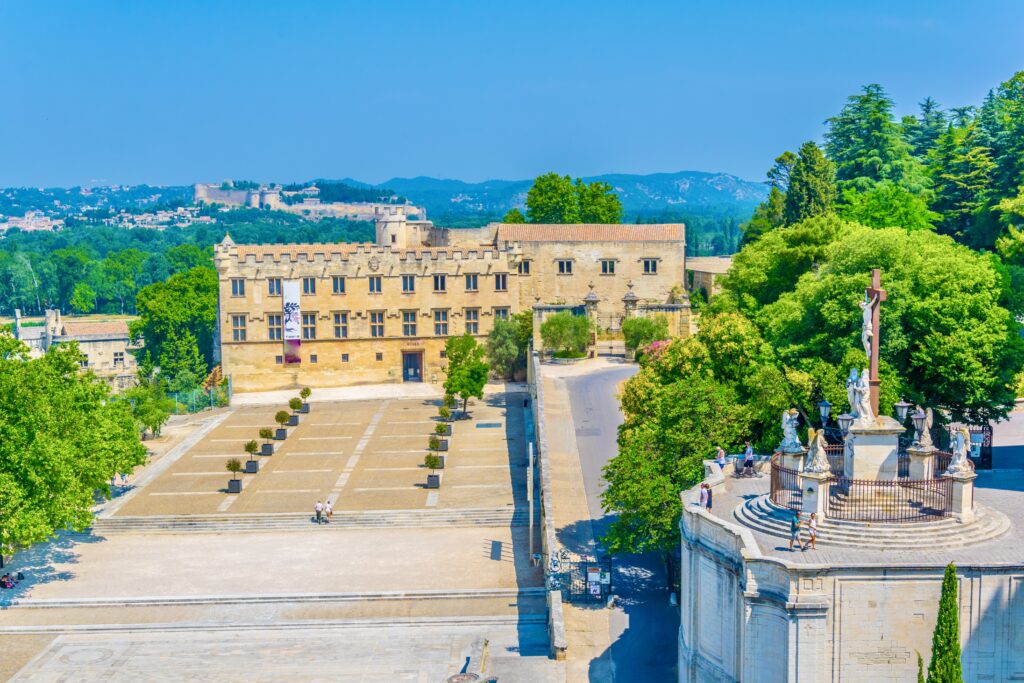 Musée du Petit Palais
If you're an art enthusiast, the Musée du Petit Palais should be the next destination on your one day in Avignon itinerary. This stunning small art museum is housed in a gorgeous 14th century building that was once a bishop's palace.
The museum boasts an especially good collection of medieval and early Renaissance artworks. Plus, admission is completely free!
The museum houses works by the Italian artists Bellini, Simone Martini, Carpaccio, and Botticelli. In addition to paintings and sculptures, the museum also houses medieval sculptures and decorative arts, including ceramics, glassware, and furniture.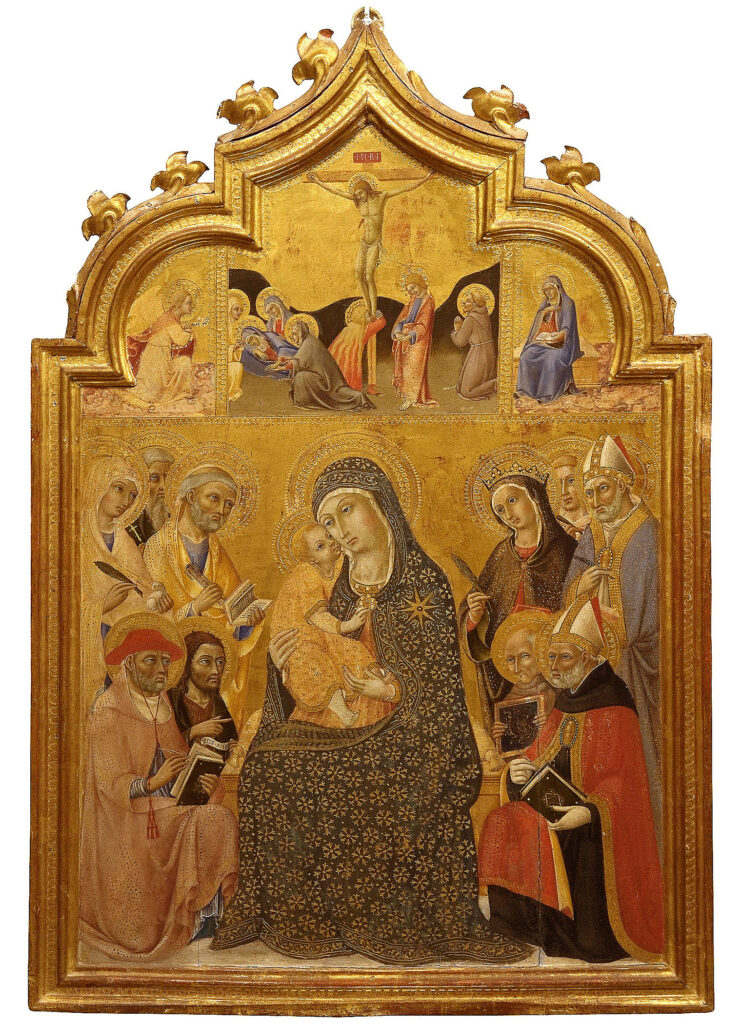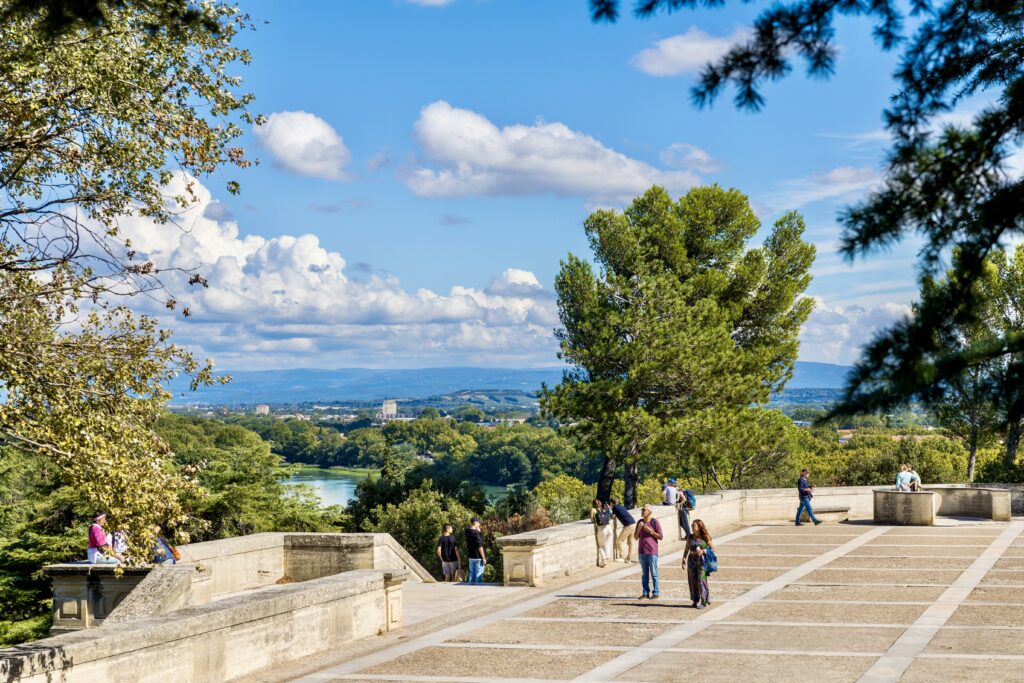 Jardin des Domes
After your museum visit, take a short stroll to the Jardin des Doms. This lovely garden was created in the 18th century on the site of a former medieval fortress.
Covering over 11 acres, it's divided into several terraces connected by staircases and paths. The garden is full of Mediterranean vegetation, including olive trees, cypresses, and palm trees, which create a peaceful and relaxing atmosphere.
One of the highlights of the garden is the belvedere. It's a viewing terrace that offers panoramic views of the city, the Rhone River and the surrounding countryside. Additionally, there's a small cafe where you can enjoy a drink or a snack while taking in the stunning views.
Avignon Cathedral
Avignon Cathedral, also known as the Cathedral of Notre-Dame des Doms, is a beautiful Romanesque and Gothic-style cathedral located in the heart of the city.
The cathedral was built in the 12th century and has undergone several renovations and additions over time. The interior of the cathedral is adorned with breathtaking frescoes, stunning stained glass windows, and beautiful works of art.
However, the most remarkable feature of the cathedral is its beautiful bell tower, which stands at a height of 230 feet and can be seen from almost anywhere in the city. A 4.5 ton gold statue of Mary sits atop the tower.
You can climb the bell tower for a spectacular view of the city and surrounding countryside. Although the climb is a tad challenging, the panoramic views from the top are definitely worth the effort.
Musee Angladon
If you have any time left in your one day in Avignon, head to the Musee Angladon. It's a small museum situated in a beautiful 18th century mansion that houses an impressive collection of fine art and antiques.
The museum is named after Jacques Doucet's wife, Paulette Angladon-Dubrujeaud. She bequeathed her husband's collection to the city of Avignon.
The collection features works by renowned artists such as Van Gogh, Cézanne, Picasso, Degas, and Modigliani, as well as antique furniture and other decorative arts. One of the collection highlights is Van Gogh's Wagons de Chemin de Fer.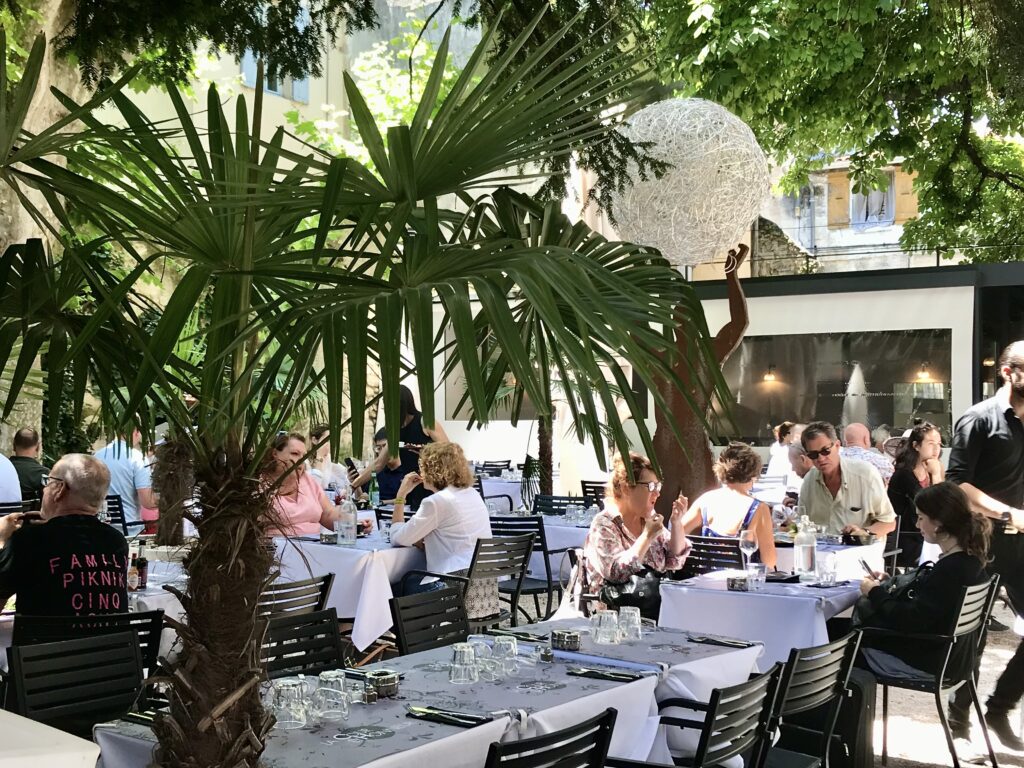 Polish off your one day in Avignon with some delicious Provencal cuisine such as bouillabaisse (fish stew), langoustines (shellfish), pissaladière (savory tart), or ratatouille (vegetable dish).
There's a wealth of both trendy and historic eateries in Avignon. I mention a few below that are fantastic. But you'll definitely need to reserve in advance.
Restaurant Sevin is near the Pope's palace and has locally sourced seasonal fresh food and a beautiful terrace.
Avenio is a one star Michelin restaurant offering up imaginative French and Mediterranean food. L'Agape gives you a modern twist on French classics and boasts a chic industrial decor.
After dinner, you might take a leisurely stroll through the city to enjoy the lively ambiance and the beautiful illuminated monuments.
Alternatively, you could attend an evening performance. The Opéra Grand Avignon is a prominent venue for classical opera, theater, and dance performances.
The gorgeous Neo-Classical facade has grand entrance, flanked by large columns and topped with a triangular pediment adorned with sculptures of famous composers like Mozart and Beethoven.
The interior of the Opera House is just as stunning, with a large and ornate foyer adorned with chandeliers and elaborate decorations. The main auditorium has plush red velvet seating, intricate moldings, and a large stage.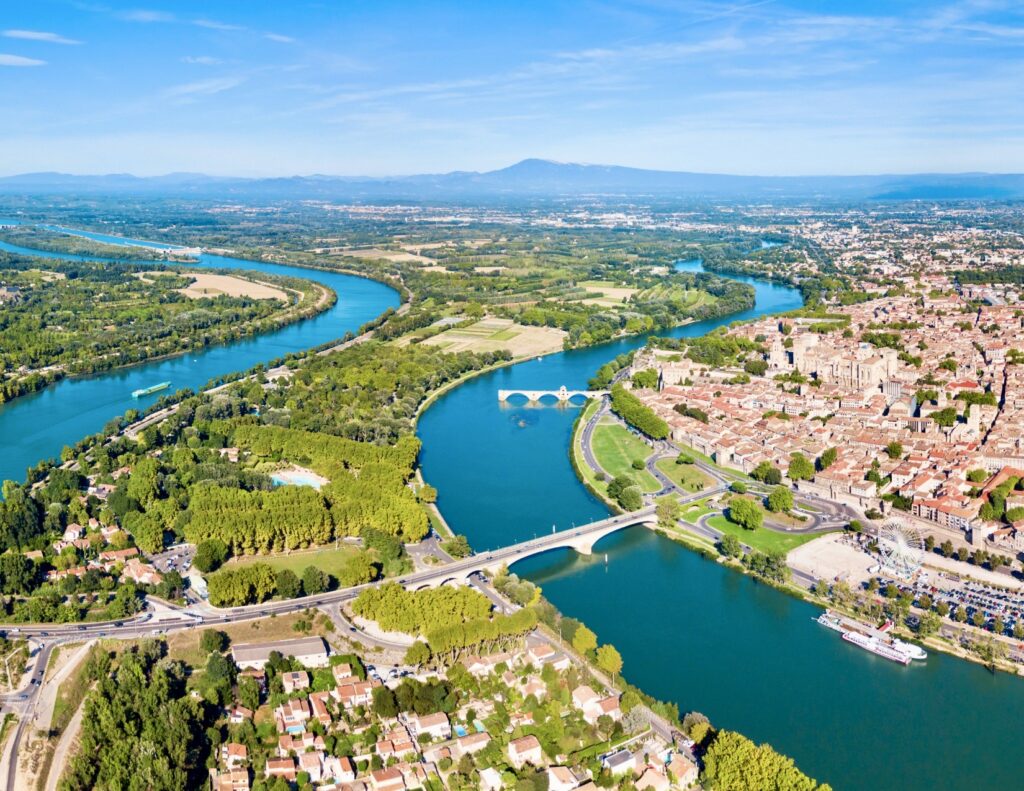 Tips For A One Day In Avignon Itinerary
Here are some must know tips for spending 1 day in Avignon.
1. How To Get To Avignon
By Car:
If you are driving to Avignon, be forewarned that parking in the city is a nightmare! It's easiest to head straight to the parking garage near the Pope's Palace, called the Parking Palais des Papes.
By Train:
Avignon has a major train station called Avignon Centre (Gare d'Avignon Centre). It's well connected to other major cities in France and neighboring countries.
There are several high-speed trains (TGV) that run daily from Paris to Avignon, with a travel time of around 2:40. Other major cities connected to Avignon by train include Lyon, Marseille, and Nice.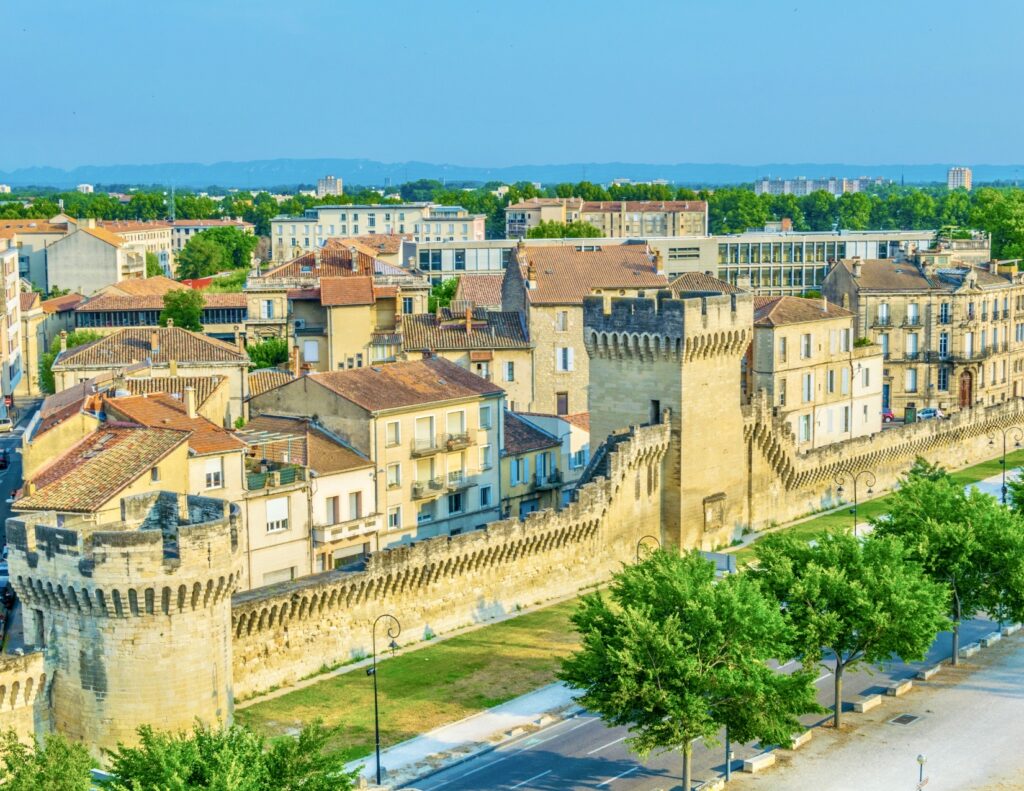 By Plane:
Avignon can be reached by plane via the Avignon-Provence Airport (AVN), which is located about 5 miles from the city center. Alternatively, travelers can fly into the Marseille Provence Airport (MRS), which is about an hour's drive from Avignon.
You can book a private transfer from Avignon Airport or a transfer from Marseille Airport.
2. How To Get Around Avignon
Avignon's old town is compact and easily walkable, so you can explore most of the attractions on foot.
However, if you prefer to use public transportation, you can use buses, the bike-sharing system called Vélopop, or taxis. Taxis are at designated taxi stands throughout the city.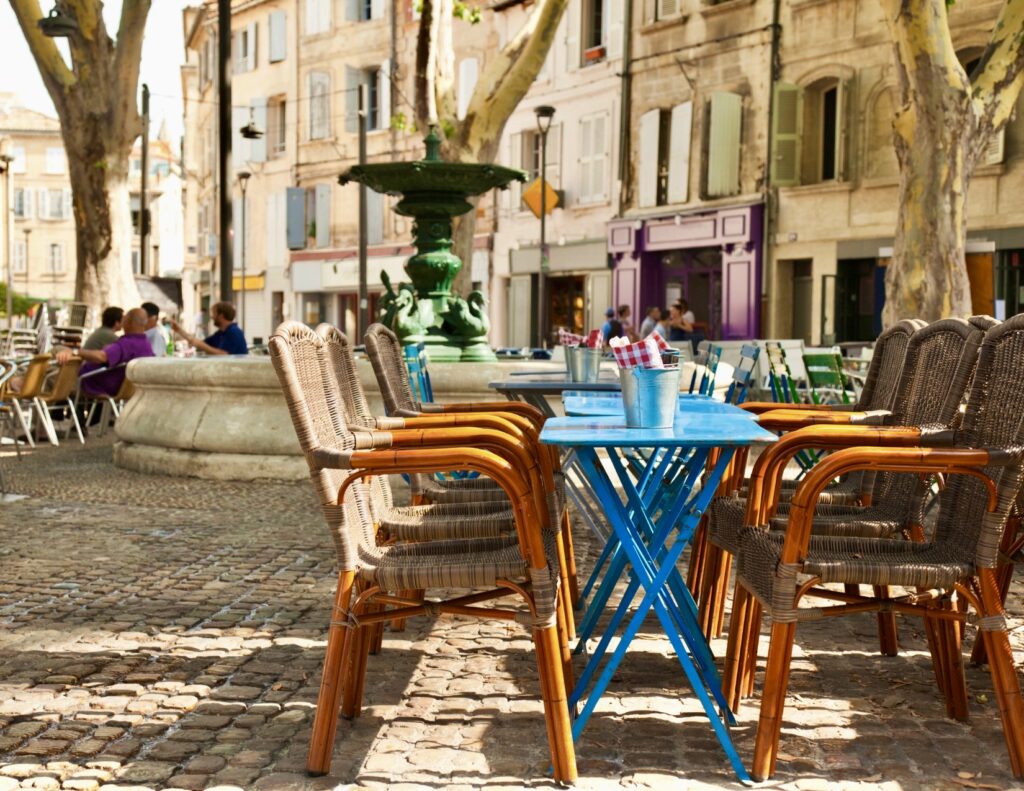 3. Where To Stay in Avignon
Avignon has some nice nests to lay your head.
One of the top-rated options is the Hotel d'Europe, located in a 16th century building in the heart of the city. This elegant hotel features a Michelin-starred restaurant, a spa, and luxurious rooms and suites decorated in a traditional French style.
Another popular choice is the La Mirande. It's a 5 star hotel housed in a fully restored 14th century mansion that was once a cardinal's palace. There's a Michelin-starred restaurant, a a beautiful garden, and opulent rooms and suites.
For a more modern experience, the Hotel Le Cloitre Saint Louis offers sleek and stylish accommodations in a converted 16th century building. The Hotel de l'Horloge is housed in a former 19th century townhouse and features a pool and a fitness center.
4. When To Visit Avignon
Like most places in southern France, Avignon is at its best in spring and fall when the weather is mild. Summer is hot and will be crowded.
But you may want to visit then to attend the Festival d'Avignon. It's one of the most important performing arts festivals in France, and it takes place every year in July.
The festival typically runs for about three weeks. It features a wide range of theater, dance, music, and other performances, as well as exhibitions and other cultural events.
5. Is Avignon Worth Visiting?
It's worth spending one day in Avignon just to see the Pope's Palace! Plus, Avignon has a nice old town tailor made for strolling and some excellent restaurants.
But, I will admit, the city is primarily known for its historic attractions, rather than its quaintness. If you are prioritizing the charming tiny villages in Provence or don't have that much time on your itinerary, you might skip Avignon in favor of other destinations.
6. Is One Day In Avignon Enough?
One day in Avignon will give you a taste of the city's charm and history. It's certainly not enough time to explore everything the city has to offer. But one day is enough to see the top attractions.
7. More Than One Day In Avignon?
If you have extra time and like cities, Avignon makes an ideal base for exploring the region's charming towns and famous attractions.
From Avignon, you can easily take day trips to Arles, St. Remy, Nimes, Aix-en-Provence, Isle-sur-la-Sorgue, or the Luberon villages.
If you don't have a car or would like to book guided day trips from Avignon, you can check out these great options:
I hope you've enjoyed my one day in Avignon itinerary. You may find these other France travel guides useful:
If you want to spend one day in Avignon, pin it for later.