One of Europe's most picturesque towns, Salzburg offers a beguiling blend of history and charm.
This Austrian gem boasts an unbeatable and well-preserved old town, Baroque churches, museums, and a medieval fortress overlooking the city.
With over 8 million visitors annually, Salzburg is an undeniably popular destination. But despite the ever-present crowds, Salzburg's charm is simply irresistible.
For music fans, Salzburg is where the boy genius Mozart honed his musical talents and composed his early works. Visitors can explore two of his former residences.
Salzburg is also renowned for its association with the beloved film The Sound of Music (though locals don't share the sentiment). Nevertheless, the movie's legacy thrives, contributing to a unique form of tourism.
In this 2 days in Salzburg itinerary, I take you though Salzburg's top attractions and give you tips for visiting.
2 Days In Salzburg Itinerary At A Glance
Here's a quick snapshot of what you can see with 2 days in Salzburg:
Day 1: Old Town, Getreidegasse, Mozart's birthplace, Salzburg Cathedral, Hohensalzburg
Day 2: Hellbrunn Palace, Mirabell Palace & Gardens, St. Peter's Abbey, Salzburg museums, St. Gilgen or Mondsee
I recommend getting the Salzburg City Card. for your visit. This card is available for 1, 2, or 3 days and offers fantastic benefits, including skip-the-line access to attractions and complimentary use of public transportation, including the funicular ride to the fortress. It's an easy and cost-effective option for 2 days in Salzburg.
There are also several excellent tours and experiences available that you might want to consider. Be sure to make your tour reservations well in advance, especially during the busy high season to secure your spot!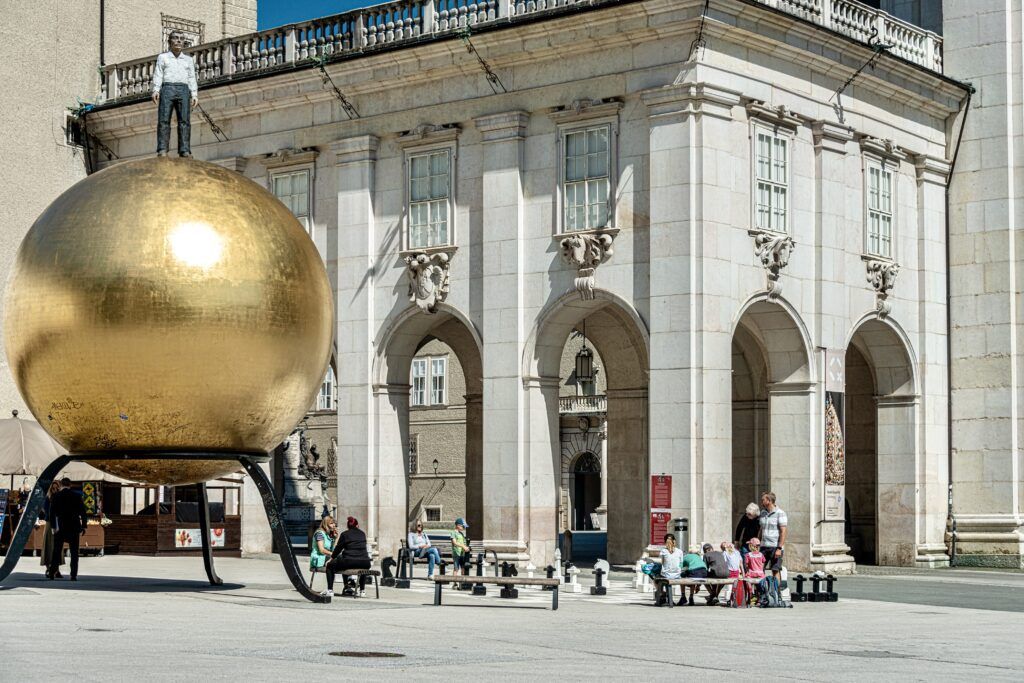 2 Days In Salzburg Itinerary
Day 1: Salzburg Old Town & Hohensalzburg Fortress
Breakfast
Grab some breakfast and coffee at Cafe Bazar. It's a centuries old institution that's a classic Vienna coffee house. Think chandeliers, wood paneling, and crystal chandeliers.
Then explore the Salzburg's Old Town (Altstadt). Visit landmarks like Mozart's Birthplace, the Salzburg Cathedral, and the main drag Getreidegasse.
Old Town Stroll
Take your time wandering through the historic streets, admiring the architecture, and maybe doing some shopping.
One route to take is strolling from Residenzplatz to Domplatz to Kapitelplatz. Along the way, you'll see Salzburg's beautiful Baroque building and the famous golden Sphere sculpture.
Some cute streets you won't want to miss are Getreidegasse, Goldgasse, Judengasse, and Pfeifergasse.
And if you want to see Mozart's statue, check out Mozartplatz. I have to say, it wasn't terribly impressive. It's rather small and Mozart is shown holding a pencil — something that didn't exit then.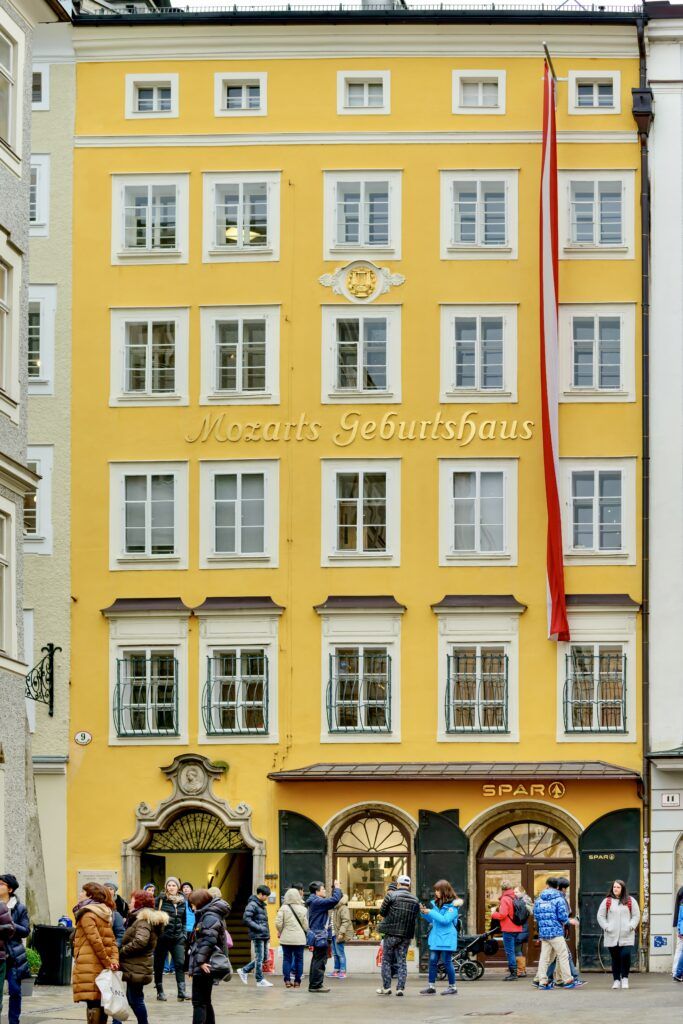 Mozart's Birthplace
Mozart fans will want to make a pilgrimage to his Birthplace Museum. You can't miss it. It's inside the bright yellow building on Getreidegass.
Inside, you can learn about Mozart's early life and his family. There's a significant collection of memorabilia and artifacts. You'll see family portraits, instruments, and even a lock of Mozart's hair.
Salzburg Cathedral
Salzburg Cathedral, commonly known as "Salzburger Dom," is an iconic landmark in the city. You can see its spires from almost any spot.
The cathedral dates back to the 8th century, when the original church was constructed on this site. However, the current Baroque structure was built in the 17th century following a fire that damaged the earlier building.
With its twin spires, elegant dome, and detailed ornamentation, the cathedral is a wonderful example of Baroque architecture.
The Baroque and Rococo interior boasts marble columns, ornate chapels, and vibrant frescoes depicting religious scenes. The ceiling is unique, infusing the space with color and life.
You can admire the grand organ and see the font where Mozart was baptized.
>>> Click here to book the mid-day organ concert at the cathedral
Lunch
Enjoy a leisurely lunch at a traditional Austrian restaurant in the Old Town. Or grab a sausage from a wurstlstand or one of the ridiculously large pretzels.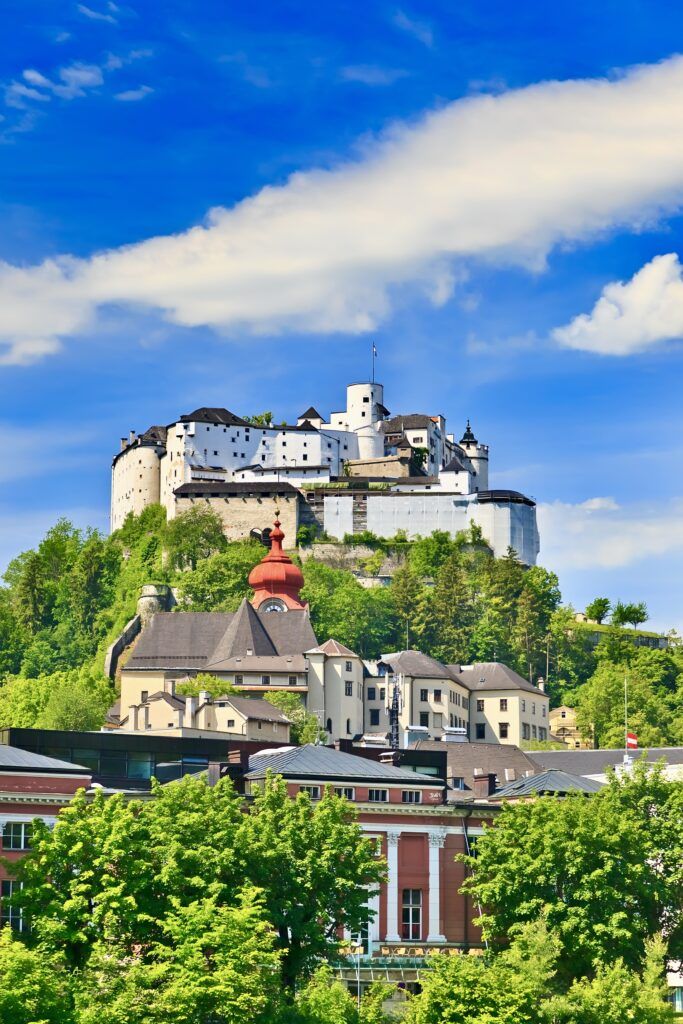 Hohensalzburg Fortress
After lunch, visit Hohensalzburg, one of Salzburg's most iconic landmarks. Take the funicular or walk up for breathtaking panoramic views of the city.
Hohensalzburg is the largest and best preserved medieval fortress in Europe.
You can explore the fortress itself, including the museums, courtyards, and historical exhibits. Unfortunately, most of the original furnishings were nicked by Napoleon.
It could definitely take up 2-3 hours of your time. Here's what you can see at the fortress:
Staterooms: Hohensalzburg was the residence of the prince archbishops. The interiors are lavishly decorated and you'll want to see the Golden Hall and the Golden Chamber, where receptions were held.
Fortress Museum: This is a museum of medieval art. You'll find weapons, armor, instruments of torture, and everyday objects.
Marionette Museum: This museum displays historical puppets. There are interactive displays where you can try your hand at operating a marionette. It's a nice complement to attending a performance at the Marionette Theater.
Liebesgrotte: The "Love Grotto" is tucked away within the fortress walls. A plaque reads: "One kiss inside the love grotto, and your love will be everlasting."
Who can resist that? Inside, you'll find a statue of Cupid, the Roman god of love.
>>> Click here to pre-book a fortress ticket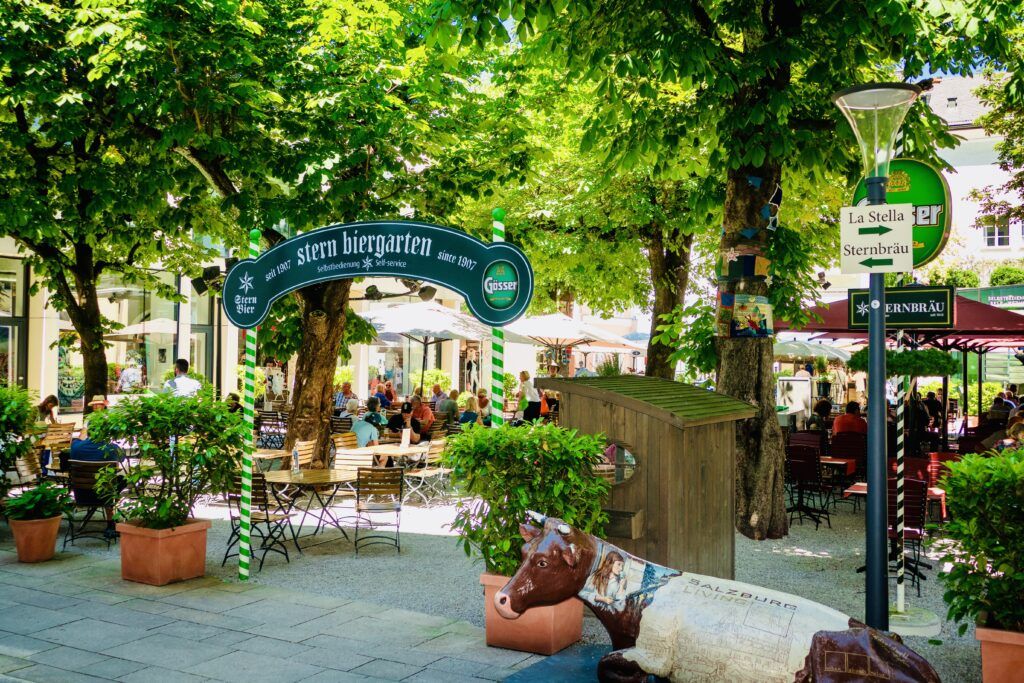 Evening
After descending from the fortress, relax at one of the city's beer gardens or grab dinner at a gasthaus or heuriger like Sum Wilden Mann or Zum Fidelen Affen. These are German style taverns or inns where you sit with the locals and sample beer and schnitzel.
If you want a cocktail with views, I recommend the rooftop terrace lounge at the Stein Hotel.
After (or before) dinner, consider attending a classical music concert in one of Salzburg's historic venues. You will find concerts a the Mirabell Palace, Salzburg Cathedral, St. Peter's, and more.
Breakfast at Heart Of Joy
If you want something besides classic Austrian food, start your day at Heart of Joy.
This is a great vegetarian cafe serving porridge, omelettes, and fruit. Plus, you'll get your melange (Austrian coffee with milk and foam) with a pretty decoration to boot.
Hellbrunn Palace
Once fueled up, start your day with a visit to Hellbrunn Palace. It opens at 9:30 am. You can explore the beautiful palace grounds, including the famous trick fountains and the charming gazebo.
Hellbrunn was built as a summer house and hunting lodge for Prince-Archbishop Marcus Sittikus in the early 17th century. It's worth going inside to see the Italian murals in the banqueting hall and the music room in the octagonal pavilion.
But the palace's real highlight is the beautiful trick fountains. They were designed to surprise, entertain, and "trick" the guests.
The trick fountains are a marvel of engineering. They operate through a complex system of concealed mechanisms and interconnected pipes.
The best thing is that the fountains are unpredictable. You never quite know when you'll suddenly be splashed by a surprise spray of water, just as Sittikus' guests were. Be careful of your camera!
Within the palace grounds, you'll also discover charming grottos and a gazebo. The gazebo, in particular, holds special significance as a filming location for two iconic scenes in The Sound of Music.
It's the enchanting backdrop where Liesl and Rolf sing and dance to the tune of "Sixteen Going on Seventeen." It was also the setting for the romantic duet between Captain von Trapp and Maria, performing the heartfelt song "Something Good."
>>> Click here to book a boat cruise and tour of the palace
Lunch
Enjoy lunch at a cafe near Hellbrunn Palace or return to the Old Town for lunch.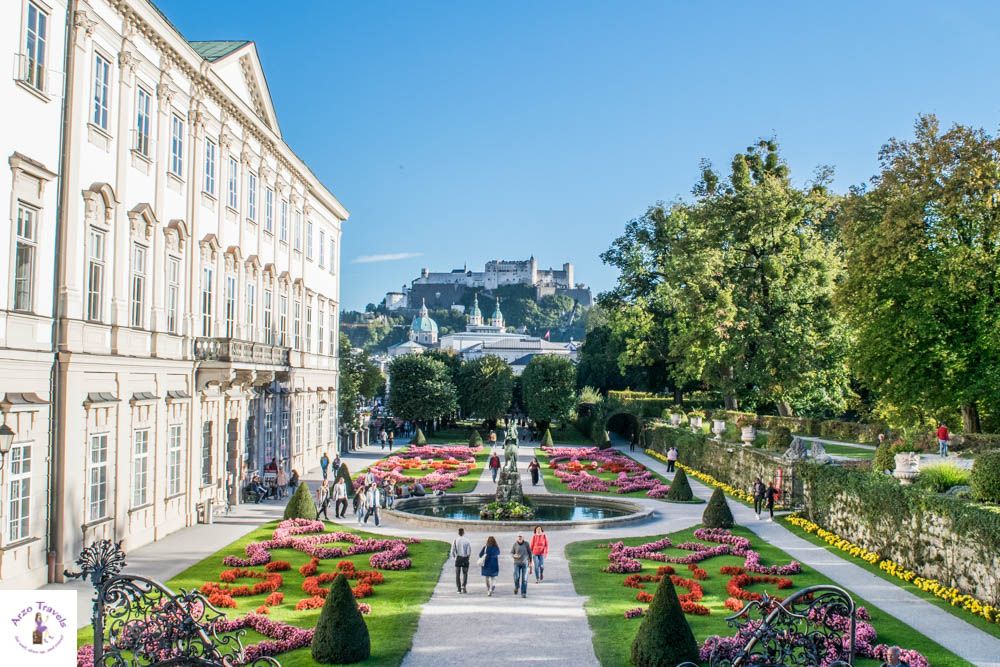 Afternoon: More Salzburg Attractions Or The Lake District
Mirabell Palace & Gardens
Begin your afternoon by visiting Mirabell Palace. Originally commissioned by Prince-Archbishop Wolf Dietrich von Raitenau, it was built for his mistress, Salome Alt, in 1606. Back then, it bore the name "Altenau Palace" as a tribute to Salome Alt.
The palace and its gardens are free to visit and they offer a glimpse into the opulent Baroque era. The meticulously maintained gardens are renowned for their Baroque splendor, vibrant flowers, and ornate fountains.
The Pegasus fountain is the most famous, with the mythical winged horse from Greek mythology rearing up on its hind legs.
If you visit during a season other than winter, be sure not to miss the enchanting Dwarf Garden, dating back to 1695 and recognized as Europe's oldest of its kind. This whimsical garden boasts 28 charming marble dwarf sculptures.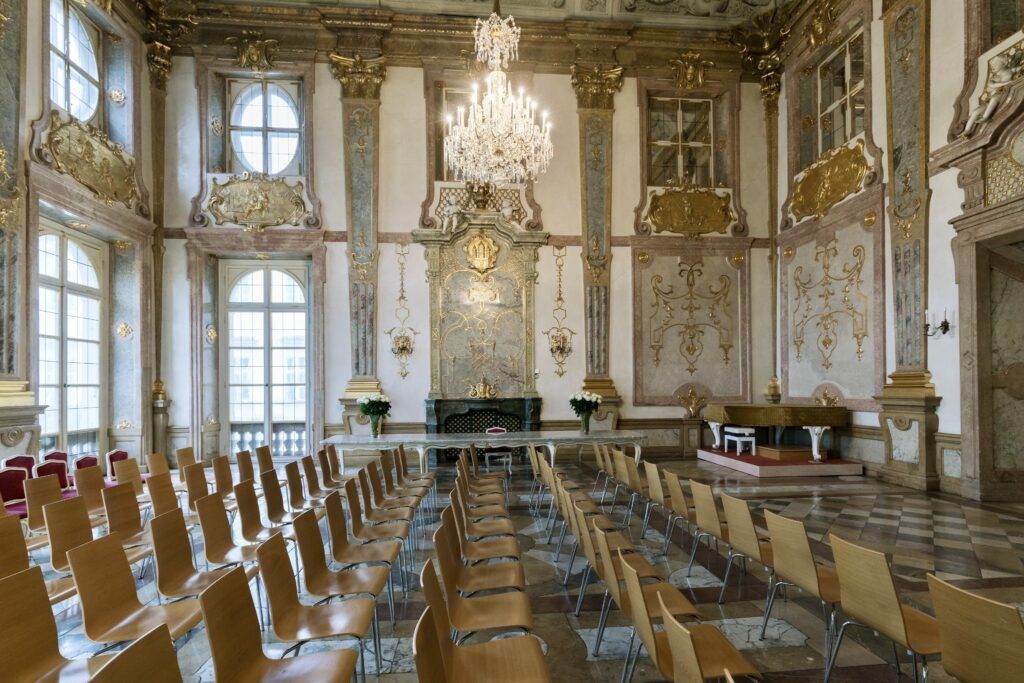 Today, Mirabell Palace houses government offices, so only part of it is accessible to visitors. As you step inside, you'll be greeted by the Angel Staircase — an elegant white marble staircase adorned with playful cherub sculptures.
At the top of this staircase is the Marble Hall. It's a breathtaking venue that has witnessed weddings and once hosted the musical talents of none other than Mozart himself.
Keep in mind that the Marble Hall operates on limited hours. It's typically open on Monday, Wednesday, and Thursday from 8:00 am to 4:00 pm, as well as on Tuesday and Friday from 1:00 pm to 4:00 pm.
>>> Click here to book an evening concert at Mirabell Palace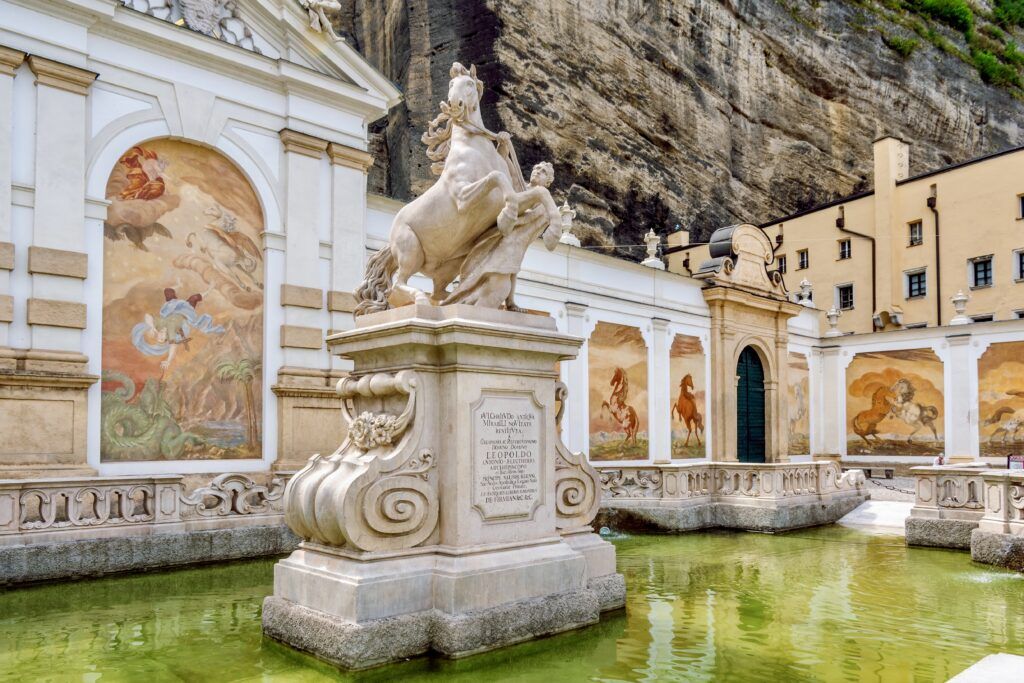 Horse Stables
You may want to check out the Horse Stables located in the Festival District (Festspielbezirk) near Mirabell Palace. There's a fountain with a gorgeous mural of horses. This is where Salzburg's annual music festival is held.
Visit St. Peter's Abbey Complex
The St. Peter's complex is one of the oldest and most significant monastic institutions in Austria.
At its core lies St. Peter's Church. The church's interior boasts ornate altars, colorful frescoes, and a renowned organ played during classical music concerts.
Adjacent to the church is St. Peter's Cemetery. It's one of Europe's oldest and most picturesque cemeteries. It's well maintained because the plots are rented. You'll see bunches of flowers and ornate wrought iron crosses.
The complex also includes St. Peter's Catacombs, a network of rock-cut chambers and tunnels. They were historically used as burial sites for early Christian martyrs and aristocrats. You can explore these ancient passages and get panoramic views of the city from small windows.
>>> Click here to book the dinner and Mozart concert at St. Peter's
Museum Choices
If time allows and you're interested in art, you could consider visiting a museum or two. To my mind, the Residenzgalerie is Salzburg's top museum.
You'll find European painting from the 16th – 19th centuries, with Dutch, Italian, French, and Austrian Baroque works. The top artists are Rubens, Bruegel, and Hans Makart.
Another good museum option is the Museum of Modern Art. It's a gorgeous white marble and glass building housing contemporary art from the 20th and 21st centuries. You'll also have panoramic views of Salzburg from its hilltop location.
Mozart fans can visit the Mozart Residence. This is where Mozart and his family moved after leaving his birthplace home.
The museum gives an excellent overview of Mozart's life, especially his later years in Salzburg. Its piece de resistance is Mozart's piano.
Lake District
As an alternative, spend your afternoon in the Austrian Lake District, known as the Salzkammergut.
Here, you'll be surrounded by stunning alpine beauty and can enjoy a scenic drive along the shores of Wolfgangsee lake.
If you're short on time or not keen on a full Sound of Music tour, simply driving through the Salzkammergut is sufficient to get that special "Hills Are Alive" sensation.
Among the charming villages near Salzburg, my personal favorites are St. Gilgen and Mondsee. St. Gilgen is a 30-40 minute drive from Salzburg and Mondsee is 25-30 minutes. There is a train station in St. Gilgen, but not in Mondsee.
St. Gilgen is a quant little village on Lake Wolfgang. The hamlet is famed as the birthplace of Mozart's mother, and you can visit the house where she was born if you are on the Mozart trail.
The village is full of adorable buildings with colorful facades, spilling with geraniums. There are cute cafes and cobbled lanes. You can go boating on the lake.
The town of Mondsee is on Lake Mondsee, known as the Moon Lake. Mondsee boasts a well-preserved historic center with narrow winding streets, colorful buildings, and charming cafes.
Mondsee Abbey, the Basilica of St. Michael, is a prominent landmark in town, with lovely Romanesque and Baroque architecture. It's famous for hosting the wedding scene in the "The Sound of Music."
Evening
In the evening, take a relaxing walk along the Salzach River promenade, where you can enjoy the beautiful views of the city. Or take a boat cruise.
Have dinner in the Old Town or you can try the Mozart Dinner Concert at St. Peter's.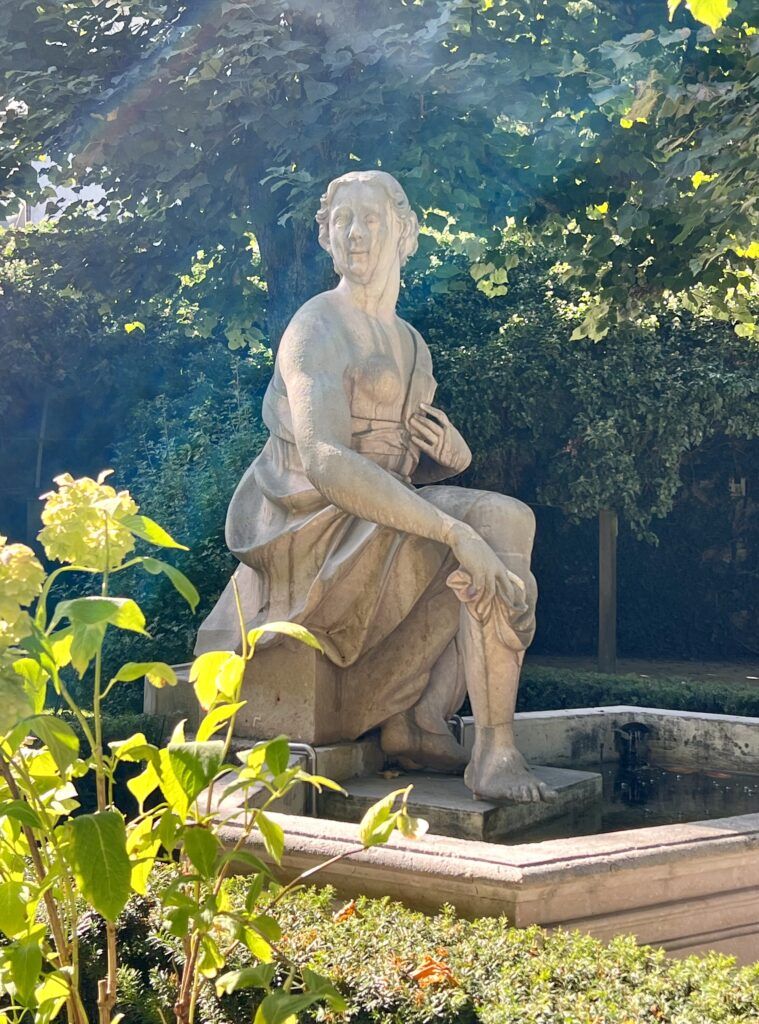 Tips For Spending 2 Days in Salzburg
Here are some must know tips for making the most out of your 2 days in Salzburg itinerary.
How To Get To Salzburg
By Air:
Salzburg has its own international airport, W.A. Mozart Airport (SZG), with connections to major European cities. To get from the airport to the town, you can take a bus, taxi (15 minutes), or book a private transfer.
By Train:
Salzburg has connections to many European cities. The central train station, Salzburg Hauptbahnhof (Salzburg Hbf), is located in the New Town. You can take the bus or walk into Old Town.
By Car:
If you prefer driving, you can rent a car and reach Salzburg by road. You can park at the Mirabell Garage or the Alstadt Garage. I would opt for Mirabell so you don't have to drive in the Old Town.
By Tour:
To avoid any transportation hassles, you can also visit Salzburg via a guided day tour from Vienna. This 12 hour tour from Vienna also stops at St. Gilgen and the guide was excellent.
How To Get Around Salzburg
Salzburg is flat and compact, so it's eminently walkable. You can also take the hop on hop off bus or use taxi, buses, or bikes.
Where To Stay In Salzburg
Salzburg has some fantastic hotels.
Hotel Sacher Salzburg is an extremely elegant boutique hotel on the bank of the Salzach River. The Hotel Bristol Salzburg is a beautiful hotel just steps from Mirabell Palace with an award winning restaurant.
Hotel Goldener Hirsch is another historic hotel, just steps from Mozart's Birthplace. The rooms are furnished with antiques in a classic Austrian style.
Hotel Rosenvilla is a luxurious small hotel in the exclusive Aigen district, about a 10 minute walk from old town.
Another cool boutique hotel is Art Hotel Blaue Gans right at the foot of Hohensalzbuerg Fortress. This is where I opted to stay.
When To Visit Salzburg
Unless you are a festival lover, I wouldn't recommend summer. It's simply too hot and crowded.
Winter is bitterly cold. So try to visit in spring or fall.
I hope you've enjoyed my 2 days in Salzburg Itinerary. You may enjoy these other Austria travel guides and resources:
If you want to spend 2 days in Salzburg, pin it for later.