Budapest is one of Europe's most beautiful and popular cities. You may not want to leave with all the city's beautiful architecture, ruin pubs, and bubbling spas.
But if you have any extra time or need a break from the hustle and bustle of the city, consider taking a day trip from Budapest.
You may not know it, but Budapest is short hop from quaint Baroque villages, lakes, and gorgeous castles. You can get out of the city and enjoy the charming countryside.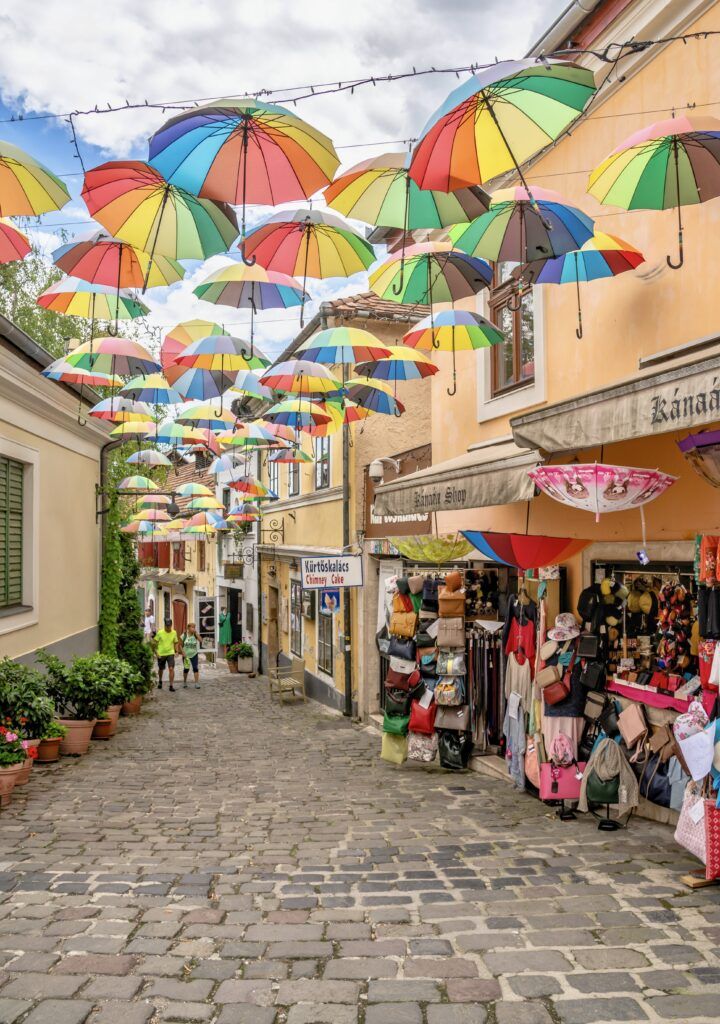 Here are the top 10 places to go on a day trip from Budapest:
Royal Palace of Gödöllő
Esztergom
Eger
Gyor
Bratislava
Lake Balaton
Szentendre
Visegrád
Hof Palace
Pécs
Szentendre (pronounced SENT-en-dray) was my personal favorite.
Day Trips From Budapest
1. Royal Palace of Gödöllő
The Royal Palace of Gödöllő is the second largest Baroque chateau in the world.
It was the pink and white summer residence of the Empress Sisi and Emperor Franz Joseph. There's a violet-colored Sisi wing entirely dedicated to the popular empress.
You can enjoy the royal interiors, a Baroque theater, a lovely park, and impressive paintings. If you're not touring the Hapsburg palaces in Vienna, Gödöllő is a good substitute.
You can pre-book a ticket. You may also want to book a guided tour from Budapest.
Time from Budapest: 30 minutes by car
2. Esztergom
Esztergom is a quaint village, to be sure. But the main reason to visit is its massive UNESCO-listed Esztergom Basilica. Consecrated in 1856, the basilica is the largest church and tallest building in Hungary. Its dome stands 235 feet tall.
Esztergom Basilica is the seat of the Catholic Church in Hungary. Its gigantic bell can be heard ringing for miles around.
You can hoof it to the top of the dome for views over the Danube valley. The basilica itself is free, but you'll need a ticket to visit the treasury, dome, and crypt.
The interior isn't as stunning as the exterior. But, consistent with its ethos, you'll find the largest painting in the world on the altarpiece—the Italian painter Grigoletti's version of the Assumption of the Virgin Mary. It measures 44 feet by 22 feet.
>>> Click here to book a guided walking tour of the town
3. Eger
Eger is a strikingly pretty town situated on the foothills of the forested mountains of Bükk.
The town claims bragging rights to 187 Baroque churches, a historic castle, a Turkish minaret, and thermal baths. And, yet, Eger is a bit of a hidden gem devoid of tourists.
Visit Dobo Squre, the heart of Eger, ringed with Baroque buildings. The most fabulous building is the bright yellow Minorite Church, the town's cathedral-basilica.
Some call it the most beautiful church in Hungary. Dobo Square is also where you'll find the best restaurants and hotels.
Eger Castle was founded by St. Istvan in the 13th century. It's famous for repelling the Turkish attack in 1552 during the Siege of Eger. Take a stroll on the castle ramparts and enjoy the historical exhibits.
Eger is also known for its wine. The most famous one is a blended dry red called "Bull's Blood." And you'll find a lot of wine tourism. For the best tipples, head to Gal Tibor.
>>> Click here to book a guided tour of Eger with wine tasting
Time from Budapest: 1:25-1:50 by car, bus, or train
4. Gyor
Gyor has a lovely old town with stately squares like Bécsi Kapu Tér and Széchenyi Tér. Its architecture is mostly Baroque and Neoclassical from the 18th and 19th century.
You'll see regal stucco facades in pale yellow and pastel tones. On Káptalan Hill, you'll find Gyor's two most famous Baroque monuments: the episcopal castle and cathedral basilica.
Gyor's stately town hall is a landmark in Hungary. The Neo-Baroque building was designed by architect Hübner Jenő in the 1890s.
>>> Click here to book a guided day trip from Budapest
Time from Budapest: 1:15 drive or 1:25 by bus
5. Bratislava Slovakia
The vintage-y and traffic free old town is filled with pastel colored houses, quirky sculptures, and the world's most adorable pastry shop. For lunch, you'll find cute places on Michaelska Street.
Bratislava also features a unique, almost over the top, blue church, the Church of St. Elisabeth. It's a 10 minute walk from the city center.
Everything about the Art Nouveau church is blue — the interior (also with punches of yellow), the exterior, and even the tiles on the roof. Pretty isn't usually a word I use to describe churches, but it's apt here.
Even better, Bratislava is crowned with a historic castle, which is really the iconic spot in the town. Perched on a small hill and about a 15 minute hike, the castle is the best viewpoint of the old town.
Outside, it's an elegant vision, with Gothic and Renaissance elements. Inside, there's a museum of history.
Bratislava is also known for its whimsical and quirky sculptures scattered throughout the city. The most famous sculpture is Čumil, a bronze statue of a man peeping out from a manhole in the street.
>>> Click here to book a guide walking tour of Bratislava
Time From Budapest: 2 hour drive, 2:25 by bus. Bratislava makes a good midway stopover if you're traveling between Budapest and Vienna.
6. Lake Balaton
Lake Balaton, often referred to as the "Hungarian Sea," is the largest lake in Central Europe and a beloved destination for locals and tourists alike. It offers a perfect escape from the city's hustle and bustle.
This serene freshwater lake is known for its inviting waters, making it a popular spot for swimming, sailing, and water sports during the summer months.
The shoreline is dotted with picturesque towns and resorts, where you can relax on the beaches, enjoy local cuisine, and explore charming streets.
Lake Balaton's diverse landscape also offers opportunities for hiking and cycling along its scenic trails.
>>> Click here to book a Lake Balaton tour from Budapest
Time from Budapest: 2 hours by train or car
7. Szentendre
Szentendre is a chic Baroque town just a short ride away from Budapest, Hungary's capital.
Known for its picturesque setting along the Danube River, this quaint town has a distinctly Mediterranean feel.
Szentendre's colorful houses and Baroque architecture make it a delightful place to explore. You'll see wrought-iron balcony railings and Rococo moldings.
You can wander through the town's narrow alleys, discovering art galleries, museums, and artisan shops along the way.
Szentendre is particularly famous for its thriving arts and crafts scene. And you'll find various workshops where local artists create and sell their works.
The town's cultural heritage is also on display in its churches and museums, such as the Open-Air Ethnographic Museum, which showcases Hungary's rural traditions.
I took this guided tour of Szentendre and the Danube Bend and enjoyed it.
Time from Budapest: 30 minutes by car or 40 minutes by bus or train
8. Visegrád
Visegrád is a historic town nestled on the banks of the Danube River. It's known for its medieval past and stunning vistas.
The highlight of Visegrád is its well-preserved castle, the Visegrád Citadel, perched atop a hill. It's the ancient seat of the Angevin Kings of Hungary.
From this vantage point, you have amazing panoramic views of the "Danube Bend," a picturesque curve in the river surrounded by lush forests and hills.
Aside from the castle, Visegrád offers opportunities for outdoor activities, including hiking and walking trails that lead to scenic viewpoints. The town's historic center is home to charming streets and a few restaurants where visitors can savor local cuisine.
The town is also home to a Palinka Museum, dedicated to the traditional fruit brandy widely consumed in Hungary. You'll get information on how it is made and there's a store offering up every imaginable brand of palinka.
>>> Click here to book a palinka tasting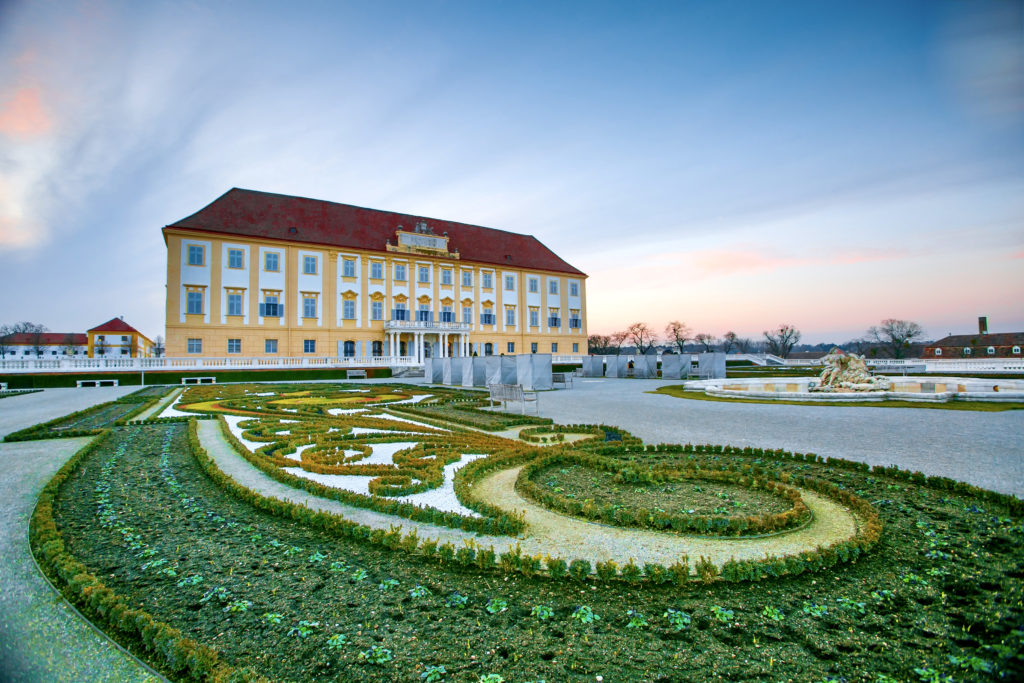 9. Hof Palace
Hof Palace, or Schloss Hof, is a bucolic Baroque manor in Austria countryside.
It's the largest rural palace complex in the country. The palace was the country seat of Prince Eugene of Savoy and later the famous Empress Maria Theresa.
Designed in the Baroque style, comprises an extravagant main palace, enchanting gardens, and a charming manor farm.
This picturesque rural retreat is adorned with roses and home to ponies, offering a glimpse into the elegant courtly life of the 18th century. It's the perfect place for some imperial-style relaxation.
I enjoyed it way more than the overcrowded Schönbrunn Palace. For more information, check out my guide to Hof Palace.
Time from Budapest: 2.5 hours by car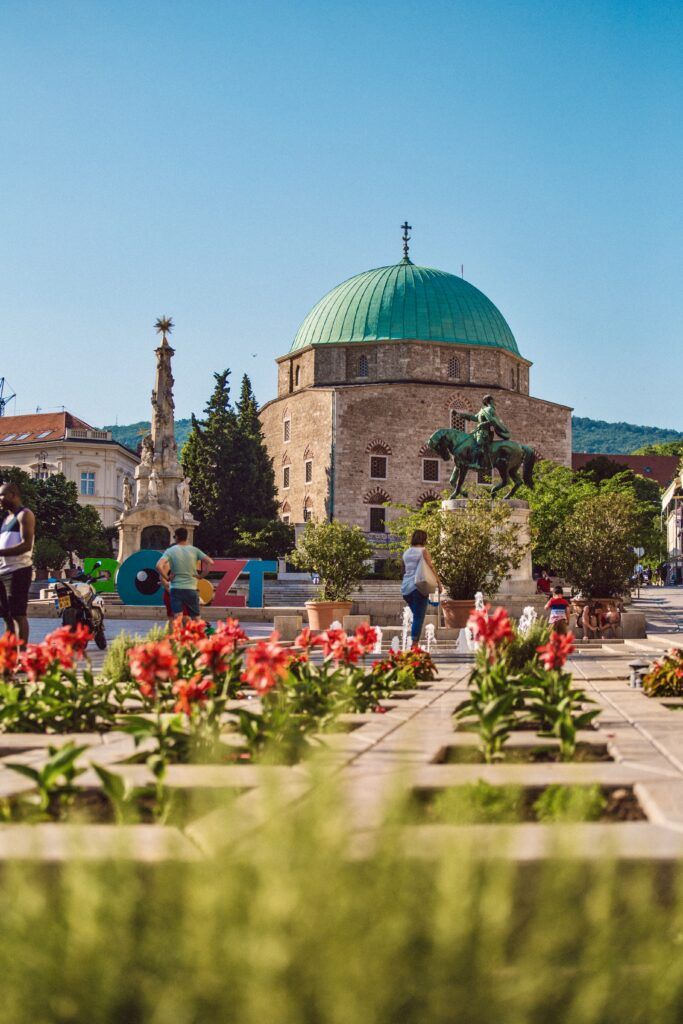 10. Pécs
If you are on the UNESCO trail in Europe, you may want to make the trek to Pécs.
It's a picturesque city located in southwestern Hungary known for its rich history, vibrant cultural scene, and well-preserved Roman and Ottoman heritage.
The city features numerous museums, including the Zsolnay Museum, showcasing beautiful ceramics.
It's home to the Pécs Cathedral, Pécs Synagogue, and the Early Christian Necropolis, all UNESCO World Heritage Sites.
Time from Budapest: 2.5 hours by car
I hope you've enjoyed my guide to the best day trips from Budapest. You may enjoy these other related travel guides:
If you want to day trip from Budapest, pin it for later.