Looking for some free things to do in Paris? Here's my guide to the 10 best free museums in Paris.
I've been to many Paris museums, both large and small, in my many visits to the City of Light over the years. These free museums are among the best museums in Paris.
They have it all. They house a rich array of visual art. And many of them are hidden gems in Paris.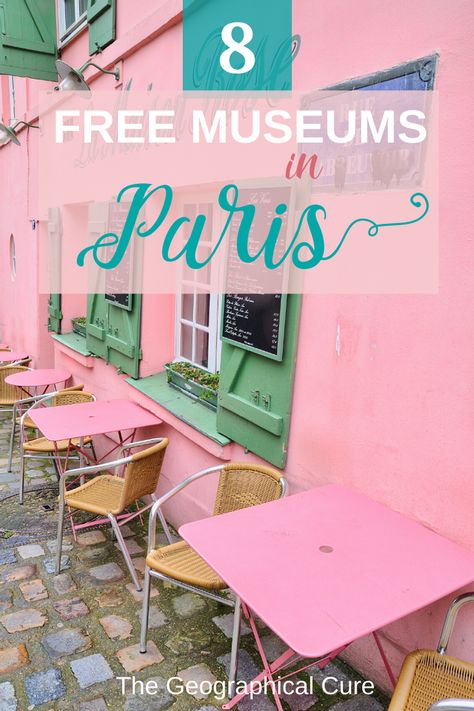 This is a big bonus. You won't have to fight crowds like you do to see the Mona Lisa. A crowded museum visit can be unpleasant and a bit of a buzzkill.
Even better, these eight small museums in Paris are free, absolutely free. Or at least free to visit the permanent collection.
In Paris, museum and attraction fees can really add up, cutting into your travel budget. In a city that tends to be expensive, you can't beat free.
10 Best Free Museums in Paris
Here are my picks for the best free museums in Paris.
1. Victor Hugo Museum
If you're a romantically-inclined Hugophile, your first stop in Paris should be the writer's former pied-à-terre, the Musée Victor Hugo.
It's on the second floor of the Hôtel de Rohan-Guéménée on the elegant Place des Vosges in the Marais. The esteemed Romantic period novelist Victor Hugo lived there from 1832 to 1848.
The museum is an impressionist form of academic preservation. The house is reconstituted from several of the novelist's residences and that of his mistress, Juliette Drouet. Still, it is a romantic place, like the swashbuckling and romantic author himself.
Surprisingly, it reveals that Hugo was not only a prolific writer and womanizer, but had a sub-speciality in interior design.
The museum gives visitors a sense of what Hugo's daily existence might have looked like. Thematic rooms are arranged with furniture and works of art that Hugo created or are from his personal collection.
The curators imagined the museum as a chronological journey across Hugo's tumultuous life before, during and after his political exile to the Channel Islands after the rise of Napoleon III. In the small writing room, there's a famous bust of Hugo by Auguste Rodin.
Practical Information for the Victor Hugo Museum:
Address: 6 place des Vosges 75004, Paris
Entry fee: permanent collection free, audio guide €5
Hours: Tuesday to Sunday from 10:00 am to 6:00 pm
Metro: St. Paul or Bastille
2. The Musée de la Vie Romantique aka The Museum of the Romantic Life
You'd almost never know it was there. And it's not easy to find.
Located down a picturesque cobblestone alley behind a wrought iron gate is a hidden museum dedicated to Romanticism. It's called the Musée de la Vie Romantique.
The museum located at the foot of Montmartre in the 9th arrondissement in the South Pigalle or SoPi neighborhood. The museum even has an enchanting garden.
This beautiful atelier-museum is housed in the Hôtel Scheffer-Renan. It's not in a touristy part of Montmartre, and that's part of its charm. It's a hidden gem in Paris that may not be "hidden" much longer.
The museum mostly celebrates the life and work of 19th century writer George Sand, who was a bohemian, libertine, and femme fatale. The mercurial and iconoclastic Sand lived and worked here.
You can almost imagine yourself in the 19th century with the home's creaking floors and curios. You may be assailed with murky recollections of high school or college literature courses.
The museum's permanent collection is divided into two main floors.
On the ground floor, you'll find Sand's memorabilia and personal artifacts, including documents, portraits, photographs, furniture, jewelry, and other objects.
There's even a watercolor landscape painting by Sand. And a rather creepy voodoo-like display of a cast of Sand's arm and the hand of her piano playing lover, Frederic Chopin.
On the next floor, there are paintings from Dutch Romantic painter Ary Scheffer, who owned the house and also lived there. Scheffer spent time with Delacroix, Dickens, Gounod, Sand, Liszt, and Chopin.
The museum's reconstituted studio is meant to evoke the working and living conditions of the authors and writers. Scheffer opened his studio weekly, holding a salon-soiree every Friday evening.
Outside is a charming garden, brimming with lilacs, roses, and wisteria. Lovers of tasty delicacies will be thrilled by the garden cafe, Rose Bakery. You'll find fresh salads, melting scones, fruit muffins, craft beers, and a wide selection of teas. It's a lovely treat, and may be the best part of your day.
Practical information for The Musee de la Vie Romantique:
Address: 16 Rue Chaptal, 75009 Paris
Hours: Tues-Sun 10:00 am to 6:00 pm, closed Mon
Entry: permanent collection is free
Metro: Pigalle
3. Musee Carnavalet
The 17th century Carnavalet Museum was Paris' very first municipal museum, plopped into the center of the bustling Marais neighborhood. It's been listed as a Monument Historique since the mid 1800s. And it's fabulous.
The very special museum fills two adjacent mansions, the Hôtel Le Peletier de St-Fargeau and the Hôtel Carnavalet. They've been completely renovated,
One of Paris' most famous and colorful citizens, Madame de Sevigne, who wrote salacious letters to her daughter, once lived in the Hotel Carnavalet.
The museum documents Paris' compelling history in an eclectic and eccentric way. Its hodgepodge collection comprises over 600,000 artefacts, making it one of France's most important museums.
READ: Best Things To Do In the Marais
The museum has medieval and Gallo-Roman archeological collections, mementos of the French Revolution, paintings, sculptures, furniture, and other items of art.
It's also filled with fun everyday objects and historical curiosities — Rousseau's inkwell, Voltaire's chair, a scale model of the guillotine made of bones, keys to the Bastille, a ring containing Marie Antoinette's hair and a pair of her shoes, and Napoleon's toiletries
In 2016, the museum was closed for extensive architectural renovation. The gussied up museum reopened in 2021.
It now has a new reception area, contemporary staircases, and updated facilities. The museum also has more signage, helping you to re-live the story of Paris.
Practical Information for the Musee Carnavalet:
Address: 16 Rue des Francs Bourgeois, 75003 Paris
Hours: Currently closed for renovation. Hours daily from 10:00 am to 6:00 pm
Entry: permanent collection is free
Metro: Saint-Paul or Chemin Vert
4. Musee d'art Moderne de la Ville
The Musée d'Art Moderne de la Ville de Paris (or "MAM" as it is known) is a must see nerve center for modern art in Paris. And it's a hidden gem, well off the typical tourist circuit in Paris.
In a prime location in the eastern wing of the Tokyo Palace, MAM overlooks the Seine and the Eiffel Tour. It was inaugurated in 1961 and has over 10,000 works of art from the 20th and 21st centuries. The museum has high ceilings, open spaces, and is filled with colorful eye-catching art.
The permanent collection is free to the public and and showcases major artistic movements, including Fauvism, Cubism, Surrealism, and Orphism. There are works by Picasso, Derain, Chagall, Modigliani, and Sonia and Robert Delaunay.
Once you walk through the ornate bronze doors, you'll find no queue and no crowd — a welcome relief if you've just been to the Louvre or the D'Orsay.
The Electricity Fairy is the pièce de résistance of MAM.
It's a monumental work, 10 x 60 meters and the world's largest painting, which makes it impervious to theft. It was commissioned for the curving walls of the Pavilion de L'Electricite et de la Lumiere at the Exposition Internationale de Paris in 1937.
It has 250 painted panels covering an entire room of the museum. It's simply stunning to behold.
Be sure to check out Salle Matisse was well, where you can see two versions of Matisee's La Danse.
MAM was also the scene of a dramatic one man "Spiderman" art theft that has been described as the "heist of the century." On a chilly spring day in 2010, in the dead of night, Vjeran Tomic cut a padlock.
He smashed a ground floor window, and snuck into MAM unhindered. The paintings, which included a Matisee, Picasso, Modigiliani, Léger, and Braque, are still missing.
Practical Information for the Musee d'Art Moderne de la Ville de Paris:
Address: 12-14 avenue de New York – 75116 Paris (entrance until fall 2019)
Entry fee: permanent collection is free
Hours: Tues to Sun from 10:00 am to 6:00 pm, open Thurs until 10:00 pm
Metro: ligne 9 : Alma-Marceau or Iéna
5. Petit Palais: Musée des Beaux Arts de la Ville de Paris
Why does no one stop in here? The place is always empty. It's inexplicable.
The Petit Palais is a rare free museum in Paris and chock full of great art.
The Petit Palais is an architectural gem located on the Avenue des Champs-Elysées, The newly renovated museum's collection is free, absolutely free, and a joy to take in.
Like its sister palace the Grand Palais, the Petit Palais was built for Paris' 1900 World Fair. It became a museum in 1902.
Designed in the beaux-arts style by famous architect Charles Girault, it's a charming small museum that's easy to cover in an hour or so.
It has French paintings, sculpture, and artifacts from the late 19th and early 20th centuries.
Its collection includes artists as diverse as Rembrandt, Fragonard, Delacroix, Paul Cézanne, Courbot, Corot, Monet, Rodin, Sisley, Pissarro and many others. There's also a section dedicated to Roman and Greek art.
If you want to avoid queues at the Louvre, come here and see art of a similar scope and quality. And enjoy its lovely indoor garden and cafe.
Practical Information for the Petit Palais:
Address: Avenue Winston Churchill, 8th arrondissement
Entry fee: permanent collection is free
Hours: Open Tues to Sun, 10:00 am to 6:00 pm. Closed on Mondays and bank holidays.
Metro: Champs-Elysées Clémencea
6. Maison de Balzac
In the 16th arriondissement, close to the magnificent Rue Berton, lies the Maison de Balzac. Like the Victor Hugo Museum, it offers an immersion into the daily life of one of France's greatest writers, Honoré de Balzac. Toiling away in his writing study, Balzac edited the entire Human Comedy and wrote some of other his masterpieces.
Fleeing creditors, Balzac moved into the house on 1840 under the name of his mistress. The furniture is mostly gone due to subsequent moves, but it is still evocative and packed with interesting momentos.
You'll find Balzac's famous cane, paintings, engravings, illustrations, and documents about his loved ones. And you will see his fabulous carved writing desk and chair, about which Balzac said:
I have possessed her for ten years, she saw all my miseries, wiped away all my tears, knew all my plans, heard all my thoughts. My arm has almost worn it by walking around when I write.
Of Balzac's 11 different Paris residences, this is the only surviving one. Be sure to peek through the windows. There are commanding views of the Eiffel Tower.
While you're in the 16th arrondissement, I highly recommend a visit to the Marmottan Museum. It's not free, but it contains some of Claude Monet's most remarkable water lilies. For culture vultures, it's an unmissable Paris site.
Practical Information for the Maison de Balzac:
Address: 47 rue de Raynouard – 75016 Paris
Hours: The museum is currently closed until the summer of 2019, but the library is open. Normal hours are Tues-Sun 10:00 to 6:00 pm, closed Tuesday
Entry: permanent collection is free
Metro: Pass
7. Musée du Parfum – Fragonard
Nestled in the heart of Paris, a half block from the Opéra Garnier, is the unique Fragonard Musée du Parfum.
This free Paris museum opened in 2015. It's housed in a romantic, ornate 19th century townhouse.
The house was built by Joseph Lesoufaché, a student of Garnier, for whom the nearby Opera Garnier was named. The decor is alluring with painted ceilings, stucco decoration, old fireplaces, and chandeliers.
Fragonard is a French perfume company founded by Eugène Fuchsin in 1926. The company makes and sells its products only in France.
The historic location is full of the spirit and character that Fragonard wanted to preserve. The name Fragonard was given to the perfume house in honor of Rococo society painter Jean-Honoré Fragonard.
The museum offers a magical look at the secrets and history of the perfume trade. It has a magnificent collection of precious objects tracing the history of perfume from antiquity to the present day.
Visitors will find a cabinet of curiosities, including ancient artifacts, perfume "organs," scent boxes, bottles in blown glass that look like beautiful jewels, and potpourri used at the court of the Louis XIV.
You'll learn that the Iris is the most expensive flower to make perfume from and that light, heat and air are the enemy of perfume.
The museum offers a free small group guided tour in English. It is really quite a wonderful intimate experience, lasting about 30 minutes. And, after discovering the history of the precious elixirs, you can test your nose with an olfactory game available free of charge at the end of the tour.
This is a unique olfactory journey in Paris.
Practical Information for the Musée du Parfum – Fragonard:
Address: 3-5 square Louis Jouvet, 75009
Hours: open Mon to Sat from 9 am to 6 am, Sun & holidays, 9 am to 5 pm
Metro: Opera (Line 3, Line 7, Line 8), Chausée d'Antin La Fayette (Line 7, Line 9), Auber on RER line A (Red)
Pro tip: The entrance to the museum is at the back of the building. The shop is in front.
8. Musée Curie
The Curie Museum celebrates the life of scientist Marie Curie. It's located near the Pantheon in the leafy green streets of the 5th arrondissement.
Curie's life is a fascinating tale. As a young woman, she fled from Warsaw to Kraków for her own safety. She moved to France in 1891. Her husband died in a freak car accident in 1906, leaving her a single mother with two young children. As she said:
Life is not easy for any of us. But what of that? We must have perseverance and above all confidence in ourselves. We must believe that we are gifted for something and that this thing must be attained.
Curie was the first woman to receive a Nobel Prize.
And she's the only person in history to have won a Nobel Prize in two different scientific fields, physics and chemistry, in 1903 and 1911. She was also the first woman to become a professor at the University of Paris.
The permanent exhibition of her eponymous museum traces the history of radioactivity and its medical applications, along with the lives and works of Curie, her husband Pierre, and their children, Irene and Frederi.
They've been dubbed "the family of 5 Nobel prizes." There is also a chemistry laboratory that houses laboratory notes and scientific instruments form the 1930.
I especially loved Curie's small office where she spent most of her time. The room faces a lovely and peaceful garden, very dear to Marie Curie, that you can also visit.
The displays are in both English and French and you can pre-book private tours. When you're done with the museum, you can head over the nearby Arènes de Lutèce, the most important Roman ruin in Paris in the Latin Quarter.
Practical Information for the Musée Curie:
Address: 1 rue Pierre et Marie Curie – 75005 Paris
Note: The actual entrance to the museum is 11 Rue Pierre et Marie Curie
Hours: Wed-Sat 1:00 pm to 5:00 pm
Metro: Place Monge or Cardinal Lemoine
9. Zadkine Museum
Two blocks from the lush Luxembourg Gardens, in the heart of Montparnasse, lies the secret Zadkine Museum. You can blink and miss it, it's so well hidden. If you love sculpture, put this free Paris museum on your itinerary.
It's situated behind an industrial building that seems inconsistent with anything artistic. But just to the left is a small seemingly private driveway. If you follow it, you arrive at the Zadkine Museum. Voila!
The intimate museum occupies the first floor of a two story house and has an impressive sculptural garden. It was formerly Zadkine's home and studio, where he lived and created his atelier for 40 years.
Entering the museum, you'll find a procession of small well-lit rooms with glass ceilings and white walls. The museum presents all periods of Russian expat Zadkine's work in roughly chronological order.
It traces the "primitivism" of his first sculptures in wood or stone, to the strict geometry of his Cubist works, to his more expressionistic works, and finally to the pared down neoclassicism of his final years.
The heart of the museum, much like the Rodin Museum, is the lovely garden, dotted with terrific sculptures.
There, you'll find Zadkine's Torso of a Destroyed City, a smaller scale version of his most famous piece, The Destroyed City, in Rotterdam. Other seminal garden works include Orphee, Rebecca, and The Human Forest.
The elegant little Zadkine Museum is well off the beaten path. But it's definitely worth an hour or two of your time, especially if you like sculpture.
Practical Information for Visiting the Zadkine Museum:
Address: 100 bis rue d'Assas, 6th arrondissement
Hours: Tues to Sun from 10:00 am to 6:00 pm, closed Mondays and holidays.
Entry: free unless there is a special exhibition, then 7 €
Metro: Vavin or Notre-Dame des Champs
10. Musée Bourdelle
The Musée Bourdelle is one of the few remaining examples of the artists' studios that filled Montparnasse in fin-de-siecle Paris. Arranged throughout its darkly atmospheric interiors are close to 500 monumental works by sculptor Antoine Bourdelle.
Bourdelle was a pupil of Auguste Rodin and a mentor to Alberto Giacometti. The studios were also used by Dalou and Chagall.
You'll also see works by Ingres, Delacroix, and Rodin himself. The artist's studio is still arranged as it was during his lifetime, complete with intriguing details like a full set of Samurai armor and scraps of medieval architecture.
Practical Information for Visiting the Musee Bourdelle:
Address: 18, rue Antoine Bourdelle
Hours: Tuesday to Sunday from 10:00 am to 6:00 pm, closed Mondays
Entry fee: permanent collection is free of charge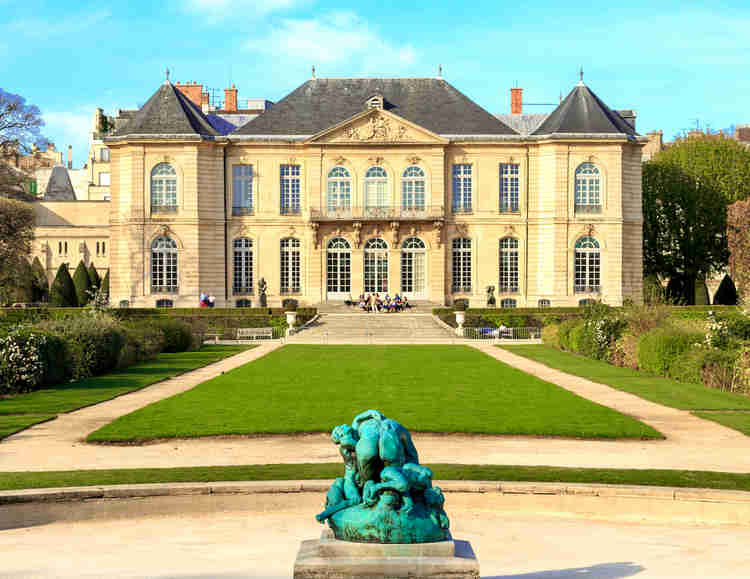 11. Free Hours at Other Paris Museums:
Aside from these 8 lovely museums, if you're visiting Paris between October and March, most of the city's major museums offer free admission on the first Sunday of the month.
It will be crowded, but free. Click here for a list of the Paris museums that participate in first free Sunday.
I hope you've enjoyed my guide to the free museums in Paris. You may enjoy these other Paris travel guides and resources:
2 days in Paris itinerary
2 days in Paris itinerary
If you'd like to visit free museums in Paris, pin it for later.