Spello is an idyllic Umbria hill town with beautiful architecture, rich history, and flowers galore. The town can easily be explored in a day and this is my recommended one day in Spello itinerary.
Spello has the official designation of one of "the Most Beautiful Villages in Italy." It's steeped in history, with ancient walls and medieval buildings that have been beautifully preserved over the centuries.
Spello is also known for its breathtaking landscapes — rolling hills, vineyards, olive groves — that stretch as far as the eye can see.
Whether you're interested in history, architecture, or simply soaking up the then town's beauty of the Italian countryside, Spello is a must visit in Umbria.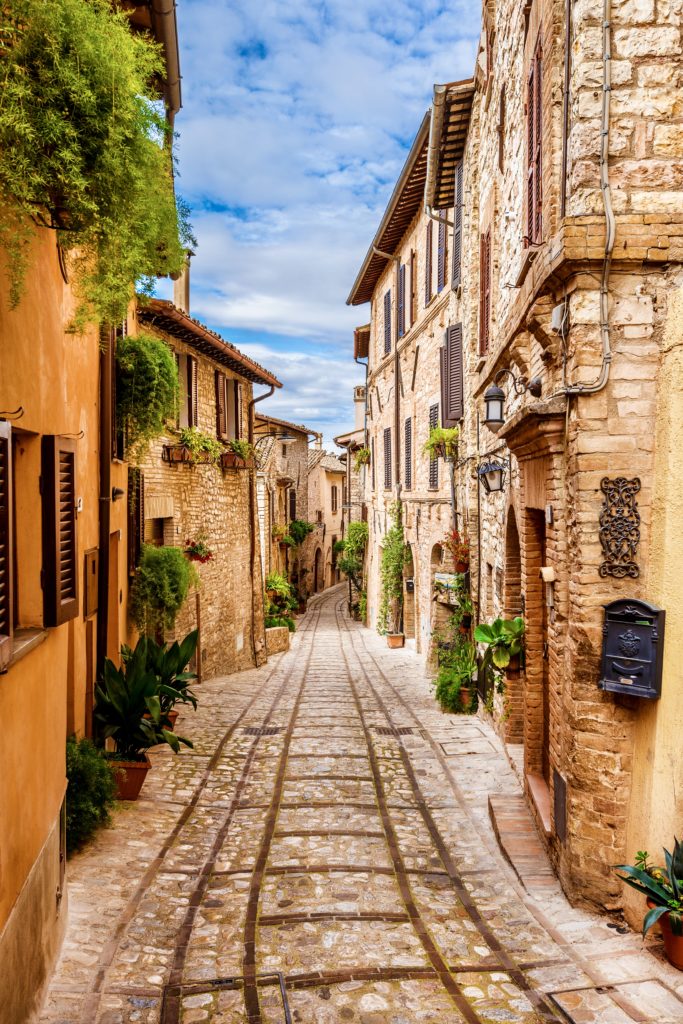 Overview Of One Day In Spello Itinerary
Here's a snapshot glance of what you'll see with one day in Spello:
Porta Consolare
Old Town
Palazzo Communale
Santa Maria Maggiore
Baglione Chhapel
Church of Sant'Andrea
Roman Amphitheater
Porta Venare
Villa of Mosaics
One Day In Spello Itinerary
Here's my suggested 1 day in Spello itinerary. To get the full scoop on all the Roman, Medieval, and Renaissance attractions in town, you can book a guided walking tour.
Porta Consolare
You enter the town through the Porta Consolare, the ancient Roman gateway to the town.
This is the best-preserved gateway of its kind in Italy and dates back to the 1st century AD. It's made of blocks of pink limestone and its tower is topped with an olive tree.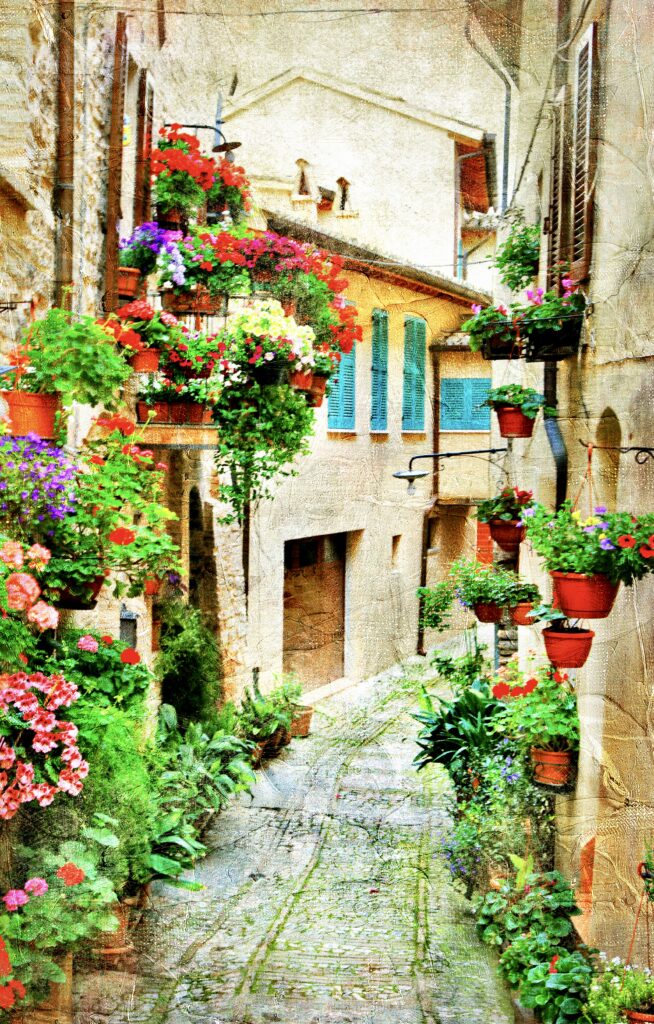 Old Town Stroll
Begin your visit to Spello by taking a stroll through the old town. This is what I remember most about Spello, wandering down cobbled lanes filled with the scent of thousands of geraniums, petunias, hydrangeas, and roses. In fact, the whole town seems carpeted in flowers.
The main square in Spello is the Piazza de Commune. The main street is Corso Garibaldi, which runs all the way through the town center.
This charming pedestrian street is lined with beautiful historic buildings, shops, cafes, and restaurants.
But be sure to wander down the side streets. Some of them are incredibly narrow and picturesque.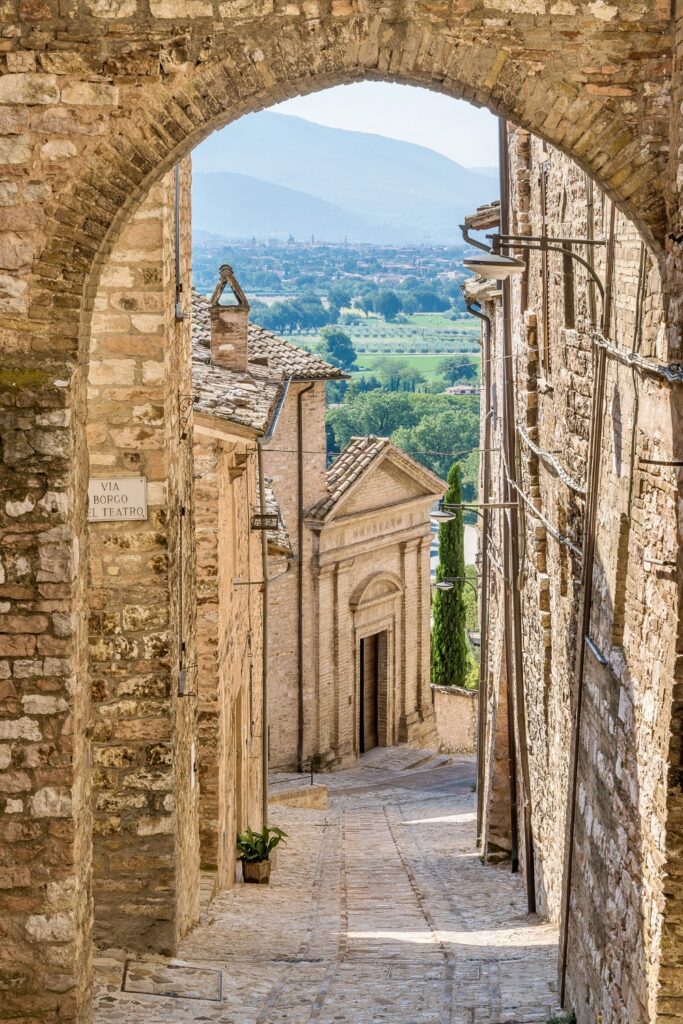 Palazzo Comunale
Stop by the medieval Palazzo Comunale, which houses the town's civic museum. The Pinacoteca features a collection of works by local and regional artists from the 14th to the 17th centuries, including paintings, sculptures, and other decorative arts.
Some of the museum's most notable works include paintings by Bartolomeo Caporali, Niccolò Alunno, Bartolomeo Caporali, Bernardino di Mariotto, and Andrea di Lione.
In high season, from April to September, the museum is open from 10:30 am to 1:00 pm and 3:00 pm to 6:30 pm.
Santa Maria Maggiore & Baglione Chapel
You should also visit the Church of Santa Maria Maggiore, right next door to the palazzo. It's a beautiful 12th century church with a stunning interior.
The church is famous for its stunning frescos by Pinturicchio and Perugino. In particular, it houses a Madonna and Child and a Pietà by Perugino. There are also some Deruta ceramics, including a large majolica tiled floor made by the the Grazia family.
The highlight of the church is the spectacular Baglioni Chapel, nicknamed the Capella Bella. It houses a cycle of frescoes by Pinturicchio. They're considered a treasure of Umbrian art.
Known as the "Little Painter," Pinturicchio was the third of a trio of artists from this area of Italy, along with Perugino and Raphael. Though he is less appreciated than that pair, Pinturcchio worked for five popes.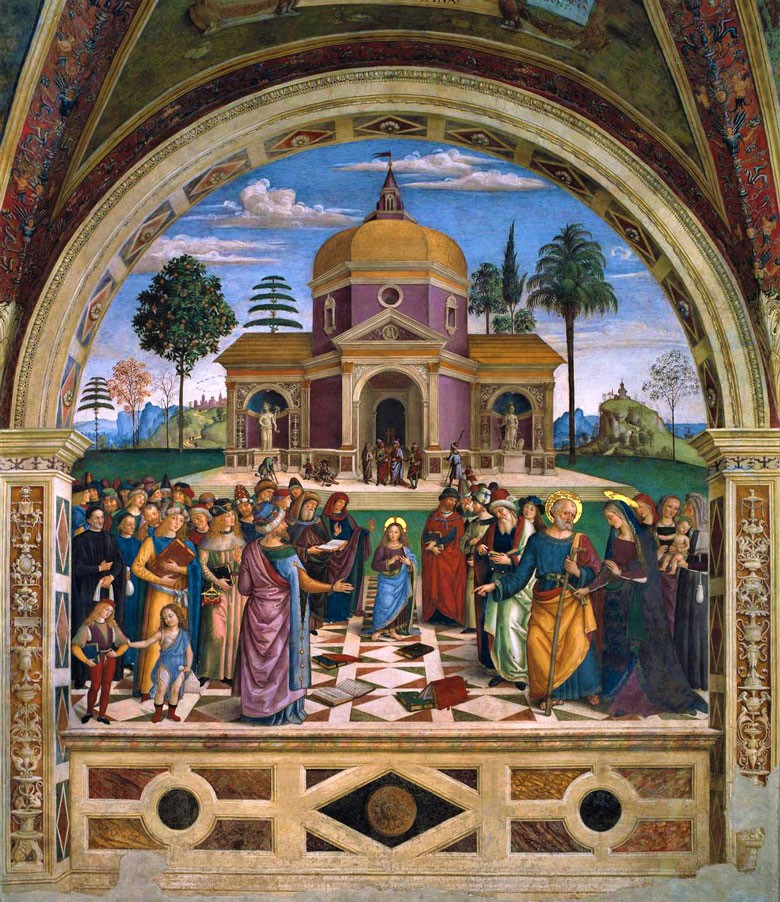 The artist has scores of towering achievements, including a painting in the Sistine Chapel, frescos in the Borgia Apartments in the Vatican Museums and the Piccolomini Library in Siena.
His fresco cycle in the Baglioni Chapel depict scenes from the life of Mary and Jesus and are considered some of the artist's finest works.
You'll see an Annunciation, the Adoration of the Shepherds, the Nativity, Dispute with the Doctors, and Jesus at the Temple. To the lower right of the Annunciation, you'll also see a self-portrait of Pinturicchio.
Santa Maria Maggiore is open from 9:45 am to 12:30 pm and 2:30 pm to 5:00 pm, but closed on Monday. The entry fee is 3 euros.
Lunch
There are quite a few places in town to grab a quick lunch if you are on the move. I had a panini at Panini Bibite Porchetta.
You can also take a break for lunch at one of the many restaurants in town, Try sampling some of the local Umbrian specialties such as black truffles, wild boar, or strangozzi (a type of pasta).
If you want to sit down, I would try Osteria del Buchetto. It's a casual restaurant serving classic Umbrian dishes with nice panoramic views.
You could also do a wine and truffle tasting lunch at one of the local wine shops or take a one hour tour at a local winery. If you like e-bikes, this guided tour takes you down the Olive Path Trail for lunch at a winery.
Church of Sant'Andrea
After lunch, explore the Church of St. Andrea. It's one of the most important religious buildings in Spello. It's a medieval church next to Santa Maria Maggiore.
It was built in the Romanesque style during the 11th century, but was modified over the centuries.
Inside the church, you can see several notable art works and relics, including a 14th century wooden crucifix by an unknown pupil of Giotto and the mummified body of Andrea Caccioli who was an early follow of St. Francis of Assisi.
There's also a fresco of the Enthroned Madonna and Child attributed to the Umbrian painter Puccio Capanna, a follower of Pinturicchio.
Roman Ruins
Amphitheater
Next, explore some of Spello's Roman past.
Start with the ruins of the Roman Amphitheater. It was built in the 1st century AD and could once seat up to 10,000 people. It's a peaceful and atmospheric spot with lovely views over the town.
Porta Venare
The Porta Venere is one of the four original gates that once provided access to Spello. It's named after the Roman goddess Venus, and it is located on the eastern side of the town.
The Porta Venere is one of the best-preserved examples of Roman architecture in Spello. Made of local limestone, it has a simple, rectangular design, with a single arch that spans the roadway.
Its two towers, the Torri dei Properzio, have been restored so they are safe to climb.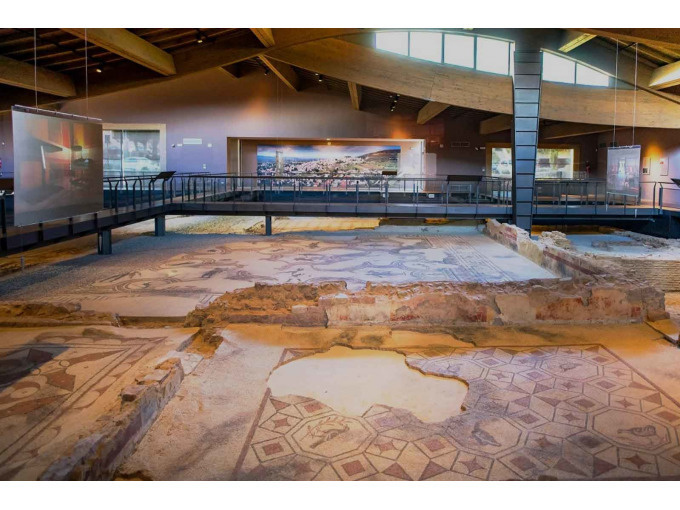 Villa of Mosaics
Do you love Roman mosaics? If so, be sure to visit the 4th century Villa of Mosaics on your one day in Spello itinerary.
The villa was discovered by chance in 2005, when a parking lot was being excavated. It's one of the most important archaeological discoveries of the last 20 years. The villa's beautifully preserved mosaics are among the finest in Italy and feature intricate designs and vivid colors.
They're now housed in a state of the art museum. There are 8 main rooms to explore. You will see wild animals, mythological creatures, satyrs, and a wine pouring scene.
The villa is on a smaller scale than the Villa Romana del Casale in Sicily, but still eminently worth visiting. The ticket price is € 9 or € 14 for a one hour guided tour. Guided tours begin at 10:30 am, 2:30 pm, and 3:30 pm.
Spello Shops
If you are interested in Italian handicrafts, Spello is a good place to shop. You'll find most of the boutiques right along the main drag in the historic center.
Spello is known for its local goods, including olive oil, honey, handmade ceramics, textiles, olive wood, and leather goods.
The extra virgin olive oil is delicious! It's made from young moraiolo olives that grow on the hills around Spello. It has a thick green-gold appearance and rather intense flavor.
The town is also home to a number of specialty food shops, where you can find local cheeses, cured meats, and other delicacies. On weekends, there's a local market.
I came away with a gorgeous leather handbag, a linen blouse, and some olive oil!
Dinner | Evening
If you are staying in Spello for dinner in the evening, I can recommend the Ristorante Enoteca l'Alchimista. The restaurant is housed in a beautifully restored 13th century building and features exposed stone walls, wooden beams, and rustic decor.
The menu focuses on traditional Umbrian cuisine, with a modern twist. Specialties include homemade pasta dishes, grilled meats, and seasonal vegetable dishes. The restaurant also has an extensive wine list.
Tips For A One Day In Spello Itinerary
Here are some must know things for spending 1 day in Spello.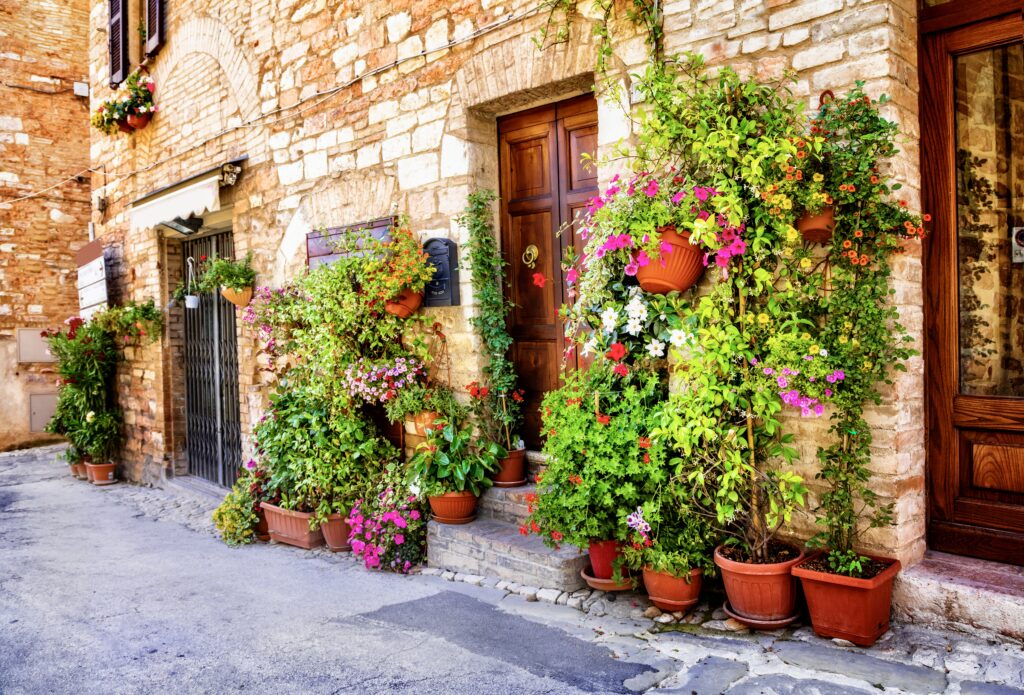 1. How To Get To Spello
By Car:
If you are driving to Spello, you won't want to drive into the historic center. Spello is a gated town and mostly pedestrianized.
As you approach the town, you will see signs for the centro and for parking. There are quite a few lots outside the city. They are all about a 5 minute walk to the historic center.
I parked at Parcheggio Via Cavour.
By Train:
Spello is well-connected by train. You have two options to get there.
The closest train station to Spello is the Spello station, which is located just outside the town walls on the eastern side of town. This station is served by local and regional trains, including trains from Rome, Florence, and other major cities in central Italy.
The other nearby train station is the Foligno station, which is located about 6 miles southwest of Spello. This station is served by high speed trains and regional trains, and offers connections to a wide range of destinations throughout Italy.
Once you arrive at the train station, you can reach Spello by taking a local bus or a taxi. Taxis are usually waiting outside the train stations.
2. Where To Stay In Spello
Spello has one very nice hotel, but you may want to enjoy la dolce vita in the countryside.
Hotel Palazzo Bocci is a luxury hotel in a restored 18th century palace in the heart of Spello. It offers spacious rooms and suites, a restaurant serving traditional Umbrian cuisine, a spa, and a beautiful garden.
Borgo della Marmotta is a beautiful agriturismo, which is a 15 minutes drive from Spello. It's in the countryside near the town of Todi.
It offers rustic-chic rooms and apartments in a restored 17th century hamlet, surrounded by vineyards, olive groves, and gardens.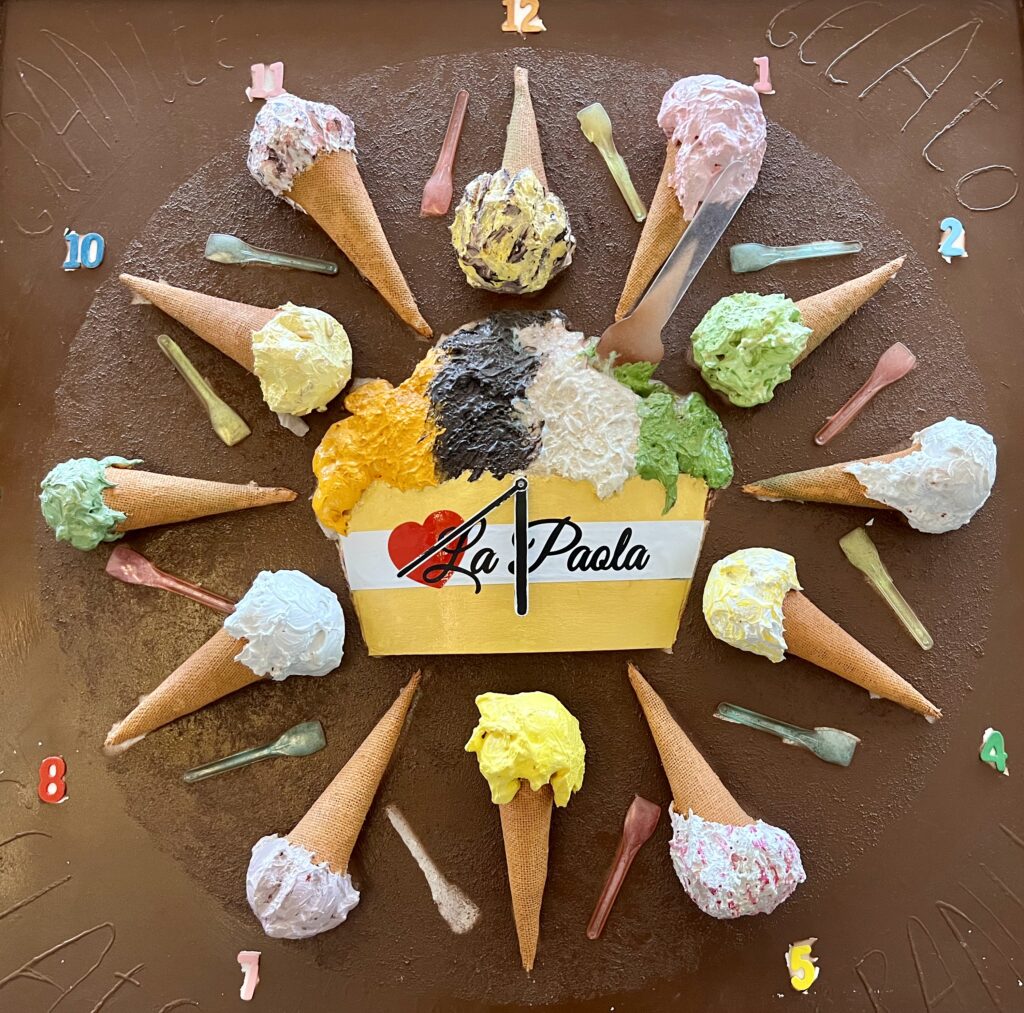 3. When To Visit Spello
The best time to visit Spello is spring or fall. In spring, flowers abound, and in fall, it's black truffle season.
Spello is also famous for its flower festival, so you may want to visit then. The Infiorate di Spello, takes place annually in late May or early June. It's on June 10-11 this year.
During the festival, the streets of Spello are covered with intricately designed flower carpets. They're made by local residents and artists using millions of flower petals.
The Spello Flower Festival is one of the most important events in the town's calendar. So if you are planning to visit Spello during this time, be sure to book your accommodations well in advance!
4. How Much Time Do You Need To Visit Spello?
The amount of time you need to explore Spello depends on how much you want to see and do. Spello is a small town, so it is possible to see the main attractions on a day trip.
However, if you want to take your time, enjoy a leisurely lunch, and explore the narrow streets and alleys, you may want to consider staying overnight.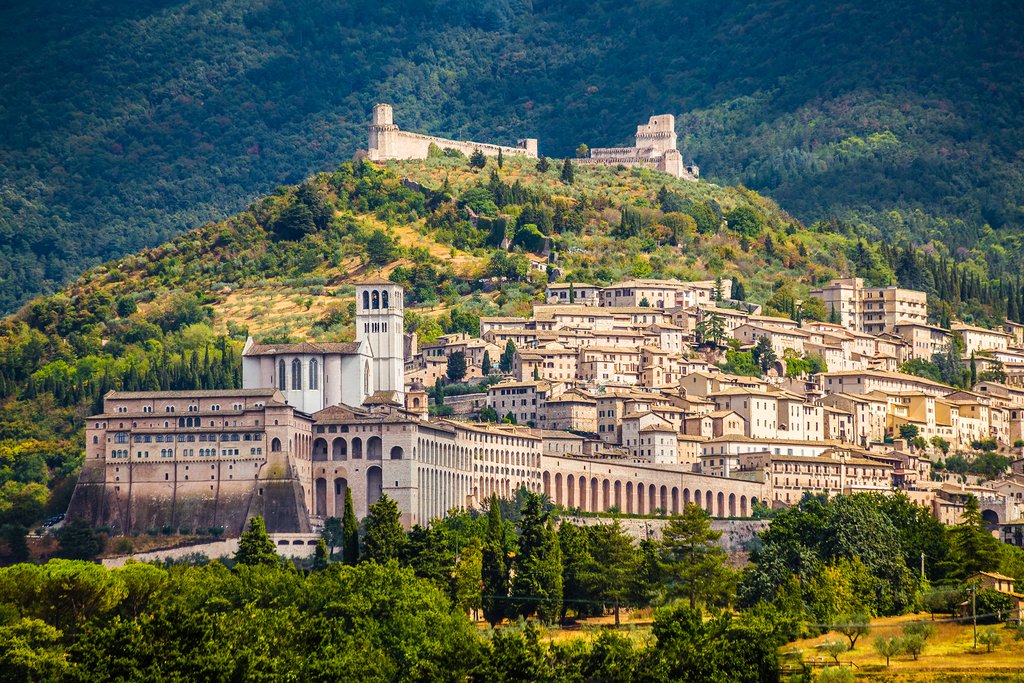 5. Can You Visit Both Spello and Assisi In One Day?
Although Spello is a small town, I think it deserves a full day. This is especially true if you don't want to rush and you want to see all the historic monuments.
But it is possible to do both Spello and Assisi in one day because they are only 8.5 miles apart. If you plan to do both towns, I would start in Spello, wander the town, hit the Baglione Chapel when it opens around 10:00 am, and then head to Assisi.
To visit Assisi in the most efficient way, you may want to book a guided walking tour that includes the Basilica of St. Francis of Assisi. For more information, here's my guide to the best things to do in Assisi.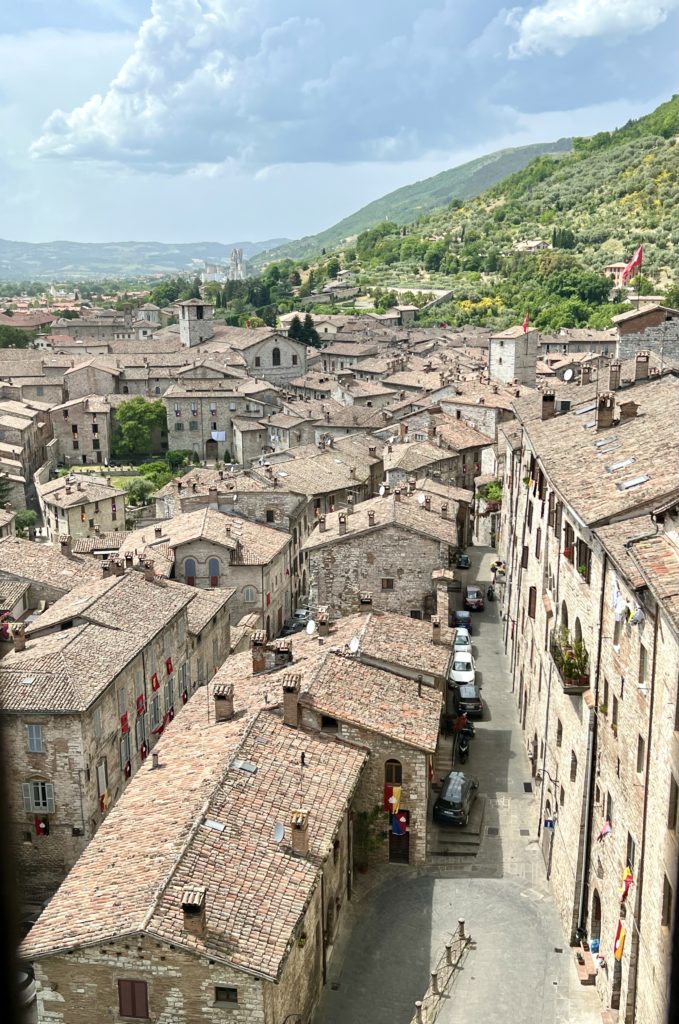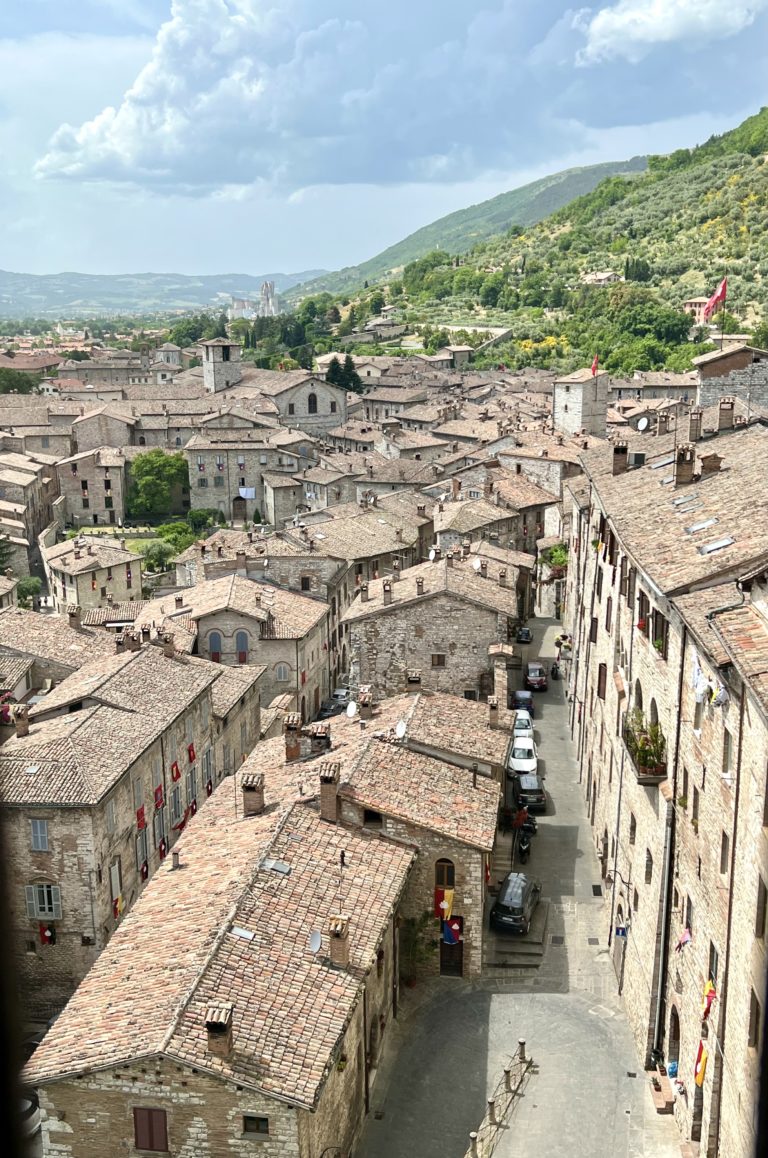 6. Things To Do Near Spello
Do you have more than one day to spend in Spello? Apart from Assisi, there are some other lovely medieval towns near Spello.
Gubbio
Gubbio is 33 miles from Spello. It's a stunning medieval town that has a uniquely well-preserved medieval atmosphere.
Gubbio is famous for its Roman ruins, beautiful Piazza Grande, and the thrill-inducing funicular ride up to the Basilica of Saint Ubaldo.
READ: Best Things To Do in Gubbio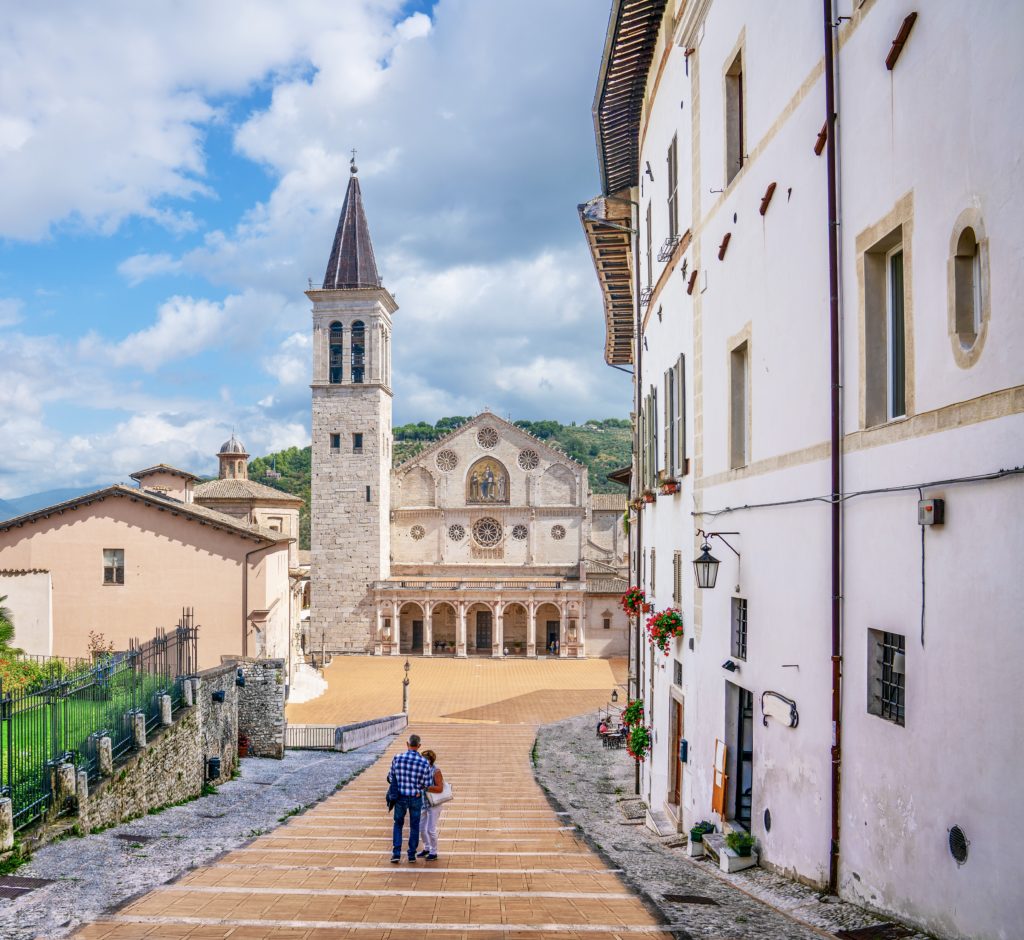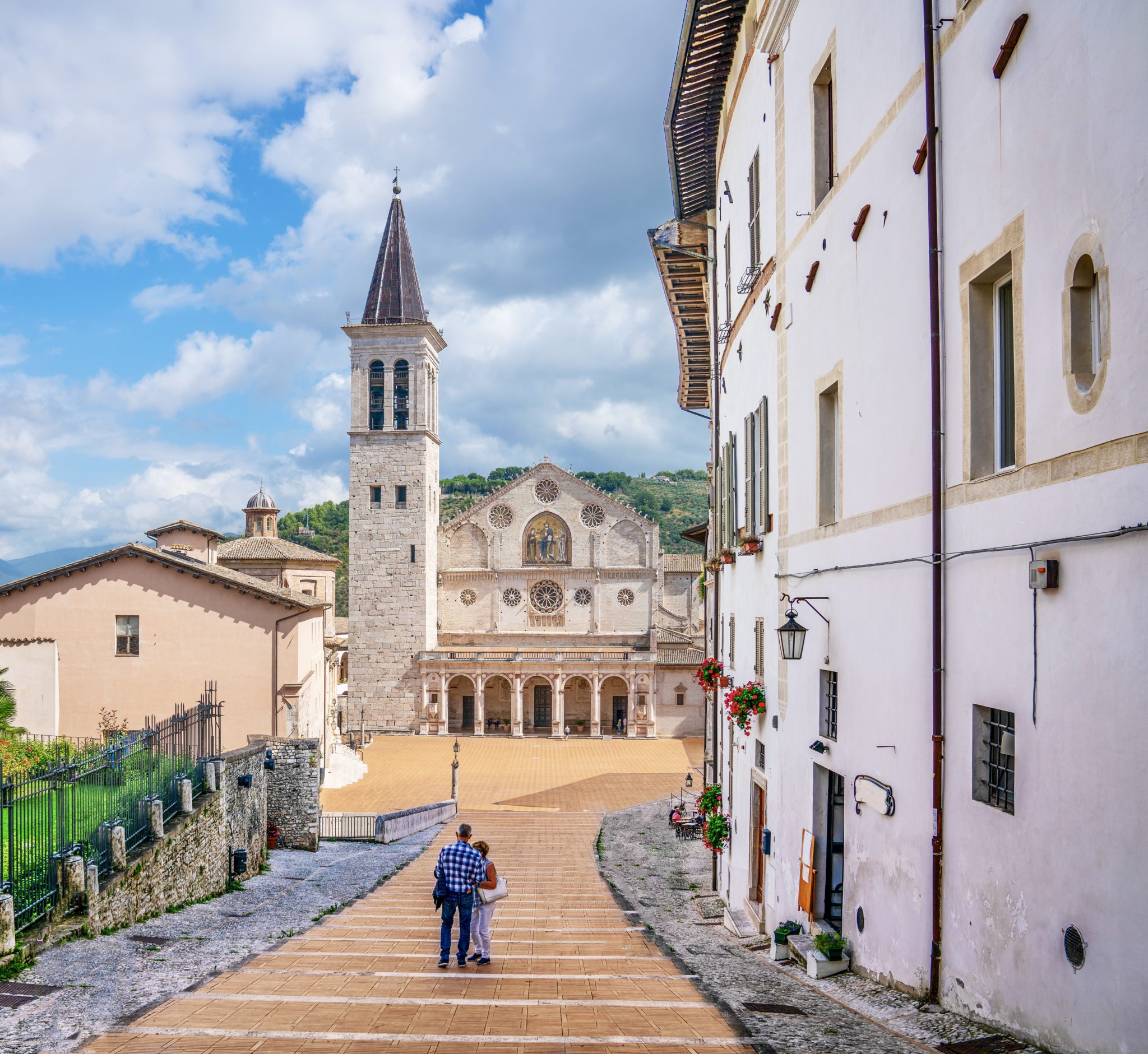 Spoleto
Just 23 miles from Spello, Spoleto is a captivating hill town that is a hidden gem in Italy. With a medieval fortress overseeing it and the majestic Apennines mountains providing a picturesque backdrop, Spoleto's visual appeal is unmatched.
Evidence of Etruscan and Roman cultures can be seen throughout the town in the form of ruins, including a Roman amphitheater, a 4th century house, and a 6th century Roman church.
One of Spoleto's most striking sights is the pale stone Duomo situated on an elegant hillside piazza. Its exterior combines Romanesque and Renaissance styles, making it an excellent subject for photography.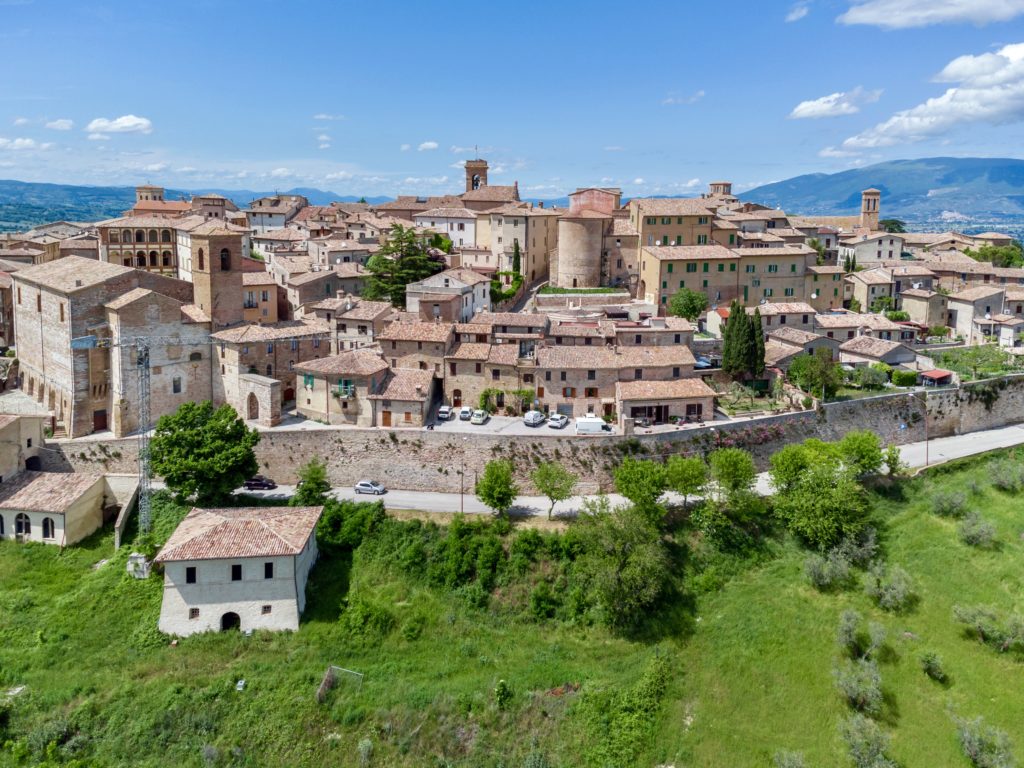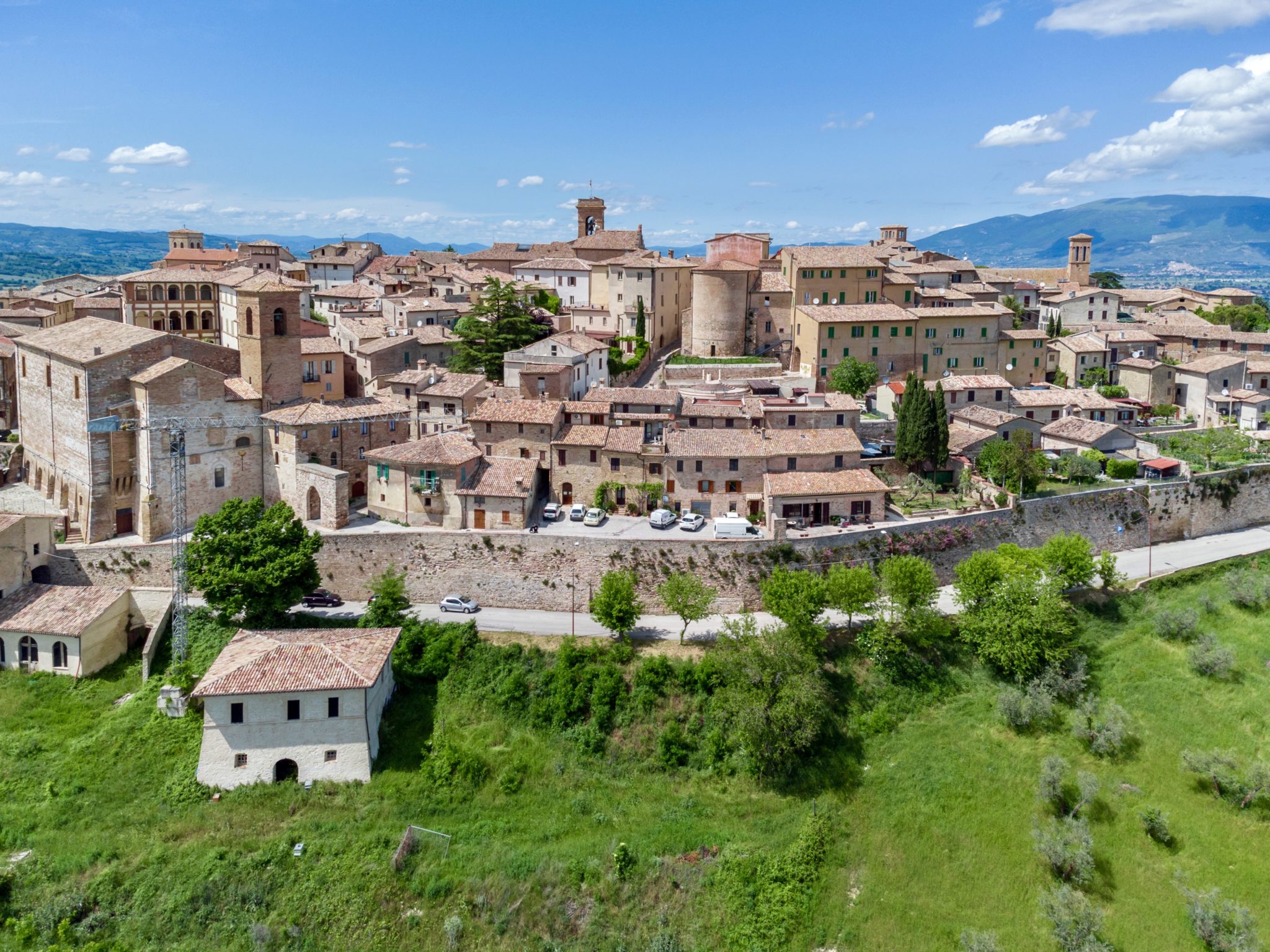 Montefalco
The lovely town of Montefalco is just 9 miles northwest of Spello. It's a beautiful village that sits atop a mountain overlooking the Clitumnus Valley. Known as the "Balcony of Umbria," it offers stunning panoramic views.
The Piazza del Comunale is the center of the village. It's surrounded by palaces from the Middle Ages and filled with coffee shops and wine bars. Seven streets radiate off the piazza.
One must-visit attraction is St. Augustine's Church, a massive Gothic church with faded frescoes from the 14th to 16th centuries. Montefalco's Museo di San Francesco is an impressive museum for its size, housing works by Benozzo Gozzoli and Perugino.
I hope you've enjoyed my one day in Spello itinerary. You may enjoy these other Italy travel guides and resources:
You may enjoy these other Italy guides:
If you'd like to spend one day in Spello, pin it for later.