Spoleto is a charming Umbrian hill town that boasts beautiful architecture, a rich history, and Renaissance art. With my recommended one day in Spoleto itinerary, you can easily explore all the town's top attractions and best things to do.
Spoleto is home to distinctive monuments and scenic landscapes that give it a charm and character all its own. Whether you're interested in culture, history, or simply want to soak up the atmosphere of a beautiful Italian town, Spoleto is sure to enchantyou.
On top of that, Spoleto is still somewhat of a hidden gem in Umbria. It's often overlooked by tourists in favor of more well known Umbrian towns like Assisi and Perugia. For those seeking a more authentic and relaxed travel experience, Spoleto will fit the bill!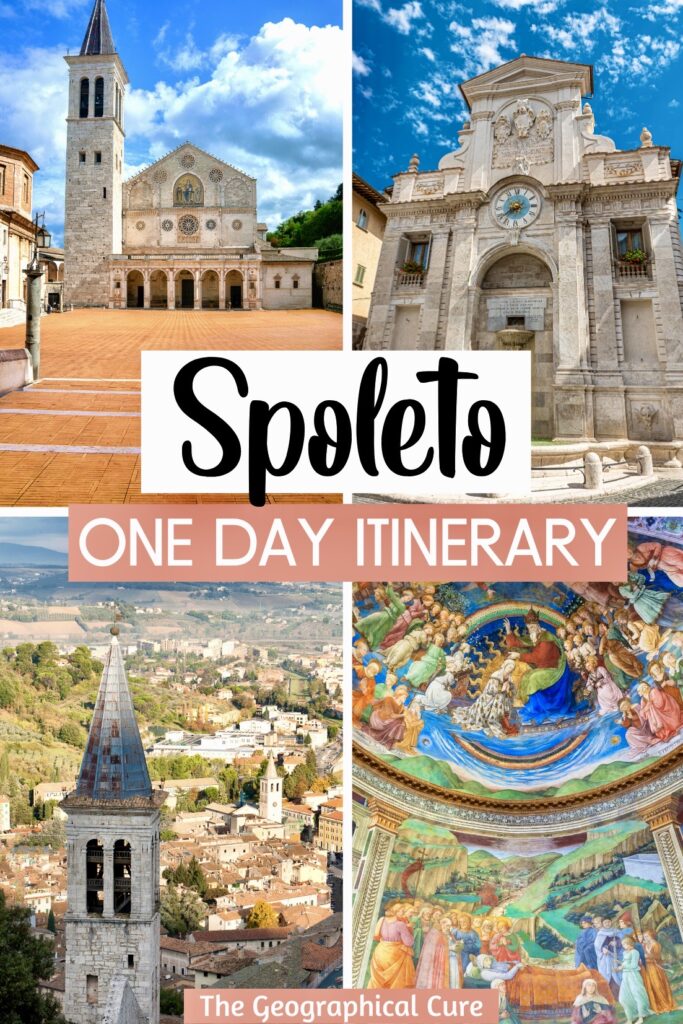 Overview Of One Day In Spoleto Itinerary
Here's a quick snapshot of the things you can see with one day in Spoleto.
Piazza del Mercato
Spoleto Cathedral
Palazzo Comunale
Torre dell'Olio
Arch of Drusus
Palazzo Collicola
Church of San Ponziano
Teatro Romano
Archaeological Museum
Rocca Albornoziana
Ponte delle Torri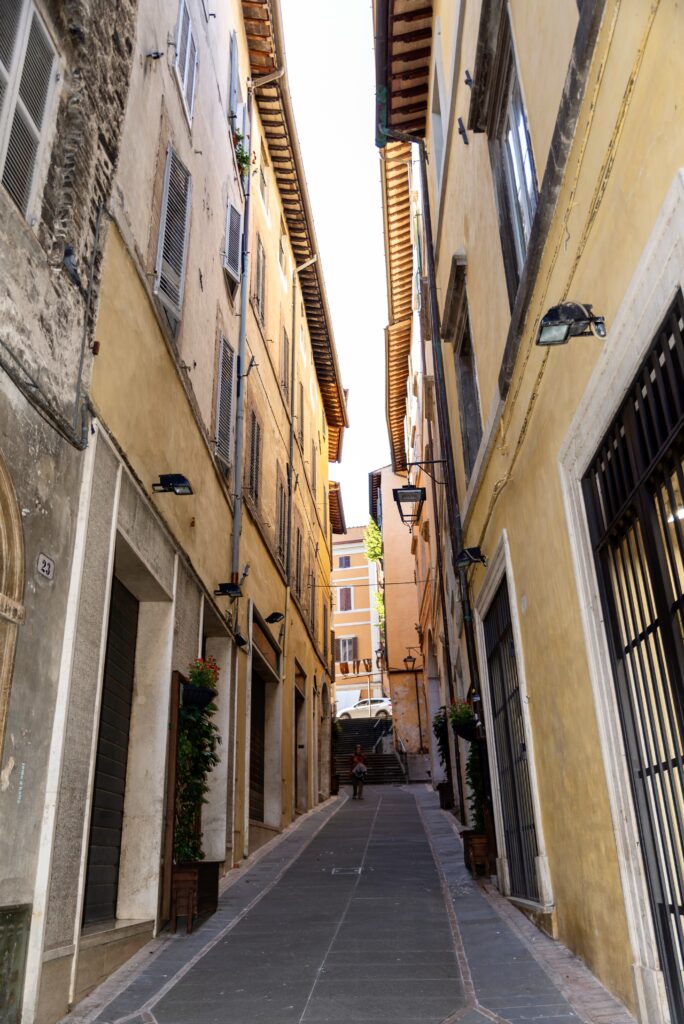 A Short History of Spoleto
Spoleto is an ancient hill town that dates back to the Roman era.
It was an important center of commerce and culture during the Roman Empire and known for its production of fine textiles and ceramics. The town was also a popular destination for wealthy Romans who built villas in the surrounding countryside.
During the Middle Ages, Spoleto became an independent city-state and grew in power and influence. The town was ruled by a series of powerful families, including the Lombards and the Franks. It was valued for its military prowess and strategic location.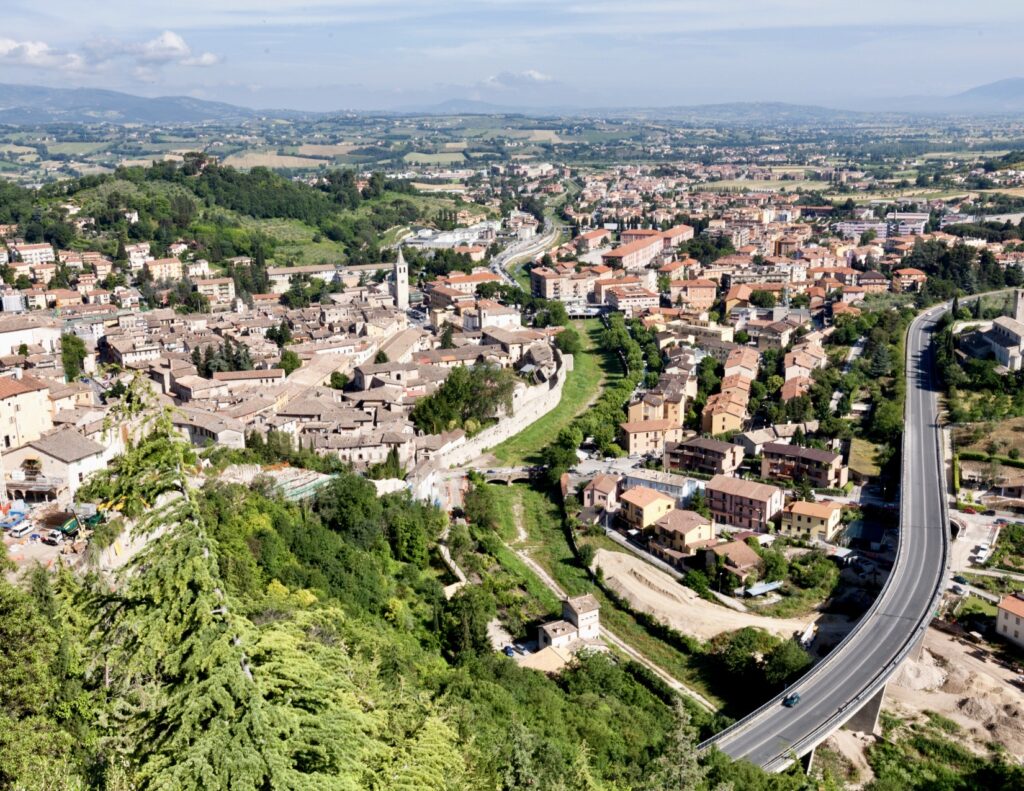 In the 12th century, Spoleto came under the control of the papacy and became an important center of the Catholic Church. The town's cathedral, which dates back to this period, is one of the most impressive examples of Romanesque architecture in Italy.
In the centuries that followed, Spoleto continued to thrive as a center of art and culture. The town was home to many famous artists and writers, including the painter Filippo Lippi and the poet Torquato Tasso.
Today, Spoleto is a popular destination for tourists who come to explore its historic monuments, scenic landscapes, and a rich cultural heritage.
One Day In Spoleto Itinerary
Here's my recommend 1-day itinerary for Spello. This itinerary will give you a taste of Spoleto's rich history and culture, while still allowing plenty of time to relax and enjoy the city's beautiful scenery and delicious cuisine.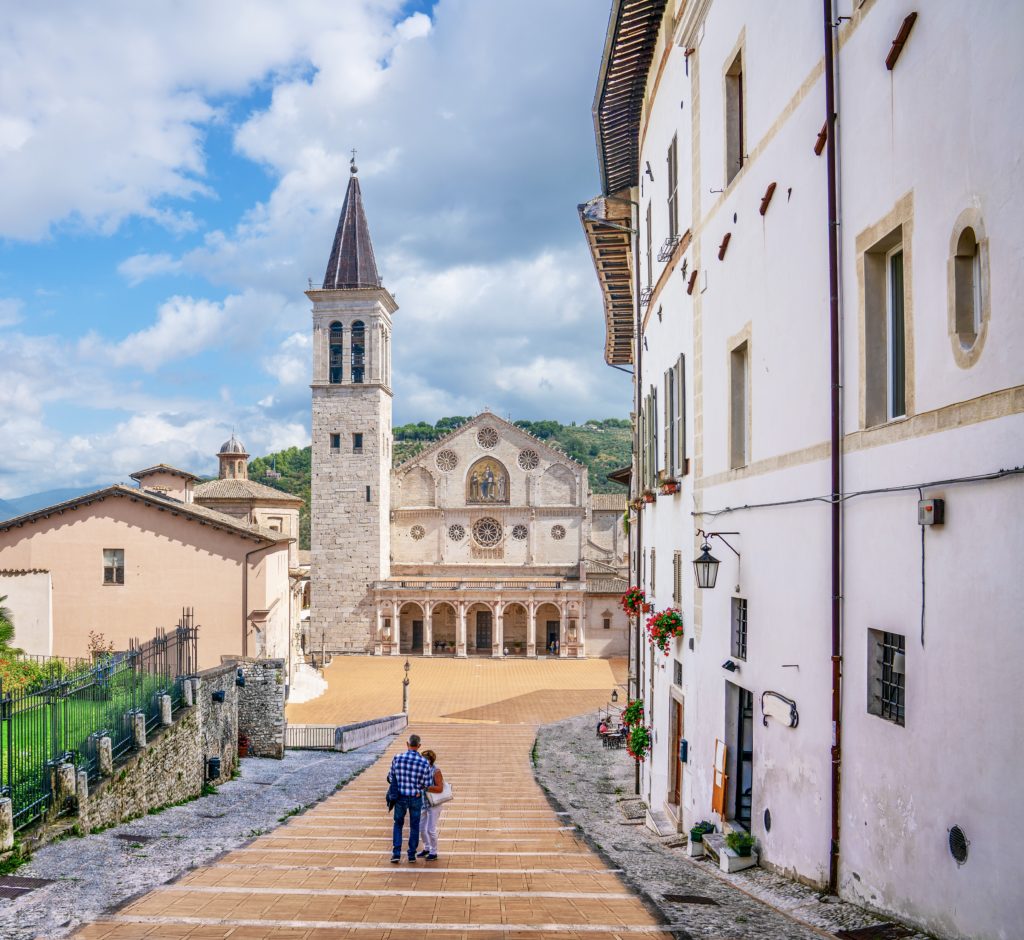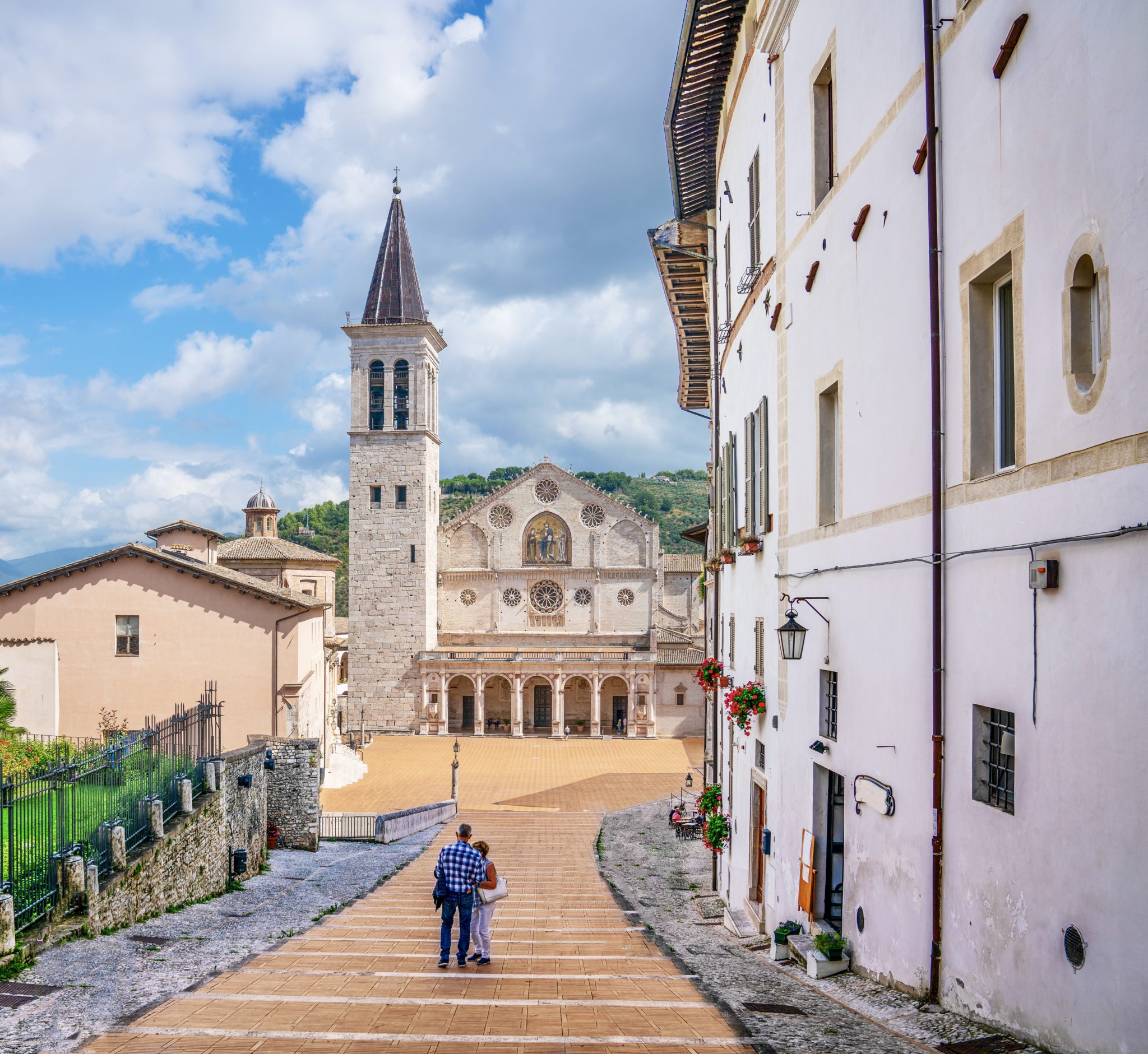 Start your day at the Piazza del Mercato, the heart of Spoleto's historic center. It's a hub of Spoleto attractions and you will want to visit them all.
To get an overview of them, you may want to book a guided walking tour.
Spoleto Cathedral
First, visit the magnificent 12th century Spoleto Cathedral. It's an ancient church dedicated to the Assumption of Saint Mary. The cathedral is a work of art in itself, boasting an intricately carved facade and a breathtaking rose window.
The interior of the cathedral houses a spectacular array of art from the 14th and 15th centuries. The frescoes by Filippo Lippi in the apse are a true highlight.
They depict scenes from the life of the Virgin Mary and are renowned for their delicate colors and graceful figures. Art historians consider them to be one of Lippi's greatest works.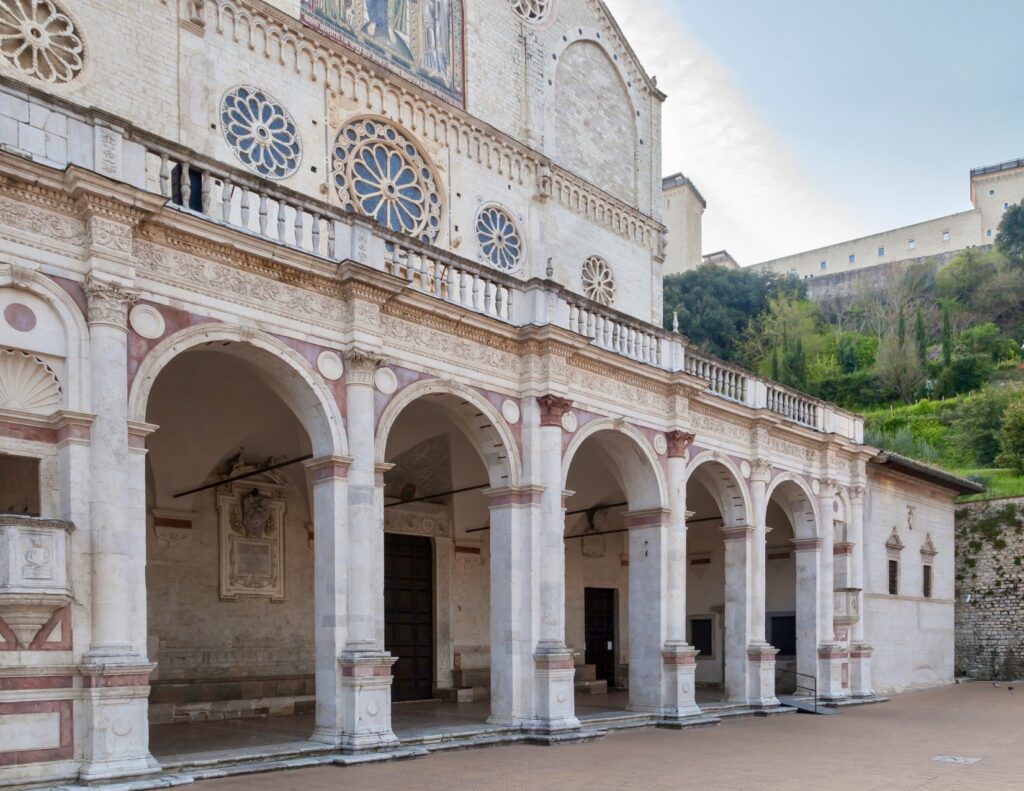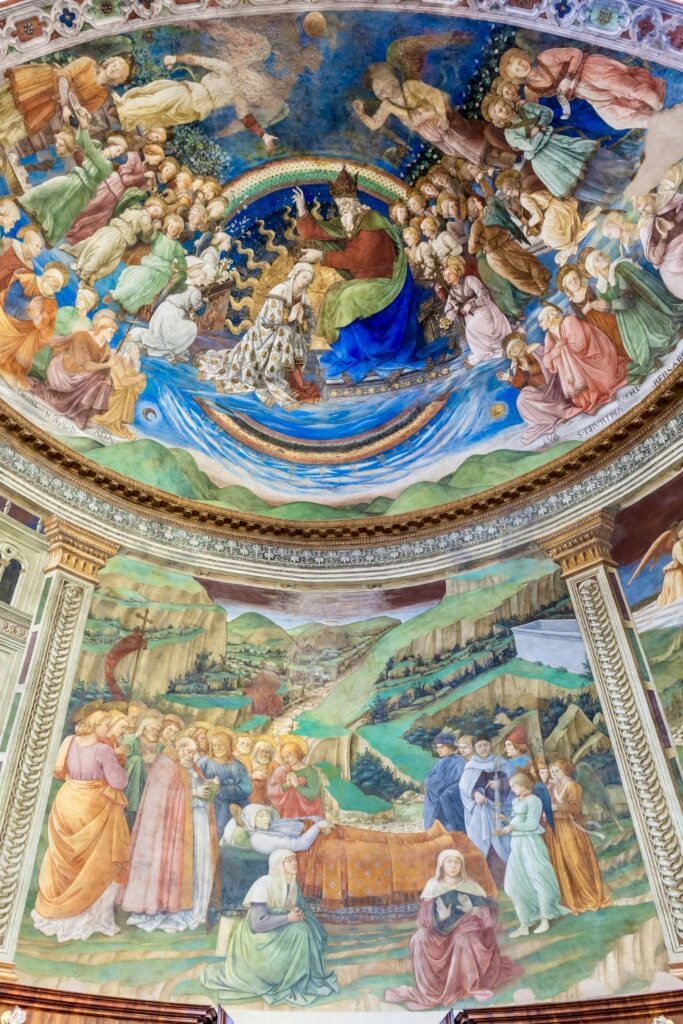 Among the cathedral's other treasures is a Crucifixion painted by Alberto Sotio in 1187. It's located in the chapel of the Madonna delle Lacrime.
The cathedral also showcases several stunning sculptures, including a 13th century baptismal font and a wooden crucifix from the 14th century.
Be sure to explore the cathedral's crypt, which incorporates the remains of an ancient Roman temple, providing a fascinating glimpse into the area's rich history.
You can also climb the cathedral's bell tower for panoramic views. It's not open all the time, so be sure to check the cathedral website.
>>> Click here to book a ticket to the duomo complex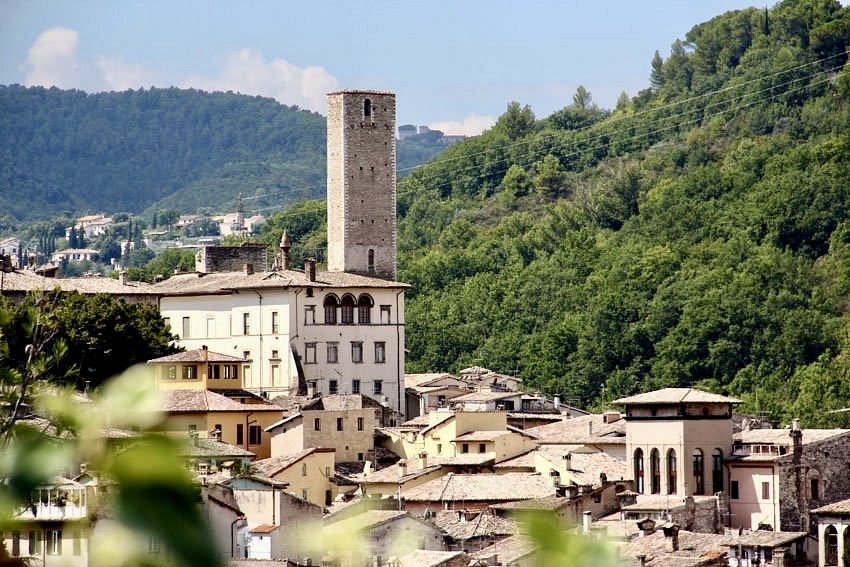 Palazzo Comunale & Torre dell'Olio
The Palazzo Comunale is situated on the eastern side of the main square in Spoleto. Since the 13th century, it has been the seat of the Spoleto government and serves as a venue for art exhibitions and concerts.
The Palazzo Comunale boasts a stunning tower known as the Torre dell'Olio, which visitors can climb for breathtaking views of the surrounding countryside.
For a small fee, you can ascend 160 steps up a spiral staircase in the tower. The staircase is wide enough to pass others going in the opposite direction, and there are several rest stops along the way.
The Torre dell'Olio is open Tuesday to Sunday, from 10:00 am to 7:00 pm (with a lunch break from 1:00 pm to 3:00 pm). The ticket to climb the tower also includes access to the small civic museum of the Palazzo Comunale.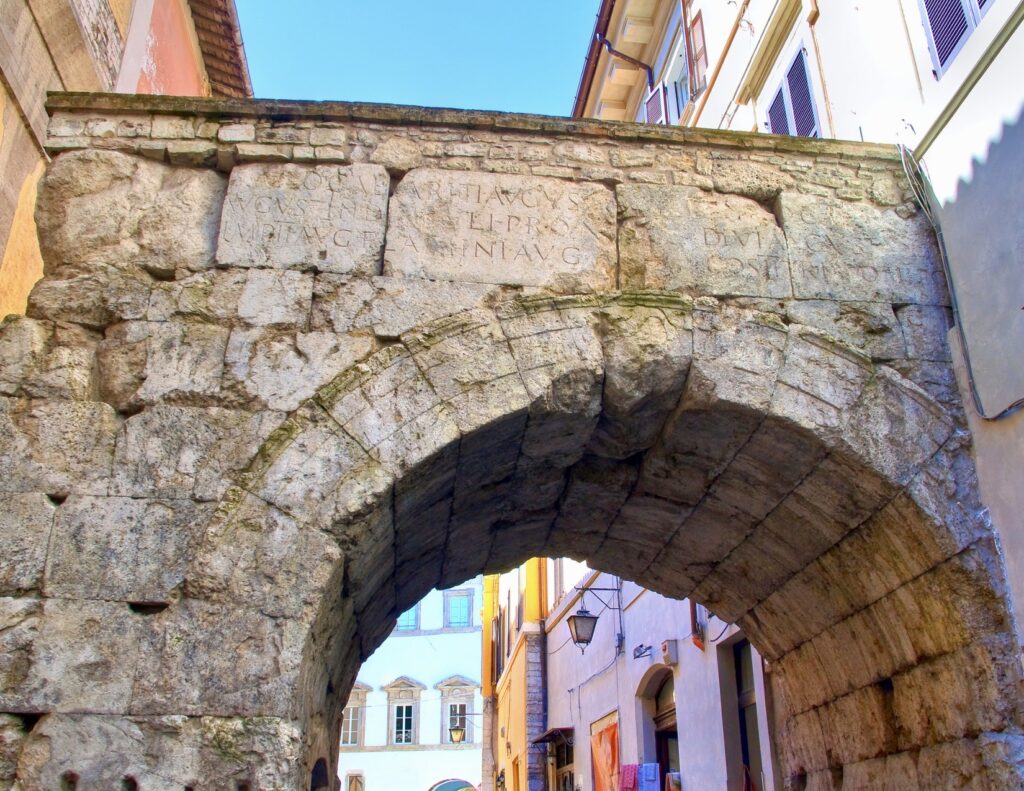 Arch of Drusus
In the square, you'll also find the Arch of Drusus. It's an ancient Roman arch that dates from the 1st century A.D. It's named after the Roman general Nero Claudius Drusus.
The arch was originally part of the ancient city walls of Spoletium. The well-preserved arch consists of a single arch made from blocks of limestone.
There are some very fragmentary decorations and inscriptions.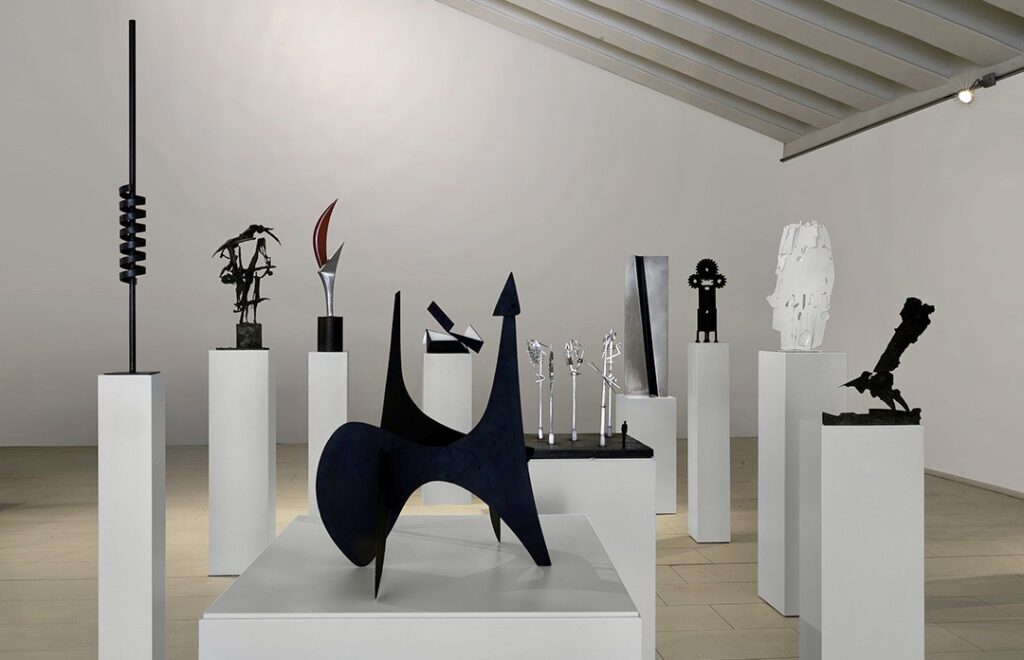 Palazzo Collicola
If you're interested in contemporary art, don't miss a visit to Palazzo Collicola. The gallery features a remarkable collection of 20th and 21st century art from Italian and international artists, with a special emphasis on avant-garde and experimental movements.
The museum showcases works by famous artists such as Henry Moore, Alexander Calder, and Sol LeWitt, among others. Moreover, the museum frequently hosts temporary exhibitions throughout the year that showcase emerging and established contemporary artists.
While you're exploring the square, be sure to take a moment to admire the stunning Fontana di Piazza del Mercato. This impressive 17th century fountain was designed by architect Nicolò Salvucci. It boasts a clock at its center and the coat of arms of the Barberini family at the top.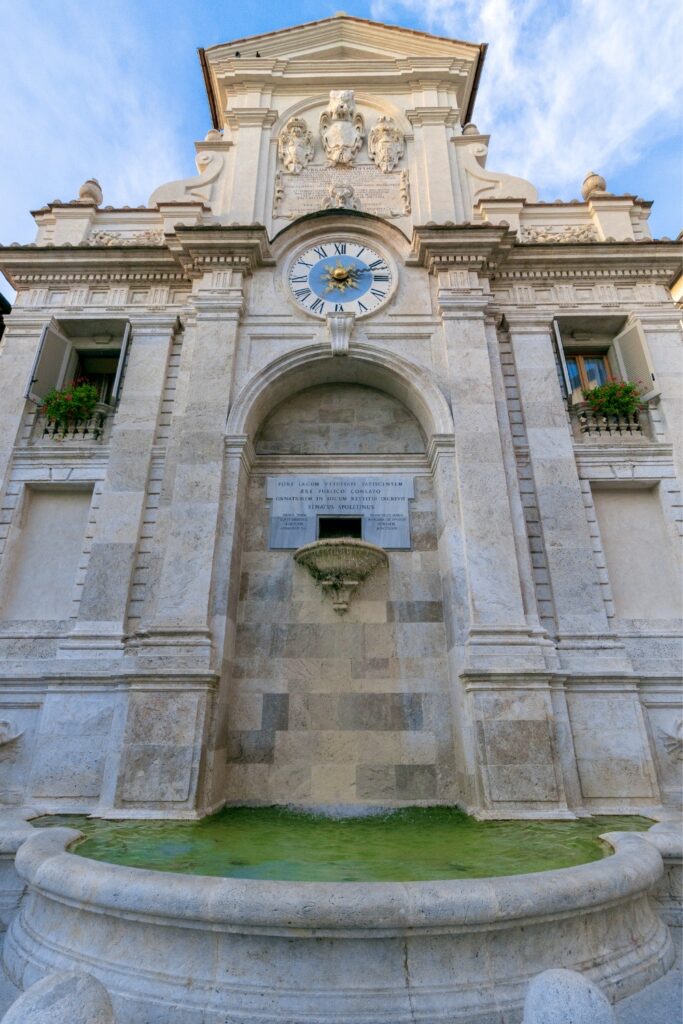 For lunch, head to the Trattoria del Festival, which offers delicious local cuisine in a cozy setting. Be sure to try the truffles, which are a specialty of the region.
You could also book a guided market tour, take a cooking class, a pasta and tiramisu making class, or a street food tour.
Church of San Ponziano
After lunch, pay a visit to the Church of San Ponziano in the historic center. The church is named after Saint Ponziano. He was a Christian martyr imprisoned and executed in Rome in the 3rd century A.D.
The church boasts a beautiful 12th century Romanesque facade and features intricate carvings and decorations. Inside, visitors can see a number of interesting artworks, including frescoes from the 14th and 15th centuries and a wooden crucifix from the 16th century.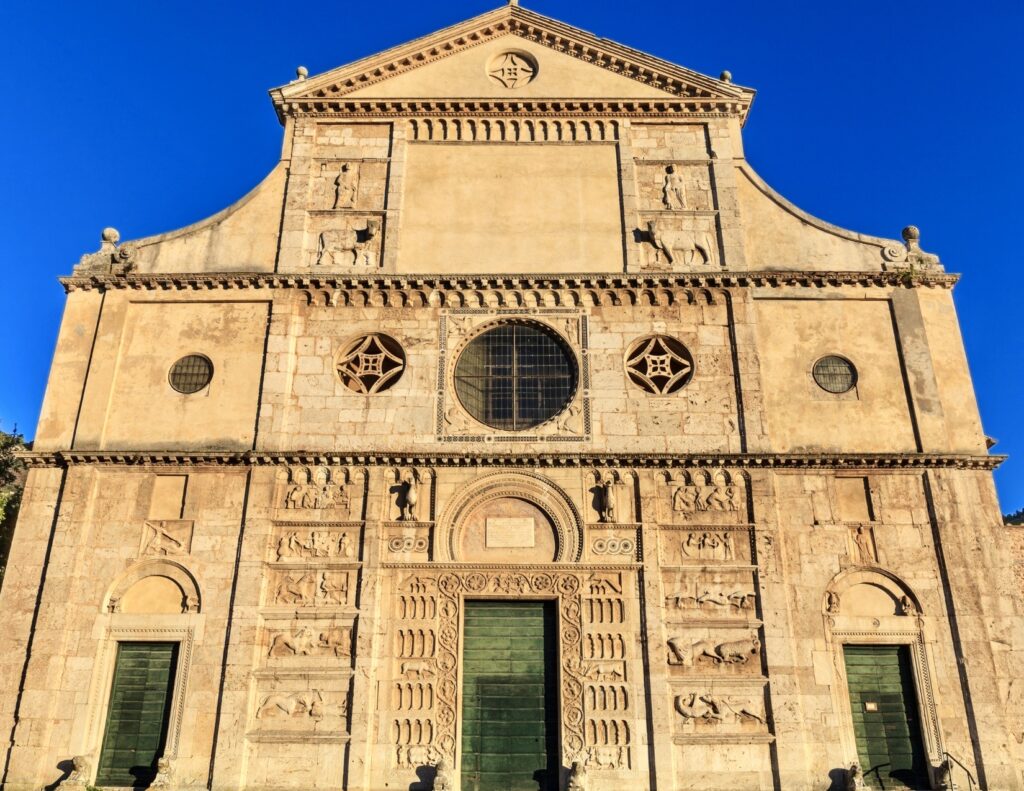 Church of San Pietro
The Church of San Pietro is a medieval church also located in the historic center. It was built in the 12th century and is one of the oldest surviving examples of Romanesque architecture in Umbria.
The church features a simple yet elegant facade with a central rose window and storytelling friezes around the main portal.
Inside, visitors can admire the beautiful frescoes that adorn the walls and ceiling. The frescoes are attributed to the "Maestro di San Nicolò", a local artist from Spoleto.
One of the highlights of the church is the Chapel of the Holy Sacrament, which features a stunning 13th century fresco cycle that depicts scenes from the life of Christ. The frescoes are considered to be some of the finest examples of Umbrian Gothic art.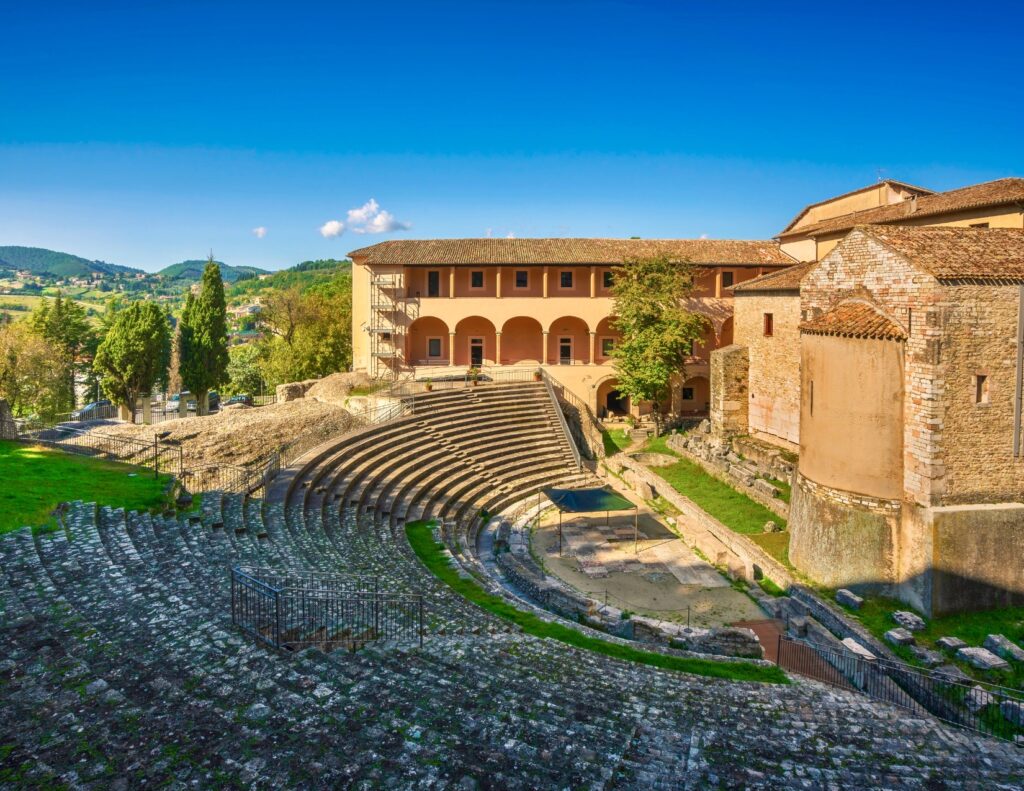 Teatro Romano
Next, make your way to the Teatro Romano. It's an ancient Roman theater that's located just outside the city, about 15 minutes from St. Pietro.
The theater dates back to the 1st century A.D. and was likely used for gladiator games and other public spectacles.
The amphitheater was only rediscovered in the early 20th century and has since undergone several restorations. Today, visitors can explore the amphitheater's ruins and see the remains of its seating areas, underground tunnels, and other features.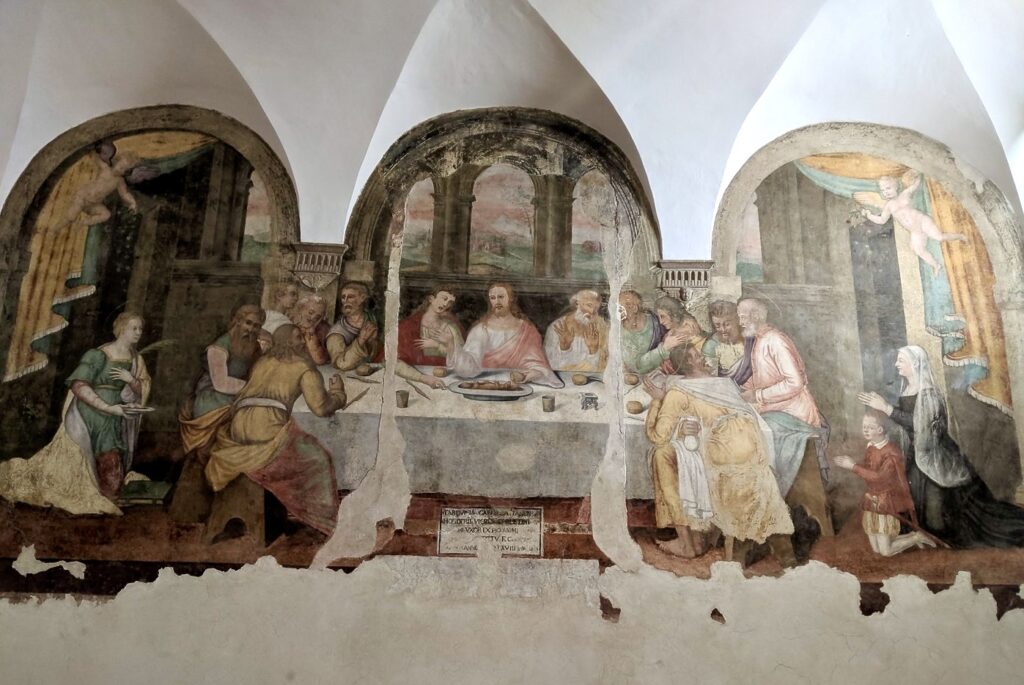 The theater is still used today for concerts and other cultural events, and you can take a guided tour to learn more about its fascinating history.
Archaeological Museum
Your ticket for the Roman Theater also gives you access to the Spoleto's Archaeological Museum.
It houses artifacts from the Etruscan and Roman eras, including some found in the Roman Theater. The most interesting pieces are a bust of a young Octavian (who would later become Emperor Augustus) and a fresco of The Last Supper.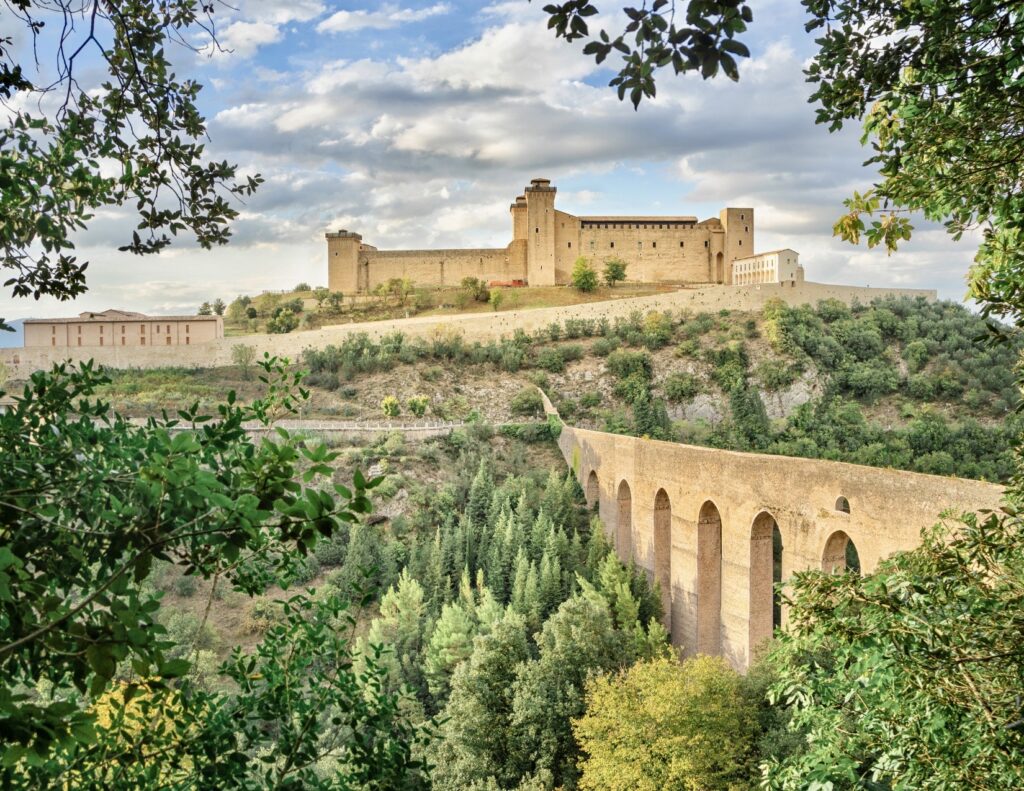 Rocca Albornoziana
For a historical adventure in Spoleto, hike up to the Rocca Albornoziana, a fortress that has stood since the 14th century. It's one of the best things to do in Spoleto.
Depending on your fitness level and the frequency of your stops to take in the scenery, the hike up takes about 30-40 minutes.
Keep in mind that the trail leading up to the fortress can be challenging for some visitors, due to its steep incline and series of stone steps.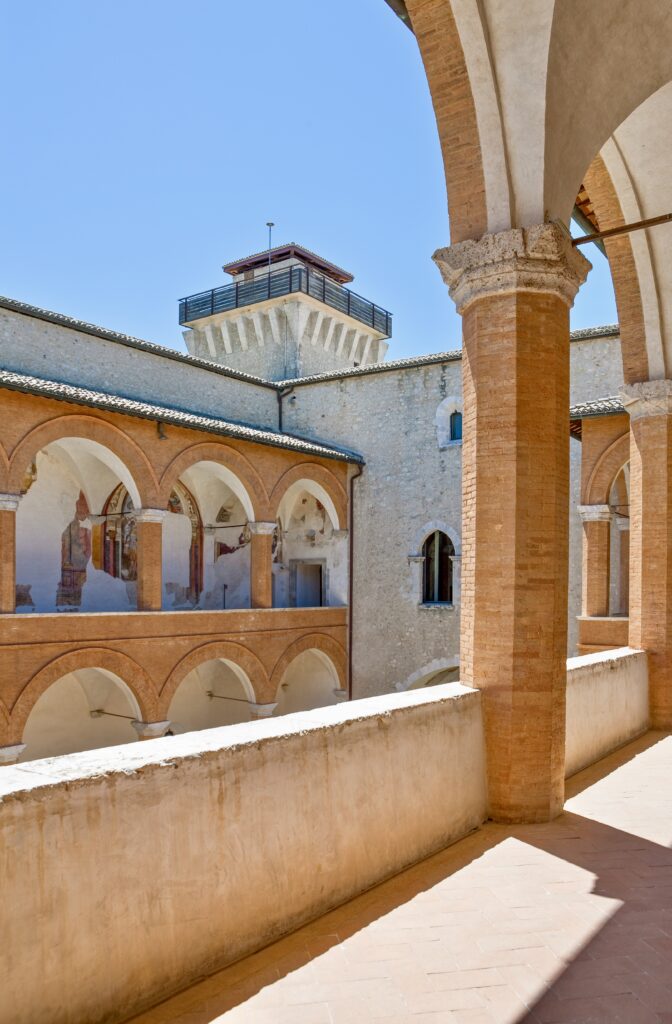 However, the effort is worth it as the views of the surrounding landscape and the fortress itself are breathtaking. For easy access to the fortress, you can also use the escalators from Piazza Campello and Via Gattaponi.
Once you reach the top, take time to explore the castle's interior and soak up the panoramic views of Spoleto and the valleys below.
The fortress now houses a museum that showcases Spoleto's rich history, featuring artifacts from the Roman, medieval, and Renaissance periods.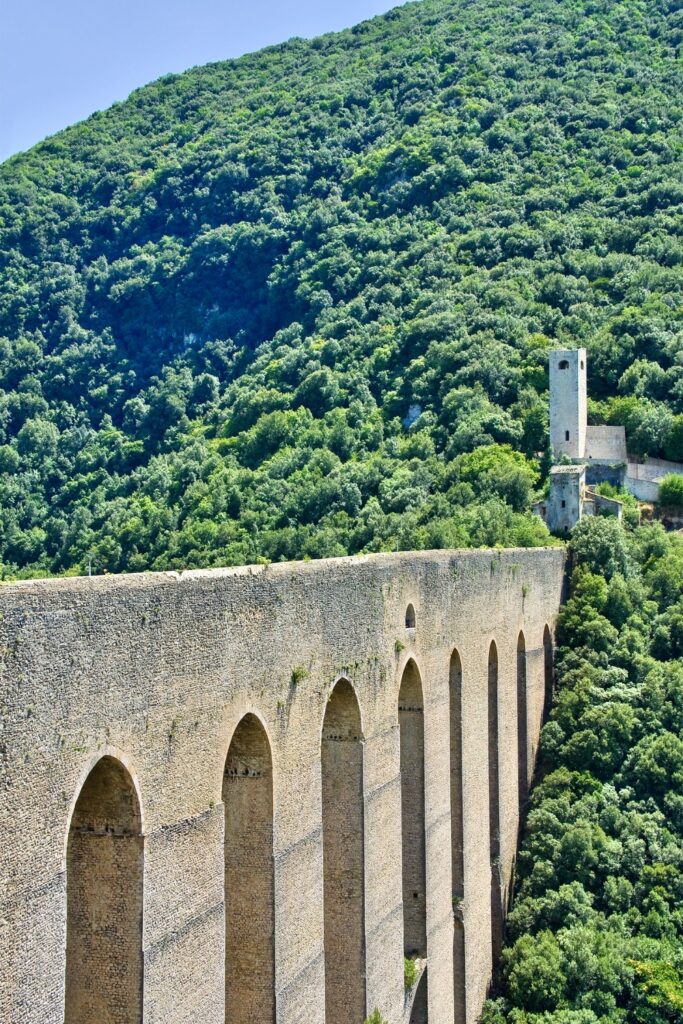 Ponte delle Torri
From the fortress, follow the footpath back down the hill to visit the Ponte delle Torri. It's a 14th century aqueduct that spans a deep gorge.
You can walk across the bridge and enjoy stunning views of the surrounding countryside. It's especially pretty at sunset.
Of course, no visit to Spoleto is complete without enjoying the local cuisine. The town is known for its delicious truffles, salumi, and local wines, which can be savored at one of the many restaurants and cafes in town.
For dinner, head to the Osteria del Matto, a charming restaurant that serves up traditional Umbrian cuisine in a rustic setting. After dinner, take a stroll through Spoleto's historic center and enjoy the city's charming atmosphere.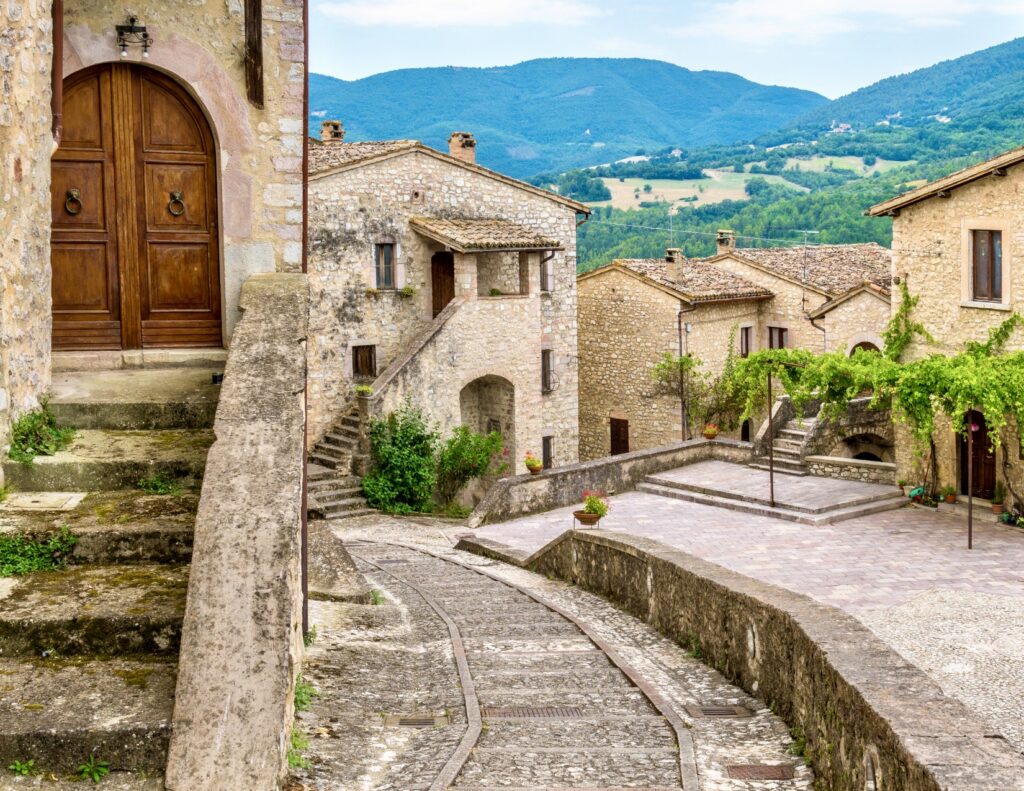 Tips For A One Day In Spoleto Itinerary
Here are some must know tips for spending a day in Spoleto.
1. How To Get To Spoleto
Spoleto is located in central Italy and is well-connected by road and rail to major cities in Italy. Here are some of the best ways to get to Spoleto:
By Train:
Spoleto has a railway station on the main line between Rome and Ancona, making it easily accessible by train. The journey from Rome takes around 1.5 to 2 hours, depending on the train you take. There are also direct trains from other major cities like Florence, Bologna, and Milan.
By Car:
If you're driving, Spoleto is located on the A1 autostrada, which connects Rome to Florence and Milan. The journey from Rome takes around 1.5 to 2 hours, depending on traffic.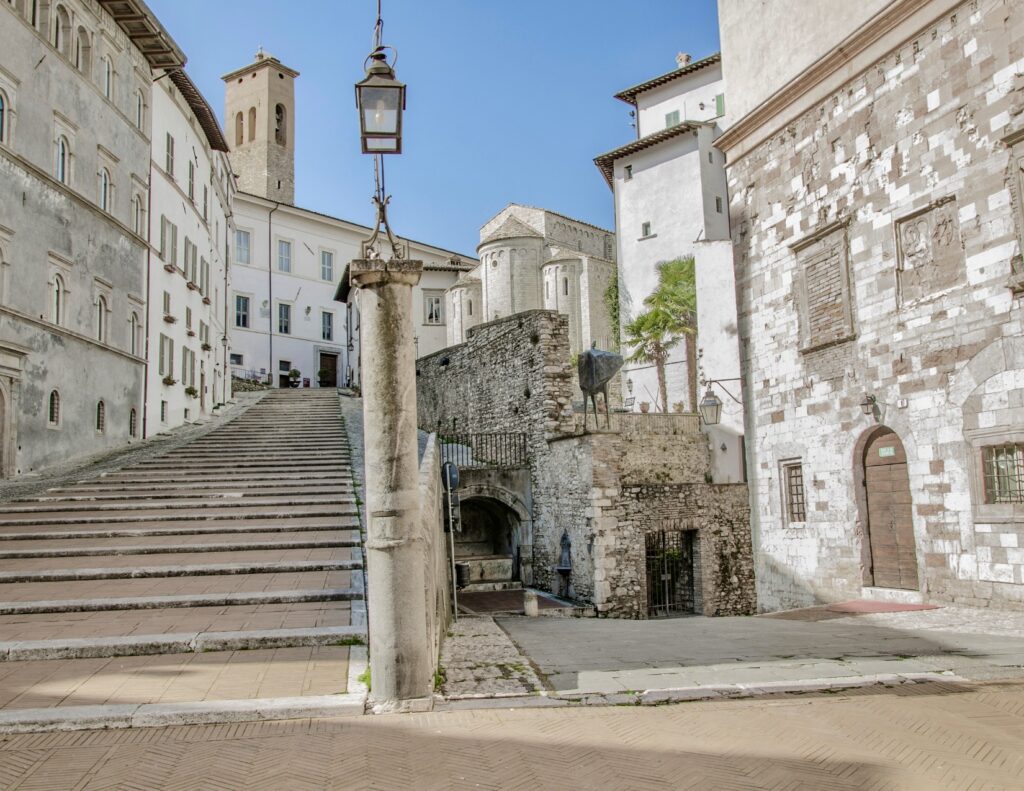 I wouldn't try to park inside the historic center, which has limited availability and restrictions. Instead, drop your car in one of the lots outside the town, Parcheggio San Francisco or Parcheggio Europa.
By Bus:
There are also buses that run from major Italian cities to Spoleto. Companies like Flixbus and Umbria Mobilità operate regular services to Spoleto from cities like Rome, Florence, and Perugia.
By Guided Tour:
If you are based in Rome, you can book a guided day tour to both Assisi and Spoleto.
2. When To Visit Spoleto
If you are planning one day in Spello, the town is at its best in spring or fall. During this time, the weather is mild and pleasant, and there are fewer crowds compared to the peak summer season.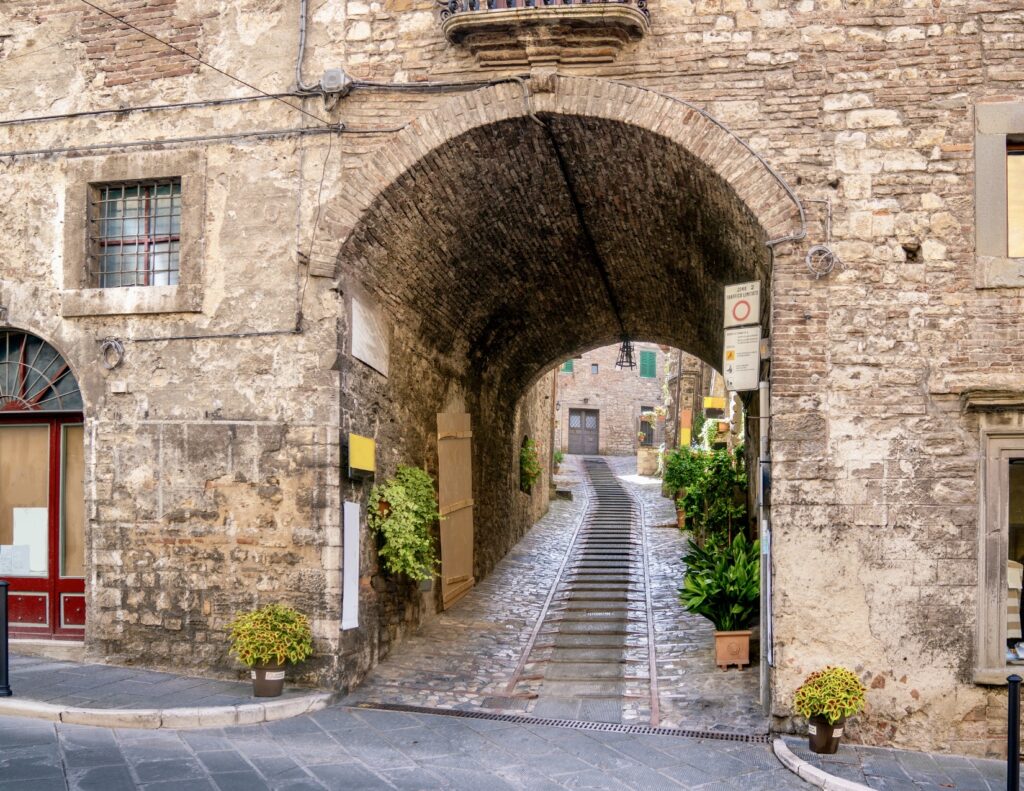 In summer, Spoleto can be crowded with tourists, and some of the popular attractions may have long queues.
One of the most popular events in the town is the beloved annual Spoleto Festival held in the summer. The festival was founded in 1958 by the composer Gian Carlo Menotti. It's since become one of the world's most prestigious cultural events.
This festival features a range of performances, including music, dance, and theater, attracting artists and performers from around the world. The performances take place in a variety of venues including the Teatro Romano and Spoleto Cathedral.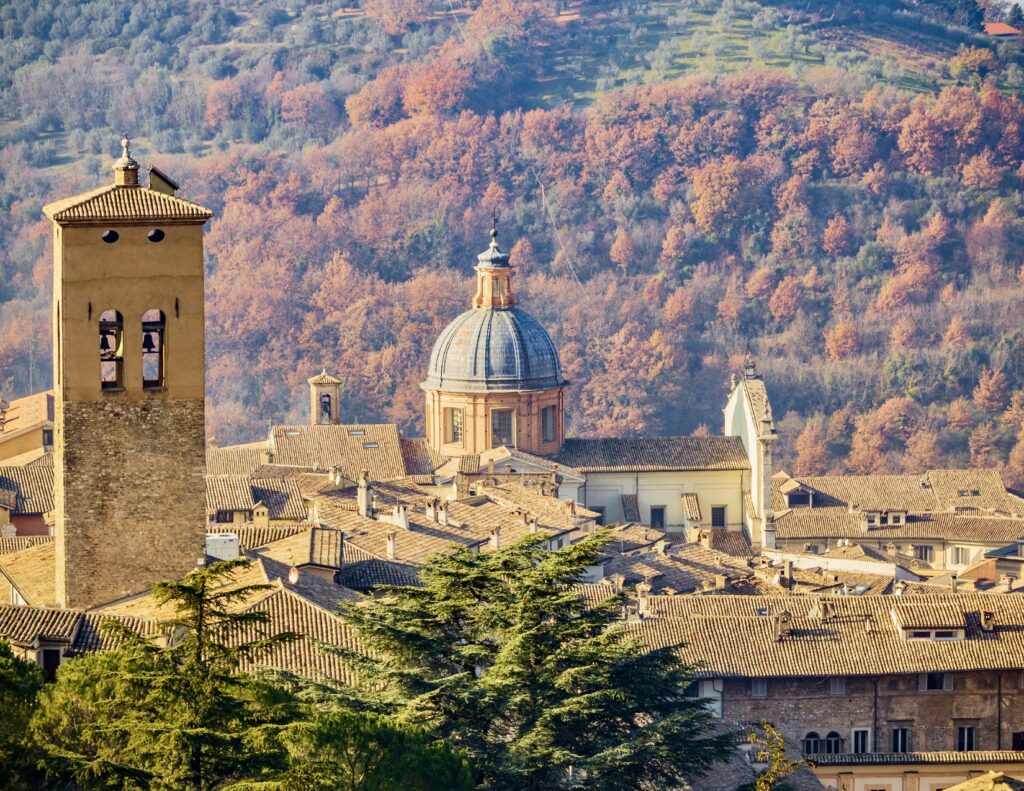 3. Where To Stay In Or Near Spoleto
There are some excellent places to stay overnight in Spoleto. In fact, Spoleto makes a great base for touring Umbria.
Palazzo Leti is a luxury hotel housed in a restored 17th century palace in Spoleto's historic center. The hotel offers rooms and suites with stunning views of the surrounding hills and valleys. Some of the rooms feature frescoed ceilings and antique furnishings.
Castello di Postignano is housed in a restored medieval castle is in the hills just outside of Spoleto. It offers beautiful views of the surrounding countryside, a spa, and gourmet restaurant.
Palazzo Seneca is a luxury hotel in a 16th century palace in the nearby town of Norcia, about 45 minutes from Spoleto. It features elegant rooms, a spa, and a Michelin-starred restaurant.
Borgo della Marmotta is a beautiful agriturismo about 15 minutes from Spoleto. It offers rustic-chic rooms and apartments in a restored 17th century hamlet, surrounded by vineyards, olive groves, and gardens.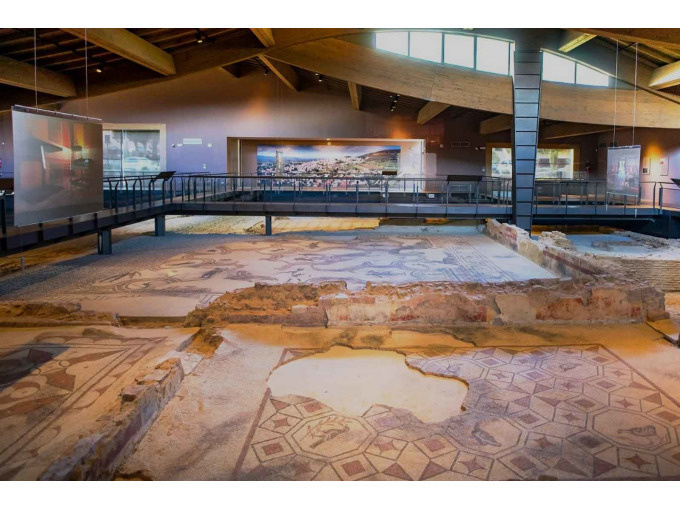 4. What to Do Near Spoleto
If you have more than one day to spend in Spoleto, there are plenty of other activities to keep you entertained.
One option is to visit the Monastery of Santa Maria di Vallegloria, which is located just outside of Spoleto. This impressive monastery dates back to the 12th century and was once home to a community of Benedictine nuns.
Nestled in a serene and picturesque rural setting, the monastery is surrounded by rolling hills and verdant forests. The architecture is also a fascinating blend of Romanesque and Gothic styles. Visitors can explore the church, the cloister, and other buildings that make up the monastery complex.
Another must visit attraction is the Villa of Mosaics, a well-preserved Roman villa just 18 miles from Spoleto. Dating back to the 2nd century A.D., the villa was likely the residence of a wealthy Roman family.
What sets the Villa of Mosaics apart are its intricate mosaic floors, which are spread across an area of almost 11,000 square feet. The mosaics are incredibly detailed and feature depictions of everything from mythology and hunting scenes to snapshots of daily life in ancient Rome.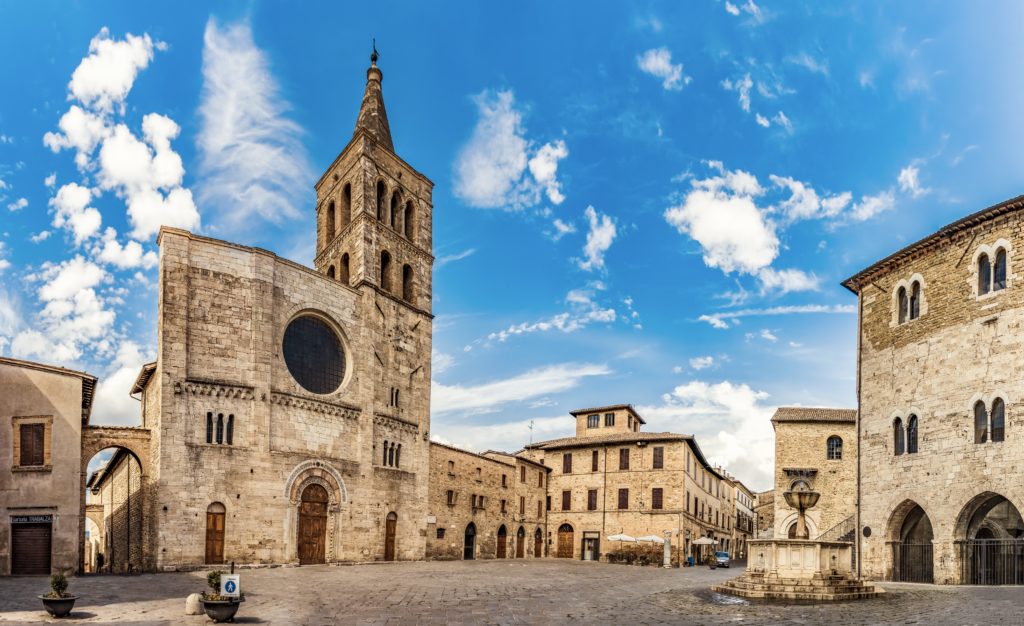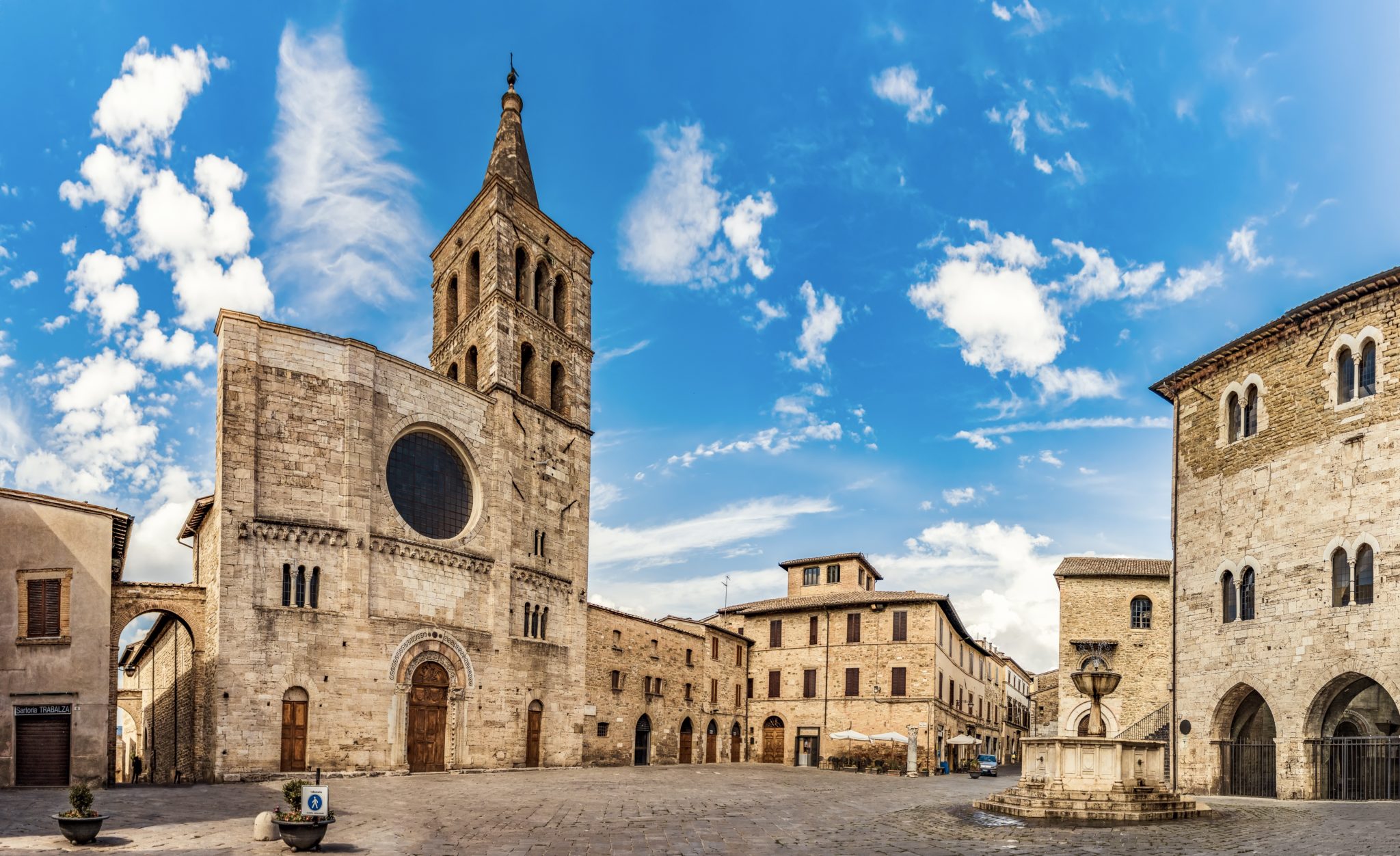 Aside from these specific sites, there are plenty of lovely villages to visit near Spoleto as well:
Assisi – 20 miles
Bevagna – 16 miles
Montefalco – 20 miles
Spello – 10 miles
You could combine one of these towns with a visit to Spoleto, to maximize your sightseeing in the area. If you opt to do this, I would spend the morning in Spoleto as I outlined above and then head to your next destination.
If you're interested in art and history, Assisi and Spello are great options.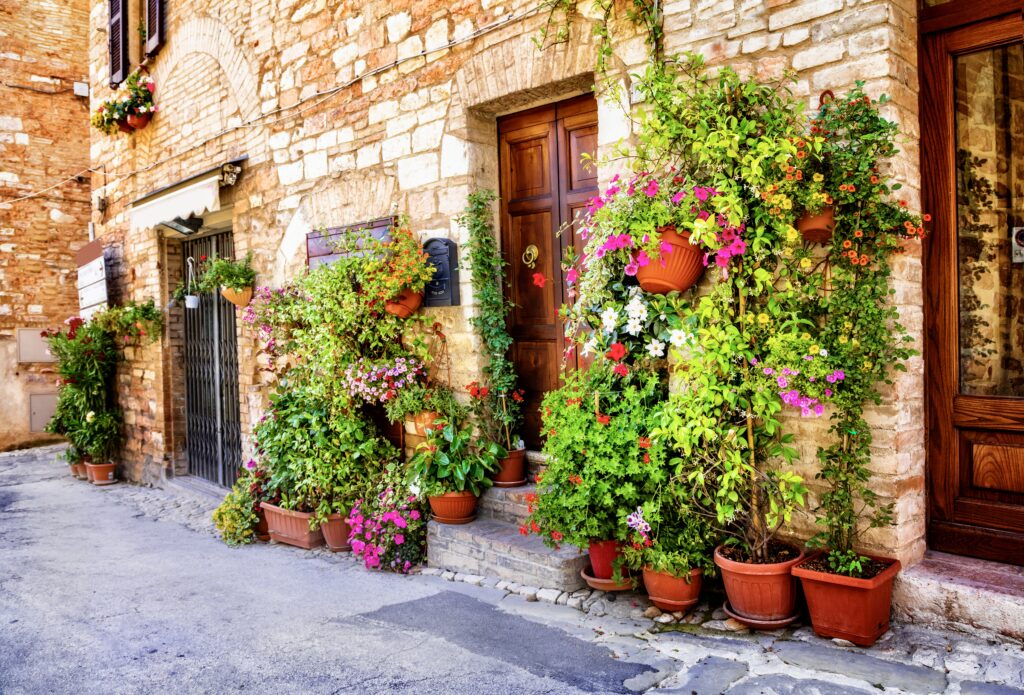 Assisi is the birthplace of St. France and is home to his titular basilica and Roman ruins. Spello is one of the most beautiful towns in Italy and is home to frescos by famed Renaissance artist Pinturicchio.
If you are a foodie, Bevagna and Montefalco are better options. Bevagna is known for its excellent restaurants and Montefalco is know for its superb full bodied wine called Sagrantino.
I hope you've enjoyed my one day in Spoleto itinerary. You may enjoy these other Italy travel guides and resources.
If you want to spend one day in Spoleto, pin it for later.