"A simple spark can destroy the foundations of civilization." — Lisbon street artist Alexandre Farto, aka Vhils
One of the first things I encountered in Lisbon on my recent geographical cure was the Elevador da Glória funicular. I saw it and was gobsmacked, in spite of what I'd read forewarning me of its wonderfulness. Despite the intense fog of jet lag, I found it absolutely delightful.
My daughter and I came upon it inadvertently while walking from our Air Bnb to the center of Baixa our first night in town. Beguiled by its eye catching graffiti art exterior, we immediately hopped right on. No questions asked.
If you're in Lisbon, you can catch it at Avenida da Liberdade in the downtown Restauradores area near Rossio Square.
If you're a street art lover, I suggest riding up the funicular (Lisbon is very steep) and then walking back down to fully take in the colorful street art on its geographical terrain, the Calçada da Glória.
The Glória funicular is over 100 years old and is classified as National Monument. It was electrified in 1915. It has space for 22 seated passengers. It will take you to the Miradouro de São Pedro de Alcântara in Bairro Alto, where you have fabulous views over Lisbon, St. George's Castle, and the Tagus River.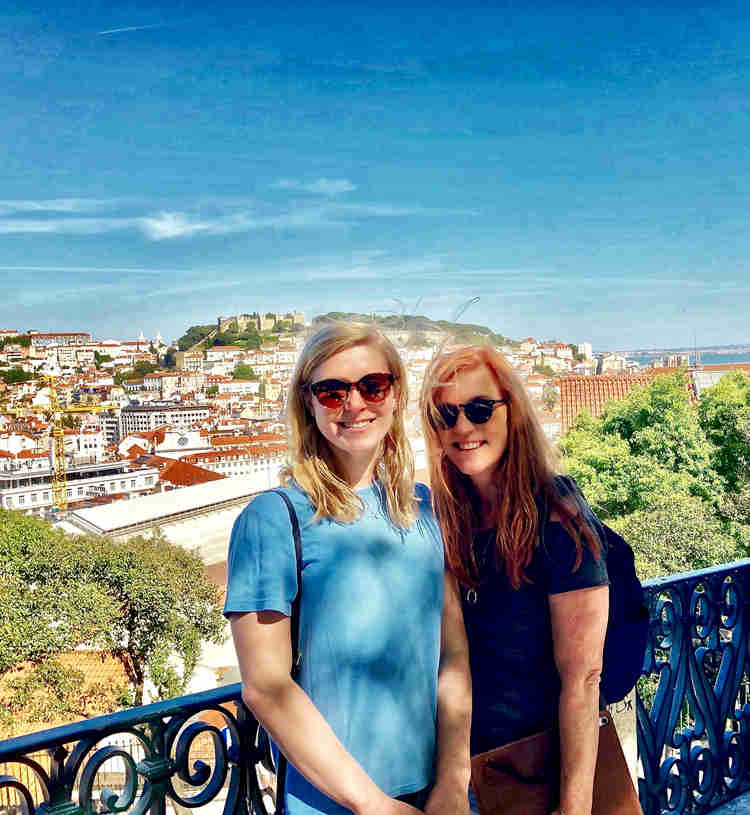 In Lisbon, street art was initially considered vandalism that needed to be eradicated. It was deemed a form of pollution and violence. Now, street art is well received and a part of the urban renewal of Lisbon, as in so many European capitals.
Artists can't freely paint anywhere in Lisbon though. They need authorization from the city council, which determines whether the proposed art is consistent with the city's aesthetics. Lisbon doesn't appreciate the taggers that make "meaningless" graffiti art though.
Lisbon's Department of Heritage even has a street art division. In 2008, Lisbon launched a public art program, called Galeria de Arte Urbana, or Gallery of Urban Art. While it has no permanent gallery space, it sponsors special events and makes surfaces available to artists, including walls, buildings, and even recycling bins. The scale and creativity of Lisbon's street art is amazing.
Which brings me back to our tour of Calçada da Glória. There's a veritable gallery of street art along the passageway of the Elevador da Glória funicular. Some is authorized, s some is tagger street art. It all seemed glorious to me. I was entranced.
I present it here for you to admire. Be sure to walk by and give it due homage while you're in Lisbon.
Plus, I have a little video of the adorable rickety Glória tram.
— Leslie
Practical Information for the Ascensor da Glória:
Address: Calçada da Glória 6, 1250-144 Lisboa
Hours: Timetable: every 10 – 15 minutes (approx.) 7:15am – 11:55pm Monday to Thursday, 7:15am – 12:25am Friday, 8:45am – 12:25am Saturday, 9:15am – 11:55pm Sunday and public holidays
Cost: not cheap at € 3.80
If you liked it, pin it!