I never thought I'd say this. It almost can't be true. Yet it is. There's a beautiful McDonalds in the world. Aqui é!
When I was vacationing with my daughter in Porto Portugal recently, our Uber driver told us to check out the McDonalds. Internally, I scoffed. Really? Would McDonalds lease and preserve an ancient building for the delivery of fast food? I mean, a big Mac is a big Mac.
Is a fancy setting needed?
And the answer, to my shock and surprise, was yes, apparently so.
We didn't seek it out. We stumbled across it by accident one day. There it was, sitting on Porto's cobblestones streets smack dab in its medieval center, the undisputed kingpin of fast food.
The Porto McDonalds was inaugurated in 1995. Located on Avenida dos Aliados, it's right next to City Hall and near Porto Cathedral.
I even walked in.
And there were more than big Macs.
There was Portugal's prize dessert and snack, the pastel de nata also known as the pastel de Belem. This pastry originates from a specific bakery in the Belem neighborhood of Portugal, which has a long queue if you actually want to taste one. It's an egg tart pastry that might as well be the Portuguese national dish it's so ubiquitous. And it's delicious, I confess.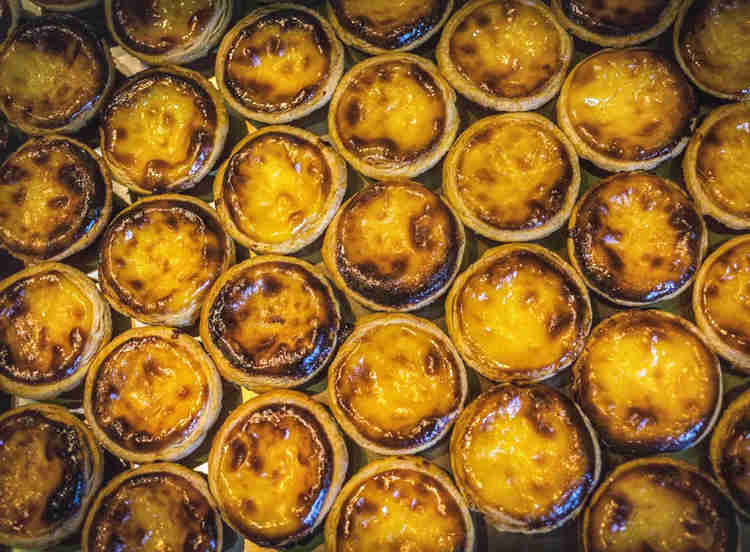 note: this photo is from the Belem Bakery in Lisbon where you have to stand in line for an hour to taste a one inch tart.
You enter and are greeted with fancy crystal chandeliers. This used to be the 1930s Cafe Imperial, after all. The name Imperial derived from the regal eagle that greets you on the facade.
There's a beautiful art deco stained glass window anchoring the place, which seems to relate to the consumption of coffee. It was made by Portuguese artist Ricardo Leone, and is an exquisite work of the period.
Please note that for all it's gloriousness, the Porto McDonalds doesn't except credit cards. So pay cash or frequent a real Porto joint.
And, sadly, you can't stop in just to pee like in the U.S. Europe makes this so exceedingly difficult … The W.C. requires a digital access code printed on the bottom of your purchase receipt.
But pop in and enjoy this once in a lifetime McDonalds site. It might be the most beautiful and romantic Maccas in the world.
— Leslie