If you're planning a trip to Seville, you'll need some essential tips for visiting. While the city offers sunlit bliss, the key to a successful trip lies in knowing both the highlights and challenges.
Seville is a gem of Andalusia. It holds a special allure, radiating joy with its sunny ambiance, lively streets, and soul-stirring flamenco music.
Amidst this enchanting landscape stands a grand Gothic cathedral. You can meander through Mudéjar palaces, ornate baroque churches adorned with vibrant azulejo tiles, and get lost in the whimsical cobblestone lanes.
And there's snacks everywhere. Tasty snacks.
So what's not to love?
Well, there are few things that can blight all the dreamsicle beauty and heady intoxication. Here are some things you should know before visiting Seville.
Tips for Visiting Seville Spain
Here are some must know tips for Seville, so you'll know what to expect and avoid making mistakes.
1. Seville Is Often Clogged with Tourists
Seville was named Lonely Planet's top city to visit in 2018.
It's wildly popular, and rightfully so. But because it's so popular, it's also mobbed with tourists. Sometimes tourists simply love places to death. I was there in February and can't even imagine how crowded it would feel in season. I was slightly claustrophobic even in winter.
The historic center is small, so plan on being crunched and possibly suffocated.
And there will be huge lines for the Royal Alcazar and the Cathedral. With the most shameless, narcissistic queue jumping you'll ever see. Honestly, that completely pissed me off. Some tourists just don't know how to behave properly.
So go off season. Avoid Holy Week. Plan ahead. Buy tickets online. Be smart about visiting or else suffer the consequences of your hubris.
If you need a break from the most intense crowds, head to some less crowded destination like the Triana neighborhood, Casa de Pilatos, or Metropol Parasol.
READ: 3 Days in Seville Itinerary
2. Book Everything In Advance
Unless you want to wait in line a loooong time, you'll need to pre-book tickets to Seville's star attractions almost any time of the year. You'll need to pre-purchase these tickets and experiences before you visit to guarantee entry.
3. No Concept of Personal Space
Although Seville is crowded, the crowds don't bother the Sevillanos. They have no concept of personal space. That's how they like to live.
Me, not so much. I had been bumped, hip checked, scrunched in queues and bars, and jostled in the streets. In February, no less.
I even had tapas unceremoniously dumped on me by careless patrons. I was literally shoved aside by a couple servers tending to their tables. People don't say "excuse me." No, they march right into you and refuse to move to the side.
The Sevillanos also stand really close to you while speaking. I mean close. I don't know about you, but I like to keep a foot or so between myself and a stranger or I suffer psychological discomfort. The Sevillanos are satisfied with an inch or two. Just so you know in advance.
4. Voltage Debacles
Voltage converters don't always work in Seville.
I fried a perfectly good hair dryer and curling iron plugging them in to use in Seville. The curling iron was brand new, a swanky Beachwaver variety. I growled over that one. This is apparently a commonplace occurrence in Seville, I later learned.
Not all voltage converters are created equal. If you have to use one, it's possible that the small converter you bring will, like mine, fail spectacularly in a shower of sparks and smoke. Or just die quietly.
To properly convert that much amperage you need a big heavy transformer rated at the wattage rating of the dryer plus about 10%. Who wants to carry 10 pounds of additional transformer weight?
Just hope your hotel or Air Bnb has a hair dryer or hair products, or be prepared to buy portable ones there. Don't let Seville kill your good ones.
5. Late Night Partying
I'm a night owl. You'd think the late hours that Sevillanos keep would suit me just fine. And they do to a point.
But by 2:00-3:00 am, I'd truly prefer to be in a sound sleep. Not the Sevillanos. Seville is a city that doesn't sleep.
They're up and outdoors until the wee hours, partying through the night. And they're loud. I mean the loudest voices you've ever heard. Loud like fireworks, gunfire, and shuttle launches.
I'm all for vibrant cultures, and a lovely Spaniard once helped me out in a pinch. But I need them to shut up and turn off the constant thrum of music in the middle of the night.
I sound crotchety writing that, I know. But I can't be the only one who needs some modicum of sleep to be a happy sightseer.
If you fall into the category of sleep cravers, be sure your hotel or Air Bnb isn't located near raucous bars or busy tourist areas before booking.
Of course, everywhere in Seville is a party area; it's Spain. So that could be difficult. But try staying slightly off center or in a residential area. Barrio Santa Cruz is lovely and relatively quieter at night.
6. Bathrooms Are An Endangered Species
What is going on here? There is nowhere to pee in Seville. Nowhere. Did the dawn of modern times pass over it, exodus style?
Not to put too fine a point on it, but the Sevillanos simply do not believe in public rest rooms. Nor can you just pop into a tapas bar or cafe to pee. They all sport big signs saying "for clients only" and have stern looking proprietors assiduously guarding the doorways.
At many points, I would've settled for any dirty bar toilet without toilet paper. I would have gladly paid to pee.
My eyes were constantly trained for "WC" signs, and inevitably disappointed. And, alas, Seville wasn't the last place in Spain I'd be in this dire and slightly embarrassing situation.
My only advice is to have well planned stops at major sites that actually have bathrooms. And never ever leave those sites without using the loo. Otherwise, you could become an untenable monster.
It was in this fragile state that I popped into the Museo des Bellas Artes one afternoon. I mean, it's a smashing museum, quite lovely. But I hadn't intended to visit at that very moment. But there it was and there I was.
So I seized the opportunity to both use the loo and see a really fantastic exhibit on the Baroque painter Bartolomé Esteban Murillo.
Turns out, it was the kind of exhibition that changes your sense of an artist forever. Unfortunately, it just closed on April 1. Seek Murillo out elsewhere if you can.
7. Fortified Wine Sucks
I love to taste new things on my geographical cures. But not all experiments work out swimmingly.
Such was the case with Seville's sherry. It was not love at first sip. Not even a little bit.
I didn't realize fortified wine was a popular concept anymore until I visited Seville. I thought sherry was confined to the dust bin of history, relegated to Grandmas or stuffy Brits.
Not in Seville. There are entire bars devoted just to sherry.
On my Devour Seville Tapas Tour, I was presented with "sherry" or "orange wine" over and over. It appeared to be the national drink.
At one bar, Enrique Beccera, I was presented with a sweet drink that was actually named "sweet." Take home: the Sevillanos adore sweet things, but can't name cocktails imaginatively.
I don't recommend the sherry, even the supposedly "dry" sherry, unless you have a sweet tooth. I found it borderline disgusting. The tour was lovely, but the fortified wine was not. I must have different taste buds.
>>> Click here to book a tapas and history tour
Sherry is made around Jerez in Southern Spain. It's made:
using unfamiliar grapes (Palomino, and for the sweetest styles, Pedro Ximenez and Moscatel). Like Port and Madeira, it's fortified with brandy. And like no other wine, it's fermented in an almost bizarre fashion, exposed to the air and relying on a natural yeast called Flor that blooms on the open surface of the wine.
Does this description make you want to drink it? Nope, not me either. If you go on a tapas or food tour, and don't like cloying drinks, tell your tour guide in advance. They'll get you something more palatable.
8. The Poor Horses in Seville
There's nothing "magical" about taking a horse carriage ride, unless you are half blind or don't even look at the poor horse. And taking a carriage ride in Seville is about as hackneyed as taking a gondola ride in Venice.
Yet, in Seville, horses are as ubiquitous as tapas. They're tirelessly carting around tourists at all hours of the day and night. The horses don't seem well taken care of either. Some look tired, dehydrated, and even downright unhappy.
I don't like to be preachy, but the carriage rides seemed a tad exploitative and unnecessary to me. Can't people just walk? Seville is a small city. Skip the Cinderella ride. Or consider bringing an apple for the overworked horses.
9. The Siesta Tradition Lives On
Don't plan on doing much in the afternoon Seville. Seville's siesta tradition lives on, big time.
Seville's shops, schools, groceries, and businesses slam their doors shut from 2:00-5:00 pm. You have to hand it to the citizens. They think having a nap or a paella over the course of three hours is an important facet of life.
And that's laudable. But don't do what I did and plan your gift buying spree then. Siesta time is a good time to eat lunch or hit a museum. After all, dinner's not until 10:00 pm.
The designated siesta time can also be a problem if you're day tripping from Seville (try Osuna, Carmona, or Cordoba).
If you've done all your sightseeing and don't have an early train back, you can be stuck sitting on a park bench, hungry and worse for the wear. And you could can come home empty handed when looking for a gift or souvenir.
The Spanish siesta tradition drives tourists mad, of course. Tourists want to spend their money, and Seville won't let them.
So siesta may be a charming custom, but it can also be damn inconvenient. Especially if you're in need of a loo.
10. There's A Lot of Ham
I'm just warning you're now. There's a lot of ham. Most of it is extremely delicious, much better than you'll find in the US.
The premium ham, Jamón Ibérico, comes from the free range pigs with black hooves that eat only acorns. I wouldn't have guessed that acorns could result in such goodness. But they do. The ham is so buttery and flavorful you'll be tempted to take home the whole leg.
What is my point? Well, you might tire of ham it's so ubiquitous. Or you might see vastly more of it than you'd like it, if you're vegetarian or vegan.
The concept of being a vegetarian, like loos, is pretty much non-existent in Seville. You'll need to speak Spanish or have a phrase dictionary to navigate many menus.
11. Dinners Are Late
Another Seville tip is that you shouldn't expect to eat at your regular dinner time. Dinner is late, even later than the rest of Europe.
Most restaurants don't open until 8:00 p or later. It's perfectly normal to have dinner at 10:00 pm.
And, while you're at it, don't order paella and sangria. Paella is not a speciality in Seville. Most Sevillanos don't drink sangria either. As I mentioned, they drink fortified wine or tinto de verano (summer wine).
One way to sample authentic specialities is to go on a guided tapas food tour or take a Spanish cooking class.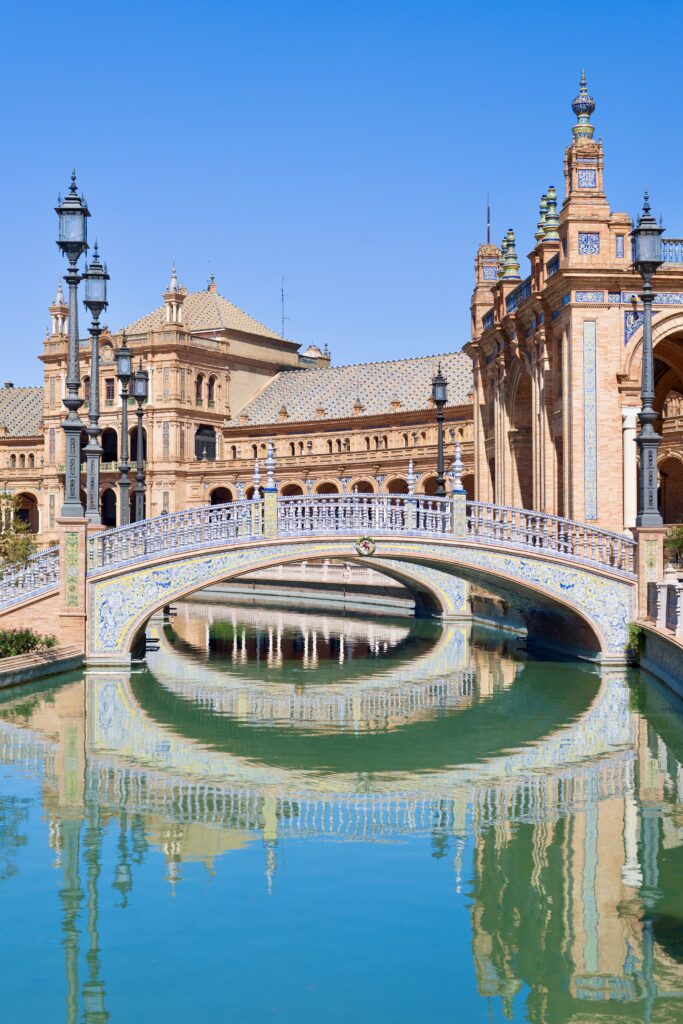 12. It's Scorching Hot
As I mentioned above, Seville is sunny. And sometimes the heat is incredibly intense on the city's sunbaked streets.
In the summer months, temperatures can soar, often reaching highs of 95 to 104 degrees Fahrenheit. In fact, the city's location in southern Spain makes it one of the hottest cities in Europe during this time. The intense heat is further exacerbated by the lack of rain and high humidity levels.
So Seville can be quite challenging for those not accustomed to high temperatures (like me). It's essential to stay hydrated and take advantage of the city's numerous fountains, plazas with shade, and indoor attractions like museums.
Even when I've visited in the dead of winter winter, it was over 60 degrees.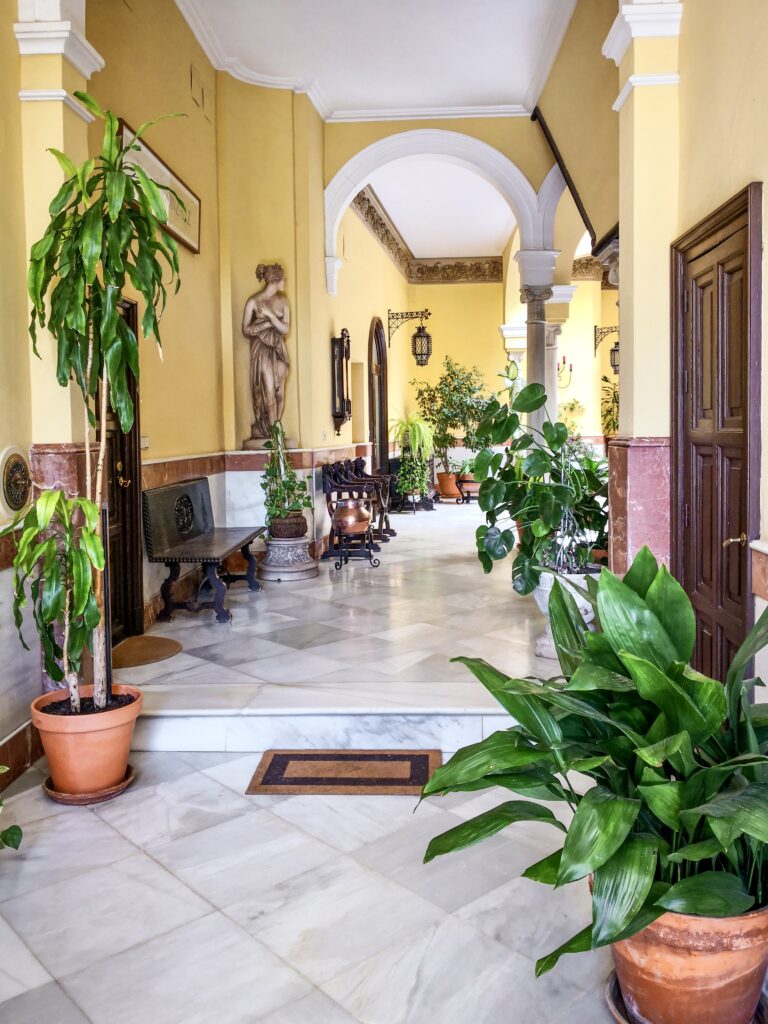 13. Pickpocketing
Seville is generally a safe city. But, as in any major city in Europe, you'll need to be on the lookout for pickpockets.
Pickpockets often target crowded areas such as tourist attractions, public transportation, markets, and festivals, where they can easily blend in and take advantage of distracted tourists.
You should be especially vigilant at tourist hotspots like the Alcazar, the Cathedral, and Plaza de España. These attractions are popular with tourists, and pickpockets know this.
So keep cameras, smartphones, and jewelry discreetly hidden when not in use. I would also split your money and credit cards, so everything isn't with you at any given time.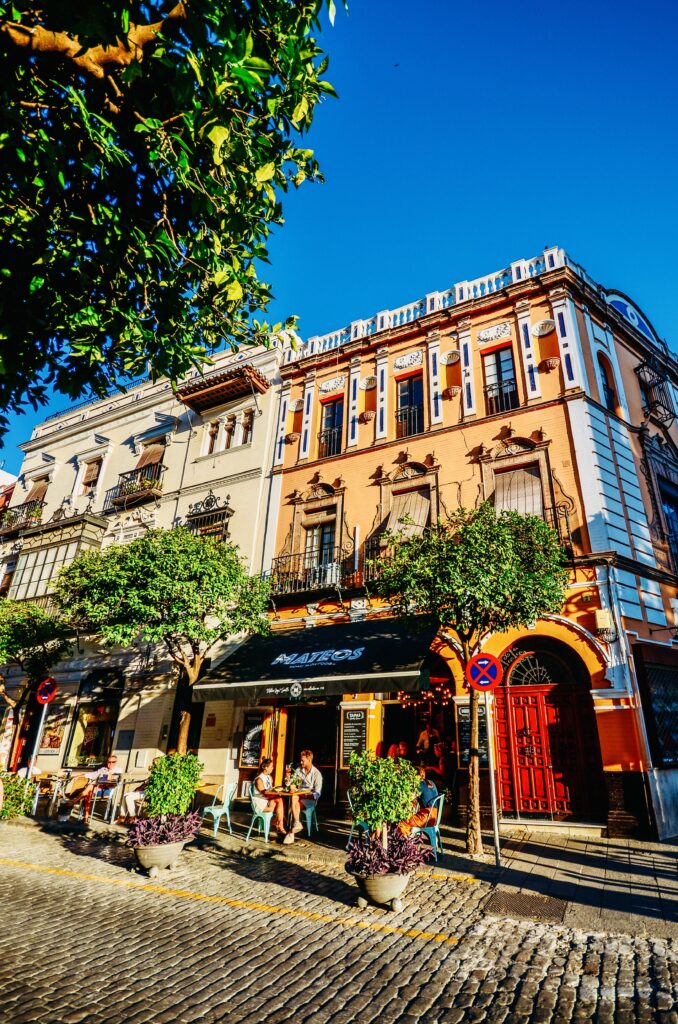 14. How To Get Around Seville: Beware Bikers & Drivers!
In general, Seville is an eminently walkable city and this is the best way to see the attractions.
It's rare that you'd need to take a taxi. If so, flag down one of the white taxis with a yellow stripe. It's easy to find them near the cathedral.
There are also some fun ways to get around Seville. You can take the hop on hop off bus, a Segway tour, or an electric bike tour. You can book a yacht tour down the Guadalquivir River or take a 1 hour cruise.
If you want to rent your own bike, there are 100 miles of designated bike paths in Seville. It's a great city to bike in because it's very flat.
But, if you're not biking, be careful at street crossings. Drivers are way more reckless than in the US. And sometimes it's hard to tell whether you're in a bike lane or not.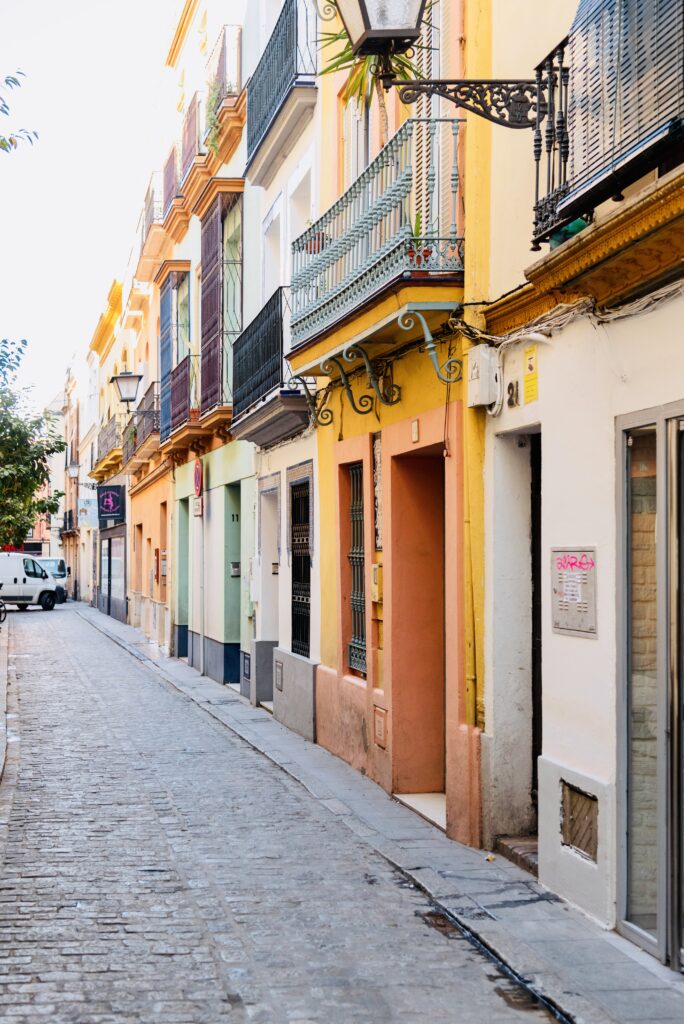 15. You'll Need Cash
Another tip for visiting Seville is that you'll need cash. While many places in Seville, like other major cities, accept credit and debit cards, it's still a good idea to carry some cash with you. Seville is not a cashless society.
Larger businesses and tourist attractions typically accept cards. But some smaller shops, restaurants, and local markets might only take cash. Especially if you're just grabbing a water or coffee.
Additionally, if you plan to use public transportation or visit more local establishments, cash is more convenient.
I have now bestowed on you very important pieces of information, ones that I did not really have before my trip began. Remember them, will you? They may come in handy.
You may enjoy these other Spain travel guides and resources:
If you need tips for visiting Seville, pin it for later.