Need some destination inspiration for a trip to Seville Spain? Here's my guide to top attractions in beautiful Seville.
This guide takes you to all of the must visit sites, historic landmarks, magnificent architecture, and palaces in Seville. It covers all the best things to do and see in Seville.
Sevilla is just glorious, Spain's most flamboyant city.
It's a happy wonderful-to-be-alive kind of sunshiny place, teeming with people, scented orange blossoms, tapas, and flamenco music — pure sensate joy.
Seville is guarded by a colossal Gothic cathedral, a symbol of power courtesy of its Christian rulers. The city is a seductive mix of Moorish palaces, ornate Baroque churches, colorful ceramic tiles, and winding cobblestone lanes.
There's a romance to Seville. I fell in love with the city straight away, hook, line and sinker. Here's my guide to the unmissable sites in Seville, for your next geographical cure or road trip in Andalusia.
Must Visit Attractions and Landmarks in Seville
Here are my picks for the destinations you can't miss in Seville:
1. Seville Cathedral
Seville's cathedral is a massive Gothic affair. It's the largest cathedral in the world and a UNESCO site to boot.
In 1402, after vanquishing the Moors in the Reconquista, King Ferdinand and Queen Isabella began work in earnest on a Gothic masterpiece. They wanted a showy display of Seville's wealth, power, and influence.
They haughtily declared: "we shall have a church of such a kind that those who see it built will think we were mad."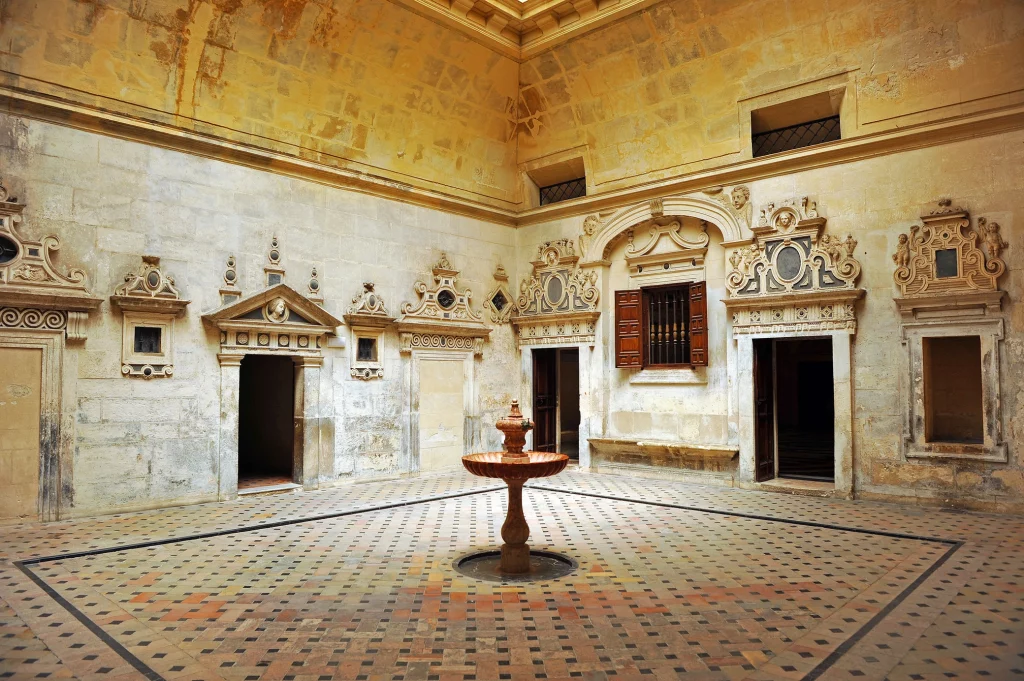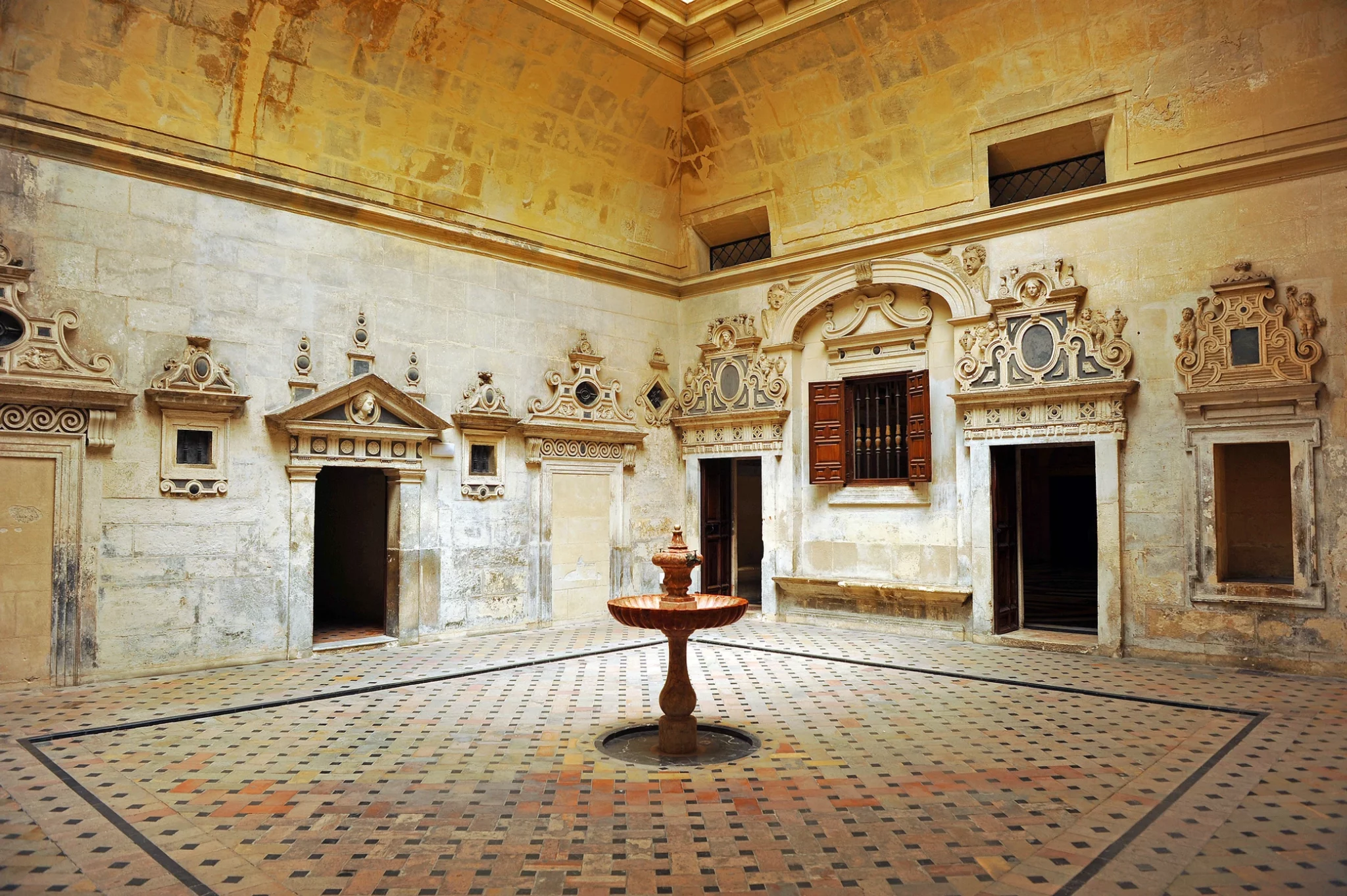 In a scene in Episode 2, Qyburn takes Queen Cersei to the basement of the Red Keep and shows her his new dragon slaying weapon. He shoots a bolt through Balerion's scull. Later, in Episode 5, Bronn leads Jaime to the shipyard-crypt for a tense meeting with Tyrion.
The altar is elaborately detailed and finished in gold leaf. Along the sides, there are 80 chapels to explore.
You'll find spires and reliefs depicting biblical events dedicated to saints. There's large mirror reflecting the intricate ceiling, which you'll have to queue up to look into.
The Cathedral houses the tomb of Christopher Columbus. Many places lay claim to Columbus. But apparently DNA tests have confirmed that a bit of him is in Seville, maybe a shin bone or something.
It's essential to pre-book tickets online in advance. Tickets include an audio guide. You can also book a ticket + guided tour or a guided 2 hour tour of the rooftop.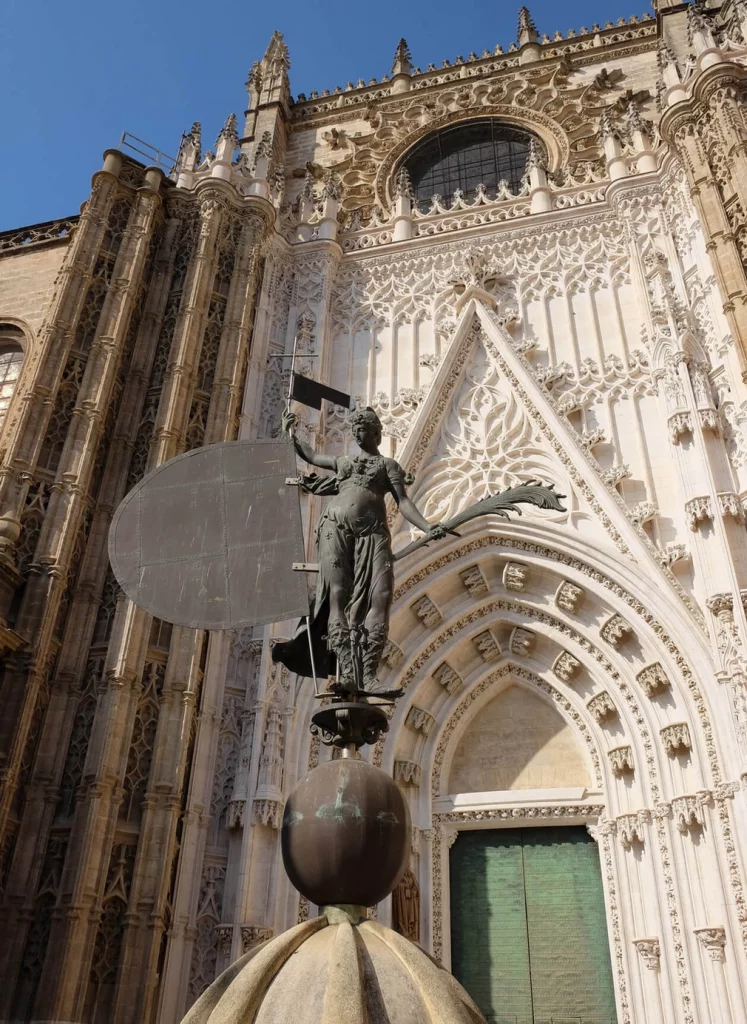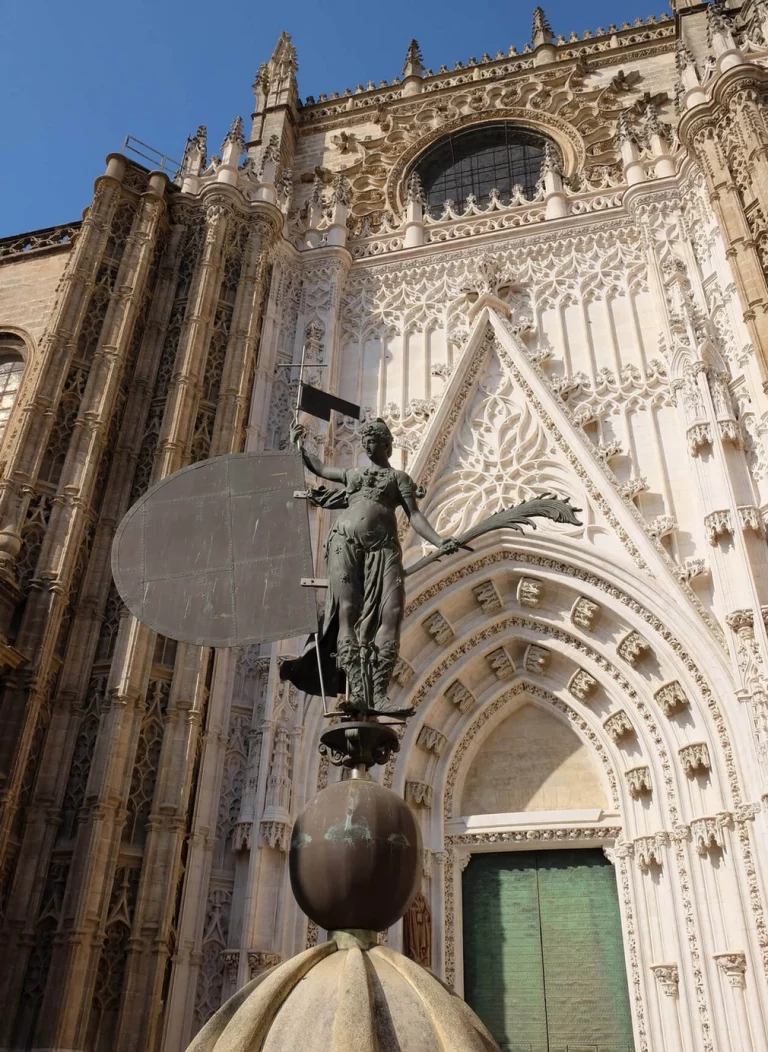 Address: Av. de la Constitución, s/n, 41004 Sevilla
Hours: Sept–June: Mon 11:00-1:00, Tues–Sat 11:00-13:00, Sun 12:30-14:30
July–Aug: Mon 9:30-2:30, Tues-Sat 9:30-4:30, Sun 2:30-6:30 pm
Entry fee: adults 10 €, seniors & students under 25 45 €, free audio guide
Pro tip: Buy a combo ticket at the Church of the San Salvador, a few blocks north. See that church and then go to the cathedral. You'll avoid queues that way. You ticket includes the bell tower, La Giralda. The Seville Card gives you skip the line access.
2. Giralda Bell Tower
La Giralda, or the bell tower, dates from 1184. It's the symbol of Seville and the oldest part of the cathedral complex.
It was originally constructed as the minaret of the Almohad Mosque that previously stood here, and was used to call Muslims to prayer. It was modeled after the Koutoubia Mosque in Marrakesh.
From the entrance of the cathedral, you can access the 100 meter high Giralda in the far right corner. It's an easy climb, thirty-four gently sloping ramps to reach the top. There are ramps instead of stairs so that horses could be ridden to the top.
At the top, you'll see 24 large bells and have stunning views over Seville. The name Giralda comes from the 4,500 pound bronze weather vane on top of the bell tower.
There's also a replica of the figure at the main entrance of the cathedral (shown above). By law, no building in Seville can be taller than the top of the Giralda.
Address: Av. de la Constitución (same as the cathedral)
Hours: Mon to Fri 11:00 am to 5:00 pm, Sat 9:30 am to 4:00 pm, Sun 2:30 pm to 6:00 pm
Entry fee: Included with cathedral ticket
3. The Royal Alcazar, Seville's #1 Site
The UNESCO-listed Royal Alcazar is the top attraction in Seville. I've written a lengthy guide to visiting the Royal Alcazar, which I adore. It's my very favorite spot in Andalucia, even above Granada's incandescent Alhambra.
The Alcázar is one of the world's greatest cultural treasures, a centuries old complex of palaces and fortifications, lovely courtyards, and extensive gardens bursting with orange, purple, and green colors.
You cannot help but feel catapulted back in time.
The crown jewel of the Alcazar is the sumptuous Mudéjar Palace of King Pedro the Cruel, built around the iconic Maiden's Courtyard. The Ambassador's Hall, or Throne Room, is the big showstopper.
It's nicknamed the "Half Orange" Room, in honor of its gilded cedar domed ceiling.
There's also a Gothic palace, built by Charles V. Its Celebration Room features intricate tile work and endless tapestries.
But perhaps the best part of visiting the Royal Alcazar is its amazing gardens. They are a lush, exotic, labyrinthian paradise, encompassing 80% of the Alcázar grounds.
The Baths of Dona Maria de Padilla are perhaps the most striking and frequently visited spot in the Alcázar Gardens.
In HBO's Game of Thrones, the gardens became Sunspear, the ancestral home of the Martels in Dorne. Scenes from the show are filmed in the balconies of Pedro's Palace, the Ambassador's Hall, the Charles V Pavilion, and the Maria Padilla Baths.
It's absolutely essential to pre-book a ticket in advance or you'll have long wait in line. You can also book a guided tour of the alcazar with priority entrance. You can also book a 3 hour guided tour of both the alcazar and the cathedral.
Address: Patio de Banderas, s/n, 41004 Sevilla
Hours: Oct–Mar: Mon to Sun 9:30 am to 5:00 pm, Apr– Sept: Mon to Sun 9:30 am to 6:00 pm
Entrance fees: 13.50 €, free entrance on Monday from 6:00 -7:00 pm Apr to Sept and from 4:00-5:00 pm Oct to Mar, audio guide is 5 €.
Pro Tips:
Buy tickets online (for an extra 1 €). There are two separate queues at the entry. The free entrance time on Monday is extremely crowded.
The upper quarters can only be visited with a separate tour that is 4.50 €. If you're interested, once you enter the complex, head to the upstairs desk and reserve a time slot.
4. Plaza de España
The Plaza de España is one of the famous architectural landmarks in Seville. It stands out in a city already overflowing with beautiful architecture.
It was built for the Ibero-American World Fair of 1929, where Spanish speaking countries enjoyed a year long mutual admiration festival. The park's highlight is the Spanish Pavilion, the sweeping half circle structure with rose gold brick buildings.
Designed in an Art Deco style with some Moorish touches, the Plaza has the expected Spanish flair — lots of color and lavish embellishment.
The tiles show historical scenes and maps from the 49 provinces of Spain arranged in alphabetical order.
There's nothing to actually do here except admire the spectacular architecture, inspect the intricate alcoves, and be dazzled by the colorful tiles.
The plaza has been featured in the movies Lawrence of Arabia and Star Wars Attack of the Clones.
Address: Avenida de Isabel la Católica 41013 Seville
Open: 24 hours
Entry fee: free
5. Maria Louisa Park
When you're done admiring Plaza Espana, right across the street is the beautiful Maria Louisa Park. The park is Seville's largest green space, spread out over 100 acres.
It's decorated with lush gardens, ceramic tiled benches, fountains, statues, and ponds. You can stroll around and enjoy the shade and bucolic setting.
Be sure to check out the beautiful Mudejar Pavilion, the Pabellon Mudejay. Inside is the Museum of Ethnology.
Address: Paseo de las Delicias
Entry fee: free
Hours: 8:00 am to 10:00 pm
6. Casa de Pilatos, a Seville Hidden Gem
Do not miss this place! Most tourists do. Casa de Pilatos is a glorious, sumptuous 16th century mansion in Seville's historic district. It's about a 15 minute walk from Seville Cathedral and is a true hidden gem in Seville.
Casa de Pilatos was the product of a union between the Enriquez and Ribera families, and is the permanent residence of the Medinaceli dukes. They bought up land to build a glorious Mudéjar mansion, likely to demonstrate their power and wealth.
Casa de Pilatos is so beautiful that it's been featured in several Hollywood blockbusters. It has a stunning 16th century courtyard, surrounded by white marble columns and Mudéjar arches. Everywhere, the walls are covered with countless multicolored azulejo tiles.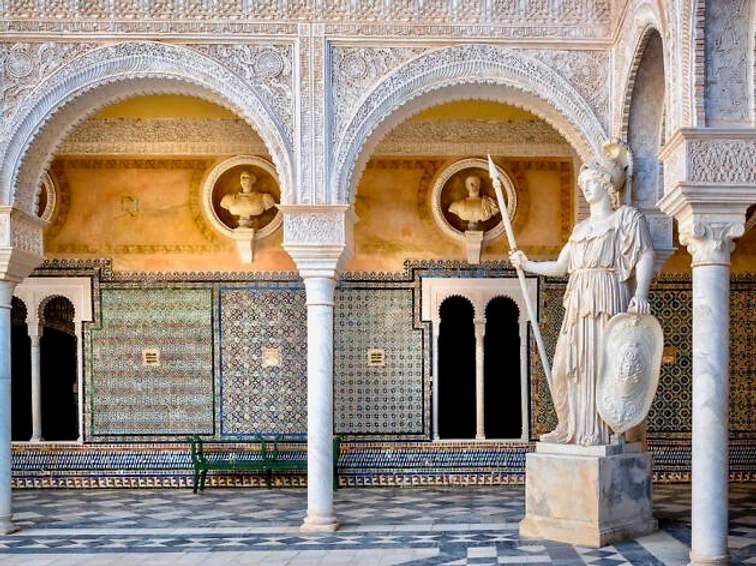 The monumental transitional staircase of the Casa de Pilatos is called "Sevilla's first and most magnificent staircase."
The second floor features a golden cupola dome in a Mudéjar honeycomb style, reminiscent of rooms in the Nasrid Palace in Granada's Alhambra.
You can tour the second floor with a private guide. If you do, you'll see some fantastic ceilings and a famous painting of a woman with a beard (the original of which is now in the Prado Museum in Madrid Spain). I thought it was worthwhile for the extra 2 €.
Click here to book a guided tour of Casa de Pilatos.
The casa's outdoor gardens will make you feel like you've been power beamed to Italy. They are a colorful and tranquil place.
Casa de Pilatos is a glorious melange of architecture, a mini-Alcazar. It's well worth a visit and may unexpectedly capture your heart.
Address: Plaza de Pilatos, 1, Seville
Hours: Winter (Nov-March): daily 9:00 am to 6:00 pm., Summer open until 7:00 pm
Entry: entire palace: € 12 (free audioguide), ground floor only: € 10, free admission with the Seville Card
7. Metropol Parasol
No trip to Seville is complete without a visit to the ultra modern Las Setas de la Encarnación ("Incarnación's Mushrooms"). In my Seville itinerary, I recommend starting there, just to orient yourself with great views,
Metropol Parasol was built between 2005-11 by German architect Jürgen Mayer to revitalize the then run down Encarnacion Square. It's called "the Mushrooms" due to its quirky shape. The waffle like design was inspired by the vaults of the Seville Cathedral and the ficus trees in Plaza de Cristo de Burgos.
Organized in four levels, Metropol Parasol consists of six linked parasols. It is the largest wooden structure in the world.
The wood used was birch, imported from Finland, because of its rigid quality. The Mushrooms was controversial at first, but now seems fairly beloved.
You'll have great views of Seville on this unique structure. Underground is the Aniquarium, where you can see the ancient Roman and Moorish remains that were discovered by accident during the construction of the Mushrooms.
Address: Plaza de la Encarnacion, 41003 Seville,
Hours: Tues to Sat from 10:00 am to 8:00 and Sun from 10:00 am to 2:00 pm
Entry fee: € 3
8. Museo de Bellas Artes, Seville's Best Museum
The Museo de Bellas Artes, or Museum of Fine Arts, is a smashing museum, quite lovely. It's known, after the Prado Museum in Madrid, as the "second art gallery in Spain." So it's definitely one of Seville's top attractions, especially for art lovers.
READ: 2 Day itinerary for Madrid
It's housed in an elegant salmon colored former convent. I actually stumbled across it by accident. If you're an art lover, this is a must see site in Seville.
I had intended to go, as I'm a museum rat of the highest order, but not just then. But I seized on the chance to gaze at art and pee (there are no public WCs in Seville).
Outside, there's a large statue of the famous painter and Seville artist Bartoleme Murillo. Pick up the English language floor plans, which explain the theme of each room.
The museum has art from the middle ages to the 20th century. But it is most known for its collection of 17th century art from Spain's Golden Age, featuring Spain's top painters Zurbarán, Murillo, El Greco, and Velazquez. You'll see a lot of monks, balding saints, cherubs, and depictions of Christ.
The museum has a goodly collection by Murillo, whose works you can also see at the cathedral. Murillo achieved fame and recognition from his religious portraits.
But he also left behind some fascinating work of everyday people and street life. I was lucky enough to see a Murillo exhibition when I was there.
Click here to book a 1. 5 hour guided tour of the museum with an art historian.
Address: Plaza Museo 9 41001 Seville (15 minute walk from the cathedral)
Entry fee: 1.50 €, free for EU residents
9. Isabelle Ponte II | Triana Bridge
The life and character of Seville is inextricably intertwined with the Guadalquivir River, which divides the city in two. One of the prettiest bridges is Isabelle Ponte II.
Dubbed Triana bridge, it connects the center of Seville to the independent neighborhood of Triana.
The bridge offers stunning views of the city from the opposite bank. Take a stroll there, admire the river views, and soak in your moments in Seville.
Address: Puente de Isabel II, 30
10. The Triana Neighborhood
Once you ross the Isabel II Bridge, you'll land in the colorful Triana neighborhood.
It's a small soulful village within a big city and the old gypsy quarter of Seville. What was once considered the "wrong side" of the river, is now the fun and funky part of town.
It's a neighborhood steeped in romance and myth. It was the home of many of Spain's best flamenco dancers and bullfighters.
Once over the bridge, you'll be greeted by the Capilla del Carmen with its bell tower and chapel.
The main commercial street in Triana is the pedestrianized Calle San Jacinto where you'll find shops and cafes. I had a nice lunch there.
You can also book a 3 hour guided food tour that includes Triana.
11. Mercado de Triana and Ceramic Shops
Triana was a strategic stronghold for the Moors. Sao Jorge Castle guarded Triana on the west bank.
When the Christian rulers came to power, they leveled the castle and replaced it with a traders paradise — Triana's famous Mercado de Triana. Underneath the market, the ruins of Sao Jorge Castle.
If you want to assemble your own lunch or dinner, the covered market is the perfect spot to shop. It's located on Capilla del Carmen in the Plaza del Altozano. Stroll the stalls filled with meats and cheeses. Or try a smoothie or fresh squeezed juice.
Then, pop in and purchase some ceramics at Ceramica Triana. You can also visit the adjoining museum explaining the history and production of ceramics.
When you're done, take a stroll along the river on Calle Betis.
Address: Mercado de Triana, Plaza del Altozano, 14, 41010 Sevilla
Address: Centro Ceramica, Calle Callao, 16, 41010 Sevilla
12. Barrio Santa Cruz, Seville's Prettiest Neighborhood
Barrio Santa Cruz is a must see neighborhood in Seville.
It was once Seville's old Jewish quarter. Jew were (quite tragically) confined here after Ferdinand and Isabella took the city and conquered the Moors in 1248.
Now, Santa Cruz is a popular and beautiful district within the city — a mass of tangled cobbled streets with tiny palazzos and tile covered patios. Some streets are so impossibly narrow, they're called "kissing lanes." You'll be happily disoriented.
You may want to book a guided walking tour of the barrio to get oriented.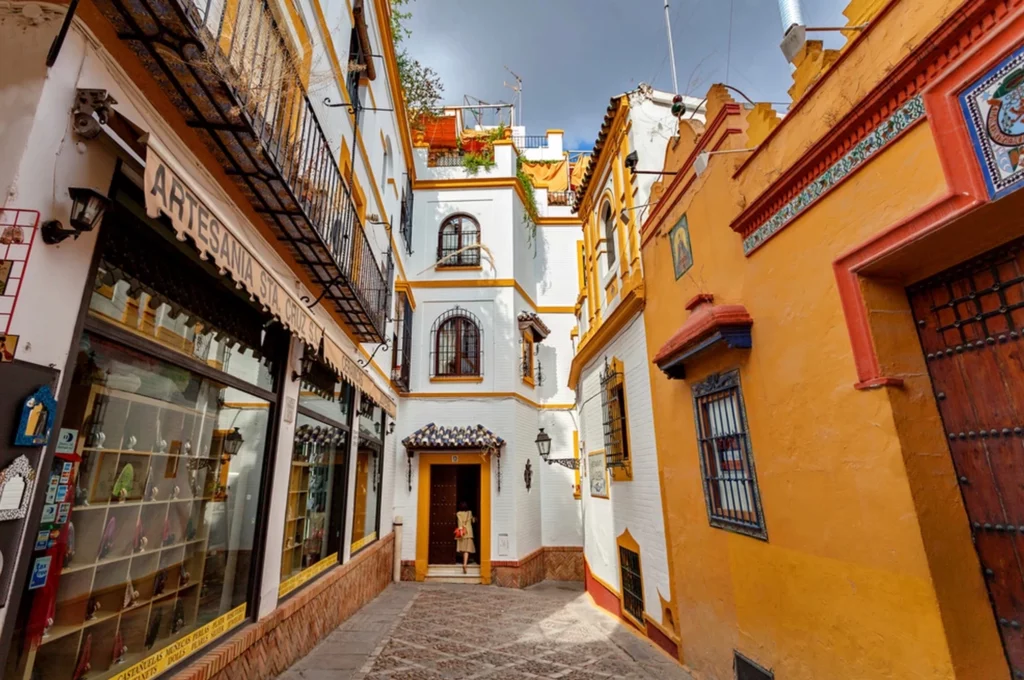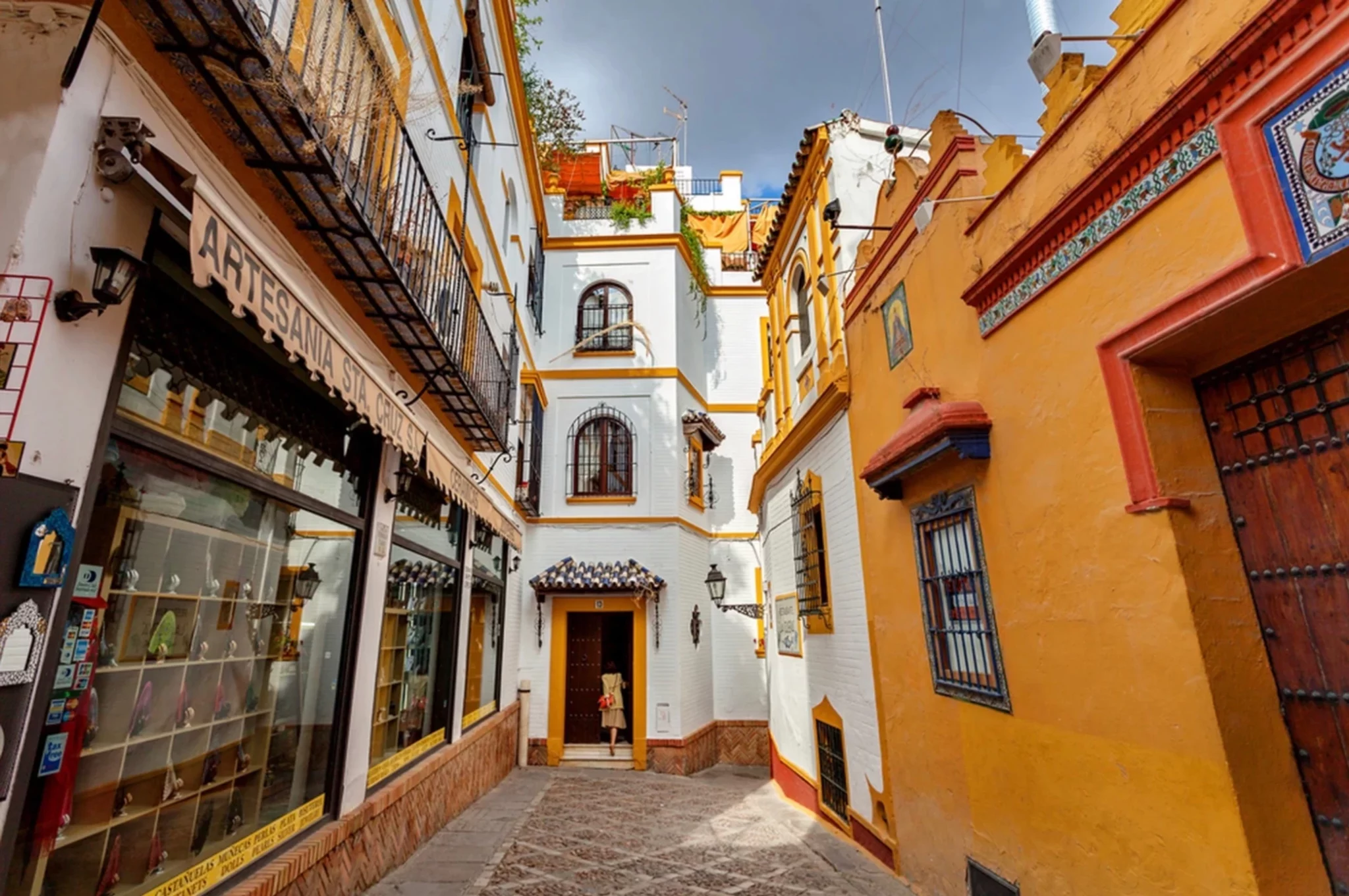 There are orange trees and flower-filled balconies everywhere. The neighborhood is meant for aimless wandering. You can get lost and stumble across secret squares, pretty churches, and tapas bars.
In Santa Cruz, you'll also find the small Murillo Museum. It's the studio house of the famous Spanish painter Bartolome Esteban Murillo.
Be sure to stroll along the winding and romantic Calle Agua, which runs along the walls of the Alcazar to Plaza Alfaro. In Plaza Alfaro, you'll see a balcony said to have inspired Shakespeare's Romeo and Juliet.
13. Plaza Dona Elvira
Plaza de la Santa Cruz is the heart of the Santa Cruz barrio. But I liked the laid back Plaza de Dona Elvira best, and stopped for lunch there.
In this lovely square, you can relax in the shade of orange trees and escape the heat.
The square was named after a Spanish officer-diplomat-spy Elvira Manuel. In the square, you'll find the Museo del Pintor Amalio, which offers up pretty views of the square and barrio.
14. La Alameda Neighborhood, Seville's Hipster Haven
La Alameda is Seville's trendy bohemian district, situated around the Plaza Alameda de Hercules. This not-so-touristy neighborhood of Seville has lively local pubs, parks, boutiques, and chic galleries. There's beauty and fun all around.
La Alameda is also the perfect spot to people watch or enjoy some nightlife. Toward the end of the night, you'll come across dance performers, flamenco, and street entertainers. Grab some tapas and sweet Sevillano sherry, and enjoy the free open air show.
I wouldn't have known to venture to this neighborhood, but was tipped off by my Devour Seville tapas tour guide. If you're visiting Las Setas, you can come here too.
15. Alameda de Hercules: Roman Columns
This is the oldest public garden in Seville. The massive square used to be the seedy home of 80 brothels. The square was gussied up and gentrified for the World Fair in 1992 and recently remodeled again. Now, it's a popular social spot and hangout for locals.
Trees line the promenade. Fountains jet water from the ground. Tapas restaurants line the square.
Two marble Roman columns mark the entrance to the square. The columns were originally on Marmoles Street. In 1754, statues of Julius Caesar and Hercules were added to the top.
16. Palace of the Countess Of Lebrija
Dating back to the 16th century, the Palacio de Lebrija is another rarely visited hidden gem you shouldn't miss in Seville.
It's a beautiful Andalusian home with an eclectic mix of architectural elements. It has some of the most beautiful mosaics and tiles in all of Spain.
The Countess of Lebrija bought the house in 1901 and lovingly restored it until 1914. The Countess had a special interest in archaeology, and her house reflects that passion.
Many of the Roman mosaics in the aristocratic house originate from the nearby ruins of Italica.
Before Italica became a protected site, it was looted and even used as a quarry. There are myriad archaeological artifacts in the house, some on display and some hidden in wood cabinets.
Like many Spanish palaces, the house also reflects the Moorish influence throughout southern Spain. It's very colorful and full of bright tiles, geometric patterns, and ornate Mudéjar arches.
Like Casa de Pilatos, if you want to continue your visual feast upstairs, you'll have to pay a little extra and go on a guided tour. You access it via a stunning tiled staircase, sparkling with predominately yellow tiles.
Click here to book a guided tour of the Lebrija Palace. You can also book a 4 hour guided walking tour of all Seville's palaces.
Address: 8 Calle Cuna
Hours: September to June: Monday to Friday 10:30 am to 17:30 pm; Saturday 10:00 am to 12:00 pm & 4:00 pm to 8:00 pm; Sunday 10:00 am to 2:00 pm
July & August: Monday to Friday 9:00 am to 3:00 pm; Saturday 10:00 to 2:00 pm
Entry fee: Ground floor: 5 €, Ground and upper floors: 8 €. Free admission with the Seville Card
17. El Rinconcillo, The Oldest Tapas Bar in Seville
If you're near Metropol Parasol at mealtime, there's a classic tapas bar 5 minutes away, El Rinconcillo. It's at the off center juncture of Calle Gerona and Calle Alhondiga located near Plaza los Terceros. It's the oldest bar in Seville, established in 1670.
El Rinconcillo means "hole in the wall." It has a long wooden bar, shelves of drinks, and specials of the day scrawled in chalk above. It's worth it to order jamon serrano just to watch the waiter pull the pig leg down from a hook and slice it into fine pieces.
Besides being a tapas bar, El Rinconcillo boasts an impressive (and expensive) restaurant, with seating areas on three floors.
Address: Calle Gerona, 40
Hours: 1:00 pm until 11:30 pm
18. Archivo General de Indias | General Archives of the Indies
The General Archives of the Indies is home to archival documents reflecting 300 years of the maritime history when Spain colonized the Americas and the Philippines. The archives contain over 45,000 documents, with some 80 million pages of original papers.
The archives can be traced back to the 18th century. In 1785, King Charles III ordered the entire archive of the Council of the Indies to be gathered in one place.
This large body of documentation contained historic letters, maps, charts, and other important documents relating to Spain's management of its overseas empire. The archives also have several Goya paintings.
The archives are housed in a beautiful UNESCO-listed building, which was once the merchants stock exchange — Casa Lonja de Mercaderes. The Italianate building was designed by architect Juan de Herrera.
Address: Av. de la Constitución
Hours: 9:30 am to 5:00 pm, Sunday 10:00 am to 2:00 pm
Entry fee: free
19. Torre del Oro | Tower of Gold
The Tower of Gold is a 13th century watchtower that's one of Seville's iconic landmarks. The tower was part of the ancient Moorish city wall. It was given its name because of the golden gleam it projected on the Guadalquivir River.
I'm not really sure Torre del Oro is worth going up if you don't have much time in Seville. But, from the roof terrace, you have nice views of the river and surrounding neighborhoods. Inside, there's a small Maritime museum.
Address: Paseo de Cristóbal Colón
Hours: Monday to Friday: 9:30 am to 7:00 pm, Saturday and Sunday: 10:30 am to 7:00 pm
Entry fee: € 3
20. Las Duenas Palace
Another pretty palace in Seville that's worth a visit is the Las Dueñas Palace. It's a beautiful hidden gem palace built in Gothic, Moorish, and Renaissance architectural styles.
You can take a guided tour or visit the luxurious palace on your own with an audio guide. Admire the stunning staterooms, the courtyards, gardens, and fountains.
This palace had served as a residence for Queen Victoria, Jackie Kennedy, Raniero III of Monaco and his wife Grace Kelly, and other royals and celebrities. The palace also has an eclectic collection of 1450 artworks, including paintings and sculptures.
Address: Calle Duenas 5
Hours: Mon to Thur 10:00 am to 2:15 pm. Fri to Sun 10:00 am to 5:15 pm
Entry fee: € 10
21. San Telmo Palace
It's impossible to miss the massive and colorful landmark of San Telmo Palace. The magnificent palace is a top attraction in Seville.
It's stunning example of Spanish Baroque architecture, built by architect Leonardo de Figueroa. Its Churrigueresque entrance is one of Seville's most impressive sites.
The palace is the seat of the President of the Regional Government of Andalusia. Before that, it served as a college for nautical studies and as royal residence, referred to as the Small Court by Queen Isabella II.
The main facade features the Gallery of the 12 Illustrious Sevillians, created in 1895 by Antonio Usillos. Dating from 1754, the carved white stone portal is decorated with a statue of Saint Telmo, the patron saint of maritimers.
The portal is decorated with elaborate architectural and sculptural elements. It was designed by Matias and Antonio Matias, the son and grandson of Leonardo de Figueroa.
The palace has a rectangular floor plan with four towers and a large courtyard. The courtyard is surrounded with an arcaded gallery and opens into a chapel dedicated to Our Lady of Good Air.
The chapel has a single nave, barrel vault, and five altars. There are gardens in the back of the palace.
Address: Calle Palos de la Frontera
Hours: Thursday 4:00 pm to 9:00 pm, Saturdaysf 10:00 am to 2:00 pm & 4:00 pm to 8:00 pm
Entry fee: free
Pro tip: No photos allowed except in the chapel.
22. San Salvador Church
San Salvador, or the Church of the Divine Savior, is Seville's second most important religious building after Seville Cathedral. It's Spanish name is La Iglesia colegial del Divino Salvador.
The pretty-in-pink Baroque 18th century church was built on the ruins of a 9th century mosque, Ibn Adabba, the former Great Mosque of Seville.
San Salvador is a Roman Catholic Church. It's a popular site with tourists and locals alike. It's located smack in the central Seville, surrounded with markets and tapas bars.
Address: Plaza del Salvador, 3
Hours: Mon to Sat 11:00 am to 5:30 pm, Sun 3:00 pm to 7:00 pm
Entry fee: € 4
23. Flamenco Show
Flamenco is a dance and an art form that originated in Seville's bohemian neighborhoods. There are scads of flamenco museums and theaters in Seville, many quite touristy.
Click here to book a flamenco show at Tablao El Arenal in Triana. Or a show near the cathedral.
La Carboneria will pleas aficionados. It's housed in a former coal storage warehouse. It's a noisy rambling space with communal tables. On a small stage, flamenco guitarists and dancers perform.
Address of La Carboneria: Calle Céspedes, 21
24. Museo del Baile Flamenco
Seville's Flamenco Dance Museum is housed in a 18th century mansion. It's a window into the magical world, history, and culture of flamenco.
The museum is highly specialized museum, obsessively dedicated to the art form. The museum displays include high tech interactive exhibits, short films, archives, photographs, and flamenco costumes.
You can book a ticket to see a flamenco show on the patio, which has theater lighting. Get there early to secure a good seat!
Address: Calle Manuel Rojas Marcos 3, 41004
Hours: Daily 10:00 am to 7:00 pm
Entry fee: € 10 for the museum
25. Go On a Game of Thrones Tour
There is no more stunning Game of Thrones filming location than beautiful Seville. On my first peek at the stunning UNESCO-listed Royal Alcázar, my face lit up like a Dornish sunshine.
The Alcázar doubles as the Water Gardens of Sunspear, the ancestral home of House Martell in Dorne and southernmost part of Westeros. It's a suitably colorful and exotic place for a family as licentious, tempestuous, and incestuous as the Martells.
The Alcázar appears in Season 5 in episodes 2, 6, 7, and 9. Game of Thrones uses four locations in the Alcázar: the showy Ambassador's Hall, the Mercury Pool, the Baths of Maria de Padilla, and the Charles V Pavilion.
You can book a 2 hour guided small group Game of Thrones tour. Or a 4 hour Game of Thrones tour that also goes to Italica, right outside Seville.
26. Royal Shipyards
For two decades, Seville's Royal Shipyards have been off limits to the public. Built in the 13th century, the expansive shipyard covered over 3 acres.
They consisted of 17 cathedral-like vaulted naves, built in the Gothic-Mudéjar style. Each nave was large enough for the construction of a galley. But the shipyards fell into disrepair.
Seville announced that restoration would begin in 2019, with the aim of opening the Royal Shipyards in 2022.
The shipyards area also a GOT filming location, appearing in two episodes of Season 7. They serve as the crypt of the Red Keep in Kings Landing.
In a scene in Episode 2, Qyburn takes Queen Cersei to the basement of the Red Keep and shows her his new dragon slaying weapon.
He shoots a bolt through Balerion's scull. Later, in Episode 5, Bronn leads Jaime to the shipyard-crypt for a tense meeting with Tyrion.
Address: Calle Temprado, 1
27. Church of Lady Mary of La Macarena
The Basilica of La Macarena is a bit off center on the north end of the city center. But it's definitely worth a detour to see this off the beaten path attraction in Seville.
The basilica is also known as the Church of the Virgin of Hope of Lady Macarena. It's a showy bright yellow Neo-Baroque Church. It houses Seville's favorite virgin, La Macarena.
La Macarena is the patron saint of matadors and an idol of Spanish gypsies. The statue of La Macarena is one of Seville's most beloved treasures.
The statue was carved by Pedro Roldán in the 17th century. La Macarena is situated in a place of honor on a golden altar. She's decorated with magnificent robes and jewels. Five crystal teardrops run down her face.
The basilica also has beautiful frescos and a treasury with religious relics. The church's museum area has a case of matador outfits, which were bequeathed to the church by bullfighters, in thanks for the protection they received from La Macarena.
In 1912, bullfighter José Ortega, gifted La Macarena five emerald brooches, which she proudly wears. For eight years he was safe. But then he was gored to death in the ring.
Address: Calle Bécquer 1
Hours: Monday to Saturday: 9:00 am to 2:00 pm & and 5:00 pm to 8:00 pm
Entry fee: Access to the basilica is free. Museum visit € 5.
Tips For Visiting Seville's Top Attractions
How To Get Around Seville
In general, Seville is an eminently walkable city. To see it all, you may want to book a 2 hour guided walking tour during the day or a nighttime walking tour.
It's rare that you'd need to take a taxi. And you might just get bogged down in traffic if you do grab one on the fly.
There are also some fun ways to get around Seville. You can take the hop on hop off bus, a Segway tour, or an electric bike tour. you can book a yacht tour down the Guadalquivir River or take a 1 hour cruise.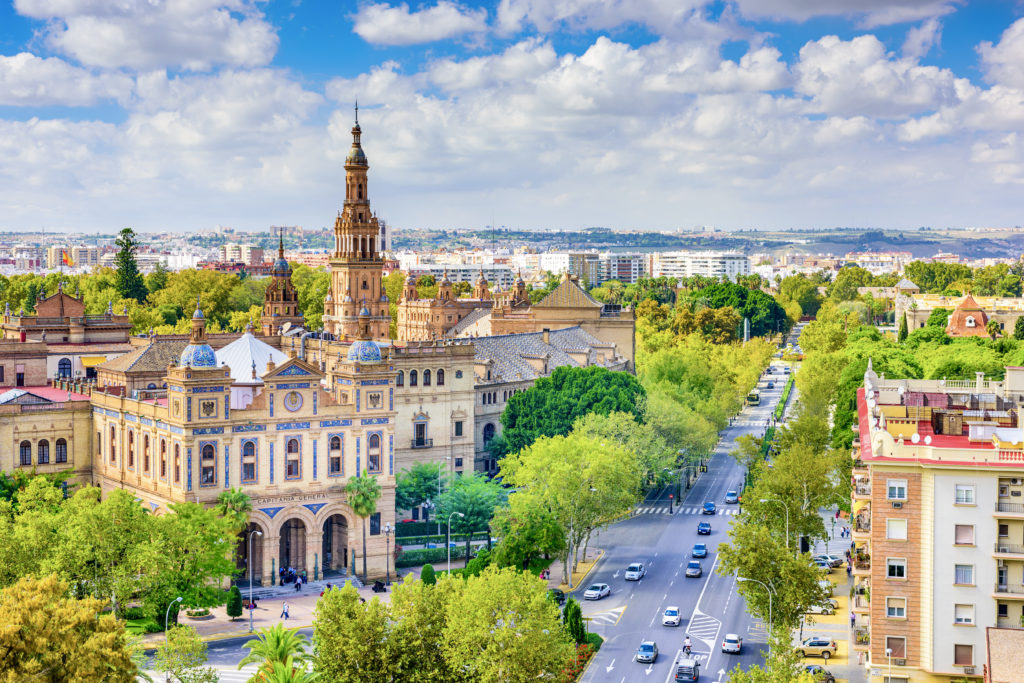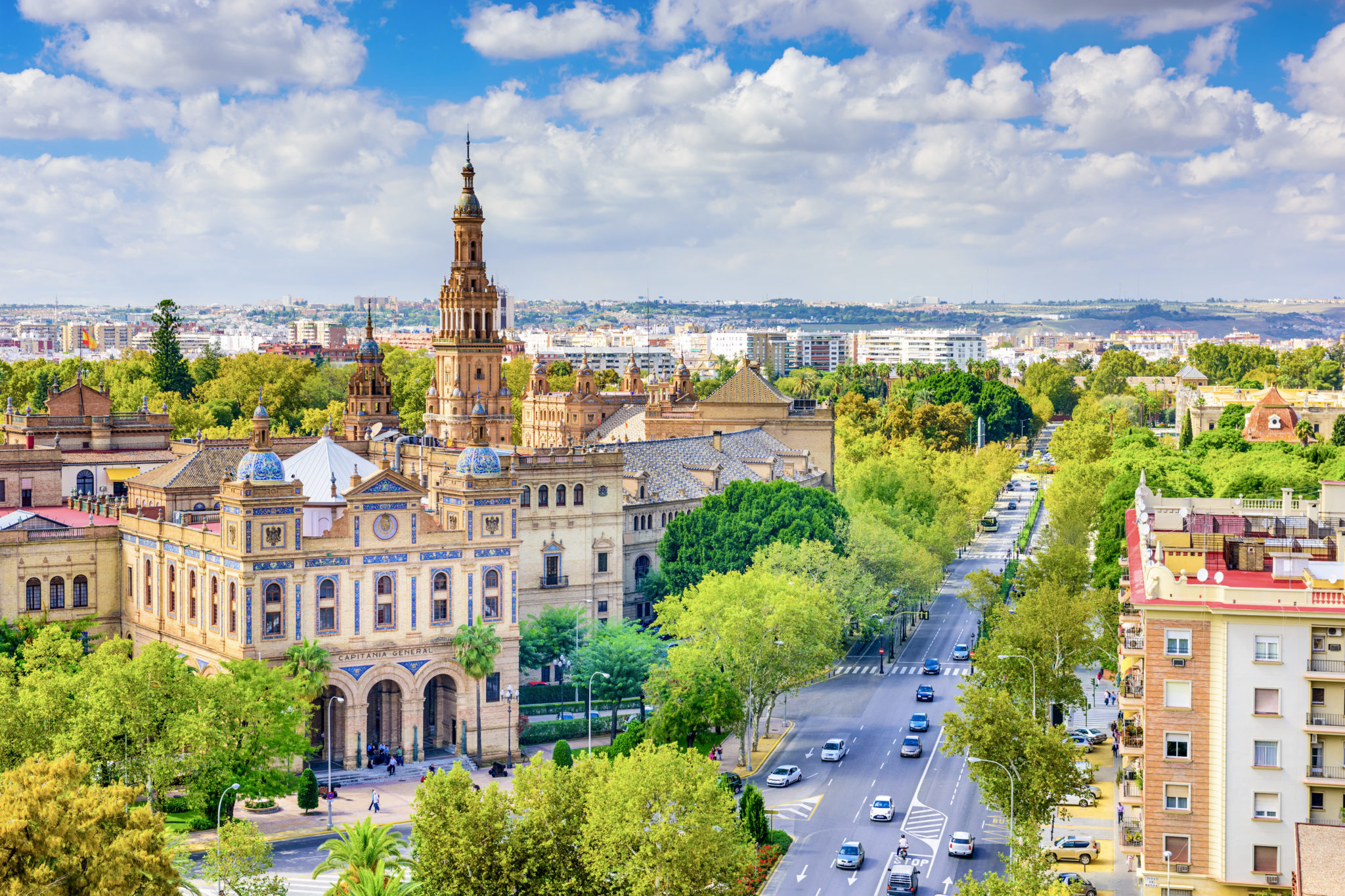 Where To Stay In Seville
Air Bnb is a good option in Seville. There are also some beautiful boutique hotels.
My picks for boutique hotels would be: Hotel Colon Gran Melia, Suites Machado, or Hotel Casa del Poeta.
I also think Barrio Santa Cruz is a great, and more quiet, place to stay. In this area, you could book at Hotel Casa 1800 Seville (timeless elegance) or the EME Catedral Hotel (sumptuous hotel with a roof terrace, Michelin restaurant, and spa).
I hope you've enjoyed my guide to the beautiful must visit attractions in Seville. You may enjoy these other travel guides and resources for southern Spain:
If you like to visit Seville's must visit attractions, pin it for later.