Embarking on a memorable journey to Troyes? Don't miss my comprehensive guide to this enchanting village in the Champagne region of France.
Explore the best things to do in Troyes, from wandering through its charming half-timbered houses to marveling at the exquisite Gothic design of the Basilique Saint-Urbain.
Troyes is romantic, a hidden gem that offers a perfect day trip from Paris.
I almost didn't get to see this little gem. I was on a medieval road trip in northeast France. My travel partner wanted to head back to Paris.
But I was besotted with the notion of visiting just one more village: Troyes, a ludicrously pretty town. I wasn't ready for my geographical cure to end just yet. I pulled out my Rick Steves guidebook to bolster my argument for seeing Troyes, one lawyer to another.
"See," I said, it says that Troyes is "bursting with romance." He countered, "I've lived in Paris for three years and never heard of Troyes."
I counter-countered: "How many half timbers have you seen in Paris?" (Paris, of course, is more noted for Haussmann boulevards than medieval wonders.)
Who could begrudge me a burst of romance? Doesn't everyone periodically need a high end infusion of quixotic romance in their lives, as a counterpoise to the uninspiring sameness of our daily routines?
He could not deny me.
Sniffing out Romance
So having won the debate with riveting flowery language, we drove from Reims to Troyes to sniff out romance and see if we would burst.
The first thing we learned is that Troyes is unpredictably pronounced "twa." But it rolls off the tongue in a languid chic French kind of way.
The next thing we learned is that Troyes has a big heart.
I mean, literally, it has a big silver heart imbedded along the Canal du Trevois. While the two ton metal sculpture itself is nothing special, the symbolism is. The big heart glows red at night, a symbol of romantic Troyes.
Appealingly, the historic core of Troyes even maps out in the shape of a champagne cork and is called the "Bouchoun de Champagne." Doesn't that almost make you melt?
The village wasn't planned that way. Champagne corks didn't even exist then. It was just a happy historic coincidence.
Now, to my mind, the way it evolved, without the intervention of practicality or as a cynical tourist draw, is affirmatively romantic.
History of Medieval Troyes
Troyes began as a town of the Gauls. Under the Roman emperor Augustus, it became the capital of the Gallic tribe known as the Tricasses.
Converted to Christianity in the 3rd century, the town was later threatened by Huns, sacked by the Normans, and eventually came under the authority of the counts of Champagne.
They, in turn, established the great merchant fairs, which gained an international reputation and brought Troyes exceptional prosperity.
Now, on the surface, that doesn't sound terribly intriguing or romantic, but the famous "foires de champagne," the medieval fairs, were.
Troyes hosted a "hot fair" and a "cold fair" each year. Merchants from across Europe came to sell their wares. Troyes was a buzzing swashbuckling hive of activity with all the noise and color of the middle ages.
And, even better, the "foire de champagne" has been re-introduced.
Now, Troyes holds a modernized festival-like version of the classic fair in late spring. It comes compete with exhibitions, markets, singing performances, roller coasters, and pop-up restaurants.
Oh là là!
Guide To Troyes: Best Things To Do
Here are some of the top attractions and best things to do in Troyes.
1. Historic Center
Troyes was mostly destroyed in a dramatic conflagration in 1524. But it was promptly re-built and faithfully re-produced. Its 16th century buildings reflect a mix of the Middle Ages and the Renaissance.
The best things to do in contemporary Troyes, one which I wholly approve of, is simply strolling around the well-preserved and pedestrianized historic center.
There is no need to seek out romance. It will assault you from all angles and, unless you are a complete skeptic, you will be entranced.
Start by strolling through the heart of the city, Place Alexandre Israël, where you can grab a croissant from a local bakery and savor a leisurely breakfast at one of the charming cafés.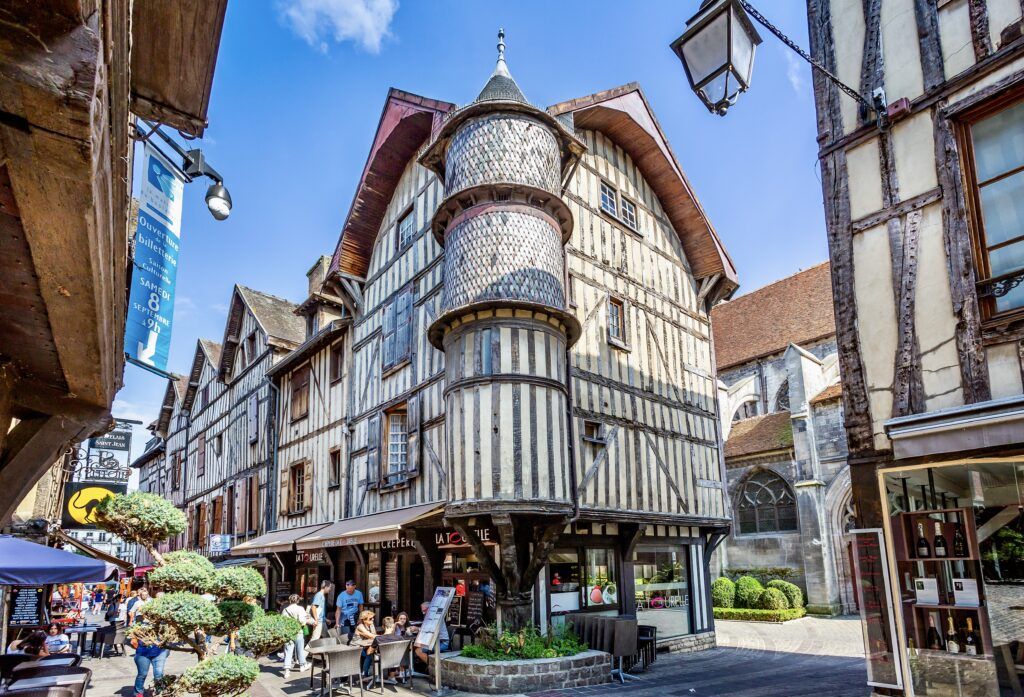 Everywhere, there are multi-colored half timbered houses in pastel palettes with vertical, horizontal, and diagonal stripes.
The buildings lurch and slouch with an engaging lack of symmetry. Make sure to visit Rue Champeaux, where you'll find some of the most iconic half-timbered houses, each with its own distinct character.
Signs dots the buildings, and you will be reminded of the Musee Carnavalet in Paris.
Indeed, Troyes has been described as:
"A city where Love is written with a capital L, where all of the colours of the rainbow come together. It is a place where every lover will feel at home, and a place that should find a home in every lover's heart."
"Troyes is a bit of a revelation, don't you think?" I asked my travel partner, trying to get him to admit he was glad we visited. "Yes," he conceded, with a tiny trace of irony. "I'm already feeling the urge for a glass of champagne at one these darling little cafes."
I could not begrudge him.
2. Ruelle de Chats
On your walkabout, you cannot help but stumble upon the medieval Ruelle du Chats.
In this dark and narrow medieval alley way, miraculously survived from a bygone era, the top of the buildings almost touch.
The beams allowed the Troyes cats to go, with utter freedom, from attic to attic. As part of the city's ongoing renovation, three new half timbered buildings were added to the alley in 2014.
3. Troyes Churches
Troyes is called the "city of 10 churches." As our budgeted time for romance was growing short, we took in the main two.
First, we stopped in at the Gothic Cathedral of Saint Peter and Saint Paul. Built between the 13-17th century, it's the quintessence of Champenoise Gothic architecture and one of France's largest churches. Much like the Basilica of St. Denis in Paris, the second tower was never completed.
Joan of Arc and Charles VII stopped here on the way to his coronation inReims in 1429. There's a plaque commemorating the occasion.
The cathedral also has lovely stained glass that may rival nearby Reims Cathedral. The windows depict a wide range of subjects, including biblical scenes, saints, martyrs, and intricate decorative designs. They showcase the evolution of stained glass artistry from the 13th to the 19th century.
READ: One Day In Reims Itinerary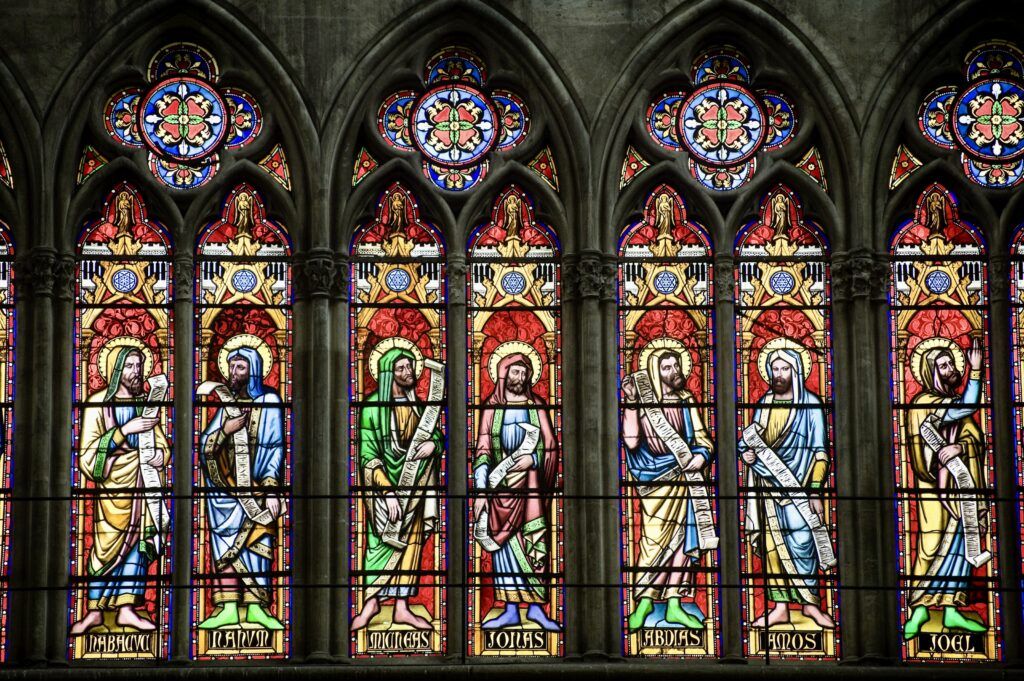 There's also the massive, and more authentically grimy, Basilica of Saint Urbain. The basilica is a classic example of late 13th century Gothic architecture. I preferred it over the cathedral, actually.
The basilica was admired by Viollet-le-Duc, a gothic revivalist, and architect of all things frothy and romantic, like Carcassonne, Notre Dame, and Pierrefonds.
If you have time, visit the small Gothic church of St.-Jean-au-Marche is between Rue Emile Zola and Rue Champeaux. This is where, in 1420, Henry V of England married Catherine of Valois.
4. Troyes' Museum of Modern Art
And there's some cultural heft to go along with all the overwhelming romance and Gothic splendor of Troyes. Tucked behind the cathedral is the Musee d'Art Moderne. It's just undergone a four year renovation.
The museum is an unexpectedly good gallery housing a private collection in the bishop's palace. It's one of the best things to do in Troyes.
The museum has an abundance of modern art (especially Fauves) including works by big name artists such as Degas, Rodin, Matisse, Picasso, and Modigliani. It's currently closed for renovation and scheduled to re-open in 2022.
My friend couldn't help but sally up to a sculpture and strike a pose. "Is this a burst?, I asked.
5. Tool Museum
A Tool Museums doesn't exactly sound romantic, does it?
But the museum is housed in the beautifully restored 16th century Hotel de Mauroy, located on Rue de la Trinite.
Spread across three floors, you'll a collection of 17th to 19th century tools gathered from all over France. ou can learn about the craftsmanship behind these charming houses and gain insight into the artisans' world.
6. Dinner
Having traversed the village bursting right and left, we were more than a little deflated and hungry. But had no idea where to dine. Normally inclined to seek out a quaint restaurant on a side street, this time, we plopped down in the cluttered main square.
The cafe was in a decidedly tourist area, but hunger called and romance waned.
Still, it had a surprisingly imaginative and eclectic menu, not your standard toursist fare despite being on a tourist drag. Had I done my research, I would have gone to Aux Crieurs du Vin in an attractive wine cave.
The must try local cuisine in Troyes is the "Troyes andouillette," a hearty coarse grained sausage.
After a brush with such smelly local "sausage" in northern Lille, I gave it a hard pass. (Besides, sausage and romance are not a natural pairing, by any measure.) We had the rillettes and moules instead.
7. Quay Dampierre
After dinner, we strolled along the Quay Dampierre. The quay offers a lovely promenade where visitors can take leisurely strolls and enjoy the serene beauty of the river.
The quai is adorned with several sculptures that contribute to the artistic and cultural and romantic ambiance of the town.
Guide To Troyes: Tips For Visiting
How To Get To Troyes
There are several ways to get to Troyes:
By Train: Taking the train is a convenient way to reach Troyes. The town has a train station (Troyes Gare), and you can find direct connections from major cities like Paris. The journey from Paris to Troyes by train takes around 1.5 to 2 hours, making it a feasible option for a day trip.
By Car: If you prefer to drive, you can rent a car and travel to Troyes by road. The town is well-connected by highways. The drive from Paris to Troyes takes approximately 2 to 2.5 hours, depending on traffic and route.
By Air: The nearest major airport to Troyes is Paris Charles de Gaulle Airport (CDG). From the airport, you can opt for a combination of train and bus or car rental to reach Troyes.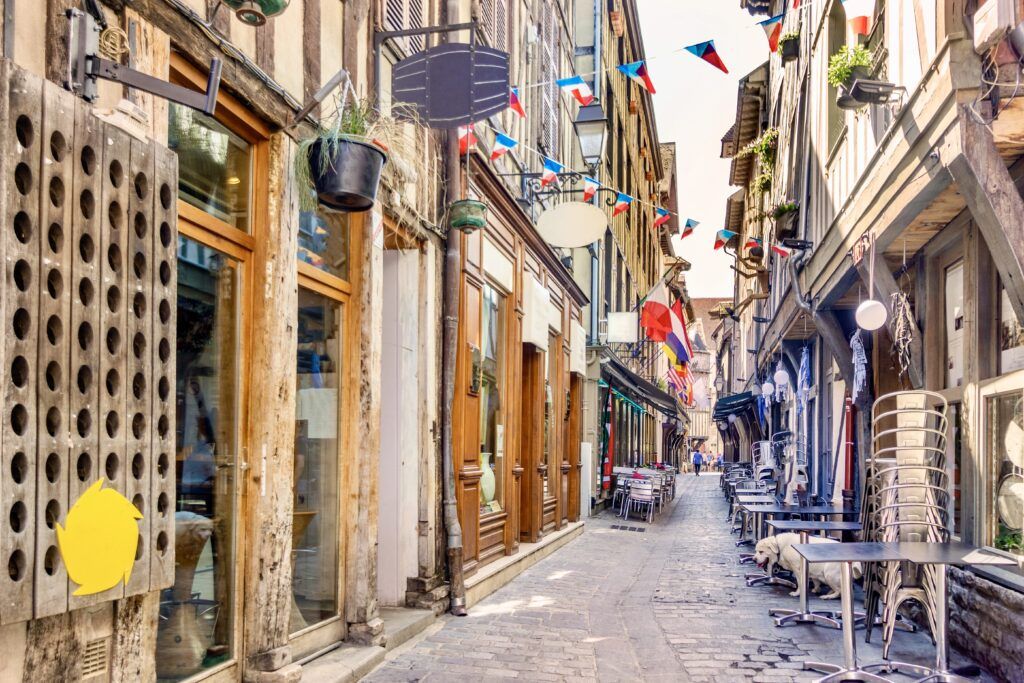 When To Visit Troyes
The best time to visit Troyes is spring or fall, for good weather and fewer crowds. Summer is peak season and get crowded.
Where To Stay In Troyes
If you're planning to overnight in Troyes, I recommend the Hotel La Madison De Rhodes. It's a luxury hotel with elegant interiors in a beautiful half timbered building.
Troyes is more than just bubbles. It is, as advertised, incredibly pretty.
You can suspend "real life" and escape into its evocative tangle of cobbled streets, cafes, and churches for days. I agree with the guidebook. Troyes is "bursting with romance." As such, is the perfect spot for a weekend getaway from Paris. Je l'ai adoré!
I hope you've enjoyed my guide to the best things to do in Troyes France. You may enjoy these other France travel guides:
If you need a guide to Troyes, pin it for later.