Planning a trip to Sedona Arizona and wondering what to do and see? Here's my guide to the top attractions in the beautiful city of Sedona, which is one of the hottest weekend destinations in the West.
What's to love about Sedona? Everything.
Nestled amid striking sandstone formations, Sedona is a real looker. This scenic desert town is surrounded by glowing red buttes and steep canyons.
The myriad hiking trails will take you to up winding paths, to overlooks that will leave you breathless with awe.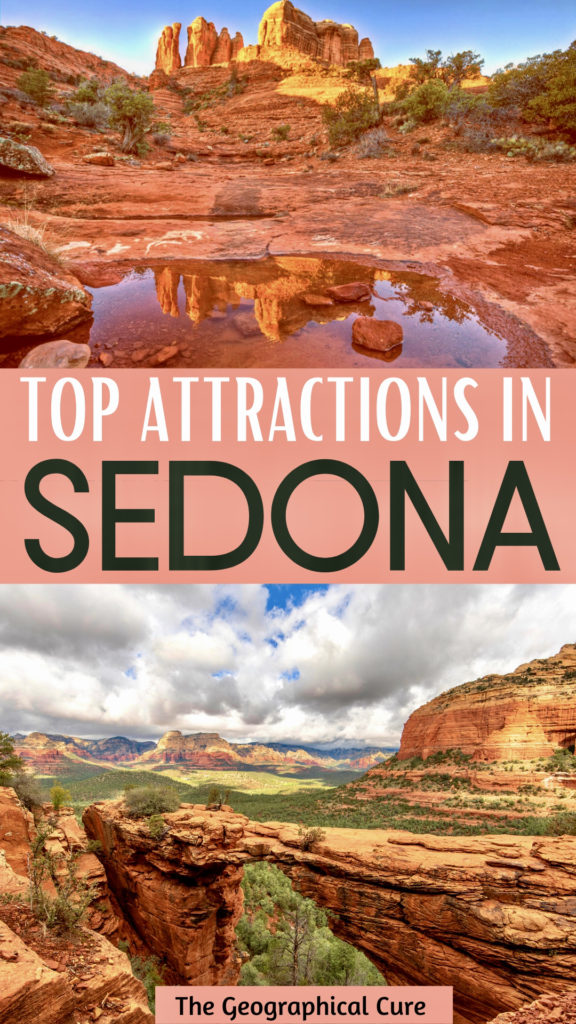 Sedona is also an adorable New Age town and healing paradise. Sedona has long attracted spiritual seekers, artists, and healers. Many people believe that Sedona has a number of vortexes that radiate the earth's energy.
Sedona is a place for serious foodies as well as nature lovers. It's well known for its world class restaurants and cute eateries. The cuisine ranges from French, Italian, Latin, Mexican, and more.
This Sedona travel guide covers all the best things to do in Sedona. You'll get the lowdown on what to see, eat, and do in Sedona.
The city can be either an active vacation or a relaxing escape, depending on your travel inclinations and whether hiking is your jam.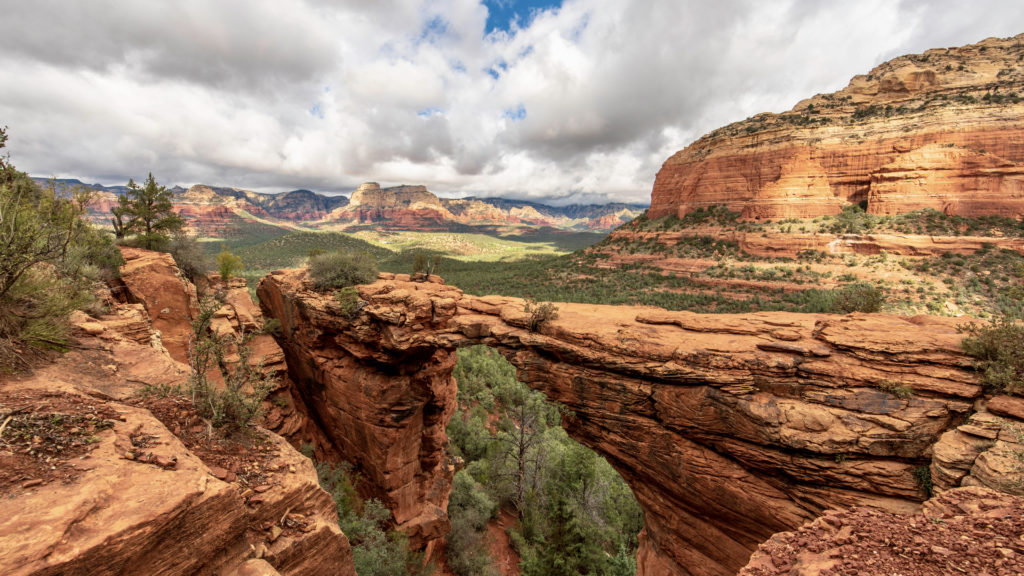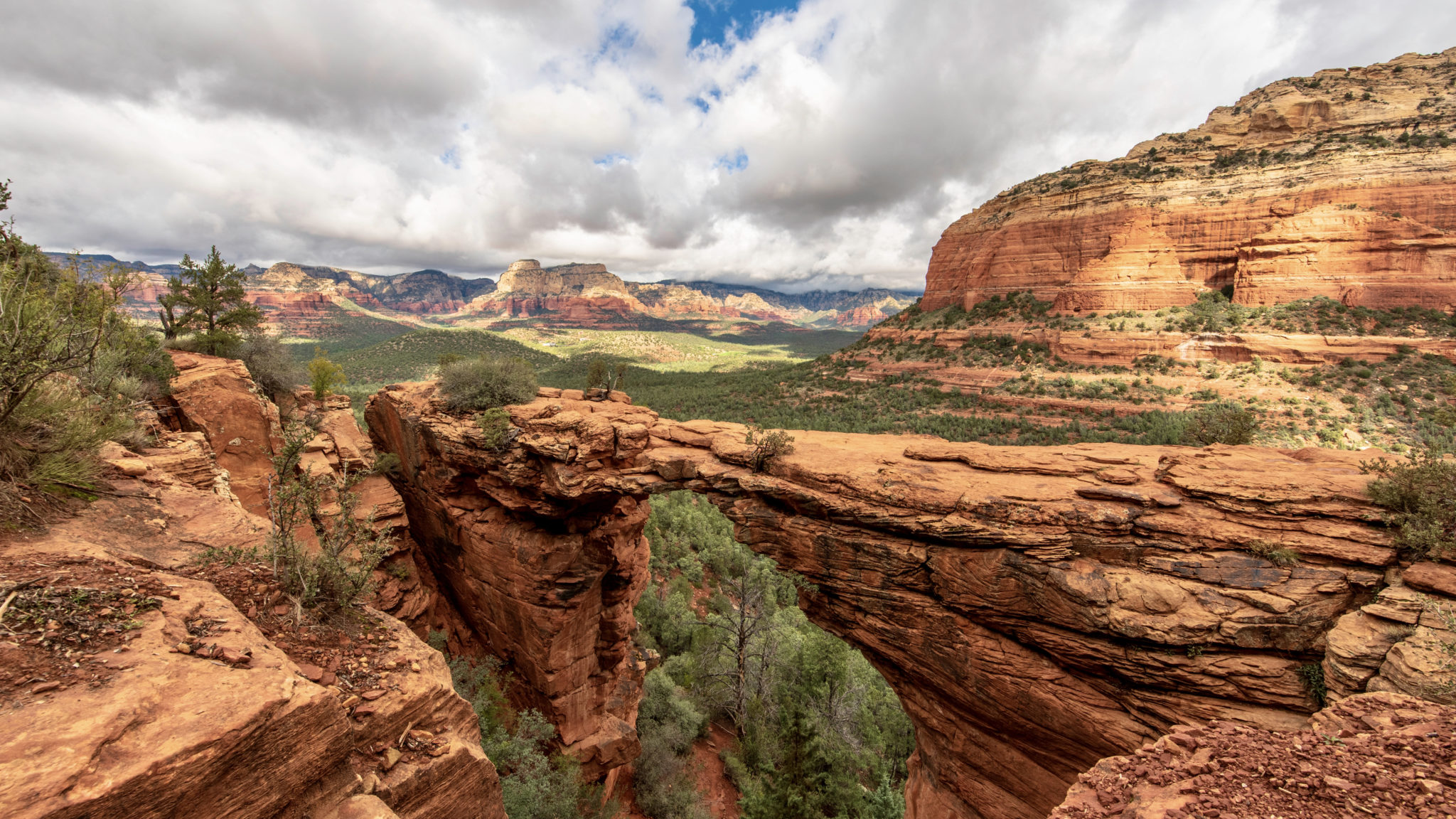 Top Attractions in Sedona Arizona
Here are my picks for the best things to do and see in Sedona:
1. Vortexes of Sedona
Looking like another planet, Sedona is renowned for its red rock buttes and canyon walls. Some of the town's most famous hiking trails — Cathedral Rock, Devil's Bridge, Airport Mesa, and Bell Rock — travel through Sedona's famed geological vortexes.
These vortexes are a huge allure for Sedona travelers. What are vortexes exactly? Vortexes are energy sites or meditative places.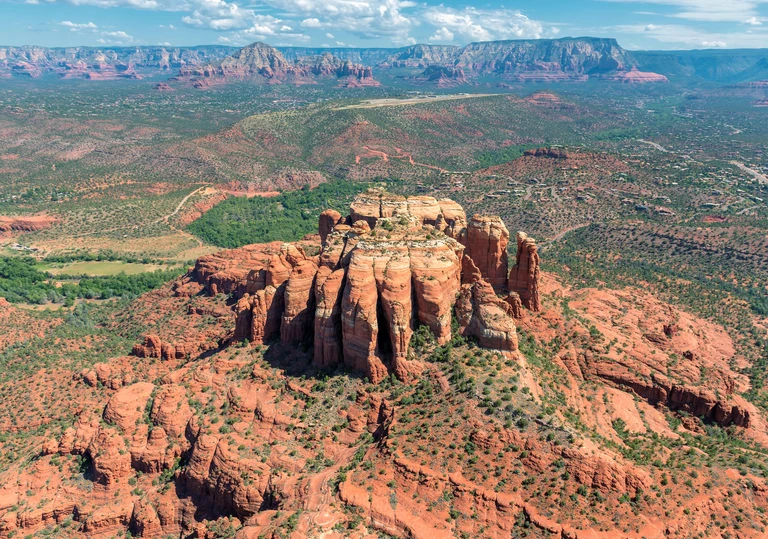 They are locations where a swirling condensed center of spiritual energy allegedly projects out of the earth.
Vortexes are thought to enhance energy and provide spiritual inspiration and well being to those who are near the vortexes.
The higher elevation is intended to get you to look inward, enhancing meditation, introspection and contemplation — the proverbial "getting away from it all."
The Native Americans recognized the power of these vortexes and often used them for sacred ceremonies. But there's really no hard science behind them.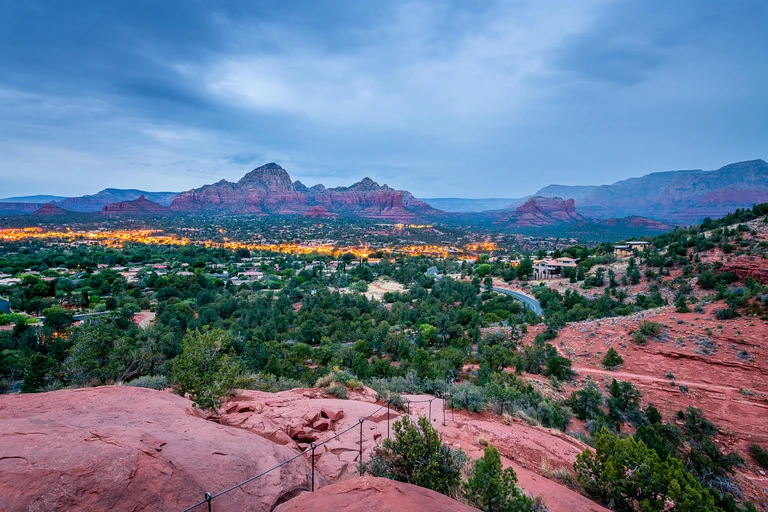 Whether or not you believe the vortexes exude energy, they are undeniably beautiful. It could be that fresh air and visually stimulating locations bring out feelings of rejuvenation and clarity.
Aside from hiking to the vortexes, there are so many other ways to experience them. You can experience these natural wonders through yoga and meditation classes out on the red rocks. Or, combine yoga and hiking on this unique 5 hour tour.
You can also take an organized jeep tour to explore the vortexes. Or try a spiritual tour or chakra tour that includes mindfulness and/or mediation.
Alternatively, to take them all in from above, see the vortexes on a sunrise or sunset hot air balloon ride. I wish I had done this tour, but ran out of time.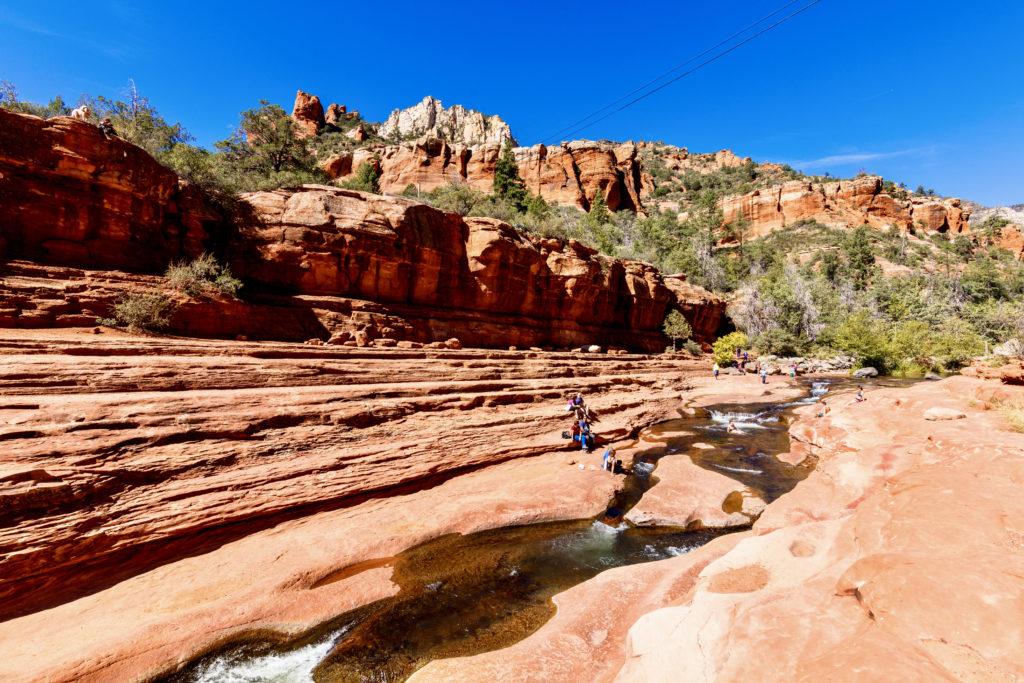 2. Hiking
Aside from the vortexes, there are over 400 miles of hiking trails in the greater Sedona area. So, one of the best ways to explore the natural beauty of Sedona is to lace up your hiking boots and hit the trails.
Slide Rock State Park is a great place for hiking. If you're a camper, it can also double as your camping base. Just be sure to reserve in advance.
Red Rock State Park is another popular hiking destination. The park is home to Sedona's more famous rock formations (such as Cathedral Rock). The park offers a 5 mile trail network with interconnecting looped trails,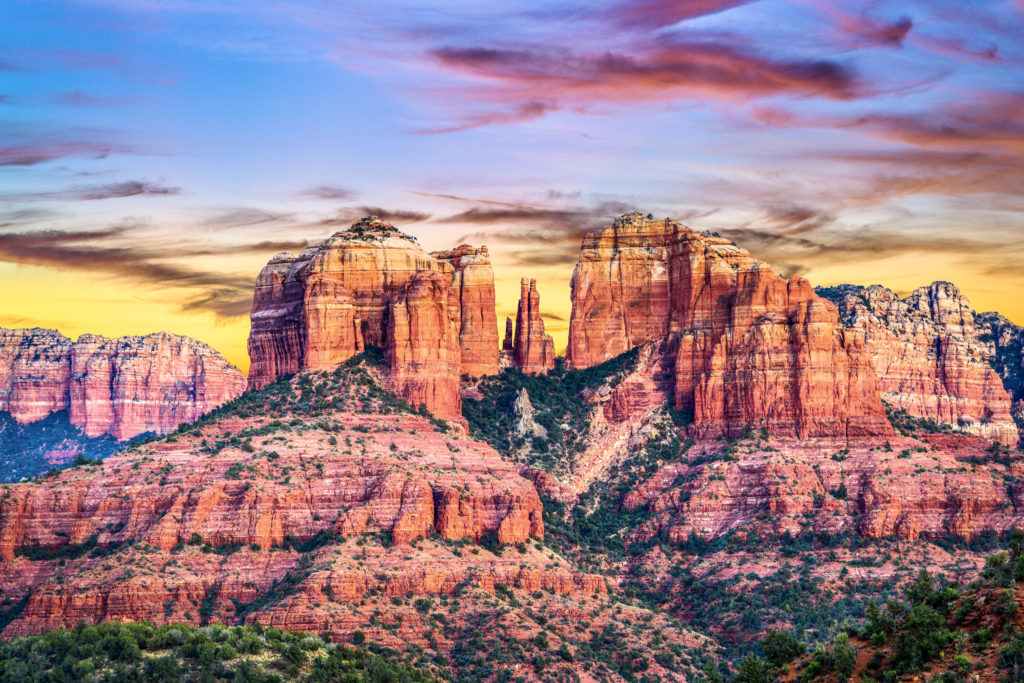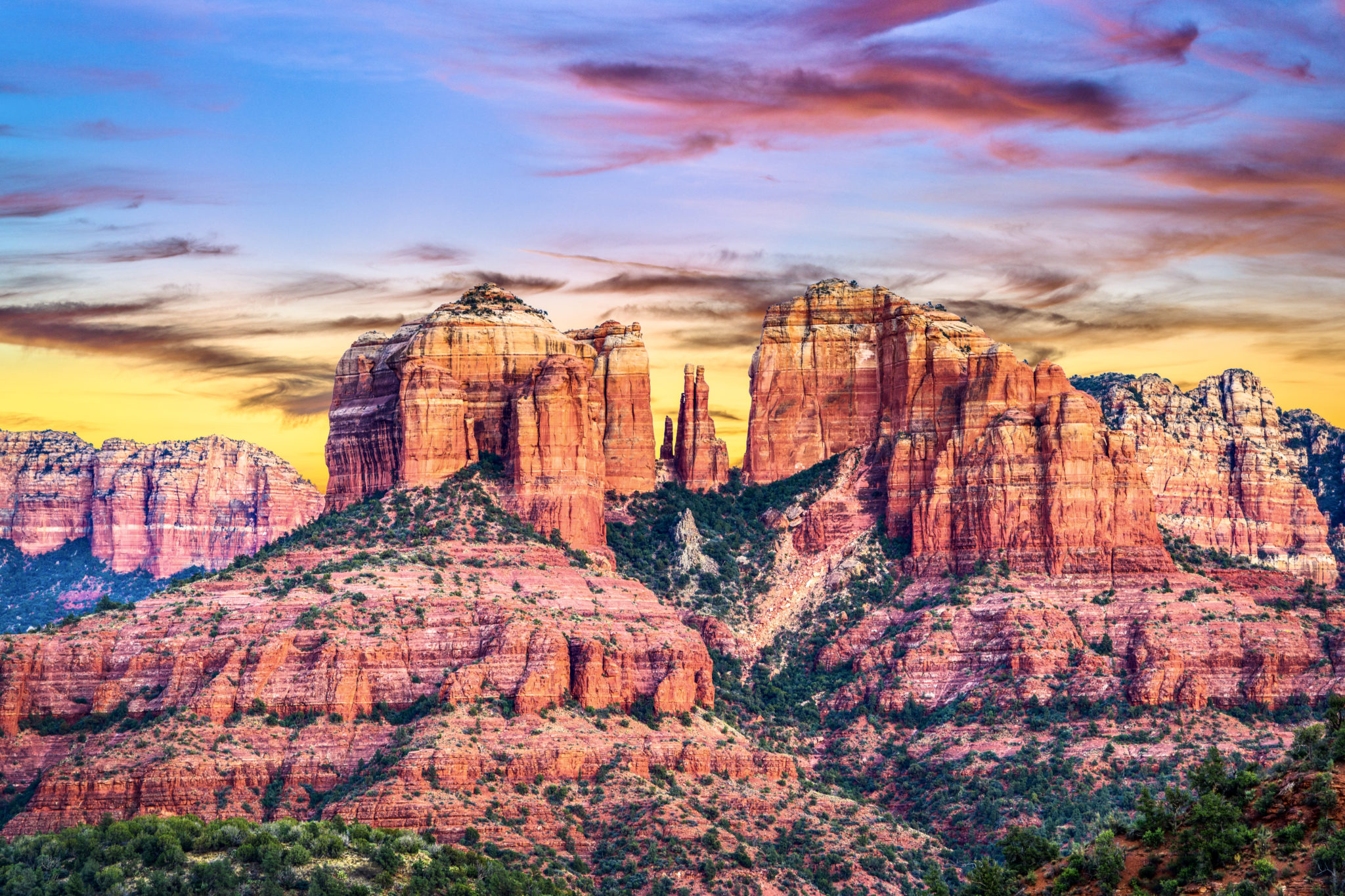 The best hikes in Sedona include:
Cathedral Rock (1.2 miles loop, moderate)
Courthouse Butte (4 mile loop. moderate)
Fay Canyon (2.4 mile loop, easy)
Devil's Bridge (1.8 mile loop, easy to moderate)
Westfork Trail (6.9 mile loop, moderate)
Airport Loop trail (3.5 miles, easy to moderate)
The Birthing Cave (2 mile loop, easy)
Soldier's Pass Trail (4.1 mile loop, moderate)
Bell Rock (1.5 mile loop, easy)
Most of these hikes are relatively easy with short in and out trails.
When you visit these trailheads, be sure to purchase and display a Red Rock Pass on your windshield. You can purchase the passes in town or at the self serve kiosks at the various trailheads. Click here for details on the passes.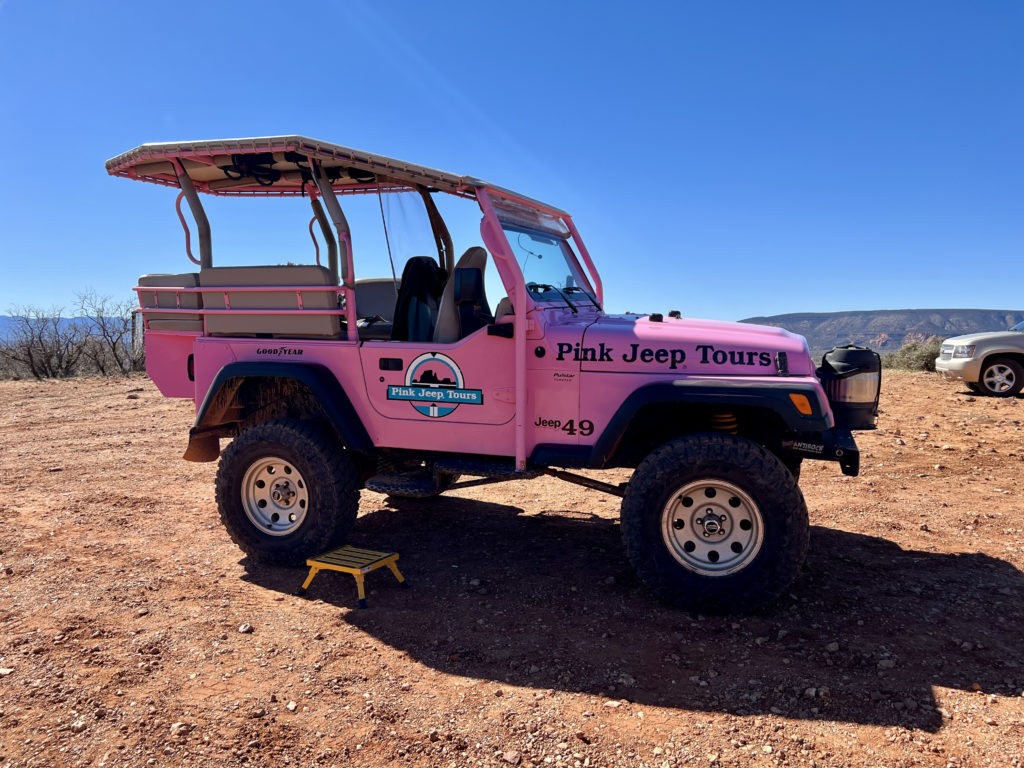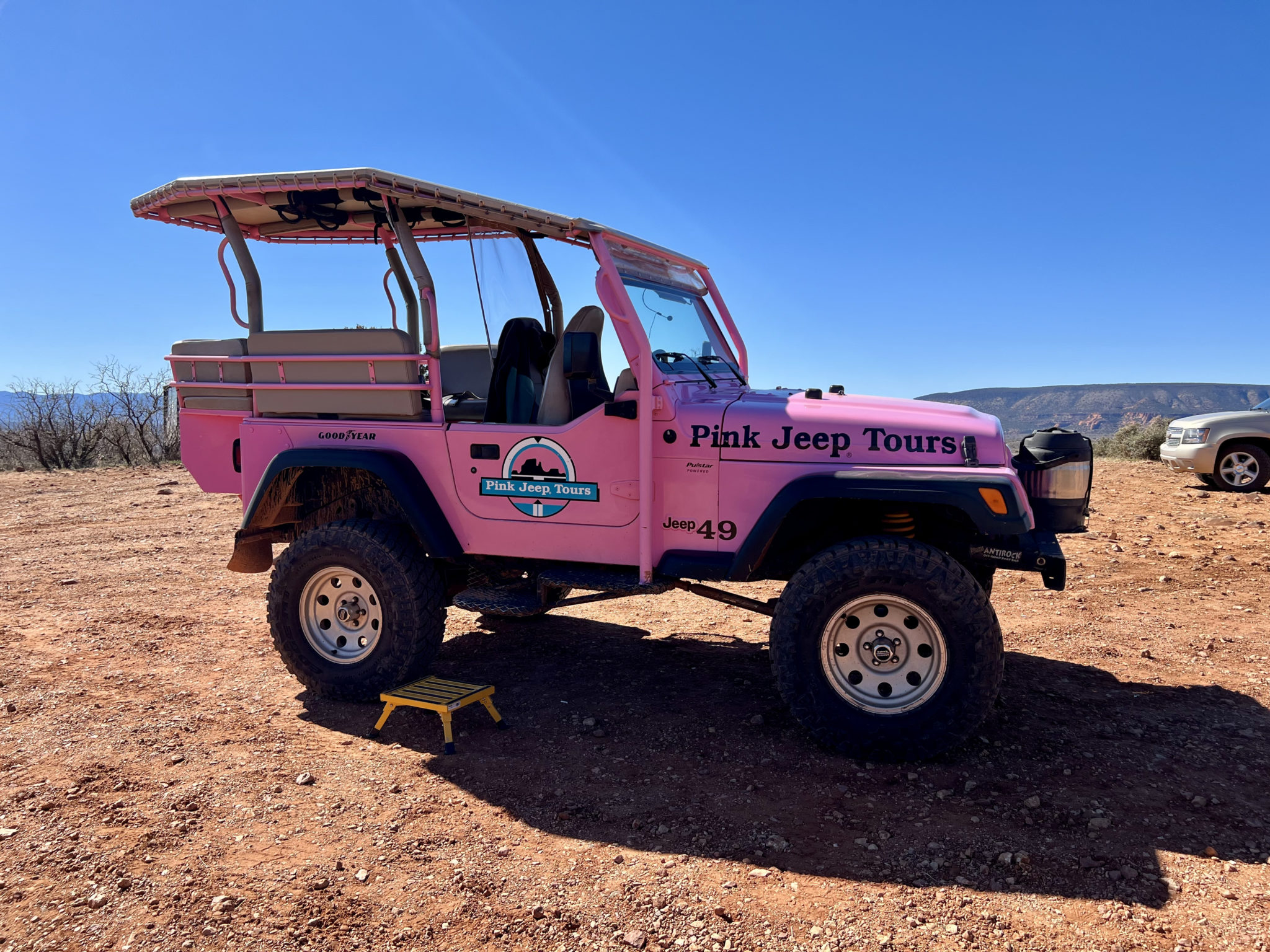 3. Pink Jeep Tours
Don't want to hike? No problem. Take a jeep tour. It's an iconic Sedona experience.
The Pink Jeep Tours are a fun way to explore Sedona's landscapes, especially for first timers. The 4WD takes you on off road adventures where you can get deep inside the luminous red landscapes.
There are so many options to choose from. I went on this Pink Jeeps tour, which goes into the red rocks range. This tour takes you to the ancient ruins, including the Palatki Heritage site. This tour takes you to Diamondback Gultch for red rock views.
Pro tip? The tours book up fast so reserve a couple weeks in advance.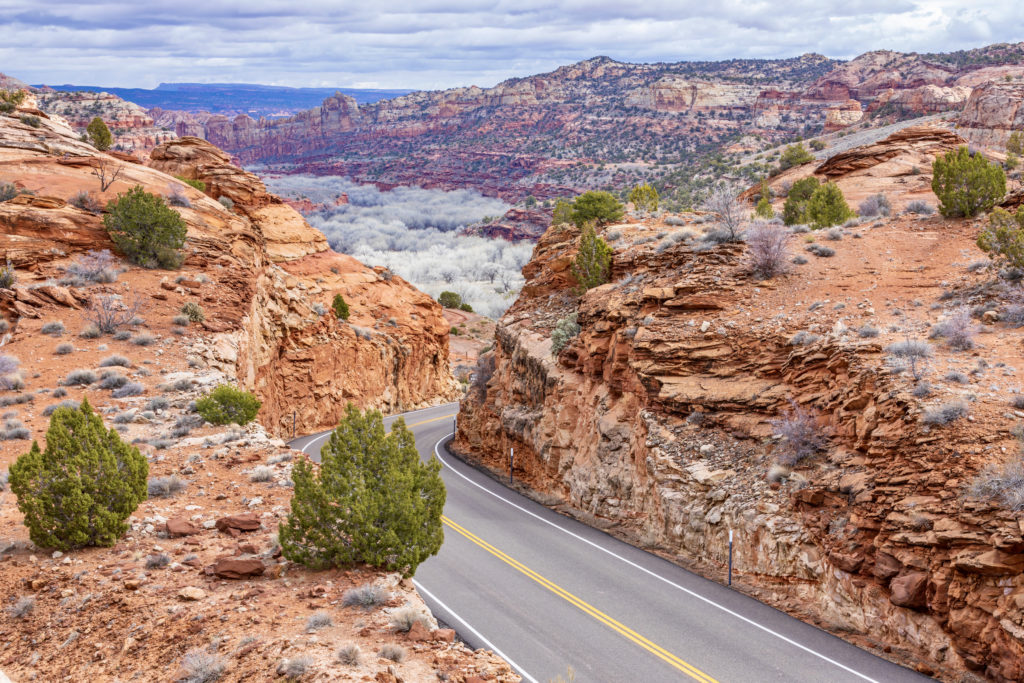 4. Red Rock Scenic Byway
This is one of the most scenic drives in the United States. The Red Rock Scenic Byway is a spectacular 7.5 mile ride through the jaw dropping red rock formations. The route starts after you take exit 298 off Interstate 17.
You'll be gobsmacked by the beauty of the scenery. If you have the opportunity, do an out and back drive at sunrise or sunset, although it's gorgeous at any time. You can scope out Sedona's hiking trails as you drive.
If you only have one day in Sedona or are just passing through, at least take the short drive and enjoy the stunning vistas. There are several lookout points.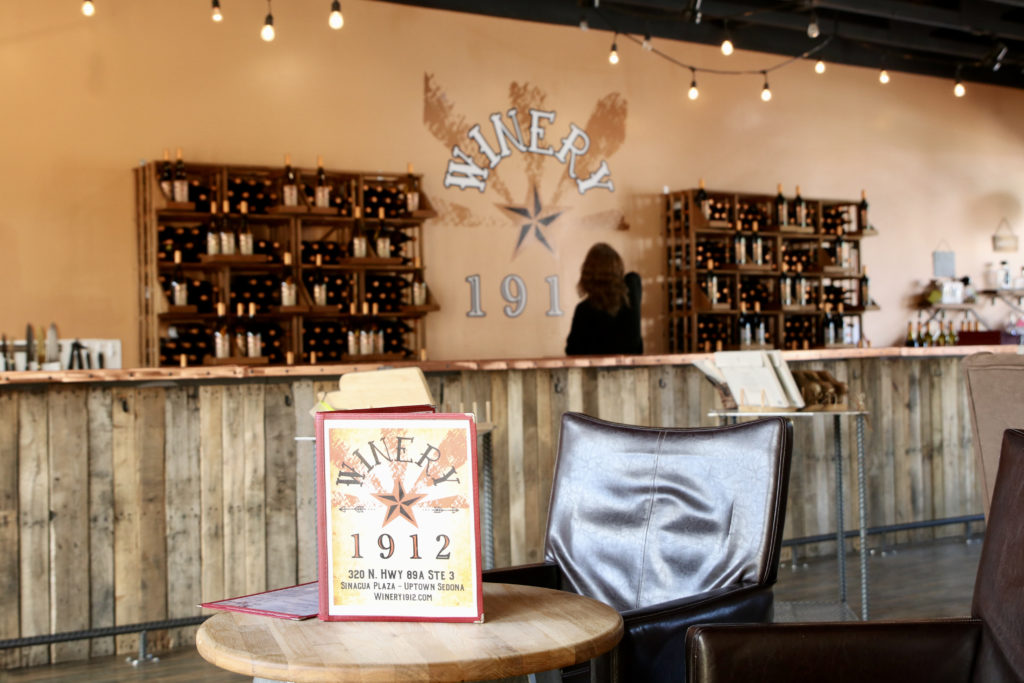 5. What to See and Do in Uptown Sedona
Don't forget to carve out some time to wander around the strip of funky stores in Uptown Sedona. Cute shops and galleries sell crystals, fine art, ceramics, and new age paraphernalia.
Sedona Candle Magic is always packed. There are spiritual healers available for hire, from psychic mediums to reiki healers.
If the spirituality thing isn't your jam, I'd recommend popping into a hidden gem called Blackbird Vintage, right off the main drag in Sedona.
Parking can be at a premium along here, especially on weekends. But there is a parking garage where you can usually find a spot.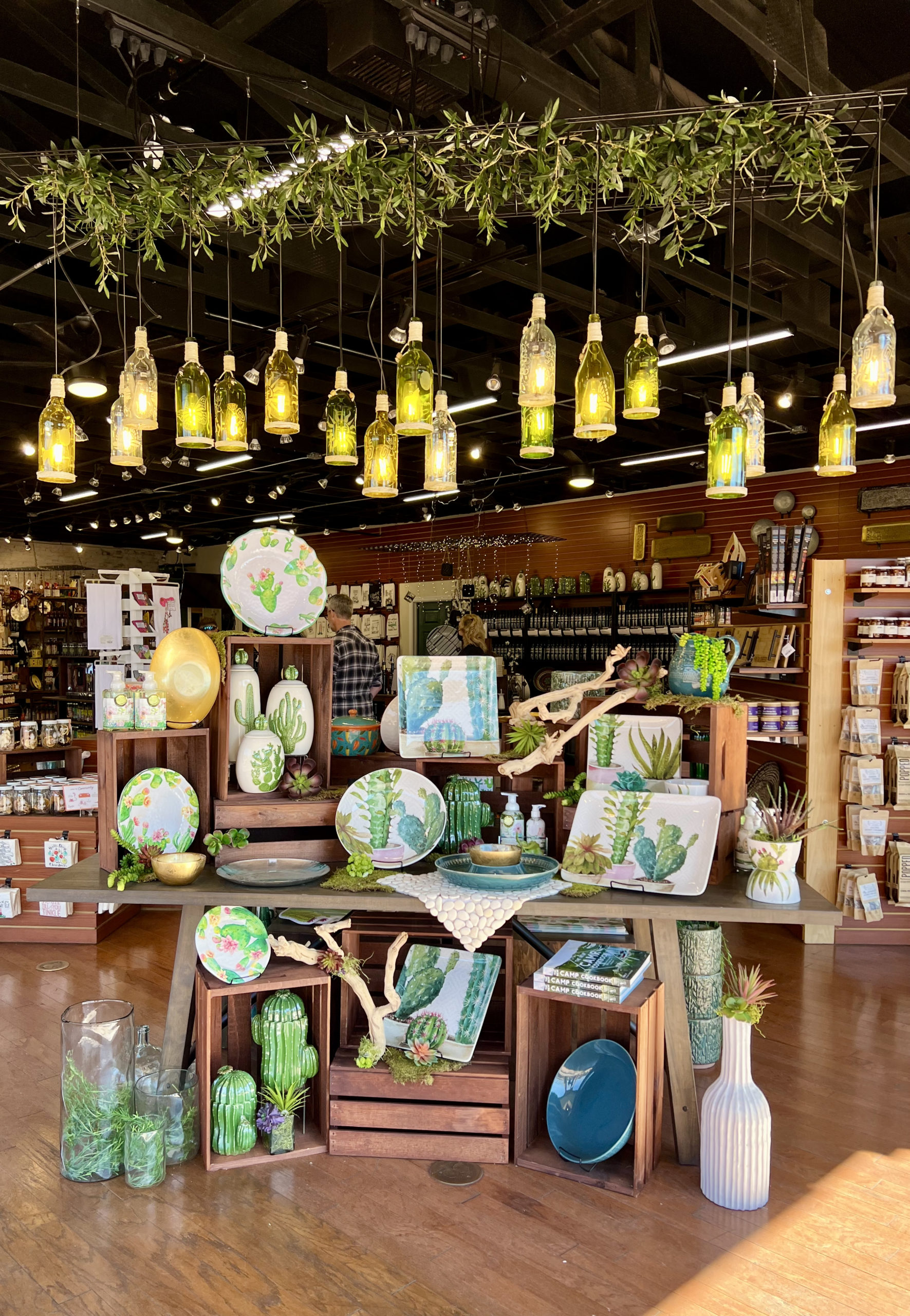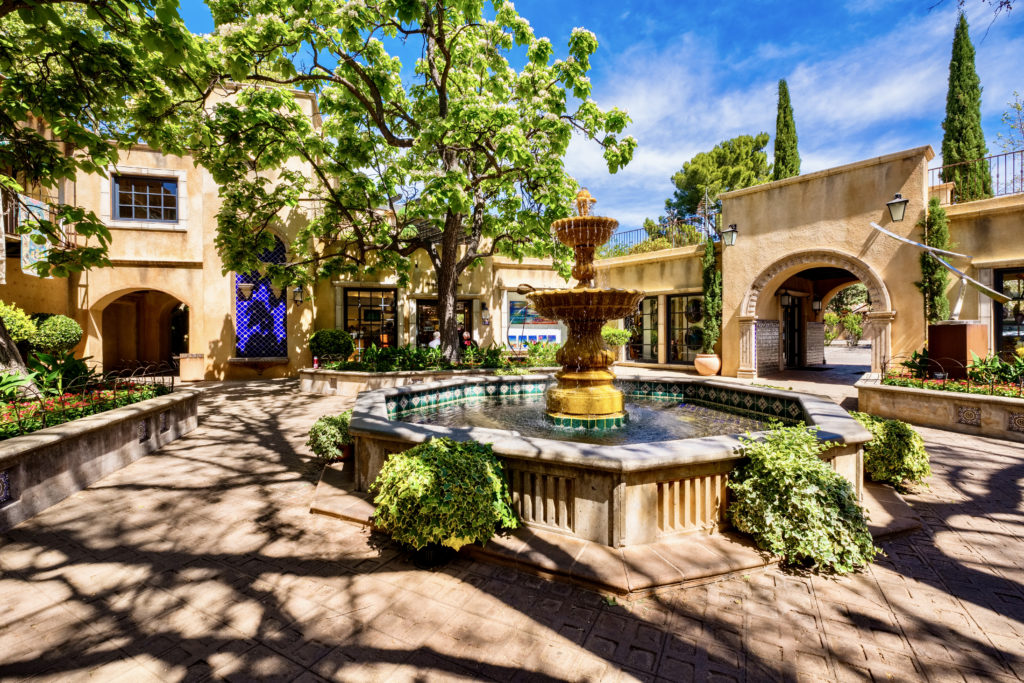 6. Tlaquepaque Arts and Crafts Village
Sedona is as famous for its art scene as its red rock formations. There are numerous galleries representing local, regional, and international artists.
If you want to browse some high quality local art, head to Tlaquepaque Arts and Crafts Village. It's designed along the architectural lines of a Colonial Mexican village, with vintage adobe buildings and quaint courtyards. It's been a Sedona landmark since 1970.
The village is home to dozens of exclusive shops, restaurants, boutiques, and art galleries. You'll find jewelry, basketry, pottery, weavings, Navajo rugs, wine, etc. One of my favorite galleries was Azadi.
If shopping and admiring the art makes you hungry, you can grab lunch in the village at El Rincon, the Secret Garden Cafe, or the Pump House. Wine lovers should head to Rene Restaurant.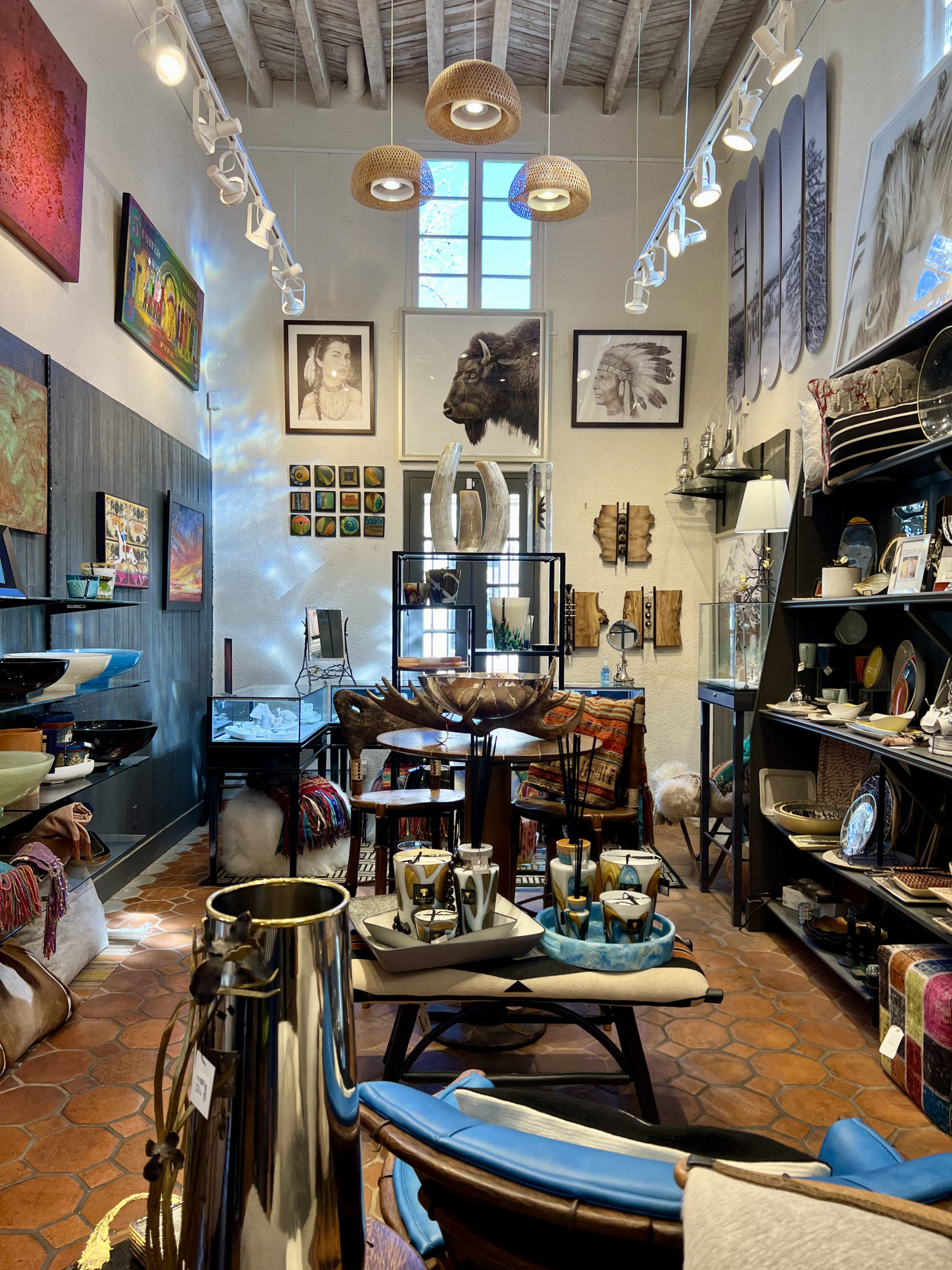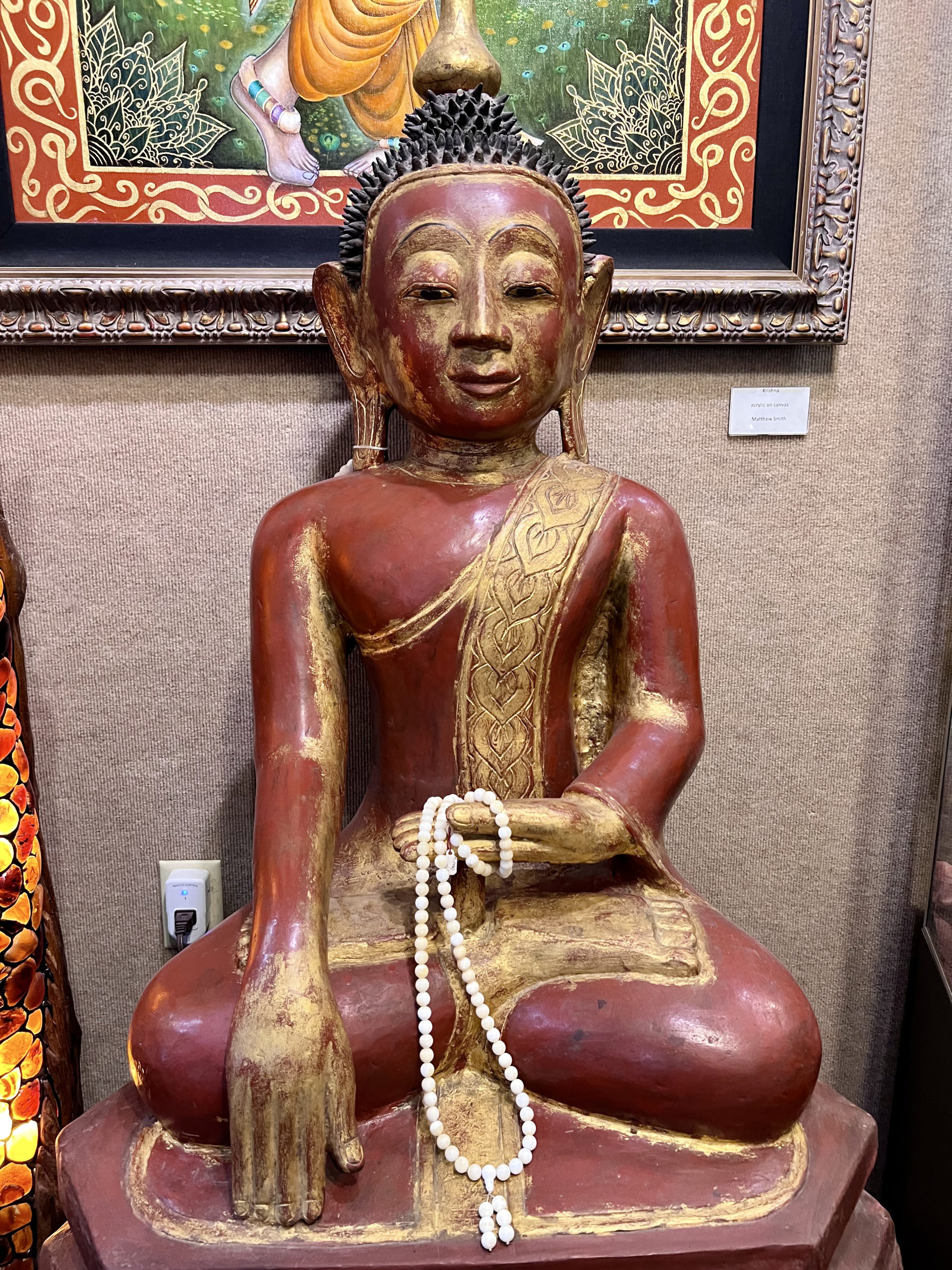 On Friday mornings, the village hosts the Sedona Farmer's Market from 8:00 to 11:30 am in its creekside parking lot. You'll find seasonal fruits, veggies, raw honey, salsa, and chicken eggs.
7. Sedona Art Center
Founded in 1958, the Sedona Art Center is another top attraction in Sedona. It's the central focus of the town's creative spirit.
The venue mounts exhibitions featuring painting, sculpture, and fine crafts from regional and national artists.
It's also a major art education facility, hosting over 270 year round classes in pottery, jewelry, and painting.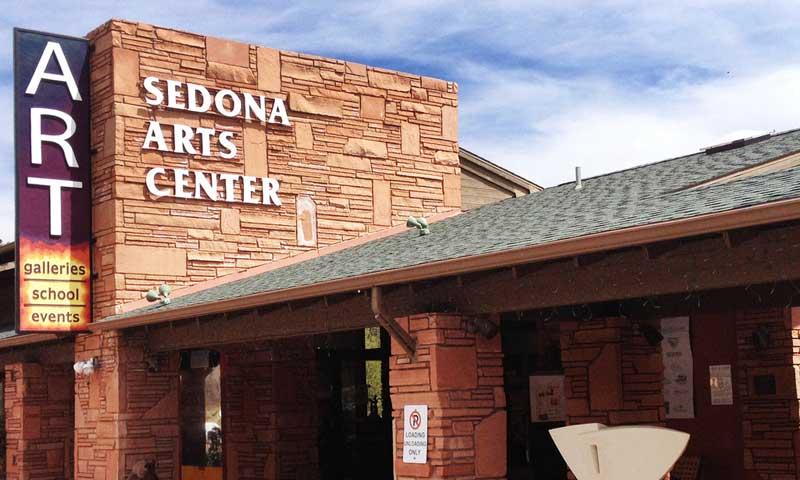 In October, you can enjoy the annual Sedona Arts Festival, which sets up outside the art center.
On the first Friday of every month, Sedona's galleries open their doors, offering snacks, beverages, and opportunities to meet artists and chat with other tourists.
Rather than the usual quiet gallery settings, the establishments are buzzing with art talk. This is a great introduction to Sedona's art scene.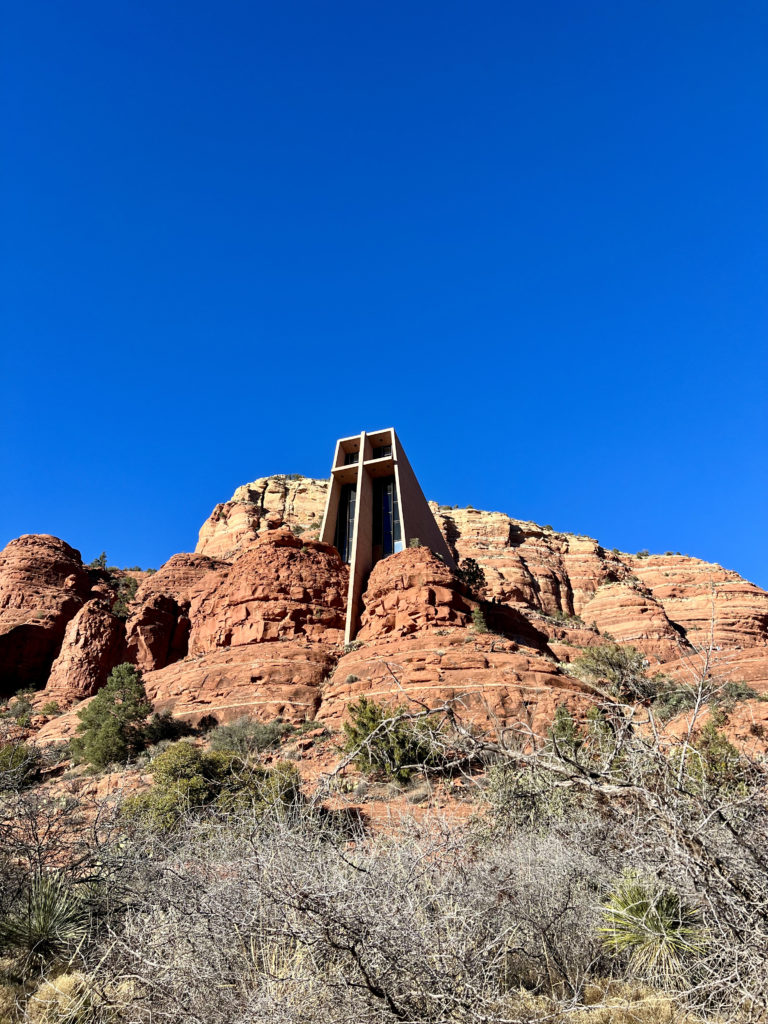 8. Chapel of the Holy Cross
If you love architecture, you'll enjoy the Chapel of the Holy Cross. It's an unmissable attraction in Sedona.
Built in 1956, it's a striking landmark designed by Marguerite Brunswig Staude, a pupil of Frank Lloyd Wright.
The building blends a 90 foot cross, magnificent stained glass windows, and a modern design. It's perched on a red rock plateau and a sandstone ridge of varying shades. Inside, you can pray, meditate, or sit quietly.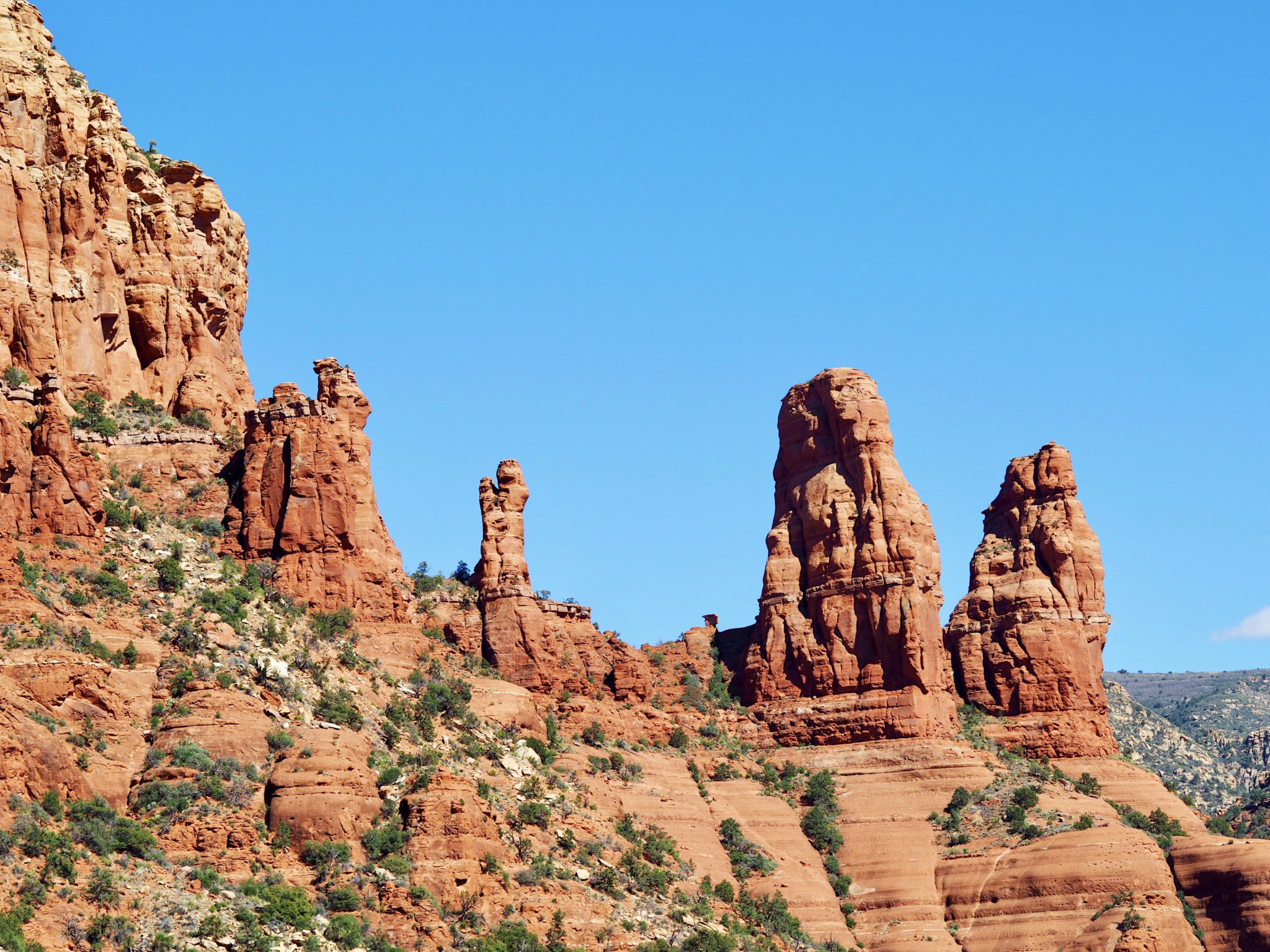 Even if you're short on time, stop by quickly to marvel at the structure. There's parking along the road leading to the chapel, but it's limited.
You have to hike up a walkway to get there. If it's too steep, there are golf carts available to take you up.
The chapel is open 9:00 am to 5:00 pm and is free of charge. The views from the top are mesmerizing.
9. Palatki Heritage Site
Arizona has been inhabited for millennia. The Palatki Heritage Site is a top attraction in Sedona that offers a glimpse into the past. Charles Willard discovered the site in the 1920s and used it as his homestead.
The historic site is accessible via a rocky forest road. It features a well preserved cliff dwelling of the ancient Sinagua people. They inhabited the cliffs between 1150 and 1350.
Various trails lead you to stone ruins and rock art alcoves. Pictographs illustrate the culture's rich story. There's a colorful array of rock art.
Reservations are required to visit the Palatki Heritage Site. Call (928) 282-3854.
You can also see Palatki on a Pink Jeeps tour. Otherwise, a Red Rocks Pass required to park and explore the trails.
10. Verde Valley
The nearby Verde Valley, a grape growing paradise, is the perfect spot in Sedona for oenophiles or wine lovers. In the valley, lush green mountains and red rocks sit amid the Verde River.
You can use a wine map trail to explore. You can drive to the wineries or take a wine tour. You can even take a bike wine tour.
Most of the wineries have actual vineyards to visit. Here's a good tour of the wineries.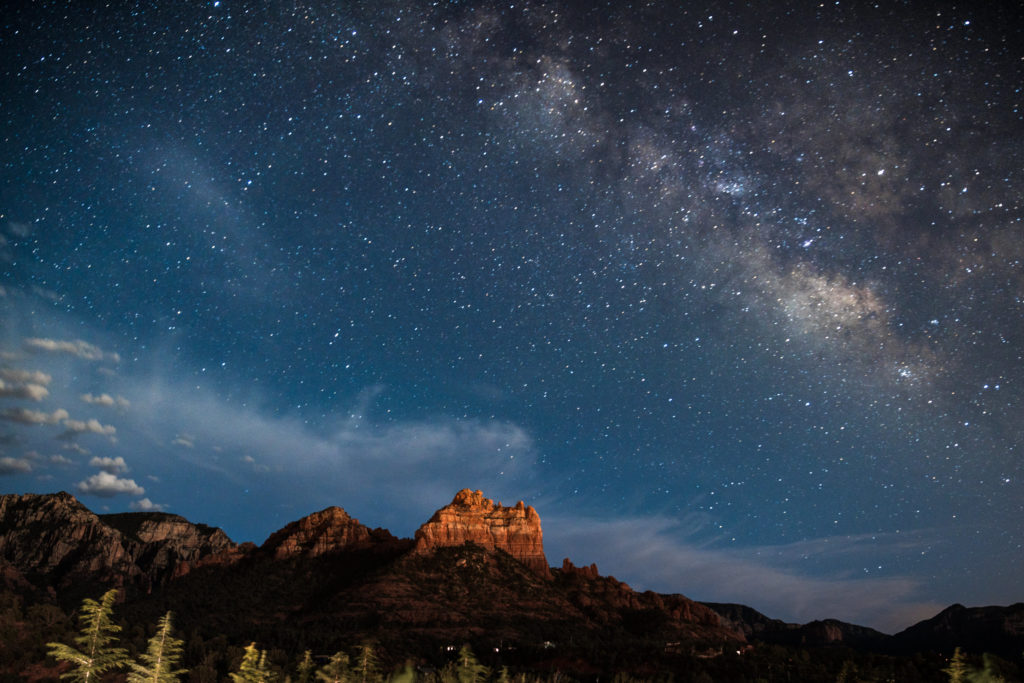 11. Star Gazing
When night falls in Sedona, you have a different kind of visual drama.
In 2014, Sedona was designated an international Dark Sky Community, one of only 20+ in the world. This is an honor given to cities that are dedicated to preserving the night sky.
The Thunder Mountain Trailhead is a good place to watch the sun set and star gaze. There's also an observation area, Two Trees, just off state route 89.
You can even take a nighttime tour in Sedona. Click here for a complete guide to where to star gaze in Sedona.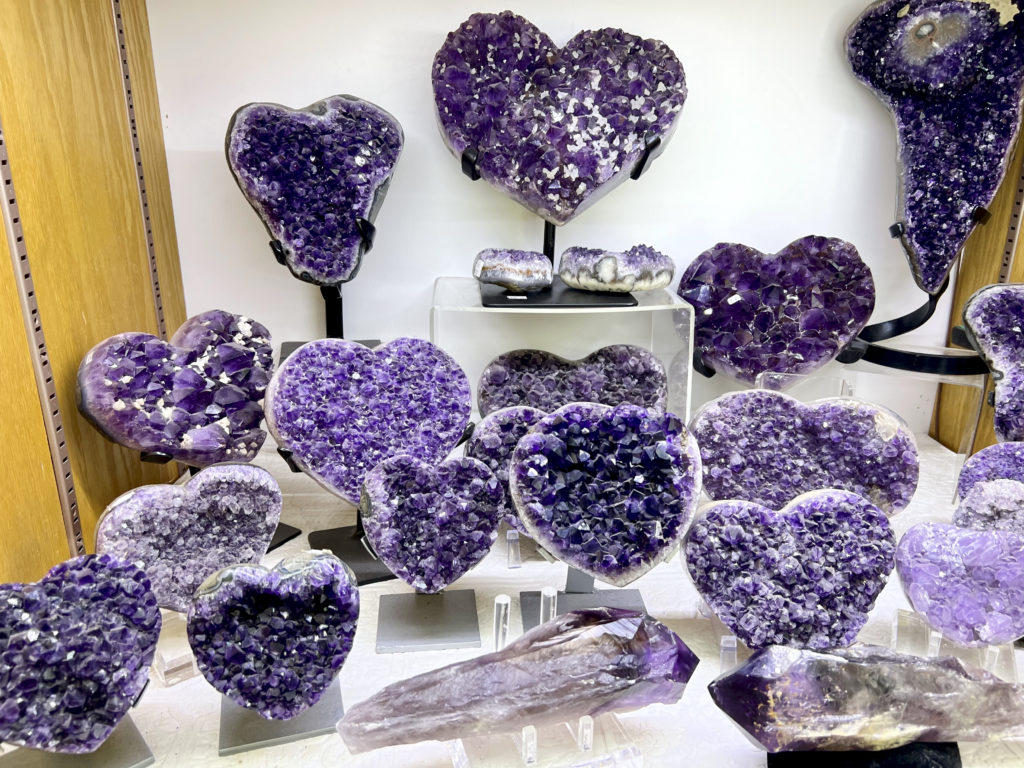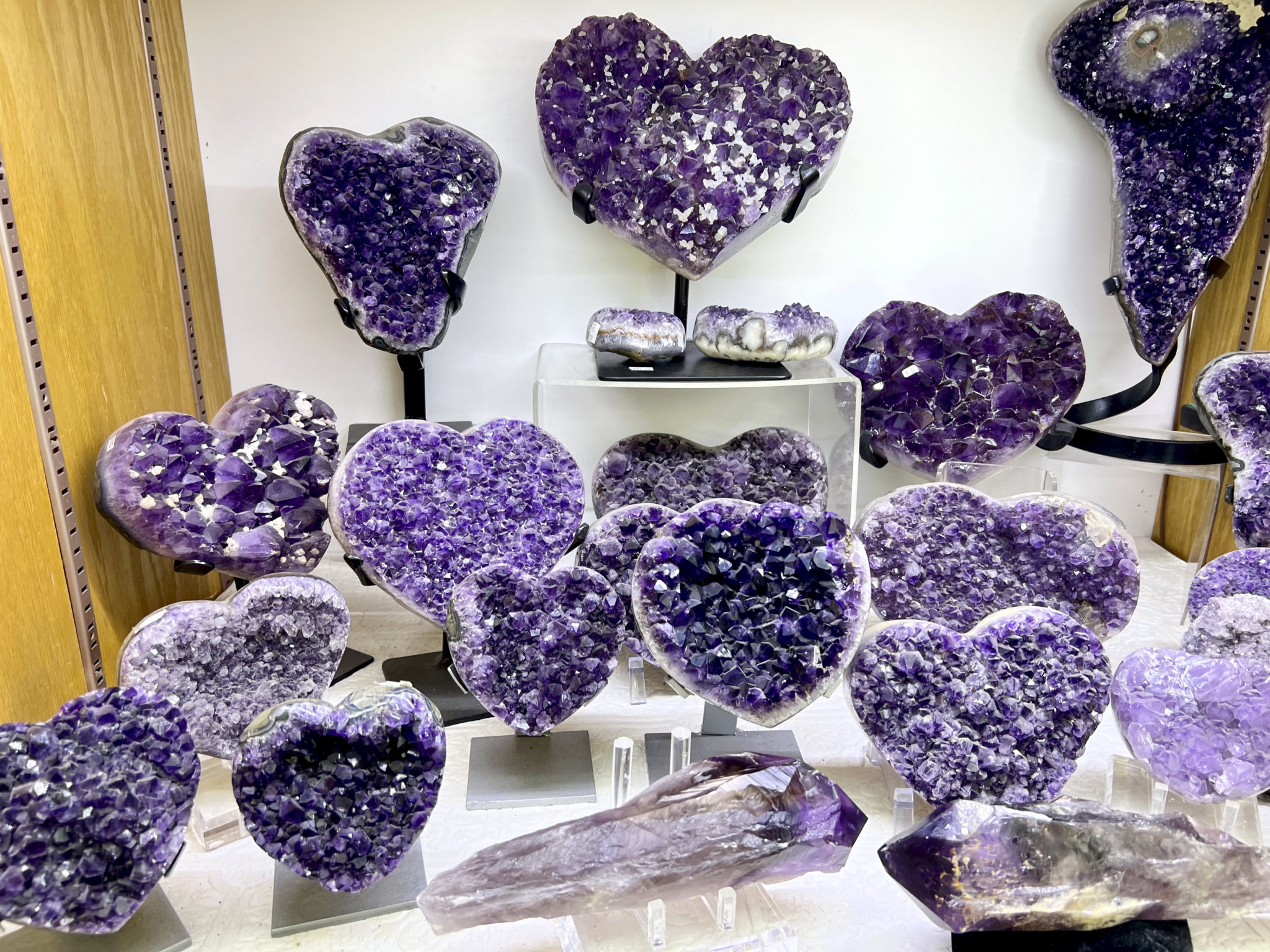 12. Sedona's Spiritual Side
Not content with energizing negative ions from the vortexes? No problem. Sedona is a hub of wellness, spirituality, and healing.
You'll find all sorts of alternative medicines and practices in Sedona, from rejuvenating bodywork to past life workshops.
Sedona also boasts some of the nation's best healers. You can get a Reiki treatment, Qigong healing, a custom spa treatment, or get Jin Shin Jyutsu acupressure.
Do outdoor yoga. Or, inhale the benefits of halotherapy in a salt room.
If you're more metaphysical, get a psychic reading at the Center for the New Age next to Tlaquepaque Arts and Crafts Village. It's a serene little shop full of crystals, fountains, tarot cards, flute music, and dreamy-eyed patrons.
You can hire the services as a master clairvoyant, psychic healer, or shaman priestess. Appointments are 15, 30, or 60 minutes.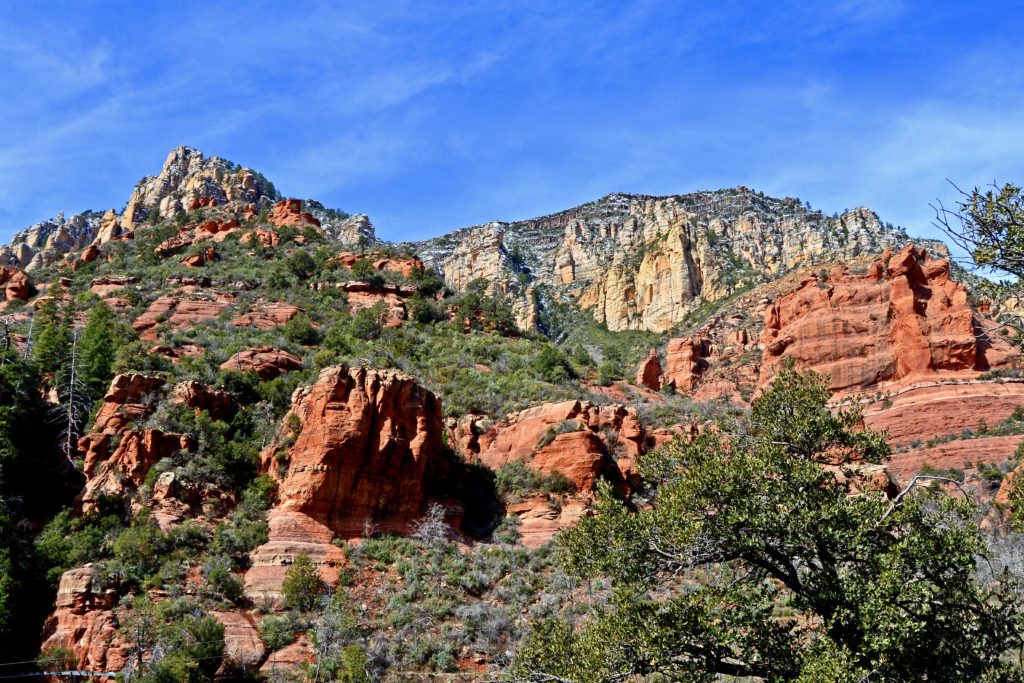 13. Oak Creek Canyon
Oak Creek Canyon is a river gorge carved into the edge of the Mogollon Rim of the Colorado Plateau. The stunning canyon is just upstream from Sedona, on the way to Flagstaff.
Tectonic forces shifted the land to either side of the fault. Subsequent erosion by Oak Creek created a spectacular canyon, where the geologic history of this area is on full display. The canyon is a photographer's dream.
The canyon is approximately 12 miles long. The creek flows year round along the bottom of the canyon. It provides water for plants and wildlife, as well as fishing and swimming opportunities.
Want a tour of the canyon? Click here to book a jeep tour.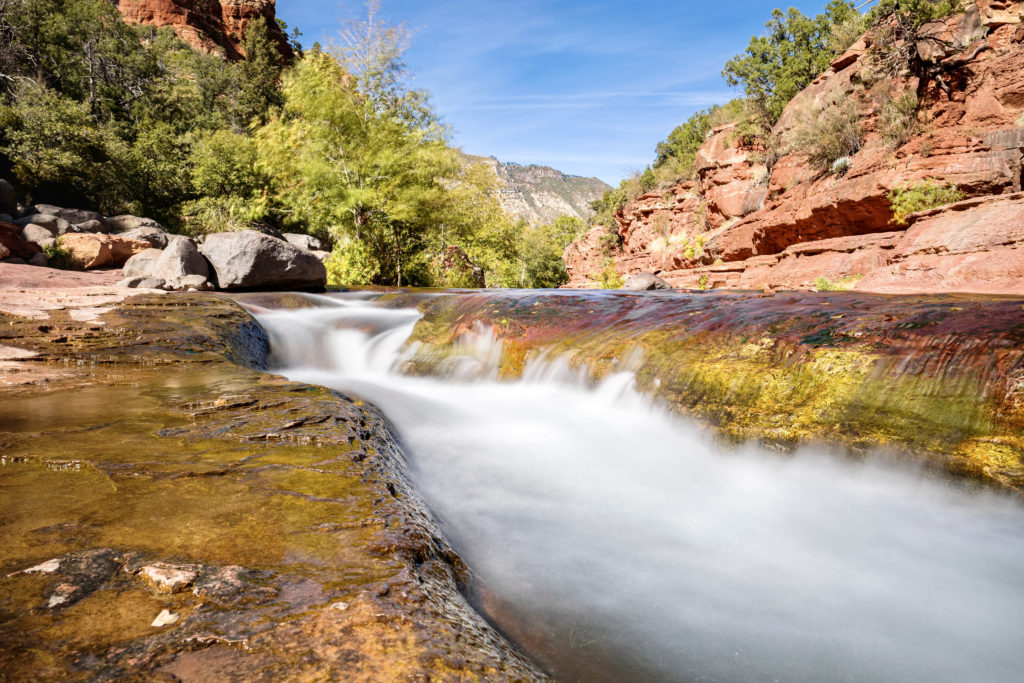 Oak Creek Canyon is also home to Slide Rock State Park. There is easy hiking, a natural slide, and rocks to jump off.
Slide Rock got its name from the water running over and through the rocks. It made the rocks smooth and slippery, so they act like natural slides.
Slide Rock has a steep entry fee, $20 to $30 dollars depending on which day you visit. From the parking lot, it's a 5 minute walk down to the creek.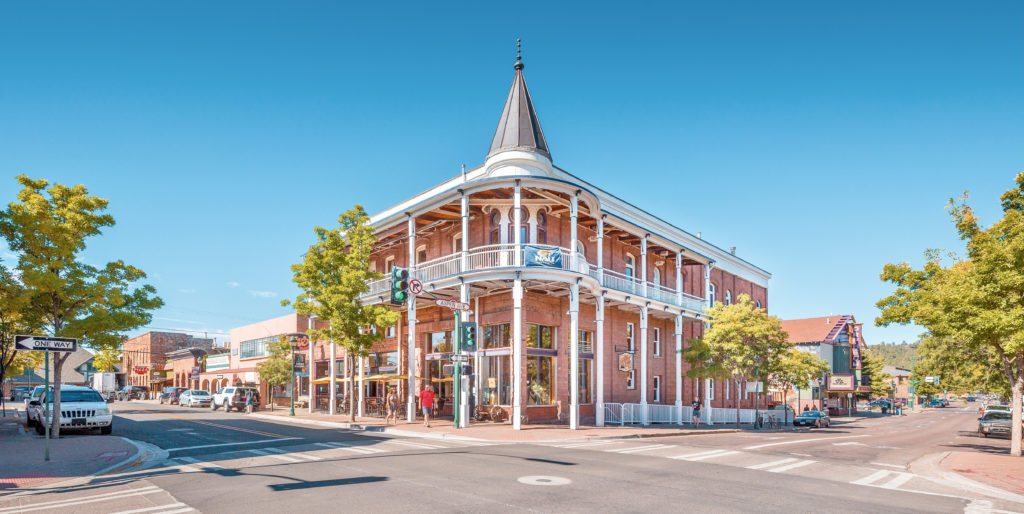 14. Visit Flagstaff
Flagstaff is another top attraction near Sedona. It's just 50 miles north of the city.
Flagstaff is jam packed with beauty, history, and architecture. Flagstaff is an unusual alpine beauty 7000 feet high in the foothills.
This historic town is well worth a day trip, if you have time in your Southwest itinerary. It may be one of Arizona's best kept secrets.
Flagstaff has pretty Victorian mansions to admire. If you want a dose of Southwest art, head to the Museum of Northern Arizona, Old Main Gallery, or the Beaver Street Gallery.
If you fancy a hike, take the low key Viet Springs loop.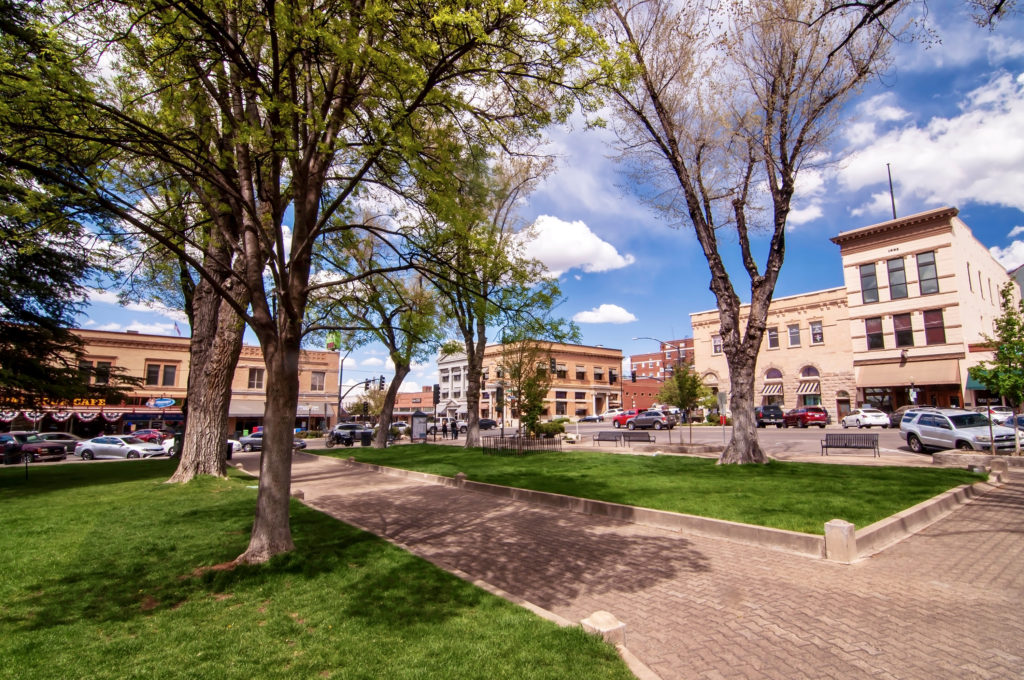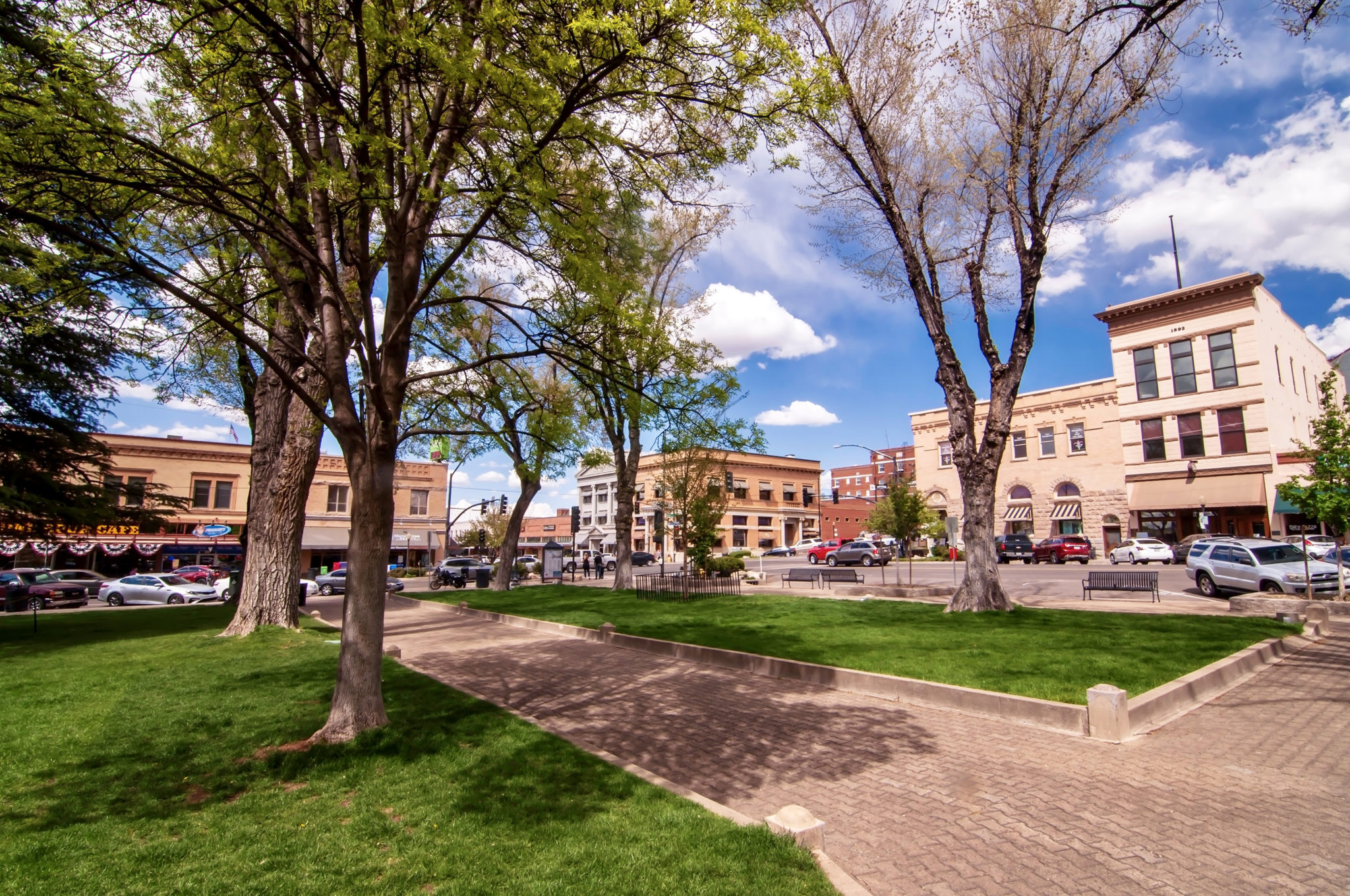 15. Visit Prescott
Prescott is a quaint and cool town in Arizona, just 1:20 from Sedona. Founded in 1864, Prescott has more than 800 buildings on the National Register of Historic Places.
In particular, the town is home to Arizona's famous Whiskey Row. This stretch of road on south Montezuma Street once housed 40+ bars. The oldest whiskey bar is The Palace, which opened in 1877.
Nowadays, Prescott isn't that wild. You'll find plenty of ice cream and fudge shops, boutiques, and art galleries. If you wander down from the main plaza to Cortez Street, you'll find Antique Row.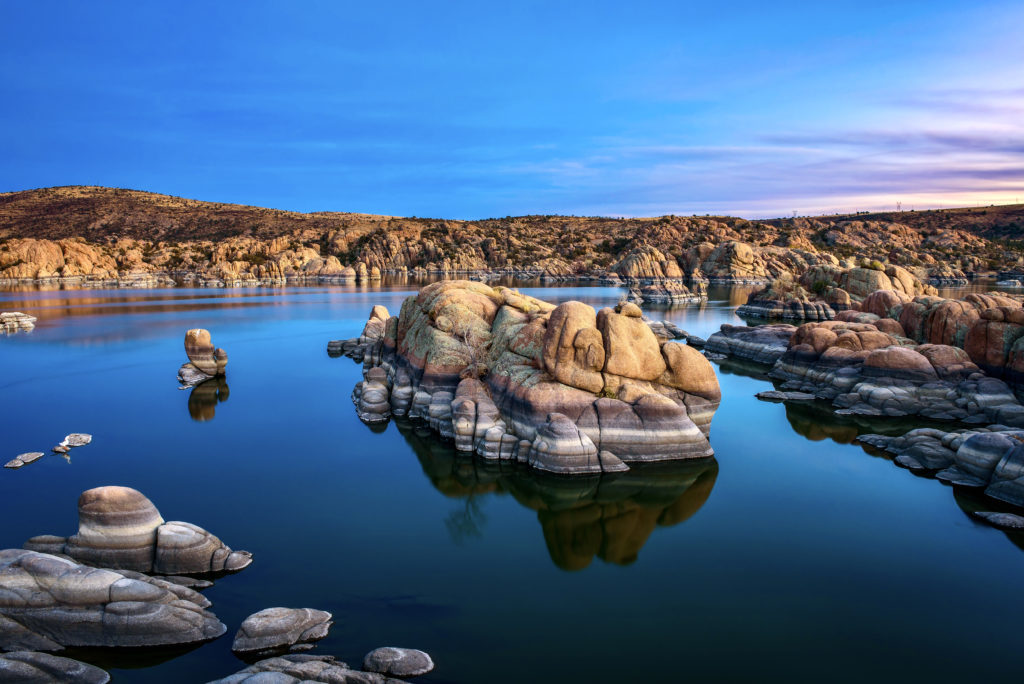 If you need to grab a meal in Prescott, there are plenty of charming eateries. I enjoyed the farm fresh food at Farm Provisions. Raven Cafe also offers up farm to table food.
Just outside the historic center of Prescott is beautiful Watson Lake. It's the perfect spot to go boating, canoeing, or kayaking.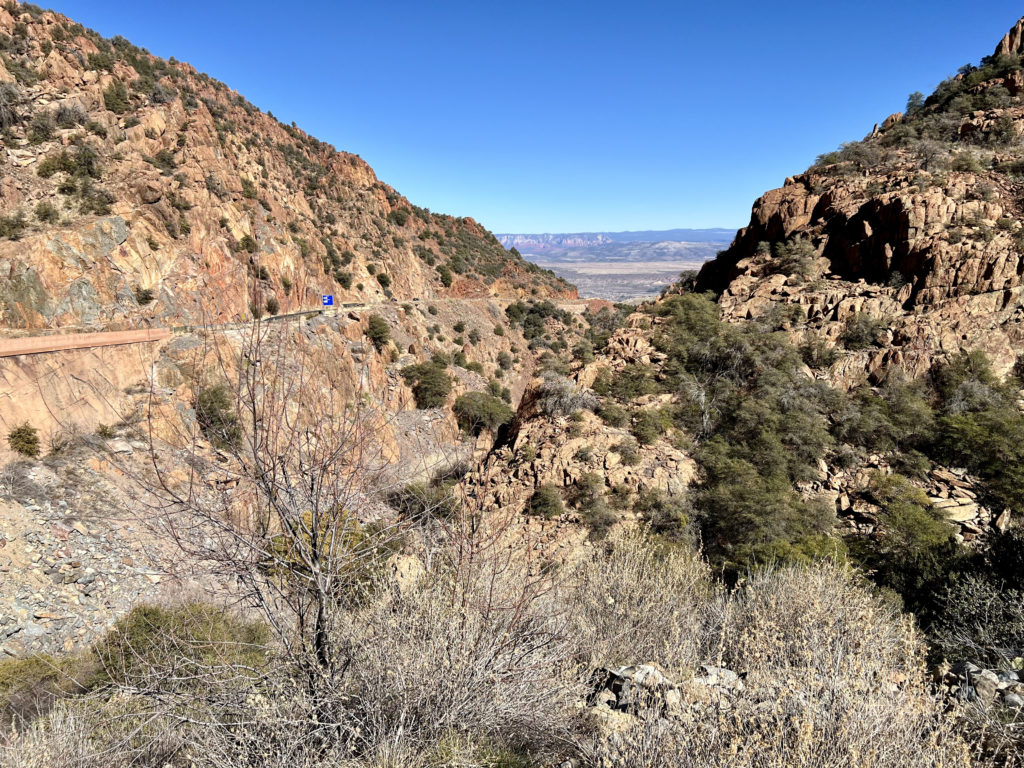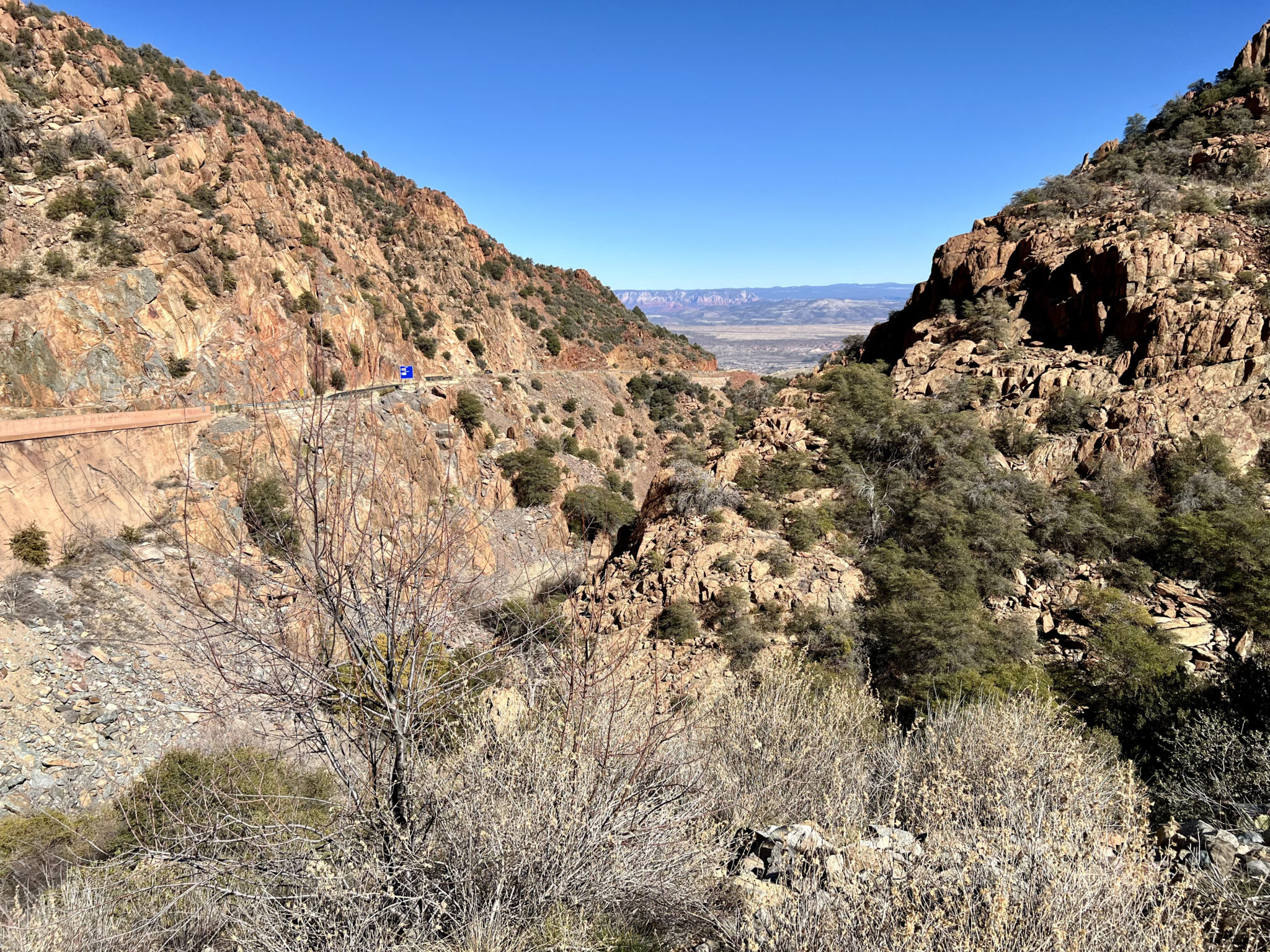 16. Visit Jerome
The not quite "ghost town" of Jerome is a former copper mining town that thrived during the 1880s to the 1950s.
You access the town via the twisty Mingus Mountain with (slightly hair raising) switchback roads.
The view out over the valley is gorgeous. There's only one pull off though. Otherwise, if you're driving, keep your eyes on the road!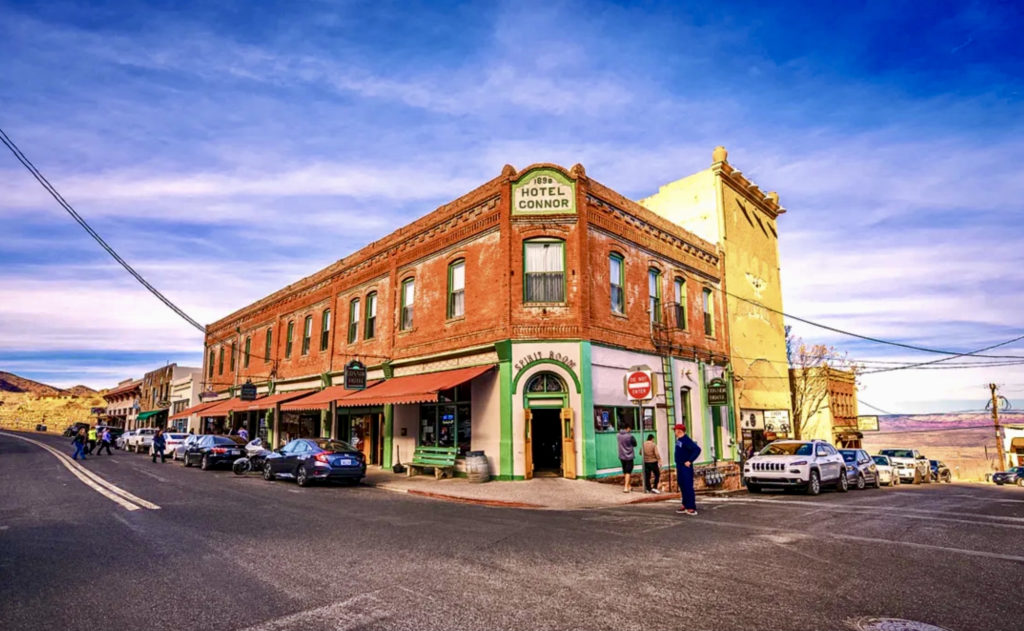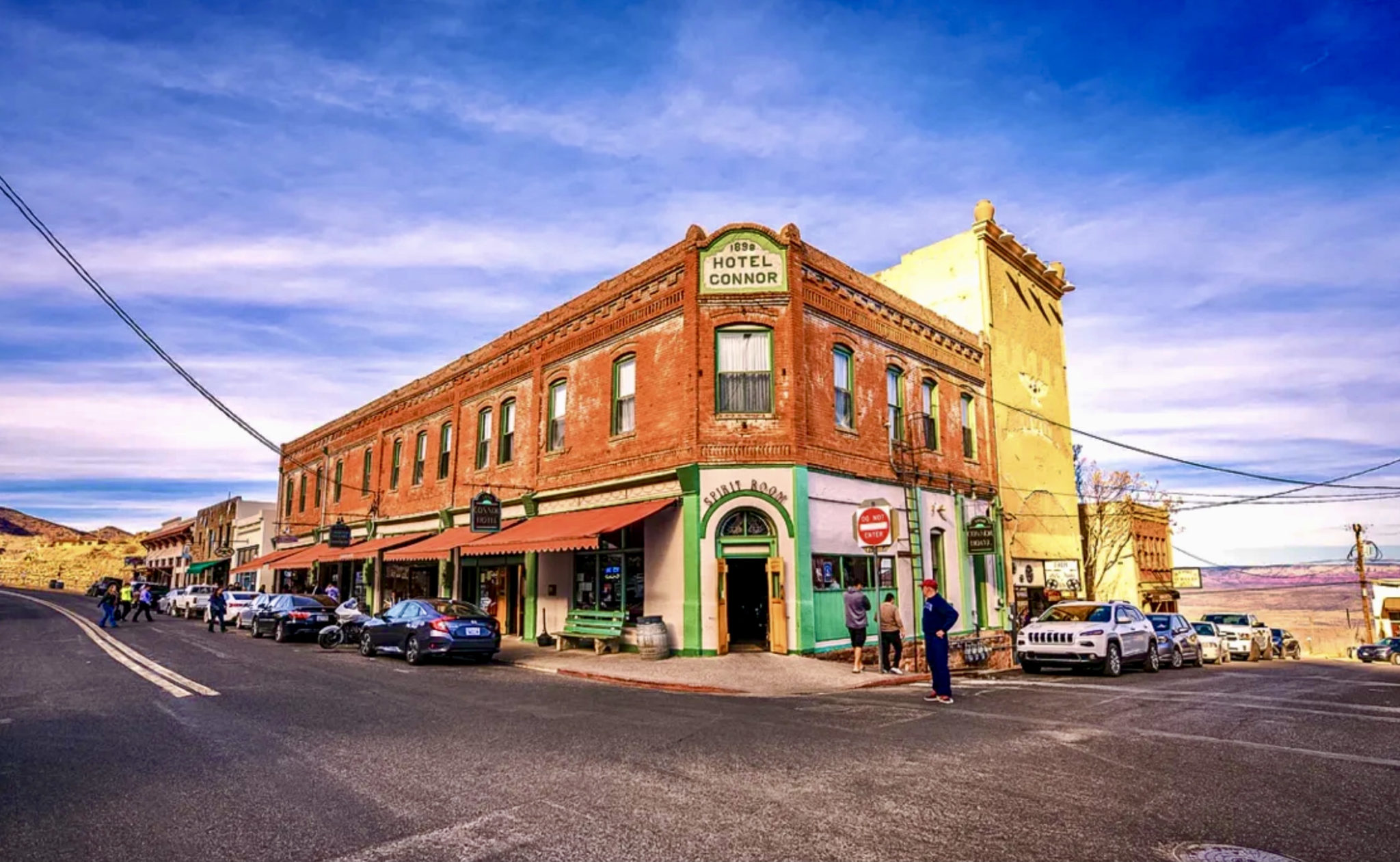 Today's Jerome is somewhat gentrified and a haven for artists. You'll find art galleries, artisan shops, boutiques, and restaurants. My favorite gallery was Firefly.
Jerome is still a real town though with full time residents. You can take a ghost tour in Jerome.
Or, learn about the history of Jerome at the Jerome State Historic park. If you want to book a tour, click here for a tour exploring historic Jerome.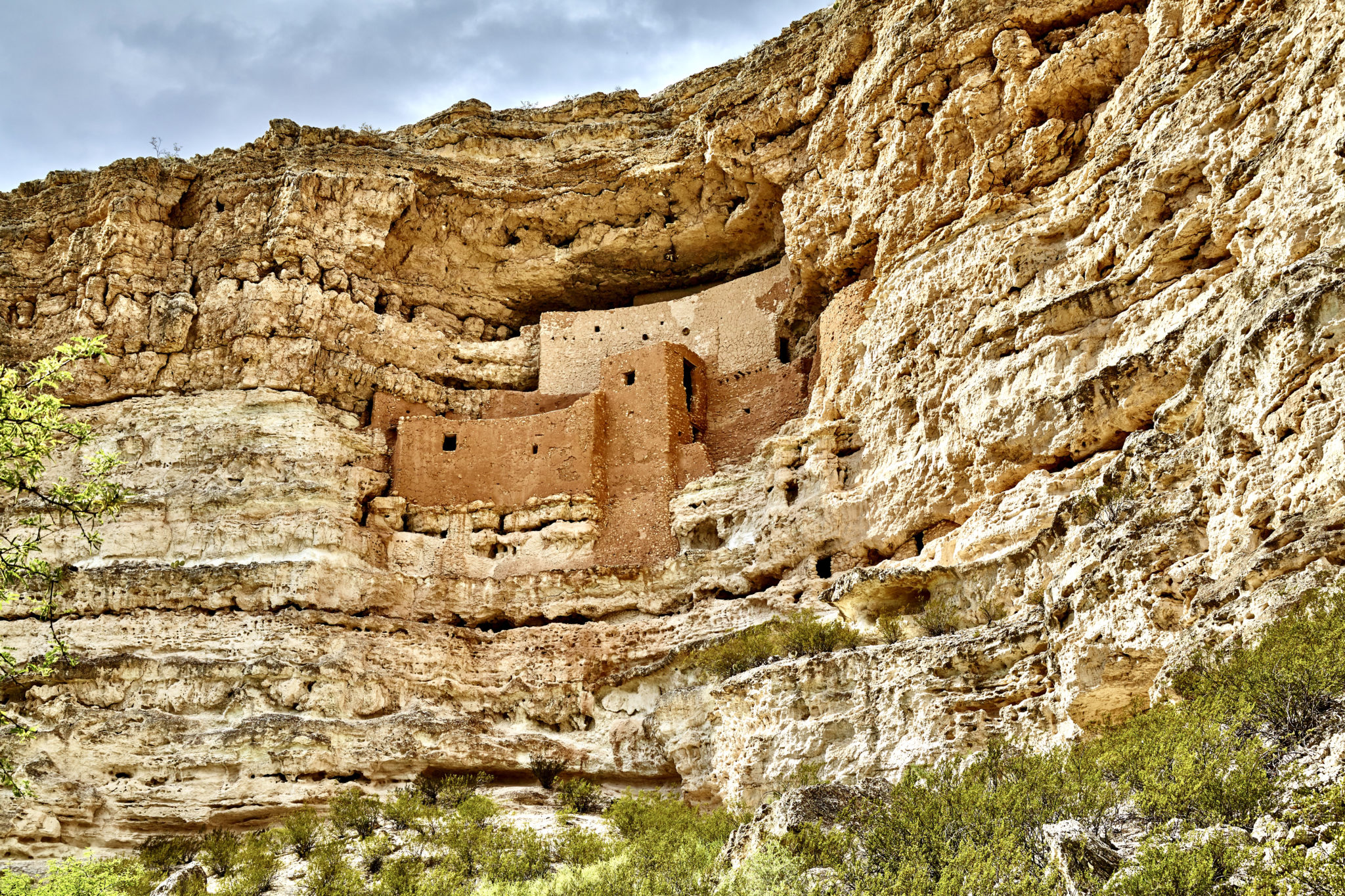 17. Montezuma Castle National Monument
Established in 1906, Montezuma Castle is one of the top attractions near Sedona. It's the third National Monument dedicated to preserving Native American culture.
It's 20 room high rise apartment, nestled into a towering limestone cliff. The castle tells a story of ingenuity and survival in an unforgiving desert landscape.
Despite the name, there's no connection between the monument and the famous Aztec leader.
A self-guided loop trail leads you past the incredible five story cliff dwelling, through the sycamore grove and along Beaver Creek. Another loop leads you past an oasis used by the Sinagua people over 600 years ago. You can also take a 25 minute ranger tour.
There's wildlife in the park. Also, there's a sign warning you to be careful of rattlesnakes.
You can see both Jerome and Montezuma's Castle on a day tour from Sedona.
18. Grand Canyon
You can even go to the Grand Canyon on a day trip from Sedona, though it will be a long day. Sedona is only 100 miles south of the Grand Canyon.
You can can hike or drive to designated lookouts in the Grand Canyon.
If you want to sit back and enjoy the scenery, take a day tour from Sedona to the Grand Canyon. I recommend this 10 hour tour.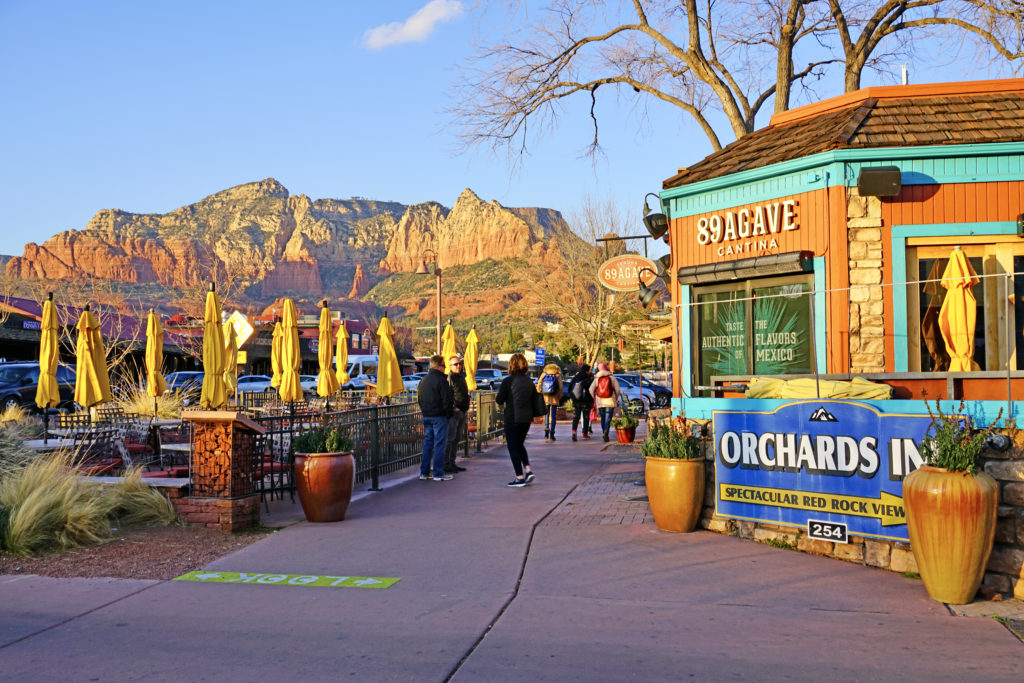 Tips For Visiting Sedona
1. How To Get To Sedona
By Air: The nearest major airport is Phoenix Sky Harbor International Airport (PHX), which is about a two-hour drive from Sedona. From the airport, you can rent a car, take a shuttle, or use a rideshare service to reach Sedona.
By Car: If you're driving, Sedona is easily accessible via major highways. Interstate 17 connects Phoenix to Sedona, and Arizona State Route 89A provides a scenic route into the town.
2. Where To Eat In Sedona:
Sedona is full of delicious eateries. Some are tucked into beautiful vistas or offer gorgeous scenery.
For breakfast or lunch, try 89 Agave (Mexican), the Secret Garden Cafe (innovative cafe food), or Miley's Cafe (local diner).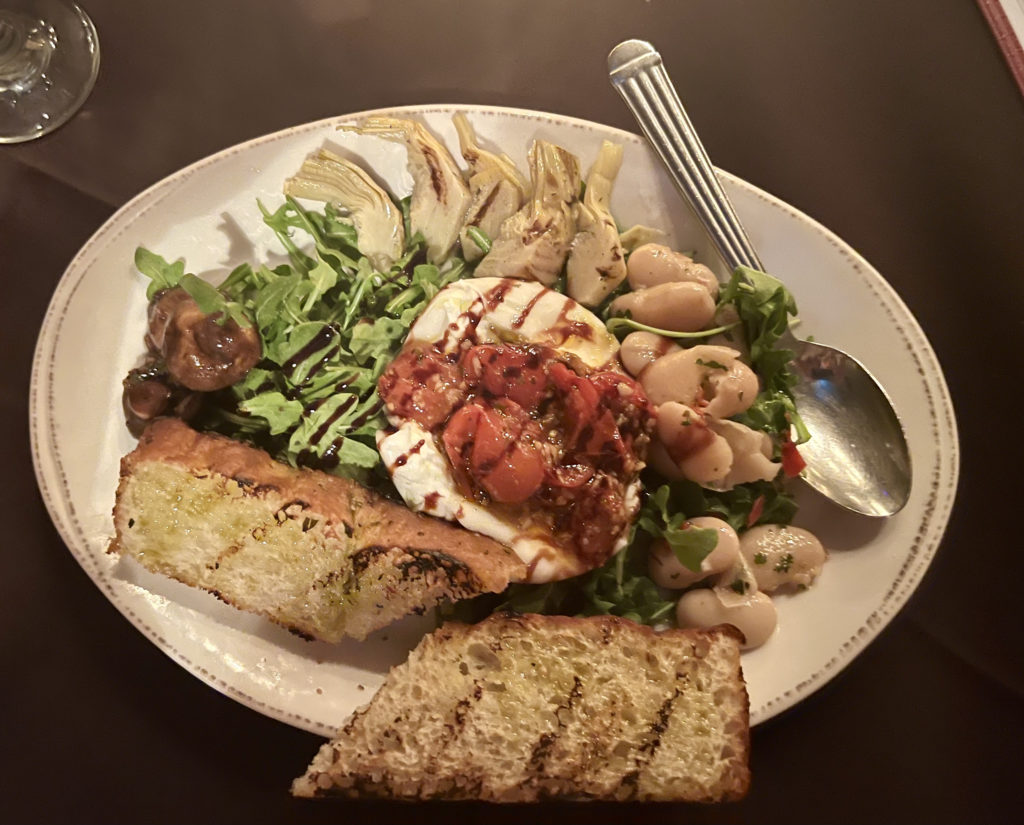 For dinner, I can recommend several places. You can dine creek side at Cress at the L'Auberge de Sedona.
The most popular spot in Sedona is Mariposa, a Latin inspired grill restaurant. You'll need to make reservations well in advance to eat here.
I also liked SaltRock Kitchen at the Amara resort in the red rocks and Cucina Rustica in the Oak Creek Canyon area.
Dahl & Di Luca Ristorante is another great Italian restaurant with a killer tiramisu. And Elote Cafe is a James Beard award winner, where you can sample creative Mexican and Southwestern cuisine.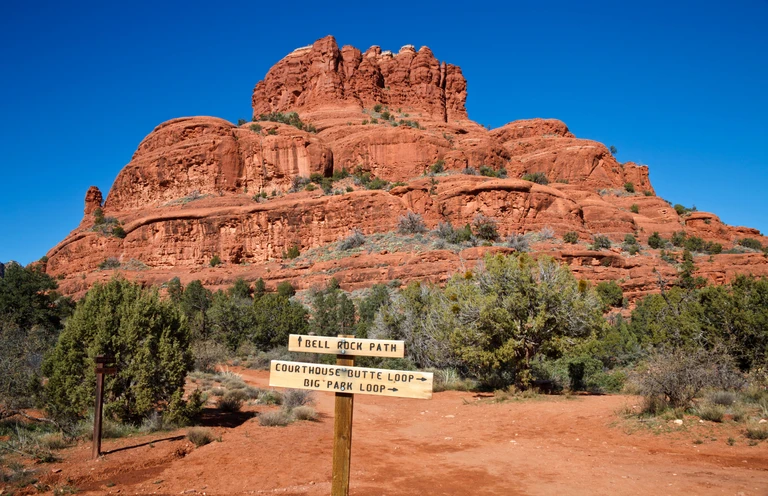 3. When To Visit Sedona
The best time to visit Sedona is shoulder season in March through May. The desert is in full bloom. Hikers love this season, as desert flowers add a pop of color to the rust-colored trails.
September to November is another ideal time for outdoor activities like Jeep tours and biking thanks to mild weather.
That said, I just visited Sedona again in February. There were blue skies and a high of 60. To me, it seemed perfect.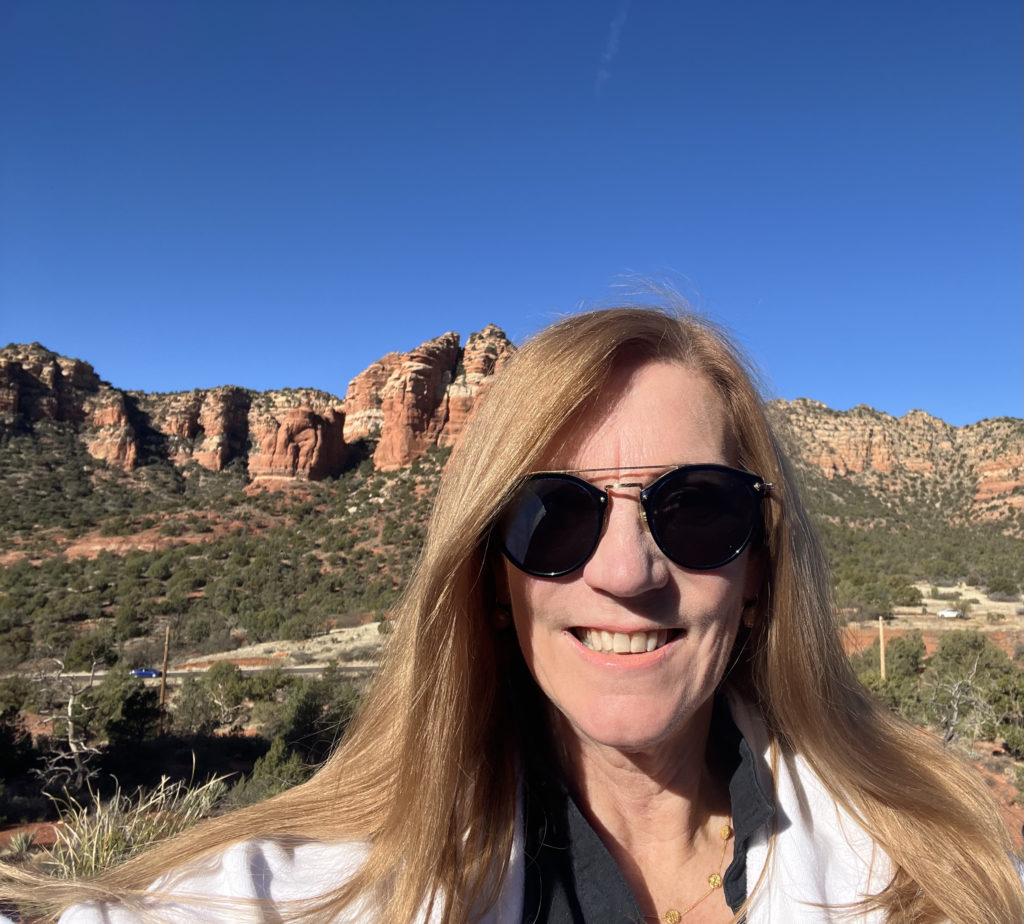 I don't advise visiting in the summer. It's simply too hot. If you do visit then, arm yourself with a hat, sunscreen, and water bottles.
4. How Long To Stay In Sedona
This depends entirely on how much hiking you want to do. If you're not doing much hiking, 1 or 2 days is enough time in Sedona.
If you are determined to hike to all the vortexes, then plan 3-4 days or so for Sedona. Add more time if you want to do day trips.
READ: 2 Days in Sedona Itinerary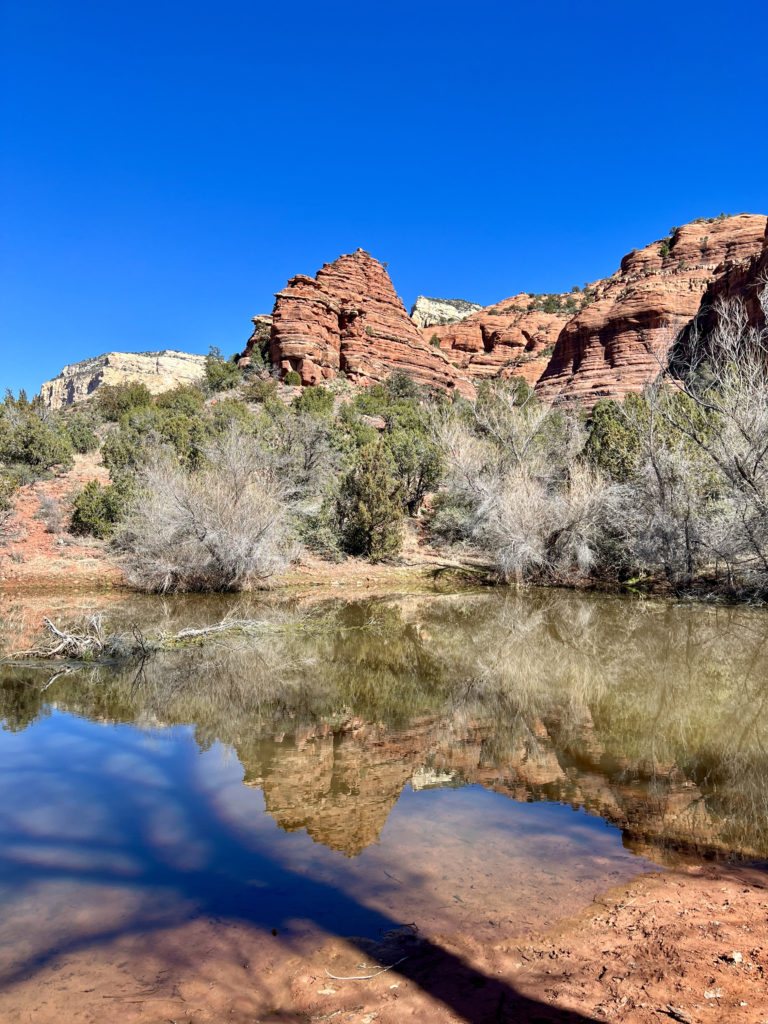 5. Where To Stay In Sedona:
On my last visit, I stayed in a beautiful Air Bnb in Oak Creek Canyon. I liked it since it was incredibly scenic and away from the crowds of Uptown.
But Sedona also has some wonderful resorts — Sky Ranch Lodge, Amara Resort, L'Auberge de Sedona, and Enchantment Resort.
Enchantment Resort is in Boynton Canyon. It has one of the area's best spas Mii Amo, plus a yoga studio.
Amara is a better choice if you want a central location. It's right in the heart of Uptown, just minutes from the galleries and restaurants.
L'Auberge is a luxury resort set on the banks of Oak Creek. The hotel has a special focus on wellness and rejuvenation.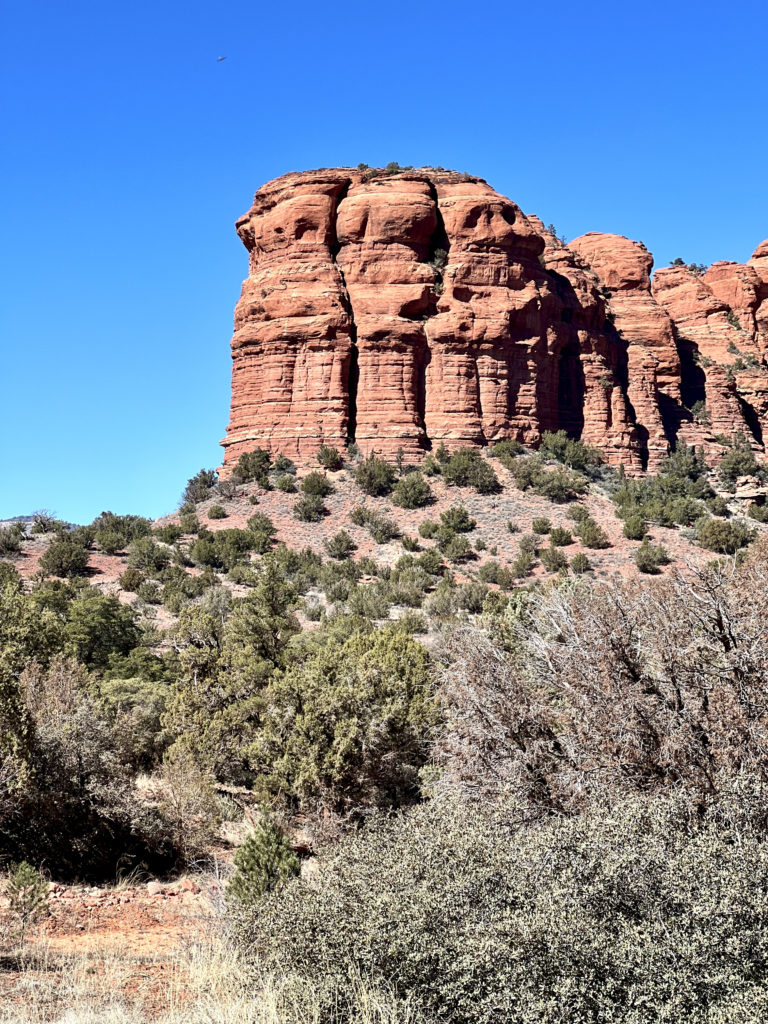 I hope you've enjoyed my guide to the top attractions and best things to do in Sedona. You may enjoy these other US travel guides and itineraries:
If you'd like to visit the top attractions in Sedona, pin it for later.