Unlock the secrets to a fantastic visit in Rome with these must know tips for visiting Rome. These Rome travel tips will help you have the most efficient and enjoyable adventure in the Eternal City.
I'm not going to tell you what others have — how to take the metro or order coffee or avoid pickpockets.
Everyone has written about that. Even me. I have a more general article with tips for visiting Italy.
But here, I'm giving you the good stuff — the lowdown on how to see the best things in Rome in the best way. I also give you information on tickets and tours.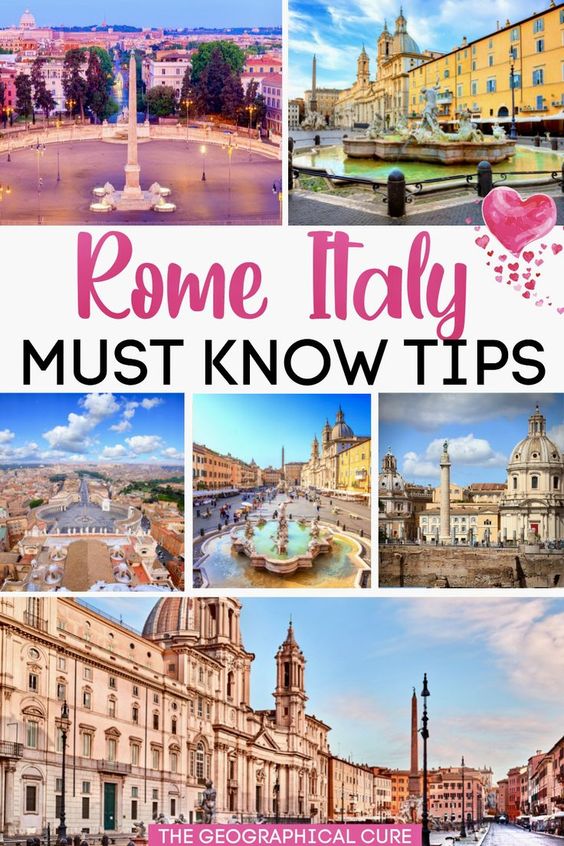 With these substantive tips for visiting Rome and some advance planning, you can make the most of your visit to Rome without wasting time or missing something important.
20+ Must Know Tips For Visiting Rome
Here's everything you need to know for visiting Rome and enjoying its magnificent attractions.
1. Walk
If you can, forget about metro and buses and be prepared to walk. A lot. Rome isn't that big.
So if your legs and fitness level are up the task, I advise walking everywhere. The metro doesn't go to many places in Rome's historic center anyway.
Admittedly it can be exhausting to walk from A to B in the scorching summer heat. But you shouldn't be in Rome then anyway because of the intense crowds. If you walk, you'll see so much more.
Plus, that way, you avoid pickpockets who tend to prey on tourists in the metro.
>>> Click here to book a best of Rome walking tour
2. City Passes
I don't think the city passes are really worth it for Rome. They're not all inclusive and they don't include guided tours. Some overhype what they include.
You can easily book skip the line tickets on your own. The city passes are just pricier versions of what you can already achieve.
3. Go Late, Not Early, To the Main Attractions
Almost every Rome guide that I read says to show up early for sites. Except for perhaps the Pantheon, I think this is largely untrue.
It's generally better to hit up uber popular attraction like the Vatican or the Trevi Fountain or the Roman Forum in the later afternoon after the mobs and day trippers have finished.
4. Colosseum
The Colosseum is Rome's most visited landmark. You shouldn't expect to just show up and procure a ticket.
You need to book early and make a timed entry reservation. You can't visit the Colosseum anymore without an advance reservation.
The cheapest way to get a ticket is to book directly with the Colosseum. A standard ticket is € 16. A ticket to explore the underground area of the Colosseum is € 9. It's totally worth it, but you can only visit via a guided tour.
You can book your ticket or tour online here. There's a € 2 online booking fee per ticket.
Tickets sell out well in advance. Book as soon as you know your exact visit date.
Tickets are released on a schedule throughout the year. You can see the release schedule in the right hand column of this page. You can also book a skip the line ticket on Get Your Guide or a ticket on Viator.
Alternatively, you can book a curated tour with a private tour company in Rome, which is what I've done. You'll skip the line and get a knowledgable tour guide who will also take you to the other imperial sites, the Roman Forum and Palatine Hill.
Here are some of your tour options. They all vary slightly in duration and what you see.
So pick one that best suits your sightseeing agenda. I've done the fourth and seventh one on the list and loved the tours.
5. How Best To Visit St. Peter's Basilica
Another important Rome tip involves how to visit St. Peter's Basilica. I have a specific recommendation for the best way to visit.
Enter the basilica, look around to get a feel for its grandeur and magnificent statuary.
Head down to the papal tombs in the grotto. The exit will take you back outside where you'll find the ticket office for the dome.
Climb up the dome and enjoy the views. Climb back down and enter back into the basilica. Then, with your audio guide, you can soak in all the wonders inside. It's a Bernini extravaganza.
There's no entry fee, but you have to go through security to get into the basilica. There are almost always long lines. These queues tend to move along fairly swiftly, so don't be too put off by the masses of tourists.
READ: Complete Guide To St. Peter's Basilica
St. Peter's Basilica is absolutely crammed with amazing art. You may want to book a guided tour of the basilica.
Or book a guided tour that includes the basilica, a dome climb, and the underground grottos. Alternatively, you can just purchase an audio guide and visit on your own.
6. How And When To Climb St. Peter's Dome
The entrance to the dome is on the right side of the basilica, above the visitor center. The dome is open daily from 8:00 am to 5:00 pm, until 6:00 pm during high season from April 1 to September 30.
A ticket costs € 6 euros if you climb the 551 steps or € 8 to take the elevator midway up. From the elevator, it's another 320 steps to the top. Allow about an hour for the dome experience.
The bells in the dome ring on the hour. If you want to hear them peal, time your visit to arrive at the top of the dome on the hour. If you're climbing the stairs, start about 30 minutes before the hour.
Click here for a guided tour of the basilica that includes a dome climb.
7. How To Visit St. Peter's Tomb
It's rather difficult to visit. Only 250 people are allowed in daily in small groups of 12.
You have to go through an application process and sign up for the Scavi tour. Click here for the Vatican's official Scavi website.
Two months before your visit, you will need to send a fax or email, providing information on your visit and the date range you'll be in Rome. Then, you just wait for them to get back to you. Once they do, you will need to prepay for the tour (13 €). Show up 10 minutes early.
Alternatively, you can to sign up for a 1.5 hour tour of the necropolis. Only 250 visitors are allowed per day, so you need to book a tour well in advance.
8. How To Visit the Borghese Gallery
The Borghese Gallery is my favorite museum in Rome. It's one of the best small museums in Europe. The museum houses a jaw dropping in situ art collection housed in a luxurious garden villa. It has the world's largest collection of Caravaggio paintings.
BUT entrance to the Borghese Gallery is strictly controlled. You've got to be organized to go! The museum limits the number of visitors at any given time.
100 visitors are permitted in two hour time slots. At the end of each slot, the gallery is emptied before the next set of visitors is let in.
This system has the benefit of ensuring the museum isn't too crowded, a nice change of pace from the Vatican.
In low season, it may be possible to purchase same day tickets onsite. But generally, you 100% must make a reservation well in advance to guarantee access and avoid disappointment.
You can make a reservation either by telephone or online on the museum's official website. You then collect your tickets in the basement.
If tickets are sold out or you don't want to hassle with the clunky website, click here to pre-book a ticket.
You may also want to book a guided tour of this magnificent museum. Your expert guide will make the necessary reservations and ensure you see the key highlights in your 2+ hour time slot.
You should arrive early (30-40 minutes) to the Borghese Gallery to check your bag and collect your ticket.
You don't want that process to eat into your precious two hours. You'll get a claim check to reclaim your items when you're done with your visit.
If you want more highlights and details, here's my complete guide to visiting the Borghese Gallery, with all the must see masterpieces.
9. Free Things To Do In Rome
Are you visiting Rome on a budget? No problem. In Rome, you can see priceless art for no price at all.
A surprising number of Rome's must see sites and hidden gems are free, if you don't want to rack up hefty museum charges. Rome is essentially a living museum with art sprinkled everywhere.
Most significantly, Rome's churches open their ornate doors for free. Inside, you'll find stellar art from the Renaissance and Baroque eras, including works by such luminaries as Michelangelo, Raphael, Bernini, and Caravaggio.
One of the best free walks in Rome is down Via Fori Imperiali. When Rome outgrew the Roman Forum, the emperors built Imperial forums down this street. You can look down on the ruins as you stroll. You see the forums of Trajan, Augustus, and Nerva.
It also costs nothing to wander in Rome's piazzas and parks, where you'll find even more art on display.
Here's my guide to seeing the best free art, sculpture, and architecture in Rome.
10. Vittorio Emanuel II Monument
This is one of Rome's must see monuments. It's a supersized gleaming white monument to Italy's first king. The 43 foot long statue of Vittorio is one of the world's largest equestrian monuments.
You really can't miss the monument, nicknamed the "wedding cake" or "typewriter" monument. It's right in Piazza Venezia. You can go up the steps and admire it for free. Inside, there are cafes and a museum, with views from the cafe terrace and other spots.
But what most people fail to do is go around back. There's an elevator that takes you up to the tip top for some of the best views in Rome.
The elevator is expensive at 10 euros. But I thought it was completely worthwhile. You have stunning views of the Rome Forum, Piazza del Popolo, and the dome of St. Peter's.
>>> Click here to book an elevator ticket
11. Vatican Museums & Tickets
The Vatican Museums are overwhelming. You'll definitely need some tips for visiting this attraction in Rome.
There's so much to see inside the Vatican: the sculpture museums, the Vatican Pinacoteca (painting gallery), Raphael Rooms, Borgia Apartments, maps and tapestries, and the Michelangelo frescos in the Sistine Chapel.
Honestly, it's almost too much to see on one visit. The last time I was in Rome, I visited twice and got to explore in more depth. Plus, who doesn't want to see the Sistine Chapel more than once?
Buy your ticket online and just suck up the extra 4 € fee. Or, book a small group tour with skip the line access. If you don't splurge for skip the line access, you could wait hours in line to get inside. There are even waits in low season.
The standard tour is generally 3 hours and covers the Vatican Museums, the Sistine Chapel, and St. Peter's Basilica. But there are many permutations. Be sure to book a tour that includes what you want to see.
Here are some sample tours. You can pick a tour specifically tailored to your own interests, time frame, and museum going tastes.
There's also a strict dress code at the Vatican — no shorts, no hats, no bare shoulders. Be forewarned, if you're there in the summer, there's no air conditioning and it can feel suffocating.
If you're taking a guided tour, you'll end at St. Peter's Basilica. Once inside the basilica, you cannot re-enter the Vatican Museums. So make sure you've seen everything you want to see in the museums before venturing in.
And be forewarned. If you're taking a tour, be sure to be clear on exactly what it covers. Many Vatican tours skip the Vatican Pinacoteca and the Raphael Rooms. If you're an art lover, you can't miss these areas of the Vatican museums.
For more information and tips, you can check out my Vatican City Guides:
12. Sistine Chapel
The Sistine Chapel is perhaps the world's most famous interior decorated space. And it (mostly) came out of the mind of just one man, Michelangelo, nicknamed Il Divino. The scale of the work and breadth of Michelangelo's imagination is incredible.
Know in advance that your tour guide will give you an overview of the Sistine Chapel with the placards in the Pinecone Courtyard. Once inside the chapel, there's no talking. It's best to have an idea of what you're looking at before you get there.
If you are on a tour, your tour group will have a set schedule, including x amount of time inside the Sistine Chapel before going inside Saint Peter's Basilica. You'll probably get 10 minutes or so.
Once you go into St.Peter's Basilica, you can't return. You can always leave your tour, spend more time in the chapel, and visit the basilica on your own.
You can't take photos in the Sistine Chapel, unlike the rest of the Vatican Museums. This is likely due to crowd control rather than conservation.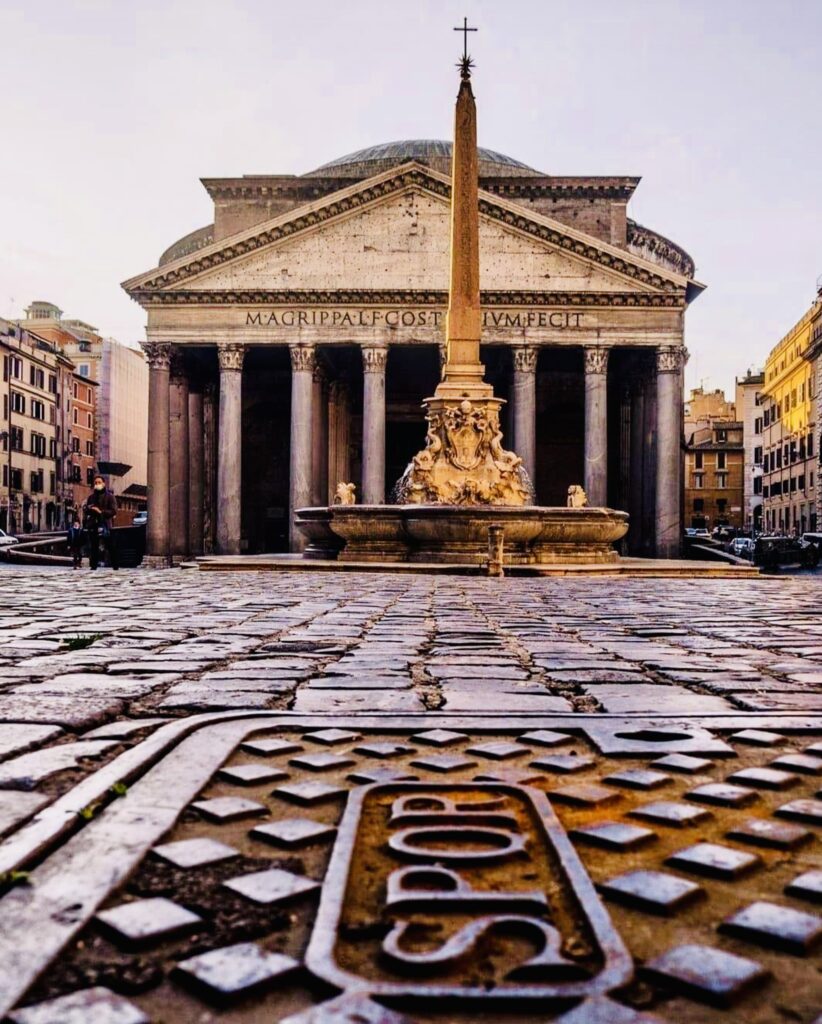 13. The Pantheon Isn't Free Anymore
The Pantheon is a magnificent ancient Roman temple located in the heart of Rome. It's one of the best-preserved buildings from antiquity and a remarkable feat of engineering. With its iconic dome, grand portico, and oculus, it continues to awe visitors to Rome.
Until July 2023, the Pantheon was perfectly free to visit. But no more. As of July 23, 2023, there is a 5 euro charge.
There are two lines at the entrance, one for those with tickets and one for those without. If you have a ticket, you'll likely waltz in. If you don't, you should expect a long line.
You can purchase a ticket onsite or book a ticket on Tiqets or a ticket on Get Your Guide. I advise pre-booking a ticket well in advance. You can also get inside by booking a guided tour of the Pantheon.
14. Rome's Secret Palace Museums
If you're a first time visitor, you likely won't have Rome's palaces on your Rome itinerary. There's just so many things to do in Rome.
But if you're a repeat visitor looking for some less crowded hidden gems in Rome, the palace museums are your ticket to nirvana.
Rome boasts numerous elegant palazzos that hold astonishing art collections. On a visit, you may have an aristocratic private palace in Rome all to yourself.
These rarely visited Roman palazzos hide some of Rome's unmissable masterpieces, amid dazzling rooms designed and decorated by Rome's rich and famous.
They offer a refuge from Rome's crowds and the ability to enjoy Rome's cultural riches in relative privacy. A true art lover will be utterly delighted by these unique museums in Rome.
Here are my guides to the Doria Pamphilj, the Palazzo Colonna, the Palazzo Spada, the Palazzo Barberini, and Villa Farnesina. Here's my complete guide to Rome's secret palace museums.
>> Click here to book a ticket to the Doria Pamphilj
15. Themed Artist Trails
Are you an art lover who likes to travel with a theme? Rome is fantastic place for that, especially if you love the Renaissance and Baroque eras.
Here's my guide to the Bernini trail in Rome and my guide to the Caravaggio trail in Rome. These were two of the greatest artists of the Baroque.
I'm working on one for the great Renaissance artist Raphael next. In the meantime, you can read my guide to the most famous paintings of Raphael.
16. Don't Skip Rome's Monti Neighborhood
Monti is Rome's trendiest off the beaten path district, tucked behind the Imperial forums on Via Fori Imperiali. Formerly a slum in ancient Rome, now it's gentrified.
Monti is packed with unique shops and hip eateries. It's only a 10 minute walk from the Colosseum, the perfect place to go for lunch after your Colosseum tour.
Be sure to get off the main drag and explore Monti's cute cobbled side streets. If you want to grab a quick lunch, get avocado toast or a panini at Fehu. Or pick a cute ivy covered cafe, like Aromaticus Monti or La Carbonara, to settle down and relax after your Imperial tour.
Monti has one absolute must see site — the Basilica of Santa Maria Maggiore. It's much less crowded and much older than St. Peter's, dating to the 5th century A.D. And it has absolutely breathtaking mosaics in the triumphal arch and nave.
>>> Click here to book a guided food tour in Monti
17. Secret Churches
There is more to Rome than St. Peter's Basilica, however magnificent it is. Rome has so many interesting churches, over 500. So another Rome tip is to check out these hidden gems.
If you're an early bird, many churches open very early at 7:00 am or so. If you're looking to maximize your sightseeing, you can head to a church or two of your choice before the major attractions open at 9:00 am.
Some off the radar churches that you should consider putting on your Rome itinerary are:
Remember that Rome's churches have a dress code that is enforced. Your shoulders, knees, and cleavage must be covered. If you're visiting Rome during the hot summer months, wear a long airy dress and carry a scarf to throw over your shoulders.
READ: Guide To the Most Beautiful Churches in Italy
18. Take In a Temporary Exhibition
Just as in any major city, there are usually special exhibitions going on at any given time. Go and you may be the only non-Italian there.
Last time I was in Rome, I took in exhibitions at the Scuderie del Quirinale and the Palazzo Bonaparte.
Perched on the Via del Corso, the Bonaparte Palace recently opened to the public after years of renovations. It was once home to Maria Letizia Ramolino, the mother of Napoleon Bonaparte.
She famously used her enclosed green shuttered balcony to watch over the piazza. You can walk out on the balcony yourself to check out the views.
19. Deceptive Websites
When looking for information about attractions in Rome, always go to the official source (i.e. that attraction's actual official website). That way, you'll get the best and most up to date information.
There are a plenty of blogs out there that look official, but are actually run by third parties. Many of them have outdated information.
Like right now, there is no free first Sunday of the month. That was in the before times and hasn't been reinstated.
20. Piazza Navona
You'll likely wander through this stunning piazza in your walk through the heart of Rome. Be sure to admire the beautiful Bernini fountains.
But don't forgot to actually walk into the elegant Church of Sant'Agnes. This beautiful church was designed by the architect Borromini and it's absolutely free to enter.
The Baroque church doesn't get the attention it deserves. People gawk at the Bernini fountains and forget to walk inside. That's a mistake. The church is quite lovely, and a worthy hidden gem in Rome.
But don't eat in Piazza Navona! Most of the cafes there are overpriced and a bit touristy. Instead, head to the nearby Vita Del Governo Vecchio or Via Dei Cornorari, just a stone's throw away.
21. Eat Rome's Special Dishes
Each region of Italy has different specialities. While in Rome, try to indulge in the city's best dishes. Those include:
Spaghetti Carbonara: pasta with eggs, cheese, and cured pork
Tonnarelli Cacio e Pepe: pasta with cheese and pepper
Pizza Al Taglio: rectangular pizza usually sold by weight
Suppli: deep fried rice balls with tasty sauce inside
Bucatini Amatriciana: pasta with tomato, cheese, and cured pork
Trapizzino: a cross between a pizza and a sandwich
Pasta Alla Gricia: pasta with cheese, black pepper and cured pork
Porchetta: slow roasted pork, often served in a sandwich
Book your evening meal a few days in advance if you want something scumptious and authentic. You can make online reservations on Open Table and The Fork. Remember, in Rome, dinner is rather late, often at 8:30 to 9:00 pm.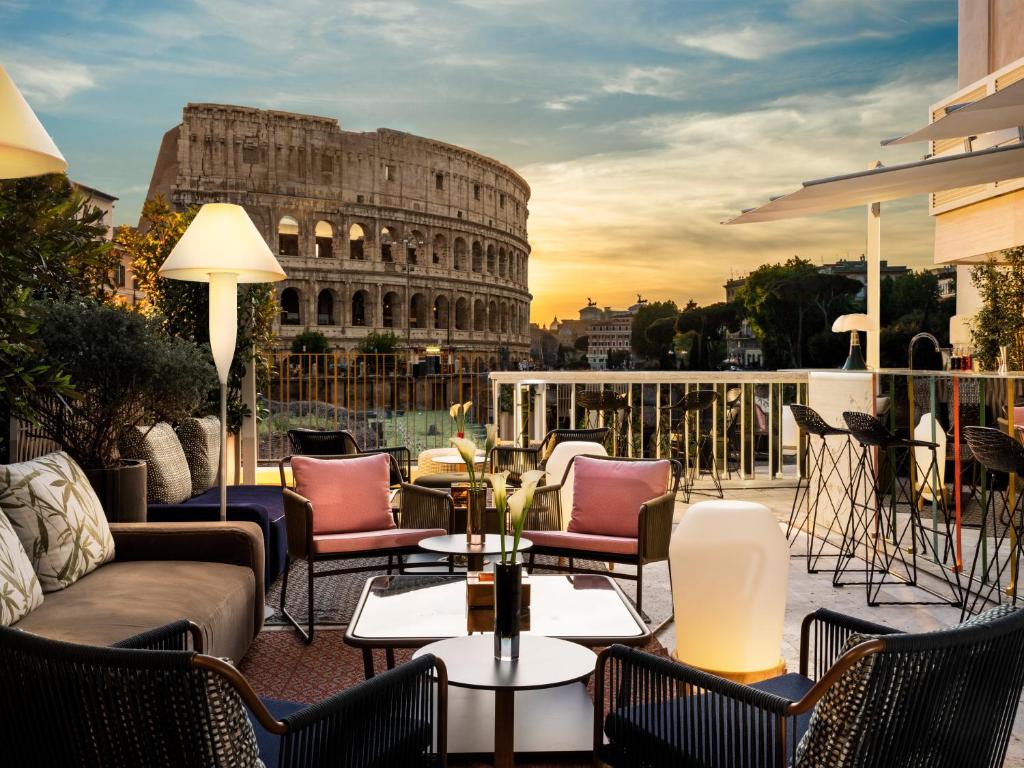 22. Where To Stay In Rome
No tips for visiting Rome guide would be complete without telling your where to stay.
One of my personal favorites hotels in Rome is the Rome Cavalieri. The hotel has its own art collection and an art historian will give you a free tour. You will also love the J.K. Place Roma, a simply gorgeous boutique hotel.
If you're a first timer in Rome, you may want to stay in the historic center around the Pantheon or Piazza Navona. Some good options are the Liberty Boutique Hotel, the Hotel Maalat, Deco Roma, or Hotel Hassler Roma.
If you want to stay near the Imperial ruins, Palazzo Manfredi and the Inn at The Roman Forum are excellent choices. The terrace at the Manfredi is to die for, with breathtaking views. The Inn also has a rooftop terrace and there are even ruins inside the hotel.
23. Arrange Private Transfer From The Airport
One final Rome tip, don't rely on taxis at Fiumicino Airport. They are known to be extremely pricey and rip off tourists.
Plus, the lines can be epically long. I once arrived on a Friday night, and there were hundreds of people in line. The last thing you want to do after a transatlantic flight is wait for a taxi.
Instead, pre-purchase a ticket for the Leonardo Express to Rome's Termini Station or book a private transfer to your accommodation.
I hope you've enjoyed my tips for visiting Rome and enjoying its must see attractions. You may enjoy these other Italy travel guides:
If you need tips for visiting Rome, pin it for later.