Updated: Sep 1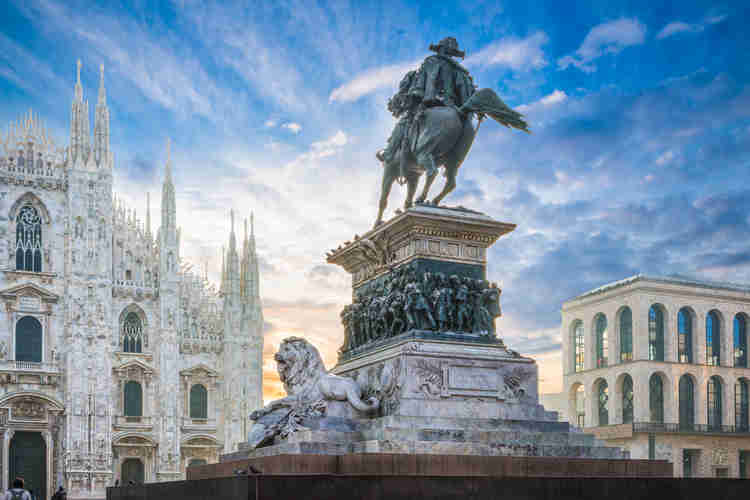 Here are my important tips for visiting Milan, an amazing destination in northern Italy. Milan is a vibrant and exciting modern city, the thriving finance and fashion capitol of Italy. You can't help but be dazzled by Milan's art, architecture, historic sites, and culinary specialities.
These Milan tips will help you make the most of your Milan visit. I give you the good stuff — the lowdown on how to see the best things in Milan in the best way. Plus, I cover practical tips and information.
With these must know tips and some advance planning, you can have the best and most efficient visit to Milan. You can skip lines, avoid mistakes, and not waste precious time or miss something important.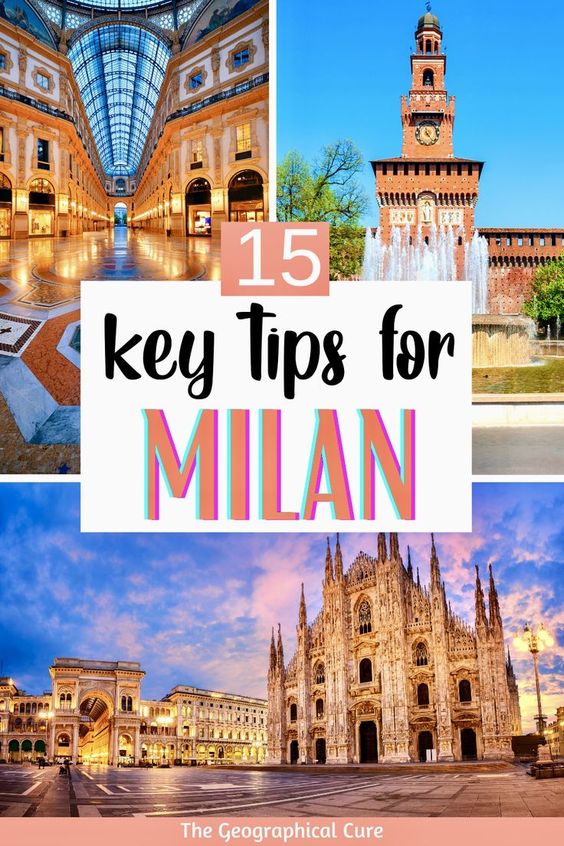 Tips For Visiting Milan
Here's what you need to know before traveling to Milan:
1. Leonardo's The Last Supper
One of Leonardo da Vinci's most famous paintings is in Milan — The Last Supper. Yes, in Milan, not in the Louvre. Leonardo's fresco is Milan's #1 attraction.
The Last Supper is one of the world's most iconic paintings, found on the back wall of the refectory in Santa Maria delle Grazie. No Leonardo painting is so familiar, save for the Mona Lisa. The church is one of 51 UNESCO landmarks in Italy.
Painted by Leonardo, the billboard size painting is a Renaissance masterpiece. It shows the moment when Christ reveals that one of his apostles will betray him.
READ: All The Last Supper Paintings From Renaissance Italy
You've got to be organized and reserve in advance to see this quasi-restored, yet still beautiful, masterpiece. Advance reservations are mandatory.
I've written a complete guide to everything you need to know about seeing The Last Supper — what to expect, how to get tickets, and an analysis of the painting itself.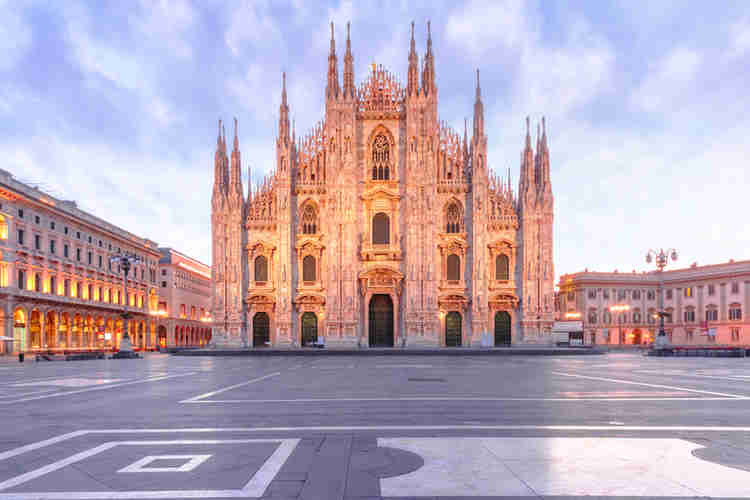 the flamboyant Gothic Duomo in Milan
2. Visiting the Duomo
The Duomo is the nickname for Milan Cathedral, a world renowned edifice. Built over 600 years beginning in 1368, the Duomo is Milan's flamboyant Gothic masterpiece with 135 marble spires.
It's the fourth largest church in the Europe, second in size in Italy only to St. Peter's Basilica in Rome.
READ: Guide To the Most Beautiful Churches in Italy
Morning is the best time to visit the Duomo, before the masses arrive and the pigeons get antsy. Get there at 8:00 am.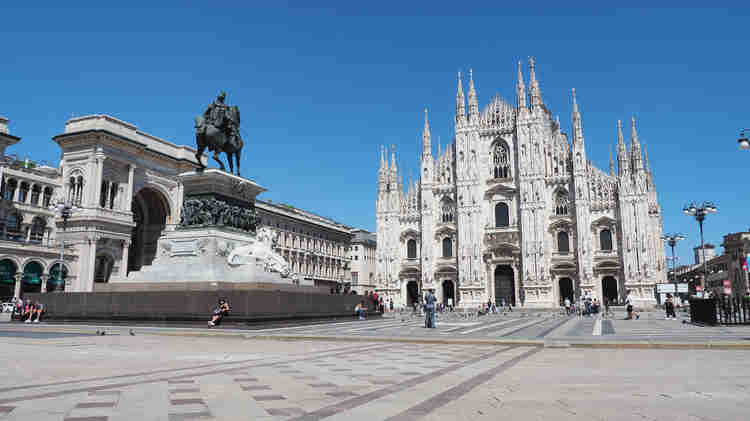 Piazza del Duomo
3. Duomo Tickets
When it comes to buying your Duomo tickets, you have a lot of options, depending on your interests and budget. You can buy individual tickets to each Duomo-related site or combined tickets with a fast track option. The archaeological area and crypt of the Duomo are free to visit. You just need a Duomo ticket.
The prices are as follows:
Only the Cathedral: € 3 (audio guide € 6)
Only the Duomo Museum € 3
Rooftop via stairs: € 10
Rooftop via lift: € 14
Rooftop Fast track by lift: € 23
Cathedral and rooftop by lift: € 17 (entrance on the north side of the Duomo)
Cathedral and rooftop by stairs: € 13
All inclusive 3 day fast track for all Duomo sites: € 25
Click here to buy a ticket online. I recommend the last combined skip the line fast track option, especially if you're only in Milan for one day.
If you don't buy a ticket online, you'll need to arrive early. Your shoulders and knees must be covered to enter the Duomo.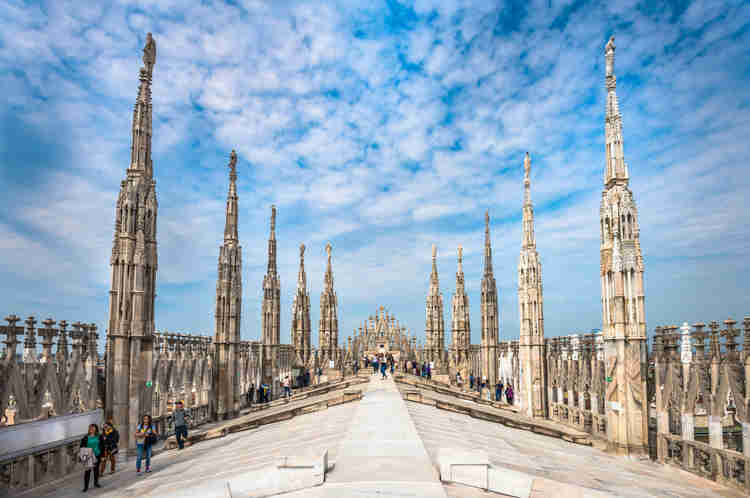 the Duomo rooftop terrace
4. The Duomo Rooftop
The Duomo's truly spectacular and unmissable feature is its rooftop terrace. It can be reached either via a staircase or an elevator, as I mentioned above.
But, even after the elevator, you've got to plod up some narrow steep steps. And the elevator is one way. You have to hoof it back down.
From the rooftop, you have an excellent view of the details of the intricate stonemasonry, especially the fanciful gargoyles that serve as drains. You can see the panorama of the entire city before you. It's especially nice at sunset.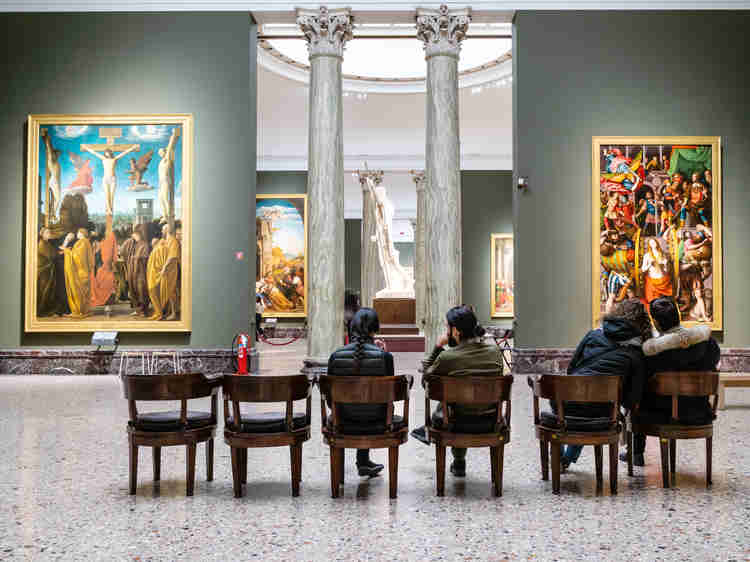 gallery in the Brera Museum
5. Don't Skip the Brera Museum, One of Italy's Best Museums
The Brera Art Gallery is Milan's premiere museum. For most Italy tourists, the Brera Museum is an off the beaten path rarely visited hidden gem in Milan, with no crowds. With scores of masterpieces, the Brera Museum may be Europe's most underrated museum.
The Brera museum mesmerizes art lovers, art historians, and art critics. It boasts top shelf Renaissance and Baroque art by the likes of Caravaggio, Raphael, Bellini, Rubens, Piero della Francesca, Tintoretto, and Andrea Mantegna.
But the Brera isn't just Renaissance art works. It also has an impressive collection of modern art by the likes of Picasso, Modiglianai, Braque, de Chirico, and Morandi.
Here's my complete guide to visiting the Brera Museum.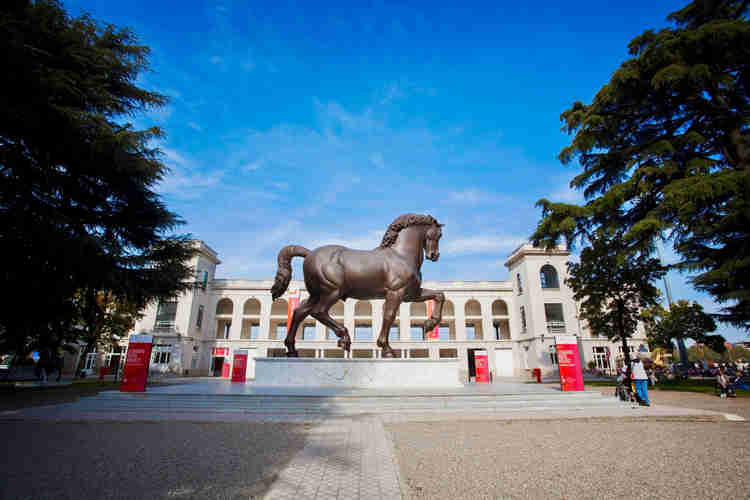 Leonardo's Horse, a sculpture based on Leonard's sketches
6. Leonardo da Vinci Trail
Are you fascinated with Leonardo Da Vinci? Leonardo lived in Milan for almost 20 years and is considered a beloved adopted son. In Milan, Leonardo produced some of his greatest works and enriched the city with his versatile genius.
If you're wondering where to find the art of Leonardo in Milan, here's my guide to the Leonardo trail on Milan. It takes you back in time to discover works created by Leonardo or places dedicated to him — from the transcendent The Last Supper to the technical musings of the Codex Atlanticus.
READ: Top Masterpieices To See in Milan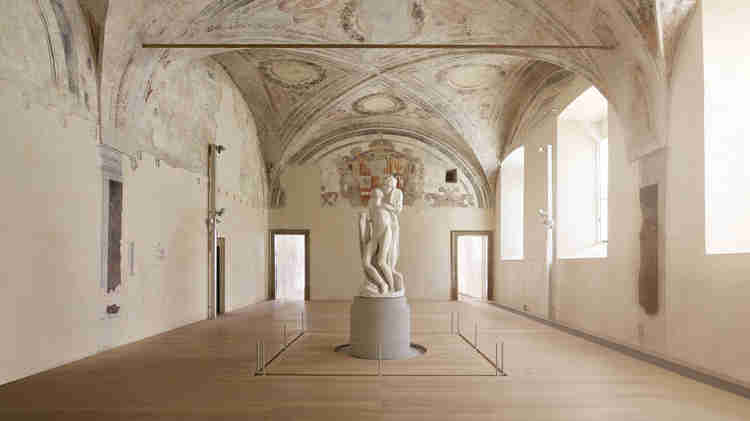 Michelangelo's Rondanini Pieta in Castle Sforza
7. Michelangelo in Milan
Milan is also home to one of Michelangelo's most famous sculptures, the Rondonini Pieta. It's Michelangelo's last and unfinished work.
Michelangelo likely intended it for his tomb, which is located in Florence's Basilica of Santa Croce. He shows the dead Christ as an emblem of suffering. The sculpture was discovered in Michelangelo's studio after his death at 89.
The pieta is housed in Sforza Castle, one of Milan's most historic landmarks. The castle is a splendid example of Renaissance architecture, the product of mercenary-turned-politician Francesco Sforza. It was the former seat of the Dukes of Milan.
Castle Sforza
8. What To Do in Milan
Milan is a true "choose your own adventure" kind of city. There's possibilities for every interest type — whether you're a foodie, culture vulture, sport lover, or fashion fiend.
I'm a culture vulture. If you are too, here's my guide to the must see sites and attractions in Milan.
9. Visting La Scala
Opened in 1778 and last renovated in 2002, La Scala is one of Italy's finest opera houses. It can fit 2,000 people at once. Many of the world's most famous singers have appeared on its stage. La Scala hosts operas, ballet, and concerts.
If you want to take in a performance, click here for the opera website to see what's currently playing and/or buy tickets. You can buy tickets at the La Scala box office, online, or at another box office nearby in the Piazza del Duomo Metro station.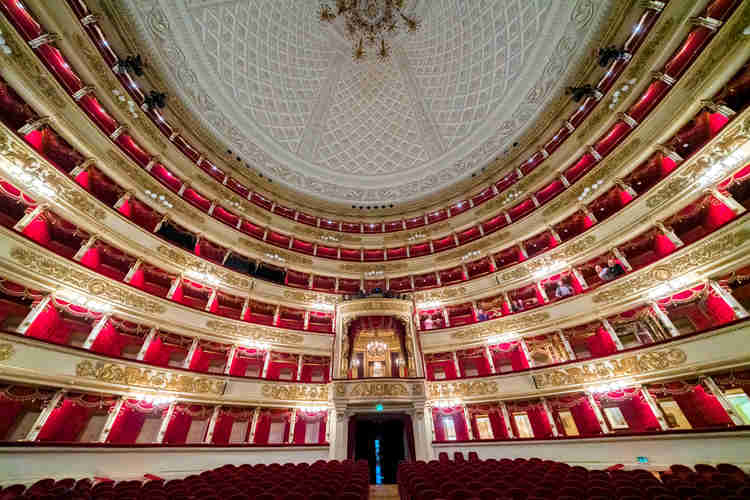 the theater in La Scala
Tickets don't come cheap. But you can get cheaper tickets (25% discount) one hour before the show (if it's not sold out). Or, there's a "gallery" section above the luxury boxes called the "loggione." You'll find cheaper seats there.
If you want to tour La Scala, you can also book a guided tour or DIY a visit. Keep in mind that there are times when the theater is in us, so you won't be able to see the theater on your museum visit.
Check at the ticket window before you buy your ticket to make sure you can see the theater itself. There's usually a sign up outside the museum entrance indicating whether the theater is in use.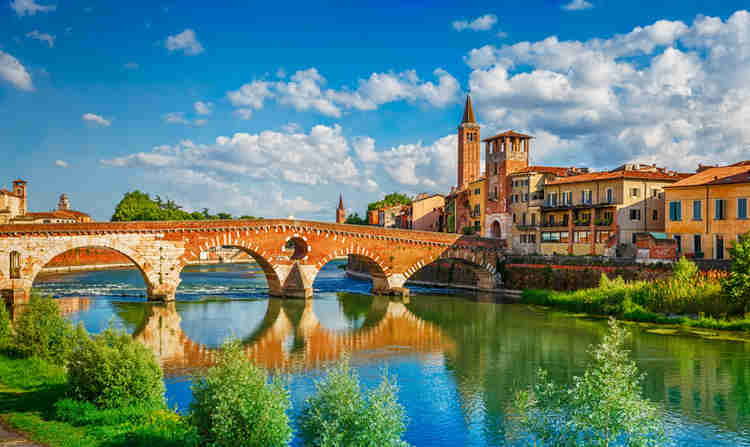 fair Verona, a great day trip from Milan
10. Milan as a Base for Day Trips
Milan makes a great base for day tripping in Italy's northern Lombardy region. You can head to the Italian Lake District — Lake Como, Lake Garda, and Lake Maggiore. You can visit the towns of Turin, Bergamo, Brescia, Sirmione, and Mantua.
If you're ambitious, you can even day trip to the Veneto region. There, you can visit Verona, Venice, Treviso, Padua, and Ravenna. But I'd advise spending more time in Venice.
READ: Guide To the Scrovegni Chapel in Padua
11. What To Eat in Milan
Milan has literally thousands of cafes, eateries, restaurants, and pizzerias — from tony to casual, traditional to innovative. Avoid any restaurant that has photos of food.
Happy hours starts around 6:30. You'll get snacks (olive, salami, bread, etc.) with your Negroni cocktail before dinner. A lot of great restaurants are clustered on Via Dente.
The traditional Milanese specialities are hearty fare — risotto, veal cutlets, osso buco, pappardelle pasta in mushroom sauce, deep fried meatballs, polenta, and meat filled ravioli. Piadinas, which resemble quesadillas, are also popular.
Tipping isn't essential in Milan, but is appreciated. In cafes, you can just leave the spare change from your bill. Some restaurants will include a service tip in the bill. Here's a guide to some of Milan's best restaurants.
panoramic view of Milan
12. When To Visit Milan
Like most cities in Europe, it's best to visit Milan in shoulder season (spring and fall). The summers are hot, crowded, and more expensive. Plus, some of the shops and restaurants shut down in August.
Don't assume Milan is sunny and warm year round. Because it's in Northern Italy, the winters can be very cold and foggy. But there are plenty of indoor attractions to keep you busy when the weather is subpar.
13. How To Get Around Milan
Milan has a comprehensive system of public transportation in Milan. There are buses, trams, and even a subway. Tickets are available at newsstands and metro stations. Validate your ticket before you get on board.
But Milan is easy to explore on foot. The majority of Milan's must see sites are clumped together in the centro historico, radiating from the Piazza del Duomo. But some aren't.
If you have any mobility issues, the downside is that some sites are poorly connected and far from the stops. Therefore, you will still have a fair bit of walking once you get public transport.
You can also hail a taxi. They're typically white or yellow. You can hail them on the street or at a taxi stand.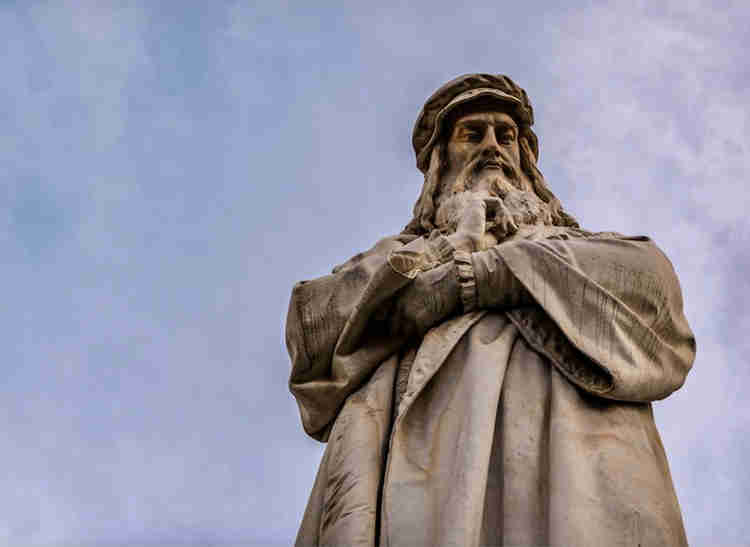 detail of the Leonardo Monument
14. Milan Card
I'm not much of a fan of city cards and never buy them myself. Usually, they're overpriced and only worth it if you are blitz-visiting attractions.
But the Milan Card gives you a big bonus — unlimited access to all means of public transport. You also get either free or discounted access to museums, tours, restaurants, tourist attractions, and the airport bus. Plus, you get skip the line access at Milan's most popular attractions.
There are three versions of the Milano Card. One day costs 11 €, two days 17 €, and three days 19.50 €. Click here to purchase the Pass. Then download their app and activate it with the code that you receive via email.
15. How Long To Stay in Milan
I think 2-3 days is a fair amount of time to explore Milan. If you're using Milan as a base for day tripping, you can definitely stay much longer.
If you're not a lover of art and architecture, one day in Milan might be enough. Here's my 1 day itinerary for Milan.
Leonardo Monument
I hope you've enjoyed my tips for visiting Milan. You may enjoy these other Italy travel guides:
• 3 day itinerary for Florence
• 10 day itinerary for Tuscany
• 10 day itinerary for Italy's classic cites
• 7 ways to spend 1 week in Italy
• 10 day itinerary from Milan to Rome
• 1 week itinerary from Venice to Milan
• 100+ Italy bucket list experiences
If you need tips for Milan, pin it for later.