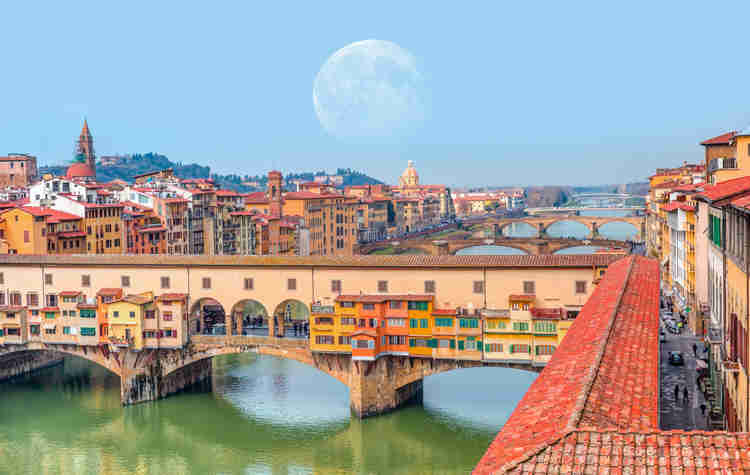 the Ponte Vecchio in Florence
Here are my must know tips for visiting Florence, a stunning UNESCO-listed city and Cradle of the Renaissance. These tips will help you have the best and most efficient Florence visit. I
I'm not going to tell you what others have — how to take the bus or order coffee or avoid pickpockets.
Everyone has written about that. Even me. I have a more general article with tips for visiting Italy.
Instead, in this Florence travel guide, I'm giving you the good stuff — the lowdown on how to see the best things in Florence in the best way.
With these substantive tips and some advance planning, you can make the most of your visit to Florence. You can skip lines, avoid mistakes, and not waste precious time or miss something important.
READ: 3 Days in Florence Itinerary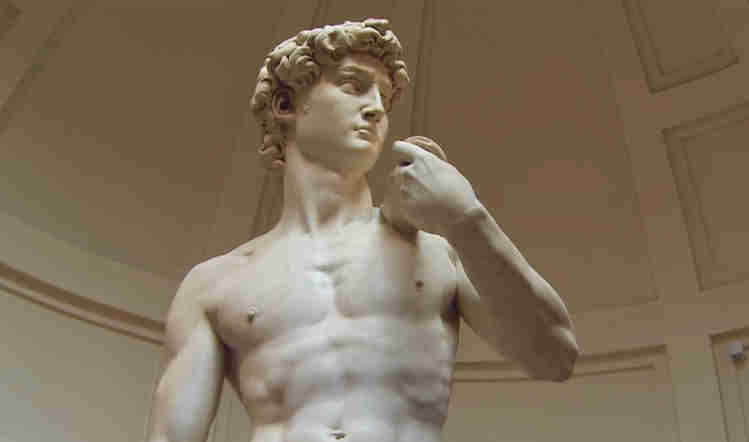 Michelangelo's David in the Accademia Gallery
Key Tips For Visiting Florence
Here are my 22 must useful tips and tricks for visiting Florence.
1. Book in Advance
In peak season, notoriously long queues plague many of Florence's must see sights — especially the Duomo, the Uffizi Gallery, and the Accademia. In fact, as in Rome, you'll find long lines all year long, not just in high season.
If you plan ahead, you can save hours of lining up. For Florence, you have to be organized; you can't just casually turn up. To avoid disappointment or angst, book the major attractions in advance.
For the Uffizi, the Academia, Brunelleschi's Dome, the Duomo Complex, and the Medici Chapel, you can buy tickets online in advance and choose a specific time slot. That way, you enter via the pre-paid fast-track queue at a time of your choosing.
Here's my guide to must see attractions in Florence for which you need advance reservations.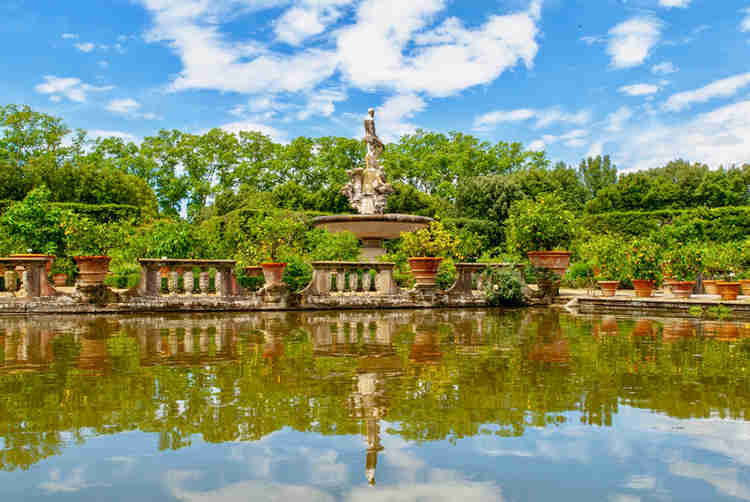 Neptune Fountain in the Boboli Gardens
2. Walk
Florence is small for a grand European city. You can easily walk everywhere. The major sites are clustered in the center. Everything is within 20 minutes, 30 minutes at most.
If you want to stretch your legs, you can hike up to Piazzale Michelangelo or San Miniato al Monte for views.
Or cross the Arno River. You may fall in love with the Santo Spirito and San Niccolo areas. There, you can visit the Pitti Palace, the Boboli Gardens, the Basilica of Santo Spirito, Piazzale Michelangelo, and the Basilica of San Miniato al Monte.
READ: Guide To the Pitti Palace
If walking isn't your thing, you can use Florence's fairly efficient ATAF buses. Be sure to validate your ticket once you're on the bus. There's no metro in Florence.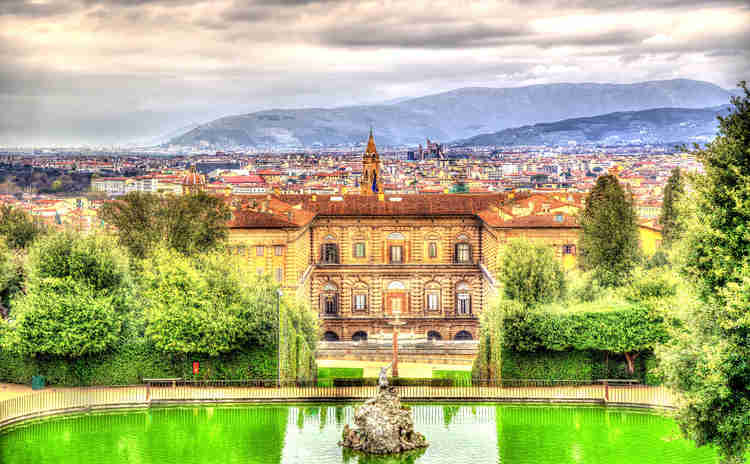 the Pitti Palace, home to some of the best art in Florence
4. Learn Some Medici History
The Medici were the most celebrated family of the Renaissance. Florence is synonymous with the Medici and the Medici is synonymous with Florence.
The Medici family commissioned virtually all of Florence's breathtaking art and architecture– works by Brunelleschi, Leonardo da Vinci, Michelangelo, Botticelli, Donatello, and Fra Angelico. Some of the Medici even became popes.
The Medici were one of the longest lasting dynasties in history. They weren't just great patrons of the arts, but also key players in geopolitics.
If you're thinking of visiting Florence, you may want to acquaint yourself with the Medici family history for a deeper understanding and appreciation of the must see sites in Florence.
Here's my Nutshell history of the Medici.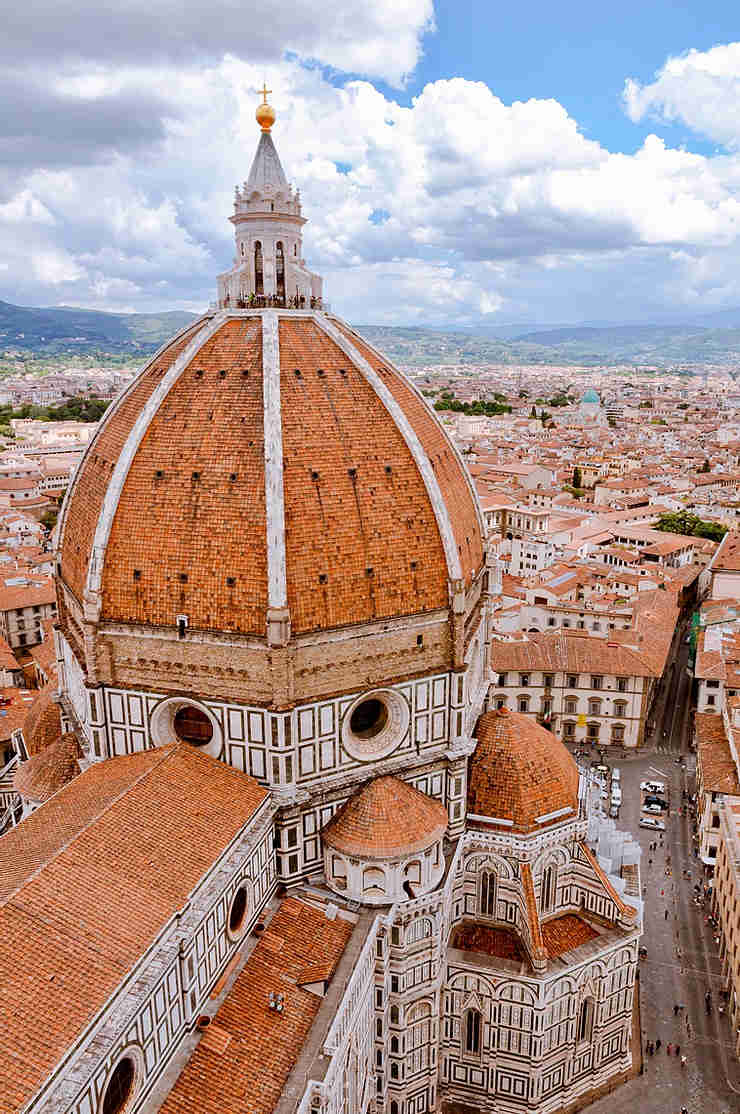 Brunelleschi's dome on the Duomo
5. Tickets for the Duomo Complex
You should purchase the "Grande Museo del Duomo" combination ticket online for 18 euros. It gives you one entry to each of the Duomo sites over 72 hours. The ticket includes admission to the Duomo, Baptistery, Campanile, Duomo Museum, and the Santa Reparata crypt (inside the cathedral).
A PDF containing a barcode will be sent to you via email. You can have it scanned on your phone.
This ticket doesn't give you priority entry to the Duomo. You'll have to queue. I personally don't think it's worth going inside if there's a long line.
6. Climbing the Duomo Dome
The dome climb is ONLY possible with an advance reservation. You can book a time slot when you purchase your combination ticket online. Dome climb time slots can fill up days in advance, so reserve well ahead.
Once you've made the reservation, you can't change it. Show up 20-30 minutes early. The entrance for the dome climb is on the north side of the Duomo. Little blue signs in the Duomo piazza will point you to the entry for the different sites.
view of Florence from Brunelleschi's dome
7. How Best To Visit the Duomo Complex
To help plan your visit to the Duomo complex, here are the time schedules of the Duomo sites. They all open and close at different times. Check the individual websites (linked above) because sometime the hours change.
Duomo: 10:00 am to 4:30 pm
Brunelleschi's Dome: 8:30 am to 5:00 pm
Giotto Bell Tower | Campanile: 8:15 am to 10:15 am & 11:15 am to 7:30 pm
Crypt:10:00 am to 4:30 pm
Duomo Museum: 9:00 am to 7:00 pm (but closed Sunday afternoon)
Baptistery: 8:15 am to 6:30 pm
I would start with the Baptistery of St. John at 8:15 am, move on to the Duomo Museum, and then have a bell tower climb scheduled for 11:00 am or so. Don't rush through the wonderful museum, which has an outstanding collection of Medieval and Renaissance sculpture and a reconstructed Duomo facade.
READ: Compete Guide to the Duomo Museum
Honestly, you don't need to visit the interior of the Duomo. It's rather bare inside. You might almost think it was unfinished. This is a line you can eliminate without guilt.
You don't want to climb both the Duomo dome and the Giotto bell tower on the same day. Also, because there are religious sites, you must dress conservatively. No sleeveless tops or short/skirts above the knee.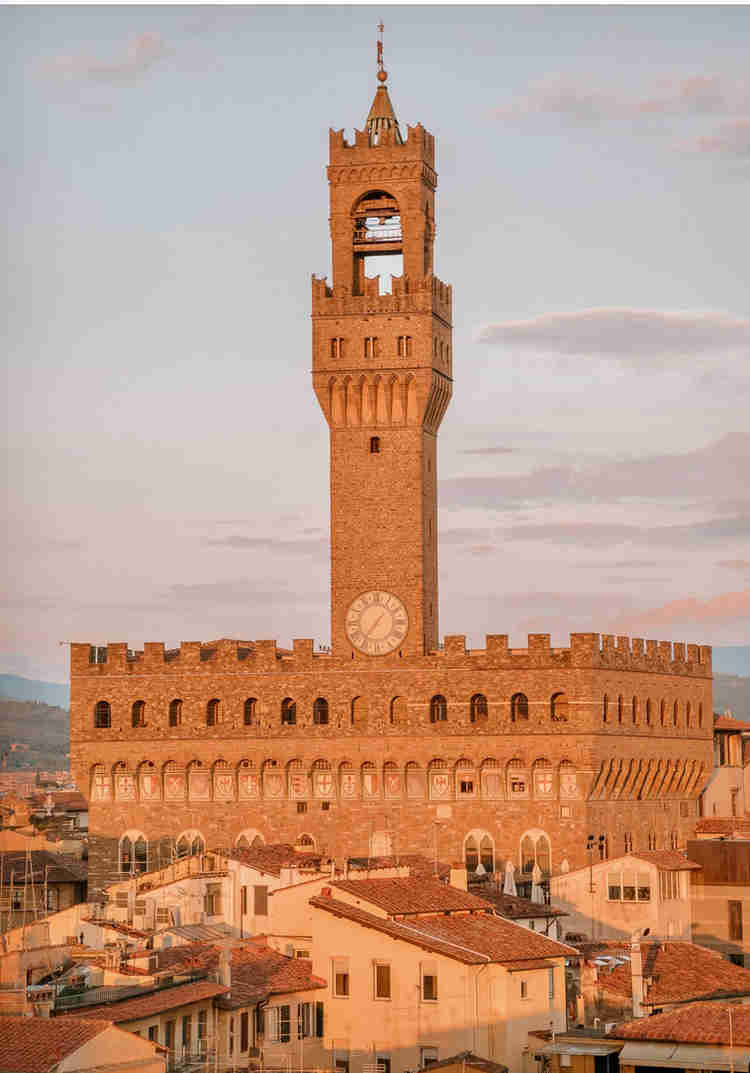 the Tower of Arnolfo at Palazzo Vecchio
8. Duomo Dome vs. Giotto Bell Tower vs. Tower of Arnolfo
Which climb offers the best view in Florence? They all have their perks and downsides. On the whole, I think Giotto's bell tower offers the best experience.
With a Duomo climb, you have great views of Florence and can see Vasari's frescos in the cupola. But you have to make an advance timed entry reservation, as I mentioned above. And the last bit of the climb is arduous.
On a Giotto bell tower climb, you have the best views in Florence of the Duomo and Brunelleschi's dome. There are no elevators though, and it's 414 steps to the top. The lines can sometimes be quite long.
You can visit the Tower of Arnolfo at Palazzo Vecchio with a combination ticket for the tower and palace or for a small additional small fee. This is a great alternative if there are long queues at the Giotto Bell Tower. But no more than 35 people can enter at once. In bad weather, it's closed.
Sandro Botticelli's famed With of Venus in the Uffizi Gallery
9. Visiting the Uffizi Gallery
The Uffizi Gallery is one of the most famous museums in the Western world. It's Florence's #1 attraction and the third most visited site in Italy. The Uffizi is overflowing with amazing art works from the International Gothic period and the early, high, and late Renaissance. You have to book early.
READ: 30 Masterpieces To See in Florence
The official website for the Uffizi (and several other city museums) is polomuseale.firenze.it When booking advance tickets online, note that available time slots for full price tickets are marked "Intero/Full."
Once you've selected a slot, you'll receive an email with a voucher. You take that to the Uffizi ticket desk a few minutes before your visit to swap for an actual ticket. Be sure to get in the right line to avoid wasting precious time.
If there are no available slots on the museum website, you can try to buy from ticket vendors such as Florence.net or Tickitaly.com. They charge approximately € 5 more per ticket. But they may have more time slots available, if you want or need flexibility.
For more information on the amazing Uffizi Gallery, here's my guide to the Uffizi masterpieces and my guide to DIY prep for the Uffizi.
READ: Guide To the Best Museums in Florence
aerial view of Siena's Il Campo square and the Palazzo Pubblico
10. Florence as a Base for Day Trips
Florence's central location makes it an excellent base for day trips around central Italy. That way, you can escape Florence's adoring (and sometimes maddening) crowds during the day and you don't have to switch accommodations every night to see a new place in Tuscany.
Florence's Santa Maria Novella train station is located smack in the city center, behind the Basilica of Santa Maria Novella. It quickly connects you to other charming Tuscan towns and villages just crammed with beautiful art, architecture, palazzos, and piazzas. Not to mention some of the best pasta and chianti in Italy.
It's easy to drive from Florence as well. Here are my tips for renting and driving a car in Europe and my guide to 15 day trips from Florence.
Pisa, Siena, Assisi, and Pienza are great day trip options. Tuscan wine tours leave out of Florence. Even Milan is doable in a day, if you're ambitious.
READ: 10 Day Itinerary for Tuscany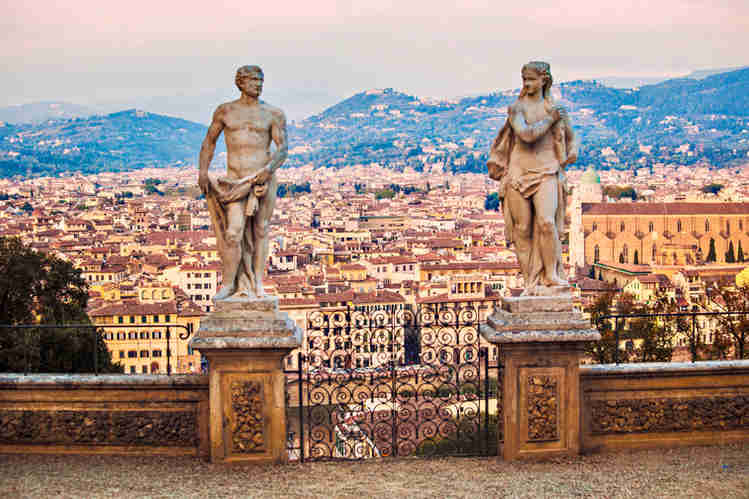 view of Florence from the Bardini Gardens
11. Try Some Hidden Gems
Most tourists in Florence are visiting the Duomo, the Uffizi Gallery, and the Accademia to see Michelangelo's David. They do that and they think they've "done Florence." But Florence is so much more than these three must see sites.
If you're a repeat visitor, you may want to avoid the seemingly ever-present tourist siege and seek out some hidden gems in Florence.
Florence's less visited destinations boast beautiful Renaissance art without the crowds and lines. You can admire a groundbreaking painting, sculpture, or fresco without elbowing your neighbor or having your view obstructed.
If you want to avoid the hordes of crowds in Florence, visit some of these Florence hidden gems.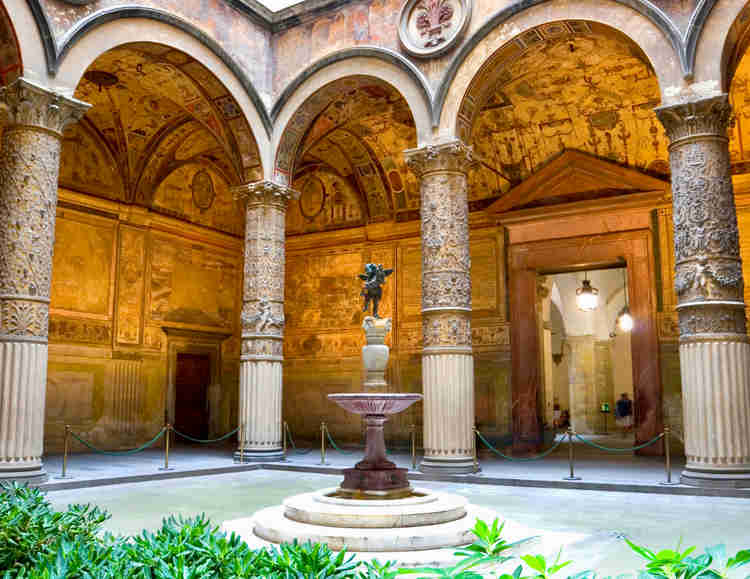 courtyard of the Palazzo Vecchio
12. Florence's Palace Museums
If you're a first time visitor, you likely won't have Florence's palaces on your Florence itinerary. There's just so many things to do in Florence, if you're only there for a short time.
But if you're a repeat visitor looking for some potentially less crowded destinations in Florence, the palace museums are your ticket to nirvana.
Florence has quite a few elegant palazzos that hold astonishing art collections. These less visited Florentine palaces house some of Florence's unmissable masterpieces, amid dazzling rooms designed and decorated by Florence's rich and famous.
Here are my Florence palace guides:
Leonardo vs Michelangelo at the Palazzo Vecchio
Neptune Fountain in the Piazza della Signoria
13. Free Things To Do in Florence
Are you visiting Florence on a budget? No problem. In Florence, you can see priceless art for no price at all.
A surprising number of Forence's must see sites and hidden gems are free, if you don't want to rack up hefty museum charges. Florence is essentially a living museum with art sprinkled everywhere.
Most significantly, some of Florence's churches open their ornate doors for free. Inside, you'll find stellar Renaissance art from such luminaries as Michelangelo, Botticelli, Brunelleschi, and Donatello. Florence's Piazza della Signoria is also an outdoor sculpture gallery.
Here's my complete guide to free things to do and see in Florence.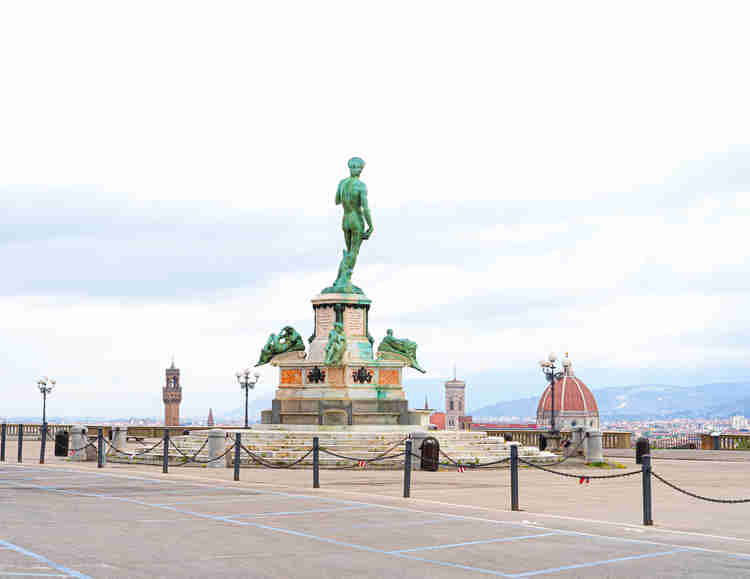 copy of Michelangelo's David in Piazzale Michelangelo
14. Three Versions of David By Michelangelo
If you didn't score a ticket for the Accademia Gallery, no worries. There are three versions of Michelangelo's David in Florence. The original is in the museum of course.
But there exact replicas of the world's most famous sculpture in Piazzale Michelangelo and in front of the entrance to Palazzo Vecchio.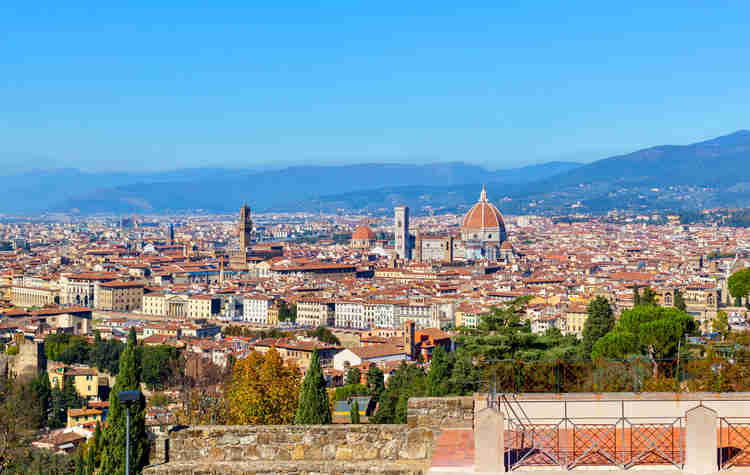 view of Florence from San Miniato al Monte
15. Sunset Views
When people visiting Florence want a panoramic view, they usually head to Piazzale Michelangelo, Florence's famous lookout square. To be sure, Piazzale Michelangelo is nice. But it's also filled with bus loads of tourists and vendors hawking trinkets.
If you want to escape the crowds, head to the Basilica of San Miniato al Monte instead. San Miniato is just 5-10 minutes further up the hill.
The ancient church is a unique and harmonious blend of medieval architectural styles, pre-dating Florence's Renaissance treasures. It's completely free to visit.
San Miniato is an oasis of calm away from the hurly burly of Florence with amazing Gothic art and unsurpassed views. The perspective over the city is absolutely extraordinary.
While you're there, visit the beautiful Sacred Door Cemetery. right behind the basilica. Built in the 19th century, the cemetery is an open air museum, stuffed with beautiful funeral art, mausoleums, and memorials of illustrious Florentine Catholics.
Michelangelo's Tomb for Giuliano de Medici
16. Themed Artist Trails
Are you an art lover who likes to travel with a theme? Florence is fantastic place for that, especially if you love the Renaissance era. Here are my guide to Florence's artists trails:
• Michelangelo Trail in Florence
• Piero della Francesco Trail in Tuscany
• Andrea del Verrocchio's Art in Florence
• Botticelli Trail in Florence
Leonardo and Raphael also lived in Florence. Here's my guide to Leonardo's paintings and my guide to the most famous paintings of Raphael.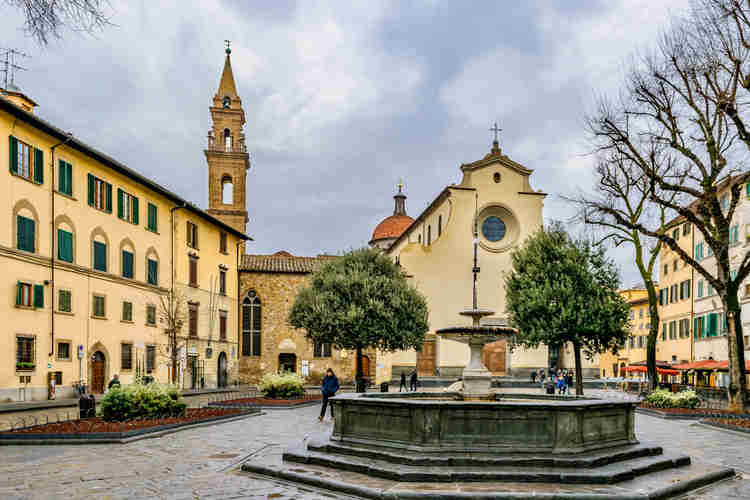 Piazza Santo Spirito
17. Vist Florence's Churches
There is more to Florence than the Duomo, however magnificent it is. Florence has so many interesting churches, some of which are under the radar hidden gems.
If you're an early bird, many churches open very early at 7:00 am or so. If you're looking to maximize your sightseeing, you can head to a church or two of your choice before the major attractions open at 9:00 am.
If you only have time for one church visit, make it the Basilica of Santa Croce. It's simply not worth waiting in the Duomo line.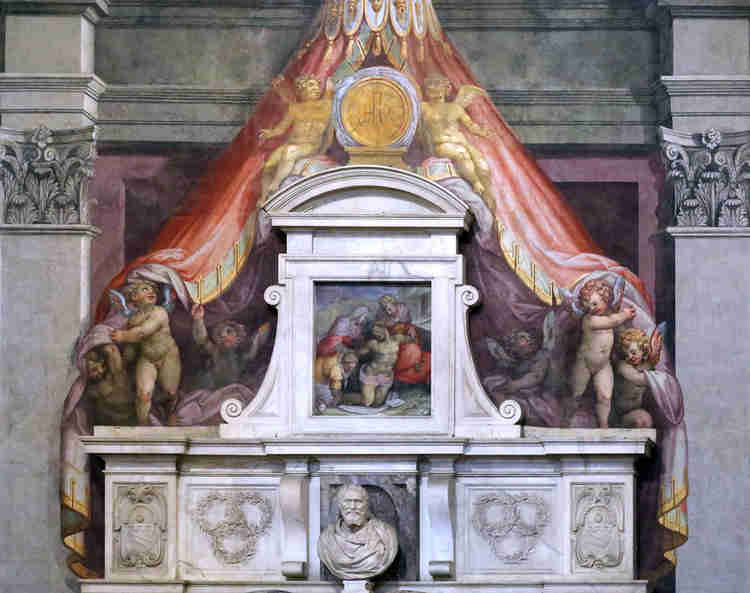 Tomb of Michelangelo in the Basilica of Santa Croce
Santa Croce, on the other hand, is just stuffed with artistic treasures. The basilica has one of the greatest assemblages of paintings, sculptures, and funereal tombs in existence.
You can admire frescos by Giotto and sculptures by Donatello. You can also pay your respects to Michelangelo, who is buried there.
Some other churches that you should consider putting on your Florence itinerary are: the Basilica of Santo Spirito, the Basilica of Santa Croce, the Basilica of Santa Maria Novella, San Marco Monastery, and the Basilica of San Lorenzo.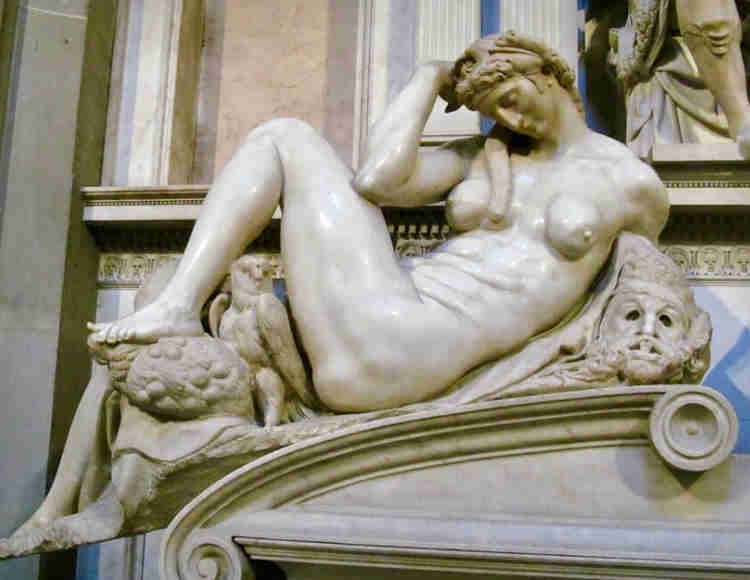 Michelangelo's sculpture of Night in the Medici Chapel
18. Visiting the Medici Chapel
The Medici Chapel is part of the Basilica of San Lorenzo complex. The Medici Chapel has the most Michelangelo sculptures in Florence. There are 6 tomb sculptures, including one of Michelangelo's best sculptures, Night.
But entrance to the Medici Chapel is completely separate from the basilica. You can't buy a combination ticket that includes the Medici Chapel, which is an independent state museum.
Entrance to the Medici Chapel is € 9. Time slot reservations are possible and worth the extra charge during the high season. The Firenze Card is accepted.
A ticket for the Medici Chapel also gives you access to the Chapel of the Princes and the Medici Crypt. It does not give you access to the basilica. You need two separate tickets to visit everything in the San Lorenzo complex.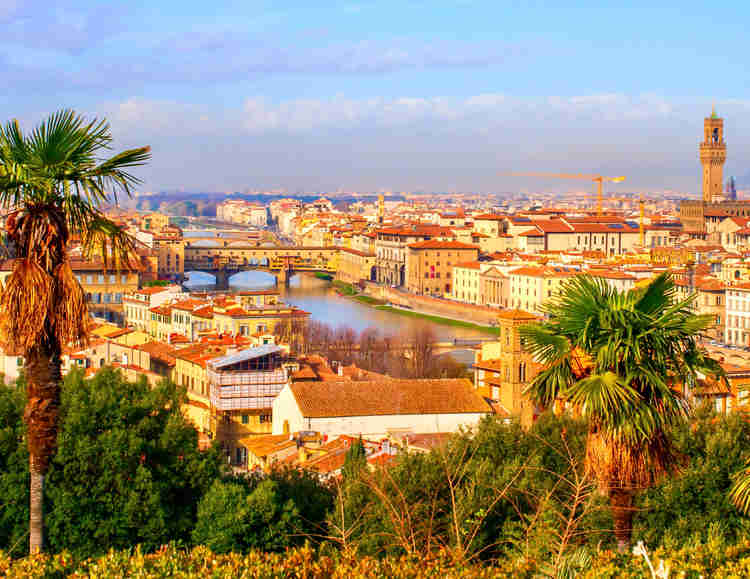 view of Florence from Piazzale Michelangelo
19. When To Visit Florence
Florence's sites are beautiful any time of year. But the best time to visit is shoulder season in the spring or fall. April-June and September-October are generally mild and sunny. Unfortunately, however, Florence still can be busy then.
You could come in the winter season, November-March. It can be cool and rainy. But if you dress appropriately, you'll be fine and can enjoy Florence without the crowds. If you're a museum hound, this is the best time to visit.
20. Where To Eat Gelato
Eating gelato is an integral part of any trip to Florence. Here are the best places to grab gelato in Florence:
Gelateria Santa Trinita: Southern edge of the Ponte Vecchio
Gelateria La Carraia: Just across the Arno near Ponte La Carraia
La Strega Nocciola: Just across the Ponte Vecchio in the Oltrarno District
Il Procopio: On Via Pietra Piana
Gelateria de Neri: Near the Ufizzi Gallery. There's always a line, but the gelato is worth the wait.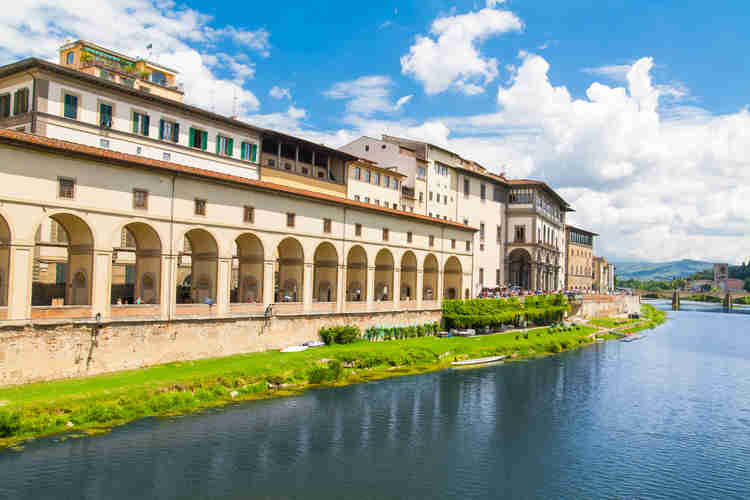 the Uffizi Gallery on the Arno River
21. Firenze Card
It's not really worth it, unless you plan to visit every single museum in the city on a mega busy sightseeing blitz. It's pricey at 72 euros.
From a strictly financial point of view, there's no real savings from purchasing the Firenze Card. Right now, the Firenze Card also doesn't include the Duomo, though that may change.
You can easily book skip the line tickets and make reservations on your own. That's pretty much what I always do. I never buy city cards.
However, there are some added perks to the Firenze Card that might make it worth it for you. There are designated lines at Accademia and the Uffizi Gallery for Firenze ticket holders. So card holders can bypass the long lines here and not have the hassle of making advance reservations.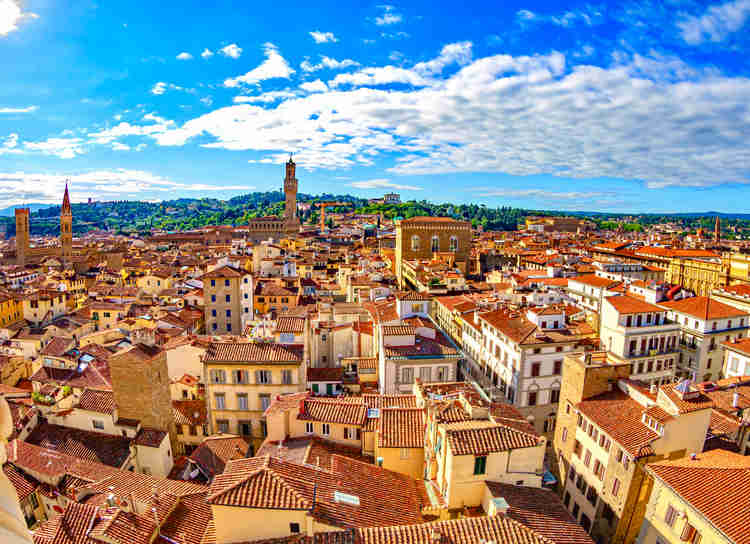 22. How Long To Stay in Florence?
So much to see, so little time. For a small city, there's an astonishing amount to see in Florence. You may be overwhelmed with our options.
How long you decide to stay will depend on your interest in Renaissance art and architecture. And whether you want to allot time for aimless wandering, wine tasting, and leisurely meals.
Florence deserves at least one well-organized day. But art lovers could easily stay a week.
I've written a 1 day itinerary for Florence and a 3 day itinerary for Florence.
If you only have one day, it's essential to set up your itinerary in advance and pre-book tickets to the major attractions. Be aware that Sundays and Mondays aren't ideal for sightseeing in Florence. Many places are either closed or have shorter hours.
I hope you've enjoyed my tips for visiting Florence Italy. You may enjoy these other Italy guides:
• 10 day itinerary for Italy's classic cites
• 7 ways to spend 1 week in Italy
• 10 day itinerary from Milan to Rome
• 1 week itinerary from Venice to Milan
• 100+ Italy bucket list experiences
• 20 beautiful churches in Italy
If you want tips for visiting Florence, pin it for later.