Here's my guide to the top attractions and best things to do and see in Viseu Portugal. I also give you must know tips for visiting, including where to eat, play, and stay.
Viseu is an elegant medieval town in central Portugal packed with art and history. Viseu is far removed from the hot spots of Porto and Lisbon. It's a cosmopolitan but still intimate city without many tourists.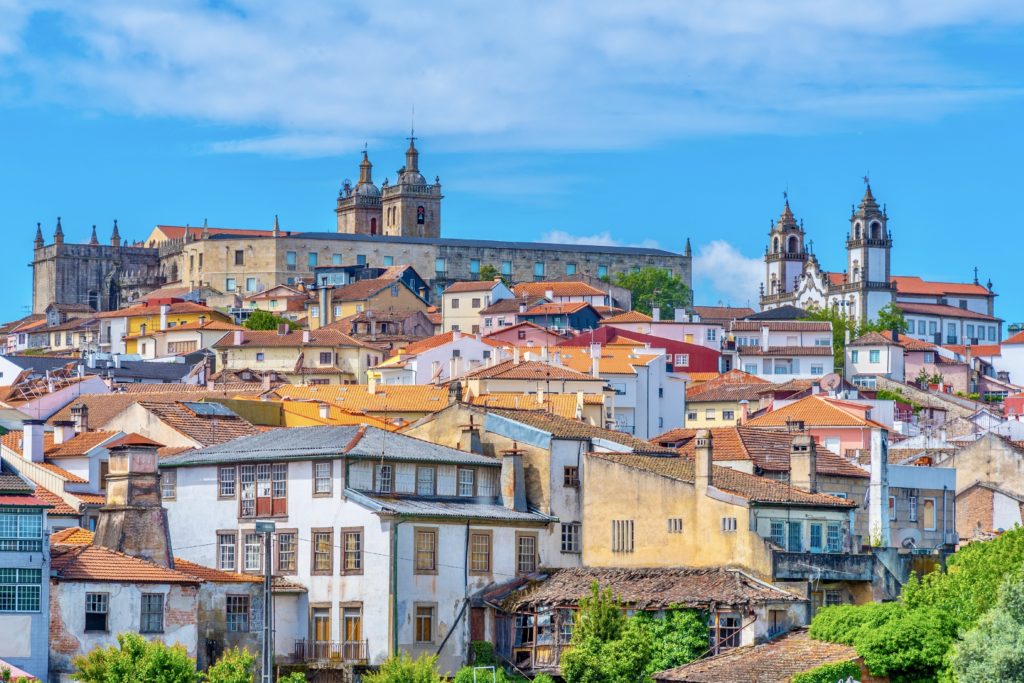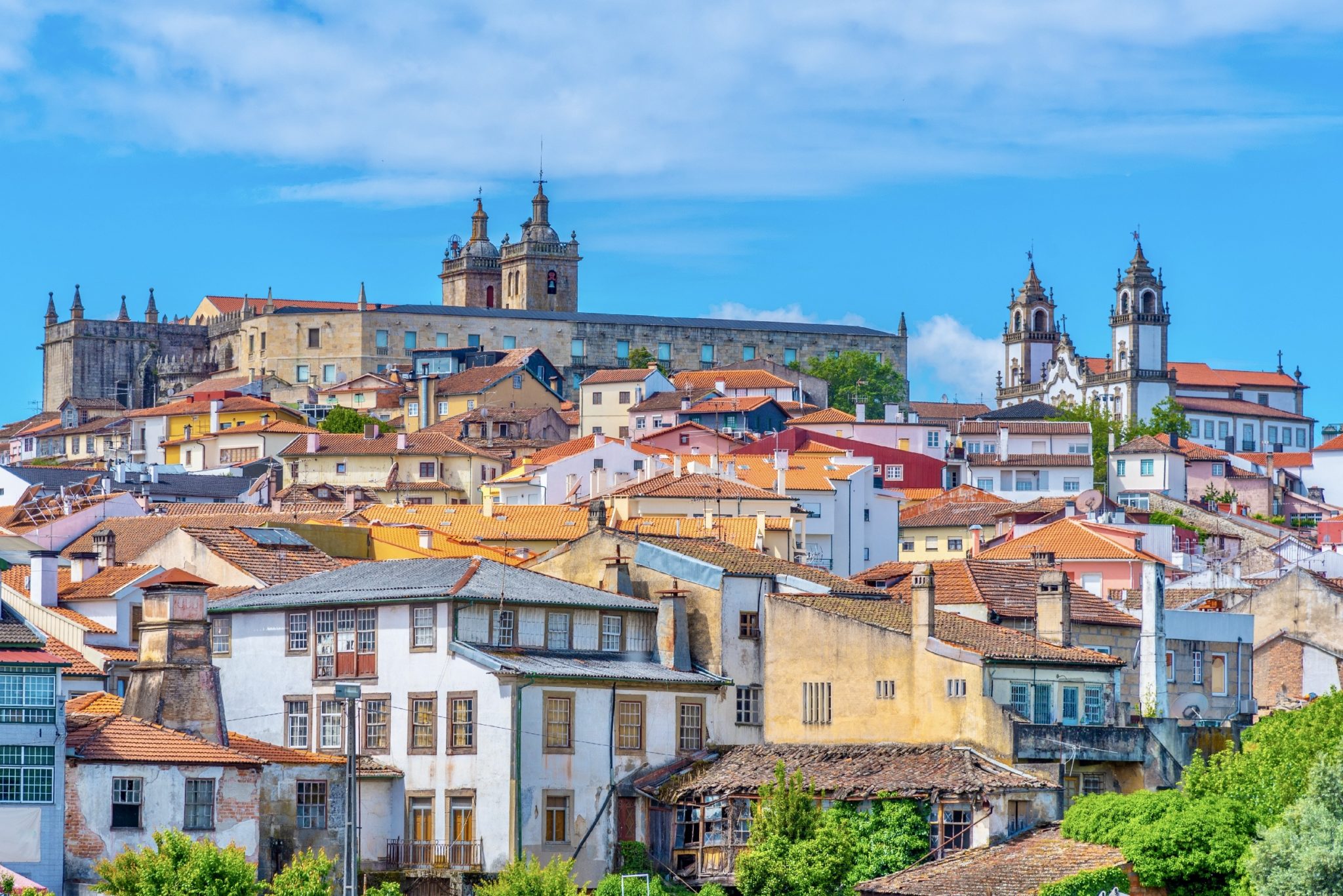 Viseu is considered one of the most livable cities in Portugal. And you can see why.
Viseu is incredibly charming. It has a well preserved old town, a Gothic-Manueline cathedral, lovely Baroque churches, and some excellent museums.
It's also known as the "Garden City" and is in the center of the Dao wine-growing region.
A Short History Of Viseu
Viseu is one of the oldest cities in Portugal. In fact, an Iron Age house was discovered right in the historic center.
It was the territory of a series of successive cultures, including the Suebi, Romans, Visigoths, and Moors.
The Romans arrived in the 2nd century B.C. They settled in and named the town Viso, which translated from Latin means "good view."
Viseu is the city of the legendary rebel leader Viriato, a hero of the people.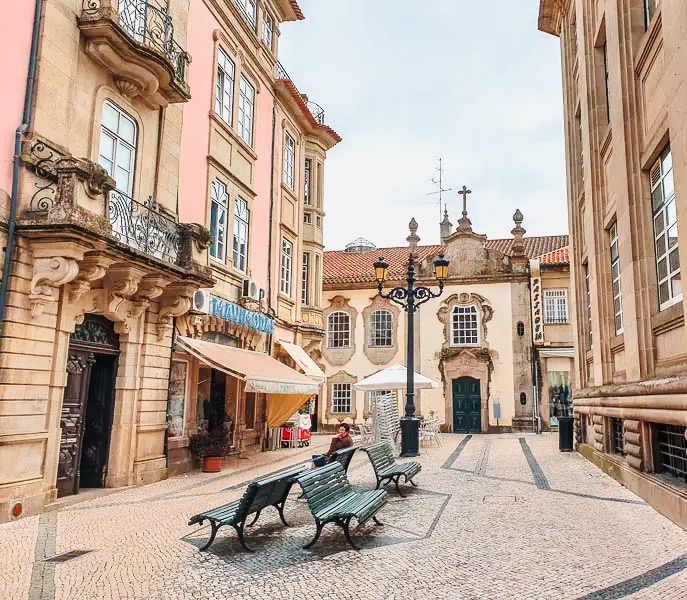 He united the tribes and clashed with the Romans who wanted to expand and dominate the Iberian Peninsula. He had several victories against the Romans before being murdered in his sleep.
After the fall of Rome in the 6th century, the Goths arrived and took everything by storm for a few centuries.
After the Visigoths came the Moors. But wasn't long before the Reconquista vanquished them.
In 1139, Afonso Henriques declared himself king of Portugal and chose Guimaraes, his birthplace, as his capital. Some historians, however, believe that Viseu is also a candidate for his birthplace.
Afonso expanded his territory and shaped what is Portugal today.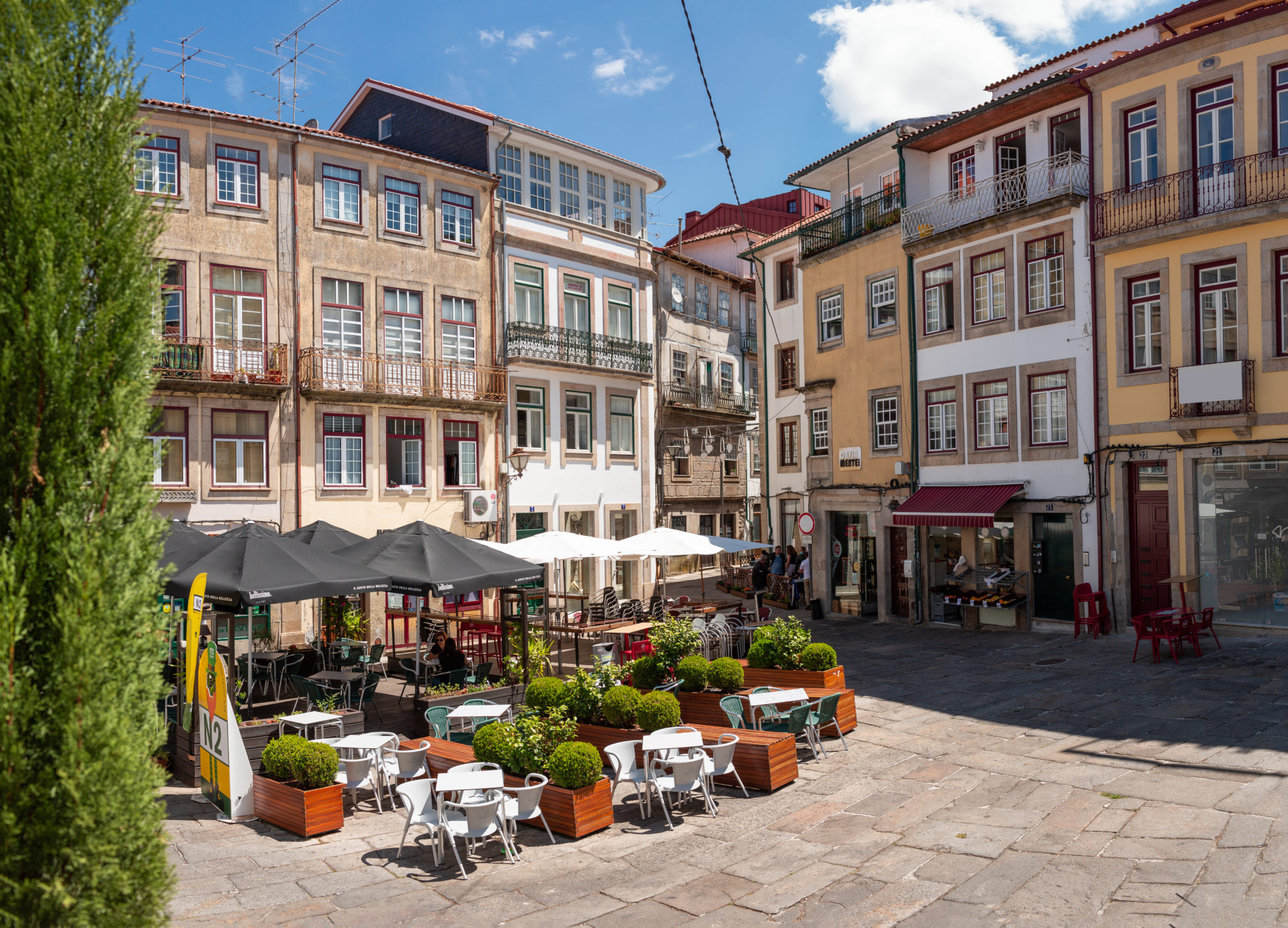 Best Things To Do in Viseu
Here are my picks for what to do and see in Viseu.
1. Wander The Old Town, Centro Historico
One of the best things to do in Viseu is just wander the medieval streets. Viseu has a compact and well preserved medieval quarter that will appeal to all.
Virtually every street has something of architectural interest. You can spot Manueline windows, medieval arched doors, and a touch of Art Nouveau, Renaissance, and Neo-Classicism on the city's beautiful facades.
Be sure to look down as you stroll. There are drawings carved on the granite sidewalks that allude to Viseu's history.
Viseu's main sites cluster around the cathedral square, Adro da Se. It's one of Portugal's most beautiful squares with an impressive ensemble of architecture.
The tourist office is this square. You can pick up a map there.
Rue Direita is a long meandering pedestrianized street you'll want to stroll down. You'll be overwhelmed by the sheer number of shops.
As you approach Rua Dom Duarte, you can spot a beautiful Manueline window that's listed as a National Monument.
Largo Pintor Gata is an extremely picturesque square.
Rua Formosa is another of Viseu's most pretty streets. This part of Viseu was given a facelift by Porto architect Alvaro Siza Vieira.
You'll find the renovated old market. The weekly market is held on Tuesday. This area of Viseu is also chock full of chic boutiques and shops.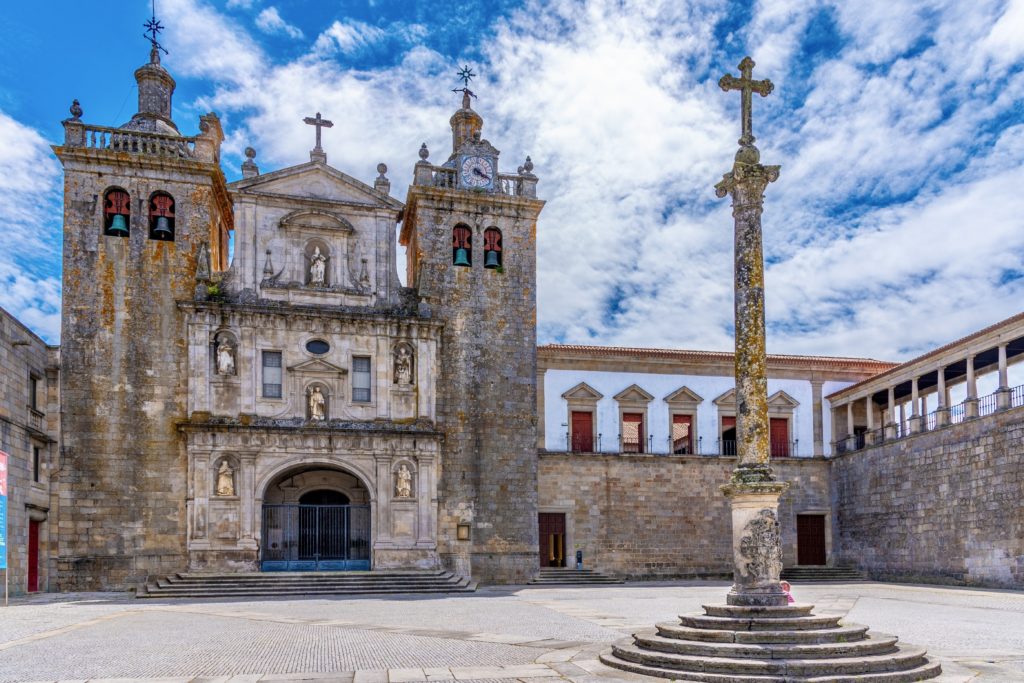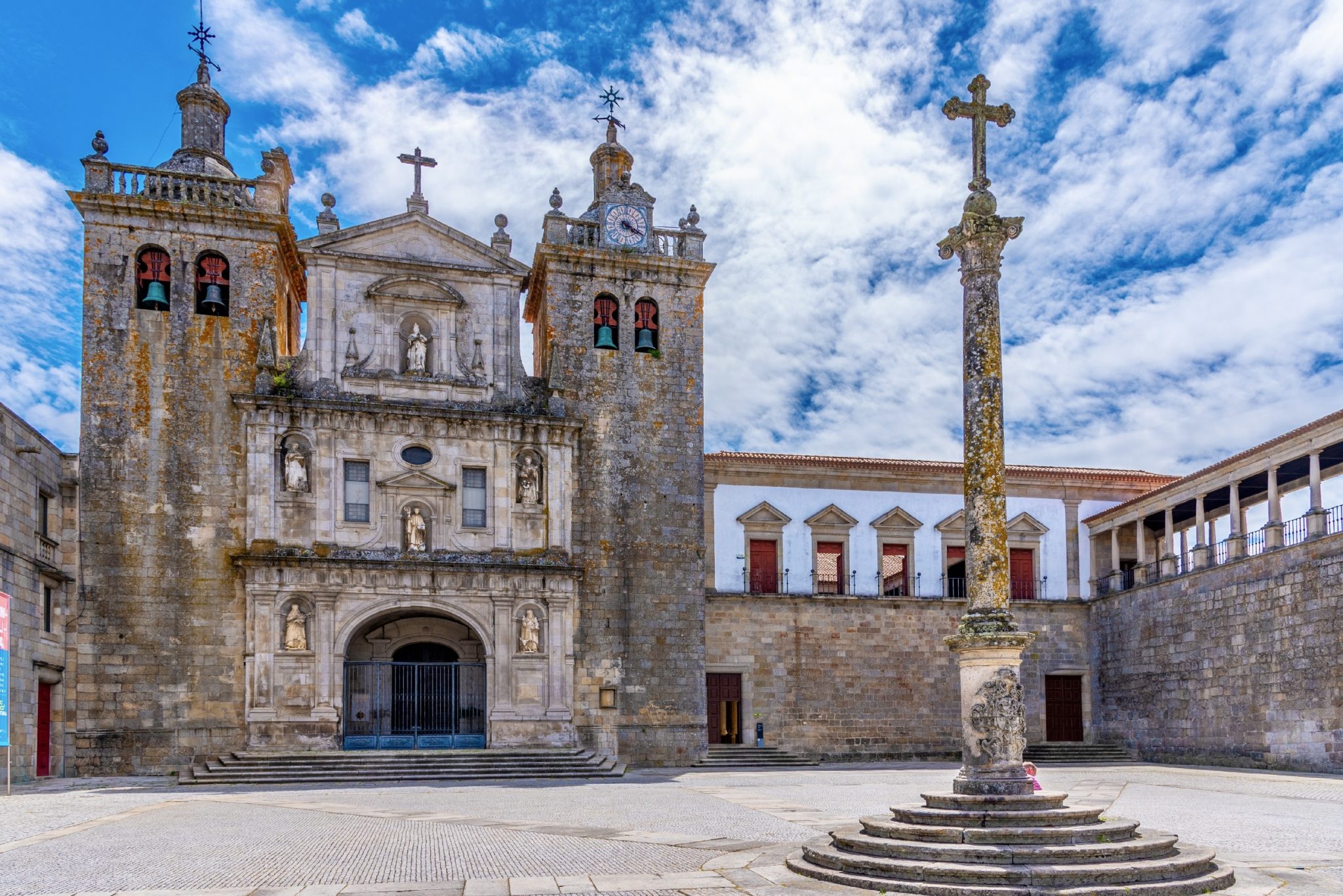 2. Viseu Cathedral
The top attraction in Viseu is the town's magnificent cathedral, Viseu Se. The cathedral was built between 1289-1313.
The cathedral blends mostly Romanesque and Gothic influences. Though subsequent restorations left it with a Mannerist facade from the 17th century and two forbidding granite towers.
There are six niches with stone sculptures not he facade. At the top is the Santa Maria da Assunção, the cathedral's patroness.
Inside, there's a magnificent triple nave that's flooded with light. The main altar is a classic of Baroque gilded artistry. In front of that are wooden Baroque choir stalls.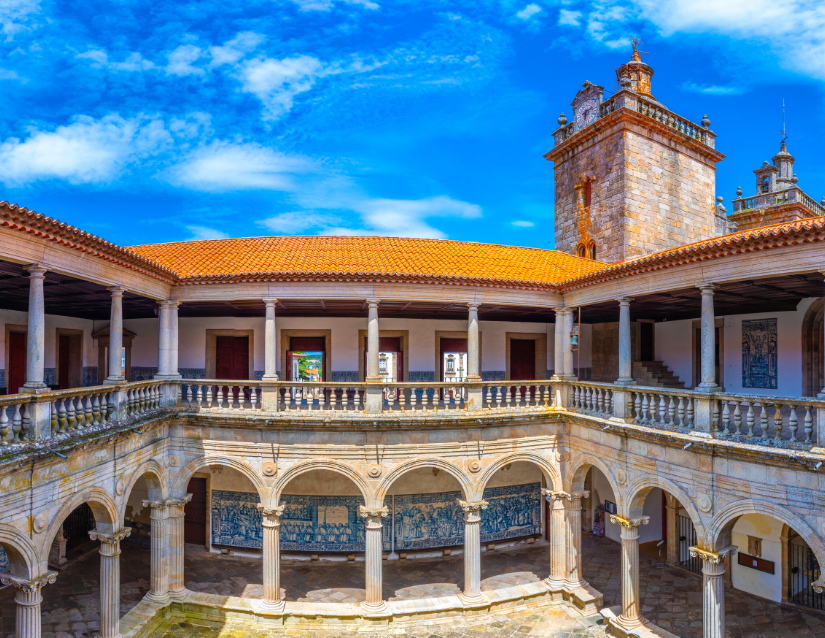 To the side of the main entrance is the beautiful two story cloister. It's a fine example of Portuguese Renaissance architecture. 17th century azulejos wrap around the walls.
The lateral doorway is a feat of Gothic stone carving with a bas relief mother and child. At the back of the cloister is a vaulted chapel with 18th century azulejos.
If you walk around to the back of the cathedral, you'll see the huge granite boulders the cathedral was built on.
The colonnaded corridor on the right is the Passeio dos Cónegos. It connects the upper cloister of the cathedral to the old Torre de Menagem. This is where the cathedral treasures are displayed in the Museum of Sacred Art.
3. Museu Grão Vasco
The Grão Vasco Museum is also on cathedral square. The town art museum is housed in a 16th century bishop's palace. It's one of the best things to do in Viseu for art lovers.
Viseu's main claim to artistic fame is a 16th century school of painting developed by Vasco Fernandes and Gaspar Vaz. Fernandes was better known as Grão Vasco, the name attached to the museum.
The Viseu school was heavily influenced by Flemish Renaissance painters. The museum displays a large collection of Vasco's works alongside other European painters from his era.
His masterpiece is Adoration of the Magi. Instead of the usual black king, Vasco substituted a native Brazilian. This symbolized Portugal's "discovery" (i.e., colonization) of Brazil.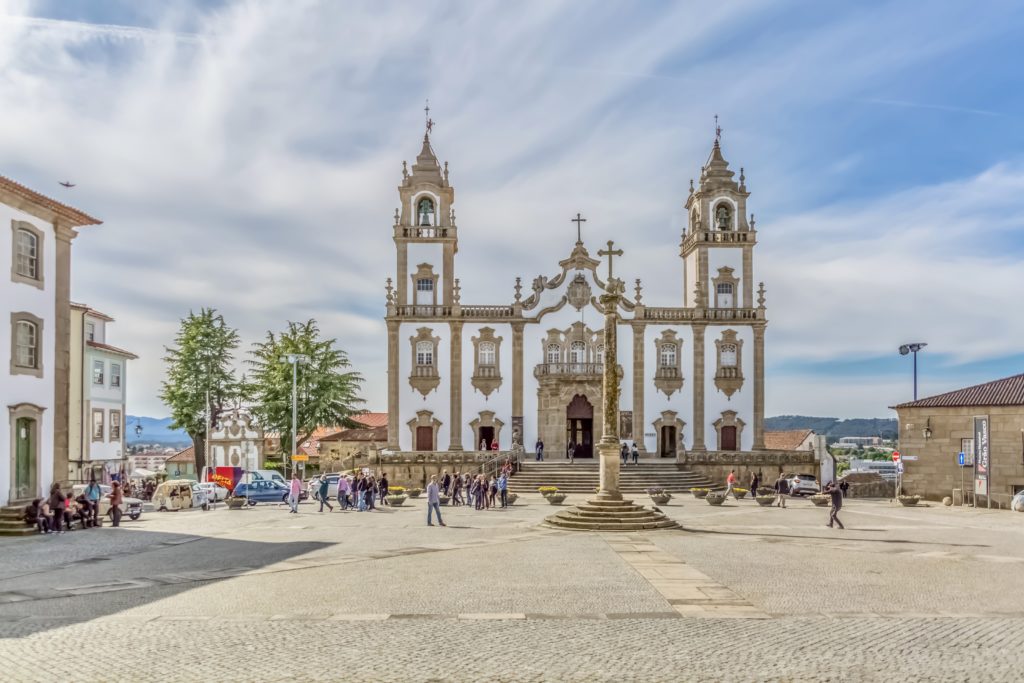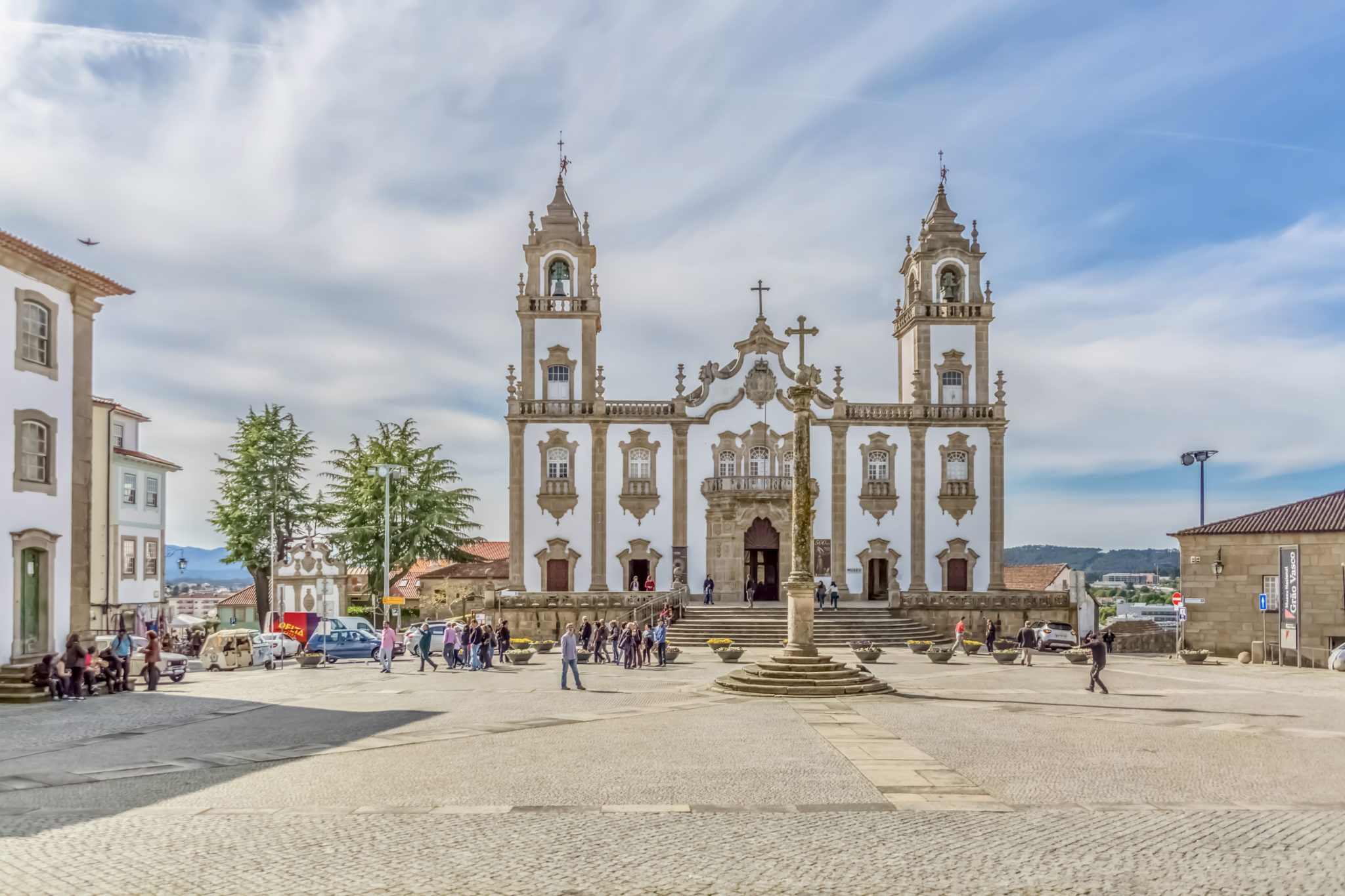 4. Igreja da Misericodia
Across cathedral square, you'll the Misericordia Church, the Church of Mercy. It's a striking 18th century Rococo building that stands alone on one side of the square.
It has a simple white and stone exterior, with matching towers. Though understated, it still looks extremely elegant set high in the city. If it weren't for the cross, you might mistake it for a palace.
The interior isn't quite a striking as the cathedral. But it does have a beautiful organ in a small chapel and three Neo-Classical altarpieces in white and gold.
There's a small museum onsite with religious artifacts and paintings.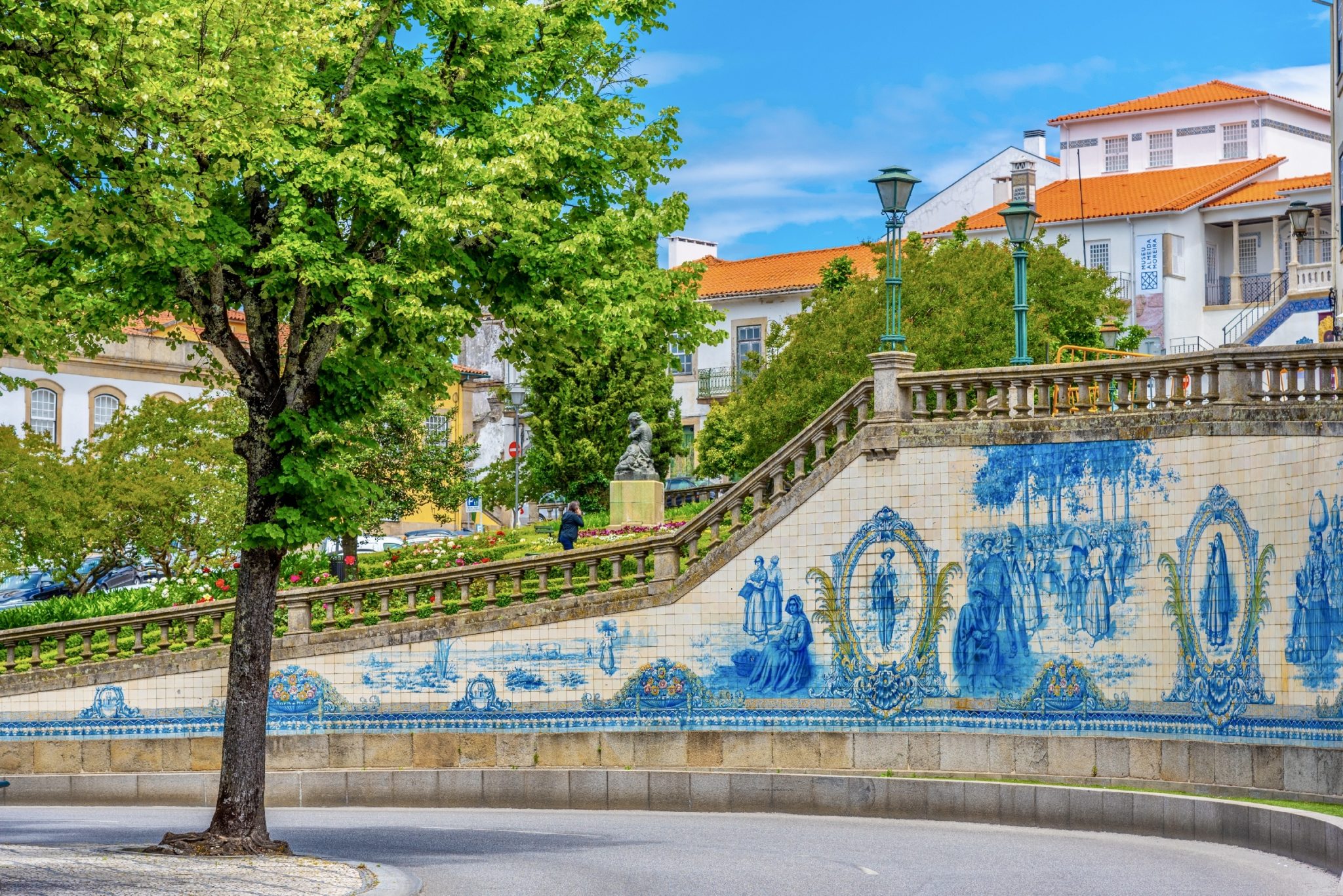 5. Praca da Republica
The pretty Praça da República is Viseu's main square and the nerve center of the city. It has a fountain, carousel, and is filled with flowers.
It's a bit removed from the historic center. But it's definitely a local hangout spot.
It's home to some grand buildings like the City Hall and the Banco de Portugal.
The square has a lively cafe culture, perfect for sampling one of the local gastronomic specialties like roasted veal or or sipping Portuguese wine while people watching. Viseu's local tipple is Dao or Jeropiga.
Large statues decorate the tree-lined cobbled streets. Granite buildings with balconies overlook the busy plaza.
You'll also find a sweeping mural of white, yellow, and blue azulejo tiles. It's a lovely backdrop to the square. A life size bronze statue of a local writer also sits in the square.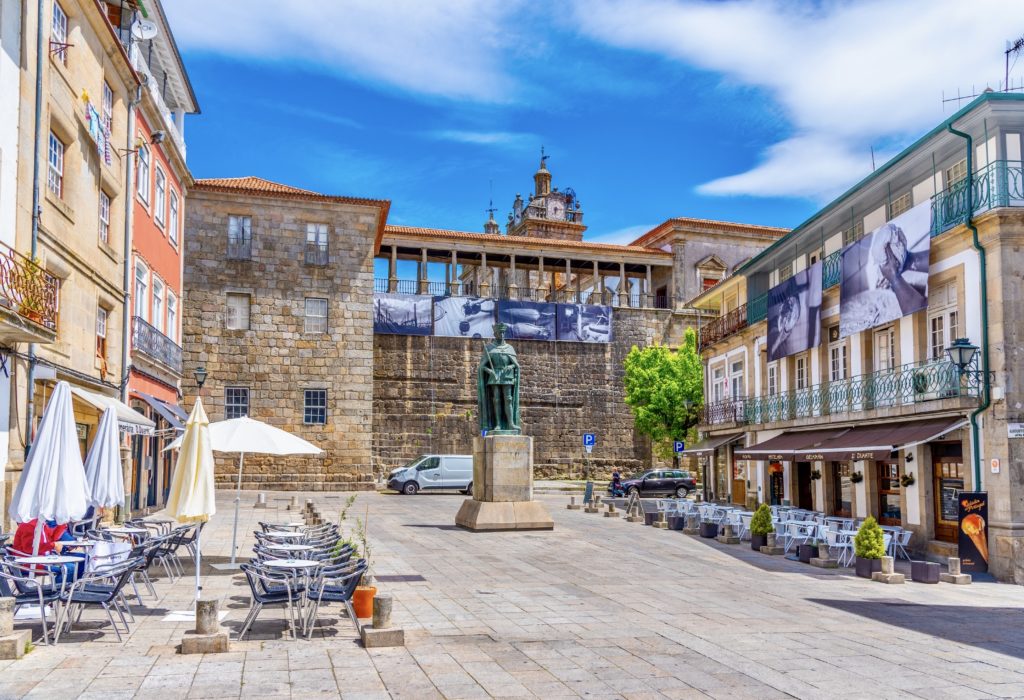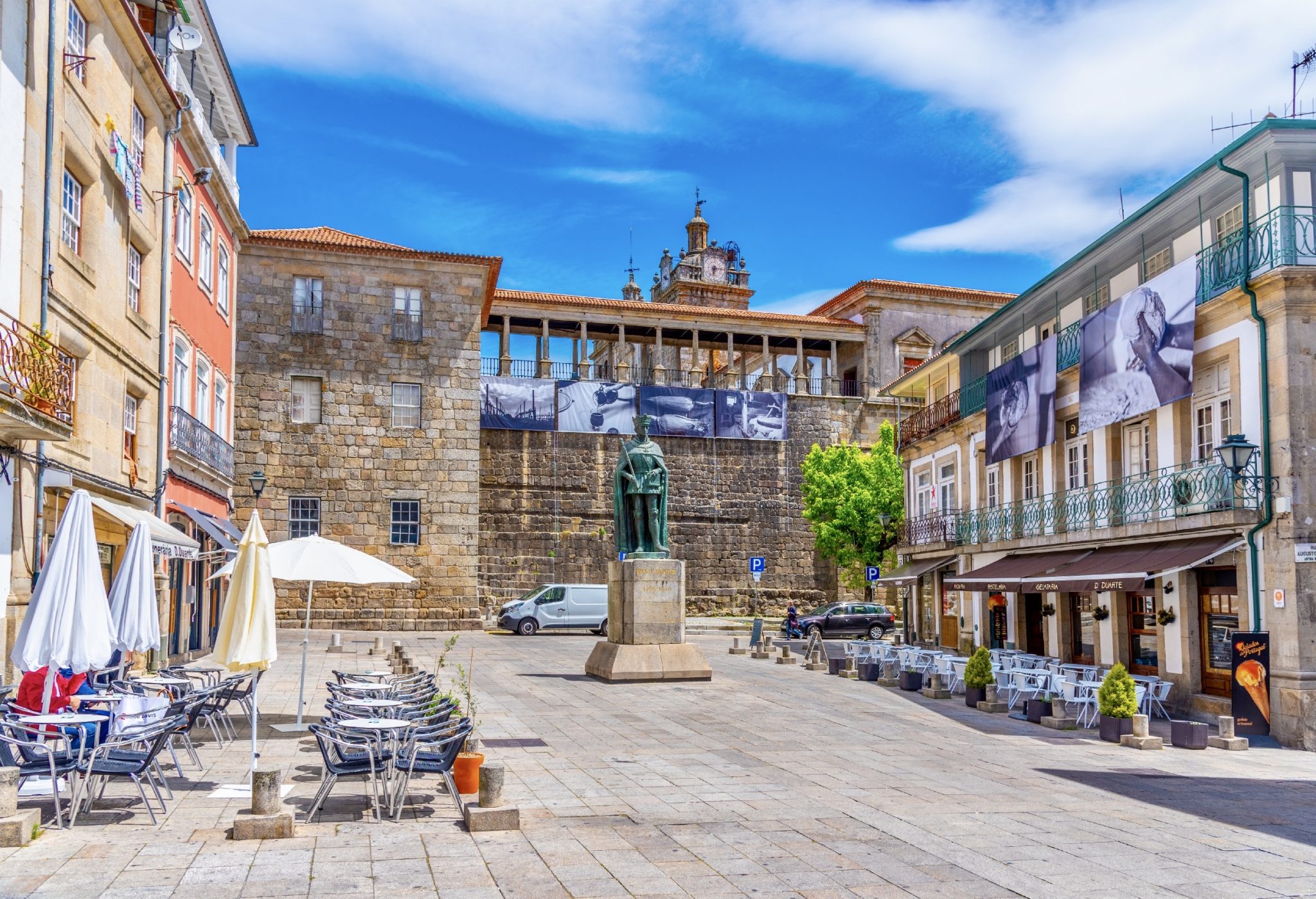 6. Dom Duarte Suare
Praça Dom Duarte is the main square of medieval Viseu. It remained the main square of Viseu until the 19th century.
It's lined with beautiful 18th and 19th century buildings. There are also plenty of cafes.
This is a great place to grab lunch. There's also a large concentration of restaurants and snack bars in the surrounding lanes.
In the center stands a statue of King Edward, which honors the Portuguese king born in Viseu in 1391.
7. Town Hall
The elegant Town Hall in the main square, Praca da Republica. It's a two story rectangular building. It's worth wandering inside to admire the grand azulejo-clad stairway.
8. Church of the Third Order of St. Francis
This lovely 19th century church is perched on a hill off the main square on the edge of Aquilino Ribeira Park. You access it through a steep flight of stairs.
It's a small church with big art. The interior is full of Baroque decoration and azulejo tiles. The latter depict scenes from the life of St. Francis of Assisi.
9. Church of the Third Order of the Carmo
This imposing church was built in the 18th century. It has an impressive Baroque facade with two bell towers.
Inside are five gilded altarpieces in the Joanine Baroque style and a frescoed ceiling by Italian artist Pascoal Jose.
As per usual, the walls are lined with blue and white Rococo-style azulejos.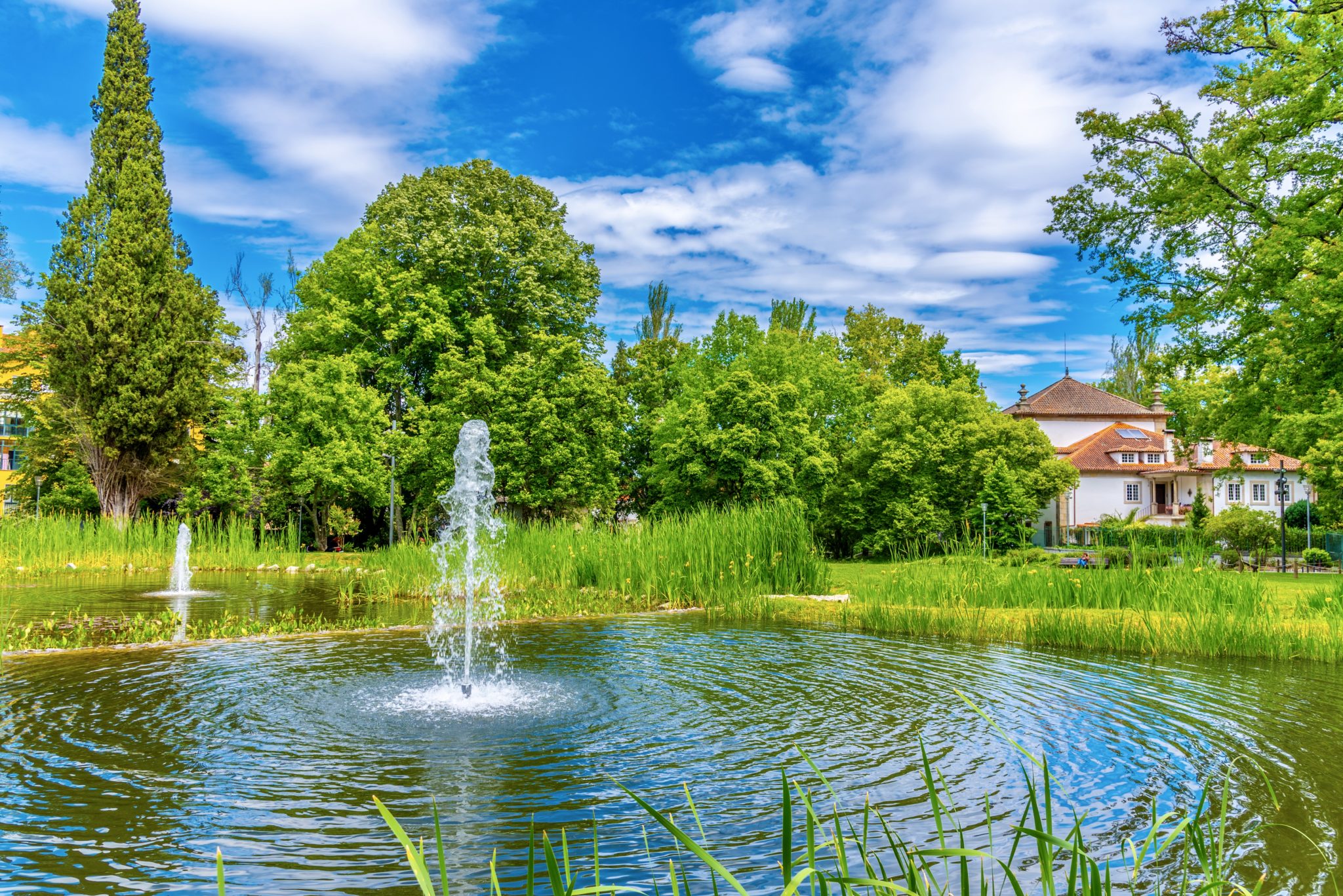 10. Viseu's Parks
One of the best things to do in Viseu is visit some of its vaunted parks. After a visit to the St. Francis Church, head to one of Viseu's lovely green spaces, Parque Aquilino Ribeiro.
Tree lined paths invite you to take a carefree walk. You can admire the simple Chapel of Nossa Senhora da Vitória.
Another gorgeous park is Parque do Fontelo. It's the largest green space in the city with a forest of chestnut and oak trees and an idyllic garden.
The Jardim das Maes is a lovely urban garden. It's very well maintained with colorful flowers. There's also a beautiful sculpture of a mother and child.
11. Palacio do Gelo
Need to do some shopping, escape from a rainy day, or just crave some air conditioning? Head to the Portuguese shopping mall, Palacio do Gelo, the Ice Palace.
It's housed in a sleek and airy modern building. There are over 160 shops. But the highlight is the mall's ice skating rink.
You can stop for a drink at Bar do Gelo, where everything is made of ice — the floor, the ceiling, and the glasses.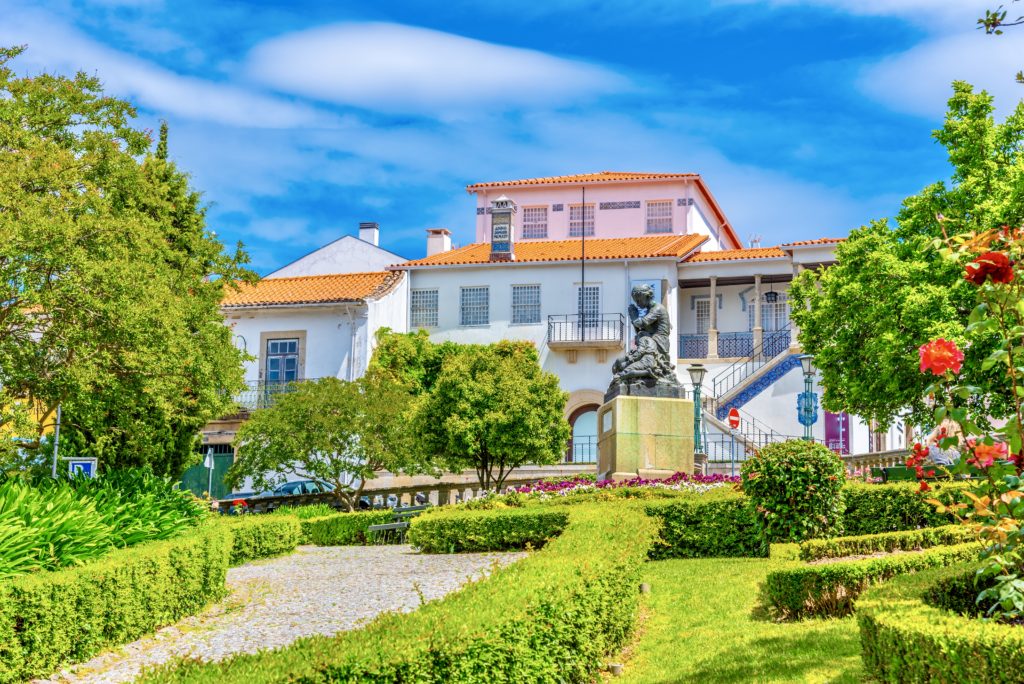 12. Almeida Moreira Museum
This is the house museum of one of Viseu's native sons. It was the home of professor and art critic Francisco António Almeida Moreira, who founded the Grão Vasco Museum.
Moreira used to hold art and literature salons here with other renowned figures of the 20th century.
The building is now a museum holding part of Moreira's personal collection. You'll see paintings, porcelain, stoneware, sculptures, and period furniture. There's also an impressive library.
13. Quinta da Cruz | Center for Contemporary Art
Opened in 2014, Quinta da Cruz is a modern art museum housed in a beautiful natural setting just outside Viseu. It's in a former manor house where art meets nature.
The museum aims to bring the local community closer to art. It presents temporary exhibitions, creative workshops, and programs designed for families.
The property covers 10 acres, which showcases both exotic botanical species and indigenous plants. There'a hiking trail and sculptures on the grounds.
14. Casa do Miradouro
This palace is the only example Renaissance civic architecture in Viseu. The architect was Francesco dos Congo, who also built the colonnade next to the cathedral.
Today, it's a small archaeological museum curated by José Coelho. There are Roman artifacts and funery monuments that prove that Viseu was a nerve center for Roman roads that once linked Mérida, Braga and Chaves.
15. Sip Dão Region Wine
One of the best things to do in Viseu is sip some Dão wine.
The Dão is one of the oldest wine regions in Portugal, located just south of the more famous Douro Valley. Dão wines are fruity, robust, and high in tannins.
If you want to pick up some wine in Viseu, head to Cava Lusa Premium, a modern and bold wine cellar.
If you hop in the car, you can discover the secrets of Dão wine production with a visit to a farm and wine tasting. You can check out this list of wineries near Viseu to make a reservation.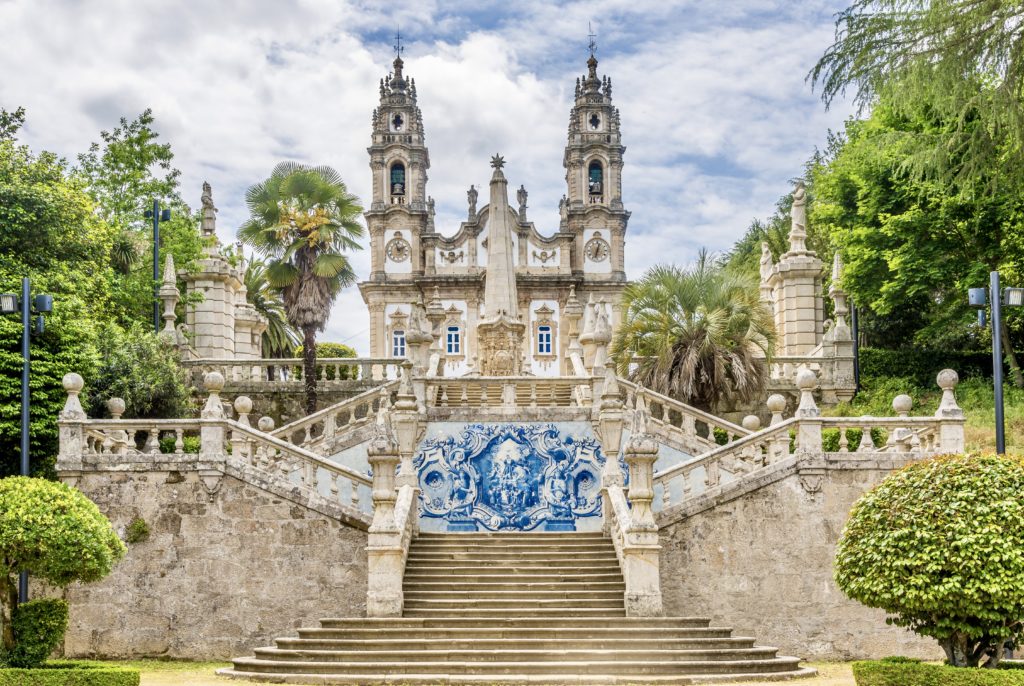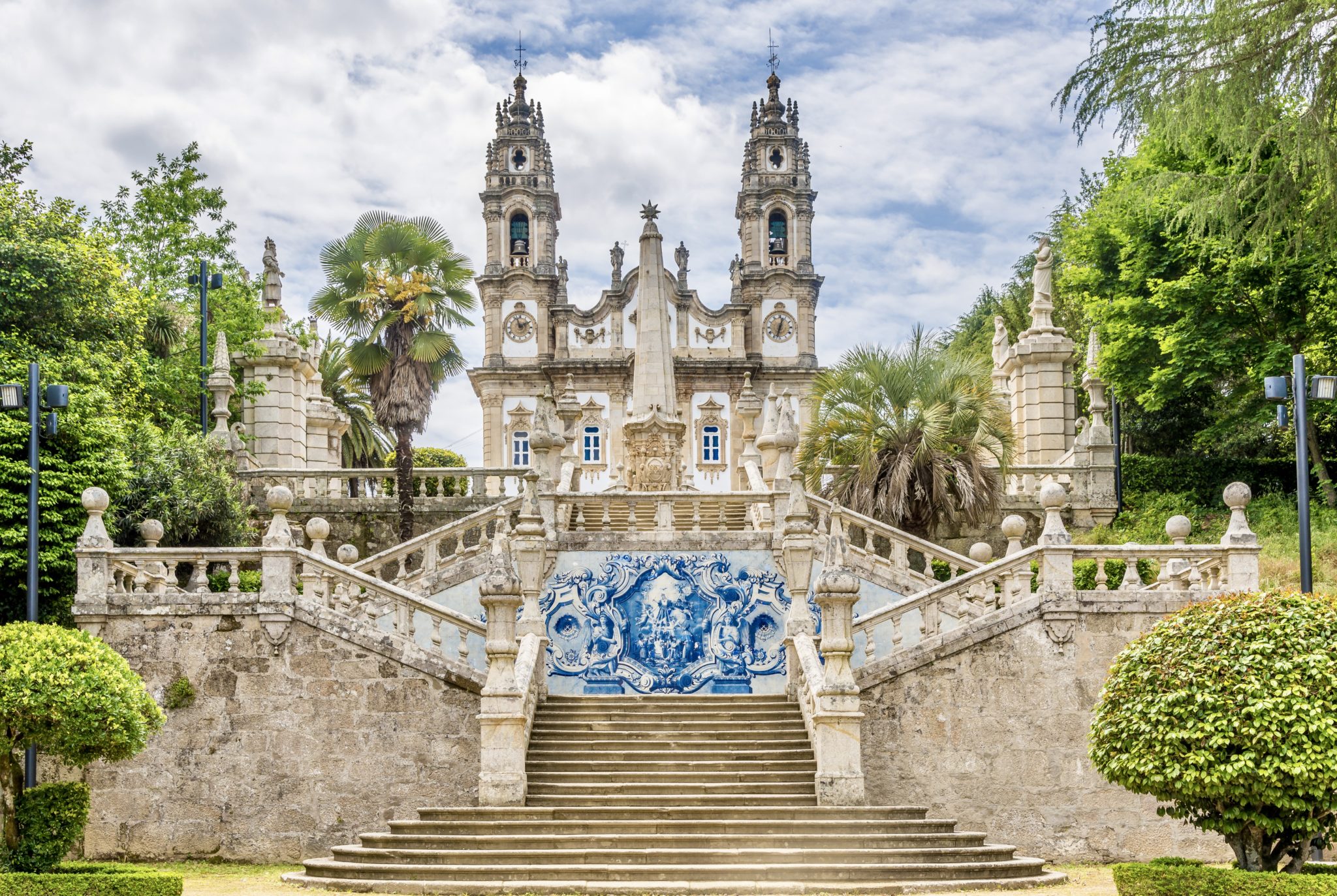 16. Visit Nearby Lamego
If you have a car, you could combine Viseu with a visit to nearby Lamego. The town is 45 minutes away from Viseu.
It's a charming town in the Douro Valley. It's most famous site is the Nossa Senohora dis Remedios. It's a smaller version of Braga's more famous Bom Jesus of Monte.
You visit via a steep Baroque staircase studded with ornamentation Ana azulejos. You can climb up the steps or drive up for views.
Lamego also has a beautiful cathedral. It dates from the 12th century and was substantially remodeled in the 18th century. The cathedral has a lovely cloister with a rose garden.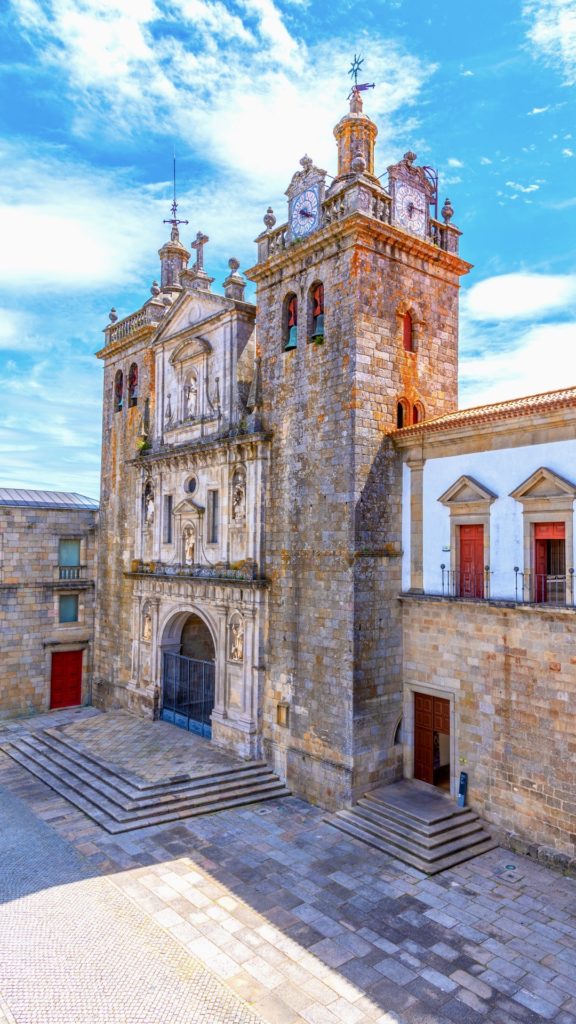 Tips For Visiting Viseu
1. How To Get To Viseu
You have to drive or take the bus to Viseu. There's no train station.
Viseu is well connected by motorway and expressways. You can park in an underground lot called Saba Station Cristina on the Largo Santa Cristina.
Viseu is 1:30 from Porto by car and 1:10 from Coimbra. It's over 3 hours for Lisbon, so you really can't visit from Lisbon on a day trip.
If you're coming by bus, there are daily departures from the main cities. Check timetables and fares on Rede Expressos buses.
2. How To Get Around Viseu
There's no doubt that the best way to explore the city is on foot.
It's also a bike friendly city. In fact, a fun thing to do in Viseu is take a bike ride around the Dão River.
There's a 33 mile bike trail, Ecopista do Dao, that follows the Dão River. You can rent bikes from Abelenda Bicycle Rental.
3. Where To Stay In Viseu
If you want to stay overnight in Viseu, you should check out the Montebelo Viseu Congress Hotel or the Pousada de Viseu.
Just a half hour east of Viseu is a great luxury option, the Parade Casa da Insua. It's housed in an 18th century mansion. It has old world rooms, two outdoor pools, a wine cellar, and ornate gardens.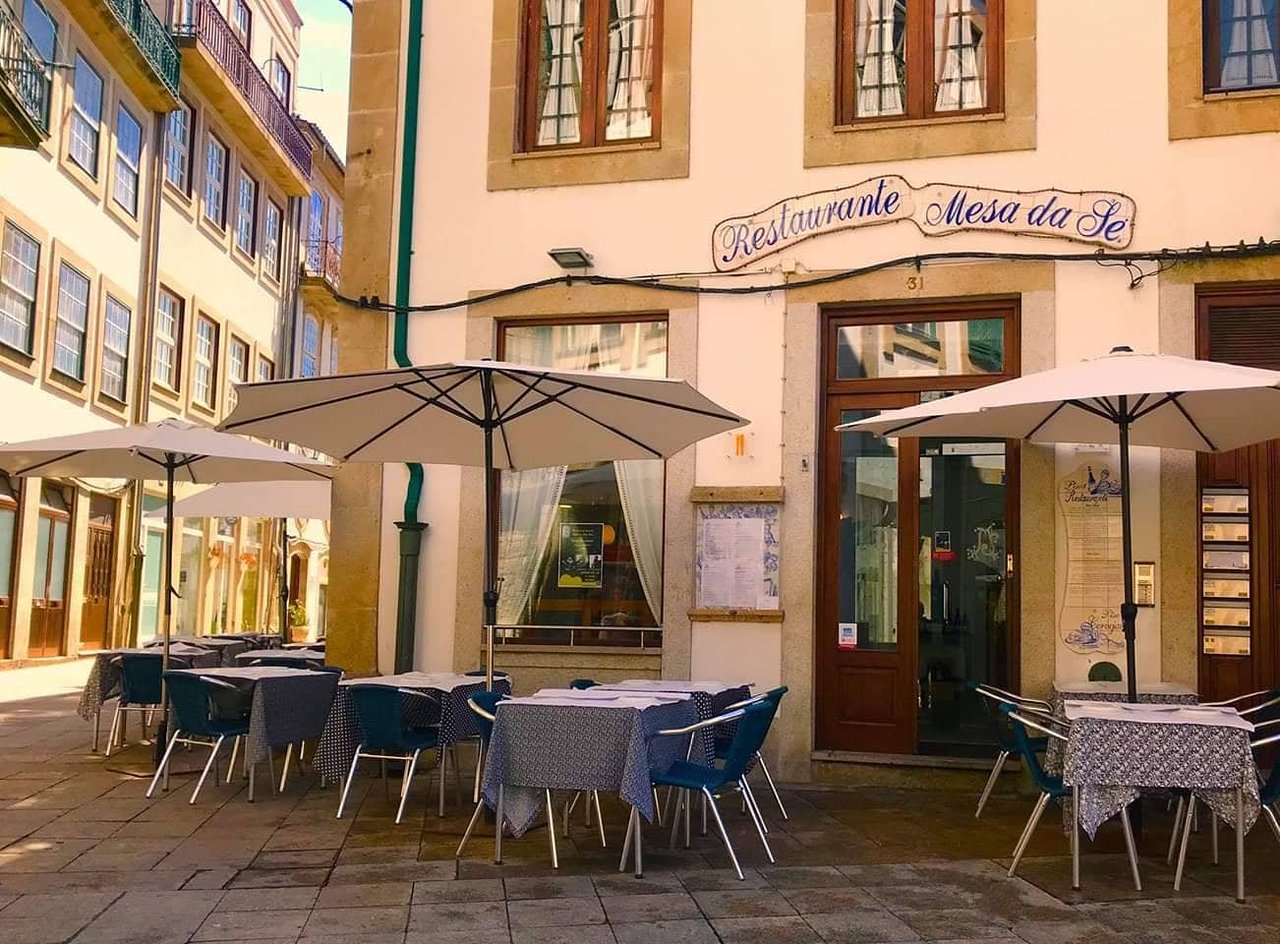 4. Where To Eat In Viseu
Viseu is known for its gastronomy and there are some good restaurants. Traditional local dishes often feature sausage and veal.
Some good casual spots for lunch or dinner are Mesa da Sé, Maria Xica, and O Hilário. For something a bit fancier, check out O Cortico, Restaurante Santa Luzia, or Tasquinha da Se.
If you want to really splurge, head to the Michelin-starred restaurant Mesa de Lemos. The chef aims to marry traditional flavors with haute cuisine innovation.
If you want to sample the city's sweets, head to Confeitaria Amaral. Try the V-shaped pastry called Viriato after Portugal's first hero. It's a tasty concoction made of eggs, coconut, and sugar.
If you want some ice cream, head to Mignon Varieties du Monde.
I hope you've enjoyed my guide to the best things to do and see in Viseu Portugal. You may enjoy these other Portugal travel guides and resources:
If you'd like to explore the best things to do in Viseu, pin it for later.