Scoping out the most beautiful towns and places in Germany? Germany is overflowing with picturesque, historic towns that seem straight out of a storybook.
The word "storybook" may seem a tad cliche. But I assure you these gorgeous must visit places in Germany live up to the hype. You'll have to blink to make sure they're real.
There are so many lovely towns in Germany, that's it hard to narrow down the myriad options. But I've assembled a list of what I think are the 16 prettiest towns in Germany.
These quintessentially German villages will enchant you with UNESCO-listed medieval walls and gates, cobbled streets, church spires, and pastel-perfect homes.
Most Beautiful Towns in Germany
Here are my picks for the 17 most beautiful towns in Germany.
1. Passau Germany: the "Venice of Bavaria"
Passau is one of the prettiest and best preserved medieval towns in Bavaria (southeast Germany) and all of central Europe. It's been dubbed the "Venice of Bavaria" for its idyllic setting on the glossy Danube River.
Even Napoleon liked it, opining: "In all of Germany I never saw a town more beautiful."
Lovely Passau is built on a slender tapering peninsula, surrounded by three rivers — the Danube, the Inn, and the Ilz. At times, it seems to almost float above the water.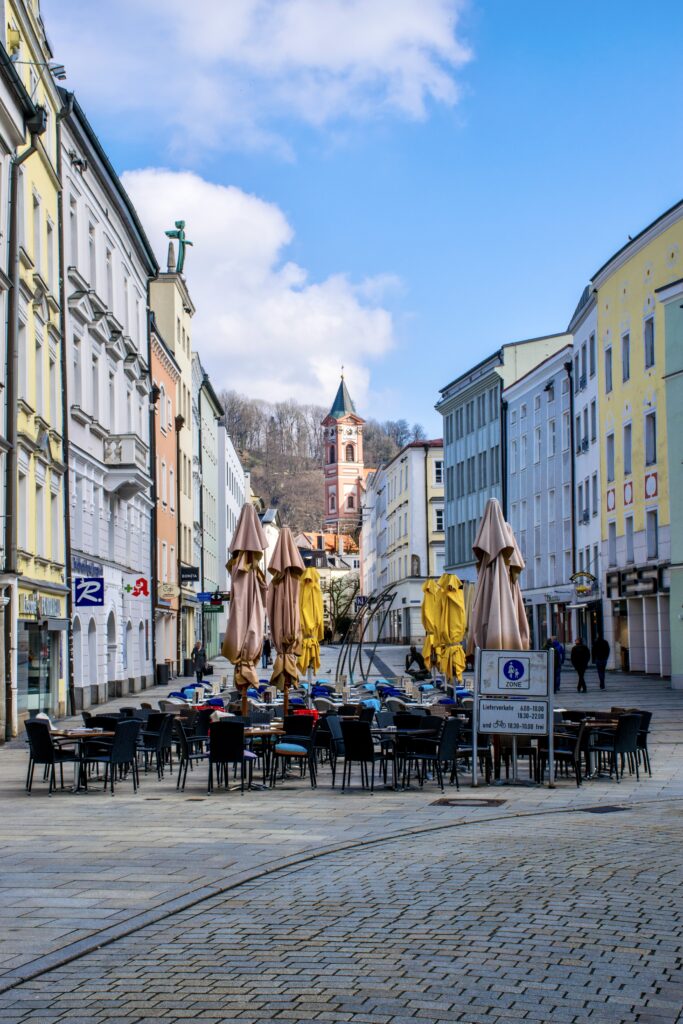 Its architectural splendor is the legacy of its medieval rulers, the bishop princes. Rows of sweetbox pastel houses line the banks of all three rivers. Above them, is a vista of onion dome spires and curving and pointy towers.
In the heart of the city lies St. Stephen's Cathedral, with intricate stucco decorations, and the Rathaus (town hall). They're surrounded by a maze of streets and cute little shops.
A short hike across the river is the rather foreboding Veste Oberhaus, a 13th century fortress of turrets, walls, and towers. The castle can be reached by climbing a flight of 20 stairs. It's worth it for the killer views of Passau and the Danube River.
You can book a 1 hour walking tour of Passau.
READ: Must See Sites on them Danube River
2. Fussen: Gateway to Neuschwanstein Castle
700 year old Fussen is an enchanting medieval town nestled in the foothills of the Bavarian Alps. It's at the end of Germany's famed Romantic Road, a thematic road just stuffed with beautiful sites.
Fussen couldn't be more picturesque, with its pretty houses and frescoed buildings. Fussen is the perfect base for exploring Mad King Ludwig's castles in Bavaria, particularly the popular Neuschwanstein Castle.
Fussen's quaint center is truly a delight to stroll through. You'll stumble upon baroque churches, gothic houses, and a medieval town hall. The building facades are dressed in creamy pastel shades, making it a dream to photograph.
There's even a castle, called the High Castle of Fussen. It was once the swishy summer residence of the bishops of Augsburg.
The inner courtyard is bewitching. It's adorned with 500 troupe l'oeil decorations and a clock tower.
While in Fussen, take a stroll to Lake Alatsee, the nearby glimmering mirror-like mountain lake. You can drive or walk there. And it's about a 30 minute stroll around the picturesque lake.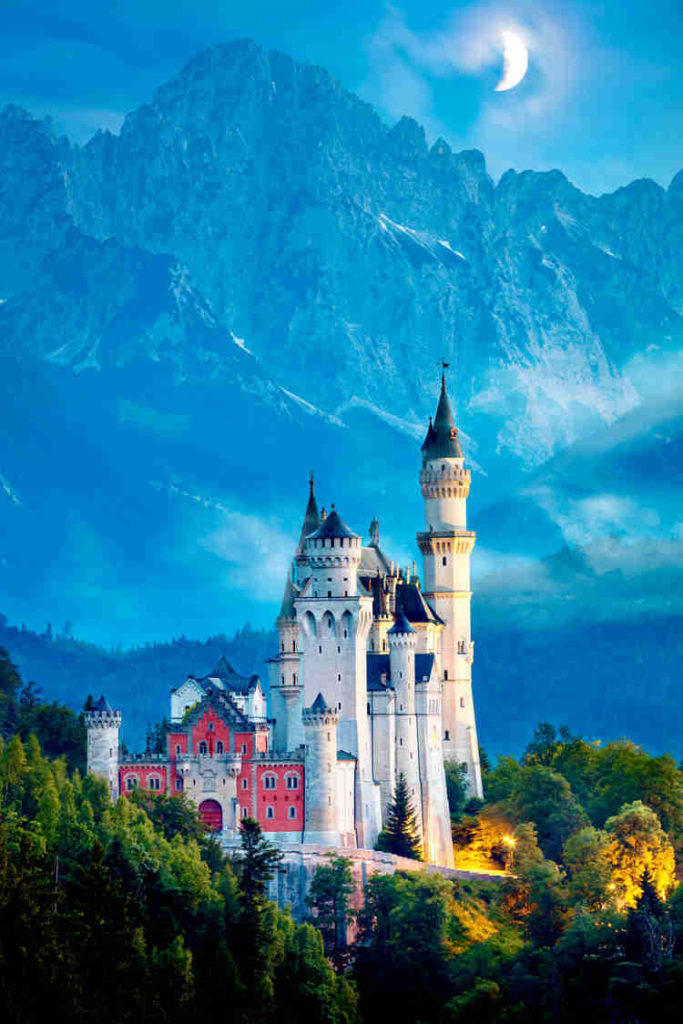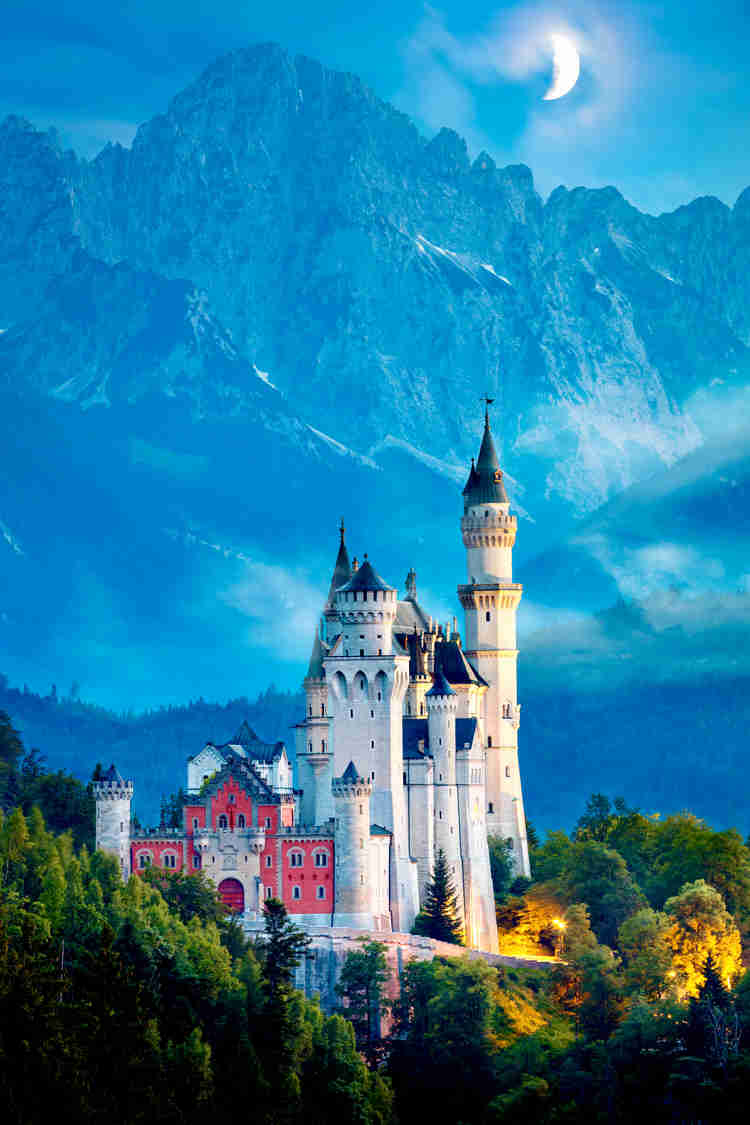 Click here to book a must have skip the line for Neuschwanstein. Click here to book a day tour of Neuschwanstein from Munich.
If you are very ambitious, add in Linderhof Palace either on your own or on a guided tour with Neuschwanstein. It's 50 minutes from Neuschwanstein.
READ: Guide to Germany's Romantic Road
3. Nuremberg: A Heady Dose of Medieval & WWII History
It was love at first sight for beautiful Nuremberg and me. The imperial city of Nuremberg was one of my bases for touring Bavaria and I couldn't have been happier there.
Though there's so much to do you could easily spend 2-3 days there, being happily medievalized. Here's my guide to all the top attractions in Nuremberg.
Begin with a visit to Nuremberg Castle, dating from the 13th century. Be sure to go inside the castle museum for a historical tutorial on Nuremberg. Then stroll down the adjacent Weissgerbergasse Street, or Tanner's Lane, the most quaint half-timbered street in Nuremberg.
Next, head to the lively Hauptmarkt Square. Find the magic ring at the ornate Beautiful Fountain. Indulge in Nuremberg's specialty, "Drei im Weckla," a triple helping of bratwurst links. Visit the beautiful Gothic St. Sebaldus and St. Lorenz churches.
Nuremburg is also a cultural powerhouse, so be sure to visit one of its museums. I loved the Albrecht Dürer House. Nuremberg's native son Dürer is perhaps the greatest German painter in history.
His house is one of the few remaining medieval half-timbers that survived WWII. You won't see any authentic Durer paintings there, but it's a unique snapshot of his life and studio.
I can also recommend the Germany National Museum (for history and culture buffs) and the Neue Museum (for fans of contemporary art, with a large Gerhard Richter collection).
By high speed train, Nuremberg is an hour from Munich. Or, it's a 2 hour drive. Click here if you'd like to book a guided day trip tour. Click here if you'd like a walking tour of the historic center once you get there.
If you're a WWII nerd or history buff in general, you should definitely book a half day tour to see Nuremberg's Third Reich sites, constructed by Hitler's favorite architect Albert Speer.
Larger than the Roman Colosseum, Congress Hall was where the Nazis held party rallies.
It houses the Documentation Center in its north wing, which shines a light on the insane megalomania of the Nazi party. You can also visit Courtroom 600, where the Allies conducted the Nuremberg Trials (if court isn't in session).
4. Bamberg: A UNESCO Wonderland
Just 45 minutes from Nuremberg and an easy day trip, lies the beautiful UNESCO town of Bamberg.
It's most known for its iconic frescoed town hall, perched on the River Regnitz. But it also boasts a doughty cathedral and yet another fancy palace for former German princes, the Neue Residence.
Bamberg's old town is seriously swoon-worthy. It's one of the best preserved medieval towns in Europe. Everywhere you look, there's vintage-y beauty with no modern eyesores.
You'll be wide eyed as you wander around the blissy cobbled streets. Some of the prettiest ones are Karolinenestrasse and Dominikanerstrassse in the western part of Bamberg.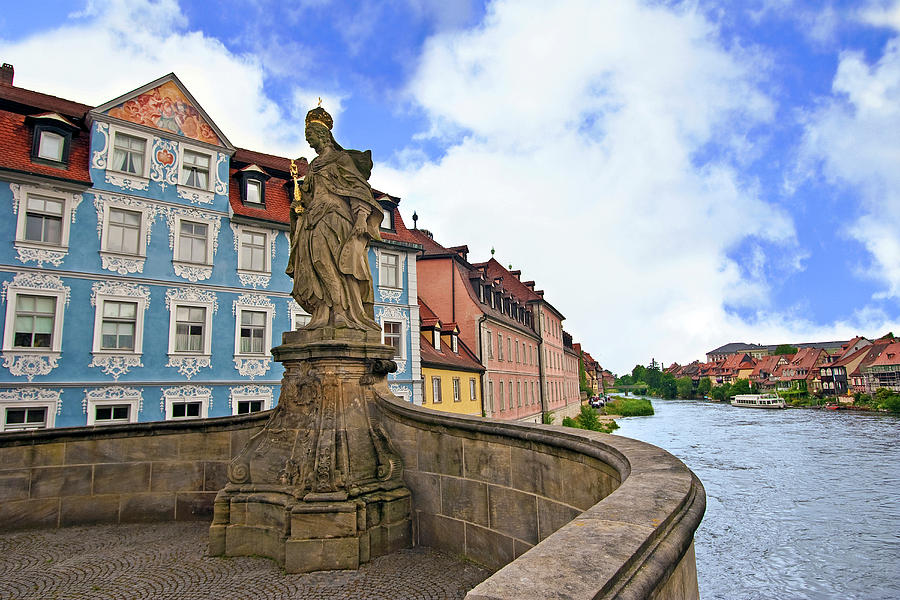 Bamberg is famous for its beer culture. Bamberg's specialties are smoke beer and stuffed onion. I must admit that I skipped the stuffed onion and planted myself in a super cute cafe, Spitz Rein, and had a looooot of cake and espresso instead.
The main activity in Bamberg is just strolling the pretty streets. If you want some exercise, hike up to Michaelsburg Abbey (currently closed for renovation) for the panoramic views.
You should also stroll along Klein Venedig, Bamberg's Little Venice, and admire the picturesque canal houses.
Click here to book a 4 hour walking tour of pretty Bamberg.
5. Dinkelsbuhl: Perfectly Preserved Village
Pretty Dinkelsbuhl marks the midpoint of the Romantic Road in Bavaria. Dineklsbuhl is another otherworldly pretty German village. It has nearly perfectly preserved medieval architecture, with regulations in place to ensure their historic appearance.
Dinklesbuhl's 4 ancient gatehouses and 18 towers are extremely photogenic. I mean, just look at it. The Wornitz Gate is the oldest and finest.
The main promenade of the town is the Weinmarkt. It's lined with gorgeous gabled buildings and numerous restaurants and shops.
The square hosts festivals and celebrations, including the famous Kinderzeche in July, when the town celebrates its escape from the 30 Year War.
The elongated building called Schranne, once the Grain Exchange, is now the Town Hall. Inside, you can learn about Dinkelsbuhl's 800 year history in the House of History.
One of the most beautiful buildings on the square is the 15th century Deutsche Haus, with a late Renaissance facade and statue of Bacchus, the god of wine and frivolity. There's a restaurant inside, if you're hungry, featuring the Dinkelsbuhl specialty: fried carp.
The town's late Gothic St. George Cathedral is considered one of the most beautiful churches in southern Germany. It boasts a richly decorated altar and a Franconian "pretzel window," which was once donated by the bakers guild. The tower is open on weekends for climbing.
6. Bremen: UNESCO Fairytale Vibes
Though it's not a small town, Bremen is just full on pretty. It's aptly the setting for a Grimm fairytale.
Bremen has something for everyone — a beautifully preserved old town, museums, parks, and hipster cafes. Bremen has three UNESCO listed sites — the Rathaus, the Markplatz, and the Roland Statue.
The center of charming Bremen is the irregularly shaped Markplatz, the town's central square. It's an architectural wonderland filled with sculptures and fountains.
Here, you'll find the picturesque Rathaus, Bremen Cathedral, and the Haus Schutting. The Rathaus has an impressive "Golden Chamber" and you can book tours to see the interior.
You'll also find the Bremen Roland Statue. Roland was a shining Arthurian-type knight of the middle ages. His statue in the Markplatz was built in 1404.
It faces the cathedral, in a sort of snub against religious rule. The statue represents freedom, and is akin to the U.S. Statue of Liberty.
Bremen Cathedral, or St. Peter's Cathedral, has imposing twin towers and is also a must see site in Bremen. It originally dates from 789. It's a survivor, having been ravaged by fire and bombed. You can go up the tower for views.
If you want to zoom back to the middle ages, head to the Schnoor district of Bremen called Schnoorviertel.
It's home to irresistible winding cobbled lanes, half timbered houses from the 17th and 18th century, and iron signs. Schnoor largely escaped WWII bombing, so its pristinely authentic.
Don't miss the famous donkey sculpture, erected in 1953, called the Bremen Town Musicians. It's based on the Brothers Grimm story about animals becoming musicians.
There are four animals — a donkey, dog, cat, and rooster. It's considered good luck to kiss the donkey.
Click here to book a walking tour of the historic center of Bremen.
7. Lubeck: a Romantic UNESCO Town
Lubeck is a 12th century UNESCO gem in northern Germany. It's a romantic place, boasting beautiful medieval architecture, culture goodies, and delicious marzipan treats.
Everything is vertical and seems to point to the sky. You may want to book a 2 hour walking tour to get oriented.
Lubeck's red brick Gothic tower, Holstentor, is the icon of Lubeck. The magnificent gate boasts unique cylindrical towers, arched windows, and an arched entrance.
Today, the seriously swoonful gate houses a museum dedicated to Lubeck's history.
Lubeck is also the setting for one of the most beautiful town halls in Germany. Lubeck's Rathaus is described as a "fairytale in stone" and one of the finest examples of Gothic brick architecture in Europe.
To visit the interior, you've got to take a guided tour that's, sadly, only in German (but you can buy a guidebook). It's definitely worth doing, just for the 13th century frescos and ornate staircases.
Lubeck also has many beautiful spired churches. The Gothic style Lubeck Cathedral towers over the town with its two doughty spires. The 13th century St. Mary's Church is another Gothic edifice with seven spikes towers.
If you like marzipan, Lubeck takes the cake. Lubeck has a famed marzipan industry that dates back centuries. Cafe Niederegger doles out 100% pure marzipan and other marzipan-sweet treats, including tarts, cakes, and chocolates.
Click here to book a guided day trip tour to Lubeck from Hamburg.
8. Munster: Prinzipalmarkt and Picasso
Adorable Munster is the kind of town you feel like you could happily live in. Centuries old, it's in northwest Germany near Bremen. It's an easy day trip from Dusseldorf or Cologne.
A university town, Munster is eminently walkable and dotted with public art sculptures. But you might want to join the locals and rent a bike.
What are the best things to do in Munster? Start your day in Prinzipalmarkt, Munster's historic main street filled with shops and cafes.
Unfortunately, much of Munster was demolished in WWII. But it was painstakingly rebuilt in an exact replica.
You can't miss Munster's most striking building, the Rathaus. It's a gorgeous building with a fancy gable and storied history.
Munster Cathedral (St. Paul's Cathedral) on the Domplatz dates from the 13th century. And St. Lambert's Church is a Gothic extravaganza, once the place of anti-Nazi sermons.
Art lovers should also visit Munster's Picasso museum, the Kuntsmuseum Pablo Picasso Munster. Opened in 2000, it's located on a pretty red and beige building on Picassoplatz.
It's not nearly as authoritative as the other Picasso museums in Europe. But it offers a great overview of Picasso's lithography.
Just 25 minutes from Munster, you'll find the beautiful Burg Hulshoff. It's a lovely Renaissance castle from the 16th century. It houses a museum dedicated to the poetess Annette von Droste-Hülshoff.
9. Freiburg im Breisgau: Medieval Black Forest Town
Freiburg im Breisgau is a pretty town in the Black Forest region of southwest Germany. Freiburg is flexible — an easy day trip from France's Alsace region or Basel Switzerland.
The town was founded in 1120 as the "Fortified Town of Free Citizens." Freiburg boasts an authentic old town and a towering Minster Cathedral. Freiburg is known for sustainable practices, sometimes called the "Green City."
The biggest pleasure in Freiburg is aimless wandering. You'll naturally just bump into Freiburg's key attractions as you stroll along the cobbled lanes.
Freiburg's vibrant center is the Munsterplatz or Cathedral Square. There's a daily farmer's market where you can get your bratwurst or fresh flowers.
Munsterplatz is also home to Freiburg Cathedral, an ornate red sandstone Gothic edifice built between 1200-1530. It largely escaped WWII bombing.
On the south side of the square, you'll find the beautiful bright red Historical Merchant's Hall, which is decorated with sculptures and the coats of arms of four Hapsburg emperors.
If hunger calls, head to the Market Hall to sample some Freiburg specialties, like the black forest cake or flammkuchen (pizza-like dough). It's just a short jog from Munsterplatz.
And then explore Augustinerplatz, another pretty square with pastel houses, a museum, and a beer garden.
Perhaps the most fascinating part of the town is its two medieval city gates — Schwabentor and Martinsor.
Schwabentor Tower was built in 1250 and features a clock and two frescos. Martinsor is even older, from 1202, with Gothic turrets at the top (and sadly a McDonalds at the bottom).
Click here to book a walking tour of Freiburg. You can also take an architecture tour or an art and culture of Freiburg.
10. Mittenwald: Frescoed Facades
Unique and pretty, Mittenwald is a tiny Bavarian village an hour or so south of Munich on the border of Austria. It's one of Europe's prettiest small towns. Mittenwald is famous for its colorful frescoed homes set against the backdrop of the Karwendel Mountains.
The town center is pedestrianized and the main street is Obermarkt. Everywhere, you'll see decorated house facades called Luftlmalerei.
The parish church of St. Peter and Paul looms over the village. Even the church is decorated with elaborate paintings.
Mittenwald is also known as a center for violin making. The mountains yielded the perfect "tone" wood and Mittenwald was on the old trade route from Augsburg to Venice. There's a giant violin sculpture in the town center, commemorating this expertise.
If you're adventurous and have no fear of heights, you should also head to the Leutasche Spirit Gorge in Leutaschklamm. It's about a 30 minute walk from Mittenwald and there's paid parking there.
There are three possible trails. If you take the blue "Goblin Route," you'll have a heart-stopping walk on the translucent Panorama Bridge over the gorge.
11. Baden Baden: Elegant Spa Town
Baden Baden is a luxe spa town in Germany's Black Forest region near Freiburg. In the 19th century, Baden Baden was a popular, world famous summer resort town, hosting the likes of Empress Sisi of Austria. Its main draw was its thermal baths where the rich and famous came to soak and sweat.
Baden Baden has 12 underground springs that generate the healing mineral water. The two main bath houses are Friedrichsbad and Caracalla.
Friedrichsbad offers a 3 hour, 17 step ritualized bathing in the nude. Caracalla, named after an arthritic Roman emperor, is an airy modern version of an ancient Roman temple.
READ: Guide to Vienna's Empress Sisi Museum
Baden Baden has a sophisticated old town with cobbled streets, charming corners, and high end shopping. The main square is the Markplatz. Lording over the square is the late Gothic Stiftskirche. Lining the River Oos, the leafy green Lichententaler Alee Park is lined with stone mansions and makes a wonderful promenade.
If you're based in Baden Baden for a good soak, there are many easy and fascinating day trips to be had — Frieburg (1 hour), Heidelberg (1 hour), Colmar (1:30), and Strasbourg (50 minutes).
You can book a guided day trip of Baden Baden and the Black Forest from Frankfurt. Or book a day trip tour from Strasbourg.
12. Augsburg: Germany's Oldest Town
Augsburg is one of Germany's oldest and most underrated towns. It was founded by the stepchildren of the Rome's first emperor Augustus.
The largest town on the Romantic Road, Augsburg is a bit more bustling than other stops. But it's stuffed with gorgeous Baroque architecture.
Stroll down Maximillianstrasse, a historic German street. Check out Augsburg Cathedral, and the ivy covered neighborhood of Fuggerei. Augsburg Cathedral has Romanesque and Gothic elements and boasts paintings by Hans Holbein.
The heart of Augsburg is the Rathausplatz. The pedestrianized square is anchored by the Augustusbrunnen, a fountain honoring Augustus, and dominated by the swanky 17th century Rathaus.
The Rathaus is crowned with a 4 foot pinecone. For the best view of the Rathaus and the town, climb to the top of Perlachturm, a former guard tower.
If you have time, take in Augsburg's Schaezlerpalais. The palace's art collections includes Albrecht Dürer's famous portrait of Jakob Fugger. The real stunner is the ballroom, a masterpiece of Rococo architecture.
You can visit Augsburg on a day trip from Munich. Or, once there, you can book a walking tour with a professional guide.
13. Landshut: Cobbles and Castles
I swear I didn't see more than a handful of tourists in beautiful little Landshut, a hidden gem in Bavaria Germany. I stopped there for a half day while driving from Passau to Munich. Landshut was simply adorable and uncrowded. Hopefully, it will stay that way.
Landshut's two main streets, Altstadt and Neustadt, glimmer with beautiful pastel gabled houses. Some consider it one of the prettiest street ensembles in Germany.
In the middle of the old town you'll find a beautiful Renaissance town hall.
Landshut is also home to one of the world's largest brick structures, St. Martin's Church or Martinskirche.
It's a beautiful church, which was the site of Landshut's famous Landshuter Hochzeit, a Wittelsbach wedding held in 1475. The wedding is reenacted in full period costumes during an annual festival in Landshut.
It's only a few steps from the Martinskirche to Dreifaltigkeitsplatz, where you'll have your first look at Landshut's imposing Trausnitz Castle. Founded in 1204 by Duke Ludwig I, Trausnitz was the family castle of the Wittelsbach family.
In the 16th century, it was redone in a Renaissance style. The terrace of the castle has killer views over Landshut.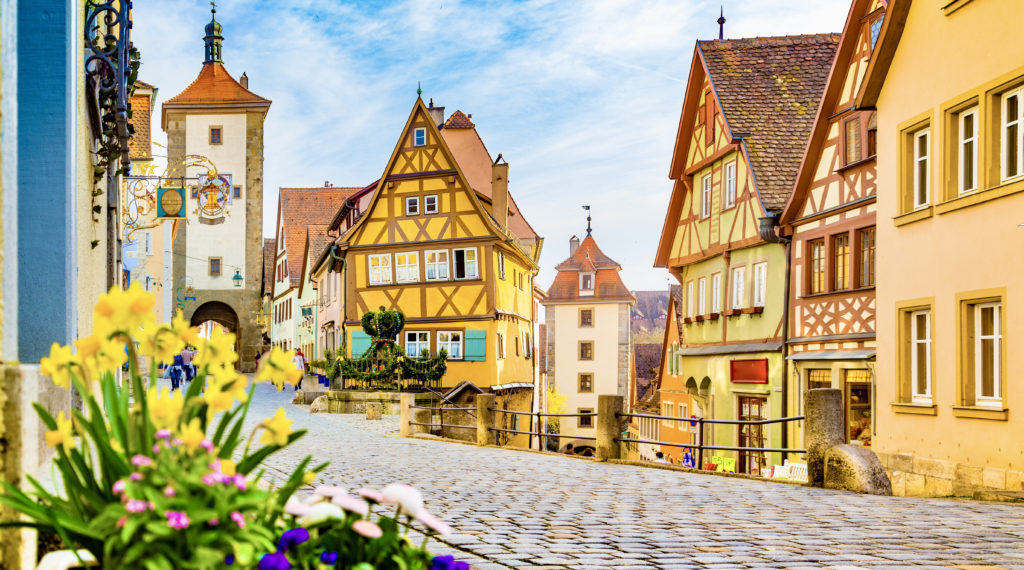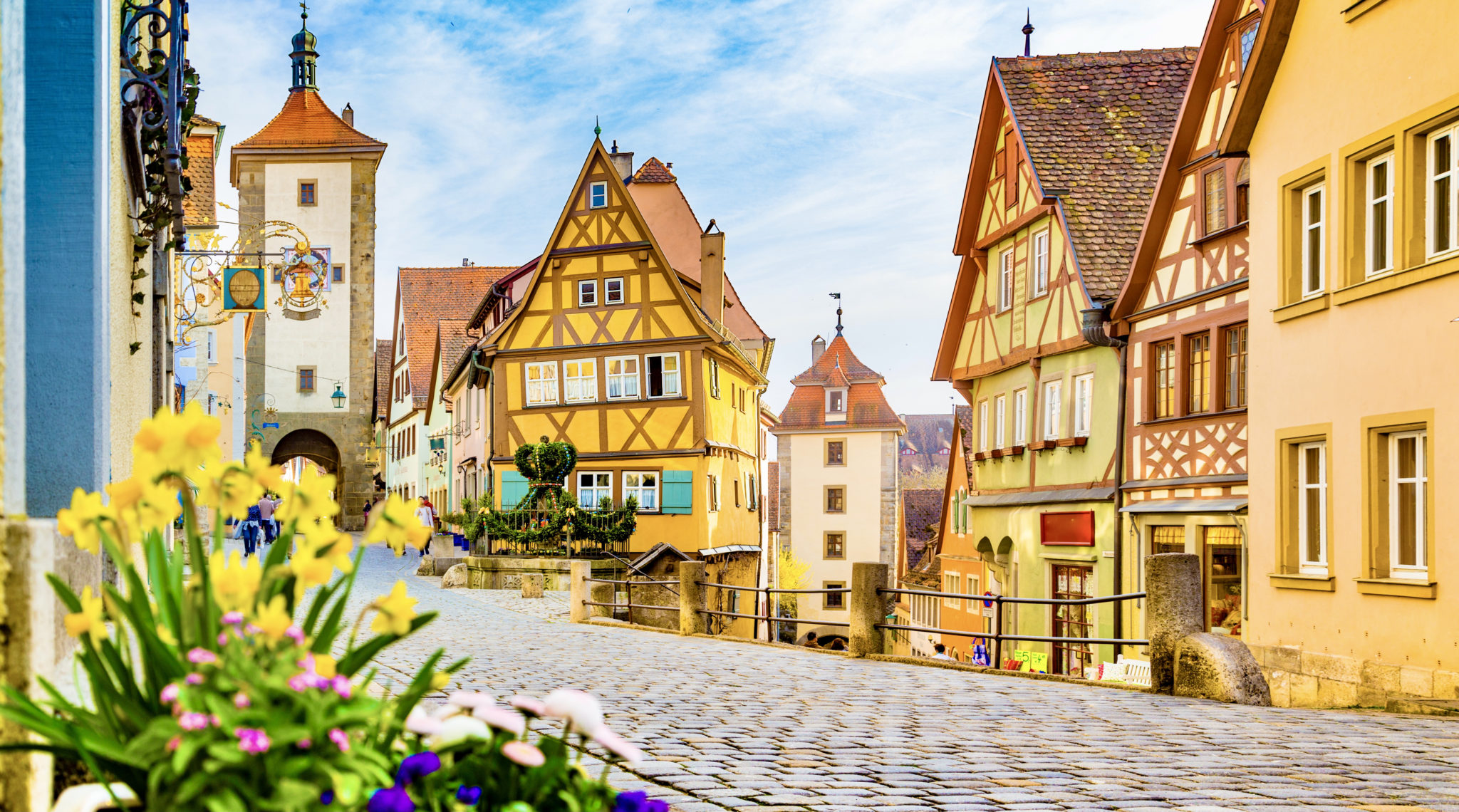 14. Rothenburg ob der Tauber: Germany's Prettiest Town
Rothenburg ob der Tauber is probably Germany's most beautiful town, among so many candidates. It's the most popular town on the Romantic Road. You may want to book a guided walking tour to see all the sites.
Rothenburg is the best preserved medieval town in Germany and possibly all of Europe. Some claim Rothenburg is too Disney-esque and exists only for tourists. This isn't the place to buy your beer steins and souvenirs; they're pricey.
Though it may be a tourist-fly film set, the dreamy UNESCO town still enchants. I've never really seen anything quite like Rothenburg. It's pure magic — the ultimate walled city adorned with pastel gabled cottages, flowers spilling from window boxes, and wrought iron hanging signs.
If you're driving like me, park right outside the town limits at the Stadtwerke. Then get lost in the medieval streets. Hike up the Rathaus Tower (pay at the top) for panoramic views. Or stroll the City Walls where you'll get a bird's eye view of the famous Blacksmith Shop.
Take in the intriguing Medieval Crime Museum, which exhibits creative torture devices and shame masks from the Middle Ages. It sounds grisly, I know, but it's a must see museum in Rothenburg for history buffs. I found it fascinating.
If you want some lunch, I highly recommend the Cafe Einzigartig, away from the madding crowd on a quaint side street. You should also try Rothenburg's specialty the Schneeball, a sugar-covered fried pastry concoction.
You'll see it in all the bakeries. I can't say I really recommend it, but tasted it in the name of local culture.
Here's my complete guide to Rothenburg ob der Tauber. You can also visit the town on a guided day tour from Munich.
15. Cochem: Castle on the Moselle River
Cochem is a little gem on the Moselle River in Rhineland Germany. It's an idyllic riverside town with fairytale architecture.
Cochem is famous for its doughty romantic castle built in the 11th century. The entire setting looks like something straight out of a movie set.
The Altstadt or old town is enchanting and could occupy your whole day. Its filled with gabled, half timbered buildings topped with Moselle slate tiles.
On the Markplatz, there's a beautiful Baroque town hall, more historic architecture, and three medieval city gates.
Cochem's main attraction is the stunning Reichsburg Castle. You can either hike or take the shuttle up.
The castle was built in 1130. But its current iteration dates from the 1870s. The castle's most distinctive feature is its striking four story octagonal tower with mini turrets.
There are 40 minute guided tours. You can inspect the beautiful furnishings inside, courtesy of the Ravene family. The castle also offers killer views of the surrounding countryside.
16. Regensburg: UNESCO Wonder
I adored medieval Regensburg, beautifully situated on the Danube River. It's a must see site in Bavaria Germany. You can step back in time in this pretty and lively place.
Miraculously, Regensburg escaped unscathed from wartime bombing. Its medieval center is gloriously intact, and is a designated UNESCO site.
Regensburg is nicknamed the "northernmost Italy." It's filled with pointy towers and cute beer gardens.
It's a 1,000 years older than Munich, Bavaria's capital. Regensburg's crowning glory is its 13th century Gothic cathedral that can be seen from anywhere in town.
You can't miss the towers in Regensburg. They date from the period of wealth and prestige.
Patrician families competed with each other to built bigger and better towers for their homes. The richer you were, the taller your tower.The Golden Tower is 50 meters high.
The highlight of Regensburg is exploring the old town. Regensburg is incredibly picturesque and built for aimless wandering.
The streets are filled with lovely churches, hidden nooks, sherbet-colored facades, and endless cafes. You can hang out in front of the cathedral in the Domplatz and admire its gargantuan dimensions.
Stroll through the Neupfarrplatz and see the Neupfarrkirche chapel. If you want a panoramic view, take the elevator in the Galleria Kaufhof to the top.
Be sure to stroll down the pedestrianized Goliathstrasse too. There, you'll a beautiful mural of David and Goliath, painted in 1573.
The towering Regensburg Cathedral, also known as St. Peters Cathedral, dominates the old town. Originally, it was envisioned to look like Notre Dame in Paris.
But King Ludwig I decided to add two massive spires. The cathedral reminds me of the St. Lorenz Church in Nuremberg.
You can book a professional walking tour of the city. You can also book a day trip to Regensburg from Munich.
READ: Complete Guide to Regensburg
17. Meissen
Meissen is a beautiful town in Germany that reminds me of Prague. Meissen's international fame rests on the prestige of its famous porcelain. But there's more to Meissen than that.
Meissen is a beautiful red roofed town with a historic old town, Gothic cathedral, and gleaming white castle. The best place to see this lovely ensemble is from across the Elbe River.
The Alstad is home to stately burgher houses, colorful shops, and a 15th century Rathaus or town hall. The tower of the Frauenkirche dominates one corner.
Narrow cobbled lanes take you uphill to the town's Gothic cathedral. It's interior is entirely medieval, but the twin spires were added in the 20th century.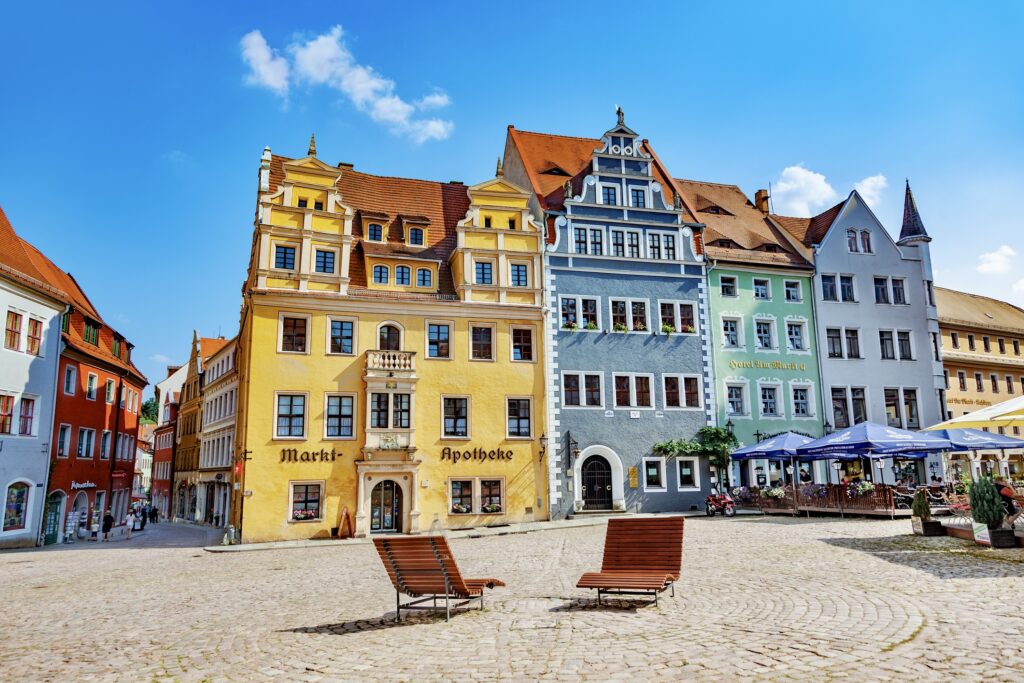 Albrechtsburg Castle sits right next door. Built between 1471-1515, it was the first castle in Germany purpose built to be a palace. It's now a museum that you can visit with a histopad and learn about German history.
The top attraction in Meissen is the Meissen Porcelain Manufactory. Porcelain was invited in Meissen in 1709.
Today, you can take a guided tour of the factory, which has a well-stocked shop. Click here to pre-book a ticket.
If you need transport to Meissen, you can visit on a guided tour from Berlin.
I hope you've enjoyed my guide to the most beautiful towns in Germany. You may enjoy some of my other Germany travel guides:
If you'd like to visit Germany's prettiest towns, pin it for later.