So you're planning a trip to Paris? Welcome to one of my favorite cities.To help you have the best experience, I've put together a step-by-step 3 days in Paris itinerary.
I've been to Paris many times over my many years of traveling. With so much practice, I know what to see and how to plan the most efficient visit.
This Paris itinerary covers the showstoppers. It takes you to all of the City of Light's top must visit attractions, beautiful neighborhoods, historic landmarks, and world class museums.
Born on the Île de la Cité, the Seine River dominates Paris' landscape. Its eight mile arc is a designated UNESCO site.
Paris has everything a visitor could want. The city's charms are legion, a collective fantasy of culture, romance, gastronomy, art and architecture.
Paris is the star and the backdrop of so much great history, art, and literature. It's a city that appeals to all different passions — museum lovers, history buffs, epicureans, devotees of royalty and architecture.
With so much to do in Paris, planning a trip to the city can be a bit overwhelming, especially for first time visitors.
It's best to have a specific plan of attack. Serendipity and aimless wandering isn't the best way to experience Paris, unless you're a seasoned visitor.
When you only have 3 days in Paris, you need to carefully plan your itinerary in advance.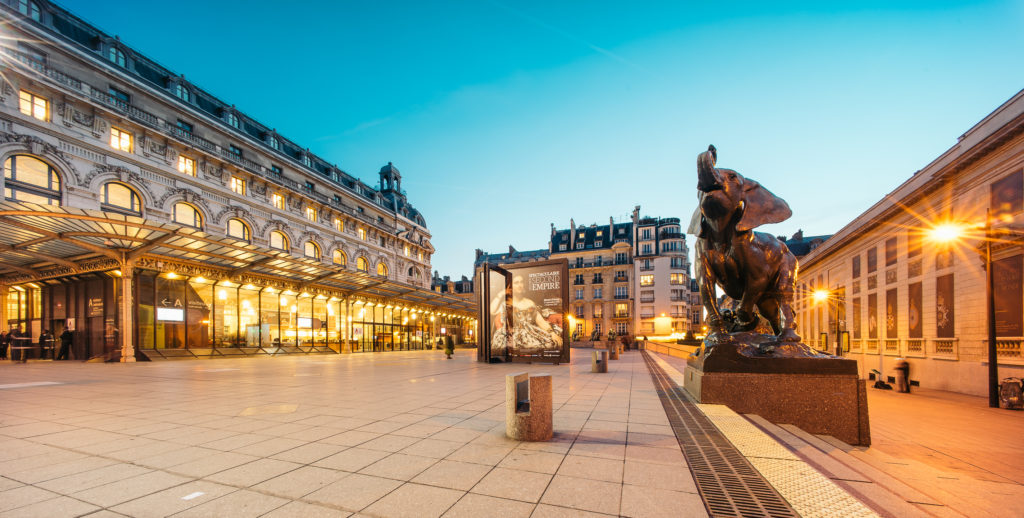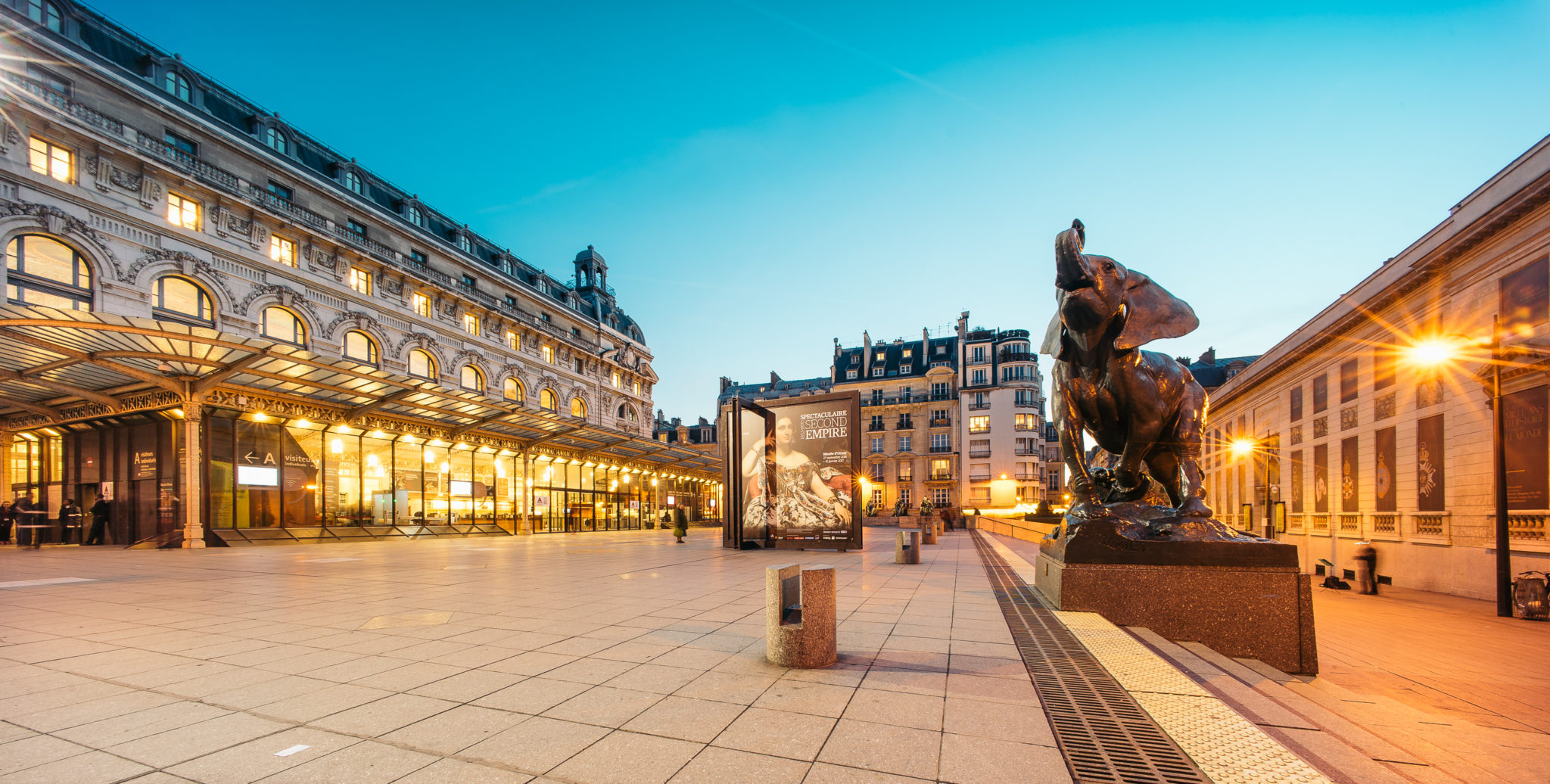 Overview Of 3 Days In Paris Itinerary
Here's a quick snapshot of what you'll see each day on this 3 days in Paris itinerary:
Day 1: Île de la Cite (Notre Dame, La Conciergerie, Saint-Chapelle), Île Saint-Louis, Le Marais, Place des Vosges
Day 2: Eiffel Tower, Museums (Louvre, Musee d'Orsay, or others), Seine River Cruise
Day 3: Montmartre, Opera District, Left Bank
3 Days in Paris Itinerary
As with all of my suggested itineraries, I recommend that you use this 3 days in Paris itinerary as a guide. You can tailor it to suit your individual interests, needs, and pace of travel.
For good measure, I've thrown in a few of Paris' hidden gems, if you want something more offbeat.
Allons-y!
Day 1 Of 3 Days In Paris: Île de la Cité and Le Marais
1. Morning: Explore the 1st Arrondisment
On day 1 of your 3 days in Paris itinerary, start your morning in Paris' chronological heart, on Île de la Cité. You're officially on the Right Bank, but really between the Right and Left.
Stroll by Notre Dame, the iconic symbol of Paris. After the April 2019 fire, it's not open to the public.
But you can cast your eyes on the magnificent landmark and UNESCO site, which will be rebuilt exactly as it was.
Barely 100 meters from Notre Dame is an adorable spot to get coffee at 24 Rue Chanoinesse, Au Vieux Paris d'Arcole.
The other two must see sites on the Île de la Cité are Saint-Chapelle, a medieval wonder, and La Conciergerie.
Completed in 1248 and enshrined within the Palais de Justice, Saint-Chapelle is Paris' most exquisite Gothic monument. It has one of the most gorgeous cathedral interiors in the world.
There is intricate stained glass and colorful painted wood columns. You must a purchase ticket in advance, unless you're in Paris in the dead of winter.
The atomstpheric Conciergerie is well worth a visit, despite its austere and imposing appearance. It's vaulted Hall of Soldiers is a UNESCO site and it's a place to re-live the French revolution.
Prisoners were held here before execution during Robespierre's Reign of Terror. The Conciergerie's most famous prisoner was Marie Antoinette.
Paris' oldest clock also adores the Conciergerie facade. Click here for a combined skip the line ticket to the Conciergerie and Sainte-Chapelle.
READ: Marie Antoinette Sites in Paris
Don't miss the beautiful Place Dauphine. It's a secret leafy courtyard that's easy to miss, halfway down the Pont Neuf.
If you want to break for lunch here, try Le Bar du Caveau. You could also have the quintessential Paris experience, which is to buy your own bread and cheese and have a picnic.
When you're done on the Île de la Cité, head to neighboring Île Saint-Louis. Wander the atmospheric streets. The main lane, Rue Saint-Louis, is filled with boutiques, cafes, fromageries, and bakeries.
Get an ice cream at the beloved Berthillon. You'll also have a magnificent view of the rear facade of Notre Dame from Île Saint-Louis.
2. Afternoon: 3rd and 4th Arrondissements
When you're done in the 1st Arrondissement, head over to Le Marias. It's a chic Parisian neighborhood on the Right Bank that deserves at least a half day.
Le Marais has some of the few remaining medieval sites in Paris, with footnotes of antiquity on every corner.
The Marias is home to chic boutiques, trendy eateries, and some fantastic museums. It's a place where the French engage in the pastime of "leche-vitrine," aka window licking.
If you didn't grab lunch in the 1st arrondissement, the Marais is overflowing with options.
Try The Broken Arm, Les Philosophes, Wild and the Moon (açaí bowls), or L'As du Fallafel (for the best falafel on Rue des Rosiers). Two seriously cute cocktail bars are Bisou (French for kiss) and La Resistance.
You can also book a foodie walking tour in the Marais. Or a hidden gems walking tour in the district. My favorite Marais tour was the medieval walking tour.
The Marais was spared from the extensive Haussmann renovation in the 1800s, which bulldozed much of Paris. Thus, the Maris still has a charming maze of cobbled streets, set amid steep stone walls and angular slate roofs.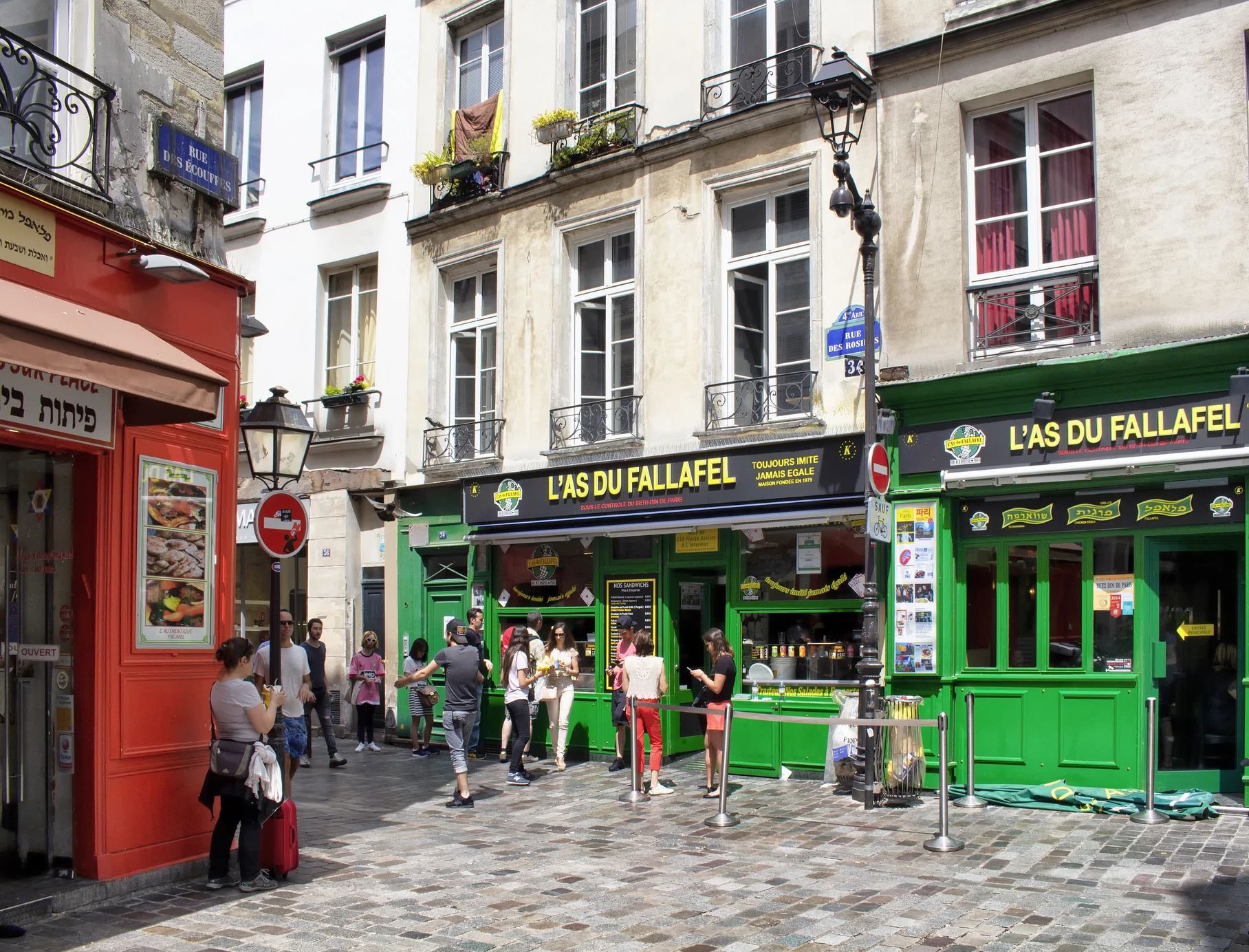 Wander down Rue des Barres, Rue des Rosiers, Rue Vieille du Temple, the boutique busy Rue des Francs-Bourgeois, and the secret Place Saint-Catherine. Stop and read the historical markers planted on the walls of buildings.
Check out the Hotel de Ville, the gorgeous Hotel Sens, and Eglise-Saint-Paul- Saint-Louis. Linger in the elegant Place des Vosges, the oldest planned square in Paris.
It's a beautiful architectural ensemble, the oldest public square in Paris, and surrounded by lovely arcaded shops. Plus, it boasts some of Paris' best macaroons at Carette.
If you're obsessed with Victor Hugo and the grandeur of Les Miserables, visit the writer's romantic pied-à-terre, now the Musée Victor Hugo. It's a quirky off the beaten path destination in Paris. The museum is on the second floor of the Hôtel de Rohan-Guéménée at 6 Place de Vosges.
If you prefer modern art, head to the fantastic Picasso Museum, housed in the gorgeous Hotel Sale. It's a simply brilliant single artist museum with a collection of art work spanning Picasso's entire career.
It's a personal collection that he created, curated, lived with, and kept nearby his entire life.
The collection represents all the artistic periods of his life, all the women he loved, and reveals his extraordinary range and talent. There are some true masterpieces in the museum, donated by his heirs to avoid taxes.
Click here to book a skip the line ticket for the Picasso Museum, which you will definitely need. Click here to book a popular guided tour of the museum.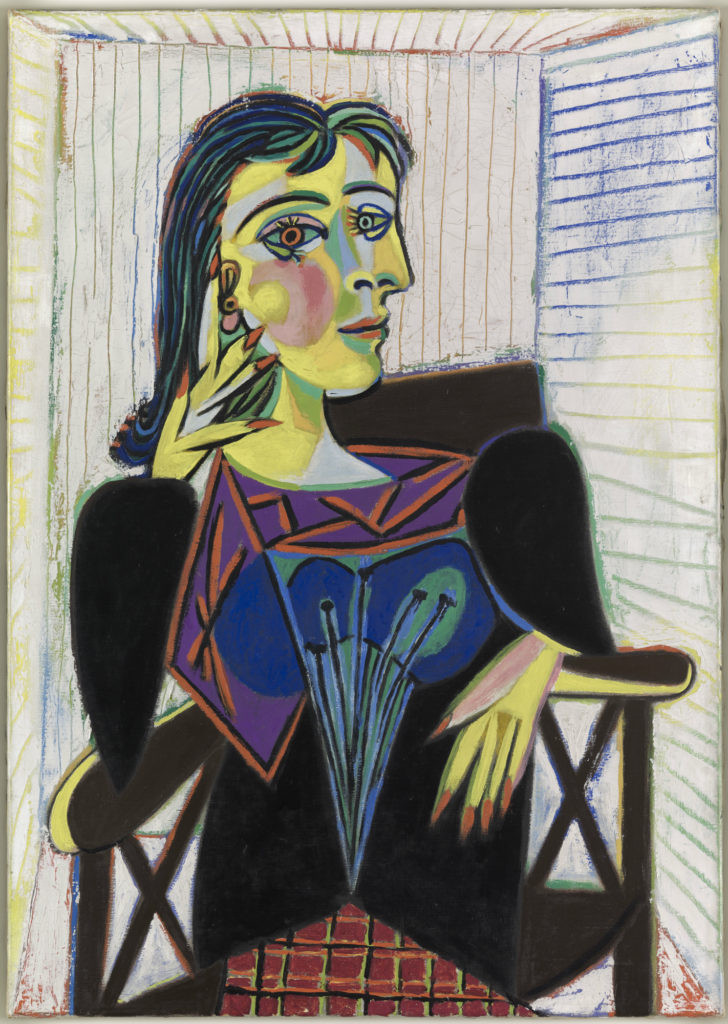 The Marais' Musee Carnavalet is another must visit Paris institution, especially for history buffs. It's the oldest museum in Paris, and has recently been renovated. Plus, it's completely free to visit.
The Carnavalet is the most Parisian of all Paris museums. It's a repository of quirky artifacts and exhibits covering the entire history of Paris.
You'll find everything from Roman ruins and Renaissance apothecary signs to Marie Antoinette's spinning wheel and a lock of Robespierre's hair.
3. Evening: Paris Catacombs or Night at the Museum
The evening is the ideal time to tour the Paris Catacombs. The catacombs are Paris' "Empire of Death," a spooky 200 mile honeycomb of tunnels. The system is so enormous that no one knows exactly how many tunnels or chambers exist.
The Phantom of the Opera and Les Miserables' Jean Valjean both haunted these tunnels. During WWII, the French Resistance used the tunnels. The Catacombs were revivified as a tourist site in 1809 and were immediately popular.
Click here to purchase a must have skip the line ticket to the catacombs, so that you won't be stuck waiting in a long line. Click here to get a skip the line ticket + guided tour.
Alternatively, you can go to another Paris hotspot, the Palais de Tokyo. The museum is open until midnight.
Exhibition halls brim with contemporary art exhibitions. There's an excellent bookstore for bibliophiles. You can have drinks or dinner at Monsieur Bleu, the onsite chic restaurant.
Day 2 Of 3 Days In Paris: The Eiffel Tower & Paris Museums
1. Morning: Eiffel Tower and Musee Marmottan Monet
On day 2 of your 3 days in Paris itinerary, try to get up early.
The Eiffel Tower is a fantastic spot to see the sun rise over Paris.
The graceful iron giant can be well photographed from other cozy areas — the Champs de Mars (with cherry blossoms in springs) and Avenue de Camoiens.
Here are some tips for visiting the Eiffel Tower, if you want a 360 panoramic view of Paris. Be forewarned, it's a cramped experience with a narrow observation deck. Be prepared to queue up for the popular spots with the best views.
If you don't want to wait in line, click here for a skip the line ticket with a lift to the top. Click here for a 1 hour guided tour with optional summit.
If you don't want to wait for the lift and you're a fan of Monet and the Impressionists, instead take a 10 minute walk down Rue de Passy to the Musee Marmottan Monet.
Because of its out-of-the-way location in the 16th Arrondissement, the small museum is truly a Paris hidden gem.
The Marmottan has more Monet paintings than the Musee d'Orsay. Or any other museum in the world. This is where you come to can feast your eyes on Monet's gorgeous water lilies, painted at his estate in Giverny.
Here's my complete guide to Marmottan. Click here for a skip the line ticket + guided tour of the Marmottan. You can also book a private tour with an art historian.
READ: Guide To the Impressionism Trail in Normandy
If you want to indulge in some fine dining, there's an excellent restaurant in the 16th arrondissement, Prunier. You can sample caviar amidst an Art Deco decor by architect Louis Hippolyte Boileau.
2. Afternoon: Customized Museum Choices
Hop on the metro (La Muette on the number 9 line from the Marmottan Museum) and head back to the center of the city.
If you want to go to one of Paris' vaunted must see museums, you'll have to battle the crowds.
Choose either the Louvre (classics and old masters), the Musee d'Orsay (Impressionism), or the Pompidou Center (modern art) depending on your artistic preference.
It's difficult to do more than one of these large museums in a single day without museum fatigue.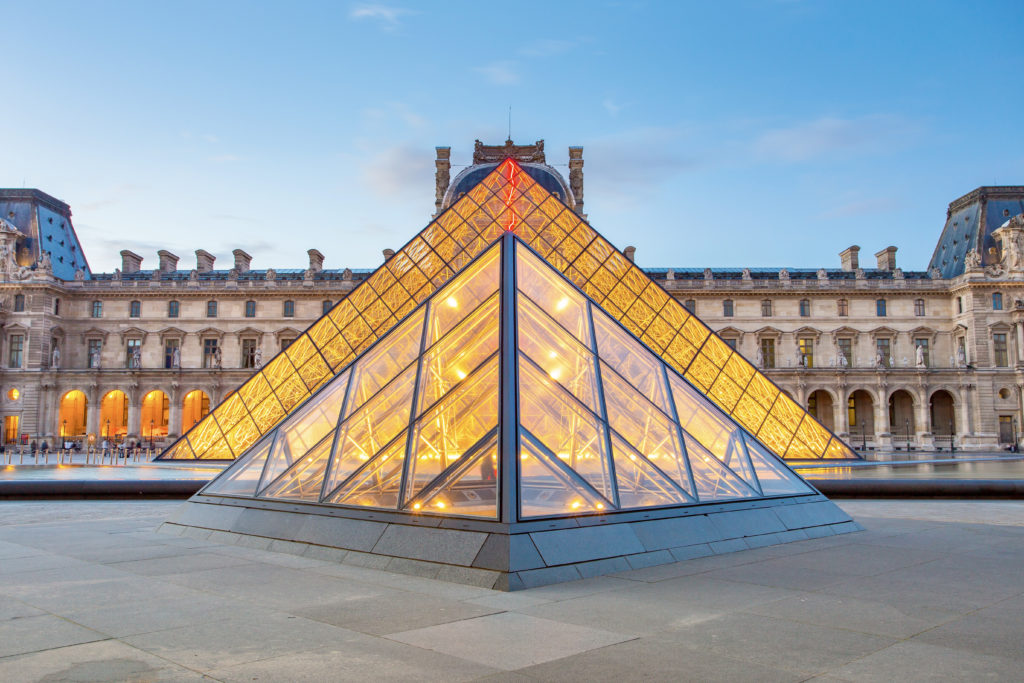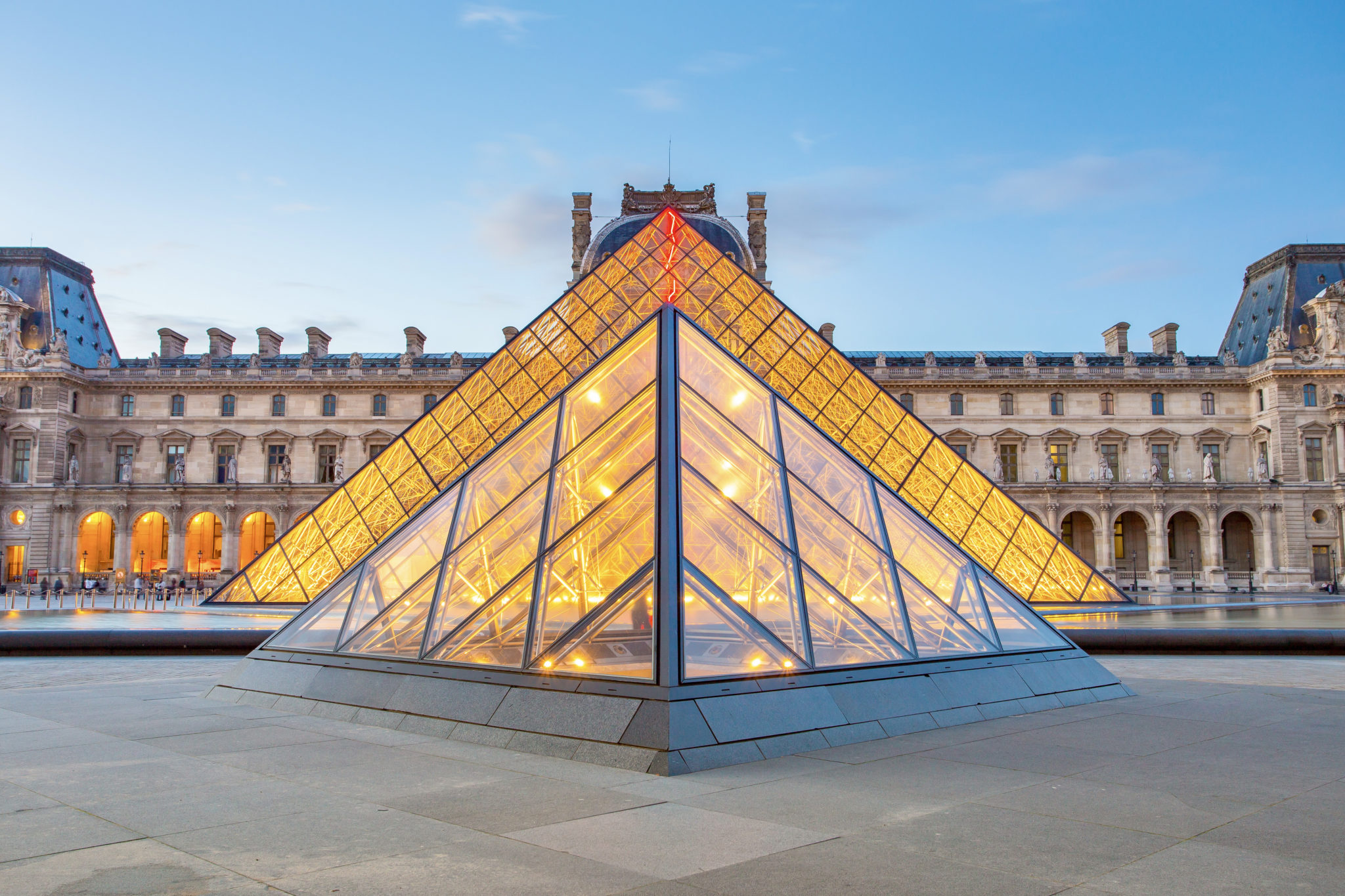 Louvre
The Louvre houses the classics — Leonardo da Vinci's iconic Mona Lisa, the Winged Victory of Samothrace, Delacroix's Liberty Leading the People, and Vermeer's The Lacemaker.
READ: All the Paintings of Leonardo da Vinci
There are also plenty of underrated masterpieces there, if you don't want to vie with selfie sticks.
Need more Louvre details? I've written several helpful guides to the Louvre: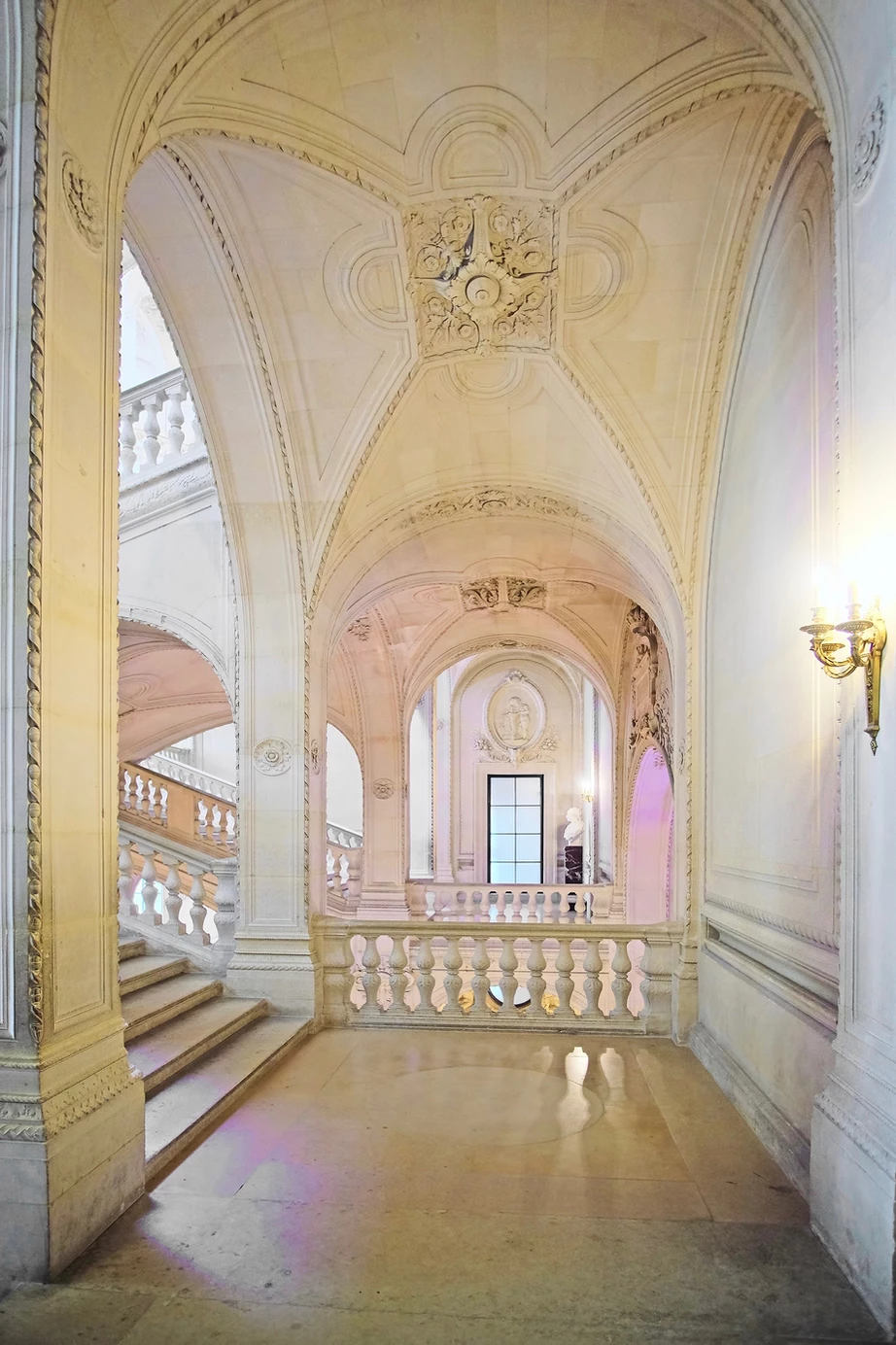 Click here to pre-purchase a timed entry ticket. You must have a ticket or you will waste time standing in a long queue.
Because the Louvre is so massive, you might also consider booking a guided tour of the museum.
There are myriad options that vary in length. You can book:
If you decided to brave the Louvre, afterward take a stroll in the gardens of the Palais-Royal. The Palais-Royal was built in 1633-39 by French architect Jacques Lemercier.
Initially, the palace was the personal residence of Cardinal Richelieu, the evil trickster from Alexandre Dumas' The Three Musketeers. It's since been the venue for centuries worth of Parisian history.
The tranquil gardens are the perfect spot to linger, picnic, or settle down with a good novel. In a city where green space can be scarce, there are plenty of trees, roses, and even some grass.
When you're feeling sufficiently peaceful from the garden, poke into the palace courtyard for some artistic stimulation.
The courtyard contains Les Deux Plateau, nicknamed the Colonnes de Buren. The Colonnes are a controversial candy striped art installation by Conceptual artist Daniel Buren.
The ultra modern art makes an interesting contrast to the historic elegance of the Palais-Royal, though I love the daring duality.
After photographing the beautiful installation, just around the corner is one of Paris' beautiful passages, Galerie Vero-Dodat. Peak in for a quick look.
Then consider grabbing a delicious (and legendary) cup of hot chocolate at Angelina on the Rue de Rivoli.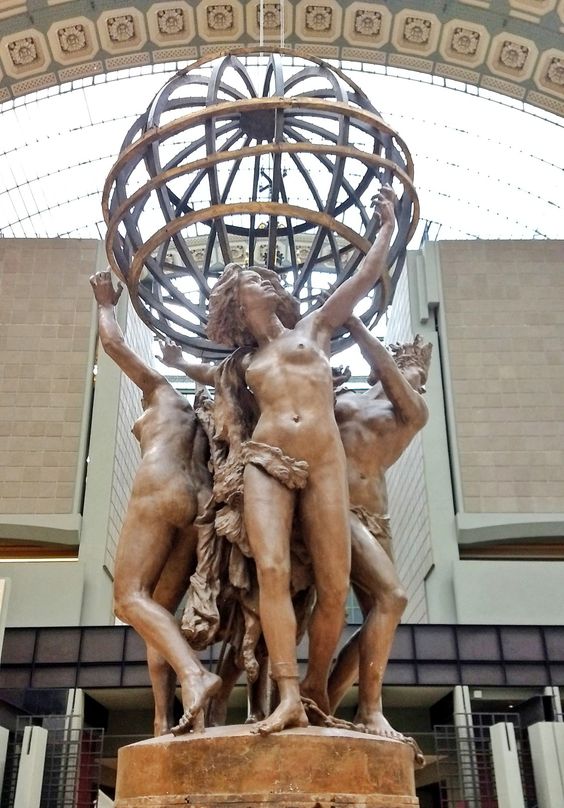 Musee d'Orsay
You next option is the Musee d'Orsay.
It's housed in the glamorous Gare d'Orsay train station, itself an Art Nouveau architectural showplace. It's a fan favorite, one of the most popular museums in the world.
Why? The Orsay is home to France's national collection of works from the Impressionist, Post-Impressionist and Art Nouveau movements from 1848 to 1914.
Here's where you'll get your Monet and Van Gogh fix. There are over 24 Van Gogh paintings in the Orsay.
For an overview, I have a guide to 25 artworks at the Musee d'Orsay and tips for visiting the Musee d'Orsay. Click here to book a must have skip the line ticket for the Orsay. You can also book a 2 hour guided tour with an expert.
Right next door to the d'Orsay is its sister museum, the Musée de l'Orangerie. It's often overlooked, though it shouldn't be. You can buy a combined ticket for both museums.
At the much smaller Orangerie Museum, the marquis attraction is Monet's luminous water lilies. Afterward, take a stroll in the elegant Jardin des Tuileries to clear the museum fatigue.
You can also buy a combined ticket for both the Orsay and the Orangerie.
Pompidou Centre
The Pompidou Center is your third choice of Paris' large museums. It's Paris' modern art museum, in the lively Beaubourg neighborhood on the Right Bank.
Update: Please note that right now the Pompidou is closed for renovations through 2026. The museum hopes to reopen in 2027 to celebrate its 50th anniversary.
Opened in 1977, it's known for its radical architecture. There are Fauvist, Cubist, Surrealist, Pop Art, and contemporary works on display. Don't miss the spectacular Paris views from its rooftop.
If small quirky museums are more your thing, here's my guide to the small secret museums of Paris.
Try the Musee Jacquemart-Andre, a treasure trove of art located just off the Champs-Elysées in the 8th arrondissement. The mansion is so sumptuous and theatrical, it's hard to believe it was actually someone's home.
Rodin Museum
Paris' Rodin Museum is also utterly captivating. The museum is housed in the stunning Hotel Biron.
It's chock full of famous sculptures from the 20th century's great sculptor, Auguste Rodin — The Kiss, The Thinker, Gates of Hell, and The Burghers of Calais.
You'll also see rare sculptures from his mistress and muse Camille Claudel, who has a dedicated room in the museum. And you can pair sculptures with a stroll through the museum's beautiful garden.
Click here to pre-purchase a skip the line ticket to the Rodin Museum.
Gratuit, which means free, is a word you rarely hear in Paris. But, if you're on a budget, you should check out my guide to 10 free museums in Paris.
3. Evening: Seine Walk or River Cruise
At night, the Seine is beautiful with the surrounding buildings lit up. It's the perfect place for an evening stroll.
If you want a long stroll, start on the opposite side of the river from the twinkling Eiffel Tower. Then make your way past the Louvre, the Conciergerie, and Notre Dame.
Have a cocktail or a pitcher of chardonnay at Peniche Marcounet. It's a docked centuries old barge along the quay overlooking Île Saint-Louis.
For dinner, you could reserve at Le Vent d'Armor. It's a hideaway along the Seine specializing in seafood.
If your legs are tired, take a Seine River Cruise. There are so many different options available, including:
Day 3 Of 3 Days In Paris: Montmartre, Opera District, and/or the Latin Quarter
1. Morning: Montmartre
On the final day of your 3 days in Paris itinerary, head to the beautiful neighborhood of Montmartre.
Steeped in history and immortalized in art, Montmartre is one of Paris' most beautiful districts.
With the steep stairs of Rue Foyatier tumbling down, and Sacre Coeur standing guard, the time warp 18th arrondissement is a wonderful place to wander away from the Haussmann architecture.
The original "hill of the martyr," Montmartre was an homage to Saint-Denis, who was decapitated atop it around 250 AD for having the gaul to try to evangelize Gaul.
The bohemian Montmartre of impoverished artists and flashy cabarets took root in the early 19th century. Iconic cabarets like Le Chat Noir and Moulin Rouge ruled the day.
They were frequented by Picasso, Utrillo, Dali, Modigliani, Van Gogh, and Toulouse-Lautrec. The work of these artists would remain imprinted on France's cultural landscape forever.
To get to Montmartre, hop on the metro to Abbesses station. When you step out from underneath the Art Nouveau canopy, turn around.
You'll see the famous Wall of Love in Jehan Rictus garden.
It's a 40 square meter art installation, made of enameled lava, with hundreds of ways to say "I love you." The red bits are strategically broken hearts.
The lower and western parts of Montmartre are the most quaint areas. So it's really best to start your walking tour near at Rue des Abbesses instead of the calamitous Rue de Steinkerque.
After you check out the Wall of Love, pop into the Eglise Saint-Jean de Montmartre. It has a tranquil beauty and quietude.
Unmissable sites in Montmartre include the Basilica of the Sacre-Coeur, the sinking house of Montmartre, and the Instagrammable La Maison Rose on Paris' prettiest street Rue de l'Abeuvoir. Pablo Picasso and Salvador Dali frequented the adorable pink house.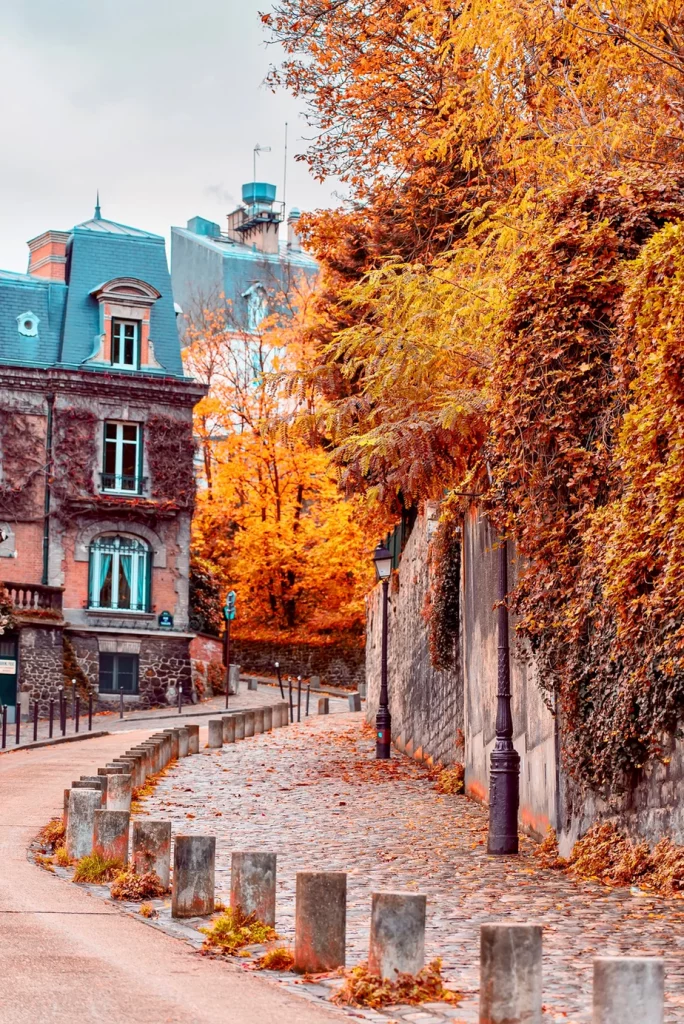 The ice-white Sacre-Coeur is one of Paris' most iconic attractions. It sits atop Montmartre Hill, they highest point in Paris, overlooking the city.
But the Sacre-Coeur isn't ancient Paris. It's surprisingly new.
The church was only completed in the early 1900s, as an act of contrition after the events of the Paris Commune (the 1871 insurrection against the government).
I wasn't terribly impressed with the lackluster interior or the crowds. But one must do is climbing the dome of the basilica.
If you take the 300 steps, you'll have an incredible view of Paris. If you tilt your camera, you can glimpse the "sinking house" of Montmartre.
For lunch, right near Sacre-Coeur is one of Paris' most photogenic (and busy) cafes, Le Consulat.
You can also eat at La Maison Rose, with a hipsterized vegan-friendly menu. There's also the French deli Grenouilles, serving up delicious sandwiches and charcuterie plates.
The neighborhood museum, Musee de Montmartre, is incredibly charming. The museum is housed in an elegant 17th century mansion.
It provides a fascinating look at the life of the Montmartre artists. You can see the recreated studio of Suzanne Valadon. And take a twirl on the Renoir Swing in the idyllic museum garden.
Here's my complete guide to the top must visit attractions in Montmartre. Montmartre is so pretty and storied that you may want to book a guided tour. You can take a walking tour, an art walking tour, a gourmet food and wine tour or a Montmartre hidden gems tour.
If you're craving some greenery, head to the Parc des Buttes-Chaumont in the adjacent 19th Arrondissement. Buttes-Chaumont spans over 20 hectares. It boasts green pastures, waterfalls, a suspension bridge, and a hilltop temple with nice views.
2. Afternoon: The Opera District and/or the Left Bank
In the afternoon, hopefully you can squeeze in both the Opera District and the Latin Quarter.
But depending what you to see the most, you may have to pick a neighborhood.
Opera District
The elegant Opera District is just a short stroll from Montmartre.
The more buttoned up and manicured 9th arrondissement is not all grand Haussmann architecture though.
It's also crammed with secret museums and quirky galleries, a bohemian neighborhood, and some super concentrated shopping. It's got some creative juice along with the glitz.
The key sites are the Opera Garnier, the Eglise Madeleine, the Eglise Notre-Dame-de-Lorette, and Paris' famed covered passages.
The Opera Garnier might be the most beautiful building in Paris. Especially if you're in the mood for gold. It's built in a Beaux-Artes style with eclectic Neo-Baroque elements.
Inside you'll see the jaw-dropping Grand Staircase. It's made entirely of marble, and surrounded with arches, hidden nooks, statues, and gold — gold everywhere.
Here's my complete guide to the Opera Garnier. Click here to book a ticket to the Opera Garnier. Click here to book a guided 2 hour tour.
If you want glamorous upscale shopping, head to Galleries Lafayette or Printemps. Both have nice rooftop cafes. You can also get your sugar fix at Fauchon, a gourmet food shop and cafe.
READ: Complete Guide to the Opera District
South Pigalle
If you want something a bit more on trend in the 9th arrondissement, head to South Pigalle, or SoPi as it's affectionately known.
In fin de siecle Paris, SoPi was a scandalous red light district, filled with brothels and absinthe-addled artists.
SoPi has smartened up and become a hotbed for Paris' "bobos," or bourgeoise bohemians. It's a must see Paris neighborhood if you like buzzy culture, gourmet snacks, vintage speakeasies, and tony boutique shops.
If you didn't eat lunch in Montmartre, you should try the incredibly pretty Pink Mamma. It's a plant filled Italian-centric cafe.
READ: Complete Guide to South Pigalle
If more museums are on your agenda, there's some lovely quaint ones in the 9th Arrondissement.
You can choose between:
Left Bank: Latin Quarter and Saint-German-des-Pres
When you're done in the 9th arrondissement, cross the Seine and take a stroll in the iconic the Left Bank.
The two quintessential neighborhoods of the Left Bank are Saint-Germain-des-Pres and the Latin Quarter.
Most tourists are enchanted by the cobbled streets of the Left Bank. You may want to book a walking tour to get oriented. If you're a literary fan, you can also book a writers of the Left Bank tour.
The Left Bank is where you can experience the "je ne sais quoi" of Paris. With its twisty lanes and fabled history, the Left Bank is quaint and artsy.
It was a place for thinkers and dreamers like Hemingway, Sartre, and de Beauvoir.
It's a great place to get lost, stumble down cobbled lanes, admire facades, shop for antiques on Rue Jacob, and people watch at the many quaint cafes.
There are some landmarks you should be sure to see: Arenes de Lutece (an ancient Roman amphitheater), the 13th century College des Bernardins, and take a stroll through Luxembourg Gardens.
The gardens are one of Paris' ever-so-pretty green spots, full of architectural delights. They're essentially an outdoor sculpture museum. If you want to combine art and nature, you can book a 2 hour tour of the gardens.
If you want to visit a museum on the Left Bank, I recommend the the Musée Cluny. The museum is dedicated to all things from the Middle Ages.
The Cluny's pièce de résistance is the famous Lady and the Unicorn tapestries. It's considered the Mona Lisa of tapestries and is one of the greatest surviving medieval relics.
READ: Guide to the Latin Quarter
Once Paris' religious center, the Left Bank also has a number of Paris' most beautiful churches, including Saint-Germain-des-Pres, Saint-Severin, and Saint-Sulpice, that you shouldn't miss.
Saint-Séverin is one of my favorite Paris churches.
It's a quirky ancient church, dating from the 6th century. Saint-Séverin was rebuilt in 13th century and named after a devout hermit
If you're peckish, just steps from Saint-Severin is the famous Odette Pastry Shop. The bakery is a famous instagrammable spot in Paris, right next to a rare green half-timbered building.
Saint-Sulpice is another must visit church. It has charmingly mismatched towers and houses some lovely restored Delacroix frescos.
You can also visit the Delacroix Museum, if you're a fan of the Romantic Period painter. It's a studio-museum set on the lovely Place de Furstenberg, off the Rue Jacob, and is usually empty.
You won't see anything as stunning as Delacroix's famous Liberty Leading the People at his studio.
What you'll find is lush religious and historical paintings and drawings by Delacroix and others, as well as personal objects and mementos.
READ: Small Secret Museums in Paris
Don't skip the Pantheon in the Latin Quarter of the Left Bank. The grand neoclassical basilica dominates the skyline.
It was built after a king's near death experience and celebrates the greatest dead heros of France.
People tend to walk by and not go into the Pantheon. But the interior is the most fascinating part.
You'll find beautiful paintings telling the history of France's most venerated saints and a copy of Foucault's Pendulum. As an added bonus, the rooftop boasts one of the best (and relatively secret) viewing points in Paris.
3. Evening: Take In a Ballet or Show at the Opera Garnier
In the evening on your last day in Paris, consider attending a performance at the Opera Garnier.
Another good to top off your Paris visit is to take a guided Paris lights by nights tour. Paris looks different, and even more beautiful in the evening.
Wine lovers can take a wine tour of Paris. Foodies can check out this evening cooking class + dinner.
Tips For Visiting Paris
1. How To Get Around Paris
Most of Paris' main attractions are in the center of the city. So you can certainly walk to many sites. I've tried to cluster this 3 days in Paris itinerary geographically, so you're visiting attractions that are close together.
Still, Paris is very large. You'll inevitably need to use some form of transportation. You can take Uber or taxis in between attractions.Some attractions are further afield.
Paris also has an excellent and easy to use metro system. Click here for a helpful guide to the Paris metro.
But there many other fun ways to explore Paris, for all different needs and interests. You can book:
2. Paris City Passes
With 3 days in Paris, you should consider purchasing the Paris Pass for 2-6 days.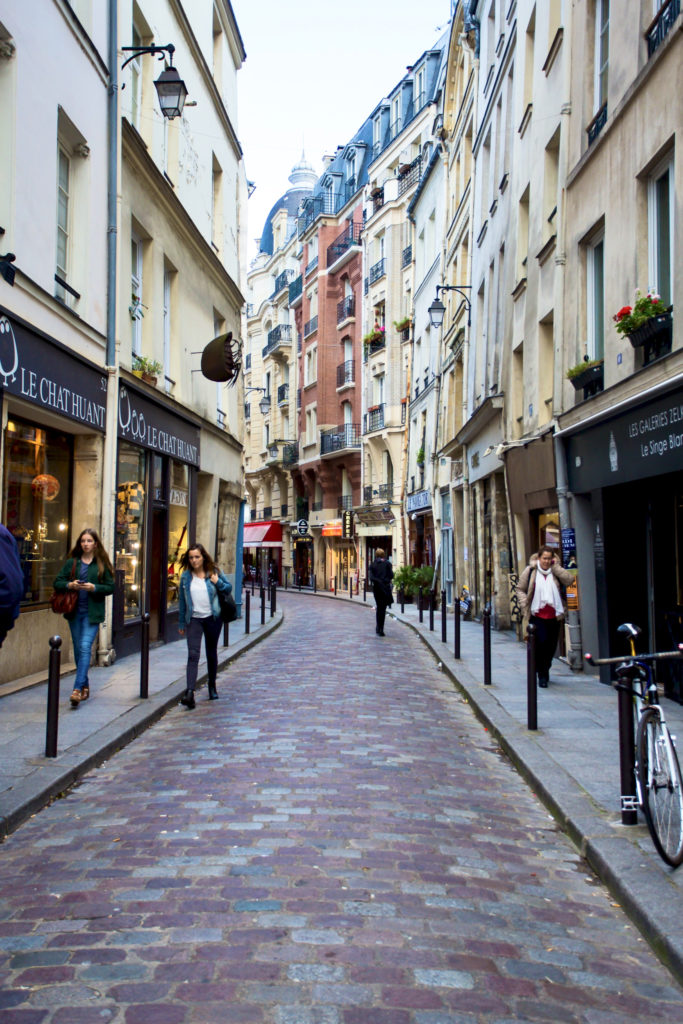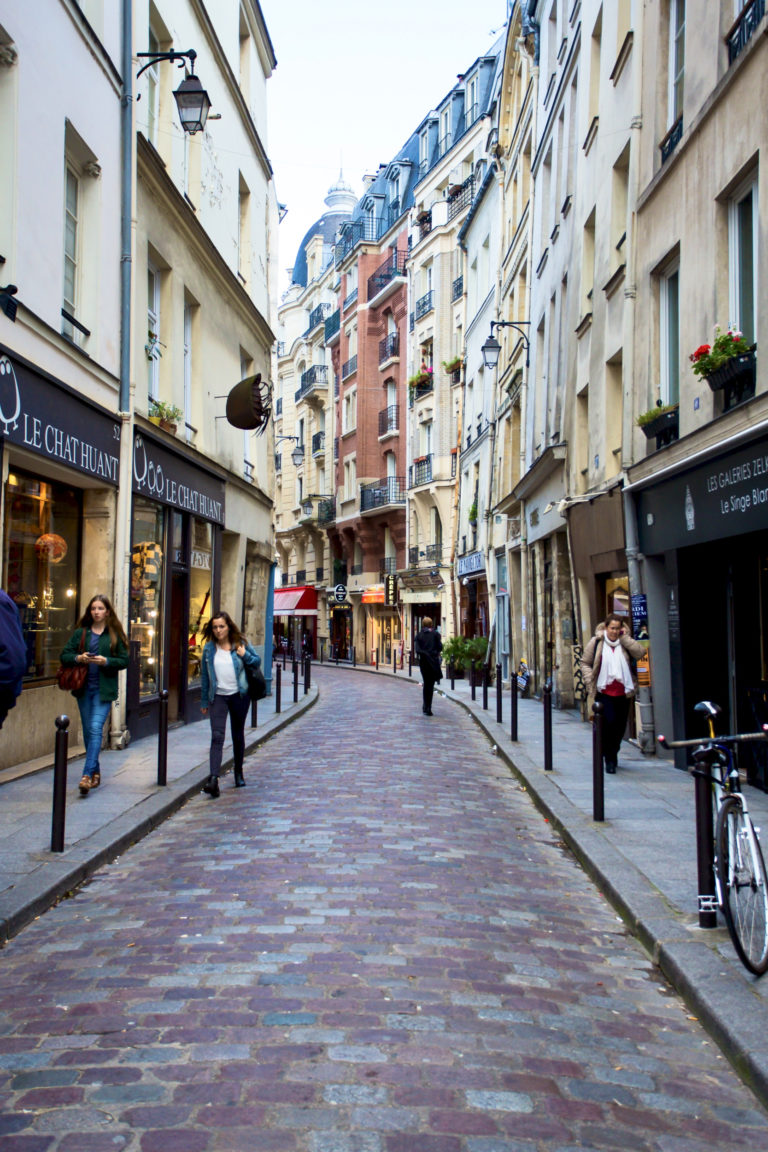 It covers over 75 attractions. You can download to your phone or print your pass and bring it with you.
If museums are more your thing, you can also choose to book a Paris Museum Pass, which covers 50 monuments and museums.
The museum pass is included in the Paris Pass.
3. When To Go To Paris
Paris is a year round destination. There is no bad time to visit Paris.
The winter, January through March, are the chilliest months. But they're also quiet, without the usual throngs of tourists.
In general, I prefer visiting London in the shoulder season in spring or fall. The city is in bloom and the weather is, usually, very nice.
In summer, in high season, Paris will be packed with crowds and prices will climb.
4. Where To Stay In Paris
Ah, there are endless beautiful and romantic places to stay in Paris. My personal favorite hotel in Paris is a stunning boutique hotel in Saint-Germain-des-Prés, the Relais Christine. The rooms are beautiful appointed and the location is ideal.
Other fantastic hotels on the Left Bank include the sumptuous Hotel d'Aubusson, the perfectly located Millesime Hotel in Saint-Germain, and the Hotel da Vinci which comes with a pool and spa.
On the Right Bank, you can check out the simply stunning and unique Cour des Vosges, the elgant La Planque Hotel, the Arab-style Maison Souquet.
There are also the elegant classics like the Four Seasons George V, Hotel San Regis, the Mandarin Oriental, or the fabulous Hotel le Crillon.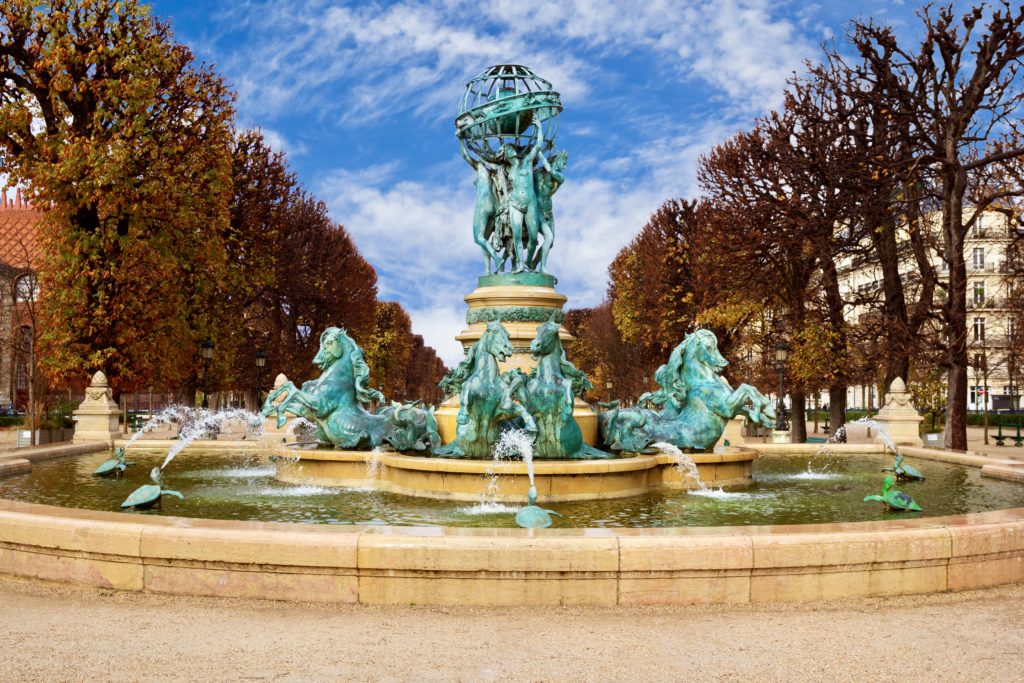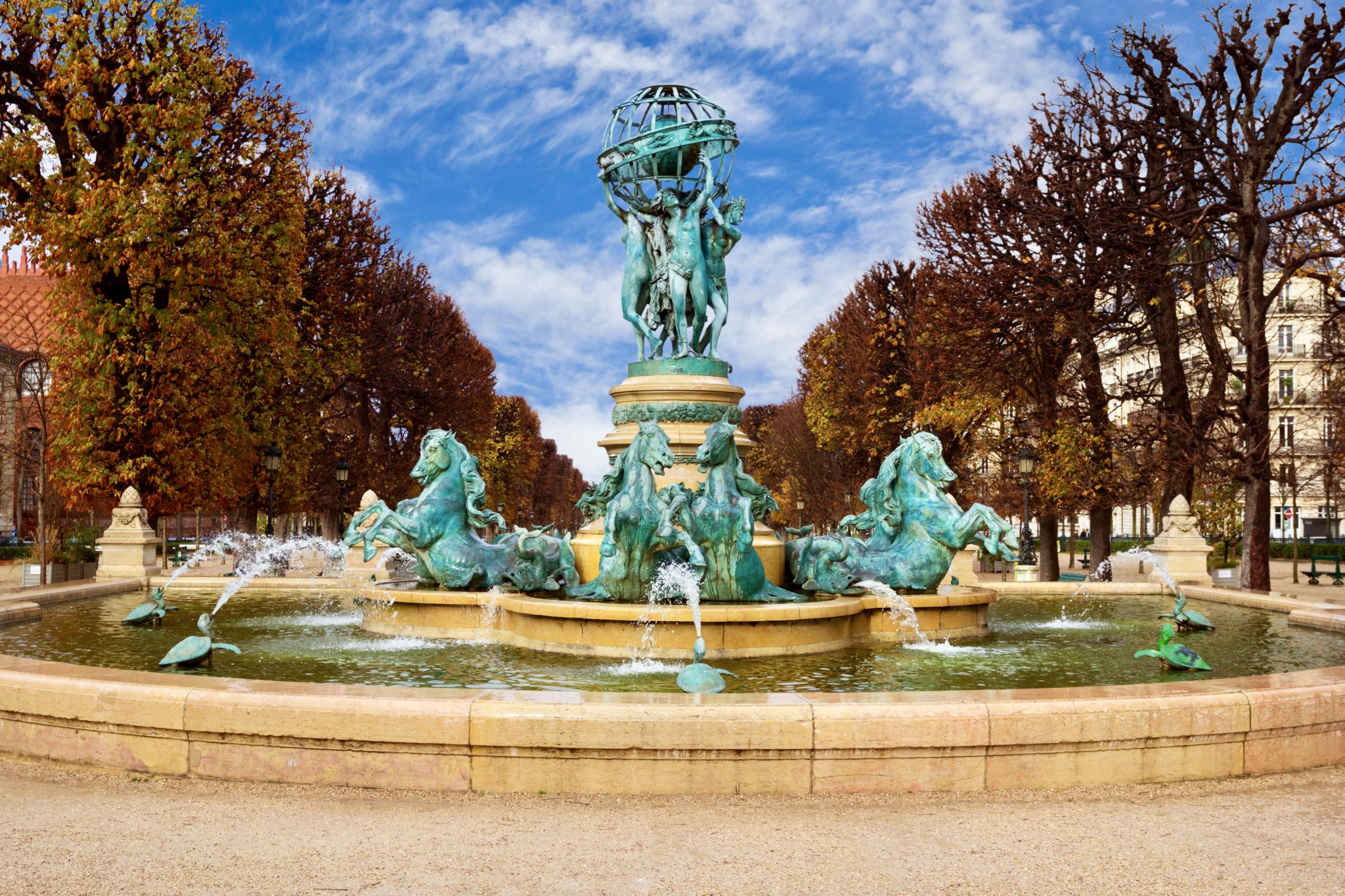 5. More Time In Paris?
If you have more than 3 days in Paris, there are scads more things you can do in Paris. You can:
6. Day Trips From Paris
If you have more than 3 days in Paris, there are many excellent day trip options from Paris. The most popular day trips are guided tours to Versailles, Monet's House and Gardens in Giverny, the chateaux of the Loire Valley, or to vaunted Champagne region of France.
READ: One Week Itinerary for the Loire Valley
Rather get off the beaten path? No problem. I have a guide to 17 magical off the radar day trips from Paris.
I hope you've enjoyed my 3 days in Paris itinerary. You may enjoy these other Paris travel guides and resources:
If you want to go beyond Paris, check out these other travel guides for France:
If you'd like to spend 3 days in Paris, pin it for later.