"Everywhere and always ugliness has its beautiful aspects; it is thrilling to discover them where nobody else has noticed them." ― Henri de Toulouse-Lautrec
Here's my guide to visiting the absolutely fantastic Musée Toulouse-Lautrec in Albi France.
The museum is a must see site in the quaint medieval UNESCO town. I give you an overview of the life of the famous Post-Impressionist painter. And identify the masterpieces you need to see at his eponymous museum.
Albi is nestled in secret out of the way southwest France. Despite being a hidden gem in France, Albi is home to a venerable world class museum.
I have a soft spot for single artist museums, and Albi's Toulouse-Lautrec Museum is particularly sweet. The museum is dedicated to French artist and Post-Impressionist painter Henri de Toulouse-Lautrec. You may know him from his iconic posters of bawdy fin de siècle spots in Montmartre, like the Moulin Rouge.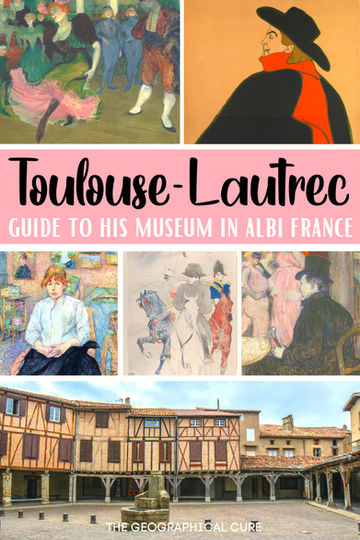 The Musée Toulouse-Lautrec is housed in Albi's stunning and austere Berbie Palace, part of Albi's UNESCO designation. The ancient fortress was a post-crusade statement building flaunting the Christian victory over pesky rebels. It's one of the oldest and best preserved castles in France.
The palace was vacated in the 20th century. Rather ironically, the former headquarters of the Inquisition now holds racy paintings of brothels.
Henri Toulouse-Lautrec: the Life of a Major Turn-of-the-Century Artist
1. Early Life and Dwarfism
Toulouse-Lautrec was born in Albi in 1864 to a wealthy and inbred aristocratic family, descended from the Counts of Toulouse. A childhood accident and possible genetic disability crippled him for life and stunted his growth. He had a full length torso, shortened legs, and walked with a cane.
His dwarfism naturally made Toulouse-Lautrec self conscious. He found solace in art. But he also found solace in absinthe and immersed himself in the gritty underbelly of Belle Époque Paris.
2. Move To Racy Montmartre
Toulouse-Lautrec became famous while living in the Paris neighborhoods of Montmartre and South Pigalle. Back then, they were seedy bohemian places filled with brothels and unsavory salons.
They were a magnet for struggling artists like Picasso, Modigliani, Braque, and Utrillo in late 19th century Paris. Toulouse-Lautrec's career was spent largely among prostitutes.
READ: Guide To Montmartre
He became a lucid and uncompromising observer and painter of the seamier side of Parisian life. Toulouse-Lautrec was known for his dancing swirls of paint, his expressive line, and his intense use of color. With psychological acuity and great sensitivity, he documented the bawdy personalities of Parisian night life and brothels.
If you look carefully, you can see, beneath their thick makeup, the world weary pathos and isolation of many of his subjects. Some of them look sickly, as if they were about to die of consumption. Other times, Toulouse-Lautrec's works came close to caricature.
3. Battles with Alcoholism
Toulouse-Lautrec was unlucky in love. At 24, he fell for Suzanne Valadon, a model and fellow painter. But she was unfaithful and mocked him behind his back. That only made Toulouse-Lautrec drink more absinthe.
In 1894, he moved into a brothel and may have contracted syphilis from the redheaded Rosa La Rouge. But Toulouse-Lautrec claimed that he "never felt more at home."
Unfortunately, while there, he drank himself to death. In 1899, he suffered severe delirium tremens and was admitted to a mental asylum in Neuilly.
4. Posters as High Art, Masterpieces of Marketing
Despite all this, Toulouse-Lautrec was at the epicenter of Paris' artistic and intellectual circles. He was a pioneer of new forms of lithography. Some of his greatest masterpieces were posters for nightclubs.
They were an impact medium for the masses and drove up ticket sales. The posters gave Toulouse-Lautrec a tidy income.
Toulouse-Lautrec was the first artist to elevate advertising to the status of legitimate art. He obscured the boundary between fine art and low art long before Andy Warhol was on the scene. As Cora Michael, a former curator at New York's Metropolitan Museum of Art observed: "It is fair to say that, without Lautrec, there would be no Andy Warhol."
In 1901, after "drinking everything in sight," Toulouse-Lautrec suffered a cerebral hemorrhage that paralyzed his leg. Then came a stroke.
He died at only 36 of complications of syphilis and alcoholism, expiring as he had lived, in the margins of society. Having invented subversive celebrity, he may have fallen victim to it himself.
But far from being just a drunken poster painter, Toulouse-Lautrec was a consummate professional. He left a massive legacy of over 700 paintings, 275 watercolors, and 369 lithographs.
What To See at the Musée Toulouse-Lautrec in Albi
This wondrous museum should not be rushed. It contains the world's largest public cache of Toulouse-Lautrec's art.
After Lautrec's death, his mother donated the family's entire collection of his work to Albi. Toulouse-Lautrec's friends supported this gesture, also donating precious paintings and drawings to create an homage to the great artist.
Albi's mayor was delighted. In return, he promised to "spare no effort in giving these highly original works a worthy home." The museum was inaugurated in 1922. Renovations and acquisitions proceeded apace over the years. Major exhibitions were launched — a rarity for a museum outside Paris.
In 2002, the museum launched a 10 year renovation. Now, the museum itself is a work of art itself with exposed brick, ribbed vaulting, a pavement of medieval terra cotta tiles, and ample space. During the renovation, 15th century mural paintings were discovered. They're now part of the D'Amboise Gallery.
Must See Paintings in Albi's Toulouse-Lautrec Museum
Toulouse-Lautrec's works at the museum are organized in groups: works from his youth, works from his seedy stint in Montmartre, and works from his stint as a poster designer. All 31 of his world famous posters are gathered here.
On the second floor of the Berbie Palace, there's also a nice collection of modern art from the first half of the 20th century, including from friends and contemporaries of Toulouse-Lautrec: Emile Bernard, Maurice Denis, and Pierre Bonnard.
Here are some of my favorite pieces from my visit.
1. In the Salon at the Rue des Moulins
Between 1891-95, Toulouse Lautrec produced numerous paintings, studies, and drawings of the brothels he regularly frequented. His opus was In the Salon at the Rue des Moulins. It's a rare painting that he created from memory. He slaved away on it for months in his studio.
In the foreground is one of the brothel's hired hands, Mireille. Touloluse-Lautrec was particularly fond of her.
The rest of the women await their customers under the strict gaze of Madame. There's no judgment or moralizing in his painting. Toulouse-Lautrec simply tries to capture their daily life and languid boredom.
2. La Goulue, 1891: Toulouse-Lautrec's Big Break
Toulouse-Lautrec became famous for his radically bold, and often outrageous, posters. He was commissioned to produce posters promoting cafe-concerts, performers like Jane Avril and Louise Weber, and audacious impresarios like Aristide Bruant.
The revolutionary posters exuded modernity. Toulouse-Lautrec left behind his previous quasi-Impressionist style. Instead, he used simplified forms, acerbic caricatures, and bold flat areas of brilliant color.
La Goulue, a massive 6 foot poster, was the result of Toulouse-Lautrec's first experiments with lithography. He created it for the opening of the Moulin Rouge. The poster's muddy, acidic palette reflected the venue's combination of decadence and delight.
The poster made Toulouse-Lautrec an instant celebrity. The dancer in the print is Louise Weber, nicknamed "the Glutton" (La Goulue) for her vulgarity and habit of tossing down customers' drinks. She was one of the most notorious and risqué dancers in Montmartre. In the poster, she's shown in the middle of a can can.
3. The Carmen Paintings
Often Toulouse-Lautrec's portraits take a back seat to his more famous poster art. But they shouldn't; they're arresting.
Lautrec was reportedly infatuated with red-headed women. He was especially taken with a laundress he met in 1884 named Carmen Gaudin, appreciating the contrast of her beauty and tawdriness. He made many paintings of her, capturing her in realistic poses.
It was a shift in his early art, away from academic strictures. Like Manet and Degas before him, Toulouse-Lautrec embraced naturalism and illustrated simple scenes from daily life.
He rhapsodized over Carmen's "golden" hair. When Gaudin changed her locks from red to brown, Toulouse-Lautrec no longer hired her as a model.
READ: Guide to the Musee d'Orsay
The Toulouse-Lautrec Museum has some lovely Carmen paintings. Carmen the Redhead (1884) and The Laundress (1885) are the most compelling. Both portraits are psychological meditations. They're meant to expose the raw, somber, and gritty world of working class Parisians.
4. Self Portrait
This is a rare Toulouse-Lautrec self-portrait. He was incredibly self-conscious about his appearance. In it, he used oil paint, thinned with turpentine and applied directly onto cardboard, to create a loose, sketchy effect. He was influenced by Impressionism, but didn't use their pastel palette.
In the portrait, the artist is both literally and figuratively emerging. There's a certain darkness, perhaps a hint of the sinister. Almost as if the artist knew his life would be cut short.
5. Gabriel Tapie de Celeyran in a Theatre Corridor
Gabriel Tapie was Toulouse-Lautrec's cousin and probably his closest friend. After a breakdown, Toulouse-Lautrec was confined to a sanatorium. Tapie looked after him, and Toulouse-Lautrec was grateful for his care.
In this portrait, you see a tall, unassuming man in silhouette against a backdrop of a brilliant red floor. He's walking in the corridors of the Comédie Français. His soulful expression is at odds with the luxury of the theater.
6. Mademoiselle Marcelle Lender dansant dans "Chilperic"
Lautrec was also fascinated with redhead singer and dancer Marcella Lender. He reputedly attended the Théâtre des Variété 20 times to see the her in an 1895 revival of the Hervé operetta Chilpéric.
When asked what was so fascinating, about her he replied: "I only come to see Lender's back. Look carefully, you will rarely see anything as splendid."
This is one of Toulouse-Lautrec's largest and most elaborate paintings. He depicted Lender performing the bolero, a lively dance from her native Spain. She dominates the center of the composition, dressed in a Spanish-inspired costume. She's captured in mid-movement, with her black stockinged leg jutting out boldly from a swirl of pink petticoats.
7. Side-saddle
Art historians believe that this horsewoman may be Mme Victorine Hansman. She was an Englishwoman who was a dealer in horses and ran a fashionable riding school Lautrec.
Toulouse-Lautrec met her at the racecourse at Auteuil. He created many such sketches of her on cardboard.
8. The Drinker or Hangover
This is another psychological portrait, one of fellow artist Suzanne Valadon. Lautrec depicts her with a scowling, joyless expression. She stares mournfully into space, as if her life has been ruined by drink.
The museum has a handsome a pastel sketch. But there's a painting on canvas in the Fog Art Museum in Boston.
9. Christine and Hagen Graf
Isn't this an excellent statement on mature marriage? The couple sit rather dutifully beside each other without speaking.
The husband is bored out of his mind and in a trance-like sate. The wife is preoccupied with (and almost looks like) her dog. Neither looks happy to be at whatever soiree they're attending.
10. Jane Avril Poster
Jane Avril was a dancer-acrobat and major starlet at the Moulin Rouge and the Jardin de Paris. She was much admired by Lautrec. He may have had romantic feelings for her.
Avril was intelligent and discerning by nature. She appreciated Toulouse-Lautrec's art and became his muse. They formed a creative partnership and were loyal friends for life. Avril was the subject of his most famous posters, and benefitted financially from her poster-driven fame.
Lautrec had the ability to divine a performer's trademark affectation or gesture and give it succinct visual form. Lautrec also created more private portraits of Avril that were disconnected from her high kicking dancing.
11. Yvette Guibert Taking a Curtain Call
Yvette Guibert was another turn of the century cabaret diva who performed at the Divan Japonais.
At first, Guibert didn't much like Lautrec's sketches, deeming the caricatures unflattering. But after the success of the Guibert-designed lithographs, her hostility ebbed.
Guilbert appeared in Toulouse-Lautrec's work more than any other performer, gracing song sheets, individual collector's prints, and two books of lithographs. She was often portrayed in caricature, with a clownish or pinched face, hanging on the curtain as a sozzled has been.
12. Two Friends
This is another of Toulouse-Lautrec's life in the brothel paintings. In this quickly-sketched drawing on cardboard, the figures are almost abstract.
Lautrec may be addressing the theme of private lesbian relationships in the brothels. Or, he may just have captured a moment of intimacy between two women.
I hope you've enjoyed my guide to the Musée Toulouse-Lautrec in Albi. If you're road tripping in southern France, Albi is definitely worth a visit just to see the paintings of Henri de Toulouse-Lautrec. If you want to see all the must see sites in Albi, here's my complete guide to the UNESCO town.
Practical Information and Tips for Visiting the Musée Toulouse-Lautrec in Albi:
Address: Palais de la Berbie, Place Sainte-Cécile,
Hours:
Jan-Mar & Nov-Dec: 10:00 am to 12:00 pm & 2:00 pm to 5:30 pm
April-May & Oct: 10:00 am to 12:00 pm & 2:00 pm to 6:00 pm
From June 1-20: 9:00 am to 12:00 pm & 2:00 pm to 6:00 pm
From June 21 to September 30: 9:00 am to 6:00 pm
Closed on Tuesdays, from Oct 1 to March 31
Entry fees: Adults € 10, Students € 5, Children under 13 free
Tel: +33 5 63 49 48 70
You may enjoy these other travel guides and resources for France:
The Impressionism Trail in Normandy
30+ beautiful towns in northern France
If you'd like to visit the Musee Toulouse-Lautrec in Albi, pin it for later.