"I will be a genius, and the world will admire me." — Salvador Dali, age 16
Here's my guide to the Dalì Theater and Museum, or Teatro-Museo Dalí, in Figueres Spain. It's one of Spain's best small museums. It's eccentric. But then so is its namesake, the famed Surrealist artist Salvador Dalì.
When one thinks of Salvador Dalì, his extravagant persona and iconic waxed mustache immediately leap to mind. Dalì was a self-proclaimed dandy, a showoffy megalomaniac who loved nothing more than creating a sensation. He avidly embraced money and fame.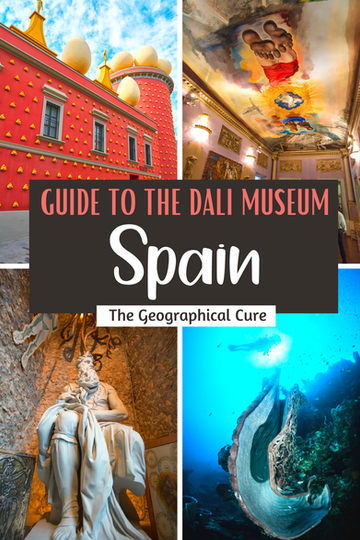 One of the best day trips from Barcelona is a visit to Dalì's museum, in his birthplace of Figueres. The flashy pink museum is billed as the world's largest Surrealist object. It's a work of art itself, and boasts Dalì's broadest range of work, from his earliest artistic experiences to his later works.
Salvador Dalì's Life and Times: A Short Biography
Dalì was born in 1904 in Figueres Spain. His family life was a soap opera. Dalí was named after his older brother Salvador, who died of gastroenteritis nine months before his birth. His parents believed that Dalí was his brother's reincarnation. They inculcated that belief in their vulnerable son.
When Dalí was a teenager, his mother died from cancer. Four years later, his father married his mother's sister. As a young man, Dalì was close to Spanish poet Federico Garcia Lorca. It's rumored that Lorca tried to seduce Dalì. Dalì later denied any tryst.
1. Dali's Early Life
Dalì went to art school at the Royal Academy of Fine Arts of San Fernando
in Madrid. There, he overcame some of his natural shyness. He dressed bizarrely and and sported outrageously large sideburns. Dalì bristled at the traditional schooling. He claimed to be the world's first "heepie."
In 1929, Dalì met the Russian born Gala, whose real name was Elena Ivanovna Diakonova. At the time, Gala was married to Paul Éluard, one of the founders of the Surrealist movement. Before him, she had romanced Surrealist Max Ernst, who would later become the husband of eccentric art collector Peggy Guggenheim.
READ: Guide to the Peggy Guggenheim Museum in Venice
2. Dalì's Bizarre Relationship With His Wife Gala
An apparently love-struck Gala left the established and wealthy Éluard, the glamor of Paris, and their daughter to join the penniless Dalí in Cadaqués. They married in 1934 and became unconventional lifelong companions. Dali's parents didn't approve. The sinful Gala was 10 years his senior and had a "scarlet letter." His father disinherited Dalì.
But it was love at first sight for the dynamic duo. Dalì declared that it was "mostly with your blood, Gala, that I paint my pictures." Gala seemed to calm his anxieties and was his cerebral companion.
Gala became Dalì's frequent model. Over 50 years, Dalí made myriad drawings and paintings of Gala. He depicted her variously as a madonna, an erotic figure, or a mysterious woman.
As he rose to fame, Gala acted as his agent, business manger, and publicist to maximize her husband's earnings. She was the dominant figure in their marriage, despite Dalì taking the limelight with his antics.
Theirs was an open and bizarre marriage. Gala was sexually voracious and had many affairs, including with her ex husband Éluard. Letters to Gala is the published version of Éluard's raw and twisted letters to Gala, which expose the powerful grip she held over him.
Dalì encouraged Gala's amorous adventures. He often claimed to be a virgin (at least until he met Gala at 25), impotent, and afraid of conventional sex. Dalì and Gala hosted weekly orgies where he played the role of a voyeur.
Gala wasn't popular among Dalì's cohorts. She was formidable, spiteful, and had a nasty temper. Critics paint her as a monster muse, obsessed with money over integrity. They blamed her when Dalì's art seemed to suffer critically and become over-commercialized.
Art historian John Richardson called Gala "one of the nastiest wives a major modern artist ever saddled himself with" and a "demon bride." Her reputation has been resuscitated somewhat in recent years, with critics conceding that she was a critical creative influence on Dalì and possibly helped co-create some of his pieces.
3. Dali's Later Life and the Death of his Relationship with Gala
And nothing lasts forever. By the 1960s, their relationship, whether born of mutual obsession or twisted dependency, started to fade into rancor.
In 1969, Dalì gifted Gala a derelict castle in Púbol, a village in Catalonia. Dalí decorated the interior for his wife, encrusting some ceilings with a "G" coat of arms. Gala stipulated that her husband could only visit if he received a written invitation.
Púbol became Gala's love nest. Holed up in the palace, at almost age 80, she entertained a male harem and blew money gambling. She took up with 22 year old rocker Jeff Fenholt, the star of Jesus Christ Superstar.
Dalì's last years were unhappy. In 1980, he was forced to retire due to palsy, a motor disorder that prevented him from painting. Dalì tired of Gala's continual affairs and spendy lavish gifts to her boy toys. He eventually beat her, at age 87, and broke two ribs.
In response, she medicated Dalì with Valium, which made him lethargic, and with amphetamines, which woke him up. The latter gave Dalì "irreversible neural damage." There's speculation that Gala attempted to poison him.
In 1982, Gala died. Although Dalì despised her by then, he was so dependent on her that he couldn't function without her. He chose to remain at Púbol. He sobbed constantly, made animal noises, suffered hallucinations, and at one point, claimed he was a snail.
In 1984, there was a fire at Púbol. Dalì was severely burnt and became "an invalid from hell." After he recovered, he moved into his Figueres Museum. Dalì died on January 23, 1989, from heart failure caused by pneumonia, and was entombed in his museum.
4. The Legacy of Dalì, the Famed Surrealist Artist
Dalì's foppish persona and antics may have disguised his genius. Many thought he was just a pathetic and outlandish showman. But Dalì not only had an unrestricted imagination, he was a superb draftsman.
Dalì created deliberate images, of seemingly impossible worlds, on diamond sharp realistic canvases with a strange airless quality. He ambiguously called his work "handmade photography of concrete irrationality."
Dalì also fancied himself a Freudian painter of dreams. Dalí's dreamscape paintings of eroticism, death, and decay came from what he dubbed the "paranoiac-critical" method. Sometimes Dali would do handstands to help induce hallucinations for inspiration. He said "I don't do drugs, I am drugs."
While in Paris, Dalì joined the Surrealist movement. The Surrealists rejected the rational in art and aimed to unlock the unconscious. Dalì became the most famous Surrealist and promoted the movement.
But his style didn't quite fit the movement. Dalì disavowed their automatic drawing technique, preferring preconceived images, In 1934, the communist Surrealists expelled him as a fascist.
In the late 1930s, Dalì moved to the United States temporarily during WWII. There, intoxicated by his fame, he engaged in a frenzy of self promotion and had his greatest notoriety.
In his 40s, Dalì was busier than ever, but on mostly commercial work. He created fashions in collaboration with Chanel and Schiaparelli. He designed furniture, jewelry, and china. Dalí admitted to having a "pure, vertical, mystical, gothic love of cash."' And he went to some lengths to acquire it.
Many art critics think Dalì peaked in the 1930s. They dismiss his later work as kitschy, commercial, and frivolous "junk" meant to shock.
In 1948, Dalì moved back to Spain. But his work was deemed self-indulgent. He painted Gala in unlikely religious scenes and performed stunts. In 1965, at Gala's urging, he sold signed blank lithograph papers for $10 a sheet. Forgers then created fake Dalís which Gala sold for huge profits.
5. Dali's Later Years in Spain
Dalì's later years were not his best. But he nonetheless had a massive influence on art and culture. He popularized Surrealism, taking the snobby rarified air out of art. He influenced fashion (think Lady Gaga). Dalì influenced a wave of Pop Art and Conceptual artists like Jeff Koons and Damian Hirst
Highlights and What To See at the Dalì Theater and Museum in Figueres
With over 1500 pieces of art, the Dalì Theater and Museum is the largest collection of works by Salvador Dalí. It's nothing if not fun and weird.
The museum was concocted as a way to win over the citizens of Figueres, who generally thought Dalì was crazy. Gala didn't want him to open a museum in Figueres. She aspired to Madrid or Paris. But in a rare schism, disagreed and persisted with his vision.
Built between 1961-74, Dalì helped design the eccentric museum himself. He said "I want my museum to be a single block, a labyrinth, a great surrealist object. It will be a totally theatrical museum. The people who come to see it will leave with the sensation of having had a theatrical dream."
1. The Exterior of the Dali Museum
Opened in 1974, the museum may be the world's largest surrealist object. It was built on the site of a former municipal theater, which was mostly destroyed by fire in the Spanish Civil War. It's definitely a madcap invention — a whimsical palace with a pink exterior, rooftop eggs, and golden statues like giant Oscar awards adorning the roofline and walls.
The eggs symbolize fertility and reproduction, and were a frequent Dalì symbol. The terra cotta walls are studded with ochre colored, stone loaves of bread. Bread was another one of Dalì's obsessive fetishes, an object of puns on the "staff of life." The entrance is guarded by medieval suits of armor balancing baguettes on their heads.
the black "rain taxi" in the museum courtyard
Dalì even lived at the museum during its construction, to make sure his wishes were realized. Dali is even buried in a crust of the museum below the theater stage.
2. Highlights of the Dalì Theatre-Museum Collection
Though the museum, true to Dalì's wishes, is disorienting, there is a designated visitor route. You're also given a map. You can ignore the map, and experience the museum freestyle, as Dalì envisioned. Or you can use the map to ensure you don't miss anything important.
There's not much explanatory signage. That's consistent with Dalì's wish to confuse you and let you make your own interpretations of the dreamlike works of art.
3. The Courtyard
You enter via the jaw dropping main courtyard, which houses Dalì's Rain Taxi. It's his old black Cadillac, a gift from his friend Al Capone. It has a rather ugly statue of a woman on the hood, a gift from Surrealist artist Ernst Fuchs. Put a coin in the slot and you can watch rain rain down on the mannequin inside.
Next, you enter the Grand Hall. The ceiling is a glass sphere, which lets in natural light. The hall features the massive Labyrinth painting, surrounded by red velvet curtains.
On the left wall is Dalì's Gala Contemplating the Mediterranean Sea, one of the massive Labyrinth painting, surrounded by red velvet curtains. It's a clever double images. At first, it appears to be a cubist abstract with a central nude. When you step back 20 meters, however, a portrait of Abraham Lincoln appears.
You'll find paintings, murals, sculptures, drawings, and photos in the museum's gallery rooms. There are many paintings paying homage to his love Gala. And the massive Labyrinth painting, surrounded by red velvet curtains. And Dalì's famous "soft" self portrait. I think I enjoyed the drawings on the 4th floor the most.
Many of the museum's paintings are from Dalì's early career. Some are signed with a G next to Dalì's name, expressing his indebtedness to his monster-muse Gala. His most iconic paintings are in museums and private collections.
4. Mae West Room
The Mae West Room is a 3D living room installation with custom built furniture. The room becomes the "face" of Mae West when you walk up the stairs and peer through the blond hair sculpture
Dalì was fascinated with West and loved her saying that "To err is human — but it feels divine." The red lip sofa, like so many of Dalì's creations, had multiple interpretations. It was inspired by West's famous red lined lips and by Antoni Gaudi's curvy creations.
Would you be metaphorically swallowed up if you sat down on it?
5. Dali Jewelry
There's also an intricate collection of 37 pieces of Dalì-designed surrealist jewelry, which has a separate entrance. It's a playful collection of "pure beauty," created in collaboration with an American millionaire Cummins Catherwood. Dalì began designing the collection in 1941.
The jewelry blurs the line between jewelry and sculpture. The pieces are alive with ingenious mechanical movement, such as the Royal Heart that actually beats or the diamond-encrusted flower whose petals open and close. Some of the mechanical devices have long since failed. But there are videos to show you how they operated.
If you're hungry after your visit, stop in at Dalì's favorite restaurant in the Duran Hotel. You can even pre-book the exact room where Dalì used to eat dinner, for an authentic experience. The restaurant boasts many photos and pictures signed by Dalì. The owner was a schoolmate of Dalì's.
The Dalì Theater and Museum is an apt resting place for the master of surrealism. For the traveler, it's a weird visual trip through the fertile and bizarre imagination of the great 20th century showmen. Don't miss the museum if you're in Barcelona. It's sensory overload on steroids.
Practical Information and Tips for Visiting the Dali Theater-Museum in Figueres Spain:
Address: Gala-Salvador Dali Square, 5 E-17600 Figueres
Hours: Closed Mondays, generally Tues to Sun from 10:30 am to 6:00
Entry fee: General entrance 13 € | Museum by night 15 €. Students 9 €
Getting there: If you're traveling as a day trip from Barcelona, take the train to Figueres Vilafant station. Then catch a bus to the Figueres city center or walk 15 minutes to the museum. The bus comes every half hour. If you have a car, it's a 1:40 drive, just off the A9.
Virtual Tour of the Dali Museum
You may enjoy these other Spain travel guides and resources:
10 day itinerary from Madrid to Seville
10 day itinerary from Barcelona to Bilbao
10 Day Itinerary for Andalusia
Six 1 Week Itineraries for Spain
1 Week Itinerary for Northern Spain
If you'd like to visit the Dali Theatre-Museum in Figueres Spain, pin it for later.