Thinking of booking the Rick Steves Sicily tour? I just went on the 11 day October tour and I'm here to give you a review and the full scoop on what to expect.
Rick Steves is America's leading authority on travel in Europe. His company has been organizing tours for over 30 years. Rick's ethos is to immerse you in the local culture.
On his Sicily tour, you'll see all of the star studded attractions. But he also adds in hidden gems and unique experiences, all the while ensuring you eat like royalty.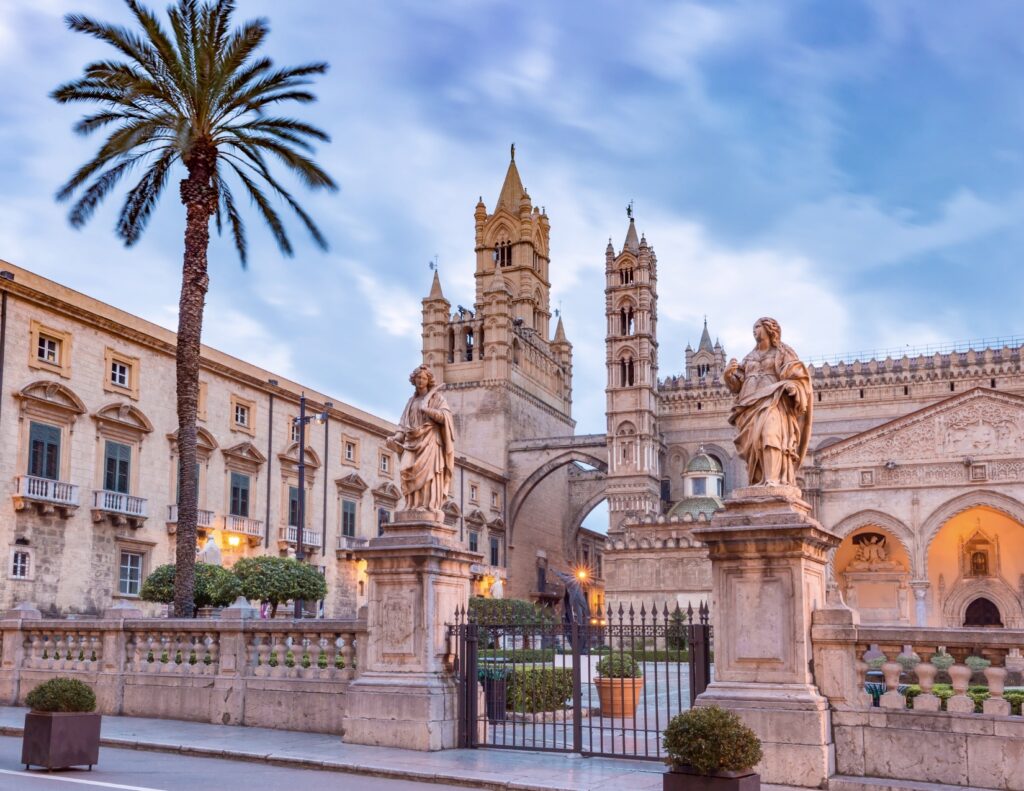 This was my first Rick Steves tour and only my second organized tour (first one was a Backroads bike tour in Tuscany.) I signed up because I love Rick's books and was, frankly, just too intimidated to drive solo in Sicily. Everything I read suggested it was more difficult than other places in Europe, and I've had some harrowing experiences in my days.
The Sicily tour lasted 11 days, beginning in Palermo and ending in Catania. I arrived a couple days early, but also wish I had stayed a couple days after the tour to unwind.
One couple in our group were spending a few days relaxing on a beach in Cefalu at the end. It sounded very appealing after a whirlwind tour. I just had to get back for another gig.
Review of Rick Steves Sicily Tour
Here's my honest review of everything you can expect on a Rick Steves tour of Sicily, with detailed information on the guides, hotels, itineraries, etc. This was not a sponsored trip; I paid for it myself (as I always do).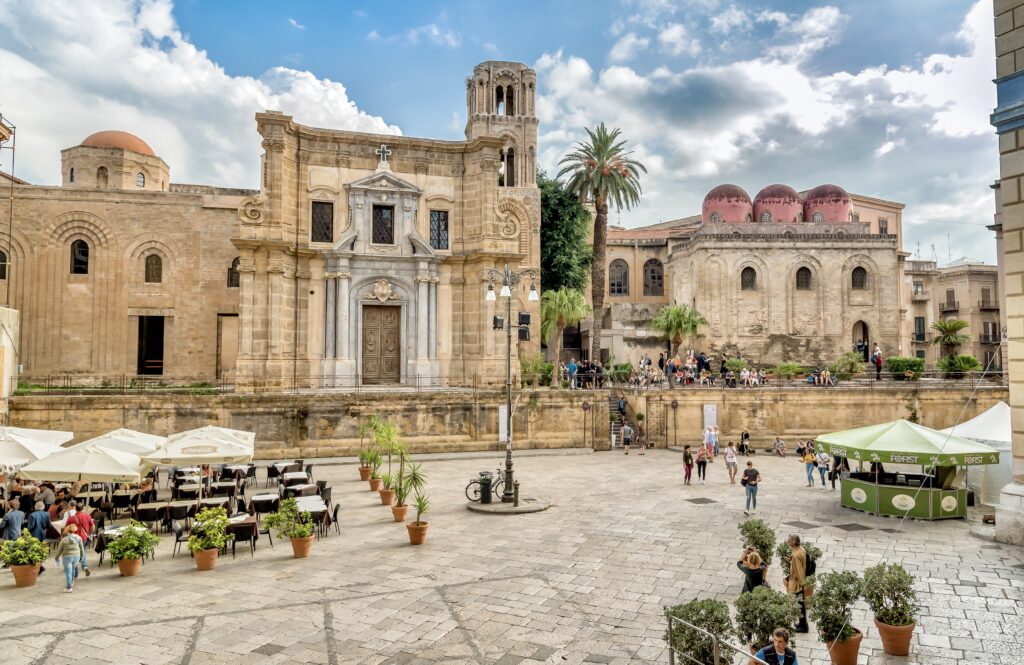 1. Arrival In Palermo
Because the Rick Steves tour starts in Palermo, you'll want to fly into Palermo Airport. You can fly into Palermo from Rome, London, Paris, Milan, Munich, New York, and Barcelona.
The set taxi rate for getting from the airport to the city center is 40 euros. However, drivers sometimes take advantage of tourists by increasing the price, so decide on a price before you leave. To avoid negotiating, you can book a private transfer from the airport to your hotel, which is what I did.
You can also get to Palermo by train using the train ferry across the Strait of Messina. Palermo Centrale Station is fairly central, about 15 minutes walk from Palermo Cathedral. There are buses, taxis, and trams to get to your hotel.
I would plan to arrive at least 2 days in advance, in case there's an airline snafu, to recover from jet lag, and/or to see some of the Palermo sites Rick's tour doesn't cover. Or, perhaps plan to spend a few days in Rome first.
By arriving early, I was able to see some amazing sites not on the tour, including:
the trio of Piazza Bellini churches
the Capuchin Catacombs
the Palatine Chapel
Palermo Cathedral
Massimo Theater
Capo Market
You could also squeeze some of these sites into your free afternoon on day 2 of the trip.
I noticed in his book, Rick says you can skip the Palatine Chapel if you're seeing Monreale Cathedral. I respectfully don't agree, though I concede that it's a pricey attraction by Sicily standards. I also recommend climbing to the cathedral rooftop at sunset before dinner.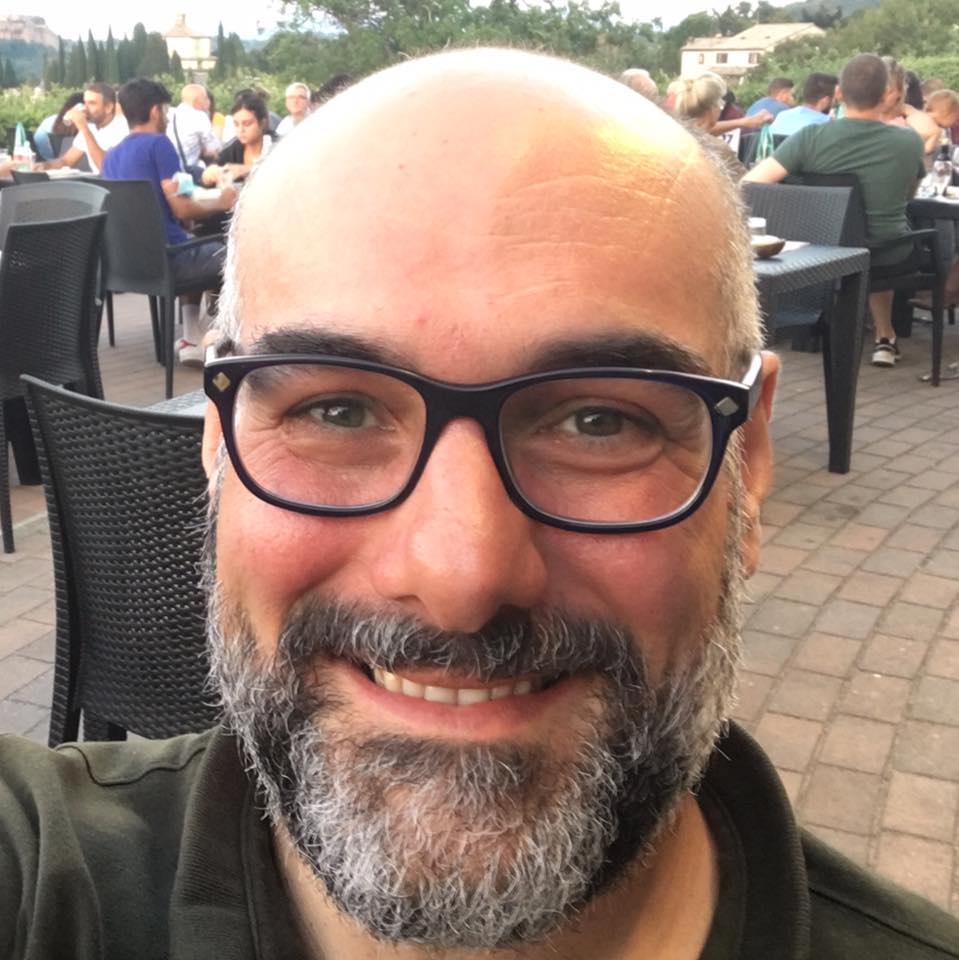 2. The Guides
You can expect to have outstanding guides. This is the best thing about the tour.
Our principal guide was David Tordi. He has to be one of the friendliest, most knowledgable, and entertaining guides I've ever had. And I go on a lot of tours in my job as a travel blogger.
David was extremely professional and provided flawless execution. You won't have to spend a second worrying about the logistics of your tour or the hassle of getting to and fro.
More importantly, on top of being a cool guy, David has a unique and valuable talent that we all covet — the "power over rain."
Day 3 of our tour began with a heavy downpour as we headed to Segesta. Without an umbrella, I was pondering whether I would even have the gumption to get off the bus.
But, after some top secret incantations, David miraculously "stopped" the rain the moment we pulled into the parking lot. Perfecto!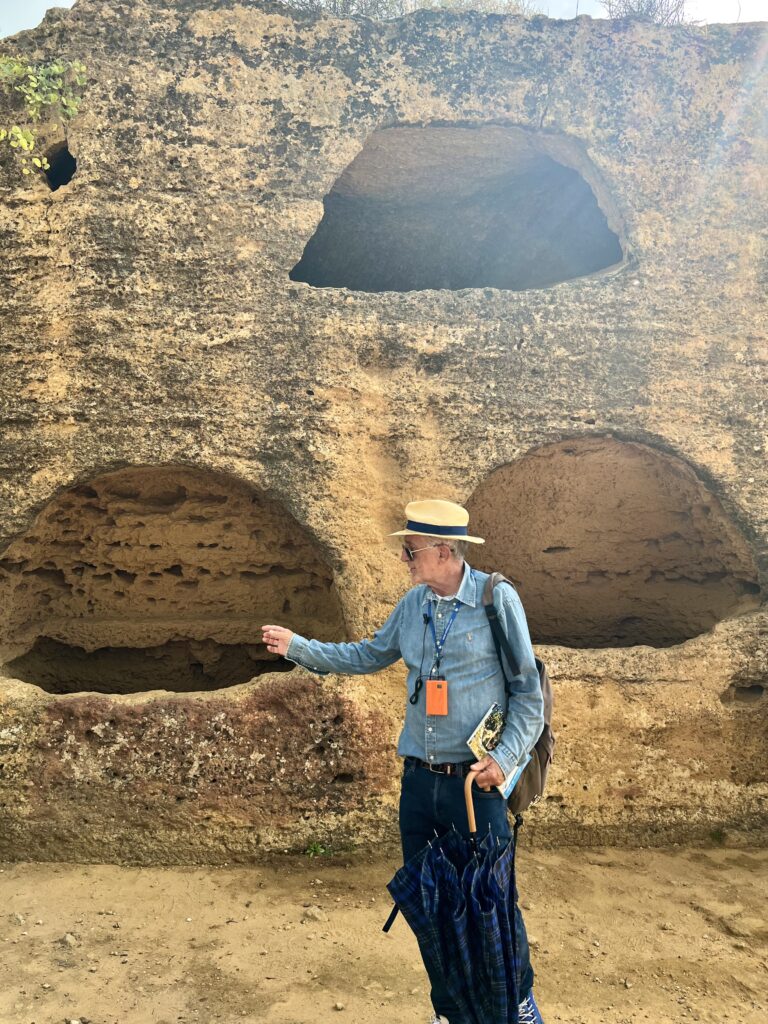 David also regaled us with delightful vignettes. One afternoon, on a longish bus ride, he delivered a primer on Italian dialects, doing imitations of the linguistic variations of each region of Italy. Lucca, he claimed, is where the most perfect Italian is spoken.
Another time, we learned all about Italian hand gestures, including the ways to say someone is crazy, really crazy, and SUPER Italian-style crazy. Being married to an Italian American, I found this information quite useful.
As our tour manager, David squired us around each day, gave us orientation tours, and historical commentary about the attractions and towns. But we also had some excellent local guides. I had two favorites.
I was particularly taken by Jackie Alio, our guide in Palermo and Monreale. It was almost like having an art professor lead your tour. When she mentioned the Baroque artist Artemisia Gentileshi, one of my favorites, I was sold.
I also enjoyed the elegant man who toured us around the Valley of the Temples in Agrigento, "Professor" Michele Gallo.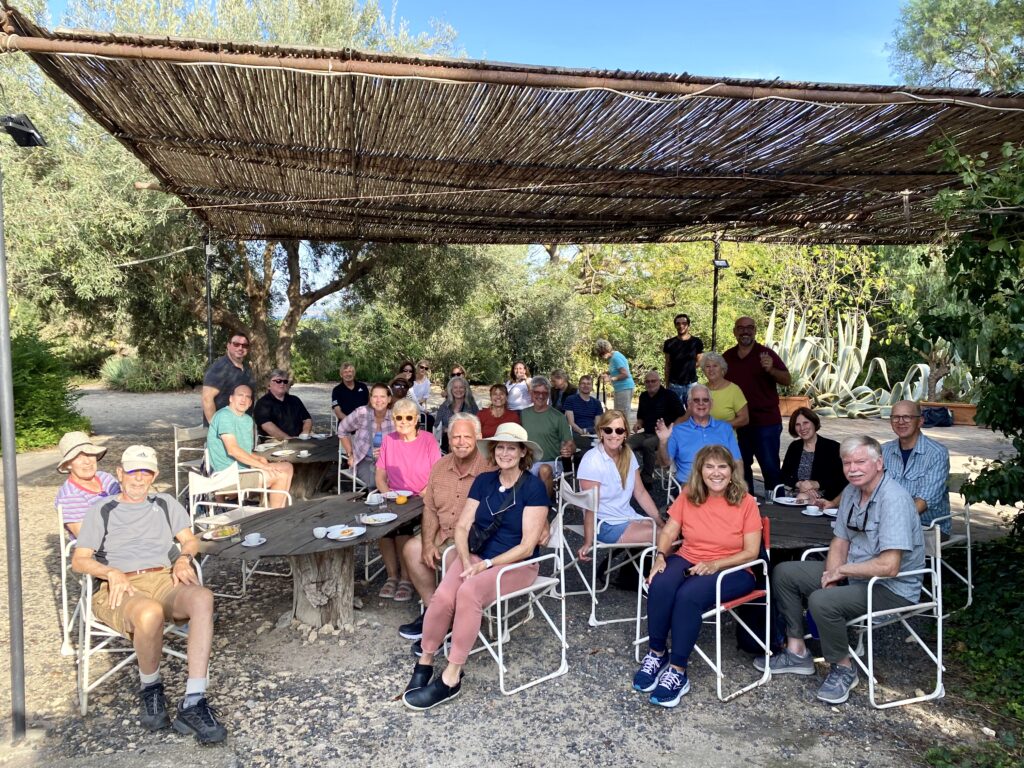 3. Who Goes On A Rick Steves Tour?
There will be 24-28 people on your tour. On ours, in mid-October, there were 28. Quite a few of these people were loyal repeat customers from the Pacific Northwest.
Before I left for Sicily, I had worried that 28 people would seem like a very large group, especially because I usually travel independently and set my own schedule. But it didn't take that long to learn names and make friends.
This tour was for couples, solos, and friends. There were also two adult children on the tour. The age of people skews older, from maybe 50-70.
I was the only solo traveler on this tour. But it was no issue for me because I frequently travel solo and everyone was very friendly (and well traveled!).
Rick has a "no grumps" policy for his tours, which apparently attracts high quality people who steadfastly refuse to complain about minor inconveniences.
I will say that I was relentlessly shamed and mocked on a daily basis for not abiding by a Rick Steves' "rule" — hand luggage only.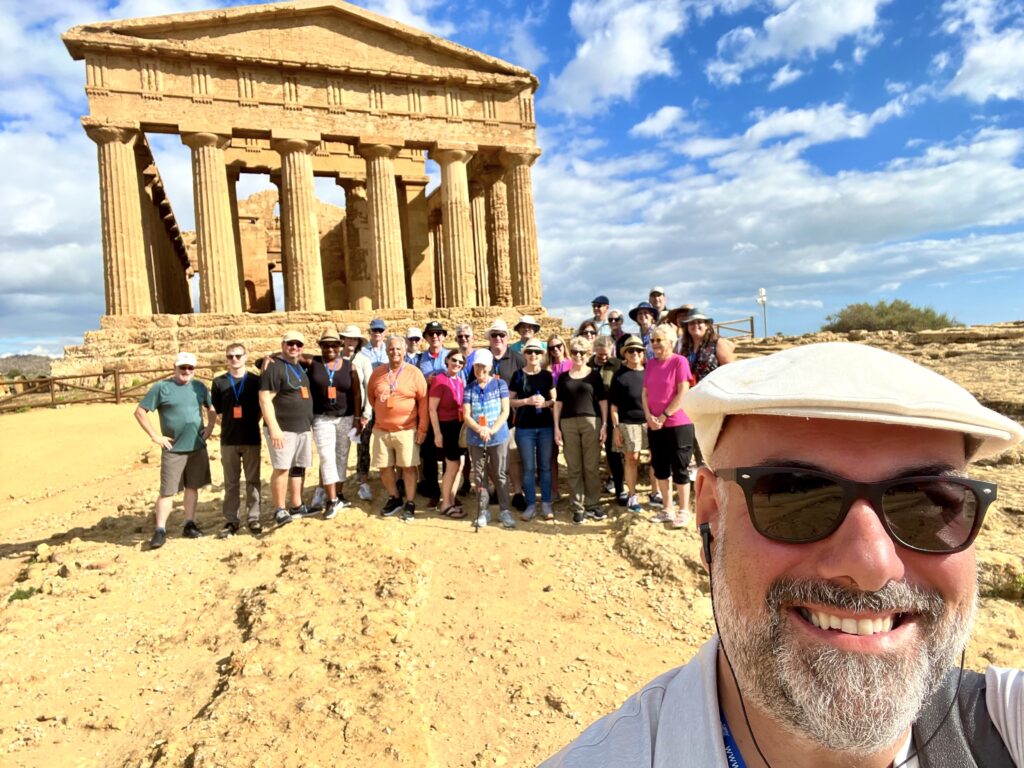 I am not really a hand luggage only kind of person. The notion of doing laundry on a vacation is absolutely unappealing to me. Time spent doing laundry vs. seeing stuff? Plus, I was traveling with guide books, laptop, iPad — travel blogger gear.
But I took my shaming well and was honestly in awe of some of the tiny suitcases people got by with pursuant to his instructions.
4. The Hotel Situation
No review of the Rick Steves Sicily tour would be complete without discussing the accommodations.
Reading the online description of the types of hotels Rick chooses, I was frankly a bit terrified going in.
He warns you in advance that the hotels may be noisy, sends you ear plugs in the mail, and threatens that you may have to haul luggage up exhausting flights of stairs. The latter threat, no doubt, is intended to prompt compliance with his "hand luggage only" recommendation.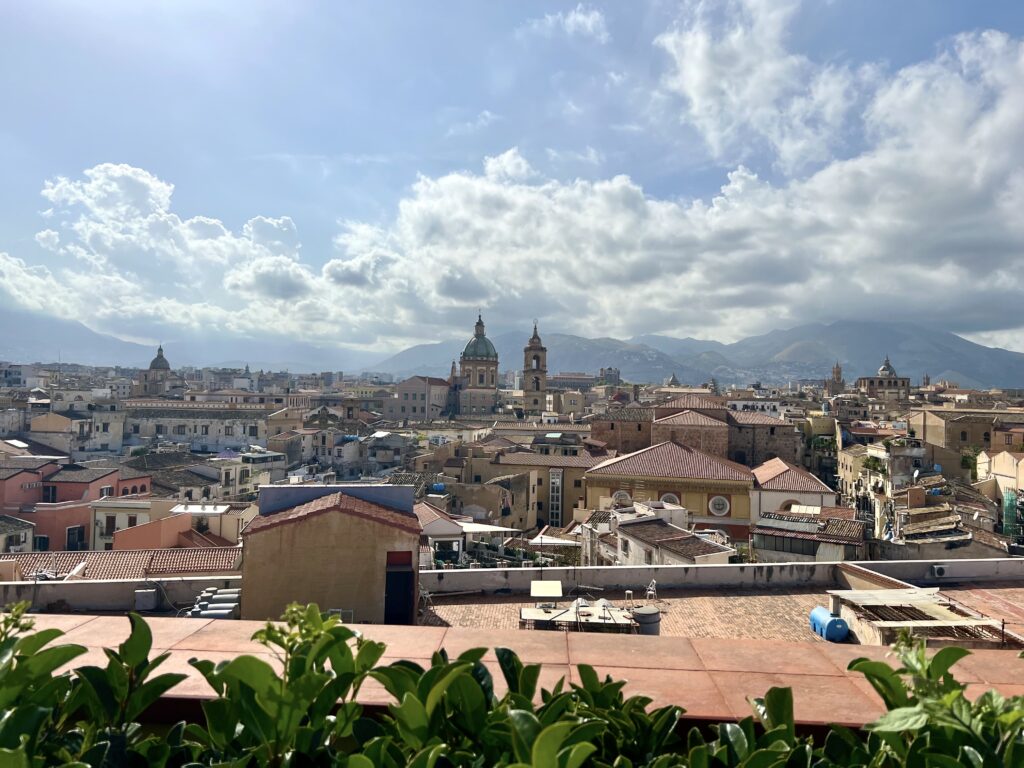 As a heat intolerant person, the thing that scared me most was the possible lack of air conditioning. Egad!
Even though I was traveling in mid-October, it was hot, 75-80 degrees. It felt more like Augustober than October.
I'm happy to report, however, that none of these rather alarming potential hotel problems came to pass. Every hotel we stayed in had an elevator and solid AC.
Just expect comfy, not luxe, accommodations. On this tour, our hotels were mostly 4 star hotels. However, some of them seemed a bit less than that quality level.
Your rooms will be quite small, as is typical for Europe. I may have gotten the smallest rooms as a solo traveler. But I couldn't see how some of the rooms could comfortably fit a couple and their luggage. You wouldn't want to hang out in them.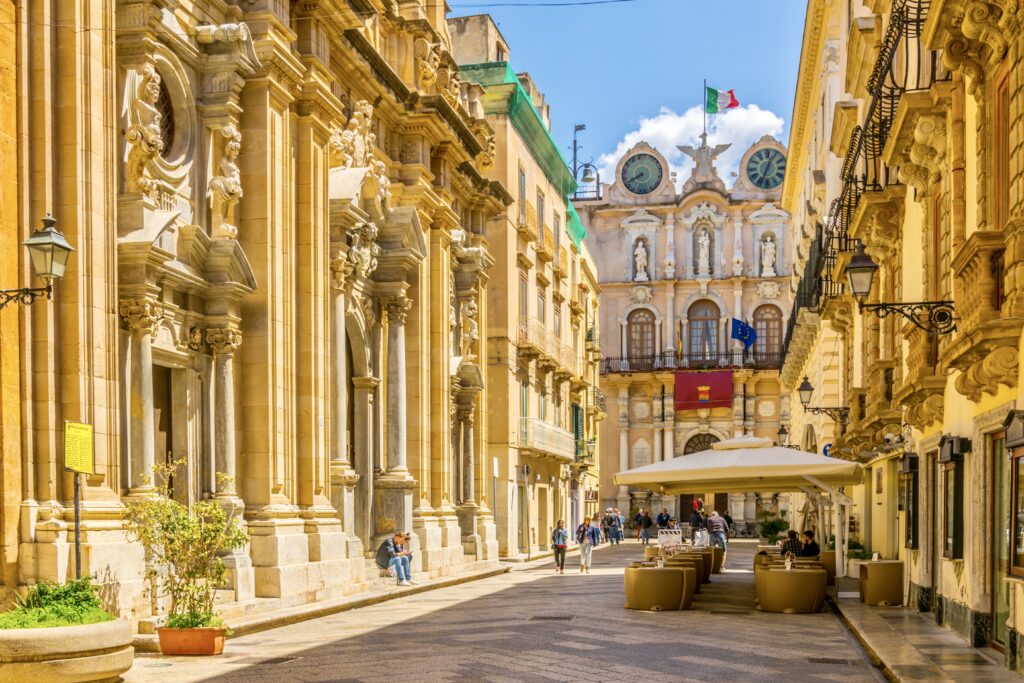 We only stayed in one apartment style hotel, in Trapani. It was a super nice to have a large room to work in and an Nespresso maker on the shelf.
Not that the hotels were disappointing. They were perfectly fine, just not a highlight of the trip.
On previous trips to Tuscany and Umbria, I have stayed in some fantastic places and felt that it enhanced the experience. And I really am just more of an Air Bnb/VBRO person.
That said, the hotels were all centrally located for easy OYO sightseeing. They weren't generic and many came complete with lovely rooftop decks offering panoramic views.
The staff were always friendly and the breakfast spreads were pretty darn delicious. I loved the persimmons!
If you are picky about hotels, I would try to do some research to figure out what hotels X tour uses before booking. (Though this information is not officially released until a month prior to your departure date.)
I did have to pay a single's supplement since I was a solo traveler, which reduced the value metric of the trip a bit. (Rick, no grown up wants to share a room with a stranger!)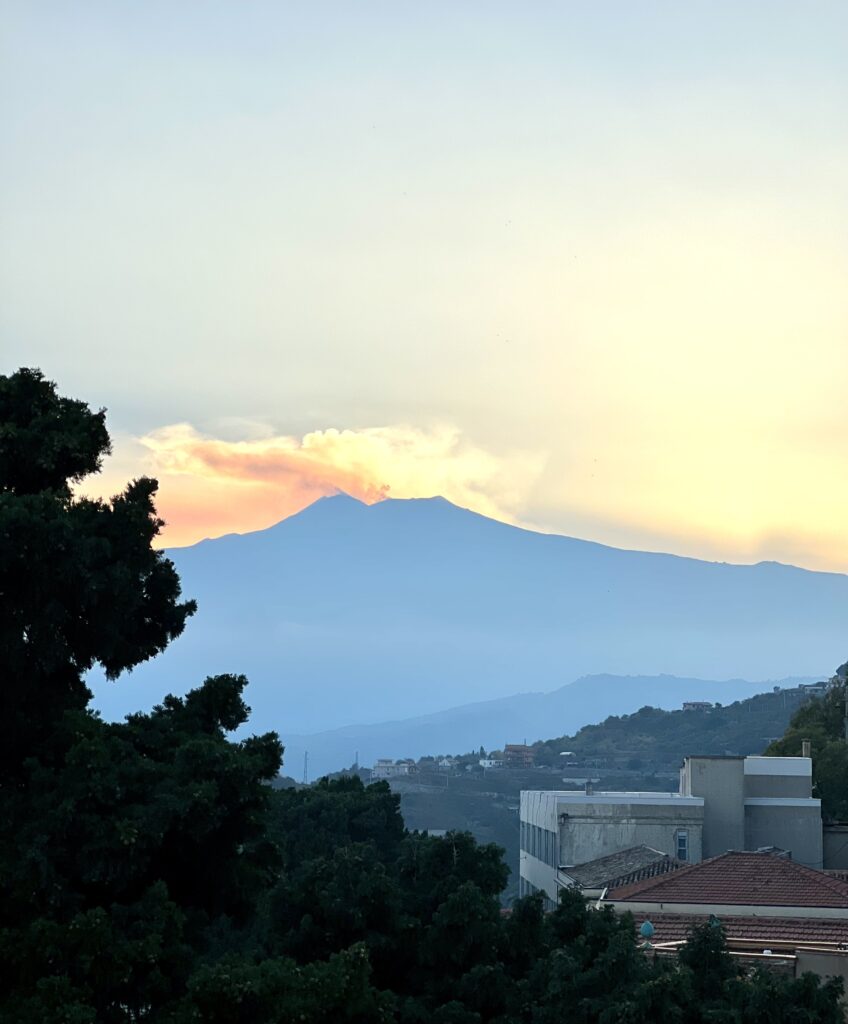 5. Activity Level
Rick bills his tours as extremely active. The Sicily tour, however, was not particularly so.
Sicily is massive. Since we were circling the the whole island, we spent plenty of time on the bus. (Though some of the driving was beautiful, as if you were surrounded by frescos.)
Of course "active" is a relative thing. I am on the busy side and generally prefer to walk 8-10 miles a day when touring Europe.
I'd say, on the guided bits, most days we only walked 2-3 miles. Of course, you're always able to tramp around during the "free" time.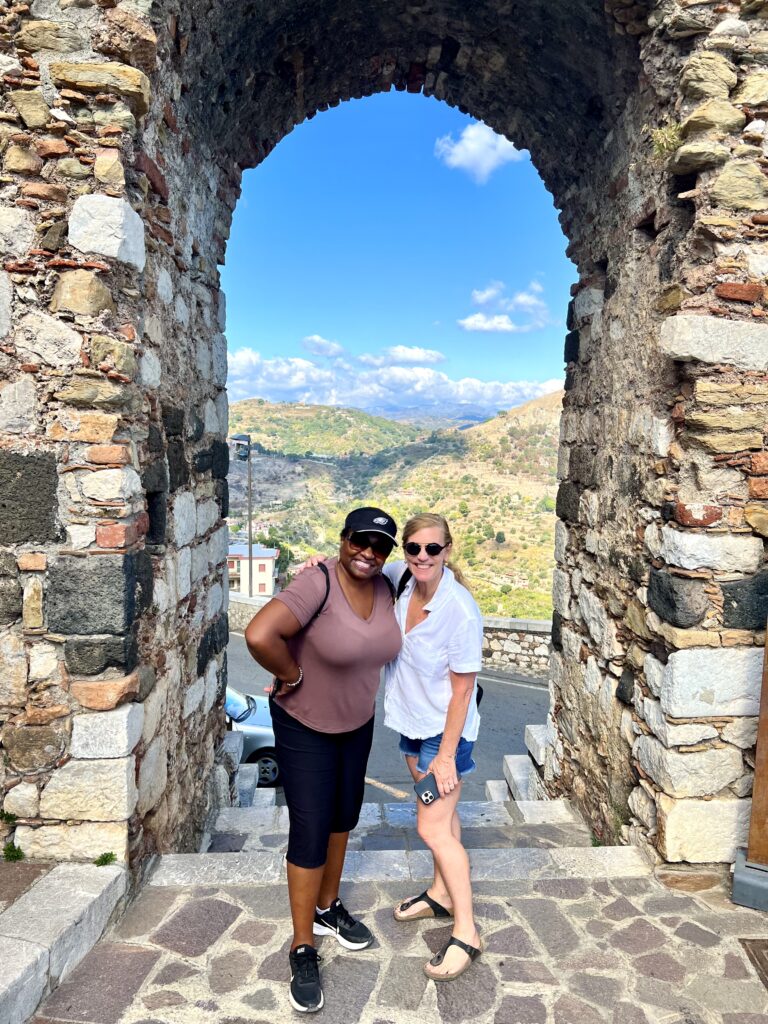 6. Early Start Times
So, I will say upfront that I am not a morning person and that colors my opinion on this matter. Left to my own devices, I might sleep in until 9:00 am. I'll often book guided tours that start at 10:00 am or noon when traveling on my own.
But we had early starts every day on the Rick Steves Sicily tour, with breakfast starting at 7:30 am and the bus typically leaving between 8:15-8:45 am.
Before the take off time, you'll have to gobble down breakfast, inject espresso, finish packing up, check out of the hotel, and get your bags down the elevator. Whew!
To me, this isn't an ideal way to start the day, very hectic and a tad grueling.
I understand the intent of the early start. We had some long bus rides and the aim is to hit the attractions before the crowds and build in some free time to relax before dinner.
But I would have loved a better balance. It would have been nice to have one day, just one, in the middle of the tour where the "free time" came in the morning. Just to catch up on sleep and reboot. Judging by the people snoozing on the bus rides, I'd say others were a bit sleep deprived as well.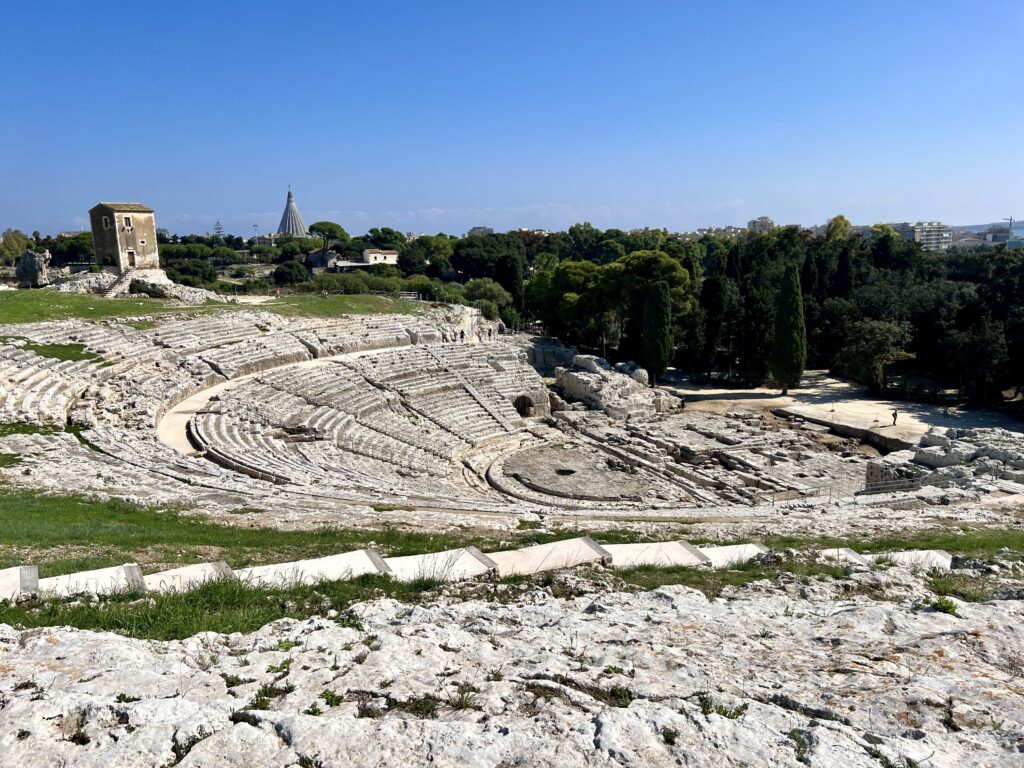 7. Free Time
Rick designs his tour in a 50/50 way. 50% of the time you're on your own and 50% of the time you're on guided tours.
I found this to be the perfect combination, at least for me. It's good to have a bit of time away from the group and people have different sightseeing interests.
Some want to hit the beach, take a nap, or shop for local goodies. Others, like me, will doggedly search out another ruin or Caravaggio painting to admire.
8. What's Included
Another thing I loved about the tour is that most things were included in the tour price. We didn't have to waste time standing in lines to buy attraction tickets or figuring out how much to tip the local guides. It was nice for me to have a break from logistics.
As for food, the tour included all breakfasts and about half the lunches and dinners. In general, the food was very good on the trip because, well, Sicily and its fresh food. (Though I won't crave eggplant for awhile.)
The lunches at local places in the countryside were absolutely scrumptious and a huge highlight of the trip. Casa Bianca was the best!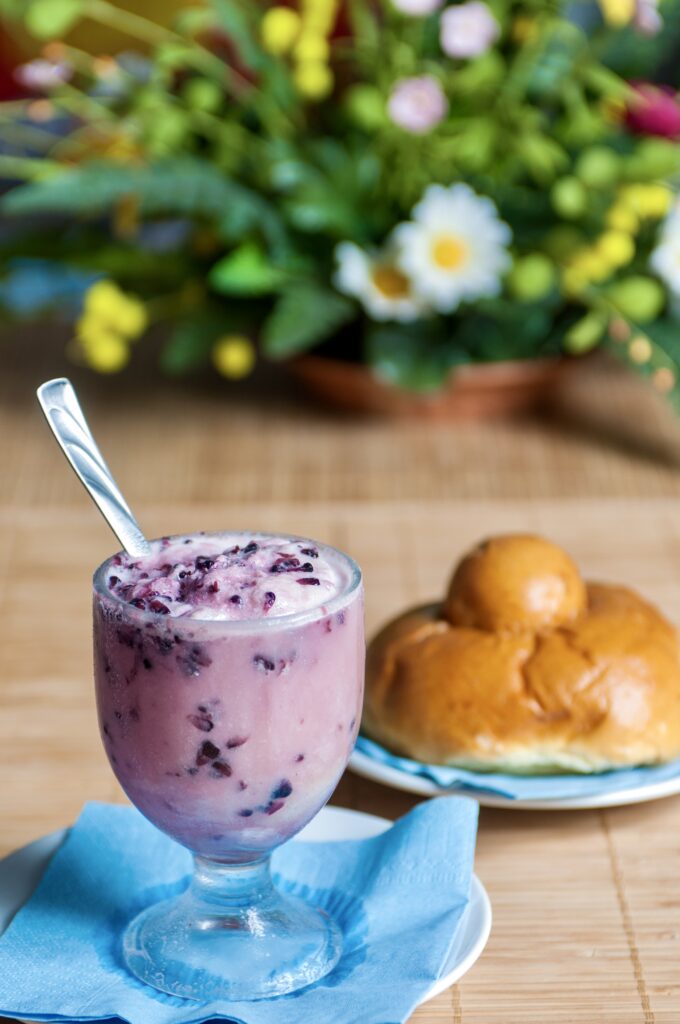 So, you are basically responsible for the cost of your drinks and free time, though we even had a couple surprise cocktail hours that David arranged.
9. Covid Policy
Rick has a strict Covid policy, which means you definitely need travel insurance for your trip. You have to sign a contract that promises you won't go on the trip if you've had Covid with 14 days of the scheduled departure.
Before you start the tour, you need to take a Covid test within 24 hours and show a photo of a negative result. This had the effect of knocking one person off the tour. And you can't rejoin the tour if you later test negative.
As of now, you also have to wear masks (N95s) on the bus and in smaller interior spaces.
10. Review of the Rick Steves Sicily Itinerary
The best thing about a Rick Steves tour is the extraordinary care he takes in designing the tour itinerary.
It's the perfect mix of breathtaking landscapes, ancient ruins, great food and wine at various agriturismos and restaurants, and a hefty dose of culture.
Here's what we did: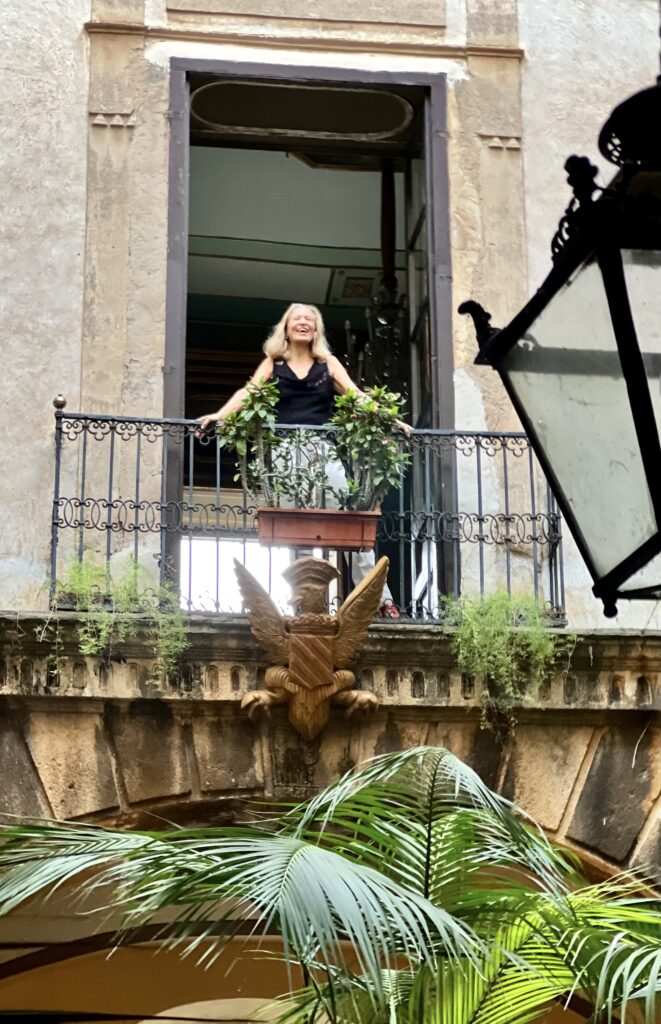 Day 1: Palermo
The first day we had a welcome meeting at the Ambasciatori Hotel, did paperwork, and went over the rules.
We also picked "buddies." This is a Rick Steves' invention designed to shortcut the process of making sure everyone is in attendance by avoiding a long and tedious roll call.
You pick a buddy that isn't your spouse. And then check for them at every departure point. A great idea! (I'll note that our tour did not play the hokey "buddy introduction" or "name game" that I've read about, and I was glad of that.)
The first tour activity was positively brilliant. We had a private tour from the reigning contessa of her centuries old mansion, the Palazzo Federico Conte. Her husband is a descendent of Holy Roman Emperor Frederick II.
The palace is a "lasagna of history." A visit is like a walk through the layers of Palermo's history, from the Arab, Norman, and Baroque periods. The bubbly countess was the perfect tour guide. So giddy was she that I almost expected her to break out in song.
This was a unique experience, not one that you would get on your own. It was vintage Rick Steves and a great way to kick off the tour.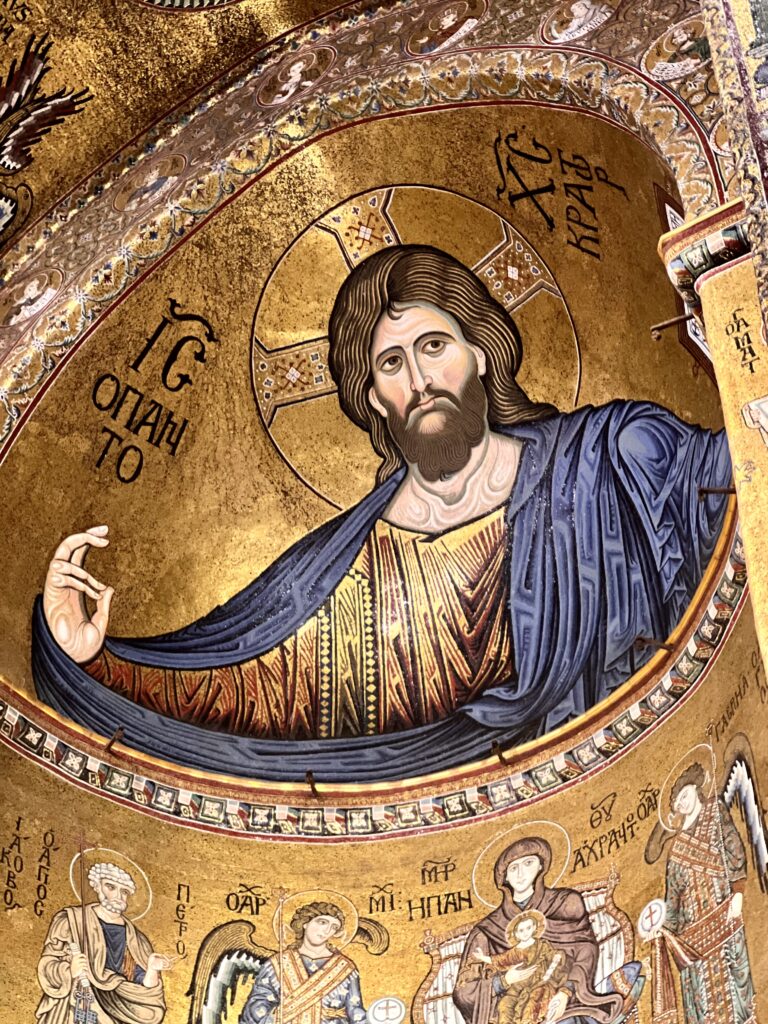 Day 2: Palermo + Monreale
On day 2, Jackie Alio gave us a walking tour of parts of Palermo, including Ballaro Market and the beautiful Baroque-styled Gesu Church.
Then, we hopped on the bus to visit the spectacular Monreale Cathedral and its cloisters.
Monreale is the world's most famous Arab-Norman cathedral. There's an astonishing 68,000 feet of glittering Byzantine mosaics set against 2 tons of gold leaf. It reminded me of St. Mark's Cathedral in Venice.
After lunch, we had the rest of the late afternoon and evening free. I had booked a Palermo nighttime street food tour. Since I wasn't under David's magical protection, I got poured on!
I tried the required "spleen sandwich." But I wouldn't recommend it to anyone. I was much happier with arancina, caponata, octopus, and other treats.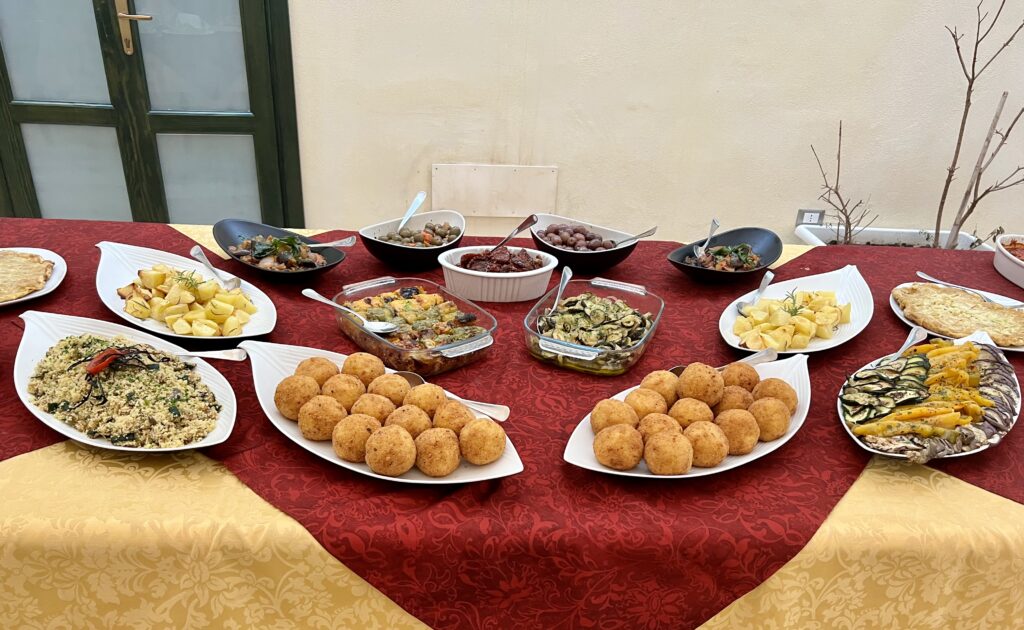 Day 3: Segesta + Erice
On the third day, we had a very busy schedule. We began by visiting the Greek-inspired Elymian ruins at Segesta, which include a well-preserved temple and theater.
Afterward, we had a tasty lunch of local specialties that our host Mark claimed we devoured like "locusts." We also had a wonderful pastry making demonstration from Maria Grammatico.
Maria is a famous local pastry chef and the queen of Sicilian pastry. She's led a compelling life. She was raised in the 1950s by strict cloistered nuns and taught the art of Sicilian pastries.
When she was freed from the convent at age 22, Maria launched a thriving business and published a cookbook called Bitter Almonds.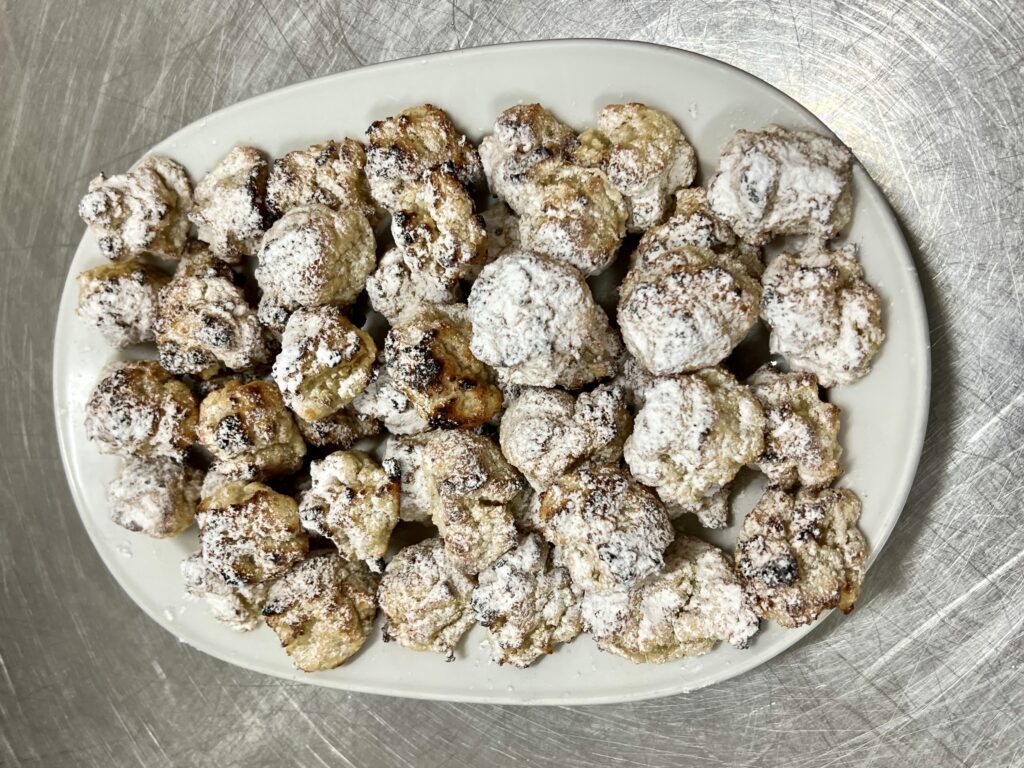 We sampled her fresh baked goodies, which are made from 400 year old recipes — "nuns' boobies," "beautiful uglies," and cannoli made with fresh sheep milk ricotta. Simply delicious!
We then went to explore the clifftop village of Erice, where Maria has her famous pastry shop.
Erice was socked in with fog, so we couldn't ride the gondola to the top. We drove up a long winding road instead, which reminded me why I didn't want to drive in Silicy.
Erice is a fetching medieval hamlet with plenty of cobbled lanes to explore, a temple with a view, and a cathedral bell tower to climb. We were set free to wander on our own, while David held off the rain.
We then took the bus to the seaside town of Trapani and had an orientation walk. The old town is a little art book, with honey colored Baroque architecture.
Day 4: Trapani + Mozia
On day 4, we visited the Trapani salt flats and the Island of Mozia. For me (others may disagree), this was my least favorite day on Rick's Sicily tour.
There are so many amazing things to do and see in Sicily. I would have preferred to eliminate this day and instead have spent another night in Syracuse with a day trip to the Baroque cities of Noto and Ragusa. Or had a day in Cefalu.
The Trapani salt pans were only mildly interesting to me (YMMV). We had a delicious lunch on the Island of Mozia, but were plagued by swarms of mosquitos.
Mozia is home to some Carthaginian ruins. But because the settlement was destroyed, there's just not much to look at. I'm usually an avid ruin luster, but my reaction was mostly "meh."
Had I known, I would have slept in and done my own thing. But I had FOMO about the Carthaginian ruins, which was unwarranted.
We stayed overnight in Trapani again at Badia Nuovo. I got a delicious pizza to go from Pizzeria Calvino (per David's recommendation) and caught up on some blog work.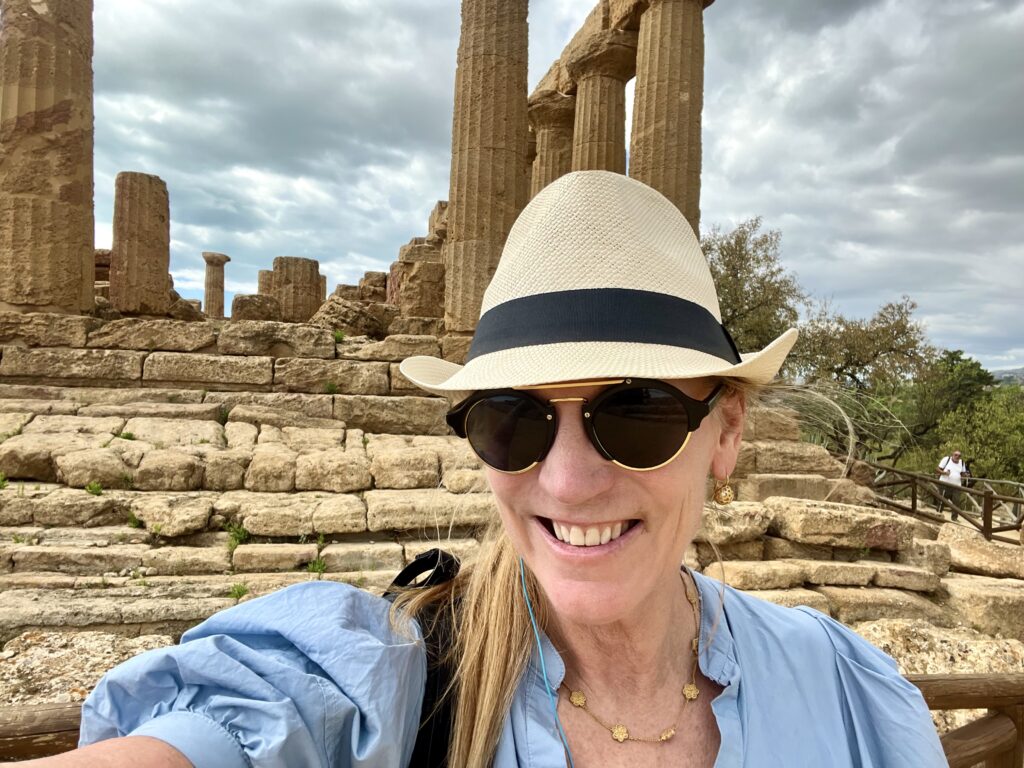 Day 5: Agrigento
The next day we were off to Agrigento to tour the UNESCO-listed Valley of the Temples. The complex is the world's largest archaeological site and Sicily's star attraction with spectacular Greek ruins.
Plus, there's a well-curated museum you can visit as a starter course. You can admire a giant stone telamon, which once held up the Temple of Zeus, and a huge collection of Greek vases. Three telamons are scattered on the remains of the Temple of Zeus.
After a hot day, we drove to our next hotel in the countryside, Baglio della Luna.
David arranged a cocktail hour and we had a group dinner onsite. The setting was lovely, but the food was not up to snuff compared to other meals.
In general, I would urge you not to eat at hotel restaurants and seek out a real Sicilian trattoria.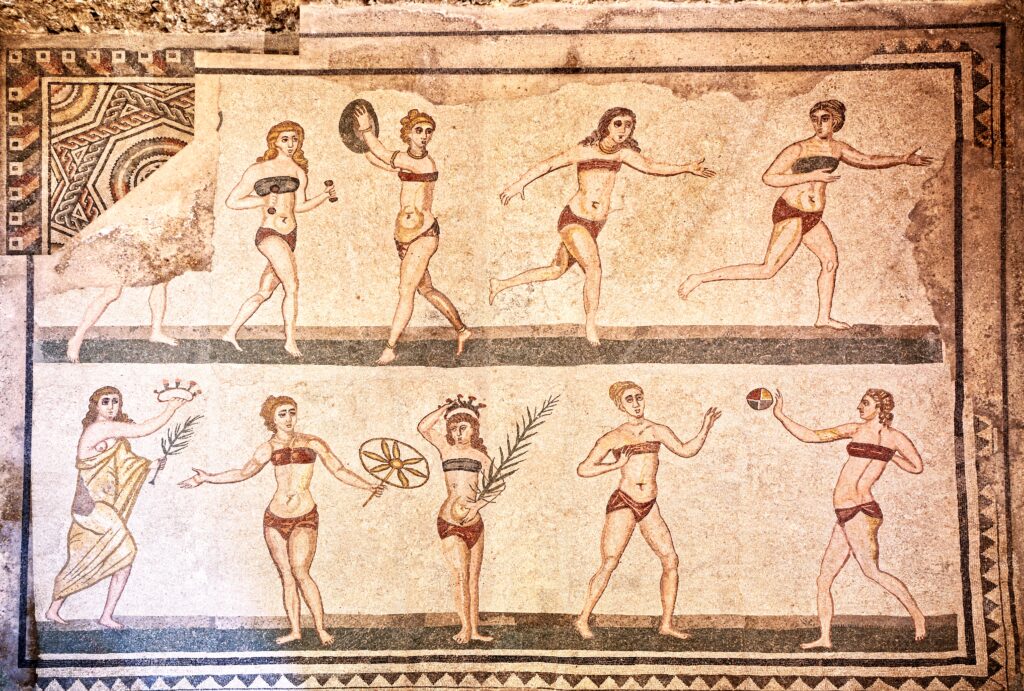 Day 6: Villa Romana del Casale + Casa Bianco
Day 6 was a splendid day. We began by visiting the UNESCO-listed Villa Romana del Casale. It's an incredibly mosaicked country villa built by Roman aristocrats in the 4th century.
I've seen plenty of Roman mosaics in my time, from museums in Rome to the Getty Villa in Los Angeles. But nothing compares to this treasure chest villa, not even remotely.
Villa Romana del Casale has the world's largest collection of in situ Roman mosaics — 3,700 square feet. It might have been my favorite individual attraction on the tour. This is one place where I think a guided tour would have been preferable to browsing the mosaics on your own.
Then, we headed to the Casa Bianca, a working farm, for a lazy Sunday meal. The owner/Baroness graciously welcomed everyone as we got off the bus.
This was, hands down, the best meal I had on the Rick Steves Sicily tour. Everything was delicious. There were so many courses, I couldn't do them justice. My table got a nonna-style scolding for not completely polishing off our plates of food.
Then, after another bus ride, we landed in Syracuse, staying in the historic center on the island of Ortigia.
Siracusa was my favorite city on the trip. Founded by the Greeks in 734 B.C., the city has architecture and archaeological sites that span centuries. It's full of old world charm, ornate Baroque churches, winding streets, and hipster wine bars and trattorias.
We had an orientation walking tour with David. Then, I had dinner at Cantina Rampa, where I dined with one of my fave couples from the tour.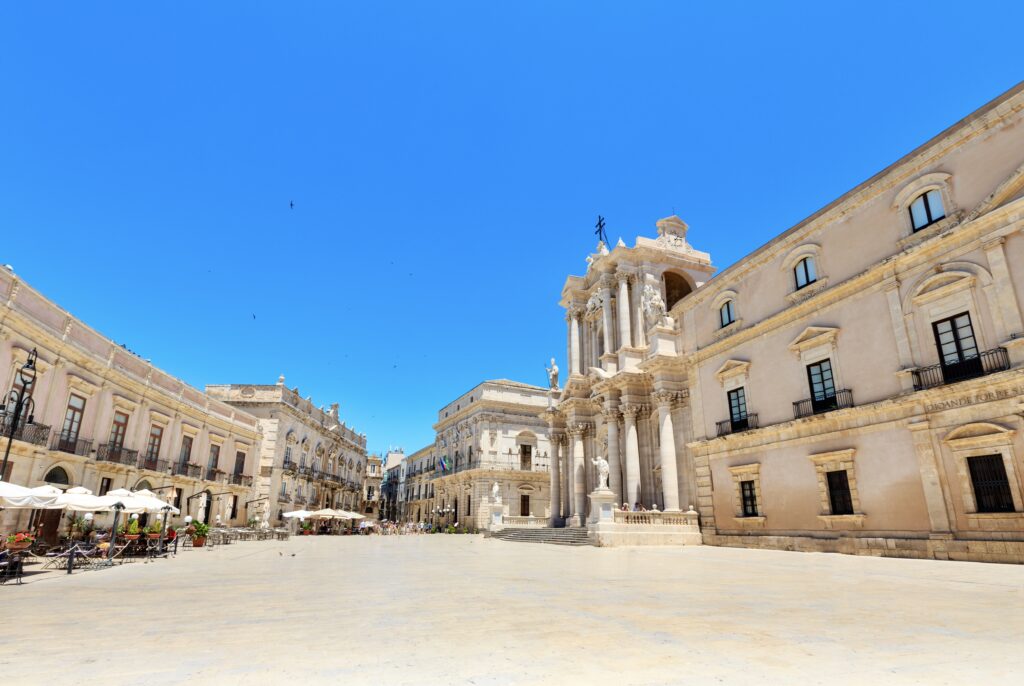 Day 7: Syracuse
In the morning, we had a guided tour with Lilliana. She took us through the Ortigia Street Market, Syracuse Cathedral, the Piazza del Duomo, the Arab Quarter, and the Jewish Quarter.
In the Jewish Quarter, we stopped in for a performance at the traditional Sicilian puppet theater. I admit, I left early because I had the UNESCO-listed Neapolis Archaeological Park on my agenda as a bucket list item.
You can get there via taxi from the Temple of Apollo in Ortigia for 15 euros. Or just take the 30-35 minute walk, which is what I opted to do.
The park is well worth a visit. It features one of the largest and most impressive Greek theaters in existence, as well as an elliptical Roman arena and grottos. There's not much signage, so I recommend booking a guided tour.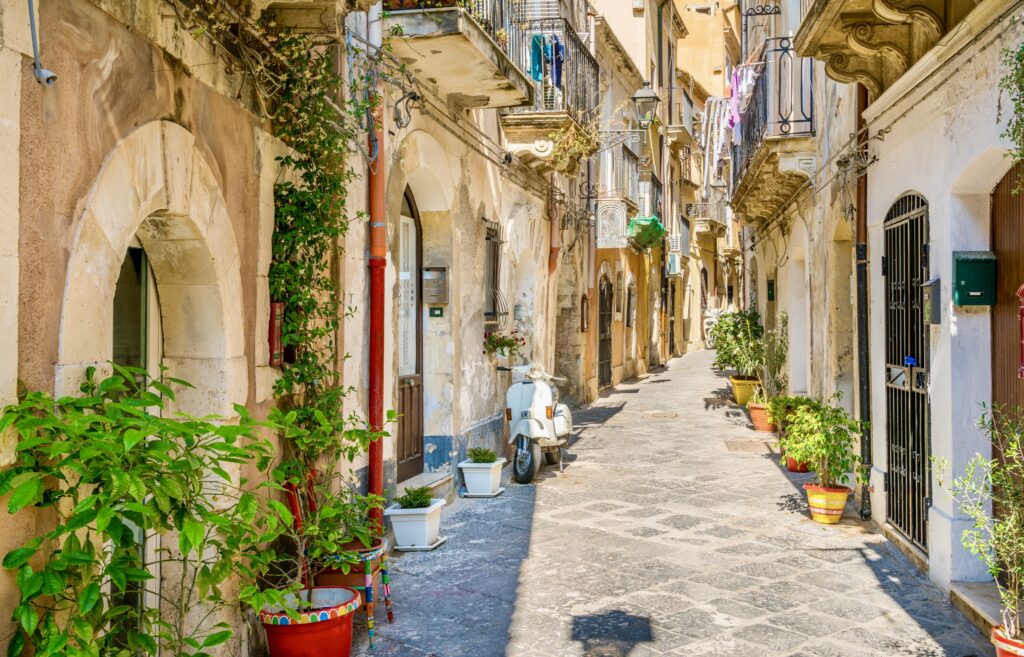 I actually tried to book a private tour on Get Your Guide myself, but they weren't operating on Monday. Monday is a tough day to be in Syracuse because all the museums and some churches are closed.
If you are an art lover like me, you can also visit the Church of Santa Lucia al Sepulcro to see the Baroque artist Caravaggio's magnificent The Burial of St. Lucia. The Sepulcro is about a 20-25 minute walk from the archaeological park.
The Internet will tell you that the painting is in the Church of Santa Lucia on Piazza Duomo or the Bellomo Museum in the Jewish Quarter. But, in fact, it's on the mainland in Neapolis, a key tip I got from Lilliana.
READ: Where To Find Caravaggio's Art In Rome
Day 8: Etna + Taormina
Day 8 was fabulous, one of my favorite days on the tour. We began by scampering over the Silvestri craters on Mt. Etna.
"Mamma Etna" is the world's most active volcano and one of the four UNESCO sites in eastern Sicily. Mt. Etna has been erupting for 500,000 years.
She's perpetually smoking. David called her a "chain smoker."
There are two craters to hike, an upper and lower crater. If you are a fast hiker, you can squeeze them both in, which I did. But be forewarned, the upper crater requires a very steep uphill hike. I was wearing Birkenstocks, which was not ideal, but I managed.
After the hike, we enjoyed a wine and food pairing at Benanti Winery on the slopes of Etna. Wine, our host Francesco opined, is "an ingredient, not a drink."
The wine was excellent, with a nice minerality. You'll be able to order some to be shipped back to the US. (I'm still waiting for mine!)
Once in Taormina, we checked into the Hotel Continental and attended a lecture by the very animated vulcanologist Boris Behncke. He gave us plenty of information on the "grumpy but generous" volcano.
Afterward, we had cocktails at the hotel's fantastic rooftop sky bar. A group of us struck out to find a good restaurant and settled in at Adduma, a great Sicilian eatery tucked away at the top of Vico Giordano Bruno.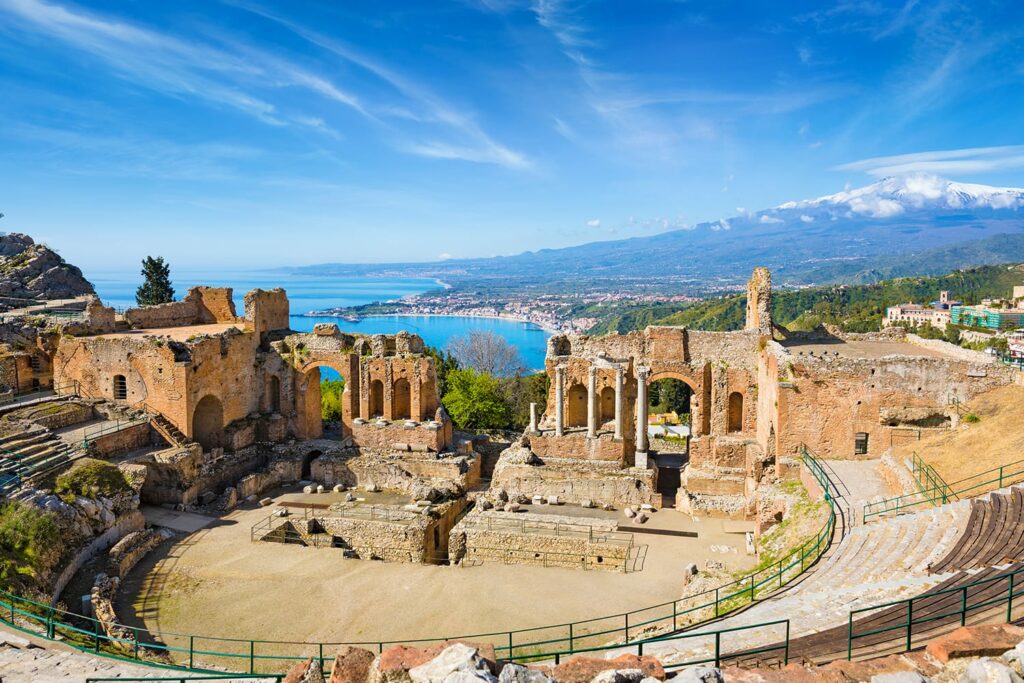 Day 9: Taormina + Castlemola
Day 9 began with a walking tour of beautiful Taormina with our guide Franco D'Angelo. We made it to the Greek Theater, Taormina's top attraction, before the cruise ships poured in.
In the afternoon, there was free time. Some took the gondola down to hit the beach at Isola Bella. Others of us made the trek up to Castelmola, a cliff hanging medieval village even higher than Taormina.
You can get there by taxi for 30 euros, hike up, or take the local bus. We tried to take the local bus, but it was full and whizzed by us.
So we taxied up, enjoyed the views, and snacked on some gelato. The walk back down took about an hour.
That night, we had a Sicilian pizza dinner at Pizzeria Villa Zuccaria in Taormina.
And the Italian air traffic controllers decided to go on strike. Dio mio! One by one, most of us had our flights home cancelled. David diligently helped people make alternative arrangements.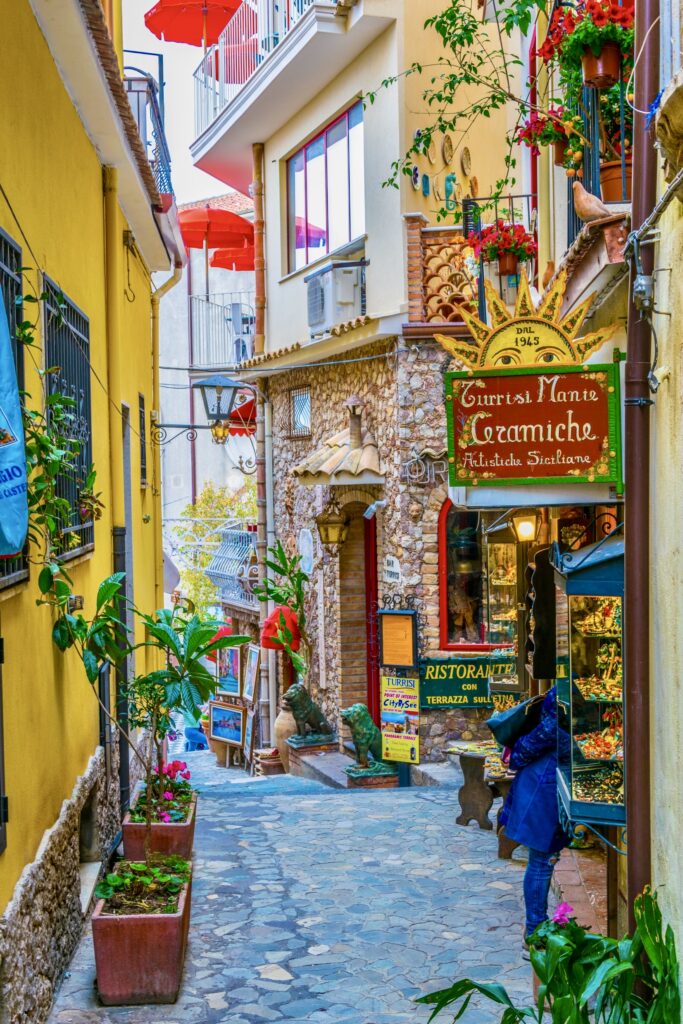 Day 10: Catania
On our last official day of the tour, we drove from Taormina to the bustling and colorful city of Catania. We first visited the Allied Landings Museum on the edge of town, perhaps of most interest to military history or WWII buffs. We had a brief neighborhood orientation and then were set free to explore.
Most people ate lunch in Catania's famous Fish Market, which is one of the most wild and rollicking markets that I saw in Sicily. I skipped lunch to dash around town and see the sites, Roman ruins, and other markets.
I was rebooked to leave Thursday night instead of Friday morning. So, unfortunately, I missed the final group dinner, where David — who also has magical musical powers — played guitar and sang for the group.
Day 11:
The Rick Steves Sicily tour is really 10 days, not 11. Day 11 simply ends with breakfast in Catania at Romano House Hotel.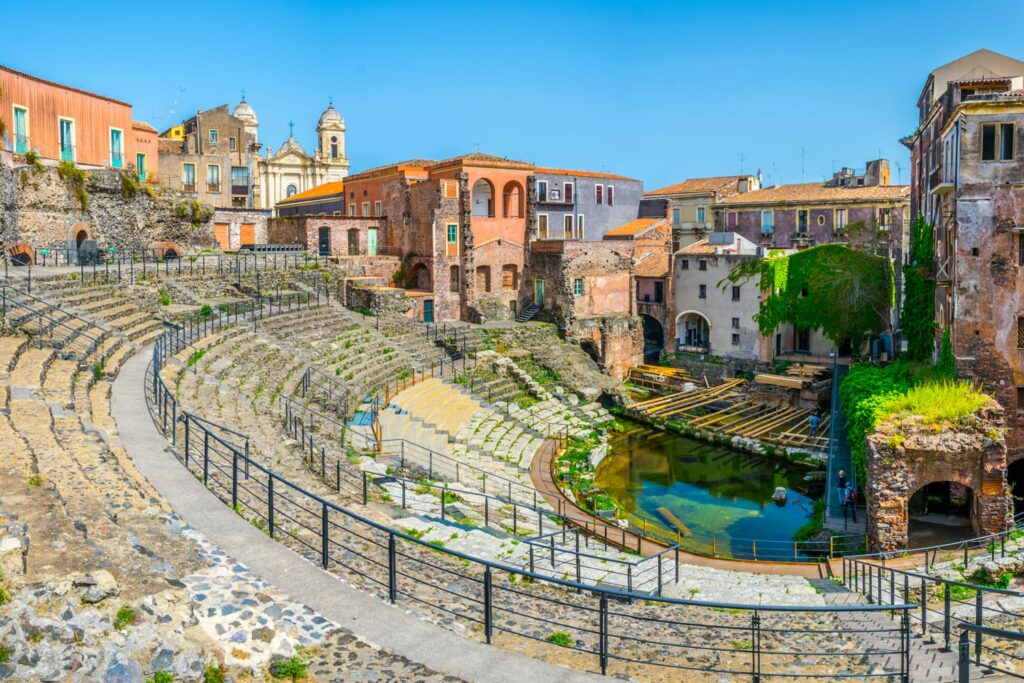 Overall, the itinerary was well balanced to give you a taste of everything from the west coast to the east coast of Sicily.
If I were designing the itinerary for myself, I might do something like this (with less time on the west coast):
Day 1: Palermo
Day 2: Palermo + Monreale
Day 3: Segesta (AM), Erice (PM)
Day 4: Agrigento (AM), Villa Romano del Casale (PM)
Day 5: Syracuse
Day 6: Syracuse
Day 7: Day Trip to Ragusa and Noto from Syracuse
Day 8: Mt. Etna & Winery
Day 9: Taormina
Day 10: Taormina + Castelmola
Day 11: Cefalu
Day 12: Cefalu
To me, 12 days would've better than 10 days, there's just so much to see in Sicily. But, of course, you can stay before or after to see more on your own.
Alternatively, for less traveling from hotel to hotel, it might make sense to have a base on the west coast (Trapani) and a base on the east coast (Syracuse) and simply day trip from those bases.
You could bookend the two bases with 2 days in Palermo at the beginning and 2 days in Cefalu at the end (to have a vacation from your vacation).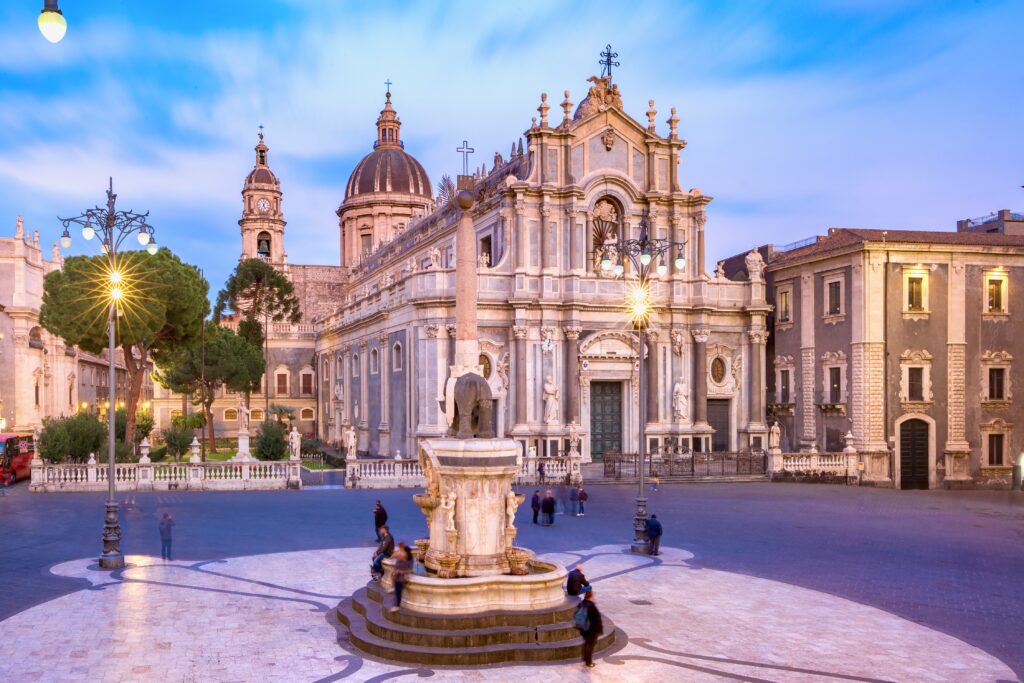 11. Final Thoughts
Overall, the Rick Steves Sicily tour was exceptional. Sicily has long been on my bucket list and the tour met my expectations. Though I usually opt for individual travel, the tour was a carefree way to get around Sicily easily and effortlessly.
What really stood out as pros for me were:
David, our fantastic tour manager
the excellent local tour guides
the unique experiences
some truly excellent meals
my fun group of traveling companions
My nit picky cons (keeping it real) were some of the hotels, the unrelenting early start times, and having to change hotels so frequently. But I knew this all in advance, so was prepared.
The cons pale in comparison to the magnificent sites of Sicily and the great tours I had bringing them to life. My one regret is that I did not have enough granita!
I hope you've enjoyed my review of Rick Steves' Sicily tour. You may enjoy these other Sicily travel guides and resources:
If you need a review of Rick Steves Sicily tour, pin it for later.