Here's my review of Convergence Station, the new art installation in Denver by the cutting edge art group Meow Wolf.
I give you an overview of the installation, the themes, and tell you what to see inside. I also give you must know tips for visiting.
Meow Wolf Denver is an immersive art installation featuring a paranormal motif. The station is designed as an interplanetary transit hub where four different worlds have converged.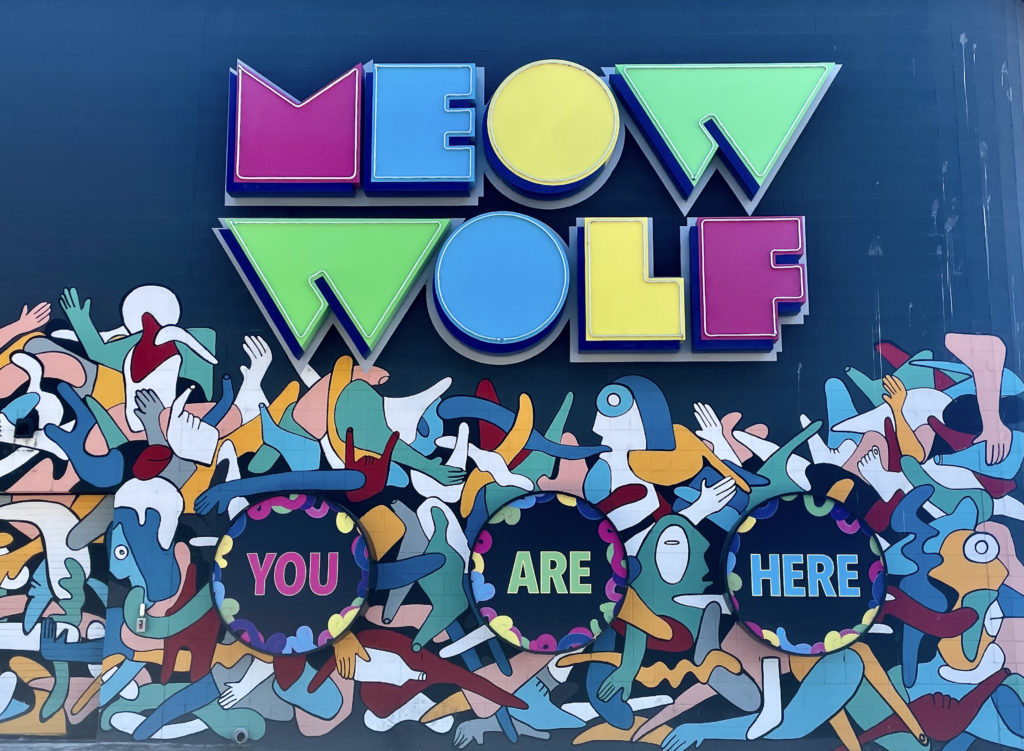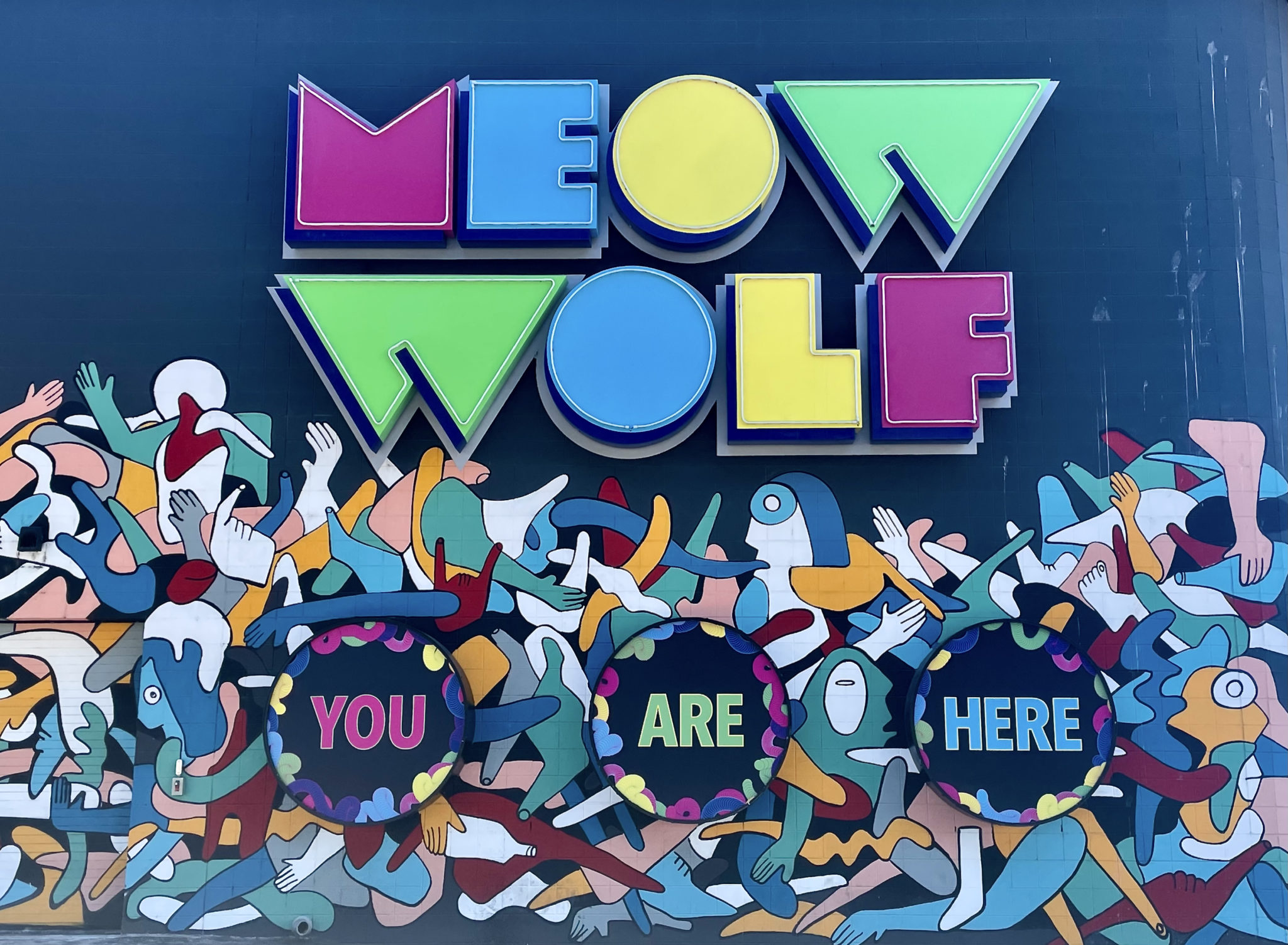 The installation is a massive psychedelic maze of beautiful art and absurdist spaces. The visually stunning exhibit is part original contemporary art, part sci-fi theater, and part film set.
Convergence Station offers up a maximalist Seussian-type experience. Every inch of the cavernous rooms are decorated and pumped up with pulsing light and sound effects. You'll be dazzled by instruments that play themselves, catacombs, and lush alien habitats.
In the dimly-lit exhibition space, there are secret doors, hidden experiences, and tiny cage-like rooms and openings. Even a psychic tent. If you're too over-stimulated, there are some decompression rooms to escape the chaos.
In addition to the over-the-top otherworldly art installations, there are meaningful and culturally significant art displays.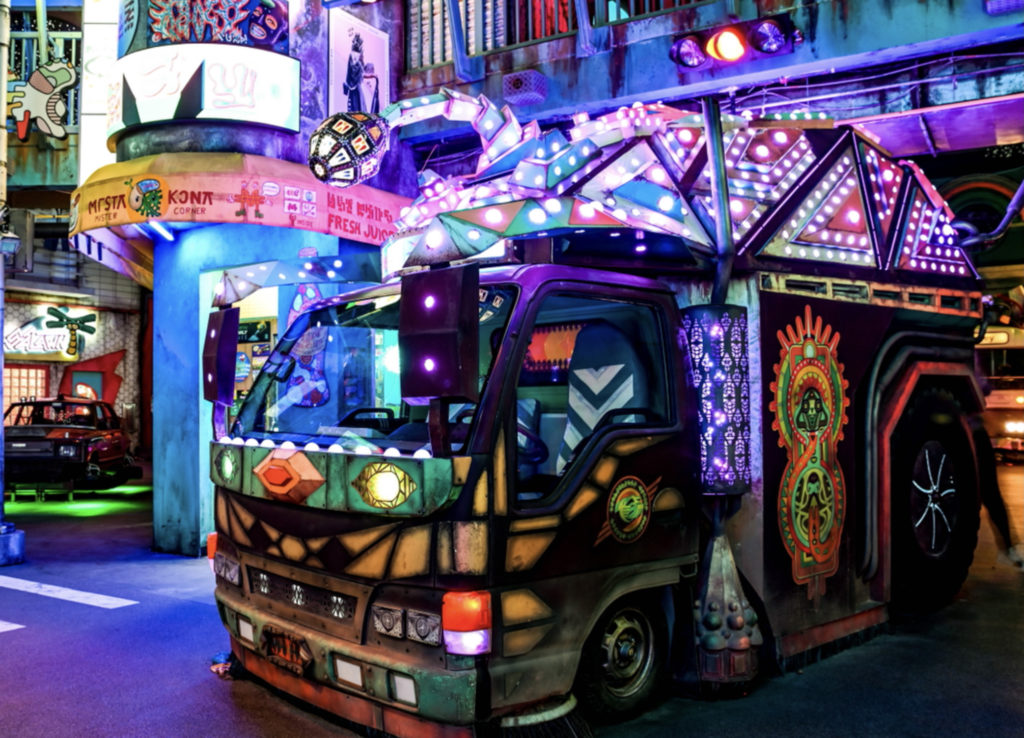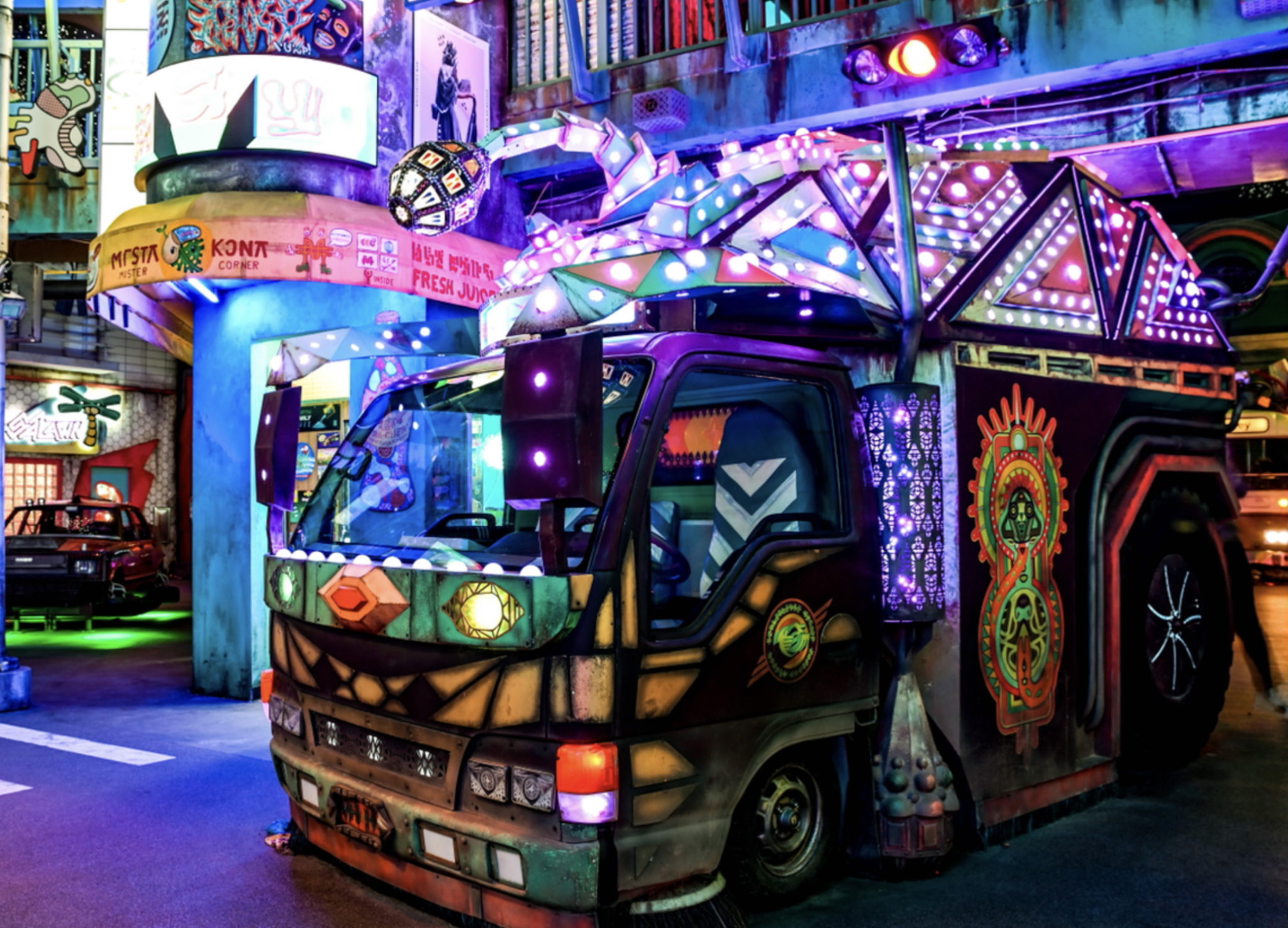 To further deepen the experience, Convergence Station comes complete with an embedded narrative. It's a complicated quantum travel puzzle, one which you're invited to solve.
It's a mystery about how the four universes converged into a single multiverse and what happened during the cosmic event. Clues to solving the mystery are hidden throughout the exhibit.
With that introduction, let's get down to some basics to help you understand the installation.
What Is Meow Wolf?
Meow Wolf is an arts and entertainment group founded in in Santa Fe New Mexico in 2008. Meow Wolf began as an eclectic cadre of broke Santa Fe artists. They sought to to create playful aesthetic art outside the traditional gallery/museum system.
The group debuted its first immersive art installation in Santa Fe in 2016, called The House of Eternal Return. It was funded with a $3.5 million grant from Game of Thrones creator, George R.R. Martin, and was an immediate sensation.
Meow Wolf opened its second installation, Omega Mart, in Las Vegas. In September 2021, the group opened Convergence Station in Denver.
Part of Meow Wolf's mission is to support artists and build artist communities. Meow Wolf organizers give their artists complete control of their particular pieces.
Against improbable odds, Meow Wolf has been wildly successful. It built a model for a unique kind of installation art, when immersive experiences were gaining popularity. Now, Meow Wolf is an arts and entertainment giant.
The franchise will continue to expand to other cities. Another permanent installation is expected to open in 2022 in Washington D.C.
What Is Convergence Station?
So what is the Meow Wolf Denver experience exactly? It's many things …
Convergence Station is a four story immersive art exhibition with a sci-fi novel premise. You'll find almost 80 unique installations, rooms, and portals. Together, they tell a mind-bending tale of converged worlds.
The installation reflects over 3 years of work. Hundreds of artists were involved, including 110 Denver-based artists.
If you don't want to know anything about the underlying story of Convergence Station, stop now and don't read on!
But I think it really improves the experience of Meow Wolf Denver to have some background on what the art represents and not go in blind. Don't worry, I don't reveal the mystery.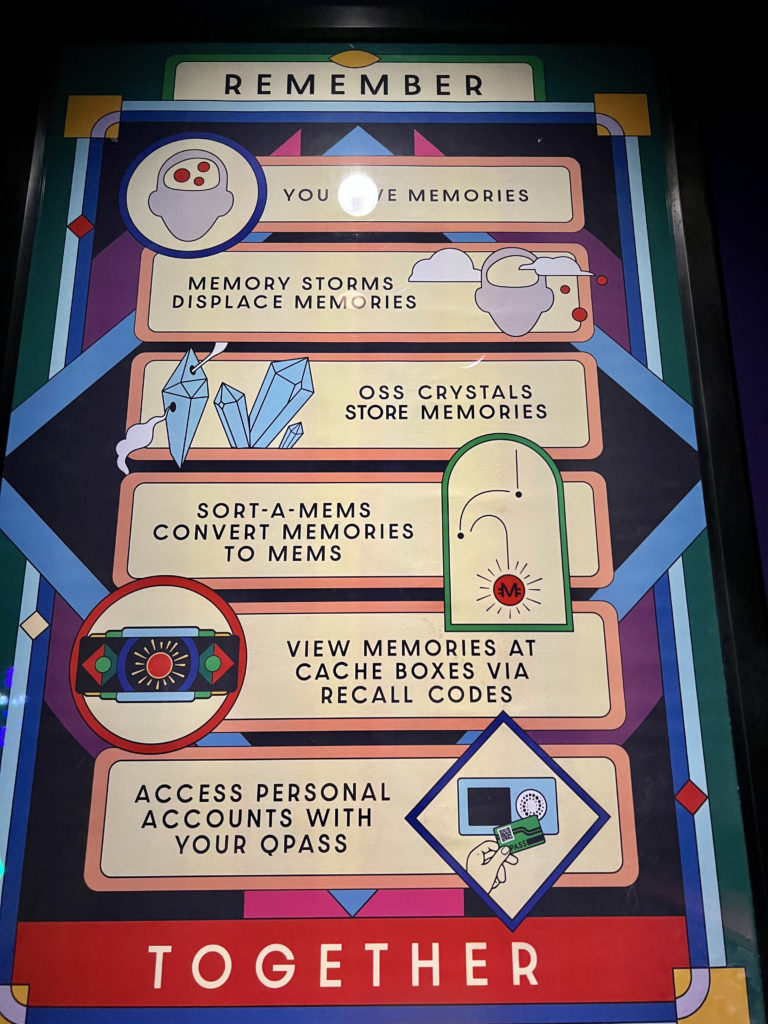 1. Origin Story Of Convergence Station
There is a dense, nearly bottomless, sci-fi narrative to Convergence Station.
Once upon a time, a freak cosmic event connected the four fictional universes. They were thrust together into a converged multiverse.
Transportation in the multiverse is controlled by a group called QDOT, the Quantum Department of Transportation. QDOT is led by the secretive Council of Conductors.
But the convergence had consequences. Citizens couldn't return to their own worlds.
The convergence caused a "memory storm." This affected all conscious beings and erased their memories. The memories collided, became free floating, and were lost.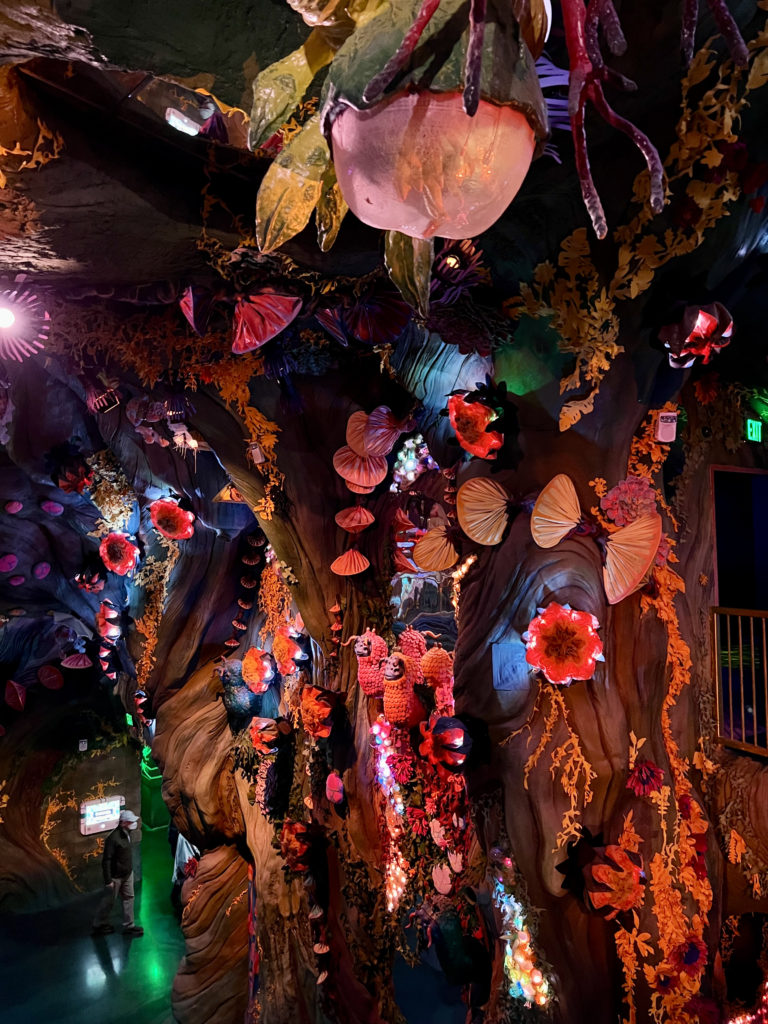 Some citizens like the new converged world. Others long for their memories and home. There's a group of "divergers" who want to extricate the worlds from their convergence.
The citizens' displaced memories are stored in the "Convergence Exchange." This is the place where memories are bought, sold, or traded. It's the basis of the local economy.
During the convergence, four women disappeared. One story, for example, involves a bus driver named Pam. She steered her vehicle through a portal at the exact moment of the convergence and vanished.
What happened to the "forgotten four"? What is QDOT really up to? And exactly how did the convergence of worlds happen?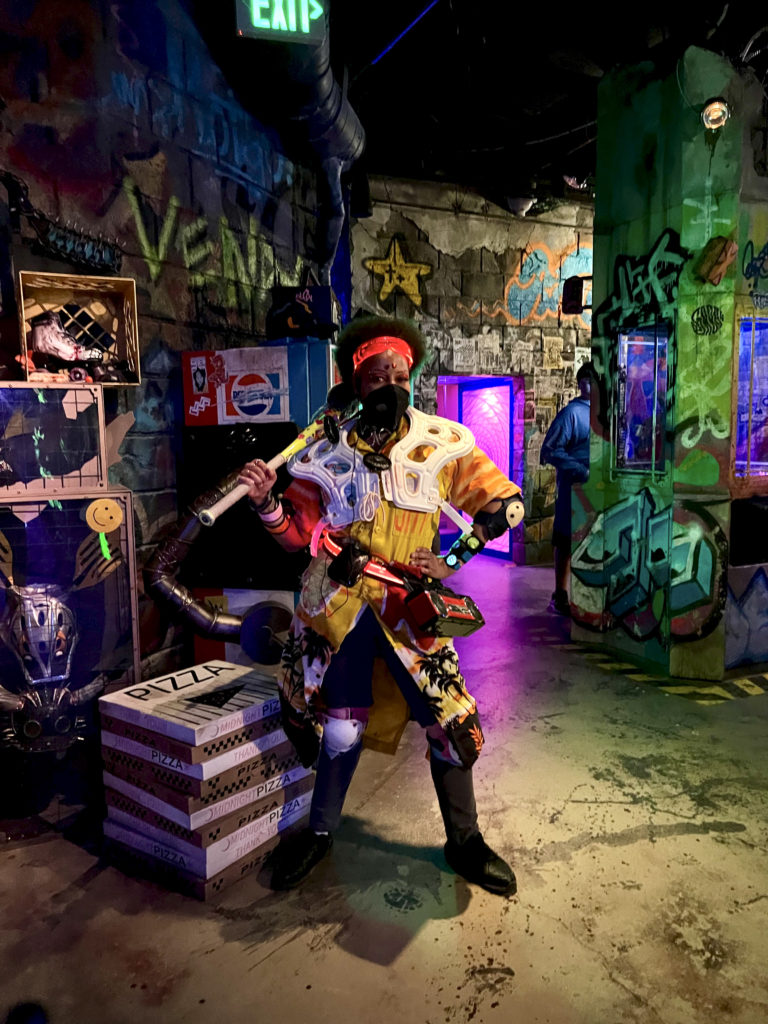 If you can add up the clues and crack the code — no easy task — you will figure out the nefarious mystery underlying Convergence Station. Solving the mystery could keep you coming back time and time again.
During your visit, you'll also see Meow Wolf staff, dressed in hooded cloaks and glow-in-the dark fashion accessories. They keep the mythology rolling, answer questions, or point out secret spots. But they won't give away the mystery.
The origin story has a subtext. It could be interpreted as a tale of indigenous rights and the problems faced by immigrants.
2. What Is The Q Pass?
If you're a mystery lover or conspiracy completionist, you should get the Q Pass. You only need one per group. The Q Pass is what you use to unlock clues to the underlying mystery.
To use the Q Pass, you "boop" or scan the Q Pass at the ATMs you see around the installation. When you boop, you collect MEMs (memory fragments), learn secret stories, and unite missing memories with their owners.
Your Q Pass remembers which memories you've interacted with. Unlocking certain sets of memories reveals new parts of the story.
You may be accosted by MEM pirates. There's a shadow market for trading in memories, which includes some of the "big" memories about the convergence itself.
Sounds odd, I know. But it makes more sense after you get started. To solve the mystery, you'll need to visit most or even all of the ATMs.
There's an area on C Street where you can learn all about Memory ATMs and MEMs.
3. Four Universes Of The Multiverse
There are four disparate universes in the megalopolis multiverse. Here's a description of them.
Knowing about them will help you figure out which of the four converged universes you're standing in at any give time during your visit.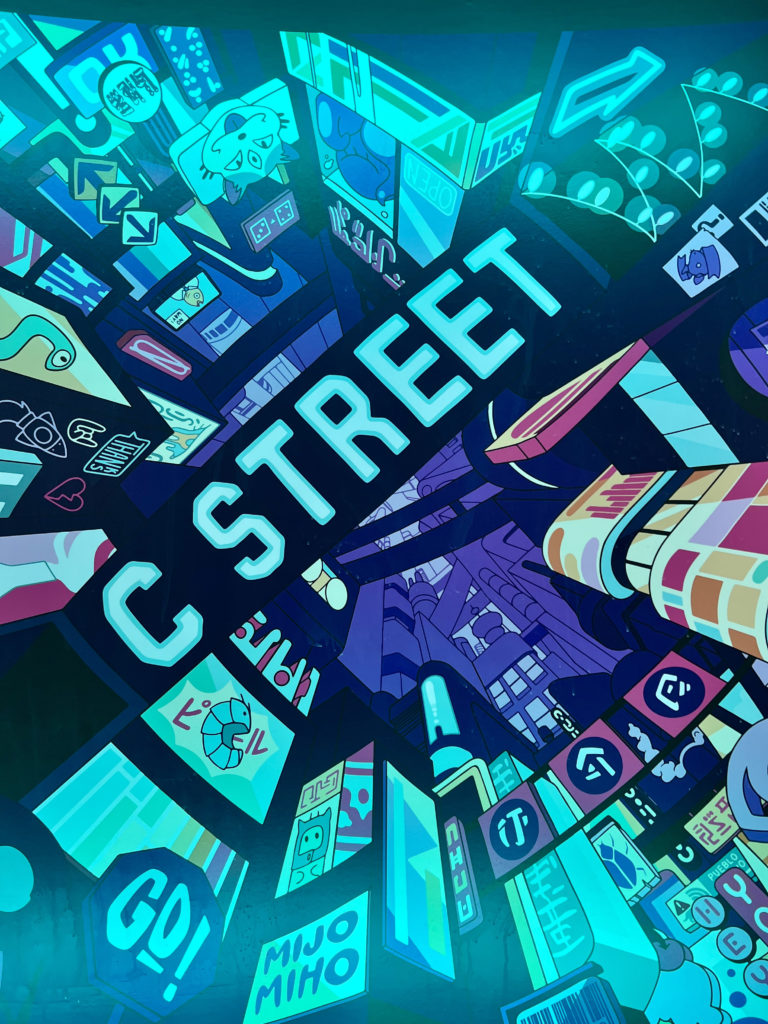 C Street
You'll likely start your Meow Wolf visit on C street. This cityscape universe is a gritty urban jungle where most citizens live. The neon-like area is a futuristic, yet nostalgic, space.
At C Street, you can climb into vehicles, play a rat battle game, or listen to the Trash Pile Symphony. There's a laundromat with a secret room. The Gyre apartments are an infinite apartment complex that never ends.
There are bodegas, a beauty salon, and a Chuckie-Cheese-esque pizza shop. Each has its own surreal twist. In the pizza shop, for example, customers and employees are trapped after closing in the dark.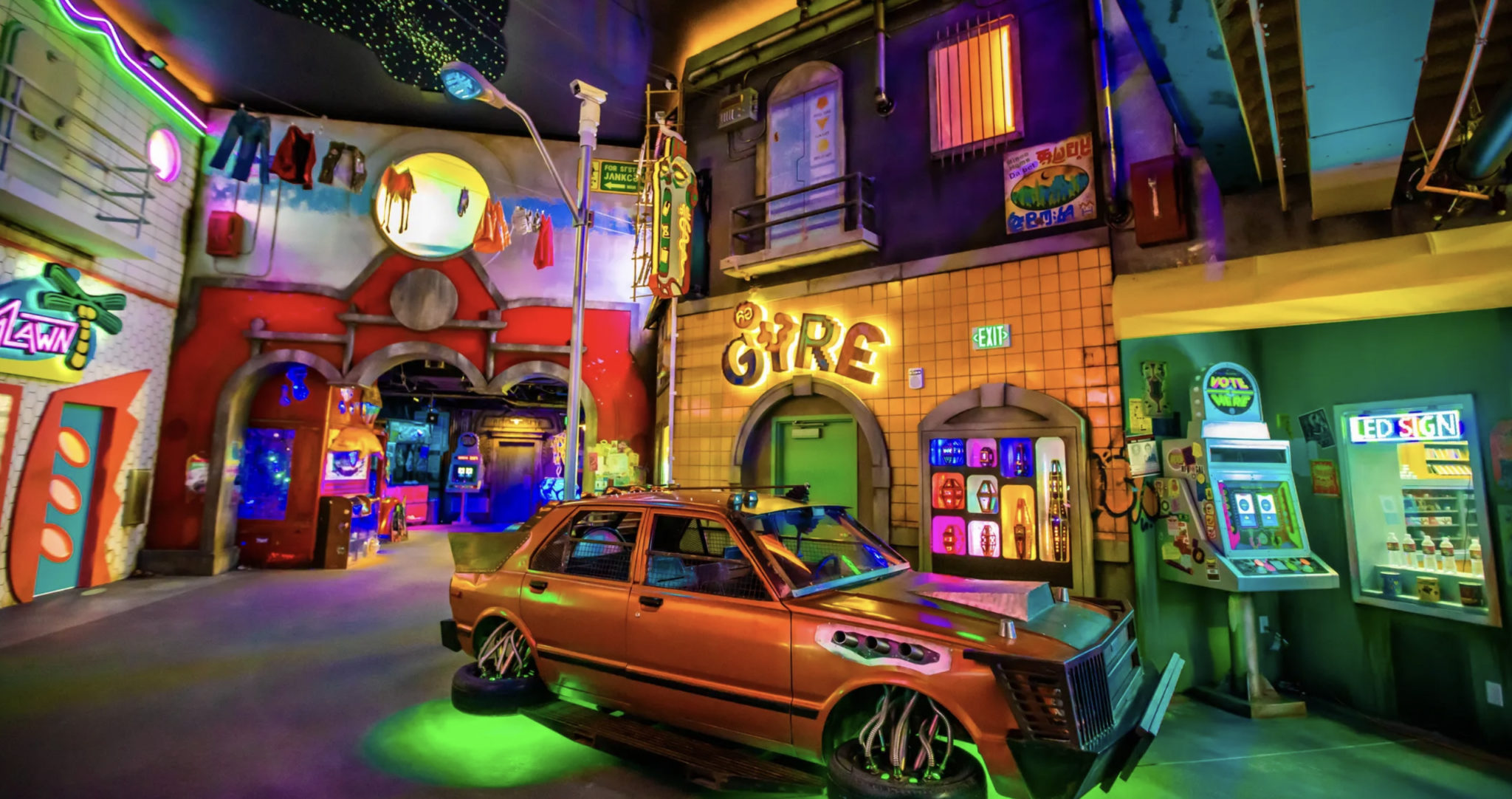 There's a Rocket Car parked on C Street designed by Christopher Miller. It's intended for interaction. You can play with levers, buttons, and widgets, and see what you can activate inside the vehicle.
Clues to the "forgotten four" may be found in Pam's Earth Vehicle Shrine.

Numina
Numina is the largest universe and anchoring station at Convergence Station. It's though to be an entity that exists outside time and space in a 6th dimension. Numina allegedly joined Convergence Station on purpose.
Numina is a beautiful day glow 3 story universe teeming with fantastical vegetation, bizarre creatures, lichen-covered stars, and unearthly landscapes. You almost can't tell the difference between the landscape and the creatures.
Some of the orbs and gardens sing to you as you walk by or touch them. The creatures are known as "toad piggies," nudibranches," "fairy orbs," and "telescope creatures."
At the center is a two story spaceship, once a virus and now a talking machine.
Emmia
Ancient Emmia is is a frozen ice world, trapped in a 1,000 year ice age. Eemia is the home of the Kaleidogothic order. It's a land of myth and mystery.
Eemia was once a lush paradise. But an unknown event caused the sun to go out. Eemia's "Navigators" tried to get the world back to the other suns.
But, because of the blundering of a boy known as Silverthorne, the effort failed and Eemia turned into permanent ice. The history of Eemia is found in the Book of Whales in the Library.
In Emmia, grandiose architecture is set against a white frozen landscape. This is where you'll find the stunning Cathedral, a true highlight of the installation.
Two robots called Navigators are directly outside the Cathedral. The rumor is that, after the convergence, they may no longer be asleep.
Ossuary
The Ossuary is a labyrthian world of catacombs bedecked in Oss crystals. It's the underground world of Convergence Station. This is probably the creepiest world to walk through.
The Ossuary was once a thriving desert planet. But a volcano destroyed it. The inhabits, called Y'ruks, were driven underground and are presumed to be extinct.
After the convergence, the Ossuary became the center for information collection.
The Ossuary is part rock and part light with mostly tiny rooms. The most important room is the library, where multiverse lore is collected.
Review of Meow Wolf Denver: What To See At Convergence Station
I loved Convergence Station. It's super cool, fun, and creative. The installation evokes a sense of wonder.
It's a visually thrilling playground for the imagination. You may feel like you've stepped into the matrix. And, unlike the standard museum, you don't have to resist the urge to touch things.
Meow Wolf isn't just a selfie museum either. It's a confusing and thought provoking assemblage of art, theater, mystery, and message all rolled up into one outrageous paranormal extravaganza. I can't wait to go back again and dive deeper into the worlds.
Here are some of the highlights of Meow Wolf Denver that you can't miss:
1. Cathedral
The Cathedral is a fantastical two story kaleidoscope structure. It's sophisticated — with faux see through stained glass walls, a technicolor dome, and towering spires.
Inside the cathedral, there's a high ceiling made of stalactites. You'll see an altar and a playable pipe organ called the "Great Astral Wave Creator." The Cathedral even has its own gargoyles.
You'll also find interactive components. They make sounds and make the roof spin. If you can figure out how, you can make the stars above align to open a portal.
2. Space Ship: The Cosmohedron
There's a massive multi-level tower at the center of Numina, the Cosmohedron. It's thought to be a cosmic virus that was absorbed by the Numina universe.
It's a virus no more and is safe to explore. It has unique sights and sounds that are not in the other universes.
The lower floor is the "Glam garden." The middle floor contains an activation puzzle called "Frog Egg Garden" designed by Emmanuelle John.
If enough people sit in the cushioned depressions around the circular room and touch the windows, the colorful ceiling comes to life.
3. Ossuary Library
The Library is the hub of all collected knowledge created by the early underground dwelling Y'urks.
There's plenty of information on the different universes, including an entire volume on the mythologies of the worlds in Convergence Station. You can actually read the books.
The library leads to the haunted Hall of Busts. This is where you'll find the voices of long lost librarians.
4. Eemia's Navigators
In addition to the Cathedral, the main room of Eemia contains two robots known as "Navigators," the Red Navigator and the Spider Navigator.
The Navigators are biomechanical beings. They once took Eemia to the stars and back, but were then encased in ice. The convergence freed them from their long frosty sleep.
You can sit down on thrones in the Navigators, play with their controls, and try to communicate with them.
The Red Navigator has controls that can be used to solve the Eemia Wormhole Puzzle. If you solve it, a video and laser sequence is projected onto the ceiling above the cathedral.
5. Bacon Faces
I like the British artist Francis Bacon, so this was one of my favorite rooms at Convergence Station. The room is different than most other Meow Wolf rooms because it doesn't showcase ancient aliens, architectural wonders, or lost memories of refugee extraterrestrial cultures.
No, this room is all about art. The room contains a series of 666 disfigured portraits. They look as if Bacon came back from the dead to paint them himself.
Bacon was known for his unsettling and raw imagery. His subject matter was abstracted and angst-y figures. Bacon wanted to capture "the brutality of fact."
The "Bacon Faces" room was created by Denver-based artist Andi Todaro. Using Bacon as her inspiration, she explored the notion of human suffering — "what is being alive and the nightmare we all share just to make money to survive."
6. Gremlin Symphony
In this room, Meow Wolf artist and co-founder, Matt King, and musician and fabricator Meason Wiley turned a mess into a musical masterpiece. Gremlin Symphony features instruments playing music every few minutes as travelers walk through the mind-bending space.
The room is full of trash and signs sourced from salvage yards in Denver's Sun Valley neighborhood.
Wiley is a sound genius. He programmed Gremlin Symphony to play on its own music. He even envisions a future where guest performers program their own musical pieces for Gremlin Symphony to play.
In Convergence Station lore, the symphony is the creation of an engineer who escaped from the multiverse. To cure his loneliness, he turned instruments into sentient beings. Insead of words, they talk through the music they play autonomously.
7. Earth Spirits of the Subconscious Mind
This was another of my favorite Mew Wolf rooms. It's a beautiful dreamlike space that combines murals, sculpture, sound, and corn chandeliers.
It was created by David Garcia and Cal Duran using an approach they call "abstract imaginism." Their goal? To make people feel differently after seeing their work.
The space is a calming respite, with a focus on art that connects to their Mexican heritage and ancestral roots. There is tribal imagery, spirit animals, and half human/half animal masks.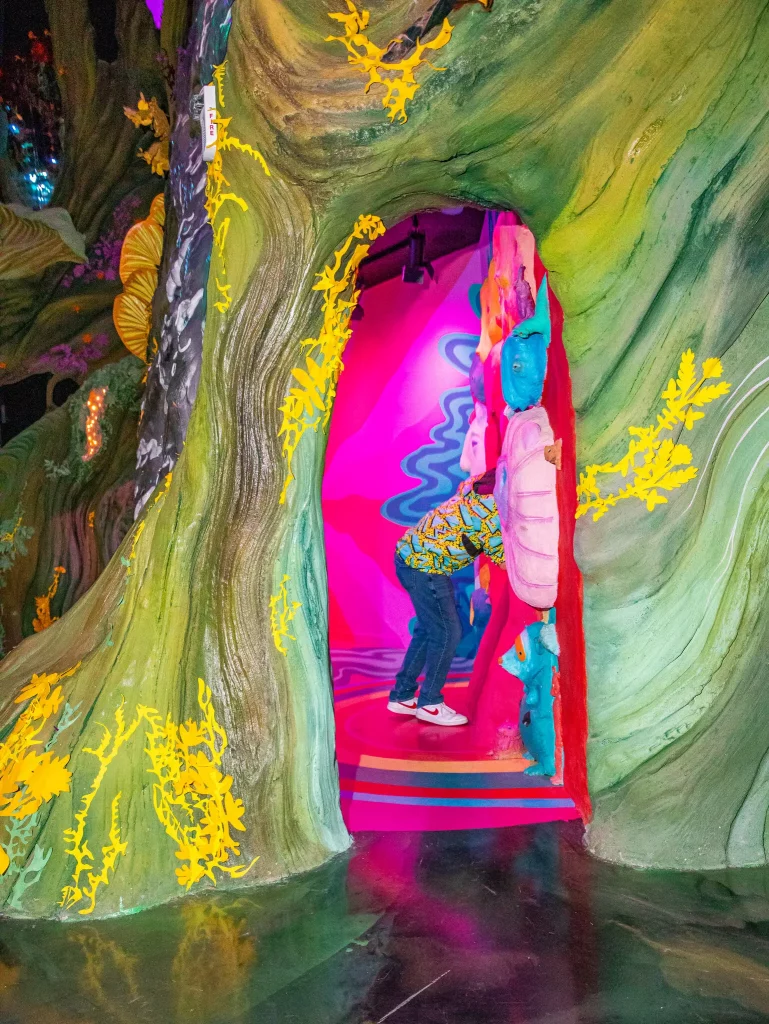 8. Rainbow Room and Womb Room
The Rainbow Room is a wildly colored vestibule that leads to the Womb Room. It was the invention of Jess Webb.
Creatures huddle around an opening. They're not exactly welcoming you. Some even look rather grumpy.
The Womb Room is like a natural cave with eerie music playing. It was intended to be a place that feels like the beginning of life and time.
You have to crawl into the room like an infant. It's a starry universe of speckled light and crystalline sculptures.
9. The Parlour of Birds
The "Parlour of Birds" in Numina was created by Maya Linke, a theater set designer.
The room features extinct birds hidden throughout a Victorian parlour time capsule. In particular, the exhibit memorializes an extinct bird, the Carolina Parakeet, in wallpaper.
The birds are pictured in a flock, their rightful and natural form. As you continue on, you'll see the bird in 3D, resting on a chair. There are five other extinct birds found throughout the space.
10. Macarenia
This beautiful rainbow-like space was designed by artist Cami Galofre. It's a multi-dimensional landscape inspired by her love of nature and magical realism.
It's a transitional area between Numina and the Ossuary. The space features swirling lines of paint, 3D cutouts, and iridescent lighting. It's meant to connect you with the earth.
The title Macarenia refers to an aquatic plant. It's set in a river. The cutouts appear like either mountains or clouds.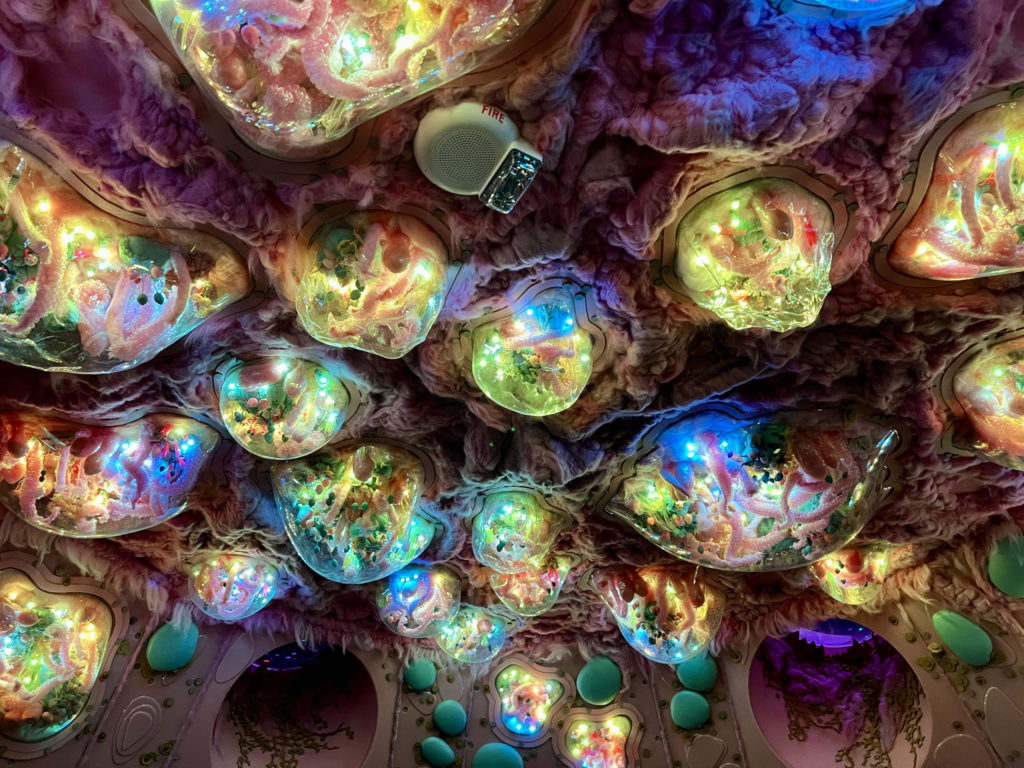 Practical Information For Meow Wolf Denver
Here's everything else to know before you go to Meow Wolf Denver.
Do You Need A Q Pass?
You absolutely need a Q Pass if you want to dive into the narrative and solve the "cloaked in obscurity" mystery of Convergence Station. It costs $3. You can purchase it at the information counter on the first floor.
Be forewarned, if you do get the Q Pass, you may be more obsessed with the terminals than the art.
Also, the mystery of Convergence Station is a tough puzzle to solve. You probably can't unravel it on just one visit. Nothing is spoon fed to you.
If you forget to buy a Q pass when you enter (which I did), it's a quick trip back to the lobby to get one.
But there's no right or wrong way to experience Meow Wolf. It's a choose your own adventure installation. No one tells you how to experience it.
So, it's perfectly fine not to get a Q Pass. You can just enjoy the beautiful chaos without playing the alternate reality game.
Personally, I think the real thrill of Meow Wolf comes not in wrapping your mind around its enigma, but in letting the 90,000 square feet of artistic enigmas wrap themselves around you.
It makes sense to visit the installation at least twice, if your budget can handle it.
Visit once to absorb the fantastical installations and art. Visit again to play the Q Pass game and solve the mystery. Each visit will yield a different experience.
Who Should See Meow Wolf?
Meow Wolf is billed for all ages. There were plenty of kids there when I attended, which I must admit was a bit distracting.
I heard one young child crying. So Meow Wolf might not be the best for young kids or those that are overwhelmed by sensory stimulation, strobe lights, crowds, or the dark.
Otherwise, I feel like most adults will find Meow Wolf to be super creative and stimulating, a unique experience. It's been dubbed "Big Fun Art," where you can experience the weirdness of the world. It's a more accessible form of art than museums can be.
Plus, Meow Wolf can cause you to reflect, giving you a tangible mediation on the world through its storytelling and imagery.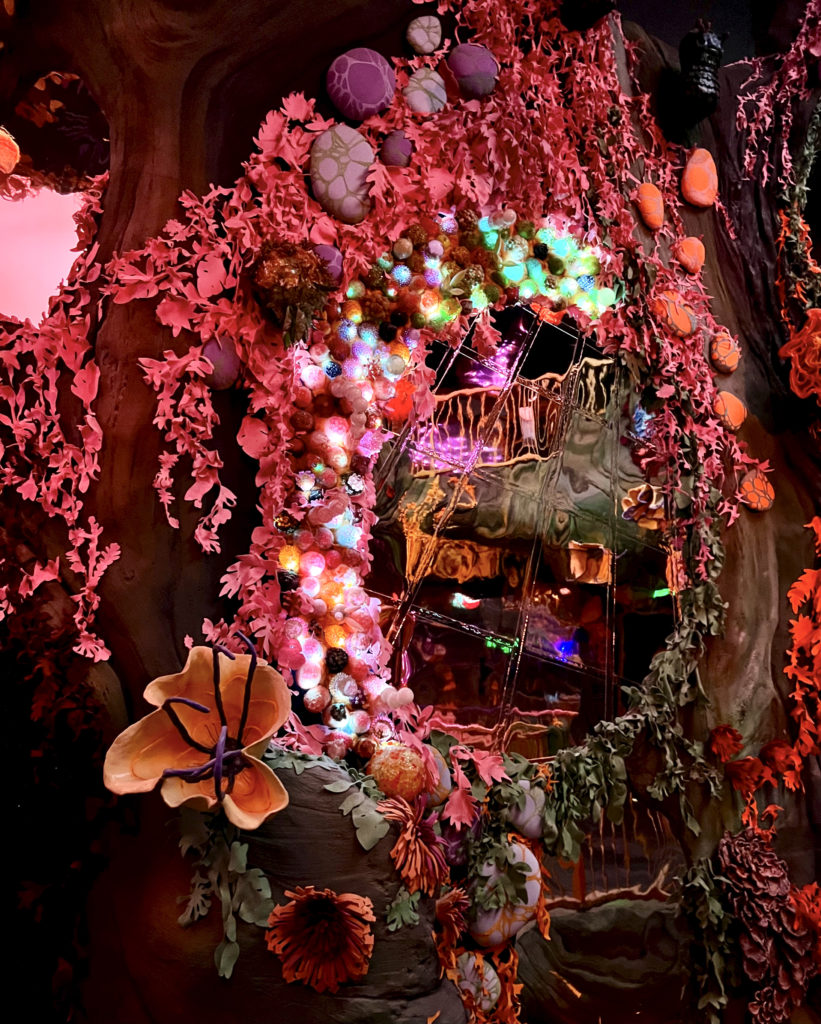 It's also real artists getting paid for making art, a thoroughly worthy cause.
Some critics might say that the show is more Instagram than art museum, like many new immersive experience springing up across the country.
READ: Review Of Immersive Van Gogh
If you take your art served traditionally, you may be put off by Meow Wolf Denver. Some critics consider it to be a culture-killing theme park or escape room. Or the next Disney of the 21st century.
If you just hate sci-fi or contemporary art, this might not be your place either.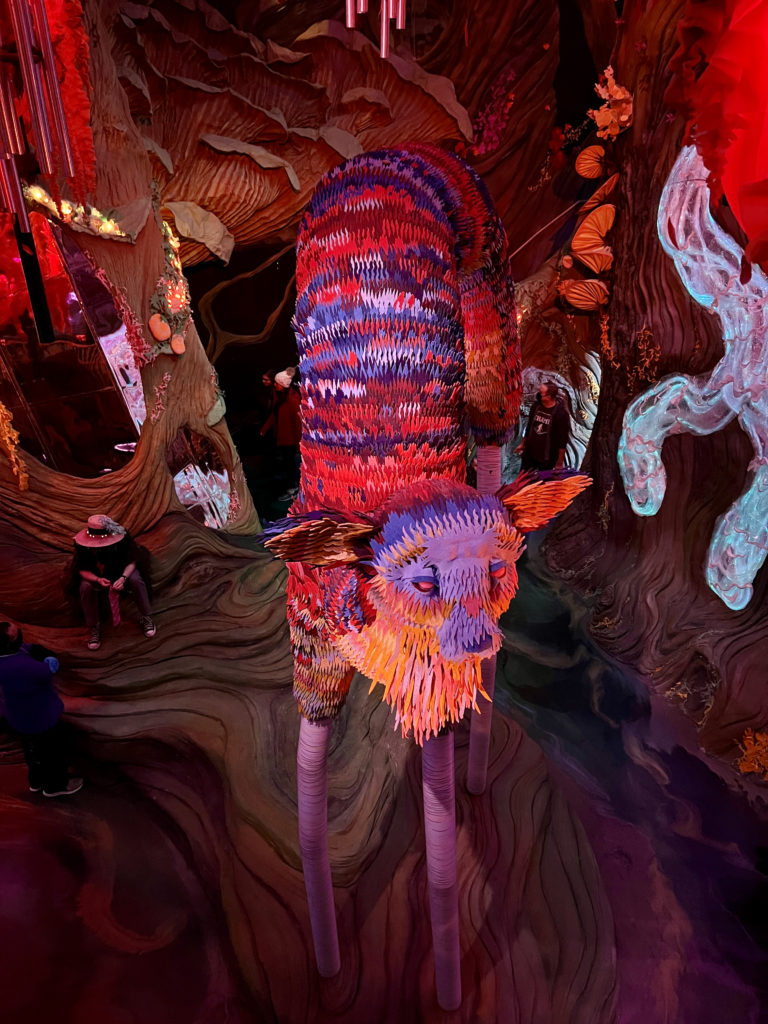 How Long To Explore Meow Wolf?
Meow Wolf provides hours of exploration. And you're meant to get a little lost in it all. You could explore 1 hour or 5 hours.
The time to allot depends entirely on whether you want to crawl through every space and whether you are trying to solve the mystery.
On my first visit, I didn't solve the mystery and just took in the art. I was there almost 3 hours, just taking my time.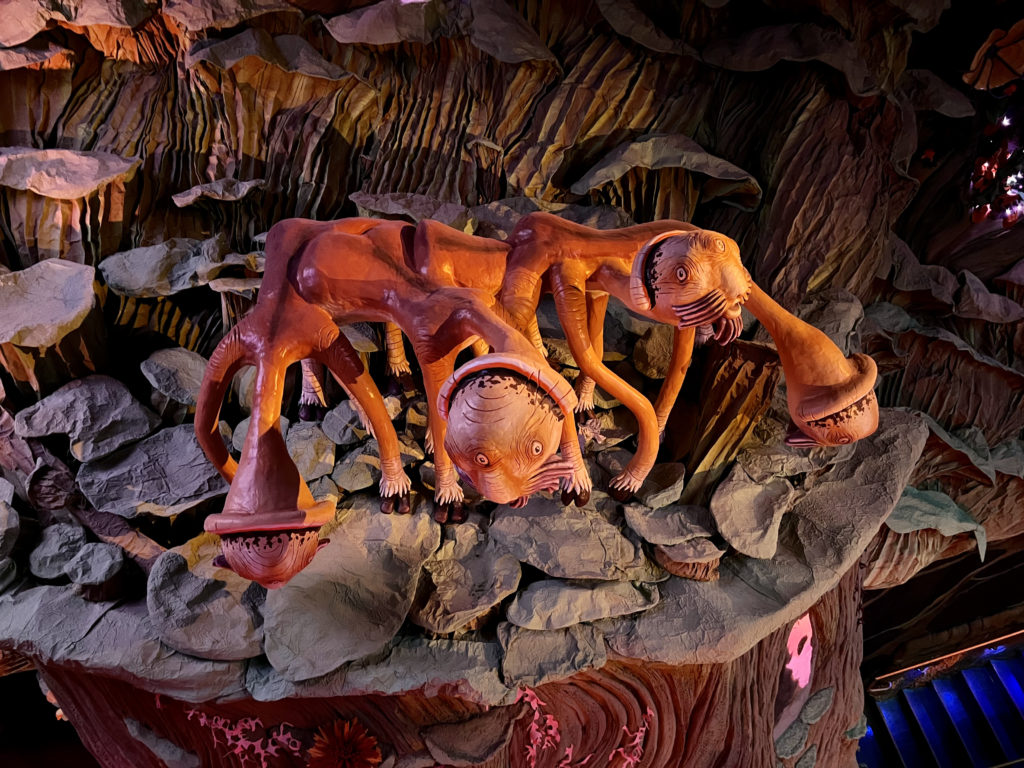 Tips For Visiting Meow Wolf Denver
Here's some other practical information for visiting Convergence Station in Denver:
Address:
1338 1st Street, Denver Colorado 80204, located at the intersection of I-25 and Colfax Ave
Hours:
Sun to Thurs: 10:00 am – 10:00 pm
Fri & Sat: 10:00 an – 12:00 am
Mewo Wolf can be very crowded. I'd try to go at an off peak time and not on the weekends.
Ticket Price:
Click here for the ticket portal. General admission is $49. Kids and seniors are $44.
Mewo Wolf has a strict no refund policy. But my daughter was ill the day we planned to attend together and she was still able to reschedule her visit.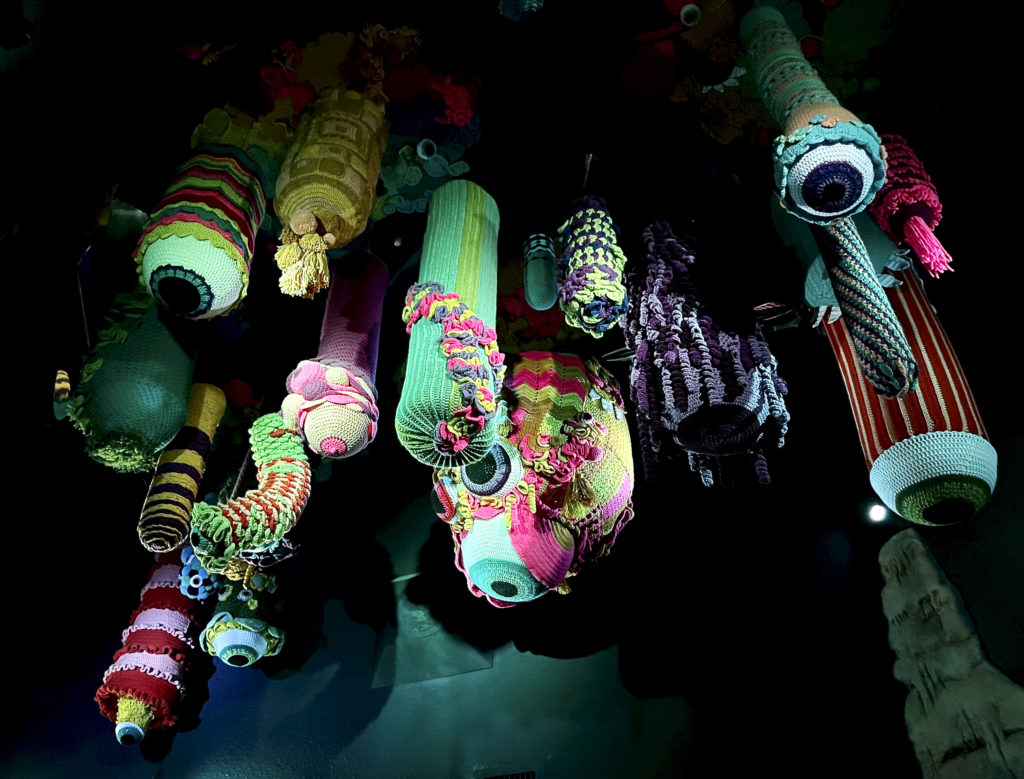 Parking:
Limited onsite parking is available on a first come, first served basis, except on NFL game days, when there is no onsite parking at all. The cost is $10. You pay via the kiosks near the entrance.
There's also a parking garage at 650 Walnut Street.
Be sure to check out the Plethodon sculpture in the parking lot before going inside.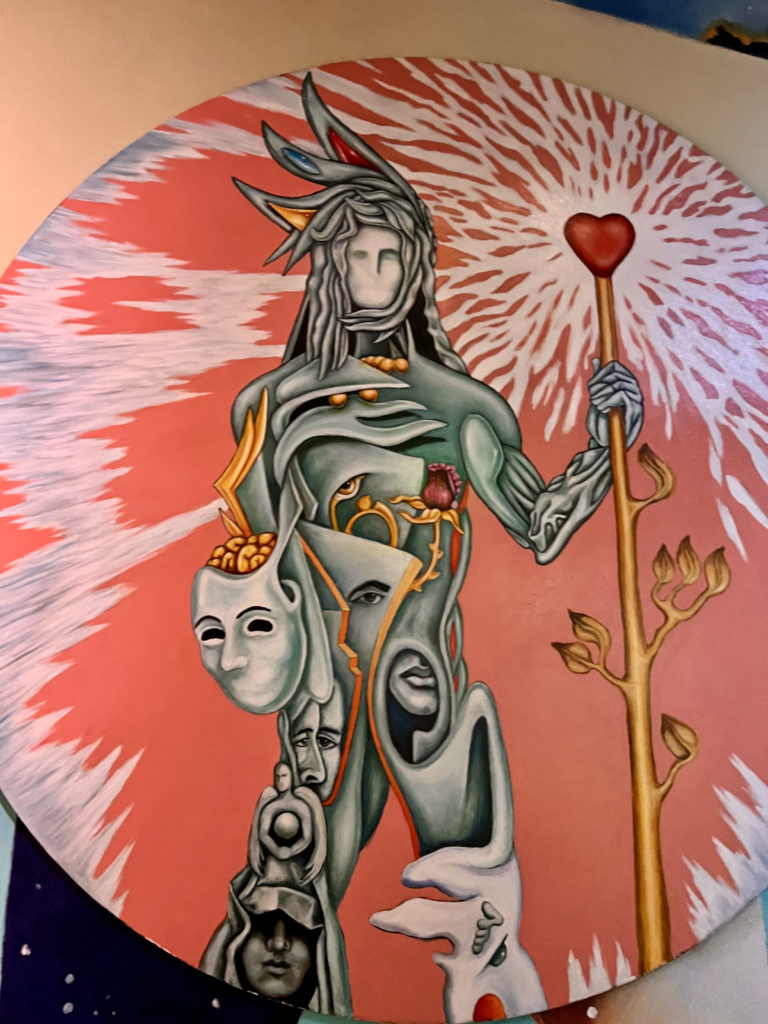 No Signage
There's no signage at Meow Wolf. There are no maps, no informational signs, no tour guides, no brochures, and not much by way of online descriptions.
You can explore the installation in any order you want.
You won't know which artist created which installation when you visit. You might not even realize which universe you're standing in.
The anonymity is an intentional choice. The lack of signage is to resist breaking the fourth wall and promote audience curiosity.
I must admit I found this slightly off putting, as I'm a bit obsessive about my art and like to know what I'm looking at. But it does enhance the immersive nature of the installation.
Enjoy the art and worry about the details later. Or study up on the details before attending with this Meow Wolf review.
There's also a cafe, HelloWorld, and a gift shop on the first floor.
Visitors to Convergence Station are encouraged to wear a mask. Hand sanitzer stations are located in the lobby and throughout.
I hope you've enjoyed my review of Meow Wolf Denver's Convergence Station. You may enjoy these other United States travel itineraries:
If you'd like to go to Meow Wolf, pin it for later.