The holiday season in Pittsburgh isn't complete without a visit to the spectacular Phipps Conservatory's Winter Flower Show.
The botanical gardens deliver a sparkling display and potent dose of Christmas cheer. Each year there's a different theme. This year's theme was "Sparkle and Shine."
This guide tells you everything to see at Phipps' winter show and gives you tips for visiting. The winter show dazzles with gorgeous seasonal flowers, beautifully decorated trees, and thousands of twinkly lights.
This year, the Phipps also celebrated the return of the outdoor Winter Light Garden.
Overview of Phipps Conservatory
Phipps Conservatory stands out as one of the last remaining public gardens that hosts full-scale seasonal flower shows all year long.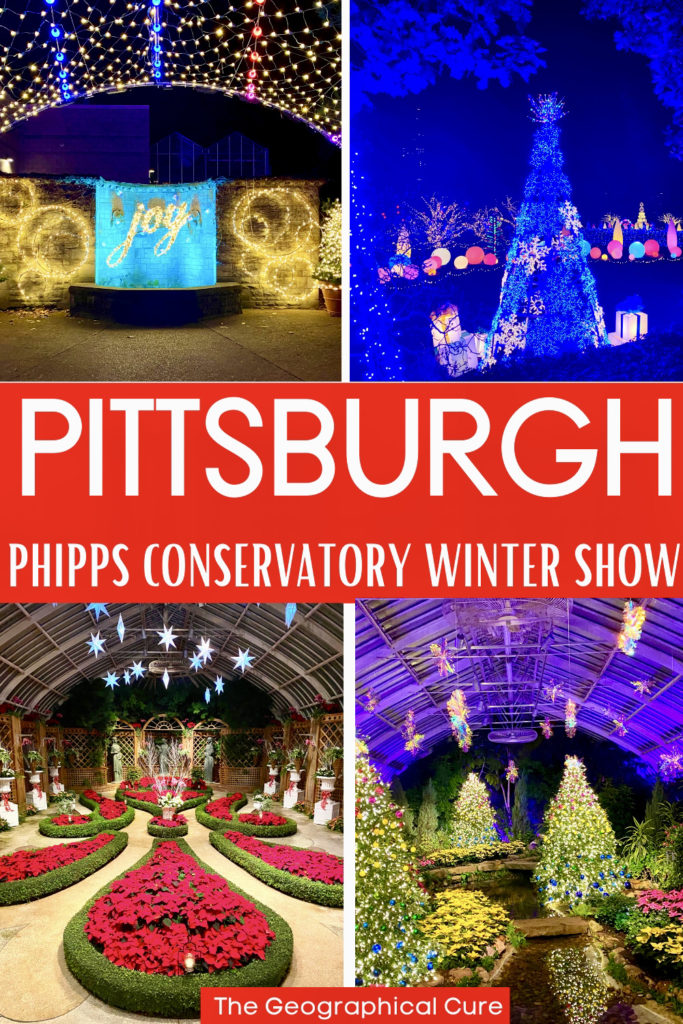 The architectural masterpiece, affectionately known as the "Crystal Palace," boasts a striking blend of glass, stone, and steel. The structure is enveloped with glass panes that encompass nearly the entire facade and are light up in brilliant hues at night.
Stepping inside this Victorian greenhouse reveals a captivating array of 14 indoor gardens. Each exhibit, meticulously maintained, spans from delicate miniature orchids to majestic palm trees, showcasing an impressive level of attention to detail within every room.
Beyond its permanent displays, Phipps offers ever-changing temporary exhibits that honor the uniqueness of each season. This ensures that Phipps remains a destination of wonder and discovery, ideal for multiple visits.
Notably, the Winter Flower Show presents an awe-inspiring spectacle that will leave you truly amazed. Explore the immersive beauty of Phipps Conservatory, where every visit promises a fresh perspective on nature's splendor.
If you need a dose of Christmas cheer, the Phipps is the perfect place. I don't think I've ever seen so many stunningly-decorated Christmas trees in my life.
The trees all had different lighting and ornament themes. You may get some ideas for your own tree.
Besides the holiday trees, the Sparke & Shine theme featured over 1600 poinsettias of different colors, thousands of lights, topiaries, wreaths, amaryllis, and stunning floral arrangements. I confess, I've never seen yellow poinsettias.
On a visit to Phipps Conservatory, you enter through a beautiful lobby.
You're greeted by a gorgeous pendant glass chandelier, Goldenrod, Teal and Citron. It was crafted by renowned Seattle glass artist Dale Chihuly.
In fact, the museum has quite a few Chihuly pieces. They're beautifully tucked among the plants.
The glass sculptures almost seem alive with their sinuous lines. The forms and colors of the glass imitate, and blissfully coexist, with the plant growth.
When you enter the building, there's a map showing all the main rooms. There's also signage in each room explaining what's there.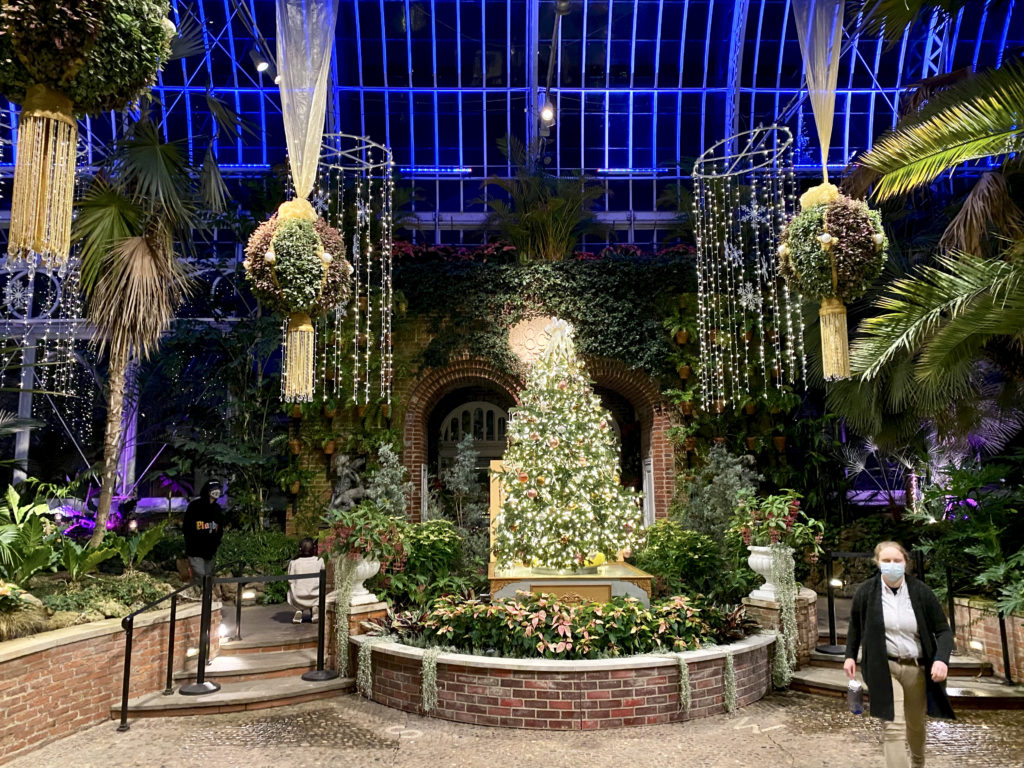 What To See At the Phipps' Conservatory Winter Flower Show
You can follow the designated path throughout the winter exhibit rooms. You're constantly moving to the left down winding paths.
You first enter into the Palm Court. The famed Palm Court serves as the grand entrance to the rest of the indoor displays. This historic glass house showcases many different species of palm trees.
During the winter show, the room featured oversized topiary ornaments hanging from sheets of silk above.
There was an 8 foot decorated tree rotating in a chiming music box. Simple round chandeliers were festooned with dangling light strings embedded with snowflakes.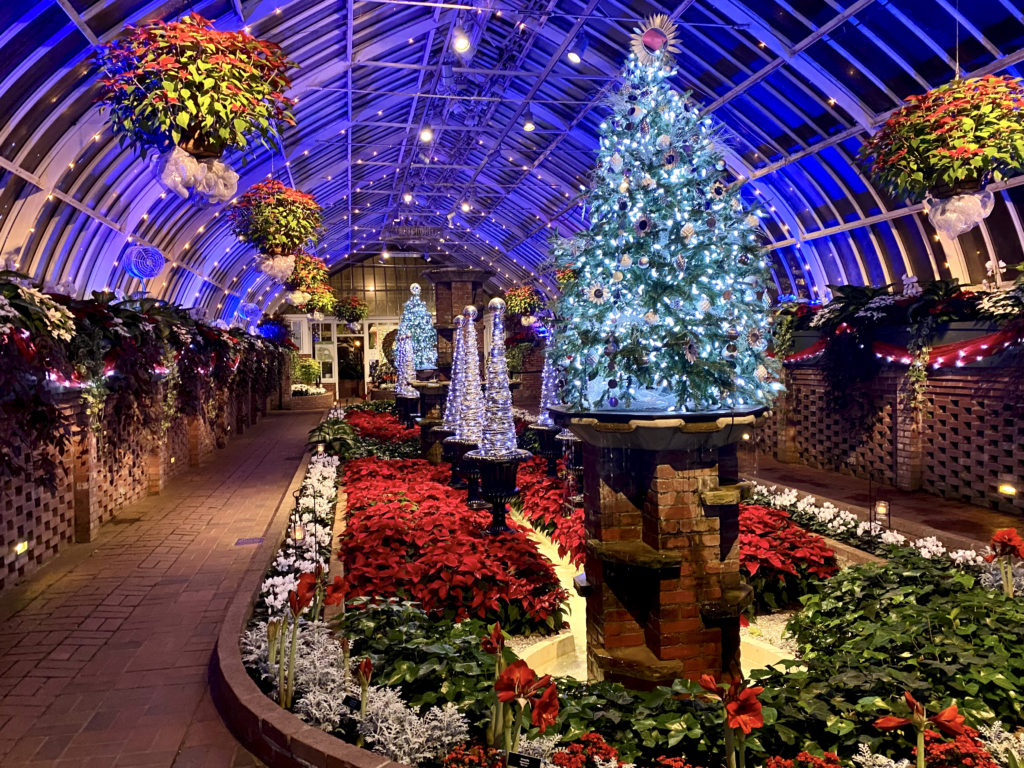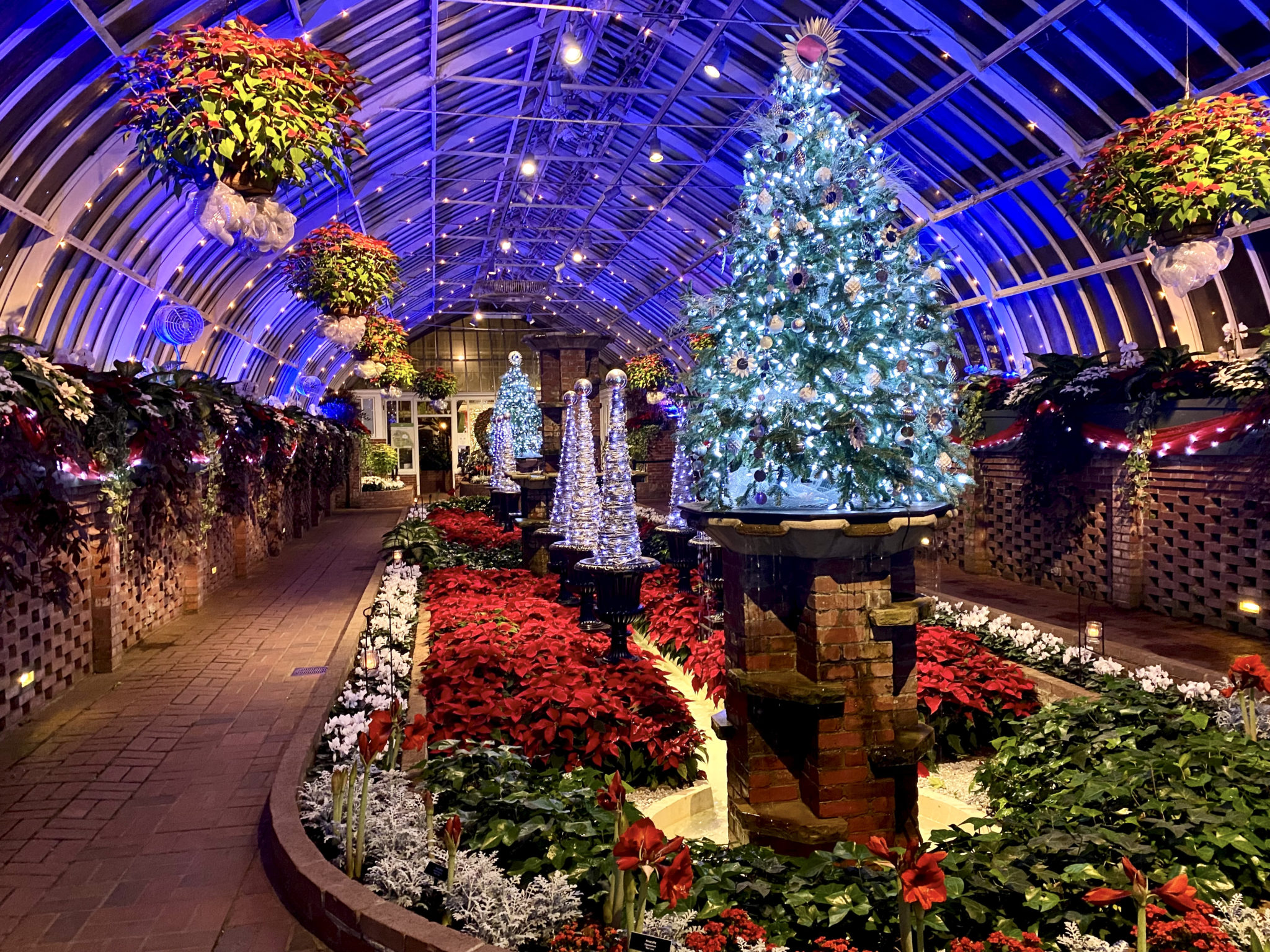 The Sunken Garden Room was stuffed to the brim with poinsettias. That included some extra large hanging poinsettias.
The room is reflective wonderland. There are sparkling ornaments, mirrored tree toppers, and twinkling silver-blue pyramidal trees.
All this Christmas finery is set among elegant beds of red, white, and green plants.
In the Victoria Room, you'll find a 9 foot tall holiday tree in the center of an elegant rotunda. Decorated trees float atop the reflective Victorian pond.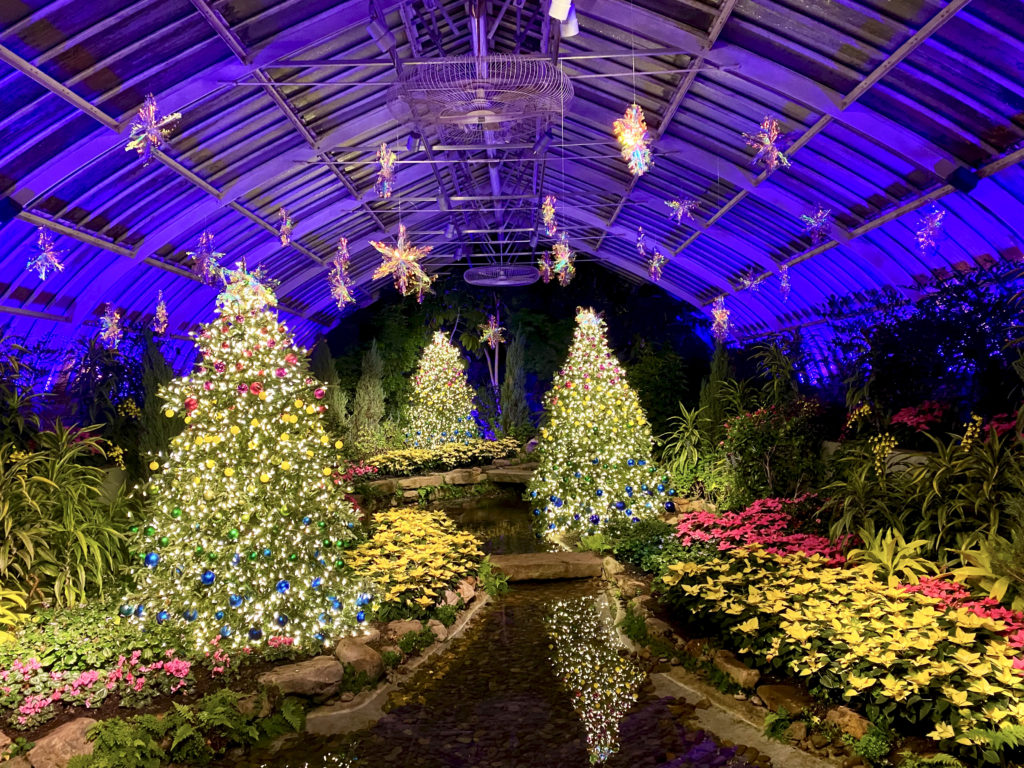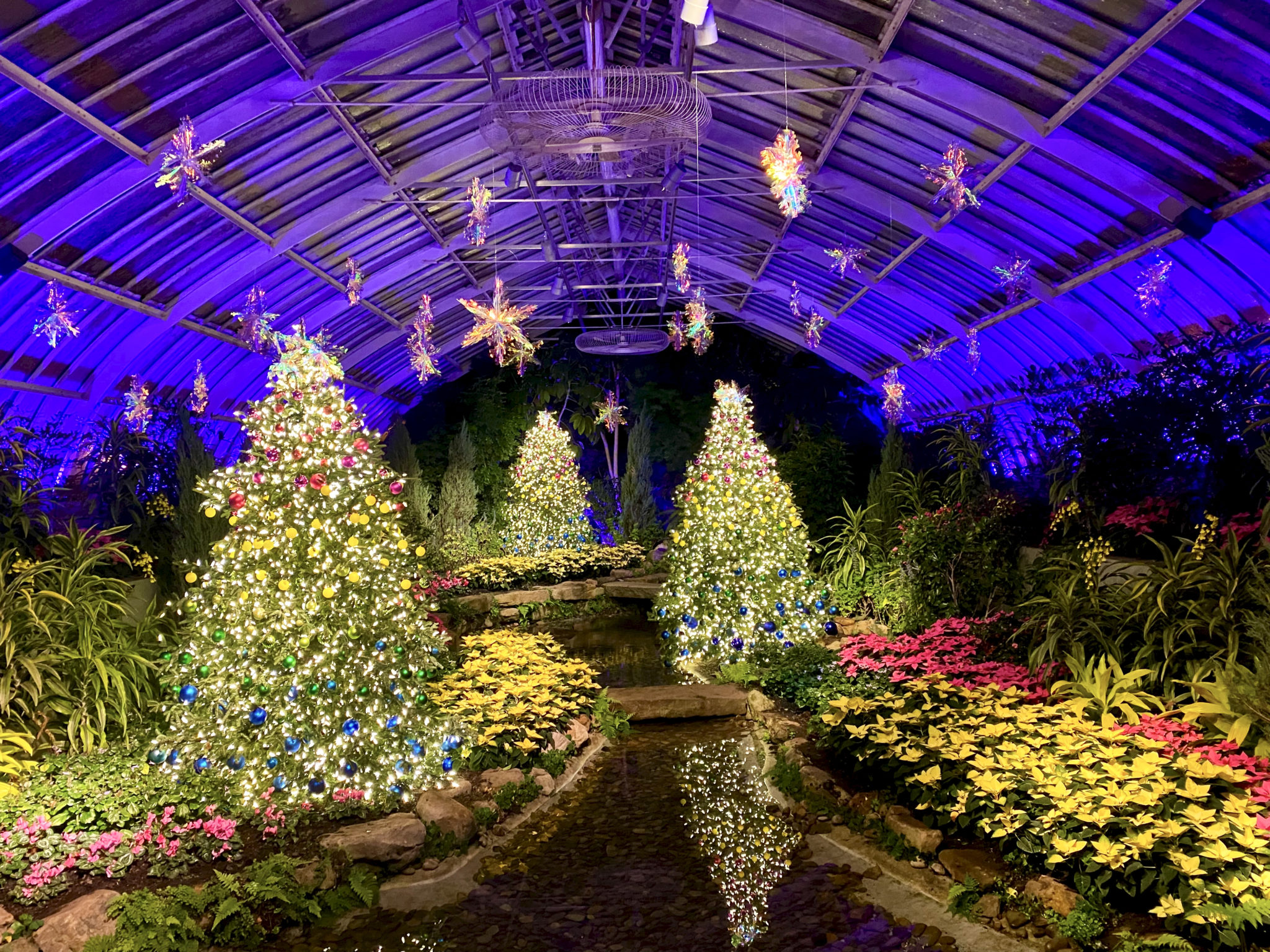 The East Room was also gorgeous. Snowflake stars dangled from the ceiling. Trees are set among pink and yellow poinsettias. The bright uplighting added pops of vibrance.
A central stream runs through the room. It gives a different perspective, making the room seem much longer than it is.
The Broderie Room is also quite beautiful as well. It features formal French Louis XIV style gardens. It's known as the Parterre de Broderie, which translates to "embroidery of the earth."
This romantic room evokes a French chateau. The room is a popular setting for weddings in Pittsburgh.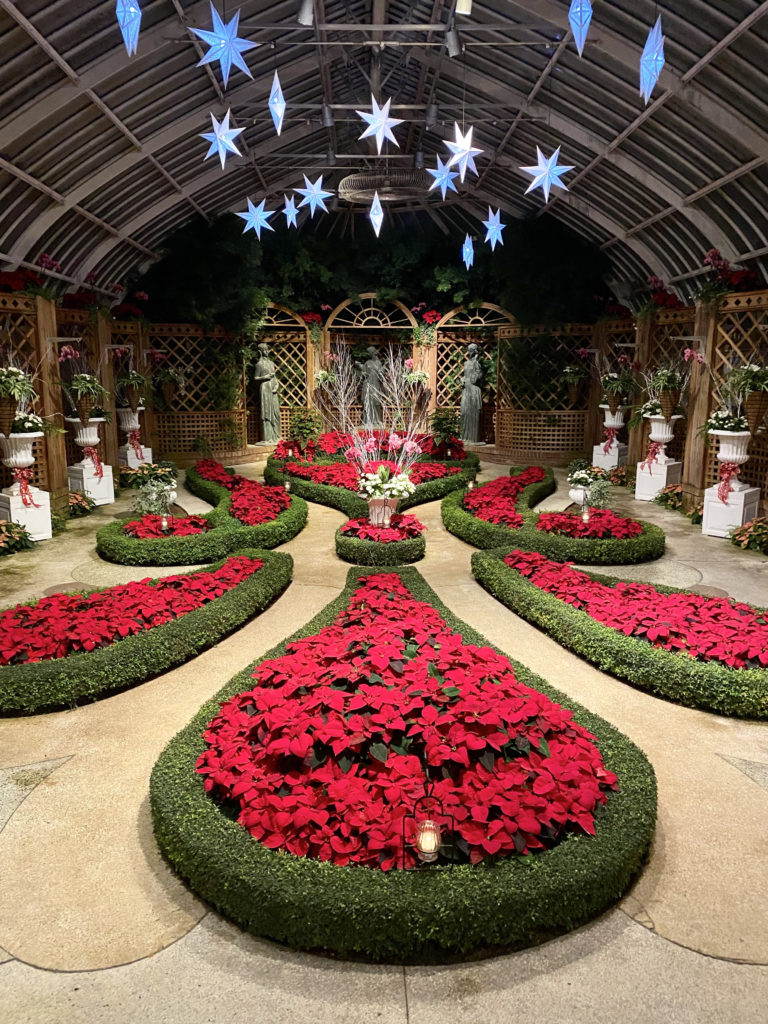 For winter, brightly lit stars dangled from the ceiling. The room's formal gardens were planted with red poinsettias. On the sides, white poinsettias provided a contrast.
You can only appreciate the room from a distance. Bronze statues hover in the background.
The Phipps' popular Garden Railroad was back in place in the South Conservatory.
The display shows the topography of Pittsburgh, including its bridges and tunnels. More than 2500 miniature plants and succulents create a living landscape.
The bridges were lit up with holiday lights. You can watch miniature trains as they chug along and wind through the exhibit. There was even a mini version of the Duquesne Incline.
An adjacent Gallery Room had a massive topiary-plant deer, colorfully lit holiday trees, and cute elves and gnomes.
About midway long the route, you're funneled outside to the Light Garden. This is the real showstopper of the Winter Show.
The Winter Light Garden fills the Outdoor and Discovery Gardens.
There were luminous orbs, trees, fountains, a tunnel of lights and an ice castle display. They were mesmerizing.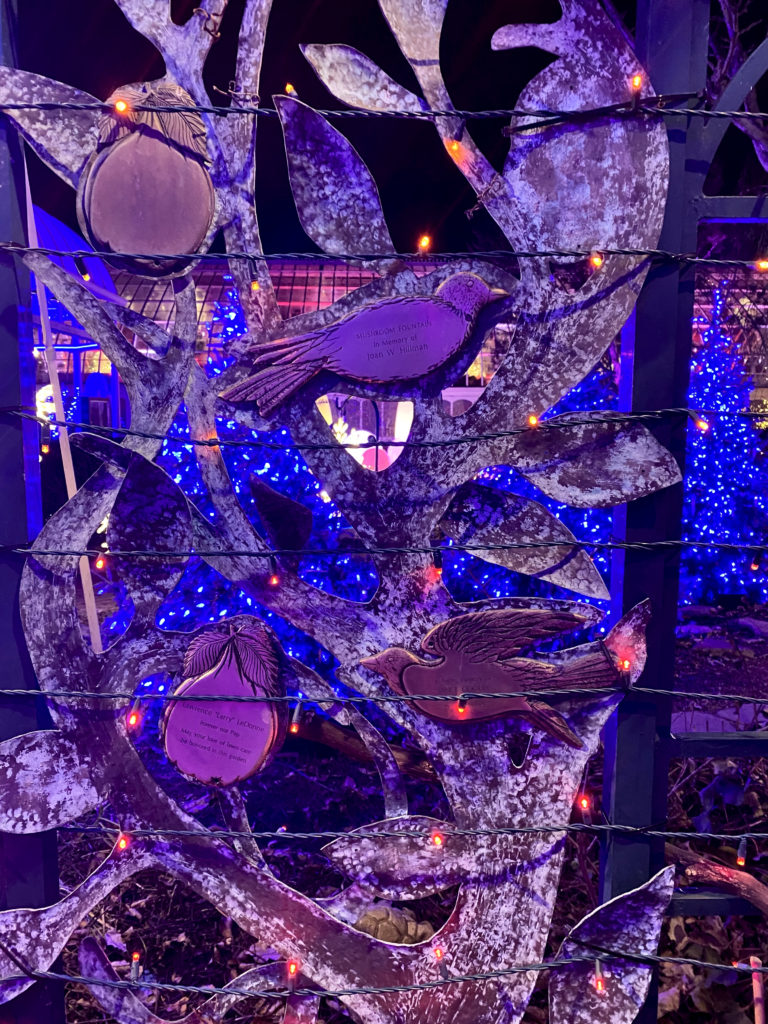 The main display was nontraditional, with a pastel color scheme inspired by iridescence in nature. I almost reminded me of a minimalist Rudolph, with spiky cones as antlers.
There was a whimsical display featuring topiary reindeer, a holiday tree made up of 50 anthurium plants, an archway composed of wreaths, and holiday trees galore.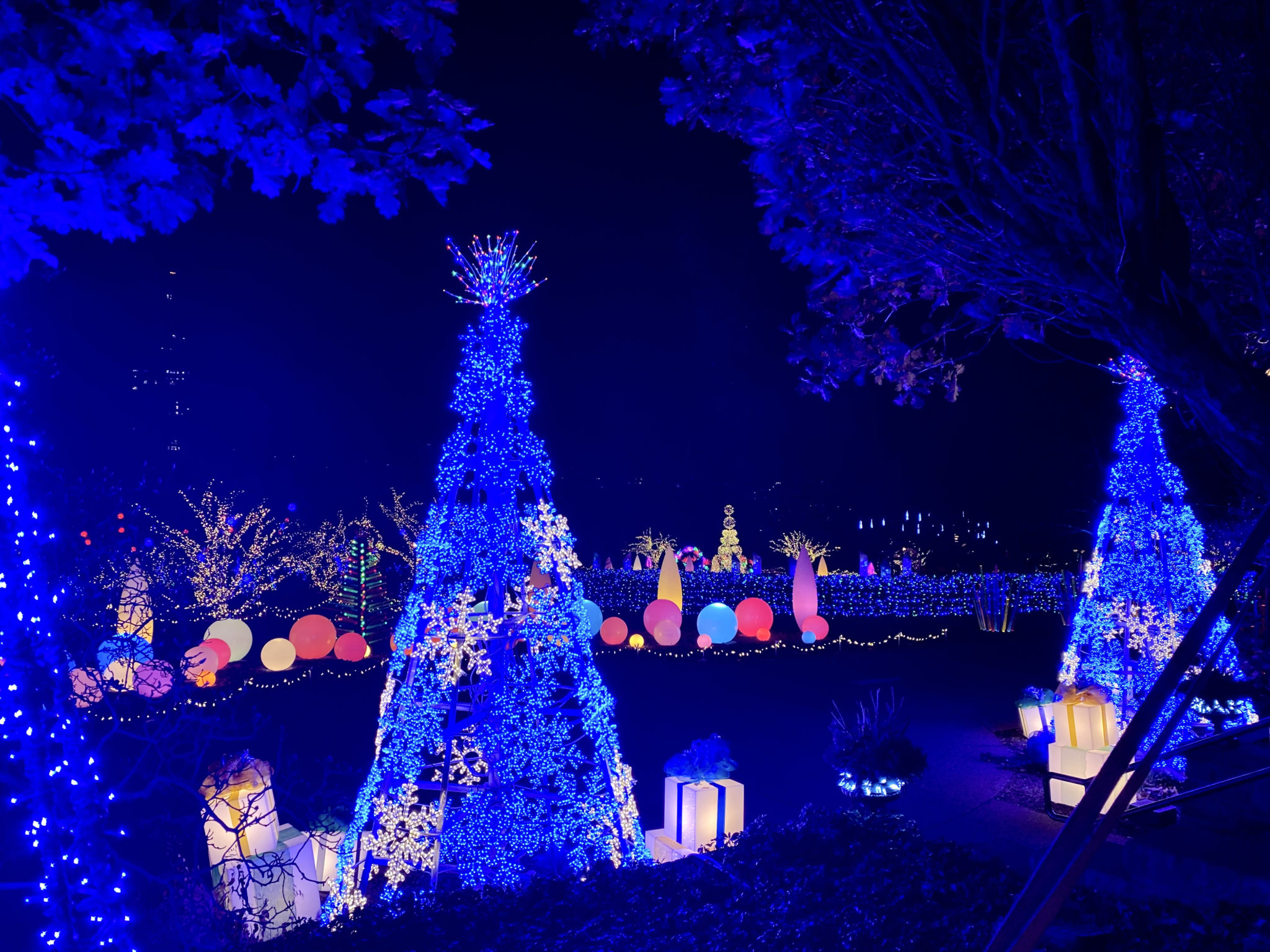 Back inside, you'll stroll through Orchid Room. For the holidays, it featured some beautiful blooms of course.
There was also an elegant crystal chandelier. Plants were lit by fuzzy balls of light.
The Serpentine Room has a whimsical Christmas display. There are large scale teddy bears, nutcrackers, horses, and another sleigh with presents.
Practical Information and Tips for Visiting Phipps Conservatory
Here's all you need to know about visiting Phipps' Conservatory and attending its Winter Flower Show:
Address: 1 Schenley Park, Pittsburgh PA 15213
Hours: Open daily 9:30 am to 8:00 pm. During the winter show, Phipps is open until 11:00 pm.
Entry fee: $19.95 adults, $11.95 children 2-18, Under 2 free, You'll need to pre-purchase your ticket online and make a timed entry reservation to visit.
When to go: The winter show begins the Friday after Thanksgiving and runs until early January. It's best to go at night to enjoy the outdoor Light Garden. Tickets book up fast for the evening hours, so be sure to book early.
Pro tips: If you're wondering how long you'll need to visit Phipps, I recommend budgeting about 90 minutes to see everything in a relaxed way. Wear comfortable foot wear. High heels are discouraged.
Parking: There is free parking for Phipps at the center island on Schenley Drive. If this is full, which it well might be, there is plenty of metered parking nearby.
Virtual Tour: If you can't make it to Phipps or want a preview, click here for Phipps' virtual tour. Click here for the Phipps' pretty and informational Facebook feed, with announcements, photos, plant tips, and recipes.
Cafe: There is a lovely onsite cafe, Cafe Phipps. It has a three star rating. You can get interesting salads and sandwiches. In winter, there's also a Holiday Hut. You can seeing pretzels and hot chocolate.
Museum Shop: The museum shop is a delight. During the winter holiday season, it's filled with all sort of ornaments and Christmas decorations. There's also the usual well-curated collection of books and gifts.
I hope you've enjoyed my guide to Phipps' Winter Flower Show and Light Garden. You may enjoy these other East Coast Travel Guides:
If you'd like to visit Phipps Conservatory in winter, pin it for later.