Here's my one day itinerary for visiting the romantic city of Verona Italy.
This Verona itinerary covers all the top attractions in Verona, gives you must know tips for visiting, and more options if you have more than one day.
Fair Verona is simply alluring, a captivating city of history and culture set on the Adige River and nestled against a backdrop of cypress covered hills. I've fallen for the city hard on each visit.
Verona was made famous by Shakespeare's plays Romeo and Juliet and The Two Men of Verona. The city's identity is linked to the tragic romantic tale of the star crossed couple.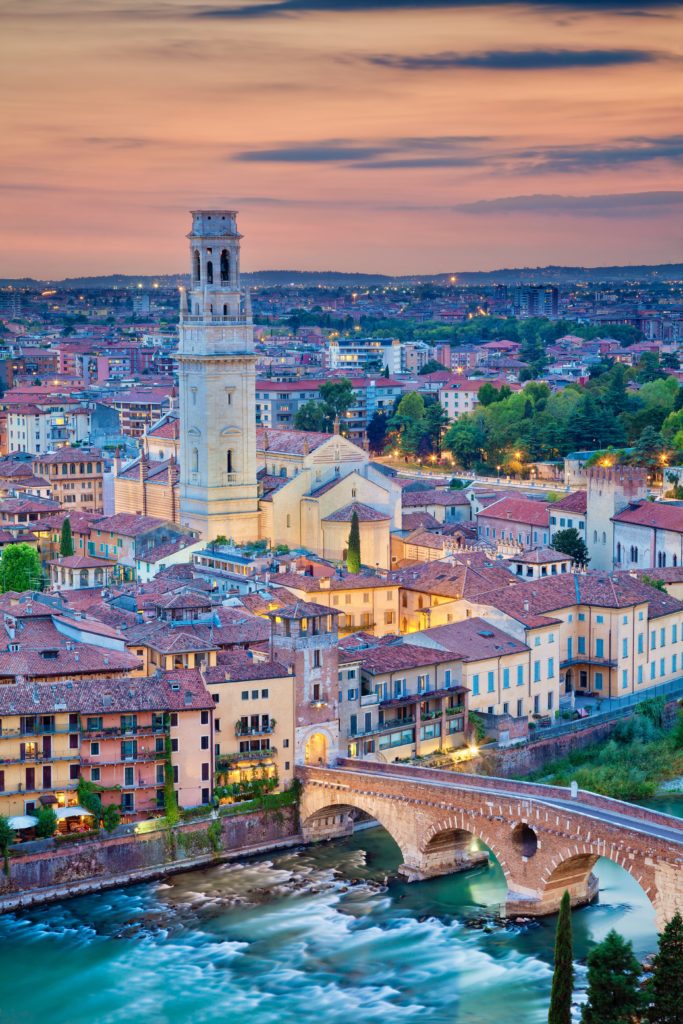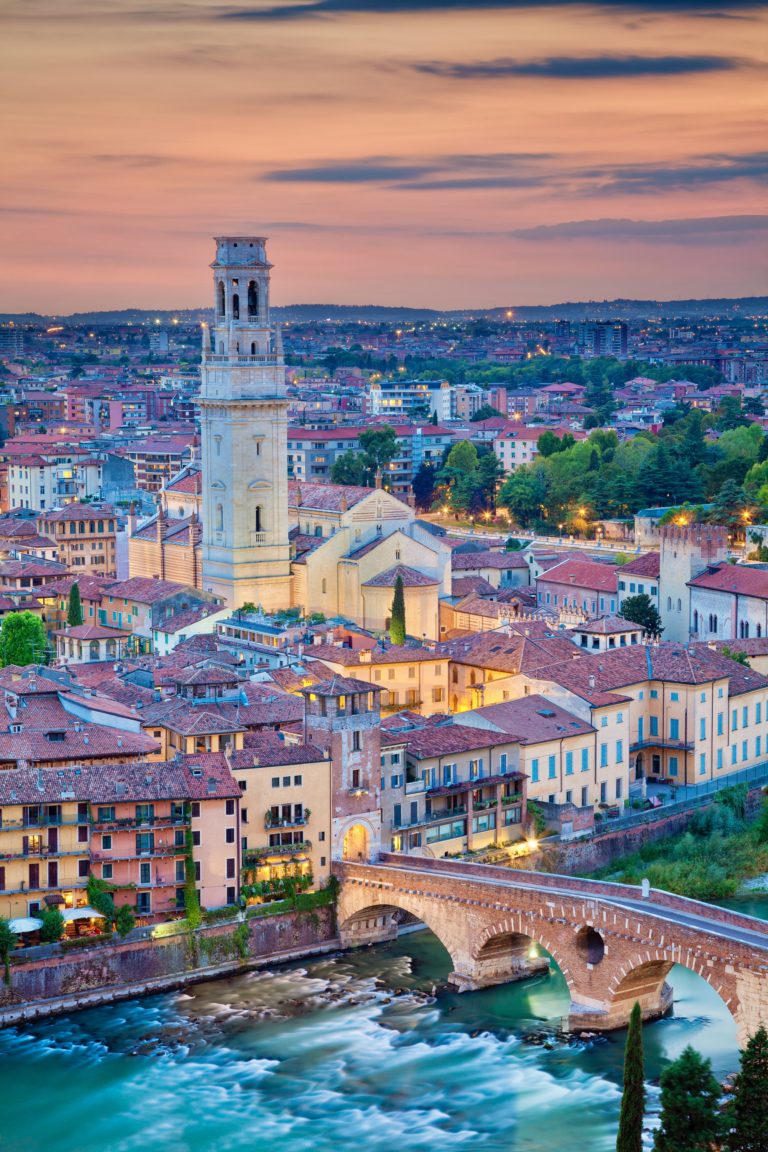 Verona is sometimes called the "little Rome." It's full of red and peach colored Medieval and Renaissance buildings, Roman ruins, and stunning churches.
But there is more than one love story to encounter in Verona. Aside from the stunning monuments, you can happily feast on exquisite meals in inventive new eateries, taste velvety wine at quaint bars, or shop in small boutiques hidden away in side streets.
It's hard to imagine anyone not falling in love with Verona. (Insert heart eye emoji.) Shakespeare, who never visited in real life, missed a charmer.
A Short History of Verona
Verona has been around for over 2,000 years.
The Romans founded Verona in the 1st century B.C. In the 5th century, after the fall of Rome, Verona was ruled by the Ostrogoths and the Lombards.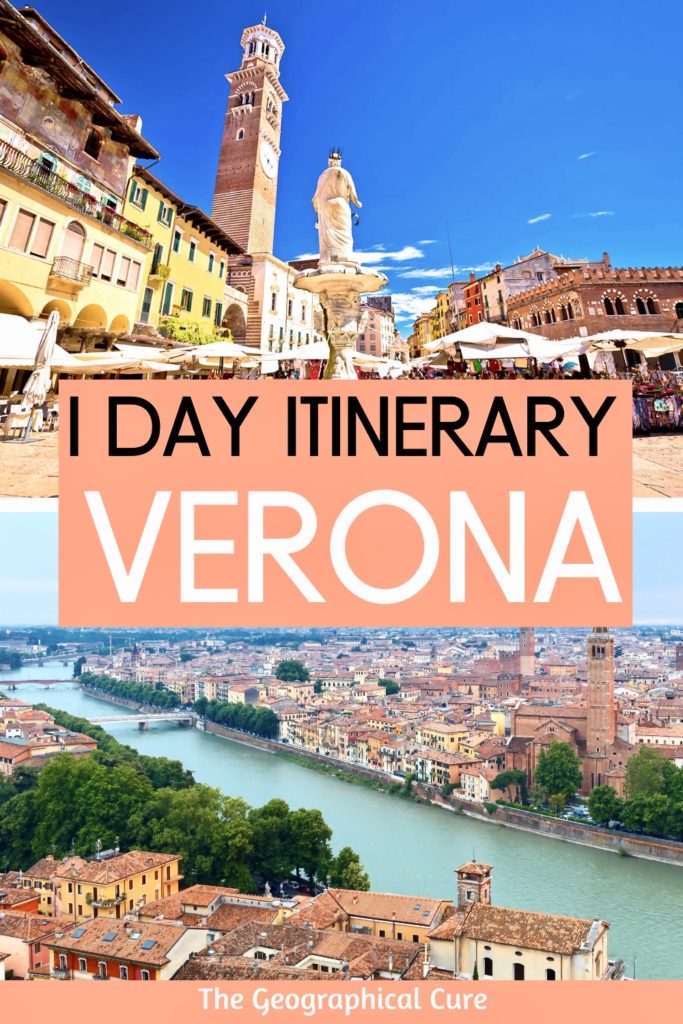 Because of its intersection along major medieval routes, Verona was a prized possession for many kingdom's looking to expand their territories.
Over the centuries, the city became part of the regimes of Theodoric the Great, Charlemagne, Emperor Maximilian I, and even Napoleon.
In the 13th and 14th centuries, it flourished under rule of the Scaliger (Scaligeri) family. The vicious feuds between the dominant families in this period were the real life basis for Shakespeare's Romeo and Juliet.
In 1405, Verona fell to the Venetian army. From the 15th to 18th centuries, it was part of the Republic of Venice.
READ: Nutshell History of Venice
In 1866, Verona joined the Kingdom of Italy. During World War II, Verona was bombed 30 times. Many of its buildings were destroyed or damaged, but they were painstakingly restored.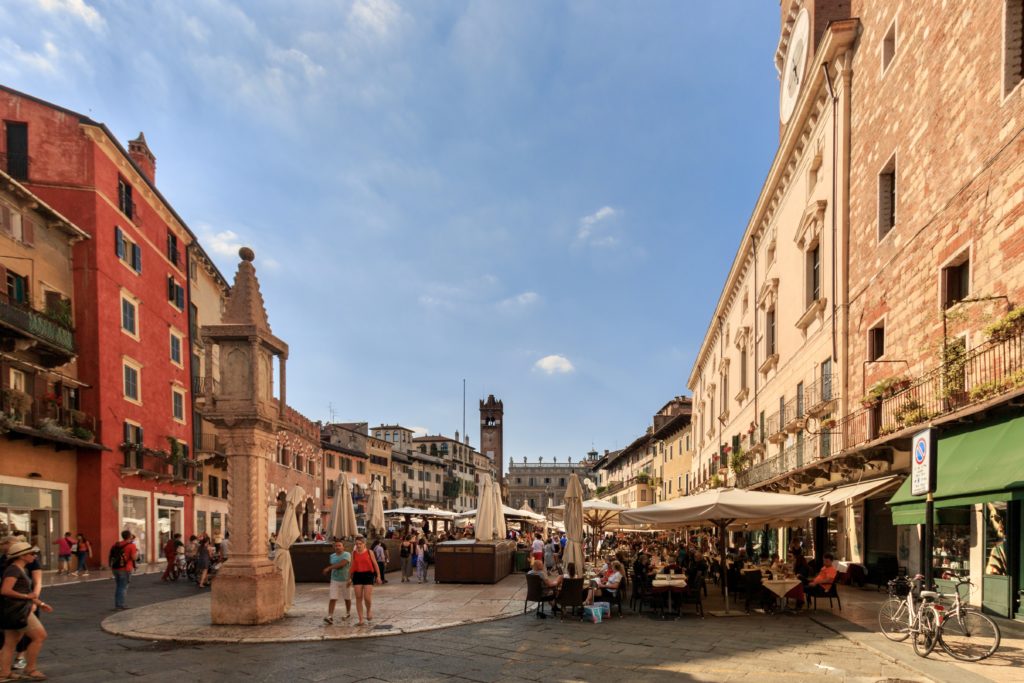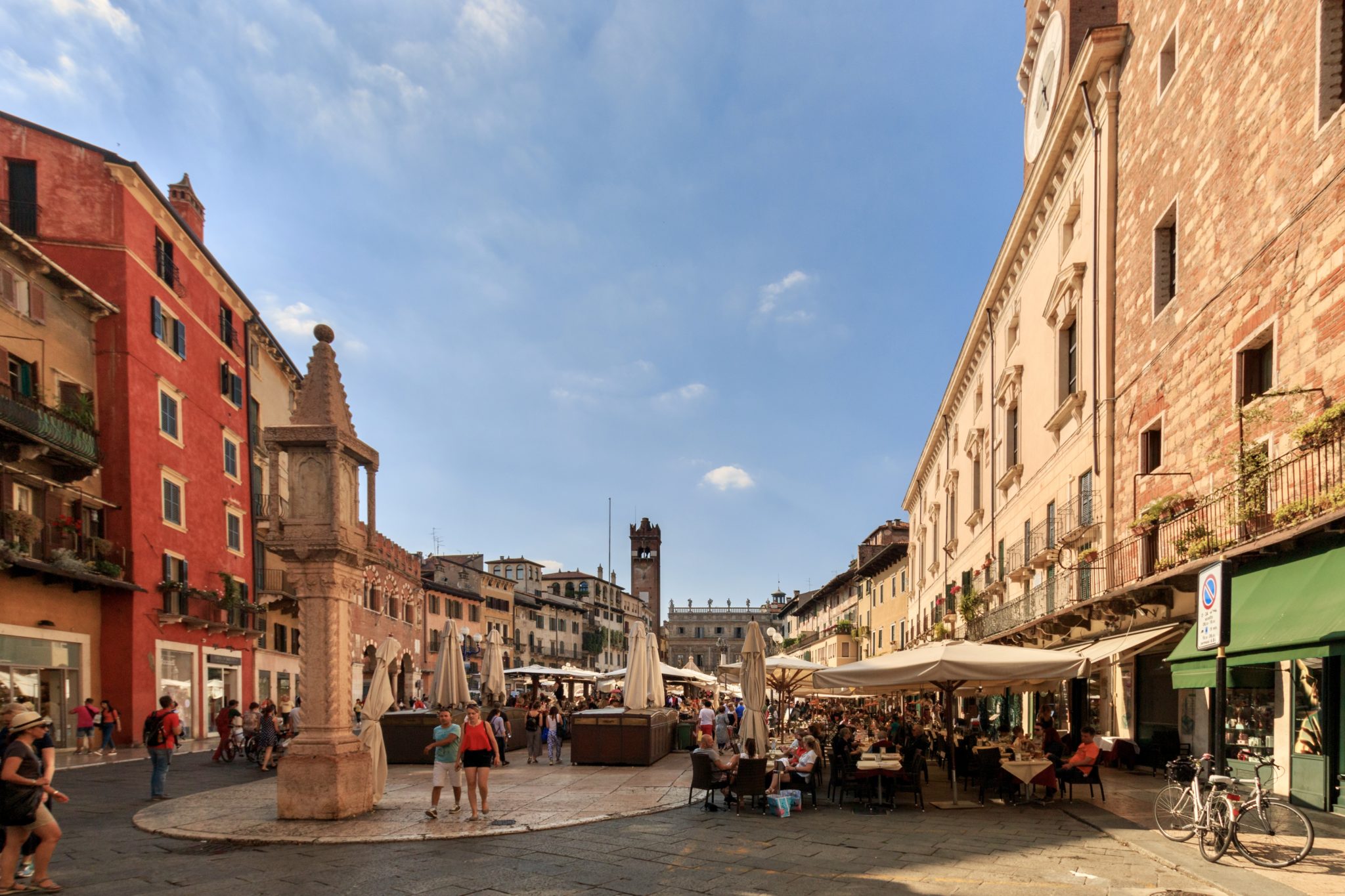 In 2000, Verona was inscribed on the UNESCO World Heritage site list for its well preserved monuments from antiquity through the Renaissance.
Overview of One Day In Verona
Here's a quick breakdown of what you'll see with this 1 day in Verona itinerary:
Piazza Bra
Roman Arena
Piazza delle Erbe
Lamberti Tower
Piazza dei Signori
Verona Cathedral
Juliet's House
Basilica of San Zeno
Scaliger Bridge
Scaliger Castle
San Pietro Castle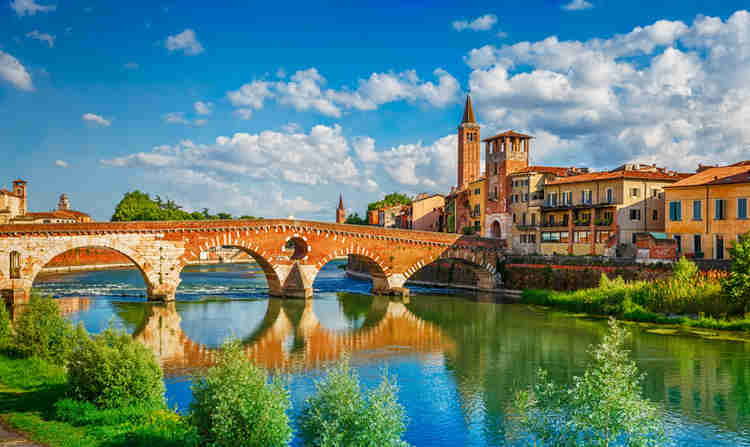 One Day In Verona Itinerary
Here is my itinerary to help you have the most efficient 1 day in Verona. It covers all of the top attractions and best things to do in Verona in a day. I also give you tips on where to eat, where to stay, transportation, tours, and tickets.
As with all of my suggested itineraries, I recommend that you use this Verona itinerary as a guide. You can tailor it to suit your individual interests, needs, and pace of travel.
If you have extra time in Verona, you can easily turn this 1 day itinerary into a 2 day itinerary by moving at a slower pace.
If you need a caffeine injection to begin your day in Verona, head to Caffe Borsari for coffee and pastries.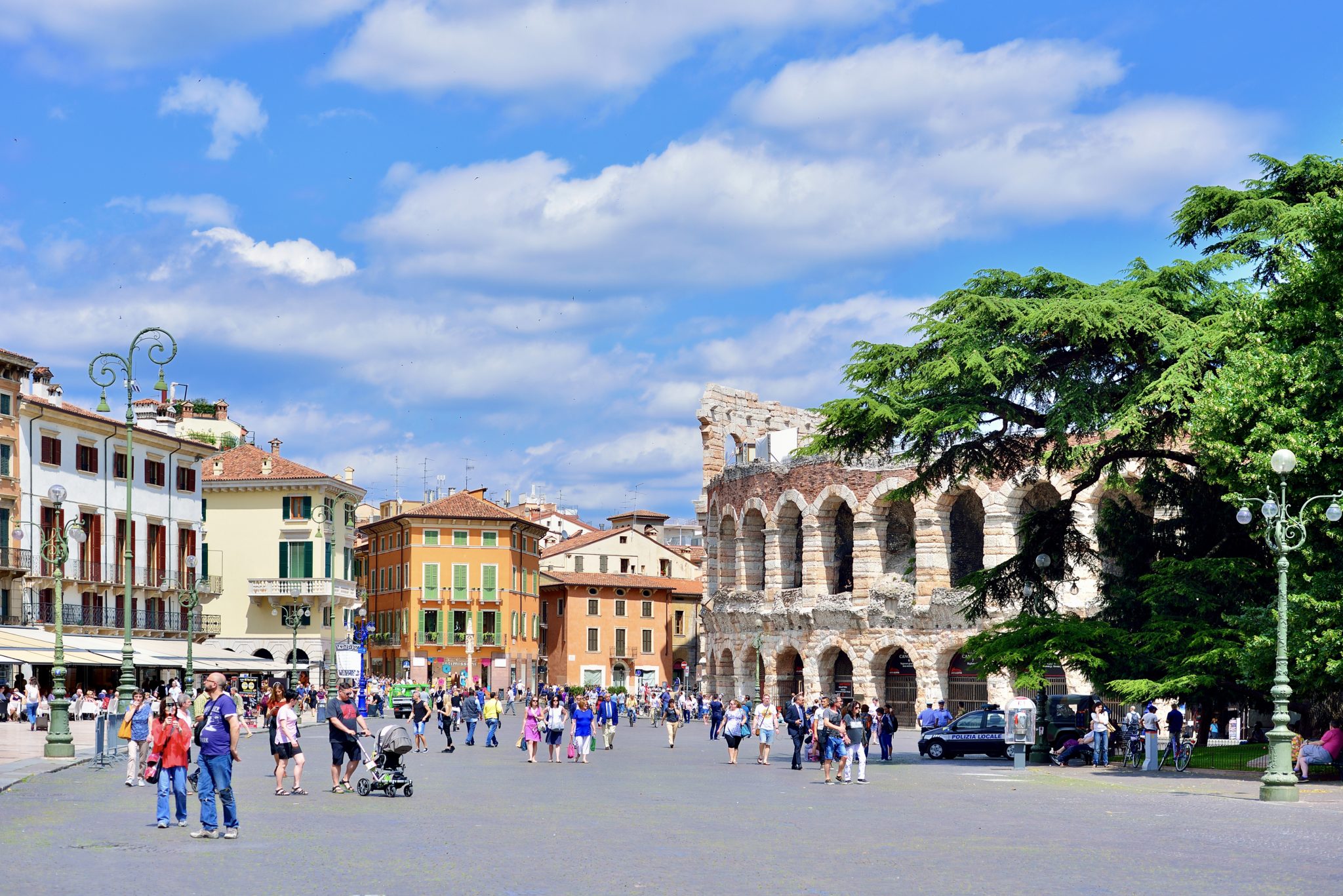 1. Piazza Bra
Your first point of call on your one day in Verona itinerary is Verona's largest square, Piazza Bra. If you're visiting Verona by train, it's about a 15 minute walk from the train station.
You enter the grand square through the Portoni della Bra, an ancient Roman gate. The gate has a pentagonal tower with Romanesque arches.
The square is home to Verona Arena, an ancient Roman Amphitheater dating from 1st century A.D. It's the most visited attraction in the city.
You'll also find Gran Guardia Palace, the Lapidary Inscriptions Museum, and the Barberini Palace. The latter serves as Verona's Town Hall.
With only one day in Verona, I'd admire the beautiful facades and move on.
But if you are a fan of Etruscan and Greco-Roman artifacts, you should pop into the museum. It's one of the oldest in Europe. From the top floor, you'll have a bird's eye view of the piazza.
2. Roman Arena
The doughty Roman Arena, the Arena di Verona, is Verona's top tourist magnet. It's located in the Piazza Bra. If you're visiting in high season, you should pre-book a skip the line ticket.
It's the third largest classical arena in Italy, after Rome's Colosseum and Capua's Colosseum. And one of Italy's best preserved Roman monuments. Click here to book a skip the line ticket and tour.
Built in A.D. 30, the open air amphitheater first served as a stage for brutal gladiatorial games, jousts, circuses, and tournaments. It originally seated 30,000 people.
The arena is made of pink and white stone from Valpolicella. It originally had 3 tiers of arches, but only 2 tiers survived.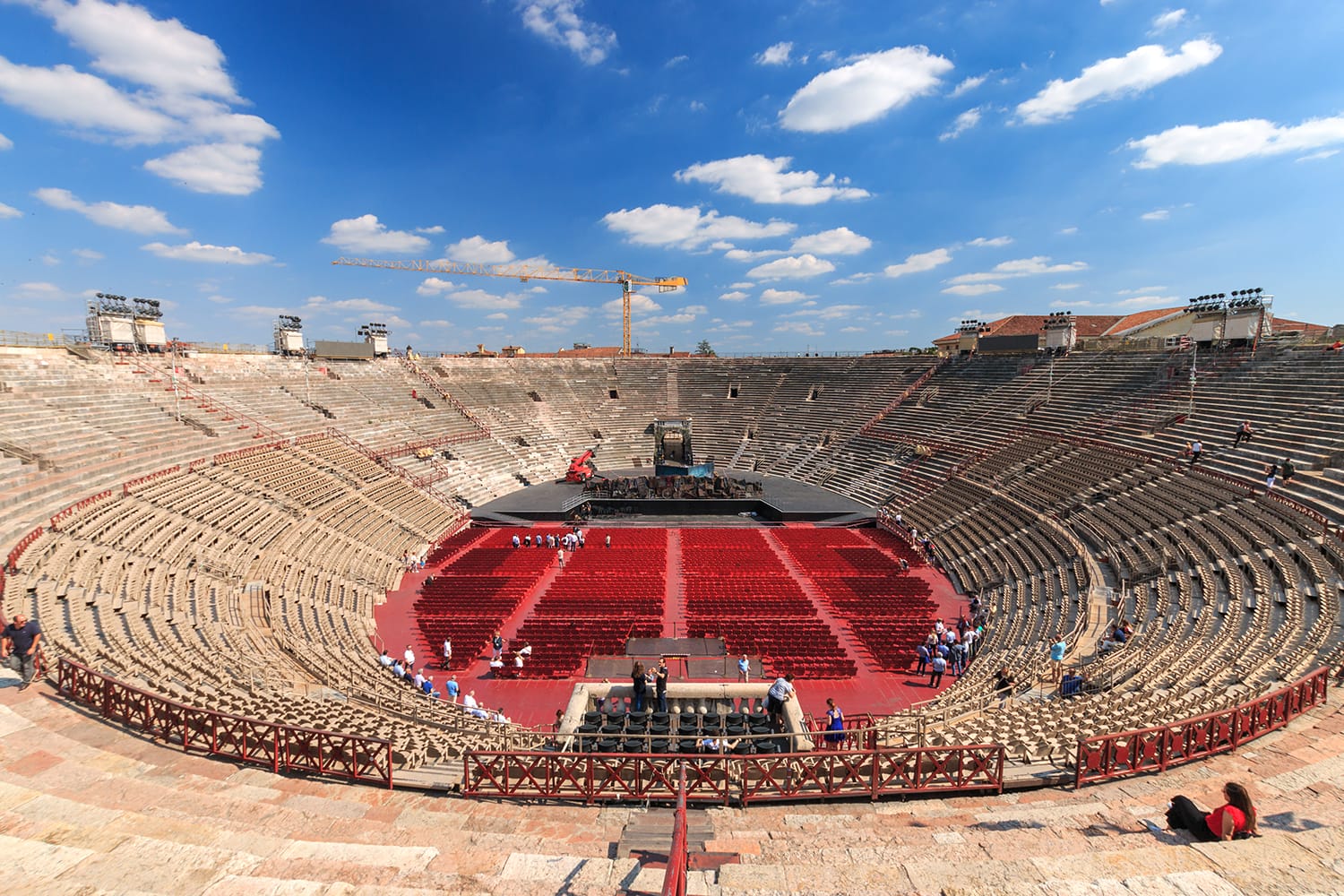 After an earthquake destroyed part of the arena, it was left as a mere attraction. But in the second half of the 19th century, it was reinvented as an opera venue seating over 20,000.
Instead of gory gladiator fights, you can watch lavish opera performances. The acoustics are wonderful, benefitting the arena's elliptical shape.
Verona's opera tradition dates to 1913. Today, half a million people flock to Verona in the summer for its three month long Opera Season.
If you are planning to attend an opera, line up early for the show. There will be a line around the block for entry.
Address: Piazza Bra, 1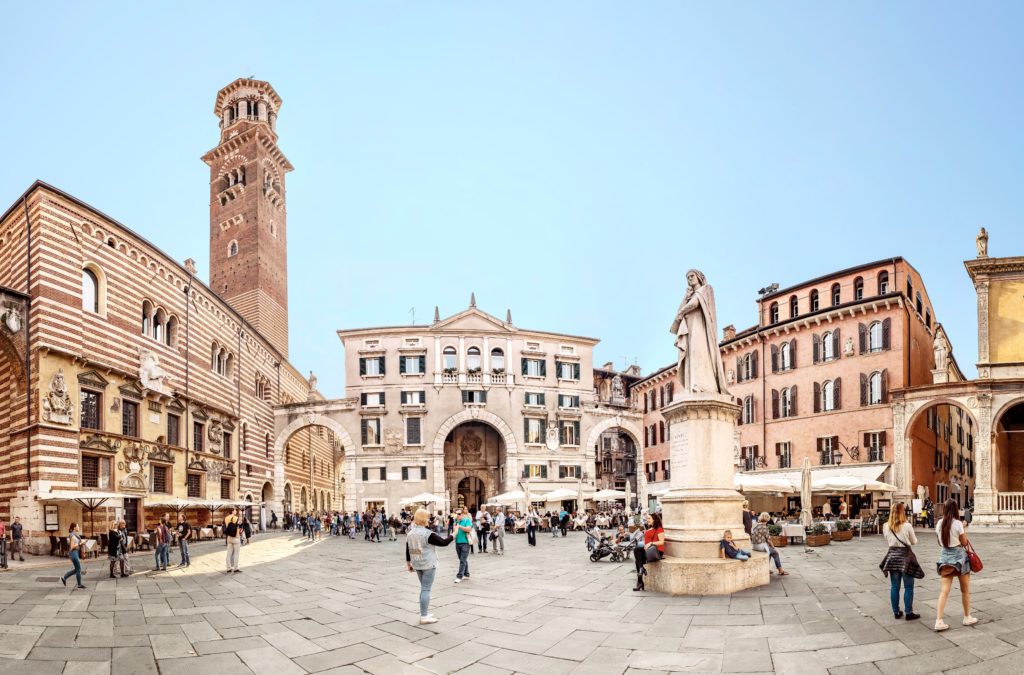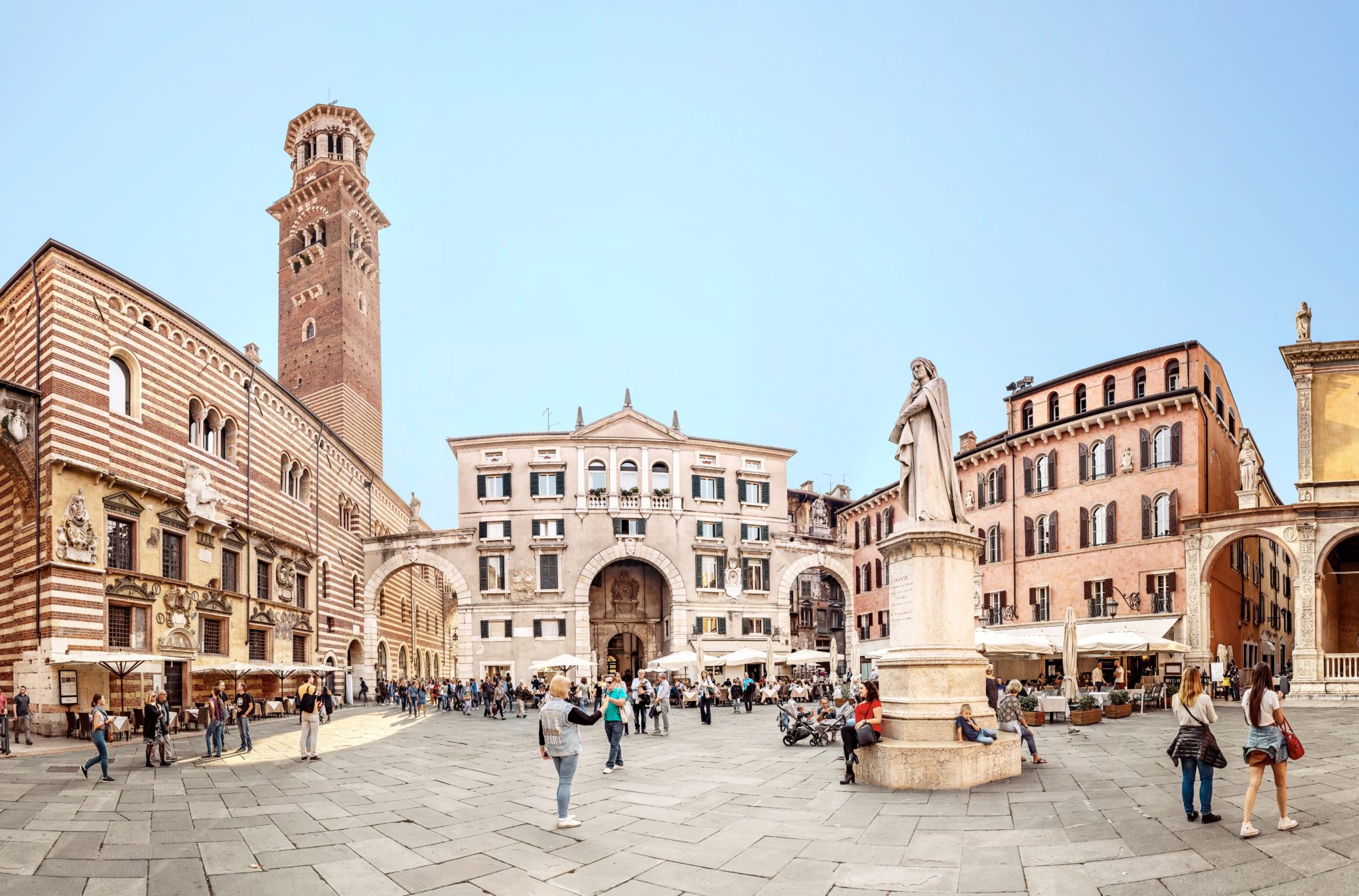 3. Piazza dell Erbe
From Piazza Bra, head down the pedestrian-only Via Mazzini to Piazza delle Erbe. It's Verona's most picturesque square with breathtaking and well preserved architecture.
The piazza lies above what was formerly the Roman Forum. Today, it serves as the setting for Verona's daily market.
The piazza is like a treasure chest from the medieval era. It's home to the Torre dei Lamberti (which you can climb), the Madonna Fountain, Palazzo Maffei, the and the painted Mazzanti houses.
The 14th century Madonna fountain was built with marble from the ancient Roman Forum and thermal baths. The Roman statue of the Madonna is much older than the fountain, dating from 380.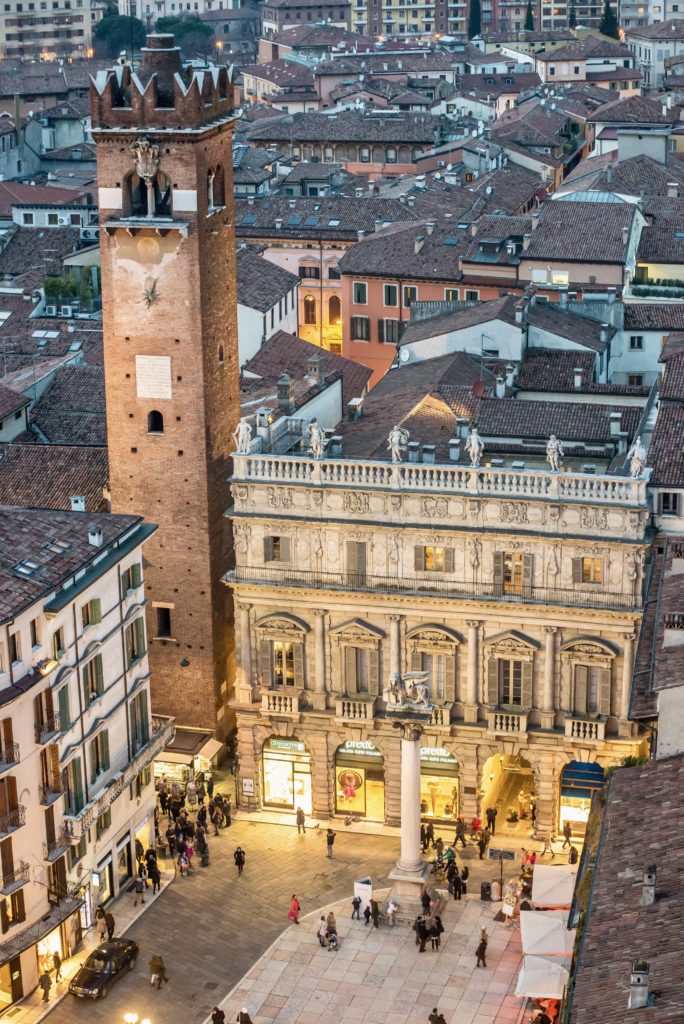 Palazzo Maffei is a beautiful three story Baroque building. At the top of the facade are a row of statues of Greek gods.
The palace houses a small museum and, on its ground floor, a Michelin starred restaurant. In front of it stands a column with the Lion of St. Mark, a symbol of Venice.
The Mazzanti house is a group of Renaissance homes. It has a beautiful frescoed facade created by Alberto Cavalli. He was a pupil of Giulio Romano. Romano had just worked on the frescos at Te Palace in Mantua and brought his bold designs here.
Frescoed facades were all the rage in 16th and 17th century Verona, but few survive today. Some crumbled away; others were detached and placed in museums. The one on the piazza is the best preserved example.
Piazza Erbe also has plenty of good restaurants. If you want to plonk down, try Caffe Filippini or Osteria Verona.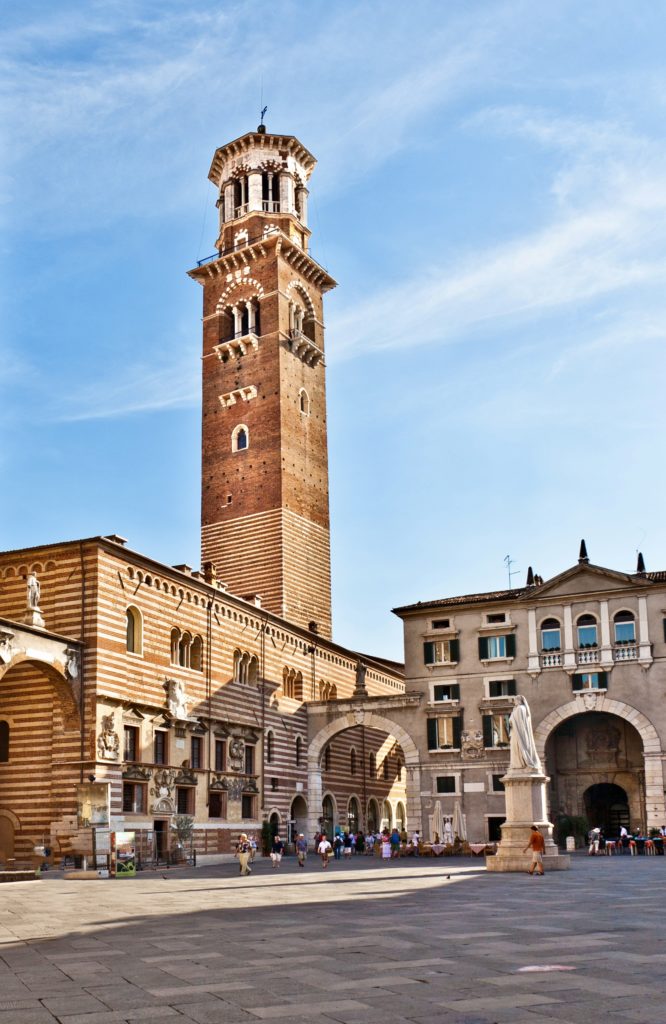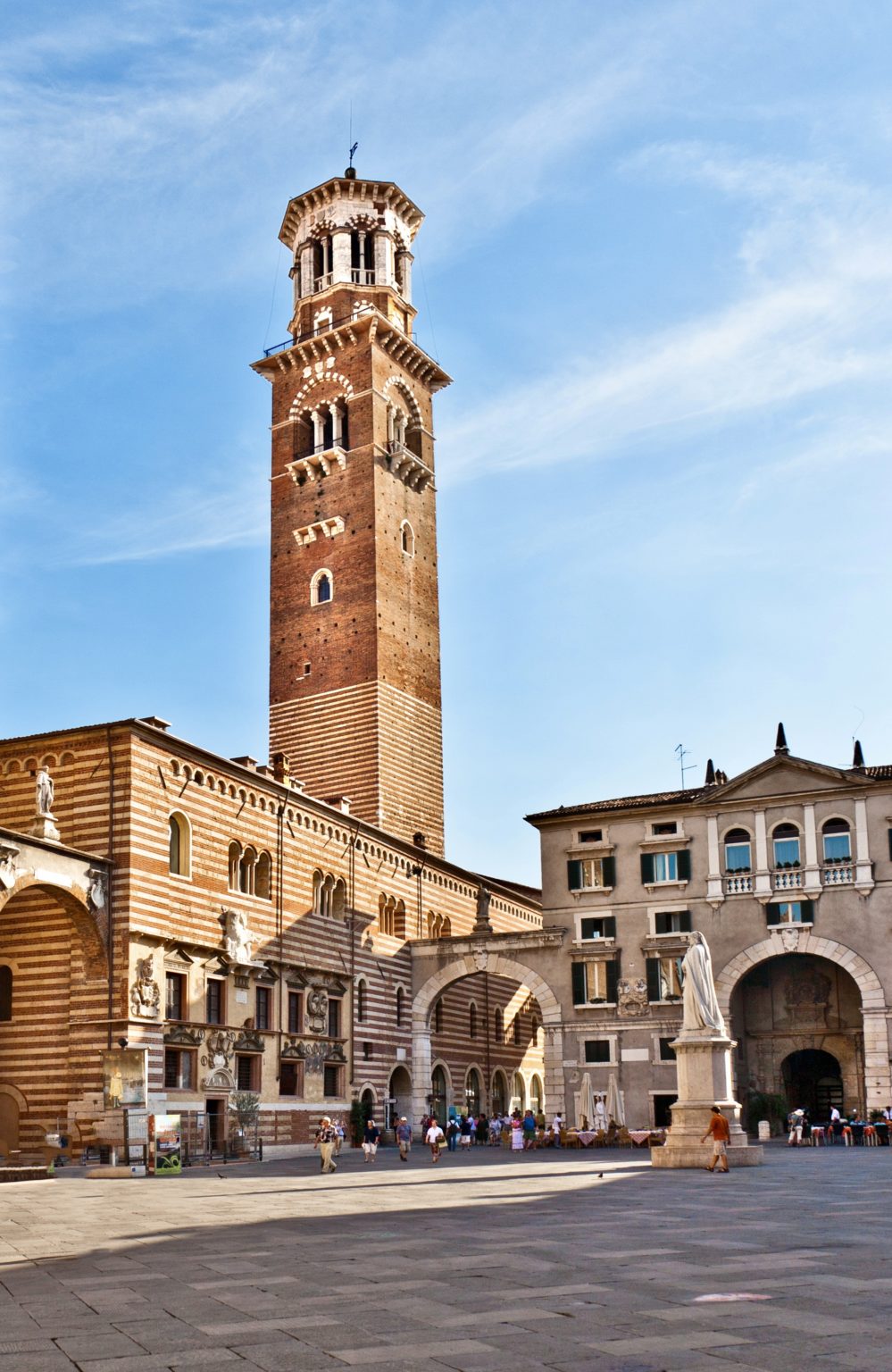 4. Torre dei Lamberti
The 800 year old Tower dei Lamberti is popularly known as the Tower of Love. At 275 feet high, it's the tallest building in Verona.
The Lamberti family began construction of the tower in 1172. Like the towers in San Gimignano, it was intended to show off the family's wealth and power.
The tower has two bells, Marnagona (smaller bell) and Rengo (larger bell). Nowadays, the bells are only rung for funerals. It also has an 18th century clock.
For great views of Verona, you can hoof it up 368 steps to the tower's viewing terrace. You can also take an elevator.
It's open from 8:30 am to 7:30 pm daily. It's one of the best things to do with one day in Verona.
Click here to book a skip the line ticket for the tower.
Address: Via della Costa, 1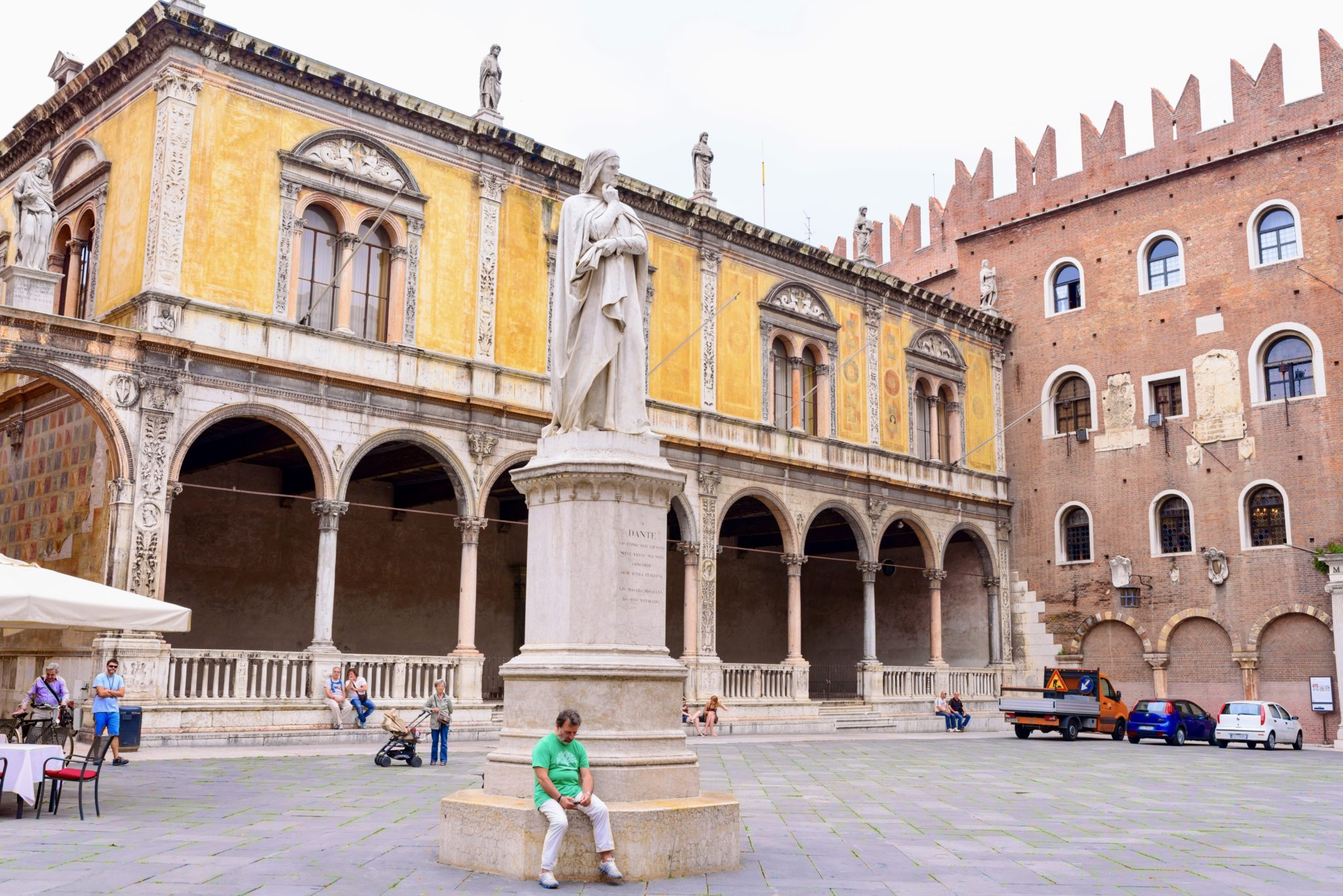 5. Piazza dei Signori
From Piazza delle Erbe, pass under the Arco della Costa to reach the Piazza dei Signori. It's a quieter and more somber square that seems almost like a courtyard.
In the center is a large marble statue of the poet Dante, installed in 1863. He lived in Verona as a guest of the Scaliger family when he was exiled from Florence for his political beliefs.
The square is also home to the 13th century Scaligeri Palace. It's a 15th century masterpiece of Venetian architecture.
Opposite that building is the red and white striped Palazzo della Ragione. It's a 12th century Romanesque palace with a stunning gothic staircase and a small museum of modern art.
The 15th century Loggia dei Consiglia is next to the town hall. It's a beautiful arched loggia adorned with bas relief sculptures and pictorial decorations.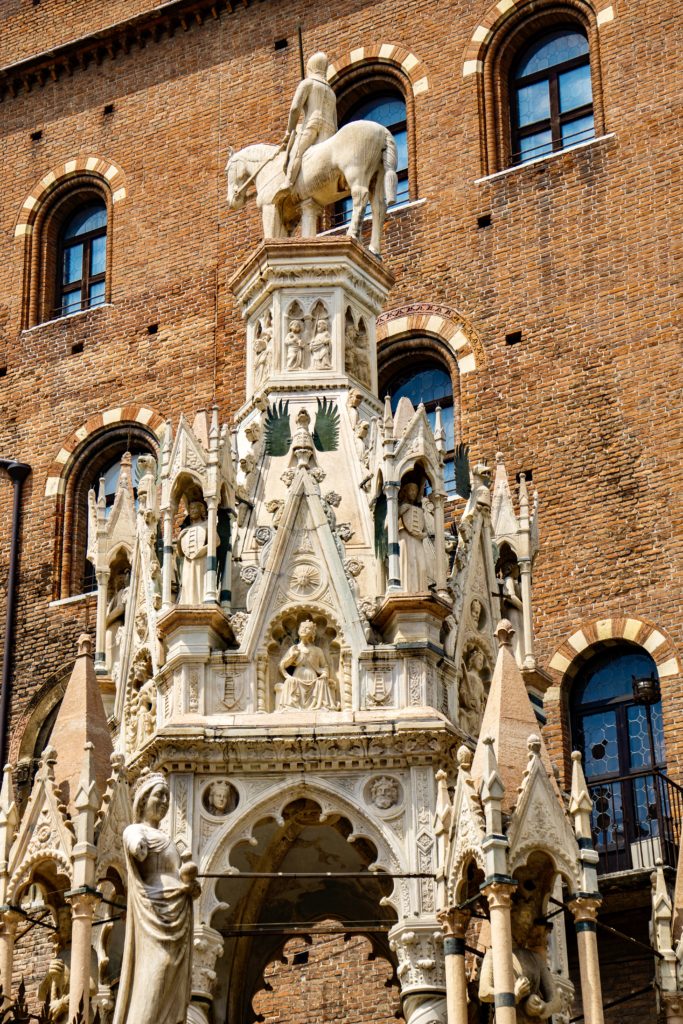 6. Scaliger Tombs
Just off Piazza dei Signoria are the Scaliger tombs, enclosed in a wrought iron grilled fence. These ornate Gothic tombs are worth a quick look. They contain the tombs of the three most important Scaligeri.
Cangrande I was the founder of the Scaliger dynasty, a nobleman and warlord known for his military conquests of Vicenza, Padua, and Treviso. To cement his legacy, he decided to build himself a stunning funerary monument.
On his death, his body was encased in a marble tomb topped with an equestrian statue of himself. The original is now inside a museum.
Tombs of his heirs are there as well. The most richly decorated tomb belongs to Cansignorio, the last of the Scaligeri to rule Verona.
Address: Via S. Maria Antica, 4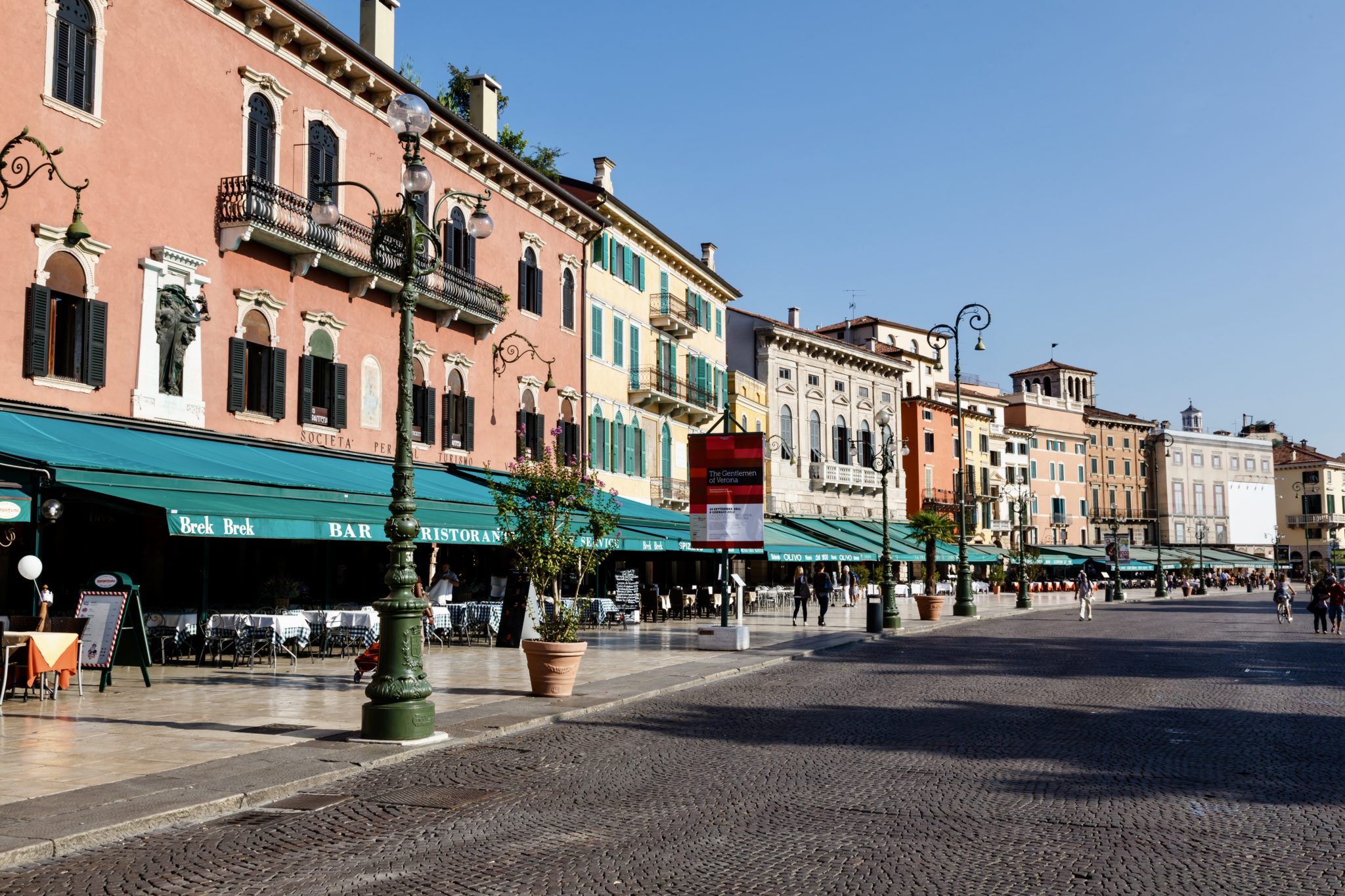 7. Lunch
When hunger calls, break for lunch. You should probably avoid the touristy restaurants in Piazza Bra, though I've enjoyed a perfectly good pizza there before.
Some options are Trattoria Tre Marchetti near the Roman Arena, Caffe Dante Bistro in the Piazza dei Signori, or La Taverna di Via Stella near Piazza Eebe.
For a wonderful salumi and prosciutto plate, head to Trattoria Pane e Vino. Pizza lovers should head to Sapore DownTown for inventive pizzas.
If you need a post lunch gelato, head to Gelateria Ponte Pietra.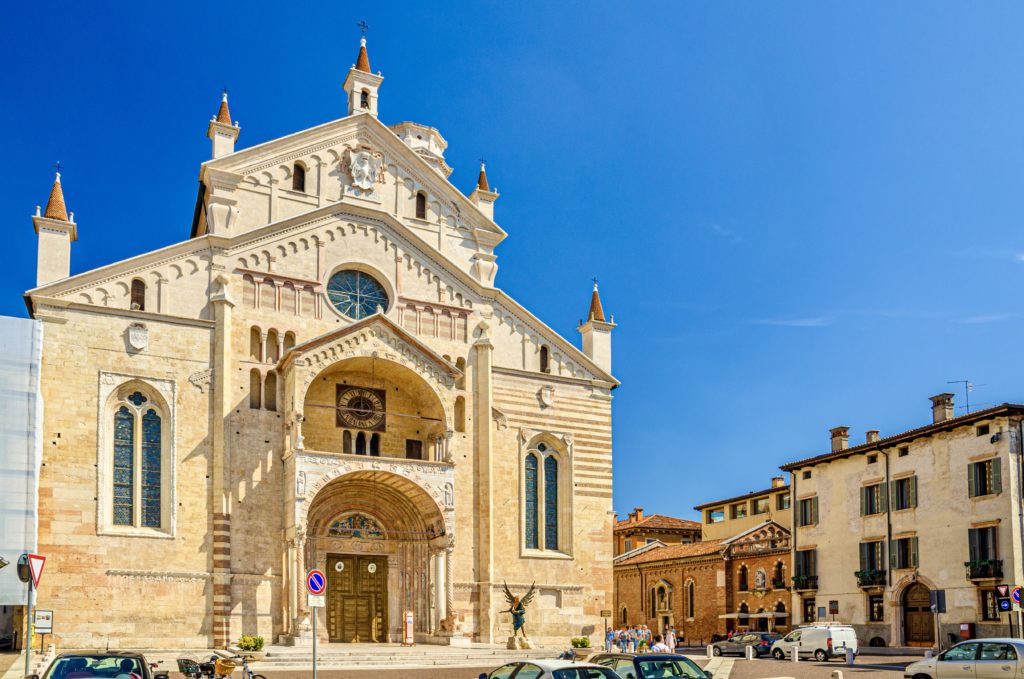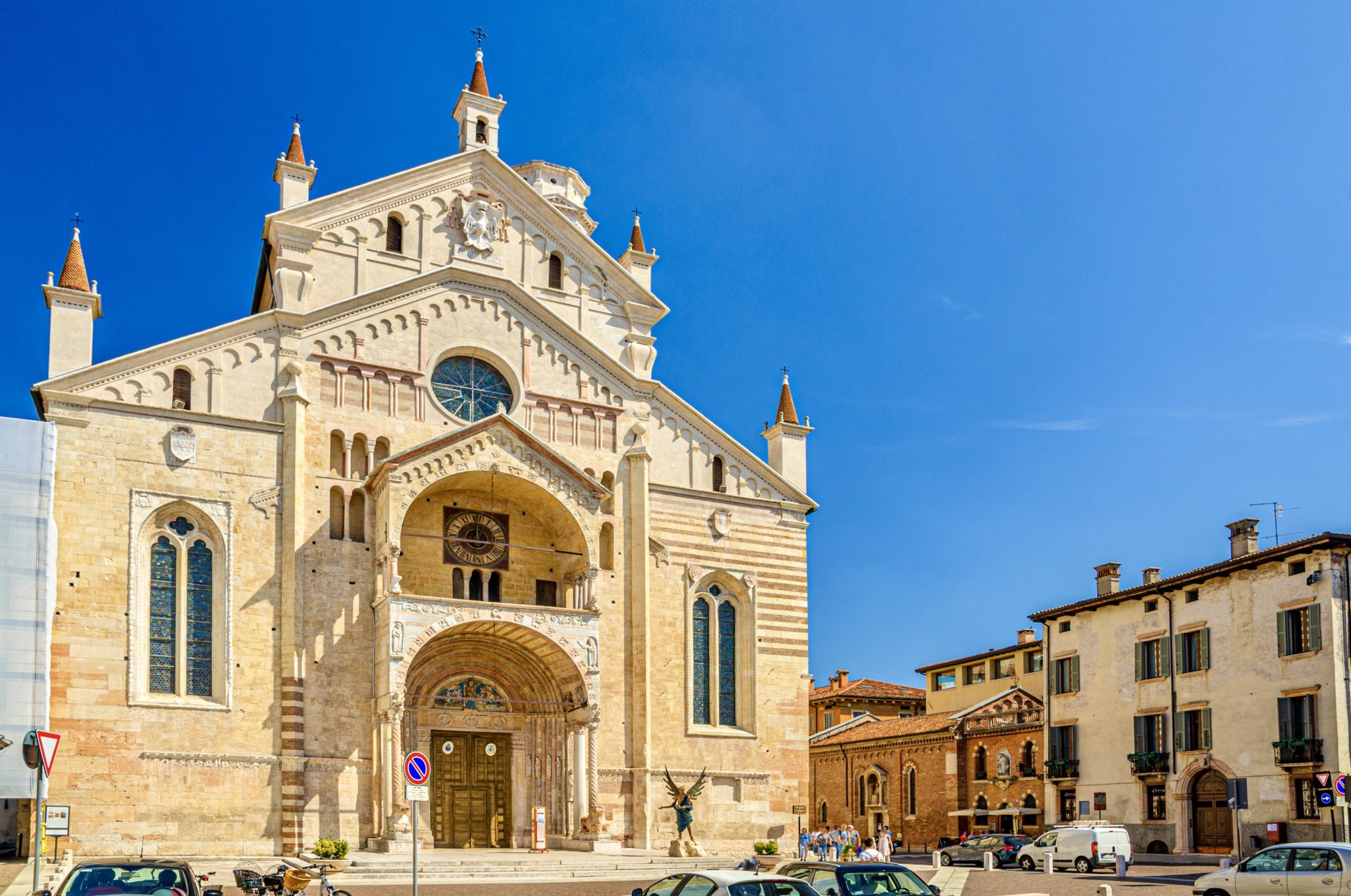 8. Verona Cathedral
After lunch, continue your one day in Verona with a leisurely stroll along the Adige River and visit the 12th century Verona Cathedral complex.
It's a magnificent red and white striped cathedral. It's Romanesque on the lower part and becomes more Gothic as it ascends. The church includes a cloister, the Bishop's House, a museum, and a 17th century library.
The cathedral's interior is from the 15th century. The nave is quite beautiful, with high vaults supported by massive red columns. The first chapel on the left holds an Assumption by Titian.
At the end of the central nave is a particularly striking, unusual architectural element. It's a semi-circular space enclosed with columns, designed by Michele Sammicheli in 1534.
The high altar is surrounded with late Renaissance frescos by Giulio Romano, a student of Raphael.
The small 12th century cloisters are also well worth a peek. It's home to the Canonical Museum.
Address: Piazza Duomo, 21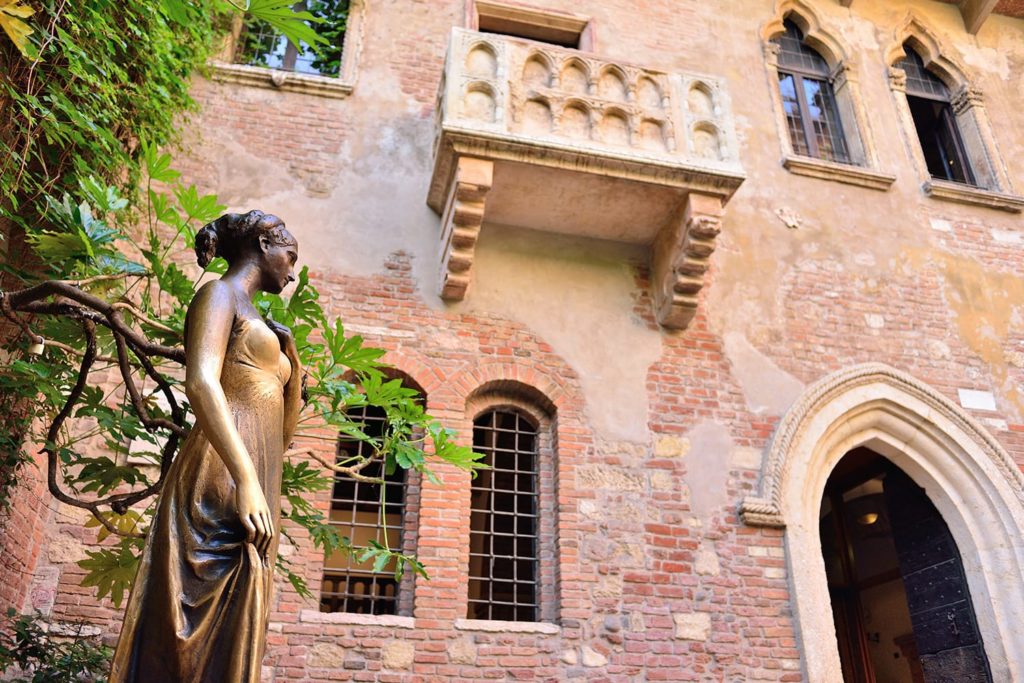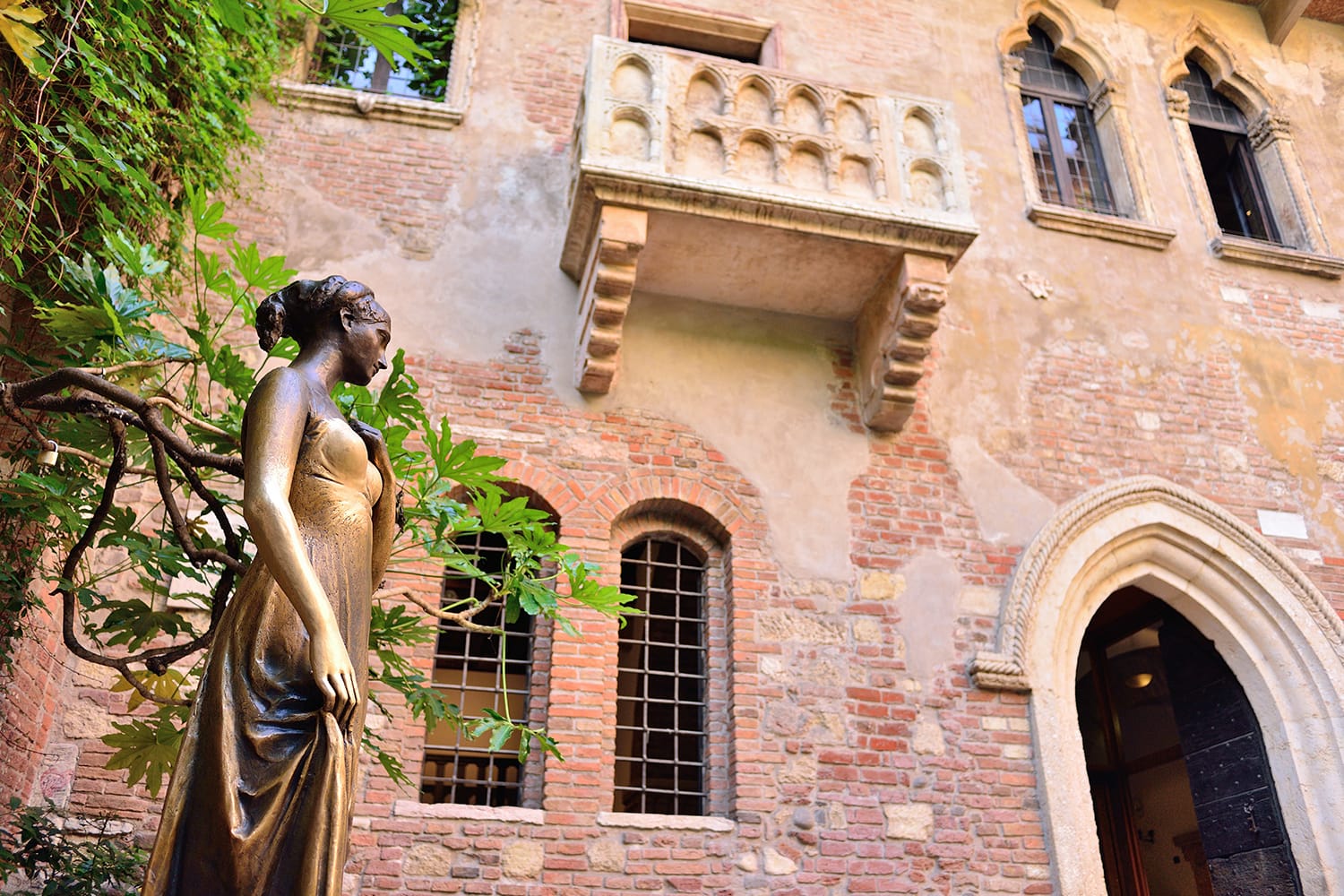 9. Juliet's House
Your next stop is Juliet's House, Casa de Giulietta, which is a 10 minute walk from the cathedral. It's one of Verona's most famous addresses.
Verona is awash in the legend of Romeo and Juliet, the ill fated lovers. It's identify is so bound up with Shakespeare's tale that the city has identified Juliet's House, Romeo's House, Juliet's grave, and even turns out Juliet branded candy kisses.
Juliet's House is the most popular pilgrimage site. The casa is a gorgeous 14th Gothic building in Verona. It was restored and the balcony added in 1936-40.
But, like the fictional love story, Juliet's House is itself a fiction. It wasn't really owned by the Capulets.
It's a rather Disneyfied place intended to bring Shakespeare's play to life. If you don't like tourist traps or are short on time with only one day in Verona, you may want to skip this attraction.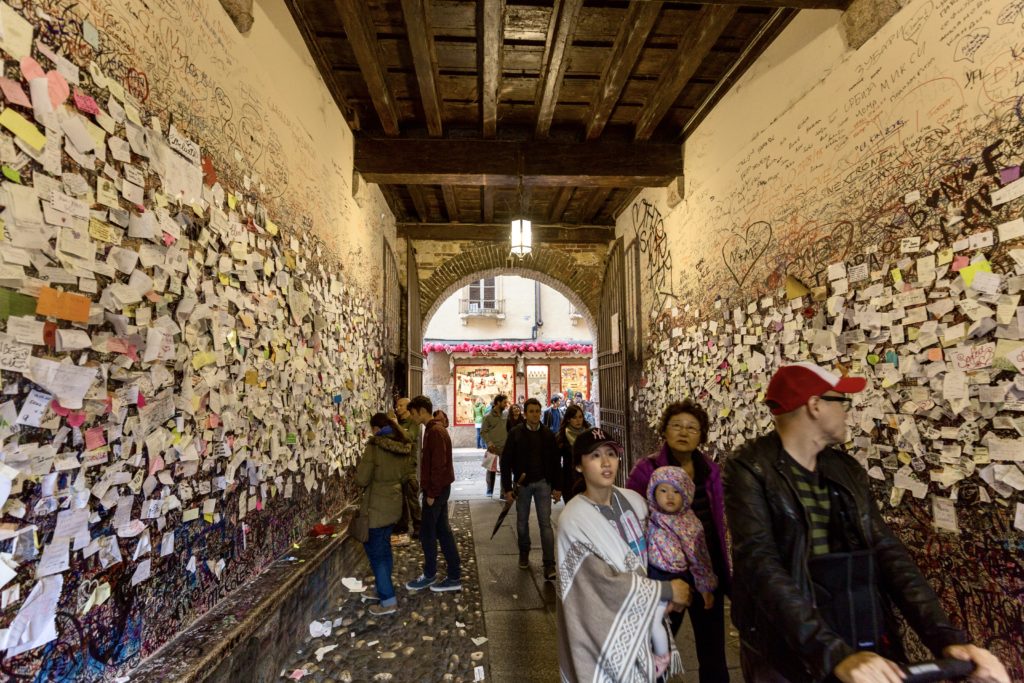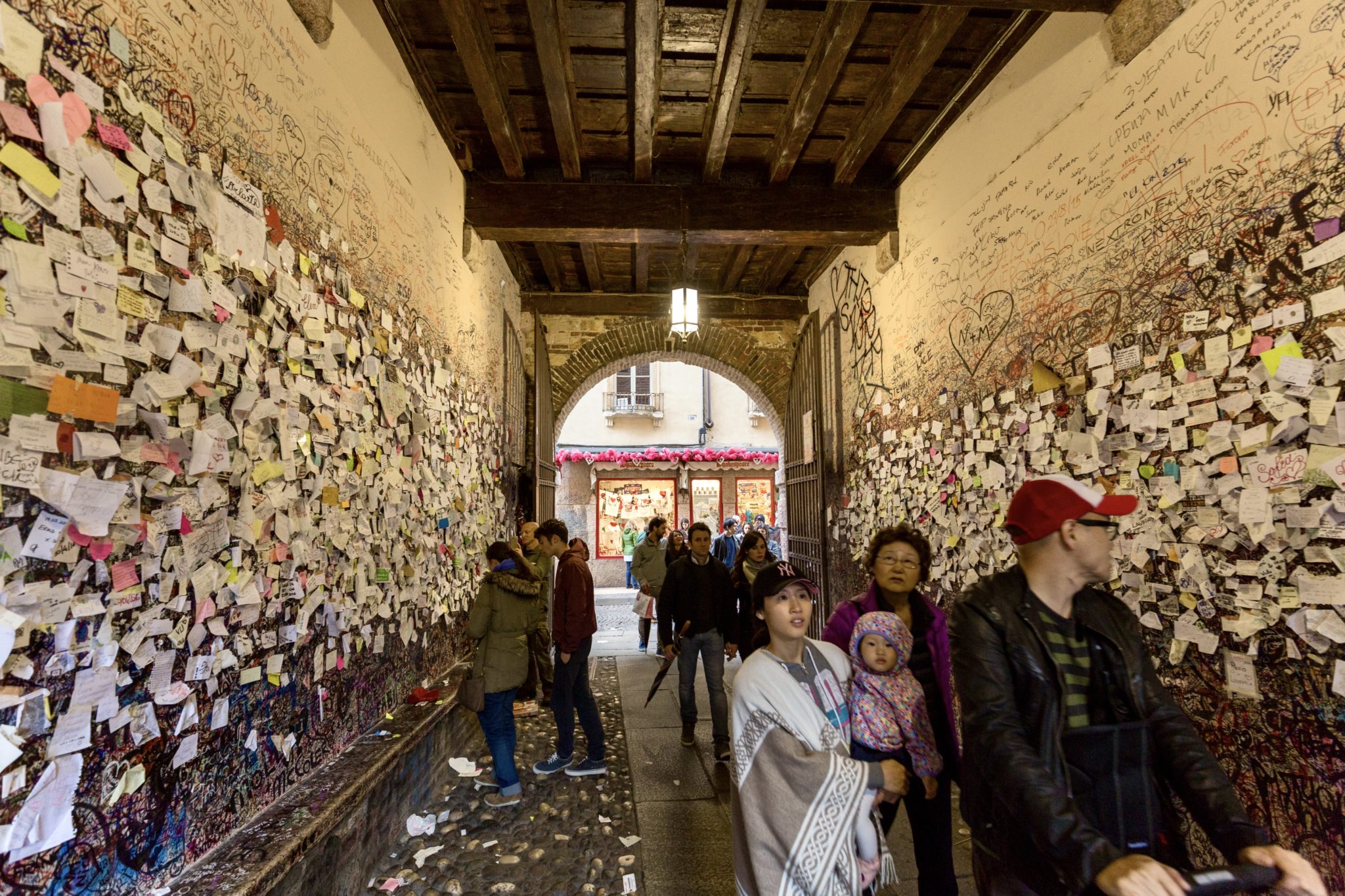 If, on the other hand, you are in love with love or Shakespeare, you may want to stop by (or take a self guided Romeo & Juliet audio tour). My daughter demanded a visit, wanting to stand on the balcony and belt out "Wherefore art thou Romeo?" So, I acquiesced.
If you don't need to declare your true love in public, you can still see the balcony without paying the 6 euro entry fee.
There's not much inside the museum itself. You'll find some faded period costumes and furnishings from the 1936 movie Romeo and Juliet.
A bronze statue of Juliet by Nero Constantini stands in the courtyard. Legend holds that you'll be lucky in love if you touch her right breast. Juliet's Wall, at the entrance, is covered with notes, scribbles, and love letters.
If you have a tale of Shakespearean-style mistreatment to relate, you can drop a letter in the mailbox to get advice. You'll get a response from the Juliet Club scribes.
Each year, there's a prize for the Most Beautiful Love Letter. Naturally, the winner gets a trip to Verona.
Address: Via Cappello, 23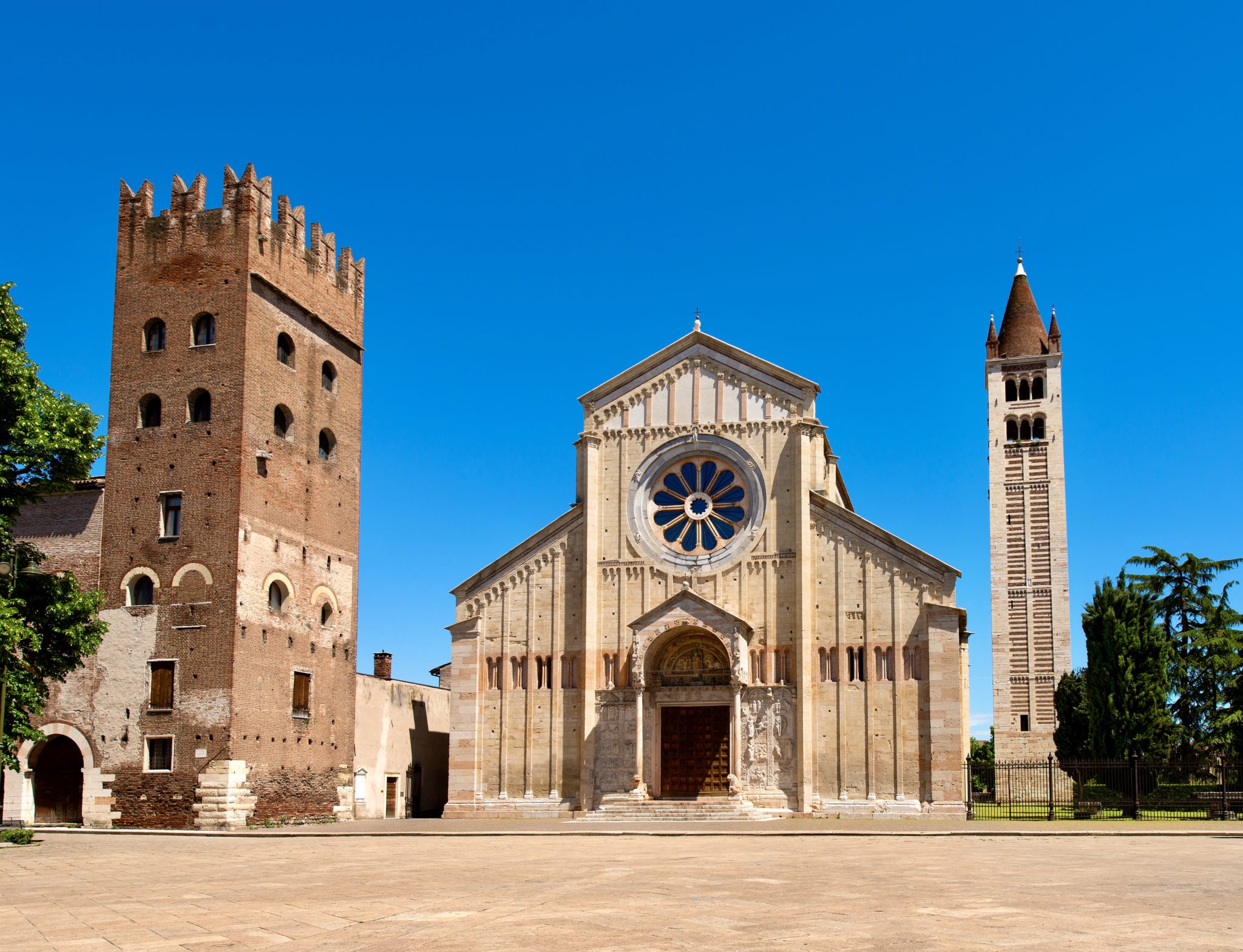 10. Basilica of San Zeno Maggiore
The Basilica of San Zeno is one of the finest Romanesque churches in Italy. It's the loveliest one in Verona and a must see with one day in Verona.
It's set between two medieval bell towers. Building began in the 12th century, but the church wasn't completed until the late 14th century.
The ivory-pink hued church has a 12th century portal. Its bronze doors have 48 panels depicting tales from the life of San Zeno, Verona's patron saint. The Gothic rose window is dubbed the "Wheel of Fortune."
Inside, you'll find Andrea Mantegna's famous triptych the Madonna and Saints over the main altar. San Zeno is buried in the crypt, and a peaceful cloister lies off the left nave.
Romantics will want to know that the church's crypt is where Romeo and Juliet secretly married in Shakespeare's play.
Piazza San Zeno is the setting for many celebrations and festivals in Verona, such as San Zeno Day and the Verona Carnival.
Address: Piazza San Zeno, 2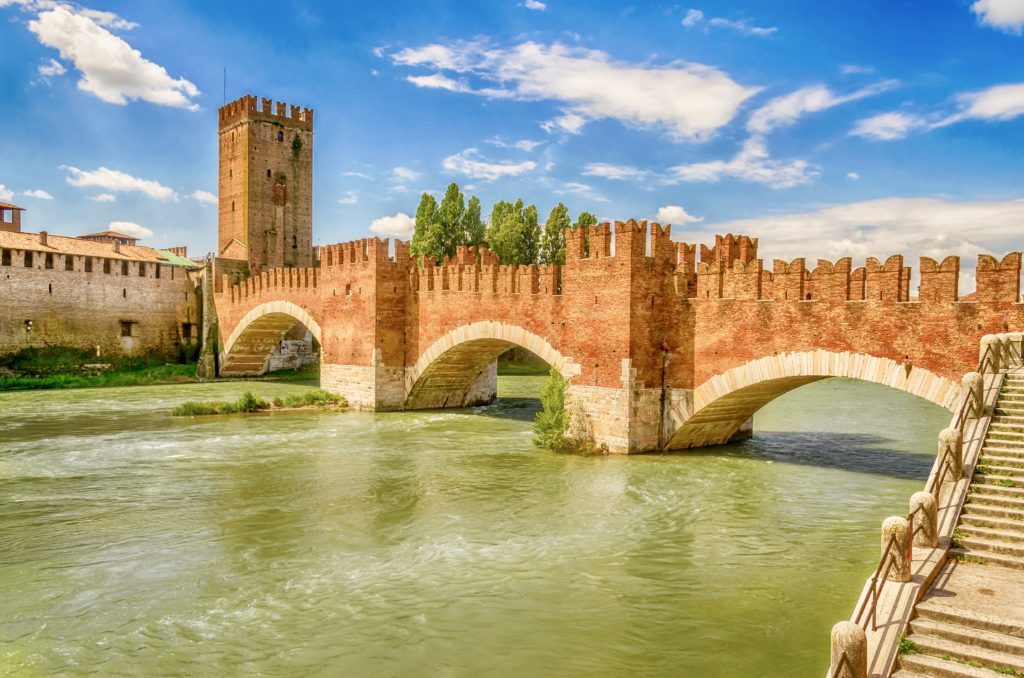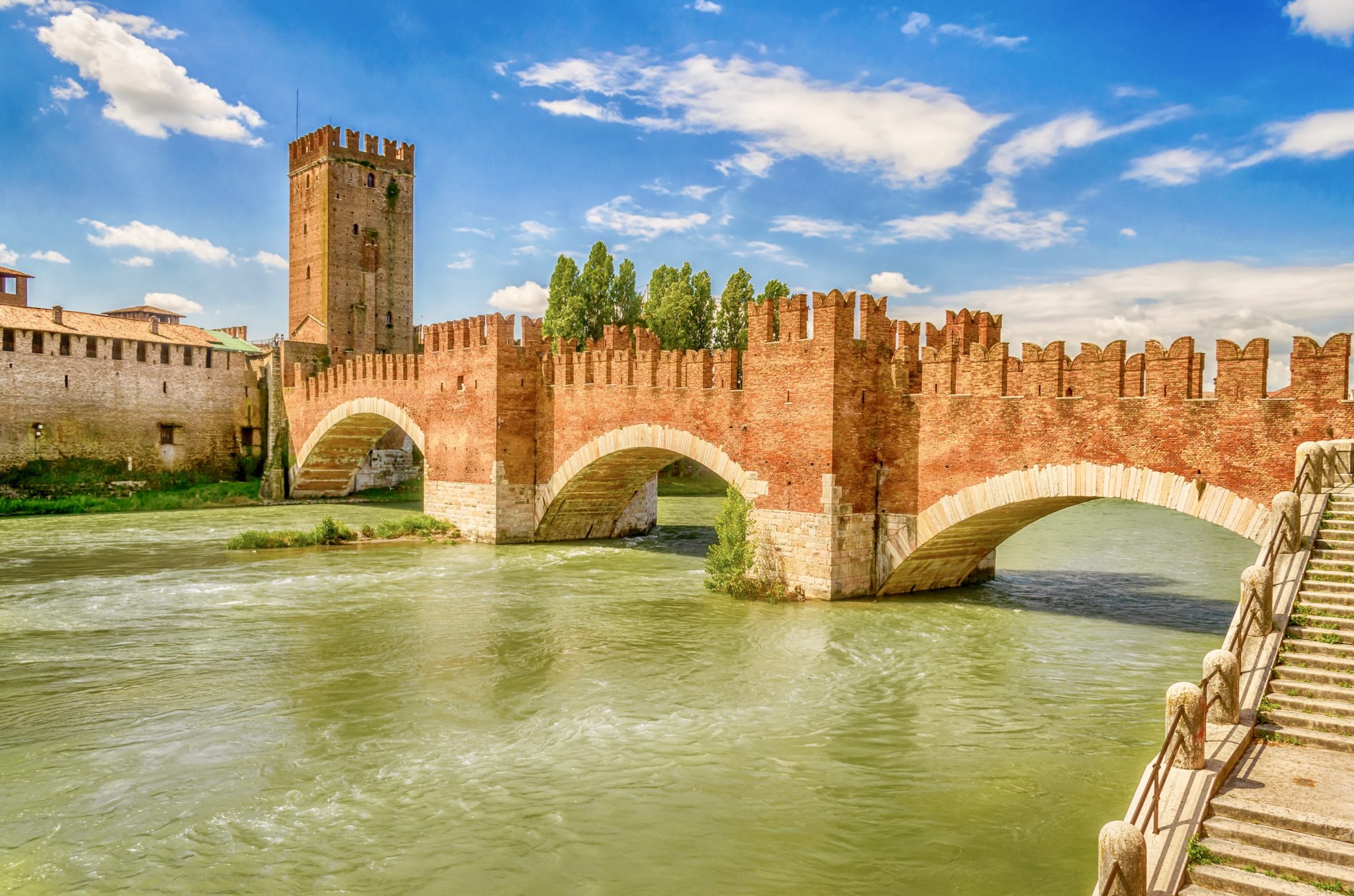 11. Scaliger Bridge
It's time to cross one of Verona's romantic bridges, the Scaliger Bridge, also known as the Ponte di Castelvecchio.
The bridge is an audacious example of medieval architecture. Congrande Scaliger ordered construction and it was built in 1354-56.
It's made of marble and red brick. In style, the bridge matches the adjoining castle. It's 3 arches are joined by mini towers.
The bridge is almost 500 feet across. It was originally built as a defensive fortification. But today it's a bridge for pedestrians and cyclists.
Address: Corso Castelvecchio, 2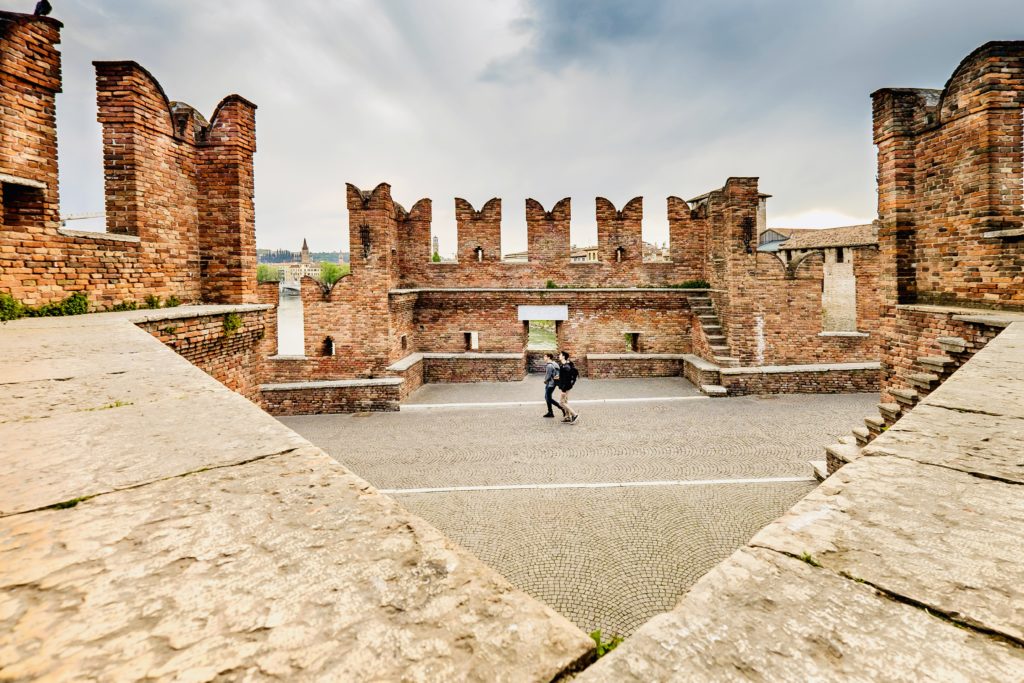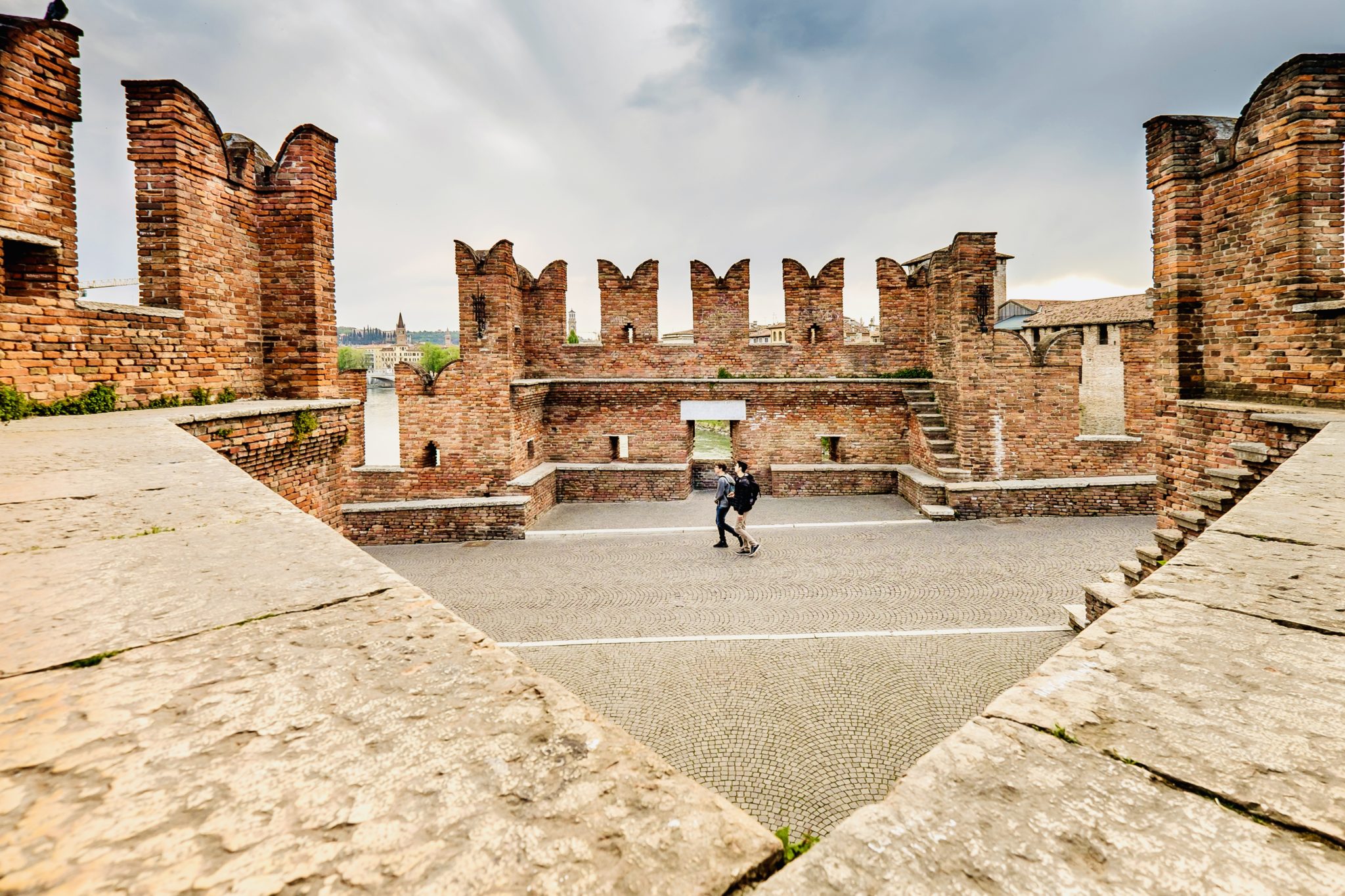 12. Scaliger Castle | Castelvecchio
Castelvecchio is a 14th century fortress. It's an eye catching crenellated, russet brick building with massive walls, towers, turrets, and a vast courtyard.
Like the bridge, it has swallow tailed battlements atop its walls that almost look like horns. The castle presides over a street lined with attractive old buildings and palaces of the nobility.
An earthquake almost completely destroyed the castle in 1117. Only the 10th century Round Tower survived.
In 1285, the Lords of Verona, called the Scaligeri, rebuilt and fortified the castle to better defend their borders. The rest of the castle was constructed in the 14th century.
Inside, there's a small civic museum, the Museo di Castelvecchio. It gives you a good look at the castle's vaulted halls.
You can admire detached frescos, jewels, and sculptures. There are paintings by some of Verona's greatest artists — Veronese, Mantegna, Titian, Tintoretto, and Tiepolo.
Address: Corso Castelvecchio, 2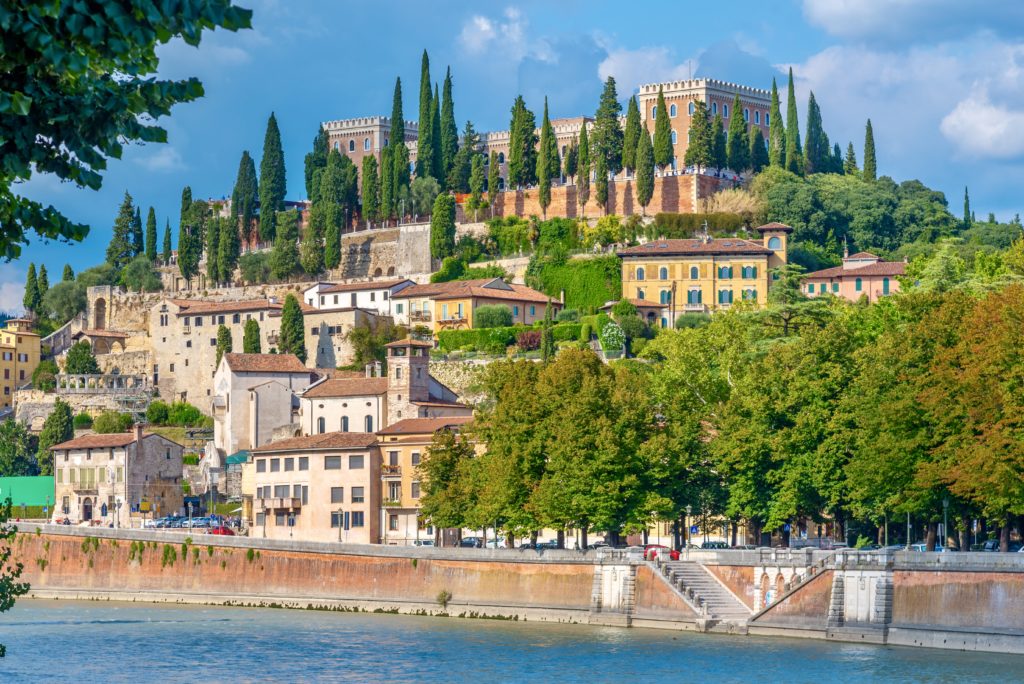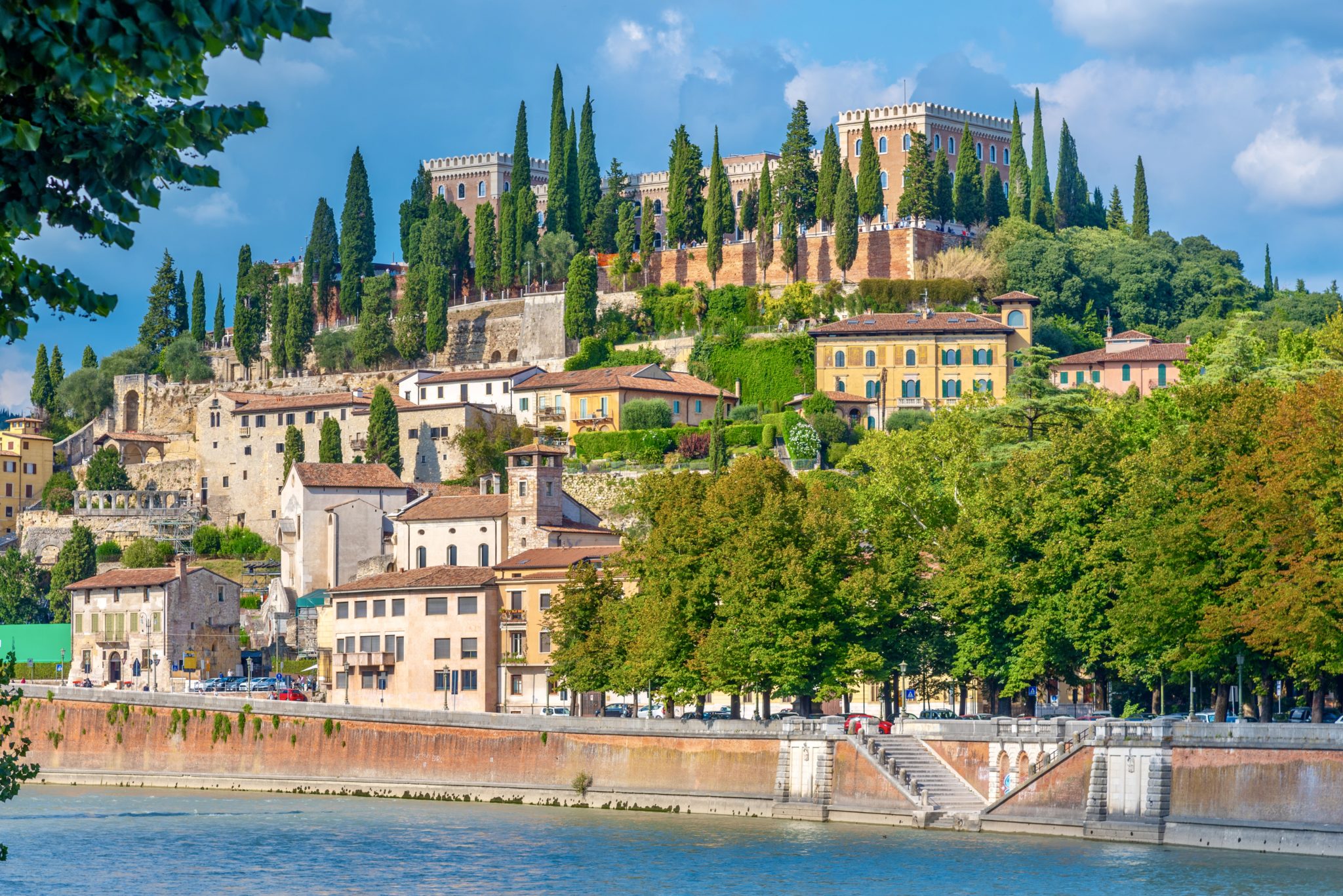 13. San Pietro Castle
At sunset, end your one day in Verona with a calorie-burning climb of 100,000 steps to the viewing platform at Piazzale Castel San Pietro. Legend holds that this is where the city was founded.
The castle is just over the Ponte Pietra on a hill crowned by cypresses. There's also a funicular to get you there.
The castle is now in ruins and isn't open to the public. But it's worth the climb if you can't resist a good view. The stairs start from the Roman Theater.
San Pietro offer up the best views of Verona, and it's particularly spectacular at sunset. You can admire the candy colored houses and beautiful architecture of the city.
Not surprisingly, in a city that exudes romance, this is a popular spot for wedding proposals and wedding photos.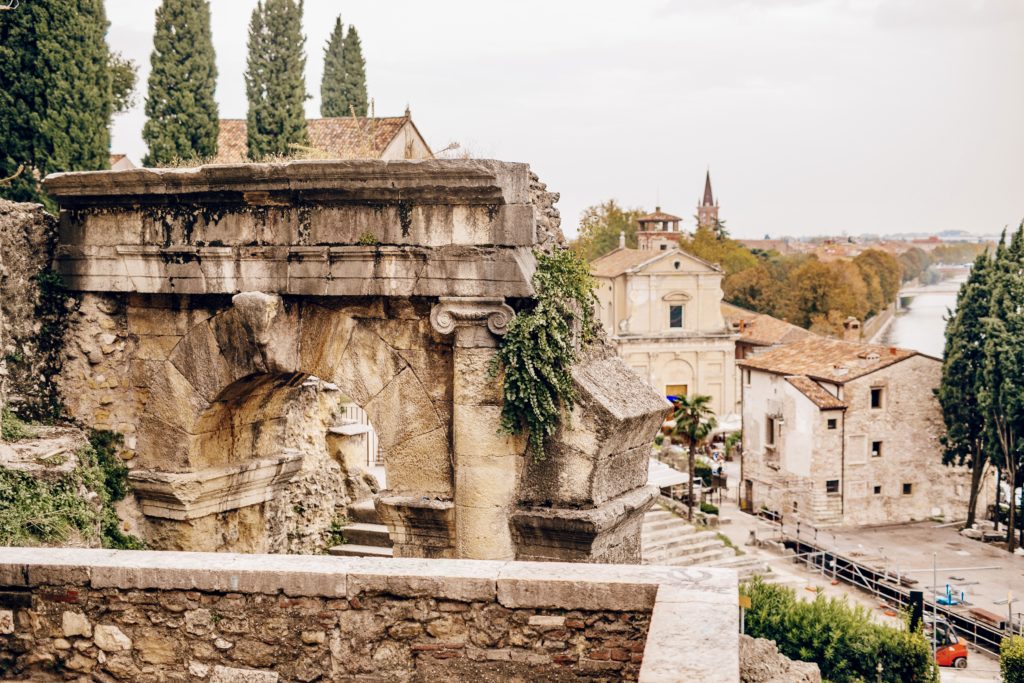 14. Dinner in Verona
If you're staying for dinner on your one day in Verona, I have some restaurant recommendations.
Romantics, or anyone with an eye for a view, will want to book a meal at the Osteria Ponte Pietra, a cozy restaurant with two outdoor terraces near the Ponte Pietra. For almost the same view, but a simpler menu, try the adjacent Terrazza al Ponte.
Since you ended your day at the San Pietro Castle, there's also a good restaurant there with a terrace for al fresco dining and views called Teodorico Re.
Other good options for dinner in Verona are:
Before or after dinner, you might consider going on a moonlight walking tour, another romantic thing to do in the city of romance.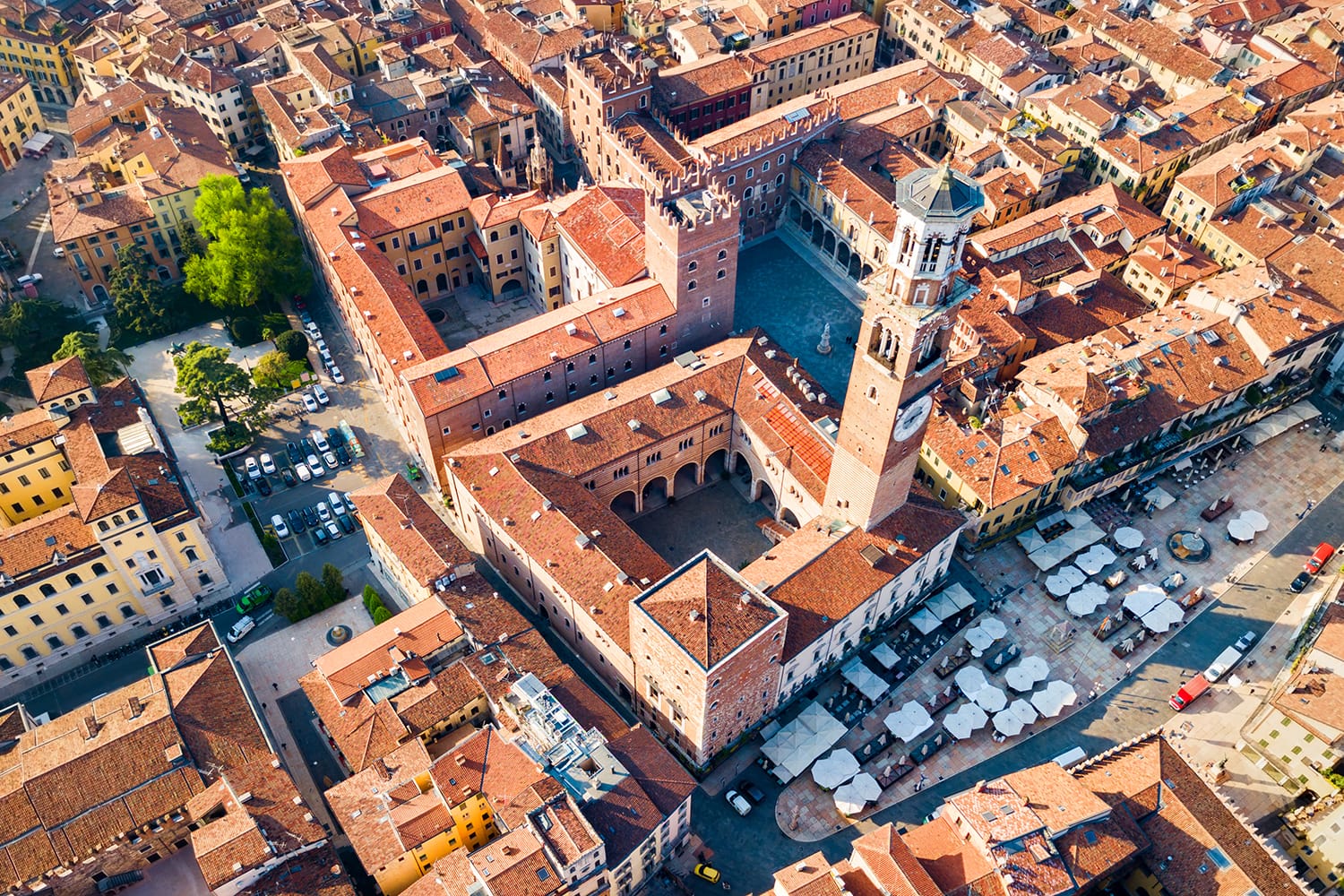 More Than One Day In Verona?
If you have more than 1 day in Verona, there are some other attractions in Verona you should check out.
1. Roman Theater
Just off the river is the Roman Theater. The theater and its archaeological museum will appeal to architecture and history buffs. You can appreciate one of the best-preserved Roman monuments in northern Italy.
There are treasures like mosaic floor fragments from the 3rd century, Etruscan bronzes, and Roman sculptures.
From the top, there's a great photo op of Verona's most famous landmarks and beautiful houses.
Address: Via Regaste Redentore, 2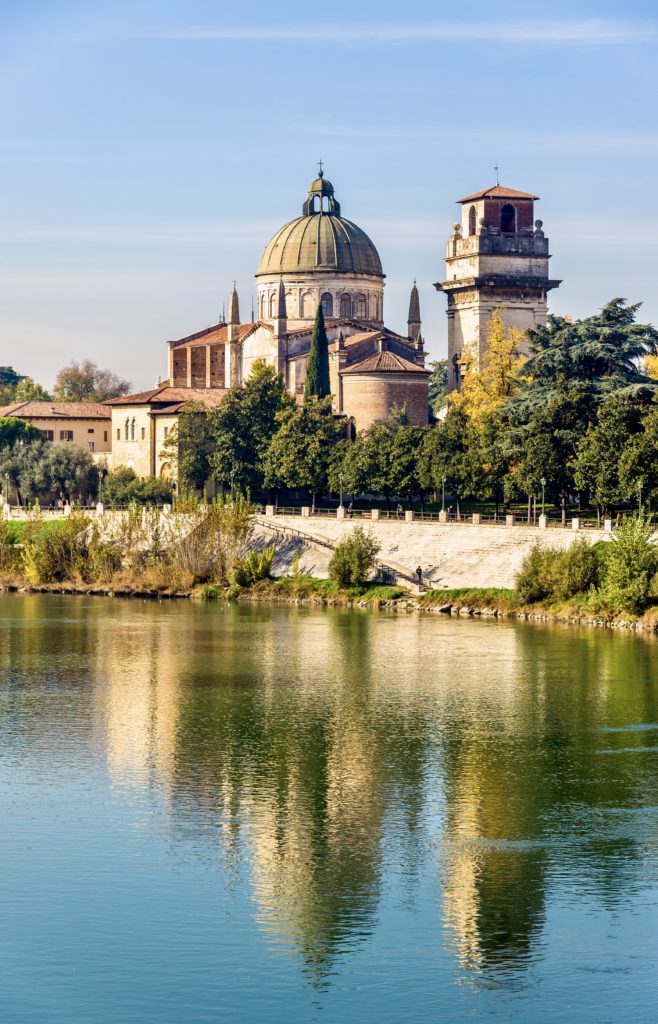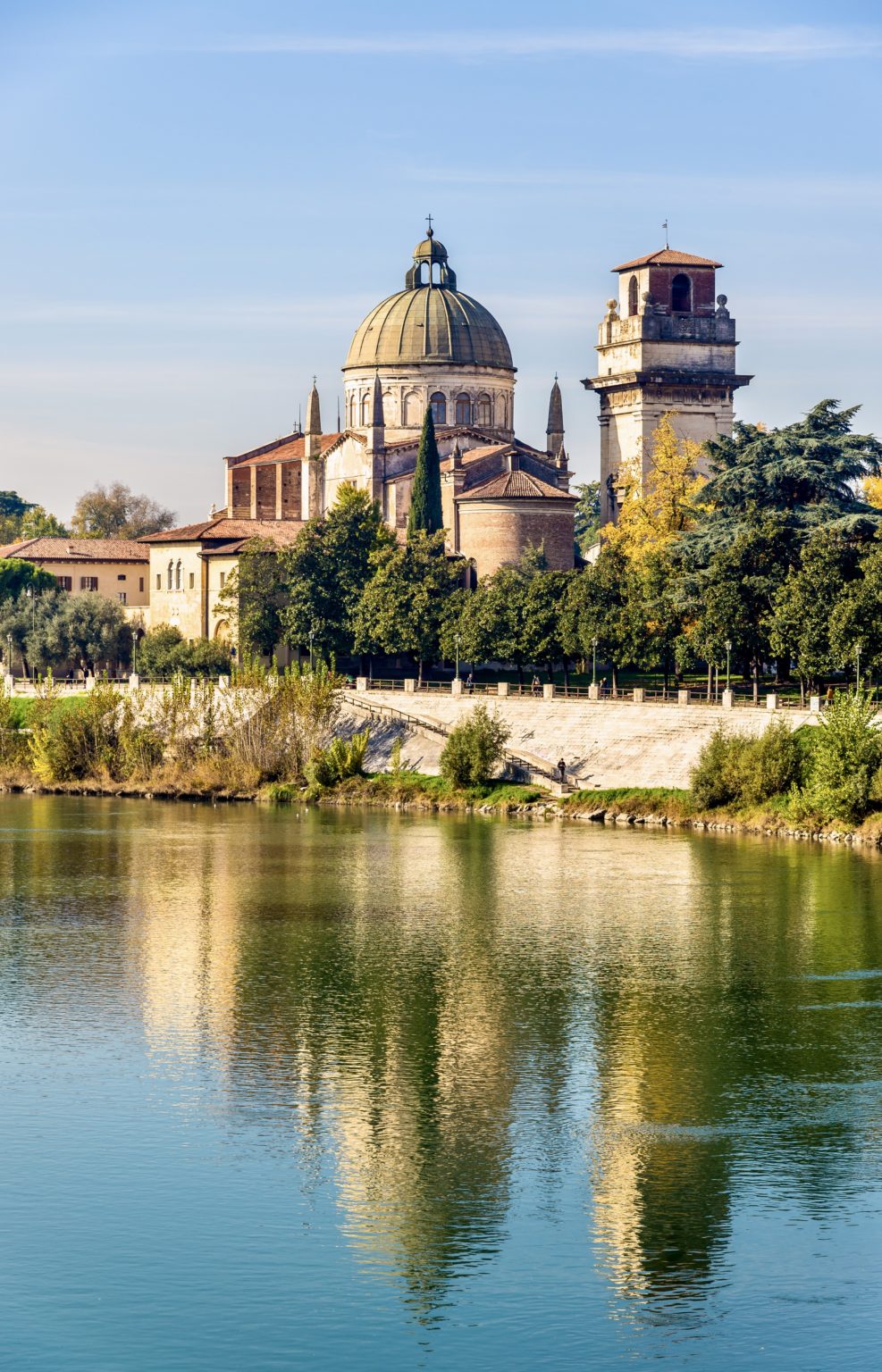 2. Verona's Churches
Verona is packed with churches from different periods. Right behind the Roman Theater, you'll find the 10th century Church of Santi Siro and Libera.
Sant'Anastasia is known for its fine Italian Gothic architecture. The facade has 12 grand arches in the city's signature red marble.
Santa Maria in Organo houses what the Florentine artist and art historian Giorgio Vasari called the finest choir stall in Italy.
San Giorgio in Braida is right on the banks of the Adige River and is a must see. It has a towering dome, beautiful interior decor, and art works by Tintoretto and other artists. The most famous piece is the Martyrdom of St. George above the altar.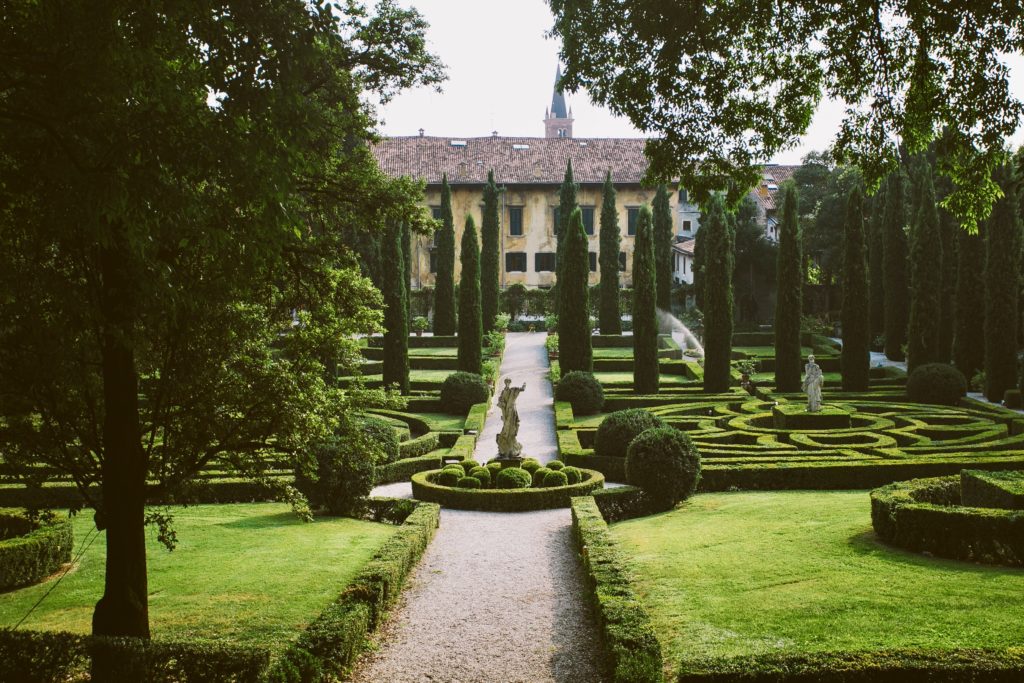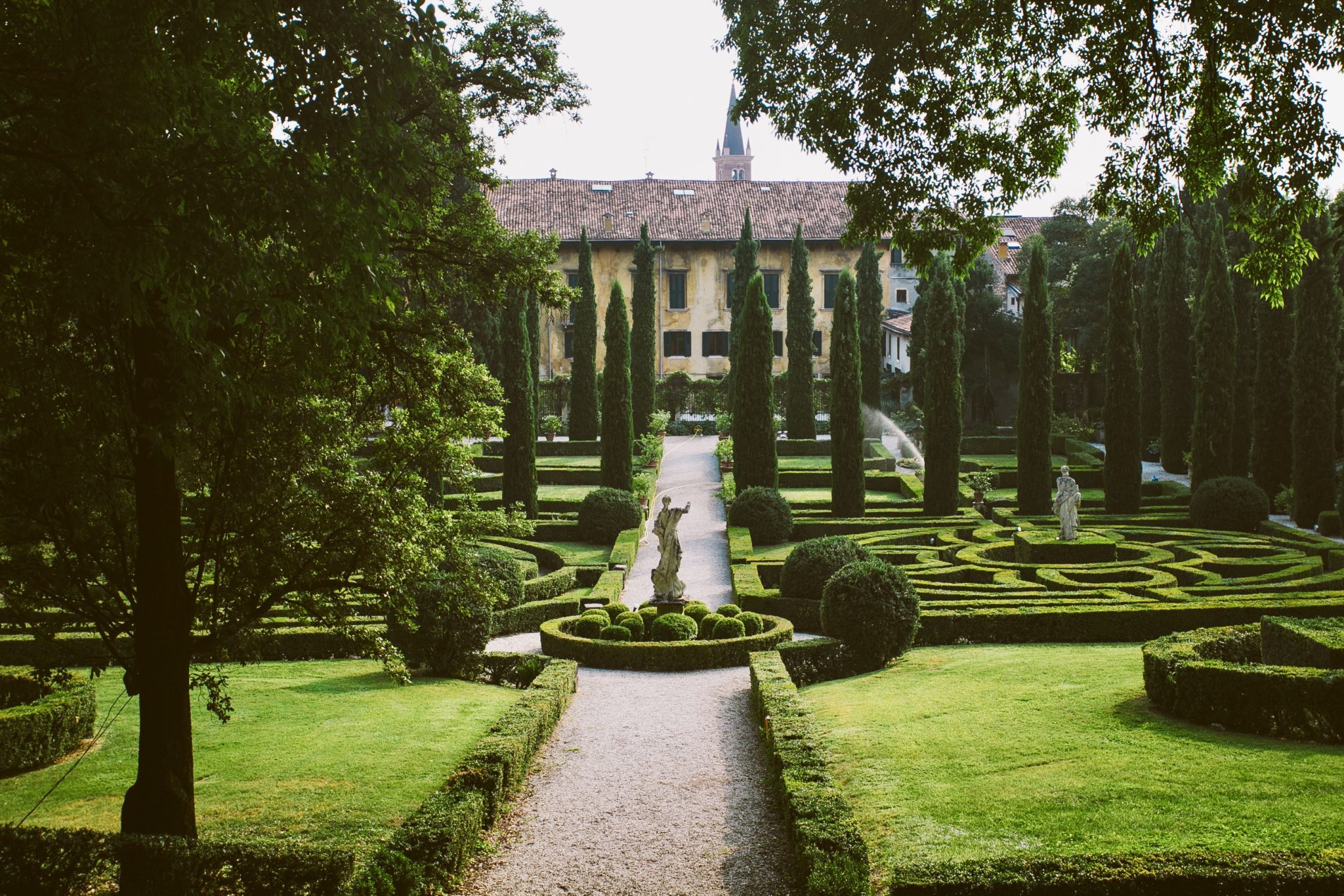 3. Verona's Green Spaces
With more than one day in Verona, you can relax in some of the city's pretty green spaces.
South Adige Park is referred to as the "green lung" of Verona. It stretches from Ca del Bue to Porto San Pancrazio.
North Adige Park is located close to the historic center in the Corte Molon district.
Giusti Palace has one of the most beautiful gardens in northern Italy. You can admire a Neo-Classical Palace and a 16th century Neo-Classical garden.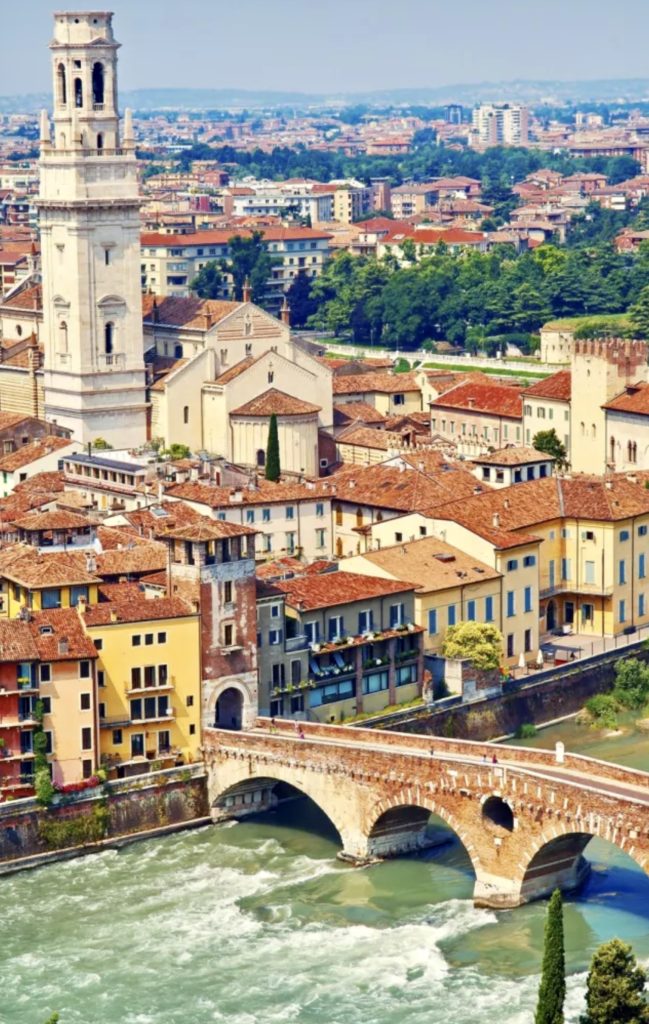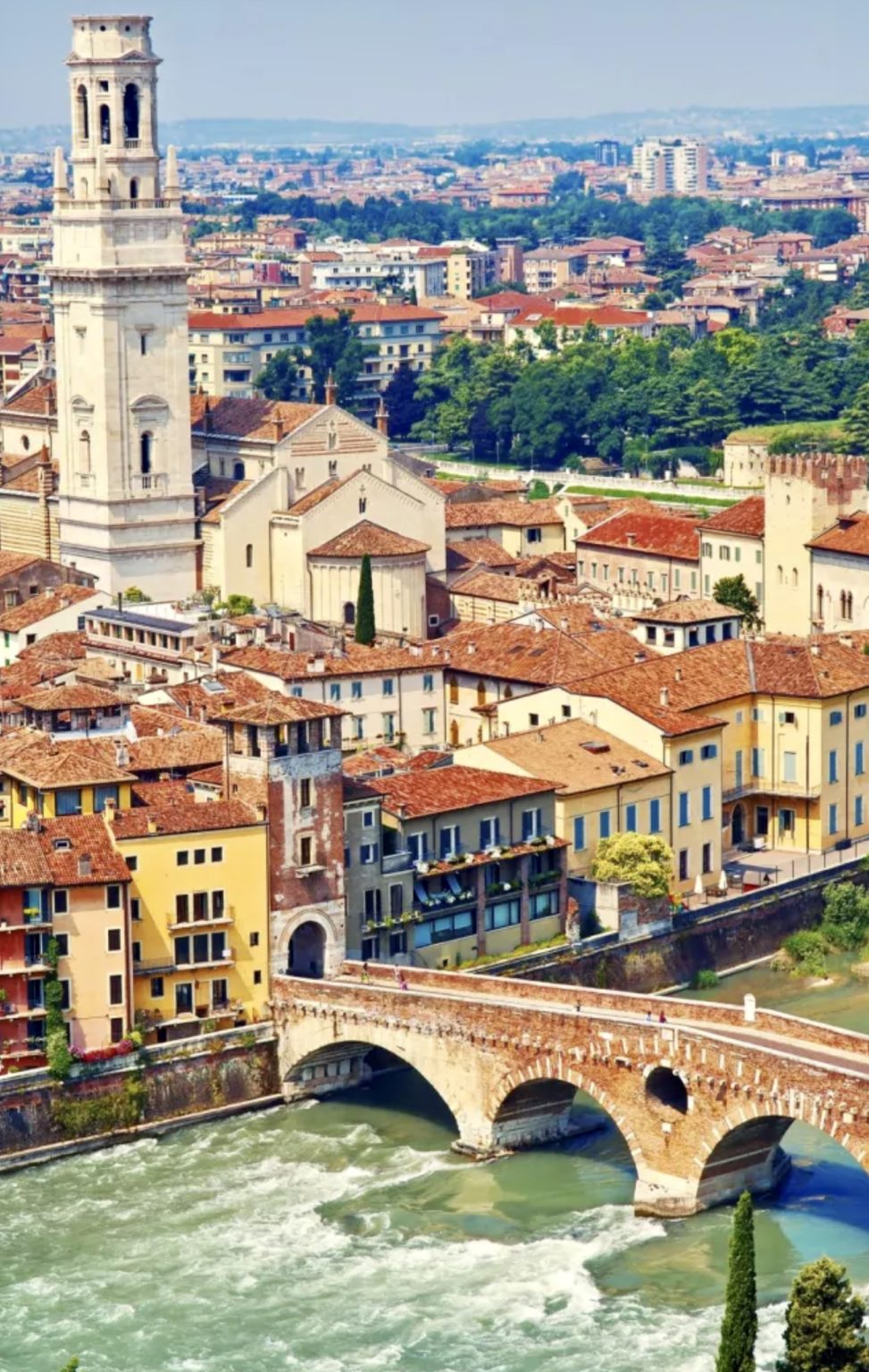 Tips For Visiting Verona
Here are some must know tips for day tripping to Verona or spending one day in Verona.
1. How To Get To Verona
Verona is located in the Veneto region of Italy. Verona is the perfect mid way stop between Venice and Milan. It's the perfect day trip from either city.
By Train:
Verona is 1:10 minutes on the high speed train from Venice or 1:20 from Milan.
Venice's Santa Lucia train station is near the foot of the Grand Canal, just behind the Ferrovia vaporetto platform. Milan's Central train station is located in Piazza Duca d'Aosta, which you can get to on the M3 metro line.
There are also direct connections to Verona from Rome, Padua, and Bologna.
You'll arrive at Verona's Porta Nuova Station. You can pick up a map at the station's tourist office. It's a 15 minute walk from the train station to Piazza Bra.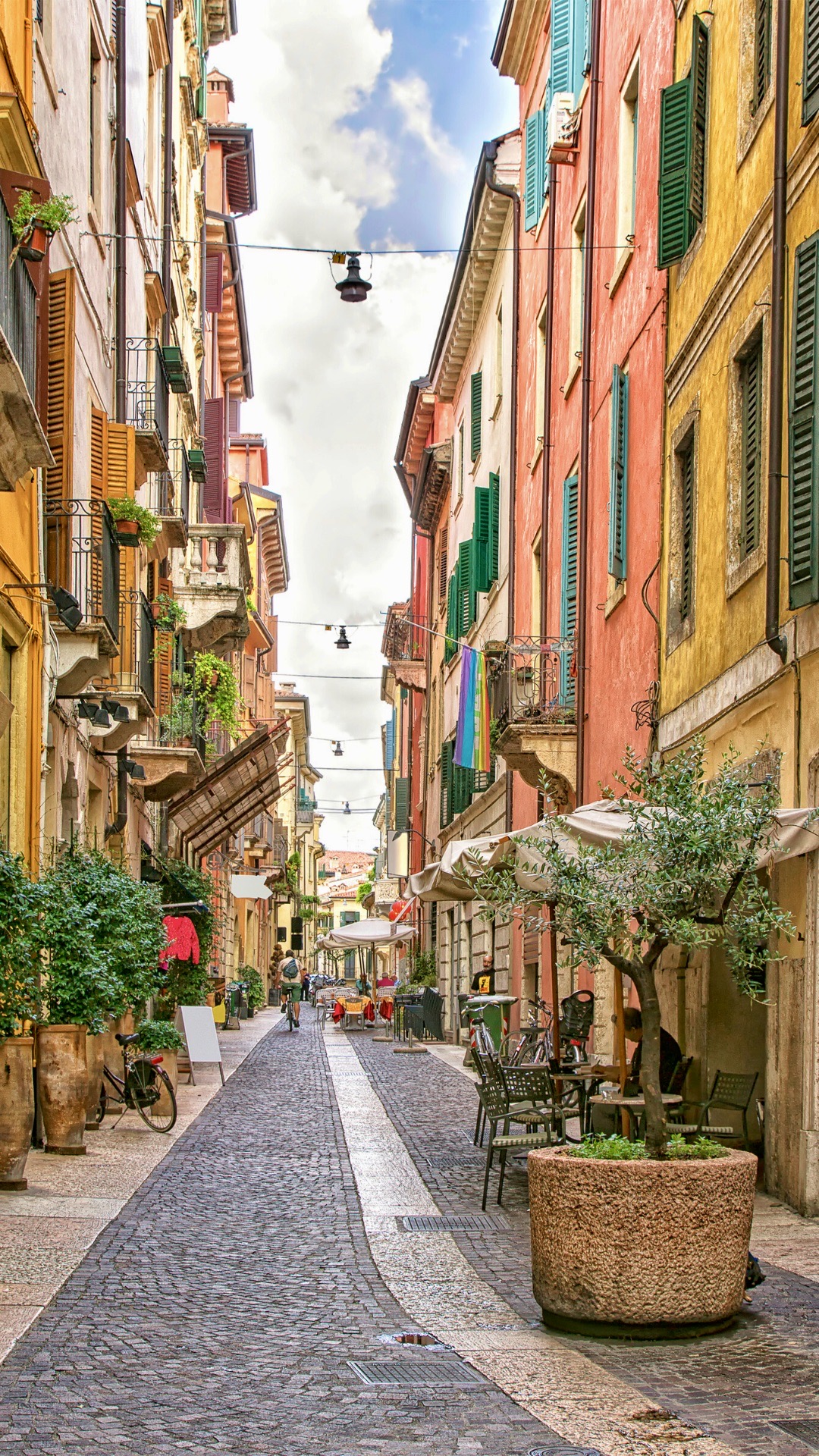 By Plane:
Verona is served by Catullo Airport. Direct connections are possible from many European cities.
From the airport, you can take a bus that connects to the train station, which then takes you to Verona's city center. You can also hop in a taxi or book a private transfer.
By Car:
You can aldodrive to Verona. But the historic center is a no auto zone except for residents. So you'll need to park in a lot on the outskirts of the city.
In high season, you should arrive early lot to ensure you get a spot. The biggest (and free) parking lot is Piazzale Olimpia Parking, which is not far from the Roman Arena.
By Guided Tour:
If you're staying somewhere else in Italy, you can visit Verona on a guided day trip from Milan, a day tour from Bergamo, and (of course) on a day tour from Venice.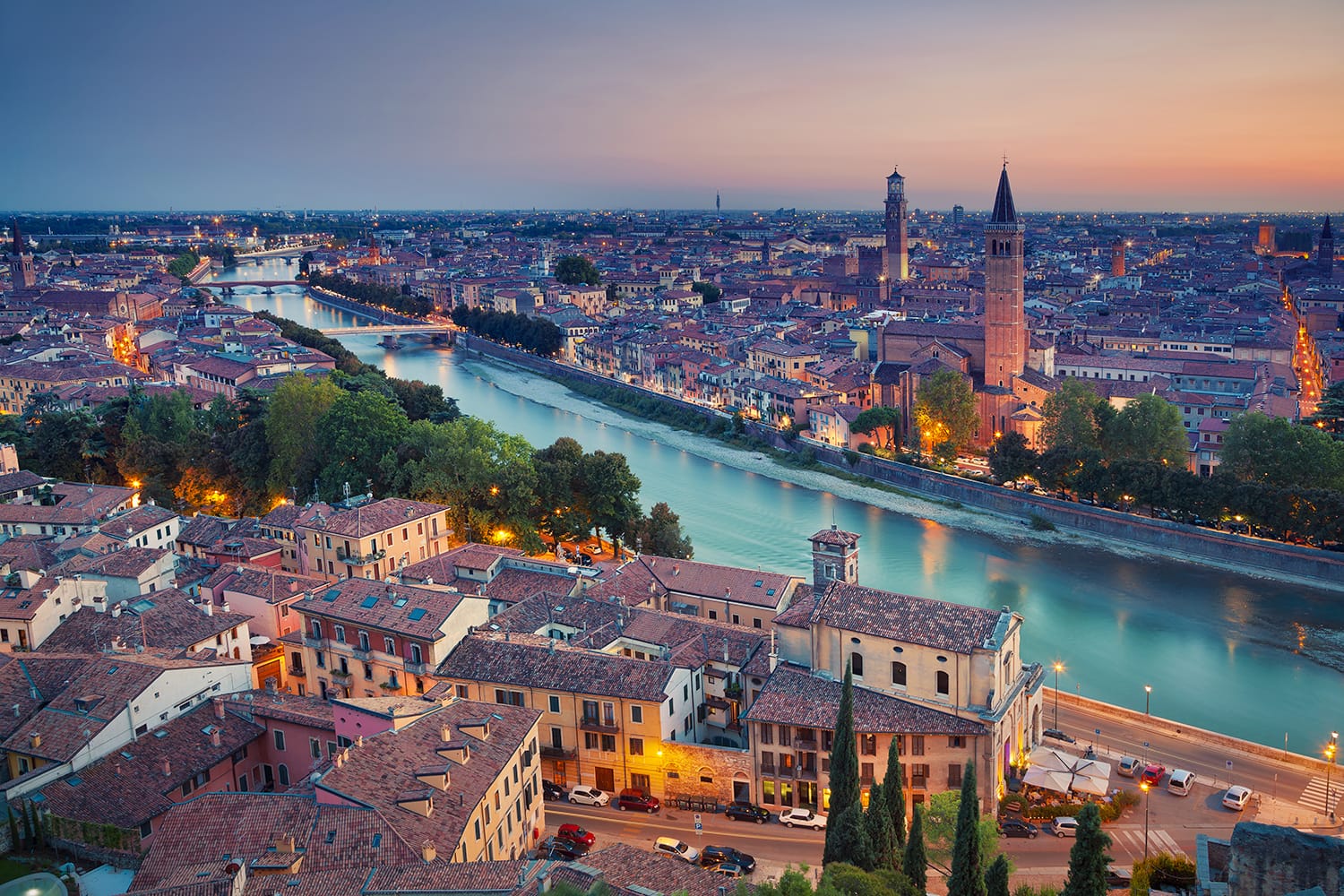 2. How To Get Around Verona
Verona has a compact historic center. You can get everywhere on foot and see all the main attractions in one day.
Verona is also a bike friendly city. You can rent bikes in Verona, go on a guided bike tour, or take the hop on hop off bus.
Apart from these options, your only alternative is the city's bus network. Buses run throughout the city and can help save time if you're traveling longer distances.
Tickets are sold at bus stations, as well as newsagents and tobacconists. They are also included in the Verona Card, which I discuss next.
3. Verona Card
I'm not usually a fan of city cards. But the Verona Card is a pretty good deal, if you're spending 24 hours in Verona.
It gives you one free skip the line entry to Verona's major attractions: the Roman Arena, all four churches in Verona's center, the Torre dei Lamberti , the Museo degli Affreschi, and the Roman Theater.
Plus, you get free public transportation.
Click here to book the card online in advance. You can also buy the card at the tourist offices.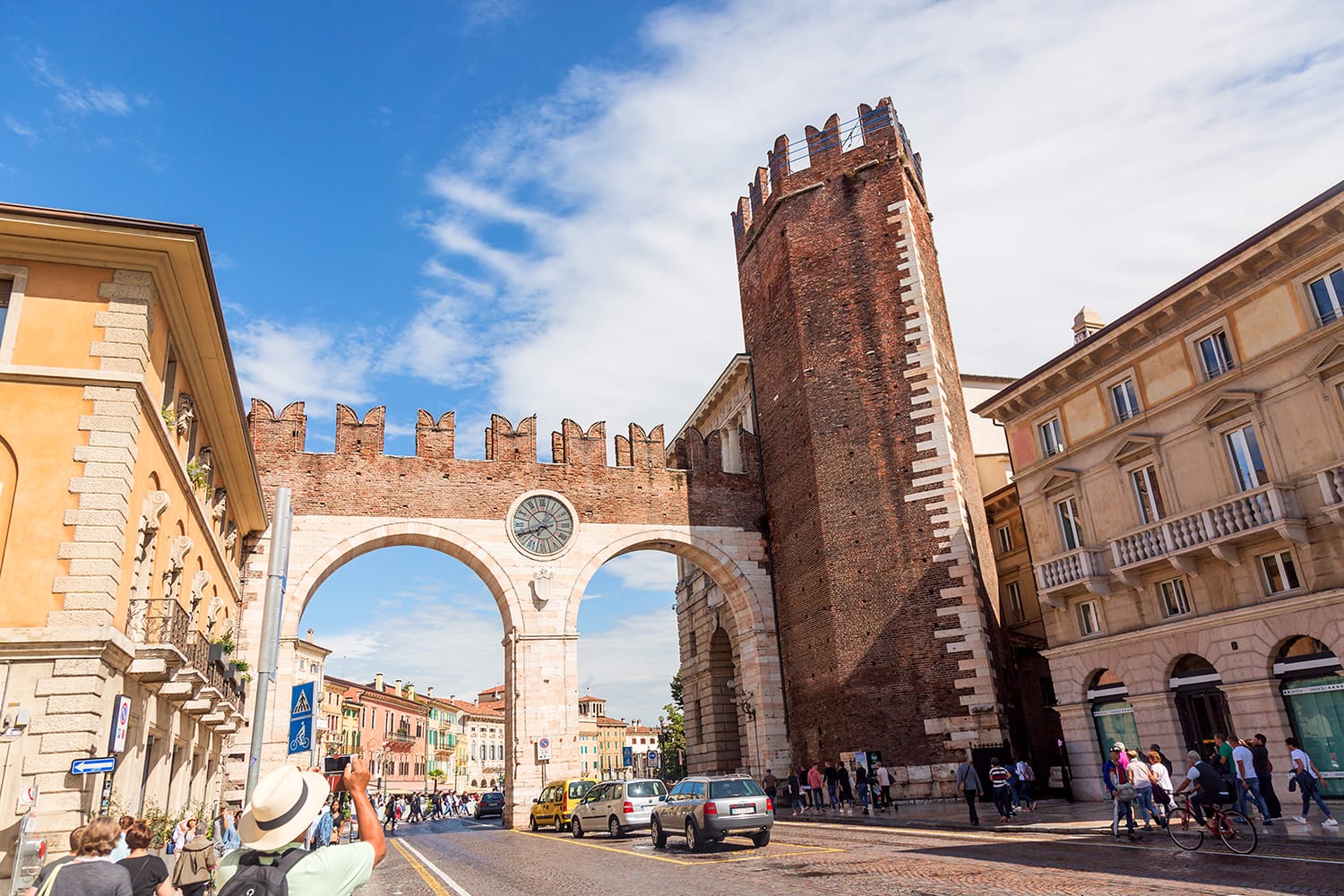 4. Guided Tours Of Verona
I often find it helpful to book a walking tour of a city, especially if I haven't visited before. And you have some good options.
You can check out a 2 hour small group guided walking tour, a 3 hour walking tour, or a 3.5 hour food and wine tour. My first time in Verona, I took this 4 hour private tour and enjoyed it.
Naturally, you can also take a Romeo and Juliet themed tour.
5. Where To Stay In Verona
Verona makes an ideal base for touring northern Italy and it's less expensive than Venice. If you'd like to stay overnight or more than one day in Verona, there are plenty of great (and romantic) hotels you can check out.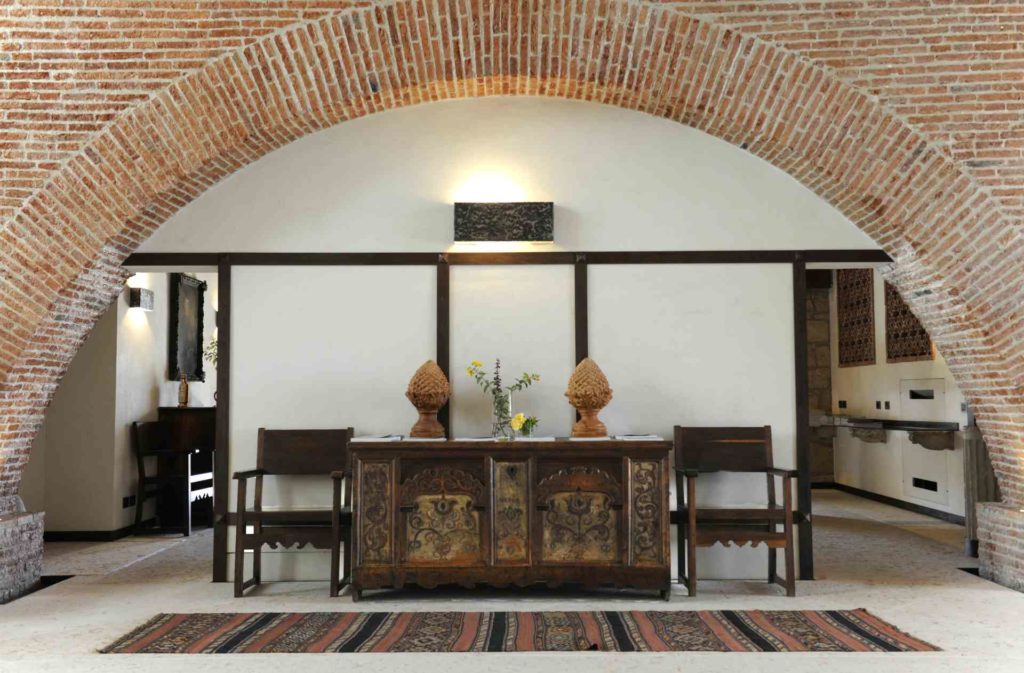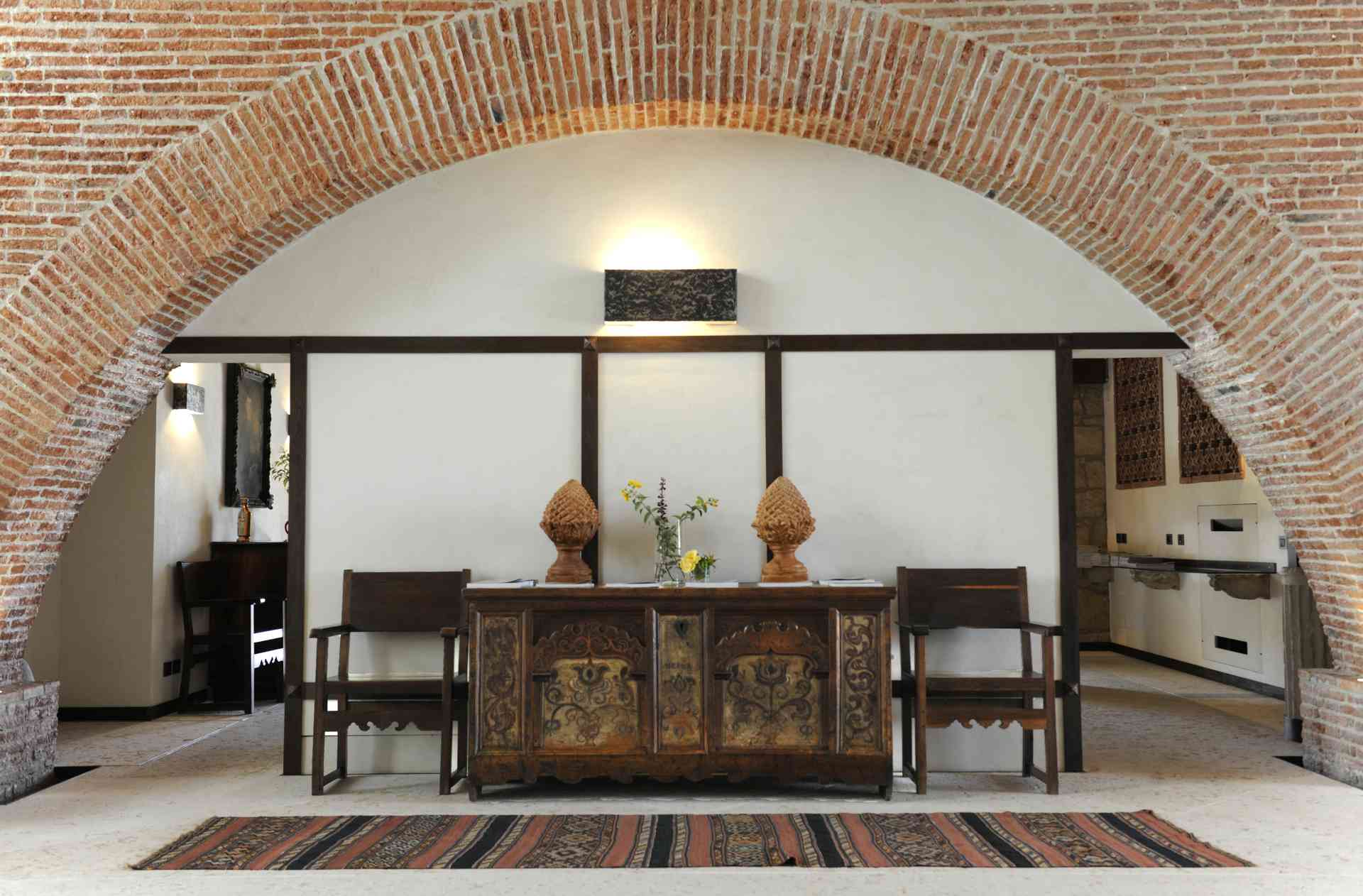 Palazzo Victoria is a luxury boutique hotel right near Piazza Bra and Via Mazzini. Hotel Milano & Spa is a modern luxe hotel with a rooftop bar and restaurant.
Hotel Aurora is near Juliet's House and has a terrace for breakfast with breathtaking views. The ARK Hotel is a 4 star hotel near the historic center.
Another great option is Due Torri Hotel, a modern luxury hotel with a vintage feel. The Grand Hotel Des Arts is a beautiful understated hotel also near the Piazza Bra.
Just outside the city hidden away in the hills is the romantic Delser Manor House Hotel. Over time, the hotel was transformed from a monastery to a Palladian villa, to an elegant luxury hotel perfect for couples.
Byblos Art Hotel is another luxury hotel just outside the city housed in a splendid Renaissance villa. It has a unique design that marries Italian Baroque style with contemporary art.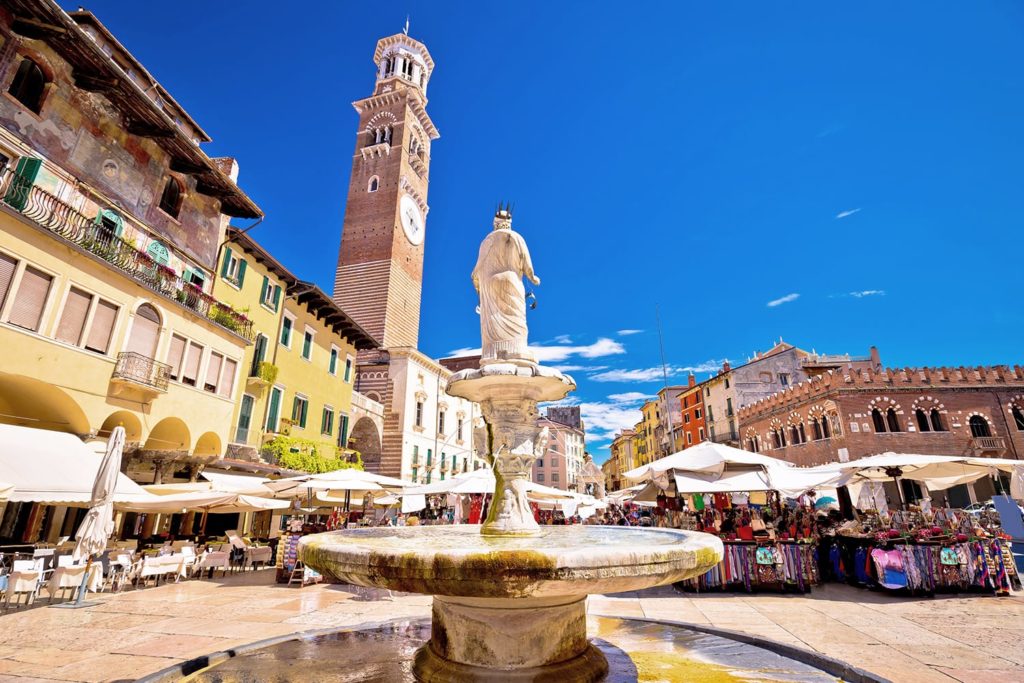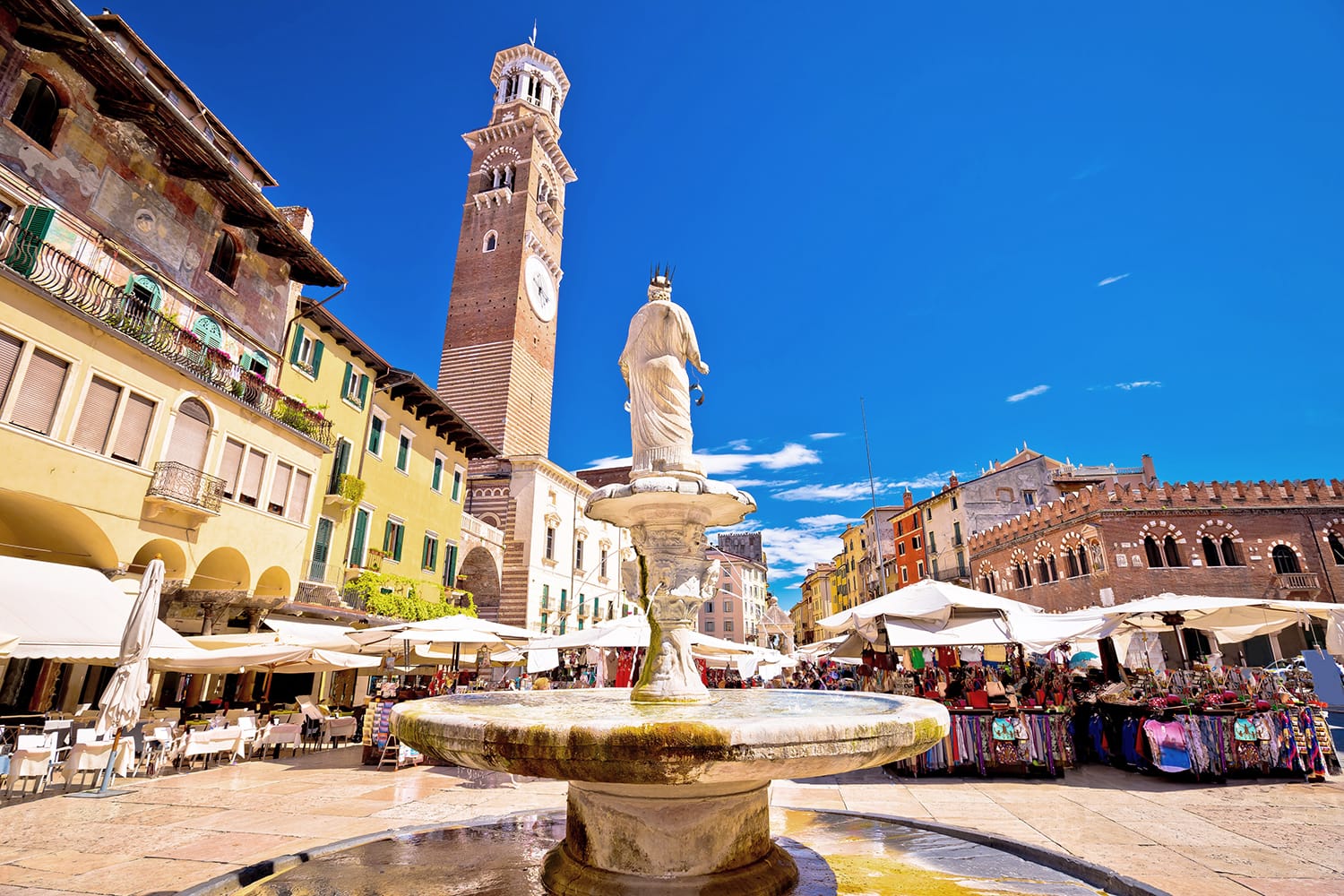 6. When To Visit Verona
I don't advise spending one day in Verona in high season, which is July and August. The Verona Arena Opera season draw in big crowds.
You'll find dreadfully hot weather, long lines of tourists, and overpriced accommodations. If you love world class opera, however, you may want to brave it.
I last visited Verona in June and it was quite lovely and not overcrowded. But I would think May, September, and October are better months to visit.
Visiting Verona in winter isn't the best time either. There are vastly fewer crowds. But, since you're in northern Italy, the weather can be rainy and cold.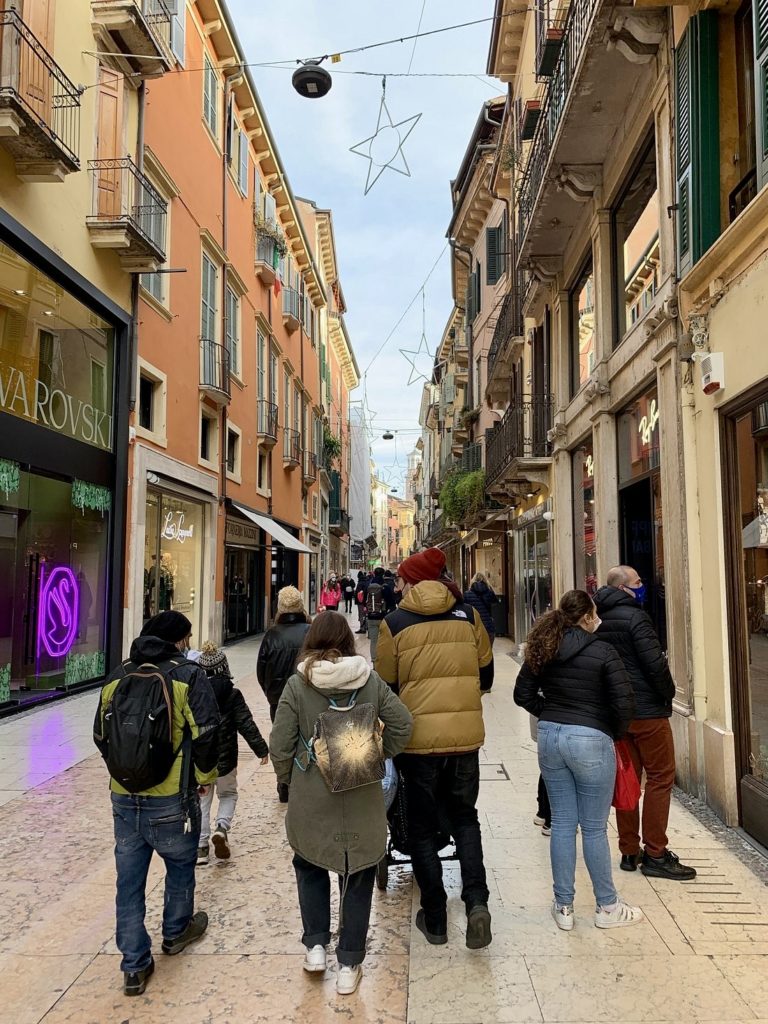 7. Shopping in Verona
Would you like to do some shopping during your one day in Verona?
Verona's main shopping street is Via Mazzini. It's a pedestrian only street lined with high end shops. It's been dubbed the "golden shopping mile of Verona."
You'll find well known designer brands. But Verona is also loaded with smaller specialty shops on hidden lanes.
You can get your Romeo and Juliet kisses (baci chocolate) at De Rossi on Corso Portal Borsari. Another good chocolate shop is Art & Chocolate.
Stop in at Vivavino Wine Shop or Signorvino to get your Amarone or Valpolicella wine.
If you're a bookworm, Il Gelso is full of good books, handmade stationery, and other curios. If you want to pick up some unique children's toys, head to Citta del Sole.
If you like perfume, Carlotta's Perfumery is one of the most beautiful perfumeries in Italy, with high end cult brands.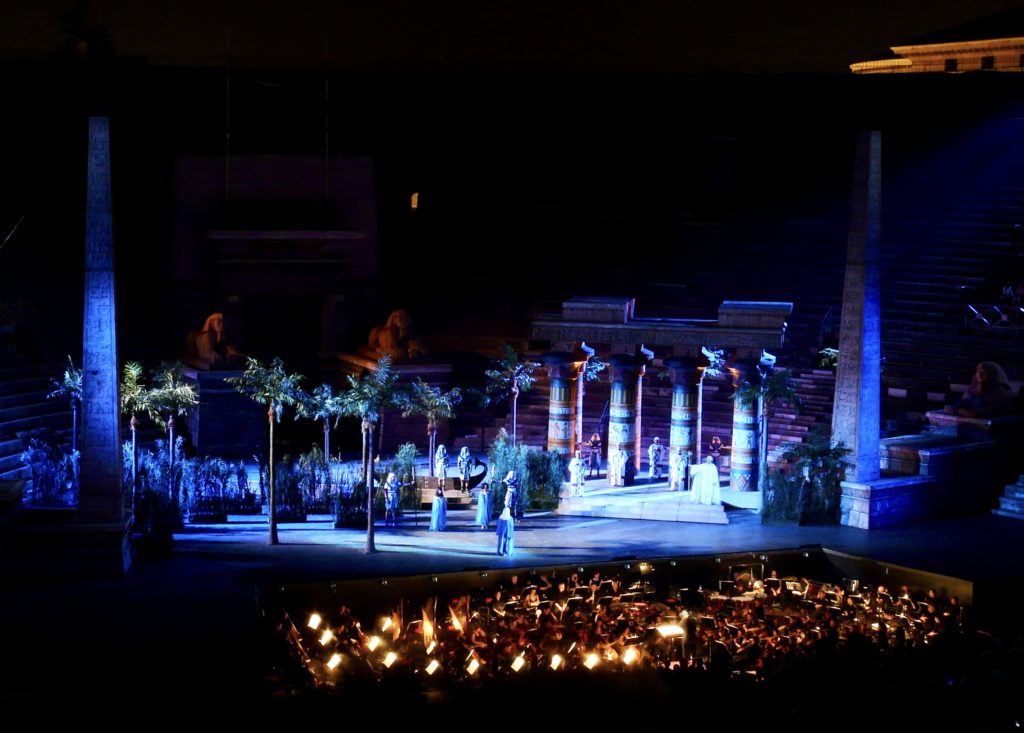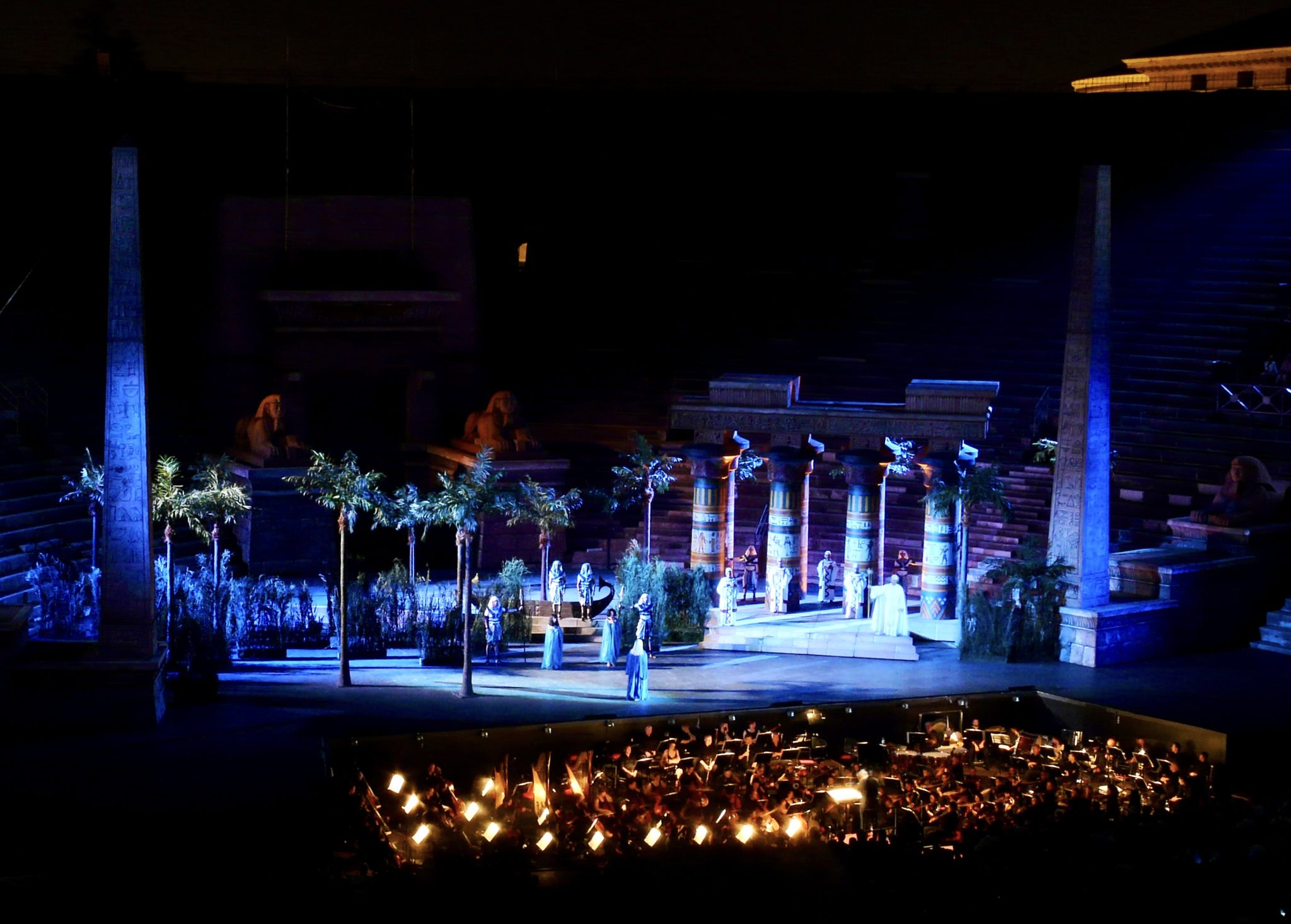 8. Festivals And Events In Verona
Verona's most famous festival its is open air opera season, the Arena di Verona Opera Festival. The Roman Arena where gladiators once fought is transformed into a venue for operas like Madame Butterfly, Carmen, and Aida.
Then, there's the annual Carnival of Verona, which dates from 1615. There's a lavish nighttime parade where sweets and candies are tossed into the crowd. Masked participants float through the street.
Because Verona is the city of romance, it also hosts the Sentimental Film Festival, which focuses only on romantic films. The Verona Film Festival follows with feature films from all over the world.
Verona is also a huge wine center. Each year, in late March to early April, Verona hosts one of the world's most prestigious wine expos, Vinitaly. Wine lovers flock to Verona for 5 days of wine tasting.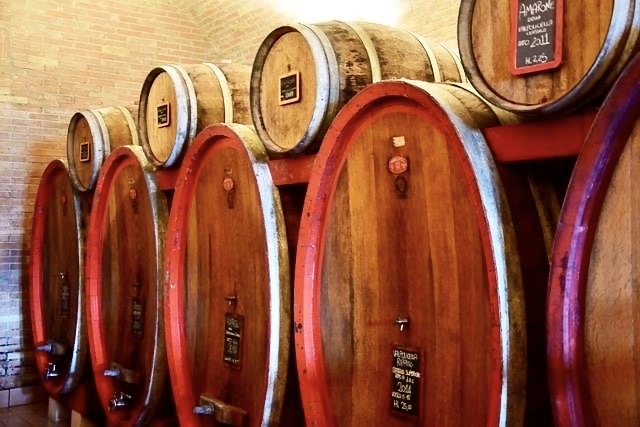 9. Places To Visit Near Verona
Do you have more than one day in Verona?
There are plenty of other places to visit near Verona, either as a day trip or combined visit. Here are a few attractions that are less than an hour from Verona.
Valpolicella Wineries
Verona's vineyards, once renowned for churning out basic pizzeria swill, are now producing some of the country's finest reds.
Valpolicella is a blend of native Veronese grape — Corvina, Corvione, Rondinella, and Molinara. Many different varieties are produced. But the biggest star is the velvety Amarone wine.
The vineyards of the Valpolicella region begin just outside Verona. To the west toward Lake Garda, you'll find traditional wines. To the east, more modern winemakers are making their mark.
Some wineries to visit include Le Bignele, Tezza, Massimago, and Masi Tenuta Canova. You can even book an Amarone wine tasting tour from Verona or an Amarone e-bike tour.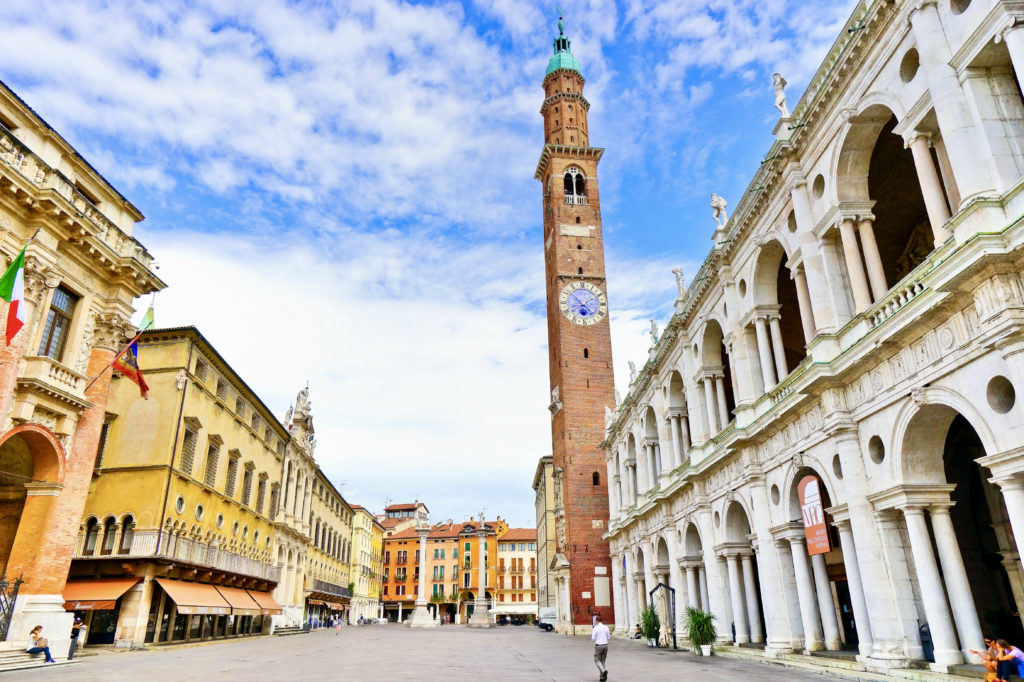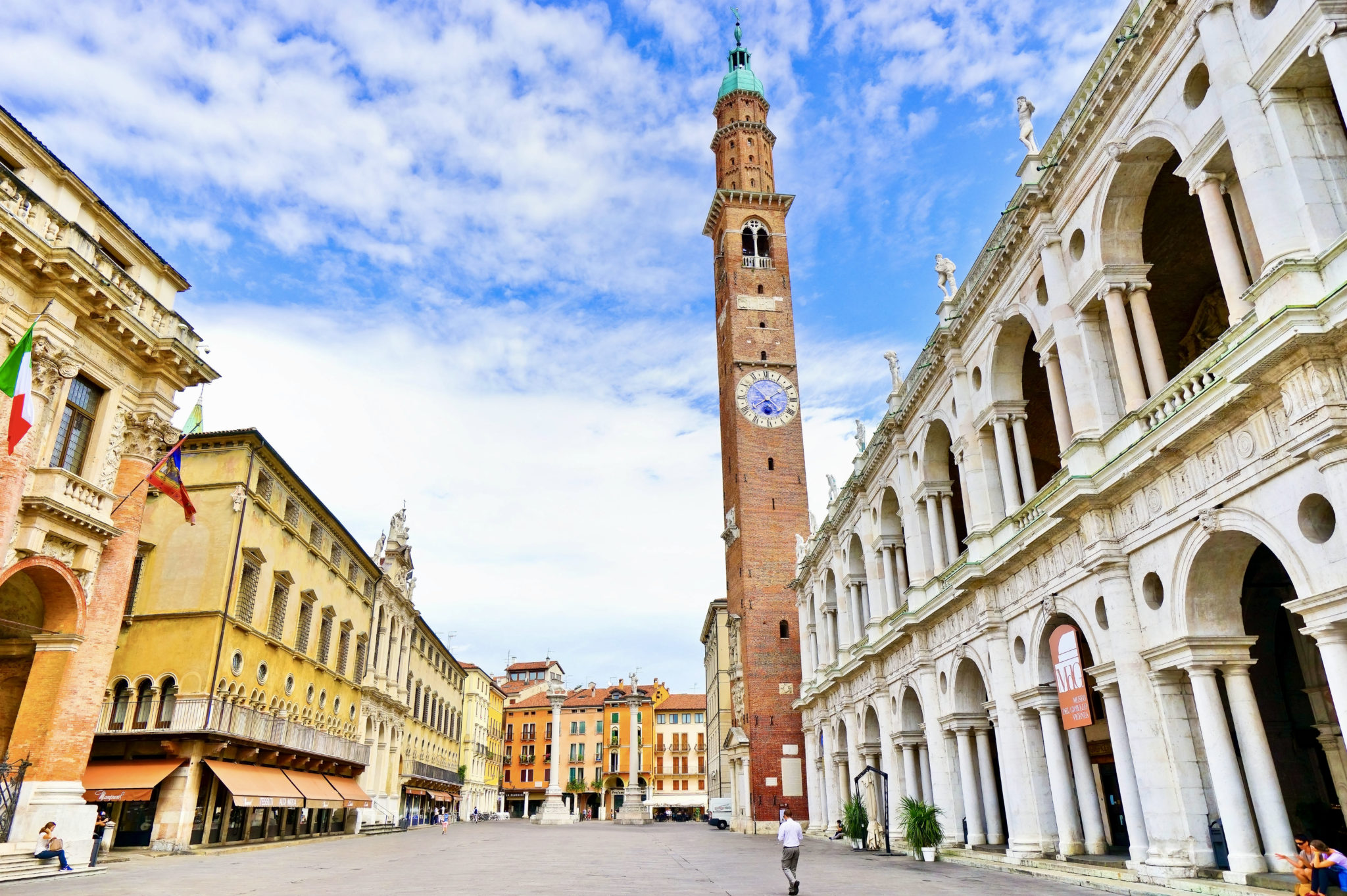 Vicenza
Vicenza is a 40 minute drive from Verona. You can also take the train, which takes a mere 25 minutes.
Vicenza is a city for architecture lovers. It was the crucible of Andrea Palladio, a renowned architect who produced graceful Renaissance buildings that look like Greek temples. The city is known as the "Pearl of the Renaissance," the "Gold City," and the "City of Palladio."
In 1994, the entire historic center of Vicenza became a UNESCO World Heritage Site. The designation was intended to preserve Palladio's palaces, basilicas, and villas, which are the top attractions in Vicenza.
But Vicenza isn't exclusively for architecture buffs. The city is lovely in and of itself.
Vicenza is one of Italy's most beautiful towns. Vicenza's streets are a dense jumble of creamy pastel buildings, small canals, quaint churches, and cobbled alleys. To get the full scoop, book a guided walking tour.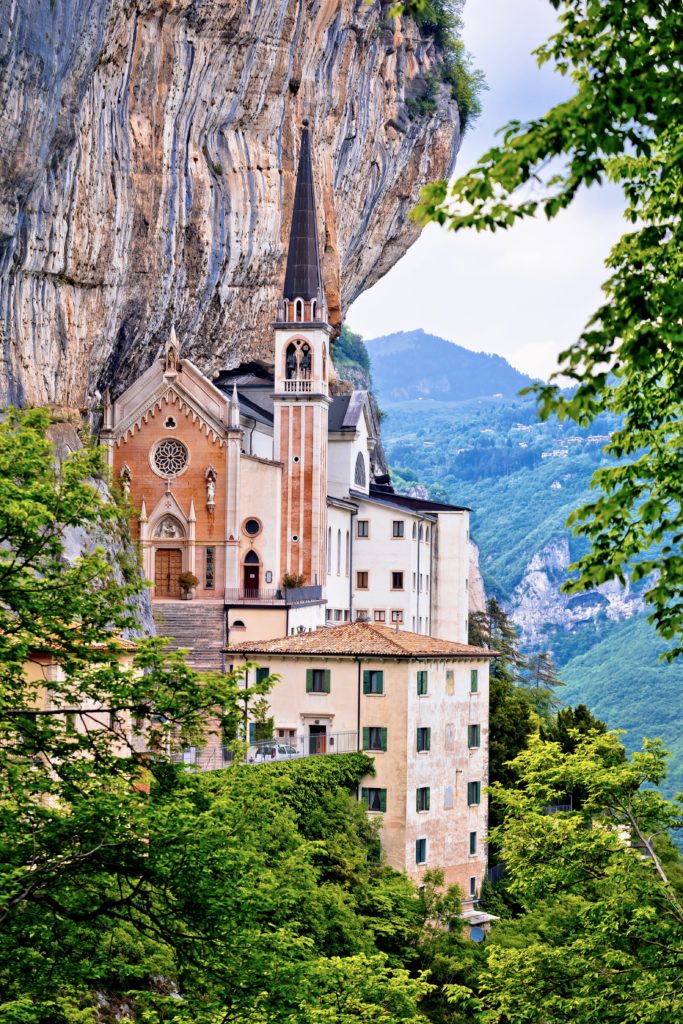 Madonna della Corona Sanctuary
Madonna della Corona is a beautiful salmon colored church carved into Mount Abado above the valley of the River Adige. It looks like it's suspended in mid air.
The church has been a place of peace, prayer, and pilgrimage for over 1,000 years. And it's only about 50 minutes from Verona.
In 1982, the church was classified as a minor basilica. In 1988, Pope John Paul II paid a visit to the church.
Today, pilgrims and tourists alike come for the stunning views, art and sculptures inside, and to see the replica of the Holy Stairs (Scala Sancta).
Roman Catholic tradition holds that these are the 28 white marble stairs that Jesus climbed on his way to face trial before Pontius Pilate. They're reputed to be stained with drops of Jesus' blood. The originals are in Rome.
You can visit the sanctuary by hiking up, taking a shuttle bus from the village of Spiazi, or visiting on a guided tour from Lake Garda.
Mantua
The Renaissance town of Mantua is also just 35 minutes from Verona by car or 45 minutes by train.
Mantua is a beautiful small town with big art. With its beauty and rich heritage of Renaissance treasures, Mantua is surely one of Europe's best kept secrets.
Mantua is known locally as a "sleeping beauty" that hasn't changed since the Middle Ages. Aldous Huxley called it "the most romantic city in the world," making it pair well with Verona.
In Mantua, you should visit the Ducal Palace, Te Palace, and the Basilica of Sant'Andrea. In the Ducal Palace, you'll find Andrea Mantegna's UNESCO-listed Camera degli Sposi.
Here's my guide to the best things to do in Mantua. You can also visit Mantua on a guided day tour from Verona.
I hope you've enjoyed my one day in Verona itinerary. You may enjoy these other Italy travel guides and resources:
If you want to spend 1 day in Verona, pin it for later.