Toulouse is a gorgeous city in southwest France known as La Ville Rose. If you're planning a quick visit to this underrated gem, this is the ultimate one day in Toulouse itinerary.
I love Toulouse. It's simultaneously lively and relaxed. The pink and red brick architecture is like nowhere else in France.
The city is blessed with beautiful churches, museums, and cobblestone squares. The food is very unique and some of the most famous in the world. Plus, you won't find the swarming crowds you do on a romp down the Champs-Élysées in Paris.
A Short History of Toulouse
Toulouse dates back to ancient times. The Romans, the Visigoths, and the Franks all settled there.
Beginning in the 7th century, Toulouse became the capital city of a large territory in southern France. It was a powerful city due to its rich countryside and mild climate.
In the 11th century, the Cathar ideology first appeared in Toulouse. It was a zealous religious sect that believed that all earthly things (including themselves) were tainted and sinful.
Aspiring only to the purity of early Christianity, they were outraged by the worldliness of the medieval papacy and its debauched Catholic clerics.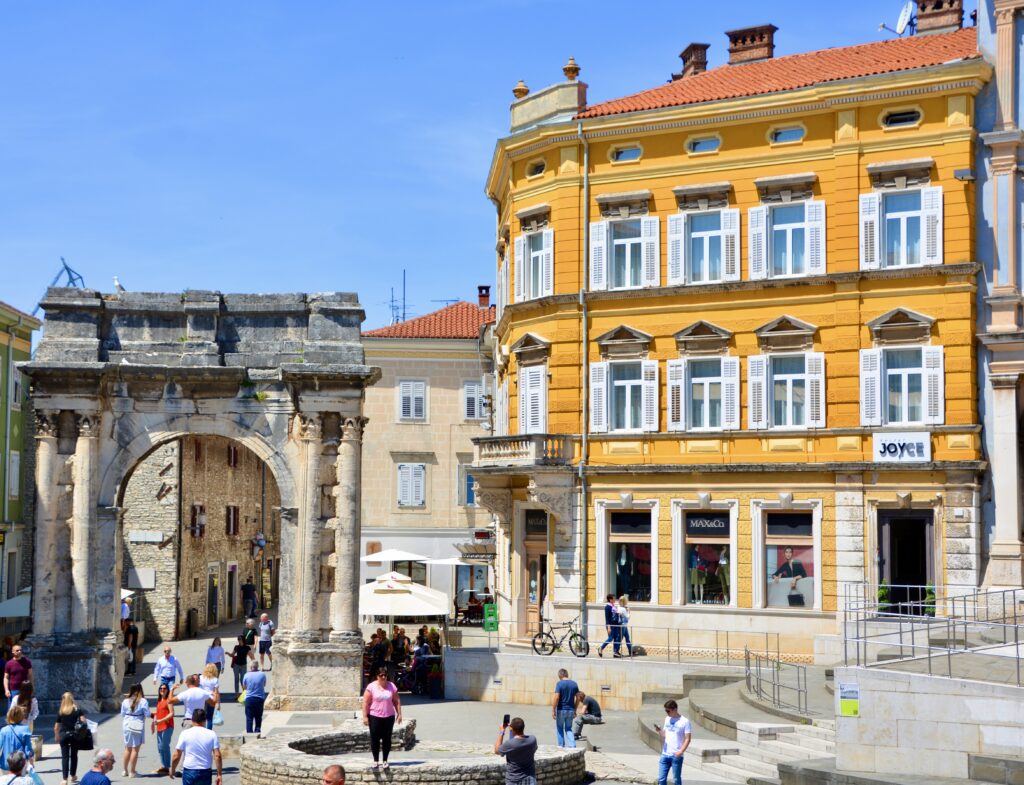 The area remained independent until the 13th century. Then, barons in the north grew tired of the "heresy" of the Cathar religion.
They invaded the region and besieged Toulouse. The city fell to Simon de Montfort in 1216.
In 1463, a massive fire destroyed most of the city. The city was rebuilt in the distinctive pink-red brick that gives the city its nickname "La Ville Rose."
At this time, the city capitalized on its woads, a flower that produced a pretty blue dye. The woad merchants used their riches to build beautiful mansions in Toulouse that are still there today.
During the 18th and 19th centuries, Toulouse was urbanized. As you walk through the city of Toulouse, you will see all the layers of its history.
Overview Of One Day In Toulouse Itinerary
Here's a quick snapshot of what you'll see in Toulouse in one day:
Place du Capitole
Capitole
Convent of the Jacobins
Cathedral Saint Etienne
Basilica of Saint Sernin
Musee des Augustins
Toulouse Markets
Museums Choices
Canal Stroll
Before You Go: Here's How To Plan Your Visit To Toulouse
If you're in a hurry, below are some of the top tours, hotels, and experiences for Toulouse. Don't forget to plan ahead when visiting, especially in high season.
Best Tours & Experiences:
Best Hotels: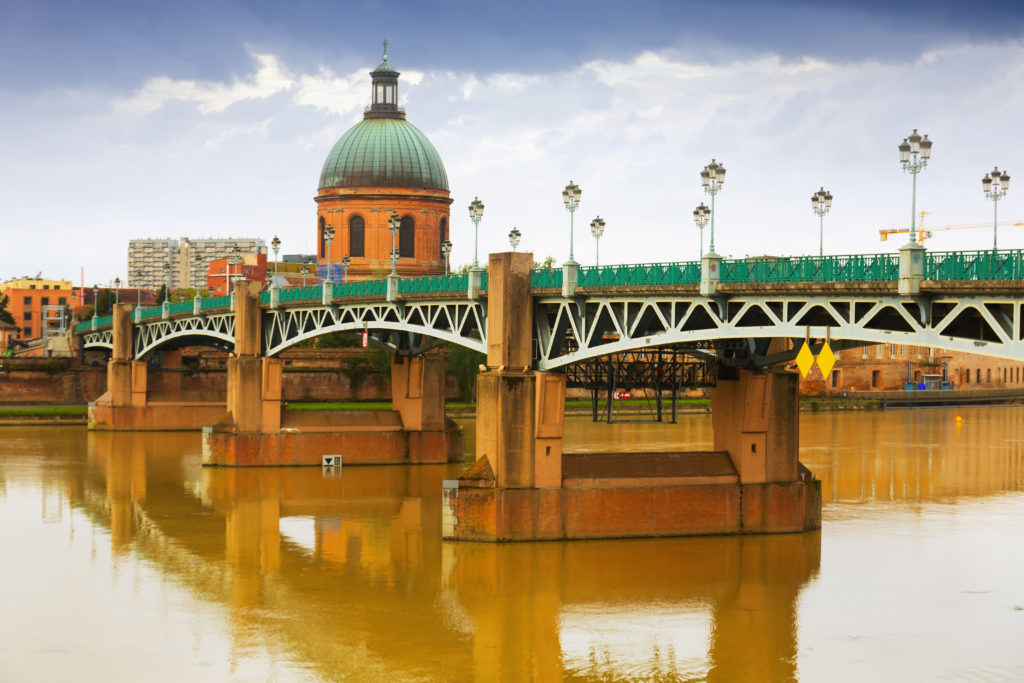 One Day In Toulouse Itinerary
This one day in Toulouse itinerary covers all the best things to do and see in Toulouse. You'll discover the top must visit attractions, museums, and landmarks in Toulouse.
I also give you must know tips for visiting Toulouse, including where to eat and where to stay.
You may want to purchase the 24 hour Toulouse Tourism Pass for skip the line access to many attractions.
1. Breakfast
Start your one day in Toulouse with breakfast in the city center. La Sherpa is a nice cafe and tea shop just off the main square with good crepes.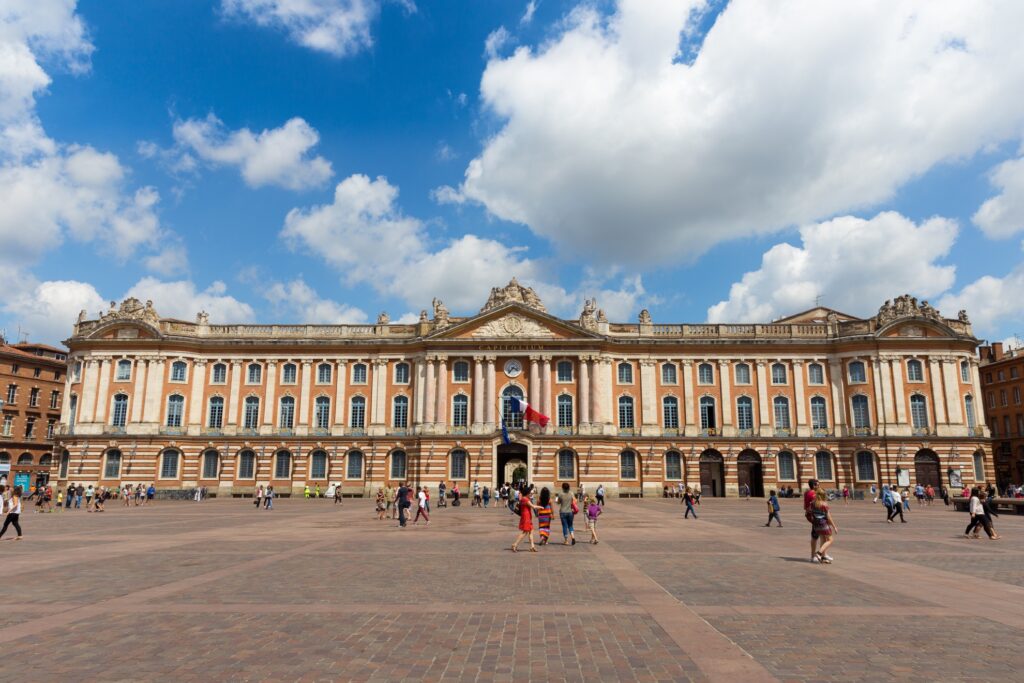 2. Place du Capitole
Then, stroll through the Place du Capitole, the grand central square of the city. Cafes surround the square on terraces under covered arches.
Pedestrianized since 1995, the Place is lined with lavish red brick buildings. It has a polished marble floor emblazoned with the Occitan cross, a medieval symbol of the region.
The Capitole is the city's most famous building and serves as the city hall. It opens at 9:00 am.
The Capitole is a massive classical building that's been the seat of government since the 12th century. It's reminiscent of Buckingham Palace in London and the city hall in Nancy France.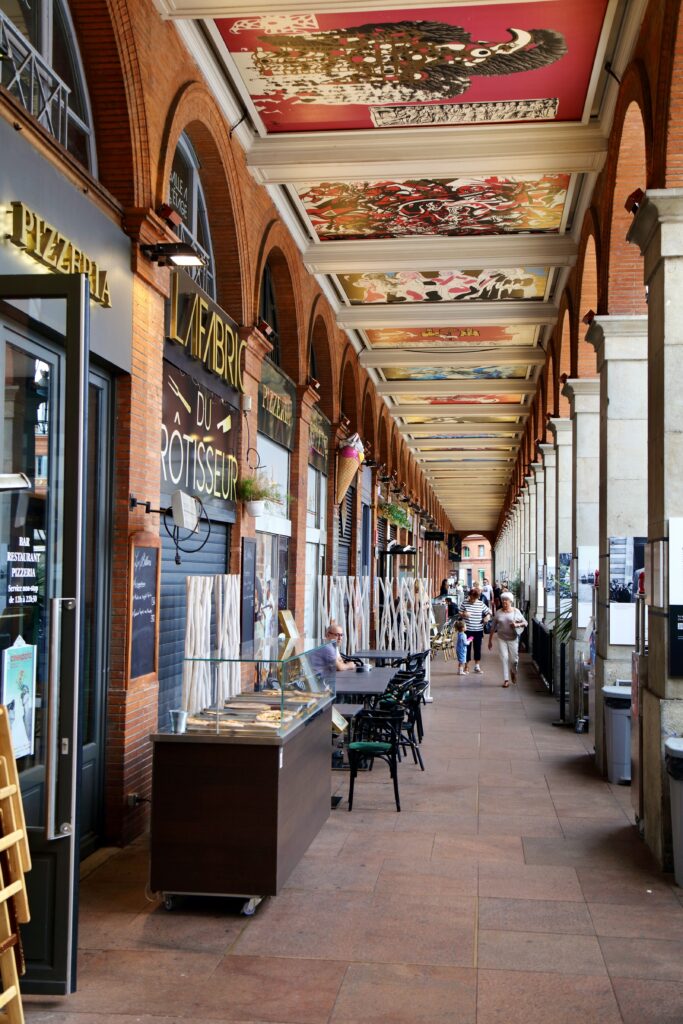 The Capitole is free to visit and you definitely should. It's open every day except Saturday.
A grand staircase takes you up to the most famous room, the Salle des Illustres. It's filled with statuary and murals.
There are 10 canvases by Henri Martin depicting life in Toulouse. Another intriguing paintings is of Paule de Viguier. Her beauty was so extraordinary that she was called a "wonder of the world."
Behind the Capitole, there's a garden with a donjon and remnants of the old city walls.
3. Convent of the Jacobins
Toulouse is really a city of churches and the prettiest one is the Church of the Jacobins. The church is bright and airy
The cloister is exquisite and houses a column that resembles a palm tree called the "Palm of the Jacobins." It is an architectural wonder made up of a double nave and star-shaped vault under a massive pillar.
There is a floor mirror for you to view the unusual palm tree. The cloister is one of the most photographed places in Toulouse.
The convent also houses the relics of the philosopher Thomas Aquinas, sometimes called the Aristotle of Christianity. Each year on January 28, his feast day, a service is held honoring the saint.
The convent often hosts concerts or other presentations.
Address: Parvis des Jacobins
Hours: 10:00 am to 6:00 pm Tuesday to Sunday
Entry: Cloister 4 €, church is free
4. Cathedral Saint-Etienne
Saint Etienne is also known as Toulouse or Saint Stephens Cathedral.
It's a 13th century Gothic-Romanesque structure, and a curious mishmash of architectural styles. You will either love it or hate it.
It does have a lovely gothic nave, rose window, tapestries, and stone sculptures. The stained glass above the main entrance is quite breathtaking.
The cathedral sits in the Place Saint-Etienne. This is a lively square where people like to hang out.
It's also near the Rue des Arts where you can find all the high end boutiques you could ever wnt.
Address: Place Saint-Etienne
Hours: Daily 8:00 am to 7:00 pm, Sun 9:00 am to 7:00 pm, late opening on Thursday until 8:00 pm
Entry: 8 €
5. Basilica of Saint Sernin
The Basilica of Saint Sernin is the top attraction in Toulouse.
The church is a magnificent well-preserved basilica, and one of the greatest churches in France. Built between 1080 and 1120, it's now a UNESCO site.
Saint Sernin is a fine example of Romanesque architecture in the characteristic Toulousian red brick, designed in a crucifix. The church's bell tower is a defining landmark in the city and part of the skyline.
There's an interesting tale about Saint Sernin. Legend holds that some Celtic invaders stole 70 tons of gold from the Temple of Apollo in Delphi.
Becoming convinced it was cursed, they threw the gold in a lake. The story goes that, despite Romans trying to steal it, the bulk of the gold is still in the lake — which is under Saint Sernin!
Address: 3 Place Saint Sernin
Hours: 8:30 am to 7:00 pm Monday-Sunday
Entry: 2.5 € adults, 2 € children, free with Toulouse Pass
6. Musée des Augustins
Next, head to the Musée des Augustin, It was definitely my favorite museum in Toulouse and it's set in a beautiful 14th century convent. To me, it's a must see with one day in Toulouse.
Musée des Augustins is one of the oldest public museums in France. It houses a treasure trove of fine art and Roman, Gothic, and Renaissance sculpture.
You'll find an eclectic cache of French paintings from the 17th-20th centuries, including art works by Rubens, Ingres, Delacroix, Van Dyke, Courbet, and Rodin.
The museum even has a few prints by Toulouse-Lautrec, who was born in nearby Albi and is the region's celebrated son. There are also some sculptures by Auguste Rodin and Camille Claudel.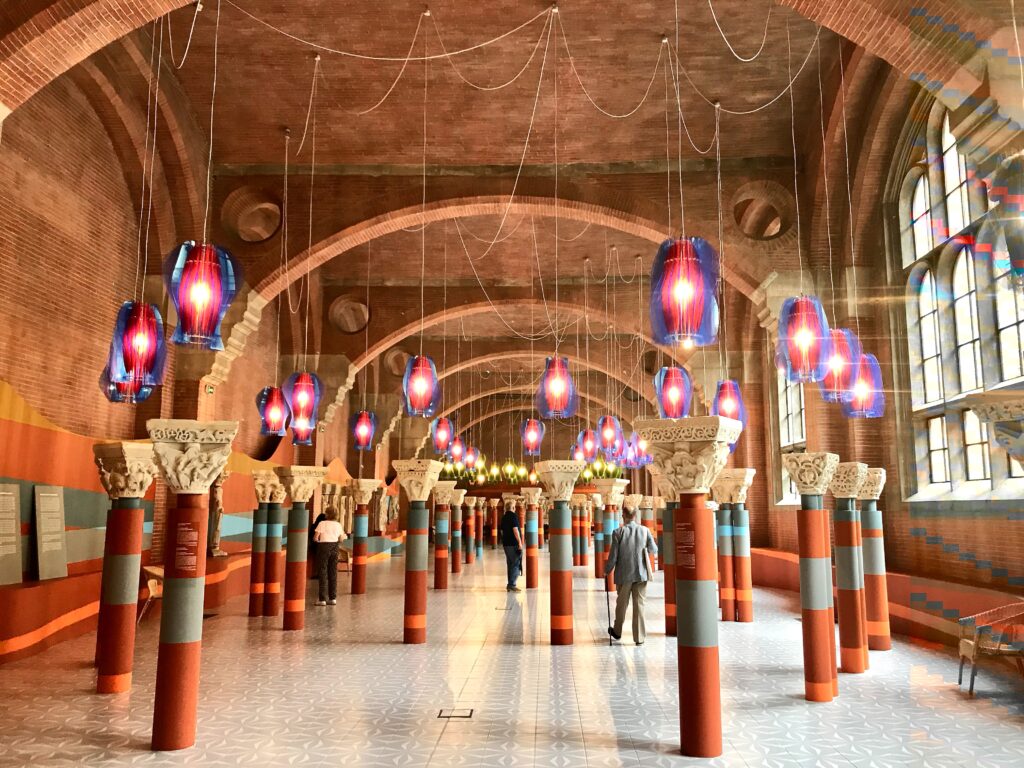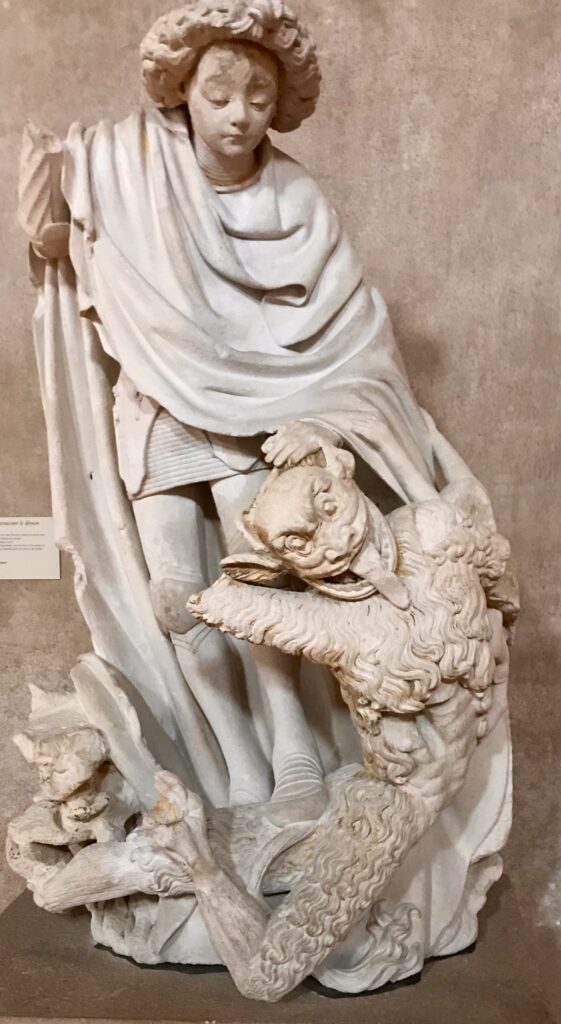 The medieval cloister and garden are especially magical, surrounded by salons filled with evocative statues, sculptures, and gargoyles.
On the southern side, there's a long line of dog-like looking gargoyles recovered from a convent. You can sidle right up to them and snap a photo.
Address: 21 Rue de Metz
Hours: 10:00 am to 6:00 pm Wednesday-Monday
Entry: 4 €, Under 18 free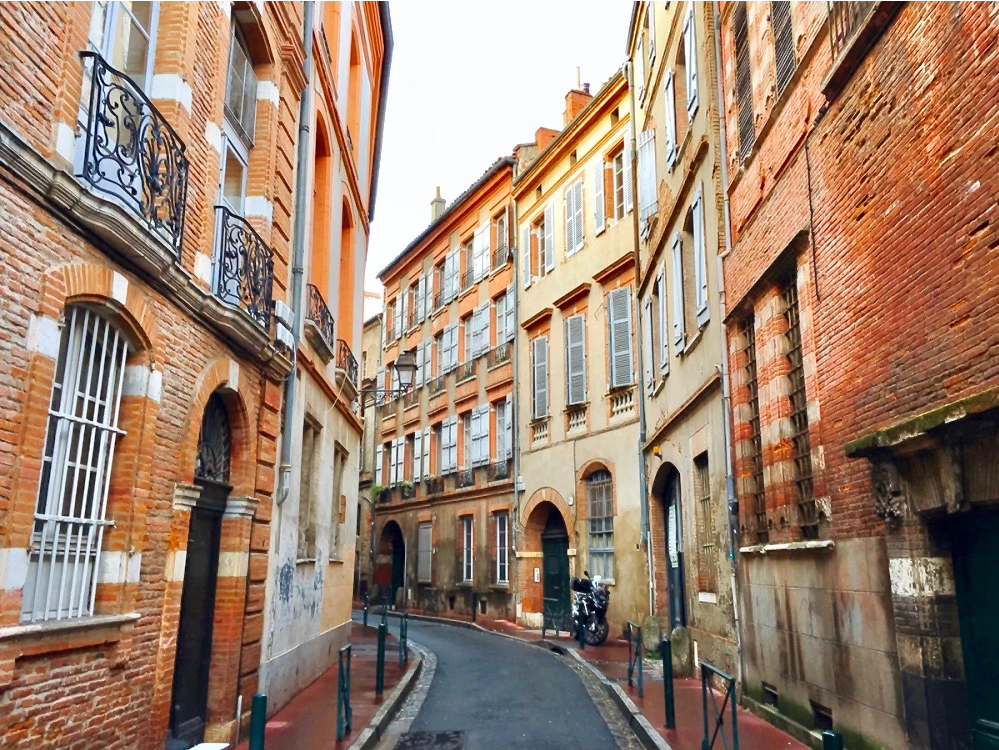 7. Lunch: Toulouse's Markets
For lunch, sit down at one of the many cafes in the Old Quarter or Carmes district. Of course, you can also grab something to go from a boulangerie.
But, for a more unique experience and a crash course in gastronomy, you might check one of Toulouse's markets. They are a dream come true for foodies.
The most famous market is the Marche Victor Hugo. It's a must visit if you love food. You can pick up food from the specialty shops and pack a picnic. Or, you can sit down and eat at one of the many little restaurants.
You will find over a 100 stalls with local products, including cheese, breads, cakes, and charcuterie. Specialty produces from the region include duck, foie gras, and the croustade (apple cake).
The market is considered one of the most prestigious food markets in France, and is really a must see. You can also visit it on a 3.5 hour guided food tour.
Carmes Neighborhood
The Carmes neighborhood is one of Toulouse's most charming medieval quarters. The streets are lined with red, pink, and orange buildings.
This is where you can wander and get lost. If you can, have a peak into some of the lavishly decorated courtyards.
Carmes is a great place to go shopping or antiquing. There are also a plethora of cafes and bars.
You'll also find tapas bars and eateries. Because Toulouse is close to the Spanish border, there is a Spanish influence in the city.
Museums
Spend the rest of your afternoon in Toulouse exploring the city's other fine museums, which are all very reasonably priced.
With only one day in Toulouse, I would probably just pick one or two that appeal most. Here are your options:
Les Abattoirs
Fans of modern art should head to Les Abattoirs. It's across the Garonne River in the neighborhood of St. Cyprien.
The museum is a well-lit and airy modern and contemporary art gallery. It has over 2300 works of art. Impressive Fernand Leger mosaics decorate its brick exterior.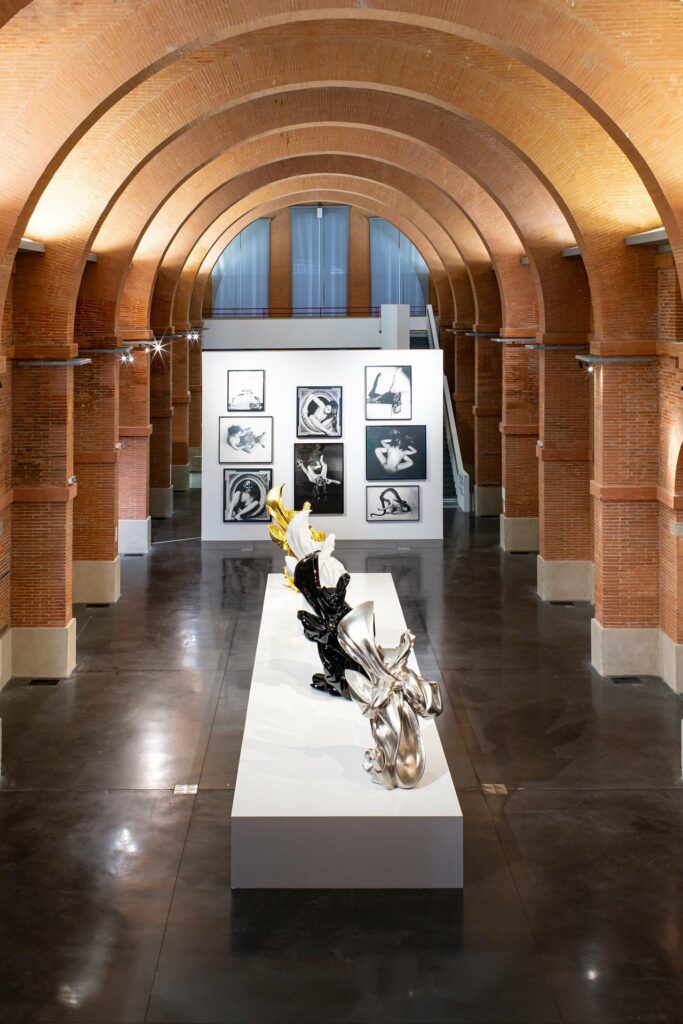 The museum has a permanent collection and a couple of spaces for temporary exhibitions. Check the website to see what's on display.
In the past, I have seen an excellent exhibit on sculptor Eduardo Chillada. (Others have been more confusing.)
Next to the museum is the Green Raymond VI. It's a nice spot for a picnic with a nice view of the river.
Address: 76 Allées Charles de Fitte
Tickets: € 4
Hours: Wednesday to Sunday from 12:00 pm to 6 pm, late closing Thursday until 8 pm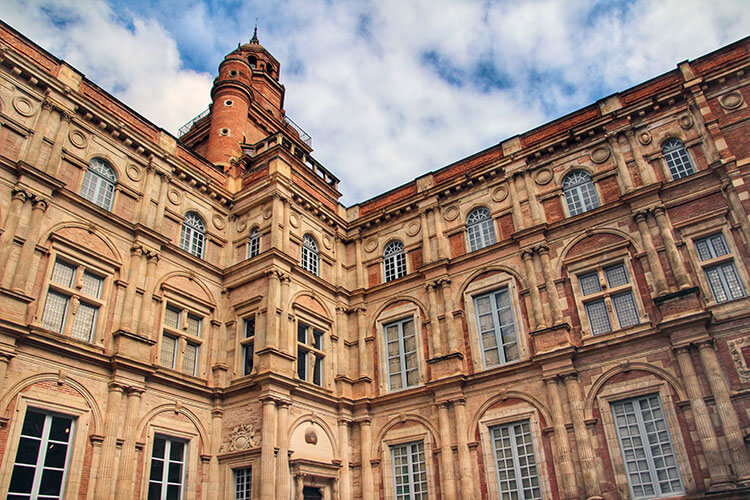 Hotel Assezat
In Carmes, you'll also find the most beautiful building in Toulouse, Hotel d'Assezat. The architecture was inspired by the Italian Renaissance.
The mansion houses the collection of George Bemberg. There is something for everyone here.
There's a nice selection of paintings from the French and Italian Renaissance and French Impressionism, including paintings by Titian, Veronese, Bonnard, Sisley, Degas, and Monet.
There's also a Pointillist Room with Paul Signac works. There are even some works by Toulouse-Lautrec and Picasso.
Address: Place d'Assezat
Hours: 10:00 am to 12:30 pm & 1:30 pm-6:00 pm Tuesday-Sunday
Entry fee: 8 €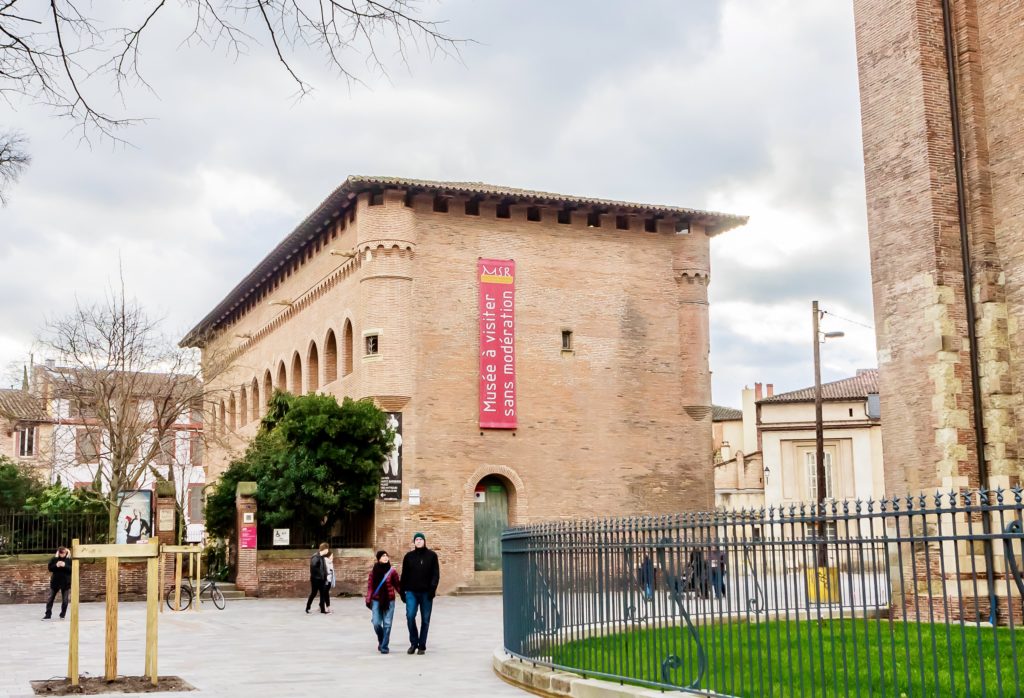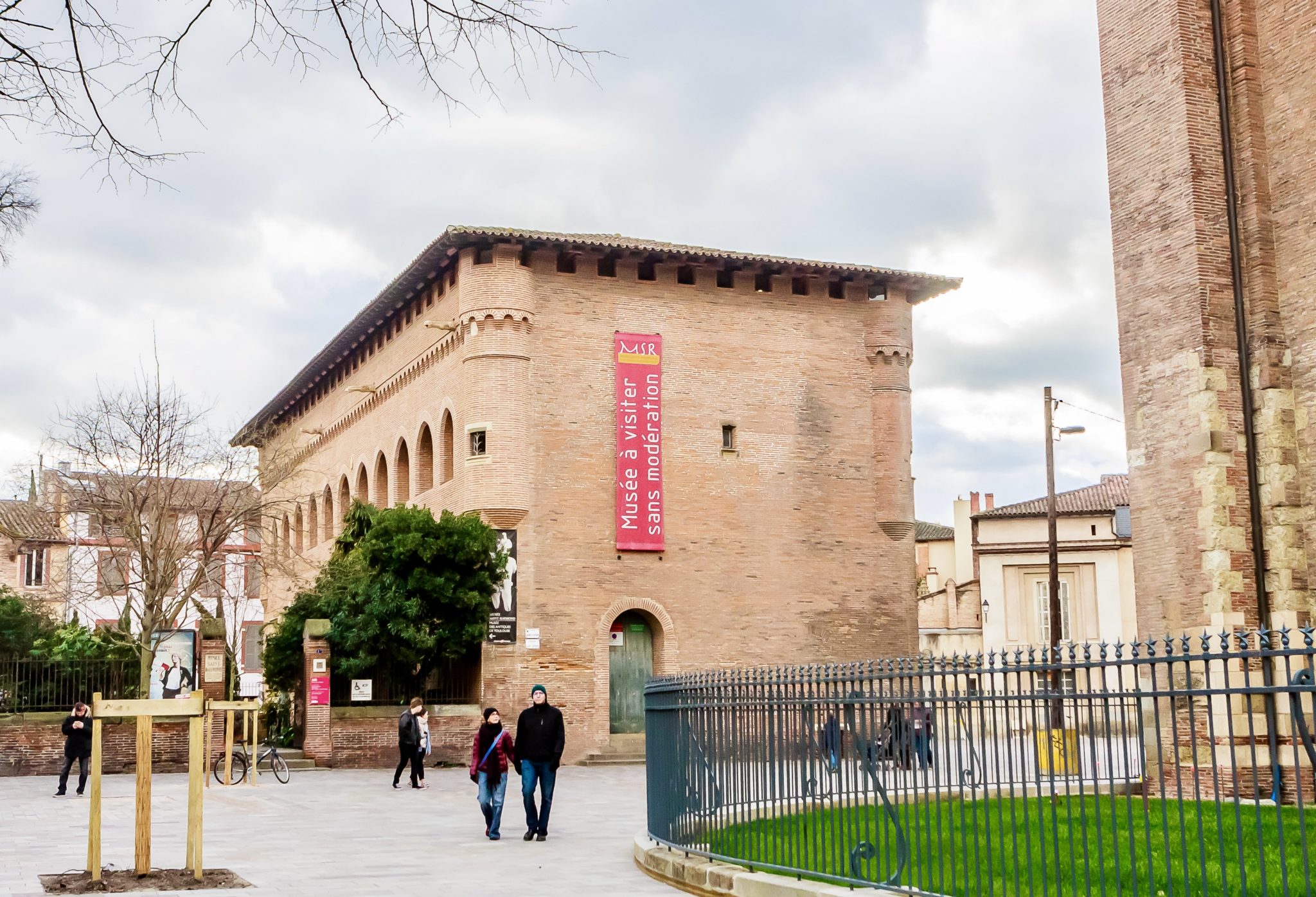 Musee Saint-Raymond
Located right next to the Basilique Saint Sernin, the Musée Saint-Raymond is a top attraction in Toulouse if you have an interest in Ancient Roman history or archaeology. It's housed in a brick medieval building.
This little gem of an archeological museum was built on the site of a former necropolis. Inside, you can find a marvelous collection of artifacts dating back to Roman times.
They include sculptures and mosaics from the Roman villa of Chirigan, which dates from the 1st century A.D. You'll also see a "family tree" of Emperor Augustus. In fact, apart from the Louvre, the Saint-Raymond has the most important collections of Roman busts in France.
There are two floors where you can discover the collections. There's also a cave, funerary artifacts, tombs, and an archaeological site.
Address: 1 ter Pl. Saint-Sernin
Hours: Open every day except Monday from 10:00 am to 6:00 pm
Entry fee: € 7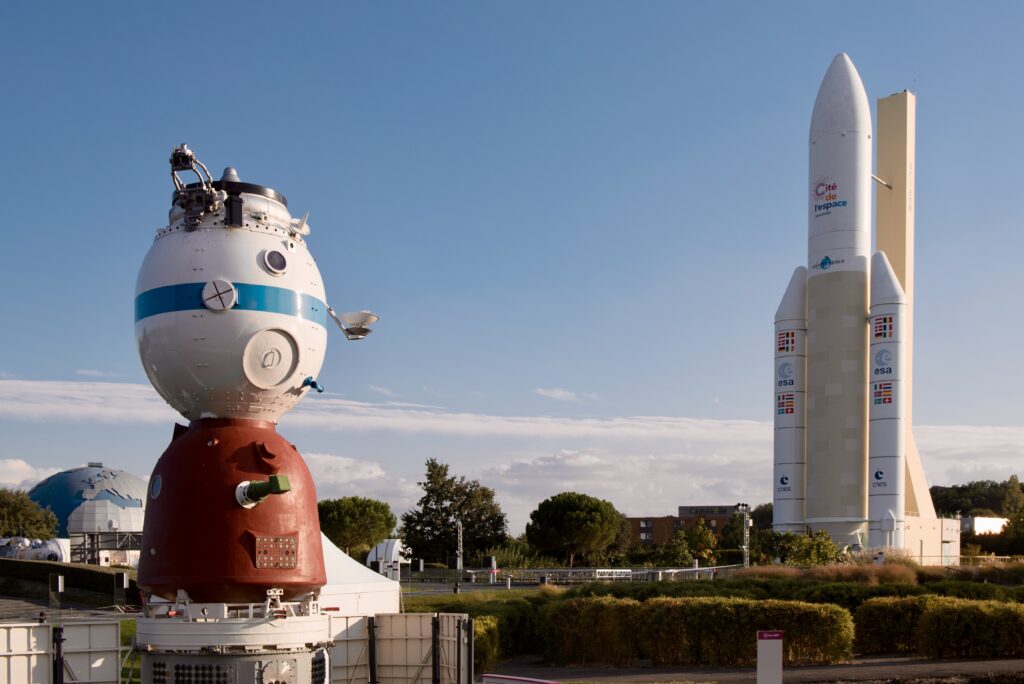 Cite de l'Espace
Toulouse is a center for space exploration. If you are visiting with kids and are remotely interested in space-related exhibitions, Cite de l'Espace is a must do.
It's effectively a theme park focusing on the history of flight. There are hands on exhibitions, a life size space ship, an IMAX theater, and a planetarium. With only one day in Toulouse, keep in mind that the museum is a bit off center.
Musee George Labit
This petit and pretty museum houses the collection of Georges Labit, a traveler and art collector. It consists of objects and artifact that he brought back from Asia and Egypt. You'll even find a real mummy.
Street Art
Prefer street art to museums? No problem!
Head to the Rue Gramat. Since 2000, the facades have been dedicated to constantly changing frescos. If you want a tour of them, check in with the Tourist Office.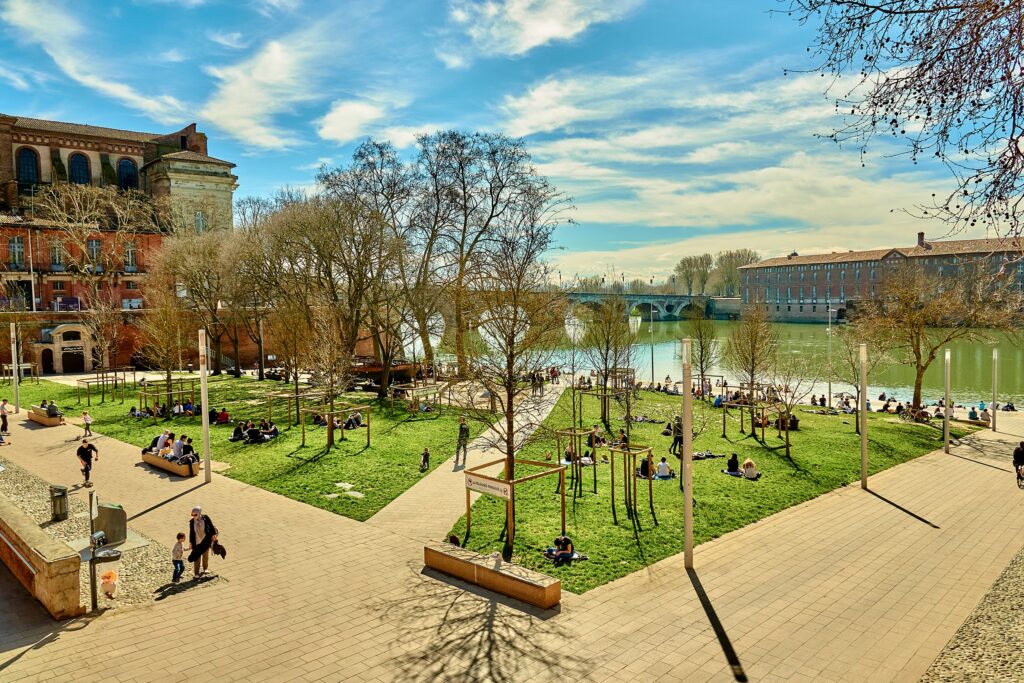 Canal Stroll
There are really two canals in Toulouse. The famous canal du Midi and the Canal de Briene. This is the perfect place to enjoy a stroll and is popular with bikers and runners.
You can also stroll down the popular Quai de la Daurade promenade, which is located on the banks of the River Garonne.
This is a good place to take a sunset stroll. It offers up some of the most beautiful views of Toulouse's many old world monuments. You will get to see both bridges, the dome of La Grave hospital's chapel, and the big wheel.
The quai is also the departure point for many river cruises. If you are visiting with young kids, there's also a playground.
Pre-Dinner Cocktail
For a pre-dinner drink, you can head to the Galeries Lafayette. It's a branch of the famous department store in Paris' Opera district.
You can lounge with a glass of wine on the rooftop and have a panoramic view of the city below. If you go at sunset, the city will be ablaze in color.
Alternatively, head to Le 5 Wine Bar for a pre-dinner cocktail. It has been voted one of the best wine bars in the world on multiple occasions.
The bar also offers price fix menus. The place is tiny, so you'll need a reservation.
Or, you can check out the many cafes in Place St. Georges, Place Salengro, or Place Dupuy.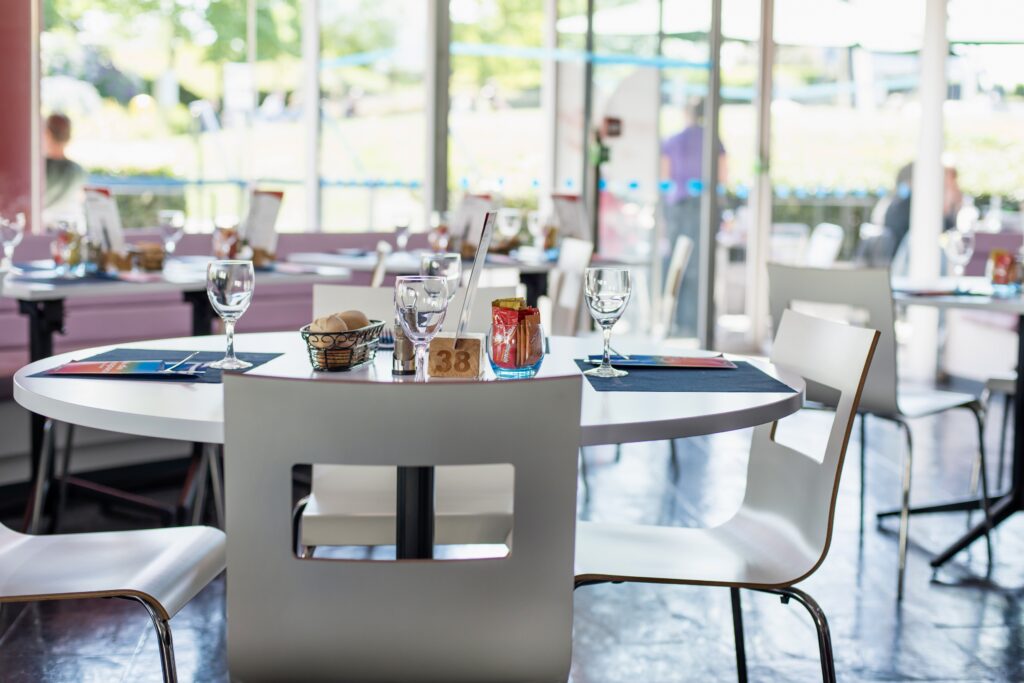 Restaurants
Toulouse is loaded with great restaurants, which will especially appeal to carnivores.
If you want to splash out on a Michelin restaurant and fine dining experience, check out L'Air de Famille, Les P'tits Fayots, or Py-r.
If you want to try a cassoulet (which you should in Toulouse!) I can recommend La Cave au Cassoulet. Be prepared for some serious portions.
Des Rose et des Orties is a relatively new concept spot that comprises a restaurant, bistro and wine cellar. It's located near the Airbus factory, not in central Toulouse. But it may be worth the trek.
Vegetarians should check out La Palm des Haricots.
Practical Tips For Spending One Day In Toulouse
Here are some must know practical tips for making the most of your one day in Toulouse itinerary.
1. How To Get To Toulouse
Toulouse has an international airport, Toulouse-Blagnac Airport. It's about 20 minutes from the historic center. You can take a taxi, bus, Uber, or book a private transfer.
If you're in Paris, you take the high speed train from the Gare-de-Lyon station. It's just over a 4 hour ride.
2. How To Get Around Toulouse
Even though Toulouse is the fourth largest city in France, it doesn't feel that way. Toulouse is a compact and walkable city.
Navigating on foot is also the best way to take in some of the achingly beautiful streets.
But, that said, Toulouse does have a metro system with 20 stops. You can also speed around on a guided bike tour.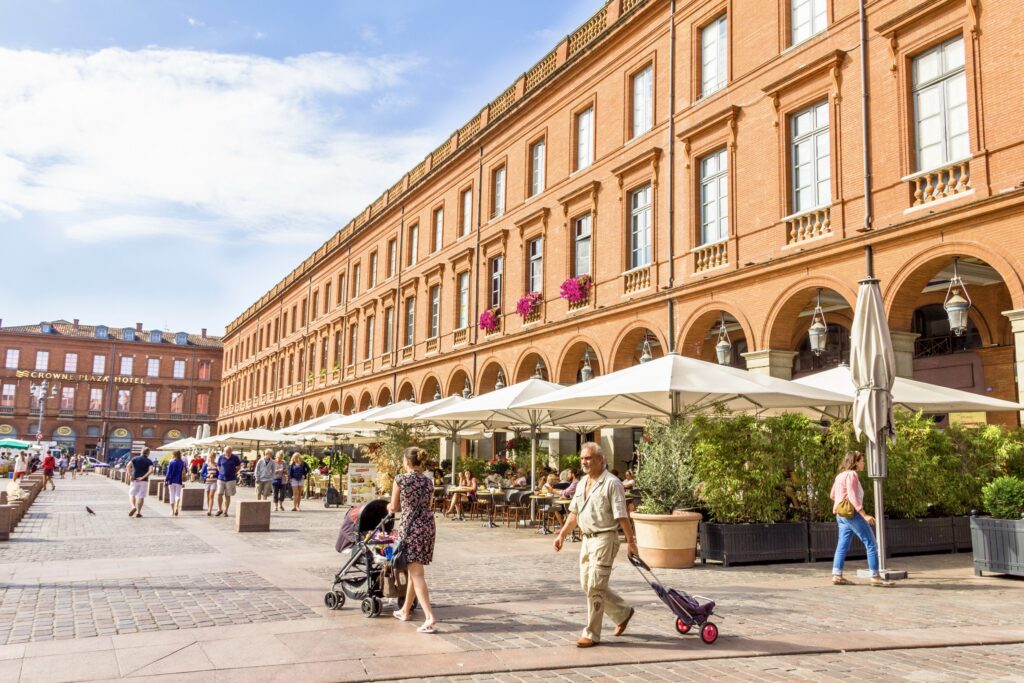 3. Where To Stay in Toulouse
If you plan to stay overnight with one day in Toulouse, there are some awesome hotel options that are quite reasonably priced compared to Paris.
Grand Hotel de l'Opera is a luxury hotel in the heart of Toulouse. It's housed in a former convent to amp up the atmospherics. There are suites with lavish furnishings and rooms with views of the Place du Capitole.
Hotel des Beaux Arts is also in the heart of Toulouse. The rooms are modern and offer up great Garonne River views. There's also a complimentary breakfast.
Le Grand Balcon is a stylish hotel that just screams old world charm. With photos of pilots, it pays tribute to Toulouse's aviation history.
Pullman Toulouse Centre Ramblas Hotel is a 5-10 minute walk from the main square. If you want an ultra contemporary place to lay your head, this is it.
If you are more interested in an Air Bnb, Toulouse has so many great options. You can check them out here. The last time I visited Toulouse, I stayed in a beautiful gem in the Carmes district.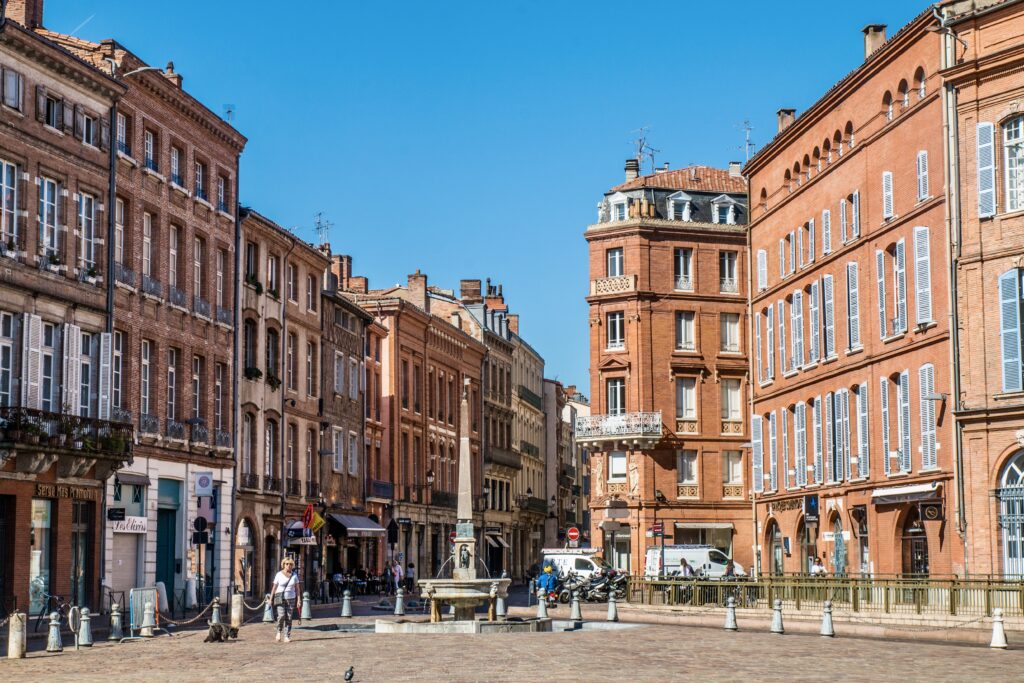 4. When To Visit Toulouse
Toulouse is a year round destination. I would avoid summer, if possible, because that's when you get the intense heat and crowds.
Spring is a great time to visit Toulouse. The weather is fantastic and the flowers are in bloom.
September is also a fantastic month to visit. The weather is amazing and the crowds have ebbed.
Because Toulouse is in southern France, the weather is decent in winter too. You won't have the bone chilling days that you do in Paris. But you may not spend as much time strolling along the river either.
5. Is One Day In Toulouse Enough?
One day is enough to see the main attractions, of which there aren't too many.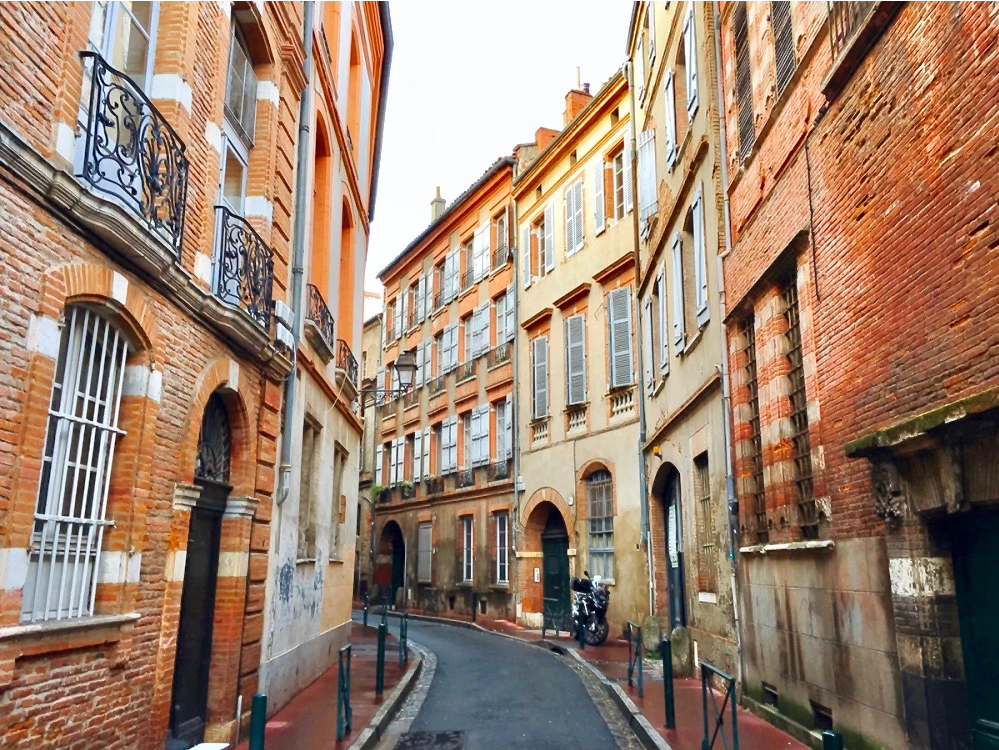 But if you want to move at a more leisurely pace and gobble up more of the delicious food, 2 days or a weekend visit would be more ideal.
Last time I was in Toulouse, I was there for 4 days and never ran out of things to do and restaurants to try.
6. More Than One Day In Toulouse?
If you have more than 1 day in Toulouse, the city also makes a great base for taking day trips in southwest France. The most popular day trip is to the medieval citadel of Carcassonne.
More offbeat destinations are the towns of Albi and Cordes-sur-Ciel. I've linked my guides to all three destinations.
If you'd like to book a guided tour to one of these towns, here are some of your options:
If hope you've enjoyed my one day in Toulouse itinerary. You may enjoy these other France travel guides and resources.
If you want to spend one day in Toulouse, pin it for later.