If you're planning a visit to Pisa, you're in for a treat! In this one day in Pisa itinerary, I take you on a journey through the city's top attractions.
Most people know Pisa for its famous Leaning Tower. But the tower is just one component of the lovely ensemble of buildings on the magnificent UNESCO-listed Field of Miracles.
Despite its diminutive size, Pisa packs a punch when it comes to art and culture. It's filled with historic landmarks, beautiful piazzas, and gorgeous art and architecture.
You could easily spend a day in Pisa climbing the lean Tower, admiring Renaissance art, exploring the historic center, and tasting the local delicacies.
Overview Of One Day In Pisa Itinerary
Here's a snapshot glance of what you can see with one day in Pisa:
Leaning Tower of Pisa
Duomo of Pisa
Duomo Museum
Baptistery
Camposanto Cemetery
Museum of the Sinopie
Palazzo dei Cavalieri
Santo Stefano dei Cavalieri
Palazzo Blu
Corso Italia
Church of Santa Maria della Spina
If you're in a hurry, below are some of the top tours and experiences for Pisa.
Don't forget to plan ahead when visiting! It's especially important to pre-book tickets well in advance during high season because Pisa will be packed.
A Short History Of Pisa
Pisa is an ancient town that dates back to the Etruscan period. In the 2nd century B.C., it was conquered by the Romans.
Pisa became an important port and commercial center during the Roman era. Its strategic location on the Arno River made it a key military outpost.
Pisa rose to prominence in the early Middle Ages as a maritime republic and a powerful trading center. During this time, Pisa established colonies in Corsica, Sardinia, and Sicily and developed a thriving economy based on trade with North Africa and the Eastern Mediterranean.
Pisa's most famous architectural landmarks — the Leaning Tower, the Baptistery, and the Duomo— were built during this period of prosperity.
However, Pisa's political and economic power declined in the 13th century due to a series of military defeats and the loss of its colonies.
Florence conquered Pisa in 1406. The town remained under Florentine rule until the unification of Italy in the 19th century.
Today, Pisa is a vibrant university town with a rich cultural heritage, renowned for its art, architecture, and cuisine. Pisa is one of the most popular tourist destinations in Italy.
One Day In Pisa Itinerary
Here is my suggested one day Pisa itinerary that covers the most significant attractions in Pisa. I give you an hour by hour breakdown to help you have the most efficient visit. I also give you more options if you have extra time in Pisa along with must know tips for visiting.
8:00 AM: Breakfast
If you need some breakfast to kick off your one day in Pisa, you could pop into Tiffany Cafe for coffee and pastries. You can also check out Caffee dell'Ussero, which is a historic cafe close to the Leaning Tower.
9:00 AM: Leaning Tower
Start your day early to beat the crowds with a visit to the iconic Leaning Tower of Pisa. This UNESCO World Heritage site is the most famous attraction in Pisa and opens at 9:00 am.
The Leaning Tower of Pisa is more of an oddity than a must see monument. Its iconic lean was caused by poor engineering and the soft sandy soil in Pisa, causing it to start tilting almost immediately after construction.
Despite this, the tower's unique tilt is what makes it endearing and a hugely popular attraction for visitors. Climbing the tower's irregular spiral staircase can be challenging, with 300 steps to reach the top in both confined and exposed areas. However, the effort is rewarded with beautiful views of the surrounding area.
Only 45 people are allowed in at a time and you are restricted to a 15 minute time slot. You won't be able to visit without pre-booking a skip the line ticket well in advance.
At € 20, the ticket price is rather hefty. You may be equally happy pondering its mystique from the ground.
10:00 AM: Pisa Cathedral
The 11th century Pisa Cathedral is the true highlight of the Field of Miracles. It's one of the finest Romanesque structures in Italy and easily one of the most beautiful churches in Italy.
The exterior facade of the cathedral is stunning, decorated with alternating bands of black and white Carrera marble and an array of pillars and columns. The heavy bronze door was designed by students of the renowned Italian sculptor Giambologna.
Inside, the cathedral has a Latin cross plan with five aisles, including a spacious central nave and two flanking aisles on each side. The granite Corinthian columns and arches that separate the aisles are from ancient Rome.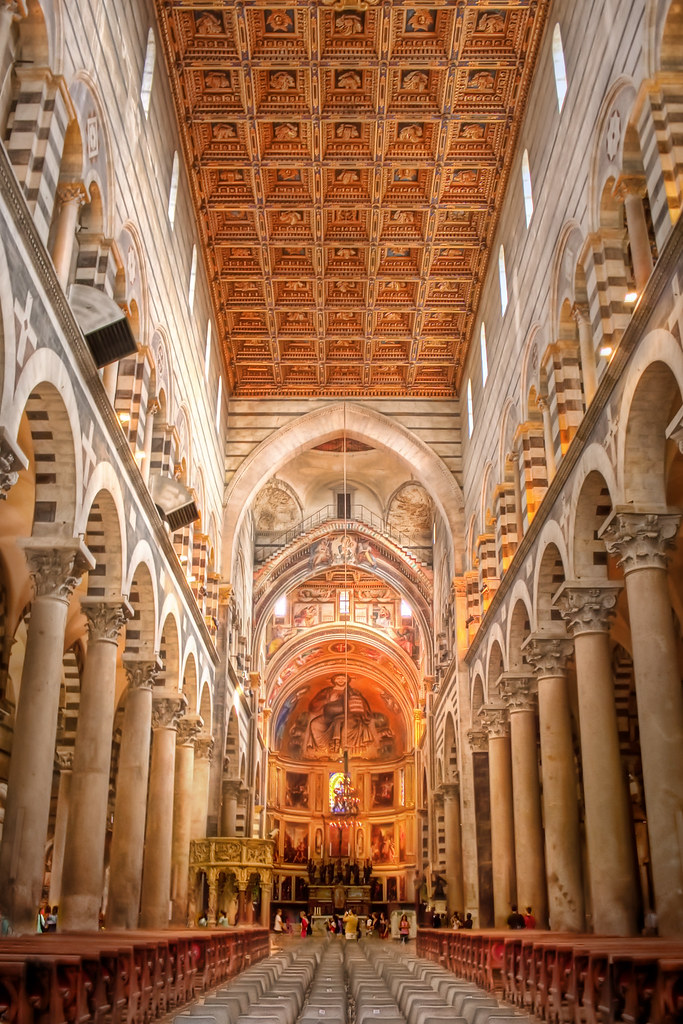 In the apse, you'll see a mosaic of Christ Pantocrater dating from the 13th century. It depicts Christ in majesty, surrounded by the symbols of the four evangelists and the twelve apostles. The mosaic is considered a masterpiece of Romanesque art.
You'll also find many Renaissance artworks, including pieces by Ghirlandaio, Giambologna, and Cimabue.
Giovanni Pisano carved the magnificent Gothic pulpit in the early 14th century and it's the most important artwork inside the Duomo. It has intricately carved relief sculptures depicting New Testament themes.
Entrance to the Duomo is free. However, you'll still need a free timed entry pass at one of the ticket offices to enter the Duomo.
Be aware that these passes are limited in number, and there may be a long lines to enter. To avoid any delay, you may want to book a guided tour.
If time permits, you should also visit the Duomo Museum, the Museo dell'Opera del Duomo. It's situated next to the Leaning Tower in a former Capuchin convent.
This well-curated museum houses six centuries of late Medieval and early Renaissance Pisan art. It's a treasure trove of art with works by renowned artists such as Nicola Pisano, Giovanni Pisano, Andrea Pisano, Nino Pisano, and Andrea Guardi.
The museum also features a tranquil cloister garden that offers crowd free views of the Leaning Tower.
11:00 AM: Other Field of Miracles Sites
With one day in Pisa, you will have time to explore some of the other Field of Miracles sites.
Baptistery
Pisa's Baptistery is a circular marble monument located in front of the Duomo. Built in 1153, it features an ornate design that appears to be dripping in lace.
Inside, you can find a full immersion baptismal font and a beautifully carved pulpit by Nicola Pisano. This is considered one of the first works of Renaissance art. It stands on slender pillars with allegorical and New Testament figures.
Like the Leaning Tower, the Baptistery leans slightly towards the Duomo due to the unstable soil. For panoramic views of the Field of Miracles, you can climb to the viewing level.
The Baptistery was recently renovated and reopened to the public in 2022.
Monumental Cemetery
The Camposanto in Pisa is a medieval cemetery that was once the final resting place for the city's elite. Its walls are adorned with ancient sarcophagi, and the floors are paved with worn tombstones.
However, the cemetery is most famous for its cycle of frescoes in the Gothic arcades. These frescoes were once referred to as the "Sistine Chapel of Pisa."
The most renowned fresco in the cycle is The Triumph of Death, which was painted in the 1330s. In fact, for centuries, the cemetery was the main attraction in Pisa, rather than the Leaning Tower.
The frescoes serve a didactic purpose, warning viewers of the imminence of death and the consequences of living a non-Christian life. They are also quite graphic, with depictions of death angels collecting corpses and snakes wrapped around necks.
Museum of the Sinopie
The Museo of the Sinopie provides a peaceful escape from the crowds of the Leaning Tower.
While the Sinopie Museum may not be a must-see on a one day in Pisa itinerary, it is a rare delight for art lovers and historians. It houses one of the largest collections of original sinopie. These were the predatory sketches used to create the famous fresco paintings in the monumental cemetery.
In addition to its collection, the museum also has a ticket office and an educational video about the history and restoration attempts of the Leaning Tower.
If you haven't bought a ticket online in advance, the museum also a good place to purchase a combination ticket for the Field of Miracles without waiting in lines.
12:00 PM: Piazza dei Cavalieri
After your visit to the Field of Miracles, take a break for lunch in a charming restaurant or cafe in the Piazza dei Cavalieri. This historic square boasts beautiful architecture and a relaxing atmosphere, making it an ideal spot to unwind and enjoy the surroundings.
One of the most beautiful buildings in the square is the Palazzo della Carovana. This 16th century palace is home to the Scuola Normale Superiore, a prestigious university. The elegant facade boasts intricate detailing and its courtyard is open to the public during certain hours.
Another significant structure in the piazza is the church of Santo Stefano dei Cavalieri. This 13th century church was fully renovated in the 16th century and features a stunning interior filled with intricate frescoes, artwork, a beautiful altar, and carved wooden choir stalls.
The square's most important and beautiful monument is the Palazzo dei Cavalieri. It's Renaissance palace formerly known as the Palazzo della Carovana.
Designed by Giorgio Vasari in 1562, the palace served as the residence of the Knights of St. Stephen. Today, it is part of Pisa's university, which was founded by Napoleon.
The palace's exquisite facade is adorned with a decorative technique known as "sgraffiti," which creates a beautiful and intricate pattern.
On the upper facade, you can find niches with half-busts of the Medici dukes, adding to the palace's historical significance. Outside the palace, there is a statue of Cosimo I de Medici, serving as a reminder that Florence once conquered Pisa.
It's possible to tour the palazzo. However, it's only open to the public for guided tours on certain days of the week. Because tours are limited, you should check the website in advance.
3:00 PM: Palazzo Blu
The Palazzo Blu is Pisa's best art museum, located in a historic 16th century palace. The palace was acquired by the powerful Medici family, who added a number of architectural features to the building.
One of the palace's most striking features is its beautiful blue facade, which gives the building its name. The color blue was chosen because it appears on the Medici coat of arms.
The permanent collection boasts artworks by Nino Pisano, Orazio and Artemisia Gentileschi, Orazio Riminaldi and Tribolo.
Every year, the museum also holds exhibitions of important modern artists (Chagall, Dali, Miro, and Toulouse- Lautrec were recently featured). Entry is only 3 euros, so there's no reason not to stop in and see what's on display.
4:00 PM: Corso Italia
Then, take a leisurely stroll down Corso Italia, the gorgeous main shopping street in Pisa. It runs from the Arno River to Piazza Vittorio Emanuele II, near the train station.
The street is lined with a variety of shops, including clothing stores, shoe stores, and souvenir shops, as well as cafes and restaurants.
In addition, the street is home to several historic buildings and landmarks, including the Palazzo del Collegio Puteano and the Chiesa di San Michele degli Scalzi, which are worth a look if you're in the area.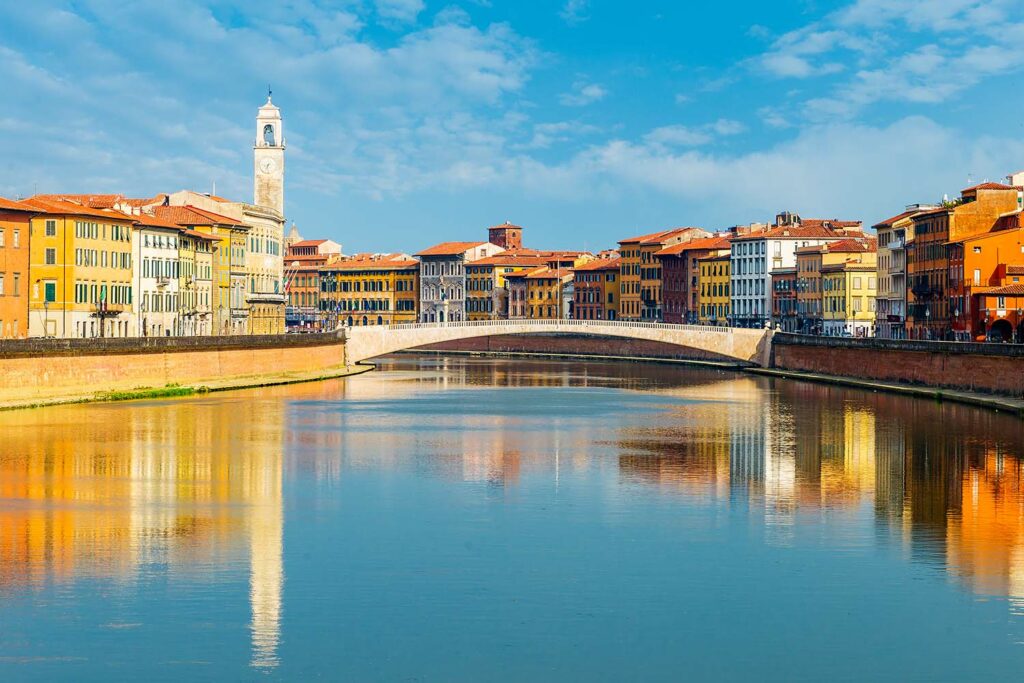 6:00 PM: Arno River Walk
In the early evening, amble along the Arno River and enjoy the scenic views of the city.
Stop into the Church of Santa Maria della Spina. It's a small Gothic church located on the south bank of the Arno. The church is named after a thorn (spina). According to legend, it was part of the crown worn by Jesus Christ during his crucifixion.
The church is known for its intricate facade decorated with marble sculptures, including angels, prophets, and saints. Inside, the church is decorated with frescoes, including a painting of the Madonna and Child with Saints by Andrea and Nino Pisano. The altar features a Gothic tabernacle made of silver and enamel.
You can also stop at one of the many cafes and bars along the river for an apertivo.
8:00 PM: Dinner
End your day with dinner at one of Pisa's many wonderful many restaurants.
For dinner, you can check out Osteria Bernardo, Osteria La Grotta, Il Campano, or La Taverna di Emma.
If you want to order something distinctly Pisan, one of the town's most famous dishes is cecina, a flatbread made from chickpea flour that's often served as a snack or appetizer.
Other popular dishes include baccalà alla pisana (salt cod stew), tagliatelle al tartufo (with truffles), and torta bischeri (sweet pastry filled with almonds and chocolate). Pisa is also famous for its wines, particularly the white wines made from the Vermentino grape.
Tips For A One Day In Pisa Itinerary
Here are some must know tips for spending one day in Pisa.
1. How To Get To Pisa
By Plane:
The nearest airport is Pisa International Airport, also known as Galileo Galilei Airport. It's located 1.2 miles south of the city center. You can get to the historic center by bus, train, or taxi. You can also book a private transfer.
By Car:
I suggest not driving in the historic center of Pisa. The streets are narrow and parking options are limited.
Additionally, much of the city center is designated as a Limited Traffic Zone ("LTZ"). This means that only authorized vehicles are allowed to enter. The fines for violating this rule can be steep!
To avoid these issues, you can park your car at the Parcheggio Piazza Santa Caterina, which is located outside the LTZ zone. From there, it's only a 15-20 minute walk to the Field of Miracles. Alternatively, you can take one of the shuttle buses that run from the lot every 10-15 minutes.
If you're visiting Pisa during the high season, it's best to arrive early to secure a parking spot.
By Train:
Pisa is well-connected by train to other cities in Italy. The main train station is Pisa Centrale. High speed trains run from Rome, Florence, Milan, and Venice.
The town center and the Field of Miracles are about a 30 minute walk from the train station. You can also take a bus or taxi.
By Guided Tour:
If you don't want to hassle with transportation, there are some options for guided day tours to Pisa. You can check these out: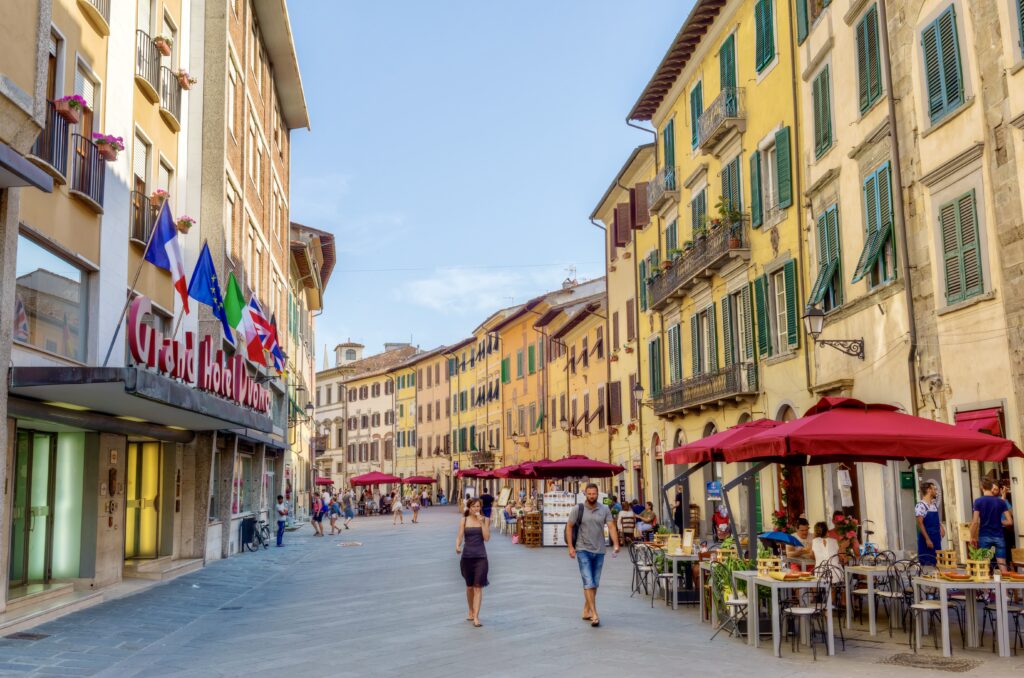 2. How To Get Around Pisa
Pisa is a very small town, so is eminently walkable. There are also buses that run throughout the city.
The main bus station sits outside Pisa Centrale train station. It has routes that include the city's riverfront and the Leaning Tower. You can buy a bus ticket at any kiosk in town.
3. Where To Stay In Pisa
If you plan to stay overnight with your one day in Pisa, Pisa has some excellent hotel options.
One of the most prestigious options is the Grand Hotel Duomo, which overlooks the cathedral square and offers luxurious rooms and suites with antique furnishings.
For the ultimate in luxury, you can check out the Bagni di Pisa. It's a sumptuous resort and spa in San Giuliano Terme, just 4 miles from Pisa. You can be pampered in natural hot springs and enjoy classically decorated rooms with frescoed ceilings.
For a more contemporary feel, the Hotel Bologna is a sleek and modern design hotel with a rooftop terrace and stunning views of the city.
Other options include the NH Pisa and the AC Hotel by Marriott, both of which offer chic and comfortable accommodations in convenient locations.
4. When To Visit Pisa
If you are flexible with your dates for your one day in Pisa itinerary, Pisa is at its best in the spring or fall. During these moths, the weather is lovely and there are fewer crowds.
5. Is Pisa Worth Visiting?
If your main reason for visiting Pisa is to see the Leaning Tower, then you won't be alone and you may be disappointed. The tower is more of a curiosity than anything else.
But there are plenty of other magnificent things to do and see in Pisa. The Field of Miracles is a UNESCO site and a veritable art lover's paradise. That alone makes Pisa well worth visiting. Plus, there are several beautiful palazzos and excellent museums.
6. Is One Day In Pisa Enough?
Pisa is a tiny town, so one day is plenty of time to see the top attractions. But you need to come prepared with a specific itinerary and skip the line tickets.
If you have less than one day in Pisa, you won't be able to see everything or soak up the town's historic center.
7. Can You Visit Lucca and Pisa In One Day?
It is possible to visit both Lucca and Pisa in one day, as they are just 14 miles apart.
However, it's important to keep in mind that both cities have a lot to offer and it may be challenging to see everything in one day.
It's a good idea to plan your itinerary carefully and prioritize the attractions you want to see the most. I would visit the Field of Miracles in Pisa in the morning and then spend the rest of the day in Lucca. Once in Lucca, you can walk the city walls, visit the cathedral, climb Guinigi Tower, and explore Piazza dell'Anfiteatro.
8. More Than One Day In Pisa?
If you have more than one day in Pisa, there are plenty of other things to do in Pisa.
For example, you could visit the Pisa food market, the Mercato delle Vettovaglie. The bustling market dates back to the 12th century and is held every morning except Sunday.
The market is divided into several sections, including a fruit and vegetable section, a fish section, a meat section, and a cheese and dairy section. Aside from food, you'll also find handmade ceramics, flowers, and household items.
You could visit the Orto Botanico di Pisa. It was the first botanical garden in a European university and was founded in the 16th century by Cosimo I de' Medici.
The lovely garden that features a wide variety of plants, including some rare species. It's a peaceful place to relax away from the crowds.
Another option for art lovers is to the visit the San Matteo Museum. It's housed in a former 13th century Benedictine convent. The museum houses an impressive repository of medieval art.
The museum's highlights including sculptures by Nicola and Giovanni Pisano and Renaissance paintings by Fra Angelico, Ghirlandaio, Masaccio, Simone Martini, and Giorgio Vasari.
If you want to discover a different side of Pisa, head over to the Giardino Scotto gardens. It's situated in the eastern part of the modern city center.
Within this green sanctuary lies the remnants of the Cittadella Nuova, a 16th century fortress built by the Medici. It consists of a large central tower surrounded by four smaller towers and a high defensive wall. You'll have panoramic views of the countryside.
There are also lovely medieval towns you can visit near Pisa — Lucca, Florence, Siena, and San Gimignano.
I hope you've enjoyed my one day in Pisa itinerary. You may enjoy these other Italy travel guides and resources:
If you want to spend one day in Pisa, pin it for later.