Ready to walk in the footsteps of thousands of years of history? Check out this one day in Athens itinerary, a city that's steeped in tradition and dubbed the Cradle of Western Civilization.
Athens is a city with passion and edge. It has some of the best Greek ruins on the planet.
Athens has a reputation for being a tad gritty, and it is. But the grit gives the city a distinctive flavor. In any event, the hotel, culinary, museum, and street art scenes are all on fire and sure to please visitors.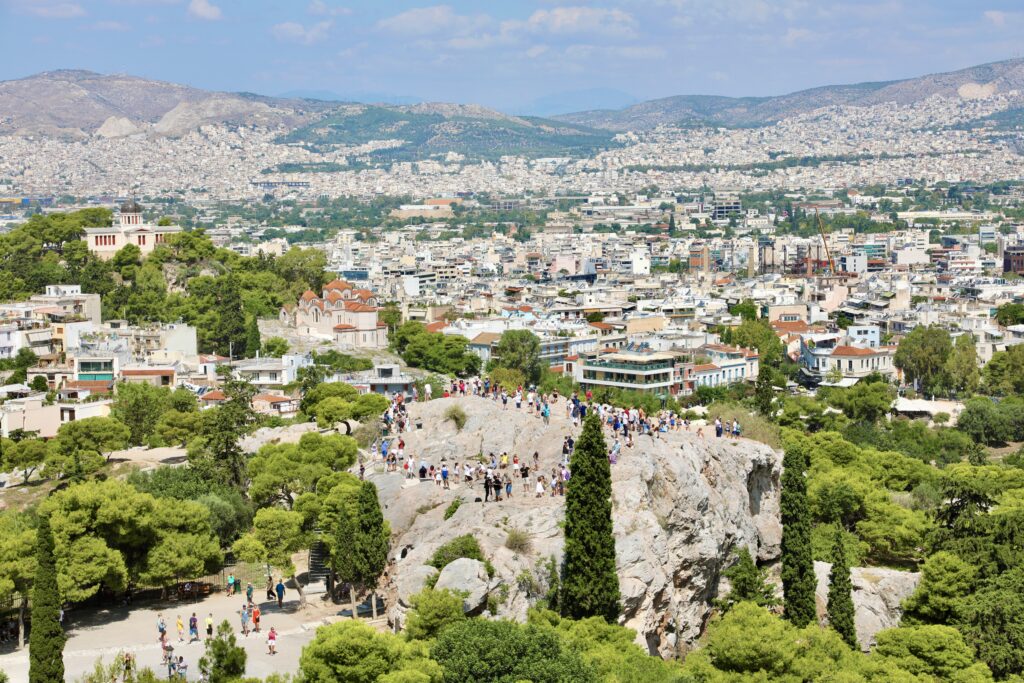 Overview Of One Day In Athens Itinerary
Here's a quick snapshot of what you'll see in Athens in one day:
Acropolis + Parthenon
Odeon of Herodes Atticus
Theatre of Dionysis
Hadrian's Arch
Temple of Olympian Zeus
Plaka district
Syntagma Square
Acropolis Museum
National Museum of Archaeology
Before You Go: Here's How To Plan Your Visit To Athens
If you're in a hurry, below are some of the top tours, hotels, and experiences for Athens. Don't forget to plan ahead when visiting!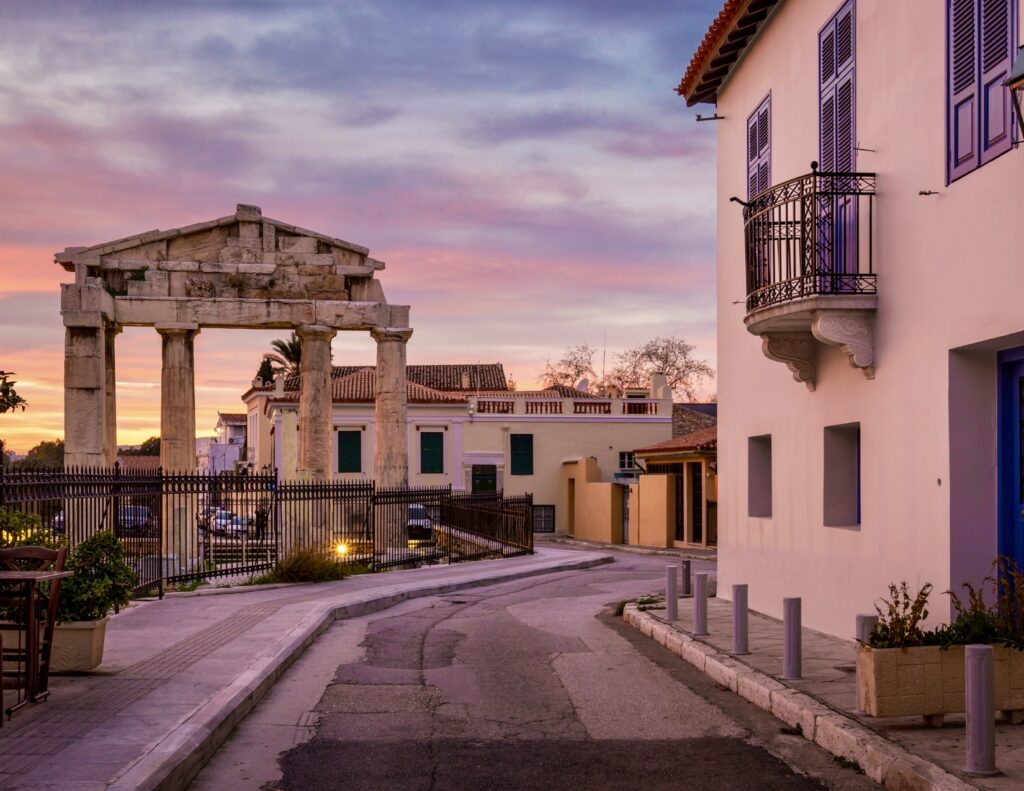 One Day In Athens Itinerary
Here's how I recommend spending one day in Athens. You can add or subtract attractions depending on your pace of travel. You can also easily spread this itinerary out over 2 days.
I also give you must now tips for visiting Athens, including how to get around and where to eat and stay. And more options if you have extra time.
For efficiency, you may want to consider booking the Athens MultiPass to the top attractions or the unlimited Museum Pass.
1. Acropolis
Start your one day in Athens itinerary with the Acropolis, the city's #1 attraction and a historical site that you just can't miss. It opens at 8:00 am. If you arrive early, you'll be able to beat some of the crowds.
The term Acropolis refers to the hill on which the Greeks built the most monumental ancient complex in existence. Its monuments are proud survivors of war, plunder, and time.
Built between 447 B.C. and 432 B.C., the Parthenon is the most important building in the Acropolis complex. It's a marble temple dedicated to the goddess Athena and was once the center of religious life.
The Parthenon was decorated with the finest art of its day, conceived and carved by master sculptor Phidias. The east and west pediments had magnificent friezes depicting a continuous narrative of the Athenian gods.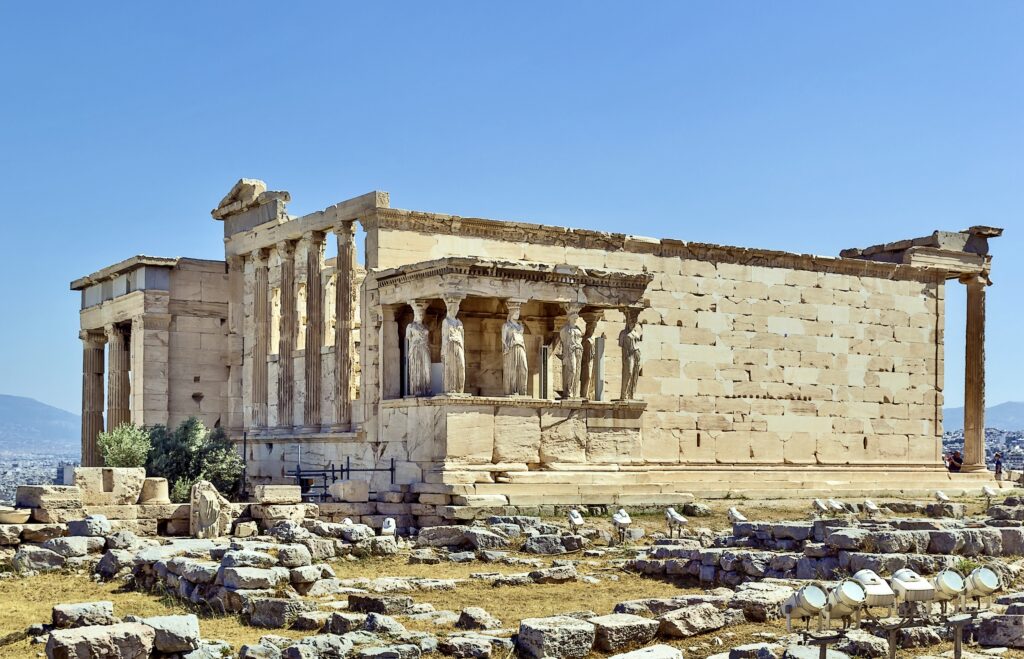 Over the years, the friezes were mostly pilfered. Some, dubbed the Elgin Marbles, are in the British Museum in London. The rest are in the Acropolis Museum in Athens, which you'll visit later.
The Acropolis is also home to three other monuments: the Erechtheion, the Propylaia, the Temple of Athena Nike.
The elegant little Erechtheion sits adjacent to the Parthenon. The temple has an Ionic columned facade on the north porch and was a shrine to both Athena and Poseidon.
A large statue of Athena once held court inside. But the real treat is the Porch of the Maidens on the south side.
The are six famous caryatid figures who seems to be holding up the porch. The drapery of their gowns is beautiful. You can see them up close and personal in the Acropolis Museum.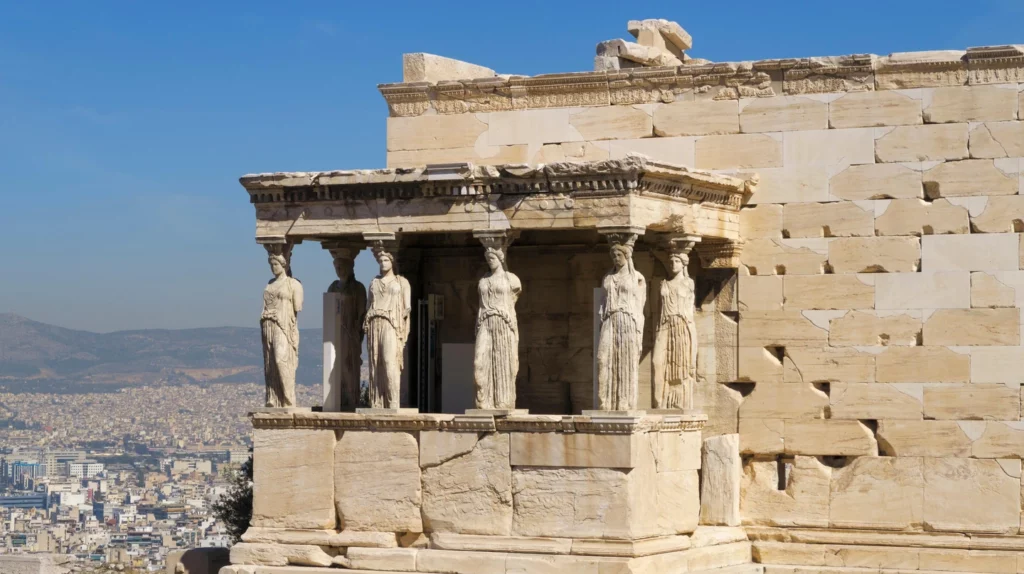 The Propylaia was the grand gateway to the Acropolis. Archaeologists believe it was built to reinforce the Acropolis' defenses. It was most likely a highly protected bastion guarding the city's treasures and wealth.
The Temple of Athena Nike was dedicated to Athena as the goddess of victory. It's the smallest temple on the Acropolis, perched on a cliff in the southwest corner.
Like the Erechtheion, it's an Ionic temple. It was once a grand hall flanked on two sides by Doric porticos. The most important feature of this tiny temple is a frieze depicting Athena Nike fixing her sandal.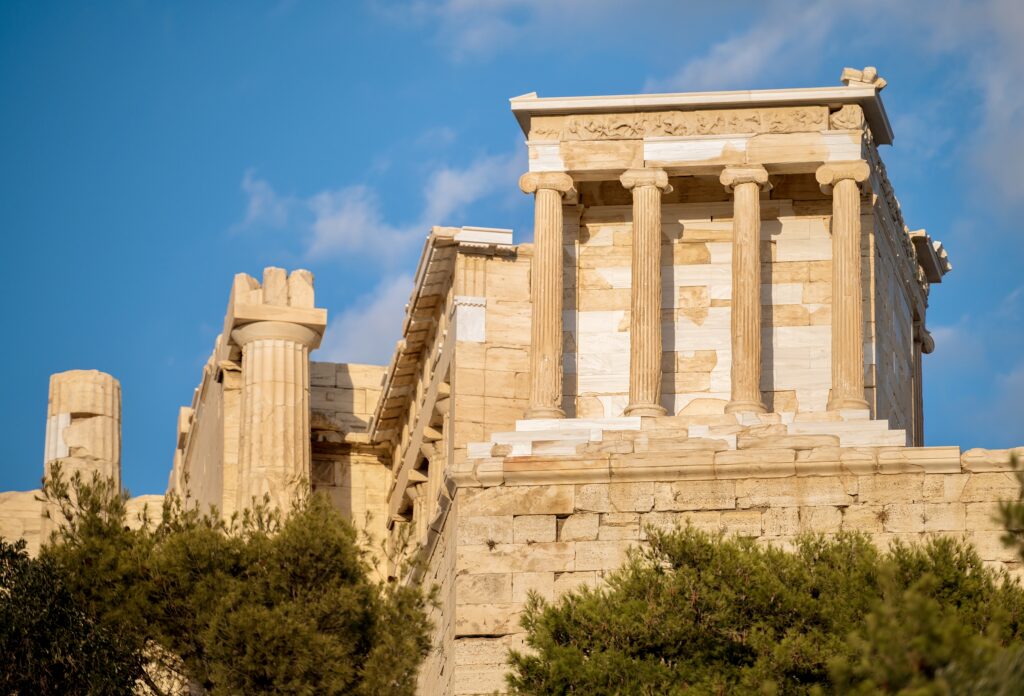 You'll definitely want to book your Acropolis tickets online in advance. Otherwise, you'll waste part of your one day in Athens in long lines, possibly hours in the summer.
Click here to book a skip the line ticket that also includes the Acropolis Museum. You may want to book a guided tour. This 1.5 hour tour takes you to the Parthenon and the other ruins around the Acropolis that I describe below.
You can get to the Acropolis by walking up the steep hill from the Plaka neighborhood. The entrance is above the Rock of Areopagus. Alternatively, you can take Dioysious Aeropagitou, a large pedestrian street that begins at Hadrian's Arch.
Address: Athens 105 58
Tickets: € 20
Hours: 8:00 am to 8:00 pm, closing at 5:00 pm in the winter months
Pro Tips: How long you spend at the Acropolis depends on your interest in ancient ruins. An hour is the absolutely bare minimum. Some visitors prefer 2-3 hours. You obviously cannot step on or touch the ruins.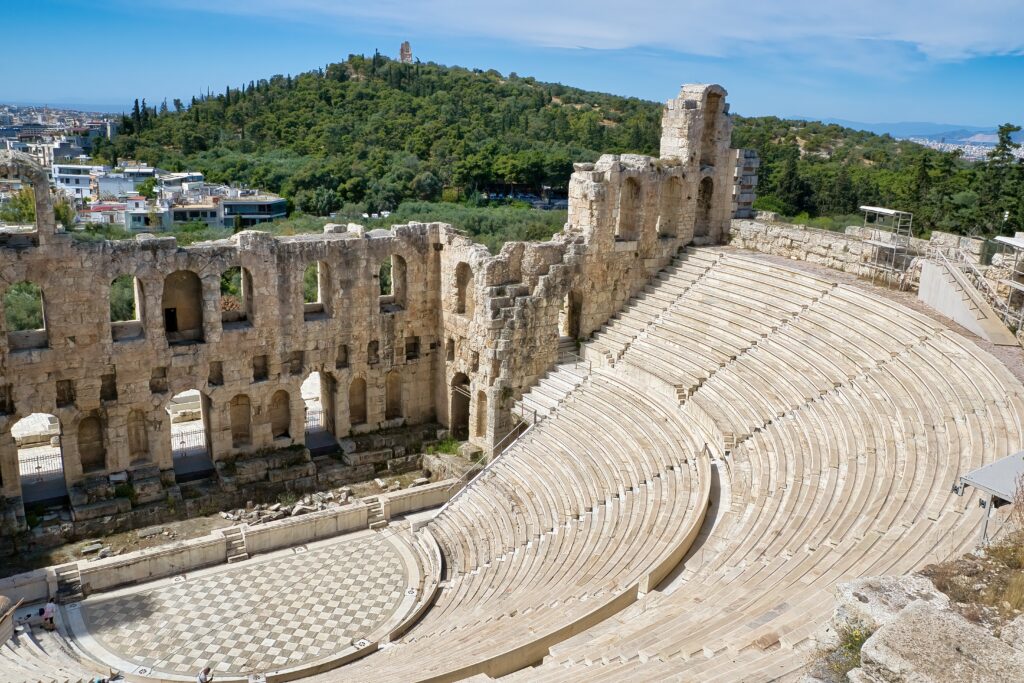 2. Odeon of Herodes Atticus
After you've seen the main complex, there are several other ancient sites scattered nearby that are worth seeing.
The Odeon of Herodes Atticus is large ancient theater located on the slope of the Acropolis. Built in 161 A.D., it's one of the finest and best preserved theaters from the ancient Roman world.
The 4500 seat theater is fully restored and today is where the annual Athens Festival takes place. You can get a great shot of the theater as you are climbing up to the Acropolis.
READ: Nutshell History of Ancient Rome
Address: Dionysiou Areopagitou
Tickets: To enter, you have to buy a theater ticket.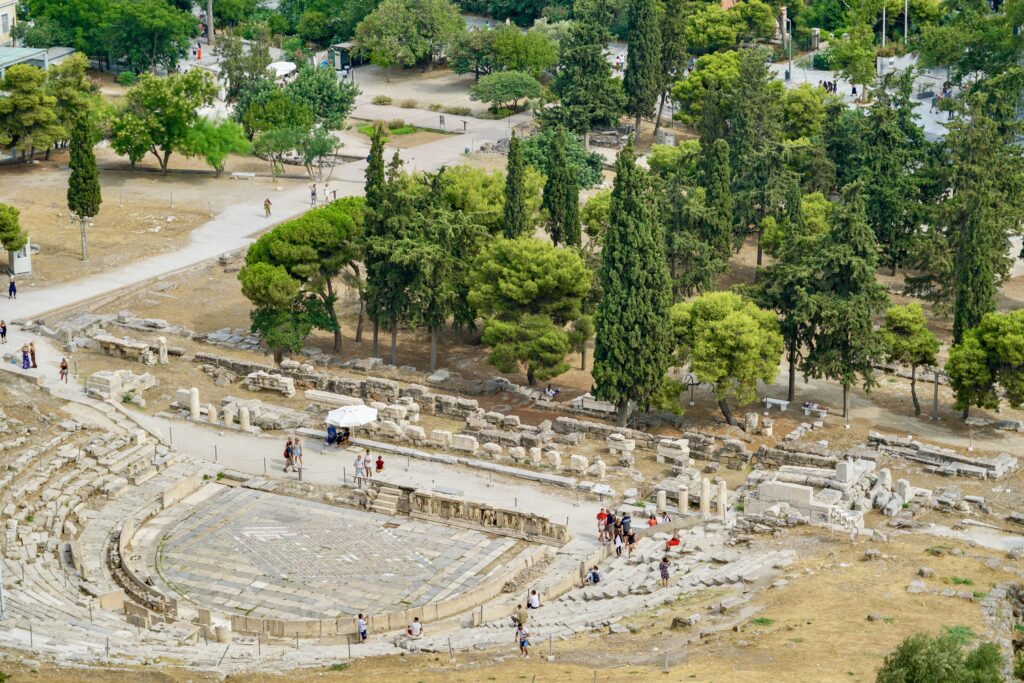 3. Theatre of Dionysis
The Theatre of Dionysis is even older than the Odeon. It was built in the 5th century B.C., and discovered in the mid 18th century. In fact, it's the oldest Greek theater in the world.
The stone theater is famous as the birthplace of the Greek tragedy. The front row seats used to be thrones and you can see reliefs on the stage depicting the life of Dionysis.
There isn't much left of the ancient ruin. But, still, it represents thousands of years of history. If you don't want to take the time to go inside, you can see it on your way down from the Acropolis.
Address: Mitseon 25
Tickets: Entry is free with your Acropolis ticket
Hours: Monday through Thursday 8:00 to 8:00 pm. Friday throughs Sunday open until 10:00 pm.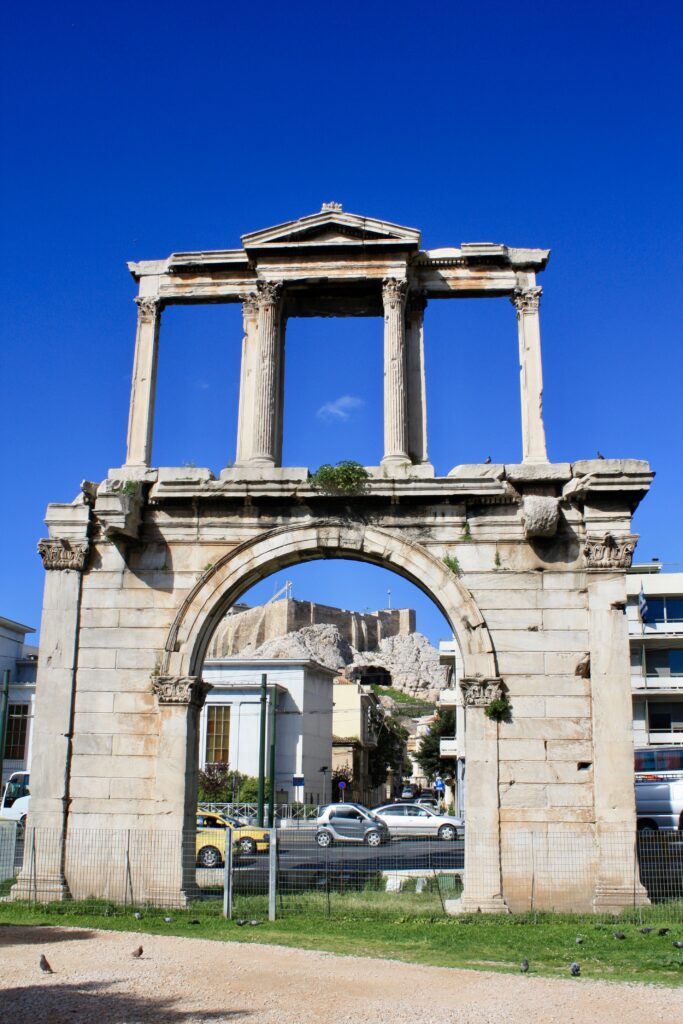 4. Hadrian's Arch
This arch was erected by the Roman Emperor Hadrian in 131 A.D. He intended it to make the dividing line between ancient Athens and a more modern Athens conquered by Rome.
It resembles the type of triumphal arches you may have seen in the Roman Forum. But it's much simpler.
The 2nd century A.D. monument was erected in honor of Hadrian, one of the greatest of the Roman Emperors. You have a beautiful view of the Acropolis through the arch.
Address: Leof. Vasilisis Amalias 50
Tickets: Free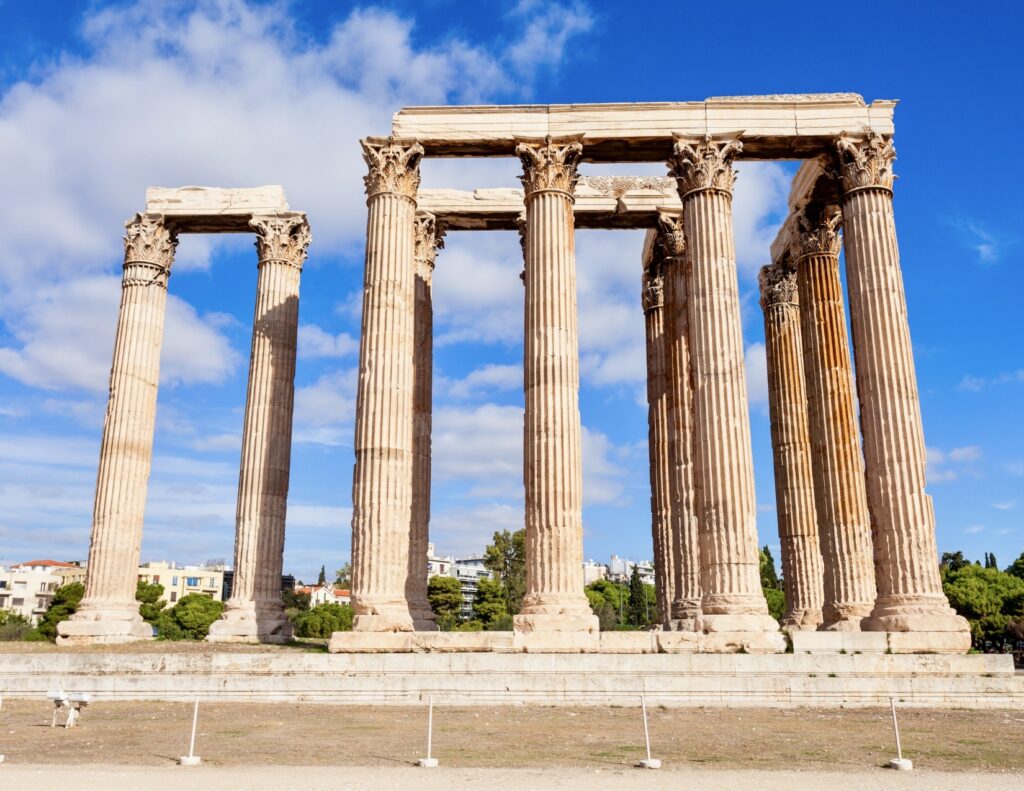 5. Temple of Olympian Zeus
Next, head to the Temple of Olympian Zeus, another must see landmark with one day in Athens. The temple is in the northwest part of the Acropolis overlooking the ancient agora.
Built between 174 and 132 B.C., it was once one of the largest temples in the ancient world. It was dedicated to the king of the gods, Zeus.
Hadrian completed the temple. It once had 20 limestone Corinthian columns on each side.
The inner cella held a giant gold cult statue of Zeus and was surrounded by even more columns. From afar, it would have appeared like a forest of columns.
The temple was destroyed by invading barbarians and 6th century A.D. earthquakes and never rebuilt. One of the giant columns is sprawled across the grass giving you a sense of how massive it was.
Click here to book a skip the line ticket.
Address: 2 minute walk from Hadrian's Arch
Tickets: € 6
Hours: From November through March, the temple is open from 8:00 am to 3:30 pm. From April through October, the temple is open from 8:00 am to 7:00 pm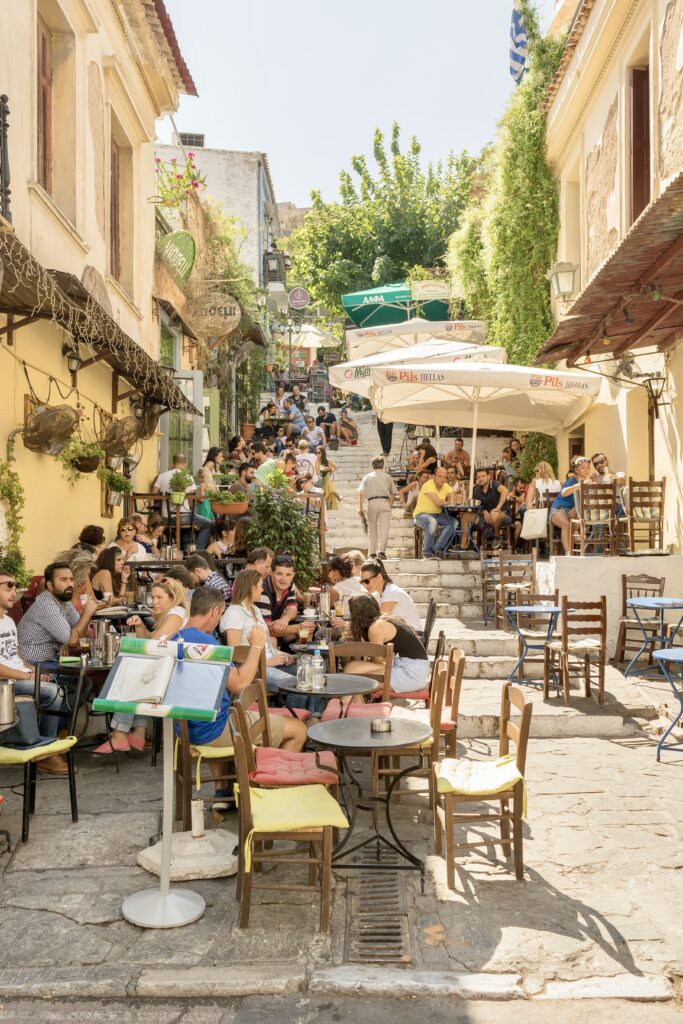 6. Plaka Neighborhood
The Plaka is the most ancient and atmospheric neighborhood of Athens. Most of it is completely pedestrianized. You'll find cafes, shops, and colorful immaculate homes.
This is a good place to stop and have lunch. Many of the restaurants are quite touristy, but there are still some good ones.
Psaras Tavern has reliable food and Acropolis views. 2Mazi offers up inventive takes on classic Greek cuisine (have the tarts and make a reservation).
Avocado is a casual vegetarian-vegan spot. If you're in a hurry, they do take out. And you can always get delicious seafood in a cone to go from Zisis.
You could also wait and have lunch at the rooftop restaurant of the Acropolis Museum, which is one of the next stops on this one day in Athens itinerary. From the restaurant, you'll have a breathtaking view of the Acropolis and its archaeological sites.
7. Syntagma Square
You should take a quick peak at Syntagma Square. It's on the border of the Plaka district and the very heart of modern Athens.
This is where you'll find the 19th century Greek Parliament building. You'll see soldiers marching solemnly in traditional uniforms of skirts and pom-pom slippers. The changing of the guard takes place every hour on the top of the hour.
Behind the square is the posh Kolonaki district. This is a prime spot for shopping or people watching at glamorous cafes.
If you didn't eat in the Plaka, you can also find some good restaurants just off the square like Mono or Dionysos Zonar's.
Right off Syntagma Square you'll also find a bar called The Bar in Front of the Bar. This is a good place to come back for some classic cocktails before dinner.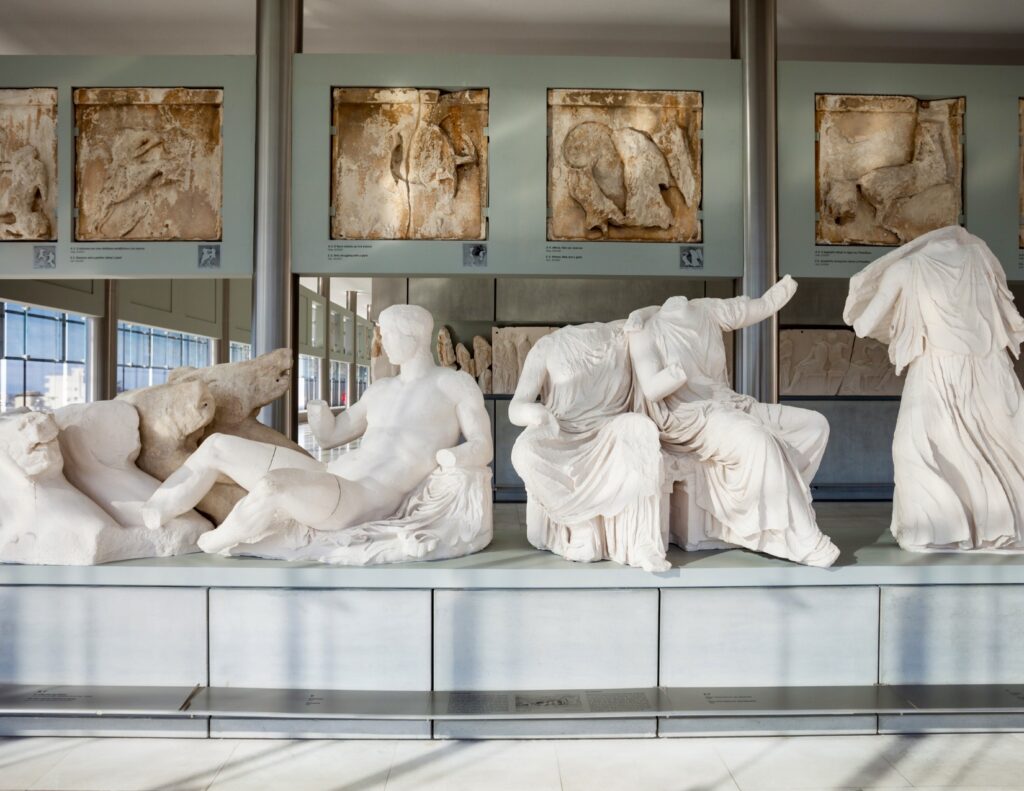 8. Acropolis Museum
Now, it's time to hit a couple of Athens world class museums. In 2009, Athens opened a gorgeous new museum, the Acropolis Museum.
Designed by French-Swiss architect Bernard Tschumi, the museum is a gorgeous $200 million state-of-the-art building. It stands as a rebuttal to the UK's claim that Athens had nowhere to properly store and display the Elgin Marbles.
Those marbles came from Parthenon's frieze and were carried off my Lord Elgin in the early 1800s. They were later placed in the British Museum. The Acropolis Museum recreated copies of those friezes for display.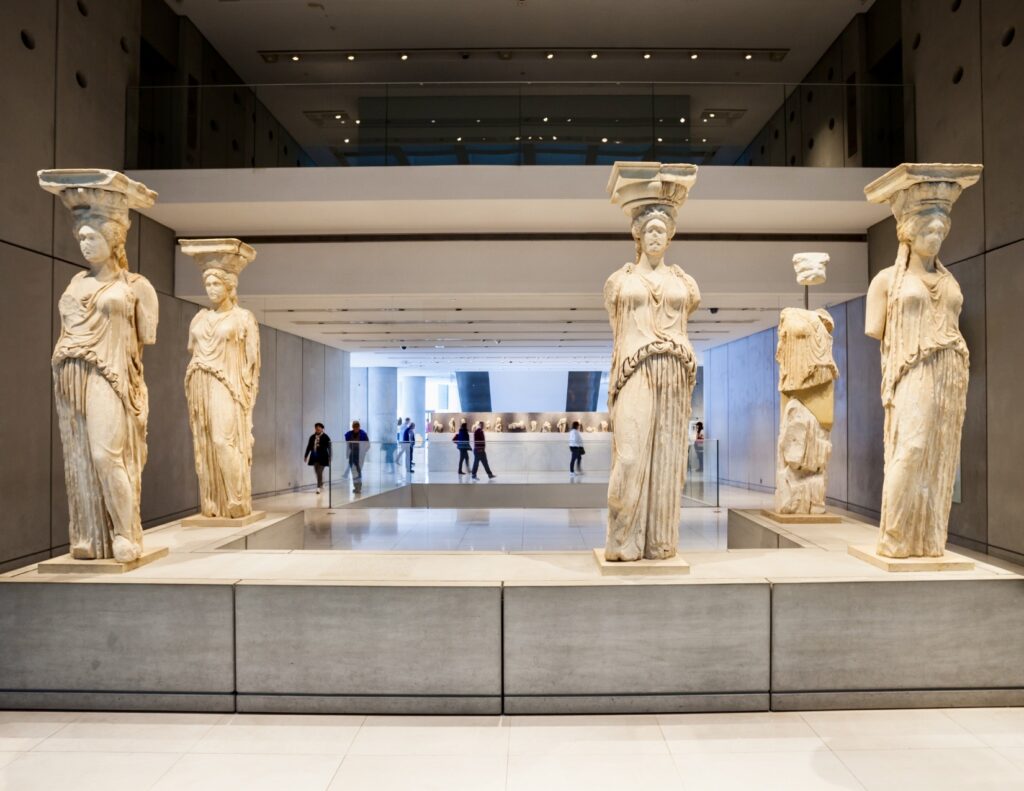 Apart from these missing wonders, the Acropolis Museum is home to over 5,0000 year old artifacts excavated from the Acropolis, including the rest of the frieze statuary that stretches 525 feet.
The artifacts are installed in the Parthenon Gallery, a glass chamber with wraparound windows that faces the Parthenon itself.
The first level of the museum is also interesting. There, you'll find the remains of an ancient city dating from sometimes during the 5th to 12th century B.C.
It was discovered and excavated when building for the museum began. Among other treasures are a marble bust of Aristotle from the 4th century and a two-sided Roman coin of Brutus, Julius Caesar's assassin.
Click here to book a skip the line ticket to the Acropolis Museum. You can also book a 3.5 hour private tour of the museum and the Acropolis.
Address: Dionysiou Areopagitou 15
Tickets: € 15
Hours: 8:00 am to 8:00 pm daily, last admission 7:30 pm
Pro Tip: I would budget 1-2 hours for the museum, more time if you're a super fan of ancient archaeology.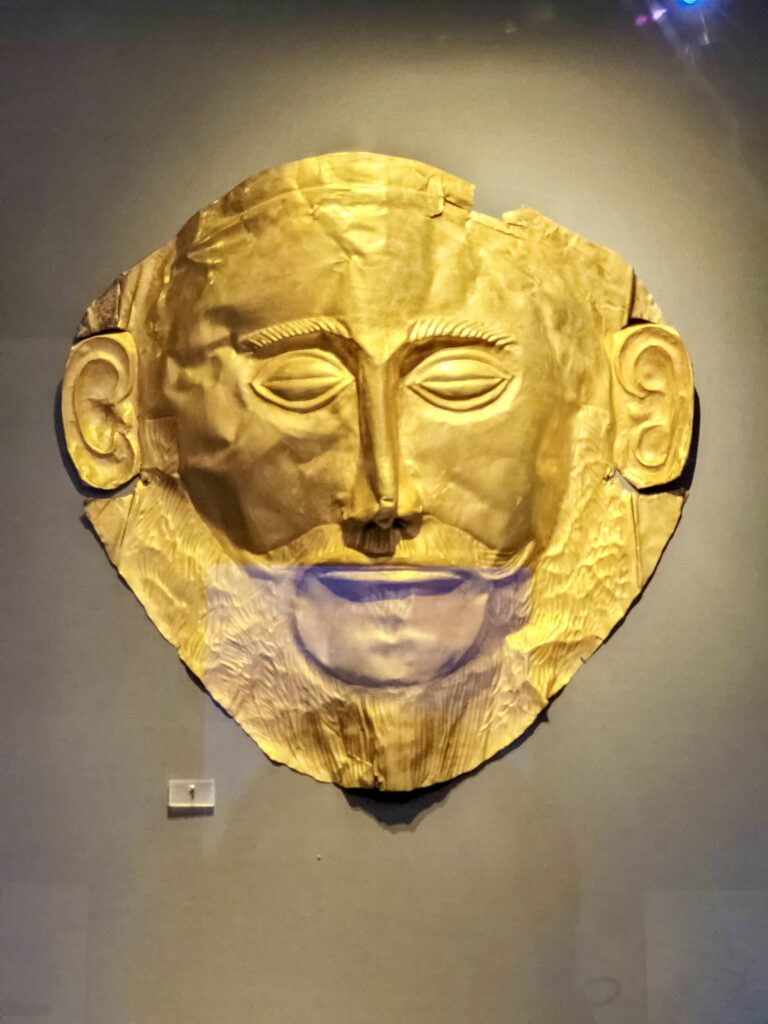 9. National Archaeological Museum
If you have any time left in your one day in Athens, head to the National Archaeological Museum. Honestly, this encyclopedic museum may even be superior to the Acropolis Museum.
This museum is an absolute history buff's nirvana. It houses one of the world's largest and most priceless collections of Greek antiquities.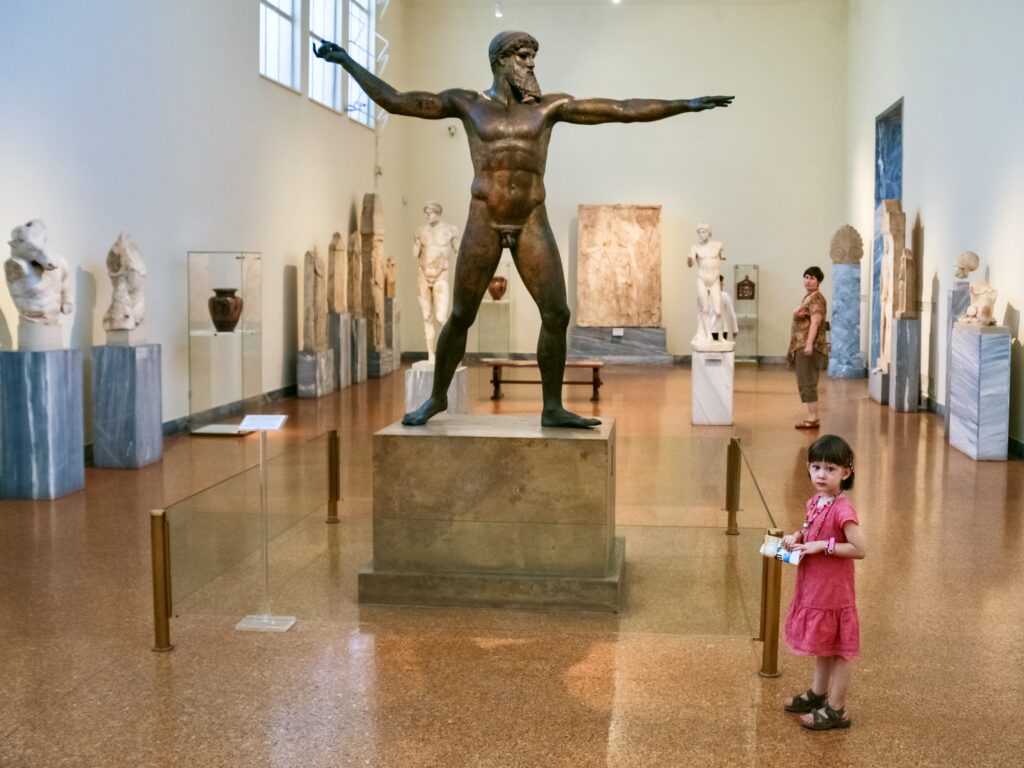 The museum's most celebrated display is the Mycenaean Antiquities. Other treasures include a bronze statue of Zeus, a king's gold funeral mask, the marble statues of the Kouros, and the requisite bust of Emperor Hadrian.
By the time you leave, you'll get a lesson on the evolution of Greek art from the Mycenaean to the Classical periods.
Click here to book a skip the line ticket to the museum.
Address: 28is Oktovriou 44
Tickets: 15 €
Hours: Monday from 1:00 pm to 6:30 pm. Tuesday through Sunday 8:30 am to 3:00 pm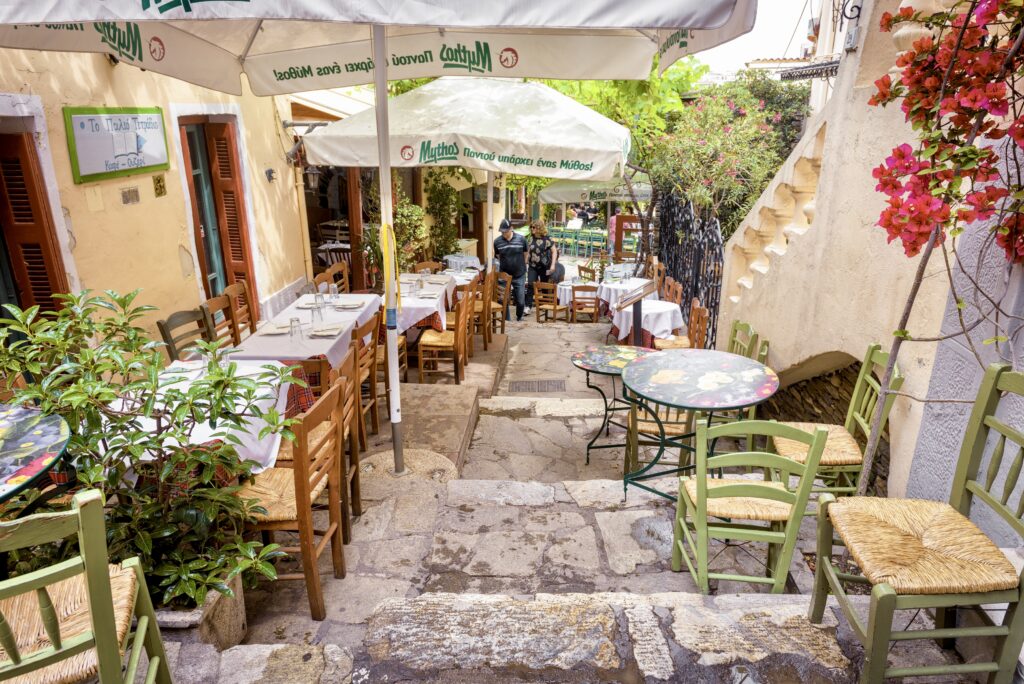 10. Evening
For dinner, you have some good choices. Athens gastronomy has dramatically improved in recent years and foodies will be delighted.
Be forewarned, the Greeks eat late. It's common to wait until after 9:00 pm for dinner.
I mentioned some great restaurants above, but I'll just mention a couple other. You'll want to make reservations for these.
Linous Soumpasis & Co puts a contemporary twist on fresh dishes and offers a three course set meal. Gastone is a more casual place that's part Greek taverna and part diner. Papadakis is an organic restaurant in the Kolonaki neighborhood.
Nolan is probably Athen's best restaurant. It's a Michelin-starred restaurant in a central bistro with Asian fusion and Greek food. Try the soba noodles with smoked salmon in tahini sauce!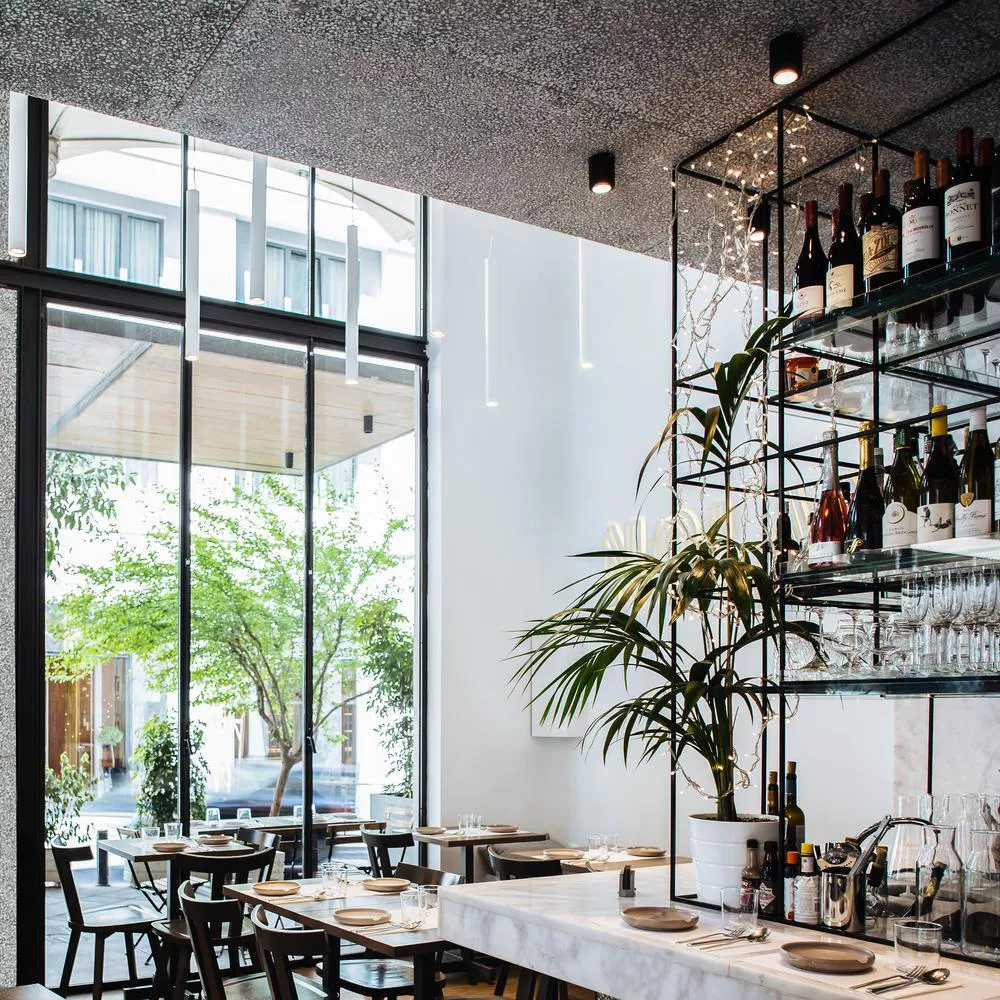 You can always start with a classic Greek drink like Ouzo or Retsina.
Some classic Greek dishes you can try include moussaka (eggplant casserole), rabbit stew, grilled octopus, or souvlaki (spit roasted meat). For dessert, you can feast on baklava (layered pastry) or loukoumades (honey puffs).
If you arrived in Athens late in the day, you can also book a nighttime walking tour that includes dinner or a guided tuk tuk tour.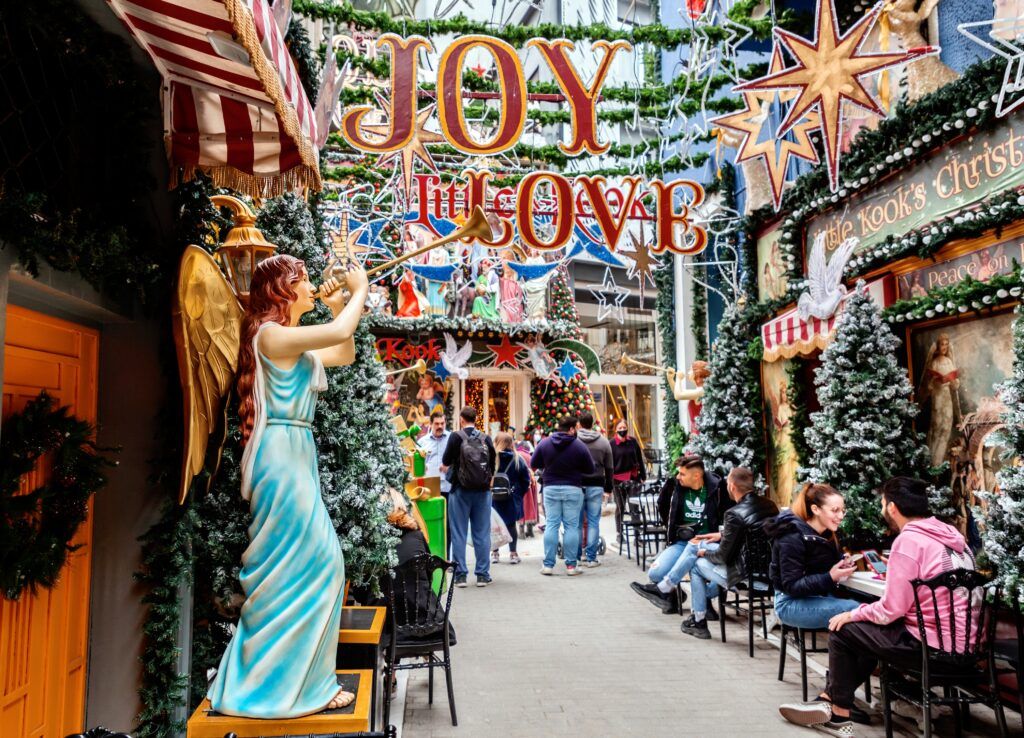 Athens is known as "the city that never sleeps." It has a lively nightlife and the citizens stay up late. Even during the week, you could go on a late night bar hop.
Psiri is a good neighborhood for this. In fact, you may want to eat at Little Kook. It's a well known restaurant for its over-the-top whimsical, seasonally themed decorations.
These are immersive decorations that spill out onto the street. During the holiday seasons like Halloween and Christmas, they are especially extravagant.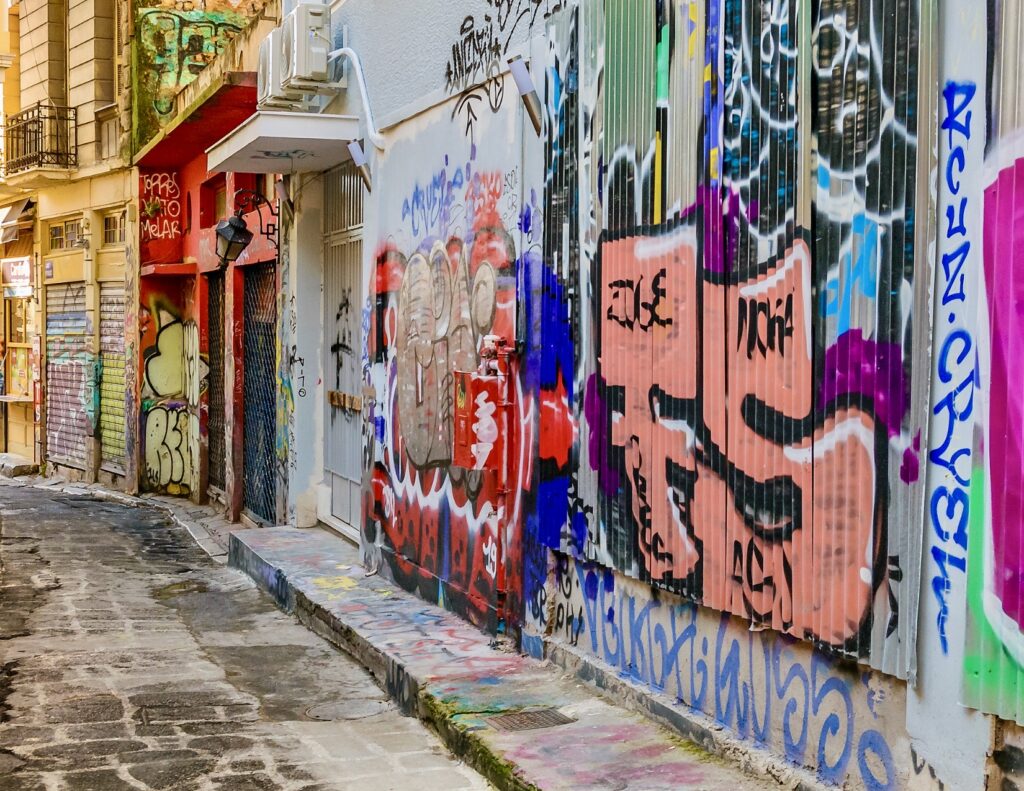 Practical Guide For Spending One Day In Athens
Here are some must know tips for planning 1 day in Athens itinerary.
1. How to Get To Athens
The easiest way to get to Athens is to fly there. Athens International Airport (Eleftherios Venizelos) is about 20 miles from the city center.
There are direct flights form Athens from most of the major European cities. There are also direct flights to Greece from six US cities during high season, like New York City or Washington D.C.
After you land in Athens, you can pick up some euros in the airport.
You can get into city center by taxi, metro, or bus (the cheapest and slowest option).
Taxis may rip you off. To avoid any chance of this, I recommend booking a private transfer from the airport.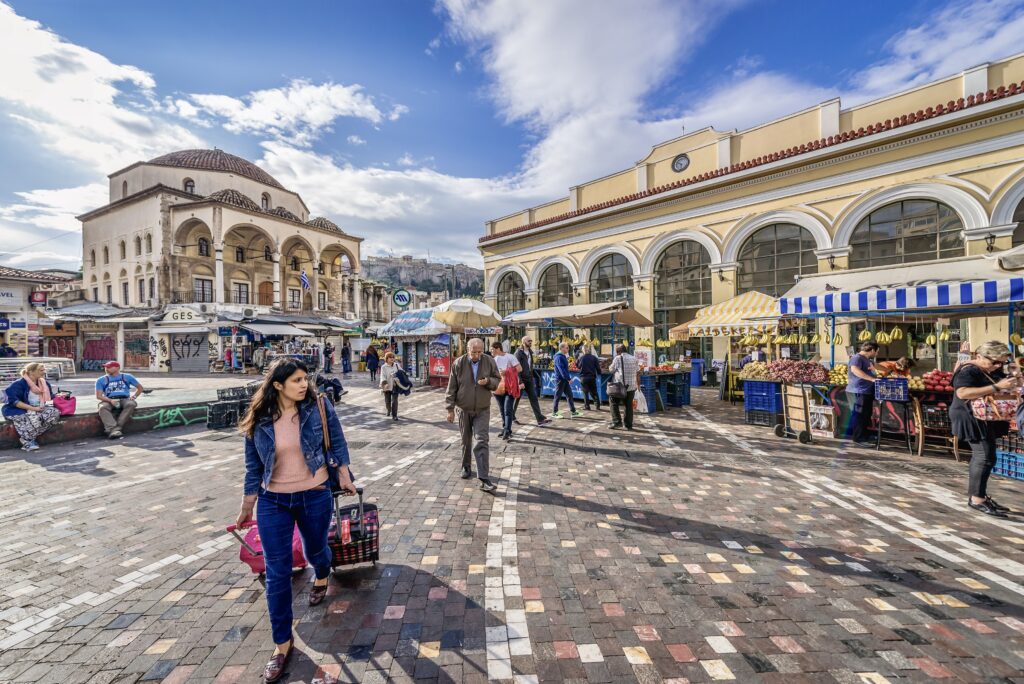 There is no Uber per se in Athens. Uber is simply part of the existing taxi system. You can download the Uber Taxi app.
There are several cruise companies that also dock in Athens. And you can book a private transfer to get to the historic center from the ship terminal.
2. How To Get Around Athens
With just one day in Athens, you'll only explore the historic center with the main monuments. For this, you can walk everywhere.
But Athens also has a modern metro system.
If you'd like to have fun zooming around the city, you could book a guided Segway tour, a guided bike tour, or electric bike tour. There's also a hop on hop off tourist bus.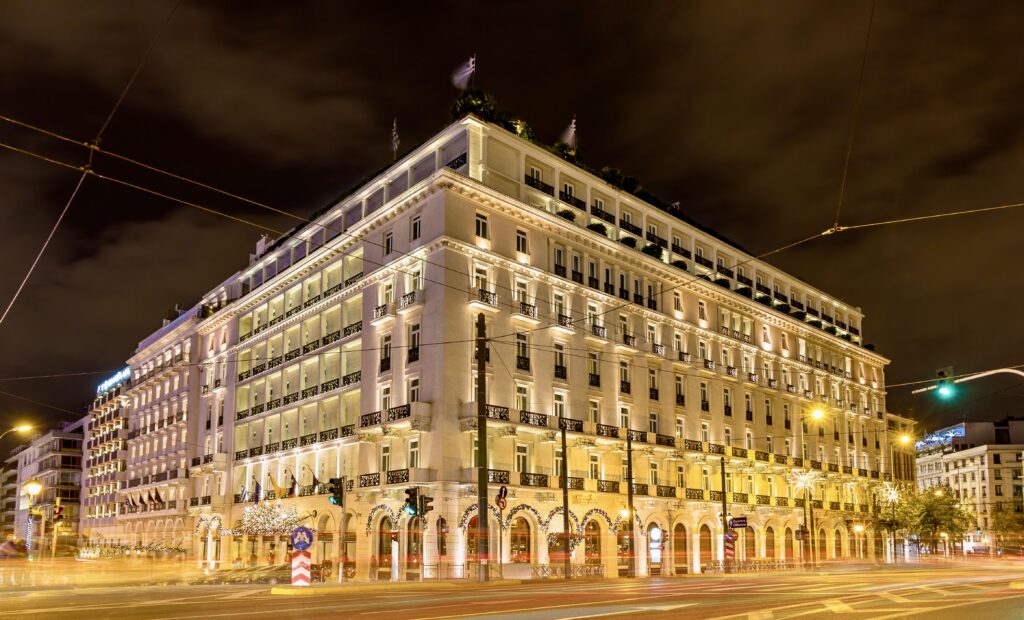 3. Where To Stay In Athens
Athens has a blossoming hotel scene and there are some fabulous places to stay for your one day in Athens.
Built in 1874, the Grande Bretagna is a landmark European hotel where opulence and grandeur reign supreme. It's also right in Syntagma Square. You'll find restored antique interiors, a courtyard garden, and a rooftop restaurant with views.
The Four Seasons is a lively hotel with modern rooms with private balconies. But the outdoor spaces, with 3 pools and beachfront, are the highlight.
The Modernist in Kolonaki embodies its name. The hotel has a minimalist Danish decor in a palette of soft black and gray, with rooms of various sizes. It's known for its balconies, great breakfasts, and rooftop terrace.
Gatsby Athens is an Art Deco inspired hotel and an homage to the novel The Great Gatsby. With its sophisticated and cool decor, it's a contrast to the more conventionally elegant hotels in Athens.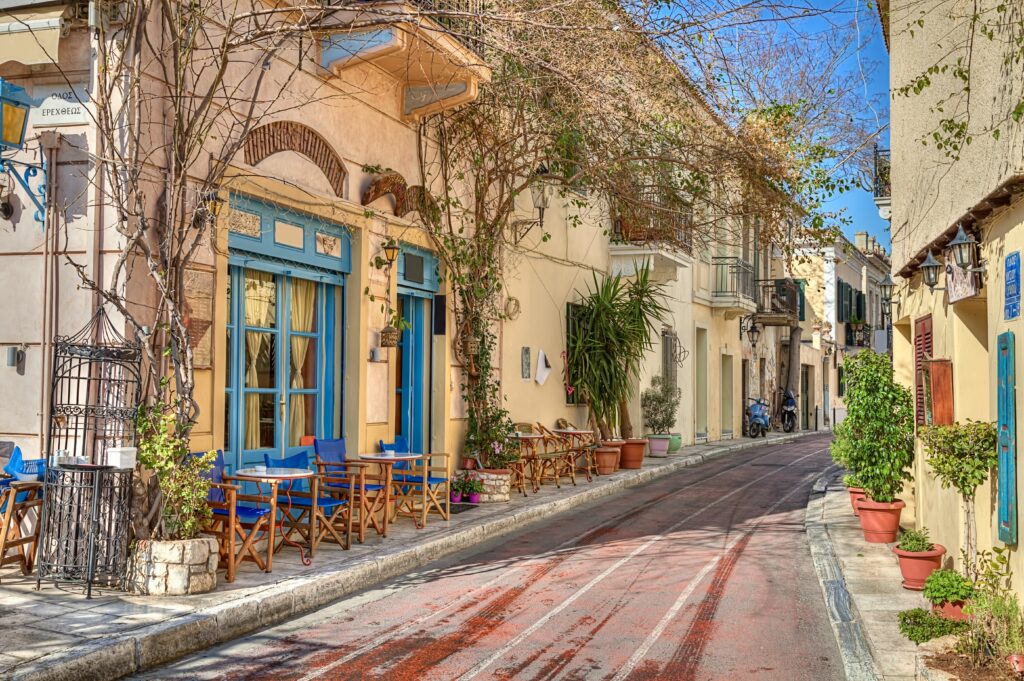 King George in Syntagma Square is a beautiful hotel that I've stayed in before. It's known for great service and understated luxury (though it has a rather grandiose lobby).
Xenodocheio Milos is one of the newest and most elegant additions to the Athens hotel scene. It bills itself as a "gastronomy 5 star hotel." There are spacious modern rooms with white and wood decor.
4. When To Visit Athens
Athens is a year round destination and lively at all times of the year. But the warm sunny days make spring and fall the best time to visit.
The city is pretty dang hot from mid-June to late August. I've practically melted when visiting in the summer. And, of course, that's when most of the tourists visit.
Athens can also make a lovely winter break. You'll still have bright fairly mild days, though there is always a chance of rain. If you're visiting then and it does rain, simply add more museums to your itinerary.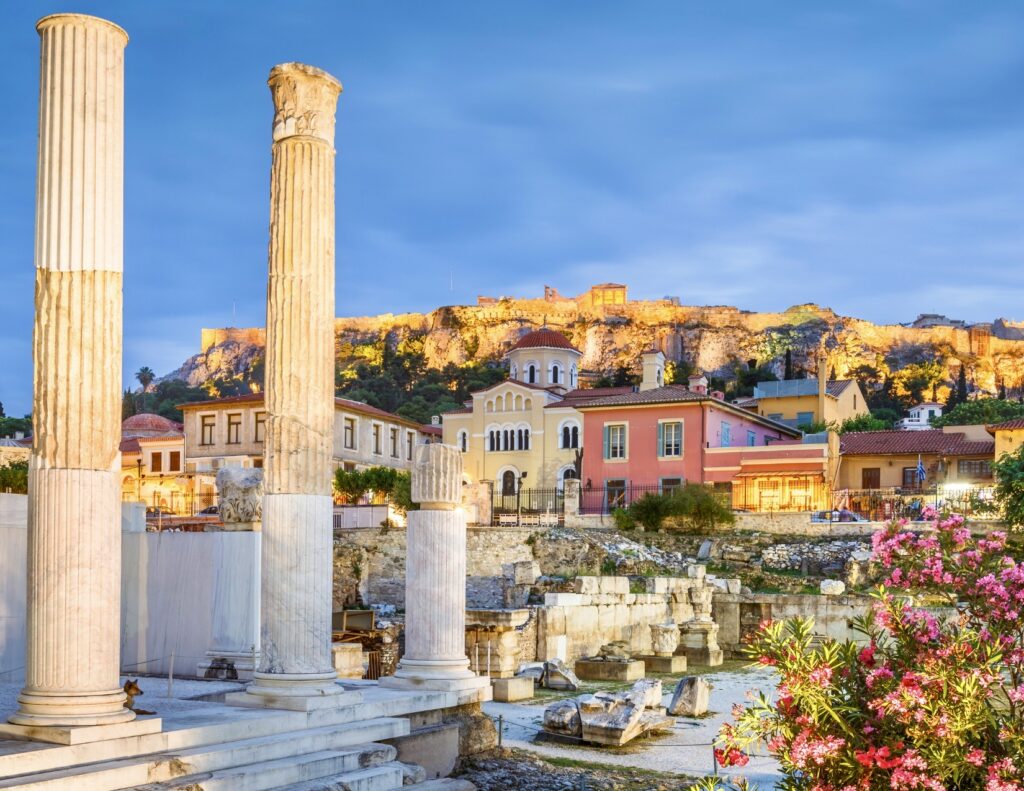 5. Is One Day in Athens Enough?
I've been to Athens several times in my life. I think one day is sufficient to see the main attractions, especially if you are in a hurry to head off to the Greek Islands.
To be frank, Athens is not my favorite European city. Outside the central tourist area, it's a bit gritty for my taste, with a sprawl of modern buildings.
As a young solo traveler, I was almost pickpocketed there (so maybe that colors my view). I have liked the city more upon each visit. It's just not as conventionally attractive as someplace like Florence.
BUT Athens does have some absolute marquee sites and has gentrified somewhat, so does does deserve a full day of your attention. And you should definitely visit at least once in your life!
6. Is Athens Safe?
Like any major European city, Athens has its fair share of petty crime. But violent crime is relatively rare. That said, I would be more on my guard here than in Paris, Vienna, or London for sure.
Keep an eye on your valuables, be sure to check that your restaurant bill is accurate, and be vigilant if you are taking public transportation.
Stay on the beaten path. The safest part is the historic center where you'll spend most of your one day in Athens. The further afield you go, the sketchier and less safe it becomes.
Of course, even in the touristy parts, you have to look out for scammers. Beware of locals approaching you asking for something. And there are pickpockets in the streets at the foot of the Acropolis.
7. More Than One Day In Athens?
If you have more than 1 day in Athens, there are plenty of other attractions to keep you busy, including some wonderful museums and archaeological sites.
The National Gallery is the city's newest cultural jewel. The museum was just given a 60 million euro facelift and overhaul.
With an illuminating glass facade, it consists of four floors. The first three explore the evolution of Greek art over the centuries. The fourth floor houses European art, including works by Picasso and Mondrian.
The Benaki Museum is a complex of museums scattered around the city devoted to Greek culture. The main museum is housed in an ultra-modern building of marble and glass. You can take in the prehistoric Ancient Greek and Roman exhibits in the permanent collections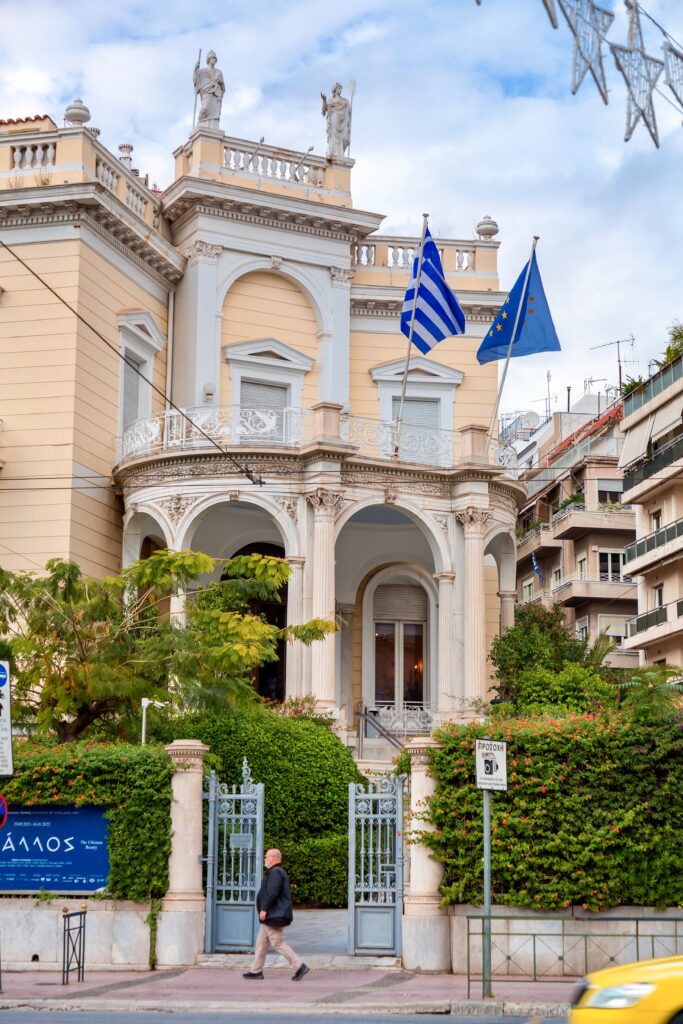 The Benaki Islamic Museum is more of a hidden gem on the other side of town. It houses an extensive collection of ceramics, jewelery, art, and design dating as far back as the 8th century.
You can also visit some of Athen's more offbeat museums:
Numismatic Museum (collection of an archaeologist),
Museum of the History of Greek Costume (devoted to Greek dress)
National Historical Museum (specializing in the War of Independence)
National Museum of Contemporary Art (5 floors of modern art and a rooftop terrace with views)
The Ancient Agora (market) is is a must see too. It's about a 15 minute walk from the Acropolis.
The highlight there is the Hephaisteion, a temple devoted to the god Hephaestus. It's a well preserved structure, dating from 450 B.C., which remains much today as it was originally built.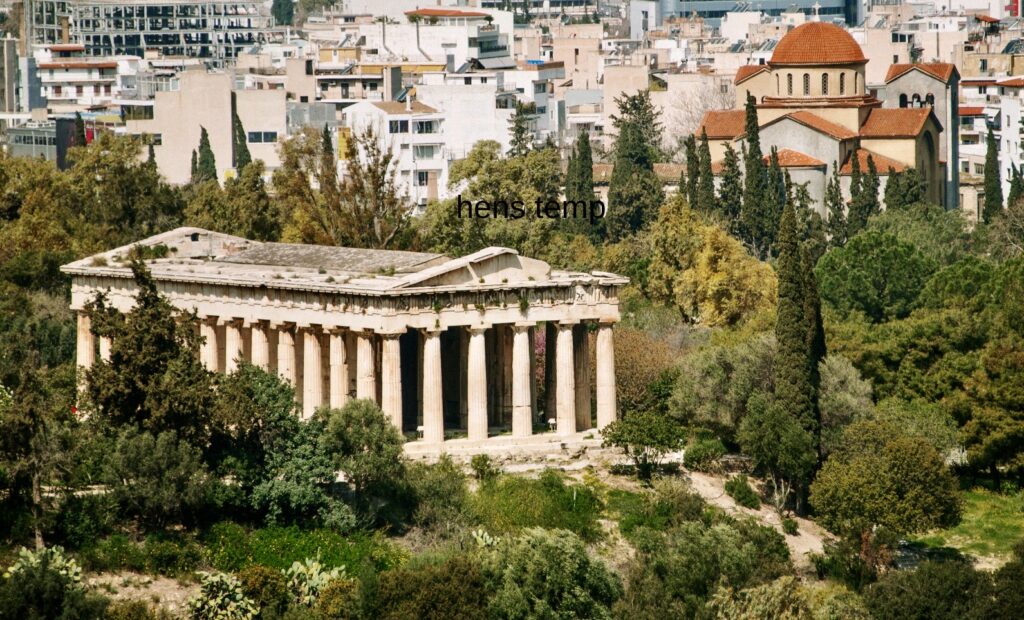 For a more modern "agora," head to the Stavros Niarchros Foundation Cultural Center. It was designed by world famous architect Renzo Piano.
There is an architecture tour at 10:00 am daily. There's a great view of Athens from its canopy roof.
For other archaeological marvels, you can journey outside Athens. One option is to take a half day trip to the Temple of Poseidon, which is about 40 miles from Athens.
Built in 444 B.C., the temple was designed and built by the same architect as the Hephaisteion. It's not as well preserved, but 16 of the gleaming white marble columns remain.
Alternatively, you can also take a guided day trip to Delphi. It's a religious sanctuary dedicated to Apollo. It's the second most popular attraction in Greece and most popular day trip from Athens.
You can admire the Temple of Apollo, the Ancient Theatre, and the Tholos of Delhi. There's also a fine Archaeological Museum with 14 rooms. The most famous piece is a perfectly intact bronze sculpture of the Charioteer of Delphi.
You'll want to pre-book a skip the line ticket to the archaeological complex. You can also book a combination ticket for the complex and the museum.
I hope you've enjoyed my one day in Athens itinerary. You may enjoy these other Europe city itineraries:
If you plan to spend 1 day in Athens, pin it for later.