Wondering how many days to spend in Florence? I have some tips for you in this Florence trip planning guide!
Florence is a beautiful and sophisticated city. Along with the greatest hits of the Renaissance, the city has some of Europe's most photogenic cityscapes. You'll be swathed in iconic landmarks, beautiful churches, glamorous palazzi, and cobbled lanes.
I first went to Florence as a college student. That trip sparked a longstanding fascination with all things Italy.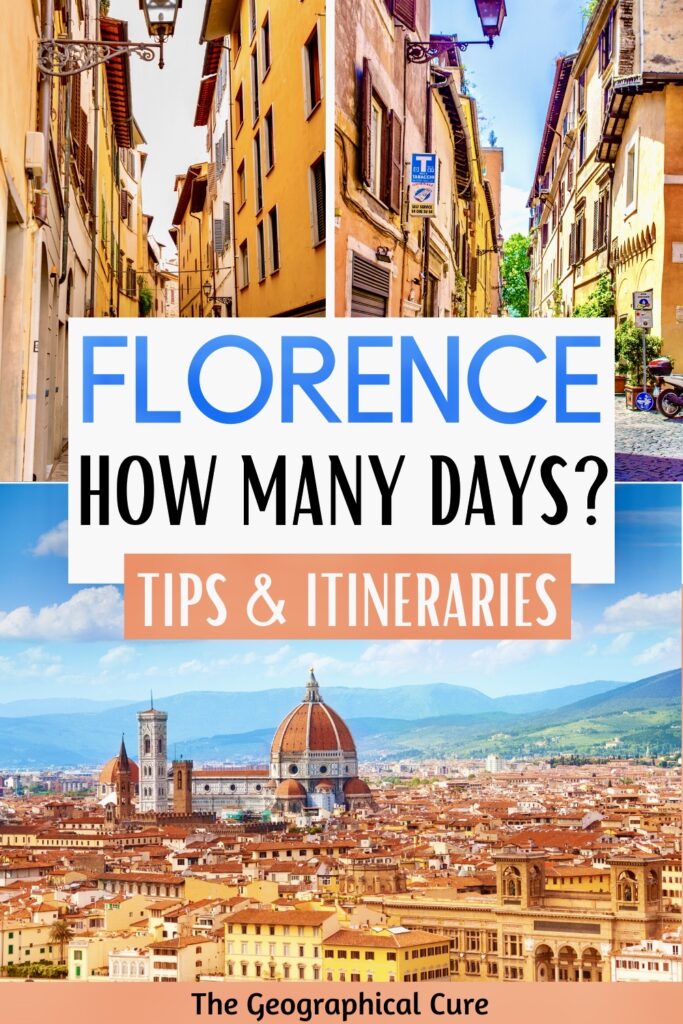 I've been back to Florence several times, staying from 1-5 days. So I have a good sense of what you can see in 1, 2, 3, 4, or 5 days in Florence.
Think of Florence as a sprawling outdoor museum, which it really is. Within the museum, there are myriad exhibitions on display. But a museum has to be curated, right?
How Many Days To Spend In Florence?
For Florence, you need to plan your visit in advance. Decide how many days to spend in Florence and pre-book tickets to the top attractions.
Florence is incredibly popular. These days, tourists flood into Florence year round. As a result, it doesn't work well to try to see things on the fly, even if you like to be spontaneous.
If you don't pre-purchase skip the line tickets, you'll have to wait in long queues. That will cut into your sightseeing time, and you won't be able to see as much of the city.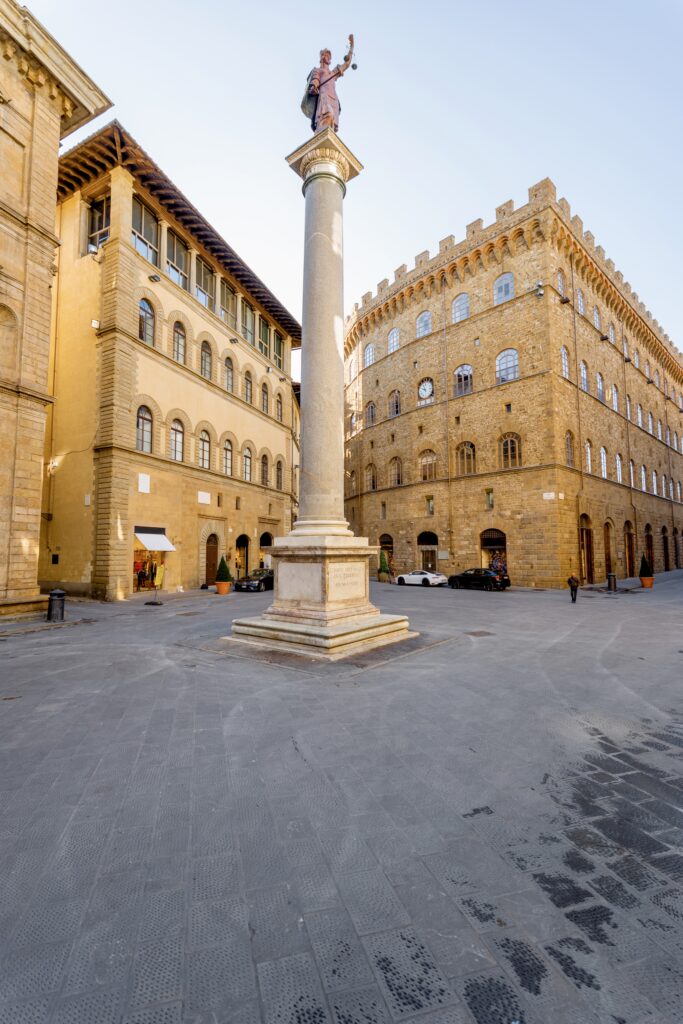 This Florence trip planner will help you craft the perfect Florence itinerary. To give you some destination inspiration, I give you sample itineraries for spending 1-5 days in Florence, with day trip options.
As you'll see, there's no perfect answer to the question of how many days to spend in Florence. It depends on how fast you like to travel, what your personal interests are, and the amount of time you have available on your Italy trip.
What is important to you?
Do you love cities? Or do you want to see the top attractions and move on to another place in Italy? Are you an art lover who wants to visit all of the magnificent museums in Florence?
Do you want to explore Florence's neighborhoods? Do you want to do some shopping in Florence? (The leather goods are divine.) Do you want to take some day trips from Florence?
The more things you want to do, the more days you'll need to spend in Florence.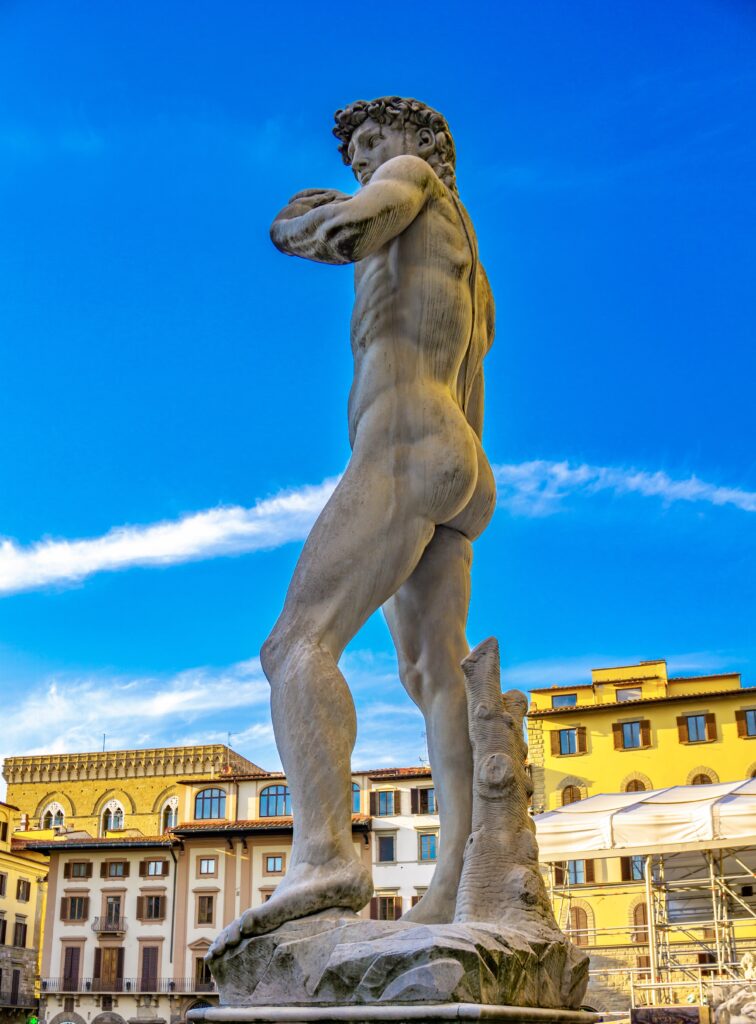 Is One Day in Florence Enough?
One day in Florence is enough time to see some of the city's attractions, but you won't be able to see everything in a day. There are just too many things to do in Florence.
Still, it's definitely worth visiting Florence even if you only have a day to spare. Florence is a small walkable city and the main attractions are clustered round the Duomo.
To have an efficient day, you should pick and choose what you want to see and book tickets. Here's how you could structure a day in Florence. You can also check out my detailed one day in Florence itinerary.
Oltrarno Viewpoints
Pitti Palace
Boboli Gardens
Ponte Vecchio
Duomo Complex: Duomo Museum, Florence Cathedral, Brunelleschi's Dome, Baptistery
Uffizi Gallery
Galleria Accademia
Palazzo Vecchio
Start your day early with a walk up to the best viewing points in Florence. Cross the Ponte a San Niccolo bridge. Head up the stairs on Piazza Giuseppe Poggi, a winding steep road that leads uphill.
You can stop at the first viewpoint, Piazzale Michelangelo, where you'll find a copy of Michelangelo's David statue. Signs point you to it.
Alternatively, you can hoof it up another 10 minutes to San Miniato al Monte. It's the oldest church in Florence with sweeping views of the city.
After taking in the views, grab some breakfast. For something quick, you can have a pastry and espresso at Gino's Bakery. It's near the Pitti Palace, which is your next destination.
The Pitti Palace opens at 8:15 am. It was the regal home of the Medici dynasty. It's an opulent palace, with the Medici art collection covering the walls and Pietro de Cortona frescos decorating the ceilings.
For more information, here's my guide to visiting the Pitti Palace. Click here to book a skip the line ticket. You can also book a guided tour of the palace and the Boboli Gardens.
Then, take a stroll across the iconic Ponte Vecchio. It's Florence's lone medieval bridge filled with upscale shops. Expect huge crowds here.
After browsing, head to the Duomo complex. It includes five buildings: the Duomo Museum, Florence Cathedral, the Baptistery, Brunelleschi's Dome, and Giotto's Campanile (bell tower). If you buy the Brunelleschi ticket, you have entry to all the sites.
With only 1 day in Florence, you won't have time to do it all. I advise first taking a spin through the magnificent Duomo Museum to get the historical backdrop. Pop into the Baptistery.
Then, do your Brunelleschi dome climb. It's 463 steps, but well worth doing despite the long hike. Along the way, you'll see the magnificent Giorgio Vasari fresco of The Last Judgment. The views over the city from the top are spectacular.
When you purchase the Brunelleschi ticket, you will need to select an entry time for the dome climb. Line up 15 minutes early at the dedicated entrance at the side of the cathedral.
After the climb, grab a late-ish lunch. La Grotto Guelfa is a convenient spot with good food near the Duomo.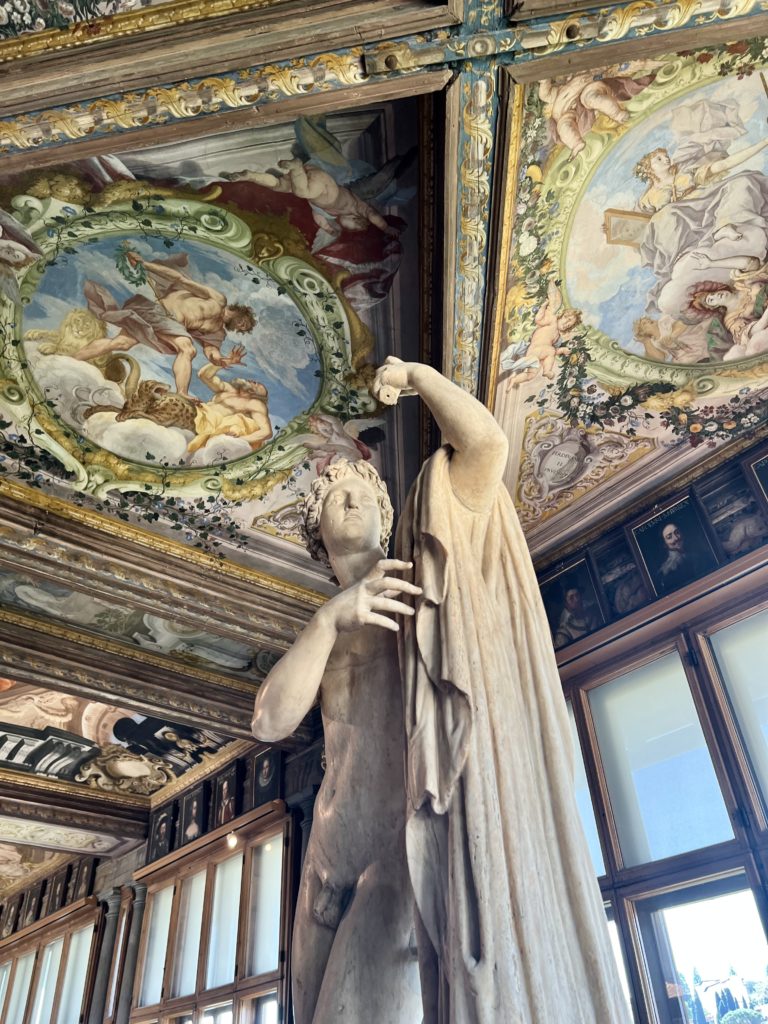 After you're fueled up, visit the Uffizi Gallery, one of the world's best museums. The gallery is filled with the most famous paintings in Italy. You'll find works by Leonardo da Vinci, Botticelli, and Michelangelo.
You won't be able to visit the Uffizi without pre-booking a skip the line ticket. It's Italy's most popular museum. To make sure you see the top masterpieces, you may also want to book a 2 hour small group guided tour or a 2 hour private tour.
Then, if you're up for another museum, head to the Galleria Accademia, which is open until 7:15 pm. This is where you'll find the world's most famous sculpture, Michelangelo's David, along with his Slaves.
Like the Uffizi, you must pre-book a timed entry ticket to visit. You may also want to book a small group guided tour.
If you're ambitious, you can also squeeze in a visit to the Palazzo Vecchio, which is open late until 10:00 pm.
The palace was a Medici residence and the seat of the City Council that governed the Republic of Florence. It's full of magnificent rooms frescoed by Giorgio Vasari. Click here to book a skip the line ticket with a time slot reservation.
If you don't have time for an entire day and overnight in Florence, no problem. You can visit on a day trip from several other cities in Italy.
You can book:
These guided tours will provide transport and give you skip the line access and tours at the top attractions. So they may be a convenient way to "fit" Florence in.
Are 2 Days In Florence Enough?
Two days is a good number of days to spend in Florence, especially for a weekend break or if you're a repeat visitor. You'll be able to see the city highlights at a more relaxed pace.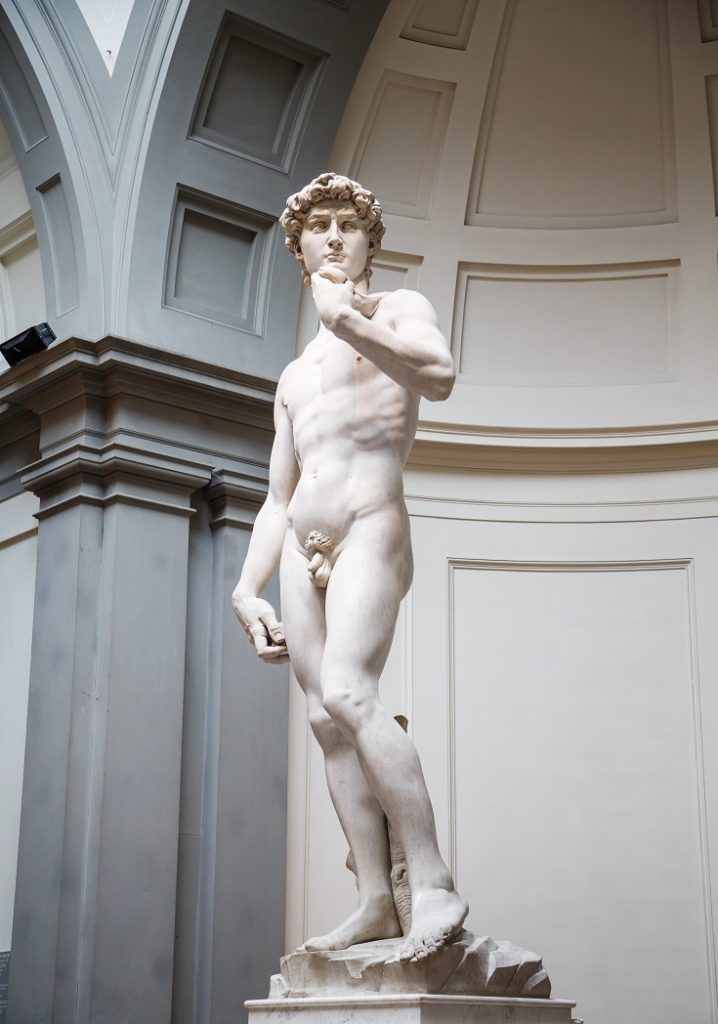 Here's what you can do with 2 days in Florence:
Accademia Galleria
Medici Chapels
Basilica of San Lorenzo
Duomo Complex: Duomo Museum, Florence Cathedral, Brunelleschi's Dome, Baptistery
Piazza della Signoria
Palazzo Vecchio
Food Tour
On Day 1, I've shuffled around the sites for maximum efficiency, since you have two days in Florence instead of one. Purchase skip the line tickets for the sites I mentioned above. You'll also visit the Medici Chapels and the Basilica of San Lorenzo.
The Medici Chapels is one of Florence's best museums and most hallowed historic sites. The chapels' New Sacristy holds seven Michelangelo sculptures — the most you'll find in Florence — and the tombs of the Medici.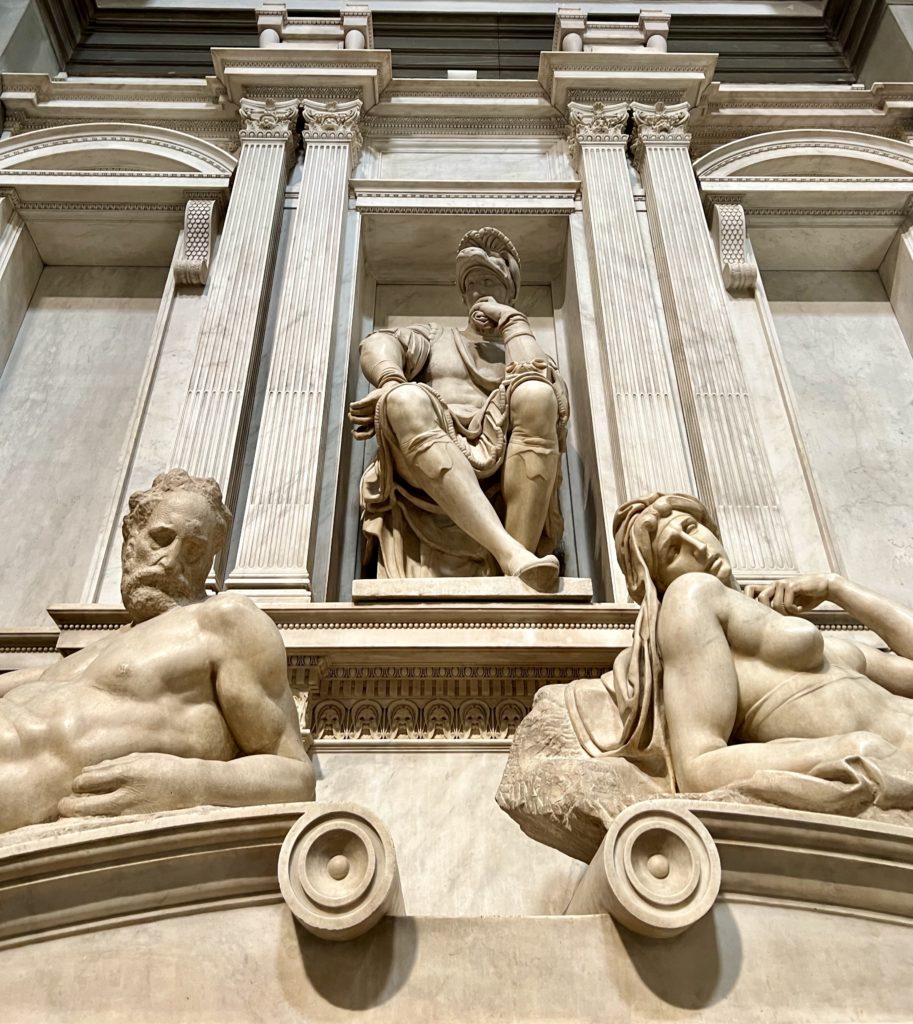 Click here to purchase a ticket with a time slot. These fill up fast, so don't delay. You can also book a guided tour of the chapels. This isn't a bad idea because there's not much explanatory signage.
The Basilica of San Lorenzo is just one minute from the Medici Chapels. The basilica was the official parish church of the Medici family. There are works by Donatello, Bronzino, and a sacristy designed by Brunelleschi.
End your one day in Florence with dinner or a guided food tour. This 3.5 hour guided food tour includes wine tasting and bistecca (Florence's famous steak). With this 3 hour guided tour, you'll sample everything from gelato to cheese to Tuscan soup
Basilica of Santa Croce
Uffizi Gallery
Piazza della Repubblica
Ponte Vecchio
Pitti Palace
Boboli gardens
Piazzale Michelangelo or San Miniato al Monte
Dinner in the Oltrarno
Start Day 2 in Florence at the Gothic-Italian Basilica of Santa Croce. It's a place of superlatives.
The basilica has one of the greatest assemblages of paintings, sculptures, and funereal monuments in existence. You can pay homage to Michelangelo and see frescos by Giotto.
Click here to book a skip the line ticket for the basilica. There's so much to see, you may want to book a guided tour of Santa Croce.
There's nothing else new on Day 2, except for dinner in the Oltraro. It's a chic neighborhood in southern Florence. It's effectively Florence's rive gauche, opposite the centro storico.
The Oltrarno is loaded with delicious eateries. I can personally recommend Trattoria Camillo, Osteria dell'Enoteca, or Beccafito.
Are 3 Days In Florence Enough?
If you're trying to decide how many days to spend in Florence, 3 days is a great amount of time. With 3 days, you can tour the top landmarks at a more leisurely pace, visit some hidden gems, and soak in the local culture.
Here's what you can do with 3 days in Florence:
Duomo Complex: Duomo, Florence Cathedral, Duomo Museum, Brunelleschi's Dome, Baptistery
Uffizi Gallery
Piazza della Repubblica
Ponte Vecchio
Food Tour
Accademia Gallery
San Marco Monastery
Santa Maria Novella
Basilica of San Lorenzo
Medici Chapels
Palazzo Vecchio
Bargello Museum
Oltrarno
Pitti Palace
Boboli Gardens
Brancacci Chapel
Oltrarno Viewpoints
Dinner in Oltrarno
For this 3 days in Florence itinerary, you'll need to pre-book the tickets I mentioned above for the first 2 days. Plus, you will need to add on skip the line tickets to San Marco Monastery, the Bargello Museum, and the Brancacci Chapel.
San Marco Monastery is a Renaissance convent-museum, where you travel back in time to a nearly perfectly preserved 600 year old Dominican monastery. It's wallpapered with delicate frescos by the divine Fra Angelico.
The monastery was designed by the stellar architect Michelozzo and the fiery preacher Girolamo Savonarola lived there. Click here to pre-book a ticket.
The Bargello Museum houses a world class collection of Renaissance sculptures. The Bargello is to Renaissance sculpture what the Uffizi Gallery is to Renaissance painting. You'll find seminal works by Michelangelo, Donatello, Cellini, and Giambologna.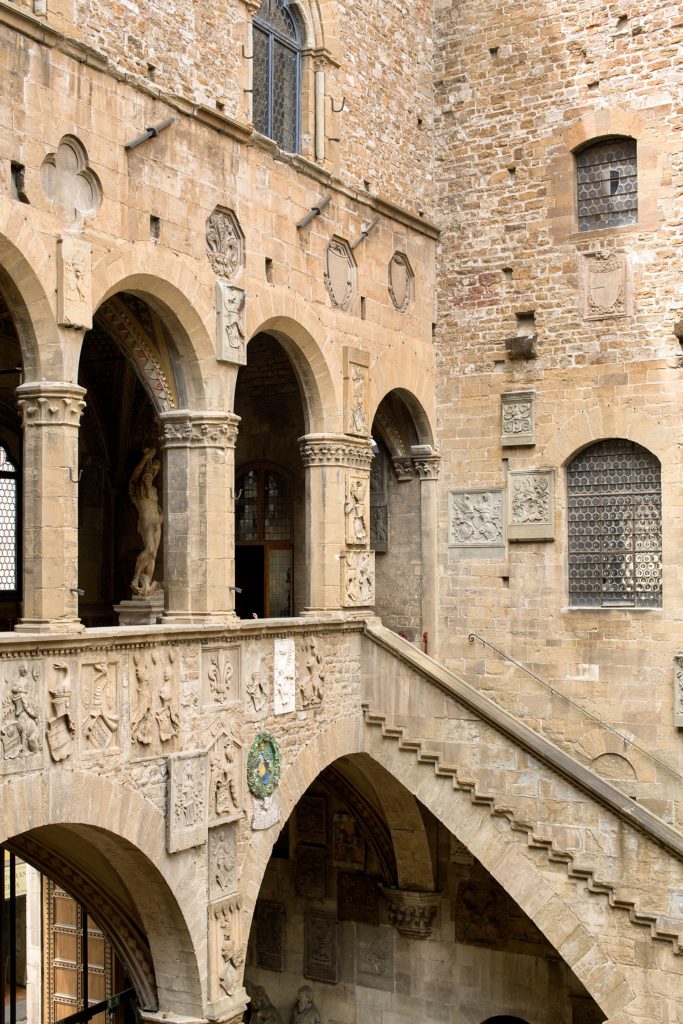 Click here to book a skip the line ticket. You can also book a 1.5 hour tour with an expert.
Then, cross the river and spend some time in Florence's Oltrarno neighborhood. Stroll down Via Maggia and Borgo San Frediano. Linger in Piazza Santo Spirito and pop into the church of the same name.
A must see site in the Oltrarno is the Brancacci Chapel. It houses a stunning fresco cycle by the artist Masaccio. His frescos are the supreme example of early Renaissance painting.
They mark a key turning point in the history of art, when painting evolved from the International Gothic style to the Early Renaissance. As one of Italy's most beautiful chapels, the Brancacci Chapel is nicknamed the "Sistine Chapel of the early Renaissance."
Are 4 Days In Florence Enough?
4 days is a fantastic amount of time to spend in Florence. With 4 days in Florence, follow the itinerary above for days 1-3. If there's anything you missed on the 3 day itinerary, add it to your Day 4 itinerary.
If you covered everything, it's time to visit some of Florence's hidden gems to visit. Check out my guide to 23 hidden gems in Florence. At the top of my list are:
Casa Buonarotti
Orsanmichele
Galileo Museum
Medici-Ricardi Palace
Laurentian-Medici Library
Bardini Gardens
You should allocate 1-1.5 hours per attraction. None of them take that long. You could do 2 in the morning and 2-3 in the afternoon.
I'll briefly describe each one briefly below to help you choose.
If you're a Michelangelo fan, Casa Buonarotti is a must visit when deciding how many days to spend in Florence. This tiny museum was a property owned by the famed Renaissance artist that was transformed into a house-museum by his heirs.
It's a visual, and somewhat romanticized, biography of Michelangelo's life. On display, you'll find two of Michelangelo's earliest known sculptures, his wooden model for the facade of the Basilica of San Lorenzo, and the world's second most important collection of Michelangelo drawings.
Orsanmichele is a little treasure trove of Renaissance sculpture. Inside, the church has a spectacular bejeweled Gothic Tabernacle altar, with a painting of the Madonna della Grazie.
If you want to see this gem, you'll have to organize your itinerary around it. The opening hours are limited, so check the website. Last time I was in Florence, I missed out because I wasn't hyper focused on the hours.
The Galileo Museum is a science and history museum, housed in a medieval palace. Over two floors, you'll find an impressive collection of scientific instruments from the Renaissance, including telescopes, clocks, anatomical models, and astrological models.
They reflect Italy's claim as the center of the first scientific revolution. Click here to pre-book a ticket to the museum.
The vastly underrated Palazzo Medici-Ricardi is the Renaissance home where it all began. Two of the greatest historical figures of the Renaissance lived in the palace — Cosimo the Elder and Lorenzo the Magnificent.
The palace is sumptuously decorated. The highlight is the Chapel of the Medici, which is adorned with a beautiful series of frescos painted in 1459 by Benozzo Gozzoli. Downstairs is a wonderful little museum of Roman artifacts.
The Laurentian Medici Library is located in the cloisters of the Basilica of San Lorenzo, but requires a separate ticket. The entrance is to the left of the church when facing the unfinished brownstone facade.
The library consists of a reading room and a 48 foot vestibule. It has one of the world's most important collections of manuscripts, which belonged to the Medici family.
In designing the library, Michelangelo broke away from classical tradition and designed a dream-like Mannerist space with curves and unusual configurations.
The Bardini Gardens are another hidden gem, situated between Costa San Giorgio and Borgo San Niccolo. They're close to the more famous Boboli Gardens, but much less crowded. Click here to take a tour of both the Bardini and Boboli gardens.
Are 5 Days In Florence Enough?
If you have more time, 5 days in Florence is an amazing number of days to spend in Florence. 5 days will allow you see all the sites and take a day trip from the city. Florence makes a great base for day tripping in Tuscany and you could see another part of Italy without having to move.
So, for 5 days in Florence, follow the 4 day itinerary above and then, on day 5, take a day trip.
Here's my guide to the 20+ best day trips from Florence. My favorite day trips from Florence are to Siena, Bologna, Lucca & Pisa, and San Gimignano.
Siena is a gorgeous medieval city that's effectively an open air museum. It's a burnt orange dream with some first rate art and stunning architecture.
You can admire the city's art-laden Siena Cathedral, gaze at a famous fresco cycle in the Palazzo Pubblico, and stroll the vibrant streets full of artisan shops and boutiques.
You should book a ticket to the Duomo complex. Then, I would add on a ticket to the Palazzo Pubblico. It's worth it just to see the stunning Allegory of Good and Bad Government frescos.
Siena is just a one hour drive from Florence. You can also book a guided day tour to save you the hassle of arranging transportation.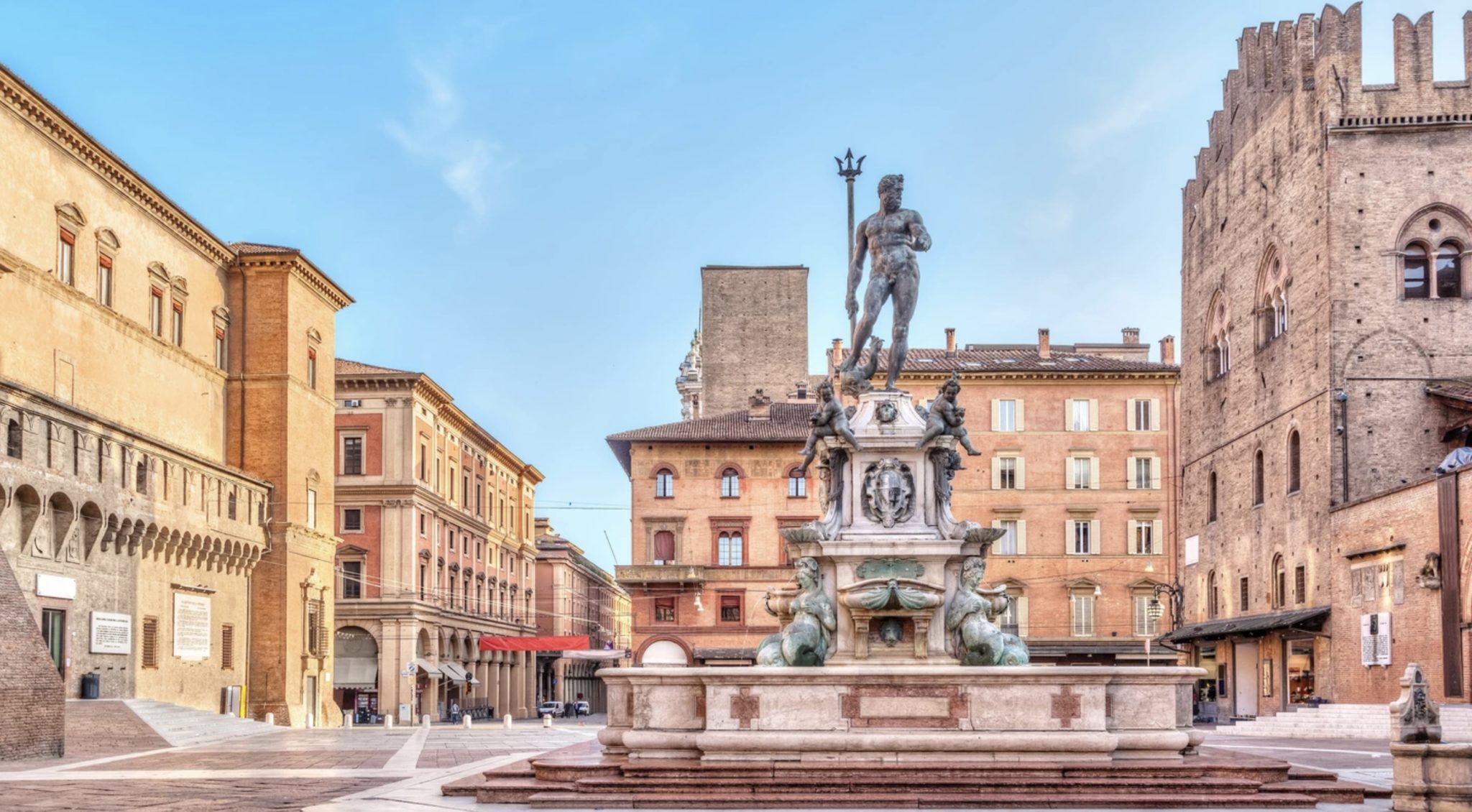 Nicknamed "La Grassa" (the Big Fat), for its delicious food, Bologna just oozes medieval charm. It's filled with striking architecture, terra cotta arcades, beautiful piazzas, a swathe of palaces and towers, and gourmet restaurants.
There are some fun tours to take in Bologna. You may want to book a guided walking tour, a guided history tour, or a food tour.
You can also book a guided day trip tour from Florence to Bologna.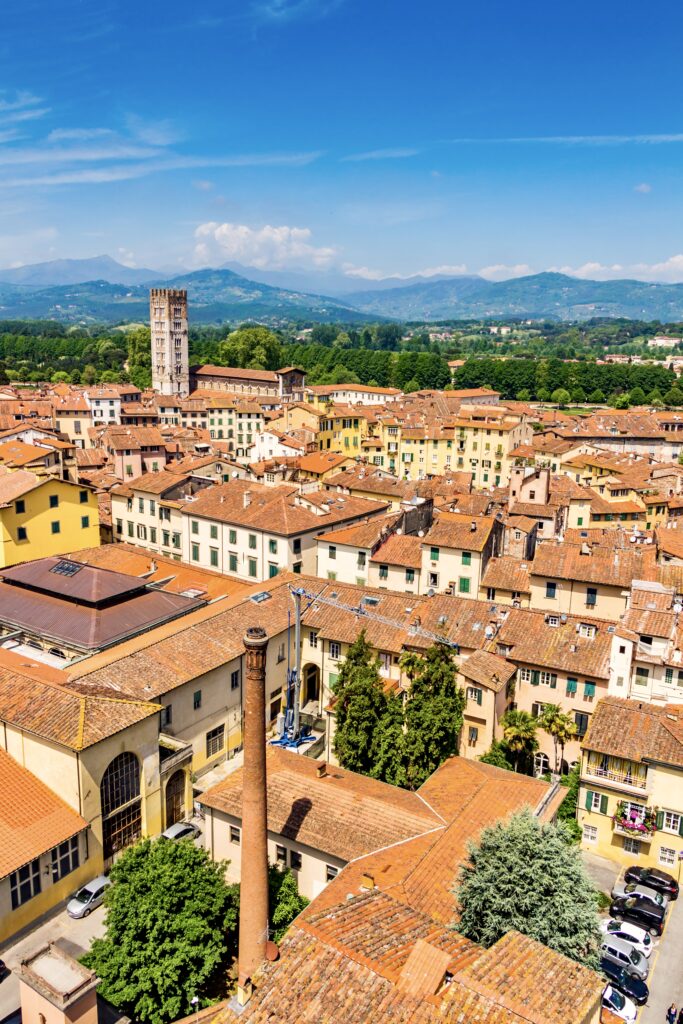 Beautifully preserved Lucca is a mini-Florence. It's still entirely contained within its stout Renaissance walls.
The main pedestrian drag and shopping street is Via Fillungo. Romanesque churches are around every corner.
Lucca is so pretty and historic that you may want to book a guided walking tour or guided e-bike and wine tour for your visit.
Pisa is famous for its Leaning Tower and the spectacular UNESCO-listed Field of Miracles. If you want, climb the spiral staircase for magnificent views. You have to book a ticket in advance to ensure a spot.
If you want to book a guided tour from Florence, this 9 hour guided tour takes you to both Lucca and Pisa.
Nicknamed the "Medieval Manhattan," San Gimignano is a walled town with a startling cityscape of 13 spiky towers poking the sky.
The most famous tower is the Torre Grossa. Climbing to the top is a must do for panoramic views.
Apart from the towers, San Gimignano has a lot to offer art buffs, with fresco cycles by early Renaissance luminaries.
You can book a 2 hour guided walking tour to get an overview of the town's history and top attractions. If you want to book a guided tour from Florence, this tour includes lunch and a wine tasting.
Final Thoughts: How Many Days To Spend In Florence
So how many days in Florence is enough? Whether you stay for one day or one week, you'll definitely have a great time.
My recommendation is to spend 3 days in Florence. You can see the top attractions, discover some hidden gems, and enjoy strolling through the piazzas and beautiful neighborhoods.
You can enjoy the city's cafe culture. Plus, Florence is a wonderland for shoppers, with boutiques catering to all tastes.
If you don't mind the fast pace, 2 days in Florence may be enough. If you love Renaissance art and want to see everything Florence has on offer, budget 4-5 days in Florence.
With 5-7 days in Florene, you can you to take some day trips from Florence. Or, you could just flaneur your way though Florence, soaking up the sunshine with with no cultural agenda.
For some concrete tips to help you have the best visit to Florence, check out my tips for visiting Florence and my tips for visiting Italy.
How To Get Around Florence
Florence isn't a big city. You can traverse the entire city (apart from the Oltrarno) in 30 minutes.
Thus, plan to spend your time walking for the most part. Parts of the city are pedestrianized, so there's not a huge amount of traffic.
But there are lots of other fun ways to get around Florence. You can: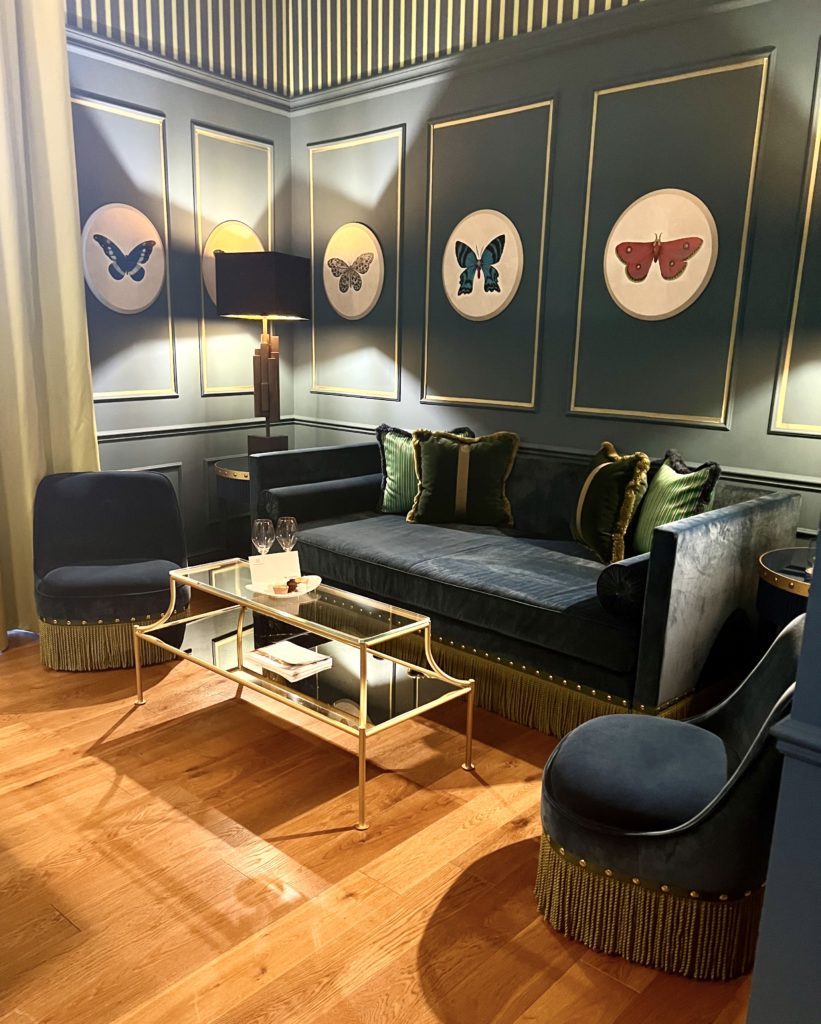 Where To Stay In Florence
Perhaps reflecting the city's popularity, there are some amazing hotels in Florence. You're really spoiled or choice.
If you want something central, book at Il Touranbouni, Hotel Brunelleschi or Portrait Firenze. Portrait Firenze is one of the most sought after hotels in Italy and is just steps away from the Ponte Vecchio.
I just stayed at Il Tournabuoni on my most recent visit and it had an ideal location — near the Ponte Santa Trinita and perfectly located between the historic center and the Oltrarno neighborhood.
The Palazzo Vecchietti is housed in a beautiful 16th century townhouse. The St. Regis is a beauty too, right near Santa Maria Novella. Il Salviatino has a patrician feel and offers Duomo views.
In the Oltrarno, I really like Villa Cora. The luxury boutique hotel overlooks th4 Boboli Gardens. It has stunning views and Renaissance style suites.
Florence History Guides & Tours
If you're someone who likes to do research before visiting a place, check out my nutshell history of Florence and my history of the Medici. The Medici were the ruling dynasty in Florence for centuries and built most of the architecture you see in the city.
Or, you can sign up for a Medici-themed tour in Florence. For example, you can book:
I hope you've enjoyed my guide to how many days to spend in Florence. You may enjoy these other Italy itineraries:
If you're trying to decide how many days to spend in Florence, pin it for later.