Planning a visit to the National Museum of African American History and Culture in Washington D.C.? I have the ultimate guide for you.
Opened in 2016, it's the newest Smithsonian museum and quite spectacular.
The museum is a place of one stop shopping to learn about about the complexity and irrepressibility of African American life and experiences, with all its ups and downs.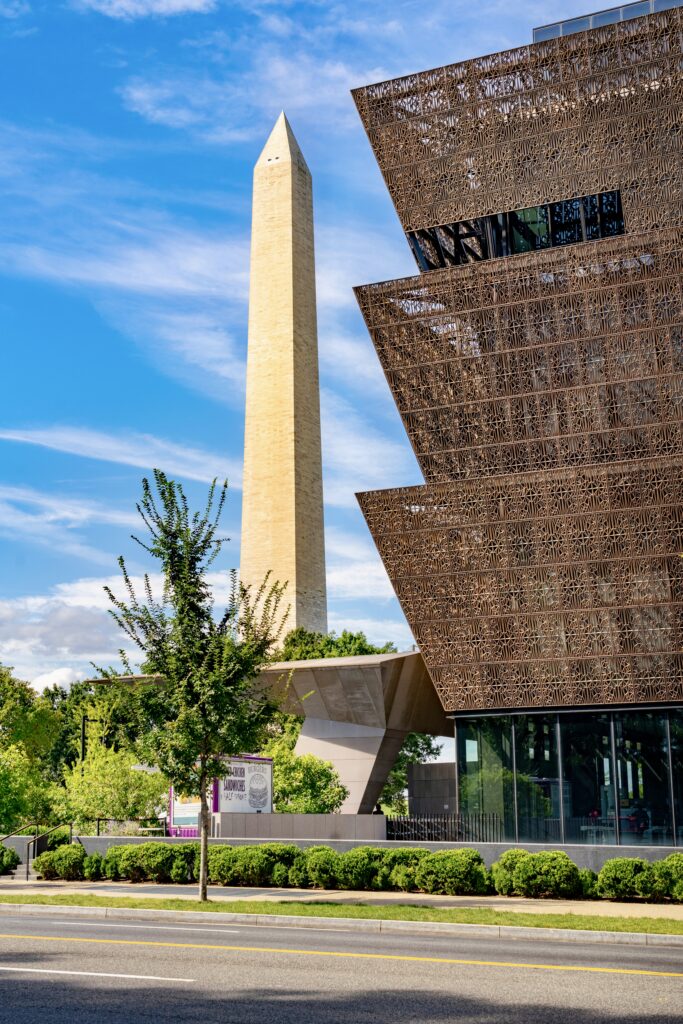 It's a culture with a long history of both pain and pride. Even if you know the historical backdrop, you will likely find the data-packed museum informative, upsetting, and uplifting.
The museum stands on a prime piece of real estate on 5 acres next to the Washington Monument. At its opening dedication, President Obama gave the keynote speech. Oprah Winfrey and actor Will Smith also gave speeches.
Guide To The African American Museum: Overview
Let's start our guide to the National Museum of African American history and Culture with an overview of the museum and its contents.
The museum was a long time in the making. Beginning in 1915, African American citizens suggested a museum as a fitting tribute to African American history. In the 1960s, there was another push to create a museum.
Finally, in 1990, the Smithsonian established a commission to study the potential for a museum. in 2003, legislation was passed to establish the current museum, which opened in 2016.
The museum is housed in a gorgeous African-influenced building that seems like a temple. Tanzanian-born architect David Adjaye led the design team. The building cost over $500 million, and was paid for with both federal and private funds.
The beautiful facade has a "skin" or "corona" covering a glass box. It consists of 3,600 filagreed bronze colored aluminum panels set in three inverted pyramids.
The look was inspired by an African Yoruba sculpture with a three tiered crown on its head.
The open design is intended to evoke the look of ironwork that enslaved and free craftsmen made in the 19th century. It also serves to moderate the amount of light and heat entering the building.
When it was first unveiled, some hated the structure. I found it a welcome and appealing contrast to the slew of marble and concrete Neo-Classical buildings on the National Mall.
Every visitor, including an infant, needs a timed-entry pass to visit the museum. It used to be impossible to get a ticket.
But things have calmed down a bit, especially during the week days. You can book a ticket online in advance here.
The first floor is a gigantic atrium called the Heritage Hall. You'll see a beautiful bronze, copper, and brass art installation. Chicago sculptor Richard Hunt, who donated it to the museum.
There is also a trio of sculptures by Elizabeth Catlett. They serve as "guardians of the Black narrative."
This is the place to pick up a paper map of the museum or scan a QR code to get a map.
There are free lockers for storage and rest rooms on this level, as well as a well-stocked museum gift store with everything from hot sauce to t-shirts to history books.
The museum exhibits were designed by Ralph Appelbaum Associates. They are split into three thematic topics: (1) history; (2) community; and (3) culture. You'll discover artifacts illustrating the complexity of the African American experience over time.
There are newspaper clippings, posters, memorabilia, historical artifacts, videos, theaters, touchscreens, and moving exhibits. There is a magnificent collection of photography, which documents historical events and provides portraiture of the famous figures.
Sometimes the museum seems like a cacaphony with TV, videos, and recorded voice overs playing all at once. Printed material is everywhere you look. The museum is a stimulating place, almost overwhelming in its collage-like style.
I think you should visit the museum in roughly chonrological order. That means you'll start your visit below ground in the history section, the most signifcant part of the museum.
It's divided into 3 exhibits/floors: (1) slavery and freedom; (2) the era of segregation; and (3) a changing America. (If the history is too much for you, you can skp this section and tour the lighter 3rd and 4th floor galleries.)
To get to the history section, take the escalator or stunning spiral staircase from the first floor down to the Bill & Melinda Gates Concourse. Once there, look for the "History" elevator.
There's only one elevator and it can create a bit of a bottleneck. It takes you down 70 feet to Level C3 and the start of the history section.
As it descends, you'll see glass walls with dates representing a trail backward in time. The elevator symbolizes the hold of slave ship.
The history section is accessible only by walking ramps in the exhibiton spaces. There are no exits midway through. At the end, you'll be back on the concourse.
Next, head up to the third floor for the community section (sports, military, etc.). Then, finish your visit with a bang on the fourth floor in the culture section (film, TV, music, food).
Guide To The Smithsonian National Museum of African History and Culture: What To See
When the Smithsonian museum was first created, many wondered if it would be possible to gather sufficient exhibits to form a national collection. It seemed like a daunting task given the nation's history of slavery and oppression.
The museum effectively had to build its collection from scratch. In response to a national call out for donations, it was fortunate to have thousands of donors.
Many of them were ordinary people giving precious individual gifts and family heirlooms to help the museum fulfill its mission.
Many of the objects relate to the African American community's greatest stars and achievers. But there also are ordinary objects from people's daily lives. You can feel the very human stories behind them.
History Section
The opening display is one of (mostly) unflinching violence and pain. It holds the oldest and most vaulable exhibits and starts its narration in 1400.
Slavery & Freedom
The history section begins centuries ago with the trans-Atlantic slave trade, the largest forced migration in history. It confronts Americans oppression and bondage of black people from 1619 to 1865 head on and is therefore quite bleak in tone.
The exhibit skips over the wretched conditions people suffered on the slave boats, an unfortunate ommission perhaps and something that differentiates this museum from the no-holds-barred Holocaust Museum.
You will see an auction block used to sell slaves, shackles, a lockable ironneck ring, a whip used on slave boats, a crinkled bible of Nat Turner, and confederate identification badges for slaves.
There's also, quite appropriately, a statue of Thomas Jefferson standing in front of a wall of bricks with the names of people he owned as slaves. Underneath him is the caption "the paradox of liberty."
Further on is a reconstructed slave cabin from a plantation in Edisto Island, South Carolina. It dates from the first half of the 19th century.
Other exhibits are more uplifting, a theme of resiliency the museum sees as part of its mission. After all, African Americans achieved, survived, and prospered despite slavery and discrimination.
For example, there is a secton devoted to Harriet Tubman. She was a former slave who escaped and helped others to secure freedom through the Underground Railroad in the 1800s.
You can see her portrait, a personal hymnal, and a lace shawl given to her by Queen Victoria of England in 1831.
In 1863, President Lincoln issued the Emancipation Proclamation freeing the slaves. You can see an inkwell that he used to write parts of the document.
The Era of Segregation
This second section is no less harrowing and you may be overwhlemed with the heart-wrenching items on display. They show that, in practice, the word "freedom" was used quite loosely.
I was most disgusted by the exhibit of the Ku Klux Klan hood and uniform, displayed next to photographs of lynchings. In some photos, white citizens stand next to the mangled bodies. True symbols of hate …
There is also the disturbing coffin that once held the mutilated body of Emmett Till, placed in its own room. He was a young teen savagely murdered in Mississippi in 1955 for the "crime" of whistling at a white woman.
His murder and open casket funeral was a driving catalyst for the civil rights movement. A video about his life and death accompanies it. You can't take photos in this room.
You can also sit down at a segreagated lunch counter from a Woolworth's in Greensboro N.C. (which was quite crowded).
You will get an in depth look at the impact of the civil rights movement on a Jim Crow society. There's a 45 inch projection screen to give you the visuals and stories.
Other exhibits include "white's only" doors and spaces, the dress Rosa Parks wore the day she was arrested, a 21 foot tall concrete prison guard tower, and a segregated Pullman passenger car that once traveled from Washington D.C. to New Orleans.
The museum was built around the 77 ton rail car. You can walk through it and see the segregated sections for blacks and whites, who paid the same fare.
A Changing World
This section focuses on more recent social tumult.
This floor principally documents the civil rights movement, a time of protest, change, and the struggle for human rights. It shows the rise and importance of trailblazing figures like Martin Luther King Jr., Malcolm X, and the Black Panthers.
There is a small section on President Obama, with clips from several speeches. I was honestly surprised not to see more.
On your way out of the history galleries, you will see a suspended biplane used to train Tuskegee Airmen, the African American military pilots who fought in World War II.
On your left in enormous letters is a quotation from black poet Langston Hughes: "I, too, am America."
When you are done with the museum's history section, you can pay a visit to the Contemplative Court on the Concourse level. It's a space designed to help you transition from the dark historical themes below to the more rejuvenating themes above in the so-called "attic."
The court is a lovely room with glass mesh walls. A pool in the center contains cascading rain water from an oculus above.
Community Section
This part of the museum is not in strict chronological order. It examines African American achievements in fields like art, sports, and the military.
The sports section is an ode to incredibly great athletes across major sports — Jackie Robinson, Willy Mays, Jesse Owens, Carl Lewis, Mohammed Ali, Serena and Venus Williams, Arthur Ashe, Gabby Douglas, and Simone Manuel. Sports were one of the first high profile spaces to accept African Americans on terms of relative equality.
Among other things, you can admire:
Carl Lewis' custom made track shoes and Olympic medals
Mohammed Ali's headgear and boxing gloves
an exhibit on Willy May's famous "catch" in the world series
a Hank Aaron jersey
a Kareeen Abdul Jabar jersey
a Micheal Jordan room and sculpture
tennis star Althea Gibon's white blazer
Gaby Douglas' leotard
You'll see a group of life size sculptures depicting the famous black power salute from the 1969 Olympic Games.
Tommie Smith and John Carlos raised black gloved fists when the United States national anthem played during their medal ceremony. They were promptly expelled from the rest of the games.
There's also a display of stunning gowns made by seamstress and pioneering fashion designer Anne Lowe.
Her salon in Manhattan was the place to go for socialites. She designed Jackie Kennedy's 1953 wedding dress.
Culture Section
The 4th floor Culture Section is devoted to African American influence on film, television, theater, dance, and visual arts. From this level, through the windows, you'll have great views of the monutments and memorials.
You walk into a circular gallery with an overhead ring constantly playing videos. They relate to topics like food, clothing, style, and language.
In the center is the wooden column sculpture that inspired the museum's design, carved by the great folk artist Olowe of Ise.
The music section is deep and especially fun.
You'll see Chuck Berry's 1973 red Cadillac, Michael Jackson's fedora and jacket, the P-Funk Mothership (the most iconic stage prop in popular music), many music posters, Louis Armstrong's trumpet, and Jimi Hendrix's sequined Afghan-style vest.
Unfortunately, the museum houses exhibits and video clips about disgraced comedian Bill Cosby. The museum considered him too pivotal a figure in African American presence in TV to leave out.
True, I guess. But there should have been more than a one sentence caveat about his disgusting penchant for sexual assault. Otherwise, in not erasing Cosby, you erase women's history.
There was nothing mentioning Jackson's history of child sexual abuse either, a significant omission.
Naturally, there's a room dedicated to the history making legacy of Oprah Winfrey and her iconic daytime talk show. And you can see the red Starfleet uniform worn by Nichelle Nichols as the character Lt. Uhura on Star Trek.
In the "taking the stage" section, you'll see gowns and posters from plays and dance theater. The photos of the Alvin Haily performances and performers are lovely.
There's also a small visual arts exhibit with paintings and scuptures. My favorite pieces were Dancer, a abstract scupture by Sargent Claude Johnson, and Spring – Delightful Flower Bed, a painting by Alma Thomas.
Another room documents the presidency of Barack Obama, with clips from some of his speeches. It's meant to be sort of a happy ending to the museum.
But Obama is not the end of the story of African Americans.
There are also artifacts reflecting recent events like Black Lives Matter protests, which underscore the persistent inequality and police brutality that continues to this day.
Practical Guide & Tips For Visiting the Museum of African American History and Culture
Here are some tips and things to know about visiting the National Museum of African American History and Culture.
Address: 1400 Constitution Ave. NW
Hours: Open daily from 10:00 am to 5:30 pm. Last entry is 4:00 pm.
Tickets:
Admission is free, but you must reserved a timed entry ticket. Click here to pre-book one. You can do so up to 30 days in advance.
You may want to book a guided tour, if you're in a hurry or want to ensure you see everything. This 3.5 hour tour takes you to the museum and various memorials.
Restaurant: The museum is home to the Sweet Home Cafe, which serves up southern food. I thought it was fairly mediocre and overpriced. Unless you're partial to southern food, I would plan to eat elsewhere.
Pro Tips
Be sure to take a look at the map before starting your visit. The museum has a jumble of elevators, escalators, and ramps that can seem confusing.
You can also download the download the NMAAHC app. It will give you access to information about the exhibits, explore stories, and watch videos.
Many of the walls and ceilings in the museum are, naturally, black. It makes the museum seem rather dark and you may find yourself wishing for more lighting, especially in the history section.
There are lockers in the Heritage Hall where you can stow your belongings for the duration of your visit.
How Long To Visit
The museum is just loaded with information. The walls are covered with thousands of text panels.
To read it all would take many hours or even days. This is a museum that rewards multiple visits.
After all, there is over 100,000 square feet of exhibition space. It's difficult to absorb everything at once, especially when other attendees are waiting to see the exhibits.
Where To Stay Near the African American Museum
There are some nice hotels within easy walking distance of the museum, including the Willard InterContinental Washington, the Hilton National Mall, Kimpton Hotel Monaco, Hilton Garden Inn, and the Hay-Adams.
I hope you've enjoyed my guide to the Smithsonian African American Museum in Washinton D.C. You may enjoy these other Washington D.C travel guides and resources:
If you need a guide to the National Museum of African American History and Culture, pin it for later.