The Centre Pompidou is Paris' premiere modern art museum and the largest one in Europe. The brainchild of French President Georges Pompidou, it's located in Paris' lively Beaubourg area on the edge of the Marais.
Opened in 1977, the Pompidou has a futuristic inside-out architecture designed by Renzo Piano. The museum was a jolt of shocking modernity in the stately heart of Paris.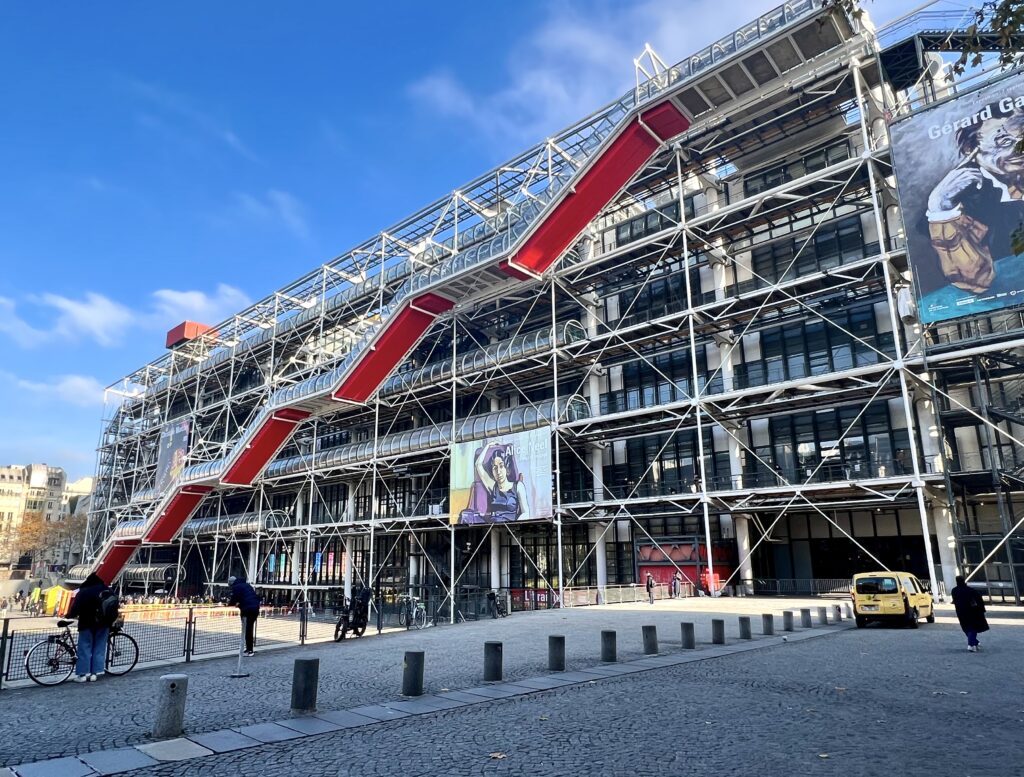 Blue, green, red, and yellow tubes cover steel and glass scaffolding. Plexiglass tubes contain an escalator that zig-zags diagonally up a piazza-facing wall.
The Pompidou challenged the world to look at art museums afresh and stripped of conventional limestone facades. In its first year, attendance exceeded 6 million people, and for years it was the most visited building in Europe.
Within the guts of this controversial exoskeleton lie 120,000 works of art, including the most important collection from the Golden Age of modern art.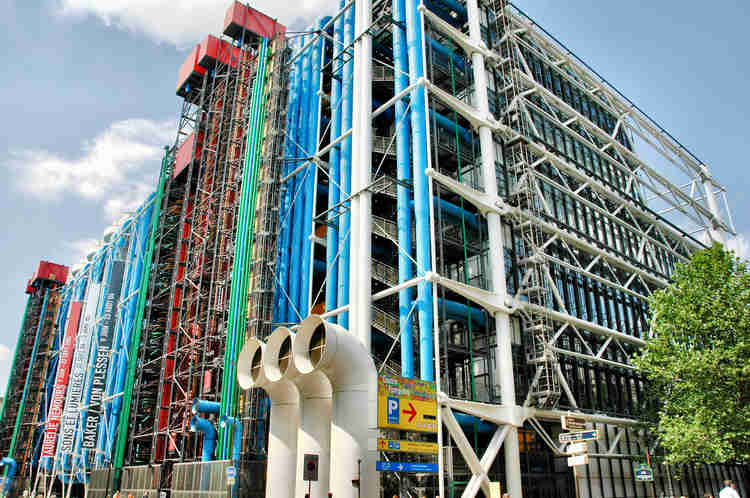 There are works of Fauvism, Dada, Cubism, Surrealism, Pop Art, and contemporary art on display. You'll find works by such artistic luminaries as Kandinsky, Rothko, Kiefer, Chagall, Hockney, Picasso, Pollack, Miro, Klee, Matisse, and Modigliani.
But the museum's architecture is aging, partly as a victim of success and. popularity. The museum will close for 5 years in late 2024 to 2025.
Renovations are estimated to run to $243 million. They have to replace and remove the antiquated heating and cooling systems, escalators that frequently break down, and asbestos in the structure. And a new restaurant will be added.
While closed, the museum will partner with the Louvre and the Grand Palais to put on special exhibitions.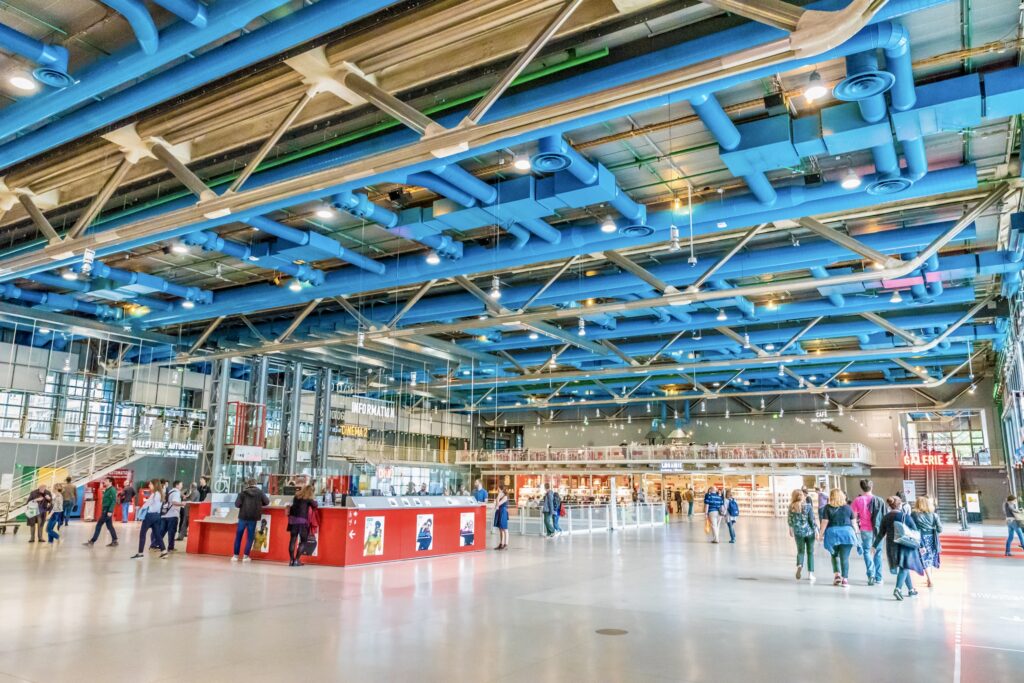 The Pompidou was previously closed for an almost 3 year facelift in 1997. That prompted critics to deride the building as an architectural folly.
Still, it remains an ingrained piece of the Parisian urban fabric and one of the city's most recognized monuments.
Whatever the quality of engineering, at least one aspect of of the Pompidou is unassailable. From the 6th floor terrace of the building, the visitor has fantastic panoramic views of the city.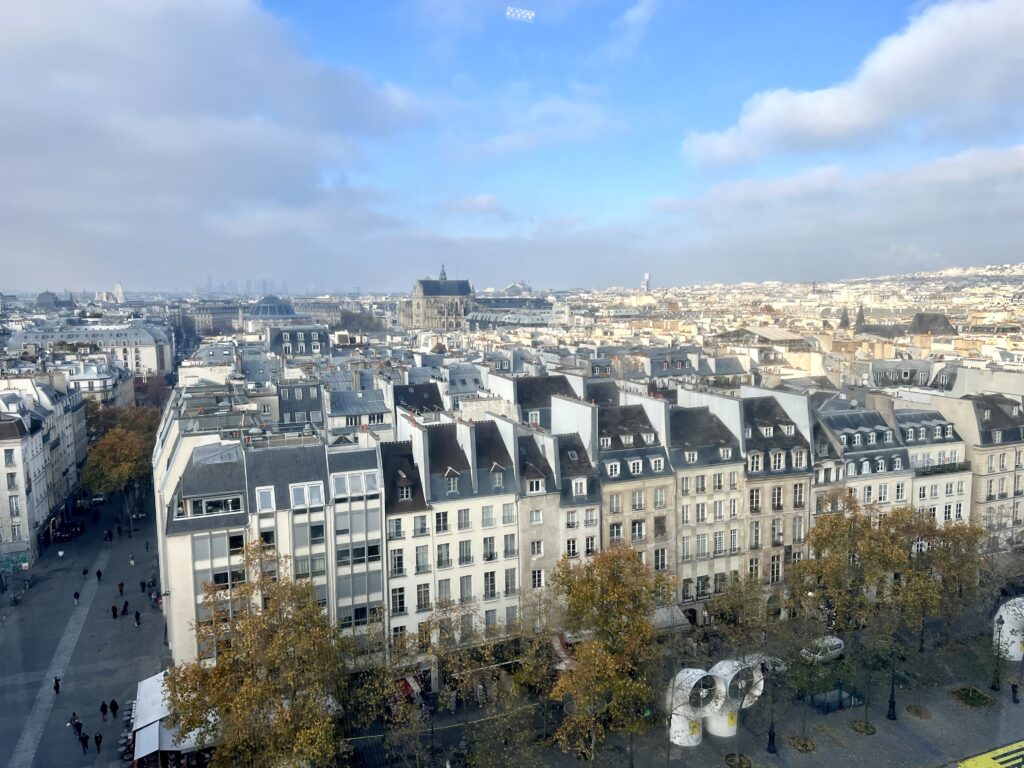 Tickets & Tours
Unless you're visiting in the dead of winter, you'll want to pre-book a skip the line ticket for the Pompidou. Though even in the winter you may encounter lines. I did in December.
Aficionados of modern art may want to book a highlights tour of the museum. You also have free entry to the Pompidou with the Paris Museum Pass.
Ticket prices vary depending on the number of spaces you want to see:
full fare (permanent collection and temporary exhibitions) € 18
full fare + highlights tour € 22.50
permanent collection + highlights tour € 19.50
permanent collection € 15
temporary exhibits (in 4 galleries) are € 13 to € 17
Kandinsky Library (only open to credentialed researchers)
Galleries des Enfants (under 16), free for children, adults need a ticket
Cinema ticket € 5
Brancusi Studio, free
If it's your first time visiting, you may want to stick with the permanent collection. The ticket office is at the back of the main entrance hall to the left.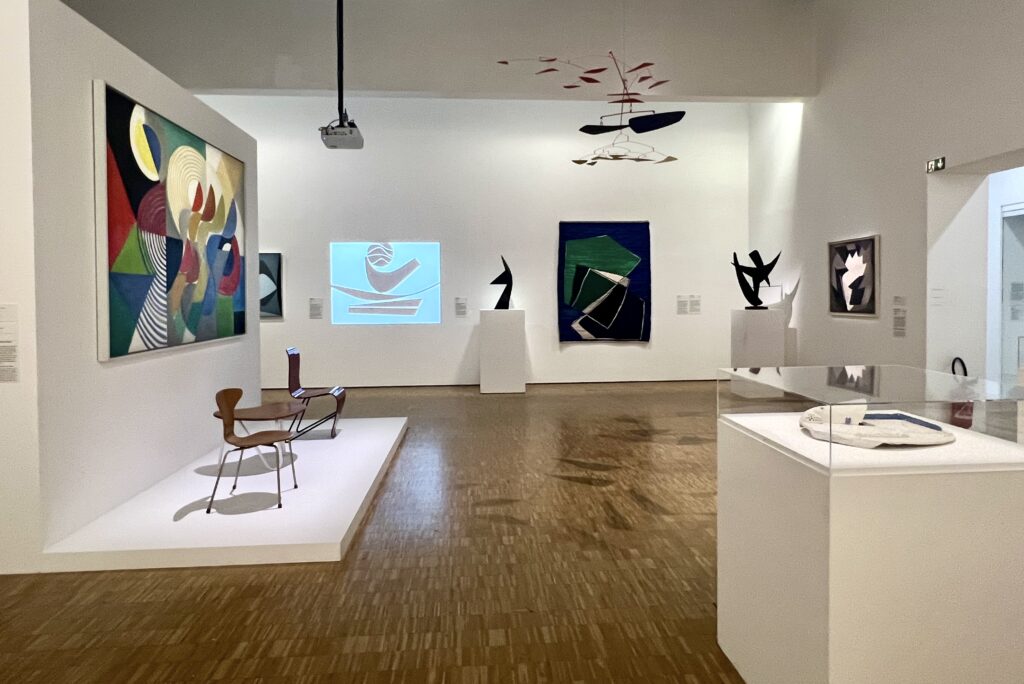 Guide To The Pompidou Center: Highlights & What To See
The permanent collection is on the 4th floor (contemporary art) and 5th floor (modern art from 1905-1965) and is known as the Musée national d'art moderne. The 5th floor is the highlight, second in quality and scope to only the the Museum of Modern Art in New York City.
The modern art is displayed over 40 rooms. With its interconnecting white-walled galleries, the museum path takes visitors on a chronological tour of major art movements from Fauvism to the start of minimalism in the mid-1960s.
There are entire rooms dedicated to single artists — Georges Roualt, Joan Miro, Picasso, Balthus, and Kandinsky.
The 4th floor houses the center's post-1965 contemporary collection. It's dedicated to pop art, art povera, art installations, video, and film.
The collections are rehung annually, so you might see different art works at different times. The Pompidou also loans out its works. (For example, The Fountain is currently on display in another museum.)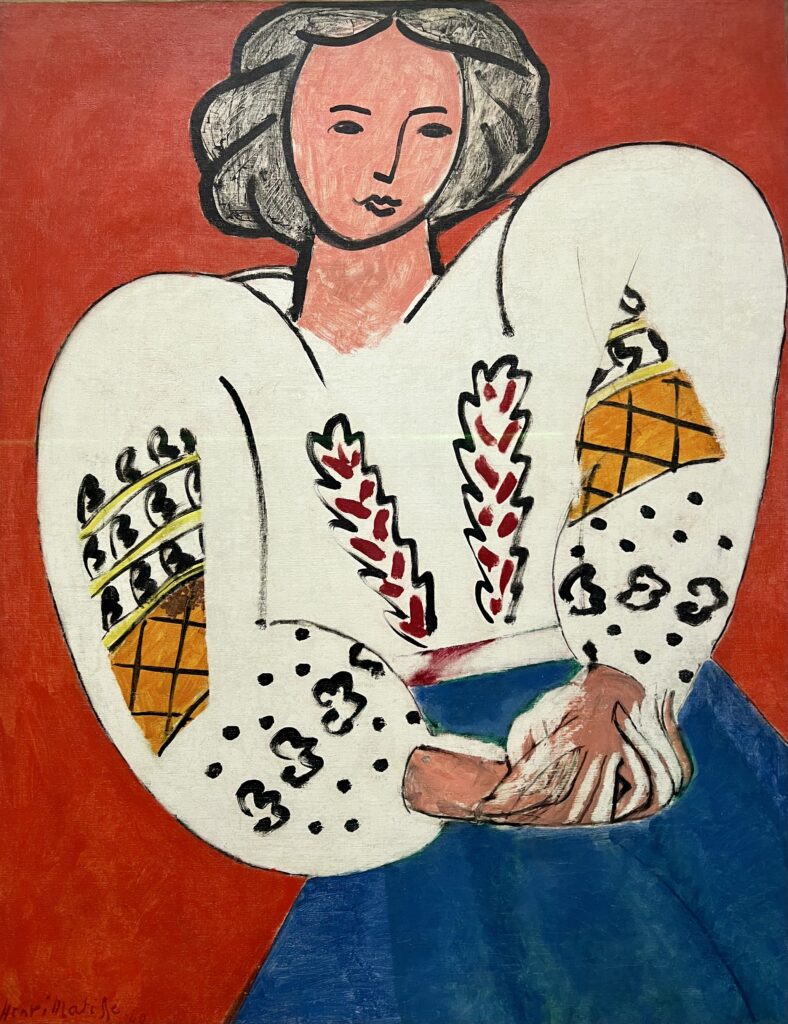 Here are some of the must see masterpieces at the Pompidou.
1. Henri Matisse, La Blouse Romaine
Henri Matisse is widely regarded as the greatest colorist of the 20th century and as a rival to Pablo Picasso in the importance of his innovations. He first achieved prominence as the leader of the French Fauvism movement.
This Fauvist portrait has his usual lush palette and flowing curved lines. It features a woman rendered in the artist's classic abstract decorative style. But the focus on the painting is the embroidered blouse, not the woman.
She is presented in large color blocks, while the blouse billows out, engulfs the woman, and is richly ornamented. This painting anticipates the pure colors used in Matisse's last period.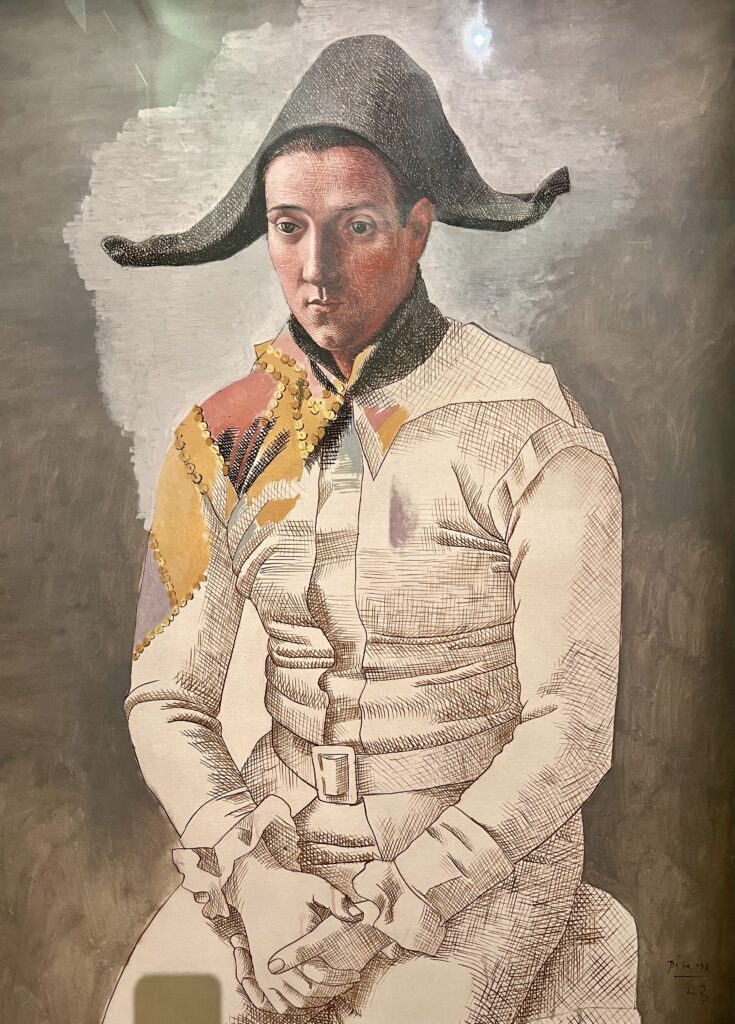 2. Picasso Paintings
Pablo Ruiz Picasso was a revolutionary and the greatest artist of the 20th century. His art is unparalleled in terms of quality, quality, and vitality.
The Pompidou has a raft of 65 Picasso paintings, from all his different periods. It's a good complement to the splendid Picasso Museum in the Marais.
My favorites were Bust de femme, Harlequin, and Muse. There are also quite a number of Cubist works.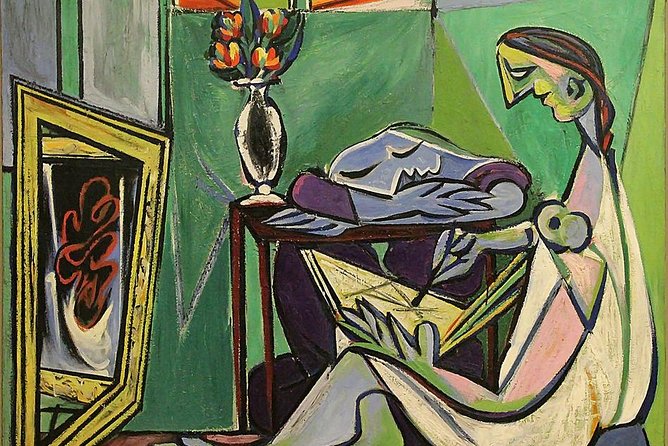 3. Marcel Duchamp, Fountain
Marcel Duchamp was a revolutionary leader of the Dada movement and paved the way for Conceptual art. He challenged the very nature of art and rejected what he called "retinal pleasure."
He began presenting found (and rather ugly) objects as art. His first "readymades" sent shock waves through the art world.
The out of context Fountain is one of Duchamp's most famous mass-produced, readymade works. It prompted aesthetics specialists to analyze and question the very definition of art.
Fountain's widely seen as an icon of 20th century conceptual art. The original, long lost, consisted of a standard urinal signed and dated "R. Mutt 1917."
4. Robert Delaunay, Ville de Paris
Robert Delaunay was a French artist who, with his wife Sonia Delaunay and others, co-founded the Orphism art movement. It was characterized by the use of strong colors and geometric shapes.
La Ville de Paris is one of his monumental paintings. It shows fragmented views of Paris and the Eiffel Tower. The artists said "female nudes are buildings and buildings are nudes."
In the center are the Three Graces, a reference to ancient art. The paintings thus combines classicism and modernity.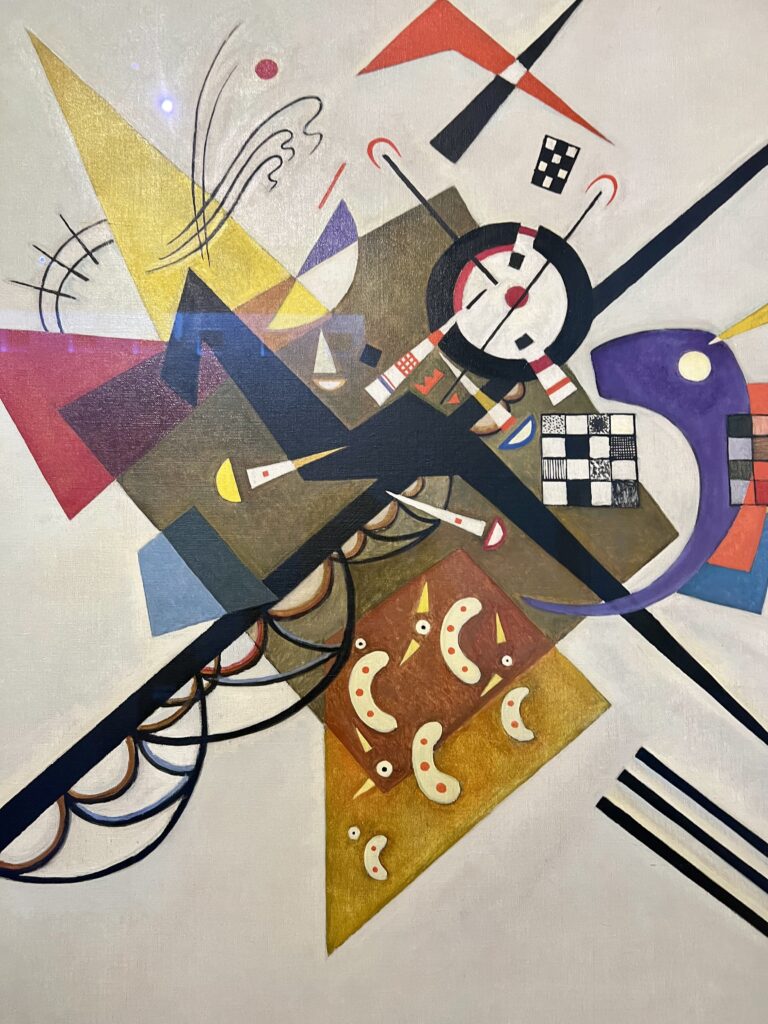 5. Wassilly Kandinsky, On White II
Kandinsky was one of the pioneers of modern art. This early example of geometric abstract art is said to be Kandinsky's most famous painting.
On White II is a colorful and imaginative abstract painting on white canvas with various abstract geometrical shapes. A thick black line stretches over the painting, as if to anchor it and prevent a collision of objects.
The vibrant colors of the painting are Kandinsky's "transcendental expression" of life and opportunity. The color black represents death and how opportunity can vanish in an instant.
There are plenty of other Kandinsky paintings to admire, spanning his whole career. I even saw a late work populated with fantastical creatures that I wouldn't have associated with him.
6. Otto Dix, Portrait of the Journalist Sylvia von Harden,
Dix is know for his ruthless and unflattering portraits depicting German society. He painted what he called "life undiluted."
This expressionist painting is representative of the Neue Sachlichkeit, New Objectivity, wave of art. It was a German art movement that appeared around 1920 and refers back to the German masters of the 16th century.
Dix ressucitated the use of older technics, such as tempera on wood, but still used a modern choice of subject. While other artists abandoned portraiture, Dix embraced the genre with savagery and satire.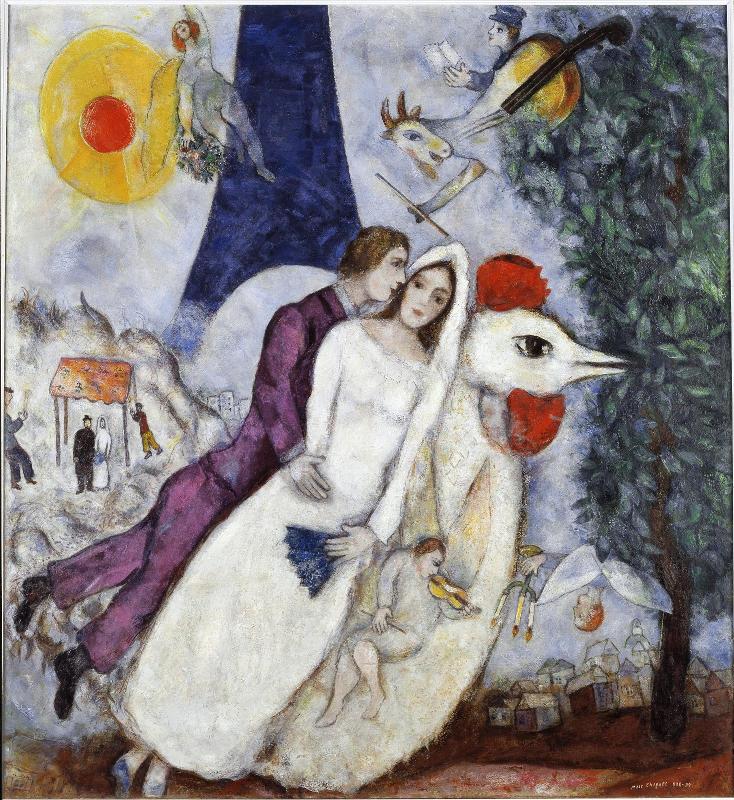 7. Marc Chagall, The Betrothed and the Eiffel Tour
Chagall never aligned himself with any single art movement. His paintings combined visual elements of Cubism, Fauvism, Symbolism and Surrealism into dream like pastorals.
He created lush dreamy works with heartfelt emotion. In this painting, a large white cockerel whisks flying lovers into an indeterminate decor. Chagall's wife is the central pillar of the world.
You can see both Paris and his native Russia, which catches fire from the flames of a chandelier snatched by an upside-down angel. Seeing signs of imminent war, Chagall chose to paint a joyful scene of a fragile happiness.
8. Pollock, Number 26 A, Black and White
Jackson Pollock was an American painter and major figure in the Abstract Expressionism movement. He was famous for his poured paintings. They were executed in the revolutionary drip technique that was his most singular contribution to 20th century art.
Pollock completely abjured conventional easel painting. Instead, he used his entire body in a rapid fire picture-making process, pouring streams of paint onto the canvas from a can with the aid of a stick.
In this painting, the artist uses a smooth and glossy industrial paint splashed on the canvas in an all-over style. The work was part of the artist's first European exhibition in 1953.
8. Miro, Blue Trio
The Catalan artist Miro was part of the Surrealist and Biomorphic movements. This triptych was inspired by the free, dreamlike imagery in the poetry of Apollinaire, Eluard, and many others.
The artist designed his 3 part Blue series in his new studio in Palma de Mallorca. He said that the paintings were the result of a "very great internal tension in order to arrive at a desired sobriety."
The three paintings should be regarded as one set. Against different shades of meditative blue, Miro added a small number of contrasting primitive symbols – black dots or thin red lines.
These symbols, however, are sufficient to make the blue space pulsate with energy, turning it into an unfathomable depth. The viewer eventually becomes absorbed in the blue surface.
9. Rothko, Untitled, Black, Red over Black on Red, 1964
Rothko was a leading member of the Abstract Expressionists known for his large "multiforms" (although Rothko himself never used that word.)
From 1948 on, he reduced his pictorial work to large superimposed blocks of blurry color with soft edges.
One dark and brooding Rothko fills a room with its cerebral atmosphere. Crimson reds darken into blacks and browns. The floating forms are meant to convey a feeling of infinity and the simple expression of a complex thought.
10. Yves Klein, Blue Monochrom
Artist Yves Klein aimed to capture beauty and reveal it to the world. Klein was part of the New Realism art movement of the 1960s. But he also had an enormous influence on Minimalism and Pop Art.
In 1960, Klein created nearly 200 blue monochrome paintings. The Pompidou Center's piece is a large version of his famous IKB (International Klein Blue).
Klein registered the ultramarine IKB as a trademarked color. For Klein, the color blue monochrome represented abstraction in nature, "disengaged from all functional justification."
You can see other Klein sculptures in blue too, including The Tree, Large Blue Sponge and Relief Portrait of Arman.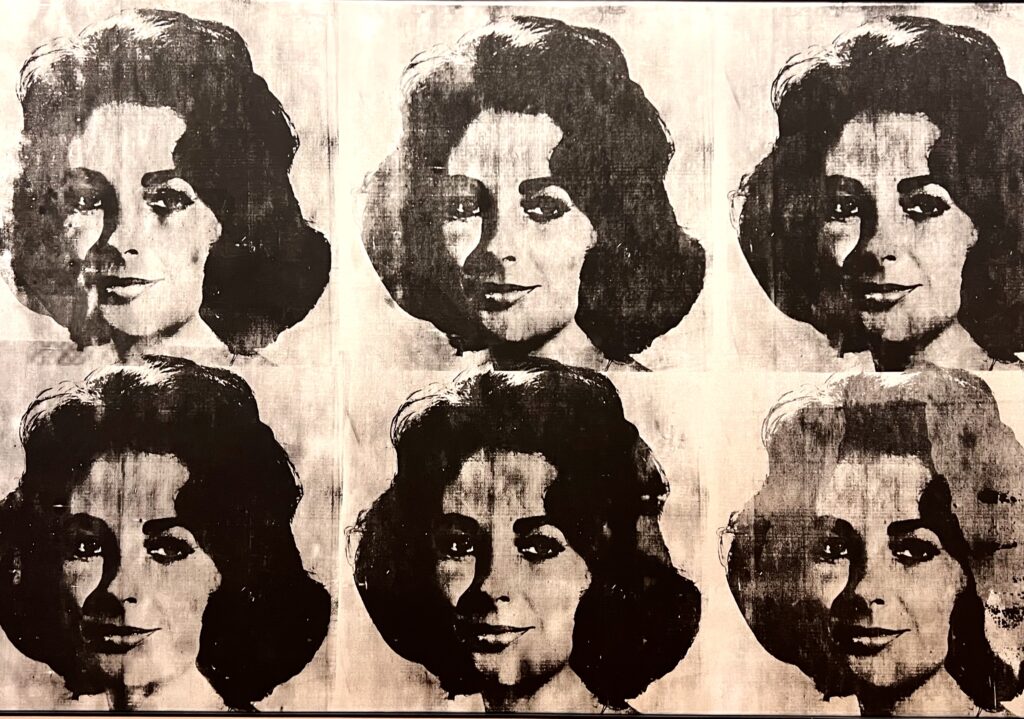 11. Andy Warhol, Ten Lizzes
Andy Warhol was a true iconoclast and performance artist. As the Prince of Pop Art, he was a hugely significant artist of the second half of the 20th century.
Like other modern artists, Warhol challenged traditional norms of what constituted art. He was unashamedly obsessed with beauty and fame — how they were linked and how to capture the pair in a shocking way.
Ten Lizes was an early painting. In it, as his other celebratory portraits, he repeats Taylor's face to the point of saturation resembling a film screen. Liz is a simultaneously a portrait of fragility and an allegory of a world dominated by images.
You can also see a painting from Warhol's Electric Chairs series and his Self-Portrait in Drag.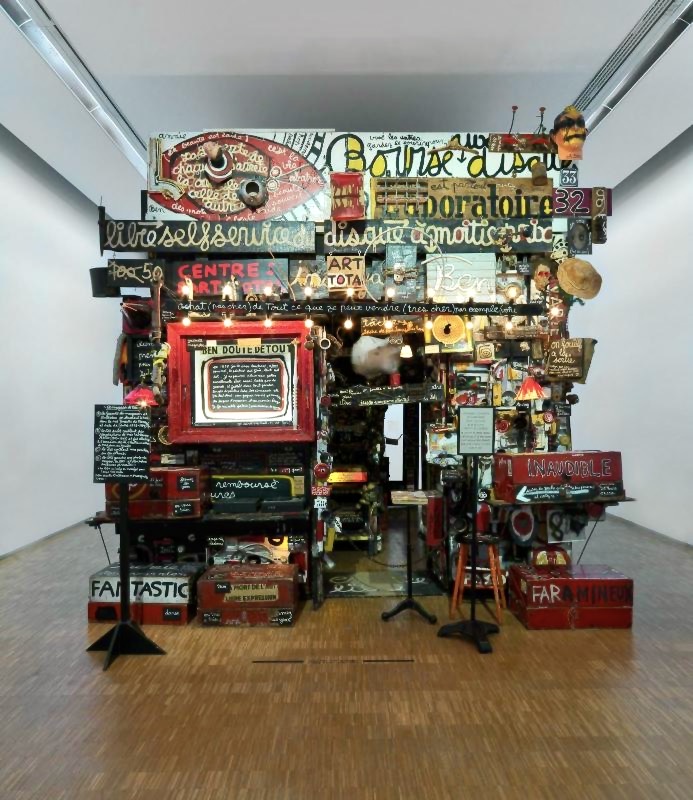 12. Ben's Store
Ben, the pseudonym of Benjamin Vautier, is a French artist. He came into the public eye in the 1960s as part of the post-modern avant-garde.
Ben is founding member of the Fluxus Group. Like Dead, the Fluxus had an anti-art and anti-commercialism bent with no unifying style. Ben is known for his performances, installations, and writings.
ln 1958, Ben opened a record shop in Nice where he bought and sold objects, records, and cameras. He turned it into a "total art center"that hosted artist encounters and talks.
ln 1974, Ben dismantled the shop and moved it to the Pompidou. The walls and blackboards are covered with his handwriting. The phrases question the status of the artist and the human condition.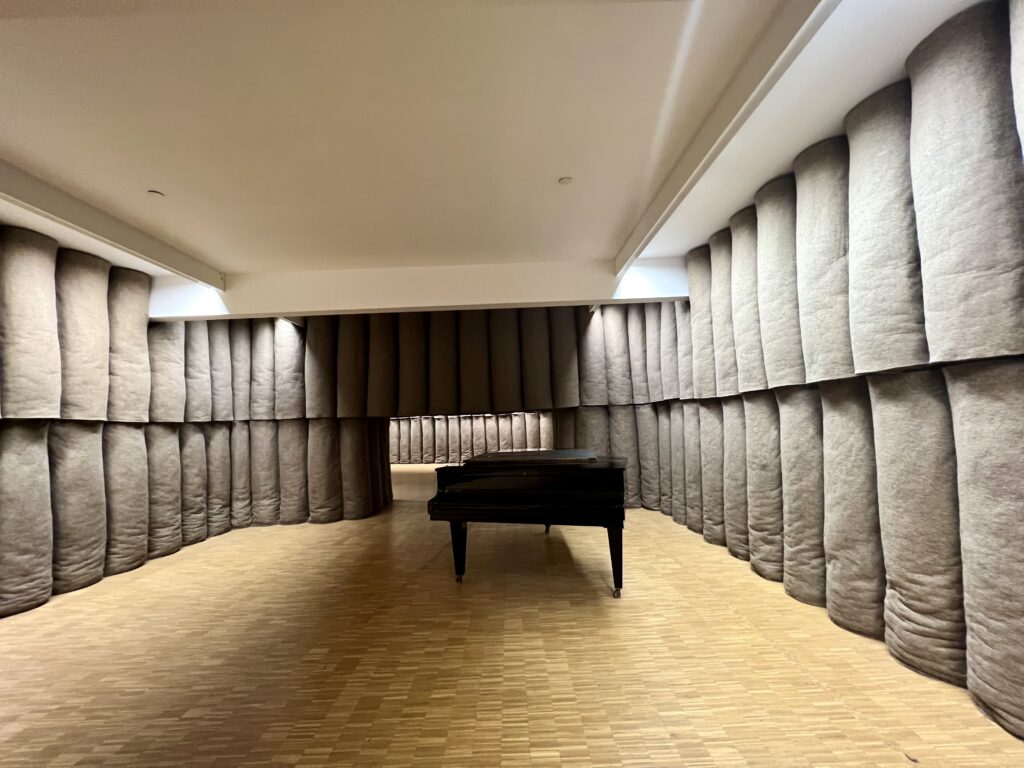 13. Joseph Beuys, Plight
Joseph Beuys was a conceptual and performance artist. He produced works that originated in his personal experience, yet also addressed universal artistic, political, or social ideas.
Plight was inspired by him being shot down during WWII, rescued, and wrapped in felt blankets.
Two rooms are encased in felt rolls, giving a sense of warmth and protection. But the closed piano signals an atmosphere of silence, anxiety, and isolation as well. You can't walk into the exhibit, but you will absorb its message.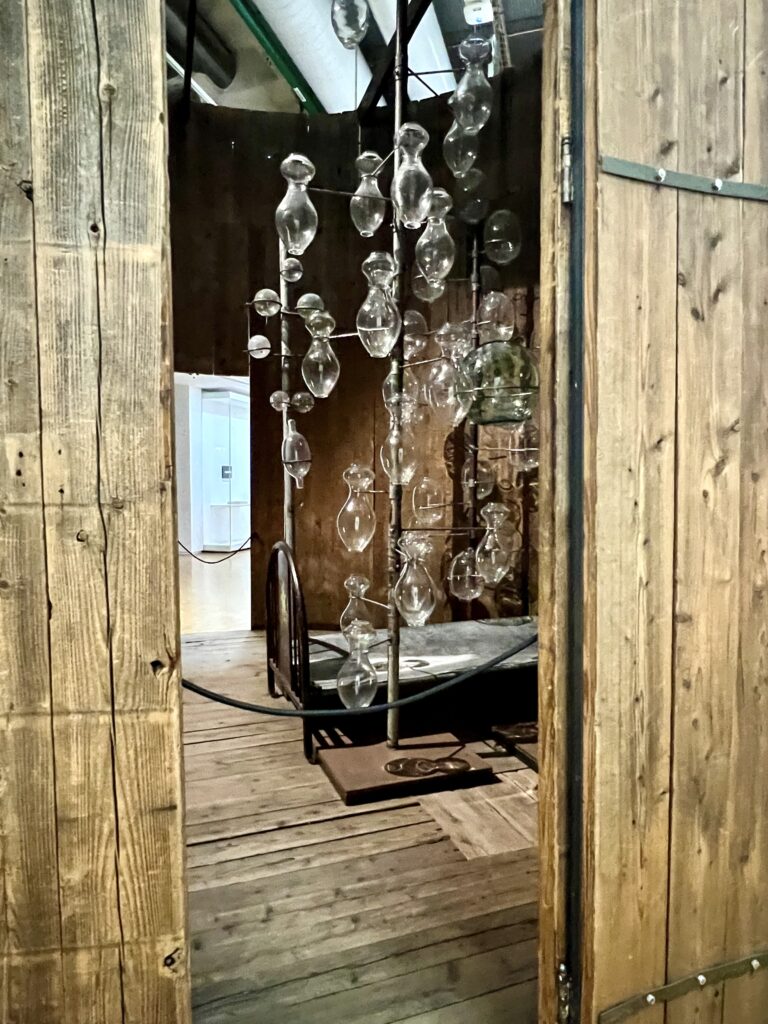 14. Louis Bourgeois, Precious Liquids
Bourgeois was an eclectic artist whose art intersected with many avant garde movements. She was a trailblazer who influenced feminist-inspired installation art.
Bourgeois is known for her highly personal themes, many reflecting on trauma from her turbulent childhood. Bourgeois transformed her experiences into visual images by using objects such as spiders, cages, enclosures, props, and mirrors.
In Precious Liquids, she addressed themes of childhood, intimacy, and sexuality. Set in a water tank, the installation explores the mechanics of bodily fluid secreted by in response to strong emotions. Liquid on the bed suggests maternity; a coat is a phallic symbol.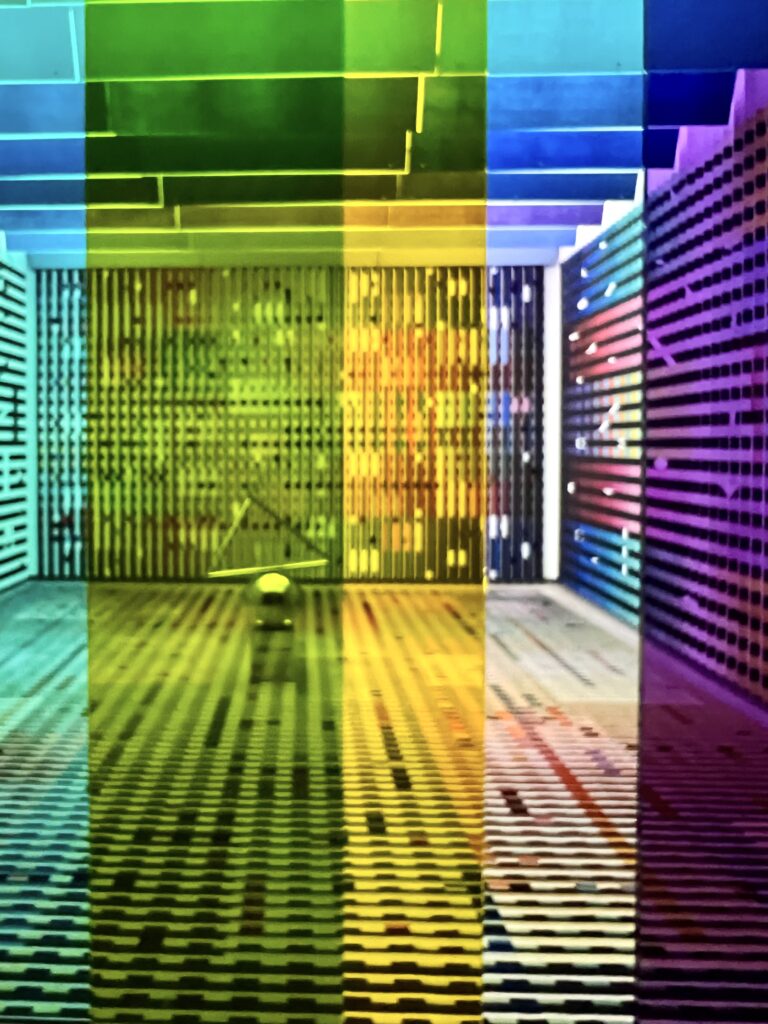 15. Yaacov Agam, Salon of a Hundred Colors
A precursor of kinetic art, Agam's works are based on geometric shapes and colors, as illustrated by his mesmerizing Salon Agam.
Agam designed this antechamber in 1974-75. Georges Pompidou commissioned it for the Elysee palace.
Its walls are covered by polymorphic murals of changing images, a kinetic ceiling, moving transparent colored doors, and a kinetic carpet on which you can see a single sculpture.
You are not looking at a fixed scene, but rather at an artistic space that constantly changes depending on where you stand and your point of view. Visitors are not normally permitted to walk inside the Salon Agam.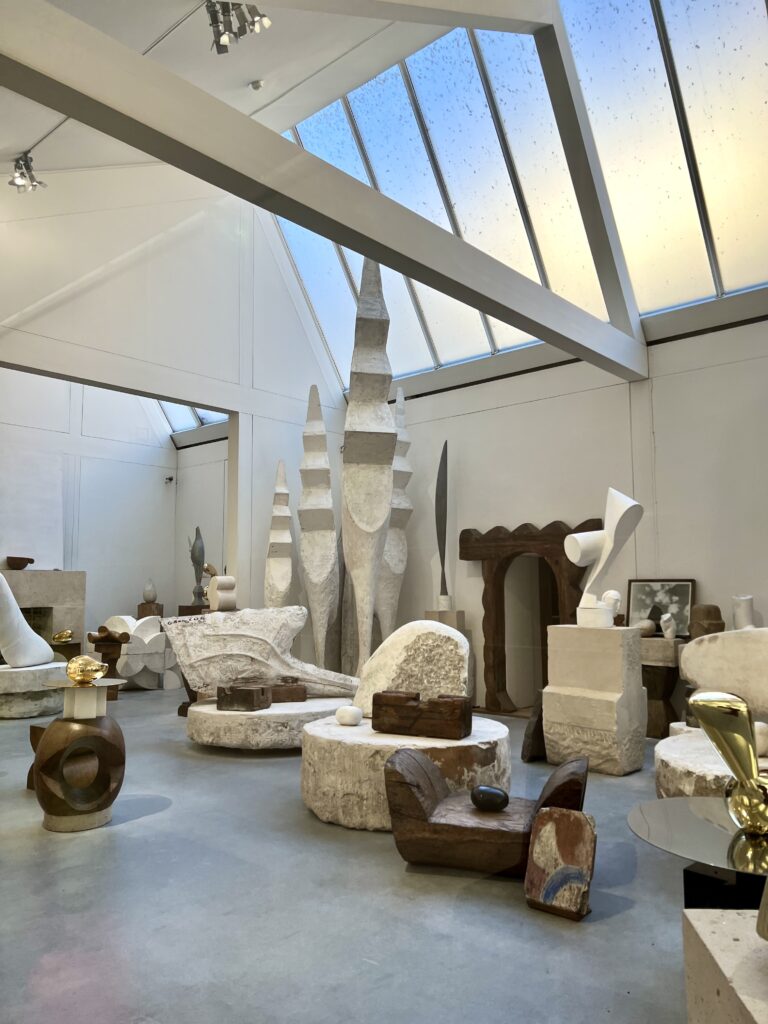 16. Atelier Brancusi
You can also visit the studio of sculptor Constantin Brancusi, reconstructed by Piano. It's right on the Centre Pompidou Piazza across from the main entrance to the museum.
Romanian by birth, the sculptor lived most of his life in Paris. Upon his death in 1956, he gifted the entire contents of his Montparnasse studio to the French state. The studio is a work of art in its own right and is completely free to visit.
At the end of his career, Brancusi was creating large groups of connected sculptures like Endless Columns and Large Roosters. He thought their positioning in space and unity was the culmination of his work.
You can see various rooms through glass windows, exactly as they were assembled by Brancusi. You can also see his photography and tools.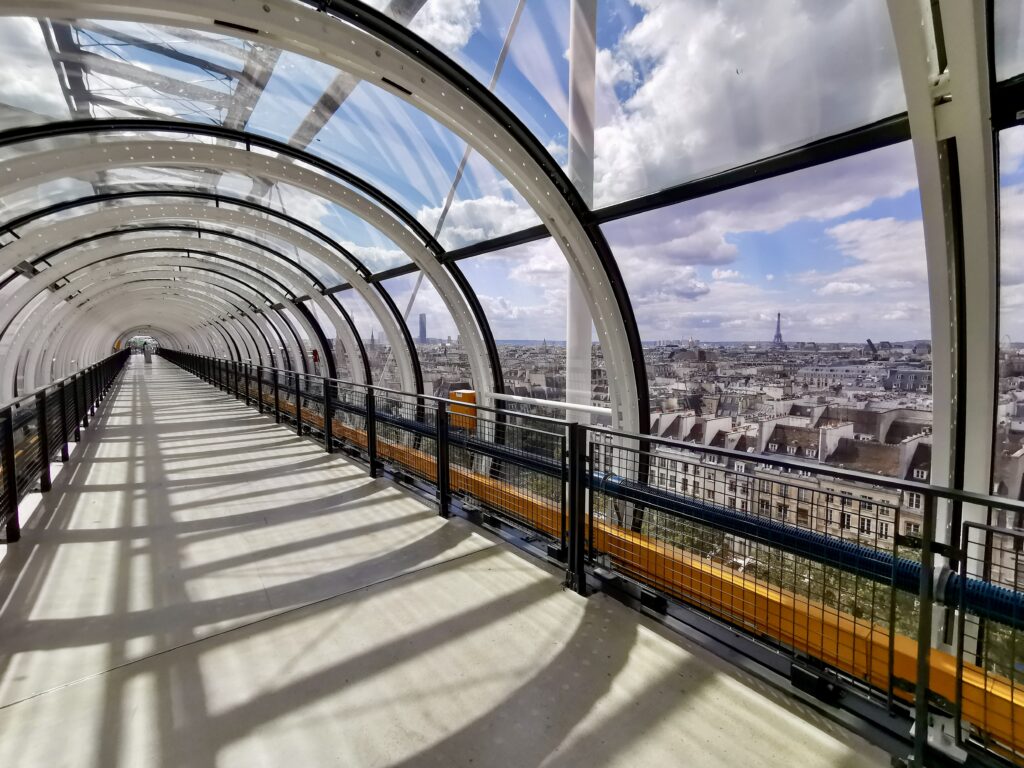 Practical Guide To The Centre Pompidou
Here is some practical information and must know tips for visiting Le Centre Pompidou.
Address: Place Georges Pompidou, 4th arrondissement
Hours: Open daily, except Tuesday, from 11:00 am to 9:00 pm. The museum is open late on Thursday until 11:00 pm. Because of its late hours, the Pompidou is a great place to put on your evening Paris itinerary.
Entry fee: There's an adjustable ticket price depending on the number of exhibition spaces you wish to visit, from € 13-18. The audio guide is € 5.
Metro: Rambuteau, Hotel de Ville, or Les Halles
Pro Tips: The museum will be closed for approximately 5 years from 2025-2030 for renovations. When you arrive, you can pick up a "masterpieces" pamphlet for the 4th and 5th floors.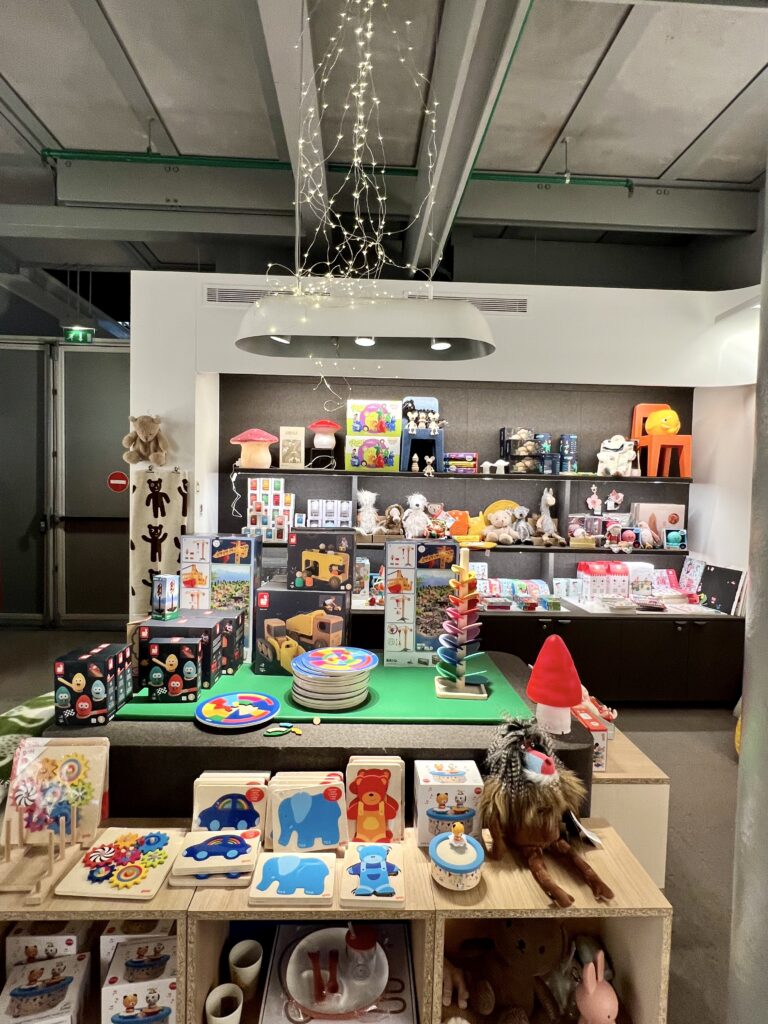 Museum Shops: The Pompidou has a large bookstore with books on 20th and 21st century art. There is also a large boutique with artisan wares, designer objects, gifts, and children's toys.
Restaurants: The rooftop restaurant, Restaurant Georges, is on the 6th floor. It offers up exceptional views with prestige cocktails and meals. Café Le Central is a small snack bar cafeteria.
I hope you've enjoyed my guide to the Pompidou Center. You may enjoy these other Paris travel guides and resources:
If you want to visit the Pompidou, pin it for later.