Here's my guide to visiting Saguaro National Park in Tucson Arizona. I give you an overview of the park and tell you what to see and do in this desert playground.
Saguaro National Park was created specifically to protect its prickly green saguaro cacti, which only grow in the Sonoran Valley. The beautiful park is a hiker's paradise. But you can also come just for a scenic drive or picnic.
Located in southern Arizona, Saguaro National Park is divided by the city of Tucson. The park is super accessible, perfect for hikers or car seat Saguaro admirers.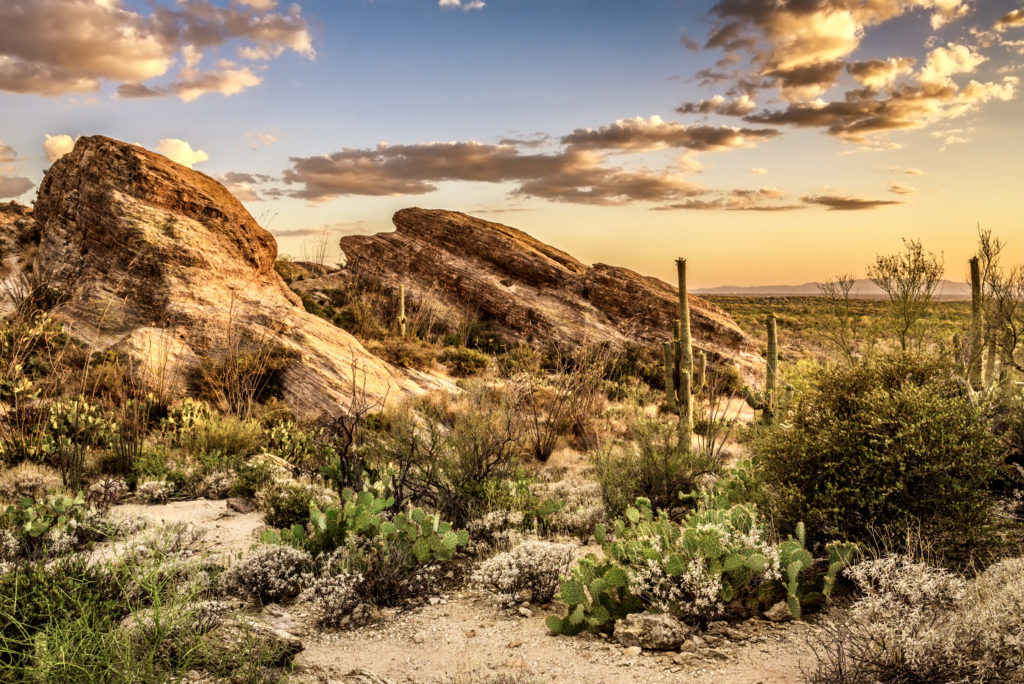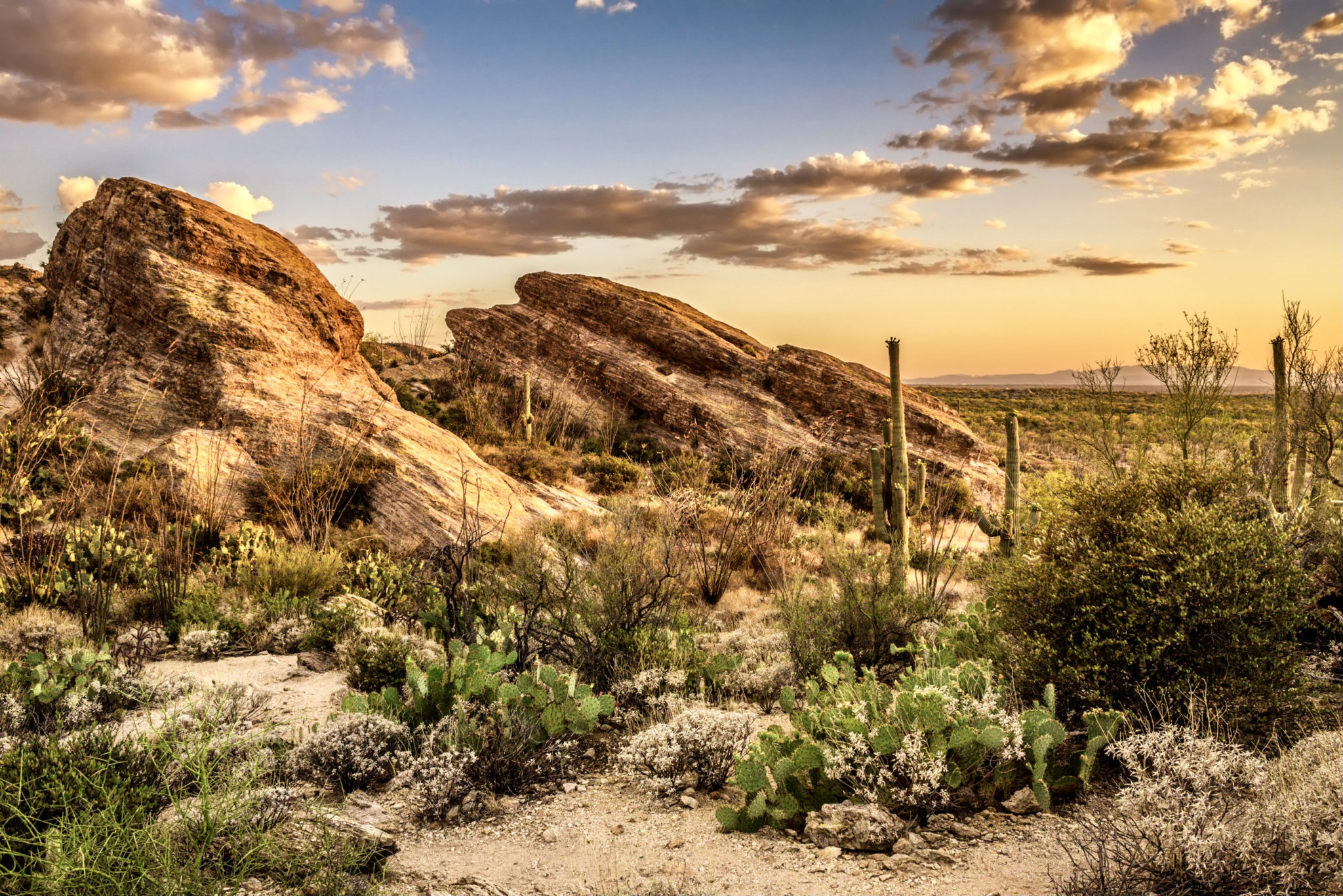 Saguaro is made up of two separate areas — the Tucson Mountain District (West) and the Rincon Mountain District (East). Within the two parks are some of the finest example of Sonoran Desert landscape in the entire Southwest region.
Saguaro National Park is considered lush for a desert. With a couple major rainy seasons to leaven the arid conditions, the desert is home to many flowering plants. And, of course, over 1.5 million saguaros.
The Arizona-Sonora Desert Museum is right next to Saguaro West, so I will discuss that amazing attraction as well.
If you are planning a trip to the desert, here's the perfect guide to Saguaro National Park.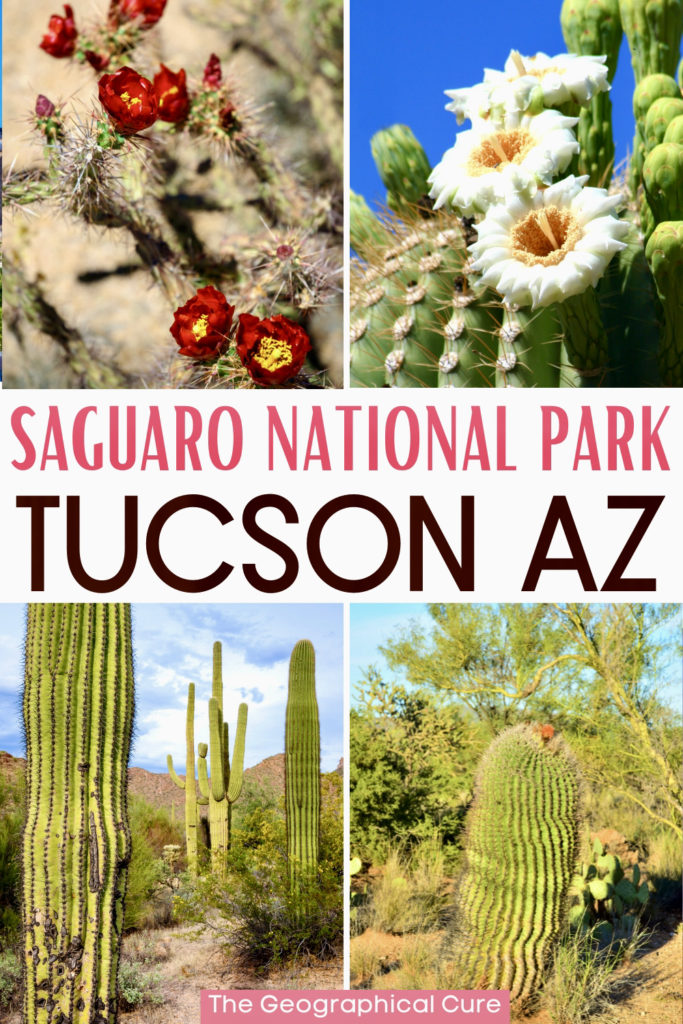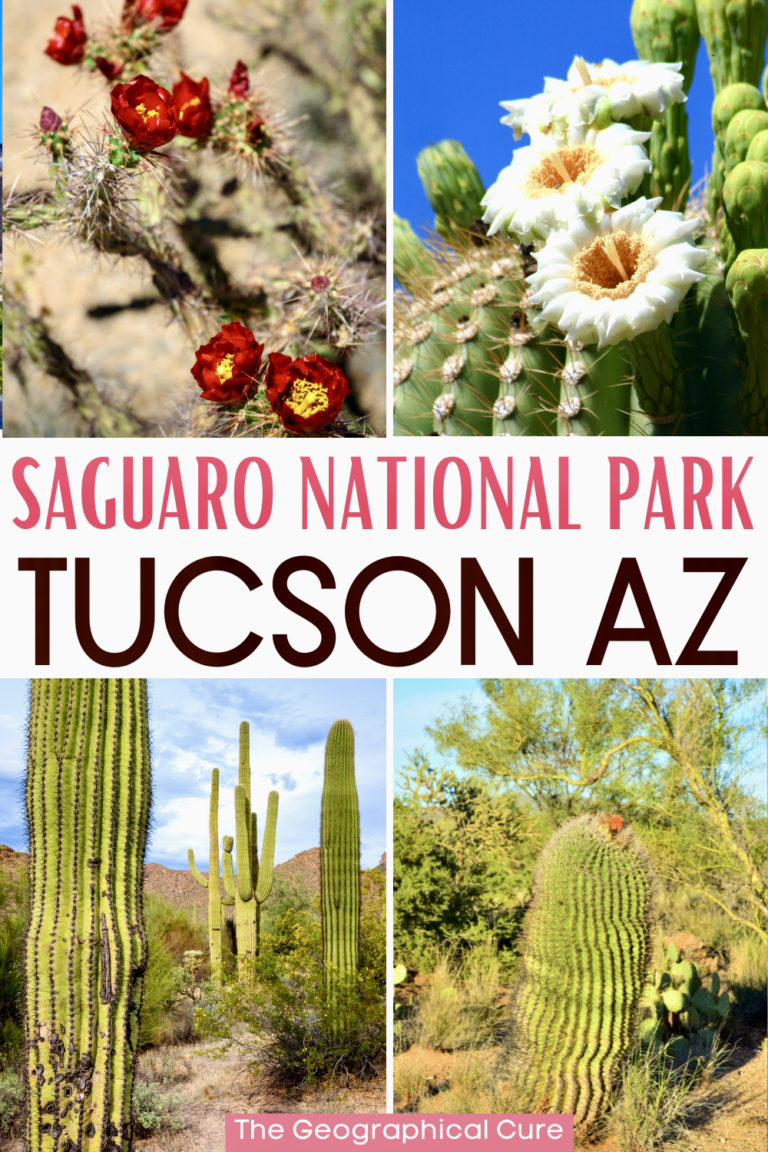 What Is A Saguaro Cactus?
The saguaro is the very symbol of the North American desert and an icon of the American West. The Saguaro are the primary reason for the establishment of the national park. They're nicknamed the "sentinel" or "monarch" of the desert.
The distinctive branched saguaros are the largest cacti in the North American desert. They can grow as high as 50 feet and can weight over one ton. They live up to 150-200 years.
The saguaro has a single main trunk that's pleated like an accordion. The ridges of the pleats are covered with spines, which discourage creatures from taking a chomp.
"Hello there" branches grow horizontally for a foot or two and then grow upward. The saguaro can sprout dozens of arms.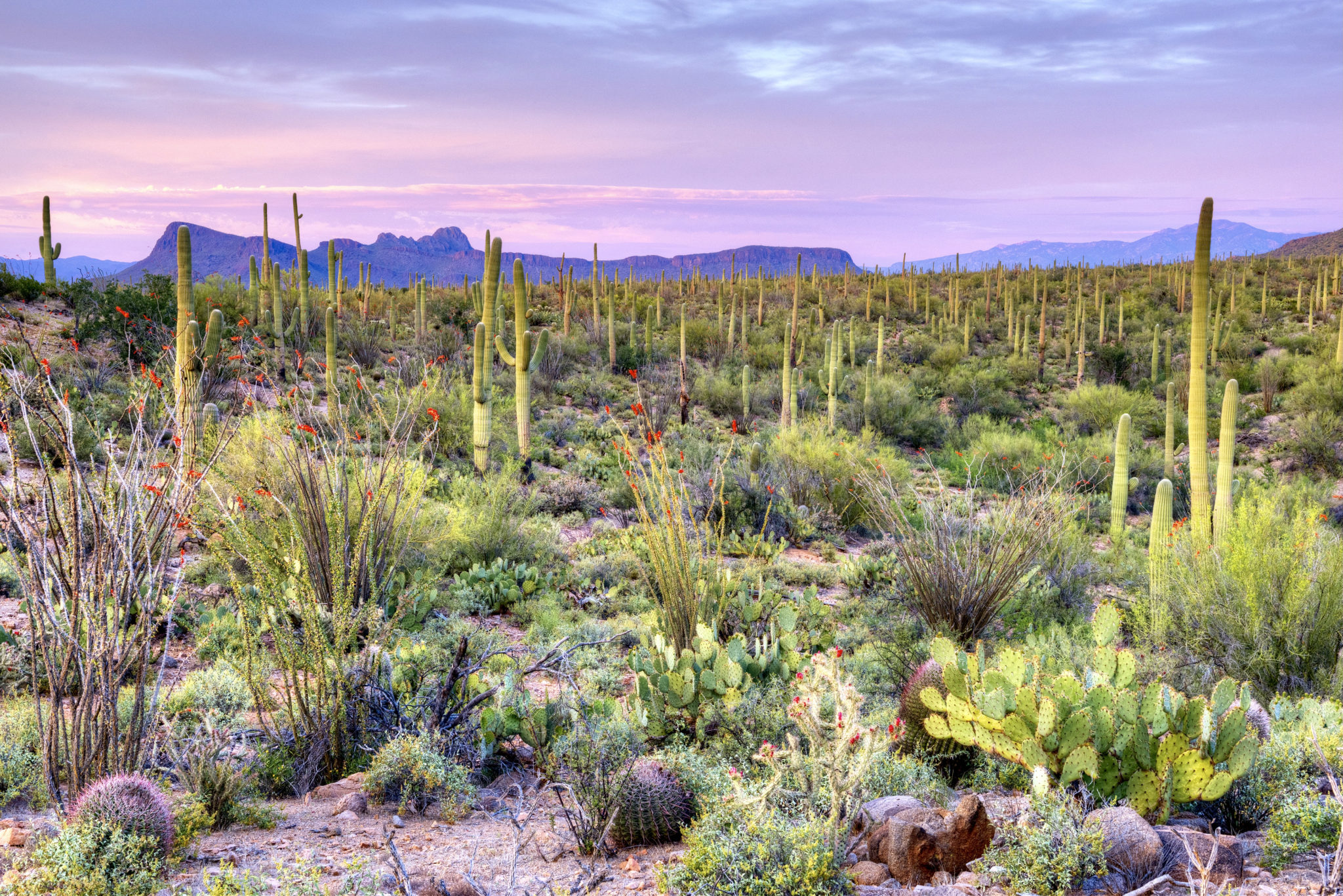 Saguaros are excellent water savers, with a long labyrinthian root system. They store massive amounts of water in their interior pulpy flesh. The water from one rainfall might last 3 years. Partly because of this adaptation, Saguaros are slow growing and long lived plants.
Saguaro are late bloomers. They don't begin producing flowers until they're about 35 years old. They bloom briefly in the late spring.
Saguaros drop 30 million seeds in a lifetime. Most likely, only one of those will make a new cactus.
Most saguaros get their start in life as a seedling under a "nurse tree," which provides some shade and protection from animals. Saguaros return the favor by being a host to elf owls, cactus wren, and gila woodpeckers.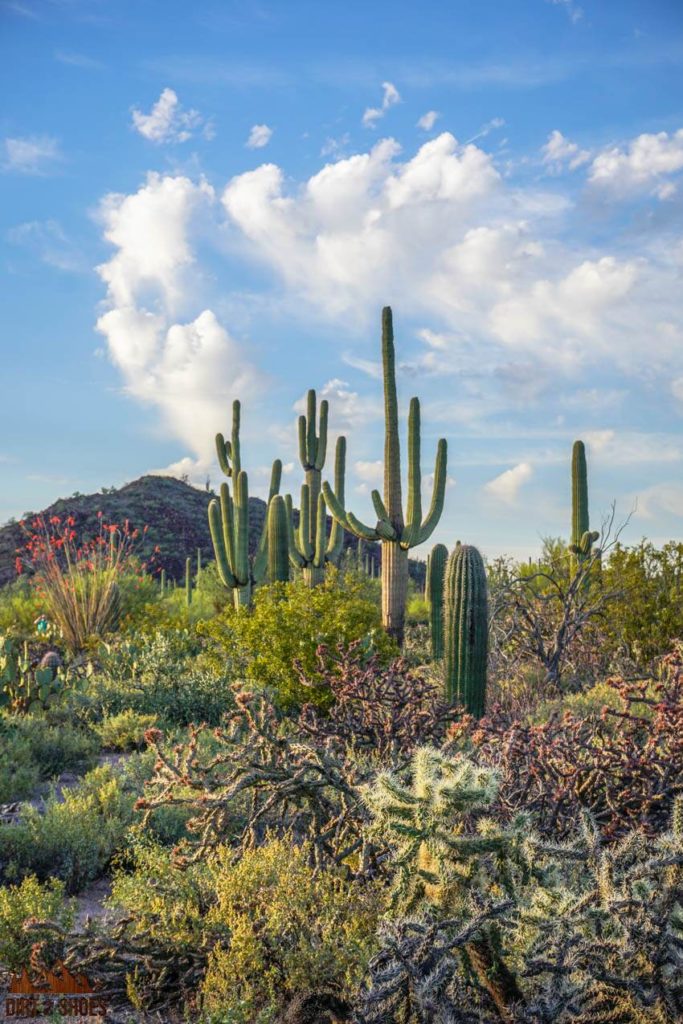 There are plenty of other cacti in the desert besides saguaros. You'll find fish hook barrel, chain fruit cholla, jumping cholla, teddy bear cholla, stag horn cholla, and prickly pears.
In the 1920s, development began to threaten the saguaros' future. Fearing for the destruction of the Saguaro forests, Homer Shantz led an effort to create Saguaro National Park. It was established in 1994.
Desert plants are hardy. The saguaro isn't endangered yet. But it is threatened by climate-fueled wildfires and invasive species.
What To Do At Saguaro National Park
There are countless things to do and see Saguaro National Park. I take you on a tour of the park highlights here:
1. Saguaro National Park East
The East side of park is often overlooked. It's the larger of the two divisions and includes most of the Rincon Mountains.
But I think Saguaro National Park East is the most picturesque section. There are fewer saguaros, but the desert landscapes and mountain views are stunning.
Start at the Rincon Visitor Center. At the center, you can become familiar with history of the Sonoran desert. Many of the trailheads also start near the visitor center.
Cactus Forest Loop Drive
This pretty drive is one of the best things to do in Saguaro National Park. It's a 6 mile paved loop that winds up hills and down dry sand bends.
The drive starts at the Rincon Visitor Center and winds through a classic section of the Sonoran desert with a saguaro forest and mountain views. There are a couple pullout spots and scenic overlooks on the drive.
Almost one mile down the loop on the left, you'll find a trailhead for the Cactus Forest Trail. It's an 8 mile out and back loop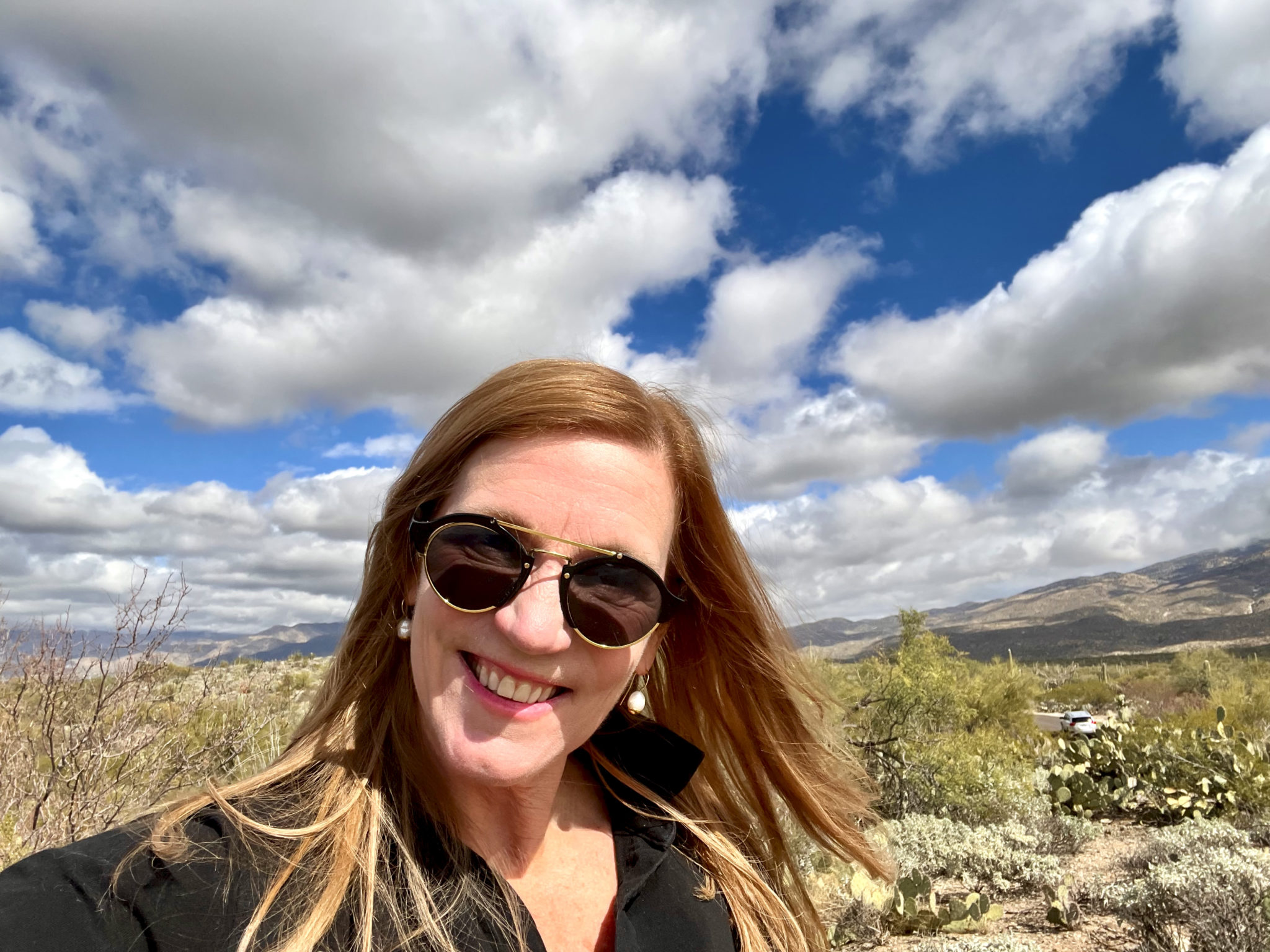 Desert Economy Trail
This is a very short paved interpretive trail that's a .7 mile loop. It makes a nice stroll and is good for kids.
Signs explain how the plants and animals adapt to a desert climate. For example, you'l learn how yucca plants and a species of moth are interdependent.
The trail is off Cactus Loop Drive, 2.3 miles from the visitor center. Parking is on the right.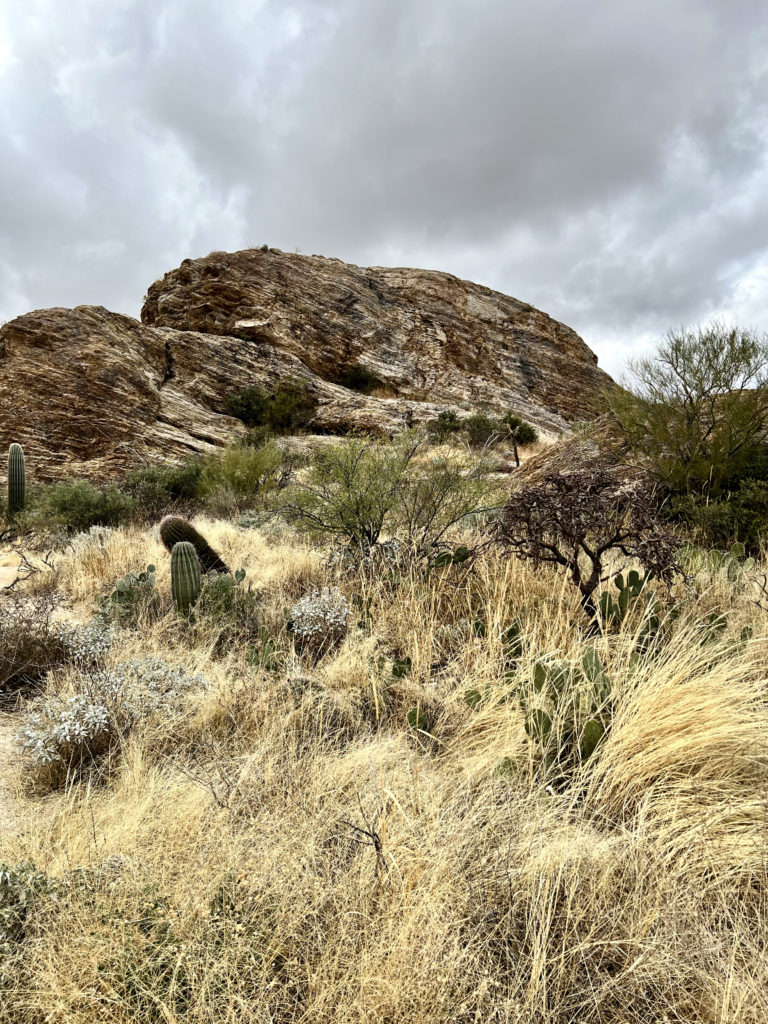 Javelina Rocks Overlook
The Javelina Rocks are a layer-cake type rock named after the Javelina. The rocks are made of ancient granite and have bands of minerals. This was caused by the earth's crust stretching and moving.
The rocks provide shelter for their namesake Javelinas. Javelina are peccaries, not pigs. They look similar to a wild boar. Other animals like these rocks for shelter and shade as well.
Freeman Homestead Trail
This is an easy 1 mile hike near the Javelina Picnic area. You'll see plenty of saguaros.
Interpretive signs explain Tucson's history. This is a common place to see Great Horned Owls.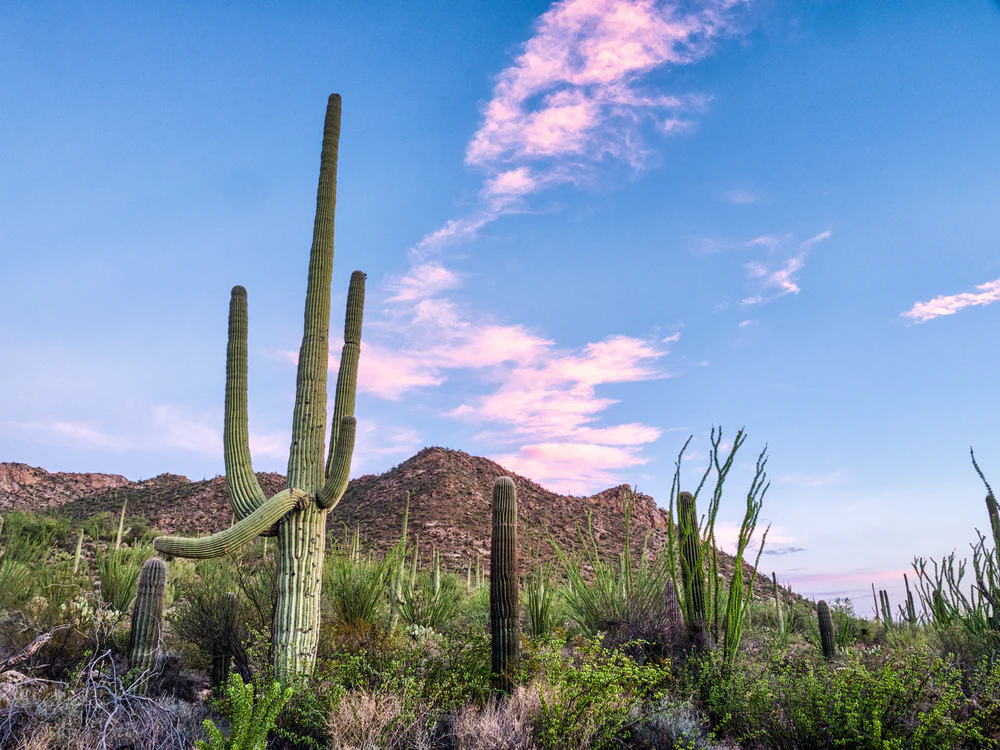 Mica View Loop Trail
This trail is a heavily trafficked. It's a fan favorite because of its beautiful wildflowers and accessibility for all hiking levels.
It boasts the most diverse cactus garden in the park — saguaros, prickly pears, cholla, and ocotillo.
Mica View is a great trail for those wanting to start the hike early in the day or in the evening. The last 3/4 of a mile of the trail are paved but it is sandy on the first part of the hike.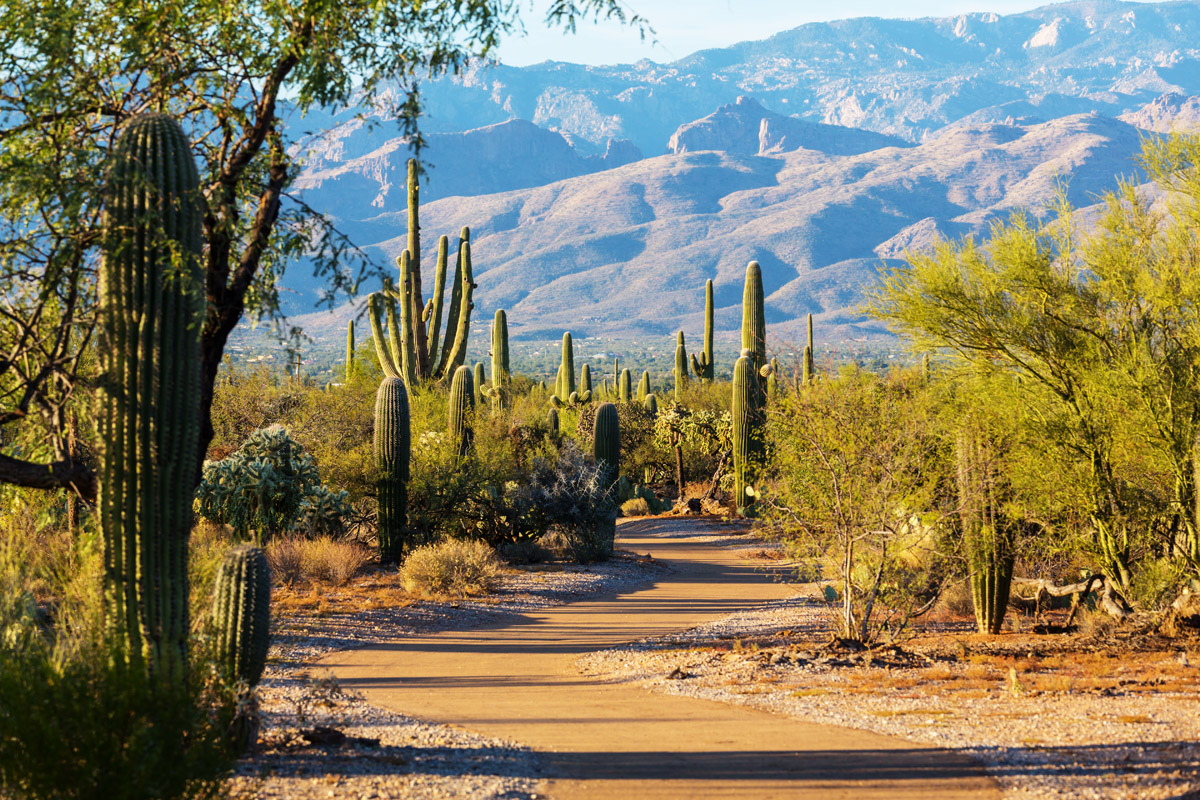 Mica Mountain Trail
Mica Mountain is the high point of the Rincon Mountains. The trail is one of the best things to do in Saguaro National Park for experienced hikers.
To reach the summit, it's a long difficult 20 mile loop. The trail traverses mostly open ground, with good views of the surrounding mountains.
From the trailhead, follow the Miller Creek Trail. The trail is rocky and steep. As the trail climbs, there are a series of switchbacks.
You won't have views from the summit, which is covered in pine trees. For that reason, many hikers will stop at Spud Rock.
Spud Rock is about 50 feet lower than Mica Mountain. But there are no trees around it, resulting in fabulous views.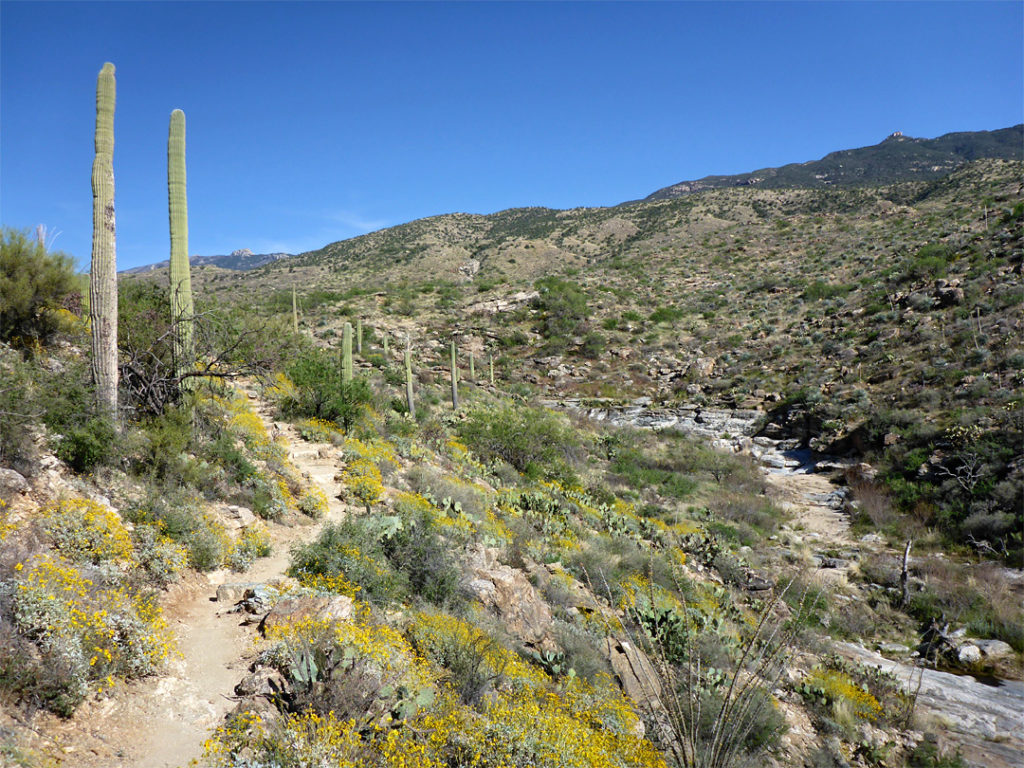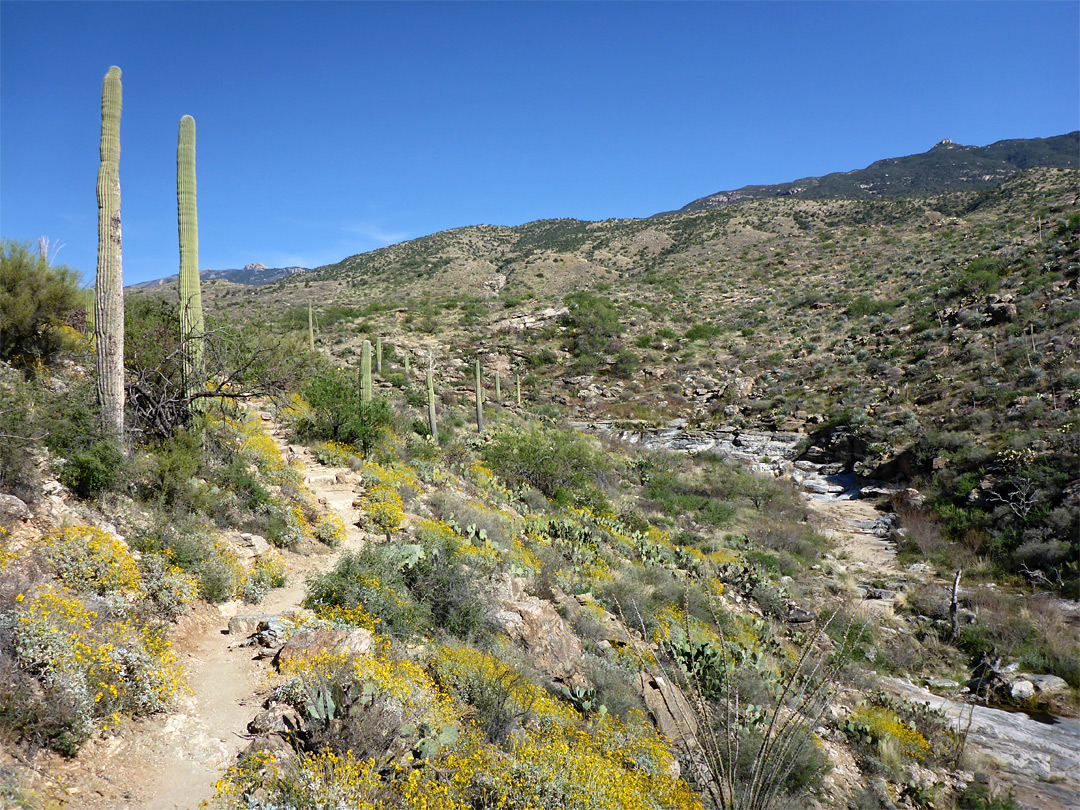 Douglas Spring Trail & Bridal Wreath Falls
Another of the best things to do in Saguaro National Park East is to hike the Douglas Spring Trail. There is parking available for about 10 cars at the trailhead. There is also parking on the adjacent street area.
It's a 16.6 mile long out and back. You'll see a waterfall and have some amazing vistas overlooking the desert landscapes.
You can even go horseback riding on the trail. Many people believe that this hike ends at Bridal Wreath Falls. But it actually continues past the famous landmark.
If you want a shorter hike, Bridal Wreath Falls is located 2.8 miles from Douglas Spring Trailhead. It's a 5.7 mile out and back trail.
This rare desert waterfall supports a rich community and is crucial to local wildlife such as deer, javelinas, and coyotes. To see the falls running, you need to visit in late autumn or winter.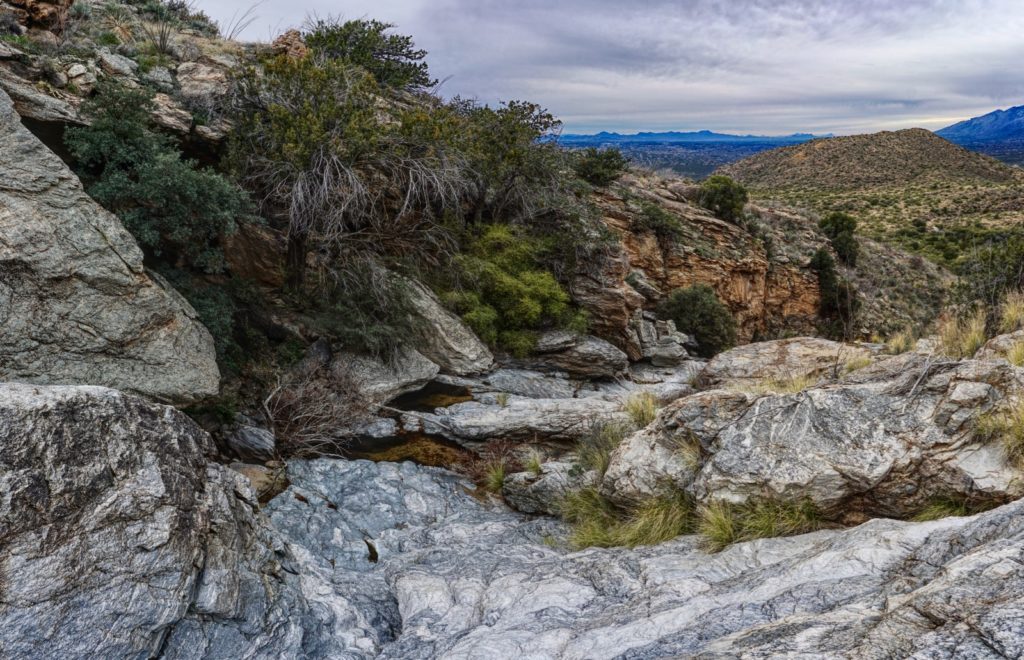 2. Saguaro National Park West
Saguaro National Park West is, naturally, west of Tucson. This part of the park has a dense concentration of Saguaro cacti, probably the most in the Sonoran desert.
The main access road to the park is Kinney Road. You should definitely stop in at the centrally located Red Hills Visitor Center.
At the back, it has one of the most beautiful views you'll find in Saguaro National Park West. Exhibits inside explain the features of the park.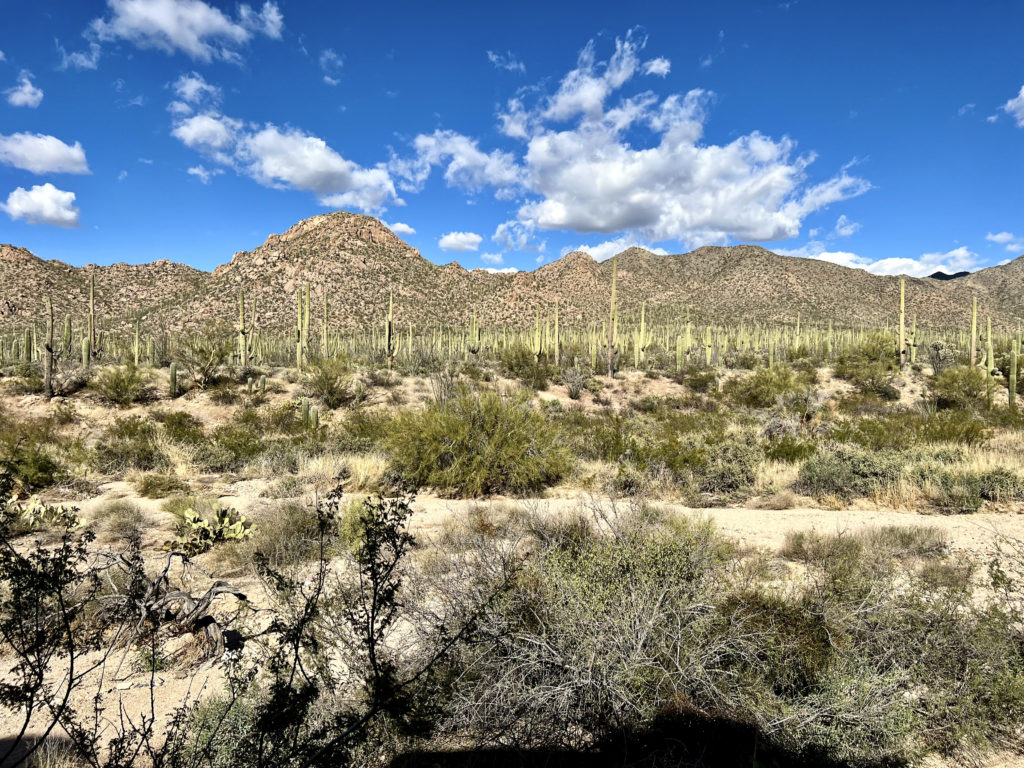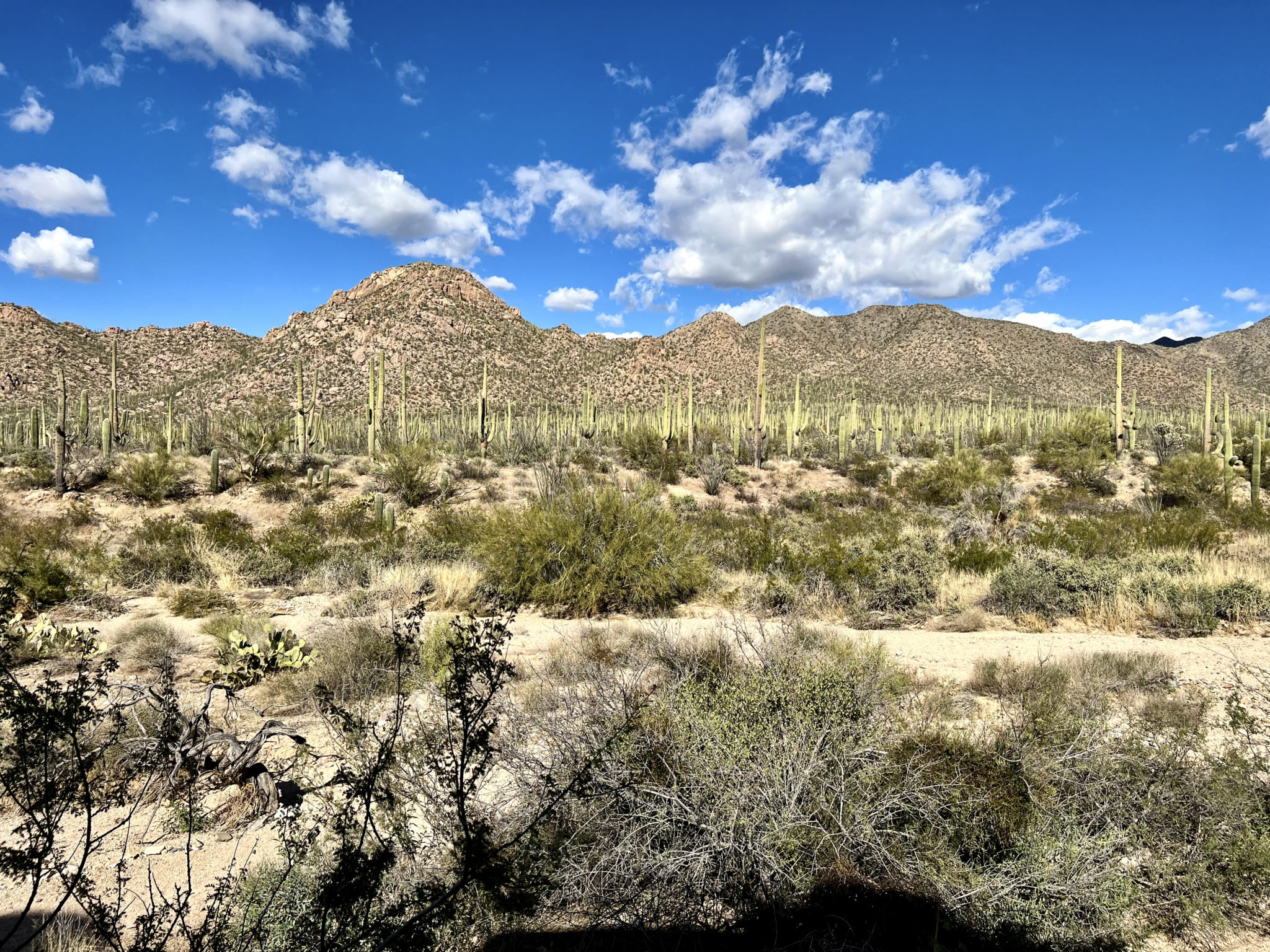 Bajada Loop Drive
This popular trail is accessed by turning right after you leave the Visitor Center. This scenic loop is home to Saguaro forests, several trailheads, and picnic areas.
The drive is approximately 9 miles. 3 miles are on paved road and 6 miles are on graded dirt. The dirt road is perfectly fine for most vehicles.
Sections of the loop are one way. This means that you need to turn right off Hohokam Road and drive counter clockwise, if you want to explore the entire road.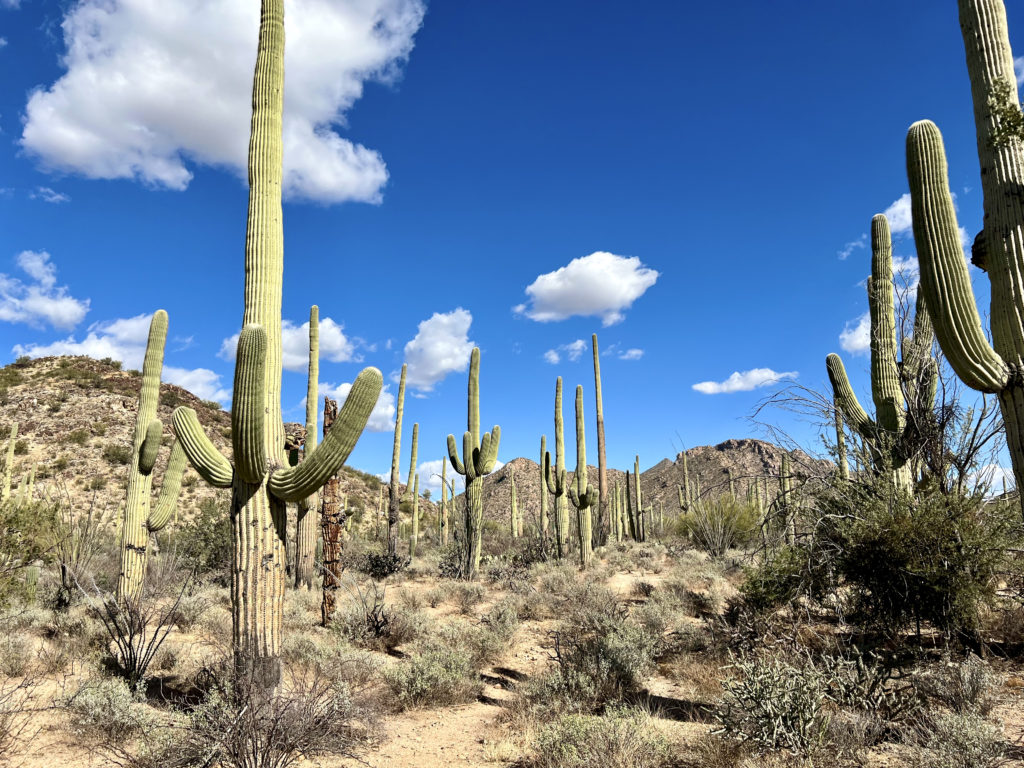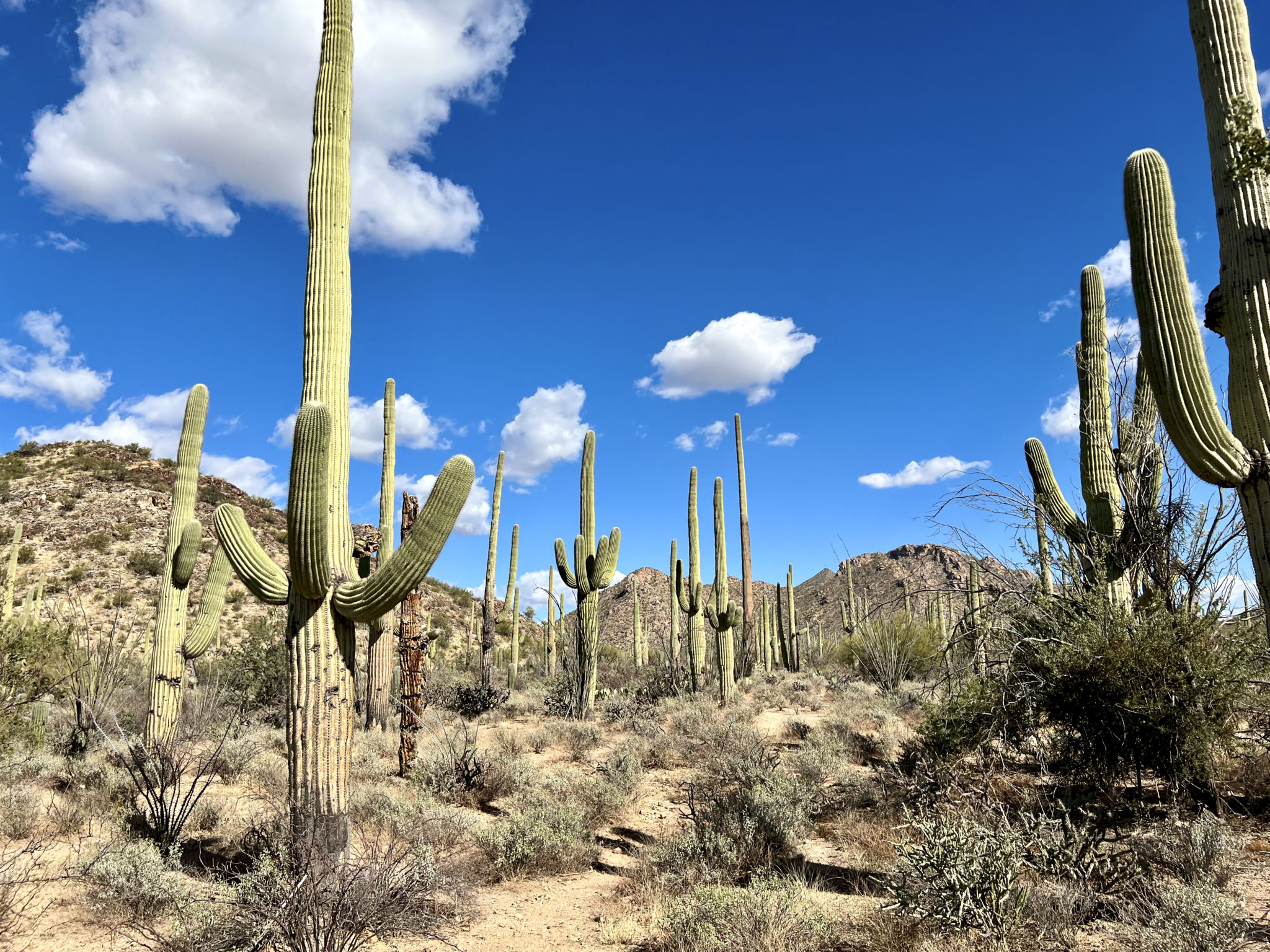 Desert Discovery Trail
This is an easy .4 mile nature trail walk. It's at the Discovery Trailhead, which is 1.1 miles from the visitor center.
Signs will tell you about the desert plants and animals. You'll learn the secrets of the desert and the chains of life.
Picture Rocks Wash Trail
This is an easy 5.4 miles out and back trail. You'll see saguaros, Paloverde trees, cholla, and barrel cacti. Paloverde trees often act as nurse trees for young saguaros.
Start at the trailhead on Picture Rocks Road. Head down Ironwood Forest Trail. That takes you to Picture Wash Rocks Trail.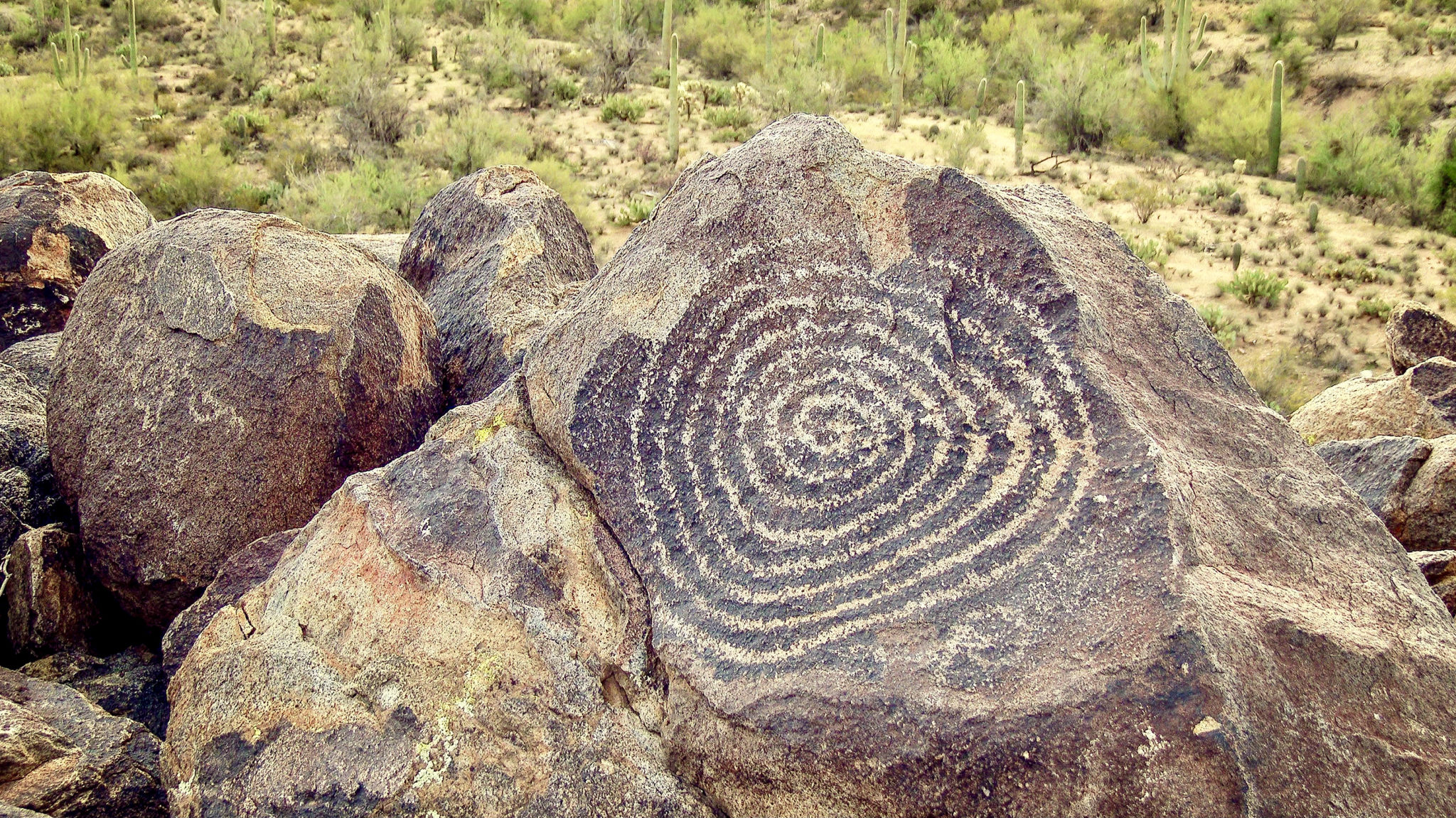 Signal Hill Trail
This is a tiny trail, only .3 miles out and back loop. It's right off Bajada Loop Drive.
But this short climb is wroth it. The trail leads to one of the best things to see at Saguaro National Park West — 800 year old Native American petroglyphs. A series of stone steps take you up the hill.
There are two main types of rock art here: pictographs and petroglyphs. Pictographs are painted onto the rocks. Petroglyphs are carved into the rock.
The petroglyphs are attributed to the Hohokam, a native people who lived in southern Arizona from 450 to 1450. However, no one knows the meaning of the art work.
You'll also have some mountain views. Apache Peak lies to the east.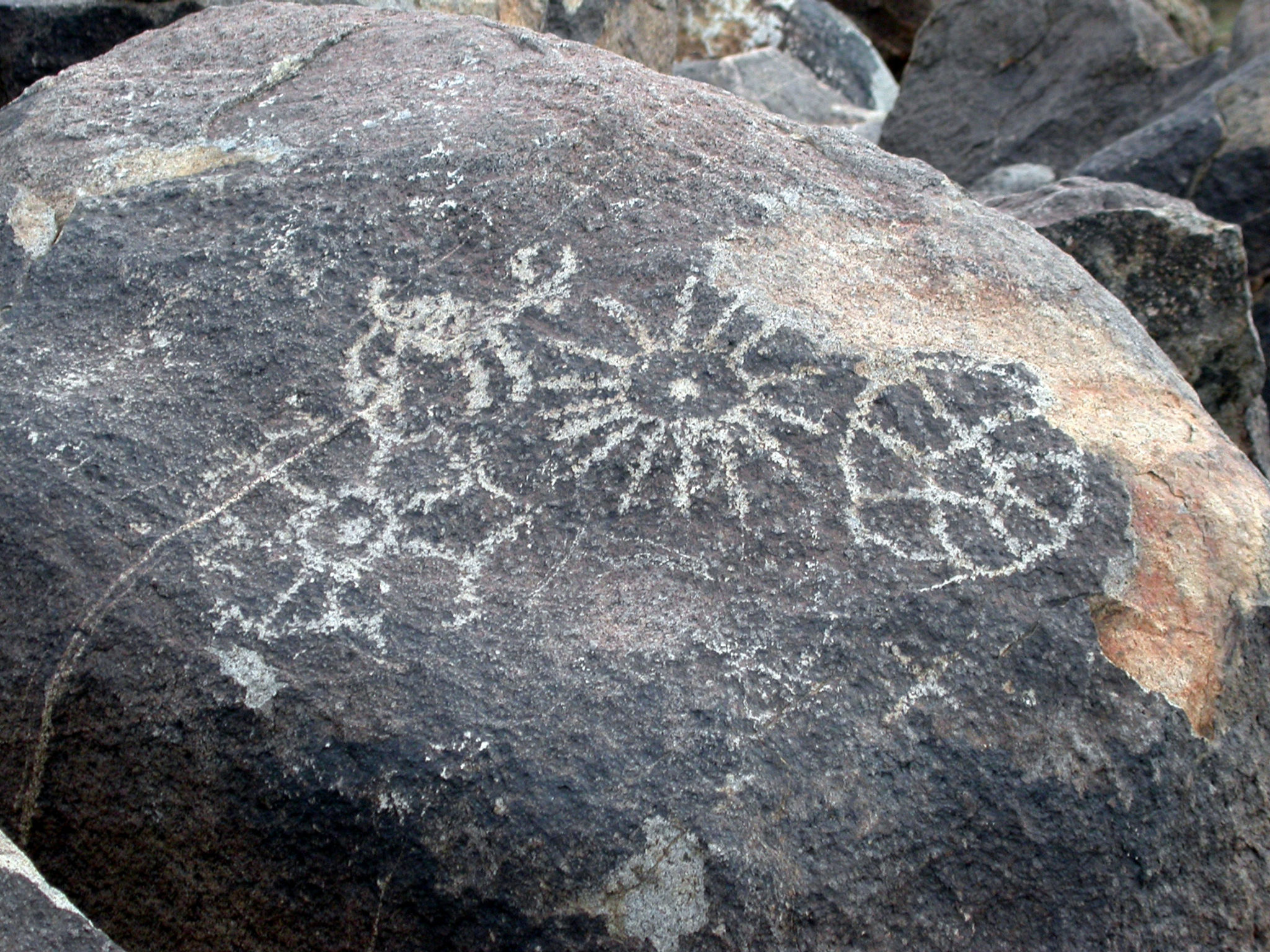 Valley View Overlook Trail
This trail is an easy one mile out and back trail. It takes you to a ridge where you have superb views of cacti forests and the Avra Valley.
In the distant north, you can see the sharp Picacho Peak. This peak and others are the remains of desert mountain ranges that were nearly eroded.
If you'd like to do a longer hike in this area, you can extend it by hiking the Wild Dog Trail. This 1.8 mile trail is an easy hike. In the spring, you'll find wildflowers.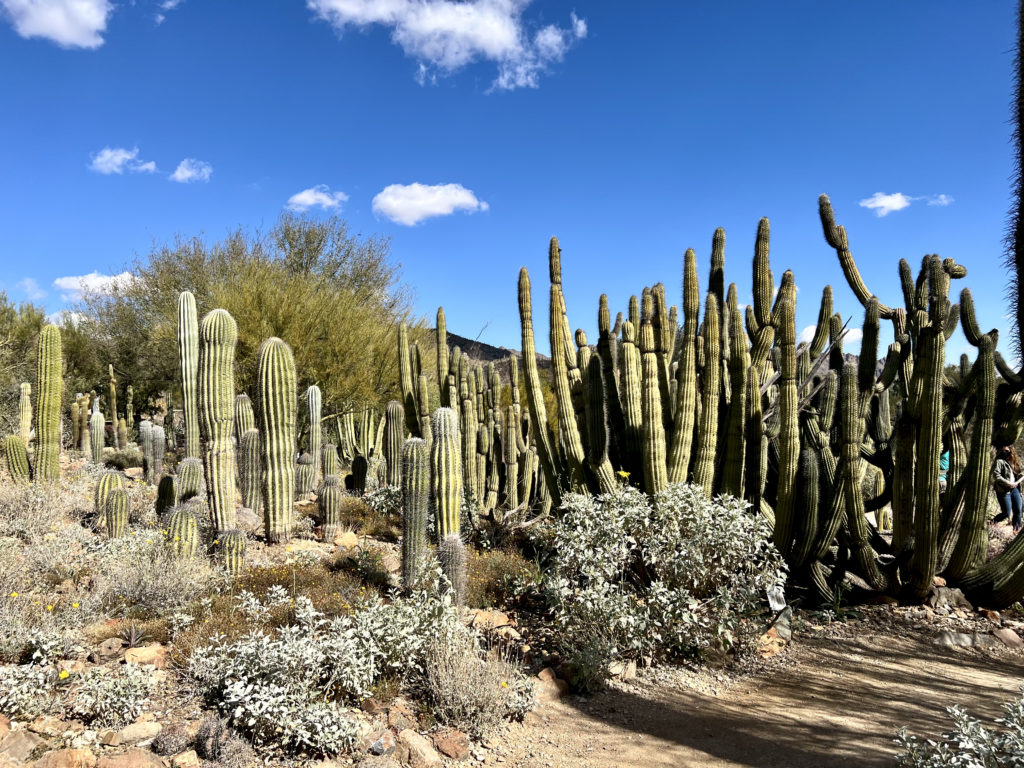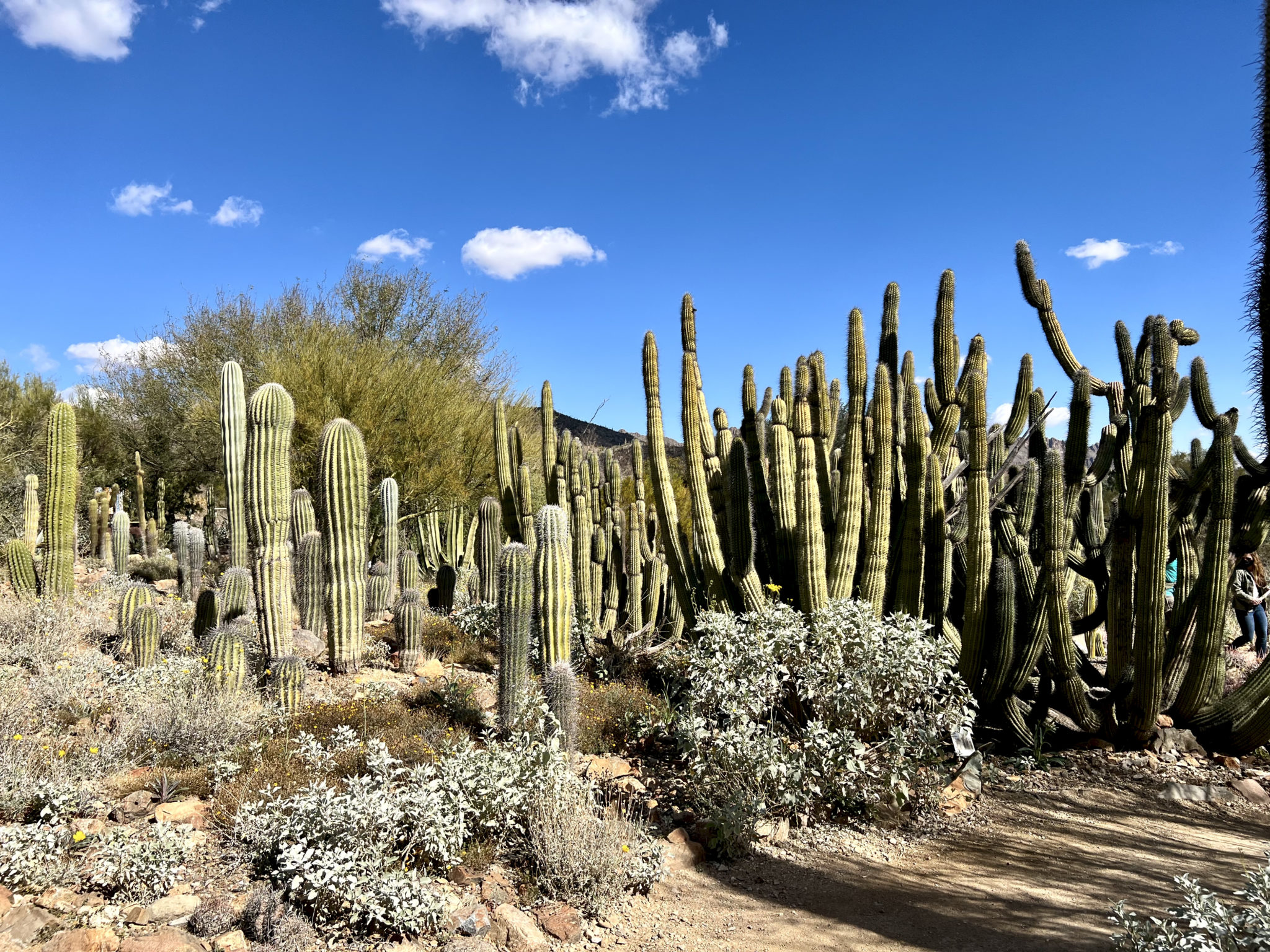 Garwood Trail
The Garwood Trail is an easy 3.6 mile out and back walk through the desert foothills to an old dam. From the Douglas Trailhead, follow Douglas Spring trail for .3 mile.
Then, turn right onto Garwood Trail. Follow the trail to its end and then turn left on Carillo Trail.
Garwood Dam is the endpoint. There, you'll have terrific views over the Rincon Mountain foothills. You may see some crested or cristate saguaros. They have a unique fan shaped head.
King Canyon Trail
This is super popular thing to do in Saguaro National Park West. It's a 6 mile out and back hike that takes you to Wasson Peak.
It's challenging. There's more than 1500 feet of elevation involved in this hike. You'll walk through a desert canyon covered in cholla.
With a height of 4,687 feet, Wasson Peak is the highest mountain in the Tucson Mountains. The views from the top are breathtaking and may be the best in the entire park.
The King Canyon parking area and trailhead is right across from the Arizona-Sonora Desert Museum, which you could visit before or after your hike.
3. Arizona-Sonora Desert Museum
The Arizona-Sonora Desert Museum is only a 5 minute drive from Saguaro National Park West. This is a fun museum that interprets the Sonoran Desert.
It's a bit of everything rolled into one. The museum combines a zoo, a botanical garden, and a natural history museum. The museum challenges the traditional concept of what a museum is by creating a mutually symbiotic relationship with the desert.
The desert museum is set on 21 acres with 2 miles of walking paths through various animal habitats. You can find 1,200 plant varieties and 56,00 individual specimens.
The exhibits are ingenious. 85% of them are outdoors.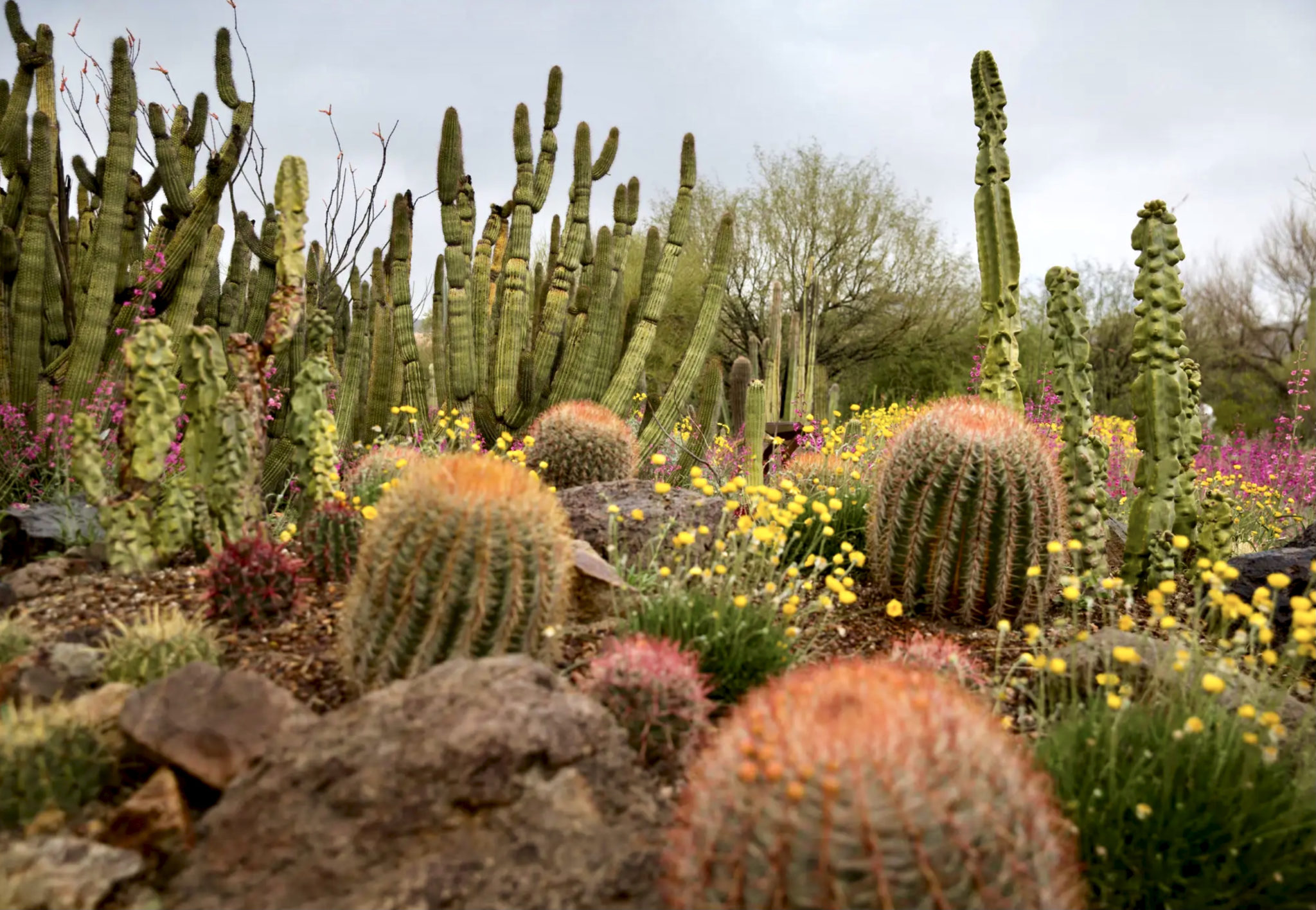 The museum is organized so that you begin at the front entrance and travel counter clockwise along the main route. Secondary paths branch off from the main route.
Some of the best things to see at the museum include the walk in bird and hummingbird aviaries, Cat Canyon, and the Riparian Corridor. You can see river otter, beaver, bighorn ship, prairie dogs, and fish. Even mountain lions. You have to come early to see the animals.
Personally, I enjoyed the specialty cacti and agave gardens the most. I'd never seen so many different species of cacti.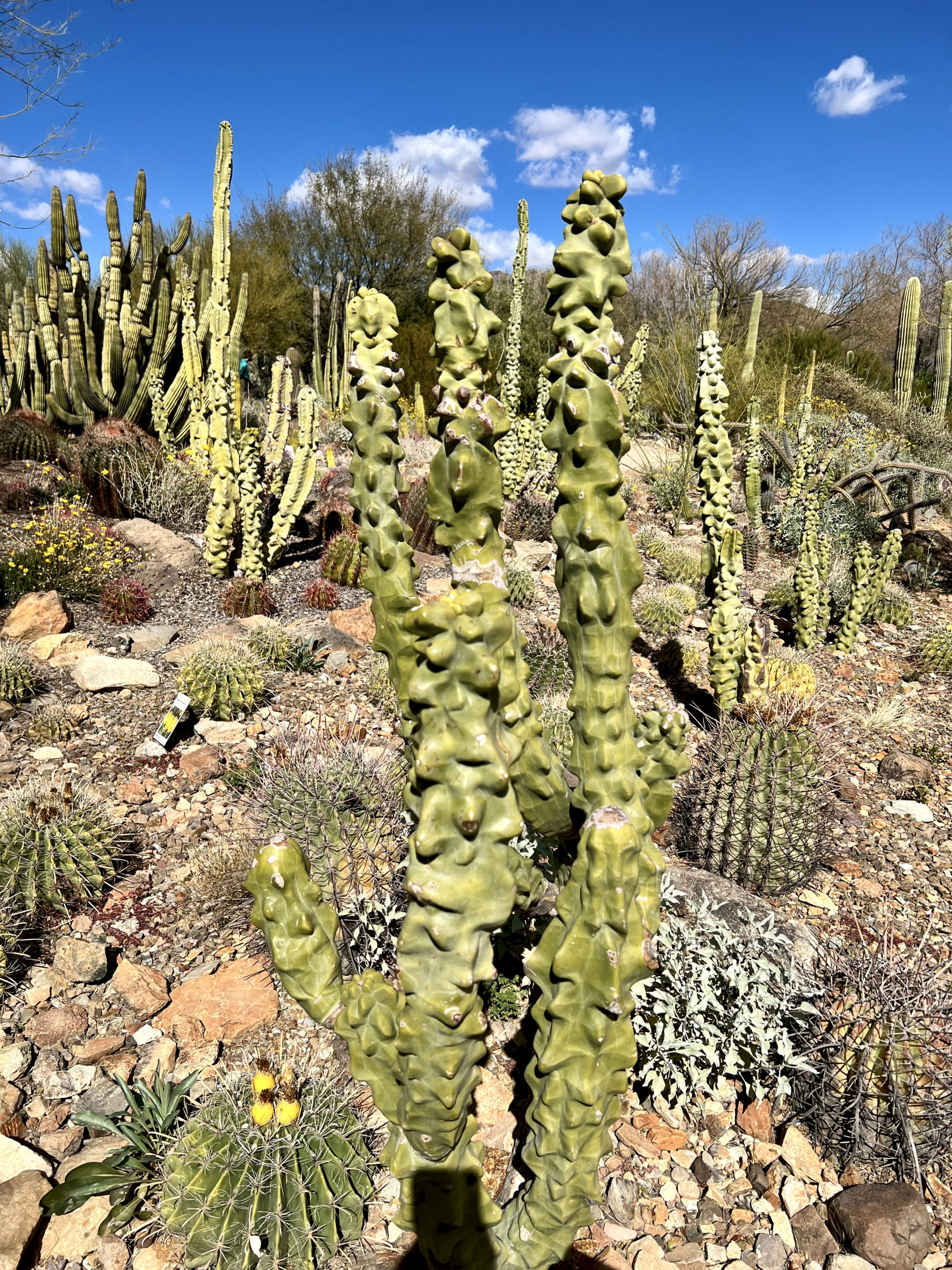 Address: 2021 N Kinney Rd, Tucson, AZ 85743
Hours:
October to Februry 8:30 am to 5:00 pm
March to September 7:30 am to 5:00 pm
Entry Fees:
General Admission (ages 13-64): $24.95
Senior (ages 65+): $22.95
Youth (ages 3-12): $13.95
Children (under 3): Free
Desert Museum Members: Free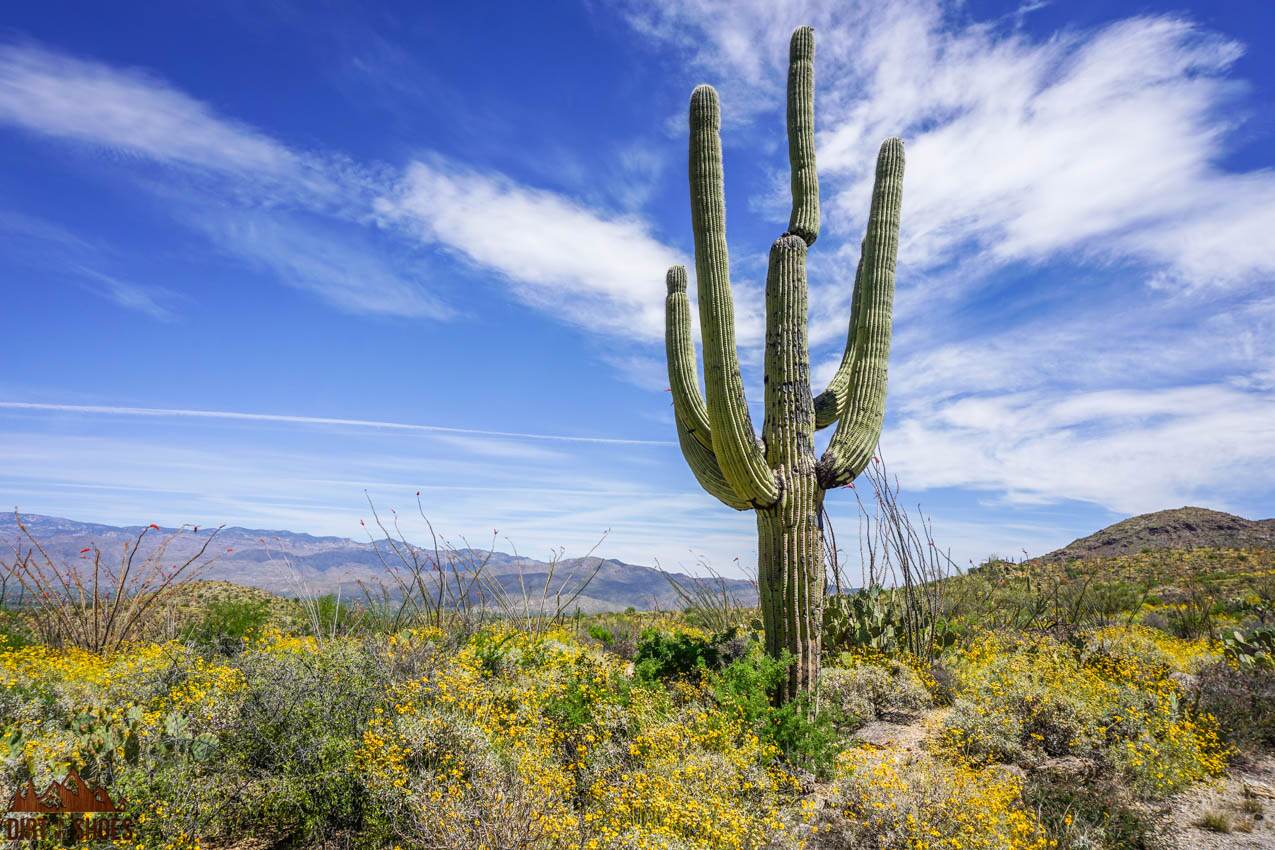 Tips & Practical Information For Visiting Saguaro National Park
Addresses:
East: 3693 S. Old Spanish Trail, Tucson, Arizona 85730, 21 miles from Tucson.
West: 2700 N. Kinney Road, Tucson, Arizona 85743, 15 miles from Tucson.
Hours:
The West park is open to vehicles from sunrise to sunset daily. Actual times vary throughout the year.
The East park is open to vehicles from 5:00 am to 8:00 pm in the summer, and 5:00 am to 6:00 pm in the winter.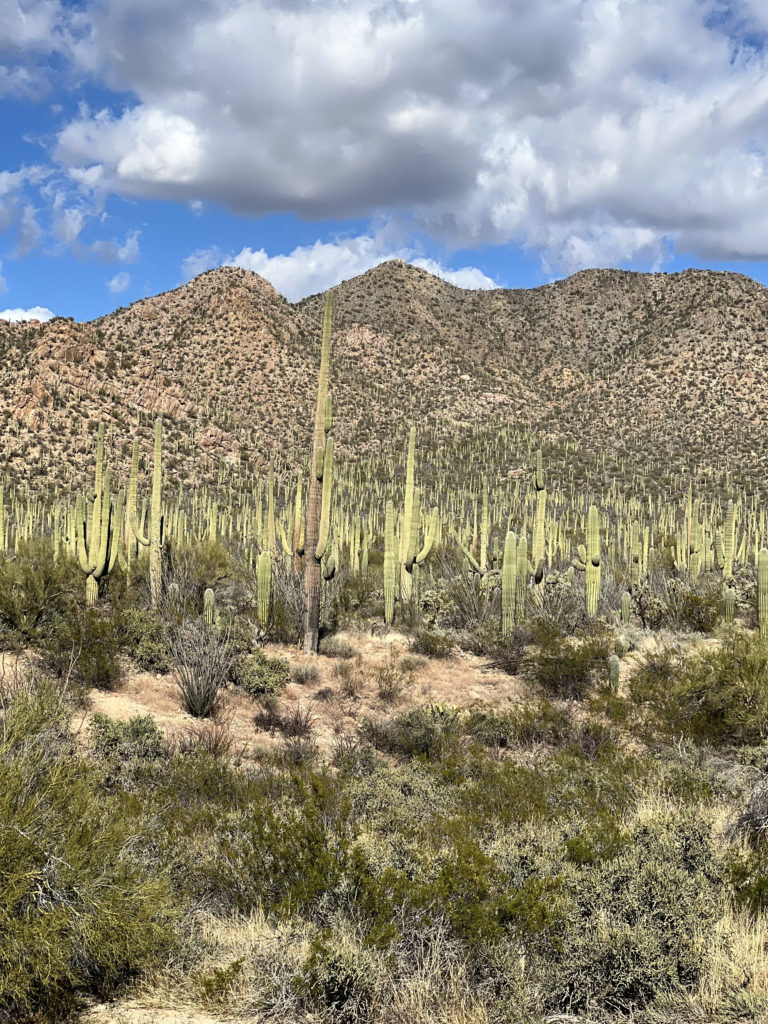 You can walk or bike into the park 24 hours a day. There are also equestrian riding trails.
Visitor Centers:
The visitor centers in both districts are closed on Tuesday and Wednesday, but the parks remain open. You can pick up a paper map at the visitor centers. There are also gift shops and restrooms onsite.
Click here for maps and brochures.
Entry Fees:
The entry fee for Saguaro National Park is $25 per vehicle, which is valid for 7 days. Click here to purchase online tickets. There is no option for a single day visit.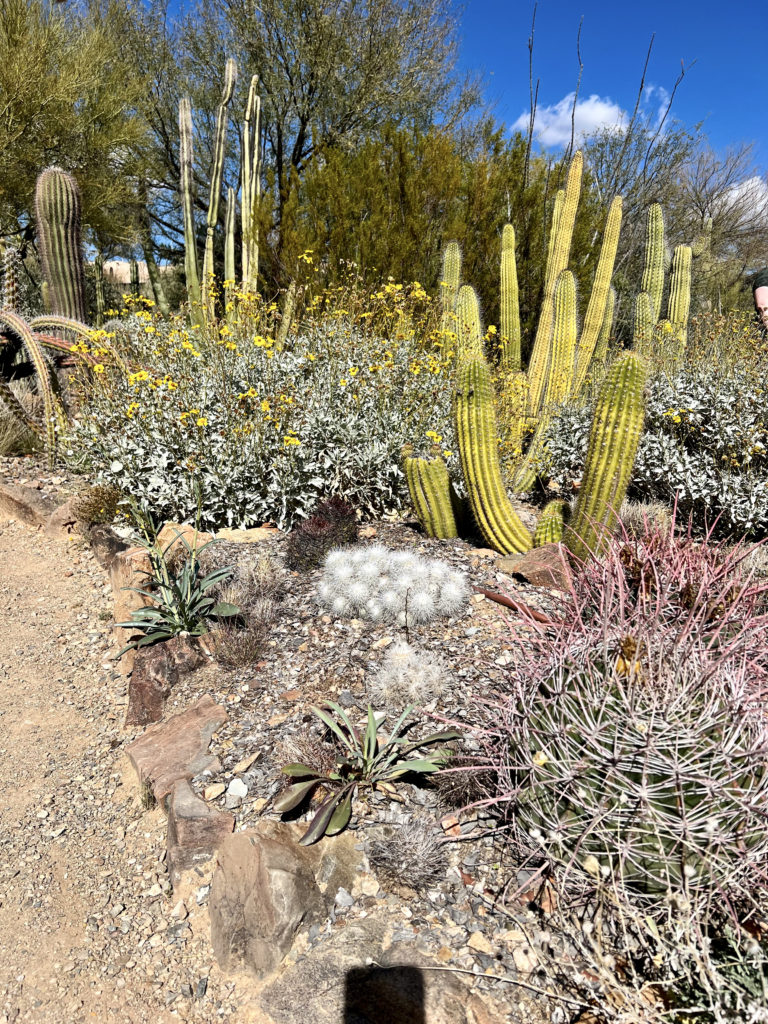 Guided Ranger Tours:
Ranger programs are available year round in Saguaro National Park. January through April is the busy season. There are a wider variety of tours to choose from daily.
Please know that schedules and program titles are always subject to change. Check at the visitor centers for the most up to date listings.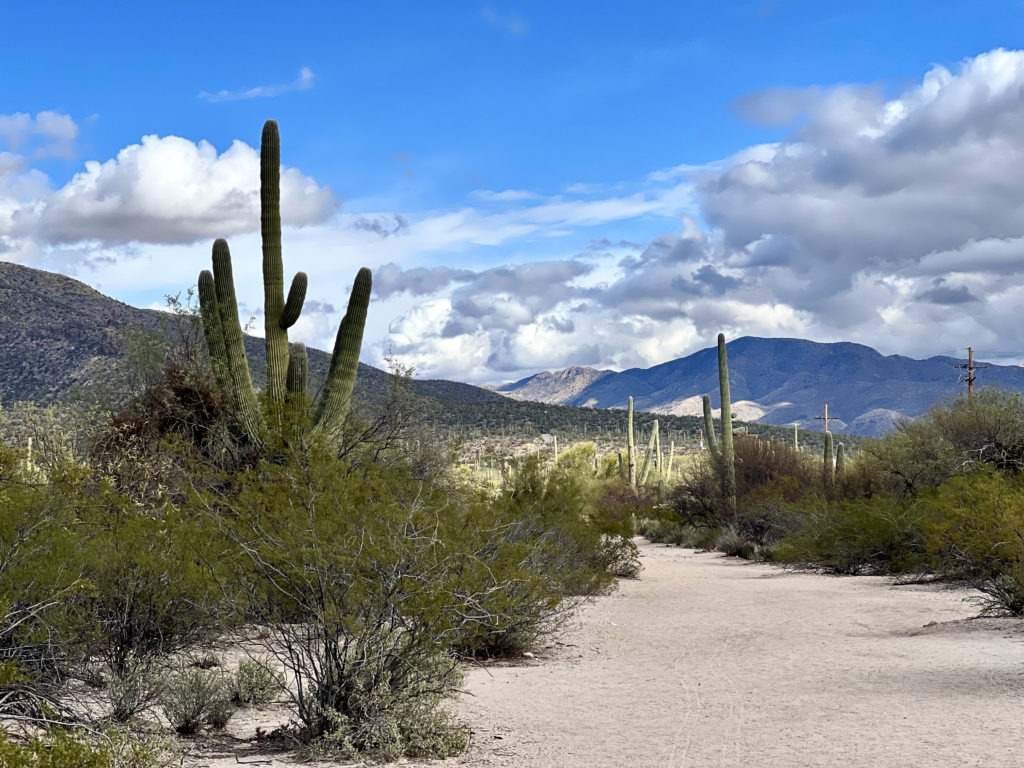 How Long To Visit?
It takes about an hour to drive between the two sections of Saguaro National Park. With a full day, you can theoretically do both sections of the park if you're pressed for time.
But you should probably do them on separate days, if it's feasible. They offer different vistas and different hiking trails. You can combine Saguaro West with the Arizona-Sonoran Desert Museum
When To Visit Saguaro National Park
A visit to Saguaro National Park is definitely a non-summer activity. It's simply too unbearably hot to visit in summer. Temperatures may reach 110 degrees.
Spring and fall can also be scorching. If you can't go in the winter, aim for October or March. Go in the early morning, not afternoon.
I visited in February and the weather was perfect, in the 50s and 60s.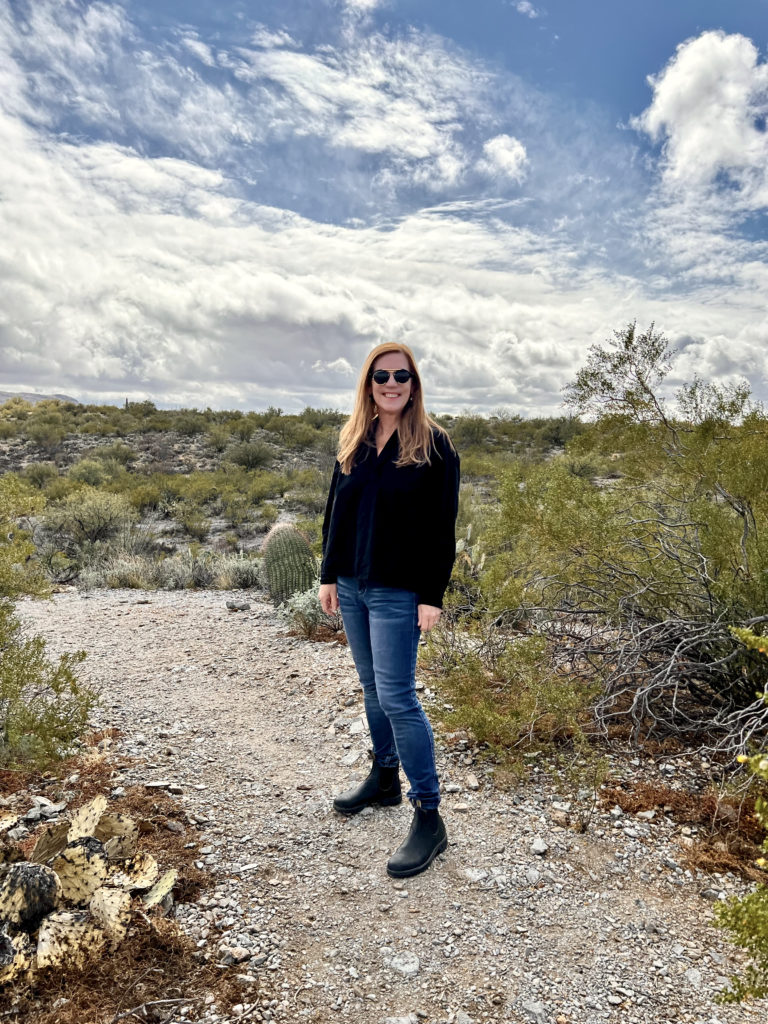 Pro Tips:
Here are some must know tips for visiting Saguaro National Park.
Be prepared for your hike or climb. Plan which trails you want to hike in advance and study the route.
You should also know your own limitations and keep track of your progress on a map. Avoid hiking alone unless you're very experienced. Groups are safer. And allow plenty of time to get back to the trailhead before sunset.
If you're hiking in the summer, summer heat is a serious hazard in desert elevations. Bring plenty of water. Wear a lightweight sun hart.
Check the weather forecast. Be prepared for abrupt weather changes.
Bring plenty of water and snacks. There are no restaurant or vending machines in the park.
Don't touch any of the cacti. All cacti have spines, which they've developed for defense.
Spines on large cacti are easy to avoid. But smaller varieties like cholla can break off easily and seem impossible to dislodge once they're stuck on you.
Be wary of animals. Rattlesnakes are common in Saguaro National Park.
You will usually hear a rattle first if you are in the snake's vicinity. Try to locate it and back off. Ankle high hiking boots will also keep you safer.
The park is also home to colonies of africanized bees. They are territorial and aggressive. So, if you hear them swarming, leave the area quickly.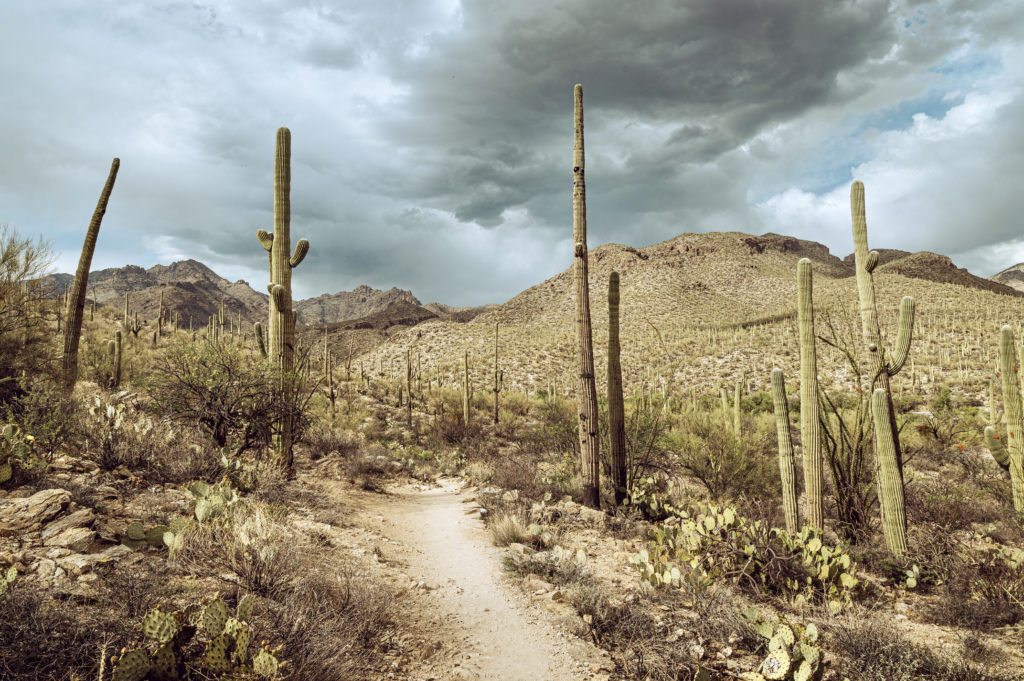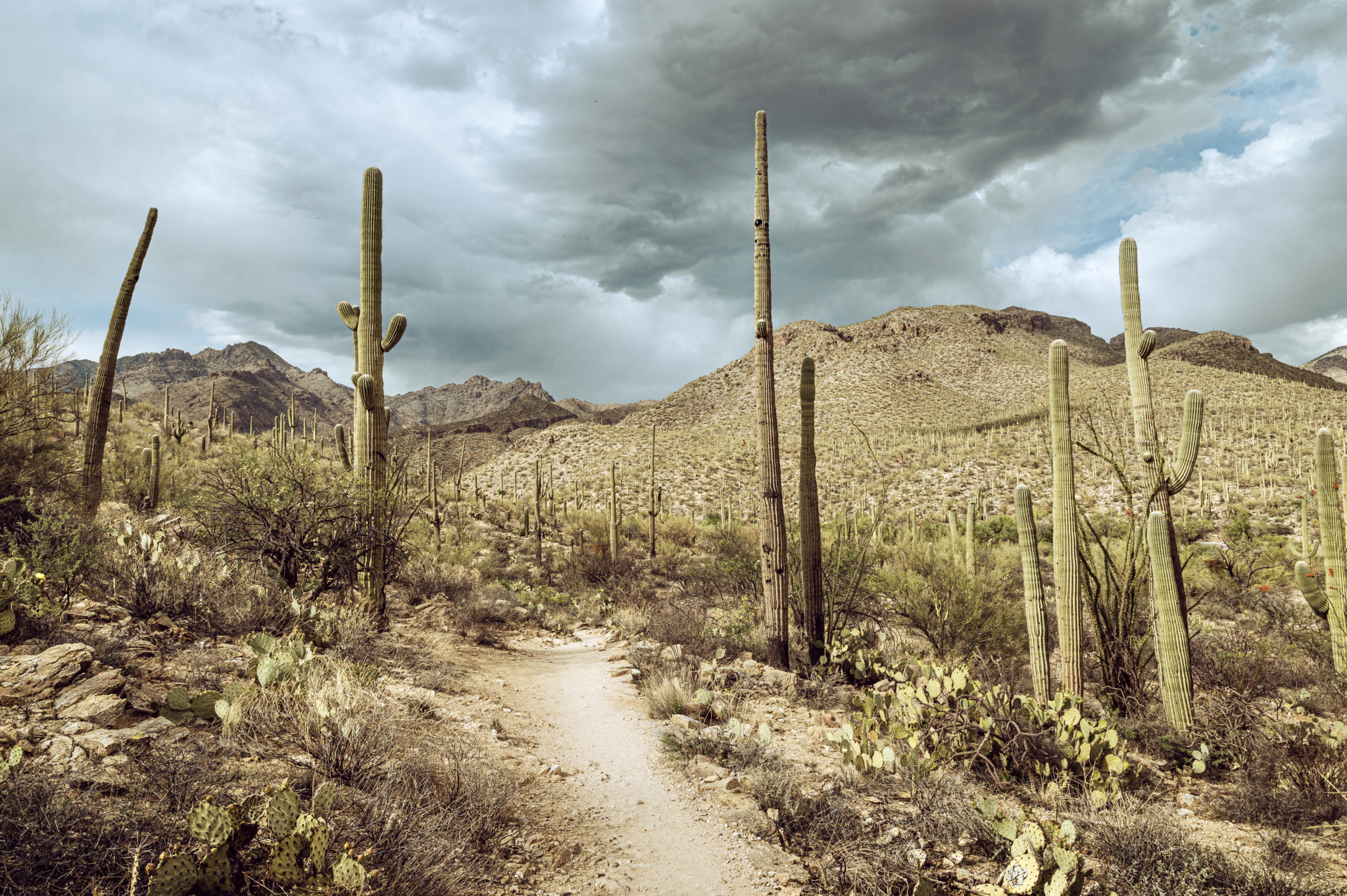 Want Else To Do Near Saguaro National Park
If you are in the Saguaro National Park area for a few days, there are plenty of other great things to do and see.
1. Sabino Canyon
Sabino Canyon is one of the premier natural areas in southern Arizona. It's located at the base of the Santa Catalina Mountains.
Come to Sabino to see water in the desert. Between steep rock cliffs and unique desert vegetation you will find riparian corridors. You may even get lucky and view a Gila Monster, bobcat, or other animals. Stay away from the Gila monsters!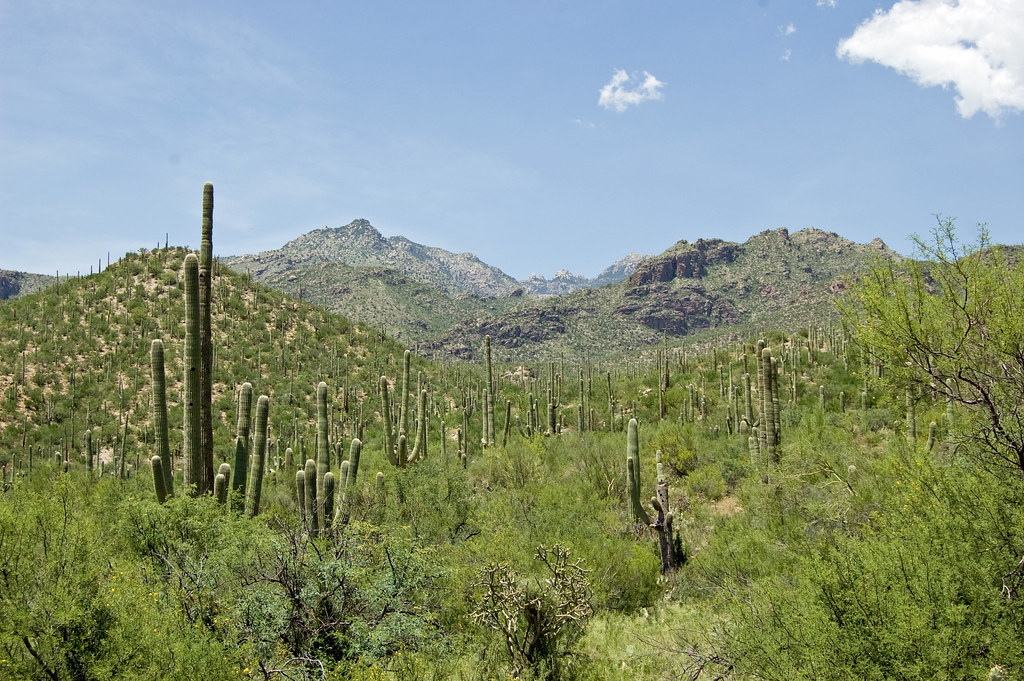 There are two shuttles that take you through the canyon. The shuttles leave every 30 minutes.
The $12 Sabino Canyon Crawler is a one hour trip through the canyon. There are 9 shuttles stops where you can get on and off. From the last shuttle stop, you can get off and hike up the Sabino Canyon Trail.
The $6 Bear Canyon Shuttle route is 30 minute round trip and has three stops.
Address: 5700 N. Sabino Canyon Road, Tucson, AZ 85750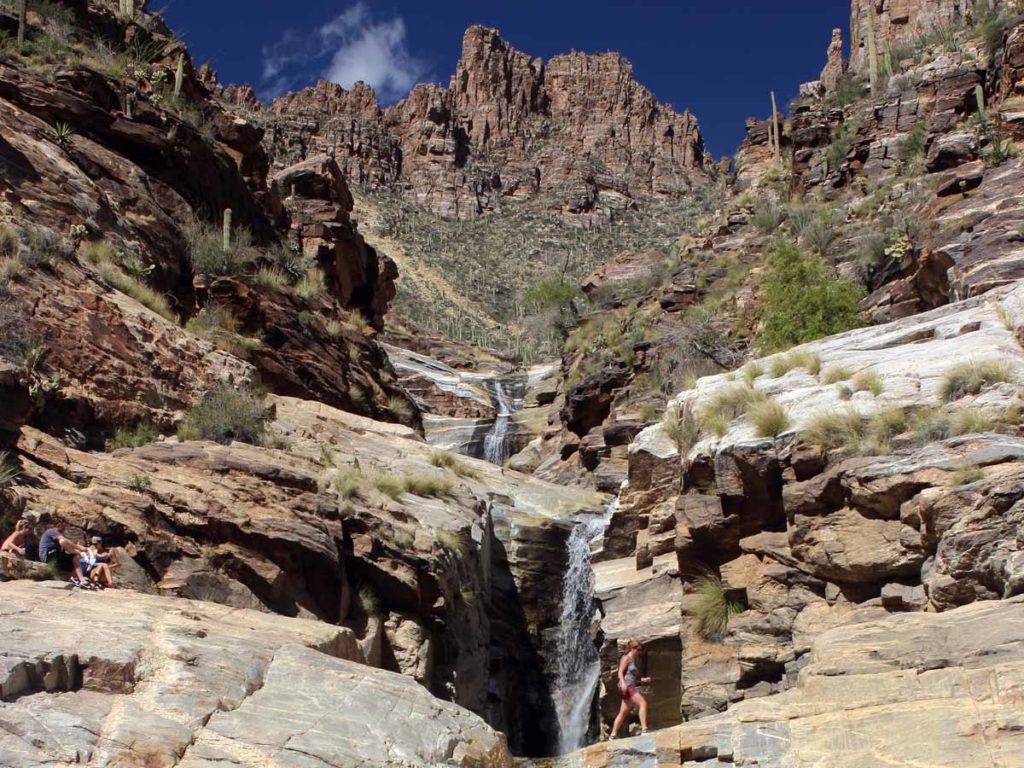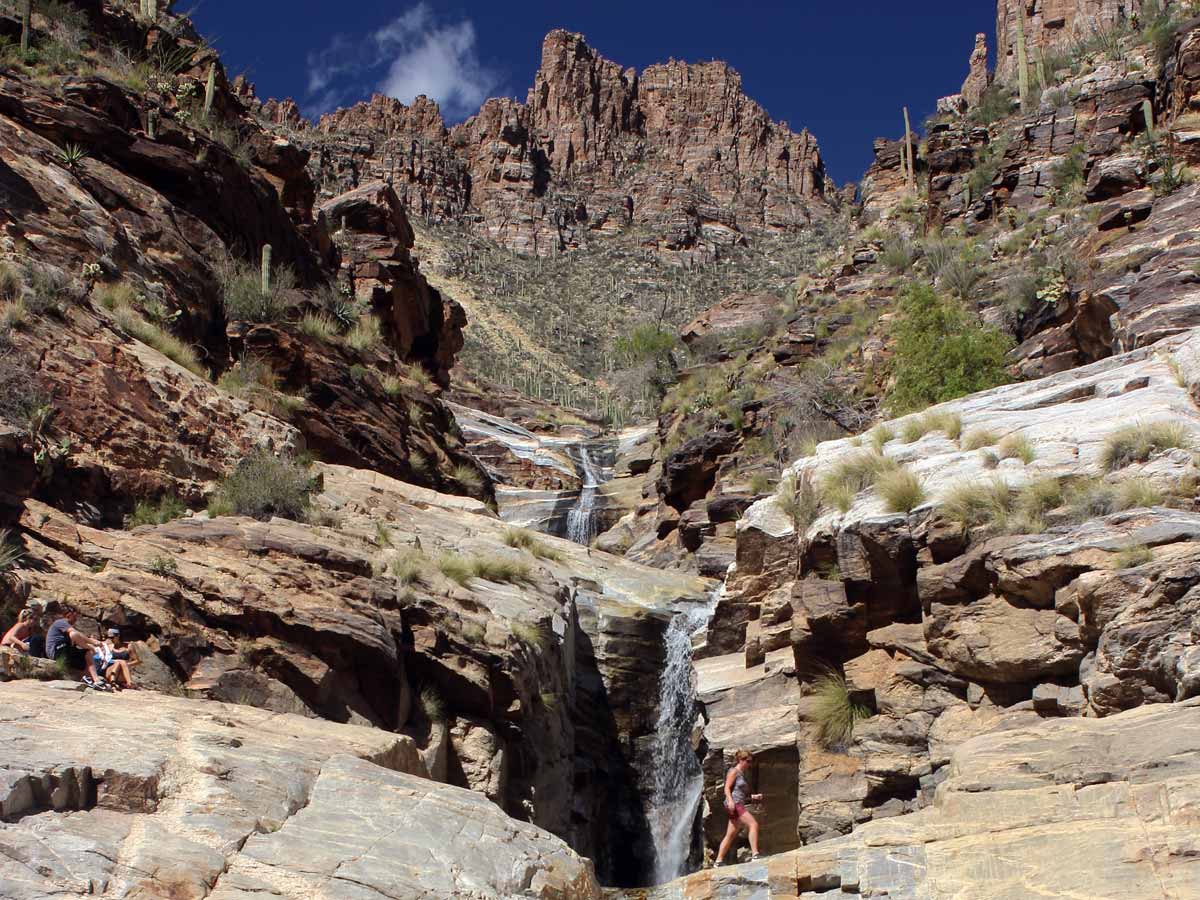 2. Bear Canyon Trail
Bear canyon is less visited than Sabino Canyon, but still popular. It's a rocky 7 mile out and back trail that crosses the seasonal creek many times.
The canyon sides are steep and jagged, formed of broken metamorphic rocks. You'll see many desert plants, most prominently ocotillo, saguaro, cholla, prickly pear, and western coral bean.
The trail takes you to the famous Seven Falls. To explore the falls, lead the trail and follow the streamed upstream. The falls are best viewed in after the spring snow melt.
Address: 5150 N Bear Canyon Rd, Tucson, AZ 85749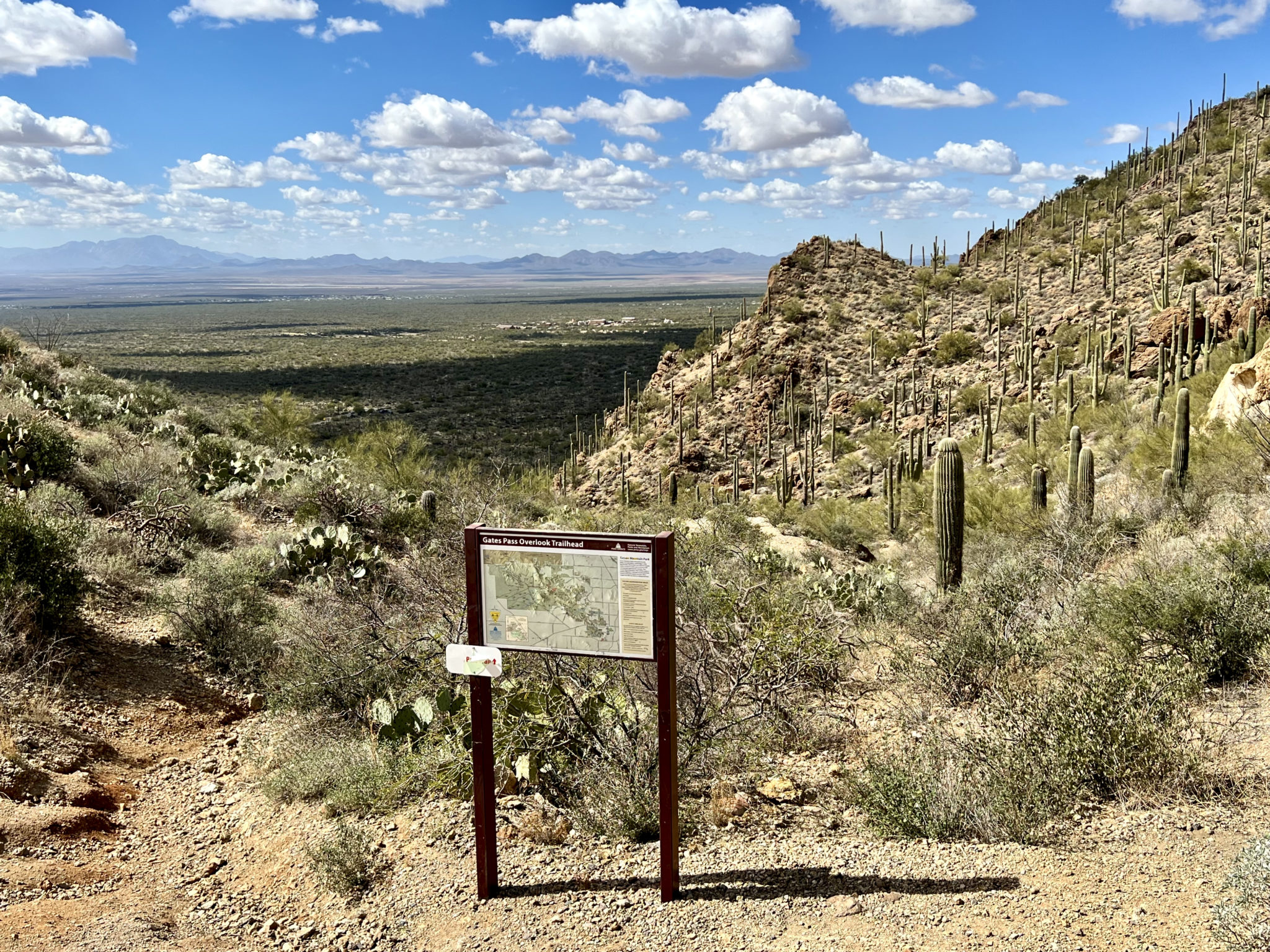 3. Gates Pass Scenic Overlook
Gates Pass is a beautiful scenic lookout in the Sonoran Desert. It's the perfect stop on your way to Saguaro Park West.
The overlook includes interpretive displays and historic structures. You can learn about the geology of the Tucson Mountains. Picnicking and wildlife viewing opportunities are located throughout the area.
There are short trails out to a promontory from which you can see the whole sweeping expanse of the desert below. This is a popular place to come at sunset.
Address: 7799 W Gates Pass Rd, Tucson, AZ 85745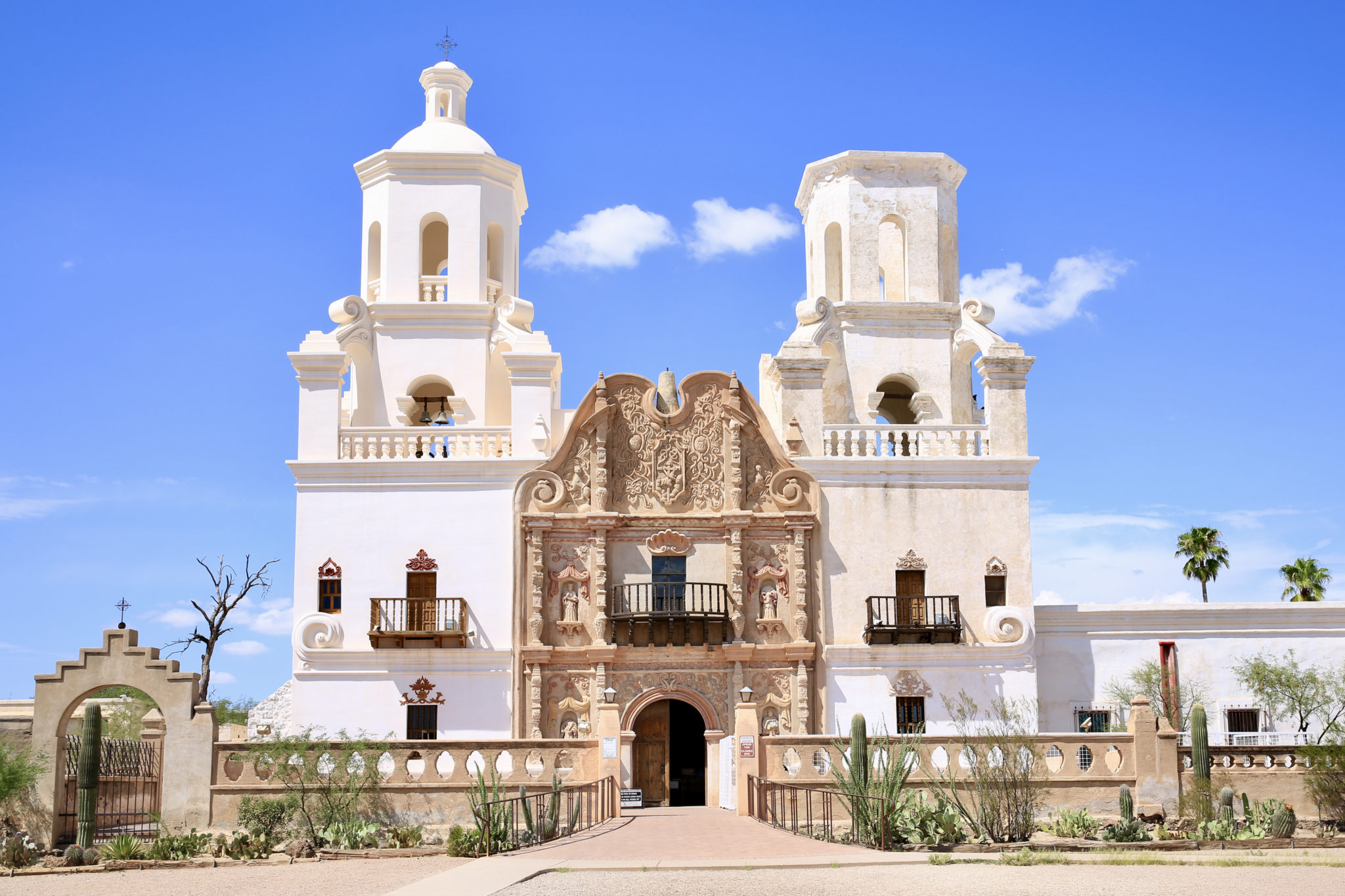 4. San Xavier del Bac Mission
Not too far from Saguaro National Park, you'll find San Xavier del Bac Mission. It's a National Historic Landmark known as the "White Dove of the Desert."
Posing akin to a European artifact, San Xavier is a mission masterpiece. It's a historic Franciscan mission church set in quiet splendor on an Indian reservation.
The partly restored mission is the finest example of Spanish Colonial and Mexican Baroque architecture in the United States. It's simply not something you'd expect to see in this country. Inside, it boasts colorful frescos, sculptures, an elaborate retable (a devotional panel), and chapels.
Address: 1950 West San Xavier Road, Tucson AZ 85746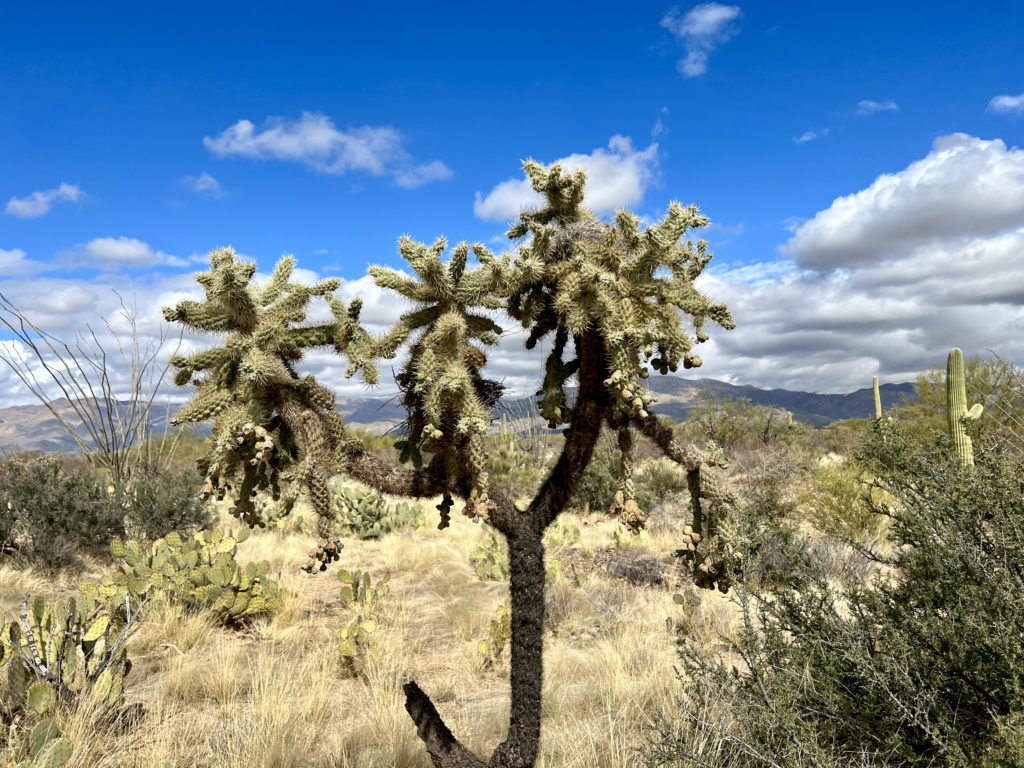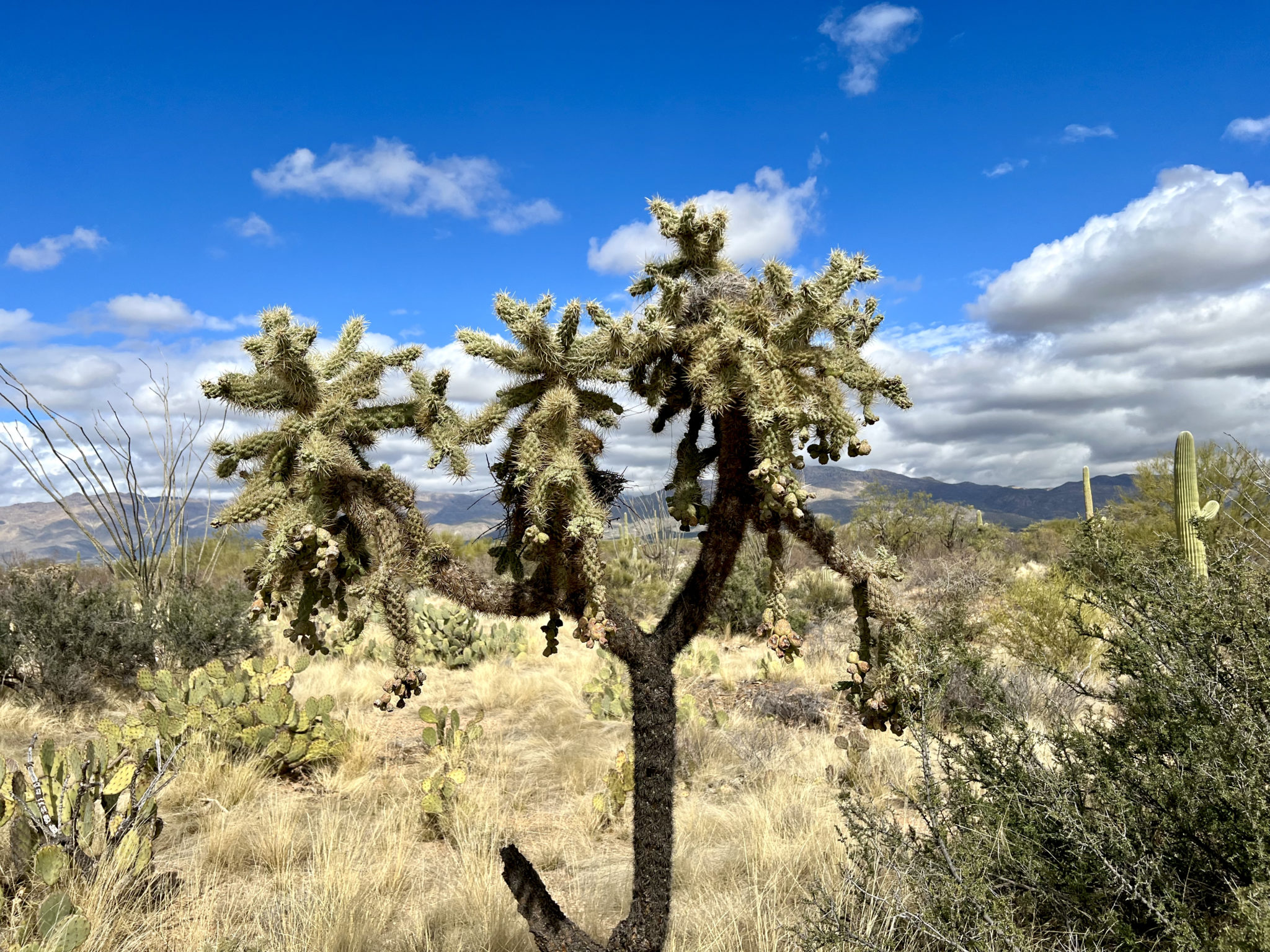 Where To Stay Near Saguaro National Park
There are no hotels inside the park. You'll find dozens of chain motels on Interstate 10.
if you want something a bit fancier to relax after your hiking, there are som lovely resorts. Try the Arizona Inn, Canyon Ranch Tucson, or the Miraval Arizona Resort & Spa.
You can only camp in the East section of Saguaro National Park. You can pick up a camping permit in the visitor center. They can also tell you where to find the best camping spots.
I hope you've enjoyed my guide to Saguaro National Park. You may enjoy these other U.S. travel itineraries:
If you need a guide to Saguaro National Park, pin it for later.