Here's my guide to visiting the Chateau de Chambord in France's Loire Valley. In this guide, I give you a history of Chateau Chambord, examine the possible influence of Leonardo da Vinci, and tell you everything to see at this fascinating Renaissance chateau-palace.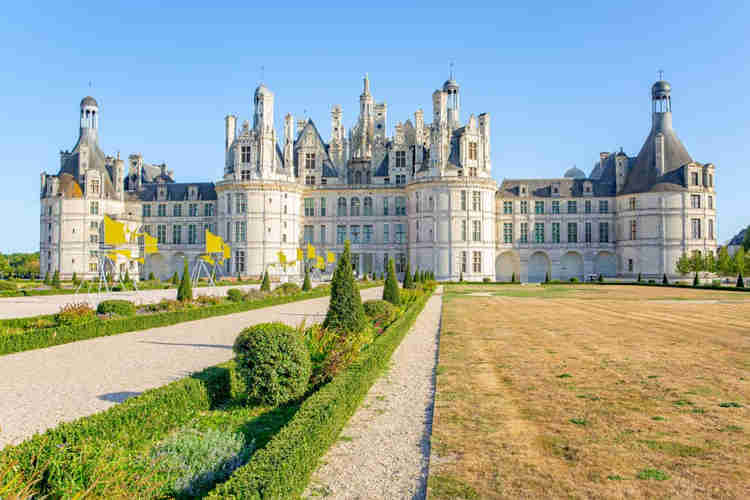 The Chateau de Chambord is the big daddy of Loire Valley chateaus. It's the largest, grandest, and most visited chateau.
>>> Click here to book a skip the line ticket
And it was likely inspired by one of the greatest artists of the Renaissance, Leonardo da Vinci. In 1516, at the urging of King Francis I, Leonardo relocated to France as a court artist.
Building started on this ambitious over-the-top Renaissance chateau in 1519. The palatial sized castle has over 400 rooms. The French novelist Victor Hugo described it was "admirably bizarre."
Chateau Chambord was commissioned by King Francis I. The king boldly (albeit slowly) transformed a lowly hunting lodge into an ostentatious monument to royalty and royal sport.
A Short History Of Chateau Chambord
Chambord is the creation and plaything of Francis I, a megalomaniac Renaissance king of France. Francis knocked down the small preexisting structure and commenced building his own super-castle.
Francis I is often compared to his English contemporary, Henry VIII. Both kings had big personalities, torrid love affairs, and notorious scandals that rocked Europe. Francis was known to hold the first Renaissance court in France.
Francis claimed Chambord was just a weekend getaway for hunting purposes. But its majesty and sheer scale belied this claim. It was to show off and flex his power.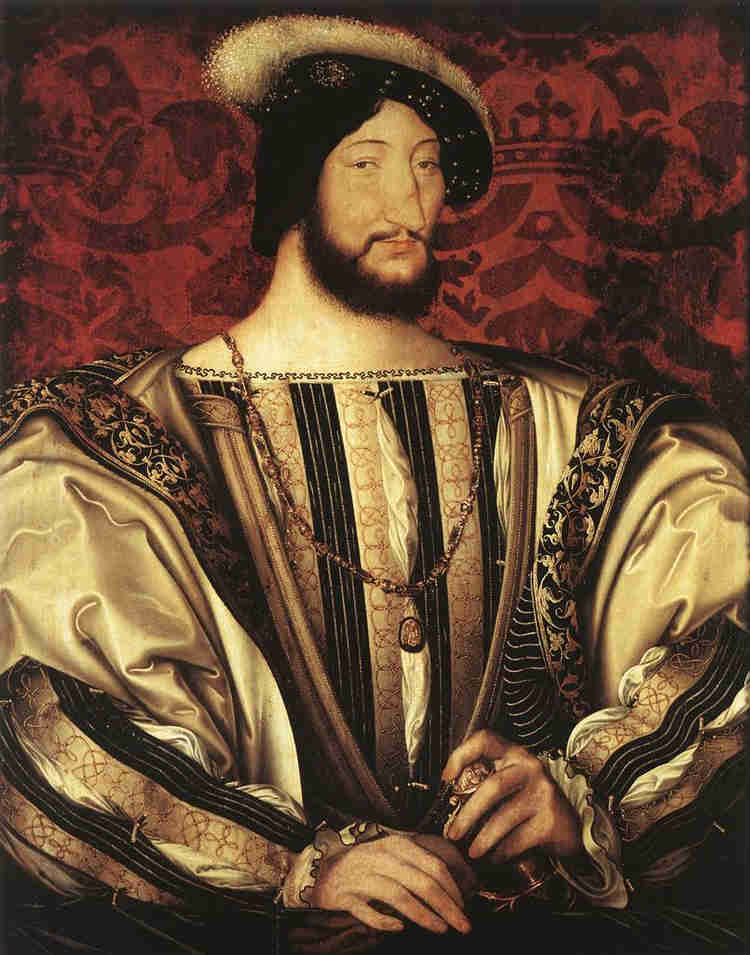 Portrait of Francis I in Paris' Louvre Museum
From the outset, Chambord's construction was fraught with controversy. Expenses snowballed. There were design snafus. Architects flew the coup. Wars intervened.
Francis' funds ran short. He stole money from the church to carry on with his vanity project. So vast was the castle that Francis' sister complained that she got lost within its walls.
Francis only spent a couple of months of his 30 year tenure as king at Chambord. It was a bit drafty for his taste, despite the many fireplaces. When construction dragged on, the albatross chateau became something of an embarrassment. It was never fully completed.
Of course, the chateau was never meant to be permanently inhabited. The royal court was itinerant and changed residences from season to season. Royal furnishings were temporary and portable. Francis traveled with up to 2,000 people. Imagine the horrifying logistics …
Francis died before his chateau dream was realized. Some say he died of syphilis. Other historians claim it was a urinary infection. His ineffectual son, Henry II, never did much with the chateau. Though he did build the Chapel Tower.
But the Sun King, Louis XIV, loved Chambord. Louis restored the keep and furnished the royal apartments. He also ordered the planting of formal French gardens in front of Chambord's grand facade. But then, well, Versailles took all his attention.
During the French Revolution in the late 1700s, Chambord was sacked. Much of the splendid furniture was sold or looted. Hence, when you visit today, the rooms are largely devoid of furniture. As they were for most of Chambord's life.
The chateau exchanged hands many time. In 1932, the French state acquired it and began renovations.
During WWII, Chambord was used to hide priceless artworks from the Louvre from the Nazis. This included Leonardo's Mona Lisa, which he had brought with him from Italy. Chambord became a UNESCO site in 1981.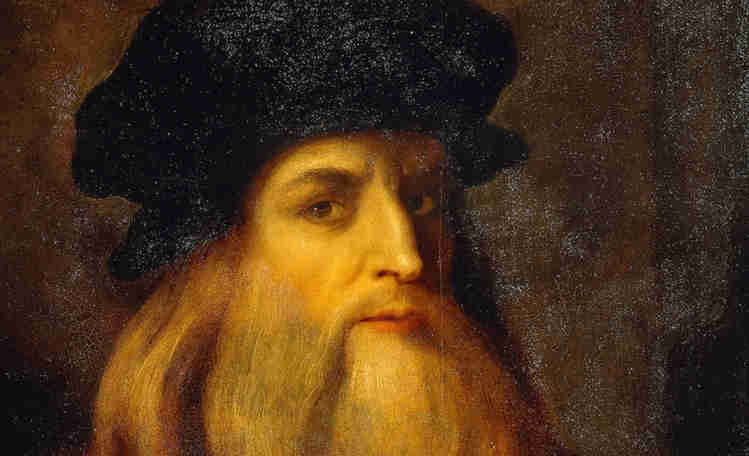 a possible self portrait by Leonardo in Florence's Uffizi Gallery
Chambord's Connection To Leonardo Da Vinci
Fans of Leonardo know that the artist lived in the Loire Valley the last few years of his rather long life. In 1516, Francis lured the famous Renaissance polymath away from Rome with promises of an easy life at court.
Leonardo' official title was "first painter, architect, and engineer." Francis wanted him to be "free to dream, think and work" without the demands of commissions that had burdened him in Italy.
Known for abandoning commissions, Leonardo was delighted at the prospect of free rein, a free villa, and a lucrative pension in exchange for his ideas and dreams.
READ: All the Paintings of Leonard da Vinci
There's no definitive link in the historic records between Leonardo and Chambord. And Leonardo died in 1519 before actual construction began. But Leonardo sketches match up with certain architectural elements at Chambord.
Specifically, Leonardo's Codex Atlanticus (in the Ambrosiana Museum in Milan) features images of twisting staircases, helical (spiral shaped) towers, and complex plumbing — elements that are found at Chambord.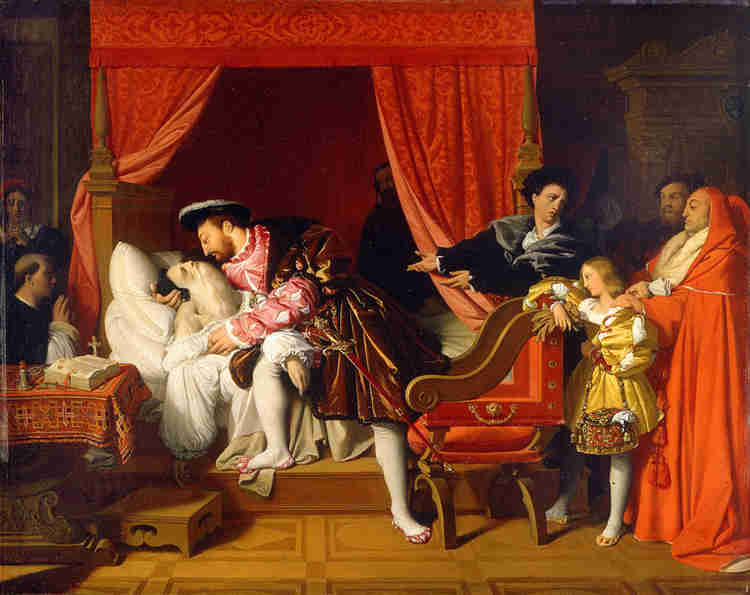 Ingres' Death of Leonardo in Paris' Petit Palais
The chateau's central architectural footprint, the double helix staircase, and the double pit evacuation system resemble Leonardo's sketches. They have a mathematical elegance typical of Leonardo's ideas (and not typical of French architects at the time).
If you want to see some real life Leonardo creations in France, head to the Louvre to see the Mona Lisa, or to Chateau du Clos Luce, Leonardo's official residence in Amboise.
READ: Best Itinerary for the Loire Valley
When Leonardo died, his heirs sold some of his paintings to Francis. That's why the Louvre has the largest collection of Leonardo paintings in the world.
Legend holds that Francis held Leonardo's head in his hands when he passed away. This supposed tender moment was captured in Ingres' Death of Leonardo. Historians say otherwise, with proof that Francis was elsewhere.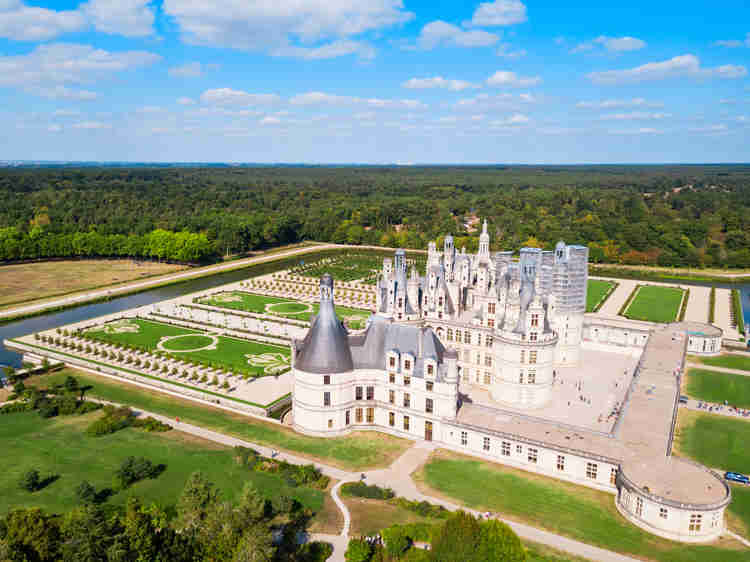 aerial view of the layout of Chateau Chambord
What To See at Chateau Chambord
Here's what you need to see at this UNESCO chateau. You may want to book a 2 hour guided tour.
1. Architecture
Who Was the Architect?
The architecture is the main reason to visit Chambord. Chambord is a vision of harmony and the classical principles of mathematics and geometry. It's a heady mixture of French medieval and Italian Renaissance architecture.
But who was the architect? Whoever originally imagined the defining features of Chambord remains a mystery. No architectural plans have survived.
Many famous architects of the day are associated with Chambord, especially Italian architect Domenico da Cortona. However, Cortona's wooden model didn't contain a design for a spiral staircase. Perhaps the most likely scenario is that various architects collaborated with Leonardo and worked off his drawings.
Facade
Francis imagined Chambord as a Renaissance marvel with Italian influences. On the facade, you see this.
Arched pillars are superimposed on the front, giving it a harmonious symmetry. Double banded friezes separate the three floors. At the top, black slate tiles give Chambord a flamboyant Italian harlequin type design.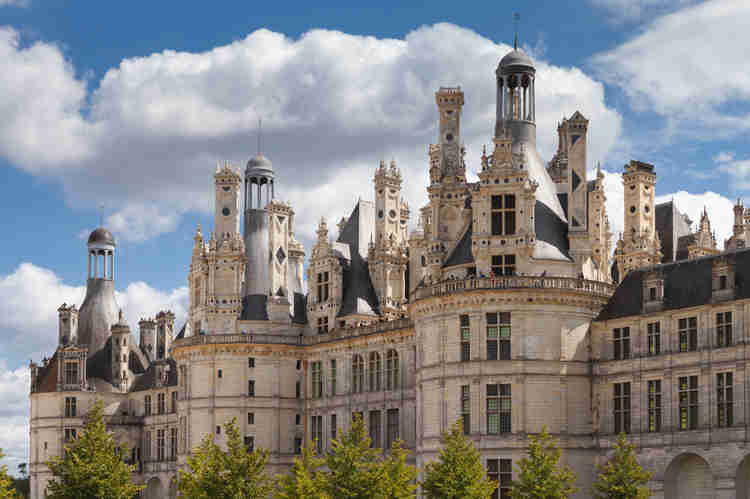 While the facade is pure Renaissance, the chateau still has medieval indicia — the one story curtain wall, moat, and corner towers that are part of the front wall and larger compound. The chateau was never intended for defense, so these elements are purely decorative.
Grid Layout
The chateau has a well-ordered grid style lay out. There's as a quadrangular keep in the center. The keep is crossed by four courtyards with ornate towers at each corner.
The footprint is a Greek cross (a cross with equal arms). The Greek cross was found in many Italian churches, including St. Peter's Basilica. But it wasn't present in French civic architecture of the time. At the center of the cross is the double helix staircase.
On each of its four stories, the stairs open onto four Greek cross landings with arched ceilings. Each landing has a complete apartment, a significant break with the tradition of Middle Ages that arranged bedrooms along corridors.
The chateau's sculpted decoration was crafted from white tuffeau stone, a local limestone that's soft for carving but hardens as it ages.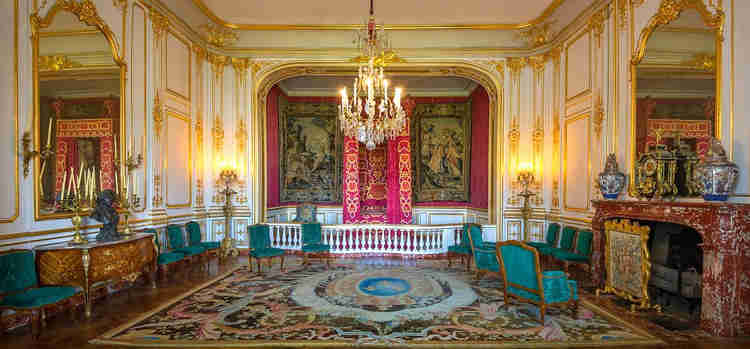 bedroom of Louis XIV
3. Interior
There are four floors, all with high ceilings: (1) ground floor reception rooms (with 18th century kitchens); (2) first floor royal apartments; (3) second floor hunting museum; and (4) the rooftop terraces. The double helix staircase is accessed on the ground floor.
The castle has 440 rooms, 365 fireplaces, and 85 staircases. There are 32 identical 5 room apartments. 80 rooms are open to the public. (How could you visit more?). The rooms have 20 foot high ceilings.
There are 4,500 works of art, tapestries, paintings and furnishings. One almost loses count.
You'll see Francis' signature, the crowned salamander, everywhere. Almost 800 of them. Salamanders were considered rather magical in the medieval era.
Francis' motto was "I eat the good fire, I put out the bad." The motto refers to the popular belief that salamanders, like phoenix, could live on both land and water and resist flames.
vaulted ceiling on the second floor
Vaulted ceilings are decorated with a plethora of royal insignia — salamanders, porcupines, dolphins, and other symbols.
The coffers (square sunken panels) on the vault on the second floor are amazing. The coffered vault helps support the flat roof connecting the four sides of the keep.
The first floor is probably the most interesting for visitors, with some period furniture loaned back to Chambord from the French national collection. In the king's wing, you'll find portraits of Louis XIV and Francis. Louis XI's bedroom is lavish, with an incredible Gobelin tapestries.
In the queen's wing, you'll see the blue bedroom of the queen. The king's and queen's apartments were conveniently connected by secret passageways for nighttime trysts.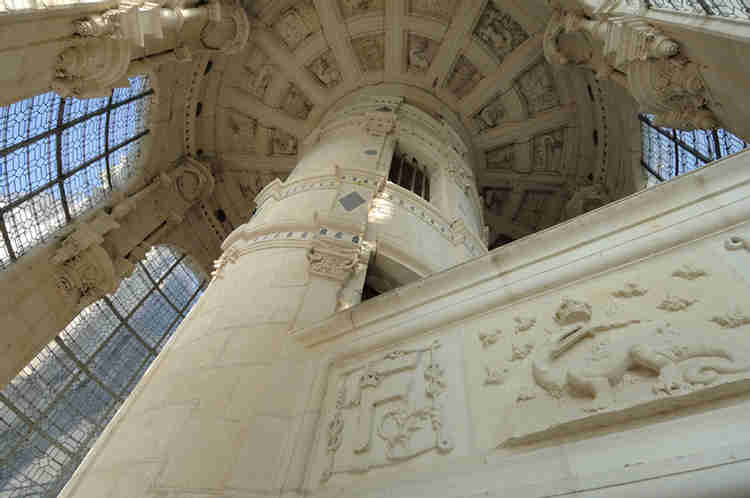 the double helix staircase, possibly inspired by Leonardo
4. Double Helix Staircase
The highlight is Chambord's beguiling and mind boggling double helix staircase. It's an architectural monument in and of itself. And, unlike most grand staircases, it was in the center of the hall.
The staircase is the first thing you see when you walk in. It's the centerpiece of the chateau.
You can't help but think of Leonardo, with his scores of doodles and architectural sketches in his notebooks. Leonardo had a penchant for elaborate staircases with separate entrances.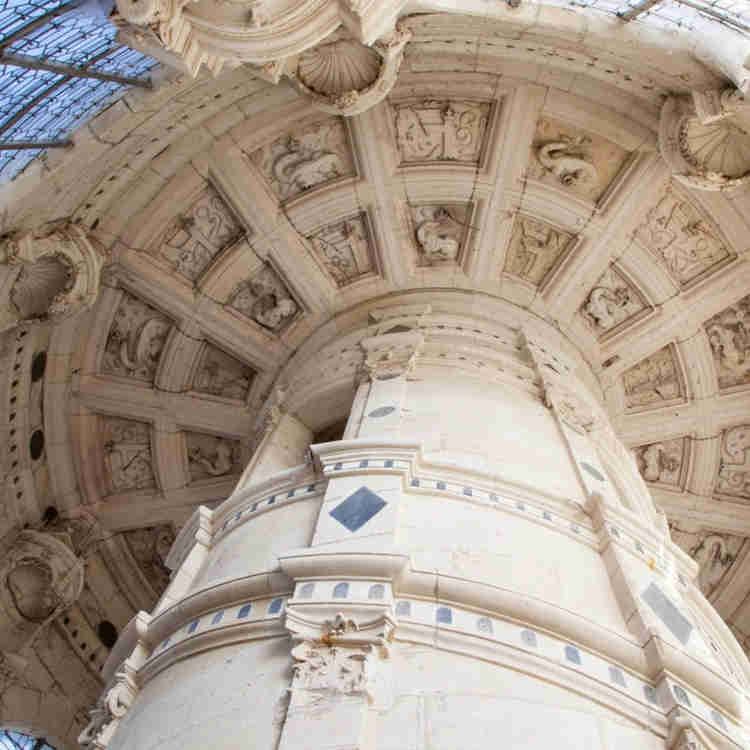 At first, the grand staircase appears like a single staircase. But it's not. In two great interlocking spirals, the staircase whisks visitors from the ground floor to the rooftop and Lantern Tower.
Two helical ramps twist like a strand of DNA around a hollow core. The column of open air is topped by an elaborate spire.
The twin staircases intertwine and ascend without actually touching. You can see people moving up and down, but don't actually encounter them.
You'll want to walk up and down several times.
rooftop terrace, seen from the central"donjon"
5. Rooftop "Crown"and Viewing Terrace
You ascend to a magnificent lookout terrace along the roof. This will likely be the highlight of your visit.
Chambord's roof is its crowning glory. It's a marvel of fantasy, a prickly silhouette. There are chimneys, cupolas, bell towers, dormers, turrets, and steeples.
You can inspect the exuberant pincushion roof close up. It's like a mini city or city skyline, which some experts think is another illusion to Leonardo. Leonardo theorized that, to lessen the effect of overpopulation, cities should have "high streets" where the rich and famous could walk above the common man.
The terrace was where the ladies of the court once viewed the hunting activities. It offers breathtaking views over the chateau gardens and valley.
The tallest tower is the Lantern Tower. This was lit with a torch when the king was in residence. It's 100 feet tall with supporting flying buttresses.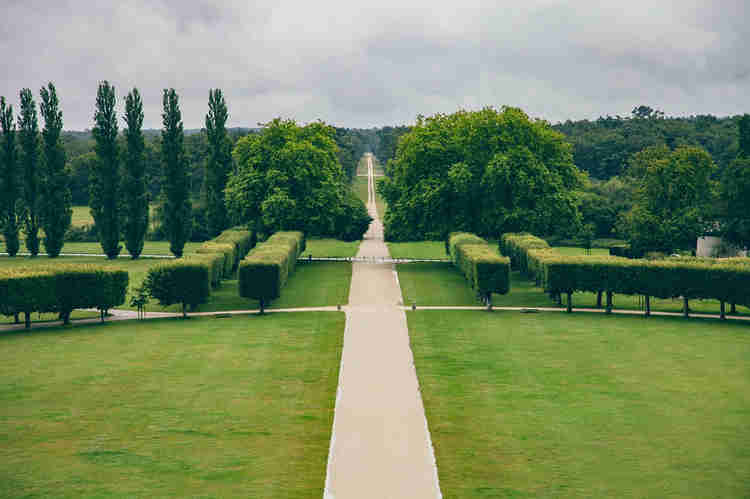 6. Formal French Gardens and Park
Since the French Revolution, the Chambord gardens had been abandoned and neglected. The gardens were recently restored in 2017. They added hundreds of trees and plants. The lawns were replanted as well.
This blitz of gardening followed 16 years of study to restore the gardens as they would have appeared during Louis XIV's reign. They are the definition of magnificent, both in petal and leaf.
Chambord is also surrounded by Europe's largest enclosed forest park, a lush game preserve teeming with wild animals. You can hike and bike through the park. Or take a horse drawn carriage.
the Lantern Tower
Tips For Visiting Chateau Chambord
1. How To Get To Chambord
If you're coming from Paris, its a 110 mile drive. It will take approximately 2-2.5 hours to get there. You can also take the train from the Austerlitz Train Station to Blois-Chambord (about 1:20 in length). From April to October, you catch the Chateau Shuttle for a 25 minute ride to Chambord.
If you're driving, Chambord is the only chateau in the Loire Valley where you have to pay for parking.
You can also visit the chateau on a guided day tour from Paris or a full day tour that includes wine tasting.
2. Where To Stay Near Chambord
The best option is the Hotel Relais de Chambord. The Relais is a boutique hotel in a converted inn. Some of the rooms have chateau views.
3. Practical Information
Address: 41250 Chambord France
Hours: 9:00 am to 6:00 pm, closes at 5:00 pm off season. Last entry is one hour before closing.
Entry fee: 16 €, parking 6 €, histopad 5 €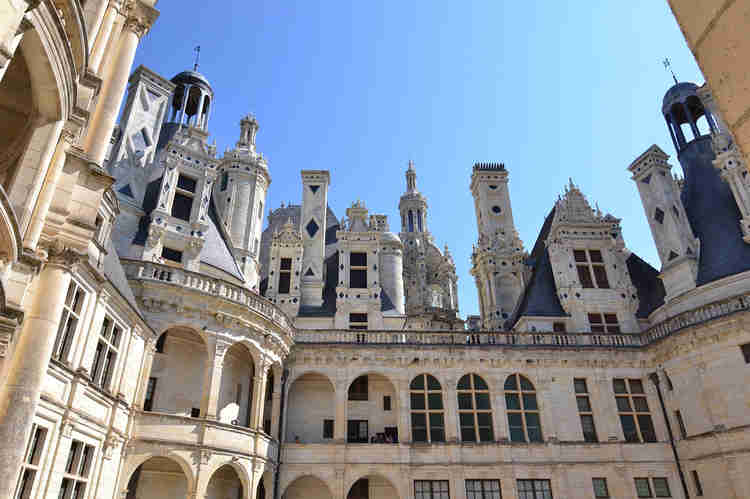 4. Pro Tips
There's a 20 minute film that gives you an overview of the architecture of the chateau on the ground floor. There are plenty of English language panels explaining what you see.
The histopad will magically show you, via augmented reality, how rooms would have looked during Francis' time. If you're hungry, you can dine onsite at the Café d'Orléans.
There are several guided tours, 1 or 2 hours, several times a day. The one hour English tour is at 11:15 am.
I have you've enjoyed my guide to Chateau Chambord. You may enjoy these other France travel guides and resources:
If you'd like to visit Chateau de Chambord in France's Loire Valley, pin it for later.