Planning a visit to Florence Italy? If so, you'll know there are so many amazing things to do and see in Florence. So many in fact that you may be wondering whether Casa Buonarroti is worth putting on your Florence itinerary. The answer is decidedly yes!
Casa Buonarroti is one of the most underrated and overlooked museums in Florence. The museum was a property once owned by the famed Renaissance artist Michelangelo, whose last name was Buonarroti. Later, the palace was transformed into a house-museum by his heirs.
The museum was designed to celebrate the great artist's legacy. It's a visual, and somewhat romanticized, biography of his life. If you're a Michelangelo fan, Casa Buonarroti is a must visit attraction in Florence.
Casa Buonarroti has some real masterpieces. It has two of Michelangelo's earliest known works of sculpture. It houses Michelangelo's majestic wooden model for the facade of the Basilica of San Lorenzo. To top that, this tiny museum has the world's second most important collection of Michelangelo drawings.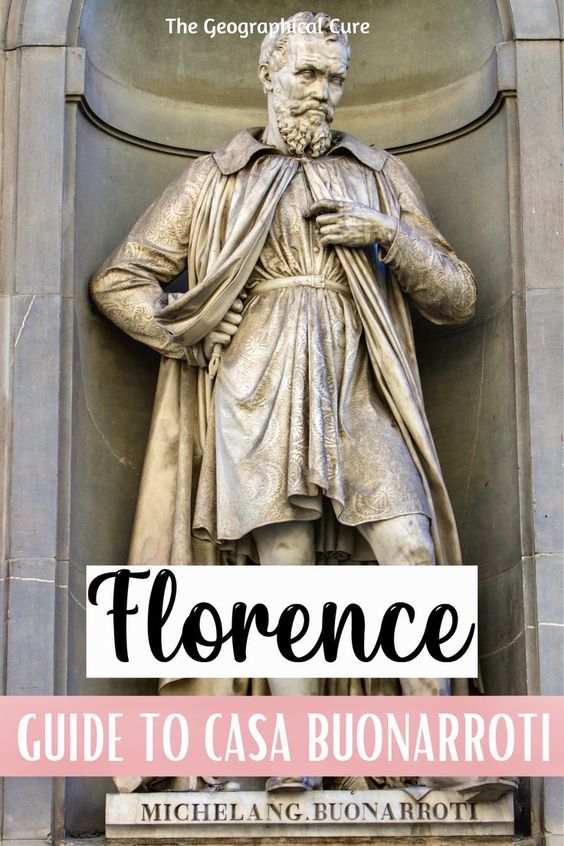 The Artist Michelangelo
Michelangelo has been famous for over 500 years. He was a giant of the Renaissance, showing virtuosity in every medium — sculpture, painting, poetry, and architecture. Dubbed the "divine artist," Michelangelo was the first sculptor to be hailed as a genius in his lifetime, as early as his 20s.
Michelangelo created some of the world's most beautiful and revolutionary art. He was a master at creating idealized, technically perfect visions of the human body. Psychological and physical realism had never been portrayed with such panache.
Michelangelo was a complicated personality. He was a workaholic, perfectionist, and solitary creator.
He went down in history as a tormented and quarrelsome genius, toiling tirelessly against adversity. This dramatic characterization no doubt helped cement his legacy and fascinates people to this day.
For a more complete biography of Michelangelo, you can read my guide to the Michelangelo trail in Florence.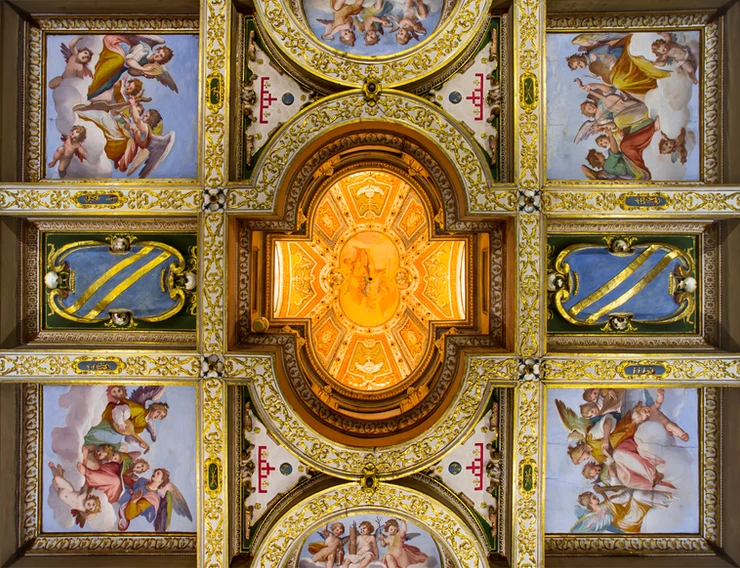 Overview and History of Casa Buonarroti
The museum is housed in a rather unassuming building, located at #70 Via Ghibellina. It's only minutes away from the Bargello Museum. You can pair them up for a super sculpture museum combo.
READ: Best Museums in Florence
Casa Buonarroti can be easy to miss. The trick is to look for the brown sign, which indicates places of cultural interest.
Between 1508-14, Michelangelo purchased five houses located near Via Ghibellina. But the artist never lived there full time. With rich patrons and a monk-ish lifestyle, Michelangelo died a wealthy man.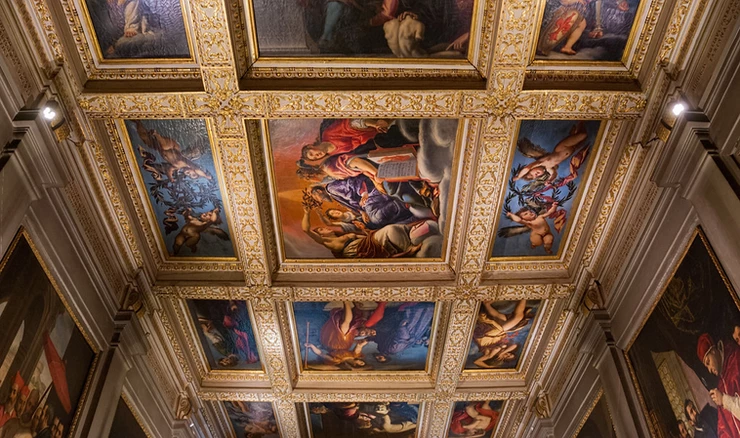 After Michelangelo's death, his houses and artworks were inherited by Michelangelo's sole heir: Lionardo Buonarroti. Lionardo began converting the houses on via Ghibellina into a single palace dedicated to Michelangelo's transcendent legacy.
Lionardo also commissioned Michelangelo's tomb for the Basilica of Santa Croce. It was designed by Michelangelo's friend and mentee Giorgio Vasari, who was a true Michelangelo fan boy.
Lionardo's son, Michelangelo the Younger, further enlarged Casa Buonarroti. He decorated the house in sumptuous Baroque trappings to show off the family's artworks.
Eventually, he converted the palace into a museum. He employed some of the greatest Florentine artists of the day, including Artemisia Gentileschi and Pietro de Cortona.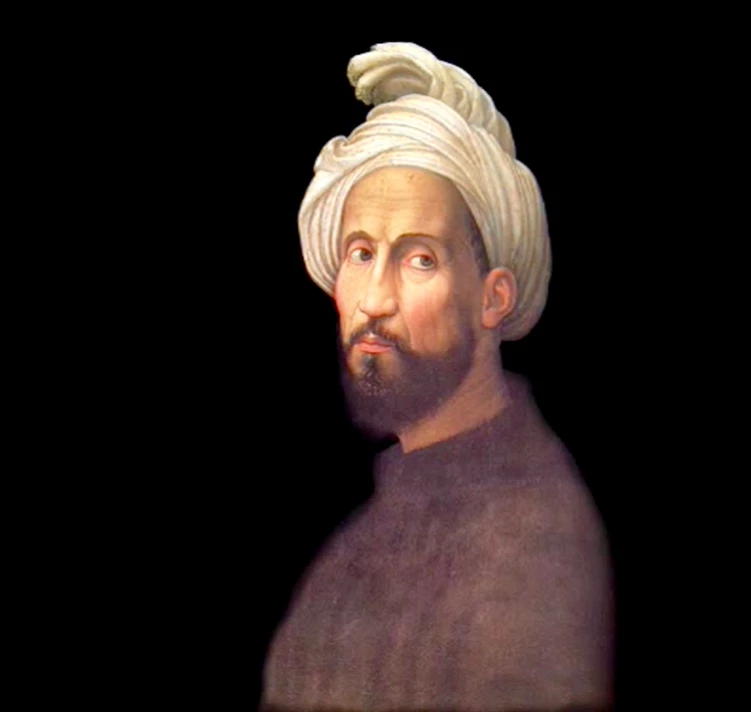 10 Things To See Inside Casa Buonarotti
When you step inside Casa Buonarroti, you'll be treated to what is effectively a documentary on Michelangelo's life. And see the most important things left behind by the great Renaissance master.
Here's what you should see inside Casa Buronarroti over 2 floors and 16 rooms.
1. Portraits of Michelangelo
When you enter, you'll be bombarded with a bevy of Michelangelo images.
The portrait of Michelangelo with a turban (on the right above) is a copy of a famous painting commissioned by Ottaviano de' Medici. It depicts Michelangelo at the age of 47. There are two copies, one at the Louvre and one in a private collection.
The other painting on the left is a copy of the famous 1540 Michelangelo portrait in the Metropolitan Museum in New York City. The painting was originally thought to be by Jacopino del Conte, but has been reattributed to Daniele da Volterra, Michelangelo's trusted friend.
2. Bronze Bust of Michelangelo
This bronze bust may be the most definitive image of Michelangelo. It was cast directly from Michelangleo's death mask by Daniele da Volterra. To do this, you cover the face of the deceased with wet plaster, let it harden, and then make a model from it.
This bust shows Michelangelo at the age of almost 89. There's a bit of photoshopping in the sculpture. Michelangelo didn't look like Chartlton Heston.
From his letters, we know that Michelangelo was almost bald then. He didn't have hair on his head or a beard. You can see Michelanglo's flattened nose, which a rival broke when he was young.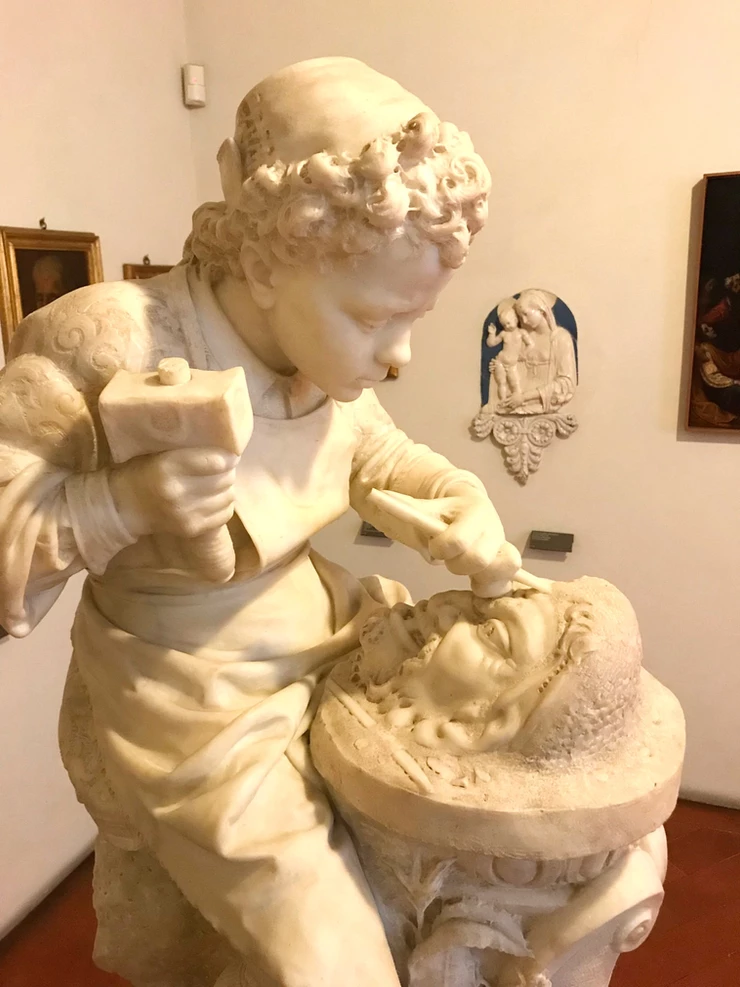 3. Michelangelo with the Fawn
This late 19th century sculpture is a charming little marble statue of a boy Michelangelo carving the face of a fawn. There's a famous story behind the sculpture.
As a youth, Michelangelo was under the patronage of Lorenzo de' Medici, called Lorenzo the Magnificent. He worked and studied in the gardens of San Marco Monastery.
Lorenzo commented that Michelangelo's fawn sculpture was too pretty. In response to this comment, legend holds that Michelangelo chipped out a tooth.
READ: History of the Medici
4. Michelangelo Drawings
Casa Buonarroti has an extraordinary collection of Michelangelo's drawings. Michelangelo was a divine draftsman.
He drew incessantly during his career. But Michelangelo drew only to work out an idea or to solve a compositional problem. His drawings reflect his creative process.
Michelangelo destroyed many of what he deemed imperfect menial drawings. In fact, according to Giorgio Vasari, Michelangelo burned a huge trove of drawings in his Rome studio before his death.
Michelangelo wanted people to believe his masterpieces were the works of spontaneous genius, not the result of hard work and meticulous preparation. Possibly, too, he didn't want his work stolen by other painters.
Casa Buonarroti's collection of Michelangelo drawings is the second largest in the world, second only to the Uffizi Gallery. Some were already in the family collection. Some were purchased by Michelangelo the Younger. In 1960, after years of neglect, the drawings were restored by the Uffizi workshop.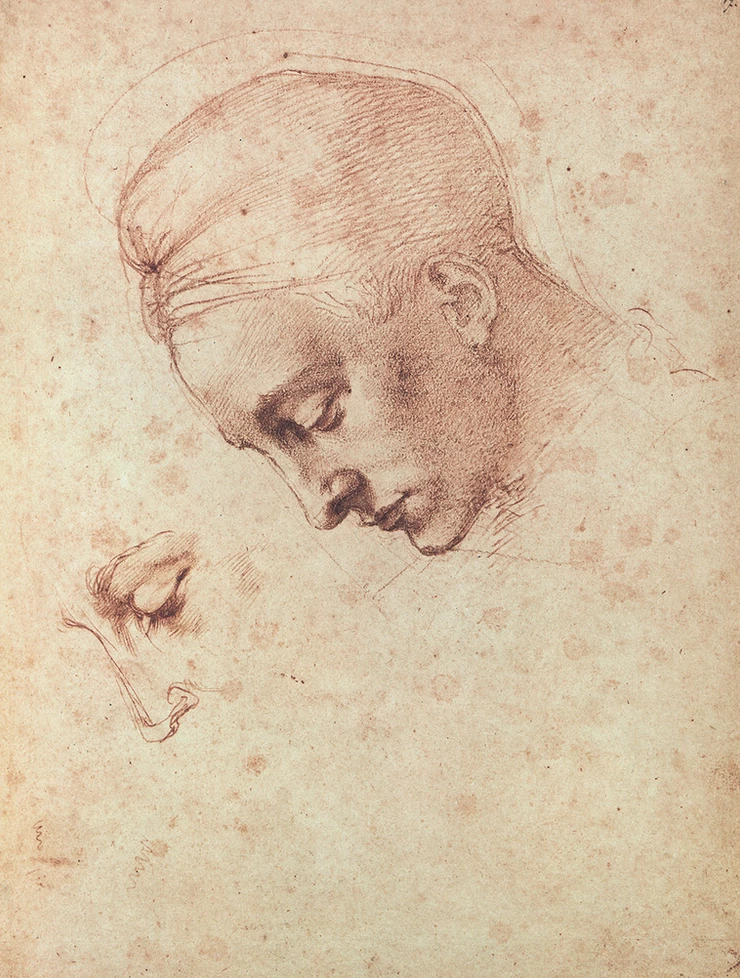 In Italy, it's not very common for museums to have drawings on display because they're so fragile. If you leave them out, they tend to fade. But at Casa Buonarroti, Michelangleo's drawings are on display.
The drawings on display are regularly rotated for conservation purposes. You may see studies of figures or architectural drawings on your visit.
Perhaps the most famous drawing at Casa Buonarroti is the 1530s Study for Cleopatra. It's clearly a male model, which was typical for the time. Michelangelo just adds hair and a doleful expression. You can see the torsion and movement in the long neck and head.
Another of the celebrated drawings is the red chalk Study for the Head of Leda from 1530. It's a sensitive and powerful image. Unfortunately, the painting itself was lost.
The Study for the Madonna and Child, 1522-25, is another beautiful drawing. Michelangelo is experimenting with wetting his charcoal to add more dimensionality. The majority of the detail is on the rendering the child in 3D.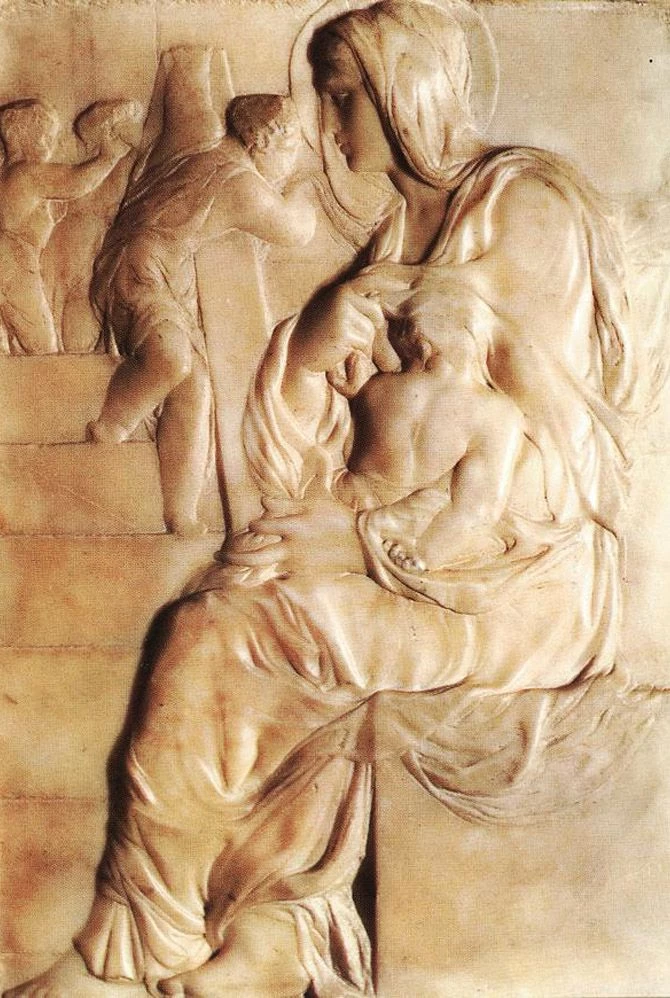 5. Madonna of the Stairs, 1492
This marble relief is one of Michelangelo's earliest works. He was only 17 when he carved it. It was likely commissioned by Lorenzo the Magnificent.
The relief shows the influence of the early Renaissance sculptor Donatello, the greatest sculptor of the 15th century. Donatello invented the technique Michelangelo uses here, called flat relief.
The technique is difficult. A marble slab is very thin, so there's not much material to chisel.
The Virgin is in profile, looking rather melancholy. It's a glance that foreshadows Michelangelo's Pieta. Baby Jesus has fallen asleep. Little angels run up and down the stairs.
6. Battle of the Centaurs, 1492
In the same room, you see another relief sculpture about 3 feet tall from the same year. There's a lot going on in this relief. It was an indication of what would become Michelangelo's favorite subject, the heroic male nude body.
Unlike the Madonna, Michelangelo is working in low-middle-high relief. The piece shows mythological centaurs trying to steal away a human bride at a wedding. It's essentially a swirling mass of brawling figures, a visually aggressive image.
The relief shows the sheer virtuosity of the teenage artist. You can see a torsion in the male bodies and an already strong grasp of human anatomy. Later in Michelangelo's career, his musculature would be much more articulated.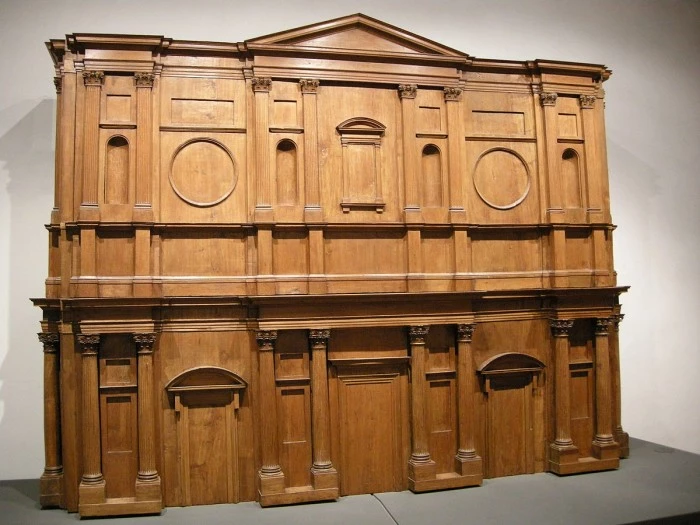 7. Wooden Model for the Facade of San Lorenzo, 1516
This is the original wooden model for the facade of the Basilica of San Lorenzo, the shrine to the Medici family. Michelangelo created it for a competition to create a marble facade to cover the existing raw brownstone facade. There's also a prepatory drawing for his model in the museum.
Michelangelo's rectangular model is a rather radical architectural scheme for a church, departing from the classical canon. Usually there's a taller central section on a facade. This model was more characteristic of what you might see for a palace design.
Interestingly, Michelangelo's rectangular facade is quite similar to the rectangular facade, built 1000 years later, for St. Peter's Basilica. So Michelangelo's facade is almost porto- Baroque.
The facade project was never completed. The pope took Michelangelo off the project to work on the Medici Chapel. Plus, money had run out.
Efforts have been made to raise money for a new facade for the bare brick front, which is rather an urban blot. But there is some resistance to that. Some prefer the plain brown facade as a testament to history.
8. "Celebrity Paintings"
There are some rather romantic 17th century paintings by Domenico Passignano and Anastasio Fontebuoni. They showcase Michelangelo's celebrity and important commissions from a string of popes.
There's a painting of Michelangelo showing Pope Leo X his model for the San Lorenzo facade. It's a rather flattering image of the pope, this time photoshopping out his rather obese weight.
There's a painting of Michelangelo showing his model for the Sistine Chapel ceiling to Pope Julius II, his greatest patron. There's also a painting of Michelangelo showing the model for the dome of St. Peter's Basilica to Pope Paul IV.
9. Wooden Transport Box
This is an interesting artifact. The wooden box on display was the apparatus used in 1873 to transfer Michelangelo's famous David from Piazza della Signoria to the Accademia Gallery. They built train tracks and slid the cart down the track to the museum.
10. Michelangelo Figure of a River God, 1526-27
This was a preparatory study for a human torso intended for the base of a Medici tomb in the New Sacristy of San Lorenzo. It's been restored, and a coat of dark paint (applied much later) removed.
Practical Information for Visiting Casa Buonarroti
Address: Via Ghibellina 70
Entry fee: 8 euros, a 2 euro fee if tickets are purchased online
Hours: 10:00 a.m. to 4:30 p.m.
Pro tip: Just 5 minutes from the museum, you can visit Michelangelo's tomb in the Basilica of Santa Croce.
I hope you've enjoyed my guide to Casa Buonarroti. You may enjoy these other Florence travel guides:
• 1 day itinerary for Florence
• 3 day itinerary for Florence
• Best day trips from Florence
If you want to visit Casa Buonarroti, pin it for later.