Here's my guide to taking a Game of Thrones tour in Dubrovnik Croatia. it tells you everything you'll see and what to expect.
Fairytale Dubrovnik is divine. It has a striking old town, a perfect setting on the turquoise blue Adriatic sea, an impressive mountain backdrop, and some serious landmarks. Its walls are one of the greatest fortifications of the middle ages.
But one thing Dubrovnik has in spades, distinct from most other European cities, is the popular HBO series, Game of Thrones. Dubrovnik is the ideal filming location for a series as addictive and authentically medieval as Game of Thrones. Co–creator D.B. Weiss said:
"To find the full-on, immaculately preserved, medieval walled city that looks uncannily like King's Landing, where the bulk of our show is set, that was, in and of itself, just such an amazing find."
The Imagery of the Place or the Place of the Imagined?
Like most citizens of the world, I'm a huge fan of Game of Thrones. I've read the George R.R. Martin books, watched the TV series many times, listened to podcasts, read the pre-history. You get the picture.
Who doesn't love Game of Thrones? A minuscule percentage of fantasy TV haters, who bask in their of-the-moment, stick-to-the-facts realistic documentaries. (Sadly, this includes my boring lawyer husband.)
The rest of us regular folk are absorbed, at an elemental level, hook line and sinker, in Martin's romantic medieval world of lust, murder, dragons, and the insightful musings of the philosopher king Tyrion Lannister. Dracarys!
Winter is Coming: Tourists
Given my Game of Thrones adulation and addiction, it was eminently predictable that, when I planned to be in Dubrovnik for a few days, I booked a Game of Thrones tour. As anyone who knows me knows, I'm definitely not a "tour person." But for this I happily made an exception.
As I was there in late August, I mentally braced myself to be part of the tourist horde, not distinct from it despite any supposed wonderfulness on my part. And, to be sure, it was a horde, a very large group of people on the Dubrovnik Walks tour. Even as we very slowly shuffled past the Game of Thrones sites, other people asked to join our already obese tour.
Talk about "slow travel."
Screen Tourism
What is it that drives the post modern TV tourism craze?
On a Game of Thrones tour, you cannot homogenize tourists as a general type; the whole world is calling. In a quest for psychological identification, we are all in Dubrovnik seeking to reproduce, personalize, and experience the phantasmagorical narrative.
It is a partly symbolic experience; we want to grab a quick sneak peak at Dubrovnik and call it "our GOT place." It is partly pure escapism and an attempt to connect to the exotic otherworld up close and personal — a stark departure from the helter skelter prosaic potluck of everyday life.
What To See on a Game of Thrones Walking Tour
Our tour guide, like most, was an extra on GOT and extremely enthusiastic. The tour is based on the TV show, not the books. So book zealots may not be wholly satisfied with the commentary, which is more CGI than literary.
Nonetheless, our guide enlivened our passage through the streets with an amazing repertoire of facts and comparison photos, showcasing still shots from the show against the spectacular scenery. Drink some giant milk, cuddle your dire wolf and read on for all the scoop.
1. "Kill Them All" at Pile Gate
First, we entered Pile Gate, the spot where the tourists pour through from the cruise ships like a human surcharge.
It is also where King Joffrey ordered the execution of the starving citizens of Kings Landing who had the gaul to riot against him. No one needed a hanky when a put out member of the public slung manure into Joffrey's face.
2. The Red Keep: Fort Lovrijenac
Next up was the 11th century fortress, Lovrijenac Fortress (also known as the St. Lawrence Fortress).
It's instantly recognizable as the Red Keep in the fictional King's Landing, the capitol of the Seven Kingdoms. Herein is the Great Hall and the massive throne room where the Iron Throne is situated on the TV show.
Above the door leading to the fortress is a famous inscription carved in stone: "Non Bene Pro Toto Libertas Venditur Auro" ("Freedom cannot be sold for all the gold of the world"). One can almost feel the presence of everyone's most beloved GOT character, Tyrion Lannister, who for all his faults would not sell out for gold.
We are "all bastards in our father's eyes" to some degree. And so, we empathize with Tyrion's complex character. He is the ultimate survivor, makes drinking seem de rigeuer, and suffered through a terrible childhood. Tyrion is flawed, sarcastic, sporadically miserable, and always imperfect.
Who among us hasn't experienced some frustrated variant of his twisted and twisting life?
Plus, to Tyrion's credit, he also had the most satisfying death scene of the series, killing his father Tywin with a crossbow. (Ramsey's death might compete.) Paracide? Yes, but despite the murdery bits, Tyrion is basically good human being.
Back to the fortress. It makes many appearances in seasons 2 and 3 of Game of Thrones. Mostly notably, this is where Cersei confronts Littlefinger and he opines in his slippery slimy know-it-all way that "knowledge is power."
A defiant Cersei holds a knife to his throat and fires back with "power is power." I think she won that confrontation.
3. The NameDay Tournament at Fort Lovrijenac
From the fortress aerie, you are assaulted with the best views of Dubrovnik.
You will stand in the same place where Joffrey held his NameDay tournament. The NameDay is a ceremonial custom in Westeros, an annual celebration commemorating the naming of a person and serving to calculate his or her age. Is it a big deal? Not with this insipid sociopath.
Joffrey's tournament is a trivial and unimportant affair consisting only of duels, held on the eastern walls of the Red Keep. To mock Joffrey for holding a leisurely tournament while he is conducting the very important work of war, Tyrion arrives wearing full armor.
If you're inclined, you too can hold your own name day celebration at the fort, just like the tourist below.
4. Joffrey's Murder: The Purple Wedding at Gradac Park
Who doesn't want to know where Joffrey met his death?
From the fortress, you can cast your eyes on Gradac Park, the location of the Purple Wedding. This is the site where Lady Olenna poisons Joffrey with "the strangler" at his wedding feast with the new queen and her daughter Margaery Tyrell in attendance.
Later, Lady Olena tells Jaime Lannister with some evident relish:
"I'd hate to die like your son – clawing at my neck, foam and bile spilling from my mouth, eyes blood red, skin purple. Must have been horrible for you, as a Kingsguard, as a father. It was horrible enough for me. A shocking scene. Not at all what I intended. You see, I'd never seen the poison work before."
5. Dubrovnik's West Harbor: Battle of Blackwater
From the iconic fortress, you also have great views of the Adriatic and can see Dubrovnik West Harbor, where the Battle of Blackwater was filmed. There, Stannis Baratheon embarks on a naval assault and was mostly handily vanquished by Tyrion's superior wildfire tactics.
Dracarys!
Blackwater was definitely one of my favorite episodes in the series — epic battles, big name deaths, flames aplenty. Tyrion saves the day while Joffrey and the Hound cower in fear.
Standing there, you can recall Tyrion's rousing speech to his would be army:
"Don't fight for your king and don't fight for his kingdoms. Don't fight for honor. Don't fight for glory. Don't fight for riches, because you won't get any. This is your city Stannis means to sack. That's your gate he's ramming. If he gets in, it will be your houses he burns, your gold he steals, your women he will rape. Those are brave men knocking at our door. Let's go kill them."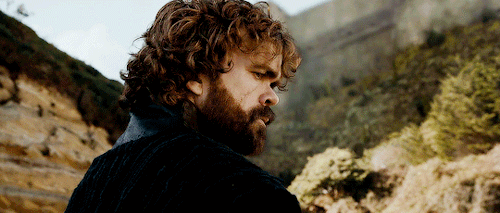 Blackwater Bay is likewise the site where Jaime and Cersei's daughter Myrcella departs from Kings Landing to Dorne to marry Prince Trystane, an unlikeable yet necessary alliance, given that Dorne is a neutral party in the ongoing game of thrones battle.
6. The Pier at West Harbor
The pier at West Dubrovnik Harbor is also the spot where Petyr Baelish offers Sansa a way out of Kings landing. You can't walk out on the pier and resist the temptation to relive the scene.
7. "Shame Shame, Shame" at the Jesuit Staircase
A universally favorite tourist site is Cersei's infamous "walk of shame" down the baroque Jesuit Staircase that descends from Gundulic Square to St. Ignatius Church. In Game of Thrones, this is the staircase for the Great Sept of Baelor.
Cersei's brutal TV shaming was based on a true story. The same public penance was exacted on Jane Shore, the medieval mistress of the Lancanstian King Edward IV, upon his death in London. (In fact, Game of Thrones is heavily based on the bloody feuding in the War of the Roses, which pitted the honorable Yorks of northern England against the cunning Lancasters of southern England.)
The Walk of Shame apparently cost $200,00 to film over 4 days. Today, on location, you may even hear tourists ringing "shame bells" when you are imagining the gruesome punishment.
Here is the real Jesuit Staircase and a shot of the shorn and shamed Cersei:
my daughter on the Jesuit Staircase on a busy summer day
8. Stradun Street, Dubrovnik's Main Drag
Cersei's walk of shame continues down Stradun Street, the main pedestrianized street in Dubrovnik old town. (Yes, you can fill your water bottle up at the Onofrio Fountain.)
When the Sparrows imprison Cersei for incest with her young nephew, Septa Unella is her chief tormentor. During the walk of shame, Septa Unella smirks in the way kids do when they know an embarrassing secret, as she rings the shame bell down Stradun Street with a visage of righteous indignation.
Stradun Street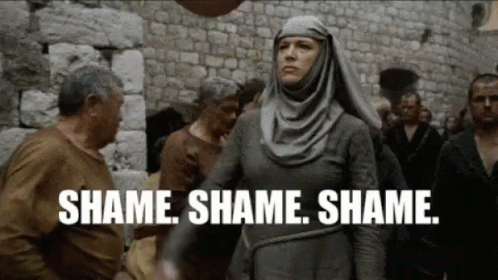 9. The Basement of the Red Keep
Soon enough, however, Septa Unella gets her own nasty comeuppance.
After Cersie spends most of season 6 claiming the throne for herself, she goes full on "mad queen" and waterboards the Septa with red wine in the dungeon of King's Landing.
Cersei then exacts a fulsome revenge at the hands of a zombified Gregory Clegane, also known as The Mountain. She says "Your gods have forsaken you. This is your god now."
10. Epic City Walls
Even if you opt for a hours long GOT tour, you should still ditch the guide and walk the enire city walls yourself, likely a two hour journey with some semi-steepish climbing.
The walls offer sweeping and dramatic views and you will undoubtedly walk where Tyrion, Cersei, Little Finger or Ned Stark have trodden. Below, while looking out to sea,Tyrion and Varys discuss battle strategies to defeat Stannis Baratheon's approaching armada.
The city walls cost 200 kuna as of this writing. I highly recommend you go when the walls open at 8:00 am if you are there in the summer or else shortly before they close. Otherwise, you risk heat stroke in the summer months.
my daughter lounging on the Dubrovnik city walls
enjoying the spectacular views from the city walls
11. Minčeta Tower
Your last stop on the walls will be the imposing and robust Minčeta Tower. It's the highest point in Dubrovnik and the set of the House of the Undying in GOT.
The fortress itself is a stony and cramped experience, but the views are terrific. Here, the dracarys-screaming mother of burns has visions that effect the entire series, including one of her brother Rhaegar naming his son Aegon and declaring that he is "the prince that was promised." We now know that was Jon Snow.
And so, these are my fan girl impressions of my highly enjoyable Dubrovnik Walks tour.
Having immersed myself in the blood soaked imagery of the place, I went home, braided my hair like Danaerys, and waited with bated breath for the series' final season, which turned out to be incredibly disappointing.
For a incredibly detailed self-guided tour of the walls complete with maps, read this comprehensive article.
Practical Information for Fortress & Walls:
Address: The main entrance to Dubrovnik town walls is right outside of Pile Gate. Another one is at Ploce Gate.
Entry fee: adults – 200 HRK (about 29 Euro), children and students concession – 50 HRK, under 7 free
Hours: April & May: 8:00 am – 6:30 pm, June & July: 8:00 am – 7:30 pm, August & September: 8:00 am – 6:30 pm, October: 8:00 am – 5:30 pm, November to March: 9:00 am –3:00 pm
Pro tip: A visit to Fort Lovrijenac is free with your ticket to the city walls.
map of the Dubrovnik city walls showing the entry points
You may enjoy these other Croatia travel guides and resources:
If you'd like to take a Game of Thrones tour in Dubrovnik Croatia, pin it!