"I promise I won't be naughty." — Villanelle
Here's my complete guide to the must see Killing Eve filming locations in Paris France. The intriguing star of Killing Eve is Villanelle.
Villanelle's a complex character with wicked smiles and catlike features. A Russian assassin with a killer sense of style. Jodie Comer stars as Oksana Astankova in the hit BBC America spy thriller Killing Eve. It's a buzzy and subversive show. And Killing Eve uses Paris as the canvas for its layers of deceit and intrigue.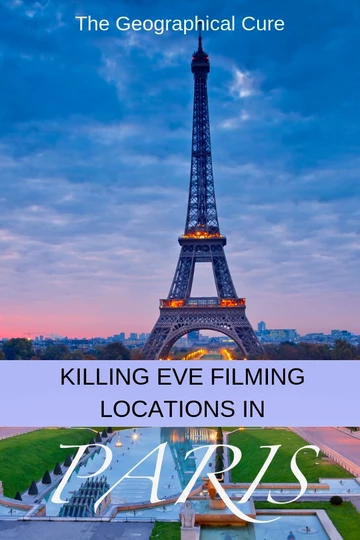 The Character of Villanelle
Jodie Comer is the talented Emmy-nominated actress who plays the charismatic psychopath Villanelle in Killing Eve. She may be the most fascinating and unconventional villain on TV.
Villanelle can giggle like a cheeky young girl while talking murder. She's a cold blooded comic.
When she toys with Frank in the MI6 safe house, Frank begs for his life, pleading "I have children." Villanelle upends this trope, replying "I don't want your children." When Eve asks why she castrated a victim, Villanelle ignores her and instead comments on Eve's crime against fashion sweater-shirt.
Comer thinks Villanelle is popular because she's objectively "unlikeable." We see something of Villanelle flaws "within ourselves." Being unlikeable isn't the same thing as being uninteresting, after all.
And Villanelle is never dull — with her over-the-top murder plots, deadpan funny lines, avant garde fashion sense, and carefree remorselessness. Her foibles and faults are funny and relatable. We identify with the troubled orphan and her "girl gone wrong" story line. Perhaps we're secretly relieved it's not us.
Plus, Villanelle's always eating. She adorably gobbles up potato chips, lemon drizzle cake, ice cream, and pasta. We appreciate someone who indulges in sweets and doesn't just eat lettuce, even though clean eating is all the rage.
Must See Killing Eve Filming Locations in Paris
Killing Eve centers on Villanelle's off kilter relationship with bored MI5 agent Eve Polastri. Eve is a relentless bureaucrat with unfulfilled spy fantasies. When a frumpy Eve is charged with capturing the elusive Villanelle, the two women circle each other, in a game filled with romantic tension and shifting loyalties.
Killing Eve is a globetrotting show shot in five European countries: France, Italy, Germany, Romania, and England. I've written about the show's European filming locations previously.
In this post, I focus on the City of Love, home to our sassy hitman Villanelle. Paris is an ideal city for a TV show with its stunning architecture, sweeping skylines, secret side streets, and offbeat hip neighborhoods.
Here's my guide to visiting Killing Eve filming locations in Paris. If you fancy a stroll or a walk in her footsteps, here's a handy map to assist you along your journey.
1. The Iconic Dress in the Place Vendôme, 1st Arrondisment
Probably the most iconic Paris filming location is the stunning Place Vendôme in Paris' 1st arrondissement. With its cloud piercing Vendôme Column and stately 17th century colonnaded buildings, it's a posh and unmissable landmark in Paris.
In Season 1 Episode 2, we witness Villanelle confront her handler Konstantin on the Place Vendôme. Villanelle has just finished a psychiatric exam to determine whether she's still villain worthy after a particularly bloody murder.
In a flight of fancy, she dons a cotton candy frothy fantasy of a dress, which is deliberately meant to shock and tease. The pink Molly Goddard dress "broke the internet" and was TV's "biggest fashion moment of the year."
The dress is a symbol. It's emblematic of Villanelle's subversive streak, her complete disdain for social constraints. It also reveals how she tricks her victims — power disguised behind an angelic feminine facade.
The Place Vendôme is loaded with the world's finest haute couture jewelry creations. But if you must have your own flouncy Villanelle dress, Galeries Lafayette is just 10 minutes from Place Vendôme. It stocks designer duds including Molly Goddard, the designer of Villanelle's famous dress.
2. Villanelle Frolics With Sebastian in the Jardin des Tuileries in the 1st Arrondissement
When Villanelle is put on ice while her handlers assess her mental stability, she decides to try being a "normal" person. That means hooking up with Sebastian, the doe-eyed blonde hunk living in her apartment building.
Sebastian is sweet. He appears with herbal remedies to sooth our antihero's bruises. The duo have a leisurely day and nibble ice cream cones while walking companionably in the serene Jardin des Tuileries.
The Tuileries is a beautiful spot in central Paris, running between the Louvre and Place de la Concorde on the Right Bank. You can visit Notre Dame, Saint-Chapelle, or the Conciergerie. Then stroll through or picnic in the Tuileries on the way to the Champs-Élysée and the Arc de Triomphe.
Unfortunately for Sebastian, he later steals the poisoned "perfume" from Villanelle's purse. One whiff, and he's dead at her doorstep. Villanelle hears a thump as she's opening a champagne bottle. She just shrugs off Sebastian's death. She's likely glad to be rid of a well-meaning "normal" person.
3. Death By Perfume in the 2nd Arrondissement
In Season 1 Episode 2, we see Villanelle in the 2nd arrondissement on her way to execute a theatrical hit on Carla de Mann, a perfumer manufacturer. She's strolling down Rue de la Paix, a short street that runs from Opera Garnier to Place Vendôme. It's a fashionable shopping street with high end jewelry shops.
Dressed as a server, Villanelle attends a posh event where Carla is in attendance. Villanelle follows her into the bathroom, pretending to be an aspiring perfumist. She convinces Carla to smell her perfume, which is poisoned. One sniff and Carla has an asthma attack. She dies on the spot with Villanelle looking on, creepily mesmerized.
In the fictional Killing Eve novellas, on which the TV show is based, the perfume is the favorite scent of the Comtesse du Barry, the mistress of Louis XV. In real life, there's an actual scent called "Villanelle," sold by Belgium based Kamila Aubre. After the show aired, sales of Villanelle skyrocketed, although Aubre's version is based on a poem.
4. Villanelle's Apartment & Shopping Escapades in the 6th Arrondissement
Villanelle's chic Paris apartment is set in the upscale 6th arrondissement, located in the heart of Paris' Rive Gauche, or Left Bank.
The inside of her apartment is actually a set in a London studio. Typical of Villanelle, it's shabby chic, heavenly, and kind of a perfect artsy pad with peeling wallpaper. The view of Paris from her window is an amazingly detailed backdrop, rendered realistically as if in daylight.
Villanelle's apartment also stars in the Season 1 finale, "God, I'm Tired." Eve is spying on Villanelle and secures the keys to her swishy apartment from a helpful elderly "neighbor." Eve eyes the closet full of designer clothes, the vintage curtains and mirrors, and the refrigerated champagne.
Eve's triggered. Does an assassin deserve a life of luxury? Furiously, Eve rips the clothes out of the closet and smashes champagne bottles. Villanelle returns, and in classic comic fashion, asks Eve "Did you have a party or something?"
Eve collapses on the bed, exhausted. Villanelle cuddles up to her. Then Eve, in a moment that changes the characters' already unsettling dynamic forever, stabs Villanelle in the stomach with a knife.
It's a scene of twisted intimacy, which reveals Eve's dark side. How far down the rabbit hole will Eve go? Eve and Villanelle are now bound together in a more physical and toxic way. And Villanelle likes it.
In the series, it's suggested that the stylish Villanelle has a bit of a shopping addiction. She certainly has an impressive wardrobe. At a minimum, Villanelle's a magpie who buys anything on a whim if it catches her eye. Remember when she asks for the designer of the vintage Italian silk throw during a hit in Episode 1?
Below, we see scenes of Villanelle casually strolling in the tony streets of the 6th arrondissement, on the way home to her chic apartment. The 6th arrondissement is a great place to shop in Paris. There are both classic chains like H&M and Zara and chic boutiques for the more well-stocked wallets.
5. Stab Victim Scenes in the 10th & 15th Arrondissements
After Eve stabs Villanelle in the Season 1 finale, a wounded Villanelle makes her escape.
She stumbles out of her apartment down the streets of Paris to a hospital. In filming, she walks down Cité du Wauxhall in Paris' somewhat scruffy 10th arrondissement. The show deliberately filmed in offbeat Paris locations like this where you might see "beautiful old French graffiti."
While you're tracking Villanelle in the 10th arrondissement, you can stroll along the trendy Canal St. Martin. Or take a break in the secret courtyard of Hôpital Saint-Louis, a place that rivals the Place de Vosges in the Marais.
Seriously injured, Villanelle steals a tramp's vodka and coat and pours alcohol on her injury. She's in a vulnerable position. For once, she fears for her life.
No taxi driver wants to stop for her. So Villanelle does what only she would do — engage in incredibly extreme behavior. She hurls herself in front of a taxi on Rue César Franck in the 15th arrondissement.
This stunt "was tricky to achieve," according to the show's producers. They wanted a street that said "busy central Paris." But it also had to be an off the beaten track street that could be shut down for filming during the day.
The quiet Rue César Franck fit the bill. The scene was shot as the taxi went past the Ecole Militaire, another beautiful building in Paris.
6. The Holy Grail: the Filming Location of Villanelle's Apartment, 10th Arrondissement
The actual filming location for Villanelle's 6th arrondissement Paris apartment, used in exterior shots in the show, has been a veritable state secret.
The only clue was found in the shot below. In it, you see Villanelle entering her chic apartment courtyard after shopping. Behind her, there's an ornate carved doorway with the number 17 to the right.
But where is this in Paris?
For some time, the secret location has been the holy grail of obsessive bloggers hunting down Killing Eve locations. Expert detective work by @Killing Eve Sites on Twitter tracked down this location using Google Street View.
It's on Rue de Lancry in the 10th arrondissement. Killing Eve fans can visit the street, imagine Villanelle's apartment, and experience a "real" neighborhood in Paris. The 10th arrondissement also makes an ideal base for staying in Paris.
They interior layout and windows of Villanelle's studio set apartment were inspired by the front of the actual building at 8 Rue du Château d'Eau. It's just around the corner from apartment's courtyard entrance.
7. Gambetta Metro, 20th Arrondissement
There's also a scene when Villanelle gets on the metro at Paris' Gambetta stop in the outskirts of Paris.
The 20th arrondissement isn't the most famous or gorgeous neighborhood in Paris, but it's a perfectly nice residential neighborhood where Parisians live, work, carry baguettes, and sip wine at cafes.
Right outside Gambetto Metro is one of Paris' top attractions — the atmospheric Pere Lachaise Cemetery. Hundreds of celebrities, writers, artists, and musicians are buried in this cemetery.
Pere Lachaise is the eternal resting ground for the brilliant minds of French history and culture. Oscar Wilde's grave was so popular with amorous superfans, who covered it with red lipstick kisses, that it was encased in glass.
After boarding at the Gambetta metro, Villanelle is shown exiting the metro and strolling at 21 Boulevard de Magenta, one of Haussman's spacious boulevards. She's on the way back to her pied-à-terre.
8. Villanelle's Superhero Onsie Sightings
Villanelle's fashion statements are a fan favorite aspect of Killing Eve. Her superhero pajama sighting in the Season 2 premiere was a hallucinatory explosion of her quirky personality. The onesie was almost as popular and revered as the pink Molly Goddard dress.
Ever since its debut, obsessed fans have scoured the internet for a similar superhero look. I expect it to be a Halloween favorite this October. The Molly Goddard dress was the go to Halloween costume last year.
And guess what? You can actually buy the fabric! It's called "Comic Bubble Blue/ Silver Galaxy."
Funkifabrics, a wholesale fabric retailer, is the brains behind the bedtime look. BBC ordered the fabric from them, just like a regular customer. You too can get it for the lofty price of £26 per meter.
Villanelle comes to the funky pajamas in her typical way: through theft and murder. In the season 2 premiere, after fleeing her Paris apartment, Villanelle heads to a hospital to deal with the stab wound courtesy of Eve.
She's paired with a young tween patient named Gabriel. He's despondent after surviving a car wreck that killed his parents. In a quasi mercy killing, Villanelle relieves him from his despondency.
But before that, Villanelle asks to borrow some clothes to escape. Gabriel gives her the pop art onsie and a pair of crocs. She rolls her eyes and says "sexy" quite sarcastically. Theatrically, and with some disgust, she places her feet in the crime-against-fashion Crocs and dons the onsie, which was custom made to appear too small for Villanelle.
The costume reflects her mood and dangerously playful personality. It says "pow," "crash," and "bam." Villanelle is pissed, but she's also vulnerable. The onsie's a far cry from her glam designer duds. But it's symbolic of her journey in Season 2.
After leaving the hospital in her superhero pyjamas, Villanelle crosses the Rue de l'Aqueduc rail bridge by the Gare de l'Est (10th arrondissement) hoping to thumb a lift to Calais. She's fortified by the notion that Eve stabbed her "to show me how much she cares."
Villanelle doesn't know yet, but Eve has already left from the Gare du Nord to catch the Eurostar back to London. The Gare du Nord is the correct station for Eurostar. But the producers thought the Gare de l'Est was more photogenic, so used that location for filming.
The scenes of Eve in a state of shock from her grim deed, gobbling down jelly blobs of candy, were filmed there. Scenes were also shot in an exterior bar on the first floor mezzanine of the Gare de l'Est. There, anxious after stabbing Villanelle, Eve is mistaken for a junkie.
If you fancy a Killing Eve themed stroll or want to unleash your inner assassin, this is the ultimate guide to finding Villanelle and her Killing Eve filming locations in Paris. Happy strolling!
Images sources: BBC America and the best Killing Eve filming locations site on Twitter, Killing Eve Locations, @KillingEveSites, on twitter.
You may enjoy these other Paris travel guides:
If you liked it, pin it for later.