Here's my guide to the best true crime documentaries for armchair detectives, lovers of all things mysterious, and or fans of twisty psychology.
We Americans are obsessed with true crime. Our lives are tame, especially now. Murder most foul, especially in the serial killer variety, seems exotic and otherworldly.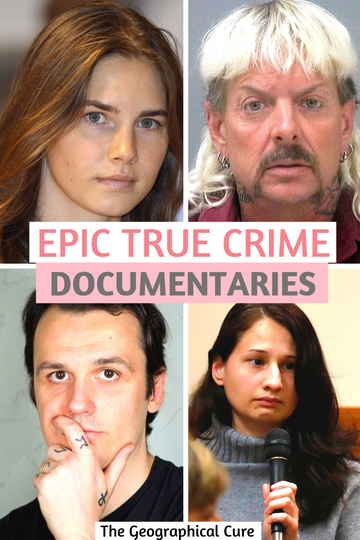 Perhaps because of this, true crime has become a hot trend, the ultimate escape. There's a boom in the sub-genre across all types of media that shows no signs of ebbing.
I admit, sometimes I feel a tad guilty or voyeuristic watching true crime documentaries. But, still, a glimpse of justice gone awry or evil incarnate is fascinating. Who doesn't love a "truth is stranger than fiction" tale?
Perhaps true crime is a way to inoculate ourselves against fear, learn from an admonitory tale, or engage in some good old fashioned schadenfreude. It's part of the human condition not be able to look away from something tragic or emotionally devastating. Whatever the rationale, in these odd times, we might as well indulge at home.
The Best True Crime Documentaries
Here are my picks for the best true crime documentaries.
1. Paradise Lost: The Child Murders at Robinwood Hills (1996)
Watch on: Hulu, HBO
Paradise Lost set the bar for true crime documentaries. It explores the infamous case of the "West Memphis Three." The documentary explores the guilt of three teenagers boys accused of murder — Damien Echols, Jason Baldwin, and Jesse Miskelley Jr. It features in depth interviews with the defendants and the victims' families.
The trio were tried and convicted of the brutal murder and mutilation of three boys in their bible belt Arkansas town. The film tries to be objective. But it's biased in favor of the boys, portraying the investigation as a media witch hunt to ensure a swift conviction. The documentary shows that the boys were portrayed as alienated and violent Satanists ("just look at those freaks").
Without the film, the West Memphis Three may never have been released from prison. If you're a sleuth, you can dig into the case and determine their innocence for yourself by reading the case documents at http://callahan.mysite.com
There are also two sequels, Paradise Lost 2: Revelations (2000) and Paradise Lost 3: Purgatory (2011).
2. Abducted in Plain Sight (2017)
Watch on: Netflix
Abducted in Plain Sight is an alarmingly dark 90 minute documentary. It tells the true tale a young girl, Jan Broberg, who was abducted twice by her predatory and sociopathic neighbor, Robert Berchtold. Berchtold plays her tapes from a "box." He tells Jan that they've been abducted by aliens and given a special mission to procreate.
Berchtold even convinced Jan's parents to drop the first kidnapping charges against him. Then, he kidnapped Jan again two years later. They lived in a motor home plastered with photos of Jan. Her parents waited 2 weeks to report the second crime.
How could a parent allow this to happen, one wonders. Turns out, the world's worst and most willfully gullible parents each had separate "indiscretions" with the Berchtold. The film is a cautionary tale of adult denial and of the insidious means cunning predators use to lure their prey.
3. The Staircase (2004)
Watch on: Netflix
The Staircase is a docu-series that follows the 2001 death of Kathleen Petersen and her author husband Michael Petersen's conviction for her murder. The series adopts an intentionally deliberate and observational tone. It sets a standard for future true crime films.
An enigmatic and reserved Michael Peterson claims his wife merely tripped and fell down the stairs. He innocently stumbled upon her body. However, a medical examiner determined that she had been beaten to death.
As motive for the murder, the prosecution focused on Michael's bisexuality, hinting that the marriage was unhappy. Michael was convicted and went to jail for 8 years. But Michael's persisted in his quest for innocence, getting a new trial in 2011 based on misleading evidence.
The filmmakers followed it for over a decade. The series was updated in 2018. They collected an incredible amount of footage and worked closely with Petersen's defense team. The series makes clear that absolute truth is elusive.
4. I Love You, Now Die: The Commonwealth vs. Michelle Carter (2019)
Watch on: Hulu, HBO
This film presents the strange case against teenager Michelle Carter for the involuntary manslaughter of her boyfriend, Conrad Roy. Carter sent him thousands of text messages encouraging him to commit suicide. While he was contemplating the act, Carter egged him on. On July 13th, 2014, Conrad was found lifeless in his car, dead from carbon monoxide poisoning.
Carter and Roy had engaged in an online relationship for two years, only meeting in person a few times. Both lonely teens, Conrad opened up to Michelle about his depression. Initially, Carter seems like a "black widow" psychopath. But the truth is more nuanced.
The documentary interviews the people in Roy's life and shows footage of Michelle's trial. The case presents a moral question: was what Michelle did a crime? Did he do it or did she do it? The judge found that encouraging suicide was a crime.
5. Tiger King (2020)
Watch on: Netflix
Tiger King is the newest hit docu-series on Netflix. It's taken the world by storm and gone completely viral.
Tiger King tells the story of a zoo owner in Oklahoma, Joe Exotic, aka "The Tiger King," and his fall into a felonious murder-for-hire scheme. Joe Exotic is a gay, polyamourous, gun-toting redneck with a fascination for big cats. He breeds and sells cats for a living in a "breed and dump" cycle.
Filmmaker Eric Goode sets out to understand what is happening to big cats in America. But animal welfare isn't the heart of the story. You never see the tigers' POV. Instead, you meet a litany of creepy, cinema-ready real life villains and cult leaders.
Joe's arch-enemy and intended victim is big cat conservationist Carole Baskin. She runs a cat sanctuary in Florida, spending her time and money entangled in lawsuits with Joe Exotic to stop breeding and cub petting. Joe alleges that Baskin killed her missing second husband.
Joe is tried and convicted for animal abuse and attempted murder. Tiger King is a wild ride. Each episode depicts shocking and ridiculous events. If you want a soap opera drama, this is your show.
6. Mommy Dead and Dearest (2017)
Watch on: Hulu, HBO
Mommy Dead and Dearest dives into the bizarre murder of Dee Dee Blanchard at the hands of her daughter, Gypsy Rose Blachard, and Gypsy's boyfriend, Nick Godejohn. It's a surreal pastiche of real life horror and Gothic pageantry.
Dee Dee was a deeply abusive mother with a classic and eerie case of Munchausen by proxy. She made her daughter seem like a terminally ill paraplegic. Dee Dee spent years faking Gypsy's illnesses, hauling her to doctors, putting her in a wheelchair, and forcing her to undergo surgeries.
Gypsy eventually began an online relationship with Godejohn, who she meets on a Christian singles website. The two began to plot to kill Dee Dee and run away together. Godejohn stabs Dee Dee to death.
To jarring effect, the documentary seesaws back and forth between a child-like wheelchair-ridden Gypsy and a sentient adult Gypsy. Though fully complicit in her mother's murder, Gypsy received a reduced sentence of 10 years.
7. The Devil Next Door (2019)
Watch on: Netflix
This sober docu-series is about John Demjanjuk, who was accused of being Ivan the Terrible, a sadistic Nazi prison camp guard. He was extradited to Israel for his trial for war crimes. In the trial, multiple Holocaust survivors testified, identifying him as their tormentor from their time in concentration camps.
Demjanjuk maintained his innocence, claiming a case of mistaken identity. His conviction in Israel was overturned due to lack of evidence. Then Germany got into the act. He was convicted there of thousands of counts of accessory to murder, but never identified as Ivan the Terrible.
Demjanjuk died in prison. The film includes trial footage and interviews with Demjanjuk, his family, and his attorneys. It leaves you with the creepy thought that your next door neighborhood may be a Nazi, or other variety of horrific criminal.
8. Beware the Slenderman (2016)
Available on: Hulu, HBO
This film explores the disturbing "Slenderman stabbing" in Waukesha, Wisconsin. After a sleepover, two young girls took a friend into the woods and brutally stabbed her. They claim they were attempting to appease a bogey-man like figure, the Slenderman. Slenderman is a popular video game, gaining notoriety after news of this case went viral.
This documentary isn't about guilt (the girls confessed). Rather, it explores meme culture, the blurry line between fantasy and reality for teens, and the psychology that led to the unthinkable stabbing.
The documentary uses footage of the girls' interrogation sessions, in which they describe the premeditated crime. Both girls were convicted. The ringleader was sentenced to 40 years in a mental institution. The only silver lining in this case: their victim and former friend recovered from her severe injuries.
9. There's Something Wrong with Aunt Diane (2011)
Watch on: Hulu, HBO
This mesmerizing and heartbreaking HBO documentary dives into the 2009 Taconic State Parkway car crash. Diane Schuler drove for almost two miles the wrong way on the highway. She crashed, killing herself and seven other people.
After the crash, investigators found an empty vodka bottle in the car. Post-mortem testing revealed she was heavily intoxicated. The film includes a detailed account of the events leading up to the crash and witness interviews. Her husband vehemently claimied Diane never had a substance abuse problem.
The griping film explores the mystery surrounding Diane. It attempts to get to the bottom of "how could she?" — why a seemingly perfect wife and supermom would get behind the wheel of a car while drunk and stoned. Did she have a secret addiction?
The Schuler family were interviewed. They wanted to restore Diane's reputation, unable to comprehend how the woman they knew would recklessly endanger children.
10. Roll Red Roll (2018)
Watch on: Netflix
Roll Red Roll is a piercing documentary that examines the 2012 Steubenville, Ohio rape case. A young Jane Doe was raped by two fellow high school students while unconscious at a party. The documentary takes a deep-dive into the misogynist phenomenon of rape culture and how pervasive the "boys will be boys" attitude really is.
With bone chilling explicitness, the documentary shows shocking and appalling footage. It details the horrifying texts and repugnant social media posts from the perpetrators and their friends, who laughed over the assault.
You see the full trajectory of the case, which culminates in a trial. The documentary is deeply infuriating and upsetting, but it's an essential watch.
11. Amanda Knox (2016)
Watch on: Netflix
Amanda Knox is a portrait of a wrongly accused killer. But it's also a meditation on shoddy police work and the way a sensationalist media can turn defendants into monsters. At the time, Amanda Knox was an American woman studying abroad in Italy.
When her roommate was found murdered, Knox and her boyfriend, Raffaele Sollecito, were quickly accused of her murder. In journalism run amok style, Knox was portrayed as a photogenic evil witch.
In 2009, Knox and Sollecito were tried, convicted, and sent to Italian prison. In the United States, people were outraged over the verdict and treatment of an American citizens abroad. After appeals, the two were released based on "stunning flaws in investigation" and a lack of evidence.
The documentary follows the court cases in linear fashion and features interviews with Knox and Sollecito themselves. Knox seems happy to tell her story, but dreads her legacy.
12. Leaving Neverland (2019)
Watch on: Hulu, HBO
You'll never think of Michael Jackson the same way after watching Leaving Neverland. The film explores pedophilia charges against megastar Michael Jackson. In the late 1980s and early 1990s, Wade Robson and Dave Safechuck were assaulted by Jackson at his Neverland Ranch.
The film contains in-depth interviews with Robson, Safechuck, and their families, They describe the abuse and how Jackson manipulated and brainwashed both them and their families. It's harrowing and not for the faint of heart.
For so long, in almost a magic trick, Jackson perpetuated his image as a child man who related to kids platonically and engaged in harmless sleepovers. Society largely ignored his pedophilia problem. That trope is blasted away in Leaving Neverland. No longer is Jackson just an innocent weirdo.
Jackson dupes and deals with pesky parents in a manner reminiscent of Abduction in Plain Sight. One wonders whether his facial disfiguration was a semiconscious reflection of the monster within.
13. Crazy Love
Watch on: Amazon
Crazy Love is the ultimate bizarre romance documentary. It profiles the sordid love affair between Linda Riss and Burt Pugach. Crazy Love shows just how powerful an obsessive l'amour fou can be.
After attempting to break off their relationship (Linda wasn't happy to discover Burt was already married), Burt responds poorly to the jilting. He throws lye in Linda's face as an act of revenge and blinds her. Burt goes to jail. But then rekindles the love affair with Linda.
Crazy Love is mildly sensationalized, playing to a well chosen soundtrack with the lyrics of obsession. Like Joe Exotica, it sometimes feels like the demented family freak show. Life is miserable when you're forced to marry your assailant, the only person left in your life.
14. Making a Murderer
Watch on: Netflix
Filmmakers worked for 6 years to produce this popular and novelistic documentary series. The series centers on Steve Avery, a Wisconsin man in a three decade battle with the justice system. Avery was convicted of rape and served 18 years in prison. He was then exonerated based on DNA evidence.
But then just two years later, Avery was charged and convicted of murder again. Did his time in prison make him break bad? Or was he "made into a murderer" by law enforcement machinations? It's a relatively straightforward telling of a complicated murder tale, with moody shots of jails and courthouses.
If you like documentaries as a secondary appeals system, tune in to this one.
15. The Keepers
Watch on: Netflix
The Keepers is a 7 part Netflix documentary series that takes itself seriously. It has all the elements of the true crime genre — a noirish unsolved cold case, shocking details of sexual abuse, and social commentary on the Catholic church.
The series focuses mostly on Sister Catherine Cesnik, a Baltimore nun who was murdered in 1969. Her body was found dumped in a field. But we also met Jean Wehner who reveals horrific abuse and institutional malfeasance at the school for nuns.
16. American Vandal
Watch on: Netflix
This is a mockumentary series that investigates the case of a high school prankster. A boy claims's falsely accused of spray painting penises on staff cars at his school. The series is a spoof on the conventions of true crime documentaries. It takes a juvenile crime and treats it with utter solemnity.
Like many of the documentaries above, the show questions whether the accused is a criminal or a scapegoat. It's also a classic high school drama, a hotbed of suspicious activity and social politics. There's plenty of crude humor and plenty of dick jokes.
17. The Jinx: The Life and Deaths of Robert Durst (2017)
Watch on: HBO
Jinx is a riveting murder mystery that feels like a dramatic narrative film. In 6 episodes, it chronicles the life and alleged crimes of Manhattan real estate scion Robert Durst. He's suspected of three murders: a neighbor, his best friend, and his wife.
The documentary recreates crime scenes and mixes in interviews with an eccentric cast of bad apple characters. The interviews with Durst are particularly compelling. He's mesmerizingly sociopathic — lizard-like, peevish, an odd duck with facial ticks and vacant black eyes. He's since alleged he was high on meth at the time.
The series comes across as wickedly entertaining, but also a tad exploitive. The ending is shocking and I won't spoil it. All I'll say is that, though Durst got away with murder for four decades, Jinx led to his arrest. He's now on trial for murder.
18. Wild Wild Country
Watch on: Netflix
This is a fascinating and critically acclaimed documentary about a notorious 1980s cult. It's the story of cult leader Bhagwan Shree Rajneesh and his disciples.
Bhagwan established a communion in the Oregon desert called Rajneeshpuram. His followers described it as a "great new experience," an attempt to "raise the consciousness of humanity." Bhagwan basically goes to war with his rancher neighbors, who are baffled by the commune.
What ensues is an insidious tale of sex, orgies, guns, wire tapping, mass poisonings, and murder schemes. The story is largely told by two former cult members. They seem like friendly enough seniors. But they were convicted of all manner of crimes. You also hear from Sheela, Baghwan's right hand, who still sounds indoctrinated and demented.
19. Bikram: Yogi, Guru, and Predator
Watch on: Netflix
This documentary tells the story of yogi master and criminal Bikram Choudhury. He arrived in the United States in the 1970s and founded a new brand of yoga — brikram yoga, where you do the same 26 positions in 110 degree rooms.
Celebrities loved it and the practice exploded with franchises opening nationwide. Choudhury became fabulously wealthy.
But Choudhury was a scoundrel. He'd stolen the yoga practice from a friend in India. Worse, he sexually harassed and abused many of his impressionable yoga pupils. When the MeToo Movement caught up with him, he decamped to Mexico and then Spain to run teacher training courses.
20. The Disappearance of Madeleine McCann
Watch on: Netflix
This documentary follows one of the most well known missing child cases in history. In 2007, 3 year old Madeleine McCann went missing when her family was on vacation in Praia da Luz Portugal. Her parents were at the resort tapas bar when she disappeared.
The series doesn't solve anything. It's an examination of a highly publicized child snatching and the British Tabloid cultural event that followed.
It rehashes everything that was in the news — the shocking disappearance, the media frenzy, and suspicion thrown on the McCanns. You experience what happened in real time. The McCanns didn't cooperate with the filmmakers, claiming the series could hinder the ongoing investigation.
If you'd like to watch some true crime documentaries, pin it for later.