Are you planning a road trip from Rome to Florence? If so, you're in luck! This is one of the most popular routes to take for a mini-road trip in Italy. And in this guide, I'll be sharing all the best spots to stop along the way.
I've listed the towns in a fairly direct route that makes the most logical sense to visit them, minimizing backtracking and maximizing sightseeing.
Whether you plan to spend several days or a week on your Rome to Florence road trip, these recommendations are sure to make your journey unforgettable. And don't forget, you can always reverse the order of the spots I identify below and take a Florence to Rome road trip instead.
Most of the drive is on the A1. Unlike most highways, it's relatively scenic. There are some beautiful landscapes and sights along the way, especially when you get off the highway and take the side roads to visit the towns.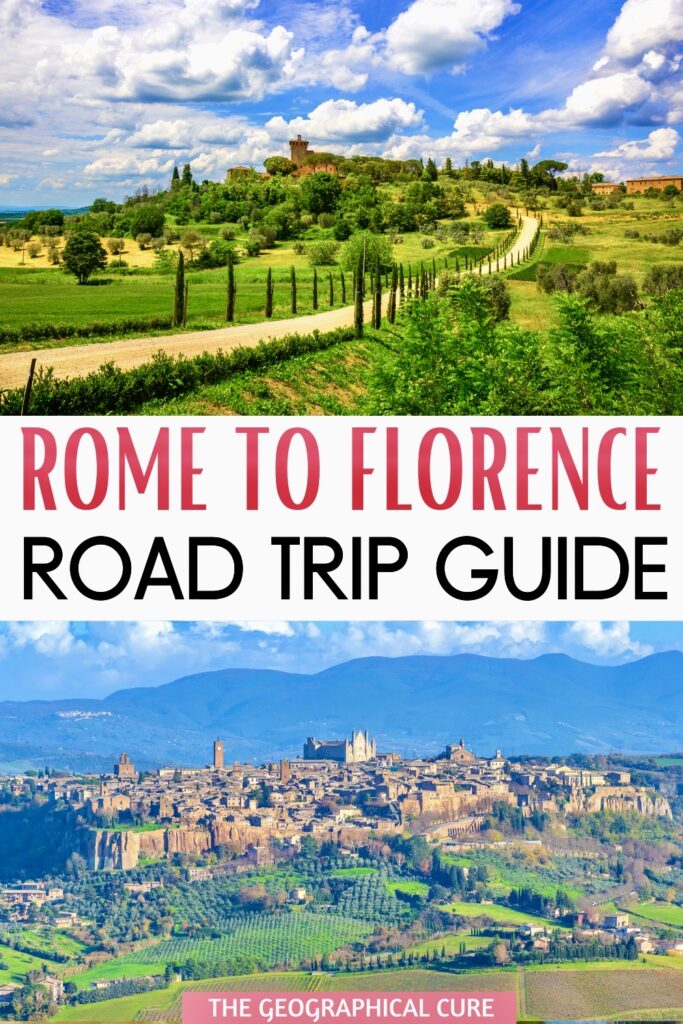 Best Stops On a Rome To Florence Road Trip
Here are some of the best places to stop and visit between Rome and Florence. You'll travel through Lazio, Umbria, the Val d'Orcia, and Tuscany.
Viterbo
Make Viterbo the first stop on your road trip from Rome to Florence.This medieval town is only an hour away from Rome, but it often gets overlooked by tourists.
Viterbo has a gorgeous and well-preserved medieval center. The San Pellegrino district is a particular highlight and one of the best-preserved neighborhoods in all of Italy.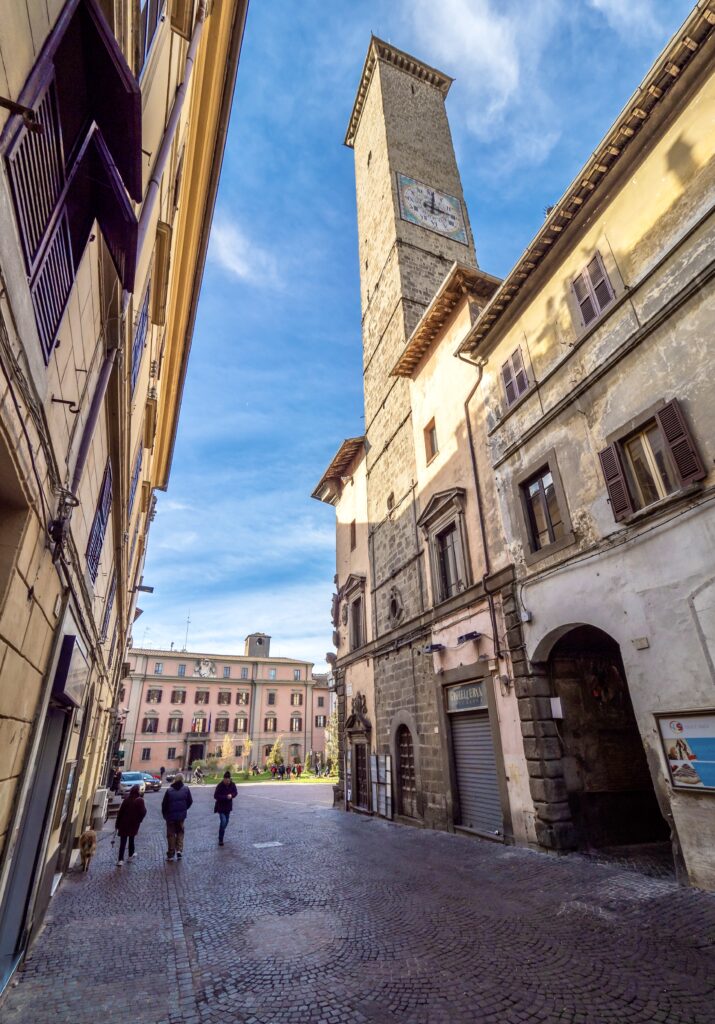 During the 13th century, Viterbo served as a papal seat for 24 years. Its stunning Palazzo Papale is a must-see attraction.
Built as a refuge for popes fleeing the plague and tumultuous rivalries in Rome, the palazzo boasts a picturesque loggia that overlooks the city. The loggia was even used as the site for the first-ever papal conclave. Be sure to climb up and take a look.
Viterbo is also famous for its thermal baths. You can take a dip in a local volcanic mud bath or steam yourself in an ancient cave at Terme dei Papi.
Drive from Rome to Viterbo: 62 miles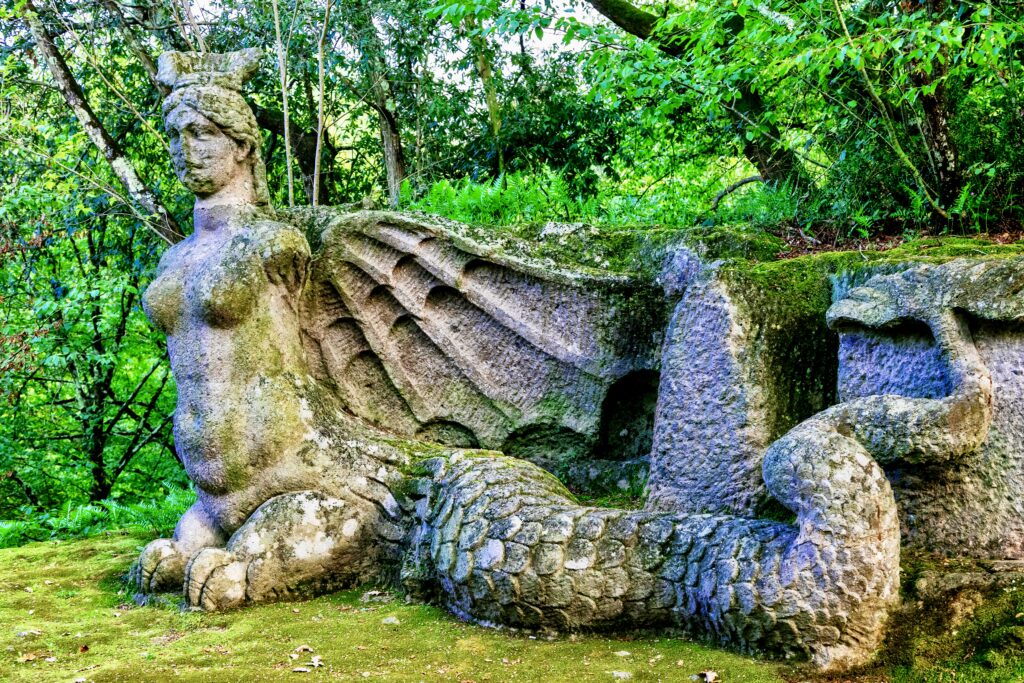 Bomarzo
Located in the Lazio region of Italy, the Sacred Park of Bomarzo is a one-of-a-kind garden commissioned during the 16th century by Italian nobleman Pier Francesco Orsini.
The park is home to approximately 30 sculptures created by the renowned architect and sculptor Pirro Ligorio, who also had a hand in designing the Villa d'Este. These unique sculptures depict a range of mythical creatures, monsters, and surreal figures that are sure to capture your imagination.
Some of the most well-known sculptures in the park include a massive elephant with an obelisk on its back, a fearsome dragon, a gigantic turtle, and a house with walls that appear to be on the brink of toppling over.
Intended to inspire wonder and introspection, the park's whimsical sculptures make it a must-visit if you want to explore one of Italy's more offbeat attraction.
Drive from Viterbo to Bomarzo: 10 miles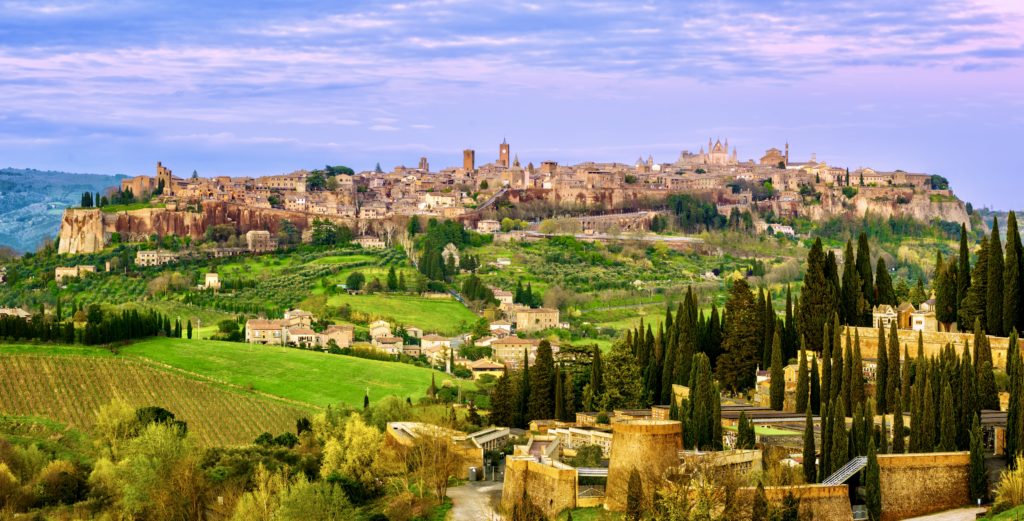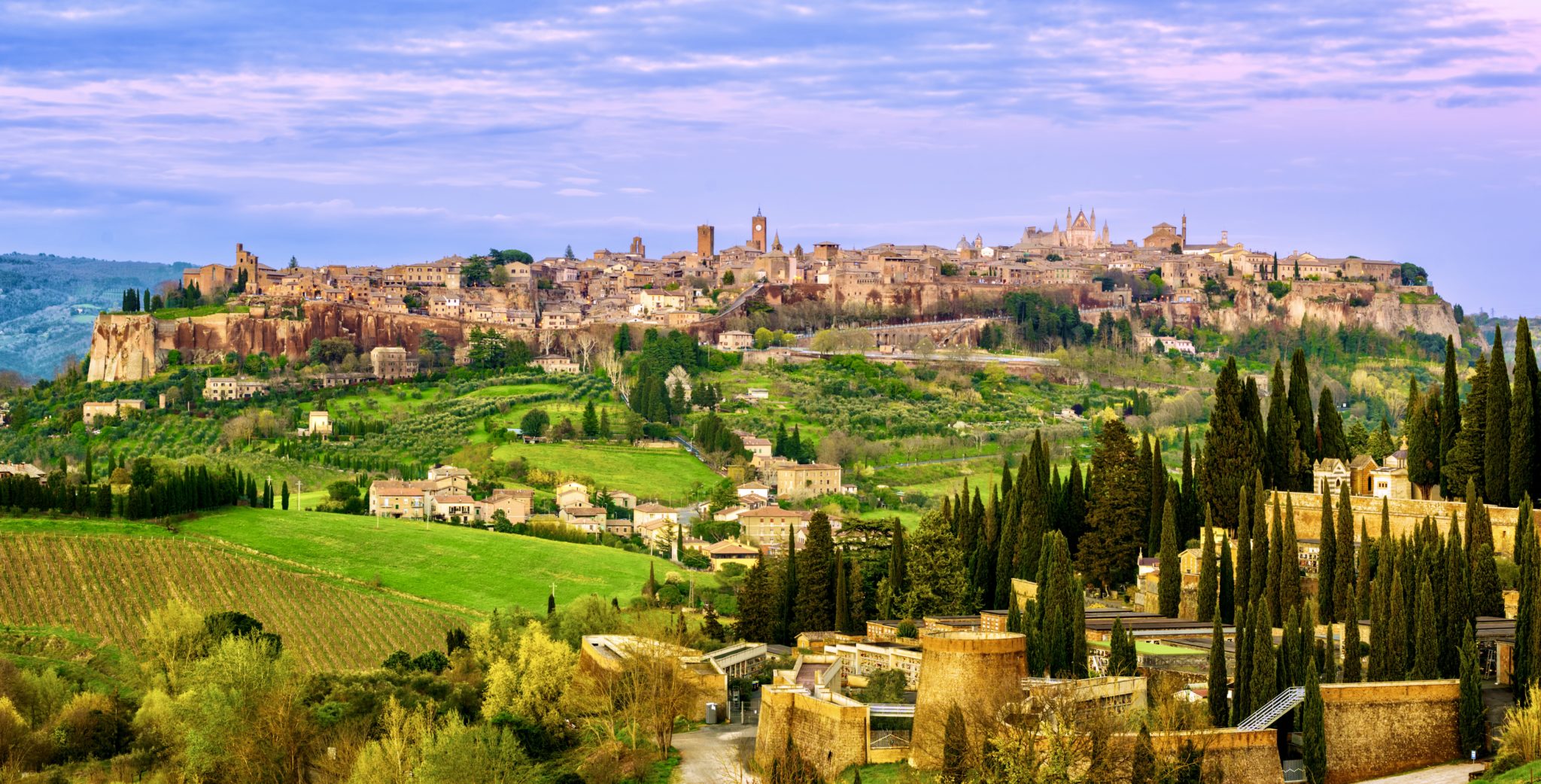 Orvieto
Orvieto is a charming medieval town located in Umbria, and a must visit stop when driving from Rome to Florence. It offers visitors a glimpse into a rustic fairytale-like world that's largely unchanged over the last 500 years.
Orvieto is perched high above a volcanic outcropping. It boasts a plethora of well-preserved medieval buildings that add to its unique charm.
The Corso Cavour is the main street in Orvieto. The town's crowning jewel is its magnificent cathedral, which is one of the most ancient and beautiful churches in Italy.
Construction of the cathedral began in 1290, and it took nearly 400 years to complete. The cathedral is a breathtaking display of spires, spikes, golden mosaics, statuary, stained glass, and black and white striped marble, making it a true marvel of theatricality.
Inside, the highlight is the Chapel of San Brizio. It boasts one of the Renaissance's greatest fresco cycles by Luca Signorelli. These frescoes depict various religious themes such as temptation, damnation, and salvation, and are truly awe-inspiring to behold.
For more information, you can check out my one day in Orvieto itinerary and my guide to Orvieto Cathedral.
Civita di Bagnoregio
Civita di Bagnoregio is definitely one of the most enchanting and surreal hill towns in Italy. The town has managed to escape modernity and is frozen in time, which adds to its surreal vibe and fantastical setting.
The town sits on a tufa hilltop in a vast canyon and can only be reached via a dramatic cantilevered bridge that rises steeply to meet the village walls. This bridge is quite a sight to behold and is the perfect photo spot.
Once you're inside the village, there's just one main street, a couple of cafes, and some quaint shops. You can wander aimlessly down charming lanes, taking in the beauty of the town.
Everywhere you look, flowers are festooned on every nearly every inch of space. Take a seat on the steps of San Donato Church and soak in the town's beauty.
If you're really pressed for time, you could do both Orvieto and Civita in one day. Here's my guide to visiting Civita di Bagnoregio.
Drive from Orvieto to Civita di Bagnoregio: 30 miles
Things to do: 1.5 walking tour
Assisi
Assisi is a real gem of a town, nestled on top of Mount Subasio in Umbria. The entire historic center is a UNESCO World Heritage site.
Despite its small size, Assisi is packed full of culture and history. You'll find awe-inspiring Roman ruins, frescoed churches, sun-bleached piazzas, and a rugged fortress with sweeping views.
Assisi is that the birthplace of Saint Francis, the medieval monk who is revered as Italy's most beloved penitent saint. His legacy lives on in the town, and visitors can learn all about his story and teachings.
The lively Piazza del Comune is the heart of Assisi. It's a hub for some of the town's top attractions, like the Temple of Minerva, the Roman Forum ruins, and the Palazzo del Capitano del Popolo.
But the real highlight for many visitors is the stunning artwork that can be found in the town's churches.
The Basilica of St. Francis, in particular, has a star-studded lineup of artists who have frescoed the church's walls, including Simone Martini, Pietro Lorenzetti, Cimabue, and possibly even Giotto and his workshop. It's like walking through a who's who of Early Renaissance art.
For more information, you can check out my one day in Assisi itinerary and my guide to the best things to do in Assisi.
Drive from Civita to Assisi: 65 miles
Spello
Spello is another charming village in Umbria. Despite being incredibly well-preserved, it's often overlooked by tourists. So you can appreciate its picturesque landscapes without the usual crowds.
The town is rich in history and architecture, with ancient walls and medieval buildings that can transport you back in time.
Spello's historic center is a maze of narrow streets, stone houses, and colorful flowers. One of the most impressive sites is the Roman theater, which dates back to the 1st century B.C.
If you're an art lover, don't miss the Church of Santa Maria Maggiore. The Baglioni Chapel inside is a real masterpiece, with frescoes by Pinturicchio that are considered a treasure of Umbrian art.
For more information on visiting, you can check out my one day in Spello itinerary.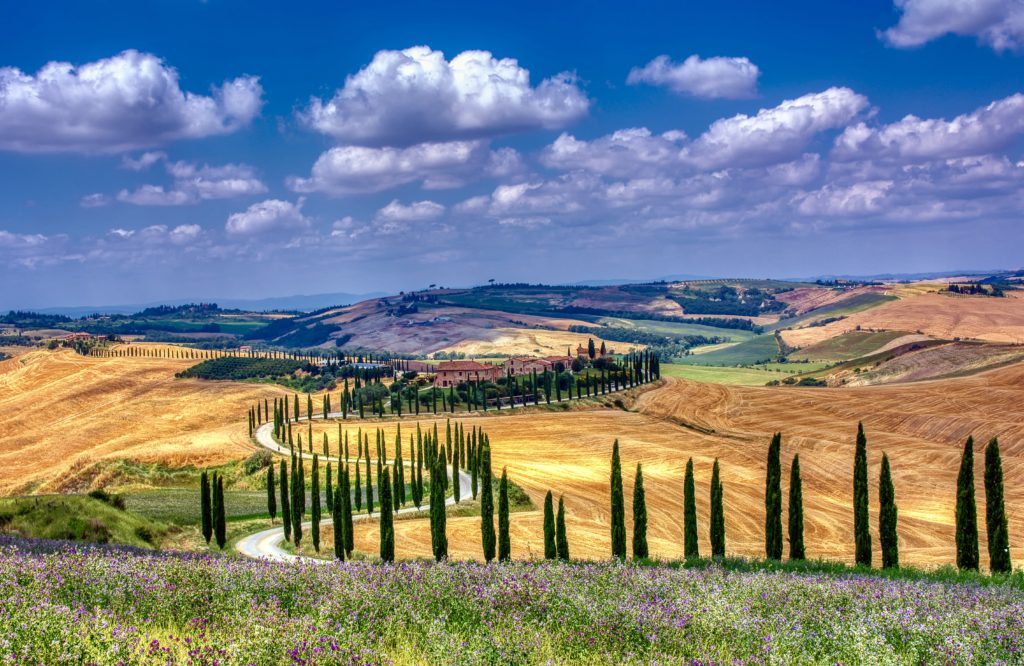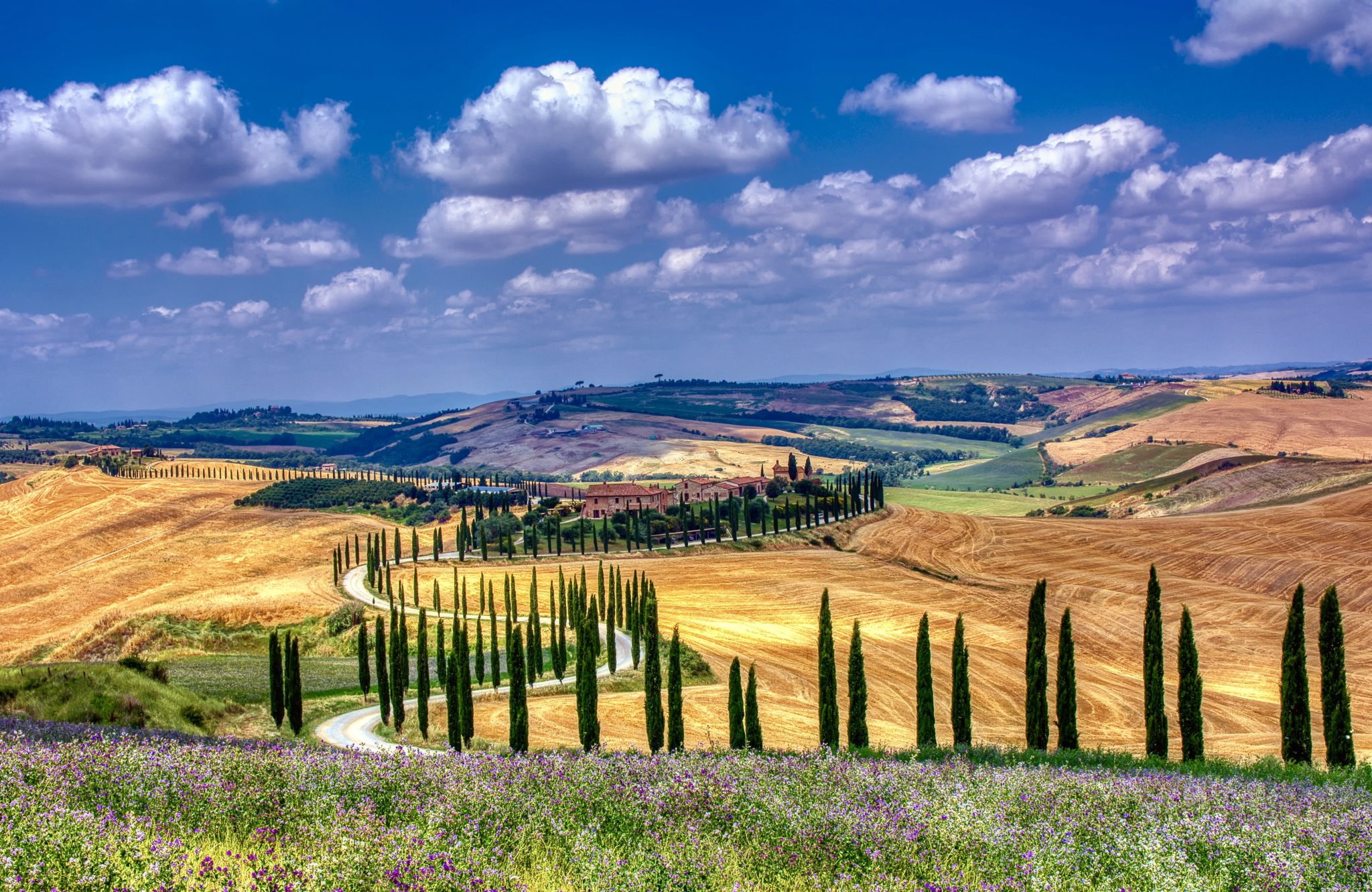 Val d'Orcia: Pienza, Montepulciano & Montalcino
The Val d'Orcia is a stunning valley located in the heart of Tuscany. It's a UNESCO World Heritage site and is considered to be one of the most beautiful areas in Italy. From Spello, it's about a 69 mile drive.
The valley has rolling hills, cypress trees, and picturesque medieval villages perched on hilltops. The landscape is dotted with vineyards, olive groves, and wheat fields, and the views are truly breathtaking.
The Val d'Orcia is an absolute must do stop on your Rome to Florence road trip. For more information, you can check out my 2 days in the Val d'Orcia itinerary. Some of the best towns to visit are Pienza, Montepulciano, and Montalcino.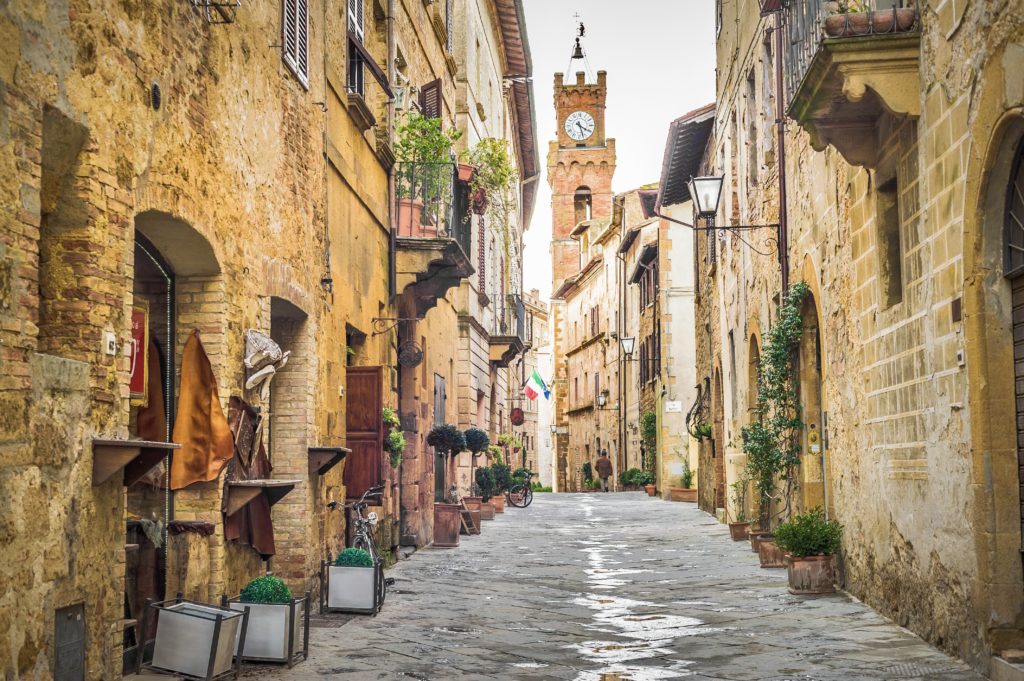 Pienza
Pienza is a small but stunning Renaissance town. It was designed by Pope Pius II in the 15th century.
Pienza is one of Italy's most beautiful towns. It's famous for its beautiful architecture, delicious cheeses, and charming narrow streets.
Flowers bloom everywhere, adding to the picturesque atmosphere. The streets themselves even have romantic names like Love Street and Kiss Street.
Piazza Pio II is a beautiful square and a hub for local activity. The Duomo is a stunning cathedral that showcases the town's rich artistic heritage. Other attractions include the Piccolomini Palace, the Palazzo Communal, and the Palazzo Vescovile.
For more information, check out my guide to the best things to do in Pienza.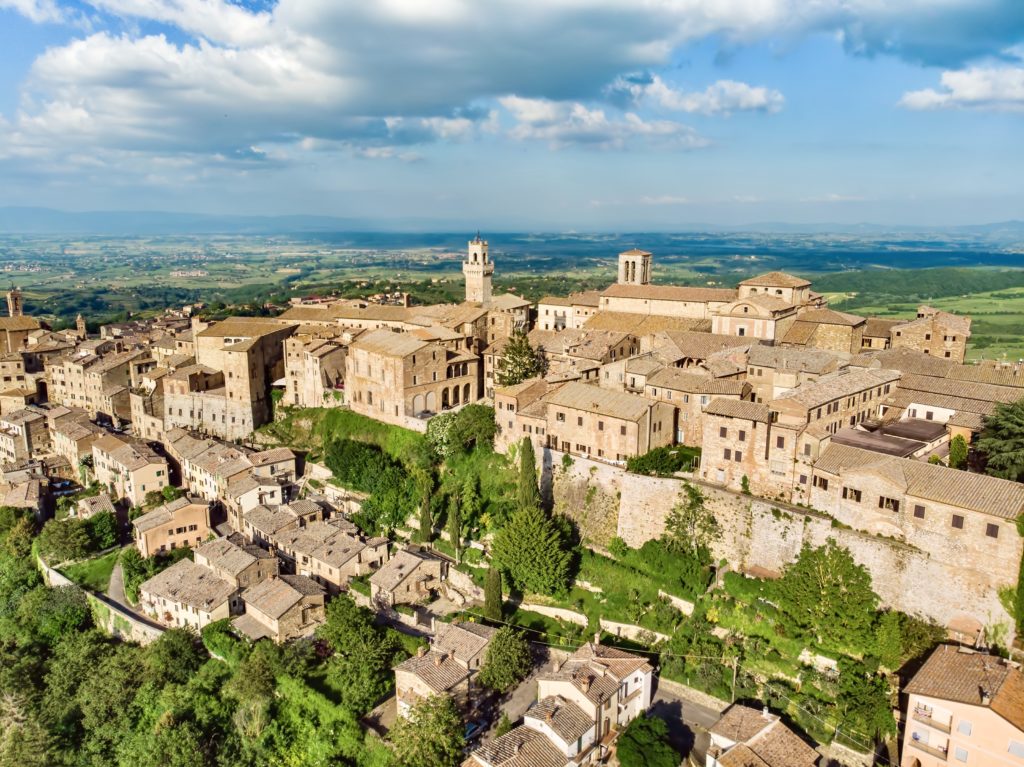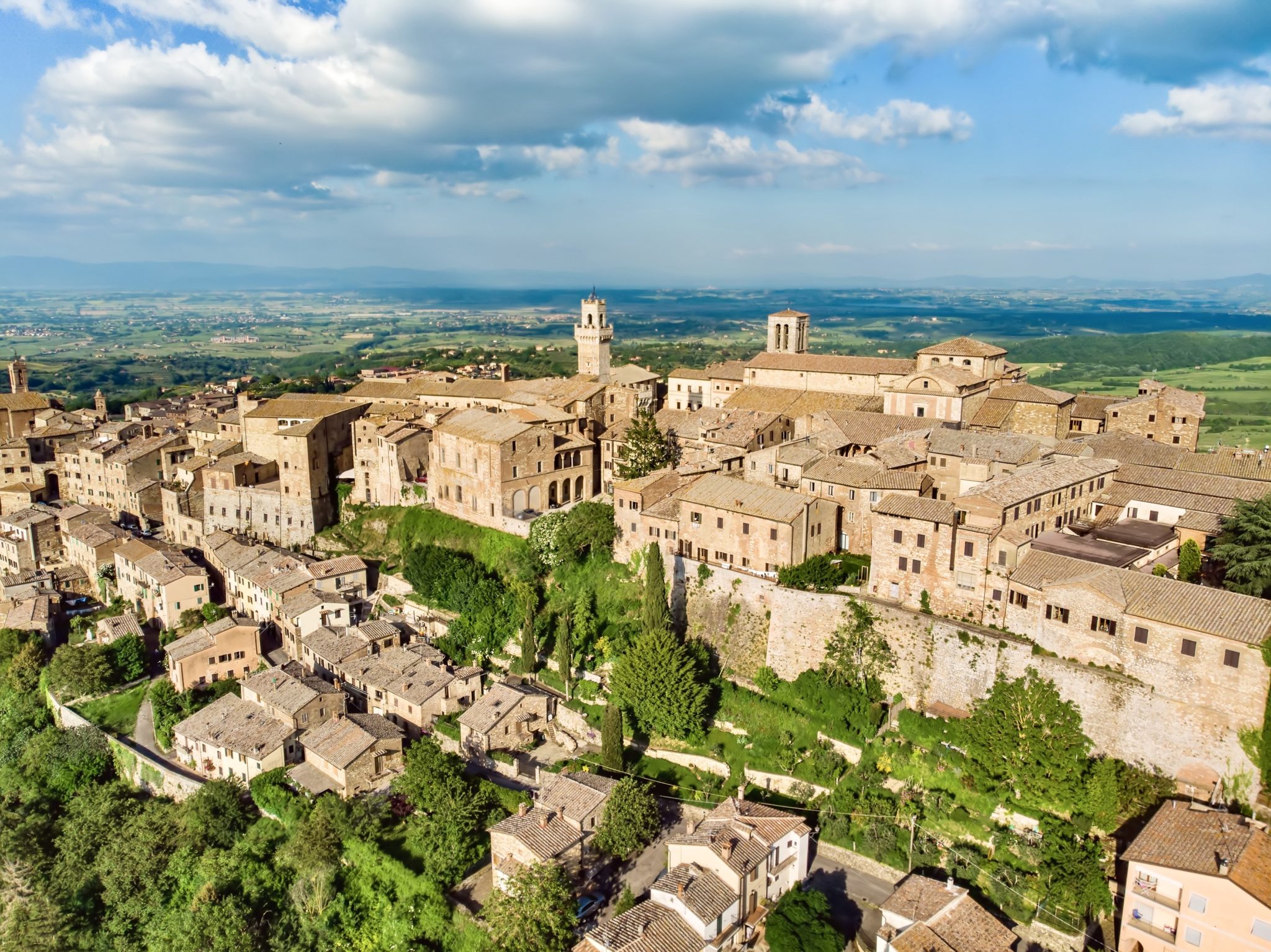 Montepulciano
Montepulciano is a stunning medieval village that simply oozes charm and character. Perched on a limestone ridge and surrounded by vineyards, the town offers breathtaking views of the rolling Tuscan hills.
With its well-preserved medieval and Renaissance architecture, romantic nooks, and sun-bleached sandstone courtyards, Montepulciano is often referred to as the "Pearl of the 1500s."
It's one of the highest hilltop towns in the region. So, be prepared for a bit of a workout as you amble from one nostalgic wine shop to the next.
Stroll along Is Corso and marvel at the beautiful Piazza Grande. You should also check out the Duomo and the Palazzo Communale, which has a tower you can climb for stunning views of the surrounding countryside.
And of course, no visit to Montepulciano would be complete without tasting its luscious wines. The town is world-famous for its rich red Vino Nobile.
You can check out my guide to the best things to do in Montepulciano.
Montalcino
Montalcino is a medieval town that's crowned by a stunning castle, surrounded by breathtaking views, and bordered by vineyards. Plus, it's famous for its Brunello wine, which is loved all over the world.
Despite being a bit off the beaten track in Tuscany, Montalcino is a superstar wine producer. Its historic center hasn't changed in centuries. The main square, Piazza del Popolo, has a Gothic loggia and clock tower that are just beautiful.
The town is dominated by the massive Rocca fortress, which was built in 1361 when Siena captured Montalcino from Florence. From the ramparts, you can enjoy some truly spectacular views. The fortress also has a tasting room for wine enthusiasts to sample some of the region's best wines.
Things to do in Montalcino: wine tasting and lunch at a medieval castle, 3 hour tour of the Brunello vineyards
Siena
The beautiful town of Siena is one of the absolute best stops on a Rome to Florence road trip.
The burnt orange town will make you feel you feel like you've stepped into a postcard. Siena is a compact, rose-colored city that has it all — rustic charm, stunning monuments, excellent museums, delicious food, and luscious chianti.
The city is home to one of the world's most famous cathedrals, the Duomo. Clad all over in Siena's trademark white and dark green marble, Siena Cathedral is a true symbol of the city.
The greatest artists of the day contributed master works to cathedral, including Donatello, Pinturicchio, Ghiberti, Pisano, Michelangelo, and Bernini. And be sure to check out the Piccolomini Library, which is an absolute must-see highlight.
Another must-visit spot in Siena is Il Campo, which is one of Italy's most beautiful squares. And if you're an art lover, you won't want to miss the Palazzo Pubblico. It has one of the most famous fresco cycles in Italy and a tower to climb for views.
For horse racing enthusiasts, Siena is home to the Palio, the world's most fiercely contested horse race. The race is held in Il Campo, where ten jockeys and horses represent 10 of the 17 contrade (districts) of Siena.
For more information on Sienna, you can check out my one day in Siena itinerary and my 2 days in Siena itinerary.
San Gimignano
San Gimignano is a UNESCO-listed medieval village in Tuscany that's sure to steal your heart.
The town's most striking feature is its 14 towers, known as the "Bella Torres" or "Beautiful Towers." These spiky honey-colored towers make San Gimignano look like a fairytale town.
The Piazza del Duomo is the main square, and it's packed with historic attractions, palaces, and the town hall. The Piazza della Cisterna is another must-visit square that's equally beautiful and has a wishing well.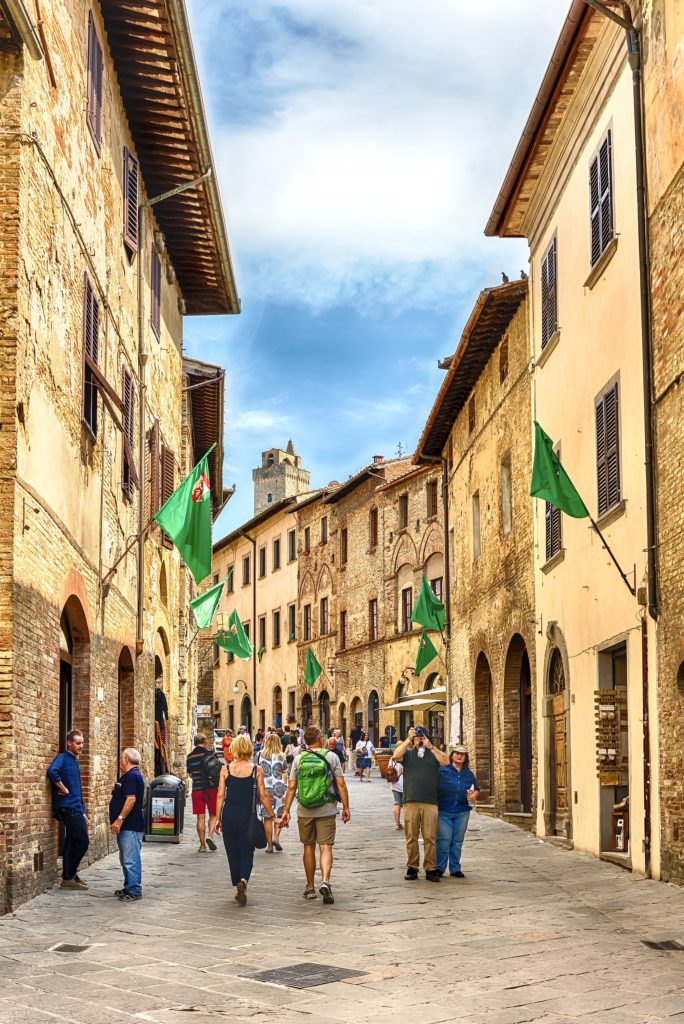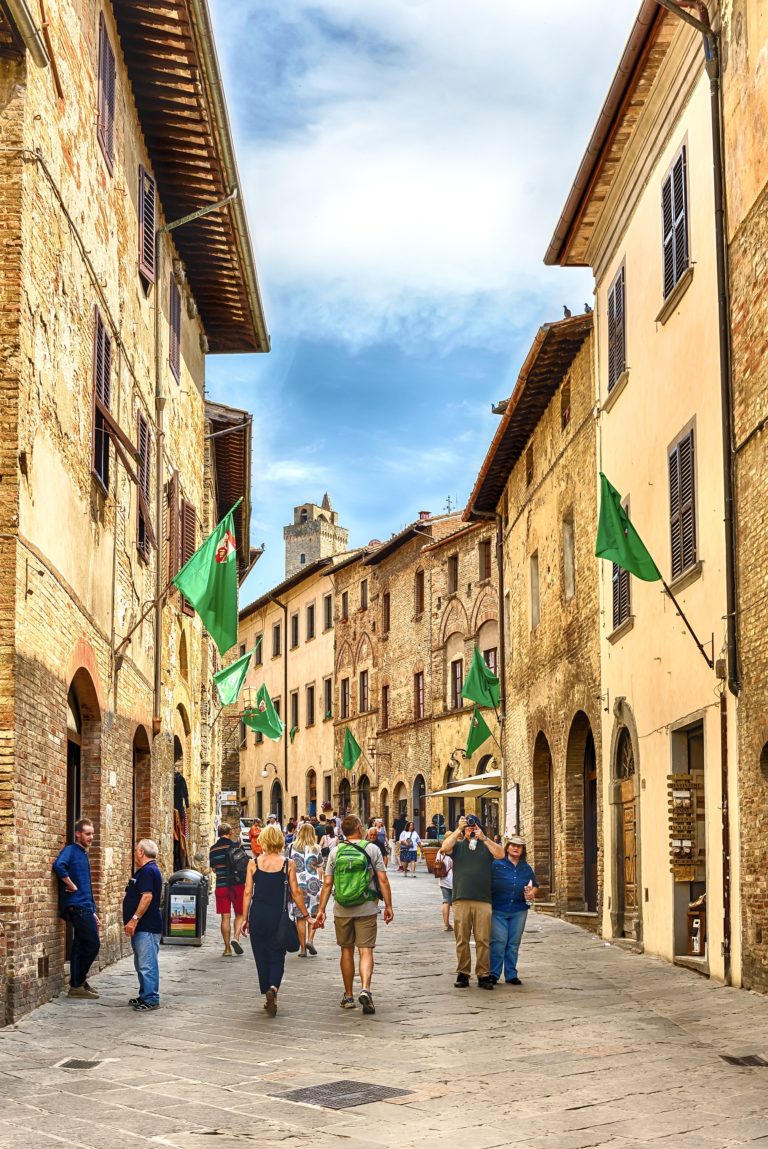 The Collegiate Church of Santa Maria of the Assumption is a treasure trove of art. You'll find frescoes by famous artists such as Ghirlandaio, Barna da Siena, and Bartolo di Fredi.
If you're interested in the town's history, head to the Palazzo Comunale, which houses the Civic Museum. Right next door is the Torre Grossa, which you can climb for stunning views of the town.
To learn more about the town, here's my guide to the best things to do in San Gimignano.
Volterra
Volterra is a must-visit stoney hill town in central Tuscany. Despite its vibrant character, the town's off-the-beaten-path location keeps it from being overrun by too many tourists.
Volterra has some of the best sightseeing opportunities in all of Tuscany's small hill towns, with an array of excellent museums and archaeological sites.
Make sure to visit the stunning Piazza dei Priori, Volterra's main square, which is considered one of the most beautiful medieval squares in Tuscany. The Palazzo dei Priori is the oldest surviving public building in Tuscany. It was the model for the Palazzo Vecchio in Florence.
Volterra also boasts some incredible museums, including the Etruscan Museum, the Pinacoteca, the Alabaster Museum, and the Diocesan Museum. Each museum offers a unique insight into the town's history, art, and culture.
You can also visit the beautiful Duomo and Baptistery, which are both architectural marvels and must-sees while in Volterra. For more information, check out my one day in Volterra itinerary.
Drive from San Gimignano to Volterra: 25 miles
Cortona
If you're looking for a charming hill town that's steeped in history and filled with impressive Renaissance art and architecture, you'll want to visit Cortona on your way from Rome to Florence. This historic town was founded by the Etruscans int he 8th century B.C.
One of the highlights of Cortona is Via Nazionale, which is the town's main street. It connects two of the most popular piazzas – Piazza Garibaldi and Piazza della Repubblica. As you stroll through town, you'll see a medley of churches and museums that offer a glimpse into the town's rich history.
If you're an art lover, you'll want to visit the Etruscan Museum and the Diocesan Museum. You can also admire a medley of art-filled churches.
For more information, here's my one day in Cortona itinerary.
Arezzo
Arezzo is a vibrant town in Tuscany that offers a perfect blend of ancient history and modern charm. The town center is pedestrian-friendly, which makes it easy to take a leisurely stroll and explore the sights.
Arezzo is a treasure trove of high culture, architecture, and history. The top attraction is the Basilica of San Francesco. It boasts a famous fresco cycle by Piero della Francesca, the Legend of the True Cross.
Another must-see is the Duomo. It has a luminous Mary Magdalene portrait by della Francesca and nice stained glass. If you're interested in art, be sure to visit Casa Vasari, the frescoed home of the late Renaissance artist, Giorgio Vasari.
For an incredible view of the city, climb the Clock Tower at Palazzo della Fraternita dei Laici. And don't miss Piazza Grande, the town's massive sloping main square. It's one of Europe's most captivating piazzas with its incredible old world architecture.
Need more information? Check out my one day in Arezzo itinerary and my guide to Casa Vasari.
Bases For A Road Trip From Rome To Florence
Need somewhere to stay overnight on the way from Rome to Florence? For the best bases for this road trip, I would recommend these towns and hotels.
Orvieto: La Badia, Locanda Palazzone, Grand Hotel Italia
Pienza: Relais II Chiostro di Pienza, Hotel Corsignano, La Bandita Townhouse
Siena: Grand Hotel Intercontinental, Hotel Certosa di Maggiano, Relais degli Angeli
You can also stay in the countryside. On my last trip to Tuscany, I stayed at the Borgo San Felice. It's about a half hour away in the hills of Siena. It's a resort situated in the old palazzi of a medieval village. It was stunning.
Tips For Driving From Rome To Florence
Driving from Rome to Florence is a pretty straightforward journey. The A1 highway is easy to navigate and will take you straight to Florence.
However, once you get off the highway, you may encounter some winding roads. But don't worry, my GPS was really helpful and we only took a couple wrong turns (which is to be expected when driving in Europe).
One thing to keep in mind is that driving at night can be a bit tricky because the roads aren't very well lit.
Now, let's talk about toll roads. There are some toll roads in Italy called "autostrade," but most roads don't require you to pay.
If you plan to drive on a toll road, you might want to get a "telepass" from your rental car agency to make things easier. Otherwise, just look for the lane marked "biglietto" when entering the toll area to pick up your ticket.
When you exit the toll road, you'll need to pay the fee. There are separate lanes for paying with cash and credit cards, and the booths are unmanned. Just look for the slot to enter your ticket and the slot for your payment.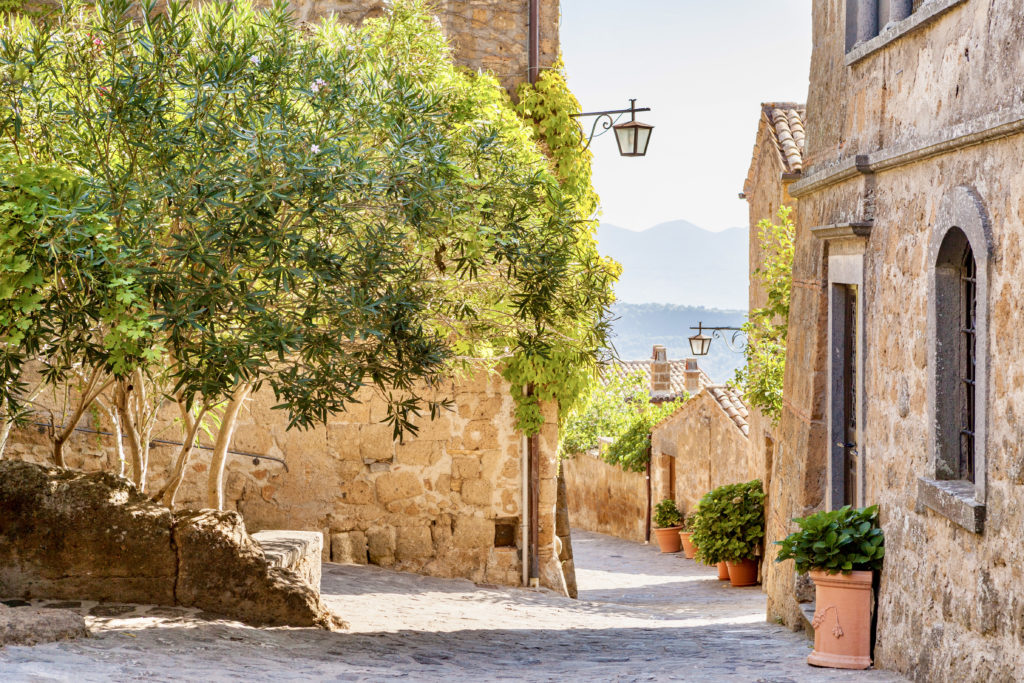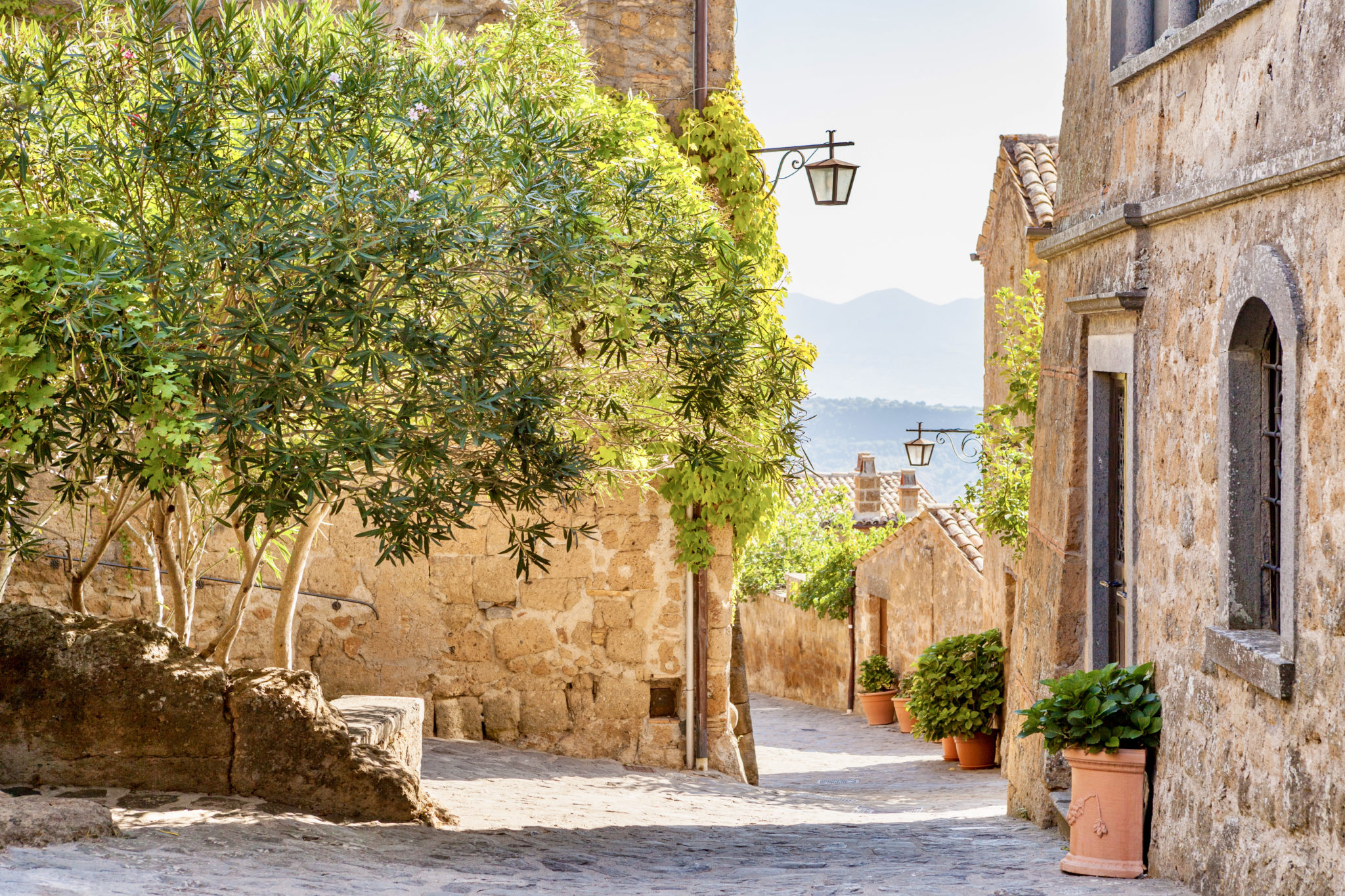 If you notice that other drivers are going faster than you, don't be afraid to pull over and let them pass. There are quite a few speed cameras on the roads, and you definitely don't want to get a ticket.
Lastly, when choosing a rental car, it's a good idea to go for a compact car. The roads can be pretty narrow and parking spots can be a bit tight, so having a smaller car will definitely make things easier.
READ: Tips for Renting a Car and Driving in Europe
I hope you've enjoyed my guide to the best stops on road trip from Rome to Florence. If you need information on Rome and Florence, you can check out my guides:
If you'd like to road trip from Rome to Florence, pin it for later.