Scoping out some day trips from Porto Portugal? Here's my guide to the 22 best day trips from Porto. I give you an overview of each Porto day trip destination and give you tips for getting there.
Porto is a beautiful city that's hard to leave. You could stay busy for days there and be perfectly content. But if you want to get out of the city, there are some great day trip options from Porto.
Porto Day Trips At A Glance
Here are the 22 best day trips from Porto that we'll explore in this blog post.
1. Amarante
2. Aveiro
3. Barcelos
4. Braga
5. Citania de Briteiros
6. Coimbra
7. Conimbriga
8. Costa Nova
9. Douro Valley
10. Fatima
11. Foz do Douro
12. Guimaraes
13. Lisbon
14. Obidos
15. Peneda Geres National Park
16. Ponte de Lima
17. Matosinhos
18. Tomar
19. Viana do Castello
20. Vila Nova de Gaia
21. Vila Royal
22. Viseu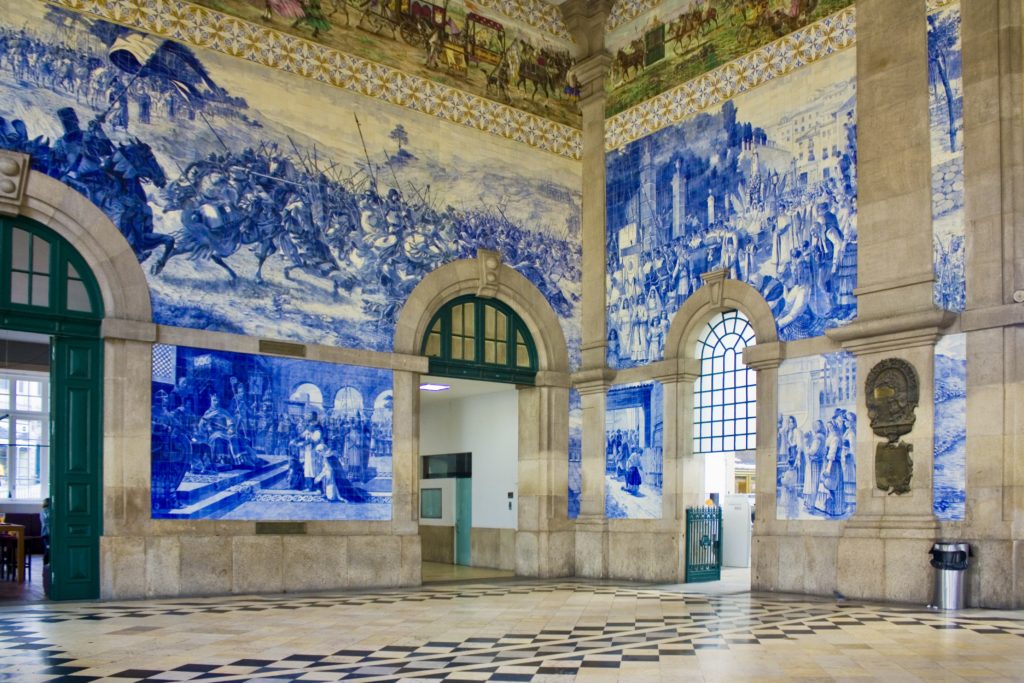 20 Best Day Trips From Porto
Here's my list of 22 recommended day trips from Porto. I give you sightseeing tips and distances of travel.
I've listed them in alphabetical order for ease of reference. There's something for everyone. You can visit charming medieval villages, hit the beach, study history at archaeological sites, enjoy mountain scenery, or go hiking.
I tell you you how to get these Porto day trips by car, train, bus, and guided tour.
If you're taking the train for your Porto day trips, you will leave from either Sao Bento Train Station or Campanhã Station.
Sao Bento is in the middle of town and you can walk there. Campanhã is a bit further afield. You can get there in 5 minutes by bus (Line 400), from Sao Bento, or by taxi.
If you're taking the bus, you'll leave from Campanhã Station.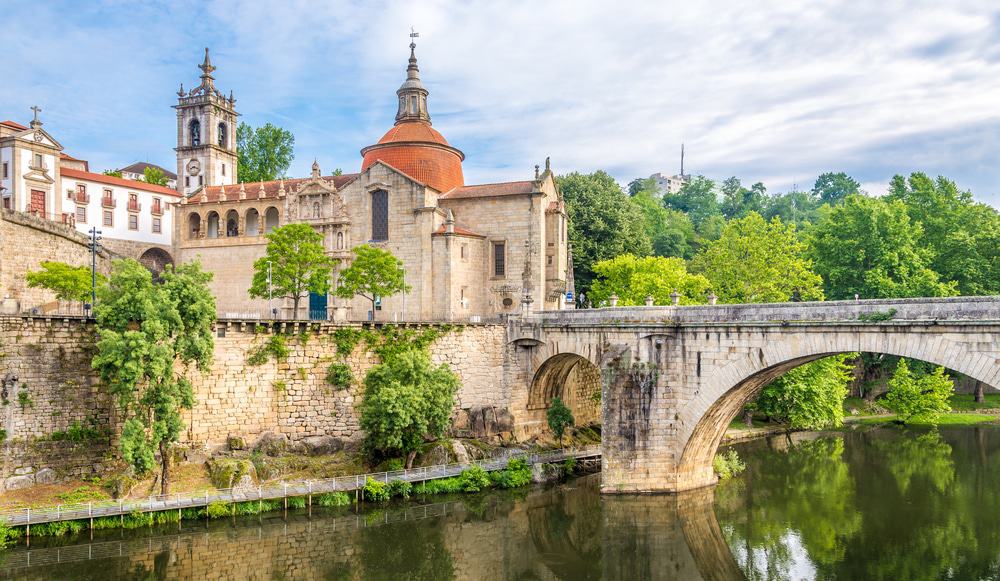 1. Amarante
Amarante is one of the most charming towns in northern Portugal. Perched on the Tamega River, this postcard perfect town is known for its impressive bridge and rich blend of Renaissance, Medieval, and Romanesque architecture.
Historic Amarante is known as a mega for poets and painters. Despite having several noted landmarks, Amarante is quiet and serene compared to bustling Porto.
Here's what you should see in Amarante:
• Centro Histórico: The best thing to do in Amarante is wander the steep cobbled streets of its old town. You'll find handsome facades from the 16th to 18th centuries.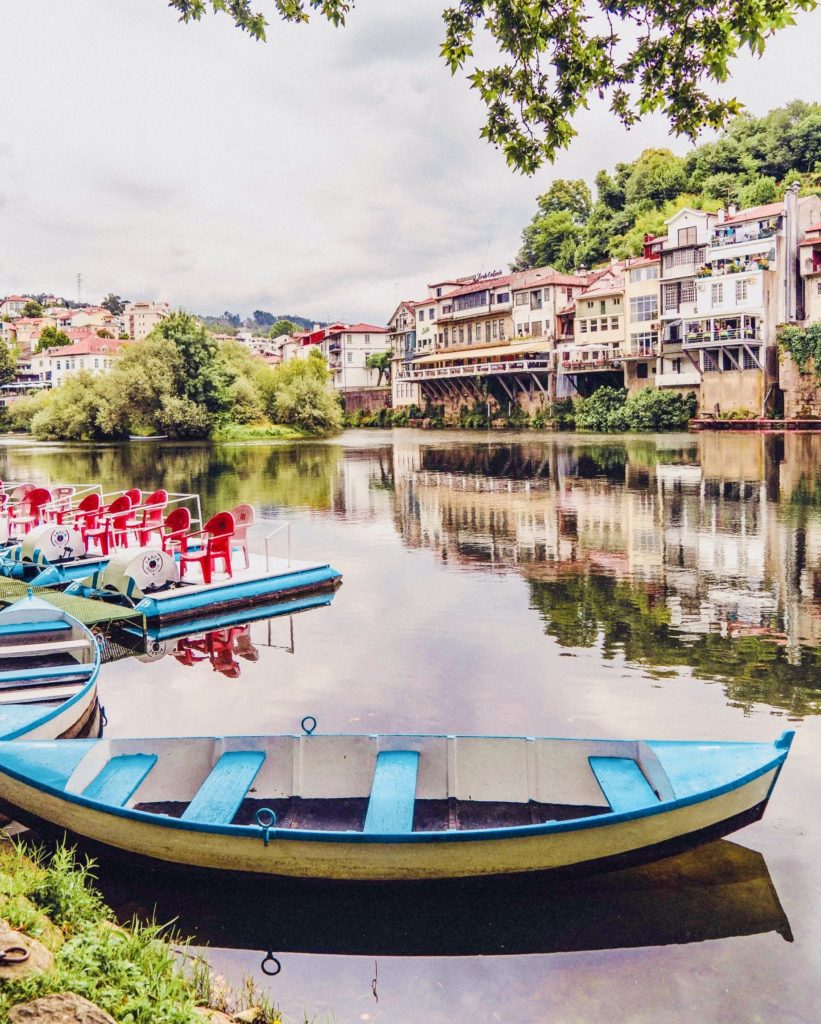 • Ponte de São Gonçalo: The top attraction in Amarante is its famous Ponte of São Gonçalo, an 18th century granite bridge spanning the Taméga River.
• Solar dos Magalhaes: This site is the evocative ruins of a manor house sacked by Napoleon.
• Walk along the Tâmega River: Nothing beats a stroll along the river. There's a path that snakes along it just below the old town.
• Igreja de São Gonçalo: This grand Baroque church is dedicated to Saint Gonçalo and is classed as a National Monument.
• Igreja de São Domingos: Located in the historic center, this church was built in 1725 and houses a Museum of Sacred Art.
• Sample Vinho Verde: An absolute must when taking a day trip from Porto to Amarante is to sample the local tipple, vinho verde. There are bars and bistros all over town where you can sip the green-ish sparkling wine.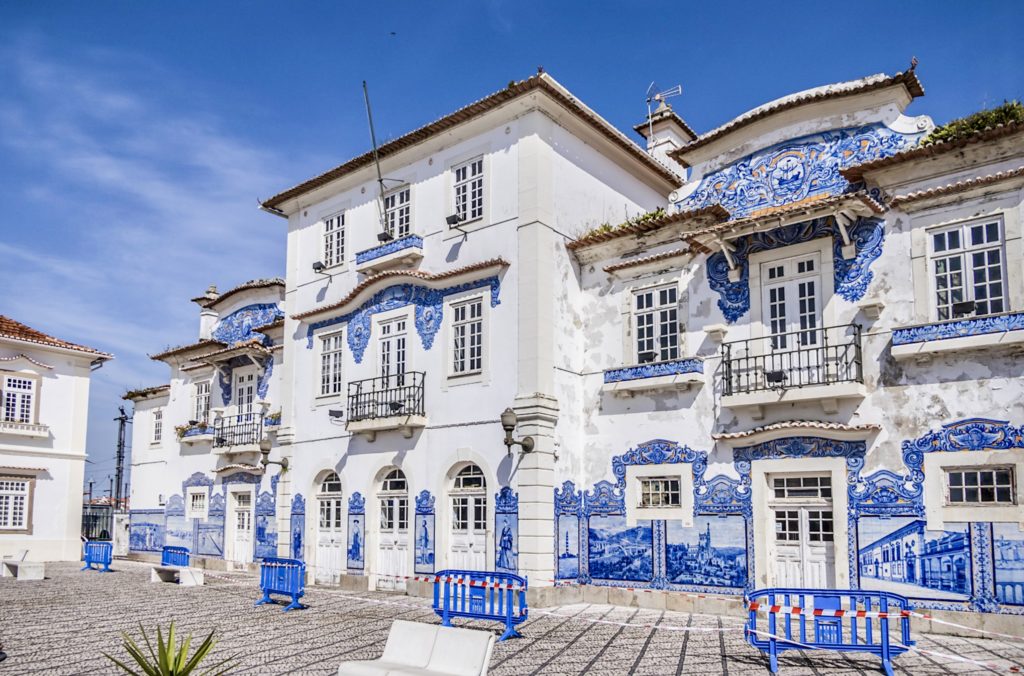 2. Aveiro
Aveiro is a popular day trip from Porto or stop on the way from Lisbon to Porto.
Because of its canals, the town is sometimes called the "Venice of Portugal." I can't say it lived up to this glowing moniker.
But Aveiro does have some picturesque Art Nouveau buildings and azulejo clad churches that are definitely worth a look. Here are some things to do in Aveiro on a day trip from Porto: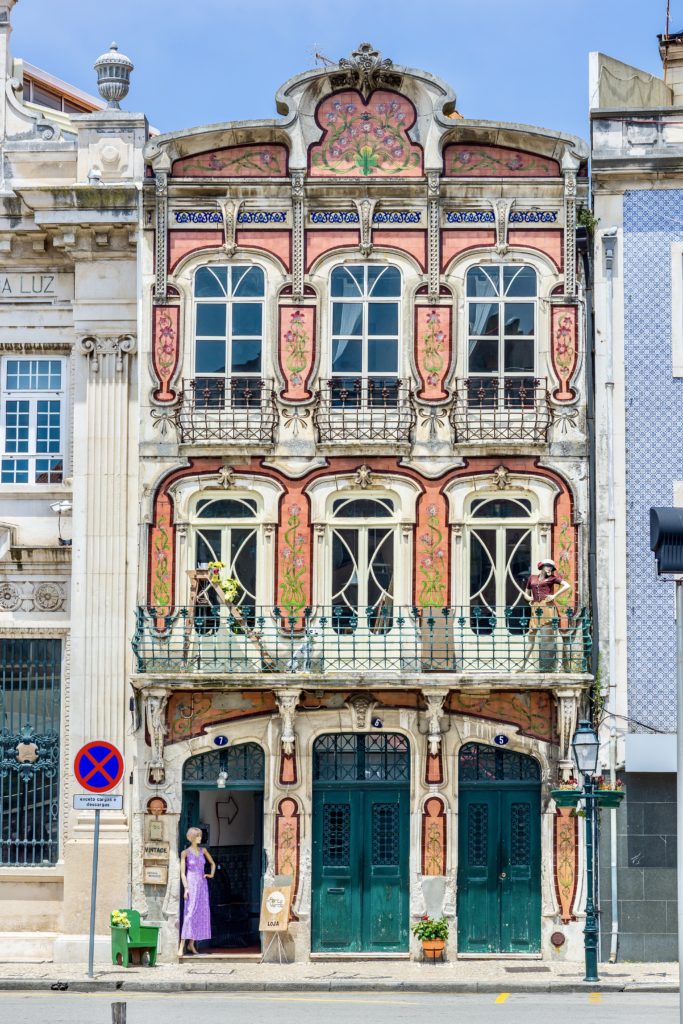 • Canal ride in a moliceiro: You can take a canal ride in one of Aviero's colorfully decorated gondolas. The rides last 45 minutes and, from the boat, you can see some of Aveiro's landmarks.
• Igreja da Misericórdia: This is a pretty 16th century church with azulejo tiles on the exterior facade and lining the walls in the interior.
• Museu de Aveiro: This museum is housed in a 176th century chapel. It covers the religious history of the city.
• Art Nouveau: Aveiro has some beautiful pastel colored Art Nouveau mansions along the main canal downtown. You can also visit the Art Nouveau Museum and its adorable onsite tea house.
3. Barcelos
Travel by car: 40 minutes
Travel by bus: 1 hour
Travel by train: 1 hour
Guided Tour: You can take a full day trip from Porto to Barcelos + 2 other towns on this

9 hour full day guided tour

.
Just west of Braga, Barcelos is a cute medieval town with a strong cultural identity deriving from artisan traditions like pottery. Barcelo is the country's leading producer of ceramics.
The weekly market on Thursdays is one of Portugal's largest. It's held on the Campo da Republica. Together with the usual fresh produce it's a souvenir hunter's dream, with traditional artisan crafts.
Barcelos is a sleepy place with just a few main sites.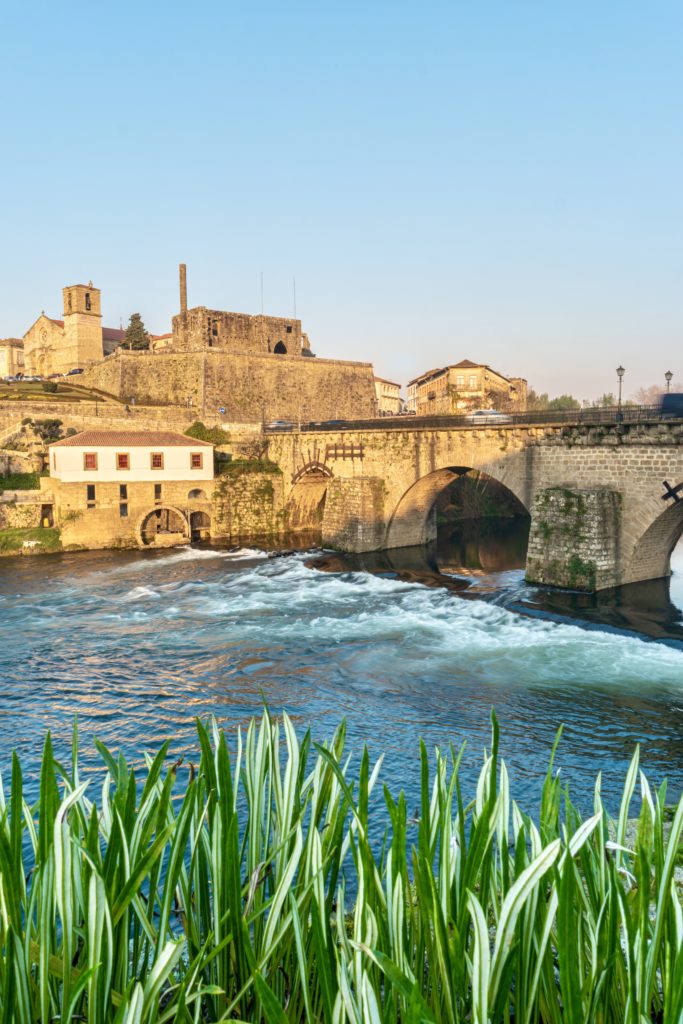 • Paco do Duques: This is an open air archaeological museum. It's laid out in the ruins of what was once a grand palace overlooking the Cavado River.
• Museu de Olaria: This museum displays pottery from all over Portugal, including works from Barcelos' beloved potter Rosa Ramalho.
• Igreja Matriz de Barcelos: Begun in the 1200s, this pretty church is Romanesque and Gothic in style. It has a lovely rose window. Inside, it's covered with blue and white azulejos.
• Torre do Cimo da Vila: This is the only remaining tower from Barcelo's original three medieval towers. It houses a center for local artisan crafts and is free to visit.
• Igreja do Senhora da Cruz: This is an 18th century church of a Benedictine nunnery. It has a plain exterior and elegant interior. Inside, it's awash in azulejos illustrating St. Benedict's life.
4. Braga
Braga is one of the best day trips from Porto. Braga is a beautiful town less than 40 minutes from Porto.
Founded by Roman Emperor Augustus in 16 B.C. as the Roman town of Bracara Augusta. Today, it's the third largest city in Portugal.
Braga is known as the country's "religious capital" for its abundance of pretty Baroque churches. In Portugal, the saying goes that "Porto works, Lisbon plays, and Braga prays."
Braga's historic center is UNESCO-listed. It's full of pretty 18th century homes, elegant churches, and lovely gardens. You can take a tuk tuk tour to discover all the highlights.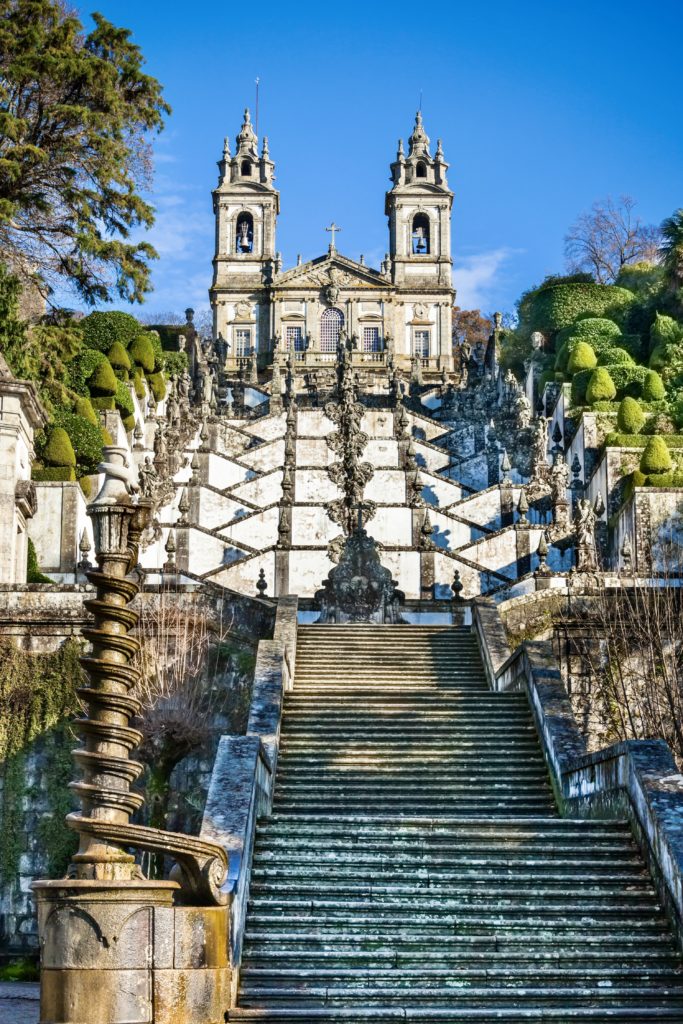 Here's what to see and do in Braga:
• Braga Cathedral: Braga Cathedral is the oldest in Portugal, dating from the 11th century. It's a Romanesque building housing a museum of sacred art, cloister, and several chapels in a pedestrianized square. The highlight is the treasury.
• Dom Jesus do Monte Basilica: This UNESCO-listed Neo-Classical church is Braga's much photographed top attraction.
To reach it, you've got to climb up 630 zig zagging steps. Serious pilgrims climb on their knees. For a few euros, you can also take the funicular to the top.
• Igreja Misericordia: This is a beautiful Baroque church in the historic center. It boasts an elegant interior and ornate altar.
• Centro Histórico: Braga's historic center is UNESCO-listed. Be sure to stop by Rua da Violinha, one of Braga's finest medieval streets.
5. Citania de Briteiros
You can only to this off the beaten path site by car. It's about 45 minutes from Porto. You can combine Citania with Guimaraes on a Porto day trip.
Citania de Briteiros is an evocative early Iron Age archaeological site in northern Portugal, about 9 miles from Guimarães. You can step back 2,000 years in time.
It's a type of "hill fort" site called an oppidum. It's the largest of a scattering of porto-urban Celtic hill settlements on the Iberian Peninsula.
The site was likely inhabited between 200 B.C. and A.D. 300. It may have been the Celtiberians last stronghold against advancing Romans.
The site was the brainchild of Portuguese archaeologist Francisco Martins Sarmento. From 1874, Sarmento excavated the site annually.
He discovered the ruins of more than 150 rectangular, circular and elliptical stone huts, linked by paved street grids and surrounded by protective walls.
Here's my complete guide to visiting Citania de Briteiros.
6. Coimbra
Dating from the 9th century, Coimbra is a surefire charmer with no end to its embarrassment of riches. The city is one of the very best day trips from Porto.
Coimbra is known as the "Athens of Portugal" for its heritage and culture. Coimbra was the capital of Portugal from 1139 to 1385, and was the birthplace of six Portuguese monarchs.
The city never fails to appeal, with a combination of old world charm and a lively student population.
The prestigious UNESCO-listed Coimbra University crowns the top of the highest hill. You'll see students swirling their black cape uniforms everywhere you go in town.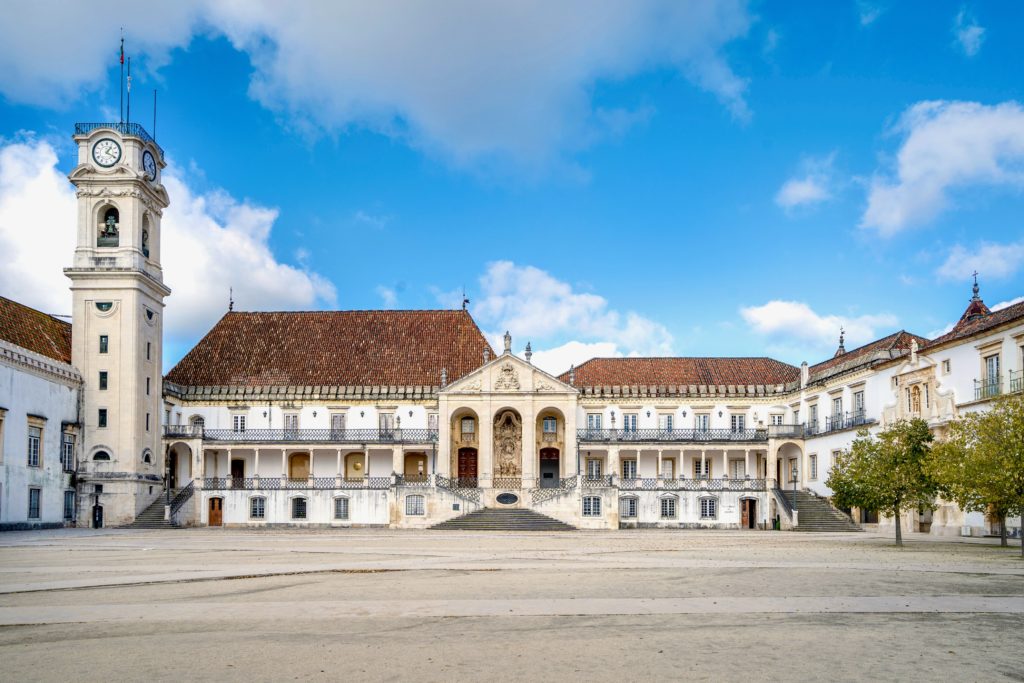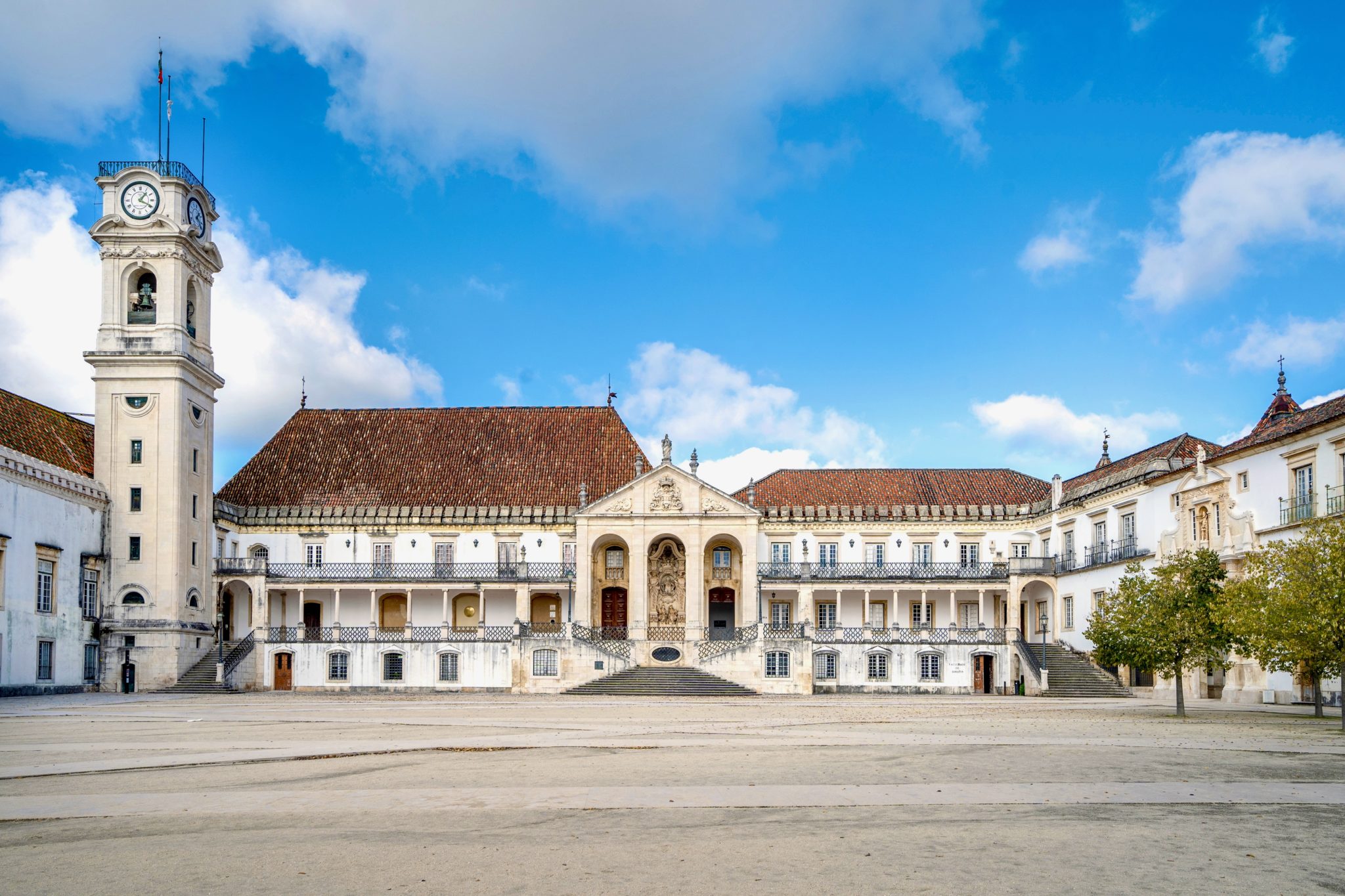 There are plenty of things to keep you occupied in Coimbra on a day trip from Porto. You can visit:
• Coimbra University: Coimbra University is a fortress-like ancient UNESCO site and a must see attraction. You can visit the Royal Palace, St. Michael's Chapel, and the over-the-top Baroque-style Joanina Library. There's so much to see you may want to book a 1.5 hour guided tour.
• Santa Cruz Church: This grand church sits in a lovely square, Praca 8 de Maio. It was founded in 1131 by the canons of St. Augustine. The interior has beautiful blue and white azulejo tiles, which line both sides of the church.
• Coimbra's Old Cathedral: The austere 12th century Sé is Portugal's finest example of Romanesque architecture. The Sé has a crenellated fortress-like exterior and narrow slit-like lower windows. There's also a delightful 13th century Gothic cloister.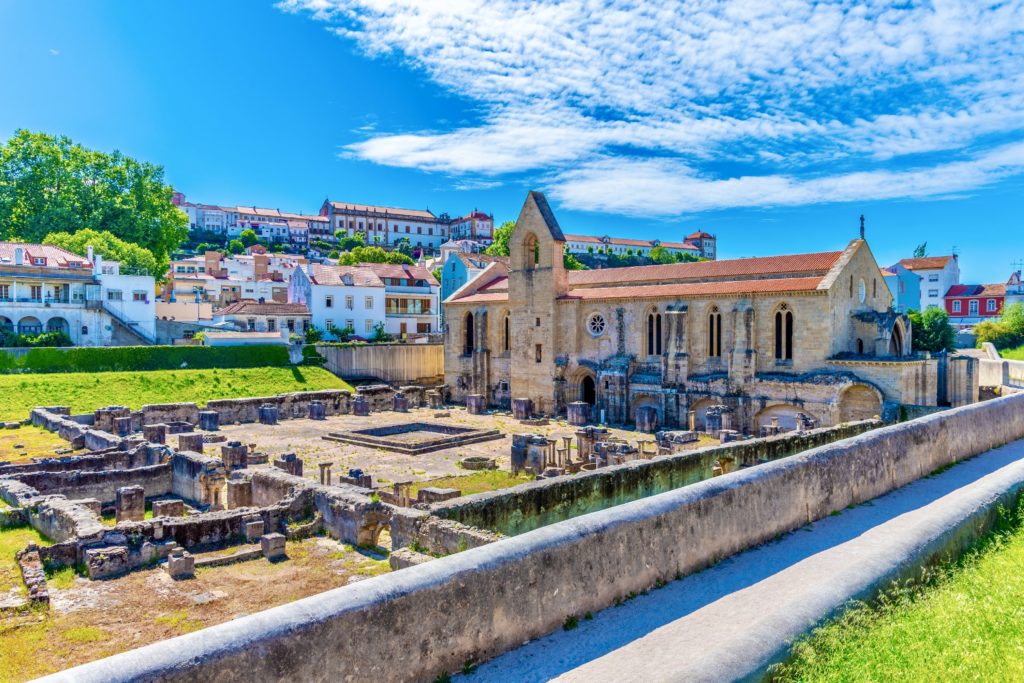 • Coimbra's New Cathedral: Sé Nova is Coimbra's "new" church, founded by Jesuits in 1598. Inside, there's a Manueline style baptismal font, wooden choir stalls, and 18th century organs.
• Convent Santa Clara-a-Velha: This evocative 13th century convent complex has been eerily abandoned since it was flooded in the 17th century. It was once home to the Poor Clare nuns. The Gothic church has been restored.
• Centro Histórico: Coimbra's pedestrianized main drag is the very photogenic Rua Ferreira Borges. It's filled with bookstores, cozy shops, patisseries, and ceramic stores.
For more information, here's my guide to spending one day in Coimbra and my guide to visiting Coimbra University.
7. Conimbriga
The remnants of the Roman Ruins of Conimbriga are an off the beaten path day trip from Porto. History and archaeology buffs will be in 7th heaven. The site is among the best preserved ruins from the Roman Empire.
The town of Conimbriga was one of the largest Roman settlements outside Italy, dating from as early as the first Iron Age.
In the 9th century B.C., Romans built an amphitheater for over 10, 000 people, city walls, three bathing complexes, temples, and several residences.
Conimbriga wasn't excavated until the late 19th century. Only about 20% of the entire city is currently unearthed.
The highlight of Conimbriga is its exquisite and well-preserved collection of colorful mosaic floors. The ones at the House of Fountains are especially remarkable.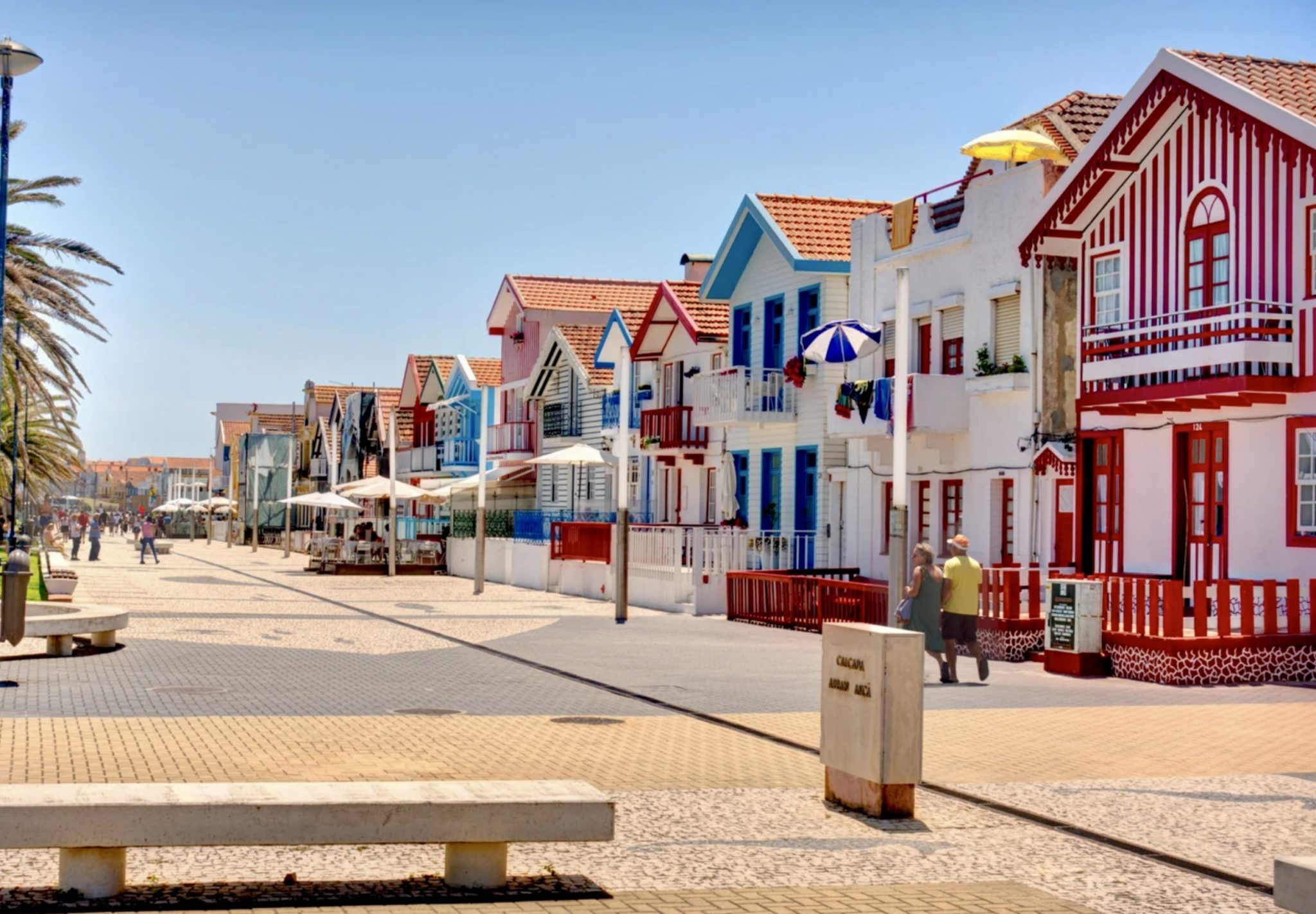 8. Costa Nova
Travel by car: 1:15
Travel by bus: 2 hours (change in Aveiro)
Travel by train: 1:45
Guided tour: You can

book a half day tour

from Porto to both Aveiro and Costa Nova.
Costa Nova is a coastal neighborhood of Aveiro. It's an old fishing village on the Silver Coast that's popular in the summer.
The Main Street running parallel to the sandy beach is filled with colorful striped beach houses, often rented out.
There's nothing really to do here. Just sunbathe, relax, and stroll along a gorgeous beach.
9. Douro Valley
Travel by car: 1.5 hours.
Private Transfer: The roads are small and windy, so you may want to book a private transfer if you're sipping wine.
Travel by boat: 6 hours. Cruises leave from Vila Nova de Gaia and go to the wine town of Pinhão.
One of the best day trips from Porto is to the luxuriant Douro Valley. The valley is incredible, a glorious spot in Portugal.
The rest of the world is beginning to discover what the Portuguese have known forever. The Duoro is one of the world's oldest demarcated wine regions.
The dramatic valley showcases steep terrace vineyards carved into mountains, granite bluffs, pretty villages, and 18th century wine cellars.
The easiest way to visit, by far, is on a guided tour. There are many options, but here are some tours you can consider:
Aside from sipping wine, there are some wonderful towns to visit in the Douro Valley, including:
• Pinhão: This town is one of the most beautiful in the Douro Valley, especially during harvest season. Like Porto, the town has an unusual railway station with azulejo tiles.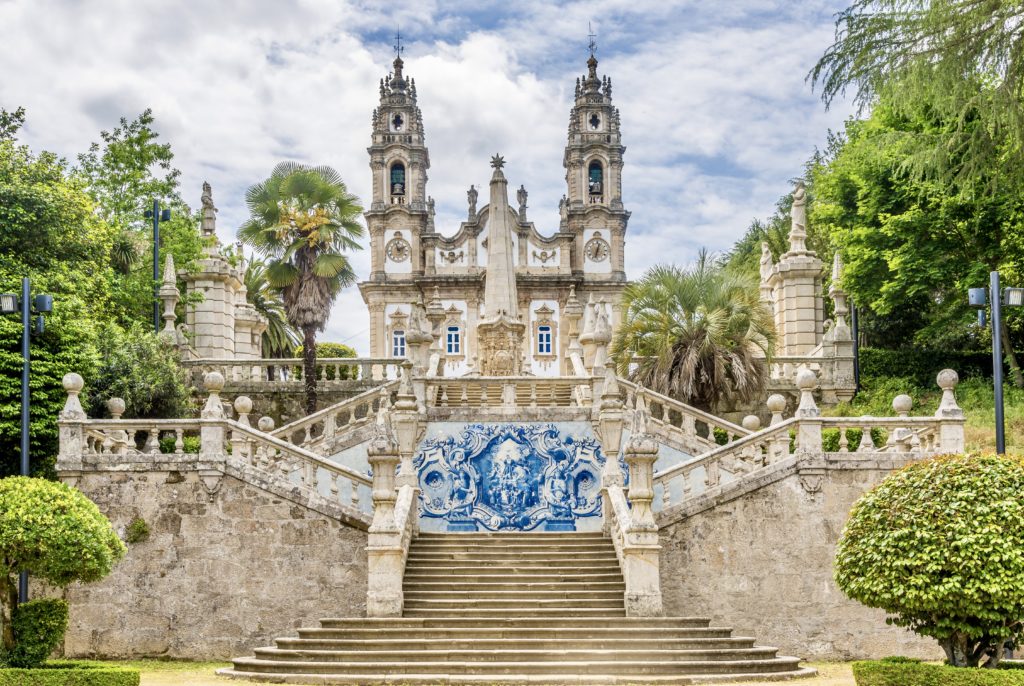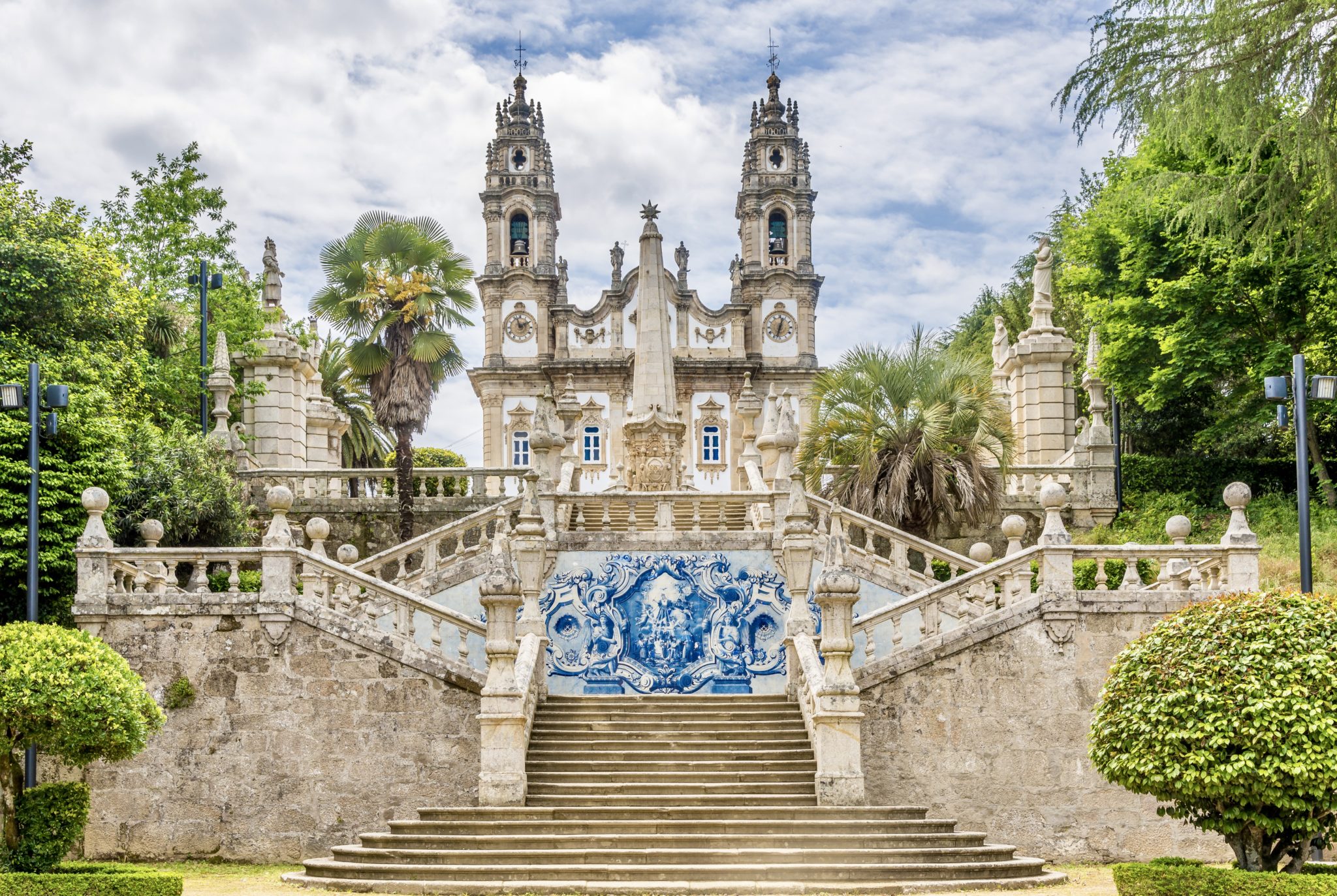 • Lamego: This charming town's most famous site is the Nossa Senohora di Remedios. It's a smaller version of Braga's more famous Bom Jesus. Lamego also has a beautiful cathedral dating from the 12th century.
• Tarouca: Tarouca is home to the semi-ruined 12th century monastery, São João de Tarouca, which is currently being excavated. The adjacent church has over 4,700 azulejo tiles, each one with a different illustration.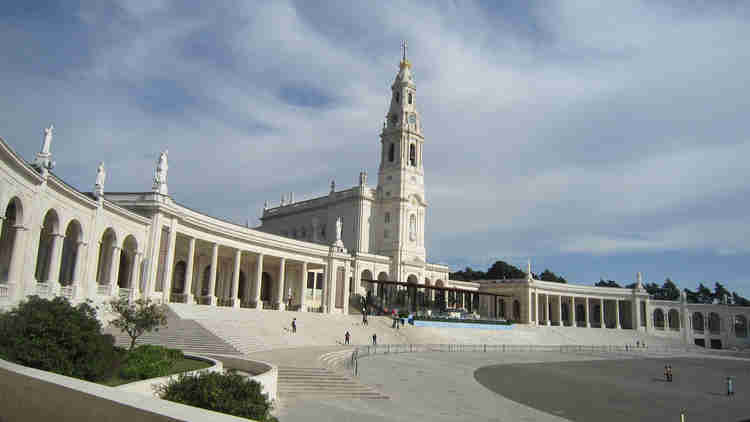 10. Sanctuary of Out Lady of Fatima
Travel by car: 1:50
Travel by bus: 2 hours
Guided tour: You can visit Fatima and Coimbra on a full day guided day trip from Porto.
The tiny town of Fatima, like so much else in Portugal is steeped in legend. This particular legend holds that three shepherd children saw visions of Mary, the so-called "Marian Apparition."
They returned to the same spot and learned three secret prophecies. The final one was stored in the Vatican until 2000.
From 1928-54, the Neo-Classical Sanctuary of Our Lady of Fatima was built on the miraculous site. It's now a hugely popular pilgrimage stop for Catholics, drawing 100,000 people annually. Pope John Paul II visited Fatima three times.
The architecture is impressive with a sweeping circular courtyard, a basilica housing the children's tombs, and the chapel of apparitions.
11. Foz do Doro
Travel by car: 15 minutes
Travel by tram: 20 minutes, Tram 1
Travel by foot: 1 hour
To blow away the cobwebs, Foz do Douro is a great day trip from Porto. It's just a 10-15 minute drive or tram ride from Porto.
It's a trendy oceanside village with the best beaches near Porto. This is where you can go swimming.
There are plenty of things to do in Foz do Doro:
• Promenade: There's a long oceanside promenade with palms, pines, turn-of-the-century mansions, and killer seafood restaurants. When the sun is setting, you couldn't ask for a more romantic backdrop for a stroll.
• Pergola: There's a pergola that you might recognize if you've been to Nice. It was installed in the 1930s after the mayor's wife fell in love with the one on Nice's Promenade des Anglais.
• Serralves Museum: The Serralves is one of Portugal's leading cultural institutions. It's contemporary art museum in an ultra-modern boxy pinkish Art Deco building. It also 44 acre sculpture park and vast formal gardens.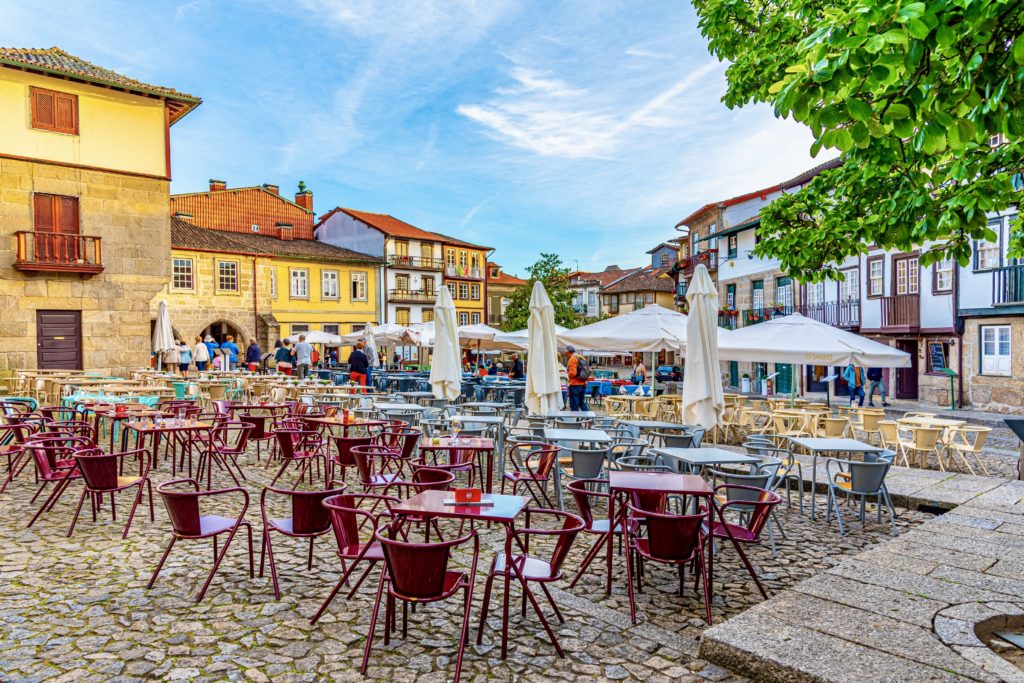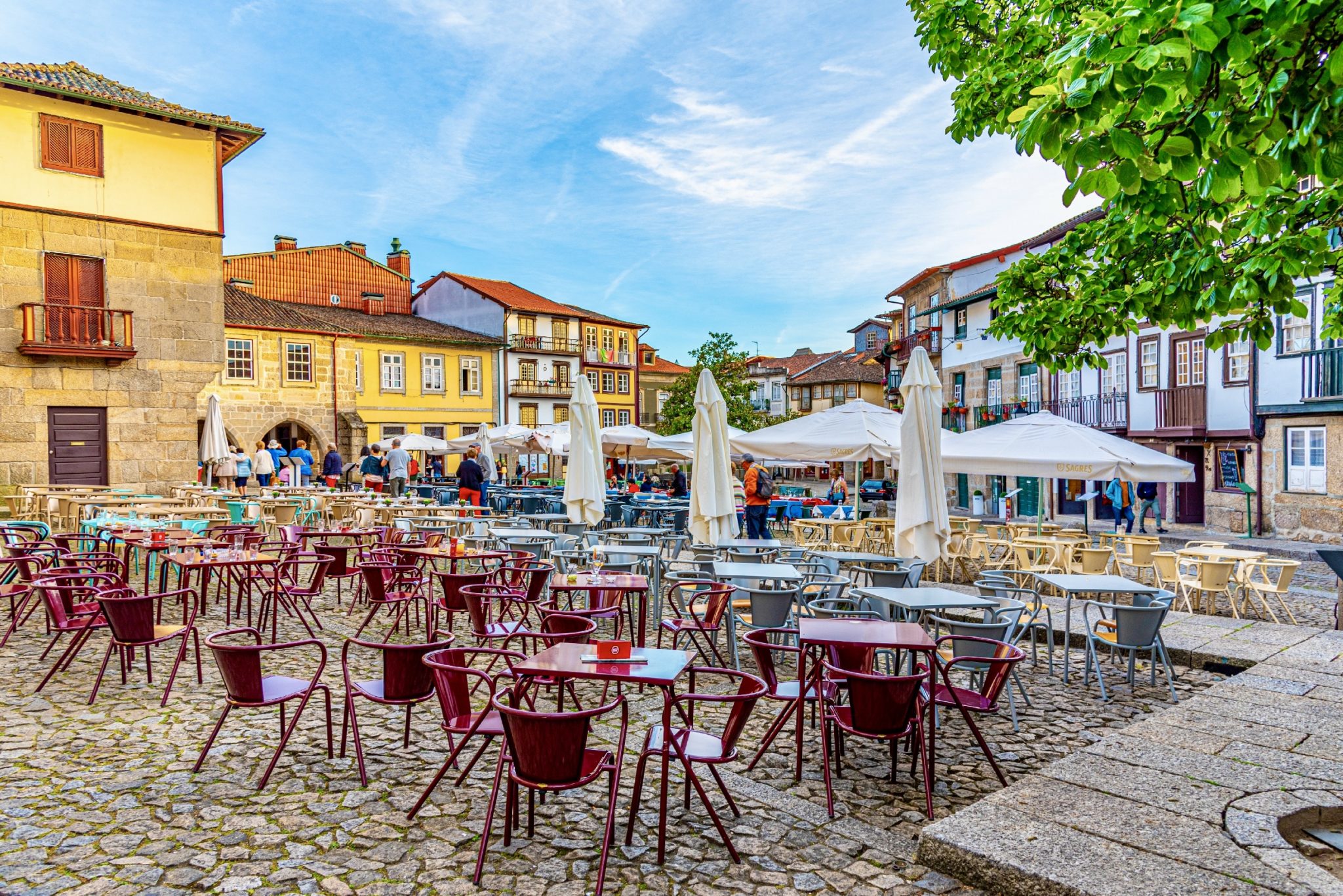 12. Guimaraes
Guimaraes is an incredibly charming UNESCO-listed town not far from Porto. I think it's one of the very best day trips from Porto.
The Old Quarter is filled with narrow cobblestone streets, old stone homes, and beautiful medieval squares. Guimaraes has two must see historic attractions: Guimaraes Castle and the Ducal Palace.
Here's what to see in Guimaraes:
• Guimaraes Castle: Guimaraes Castle is famous as the birthplace of D. Afonso Henriques, the first king of Portugal, and is part of the town's UNESCO designation. It's one of the seven wonders of Portugal, sitting at the top of a hill overlooking the town.
• Ducal Palace: The Palace of the Dukes of Braganza is a striking building bristling with tall brick chimney pots. It was built by Dom Alfonso, the 1st Duke of Braganza. You'll find huge fireplaces, Aubusson and Brussels tapestries, Persian rugs, porcelains, faience, and coffered ceilings.
• Largo da Oliveira: The social square of Largo da Oliveira is a cultural focal point. In the middle is a spectacular arched Gothic shrine, the Padrão do Salado.
• Largo de Sao Tiago: The Largo de Sao Tigo is an absolutely charming square in Guimaraes. It's surrounded by stone houses with colorful facades and flowers tumbling down balconies.
• Largo da Republica do Brasil: This large square honors and commemorates Brazil's proclamation of a republican form of government. You'll find a lovely public garden and the 18th century Church of Our Lady of Consolation.
• Funicular: The Teleférico de Guimaraes was the first cable car in Portugal. It's a must do for aficionados of heights and views. At the top is the Sanctuary of Penha.
For more information, here's my one day in Guimaraes itinerary.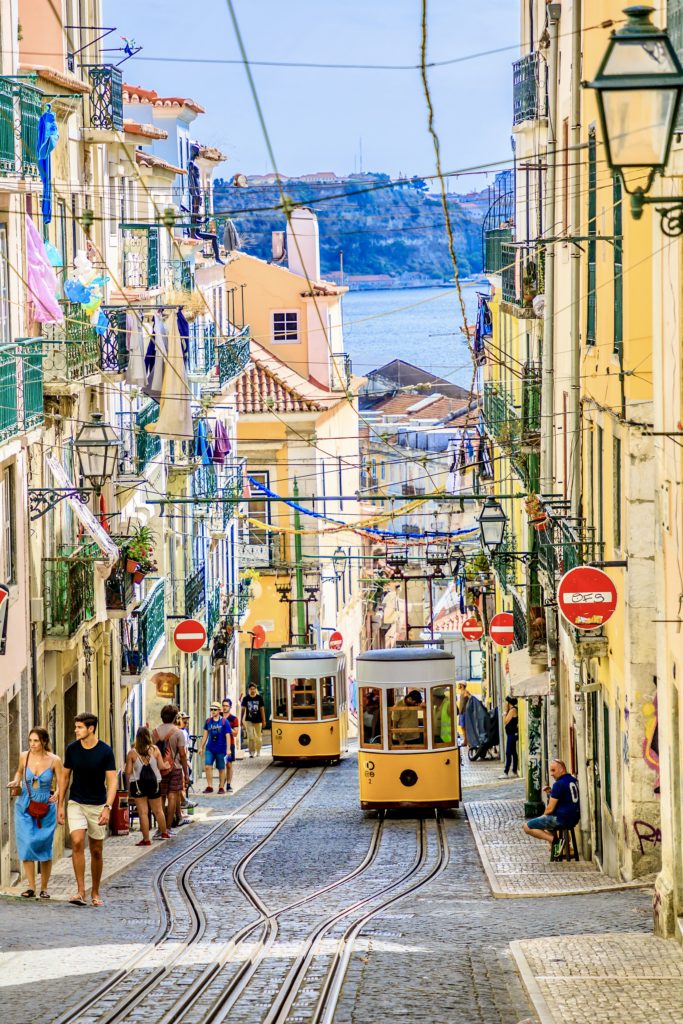 13. Lisbon
Travel by car: 3 hours
Travel by train: 2:30
Guided tour: There are no guided tours from Porto to Lisbon. They are all the reverse, from Lisbon to Porto. But you can

book a private transfer

to get from Porto to Lisbon.
Lisbon is one of my favorite cities in Europe. It's a long way to go on a day trip from Porto. But it can be done if you take the high speed train and don't mind a long day.
You won't be able to explore all of Lisbon on a Porto day trip. But you can cover some ground and get a flavor of the city.
Here are some things to do in Lisbon by neighborhood:
• Alfama: The Alfama is Lisbon's oldest neighborhood. It's an atmospheric quarter of twisting alleyways and miradouros. It's crowned by St. George's Castle, a recreation of a medieval castle with stunning vistas.
• Baixa: Baixa is the commercial heart of Lisbon. Start in the Pombaline-designed Rossio Square. The main drag is Rua Augusta, at the end of which is the Praça do Comércio and a triumphal arch.
• Graça: Graça is a cool neighborhood near Alfama. It's known for its authentic vibe, local food, street art, and the best views of Lisbon.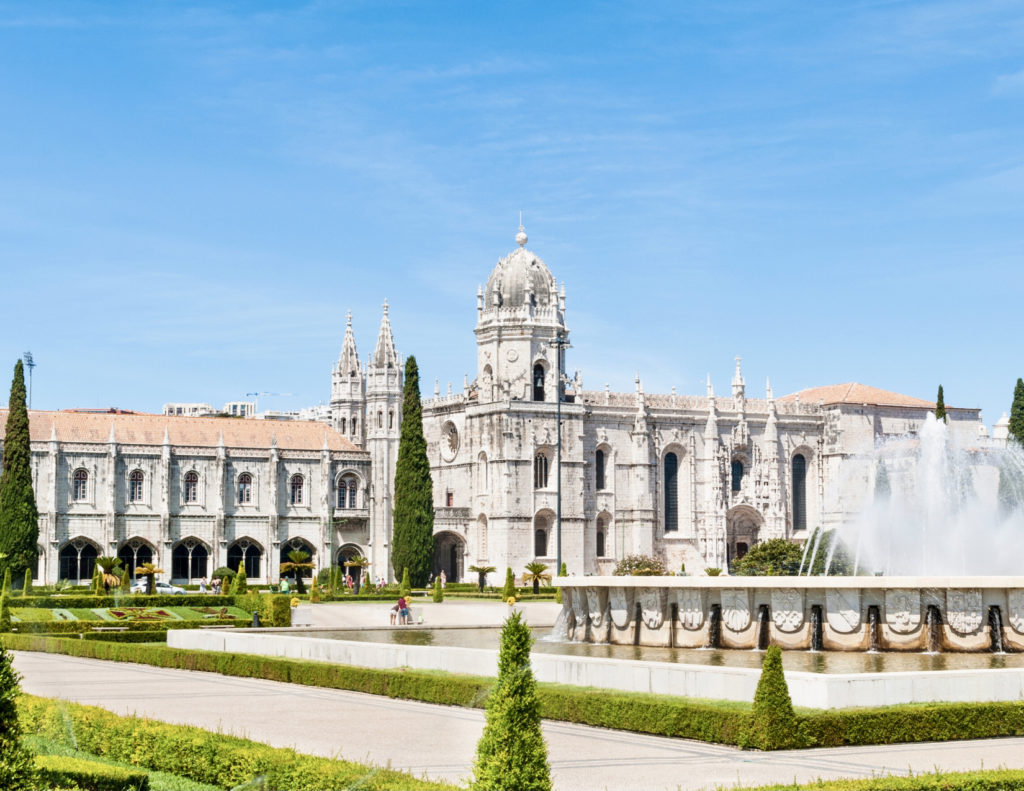 • Chiado: Chiado is an artsy area of Lisbon, full of shops, art galleries, bookstores, and cafes. It's top site is the Carmo Convent, with a remarkable archaeological museum.
• Biarro Alto: reached by the Bica elevator, this neighborhood is a touristy place with nightlife and fado dives. It's known for its famous Pink Street.
• Belem: Belem is Lisbon's UNESCO neighborhood. It has the country's best assemblage of Manueline architecture. The highlight is Jerónimos Monastery.
For more information on Lisbon, you can check out my 4 days in Lisbon itinerary, my guide to the top attractions in Belem, and my guide to the top attractions in Alfama.
14. Obidos
The only way to get from Obidos on a day trip from Porto is to drive. It's 2:15 each way.
Don't drive into the old town, which is a residents only area. There are parking lots just outside the walls, some free and some not.
This dreamy UNESCO village is perched fetchingly on a hill and encircled with stout medieval walls.
Obidos is decorated with splashes of ultramarine and saffron yellow paint. It's filled with bougainvilla-covered whitewashed homes and cheery pots of geraniums. You'll be seduced by its beauty and shabby chic romantic aura.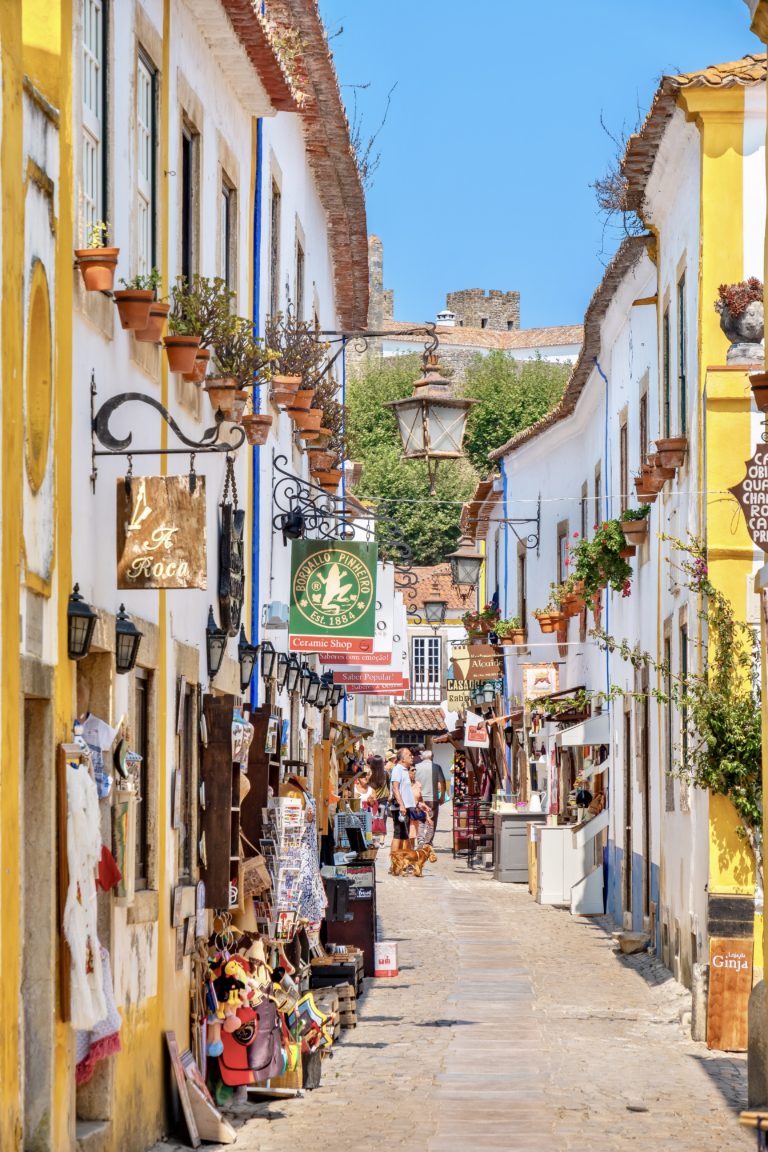 The things you can't miss doing in Obidos include:
• Rua Diureita: After entering the gate, you arrive at the cobbled main drag, Rua Direita. It runs from the Porta da Vila to Óbidos Castle. It's stuffed with whitewashed buildings, quirky bars and cafes, exquisite shops, and ginjinha stands.
• Try Ginjinha: It's a Portuguese liqueur that's basically a sour cherry brandy. The one from Óbidos is renowned for its quality and strength and is typical served with chocolate.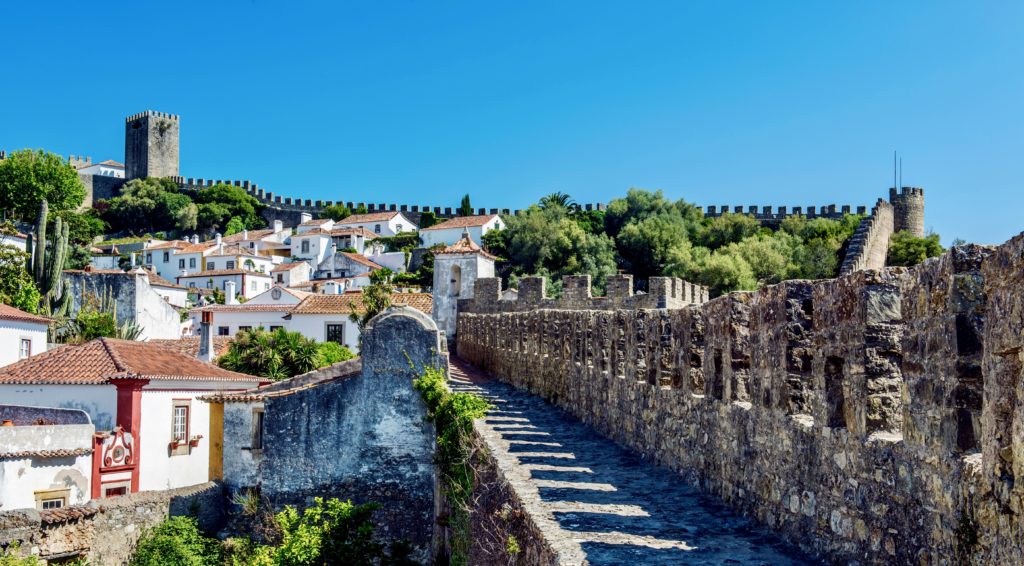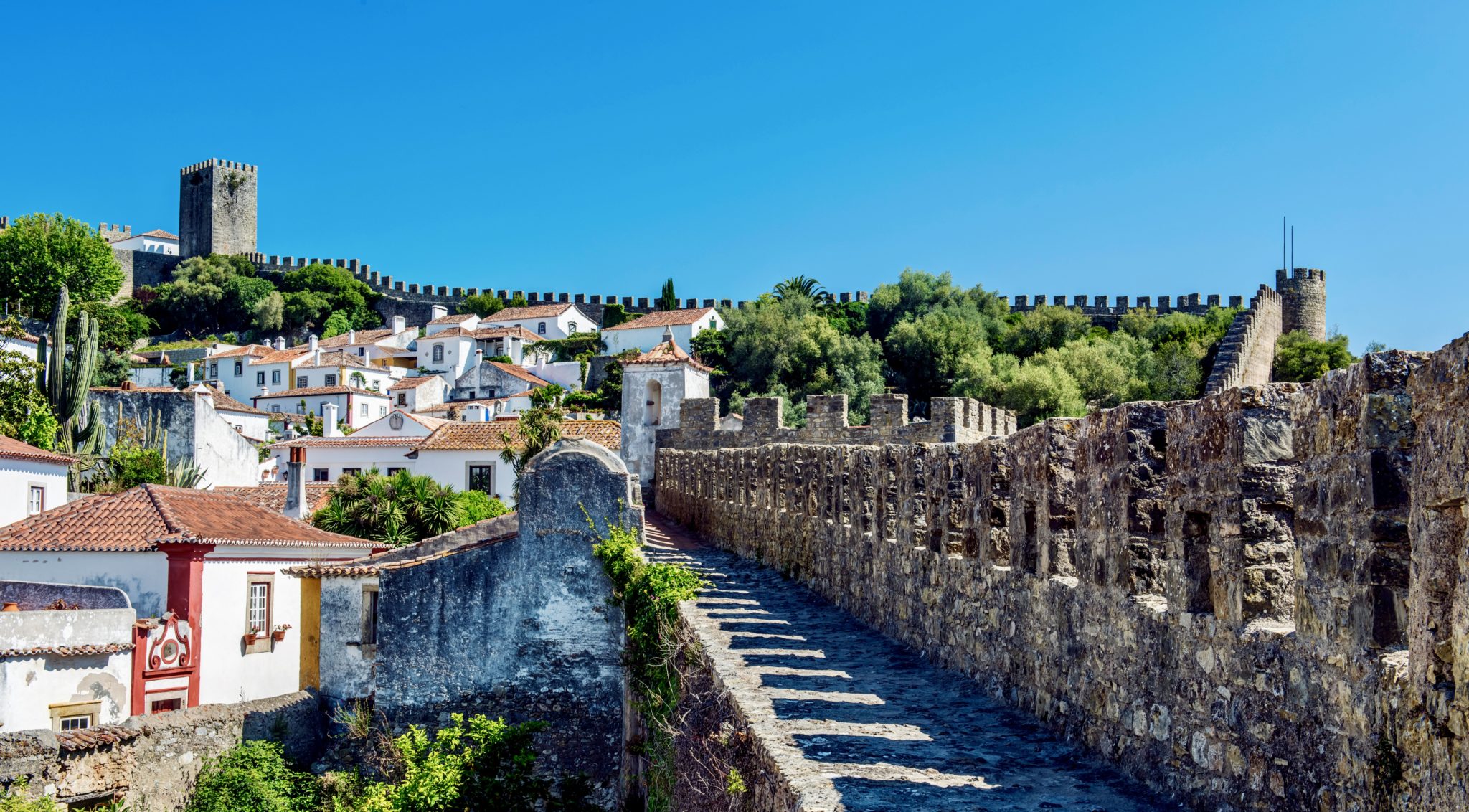 • Igreja de Santa Maria: This elegant Renaissance church was built in the 12th century. Inside, 17th century blue and white azulejos blanket the walls.
• Obidos Castle: The castle is one of the seven wonders of Portugal. The fortress-like castle has been converted into a luxurious pousada.
• City Walls: Obidos' city walls date from Moorish times. The castle walls offer some great views of Óbidos and the countryside.
Here's my complete guide to the best things to do in Obidos on a day trip from Porto.
15. Peneda Geres National Park
Travel by car: 1:15
Travel by train + taxi: 1:45
Guided tour: You can book a full day trip tour from Porto.
Peneda Geres is Portugal's only national park. It's a popular day trip from Porto for nature lovers.
It'a all about the scenery, not the sites. The park is known for its rugged mountains, rivers, and lakes.
You can hike, swim, or birdwatch to your heart's content. There are a few villages in the park you can stop into — Soajo, Adrao, and Lindoso.
The best time to visit is April to October.
16. Ponte de Lima
Travel by car: 1 hour
Travel by bus: 1:30
Guided tour: You can book a full day guided day trip tour from Porto.
Ponte de Lima is Portugal's oldest village. It's an enchanting riverside town with an equally magic local sparkling vino verde white wine.
The town is a beguiling mix of historic mansions and riverside walks, all perfumed with ubiquitous purple bougainvillea. Twisty higgly piggly streets rattle with trams.
There are no major monuments. But there's a few things to see.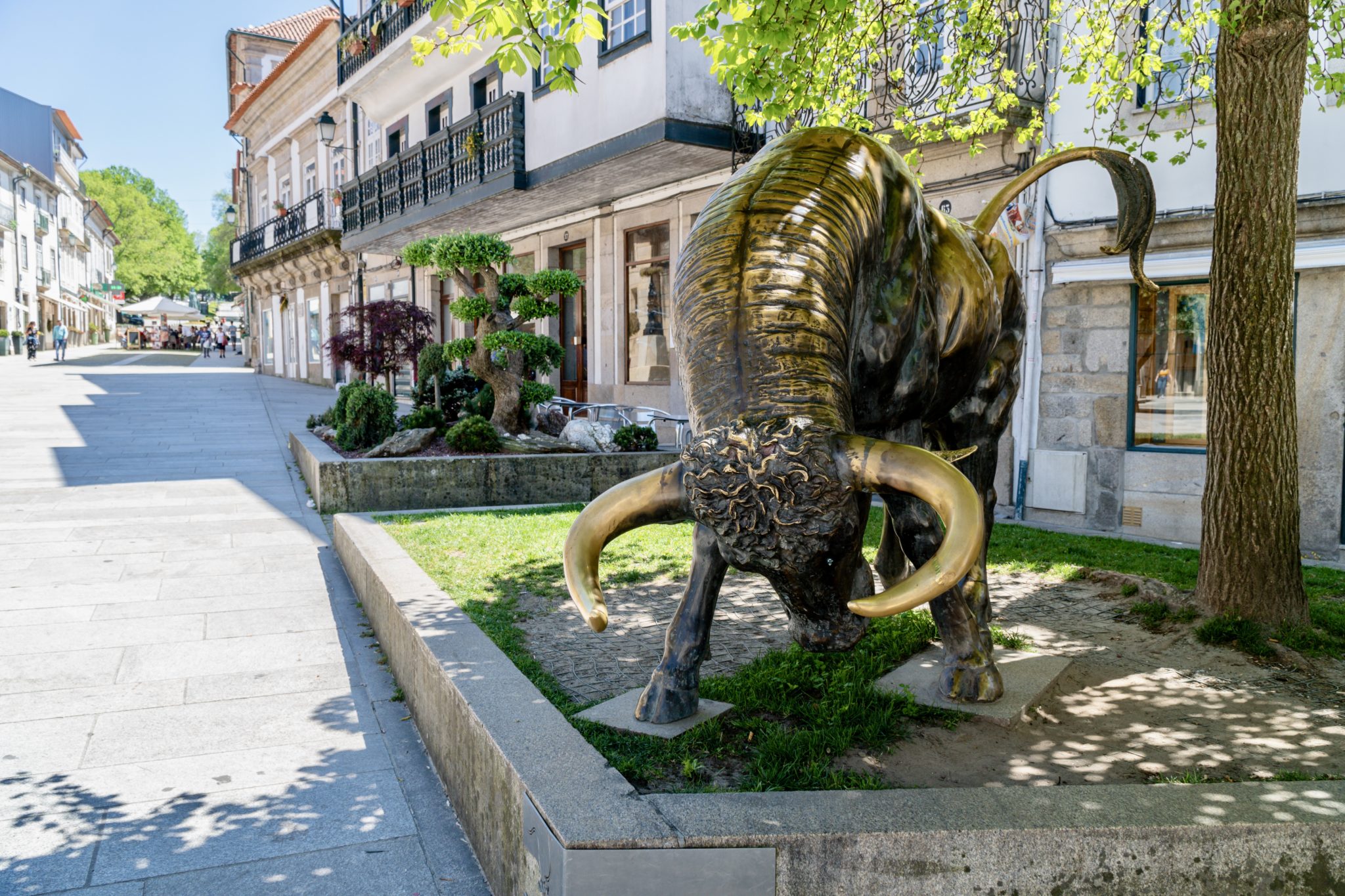 • Wander the Centro Histórico: The old town is lovely with a range of architectural styles from Romanesque to Neo-Classical. Wander around and enjoy the facades, often covered in flowers.
• Ponte de Lima Bridge: This ancient bridge played a key defensive role in battles with the Moors. The Roman bridge still has five of its original arches.
• Musee dos Terceiros: This museum is housed in two churches, one of which is the Baroque Igreja dos Terceiros.
• Largo de Camoes: This is Ponte de Lima's picturesque main square. It's filled with cafes and a 18th century fountain. On alternate Mondays, it hosts a market.
17. Matosinhos
Matosinhos isn't far from Porto and it's where the locals go to kick back and relax. The town is known for its market, seafood restaurants, and medieval buildings.
• Hit the beach: Matosinhos has the largest sandy beach near Porto. The water is brisk and tides can be strong, hence it's a great surfer's beach.
• Igreja do Bom Jesus: This church dates from the 16th century, but got the usual Baroque facelift in the 18th century. Statues of St. Peter and St. Paul are in niches of the masterful facade.
• Matosinhos Market: Maatosinho's market is housed in a sleek white curving pavilion from 1944. This is where you buy the coveted seafood.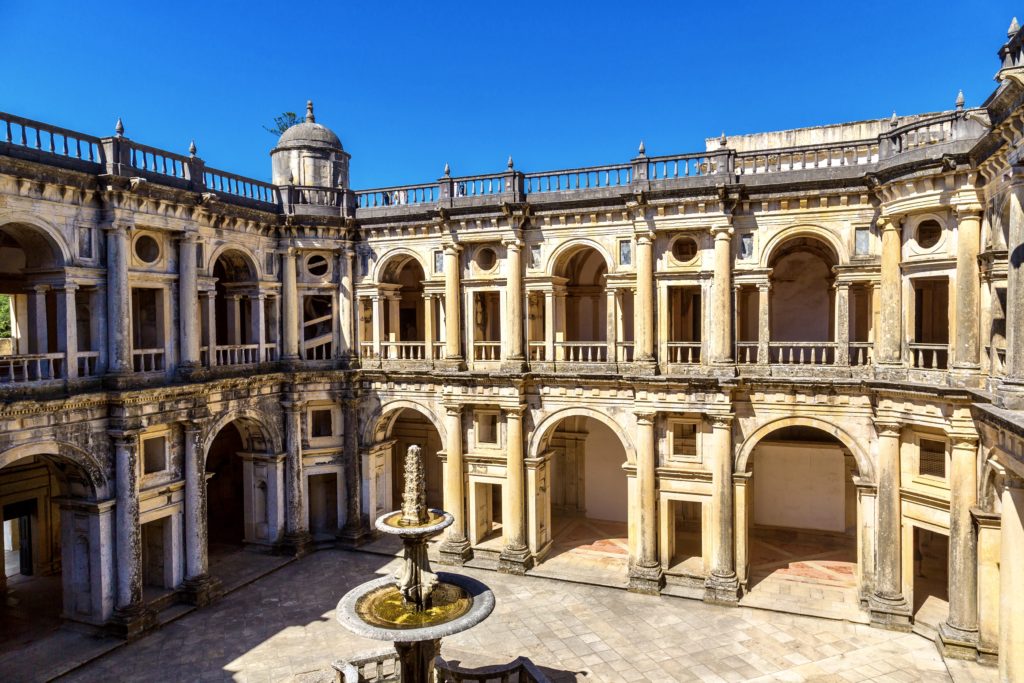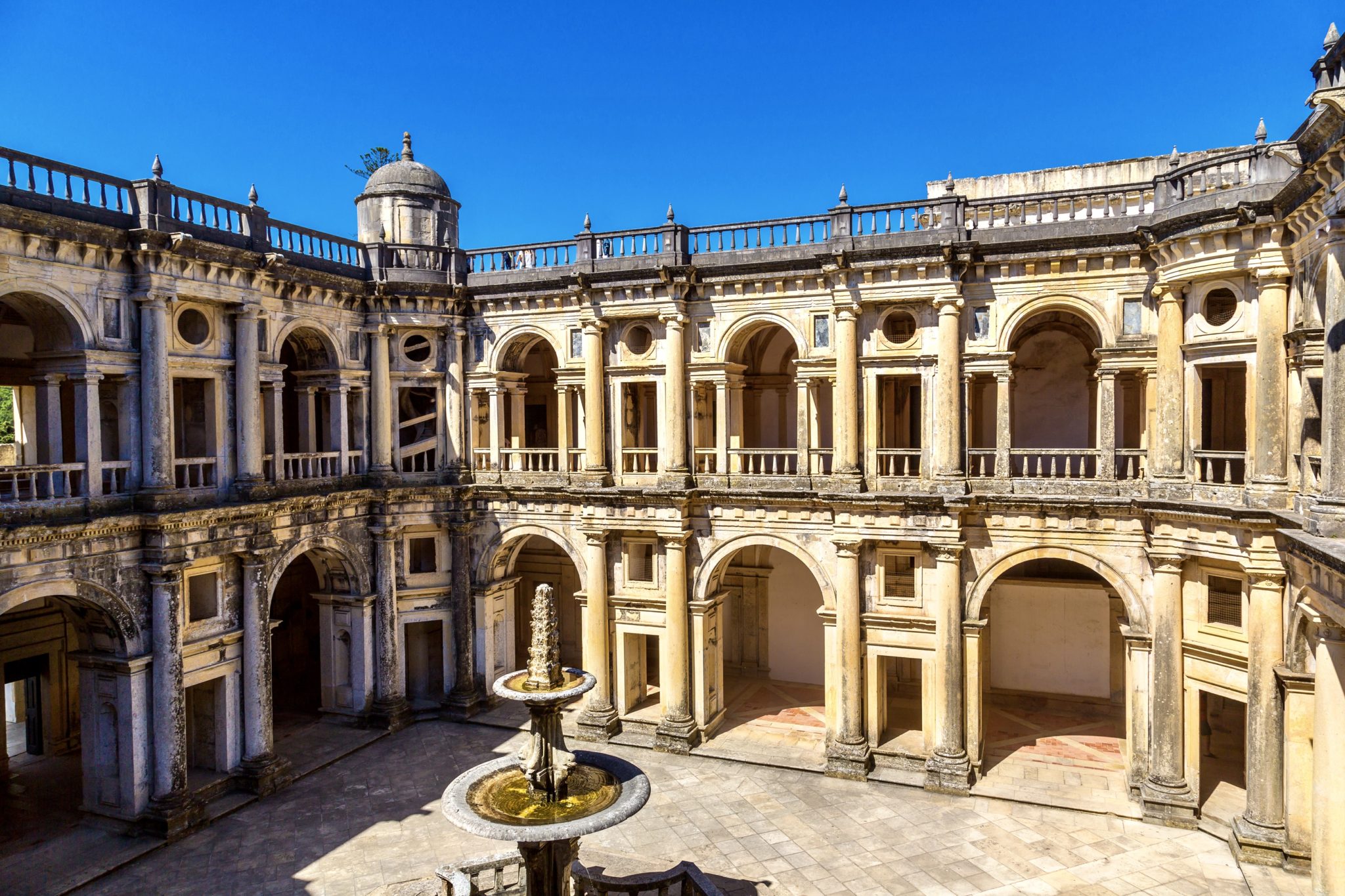 18. Tomar
By car: The only reasonable way to get to Tomar from Porto is by car or taxi. It's just under a 2 hour drive from Porto to Tomar.
Often overlooked, Tomar is hidden away in central Portugal. Tomar is a history buff's paradise.
For 700 years, Tomar was the headquarters of the Knight's Templar, an elite crusading force. They were later renamed the Order of Christ.
Tomar boasts one of Portugal's most important buildings — the complex of the Convent of Christ. It became a UNESCO site in 1983.
Tomar itself is also charming, sliced in two by the Nabao River. The main square is Republic Square.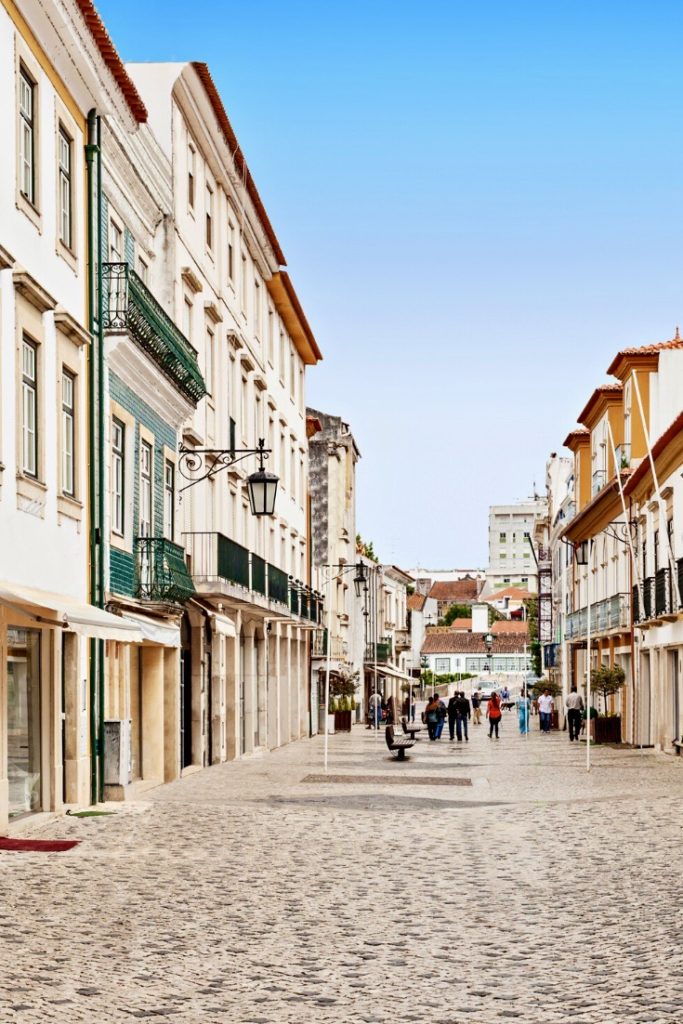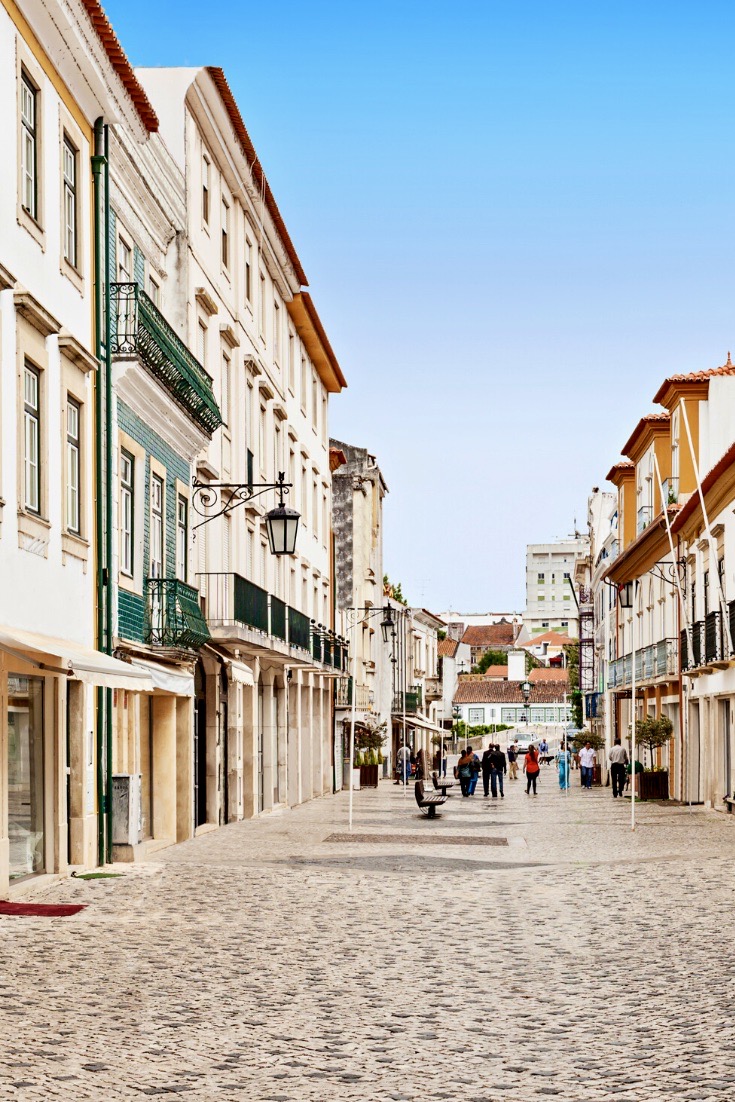 It's filled with lovely homes, a 15th century church, and a black and white checkerboard pavement. Head down the Via Rea de Serpa Pinto for a picturesque stroll of the town.
Here's what to see in Tomar:
• Convent of Christ: Founded in 1160, the UNESCO-listed convent is a magnificent complex consisting of a medieval castle, churches, and Manueline cloisters.
• Basilica Nossa Senhora da Conceicao: This is a beautiful 16th century basilica on the slopes of a hill. It's the oldest medieval cathedral in Portugal. The interior boasts three towering naves, Corinithian columns, and Manueline designs.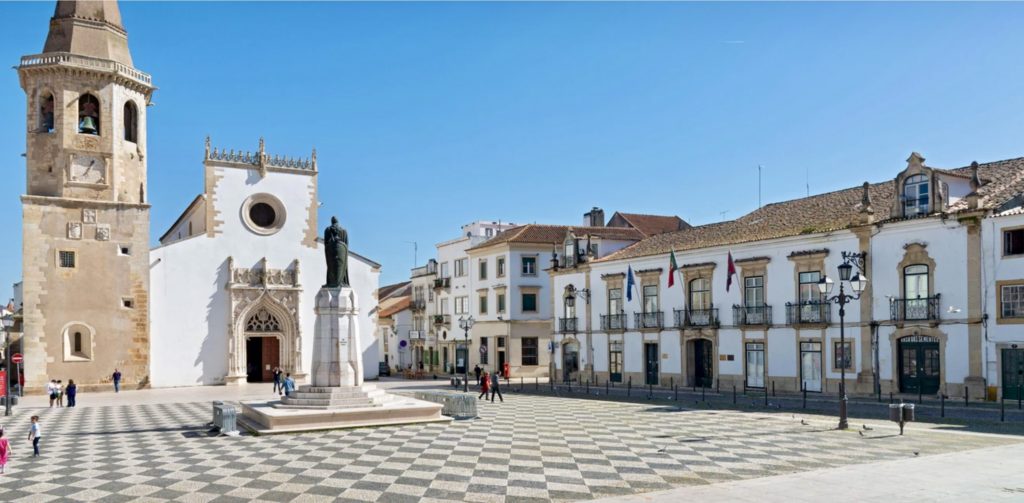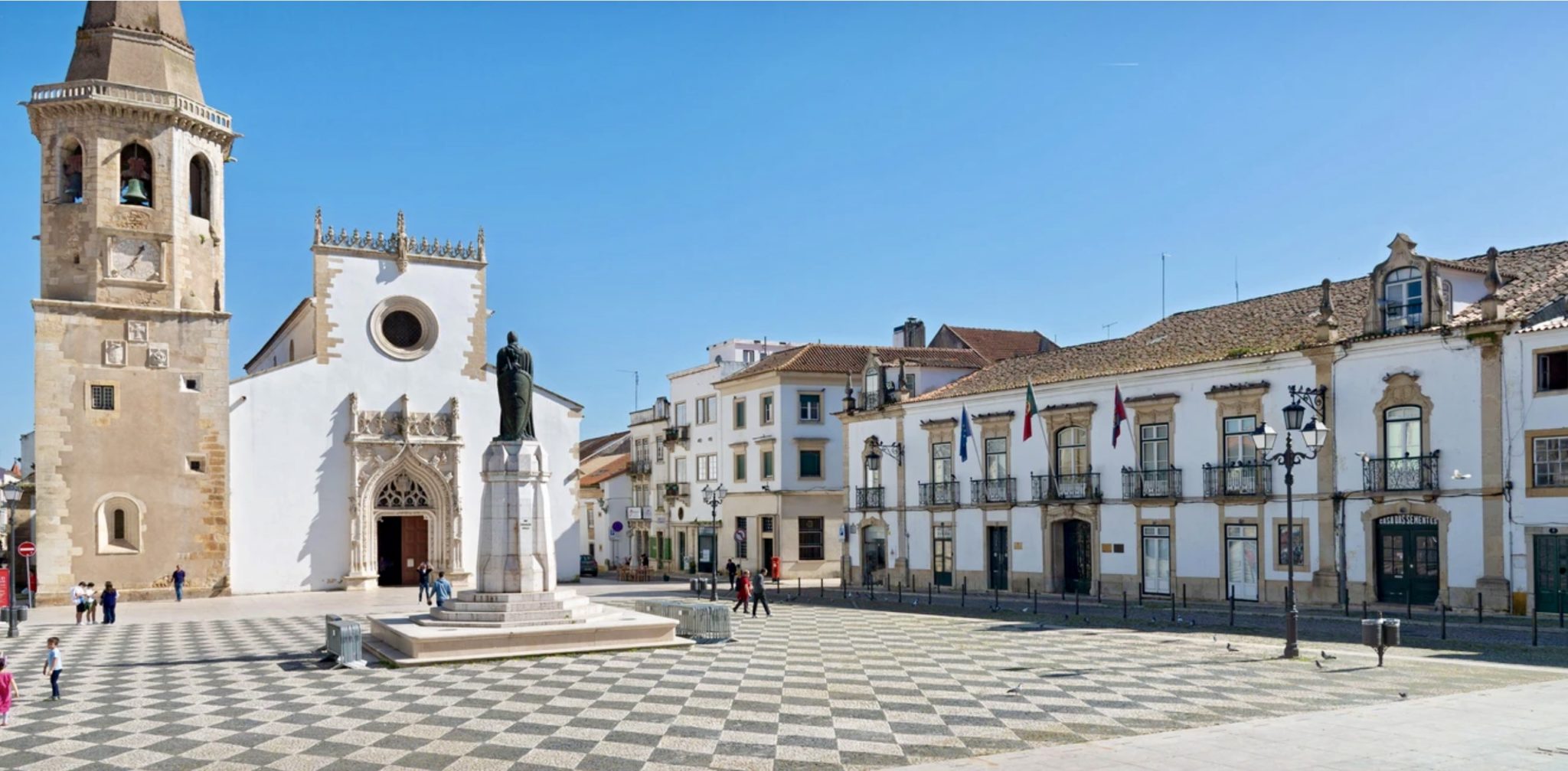 • Pegoes Aqueduct: Dating from the 17 century, this is a four mile aqueduct that was used to transport water from Pegoes to the Convent of Christ.
• Tomar Synagogue: This 15th century building is also a Portugeuse national monument.
• Igreja de São João Batista: This 15th century Gothic Church was most likely the first seat of the Order of the Temple. Inside is the funerary monument of Gualdim Pais, founder of Tomar and other Grand Masters of the Order.
•Tomar Castle: This castle was the headquarters of the Knights Templar and the most important Portuguese military building from the 12th century.
For more information, here's my guide to the best things to do in Tomar in one day.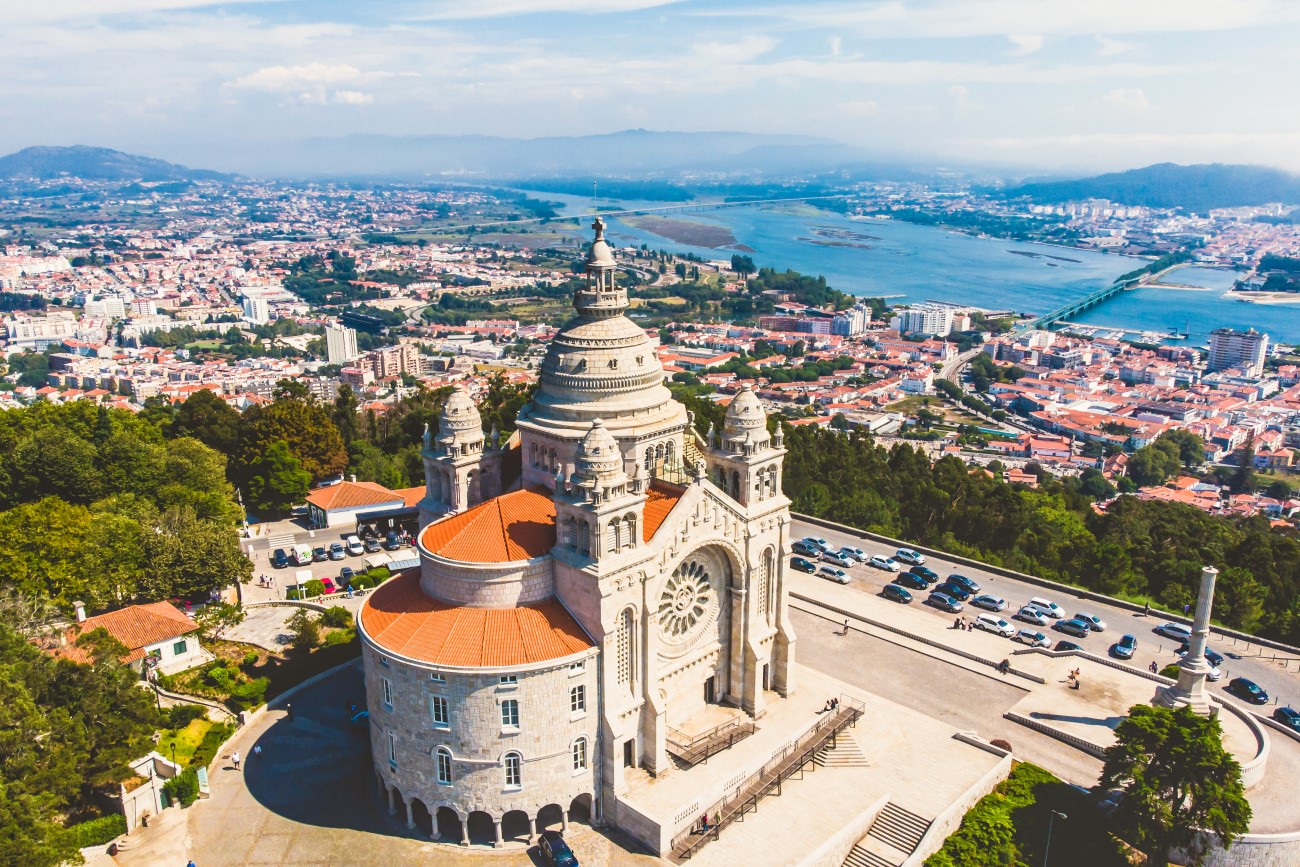 19. Viana do Castelo
Travel by bus: 1:30
Travel by train: 1:15
Travel by car: 50 minutes
Guided tour: You can visit Viana do Castelo along with Braga and Ponte de Lima on a

full day guided day trip from Porto

.

Viana do Castello is a lovely historic town on the banks of the Livia River. It has pedestrianized streets and a wealth of Renaissance and Baroque architecture.
The small town is known for its funicular, majestic basilica, and sandy beach. Here are the best things to do in Viana do Castelo.
• Praça da República: This is a long square in the very heart of town. It's home to the old town hall and a wonderful tiered Renaissance fountain.
• Sanctuary of Santa Luzia: This church was inspired by the Sacre Coeur in Paris. It's a mix of Neo-Gohtic and Byzantine styles. The scenery for the dome is staggering. The best way to get there is by taking the funicular.
• Chapel of Nossa Senhora d'Agonia: Many visitors to Viana come just to see this church. The cult devoted to the church is associated with fishing. This is where the annual festival of the Feast of Senhora is celebrated.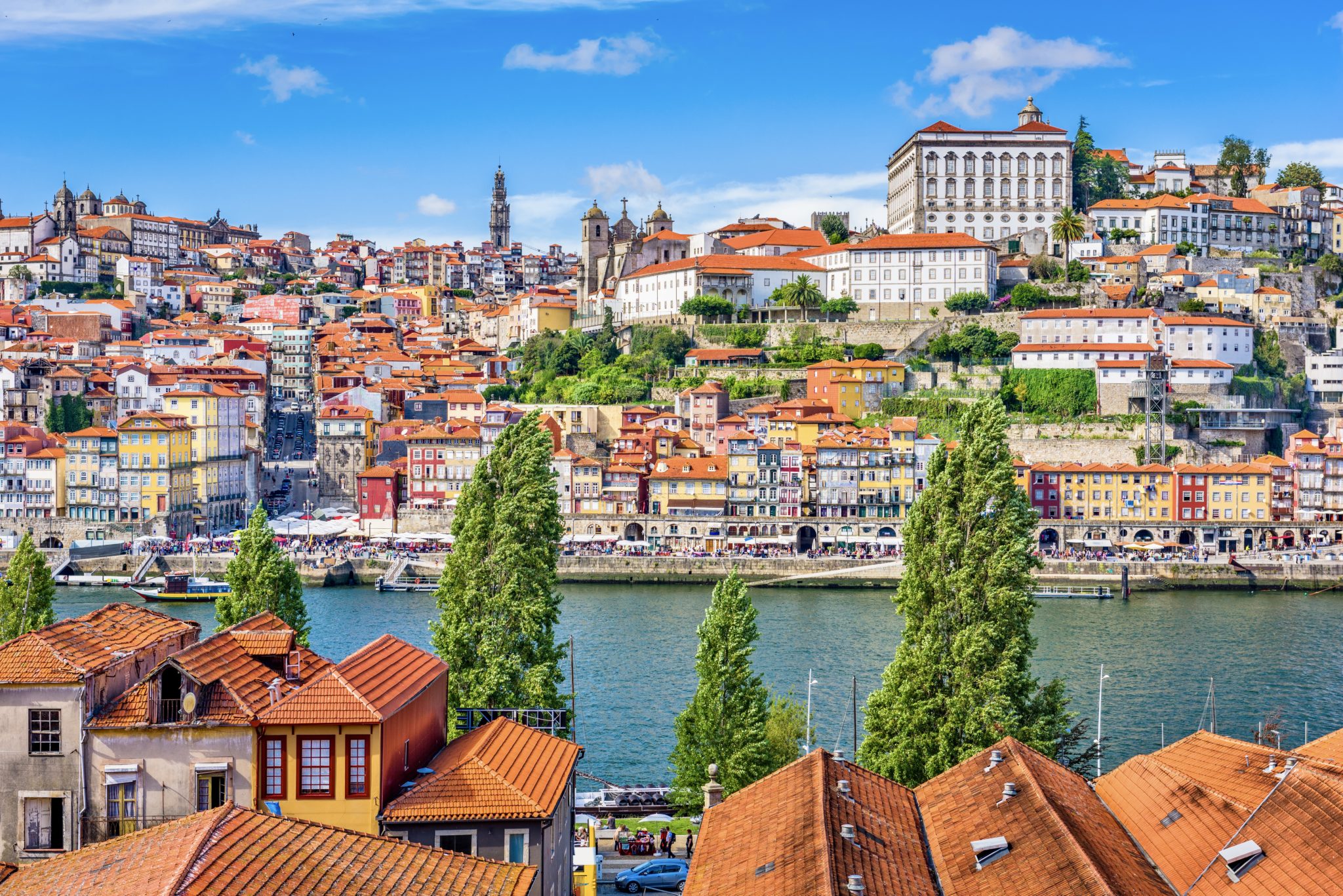 20. Vila Nova de Gaia
Travel by foot: 10 minute walk from the Ribeira over the Dom Luis I Bridge
Travel by car: 15 minutes
Vila Nova de Gais is an atmospheric village just across the river from Porto. The two places are connected by the Dom Luis I Bridge.
Gaia is home to Porto's red brick port wine lodges. You might not think it's a real "day trip," but there are loads of things to do in Gaia.
The town is home to a lovely promenade, funicular, cafes, restaurants, wine cellars, and street art.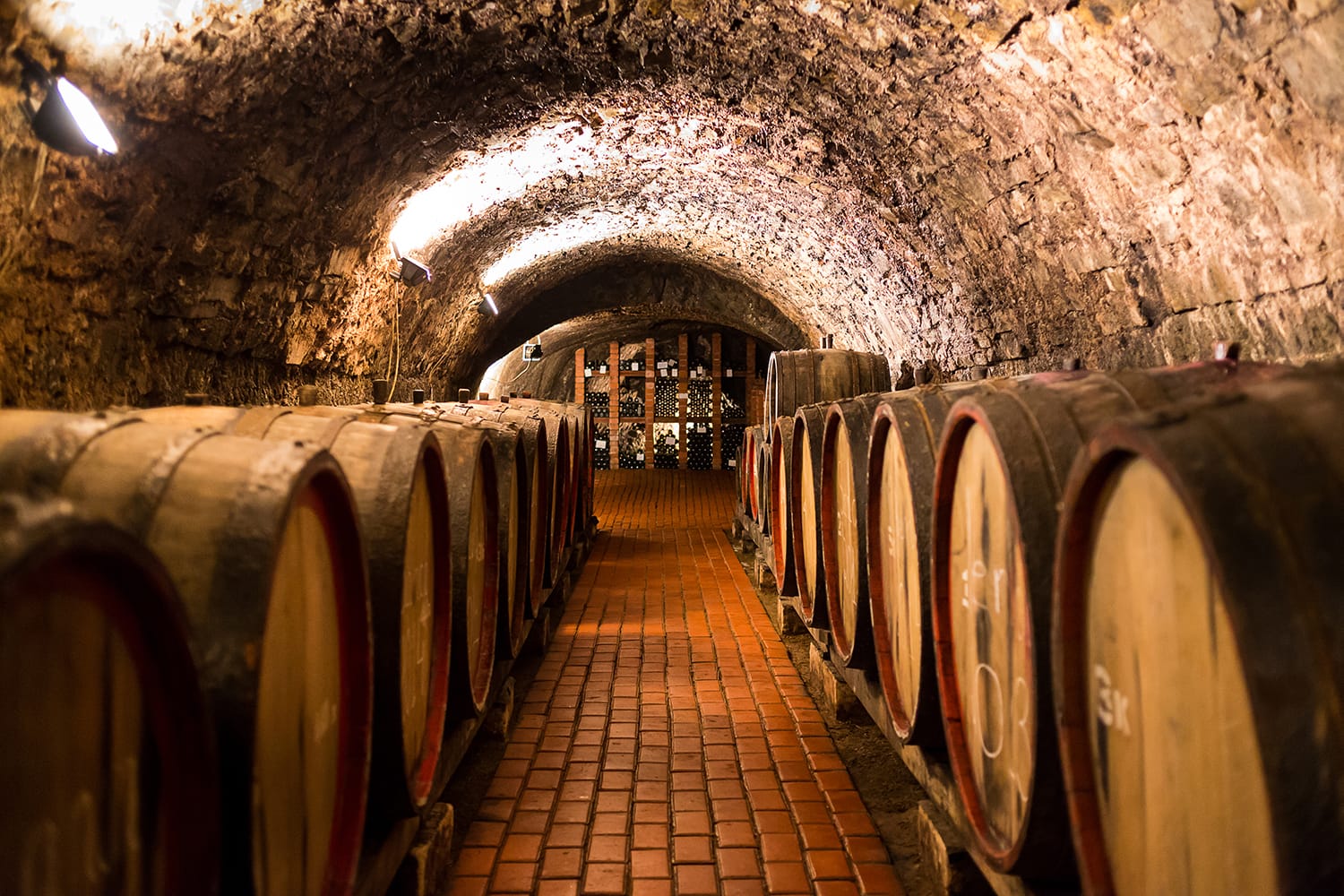 Here are some things to do in Gaia:
• Viewpoints: Gais serves up stunning views of Porto. You can catch them from the Serra do Pilar, the Dom Luis I Bridge, and Jardim do Morro. These are great spots for relaxing at sunset.
• Sip Port at Wine Cellars: Port has been produced in Gaia since the 18th century. You can sample some port by making a reservation at one of the cellars. This guided port wine tasting tour takes you to seven different lodges.
• Funicular: The Teleférico de Gaia cable car provides great views and photo opps over the Douro River. To catch the cable car, cross the lower level of the Luís I bridge and walk down the promenade to the ticket office.
• Promenade: It's worth a stroll down the riverbank. Gaia offers terrific views of Porto and the rabelo boats on the river.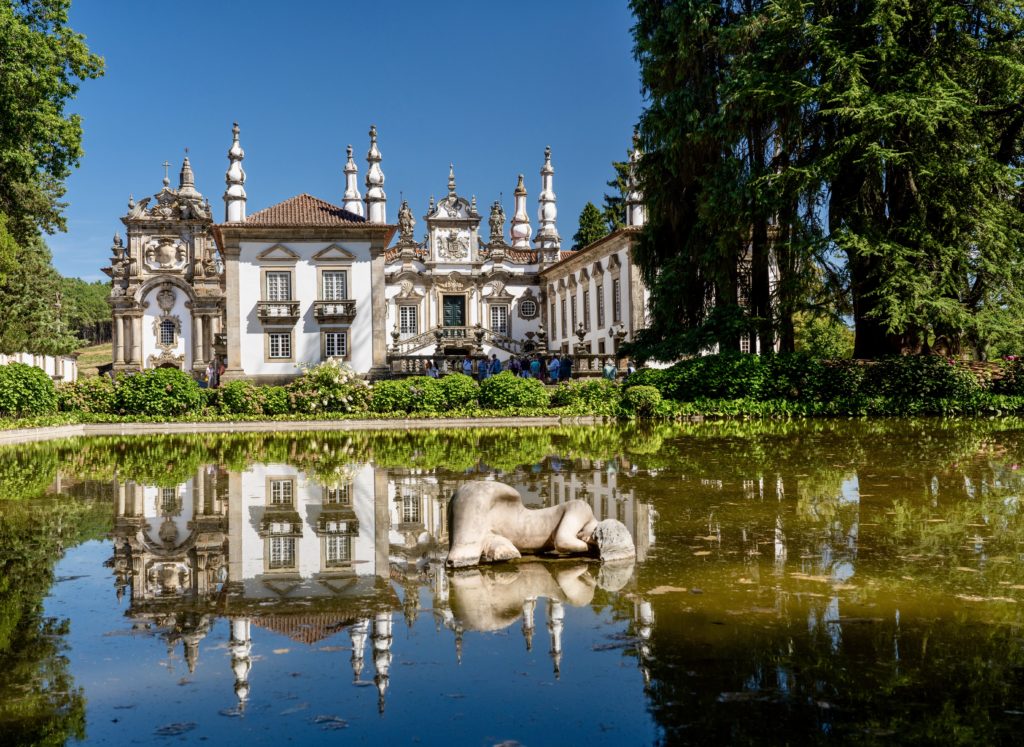 21. Vila Real
Travel by car: 1 hour
Travel by bus: 1 hour
Vila Real, which means Royal Town, is nestled in the foothills of the Serra do Marao. The only reason to go to Vila Real is to see its top attraction, the spectacular Casa de Mateus that's 2 miles from town.
This beautiful 1740s manor home is well worth a day trip from Porto. It's Baroque style at its best.
The palace was built by the great architect Nicolau Nisoni. It's the home of the last Count of Vila Real, known for the famous Mateus Rose wine.
Guided tours for 10.5 euros take you through the rooms. You'll see how the rich and famous lived in the 18th century. There are superb hand carved chestnut ceilings and doors.
A small onsite museum displays religious sculptures and reliquaries. There are also lovely gardens.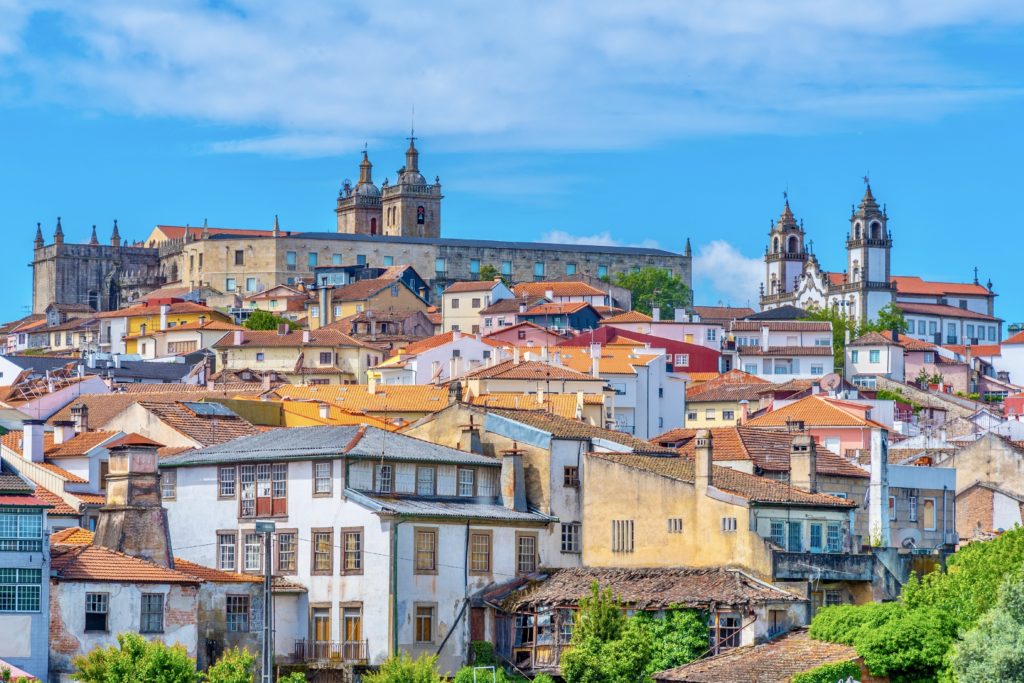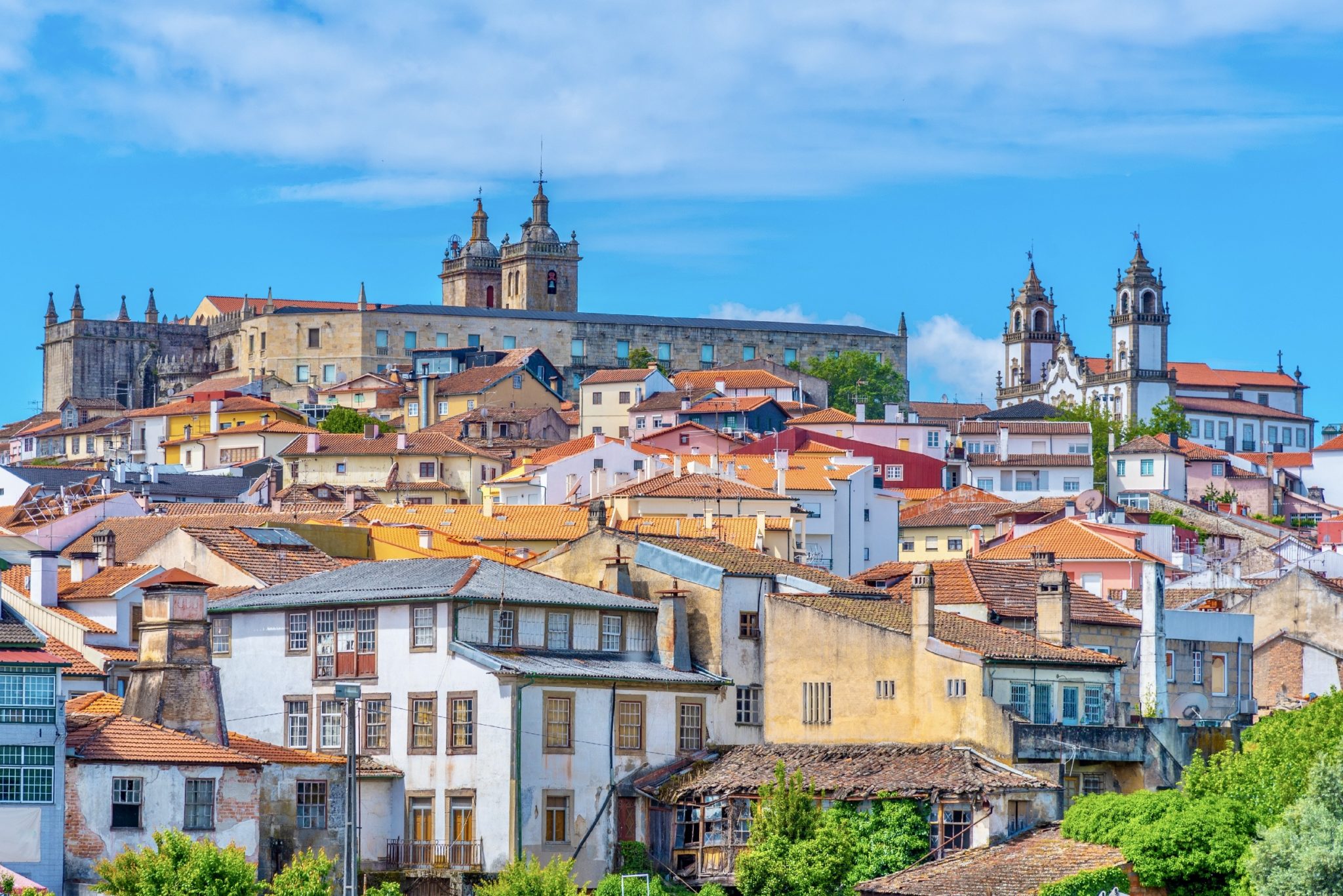 22. Viseu
Travel by car: 1:20
Travel by bus: 1:45
You have to drive or take the bus to get to Viseu on a day trip from Porto. Even with a population of 100,000, the town doesn't have a train station.
Viseu is one of the oldest cities in Portugal, dating from the Iron Ages. Viseu is an elegant medieval town in central Portugal packed with art and history. It's a cosmopolitan but still intimate city without many tourists.
Viseu is incredibly charming. It has a well preserved old town, a Gothic-Manueline cathedral, lovely Baroque churches, and some excellent museums.
It's also known as the "Garden City" and is in the center of the Dao wine-growing region.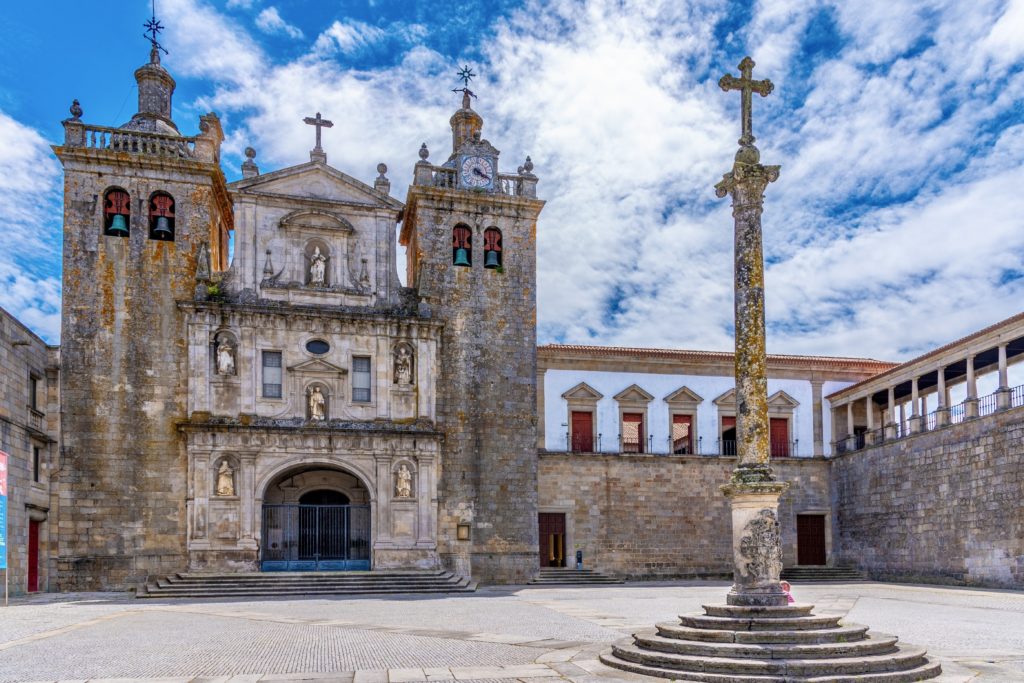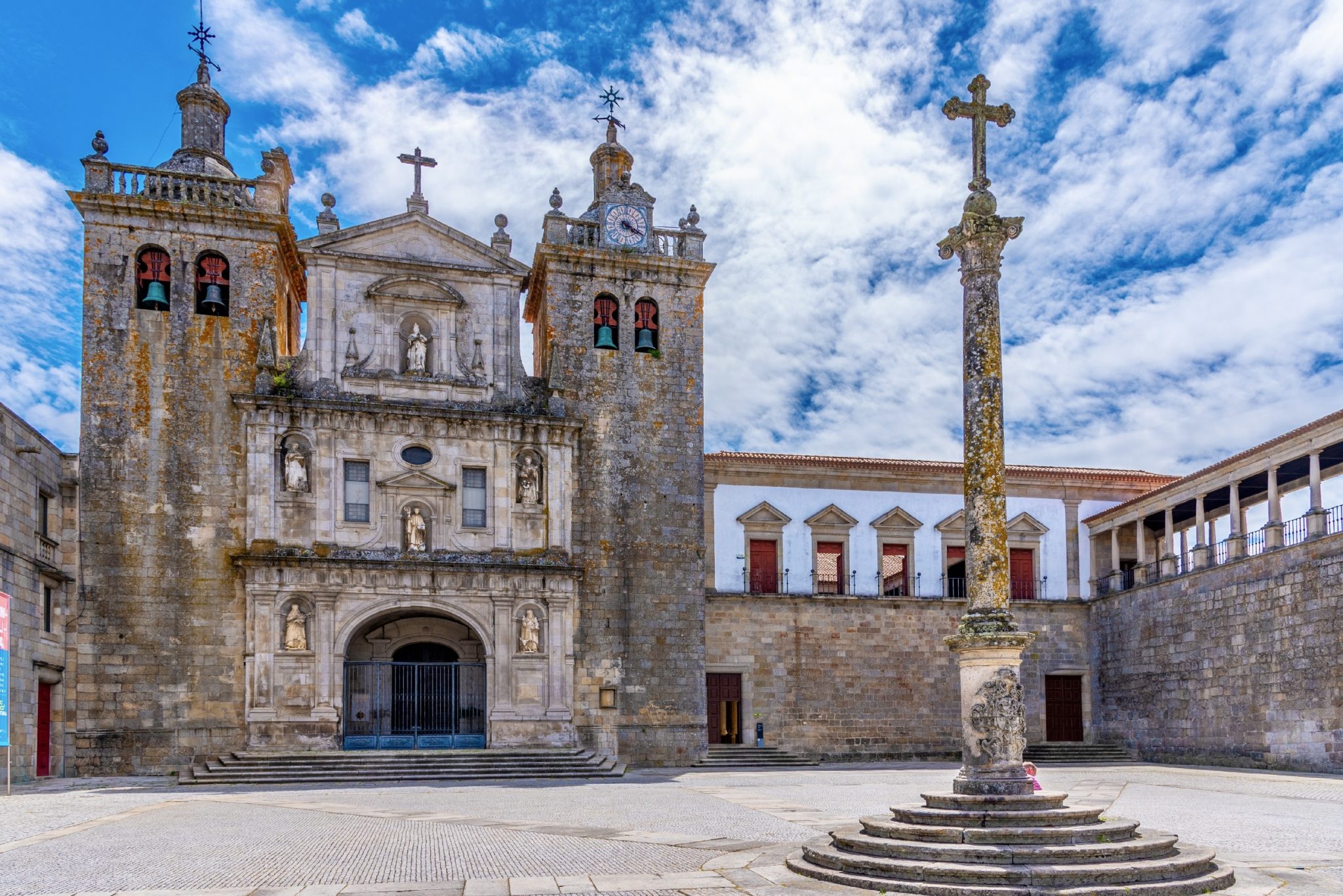 Here are the highlights you can't miss while on a day trip from Porto:
• Centro Historico: Viseu has a compact and well preserved medieval quarter. You can spot Manueline windows, medieval arched doors, and a touch of Art Nouveau, Renaissance, and Neo-Classicism on the city's beautiful facades.
• Viseu Cathedral: The top attraction in Viseu is the town's magnificent cathedral, Viseu Se. The church has a magnificent triple nave and beautiful Gothic cloister.
• Museu Grão Vasco: This is Viseu's best museum, displaying works by the Viseu Renaissance school.
• Town Squares: Viseu's must visit square are Dom Duarte Square and Praça da República.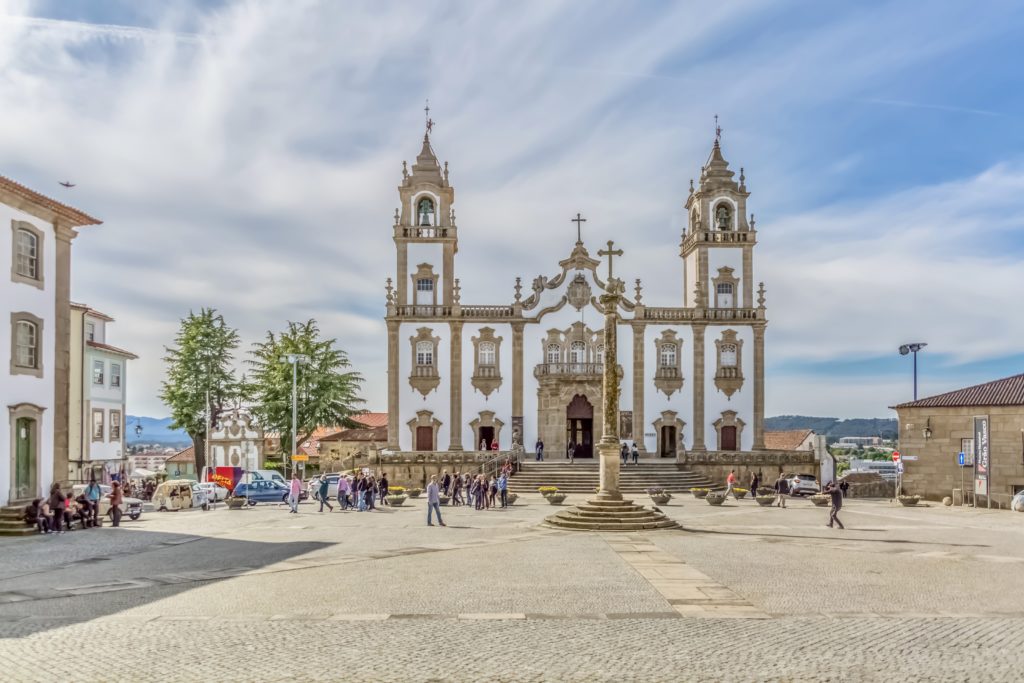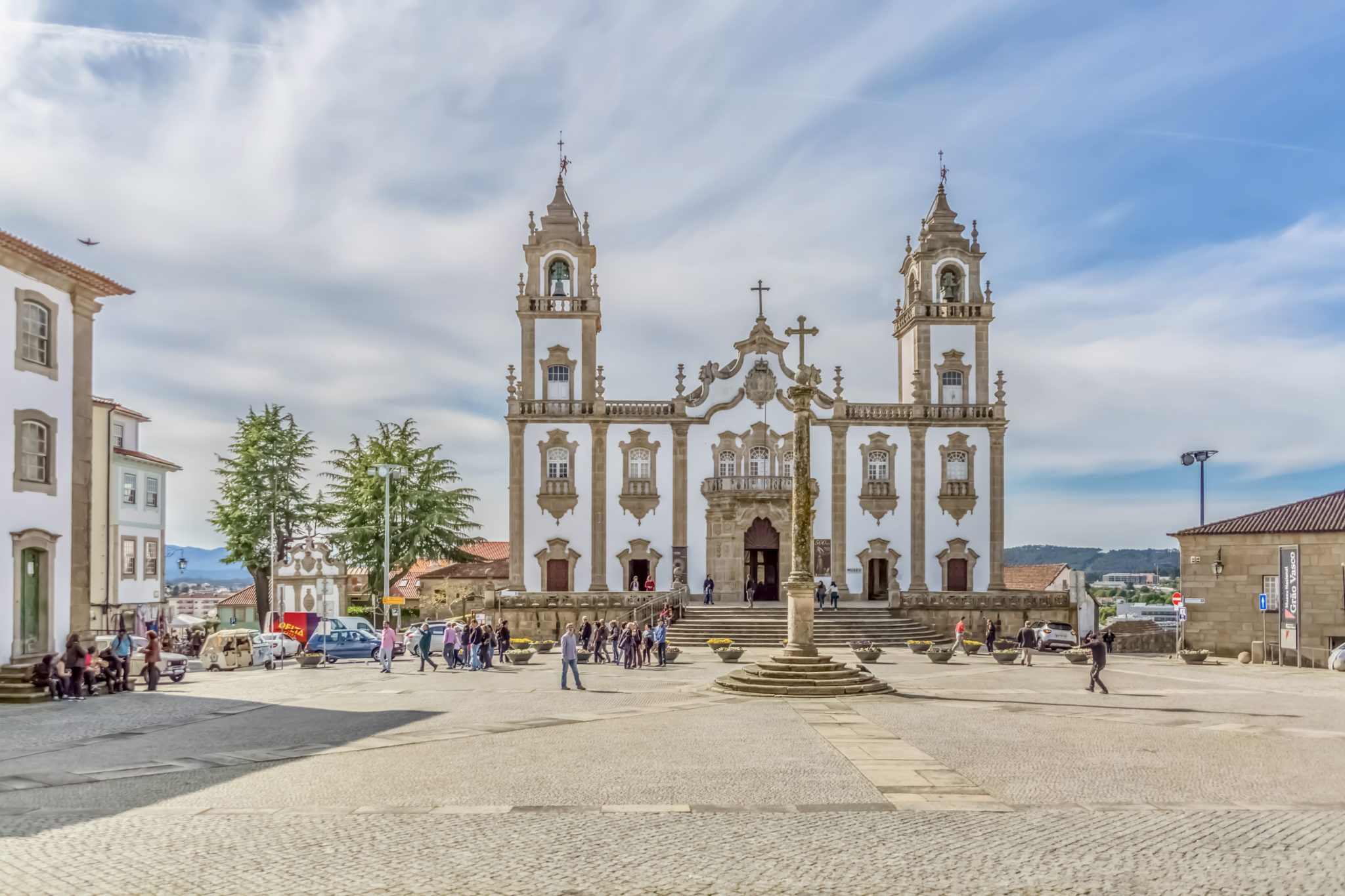 • Viseu Parks: Viseu is known for its parks. You can visit Parque Aquilino Ribeiro, Parque do Fontelo, and Jardim das Maes.
For more information, here's my complete guide to the best things to do in Viseu.
I hope you've enjoyed my guide to the best day trips in Porto. You may enjoy these other travel guides and resources:
If you'd like to take some day trips from Porto, pin it for later.