Planning a trip to Paris and want to visit the best cafes?
There is nothing so Parisian about Paris as its cafe culture. For centuries, quaint cafes have dotted tiny cobbled lanes and grand boulevards alike.
Some are fancy. Some are quirky. Many of them boast showy displays of flowers, which give them a romantic appeal.
Cafes have long been at the heart of civic life. Parisians live and socialize in them, even in the bowels of winter. They are the perfect spot for an espresso, wine, a meal, and conversation.
So, if you're heading to Paris, you'll want to participate in this unique slice of Parisian urban life. To help you along, I've created a list of the 30 best and most beautiful cafes in Paris.
I've been to Paris seven times in my life (so far!). So I've sampled the goods of many cafes.
These cute cafes are scattered all over the city. Unlike in the United States, you can linger for hours if you choose.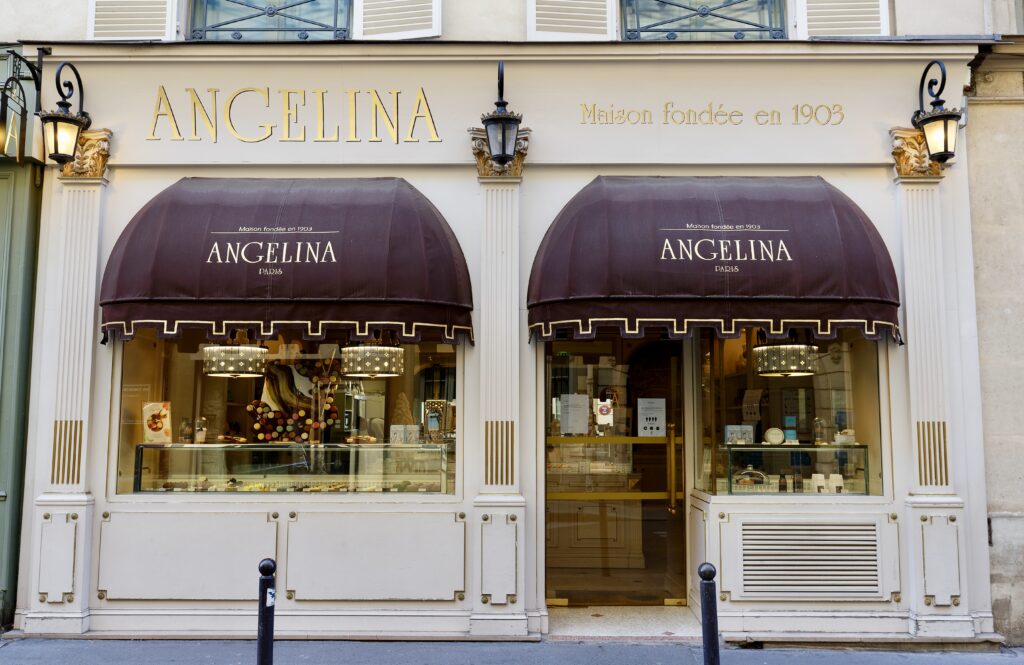 30+ Most Beautiful Cafes in Paris
Here's my list of the best and cutest cafes in Paris, in alphabetical order.
1. Angelina
Angelina is a legendary tea room that became famous for its hot chocolate and pastries, served up in a sumptuous Belle Epoque decor.
Angelina was opened in 1903 by Austrian pastry alchemist Antoine Rumpelmayer and his son. The tea room was named after his daughter-in- law.
In this iconic tea room, Marcel Proust, Coco Chanel, and other famous fashion designers once sipped hot chocolate. Angelina's most well known hot chocolate is the "L'Africain."
There are locations on the Champs-Élysées, Rue de Rivoli, and the Rue du Bac.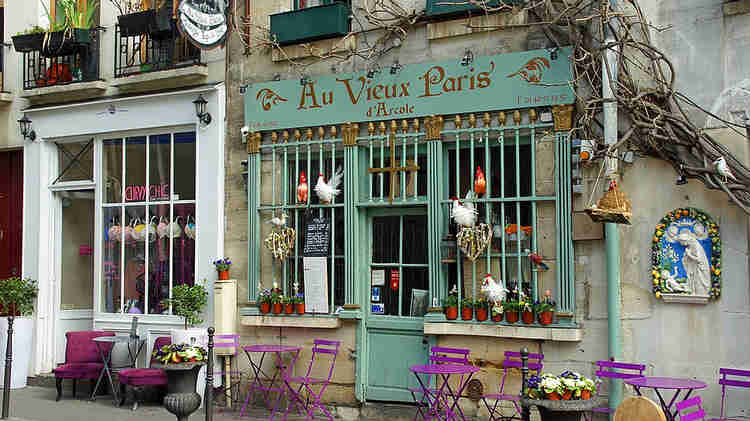 2. Au Vieux Paris d'Arcole
Au Vieux Paris d'Arcole may be the prettiest cafe in Paris. It's extremely photogenic and will make you stop in your tracks.
The cafe is smack in the middle of Paris on the Île de la Cité. It's just a tad over 300 feet from Notre Dame.
Wisteria drapes the entrance in the spring and summer and there are colorful purple cafe chairs outside. In fact, the Paris mayor has given the cafe permission to just let the massive wisteria plant keep growing.
The interior is lovely too. There's a vintage-y bar and several rooms with antiques, dining spaces, and a cozy fireplace. The largest room offers up views of the cathedral.
You can sip wine on the terrace or feast on some gourmet French cuisine in the upper levels. It's the perfect stop after visiting Sainte-Chapelle or the Conciergerie.
Address: 24 Rue Chanoinesse
Metro: Hôtel de Ville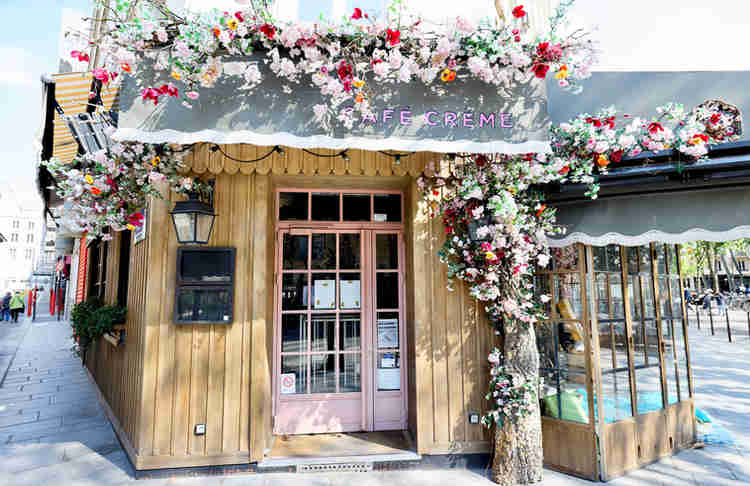 3. Cafe Creme, Marais
Cafe Creme is a Marais institution that just had an amazing makeover. It now boasts industrial style New York decor with neon lighting, big bay windows, and a heated terrace.
It will please the modern palette too. The cafe serves up couture waffles, interesting salads, and truffle burgers. And of course delicious coffee and wine.
It's an immensely popular brunch spot on the weekends. I tried their avocado toast and loved it.
Address: 4 Rue Dupetit-Thouars
Metro: Le Peletier
>>> Click here to book a Le Marais walking tour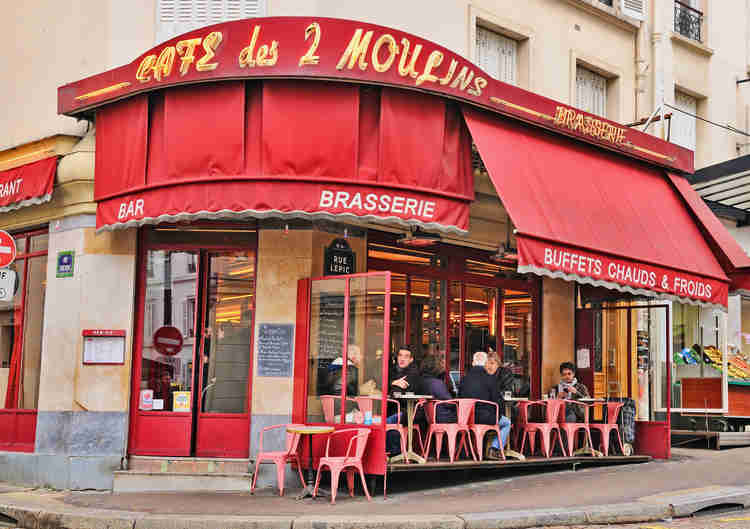 4. Cafe des Deux Moulins, Montmartre
The Cafe des Deux Moulins became rock star famous after its starred in the 2001 award-winning Movie Amelie, profiting from the magic of the cult of Amelie.
The cute cafe is located on Rue Lepic away from the tourist fray. Under distinctive red awnings, tourists and locals alike jostle for a spot.
The chic cafe has even been featured in a Vogue spread.
The food is nothing terribly special. You come for the vibe, to have the Amelie salad, and nab a photo of the bright red exterior.
Address: 15 Rue Lepic
Metro: Pigalle
>>> Click here to book a walking tour of Montmartre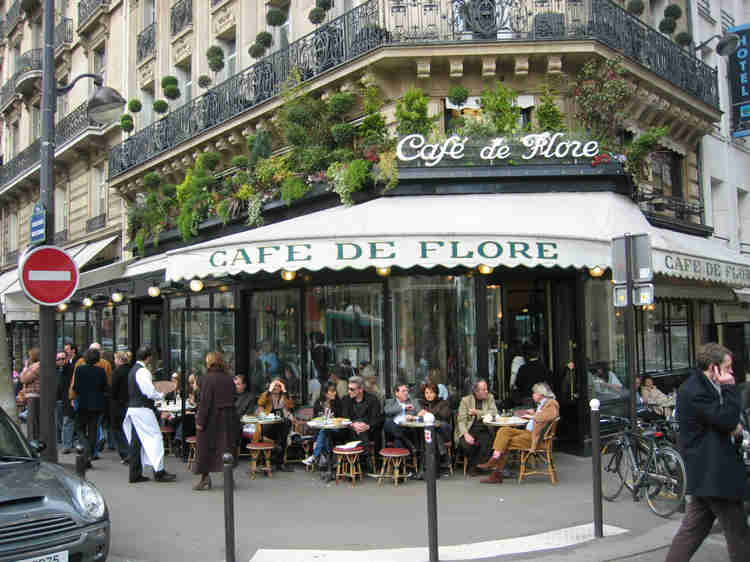 5. Cafe de Flore, Saint-Germain-des-Pres
Across the street from rival Les Deux Magots, Cafe de Flore has changed little since World War II. It has classic Art Deco interiors — red booths, wide mirrors, and an enviable clientele.
It's definitely one of Paris' most famous cafes, maybe the most famous. The cafe once hosted Jean Paul Sartre and Simone de Beauvoir's passionate philosophical discussions.
Cafe de Flore is now a hotspot for tourists and affluent types. It no longer attracts as many students and artists.
But if you want to walk in the footsteps of history, make a pilgrimage for the ambiance. And expect a line.
Cafe Flore serves all the standard cafe items. But one thing that sets it apart is a good selection of salads.
Address: 172 Boulevard Saint-Germain
Metro: Saint-Germain
>>> Click here to book a foodie waling tour of Saint-Germain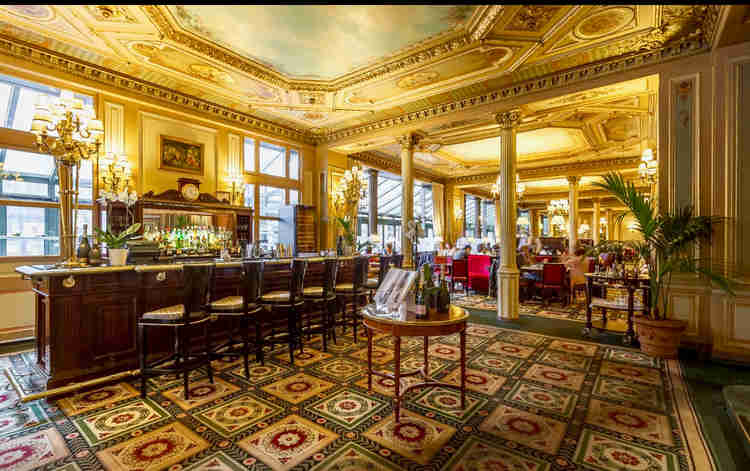 6. Cafe de la Paix, Opera District
Cafe de la Paix is just across the street from the ornate Opera Garnier on the Right Bank. It pre-dates the opera house by 13 years, opening in 1862.
It's a legendary cafe in Paris with a sumptuous design and plush ambience courtesy of architect Alfred Arman. The Napoleon III decor features bronze, leather, marble, mosaics, and gold.
Cafe de la Paix has some serious literary cred. Some of Paris's aspiring and famous writers frequented the cafe — Segei Diaghilev, Emile Zola, Oscar Wilde, Marcel Proust, and Guy de Maupassant. They would dine before the opera.
Today, You can have coffee on the terrace, enjoy a light gourmet lunch, or nibble on a homemade pastry.
Address: 6 Place de l'Opera
Metro: Opéra
READ: Top Attractions In The Opera District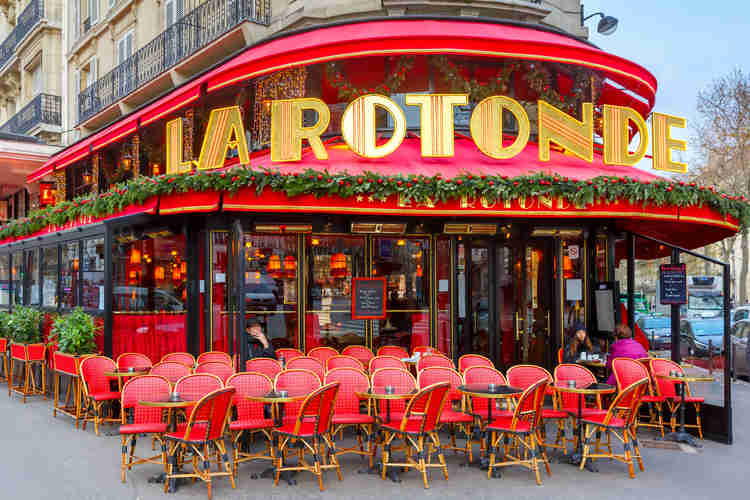 7. Cafe de La Rotunde, Montparnasse
Cafe de la Rotunde is one of the best cafes in Paris, located in the Montparnasse district. The cafe dates back to 1911, to a time when it attracted starving artists like Picasso and Amedeo Modigliani.
They would spend hours nursing a cup of coffee. If they didn't have cash, they paid with a drawing or painting. Earnest Hemingway was also a fan.
The cafe is worth visiting for its Art Deco elegance, warm decor, and old time Paris feel. It's open all day. You can get anything from a coffee and pastry to snails.
Address: 105 Boulevard du Montparnasse
Metro: Vavin

8. Cafe Kitsune, 1st Arrondissement
In 2002, Cafe Kitsune opened its first mini coffee shop in the Palais du Louvre garden. It was so successful they opened a permanent venue at the Palais-Royal.
The cafe is wildly popular and famous for its has a glam minimalist atmosphere. With its distinctive logo, the brand zoomed to cult status.
The espresso-based menu offers coffee, hot chocolate, and chai lattes. Kitsune has all the usual cafe fare, with a Japanese touch. But, for brunch, it's known for its Dorayaki Pancakes.
After you're done with your drink or meal, you can check out the art installation the Colonnes du Buren in the courtyard of Palais-Royal.
Address: 51 Galerie Montpensier & 208 Rue de Rivoli
Metro: Palais-Royal & Louvre-Rivoli
>>> Click here to book a walking tour of Montparnasse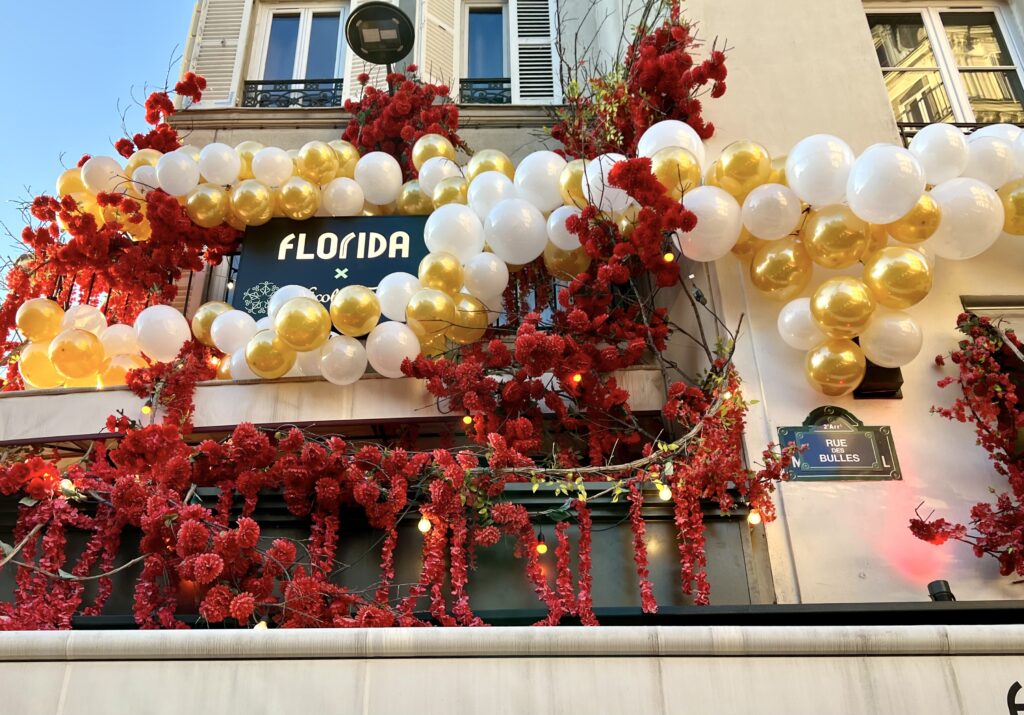 10. Cafe Florida, Les Halles
Cafe Florida is a very colorful and cute cafe in Paris on one of the city's lively streets, the Rue Montorgueil. Opened in 2020, it's right next to Saint-Eustache Church.
Bright red flowers decorate the exterior. Gold and white balloons are added during the holiday season. Inside, there's an elegant setting with deep red decor and marble.
The food is eclectic, not just the usual French fare. The cafe has a large selection of wine and cocktails and always features a daily special.
Address: 1 Rue Montorgueil (known as Rue des Bulles during the holidays)
Metro: Chatelet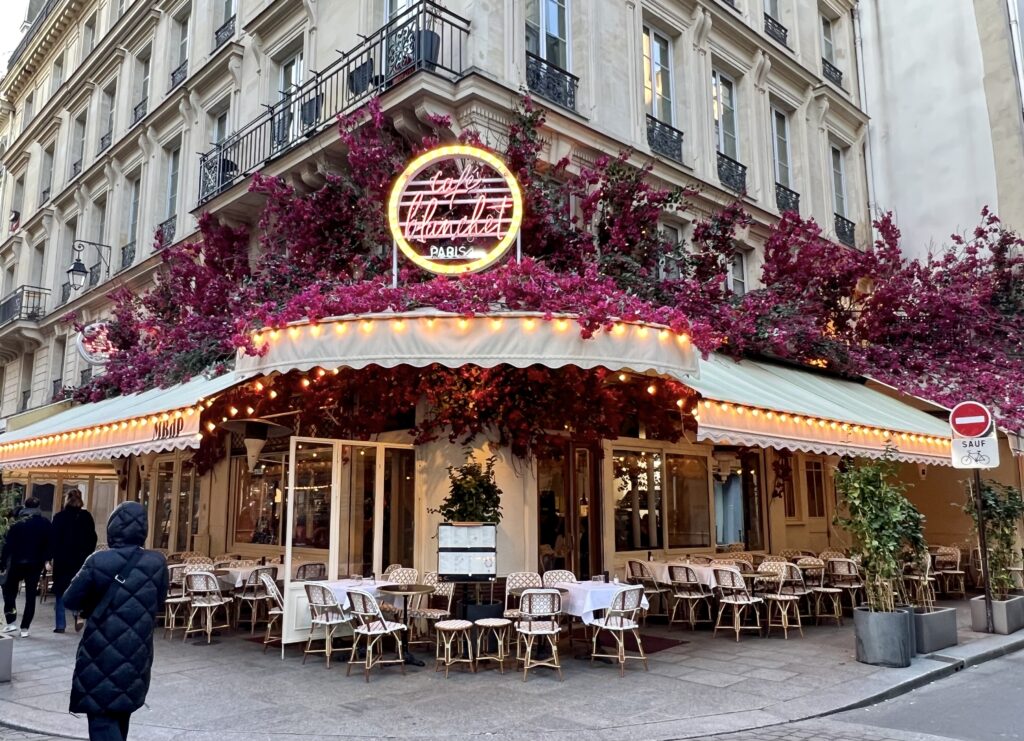 11. Cafe Blanchet
This is another lovely cafe in Paris in the Chatelet-Les Halles neighborhood. It has an outdoor terrace topped with sprawling bougainvillea vines.
You can stop for an espresso or coffee. But the cafe also has an appealing menu.
There's a range of inventive tapas-like appetizers to share, delicious salads, and even small snacks like guacamole. I stopped one day and had a quinoa bowl and glass of champagne.
Address: 64 Rue Rambuteau
Metro: Chatelet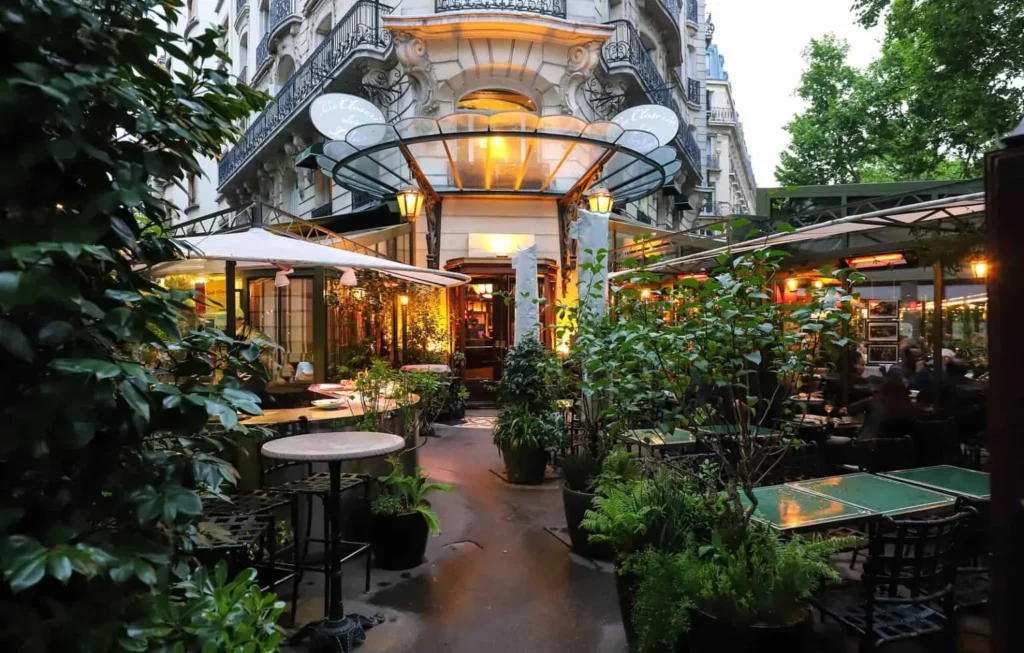 12. La Closerie des Lilas
La Closerie is definitely one of the best and most beautiful cafes in Paris.
It began life as a destination for the Impressionist painters and later became a literary hotspot made famous by Hemingway. The writer's face is even on the bar menu and a placard marks his seat.
The vibe is cool. The bar still beats to the sound of a piano, and you can enjoy some classic cocktail creations.
There's also a gourmet restaurant and brasserie with al fresco dining onsite.
Address: 171 Boulevard de Montparnasse
Metro: Vavin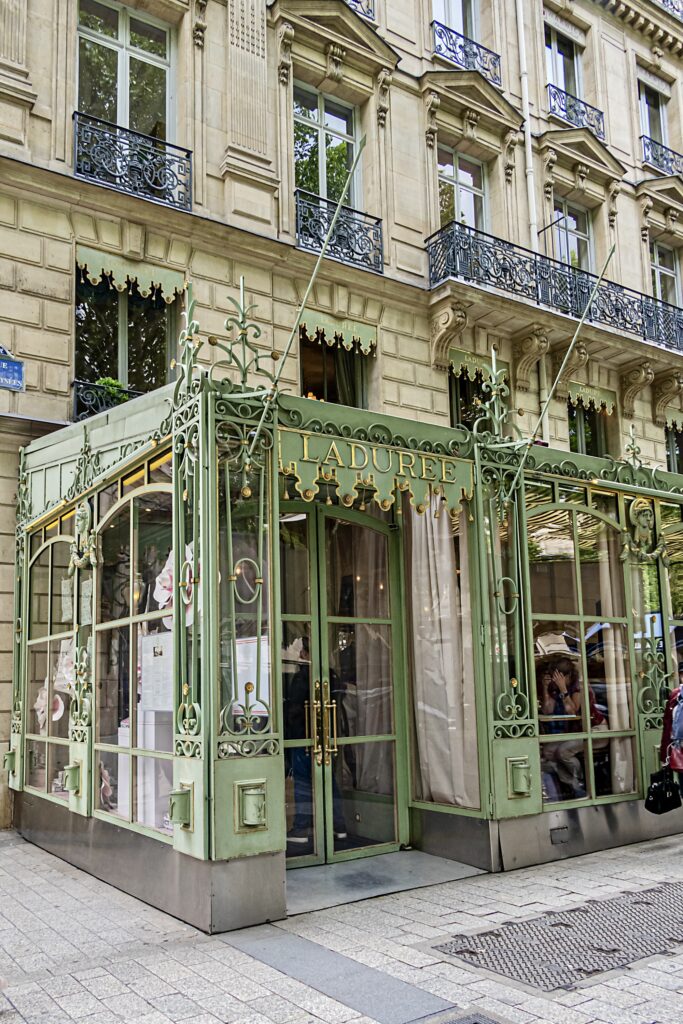 13. Laduree
Laduree is one of Paris' best and most beautiful cafes. It's a tea room that serves up baked goods, sweet confections, and snacks.
The cafe is perhaps most well known for its macaroons, which were featured in the 2006 movie Marie Antoinette.
The macarons come in pastel colors and the tea room itself is mint green. My favorite is the lemon macaron. But you can also try lavender, mint, and rose.
Laudree has locations on the Champs-Élysées, Rue Bonaparte, Rue Royal, and Rue de Rivoli. It's always crowded, so perhaps chose an off time to visit.
The Champs-Élysées location is a good place to relax over coffee after a visit to the Arc de Triomphe. It's just a 10 minute walk away.
READ: Top Attractions In The 8th Arrondissement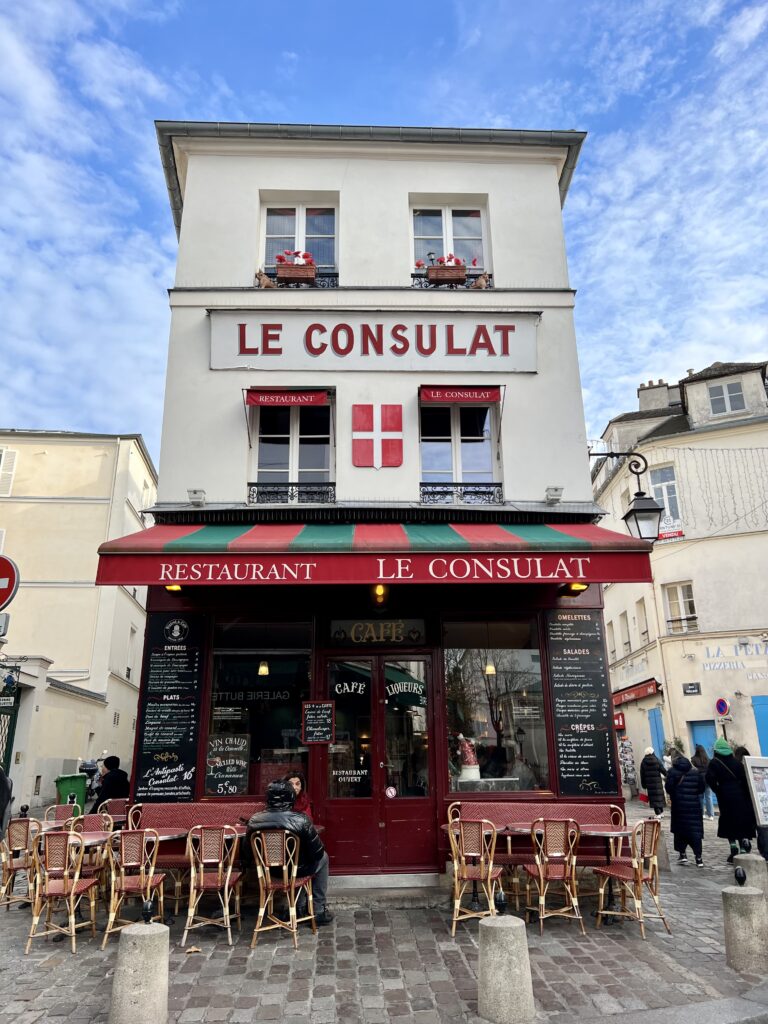 14. Le Consulat, Montmartre
Le Consulat is one of the cutest cafes in Paris. It's located in Montmartre on Rue Norvin. It was frequented by modern artists in bygone days like Van Gogh and Toulosue-Lautrec.
The cafe is a Montmartre institution, and one of the most photographed pictures on Instagram. The red and white cafe is the perfect place to sit on the terrace and people watch in Montmartre.
Wander inside and you'll find a menu of typical French wines, an extensive beverage list, and plenty of classic French cuisine and vintage charm. Steak aux Poivre and pomme frites are a classic dish to try.
READ: Top Attractions in Montmartre
Address: 18 Rue Norvins
Metro: Lamark-Caulaincourt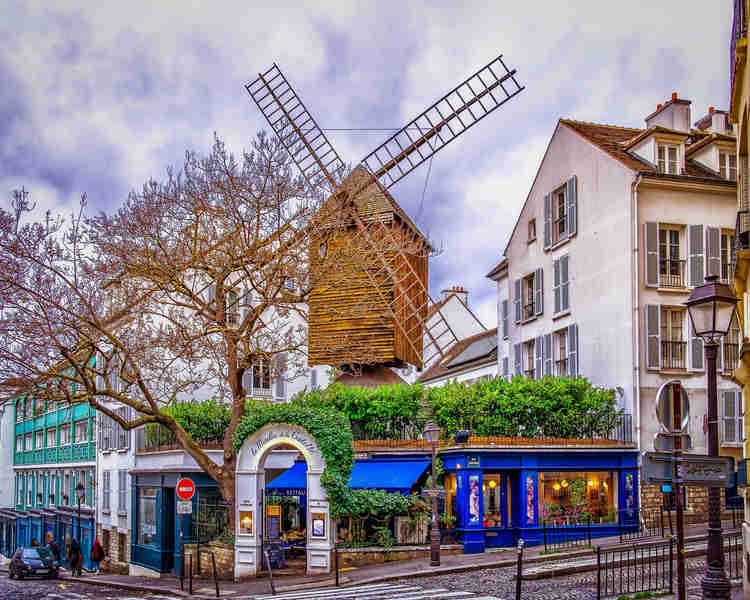 15. Le Moulin de la Galette, Montmartre
Montmartre used to have fifteen windmills. Now only two are left on the Mont.
Moulin de la Galette is a remaining windmill, and was once the centerpiece of a popular outdoor dance hall. It's depicted in Renoir's most famous painting in the Musee d'Orsay, which captures the joy of bohemian Montmartre.
The Moulin de la Galette is now a super cute cafe in Paris that offers fine food in a relaxed and light filled space.
You'll find French onion soup, foie gras, and snails aplenty. I advise making a reservation.
Address: 83 Rue Lepic
Metro: Moulin de la Galette & Pigalle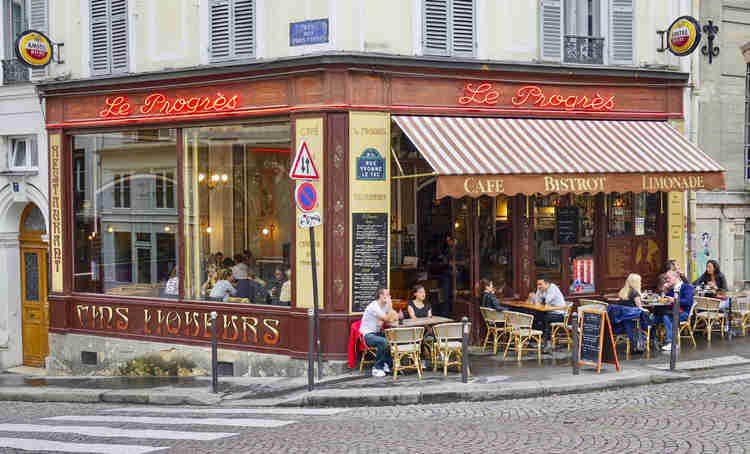 16. Le Progrès, Marais
The Marais neighborhood of Paris is just filled to the brim with cute cafes. Le Progress is one of the most popular.
It's the perfect place to relax outdoors with friends and engage in some people watching. You'll feel like a local.
Ideally, you can grab a seat on the terrace and order wine with a charcuterie or cheese plate. If you want a meal, the cafe serves up the French classics. The cafe is also a good place for breakfast or brunch.
The interior is authentic and loverly, with wood furniture and golden mosaics.
READ: Top Attractions in the Marais
Address: 1 Rue de Bretagne
Metro: Saint Paul
>>> Click here to book a food and wine tour in Le Marais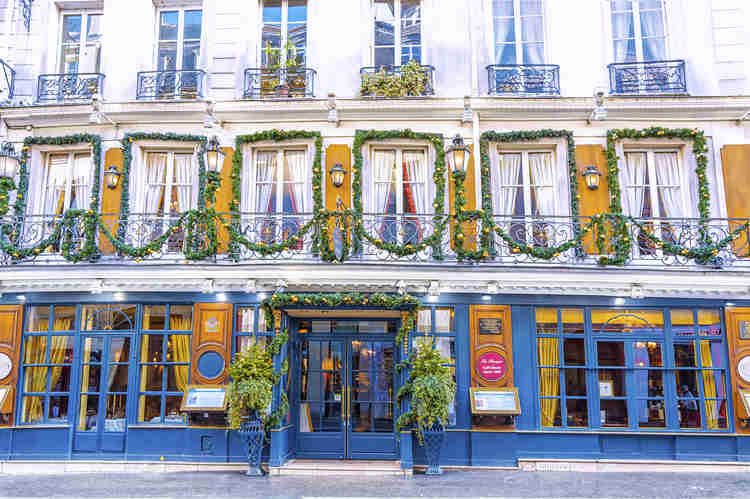 17. Le Procope, Saint-Germain-des-Pres
Located in the heart of Saint-Germain, Le Procope is the oldest public cafe in Paris. It was founded in 1686 by Sicilian chef Francesco Procopio dei Coltelli. It's a bit touristy now because of its vaunted history.
In the 18th century, the cafe was a major literary and philosophical hotspot. Famous figures such as Voltaire and Diderot sipped coffee here.
It was also a hotspot for revolutionaries. During the French revolution, Robespierre, Marat, and Danton sat down to plot revolution. American revolutionaries like Benjamin Franklin and Thomas Jefferson also met at Le Procope to debate politics.
Later in the 19th century, the cafe attracted Romantic era writers like George Sand and Alfred de Musset.
In the late 1980s, Le Procope was fully renovated to reflect its 18th century style. It holds relics such as Voltaire's desk.
The cafe is fully renovated and decorated with crystal chandeliers, black and white tiled floors, and gold framed portraits. The house specialties include its much loved hot chocolate.
Address: 13 rue de l'Ancienne Comédie
Metro: Mabillon
18. Les Deux Magots, Saint-Germain-des-Pres
Les Deux Magots is the cult-like literary cafe of Paris' Left Bank. It's likely the most famous venue in the 6th arrondissement.
In its heyday, it attracted literary giants and philosophers such as Albert Camus, Earnest Hemingway, James Joyces, Jean Paul Sartre, Simon de Beauvoir and many others.
The cafe still attracts fashionistas, locals, and loads of tourists. Les Deux Magot serves up the French classics — cocktails, brasserie food, hot chocolate, and even brunch.
Address: 6 Place Saint-Germain-des-Pres
Metro: Saint-Germain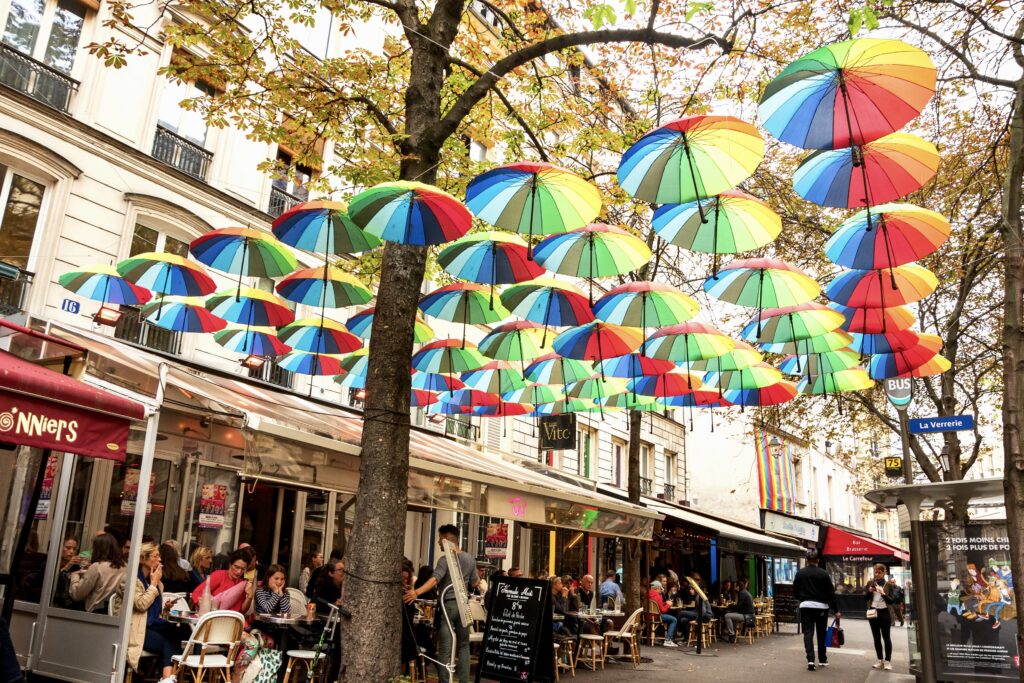 19. Le Ju', Marais
Opened in 2017, Le Ju' is one of Paris' most photogenic cafes and attracts local and visiting hipsters. It boasts a lovely terrace with balloons overhead.
Located near Rue de Rivoli and the Hotel de Ville (city hall), it's a lively place on a lively street.
The best time to visit is for brunch; try to arrive on the early side to beat the crowds. But there is also a lunch and dinner menu.
The cafe tables on the terrace have cozy sheepskin-like throws.
Address: 16 Rue des Archives
Metro: Saint Paul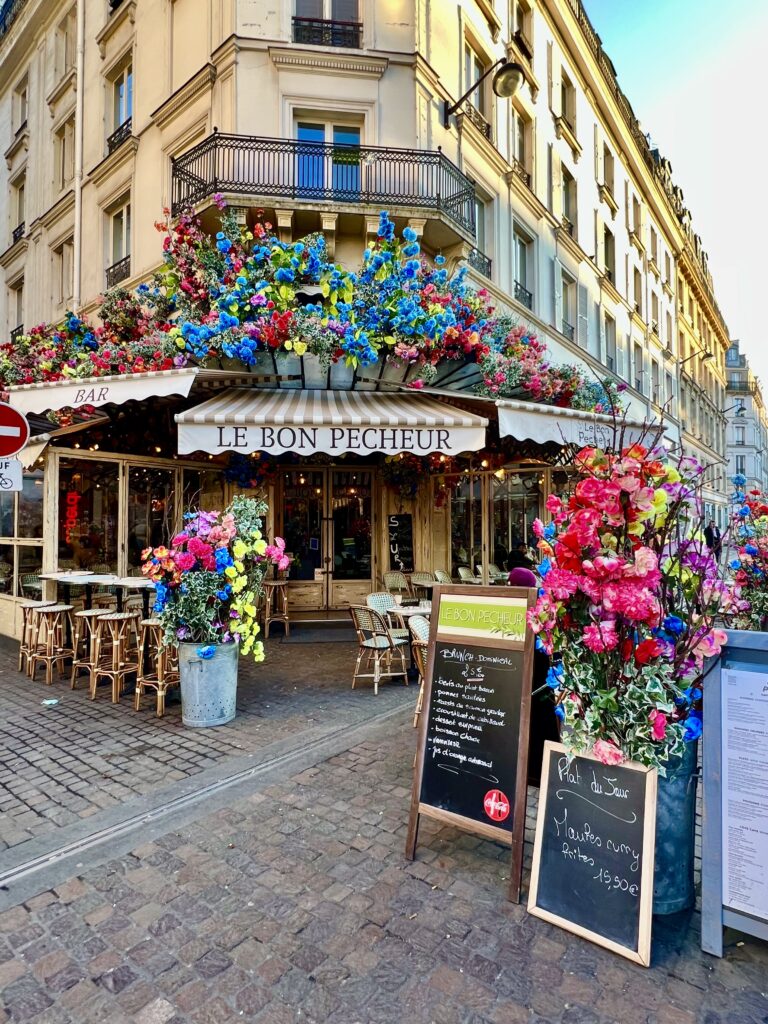 20. Le Bon Pecheur, Les Halles
Le Bon Pecheur may be the most colorful cafe in Paris, with a cavalcade of flowers adoring the facade. It's smack in the center of Paris and really stands out on the street.
Like all the best cafes in Paris, you can sit inside or outside. There's also a cozy room upstairs with a library-like setting.
I stopped in for lunch after visiting the nearby Bourse de Commerce museum and had escargot. There's also a wide selection of beers.
Address: 9 rue des Prêcheurs
Metro: Chatelet Les Halles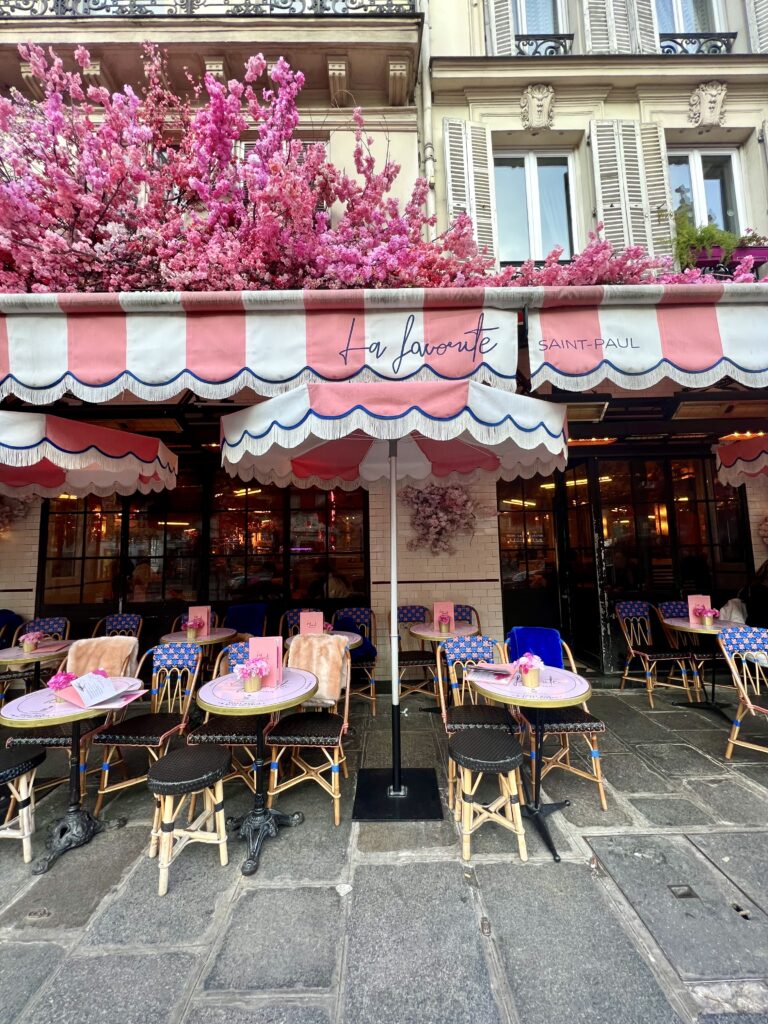 21. La Favorite, Marais
La Favorite is a vintage style bistro cafe where Paris meets New York City. It has black and white tiled floors, hanging ceiling fans, and classic caffe chairs.
The pink flowered cafe is an Instagram favorite. The cafe is always bustling, so can seem a bit noisy.
Inside, the decor is also beautiful. There are more pink flowers inside and even pink bathrooms. The ceilings are antique gold tin.
The menu is diverse, ranging from croque monsieurs to truffles to veggie offerings. The cafe also has a wide selection of champagne.
Address: 4 Rue de Rivoli
Metro: Saint Paul
READ: Top Attractions in the Marais
22. Le Paradis, Les Halles
If you are visiting the Centre Pompidou, Le Paradis is a beautiful cafe in Paris that makes the perfect before or after stop.
When I visited, the carafe was sporting a pink, red, and white floral decor that will wow you. The flower theme continues inside as well.
There is a quite extensive menu with a combination of innovative and classic dishes and signature cocktails. Try to sit outside. Inside, it's a little tight and noisy.
Address: 76 Rue Saint-Martin
Metro: Rambuteau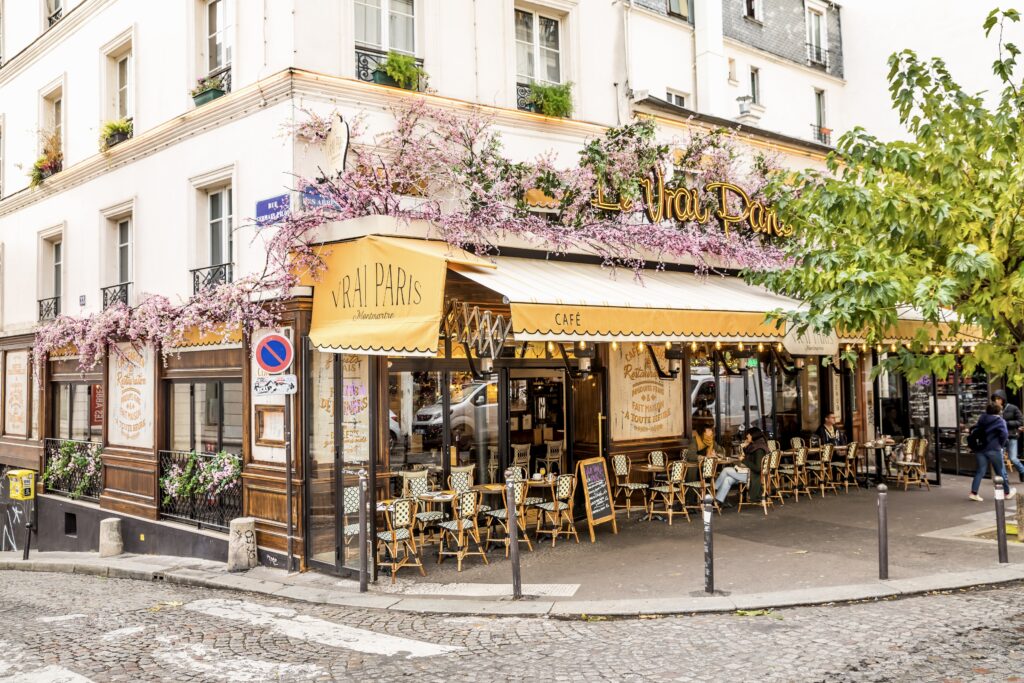 23. Le Vrais Paris
Le Vrais is a beautiful bistro cafe in Paris in the center of the Abbesses area of Montmartre. It's especially gorgeous with lavender vines growing up the walls.
It's a great place to start your day if you are doing a walking tour of Montmartre. Le Vrai is an authentic little bistro with an air of yesteryear Paris.
Depending on the weather, you can choose between indoor and outdoor seating. The terrace is gorgeous and you can choose from classic French dishes.
Address: 33 Rue des Abesses
Metro: Abbesses
24. Maison Rose, Montmartre
Head to the corner of Rue de l'Abreuvoir and Rue des Saules and you'll find Maison Rose. It's likely the most photographed house in Paris.
The pretty-in-pink coffee shop and restaurant was once run by Germaine Pichot, a friend of Picasso. It was frequented by Picasso, Albert Camus, Suzanne Valadon, and Maurice Utrillo.
Today, you can sip or dine al fresco on the little bistro chairs outside and enjoy a vegan-friendly menu in a nostalgic setting.
The restaurant was immortalized in many paintings by Utrillo, who seemed to adore cafes.(You can see some of Utrillo's works in the Musee de l'Orangerie.) More recently, Maison Rose was used as a filming location for the TV series Emily in Paris.
Address: 2 Rue de l'Abreuvoir
Metro: Lamarck-Caulaincourt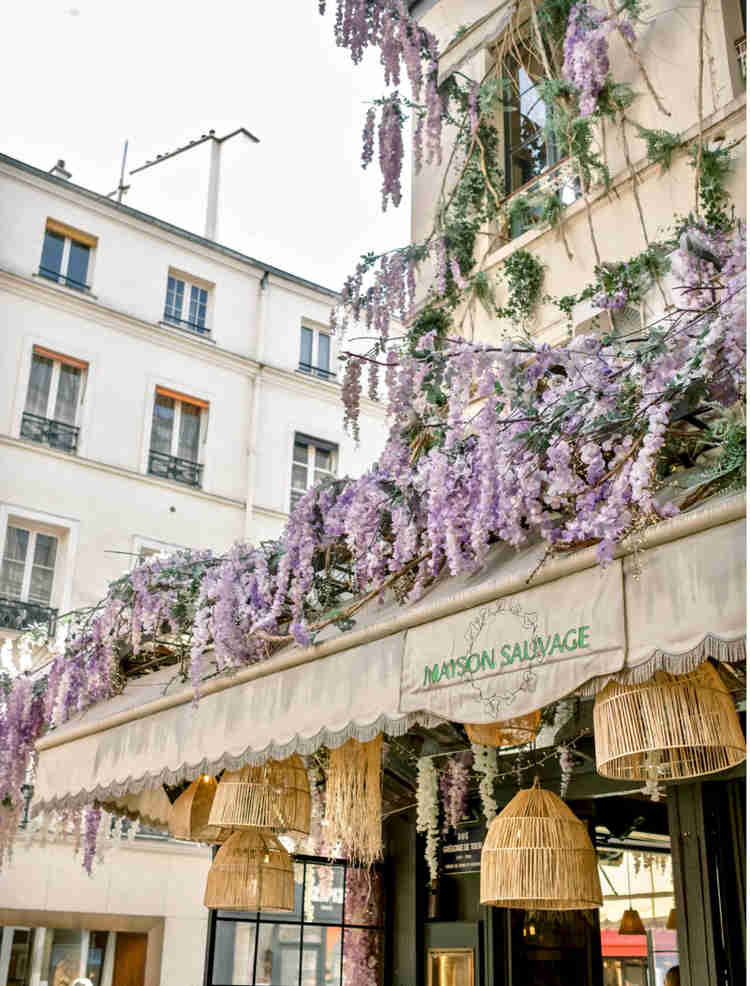 25. Maison Savage, Saint-Germain-des-Pres
Maison Savage is one of Paris' most beautiful and iconic flower bedecked cafes. It's hidden away on Rue de Buci in the Saint-Germain neighborhood. But once you see photos of it, you'll want to seek it out.
The cafe has a garden-like setting with two floors, a terrace, and a breathtaking facade covered with plants. The floral decor changes with the rhythm of the seasons.
The cafe has a fairytale vibe. It's bright and airy, with woven baskets hanging from the walls. It has a breakfast, brunch, lunch, and dinner menu. I've tried their avocado toast and açaí bowl and both were good.
Address: 5 Rue de Buci
Metro: Mabillon
26. Odette, Latin Quarter
If you're a fan of pastries, head to Odette. It's a famous Instagrammable spot in Paris, right next to a rare green half timbered building in Paris.
The shop is just steps away from Saint Severin Church and behind Shakespeare & Company Bookstore. It specializes in the cream puff, but has an extensive menu and mouth watering displays.
If you're adventurous and it's the right season, try the passion fruit or champagne puff.
The cafe even offers up views of Notre Dame.
Address: 76 Rue Galande
Metro: St Michel Notre Dame
>>> Click here to book a food tour in the Latin Quarter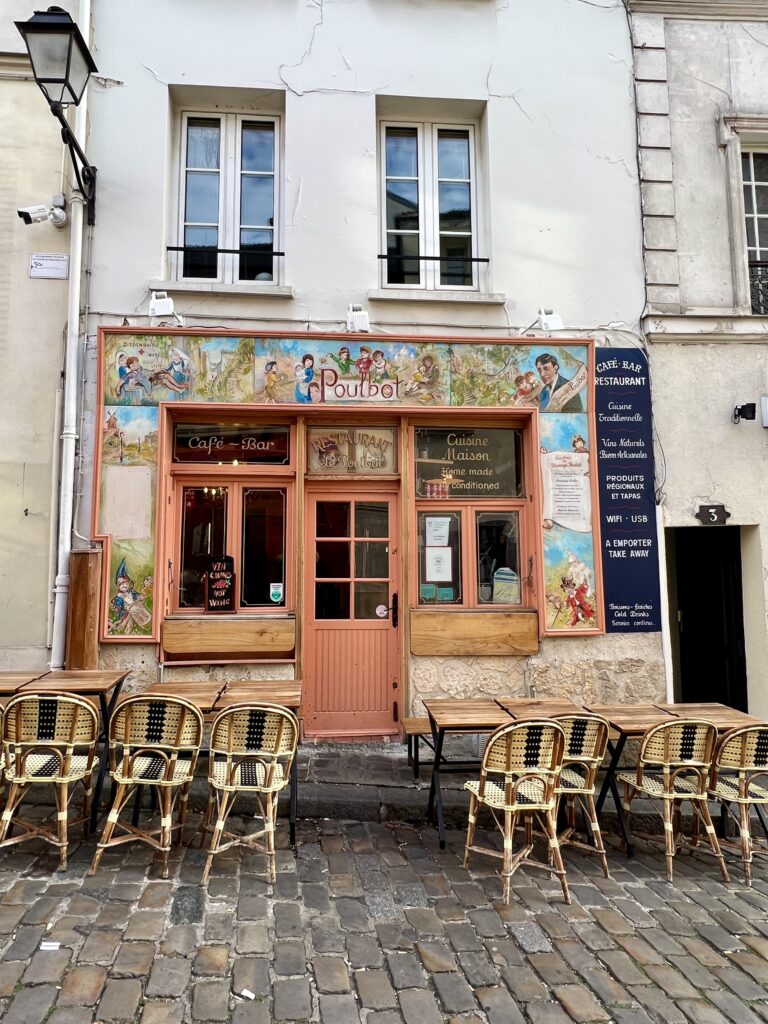 27. Le Poulbot, Montmartre
Le Poutbot is a charming historic cafe in Montmartre. It's a cozy quaint place with lots of charm, hidden away on a quiet side street.
The cafe serves up traditional French food with al a carte and set menus. There's also an ever-changing daily specialty featuring seasonal ingredients.
The lavender creme brûlée is simply divine.
Address: 3 Rue Poulbot
Metro: Abbesses
28. Shakespeare & Company Cafe
Facing the Seine, Shakespeare and Company is the most famous English language bookstore in Paris. It's always a fun spot to visit.
From 1921 to 1940, the bookshop was the stomping grounds of such novelists such as Hemingway, Fitzgerald, Gertrude Stein, and Ezra Pound. Irish writer James Joyce reportedly used the shop as his office.
Just as importantly, there's also a cafe onsite, owned by the bookstore, should you need a coffee or pastry. The cafe is a modern contrast to the shabby chic aesthetic of the bookstore.
It serves specialty coffee alongside Anglo-style vegan and vegetarian meals and cakes.
Address: 37 Rue de la Bûcherie
Metro: Saint-Michel or Cluny–La Sorbonne
29. Musset, 1st Arrondissement
Doing some shopping on Rue Saint-Honore? If so, you can take a break at Le Musset, a beautiful sidewalk cafe in Paris. It's named after the famous French writer, Alfred de Musset.
Located in the heart of the first arrondissement of Paris, Musset has had a very chic makeover with a blue and gold color scheme. There are two rooms and two heated terraces with a direct view of the Louvre Museum.
Treat yourself to the warm atmosphere of the cafe and a cocktail bar worthy of your most beautiful Parisian evenings. You can feast on some tasty French onion soup, hamburgers, or duck.
Address: 169 Rue Saint-Honore
Metro: Palais-Royal
I hope you've enjoyed my guide to the best and most beautiful cafes in Paris. You may enjoy these other Paris travel guides and resources:
If you need guide to the best cafes in Paris, pin it for later.