Can we speak honestly about Aveiro Portugal? Is it really a town in Portugal worth visiting or adding to your itinerary?
Sometimes I think that honesty seems largely eclipsed by enthusiasm in the blogosphere. Perhaps it's because we travel bloggers travel to objectively beautiful places and mostly have phenomenal experiences.
But that can't always be the case, can it?
Sometimes a place doesn't live up to its billing. Or doesn't suit. Or something dreadful happens there to color our opinions, like a flat tire or faux Air Bnb or torrential rain.
Aveiro didn't really suit me. I think Aveiro is ridiculously overhyped.
It's a popular day trip from Porto or stop on the way from Lisbon to Porto. It's often referred to as "adorable," "picturesque," "romantic," "must see," and — wait for it — the "Venice of Portugal." Huh.
I quote this from Lonely Planet, a notoriously picky analyst:
Aveiro (uh-vey-roo) is a prosperous town with a good-looking centre and a youthful, energetic buzz. It's occasionally dubbed the Venice of Portugal thanks to its small network of picturesque canals. But where the Italian city has gondolas, Aveiro has moliceiros – colourful boats traditionally used for seaweed-harvesting but now used for canal cruises.
Makes you want to go, doesn't it?
Is Aveiro Worth Visiting Or Overrated ?
Aveiro was my least favorite stop during my 10 days in Portugal road trip. I've been to Venice several times and, believe me, there is no similarity.
I wish I had skipped Aveiro entirely and spent time elsewhere. I was completely disillusioned. There are plenty of better places to spend your valuable time in in Portugal.
Here are the reasons Aveiro isn't worth a visit: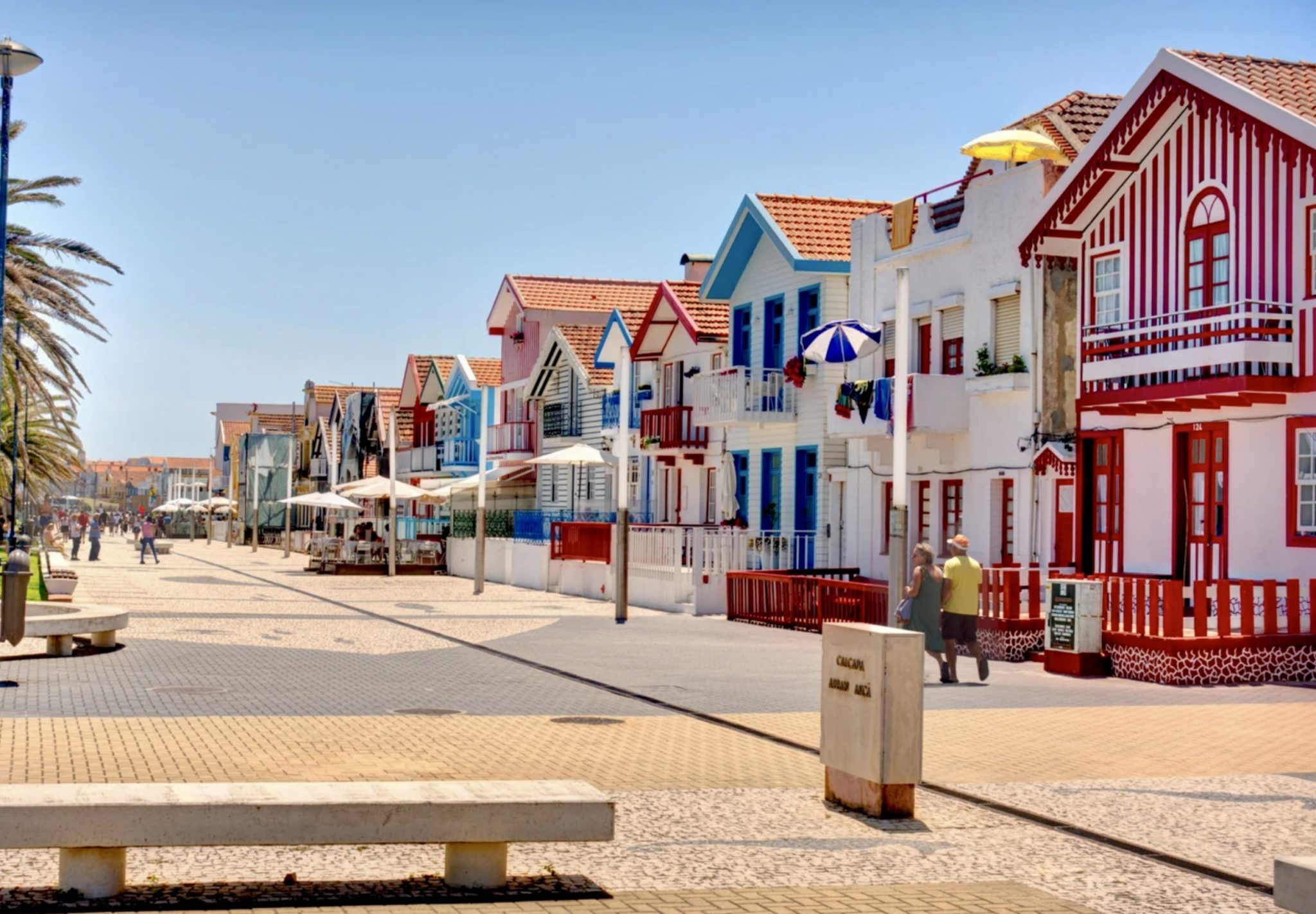 1. No Striped Houses
The cute striped cottages you see on travel blogs or websites touting Aveiro or when you google Aveiro?
They're not actually in Aveiro. They're a 20 minute drive away at Costa Nova beach.
You have to budget time if you want to drive or bus there for an Instagram photo of these admittedly photogenic houses. We didn't and so didn't see them.
Neither will you, if you plan on spending time in Aveiro itself. Or have been duped into thinking they're in Aveiro proper.
2. The Mediocre Canal Ride
Aveiro is advertised as having a "must see maze of canals" filled with brightly painted gondola boats. To be sure, the boats, called moliceiros, are cute enough. Not Venice cute, mind you, but reasonably attractive looking.
The canal tour is decidedly not "cheap" or "reasonable," as I've read elsewhere. At 10 euro per person, it's kind of pricey for what you see.
I didn't enjoy the cruise much. There's just not much of interest to see from the boat to justify the time or money invested.
You'll see boring tiny bridges, haystacks, salt pans, and industrial buildings. And you won't understand a thing anyway because the guides don't speak English.
My daughter and I couldn't wait to get off the boat. Here are the best photos I got:
Not exactly super enticing, is it?
Is this how you want to spend your time and money in Portugal? Looking at salt pans? I think not …
3. Art Nouveau Center? Not Really
Aveiro is also billed as a city-museum of Art Nouveau architecture.
Wait a minute now. I love Art Nouveau. But Aveiro?
There are indeed a few lovely and striking facades, particularly along the quays in the Rossio area. But if you want Art Nouveau, head to Barcelona, Prague, Paris, Nancy France, or any number of places.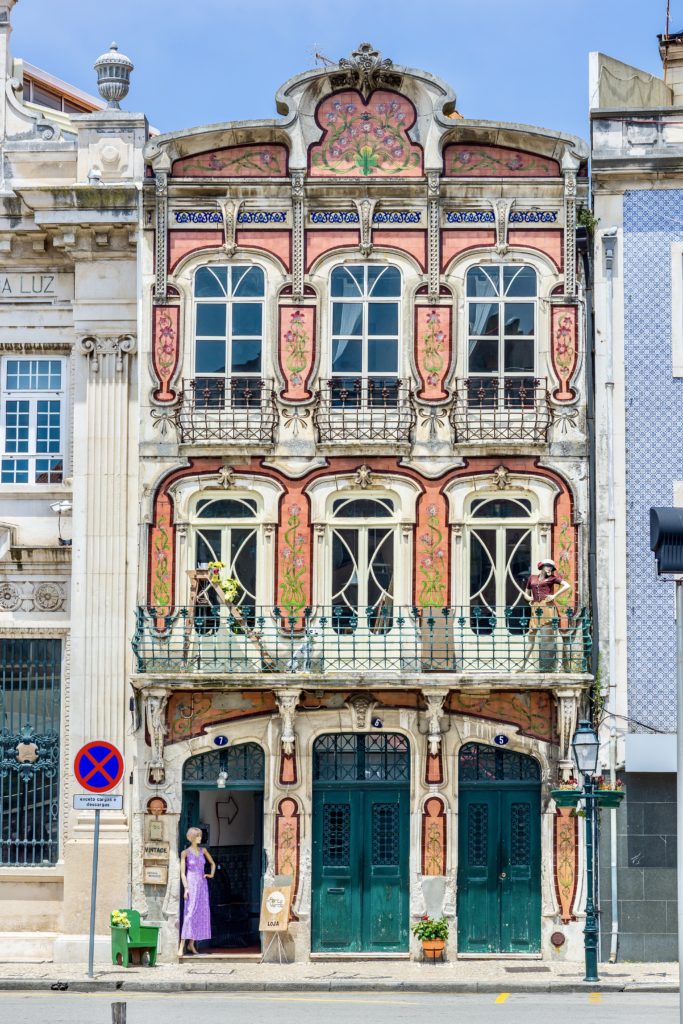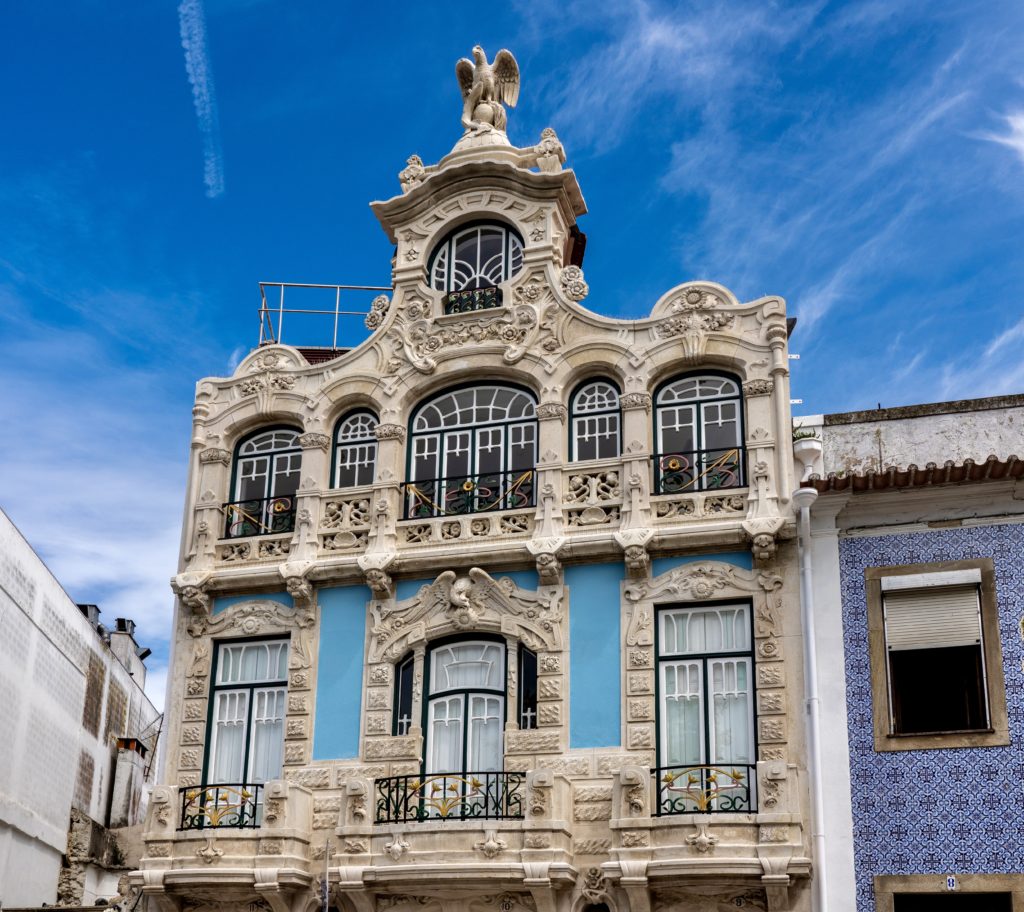 4. The Inadequate Art Nouveau Museum
The Aveiro Art Nouveau Museum is located in the Casa Major Pessoa. It is indeed a beautiful building with Art Nouveau detail in the facade and wrought iron details.
I'm just not sure if this qualifies as a "museum."
It has a lot of written material and virtually no exhibits. The best part is the charming Casa de Chá tearoom on the first level.
5. Igreja da Misericórdia de Aveiro
This 16th century Church of Misericordia in the Praca General Humberto Delgado was the first one I encountered in Portugal with allover inside and out azulejo tiling. So it was of some interest.
But, believe me, it pales in comparison to the slew of spectacular churches in Porto.
Why leave Porto for Aveiro when Porto is so much better? Colorful vintage-y Porto is a real dream, not an overhyped mediocre town.
Plus, if you're day tripping from Porto, why not go to somewhere really great? I vastly prefer Coimbra, Guimaraes, Viseu, or Braga to Aveiro.
6. Cute Streets
I agree that Aveiro has some lovely streets with patterned sidewalks. You'd expect that for a town with some history.
I just don't think they're enough to justify a day trip.
I will say I had a very tasty lunch at Porta 35. It's a cafe serving mostly gourmet burgers on the quaint Rua do Tenente Rezende.
There's also a fair amount of vegetarian and vegan fare to be had.
In sum, I found Aveiro underwhelming. Perhaps I wasn't there long enough to appreciate its more subtle charms.
But I didn't really want to stick around to ferret them out. I didn't think Aveiro was worth visiting.
If you're looking for a stop between Lisbon and Porto on a road trip, pick medieval Óbidos or Coimbra.
Unless you desperately want to sink your toes in the sand at Costa Nova outside of Aveiro, I'd advise skipping the town. Portugal has much more to offer.
You may enjoy these other Portugal travel guides and resources:
If you want to give people the real scoop on Aveiro, pin it for later.