Planning a vacation in Arizona and need some destination inspiration? I've put together the ultimate Arizona bucket list to help you plan your trip.
Arizona is home to some of the most iconic and otherworldly landscapes in the American Southwest. Images of the Wild West and Western culture are sprinkled throughout the state.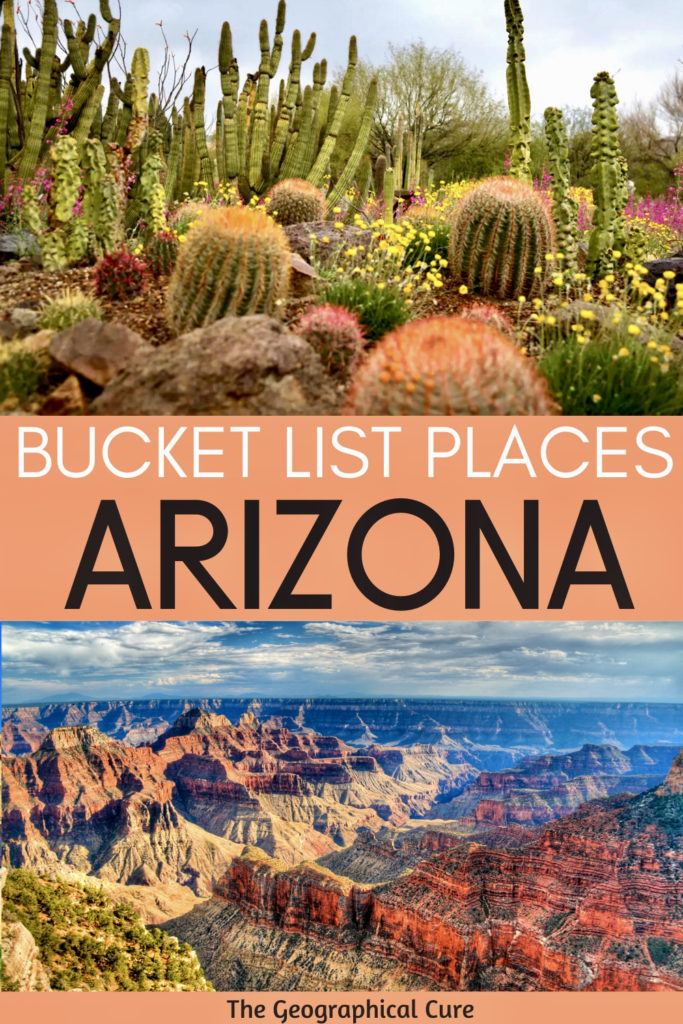 The state is also chock full of beautiful towns, historic hamlets, and exciting cities to explore. While Phoenix is the foremost culture venue in Arizona, there's art and culture in every corner of the state.
This Arizona bucket list gives you some destination inspiration for where to go and what to see in Arizona.
This list will have you dreaming of desert sunsets. You can hike in the Grand Canyon, check into a resort in Scottsdale, admire towering Saguaros, feel the energy of Sedona's vortexes, or visit historic landmarks.
Arizona Bucket List Destinations
Here are the best places to go in Arizona. I've put them in alphabetical order for ease of reference.
1. Antelope Canyon
Antelope Canyon is a world famous slot canyon that's on everyone's Arizona bucket list. This otherworldly spot was created by water and winds over thousands of years.
It's a magical orangish rock formation. You can explore the Upper Antelope, the Lower Antelope, or Canyon X.
All of the local slot canyons are on Navajo land. So you must have a guide to access them.
Click here for an admission ticket and guided tour. You can also combine the lower canyon with Horseshoe Bend on a guided tour.
You can also get a ticket and tour for just the lower canyon or for the upper canyon.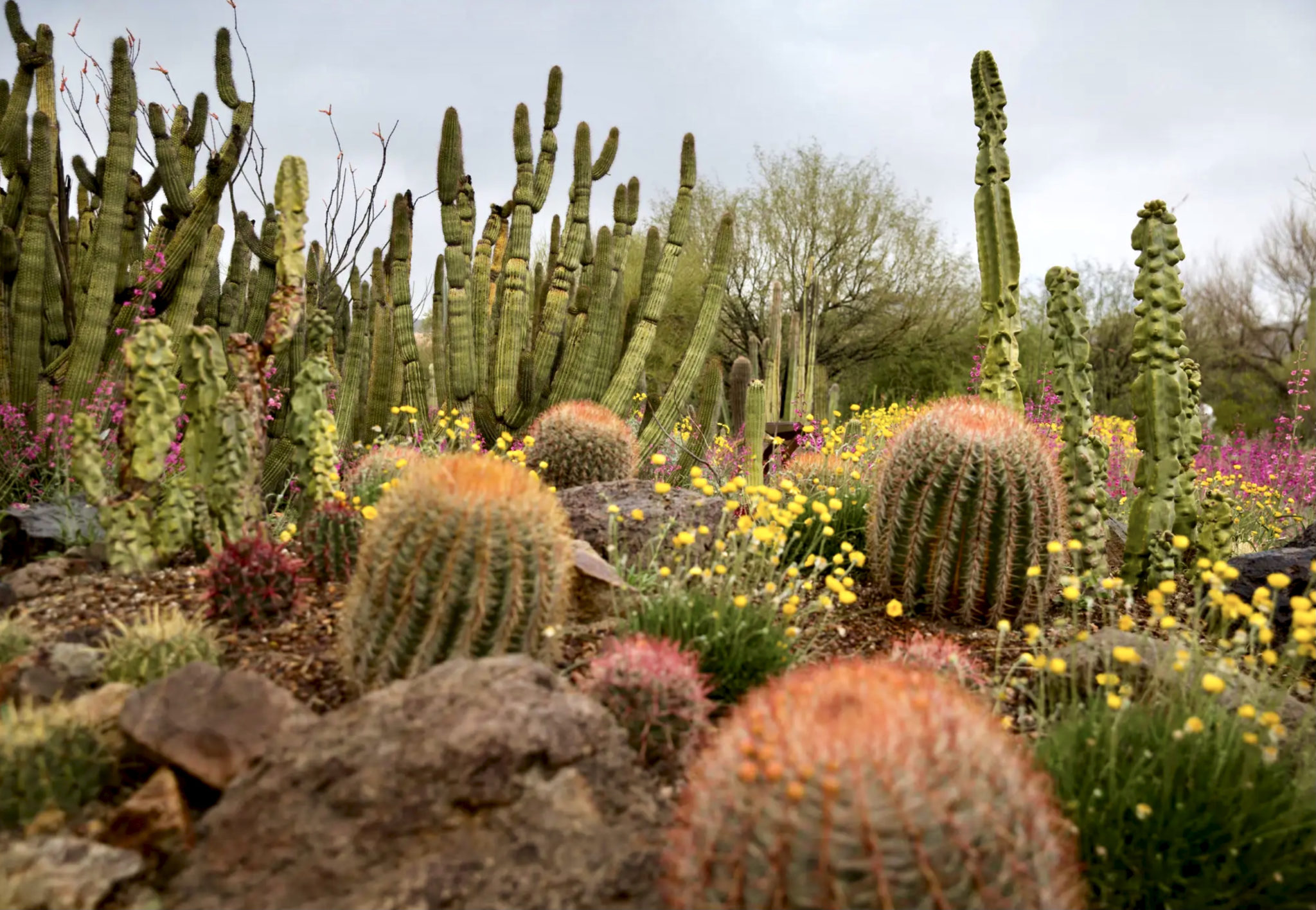 2. Arizona-Sonora Desert Museum
The Arizona-Sonora Desert Museum is a fun museum that interprets the Sonoran Desert. It's a bit of everything rolled into one.
The museum combines a zoo, a botanical garden, and a natural history museum. The museum challenges the traditional concept of what a museum is by creating a mutually symbiotic relationship with the desert.
The desert museum is set on 21 acres with 2 miles of walking paths through various animal habitats. You can find 1,200 plant varieties and 56,00 individual specimens.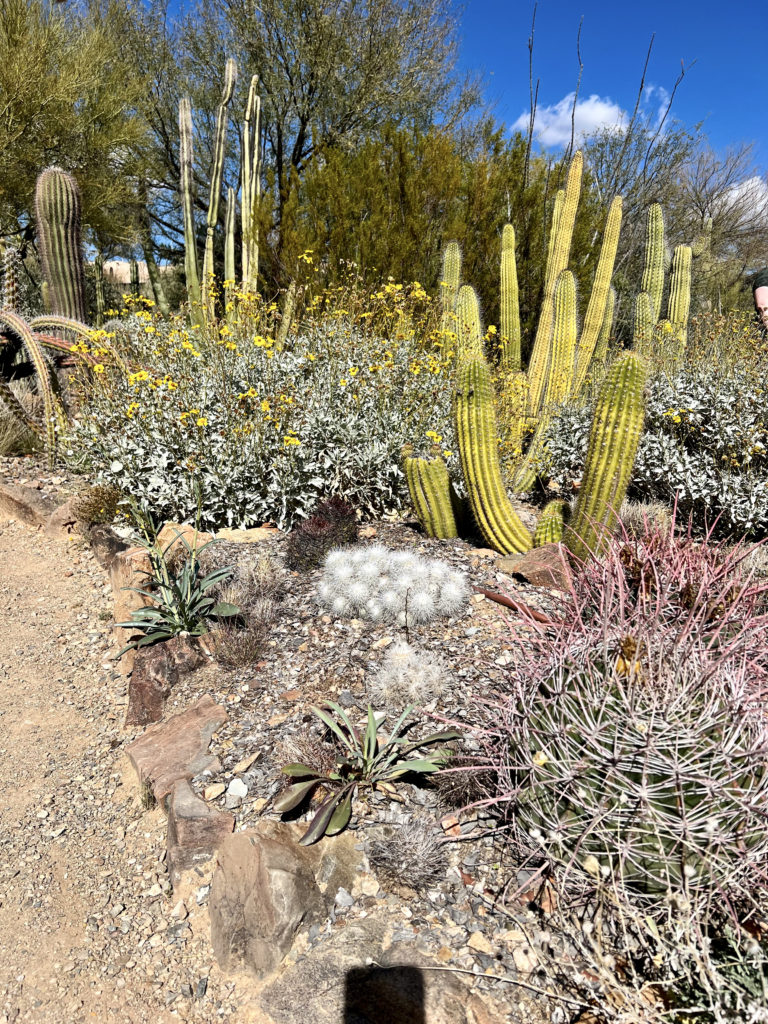 The exhibits are ingenious. 85% of them are outdoors.
The museum is organized so that you begin at the front entrance and travel counter clockwise along the main route. Secondary paths branch off from the main route.
Some of the best things to see at the museum include the walk in bird and hummingbird aviaries, Cat Canyon, and the Riparian Corridor.
You can see river otter, beaver, bighorn ship, prairie dogs, and fish. Even mountain lions. You have to come early to see the animals because they are usually asleep in the afternoon.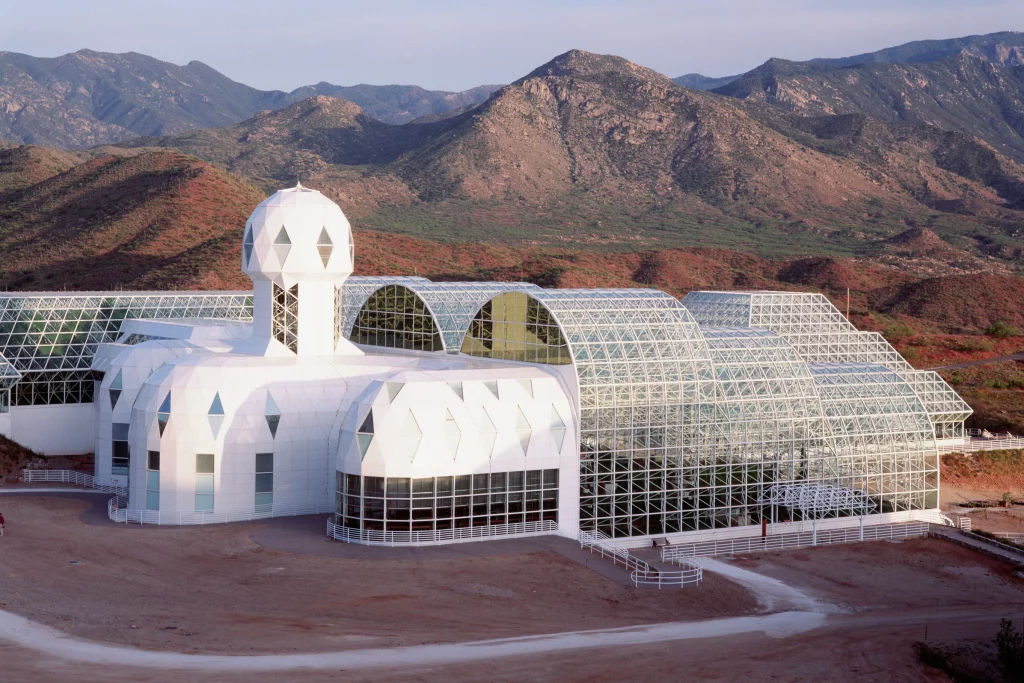 3. Biosphere 2
Biosphere 2 is a scientific center just north of Tucson in Oracle. The biosphere has a fascinating history, as well as being an active science and research center.
Construction began in 1986. The goal was to study self-sustaining space colonization technology. On its ill-fated 1991 maiden mission, 8 humans were locked inside for 2 years along with chickens, goats, and pigs.
Now, Biosphere 2 is the world's largest controlled environment dedicated to climate research. The Landscape Evolution Observatory is like a time machine.
It can preview a climate-altered Earth by changing the concentrations of gases in the atmosphere and studying how that impacts the planet.
On a tour of the facility, you'll see steamy rainforests, a coastal fog desert, and a savannah. Guided tours are ongoing throughout the day.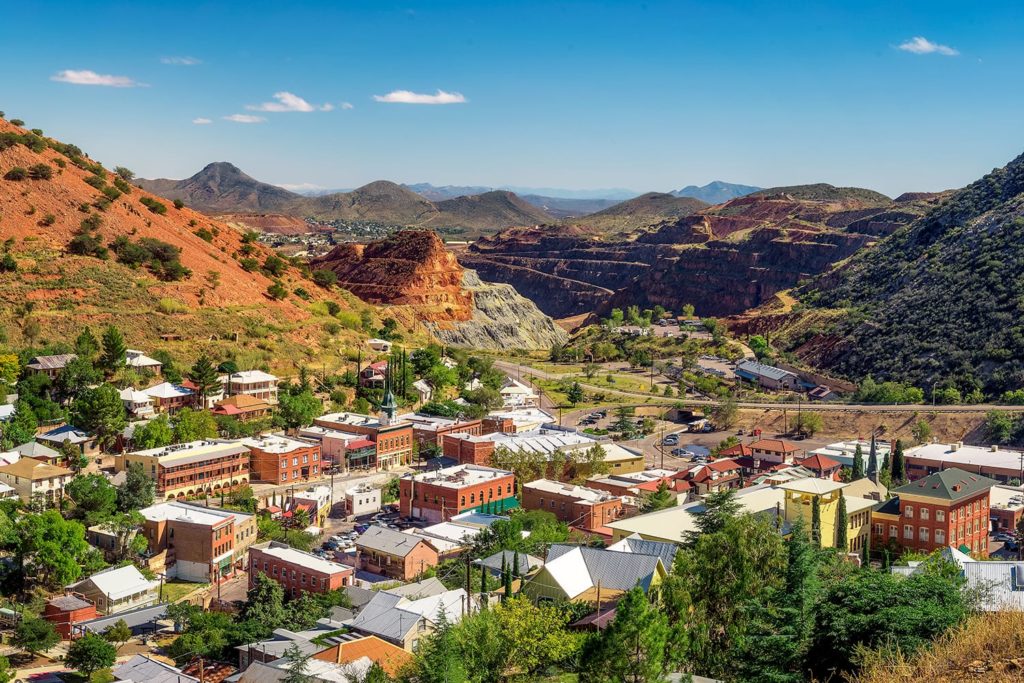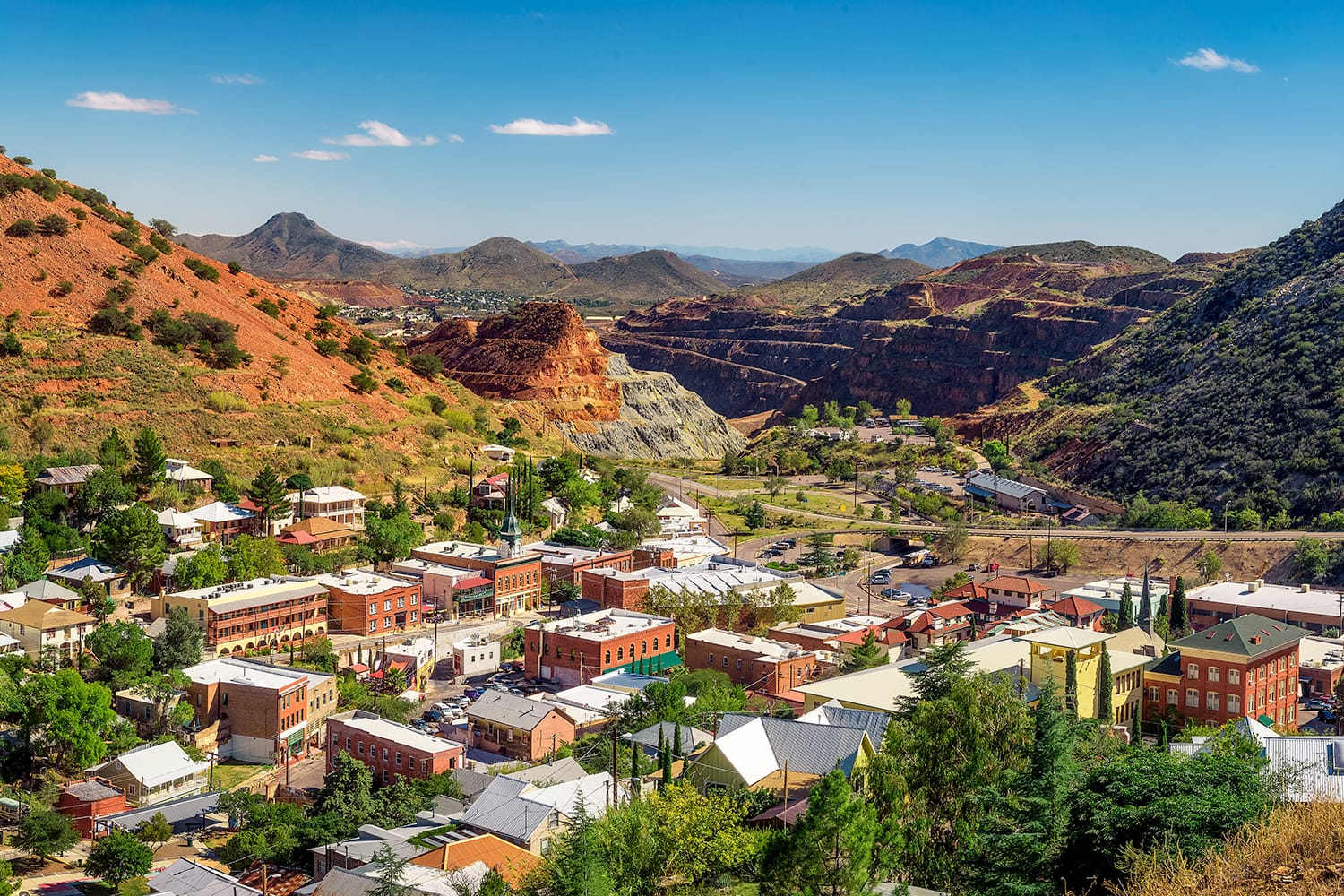 4. Bisbee
Bisbee was a mining boomtown in the 1880s. People flocked here with prospects of getting rich from mining gold, silver, and copper. It was named after Judge DeWitt Bisbee, a mining prospector.
Today, the town is a tourist hotspot for people seeking to experience a real American Wild West town. It has a cool but scruffy vibe.
You can visit the abandoned mines, enjoy the Victorian-styled townhouses that once housed miners, and admire street art murals.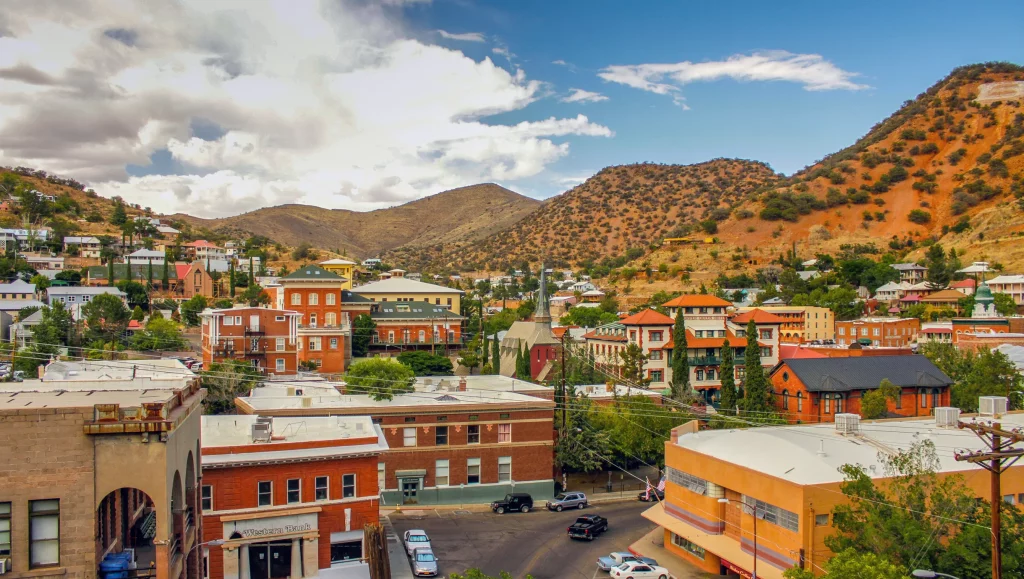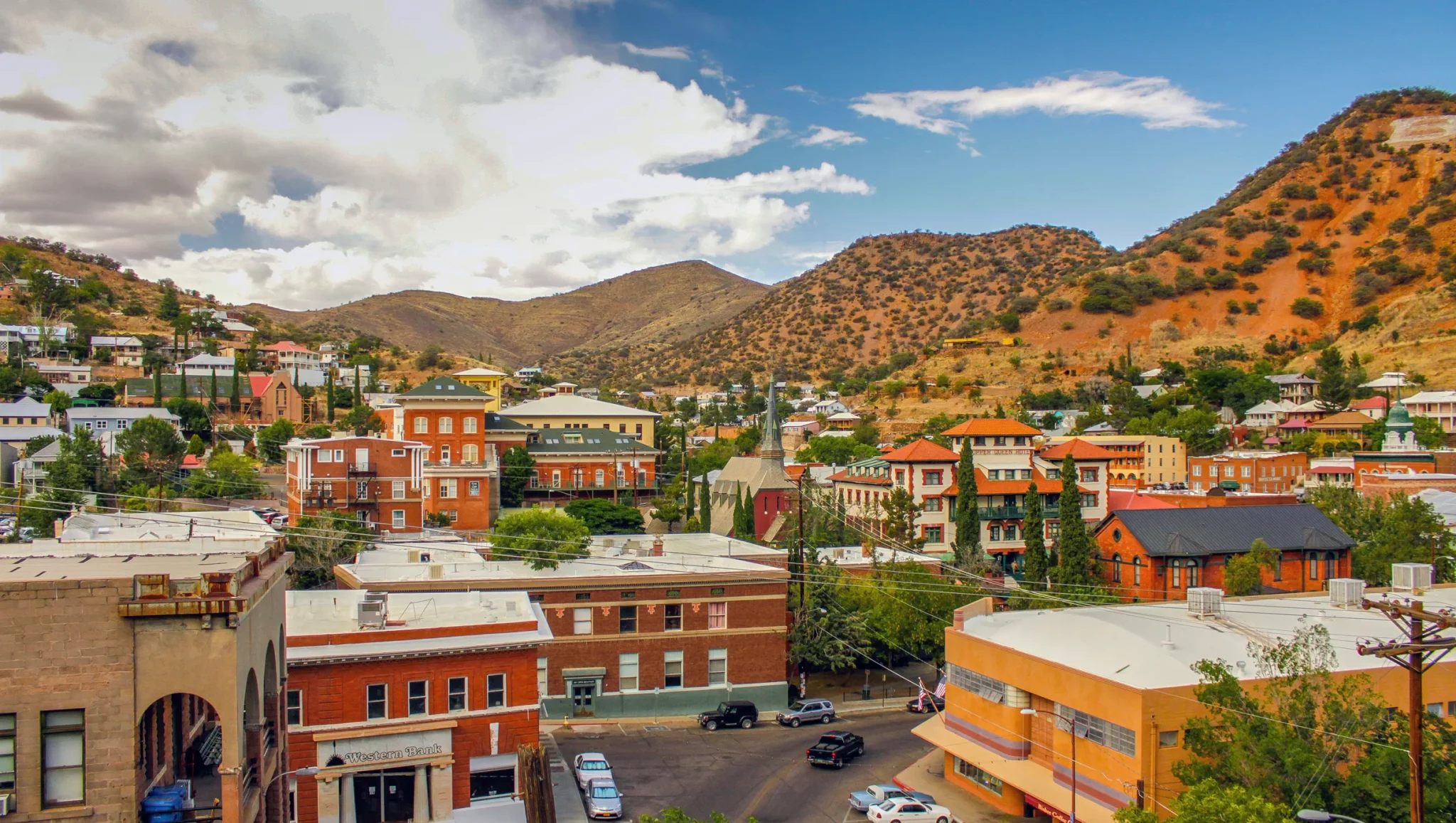 Bisbee is 1.5 hour drive from Tuscon. Alternatively, you can click here to book a day trip to Bisbee and Tombstone from Phoenix.
In Bisbee, you can take an underground ghost tour. If you want to learn about the town's history, pop into the Bisbee Mining and Historical Museum.
The most popular attractions in Bisbee is the Copper Queen Mine. Closed 30 years ago, it used to be the town's dedicated mine.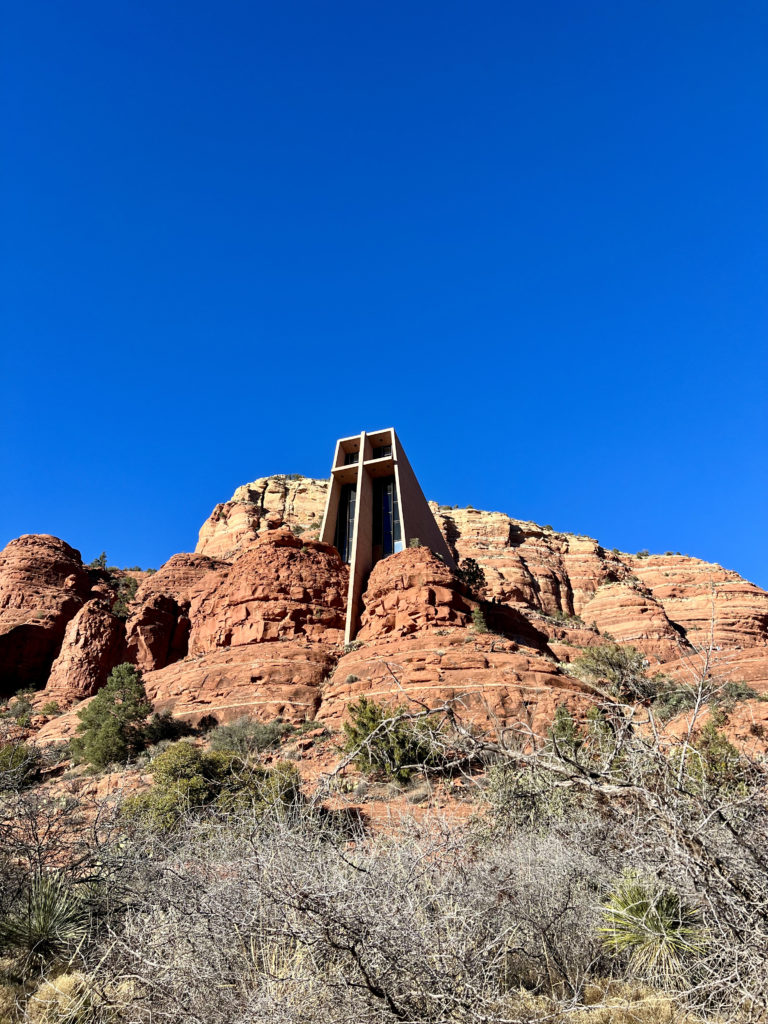 5. Chapel of the Holy Cross
If you love architecture, you'll enjoy the Chapel of the Holy Cross. It's an unmissable attraction in Sedona.
Built in 1956, it's a striking landmark designed by Marguerite Brunswig Staude, a pupil of Frank Lloyd Wright.
The building blends a 90 foot cross, magnificent stained glass windows, and a modern design. It's perched on a red rock plateau and a sandstone ridge of varying shades. Inside, you can pray, meditate, or sit quietly.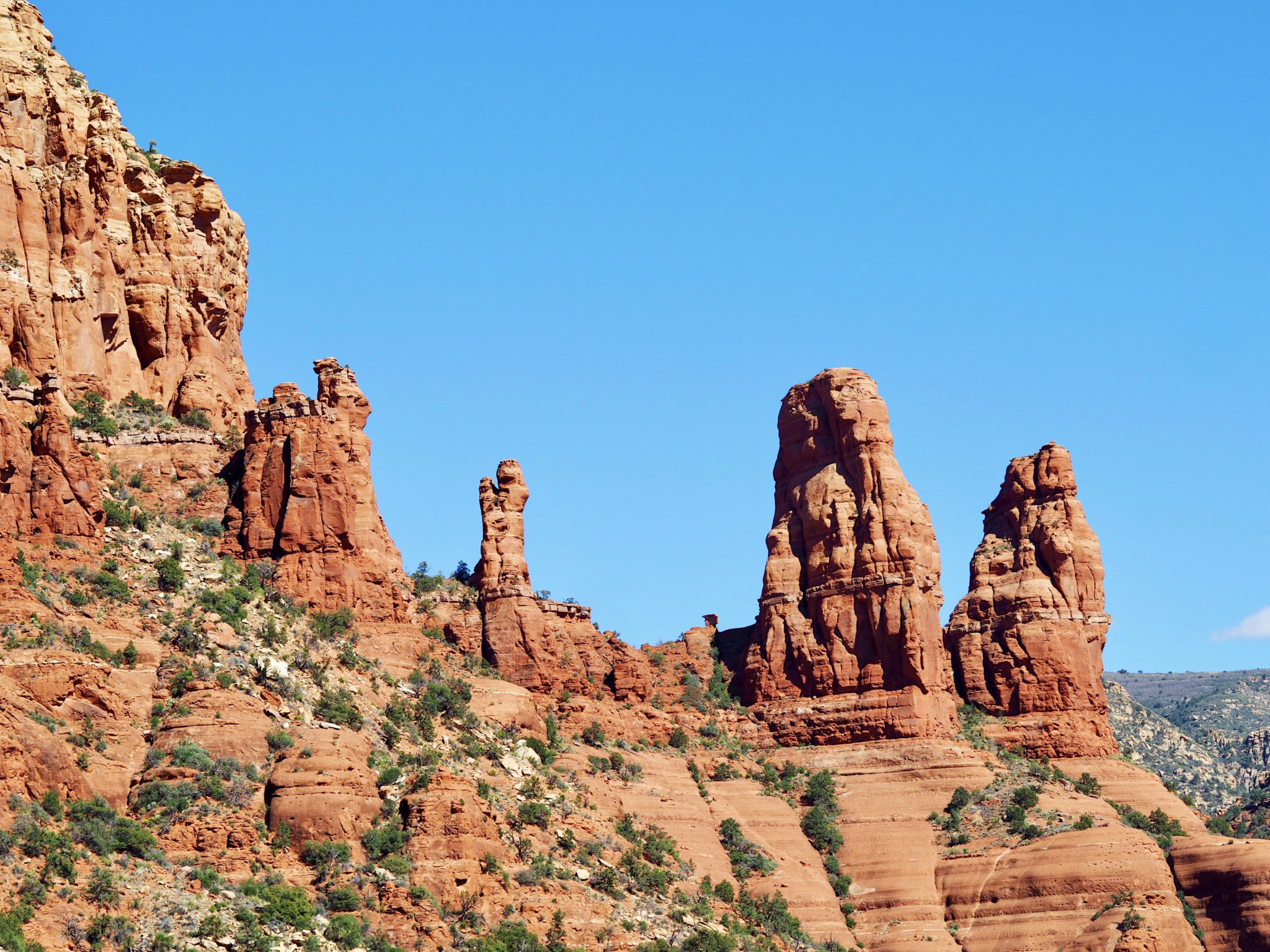 Even if you're short on time, stop by quickly to marvel at the structure. There's parking along the road leading to the chapel, but it's limited.
You have to hike up a walkway to get there. If it's too steep, there are golf carts available to take you up.
The chapel is open 9:00 am to 5:00 pm and is free of charge. The views from the top are mesmerizing.
6. Chiricahua National Monument
Chiricahua National Monument is a perfect blend of history and hiking. The wonderland of rock formations were created by a volcanic eruption over 27 million years ago. Time and weather eroded the rhyolite tuff into the "Land of the Standing Up Rocks."
Start your day at the visitor center to plan out your visit. Take the 8 mile scenic drive to Massai Point. From there, you can access a series of trails.
There's a hiking guide on the website. You can choose the length and difficulty of your hike.
You will wander in the footsteps of the Chiricahua Apaches and can pay homage to the Buffalo Soldiers who camped in the canyon and carved their names into monument stones.
At the Faraway Ranch, you can learn the history of the people who once lived here.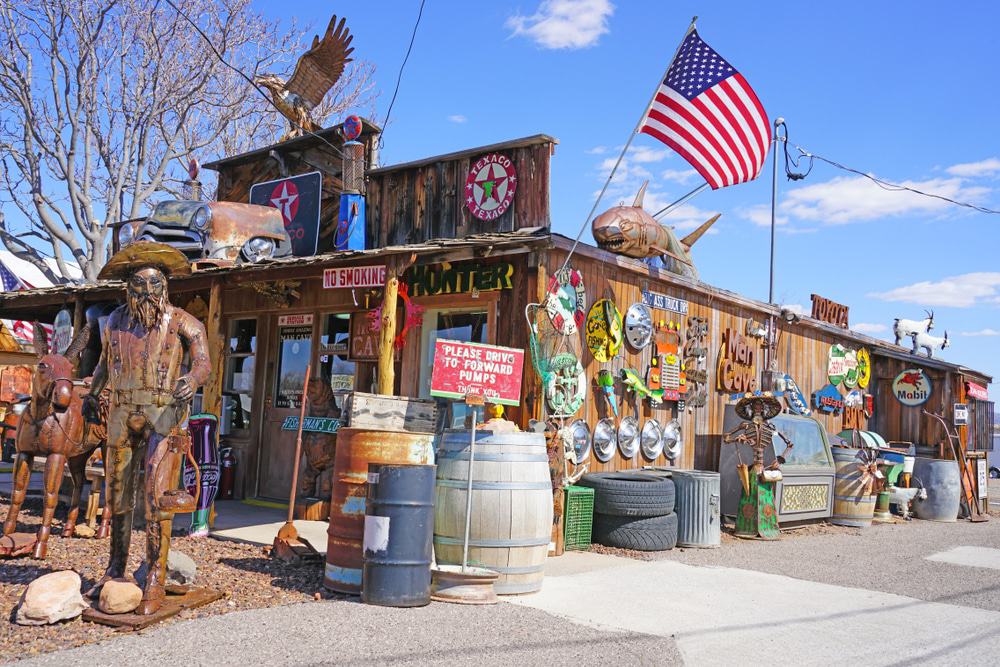 7. Cottonwood
Old Town Cottonwood is less than 20 minutes from Jerome. So you could easily visit both towns on a day trip.
Cottonwood is the main stage for Verde Valley wineries. The four block stretch of Main Street is loaded with wineries.
The architectural heritage of Old Town Cottonwood is recognized in the USA's National Register of Historic Places. On Main Street, there are buildings that originate from the Prohibition era and plenty of museums.
There are also hiking trails near Cottonwood — Sycamore Canyon, Woodchute Mountain, and Brins Mesa.
8. Flagstaff
Flagstaff is a town is just 50 miles north of Sedona.
Flagstaff is jam packed with beauty, history, and architecture. Flagstaff is an unusual alpine beauty 7000 feet high in the foothills.
This historic town is well worth a day trip, if you have time in your Southwest itinerary. It may be one of Arizona's best kept secrets.
Flagstaff has pretty Victorian mansions to admire. If you want a dose of Southwest art, head to the Museum of Northern Arizona, Old Main Gallery, or the Beaver Street Gallery.
While in Flagstaff, you can go on a zipline tour or take a haunted history tour. Or take a Grand Canyon tour from Flagstaff.
9. Grand Canyon
Arizona is synonymous with the Grand Canyon. It's an absolute must do on a Southwest road trip. In 2019, the Grand Canyon celebrated its 100 year birthday and became an official Dark Sky Park.
Unless you're a look-and-go tourist, you should budget 2 full days to explore the Grand Canyon. And even that isn't much time.
The Grand Canyon is massive. It's the largest canyon in the world at 277 miles long and over a mile deep from the river to rim.
Because the canyon hikes are out-and-back, it's sort of a reverse mountain. You end up with a hard, uphill battle after you've already burned through half the trail. For that reason, the rangers discourage hiking from the rim to the river and back in a single day.
Plan on hiking down to the river and staying somewhere in the canyon overnight.
Alternatively, hike only a portion of the trail and then head back up to the rim. There are plenty of stop off vistas with water sources and bathrooms. These make for excellent turnaround points.
If you only have time for one Grand Canyon hike, take the Kaibab Trail to Cedar Ridge (3 miles).
For a more ambitious hike, try the strenuous Bright Angel Trails, which ends at a great outlook over the Colorado River. For some solitude below the rim, take the Grandview Trail.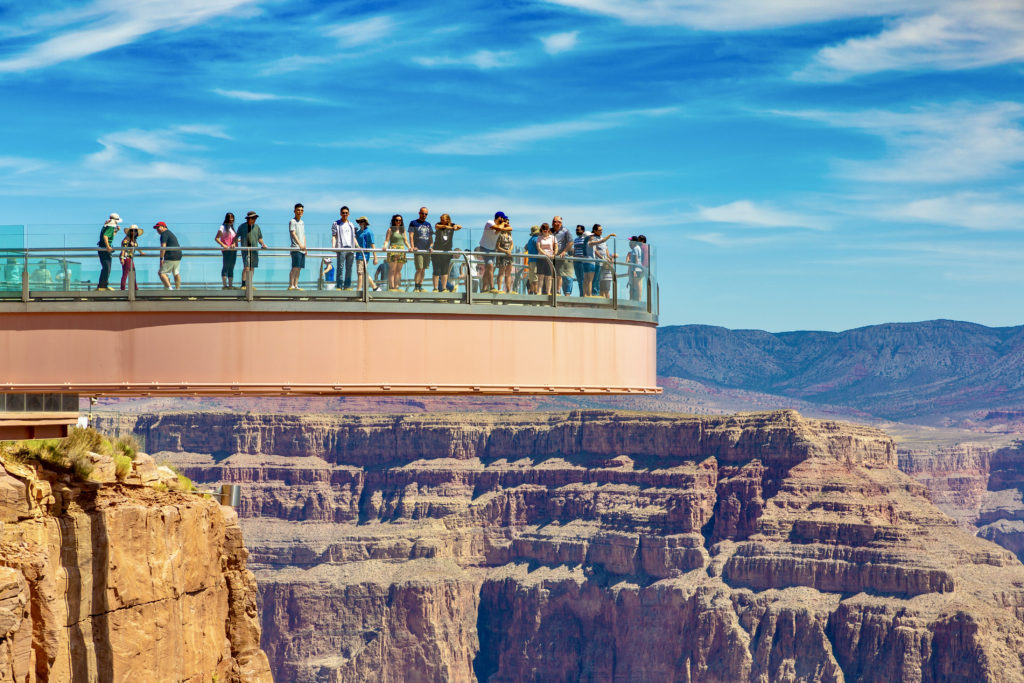 There quite a lot of tours you can book for the Grand Canyon. You can:
Another cool thing to do in the Grand Canyon is the Skywalk. It's a glass bottomed observation deck that extends 70 feet over the canyon. You can see the canyon floor 4,000 feet below you.
Click here for a Grand Canyon West admission ticket. If you don't want to drop below the rim yourself (I don't blame you), you should book one of the tour above.
10. Havasu Falls
Off the grid Havasu Falls is an incredibly beautiful spot with turquoise pools, one of the most famous hiking destinations in the US. It's part of a series of waterfalls on the Havasupai Indian Reservation.
Be forewarned, no day trips are permitted. You must apply in advance for a camping permit. It's a 20 mile round trip trek.
The trek to Havasu Falls is really difficult. Depending on your fitness level, the hike can be extremely strenuous, beginning (and ending) with switchbacks that change in elevation by 1,800 feet in the first two miles. The difficulty is compounded by heat in the summer.
11. Horseshoe Bend
Just 7 miles outside Grand Canyon National Park is Horseshoe Bend. It's a social media darling that's a horseshoe-shaped bend in the Colorado River. This famous Arizona attraction features emerald waters and vivid mineral rich canyon walls.
Horseshoe Bend is accessible via a long hike if you want to get close to it. But you'll also find wonderful views from the clifftops just off Route 89.
The parking lot is open from sunrise to sunset. There's a $10 parking fee, per car, to visit. The overlook is 1.5 mile round trip from the parking lot.
Reservations are not required. Know that you can't use the America The Beautiful Pass, which gives you access to all national parks, at Horseshoe Bend.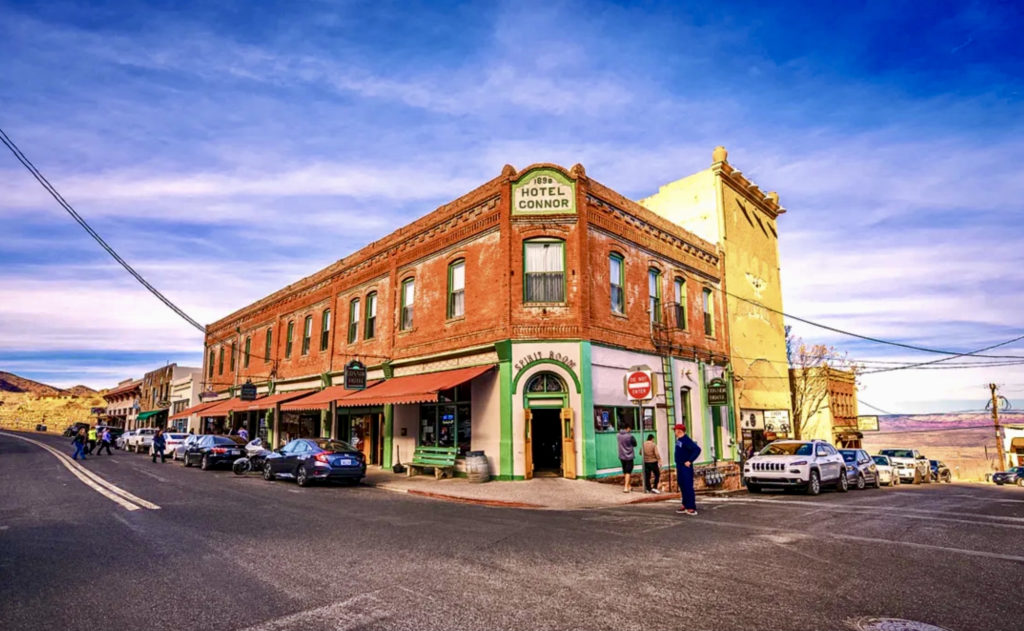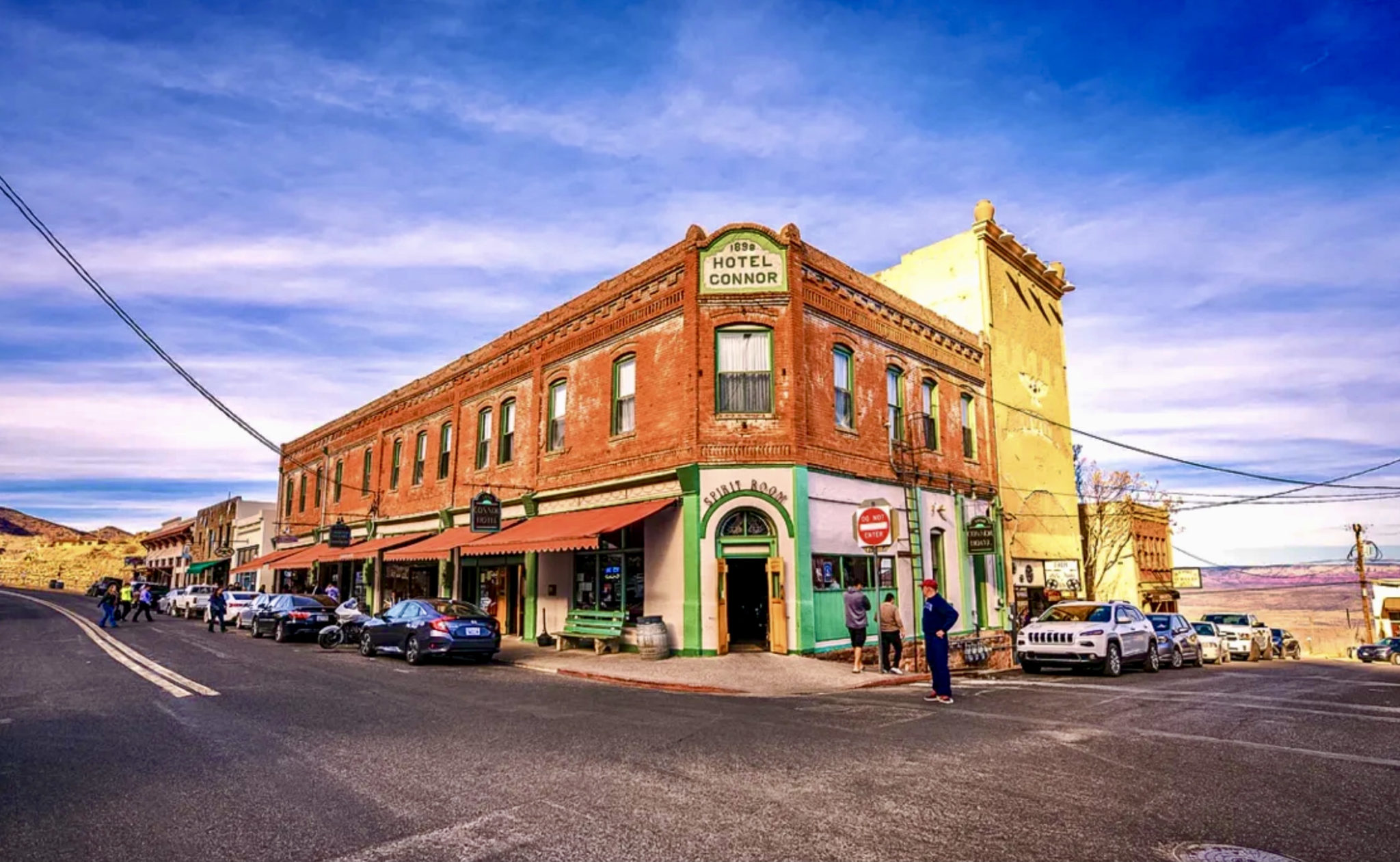 12. Jerome
Located high on Mingus Mountain, Jerome is a once-bustling Wild West mining town in the Verde Valley highlands. When you arrive at its perch, you'll feel like you're clinging to a cliff and peering out over a kingdom of green scrub, cacti, and pines.
Jerome was a boomtown turned ghost town. It was restored to life in the 1960s and is now a haven for artists. The unique town makes the perfect day trip or weekend getaway from Sedona, Prescott, Phoenix, or even Tucson.
Today's Jerome is somewhat gentrified and a haven for artists. The business district is just touristed enough to have a charming set of art galleries, artisan shops, boutiques, and restaurants. Crumbling brick buildings sit right next to New Age crystal shops.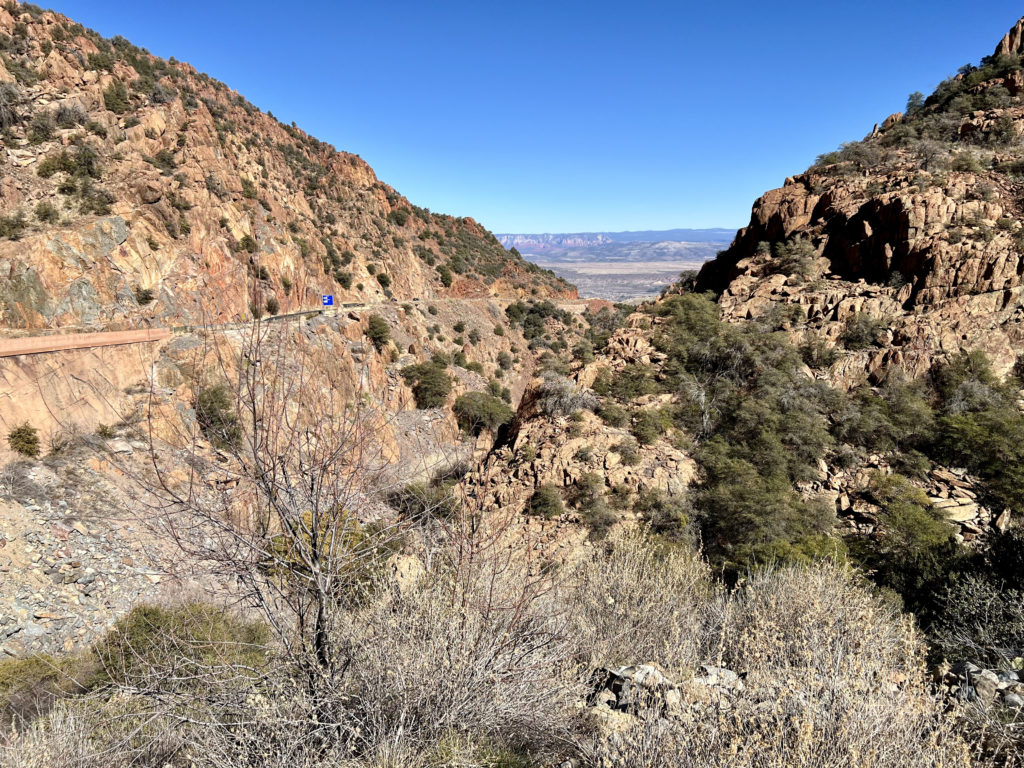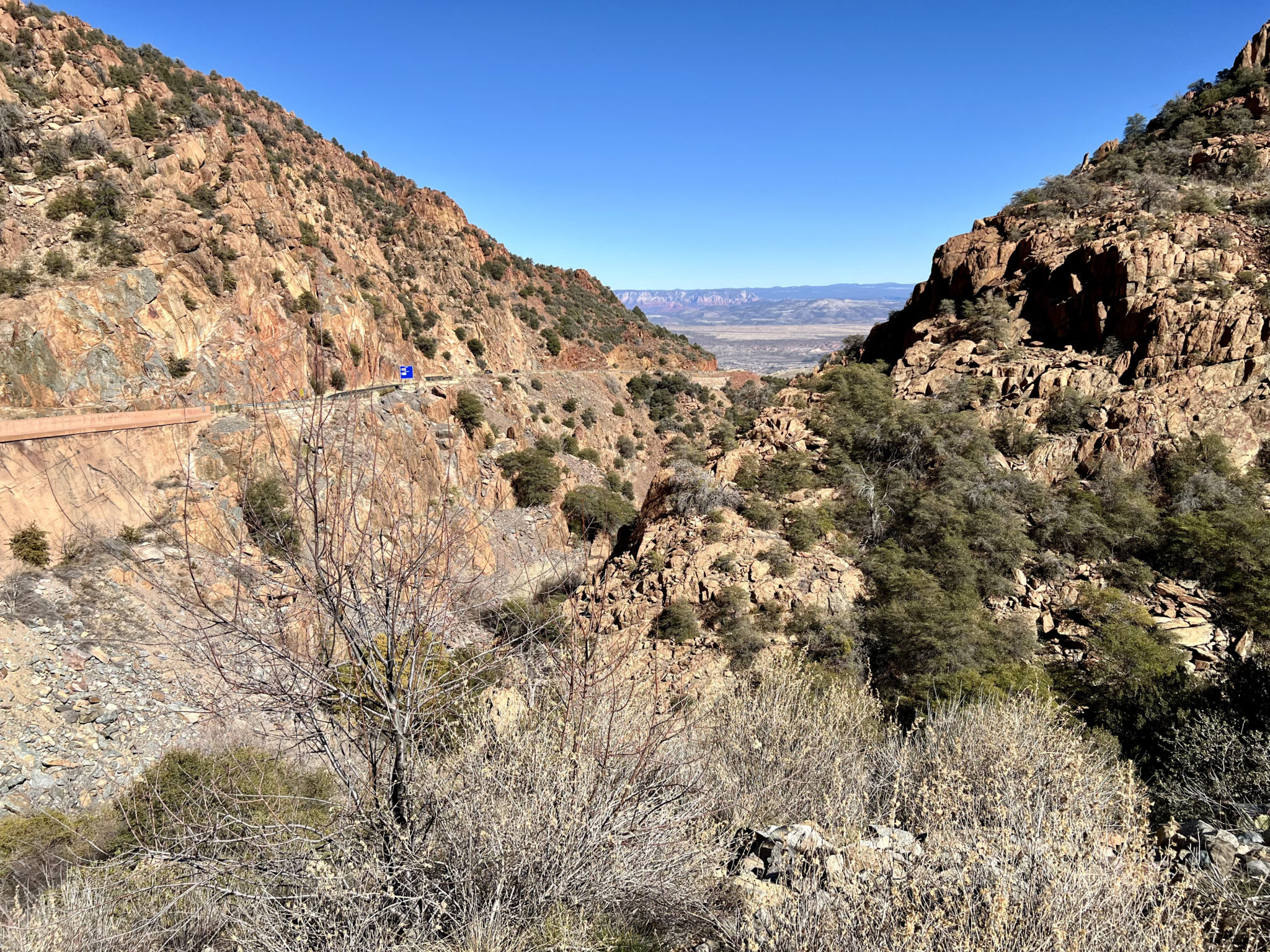 Here's my guide to the best things to do in Jerome.
For a 5 hour tour exploring the history and sites of Jerome, click here. You can also take a guided tour on a day trip from Sedona.
If you want to take a deep dive into Jerome's paranormal past, you can take a ghostly walking tour in Jerome. Or, take a classic ghost tour that leaves from Sedona.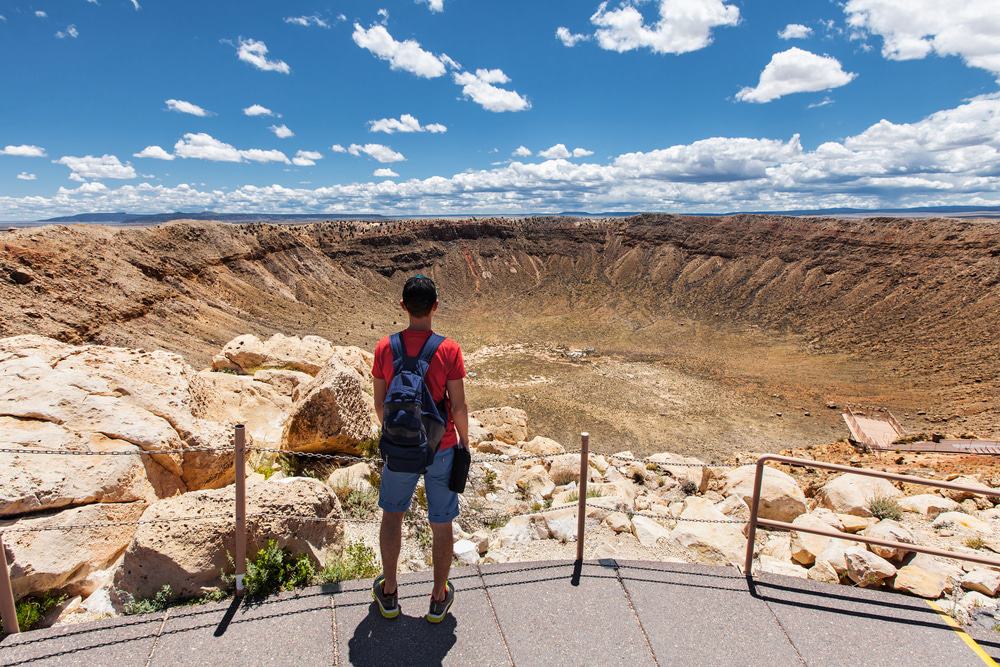 13. Meteor Crater
The Arizona Meteor Crater is a popular attractions just outside Winslow. The 4,000 feet diameter hole was created 50,000 years ago.
It's touted as "the most well known, best preserved meteorite crater on Earth."
Space enthusiasts come in huge numbers to see the crater each year but you do not have to be interested in space to be impressed with it. The lookout point allows you to look across the entire crater.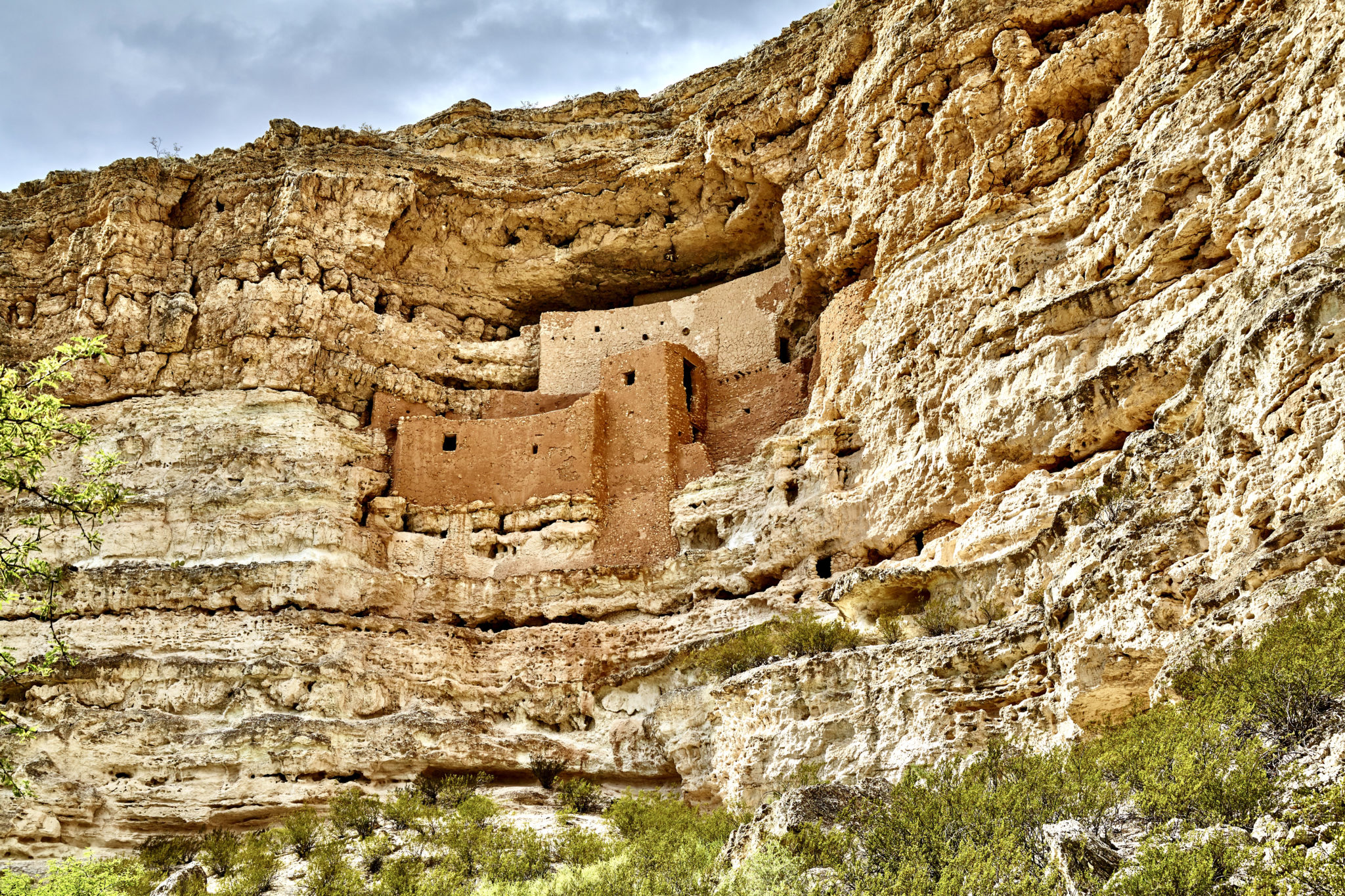 14. Montezuma's Castle
Established in 1906, Montezuma Castle is one of the top attractions near Jerome. It's the third National Monument dedicated to preserving Native American culture.
It's a 20 room high rise apartment, nestled into a towering limestone cliff. The castle tells a story of ingenuity and survival in an unforgiving desert landscape.
Despite the name, there's no connection between the monument and the famous Aztec leader.
A self-guided loop trail leads you past the incredible five story cliff dwelling, through the sycamore grove and along Beaver Creek. Another loop leads you past an oasis used by the Sinagua people over 600 years ago. You can also take a 25 minute ranger tour.
You can see both Jerome and Montezuma's Castle on a day tour from Sedona.
15. Monument Valley
Monument Valley is a classic symbol of the American Southwest. It's a stunning desert landscape the Colorado Plateau.
Monument Valley sits on the border of Arizona and Utah. Fittingly, it's been the setting for Western movies in Hollywood, even for Forest Gump.
Managed by the Navajo nation, the valley is largely untouched. There are beautiful red sandstone buttes and mesas.
They can only be reached via a self guided car tour on a 17 mile unpaved dirt road loop. The only place to hike without a guide is Wildcat Trail.
Many tours are offered, including this 2.5 hour off road tour and this extended 3.5 hour tour.
16. Oak Creek Canyon
Oak Creek Canyon is a river gorge carved into the edge of the Mogollon Rim of the Colorado Plateau. It's just outside Sedona and not far from Flagstaff. The stunning canyon is just upstream from Sedona, on the way to Flagstaff.
Tectonic forces shifted the land to either side of the fault. Subsequent erosion by Oak Creek created a spectacular canyon, where the geologic history of this area is on full display. The canyon is a photographer's dream.
The canyon is approximately 12 miles long. The creek flows year round along the bottom of the canyon. It provides water for plants and wildlife, as well as fishing and swimming opportunities.
Want a tour of the canyon? Click here to book a jeep tour.
17. Oatman
Oatman is located in the Clorado Mountains just east of the Colorado River. it's one of Arizona's many ghost towns. Its location on Historic Route 66 has kept it alive, with over half a million visitors every year.
Founded in the early 1900s, Oatman hit it big in 1915 when prospectors found gold. But the gold ran out and fame fizzled fast.
Today, Oatman is home to a pack of wild burros running freely. You can even purchase food to feed the burros.
Many of Oatman's historic buildings are now charming boutiques and galleries. Don't miss the Oatman Hotel's saloon, covered with signed one dollar bills.
This started when miners would sign and attach their money to the wall for later use when they were short of funds. Legend holds that the hotel is haunted and the whispers and wails of ghosts are heard in empty rooms.
Click here for a guided tour of the ghost town of Oatman.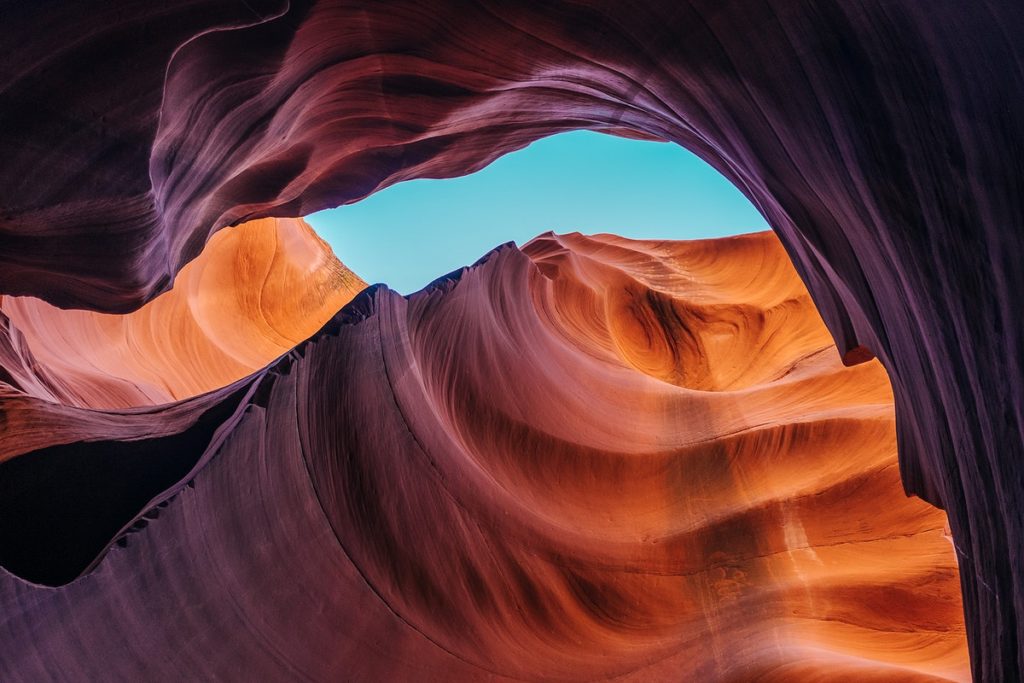 18. Page
Page is a small town with a big bang for you buck. It has an incredible amount of world class attractions near it. Page makes a fantastic base for exploring other nearby destinations on day trips.
There's not that much of note in the town itself. But its setting is absolutely stunning.
Page is surrounded by sandstone mountains and mind blowing slot canyons. This makes it one of the most popular destinations in the Southwest.
From Page, you can visit Horseshoe Bend and Antelope Canyon. You can boat on Lake Powell. Or escape crowds at Waterhole Canyon.
The creation of Lake Powell was quite controversial because it covered up some desert landscape. But, it's nonetheless an extremely beautiful lake and the second largest reservoir in the Untied States.
19. Palatki Heritage Site
Arizona has been inhabited for millennia. The Palatki Heritage Site is a top attraction in Sedona that offers a glimpse into the past. Charles Willard discovered the site in the 1920s and used it as his homestead.
The historic site is accessible via a rocky forest road. It features a well preserved cliff dwelling of the ancient Sinagua people. They inhabited the cliffs between 1150 and 1350.
Various trails lead you to stone ruins and rock art alcoves. Pictographs illustrate the culture's rich story. There's a colorful array of rock art.
Reservations are required to visit the Palatki Heritage Site. Call (928) 282-3854.
You can also see Palatki on a Pink Jeeps tour. Otherwise, a Red Rocks Pass required to park and explore the trails.
20. Patagonia
Patagonia is a quaint town in Arizona with about 1,000 people. It's located in Santa Cruz County and is about 1 hour drive from Tucson.
It's a great place to visit if you're looking for a small town experience as well as stunning natural landscapes. Red Mountain is the most prominent summit. The hiking trail is a moderately difficult 9 mile loop.
It's a very interesting destination since you can see the influences of Mexican, Native American, and Western American cultures.
Patagonia has become a popular destination for visitors this past few years. It's often described as one of the cutest quirky towns in Arizona.
It has a colorful and artsy downtown with shops and boutiques. There's a Butterfly Garden in the town park.
21. Petrified Forest National Park
Petrified Forest is one of Arizona's lesser known national parks. It's a great stop on a road trip along I-40, a road which cuts right through the park.
The Painted Desert is on the north side. It offer breathtaking badlands views at several points along the road. It's most beautiful in the summer.
As you follow the road, you'll enter the Petrified Forest area. You'll see petroglyphs, Puebloan homes, and several areas with a concentration of petrified wood.
There are plenty of short hikes and trails along the way. You cannot take any petrified wood out of the park. But there is some for sale in the nearby town of Holbrook.
22. Phoenix
Phoenix is a big city just loaded with cultural/artistic/historic venues and landmarks, and a hip downtown.
In terms of its foodie scene, Phoenix has dozens of ethnic restaurants and James Beard award-winning eateries from hole in the wall to luxe.
Roosevelt Row is Phoenix's art district. This artsy area is a mix of indie shops, restaurants, and art galleries. In the fabulous Coronadao neighborhood, the Hive is a collective that combines visual arts, performing arts, and indie businesses.
The lush and verdant Papago Park is a hiking and biking dream. It's got winding trails for every level of experience and all sorts of geological formations.
Spread out over 140 acres in Papago Park, you'll find Phoenix's Desert Botanical Garden. It's definitely worth a visit for nature lovers. Native birds chirp as you explore different ecosystems, native plants, and cactus and agave collections.
Phoenix is full of excellent museums as well. The renowned Heard Museum is the world's foremost museum for the American Indian art and cultures.
The Phoenix Art Museum is the largest museum in the Southwest. It has an impressive collection of paintings from the Renaissance to and contemporary pieces, all on display in a beautiful setting.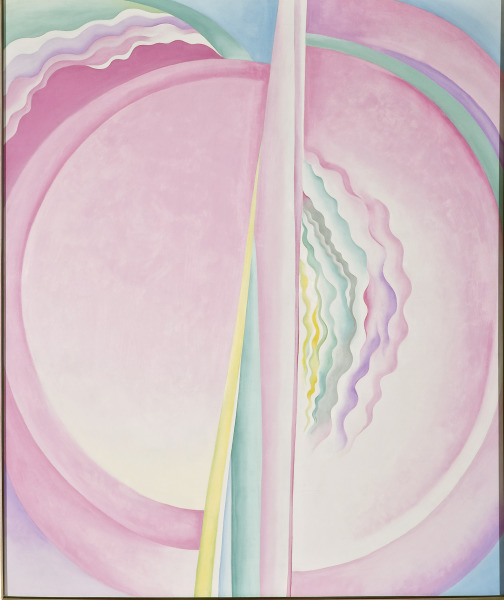 Another good thing to do in Phoenix is tour the Arizona Biltmore.
Once known as the "Jewel of the Desert," it was designed by a student of Frank Lloyd Wright and Wright himself was a consultant on the project. Today it's a luxury resort where you can take a history tour.
You can book a street art tour in Phoenix, take a haunted walking tour, go hot air ballooning, or even do a kayaking tour.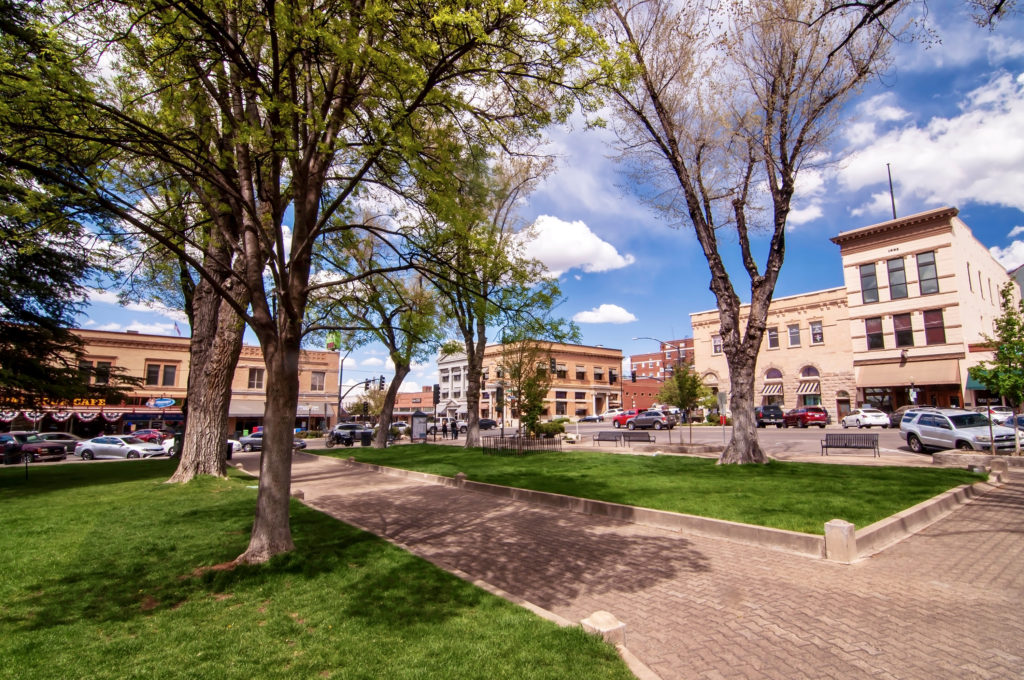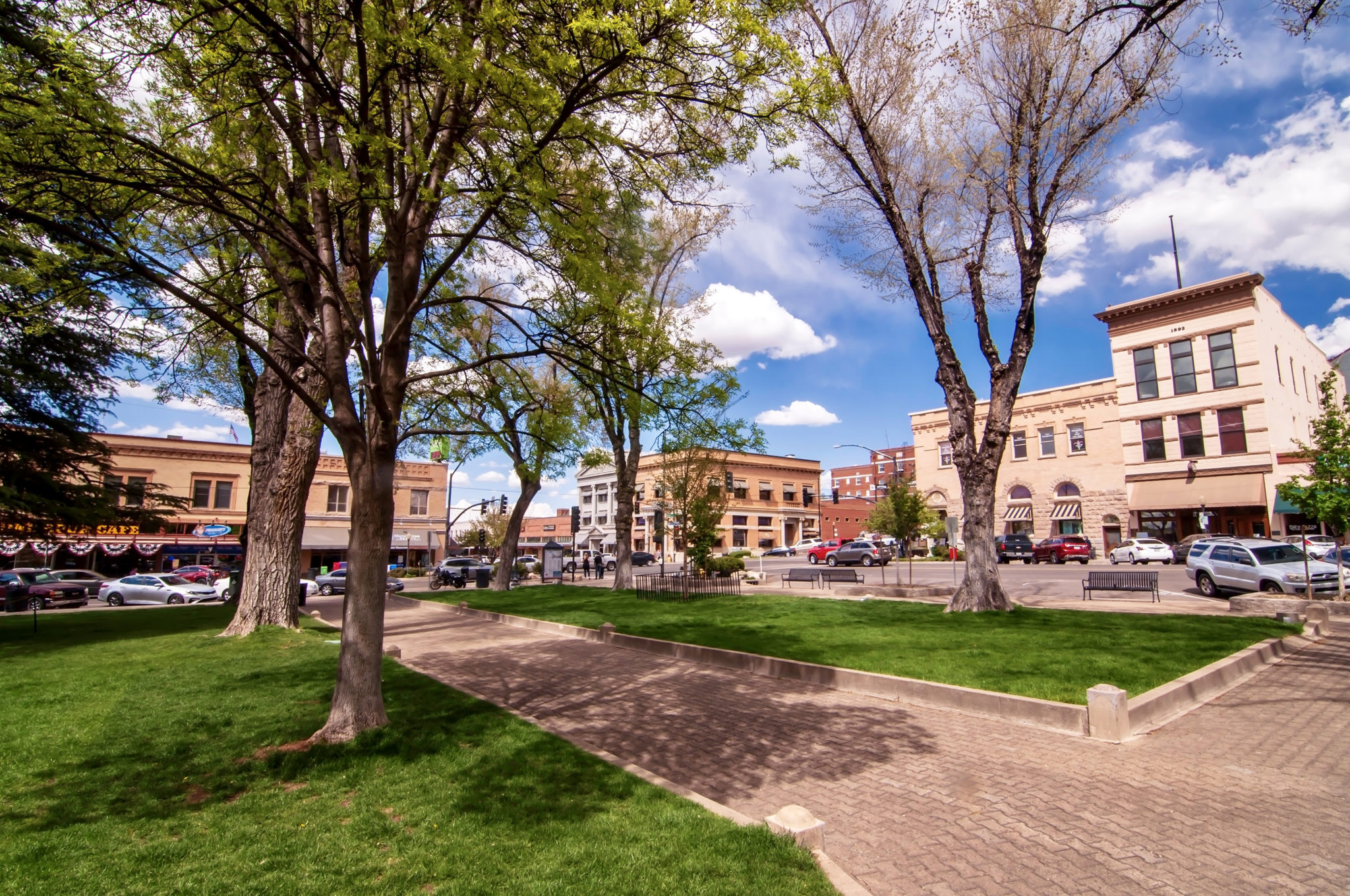 23. Prescott
Prescott is a quaint and cool town in Arizona, less than an hour from Jerome. it should definitely be on your Arizona bucket list. Founded in 1864, Prescott has more than 800 buildings on the National Register of Historic Places.
In particular, the town is home to Arizona's famous Whiskey Row. This stretch of road on south Montezuma Street once housed 40+ bars. The oldest whiskey bar is The Palace, which opened in 1877.
Nowadays, Prescott isn't that wild. You'll find plenty of ice cream and fudge shops, boutiques, and art galleries. If you wander down from the main plaza to Cortez Street, you'll find Antique Row.
If you need to grab a meal in Prescott, there are plenty of charming eateries. I enjoyed the farm fresh food at Farm Provisions. Raven Cafe also offers up farm to table food.
Just outside the historic center of Prescott is beautiful Watson Lake. It's the perfect spot to go boating, canoeing, or kayaking.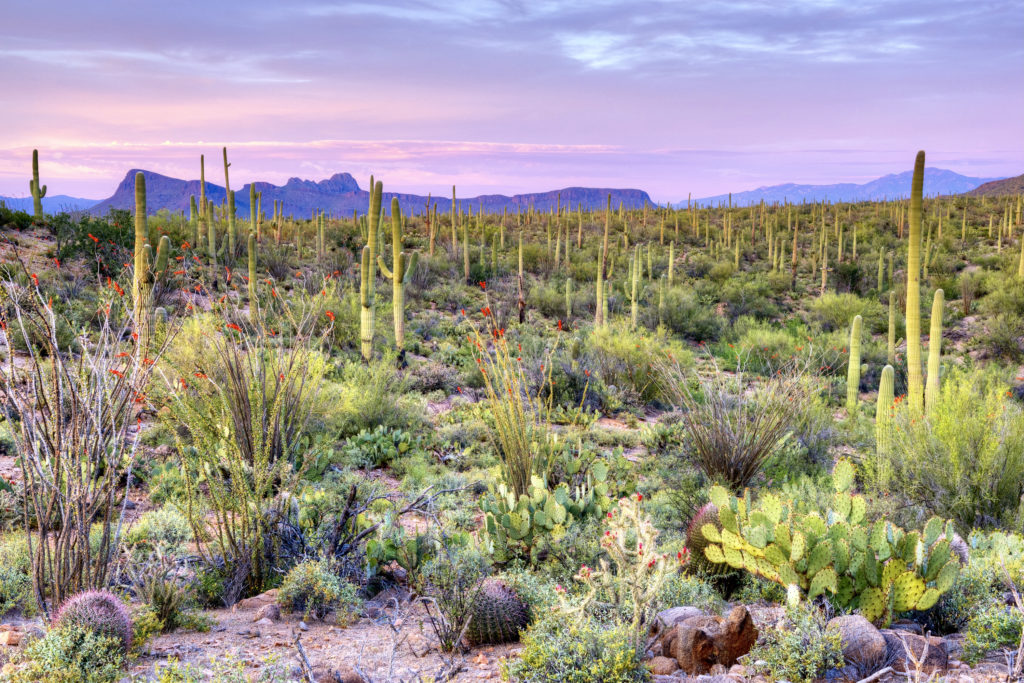 24. Saguaro National Park
Saguaro National Park is a beautiful desert playground. It was created specifically to protect its prickly green saguaro cacti, which only grow in the Sonoran Valley.
The beautiful park is a hiker's paradise. But you can also come just for a scenic drive or picnic.
Located in southern Arizona, Saguaro National Park is divided by the city of Tucson. The park is super accessible, perfect for hikers or car seat Saguaro admirers.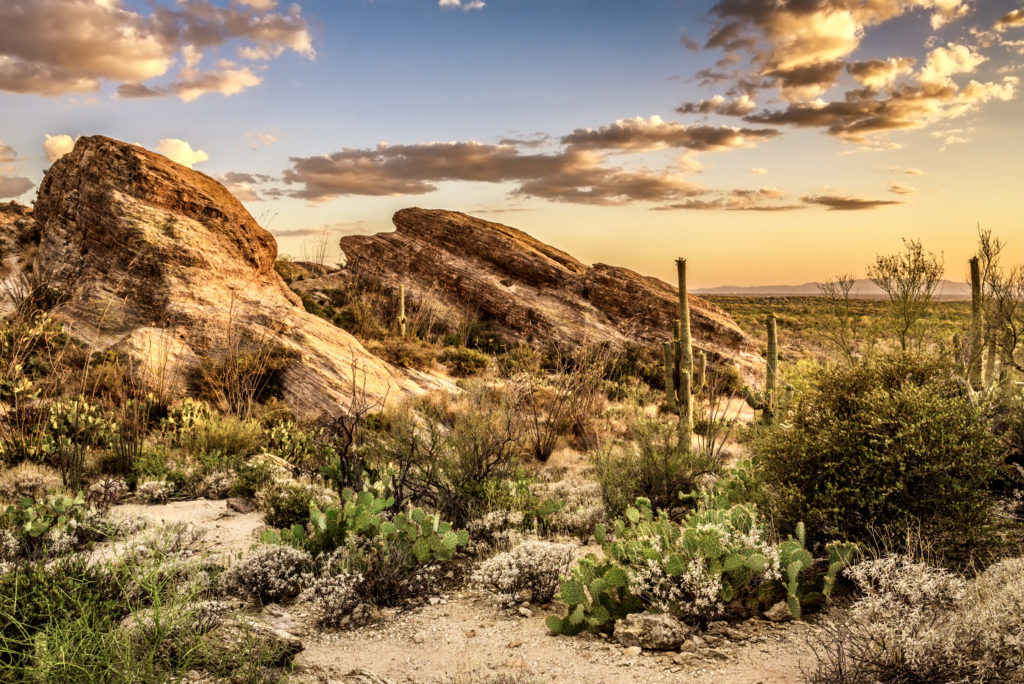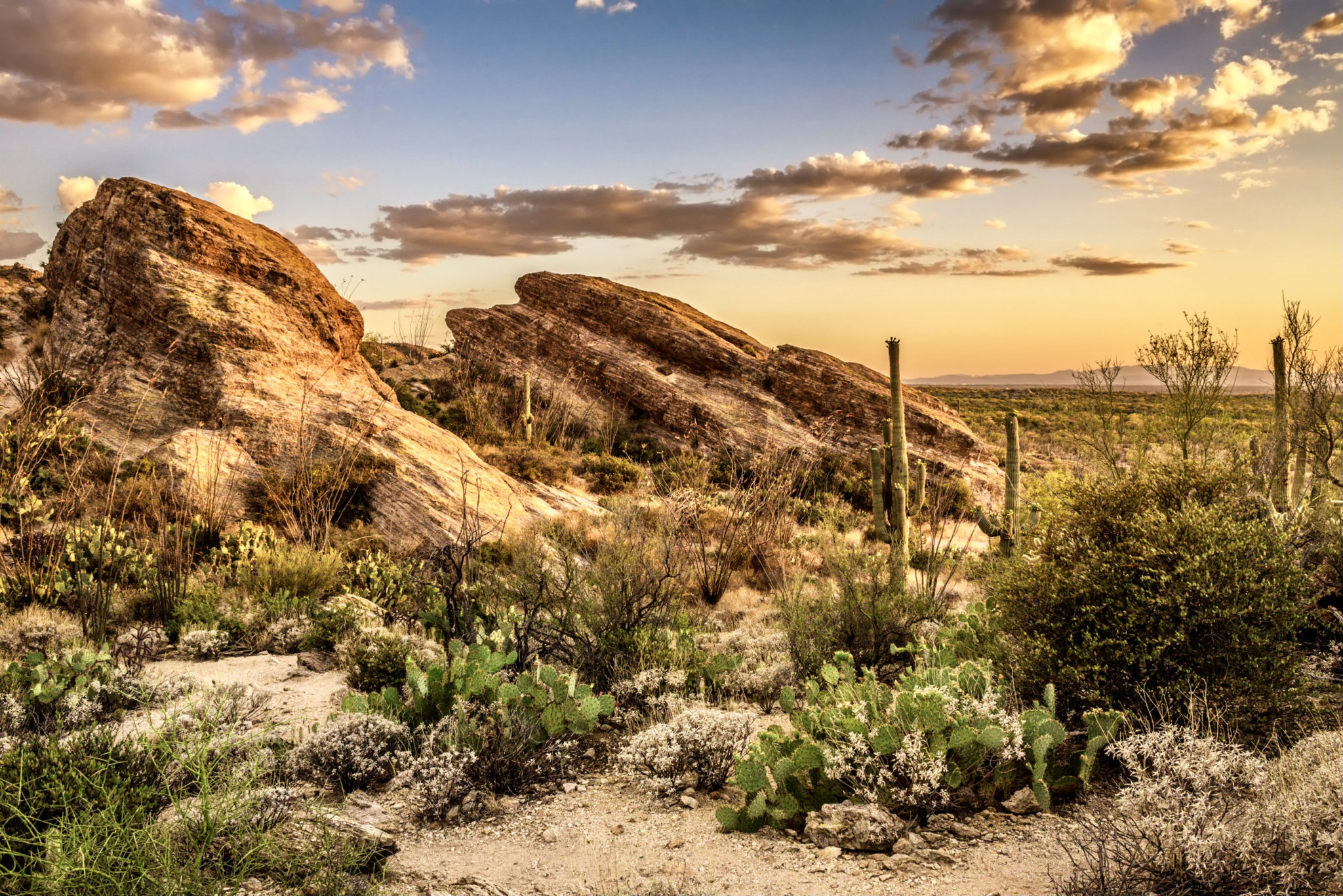 Saguaro is made up of two separate areas — the Tucson Mountain District (West) and the Rincon Mountain District (East). Within the two parks are some of the finest example of Sonoran Desert landscape in the entire Southwest region.
Saguaro National Park is considered lush for a desert. With a couple major rainy seasons to leaven the arid conditions, the desert is home to many flowering plants. And, of course, over 1.5 million saguaros.
Here's my complete guide to visiting Saguaro National Park, with the best hiking trails and everything you need to know for visiting.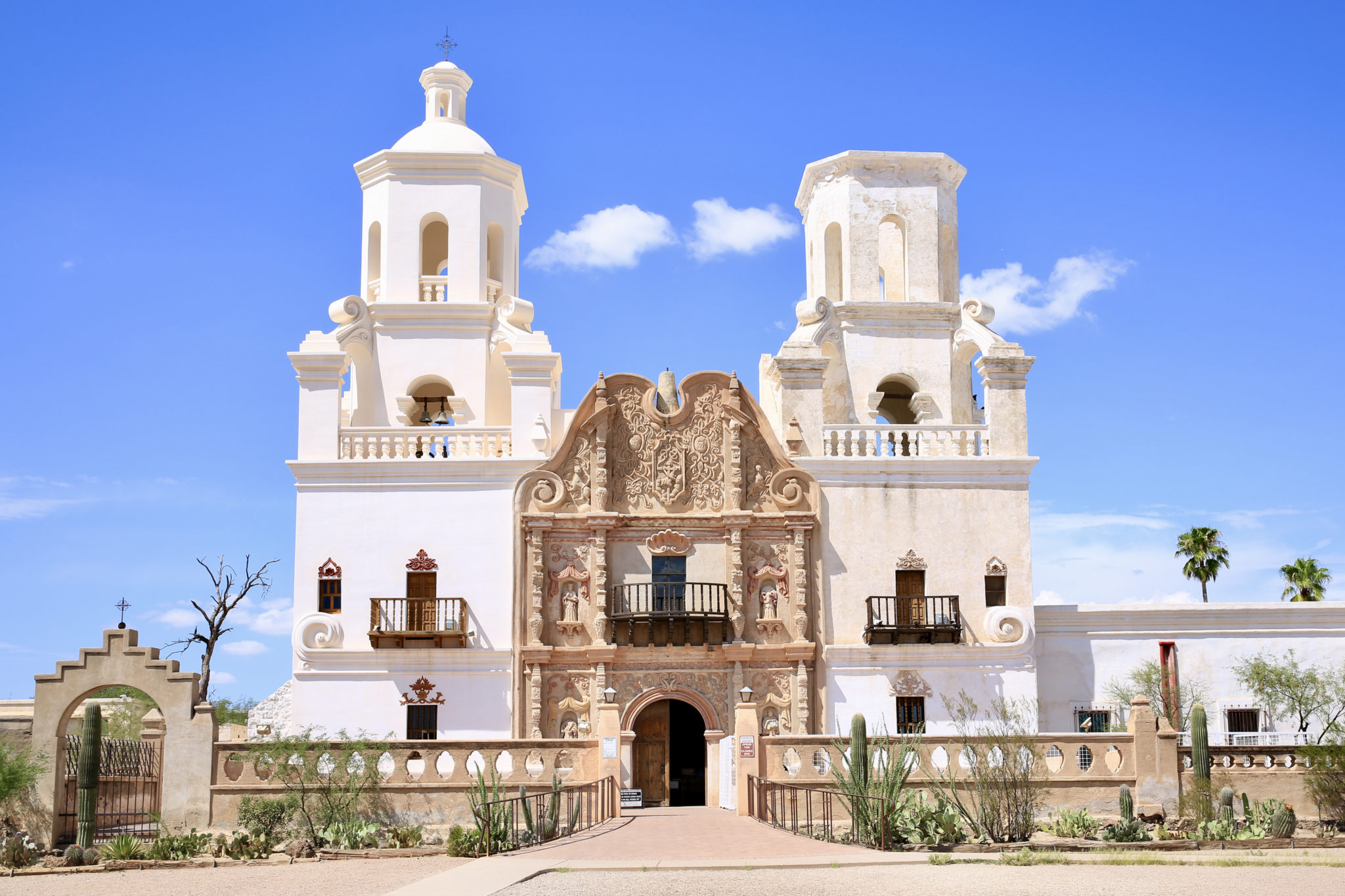 25. San Xavier del Bac Mission
San Xavier del Bac is a beautiful mission church just south of Tucson in the Sonoran desert. It's a National Historic Landmark known as the "White Dove of the Desert."
Posing akin to a European artifact, San Xavier is a mission masterpiece. It's a historic Franciscan mission church set in quiet splendor on an Indian reservation. San Xavier has been an architectural landmark and spiritual center for the Papago Indians since 1797.
The partly restored mission is the finest example of Spanish Colonial and Mexican Baroque architecture in the United States. It's simply not something you'd expect to see in this country. Inside, it boasts colorful frescos, sculptures, an elaborate retable (a devotional panel), and chapels.
Here's my complete guide to San Xavier del Bac Mission.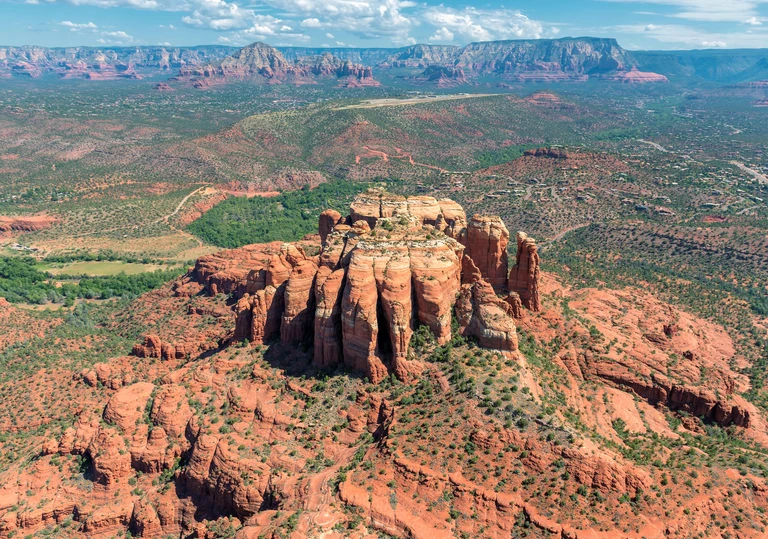 26. Sedona
Nestled amid striking sandstone formations, Sedona is a real looker and should definitely be on your Arizona bucket list. This scenic desert town is surrounded by glowing red buttes and steep canyons.
The myriad hiking trails will take you to up winding paths, to overlooks that will leave you breathless with awe.
Sedona is also an adorable New Age town and healing paradise. Sedona has long attracted spiritual seekers, artists, and healers. Many people believe that the Sedona vortexes radiate the earth's energy.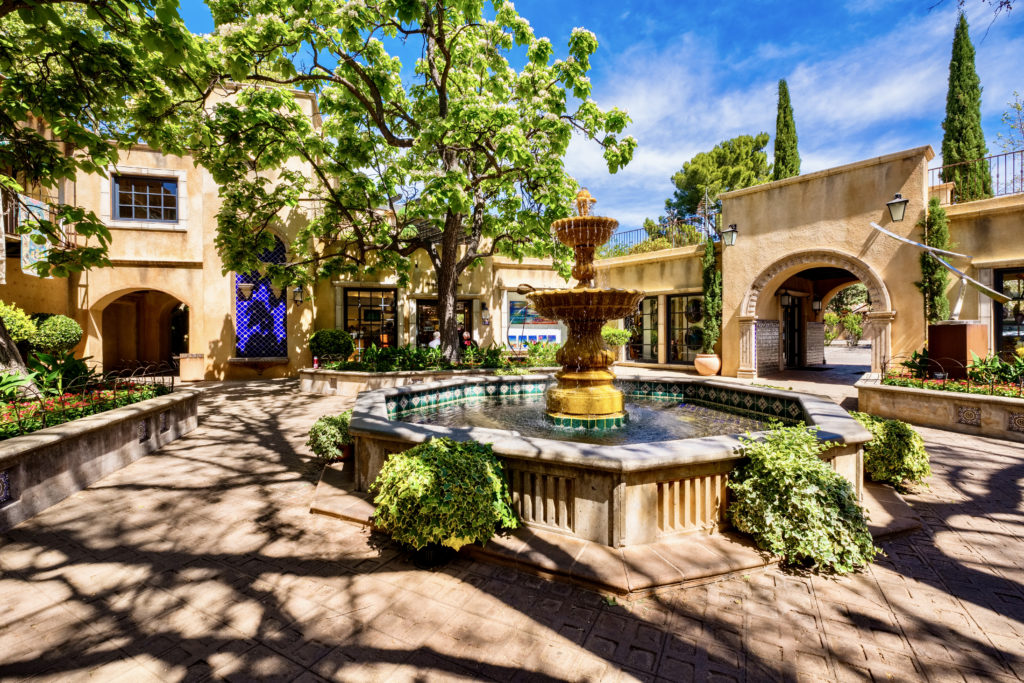 Uptown Sedona is filled with cute shops and galleries sell crystals, fine art, ceramics, and new age paraphernalia. An absolute must visit is the Tlaquepaque Arts & Crafts Village.
Here's my guide to the best things to do and see in Sedona and to the vortexes of Sedona.
To explore Sedona by jeep, an iconic thing to do, you can take this Pink Jeeps tour to the red rocks range. This tour takes you to ancient ruins, including the Palatki Heritage site. This tour takes you to Diamondback Gultch for red rock views.
READ: 2 Day Itinerary For Sedona
27. Scottsdale
Scottsdale is the perfect blend of culture and nature. The city has a population of over 200,000 and boasts more than 300 days of sunshine per year.
Its reputation for being a posh resort town brings in the the rich and famous who come to play and shop.
The city has great hikes and other outdoor activities. McDowell Sonoran Preserve has six beautiful trails to choose from.
There's also a fun downtown with plenty to do and a thriving foodie scene.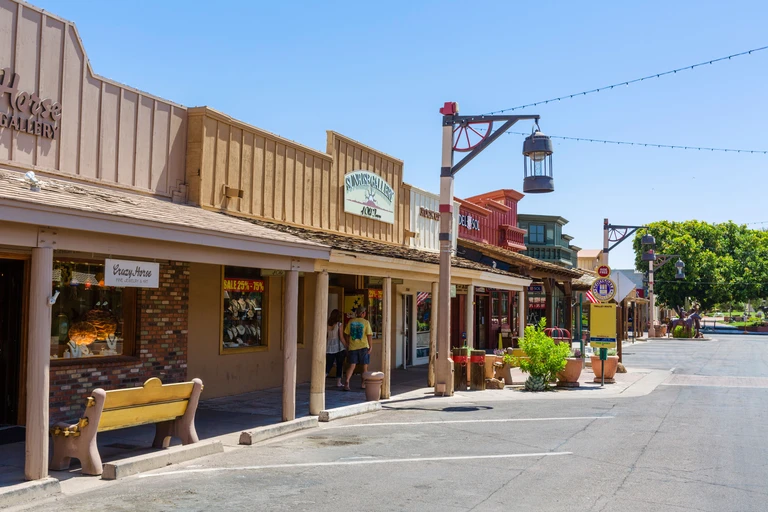 Scottsdale's retail stores are sometimes referred to as the "Fifth Avenue Shops." You can go souvenir shopping, visit museums, and go winery hopping along the Scottsdale Wine Trail.
The top attraction is Scottsdale is Frank Lloyd Wright's Taliesen West, which I discuss below.
You can also spend a morning hiking Camelback Mountain or one of the trails in the McDowell Sonoran Preserve. Make sure to get an early start because of the ungodly heat.
You can also visit Scottsdale on a Segway tour, an ATV tour, a sunset jeep tour, or an electric bike tour. Foodies can take a taco tour or an Old Town food tour.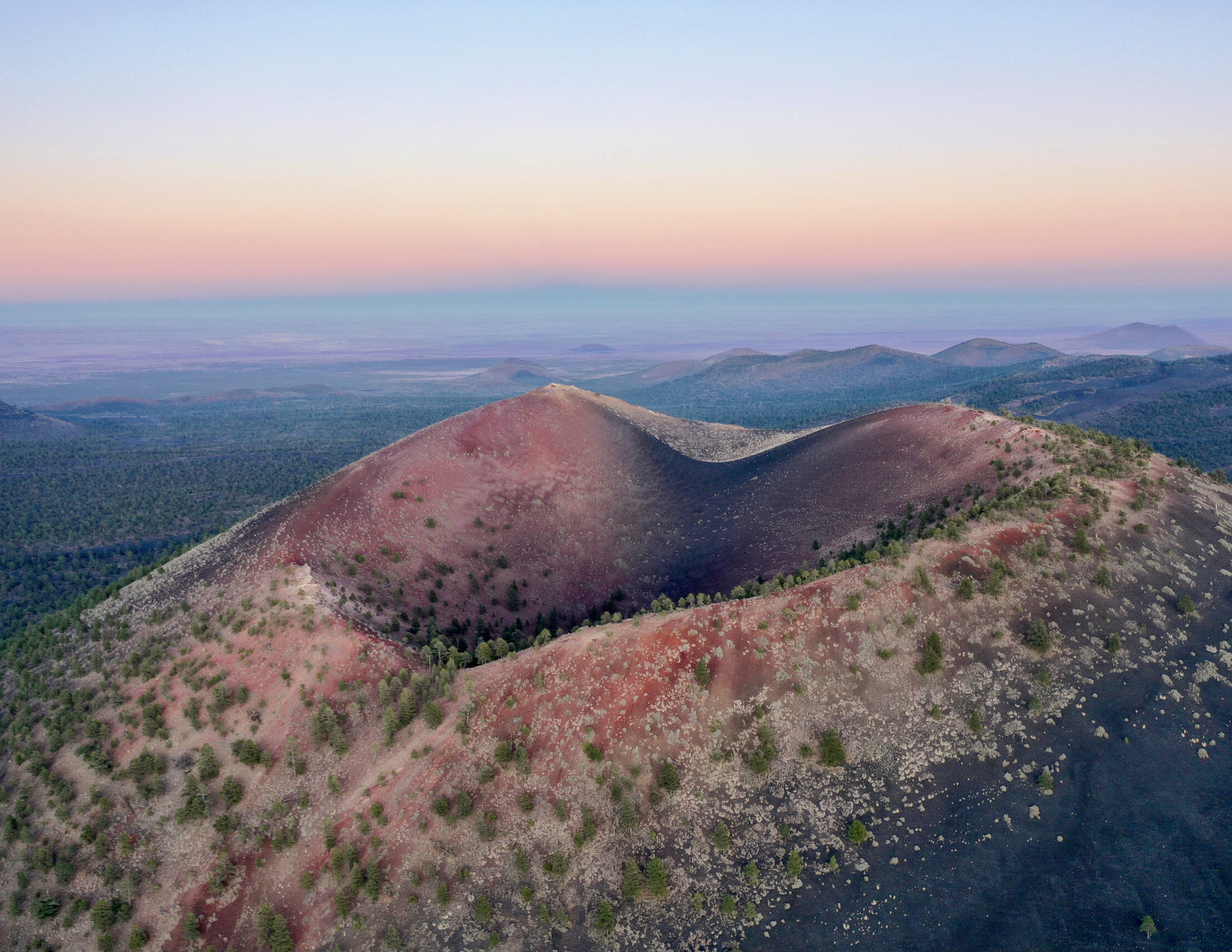 28. Sunset Crater Volcano National Monument
The Sunset Crater Volcano was formed sometime between 1040 and 1100. The crater resulted from an eruption in this volcano rich region.
Any high point in the region will give you views of the small cinder cones. There are several trails along the mail road. There's also a 1 mile loop at the Lava Flor Trail.
The entire loop is 35 miles. Sunset Crater makes a good stop when you're driving from Flagstaff to the Grand Canyon.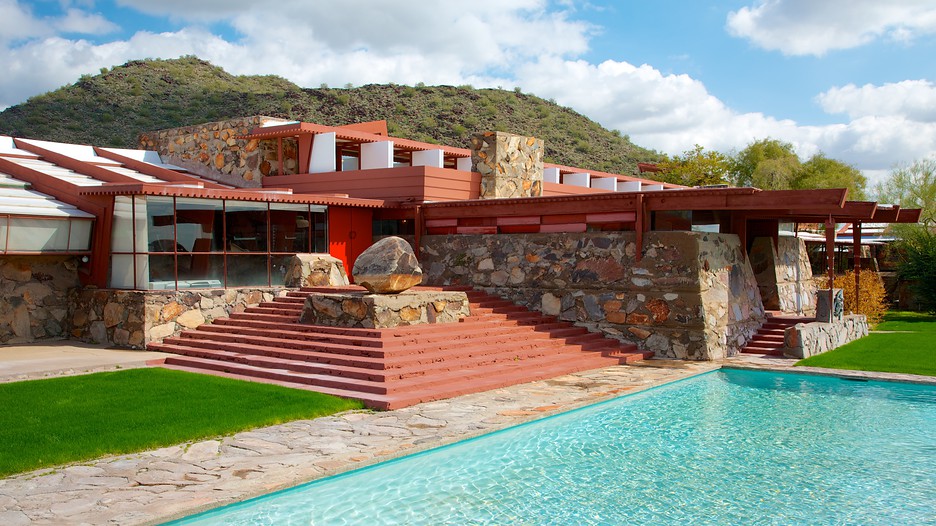 29. Taliesen West
Taliesen West is a historic UNESCO site in Scottsdale. It's one of only 24 UNESCO World Heritage Sites in the United States, so should definitely be on your Arizona bucket list.
This large scale prairie house was designed by Frank Lloyd Wright, America's most famous architect. Taliesen West been described as a campus, a desert laboratory, and a historic landmark.
It's a a complex of low-slung buildings made of rock and glass in the Sonoran Desert. The beautiful building served as Wright's winter home and the home of his utopian architectural school.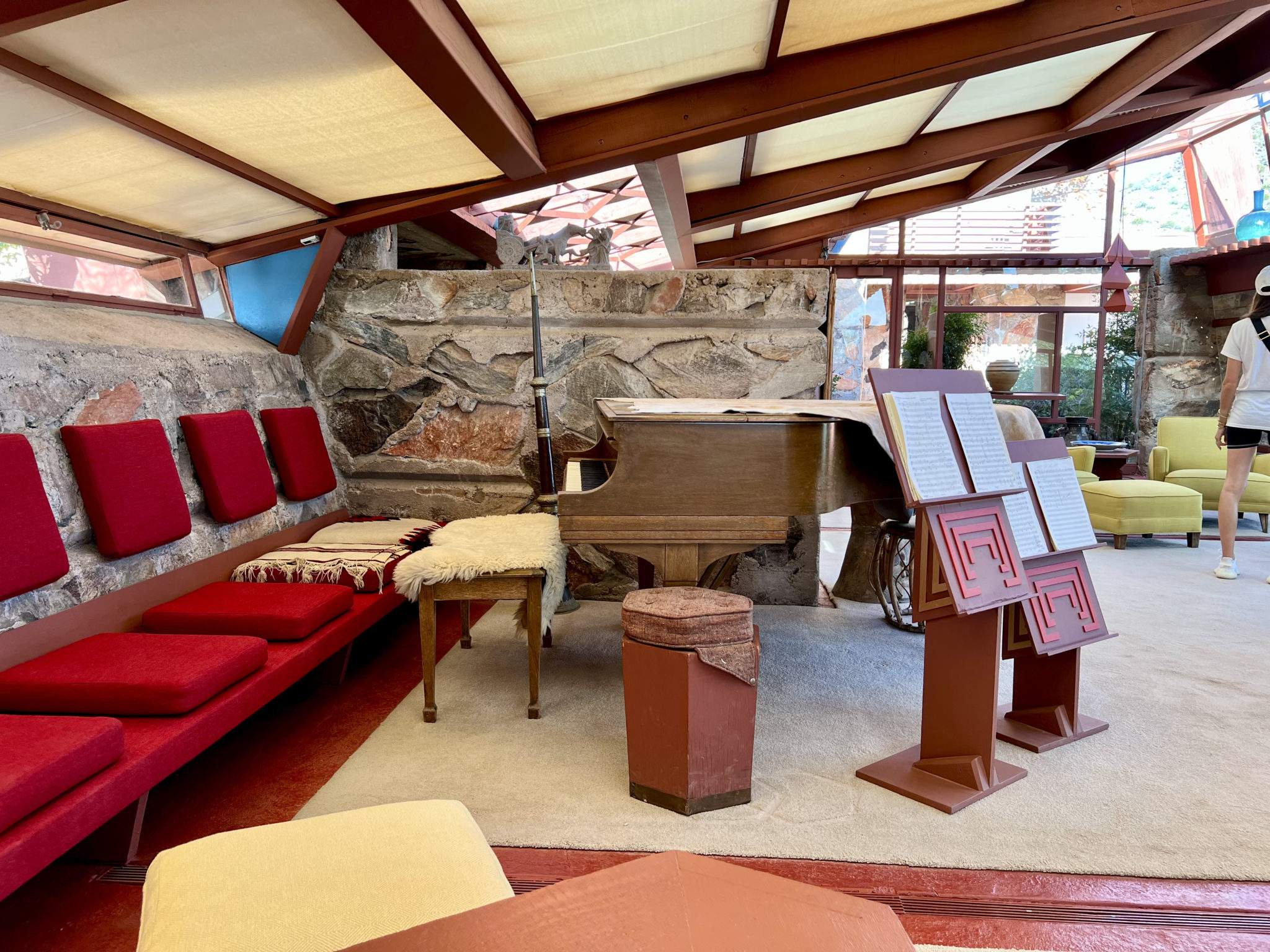 The place is fascinating. It's a stunning example of how Wright was able to combine the outdoors with the indoors to create beautiful architecture.
To have the chance to visit one of Wright's most personal creations, and one that he lived in, is an amazing opportunity.
Here's my complete guide to visiting Taliesen West, with must know tips for visiting.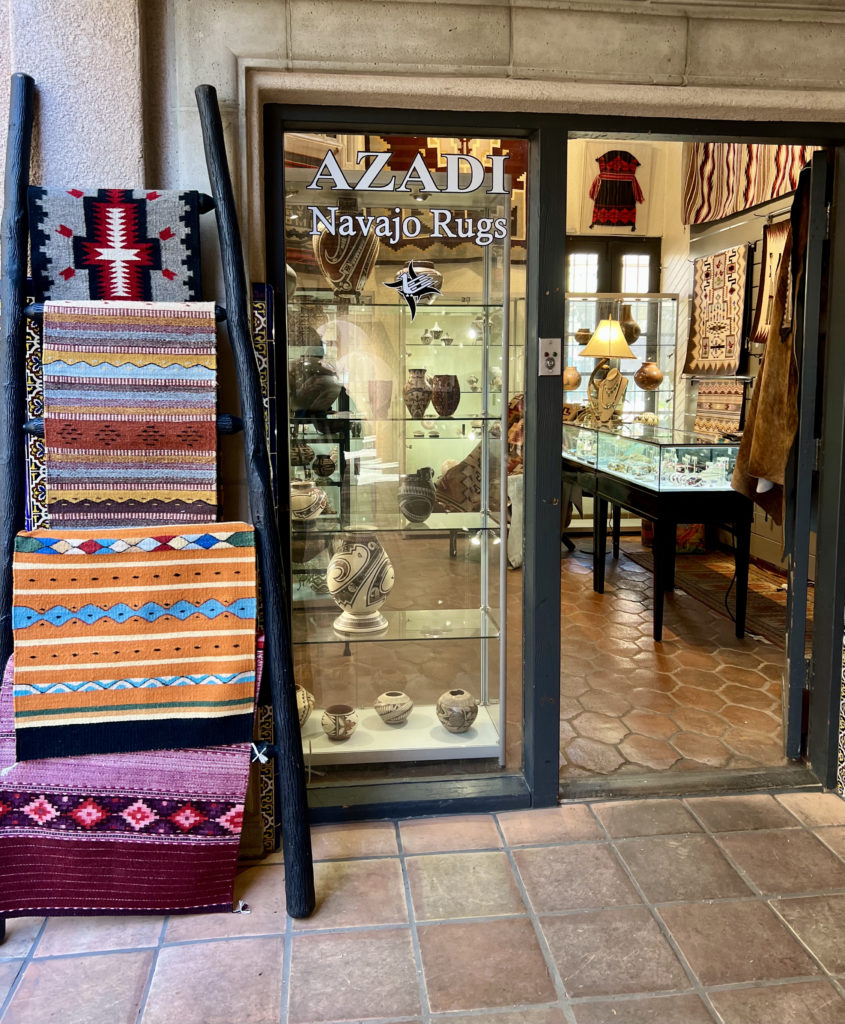 30. Tlaquepaque Arts and Crafts Village
Though I've already mentioned Sedona, it's worth a separate mention of the wonderful Tlaquepaque Arts and Crafts Village. There are numerous fine art galleries representing local, regional, and international artists.
It's designed along the architectural lines of a Colonial Mexican village, with vintage adobe buildings and quaint courtyards. It's been a Sedona landmark since 1970.
The village is home to dozens of exclusive shops, restaurants, boutiques, and art galleries. You'll find jewelry, basketry, pottery, weavings, Navajo rugs, wine, etc. One of my favorite galleries was Azadi.
31. Tombstone
Tombstone is probably Arizona's most famous Wild West town. It's the site of the famous gunfight at the O.K. Coral in 1881.
This most famous of U.S. shootouts only lasted 30 seconds. But it was enough for Tombstone to be dubbed the "Town Too Tough To Die." Today, the town serves up live reenactments, daily shows, and historical tours.
One of the best things to do in Tombstone is walk up Allen Street, the main drag. Tombstone looks like a movie set and many westerns have been shot here.
The dusty main street, the saloons … the atmosphere is very unique and walking around is the best way to experience it.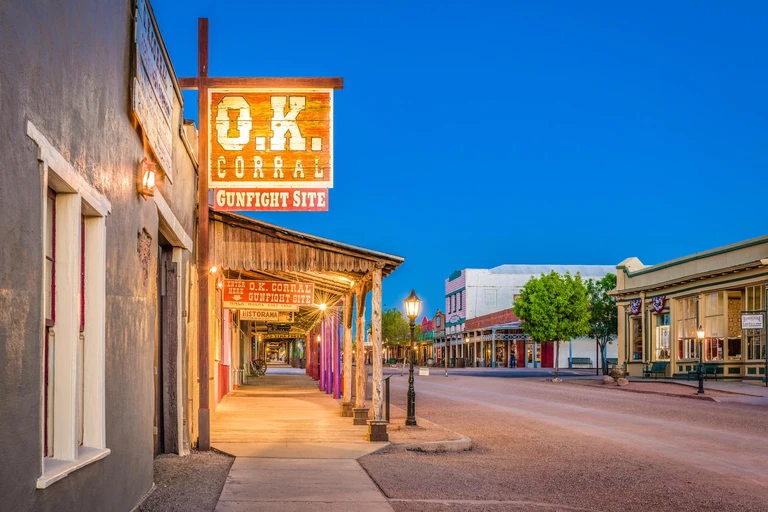 You can also visit the Bird Cage Theatre. Although it stopped operating over 100 years ago, you can still walk in and look around.
And, of course, no visit to Tombstone would be complete without seeing the O.K. Coral. It's Tombstone's most famous attraction.
There are quite a few guided tours for Tombstone. You can take a walking tour, combine Tombstone and Bisbee, combine Tombstone and San Xavier, or even take a haunted walking tour.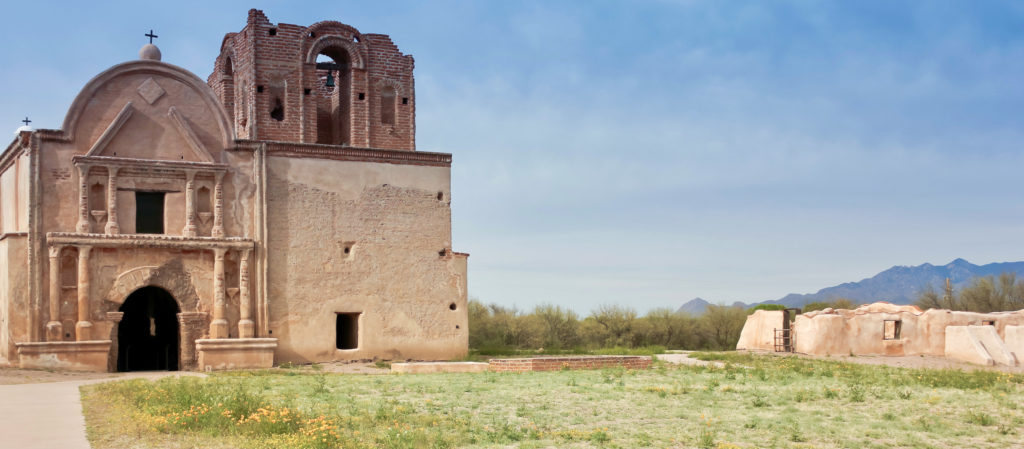 32. Tubac Presidio & Tumacacori
The Tubac Presidio is estimated to be the oldest European settlement in Arizona. The park is a great place to see the impact of Indian, Spanish, Mexican, and European cultures.
Nowadays, the village of Tubac is an artist community. It hosts a wonderful Day of the Dead celebration.
Close to Tubac is the Tumacacori National Historical Park. You can see an old mission church set up the Jesuit missionary Father Kino (also responsible for San Xavier). You can join a guided tour to explore the mission and its museum.
33. Tucson
Tucson is on everyone's Arizona bucket list. It's a small city with a slower pace and rich cultural heritage.
Tucson is beautiful, has amazing views, rugged mountains, ample outdoor adventure options, and some of the best Southwest food in the country.
Tuscon is also a designated UNESCO World City of Gastronomy. The town is a mini mecca for the arts — with regional museums, art venues, and its own ballet, symphony, opera and theater companies.
One of the top attractions in Tucson is the wondrous Arizona-Sonoran Desert Museum. It sprawls over almost 100 acres. It features a zoo, aquarium, botanical garden, natural history museum, and art gallery.
You can also witness the beauty of the Sonoran desert in Saguaro National Park. You'll see forests of saguaros, but also barrel cuts, yuca, cholla, and prickly pear. You can take a scenic drive, hike, or picnic.
You can also take a scenic drive up Mt Lemmon for fabulous views. There are plenty pull offs for photos and trailheads for hiking.
There are plenty of fun tours to take in Tucson. You can go on a taco bike tour, a historic bike tour, or a cool street art mural bike tour.
34. Tuzigoot National Monument
The Tuzigoot National Monument is located about 10 minutes from Jerome in nearby Clarksdale.
The people who built and lived in the rooms of the Tuzigoot pueblo were part of a thriving trade community. The pueblo consists of over 100 rooms. It was most likely home to several hundred people for several hundred years.
After the pueblo was abandoned in the 1300s, it stood empty for over six centuries. In the early 1930s, Tuzigoot was excavated by American archeologists. It became a designated national monument in 1939.
There's an onsite museum that is comprised of archeological artifacts removed from Tuzigoot and nearby archeological sites.
Address: 25 Tuzigoot Rd, Clarkdale, AZ 86324
Entry Fee: $10. The ticket also gets you into the nearby Montezuma's Castle.
Hours: 8:00 am to 4:45 pm
35. Verde Valley
The nearby Verde Valley, a grape growing paradise, is the perfect spot in Arizona for oenophiles or wine lovers. In the valley, lush green mountains and red rocks sit amid the Verde River.
On this stretch of the wine trail, the wine is more experimental and free spirited than elsewhere in Arizona. But it's getting more serious by the minute.
You can use a wine map trail to explore. You can drive to the wineries or take a wine tour. You can even take a bike wine tour. Most of the wineries have actual vineyards to visit.
If you want to take a wine tour of the Verde Valley, click here for a day tour from Sedona. This cool tour gives you a 6 hour tour on a hop on hop off van. You can also combine wine with the vortexes of Sedona on this tour.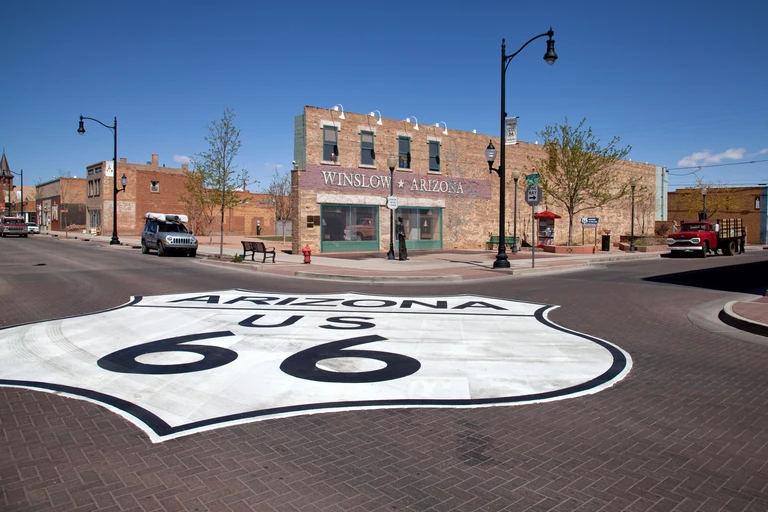 36. Winslow Arizona
Winslow is a town of just under 10,000 people in Navajo County, on the famous Route 66. Winlsow was made famous from the 1972 Eagles' hit Take it Easy.
Many tourists come to Winslow purely to take a selfie beside the statue on the corner made famous in the Eagles' song. When you're done, head to the Relic Road Brewing Company for burgers and a cowboy atmosphere.
Just a short distance outside Winslowis Homolovi State Park. This park protects ancient ancestral sites of the Hopi people.
They lived there before moving north to where the Hopi lived. Three trails provide 2 miles of hiking, where you'll spot plenty of petroglyphs.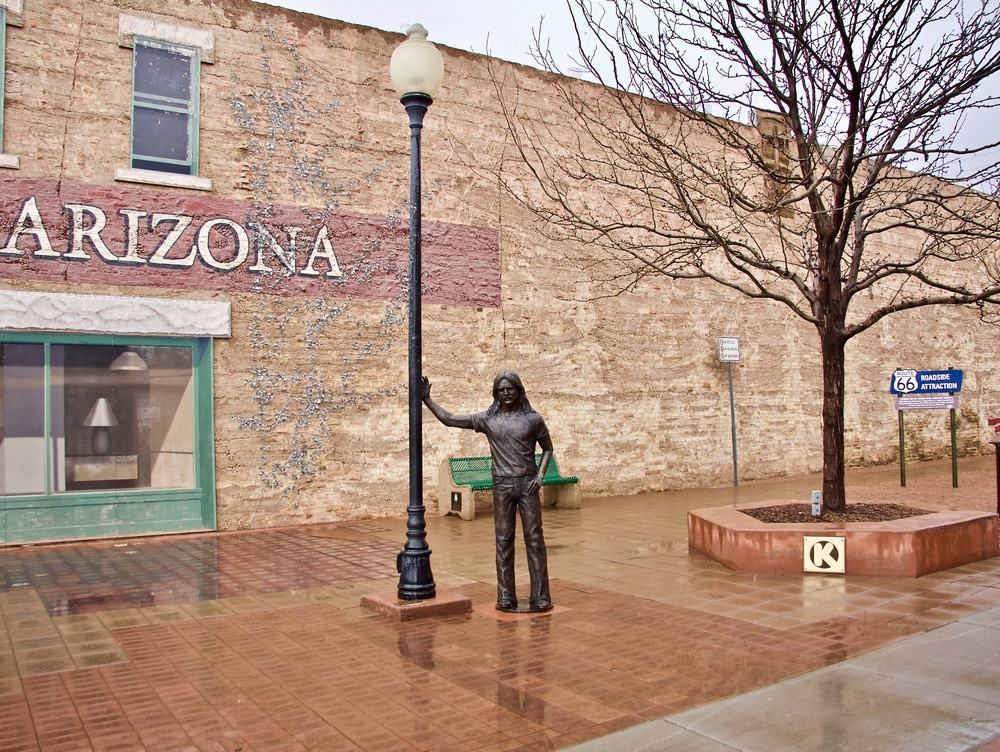 The Hopi recognize that many of their ancestors come from this region. The trails in the Park pass by the ruins and if you need information, there is a Visitor Center
As I mentioned above, another popular attraction is the Arizona Meteor Crater, just outside Winslow. The 4,000 feet diameter hole was created 50,000 years ago.
I hope you've enjoyed my Arizona bucket list and it was given you some destination inspiration for where to go in Arizona. You may enjoy these other U.S. travel guides:
If you need an Arizona bucket list, pin it for later.