Situated on a sheltered bay, between Split and Zadar, tranquil Šibenik is a hidden gem in Croatia. You can stroll its labyrinth of stony alleyways and visit a must see piece of Gothic-Renaissance architecture: the UNESCO-listed St. James Cathedral. The gleaming white building is the beating heart of sleepy Šibenik.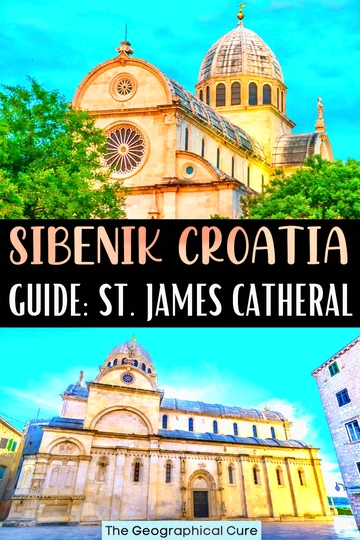 History of Šibenik
Šibenik is one of the oldest towns on the Adriatic, dating from the 9th century. In 1160, it was conquered by the Venetians. They left their architectural and cultural imprint on both the town and its elegant cathedral.
Šibenik changed hands frequently from the 12th-15th centuries. Venice finally took the town outright in 1409. It was the Turks turn to attack in the 16th and 17th centuries. But their efforts failed, Šibenik buttressed by its four fortresses.
In WWI and WWII, Šibenik was occupied by Italy. But Croatia was liberated and joined surrounding countries in forming Yugoslavia. On June 25, 1991, Croatia became an independent nation.
History of the Renaissance Cathedral
Šibenik Cathedral, or St. James Cathedral, is most important piece of Renaissance architecture in Croatia. It sits in what was Šibenik's most important square in medieval times. The cathedral is also known as "St. Jacobs."
St. James Cathedral was the masterpiece of two famous architects, Juraj Dalmatinac (the principal architect) and Nikola Firentinac.
The cathedral is famous for being constructed of stone quarried from the Dalmatian islands. It's reputed to be the world's largest church built completely of stone, without brick or wooden supports. The stone is interlinking, so the cathedral relies on its own weight to stay standing.
Construction began in 1431. In 1441, the city appointed Dalmatinac, a Zadar native to finish the cathedral. Dalmatinac increased the size of the building. He also transformed the conception of the church. He transitioned it from a Venetian Gothic style to a Tuscan Renaissance style.
The unusual domed roof was completed after Dalmatinac's death by Nikola Firentinac, who continued the facade in a pure Renaissance style.
The cathedral was constructed in three phases due to lack of funds. It was finally completed 100 years later in 1536. The cathedral was consecrated in 1555. It became a stand alone UNESCO site in 2000.
What To See at St. James Cathedral in Sibenik
St. James Cathedral was constructed from limestone and marble. It's a triple nave structure with three apses and a 32 meter dome.
1. Cathedral Exterior
To me, the cathedral's most remarkable feature is its frieze on the exterior walls at the rear of the building, just above human height.
It consists of 71 extremely lifelike heads. These portraits include saints, lions, and ordinary citizens. None face each other; they all look off in their own direction. The expressions of the figures vary — calm, frowning, proud, annoyed, and fearful.
Above the frieze, stone cherubs unfurl a parchment with the architect's name. A 1966 statue of Dalmatinac stands outside the cathedral.
2. Lion's Portal
The cathedral's Lion's Portal on the north side is also notable. It was created by Dalmatinac and Bonino da Milano, a craftsman who was hired to work on the cathedral. Primitive sculptures of Adam and Eve are supported by columns of lions, who guard the entrance.
Lions were commonly used in church entrances. You'll also see them guarding churches in nearby Split and Trogir. The lions are meant to warn that visitors must "Turn their backs on … all worldly cares and employments if we would enter the kingdom of God."
Adam and Eve seem almost endearingly embarrassed to be naked. Oddly, Eve has a belly button, even thought she was supposed to come from Adam's rib. The sculptures are attributed to Bonino of Milan. The portal's bronze door depicts bible scenes. It was created in 1967 by Sibenik sculptor Grga Antunac.
The western portal was also decorated by Bonino. It sports statues of Christ and the 12 apostles and has two large rose windows.
3. Cathedral Interior
As you enter the cathedral, pick up a brochure. It provides a self guided tour of the art and architectural features inside. I confess I enjoyed the outside more than the inside. I don't advise paying to go inside. Though it's a decided contrast to the overcrowded churches in Dubrovnik and Split.
The cathedral's interior feels gloomy, despite its sizable dimensions and 32 meter dome. There's very little lighting.
It has a three-aisled nave with a double row of columns with Gothic archies and capitols. There are two rose windows, and you can see the stained glass best at sunset. The side aisles are Baroque and date from the 17th and 18th centuries.
As with the exterior, the interior is made completely from stone. There's not a lick of plaster or any more convenient building materials. The main altar is richly decorated, and looked Baroque to me.
The most striking feature is the tall domed cupola. The dome rests on four evenly matched columns.
4. Baptistery
Aside form the dome, the highlight is probably Dalmatinac's circular baptistery in the rear corner. It has an exquisitely carved ceiling.
The face of god is in the center with four adoring angels. The baptismal font is located in the center of the baptistery, carried by three plump naked boys also carved by Dalmatinac.
5. Game of Thrones at Šibenik's St. James Cathedral
Šibenik is also a Game of Thrones filming location. In Game of Thrones, the town of Šibenik appears in Episodes 2, 7, and 9 of Season 5.
The cathedral doubles as parts of Braavos. It appears in Episode 9 as the Iron Bank, the greatest financial institution in the Free World.
There were also scenes filmed at Šibenik's St. John's Fortress (which has a great view of St. James Cathedral). It appeared as Mereen. In a scene from Season 5, in a fighting pit of Mereen, Jorah defeats numerous opponents, while Daenerys watches the fight from the grandstand. Later, Jorah "gifts" her Tyrion Lannister.
Šibenik's Old Town, and the square in front of the cathedral, also appear in Season 5, when Arya Stark arrives in Braavos.
Other Game of Thrones Mereen scenes were filmed at the nearby Klis Fortress and Diocletian's Palace in Split.
Šibenik Cathedral is a Renaissance masterpiece on the Dalmatian Coast, an unmissable site in Croatia. It's definitely worth a detour or day trip to see, especially if you're staying in or near Split or are on the UNESCO trail.
Practical Information and Tips for visiting Šibenik's St. James Cathedral:
Address: Trg Republike Hrvatske | Sea Promenade, Sibenik 22000, Croatia
Hours & entry fee: In winter, the Cathedral is open every day from 8:30 a.m. to 12.00 pm and from 4:00 p.m to 8:00 pm. In summer, it's open all day from 8:30 am to 8:00 pm. Ticket price is 15 kunas (around 2 euros).
Pro tip: Technically, no shorts are allowed and your shoulders must be covered.
If you'd like to visit Sibenik Cathedral, pin it for later.