Scoping out some day trips from Toulouse?
Here's my guide to the 5 best day trips from the very underrated city of Toulouse, La Ville Rose, located in sunny southwest France. They're easy day trips, only an hour or more from Toulouse by train or car.
I wasn't sure if I even wanted to leave beautiful Toulouse. Does anyone?
In contrast to beige Paris, colorful Toulouse is set ablaze with reds, pinks, and oranges. Toulouse is blissfully laid back and loaded with cultural goodies.
But, after soaking up the city's fiery architecture and unique carnivorous cuisine, I almost reluctantly ventured out. But I was rewarded with a veritable symphony of history and culture in the surrounding area of Occitanie.
It's an area doused in the smell of lavender and laden with medieval villages, rolling vineyards, and crooked olive groves.
Best Day Trips From Toulouse in Southern France
Here are my picks for the best day trips from Toulouse.
1. Carcassonne: a Fairytale Walled Town
Carcassonne is a city that takes your breath away. It's probably the best overall day trip from Toulouse.
Carcassonne is ta 13th century fantasy world of towers, turrets, walls, winding alleys, and moats set on the Aude River. As historian Anthony Horowitz has said, "In no other city I've visited does history feel so alive."
Carcassonne boasts an almost surreal double row of fortified walls stretching nearly 2 miles with 52 watch towers — each one crowned with fantastical "witch hat" turrets.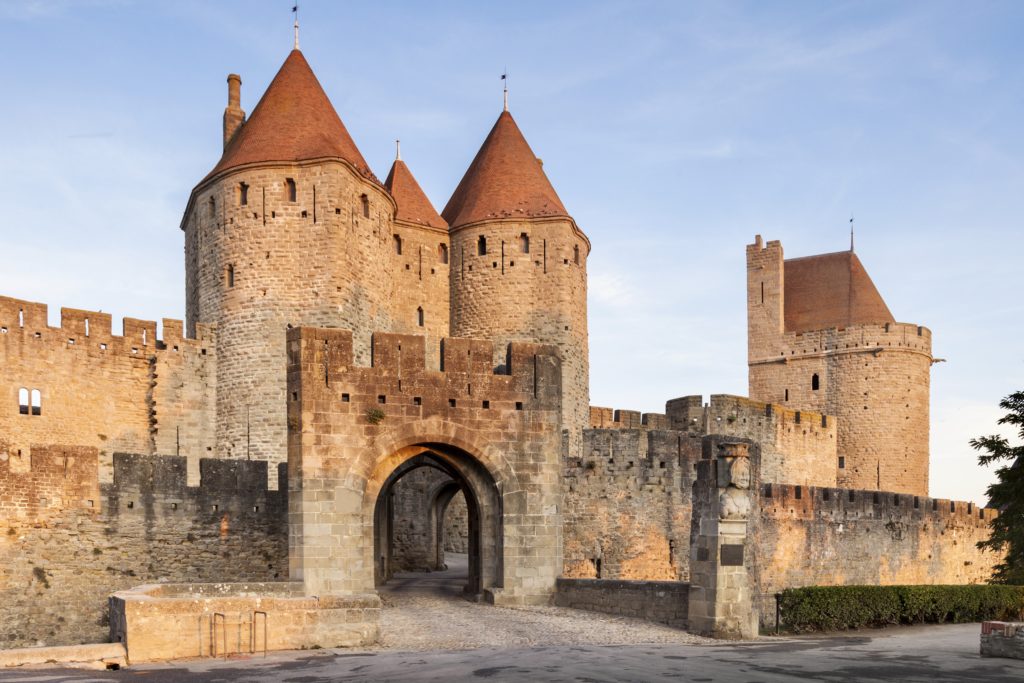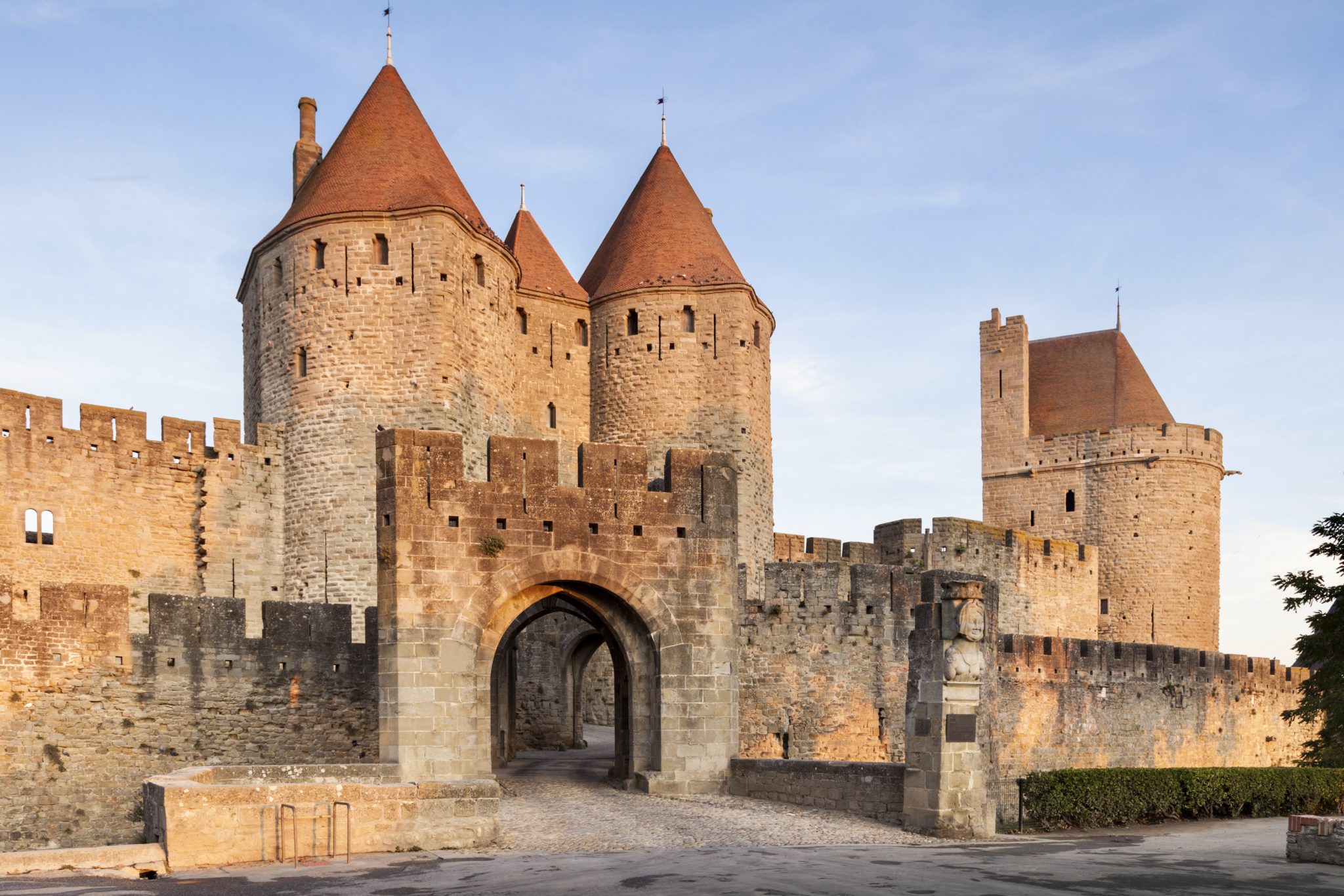 It will appeal to fans of the knight in shining armor era, a group in which I unabashedly include myself. The medieval streets are fairytale perfect.
Not surprisingly, Carcassonne was added to the UNESCO World Heritage List list in 1997. The old town of Carcassonne is free.
Click here to book a skip the line ticket to the castle and ramparts. You should book in advance because you'll face long lines otherwise.
You may want to book a guided tour to this mighty edifice. You have several options:
You should try to attack the citadel at off peak hours or off season. You can also cross the Pont Vieux and visit the lower city, the Bastide St-Louis.
It's inappropriately named the "new town," when in fact it was built in the 13th century. It has a magnificent tree-lined square, the Place Carnot, where you can relax and let the world go by over a coffee or glass of wine.
Here's my guide to Carcassonne.
Getting there: Carcassonne is a 1:15 drive from Toulouse. There are approximately 18 trains a day leaving from the Toulouse Matabiau station. The fastest one is 41 minutes.
You can also book a guided day trip tour to Carcassonne.
Or a half day tour that combines Carcassonne and the Canal du Midi. You can also book a day tour to Carcassonne and the UNESCO town of Albi.
2. Albi: Grand Brick Architecture and Toulouse-Lautrec
Albi is another fantastic day trip from Toulouse. It's a serious and ancient town, a wondrous and surprising must see destination in southwest France.
Even if you're a Francophile, you might not have heard of Albi. In France, though, it's a favorite among art lovers.
Albi has been inhabited since the Bronze Age. The town was listed as a UNESCO site in 2010. It's a strangely affecting place, despite the weight of its past or perhaps because of it.
Situated on the Tarn River, Albi is a perfect combination of medieval architecture and a vibrate urban center.
Albi is an episcopal city, clad in orange-red brick and militaristic architecture.
The town symbolizes the Catholic victory over the pesky Cathar rebels, a monkish religious sect that defied accepted convention.
Albi has two truly imposing citadels — the Albi Cathedral and the Berbie Palace — that are both UNESCO-listed. The mighty Saint Cecilia Cathedral is a 13th century masterpiece of southern Gothic style.
Built by the Bishop of Albi, it's a place of superlatives both inside and out. It's nicknamed the "crucible of faith" and is one of the largest brick structures in the world. Inside, you're swathed in blue.
Like Albi Cathedral, the 800 year old Berbie Palace is an all brick affair with stout walls of extraordinary height and thickness.
Aside from the Pope's Palace in Avignon, it's one of the best preserved castles in France. The palace was formerly the residence of the Albi's archbishops.
The Berbie Palace also houses a truly amazing single artist museum, which is a French treasure. It's dedicated to an artist you've likely heard of and that the Albigeois adore — Henri Toulouse-Lautrec, one of the founding fathers of Modernism.
The Post-Impressionist artist of exalted birth was born and lived in Albi, before decamping to absinthe-sodden Montmartre in Paris to paint dancers at the Moulin Rouge.
He died at a young age, just 36, of complications of syphilis and alcoholism.
But Toulouse-Lautrec didn't really leave Albi. Some of his most seminal works are there, in one of the best small museums in Europe.
Sure, there's great Lautrec works in Paris. But, in Albi's museum, you get a comprehensive picture of his entire life and career, not just a snapshot.
Here's my complete guide to Albi, which I rather surprisingly adored.
Getting there: It's a 50 drive or a little over an hour from Toulouse Matabiau. You can also book a guided day tour from Toulouse. Once there, you can also book a gourmet food tour.
3. Cordes sur Ceil: Ropes in the Sky
Cordes sur Ciel seems to sit in the sky. Hence its name, which translates to ropes on the sky.
Cordes sur Ciel is so ancient, so cobbled, so dreamy that it has a time warp feel. The dawn of modernity seems to have passed it over, exodus style, leaving a sweetbox escape for those like me who want to go back in time.
The little village began life in 1222, founded by Count Raymond VII of Toulouse.
During the Albigensian Crusade, the 20 year war between the Cathars and the French crown, Cordes sur Ceil was prosperous. Its wealth derived from the leather, textile, and silk industries.
Today, Cordes Sur Ciel is an artsy village, a treasure trove of local art. Its cobbled streets are filled with quaint galleries, ateliers, and cats. You can find contemporary painting, pottery, sculpture, handmade jewelry, glassware, woodcarvings, and artisanal leather.
You can also visit the Musée de l'Art du Sucre et du Chocolat, dedicated to sugar. As a lover of backed goods, I applaud this kind of museum. And Cordes boasts the Jardin des Paradis, recognized as one of the most "Remarkable Gardens in France."
If you happen to visit between December and February, don't miss the town's annual truffle market, where harvesters come to sell their "black gold."
If you want to read more about the idyllic hilltop village and how I almost lost my friend's iPad there, read my story.
Getting there:
Cordes is vastly easier to drive to than take public transportation. It's 1:15 drive from Toulouse or just 30 minutes from Albi.
If you're ambitious, you can combine both towns on a day trip. You can also book a guided day tour that combines Ali and Cordes.
4. Gaillac: Wine and Stone
Just 45 minutes from Toulouse lies the picturesque village of Gaillac, perched on the Tarn River. If you're an oenophile, Gaillac is likely a word you've heard, especially if you've had a geographical cure in southern France.
Gaillac is renowned for its vineyards, wines, and distinctive semi-sparkling white wine called Perlé.
Aside from its luscious vino, the old town of Gaillac is a medieval marvel. After strolling Gaillac's cobbled streets and admiring the scenery, head to its star attraction: the Abbey Saint-Michel.
In 872, a group of Benedictine monks were gifted land for an abbey. They immediately set about building Saint-Michel and planted a vineyard (which prospered).
The abbey escaped the wrath of Simon de Montfort and his Catholic crusaders, but it was later damaged in the 100 Year War. It was rebuilt in the 16th to 17th centuries before the French Revolution nixed religious orders.
Inside Saint-Michel is the Maison des Vins de Gaillac. The wine bar and shop offers 100 Gaillac wines for sipping and buying.
Getting there: Gaillac is a 50 minute drive or 37 minutes by train from Toulouse. You can also book a guided wine tour in Gaillac from Toulouse.
5. Lastours: Eerie Cathar Castles
The Cathars were a fastidiously monkish and zealously religious Christian sect. After a startling rise in Cathar popularity, the Catholic Church had had enough of the pesky rebels and, as I mentioned, sent Simon de Montfort to vanquish them.
Evidence of the Cathar struggle can be found in the vestiges of their castles, sprinkled throughout the Occitanie region of southwest France.
The castles are all attractively perched on hilltops. The eerie village of Lastours boasts the best ruins, perched on a rocky spur of the Black Mountains. It's only 10 miles north of Carcassonne.
You can hike up the incredibly steep gorge via a rugged mountain trail. Access was obviously not meant to be easy or painless. But it's well worth the hike.
The best view is from Cabaret castle. Le Puits du Trésor, a renowned Michelin-starred restaurant, sits below on the banks of the River Orbiel, if hiking stokes your appetite.
Getting there: Driving or the train is approximately 1:20.
I hop you've enjoyed my guide to the easiest day trips from Toulouse. You may enjoy these other travel guides and resources for France:
If you liked to day trip from Toulouse France, pin it for later.