Looking for a 5 day road trip itinerary for the American Southwest? Look no further! This is definitive guide to the best things to do and see on a short jaunt through the American Southwest.
This 5 day itinerary takes you to scenic Utah and northern Arizona. You'll visit Goblin Valley Park, Canyonlands National Park, Arches National Park, Horseshoe Bend, Antelope Canyon, and more. Every place looks like a postcard.
We did this Southwest road trip over 5 days and spent 1 day at each location. But each of these amazing parks has more than enough attractions to extend this trip as you see fit.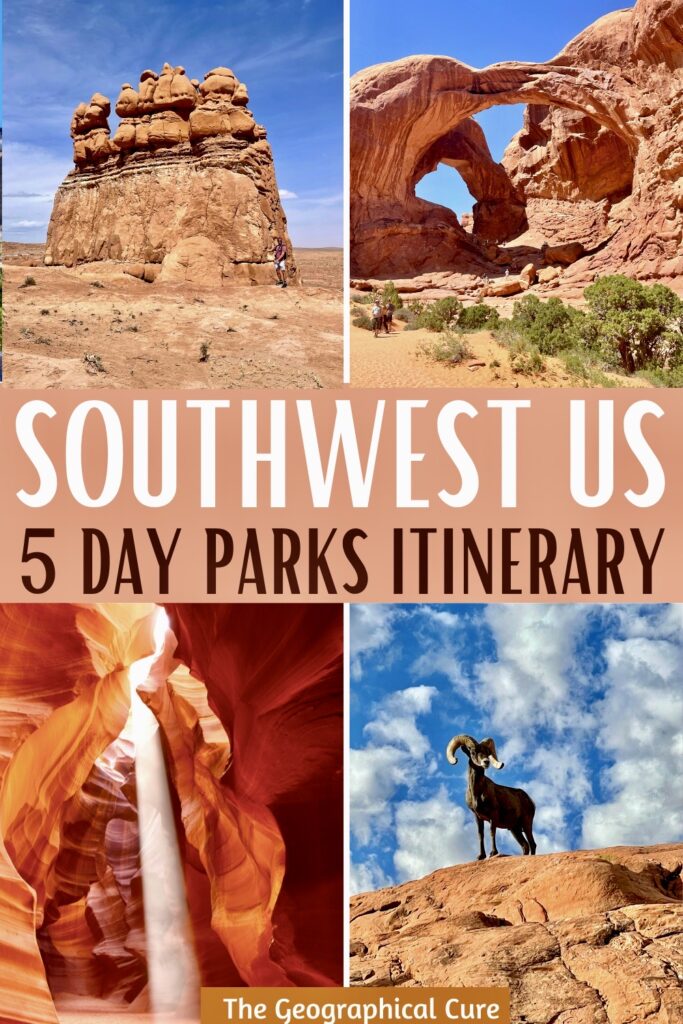 The parks in this itinerary showcase the otherworldly natural beauty of the American Southwest. In fact, Utah has the 3rd most national parks of any state, trailing only California and Alaska.
The proximity of these parks means that you'll never be more than a few hours driving time from your next destination.
But before we dive into this 5 day American Southwest itinerary, you need some tips for visiting these beautiful parks.
National Park Pass Information
If you're an avid adventurer, I highly recommend purchasing one of the America the Beautiful passes, which gives you entry to all U.S. national parks and federal recreational land. You can purchase these passes when entering a national park or online here.
The Annual Pass is $80 and is valid for a full year. Most national park one day entries cost around $20-35. So, if you go to a national park more than three times a year, this pass is definitely worth purchasing.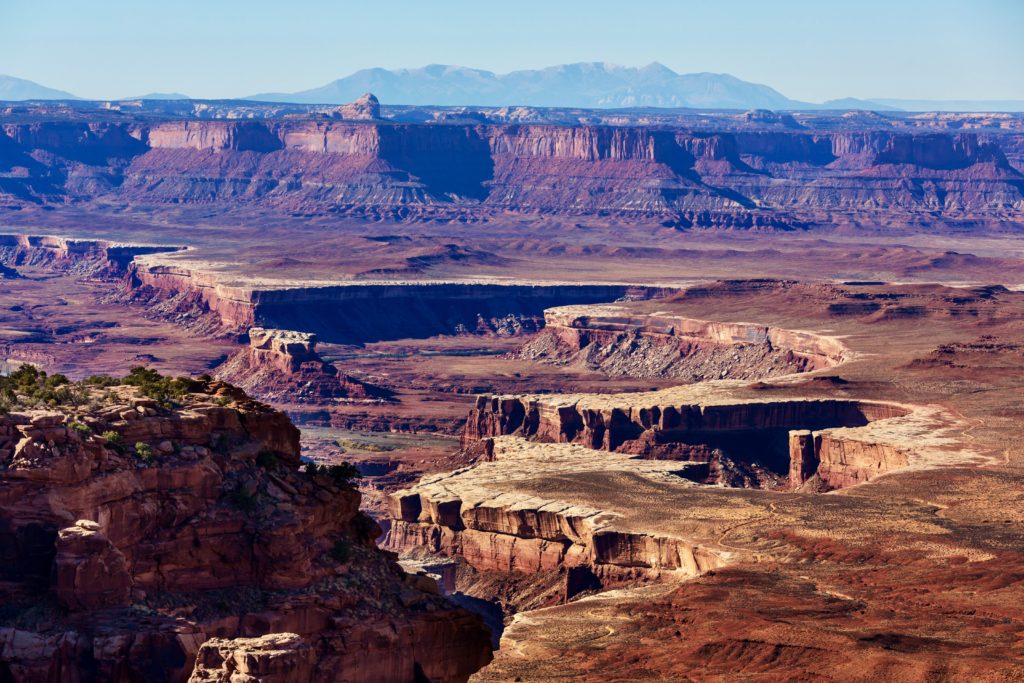 Be sure not to lose the physical pass though. Ours blew out of the car at some point and we had to pay to replace it.
The USGS also offers a free Military Pass to current military members (Army, Navy, Air Force, Marines, Coast Guard, Space Force, Reserve, and National Guard Members) and their families. There is a $10 cost for ordering this pass, which you can buy online here.
Additionally, the government also offers a Senior Lifetime Pass for $80 and Senior Annual Pass for $20 for US residents and permanent citizens ages 62 and over. The Senior Lifetime Pass can be found here and the Senior Annual Pass can be found here.
There is also an Access Pass, which is a free lifetime pass for US residents and citizens with permanent disabilities. Applicants must provide documentation of disabilities, residency, and/or citizenship. Click here to purchase the pass. There's a $10 processing fee if you apply by mail.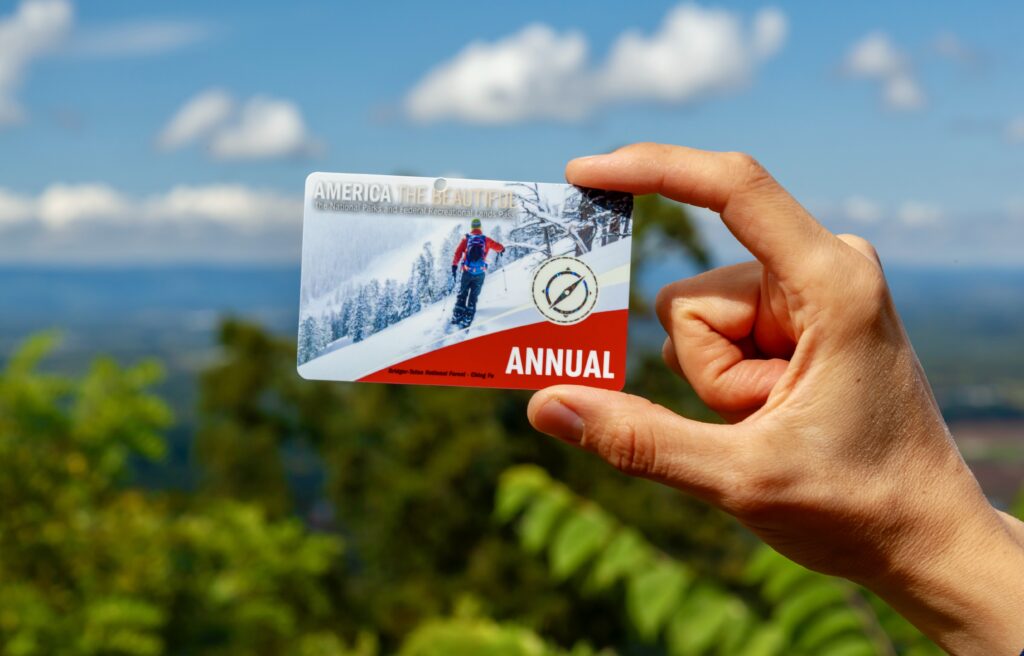 Finally, there's a Volunteer Pass for volunteers who have at least 250 hours of service with certain federal agencies (National Park Service, US Forest Service, US Fish and Wildlife Service, Bureau of Land Management, Bureau of Reclamation, and US Army Corps of Engineers).
Volunteers can contact their volunteer coordinator for more information. The pass is valid for 12 months from the date of issue.
Note: The National Park Pass is NOT valid for state parks. You will be required to pay a separate entry free of $20 per car or $25 on peak season weekends (April, May, September, October, and holidays).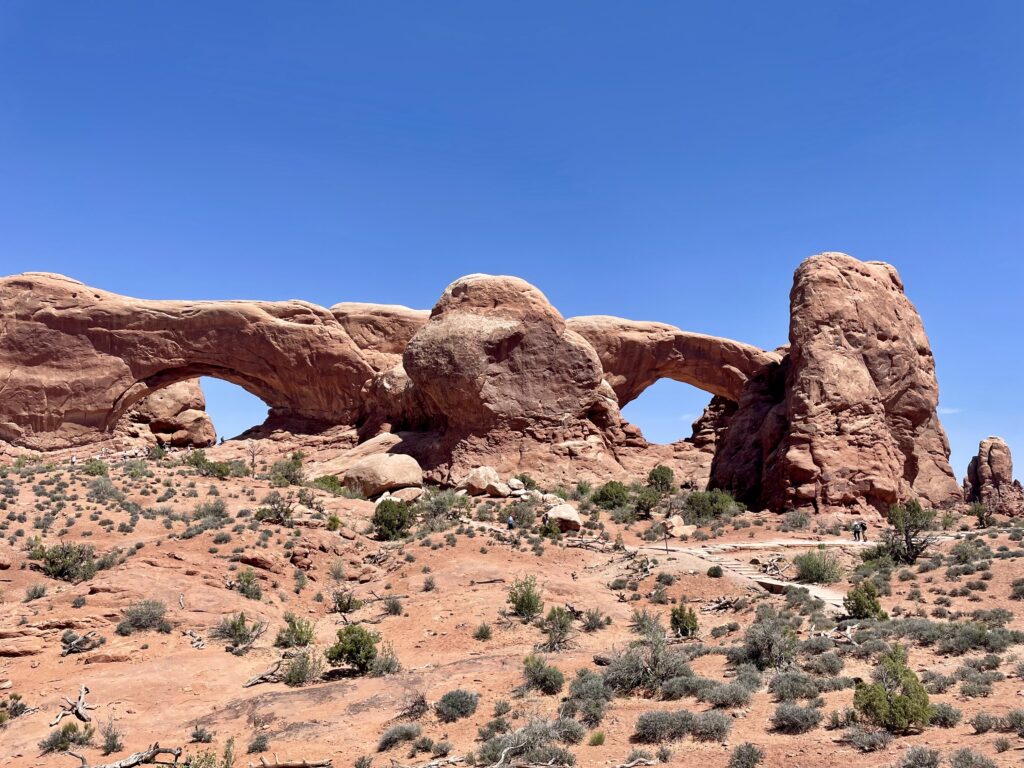 National Park Rules
There are also some rules you need to follow when visiting parks in the American Southwest:
Pets are allowed in the parks, but aren't allowed on any national park trails. If you are traveling with animals, you will have to do your sightseeing from areas accessible by vehicle.
Do not approach wildlife.
Feeding animals is prohibited.
Follow the designated trails.
Respect Mother Nature. Animals, rocks, plants, and historic objects are protected. Please leave everything as you found it and take nothing but pictures.
Use of drones/UAVs is prohibited.
Overview of 5 Day American Southwest Itinerary
Here's a quick snapshot of what you'll see with 5 days in the American Southwest:
Day 1: Goblin Valley State Park, Moab
Day 2: Canyonlands National Park
Day 3: Arches National Park
Day 4: Horseshoe Bend, Antelope Canyon
Day 5: Canyon X, Secret Canyon, Buckskin Gulch, Hanging Garden Trail
More time? Bryce National Park, Zion National Park, the Grand Canyon, or Sedona
Best 5 Days In The American Southwest Itinerary
As with all of my suggested itineraries, you should use this 5 day American Southwest itinerary as a guide. You can tailor it to suit your individual interests, needs, and pace of travel.
If you have extra time in southwest, you can easily turn this 5 day Southwest itinerary into a 7 day itinerary by moving at a slower pace. I also give you tips for visiting other places in the area.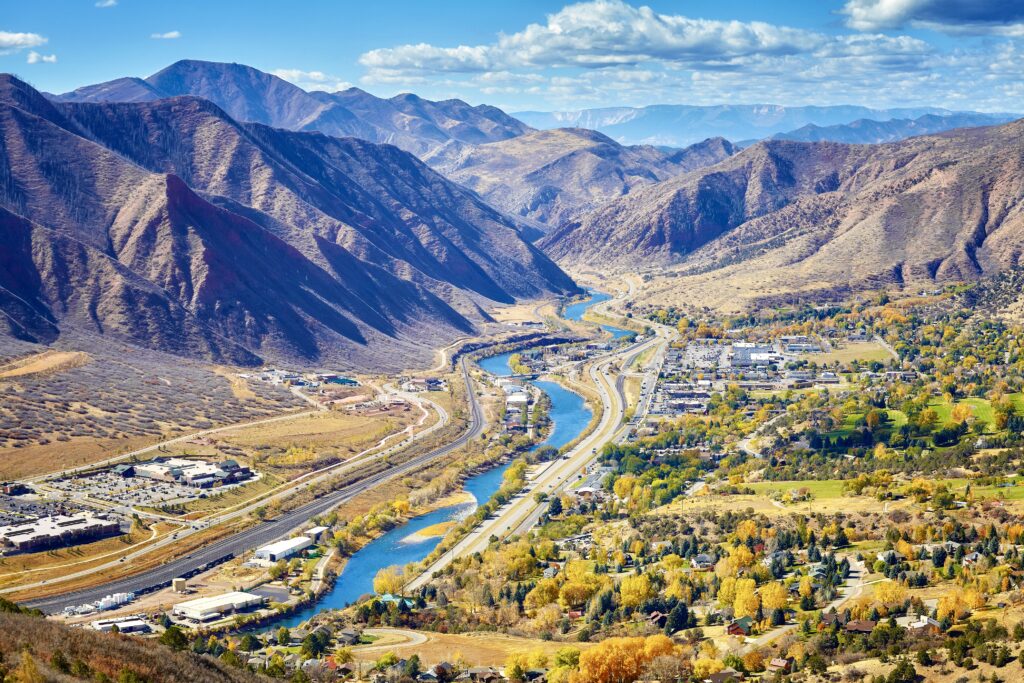 Day 1: Get On The Road
We started our trip from Boulder Colorado. If you're coming from a different location, just scroll down to the next section. But I wanted to give you some cool options if you are traveling from Colorado.
We took interstate highway 70 through the Rocky Mountains and over the continental divide. Boulder to Goblin Valley is about 7.5 hours if done in a straight shot. But this section of the route also offers excellent opportunities for pit stops, if time allows.
Consider stopping for a soak in the towns of Idaho Springs or Glenwood Springs, both well known for their natural hot springs. Accommodations range from roadside hot springs to luxurious spas where the heated ground water is rerouted into gorgeous tiled pools.
If you're looking for a more active way to break up the drive, rent a paddle board at the beautiful Dillon Reservoir or hike one of the many trails surrounding the world famous Vail Ski Resort.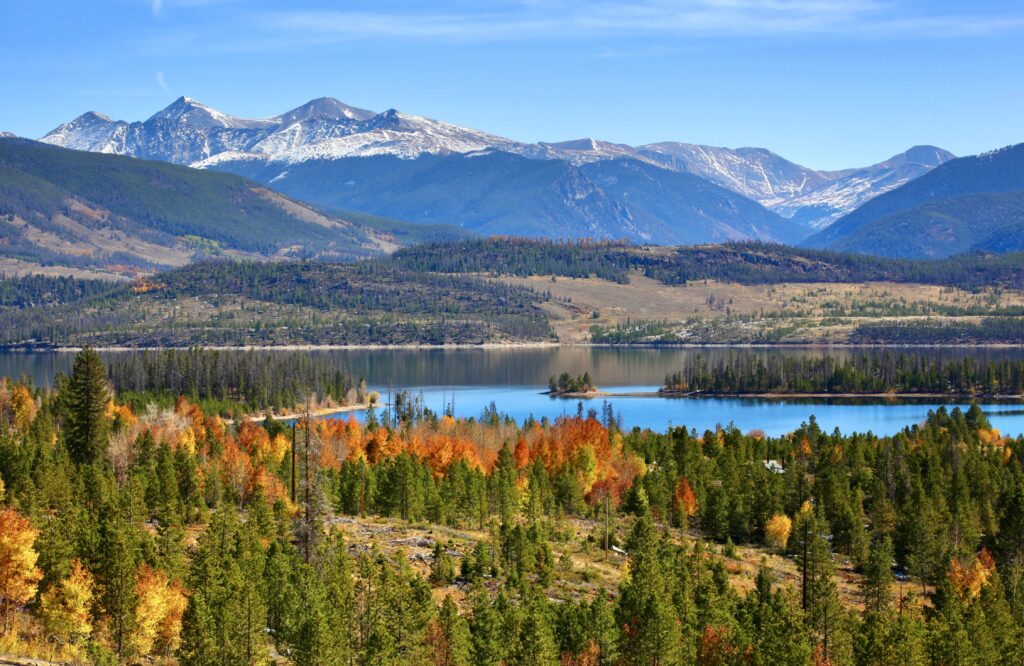 You could even find accommodations in the town of Palisade and make an evening of touring the many vineyards in the area. The arid climate, sandy soil, and irrigation from the Colorado River combine to produce some of the best wine in the United States.
Ultimately, we were trying to make good time and opted to just grab a quick lunch in the town of Grand Junction. We ate at a scenic picnic table along the banks of the Colorado River that proved to be a perfect opportunity to recharge before the finishing the last leg of the drive.
If you're running low on gas (or charge), there are only a few more small towns between Grand Junction and Goblin Valley. So take this opportunity to refuel. Your last chance before arriving at the park will be the small town of Green River.
After that, it's another 50 miles through the Utah desert to the park entrance.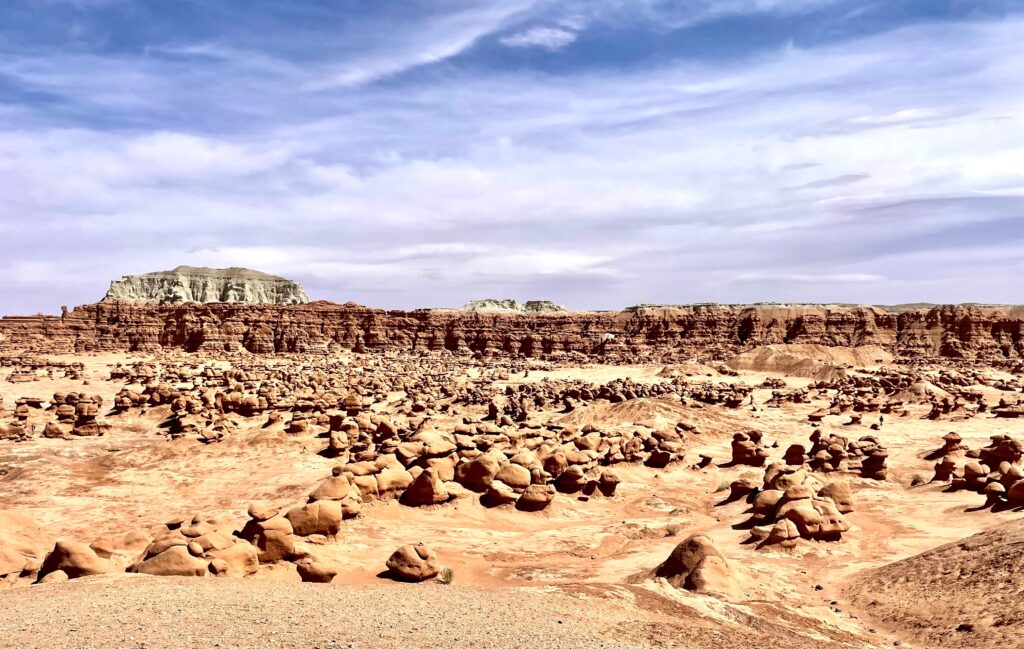 Day 1: Goblin Valley State Park
Day 1 of your 5 days in the American Southwest begins in Goblin Valley State Park.
It's a relatively small state park and the only destination on this itinerary that you can truly explore in its entirety in half a day. This makes it the perfect Day 1 destination, as a good chunk of your morning will likely be spent getting there.
How To Get To Goblin Valley Park
You enter the park through the Ranger pay station and follow the road until you meet a "T" junction. To the right, you'll find camping sites and an amphitheater, as well as the beginning of some off-road vehicle trails. You should avoid these trails unless your car has four wheel drive and high clearance.
The amphitheater hosts occasional ranger talks, from children's programing to scientific lectures. Be sure to check the schedule for the day in the entrance station to see if any of these are of interest to you.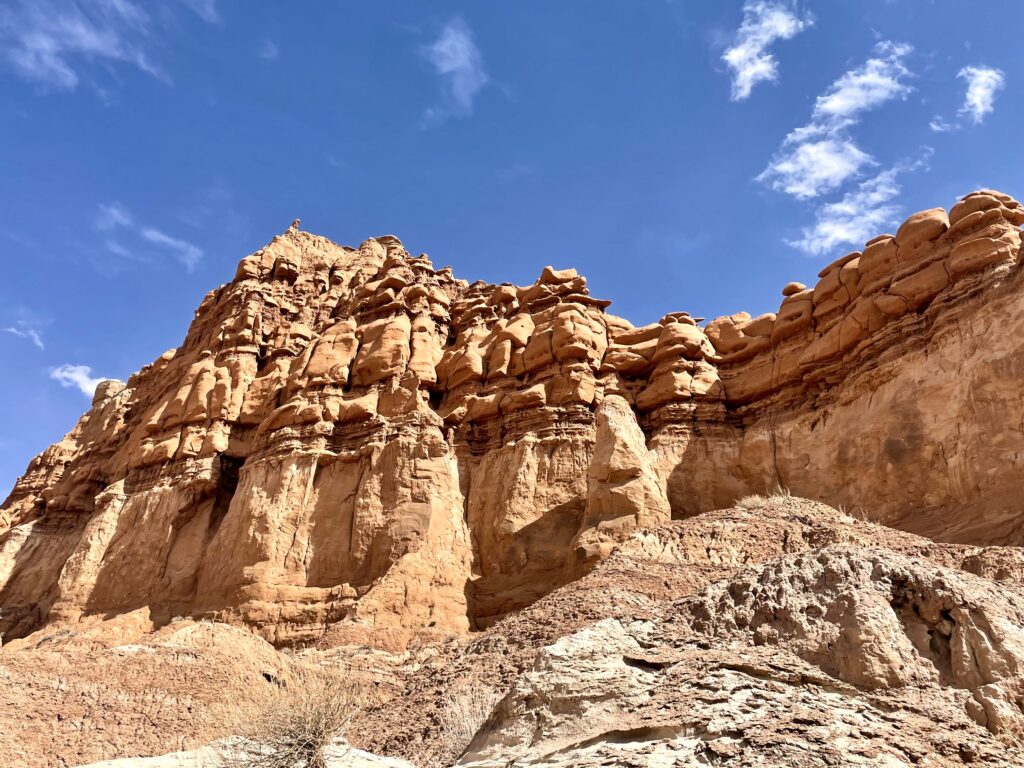 Where To Stay in Goblin Valley Park
Camping in the Goblin Park is a great option. But it's popular, so you need to make reservations well in advance. The cost of a campsite is $45, but the entry fee to the park is included in the price.
The camp area features a covered pavilion for group activities and an 18 hole disc golf course. Discs can be rented at the ranger station for $1 apiece.
For those who want to experience the beauty of the desert night sky with a bit more comfort, the campsite also has two yurts with bunk beds, a dining area, a small couch, and an outdoor porch area. Reservations for these fill up fast so be sure to check availability far ahead of time.
If you want to stay in a hotel near the park, check out the River Terrace Inn or the Holiday Inn Express.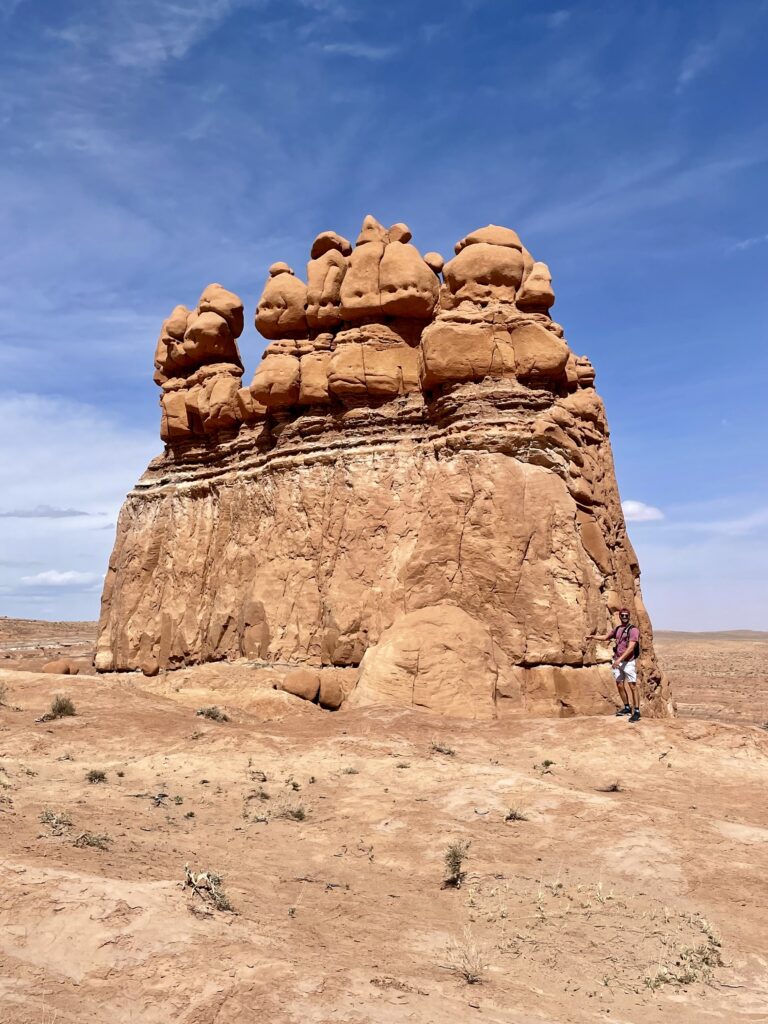 What To See At Goblin Valley Park
The park's main attractions are to the left of the fork. You will pass a large rock formation named The Three Sisters on your left before coming to the main parking area, which has access to all the trailheads and the entrance to the goblin valleys.
There's also a hiking trail to the base from The Three Sisters. But the view from the road is just as good if not better than from right underneath the towers.
Right out of the gate, you'll find yourself at an observation point with sweeping views of the valley below. There's also a covered picnic area that's an awesome spot to eat lunch. But walking down into the valleys below is the main draw of the park.
There are 3 separate goblin valleys. They each have distinct features. But the one thing they all share is the bizarre and otherworldly rock formations which are affectionately referred to as "hoodoos" and "goblins."
The great thing about exploring the goblin valleys is that there is no designated trail. You are free to explore however you see fit, except that you can't climb on top of the rock structures.
It can be difficult to know with certainty which valley you are in at any given time as there is not clear delineation. However, you can get a general sense of your location as you meander around the formations based on your distance from the parking area.
Valley 1 is the first that you will encounter and features smaller hoodoos and more spaced out goblin towers. Valley 2 is next and features taller goblins in more dense formations. Finally, you will arrive at Valley 3, which is the best of them all and well worth the slightly longer trek.
Valley 3 features hills you can climb to get varying viewpoints of the area. The rock structures are particularly unique, with many small caverns, hidey-holes, and alien-like figures.
No matter how much of the 3 valleys you end up exploring, it feels like there is something new and exciting around every bend.
Goblin will certainly be a favorite stop on this 5 day Southwest itinerary if you have children. The lack of designated trails will allow them to explore to their heart's content and let their imagination run wild.
Your visit to Goblin Valley Park can last anywhere from 30 minutes to 3 hours.
When you finish exploring, there are 4 other hiking trails that are worth exploring. If you have only time for one, I would recommend taking the Carmel Canyon Loop to the Goblin's Lair.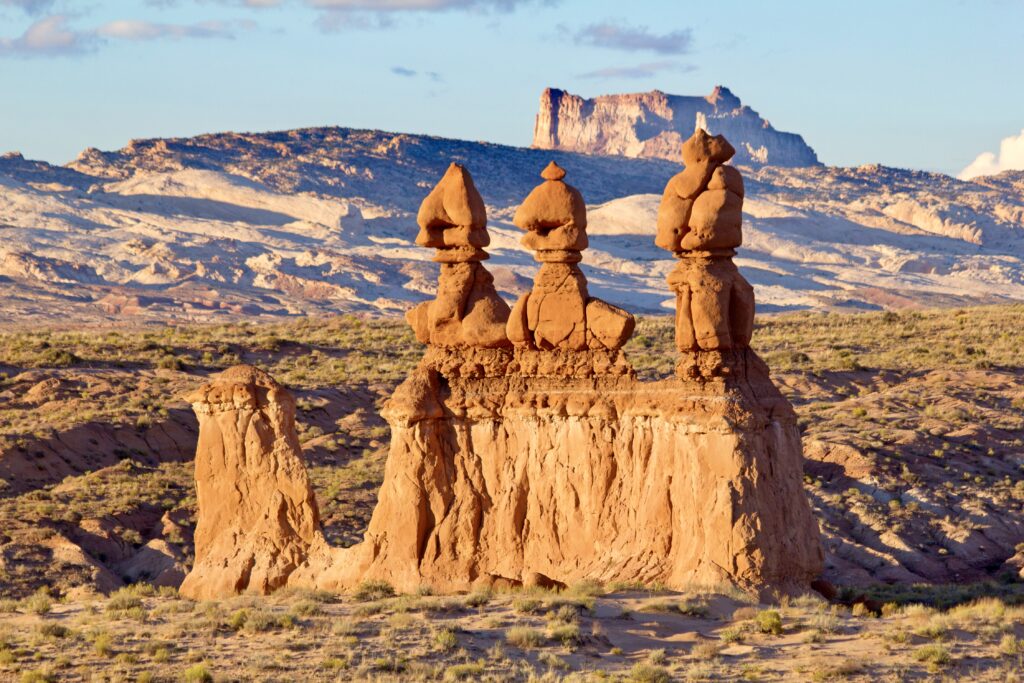 Carmel Canyon Loop
Carmel Canyon Loop is a beautiful 1.5 mile trail. It offers up excellent views of The Three Sisters. There's also an optional short offshoot to a lookout point for Molly's Castle, which is a striated red-rock butte standing 250 feet above the desert floor.
This hike is an opportunity to explore the desert floor and see some native plants and animals up close. The trail drops down from the parking lot through a "wash" area. You can clearly envision how rainwater and wind have shaped this incredible landscape.
Walking down through these wash areas involves some fairly easy "rock scrambling." Most everyone can do this with ease, but you should wear good sneakers nonetheless.
About halfway around the Canyon Loop you will see the turn off for the Goblin Lair trail. This wraps another .8 miles around the backside of the cliffs that enclose the valleys to the north, eventually arriving at the Goblin's Lair.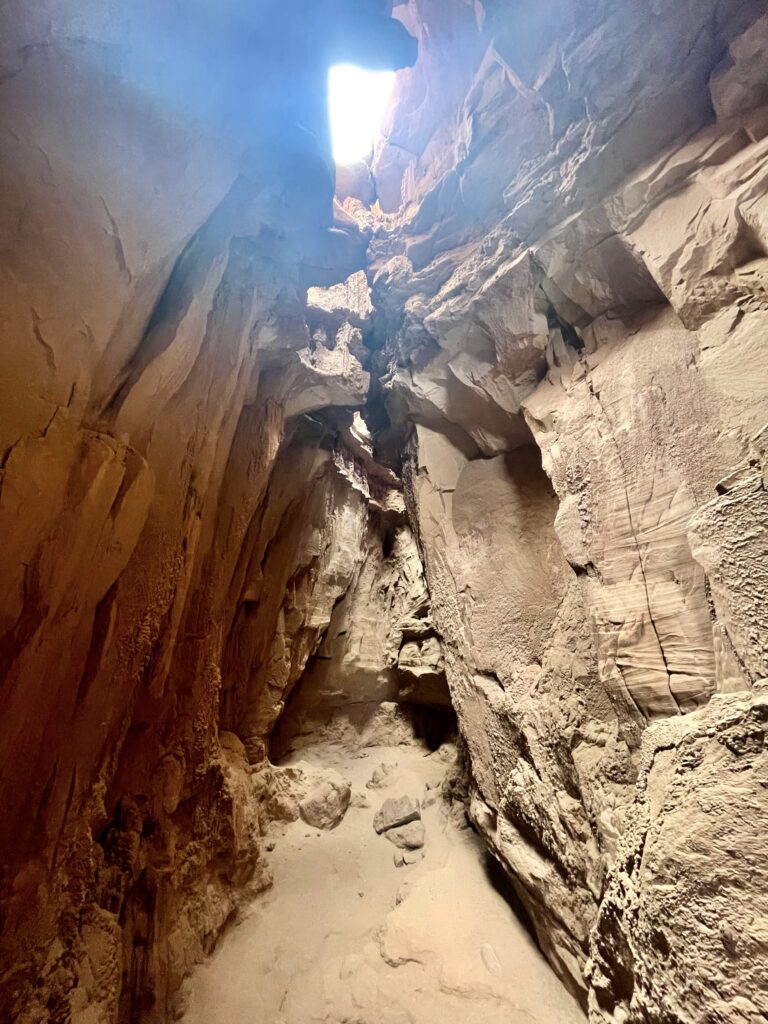 Goblin's Lair
The Goblin's Lair is a slot canyon in the park. At one point, it was connected to the Goblin Valley through the cliff formation. But it's since been closed off on one side by rock fall, creating a 100 foot deep cavern that you can climb into.
Be sure to proceed slowly as there are some relatively big step downs. But getting to the floor of the lair is well worth the effort.
Openings in the top of the cavern provide just enough lighting to cast a soft glow over the walls, which shows off the beautiful red hues. The lair used to be a well kept secret, but the park service decided it was too special not to share with everyone.
Guided Tours
For those with adventurous spirit, the local company Get In The Wild Adventures offers a guided tour of the area. You can also book a canyoneering tour to test your mettle.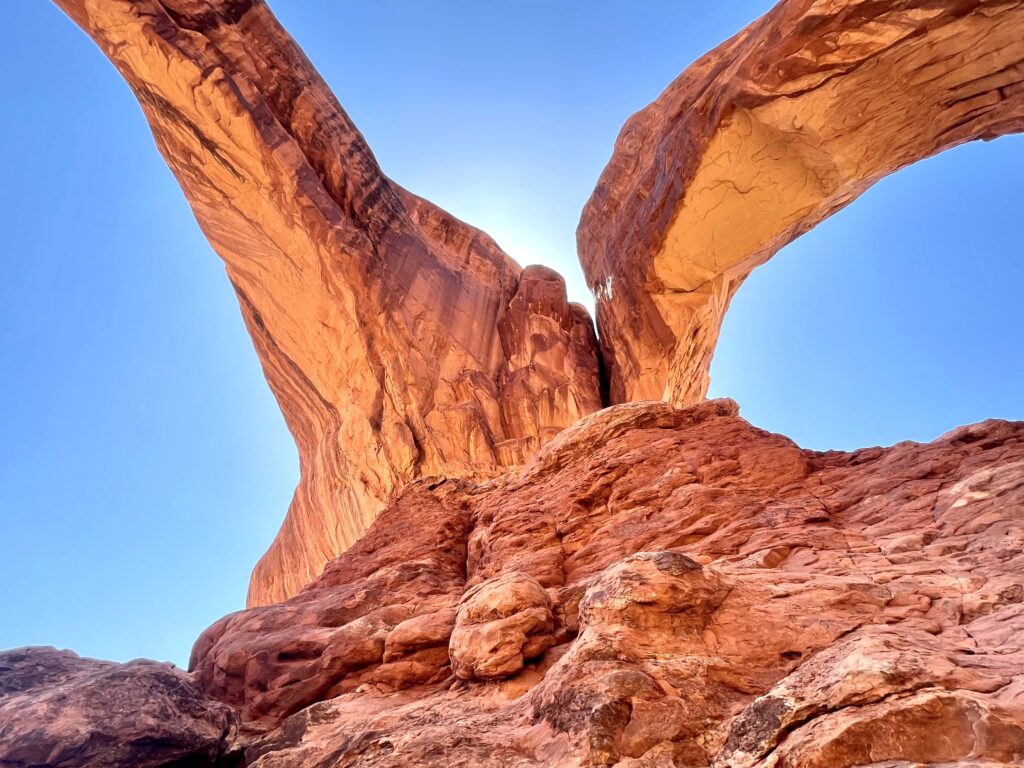 Moab Utah
If you opt not to stay overnight near Goblin Valley, the next logical stop on this itinerary is an overnight stay in the city of Moab.
With its close proximity to Canyonlands and Arches National Parks, as well as the Colorado River, it's no wonder this desert town has become a hub of activity for this region.
Moab is 100 miles from Goblin Valley and you can make the journey in around 1.5 hours. Try to arrive in time for dinner at one of its many great food establishments.
Here are some good options:
Antica Forma

: This is an upscale authentic Italian spot on Moab's main strip. The restaurant offers a great selection of classic Italian dishes. But its real claim to fame is its Naples-style pizza. Some say it's the best pizza they've ever had, which is quite an accomplishment for a cookery in the middle of the Utah desert.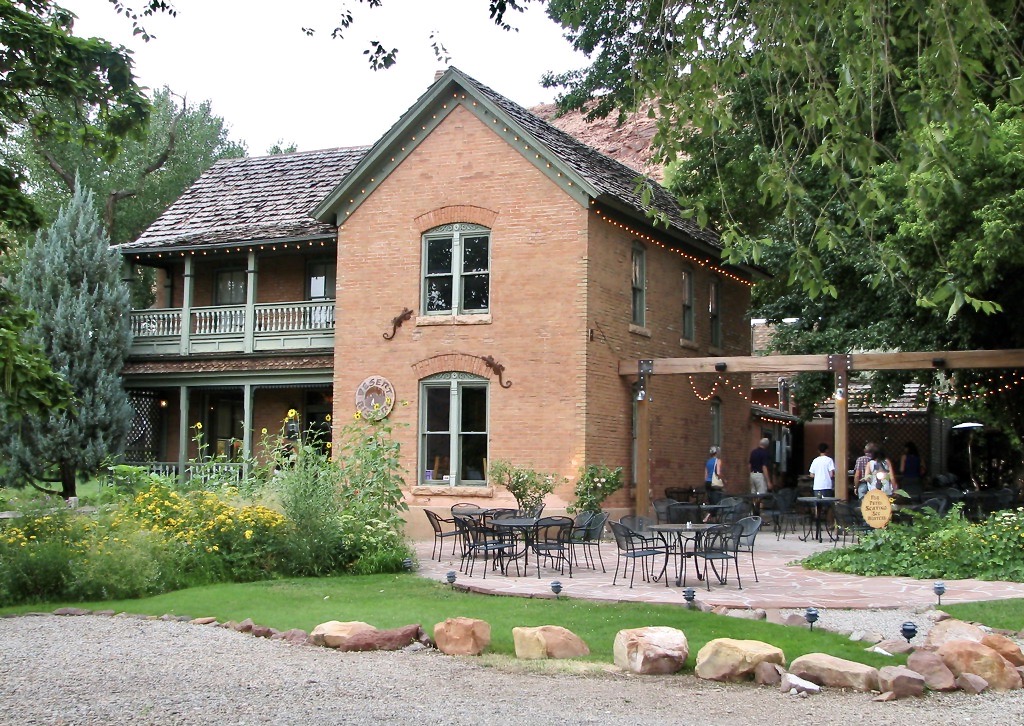 Desert Bistro

: The Bistro is the place to be if you're looking for a fine dinning experience to round out your long day of exploration. Known for its southwestern cuisine, the bistro serves up locally-sourced fish and game with a well-curated wine and cocktail menu. This is an ideal date night for the traveling couple, but probably not the best choice if you have little ones with you.
Moab Brewery

: For a laidback dining experience, Moab Brewery has quality food, bar snacks, and local brews. You can fill up on tasty finger foods, but my personal recommendation would be to try one of the burgers. The Brewhouse burger with green Hatch chili and aioli did not disappoint.
Moab Food Truck Park

: If you have multiple members in your party and can't decide on one option, then let everyone choose for themselves. The Moab Food Truck Park features 8 rotating trucks, with plenty of food options ranging from paninis to tacos. The trucks circle a communal eating area with shade sails, making it a low key option sure to please everyone.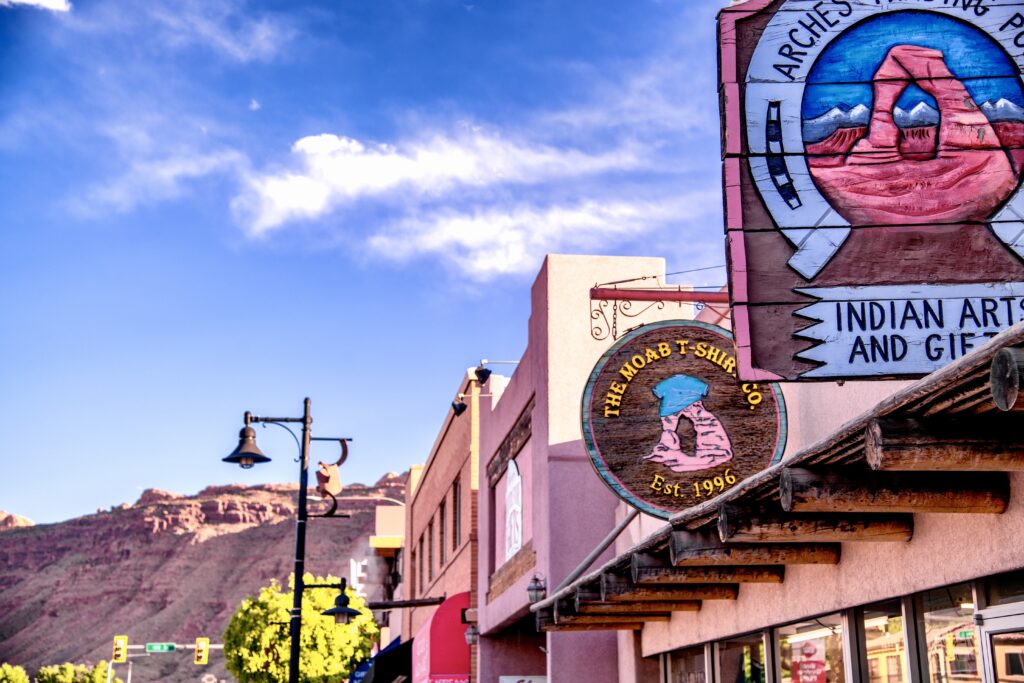 Where To Stay In Moab
Moab is a serious vacation town. Because the economy relies on tourism, there are naturally plenty of overnight accommodations.
A quick search on AirBnb or VRBO will yield all sorts of options, ranging from cute little bungalows to luxurious vacation homes. For budget conscious travelers, there are also places to camp within the city limits.
If you are looking for a more traditional stay, there are numerous hotels and resorts to choose from.
You can check out familiar hospitality names like Hyatt and Wyndham, as well as luxury spots like the HooDoo Moab and Moab Springs Ranch. There are also smaller boutique hotels like the Red Cliffs Lodge.
Day 2: Canyonlands National Park
On day 2 of your 5 days in the American Southwest itinerary, you'll visit Canyonlands National Park. Moab is often called the "Gateway to Canyonlands and Arches" and for good reason. The entrance to Canyonlands is only 30 minutes away, and Arches is even closer.
We decided to explore Canyonlands on day 2. The park features enough iconic scenery and hiking trails to easily fill an entire day, so grab a quick breakfast in Moab at Jailhouse Cafe. Then, get an early start to maximize your sightseeing time.
The expansive views that make this park famous give a glimpse into the past. The deep striated canyons have been carved by water and wind over millions of years. Gazing into them from high atop the park cliffs conjures up imagery of a time long before people arrived here.
The Colorado River that runs through Canyonlands also created the Grand Canyon miles downriver, and there is a striking resemblance between the two majestic places.
The Colorado and Green rivers form a confluence at the southern end of the park and divide the region into 3 distinct "districts" to explore: the Needles, Island in the Sky, and the Maze. Many also refer to the rivers themselves as the park's fourth district.
The Maze is the most remote area in the park and requires a high clearance 4 wheel drive vehicle to even access the ranger station.
We recommend you research this area extensively before attempting an excursion into the Maze. True to its name, this district is full of difficult terrain and winding roads.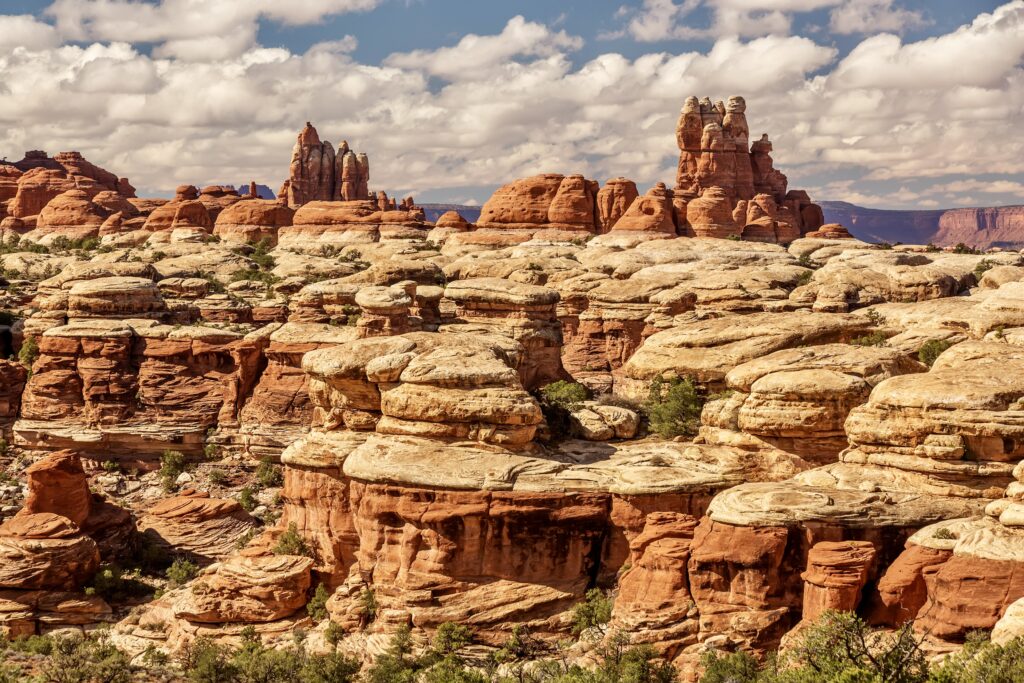 The nickname "The Needles" was inspired by the towering pillars of colorful sandstone. This area is slightly more accessible, around a 90 minute drive from Moab along a single paved road.
All travel inside the Needles is on maintained dirt roads. The park service recommends you use a physical map to navigate this area of the park, as GPS services are notorious for misguiding visitors.
Most guests will only ever see Island in the Sky, as this is the most "manicured" and accessible district. It features mostly paved roads and significantly more restrooms and comfort stations.
With only one day in Canyonlands, we opted to stay in this more driver friendly area. Luckily, the Island in the Sky holds plenty of gems to keep you happily awestruck for an entire day.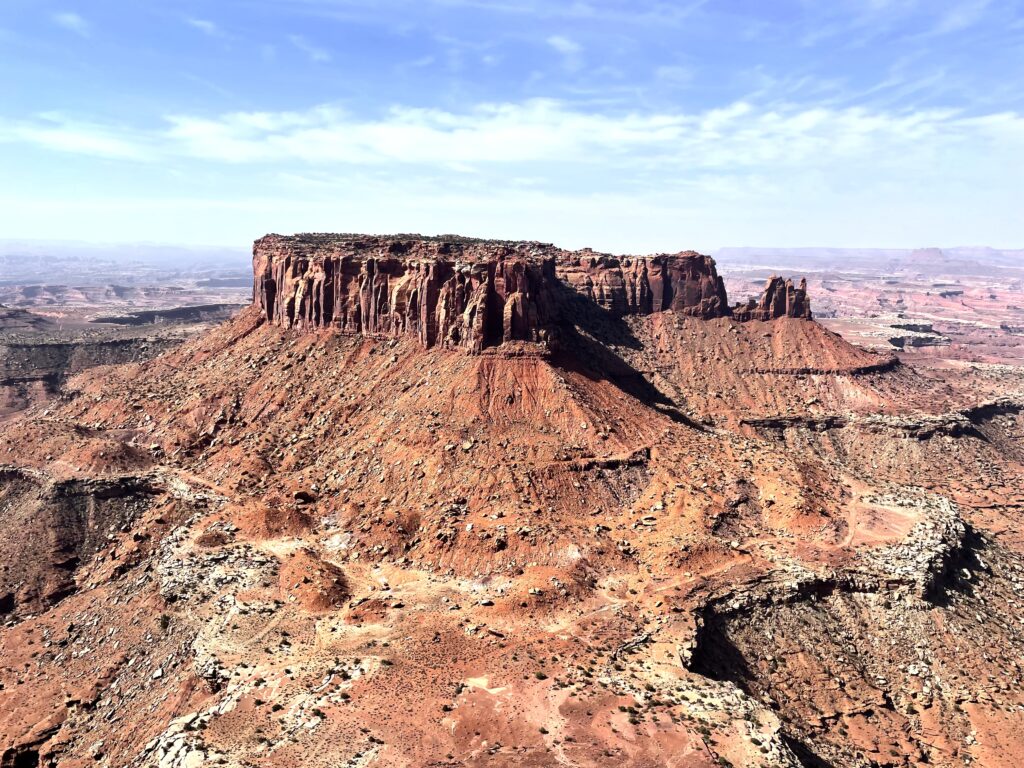 Island in the Sky is a mesa with two paved roads (Grand View Point Road and Upheaval Dome Road) that traverse the land atop the canyon. Along these roads, there are frequent pull-offs that provide overlook points down into the canyon.
Because of the layout of the park, many of its must-see items are just a short walk from the parking lot.
Grand View Point Trail
If the sun is especially oppressive and you can only muster up one hike, choose the Grand View Point Trail. It follows the edge of the mighty canyon, dropping steeply off to one side to provide incredible views of the iconic White Rim trail below.
Eventually, the trail ends on a raised peak that boasts sweeping 360 degree panoramic views of the park. From there, you can see both the Colorado and the Green rivers. We also encountered a variety of wildlife, including swooping ravens, lazy lizards basking on rocks, and rodents scurrying to-and-fro.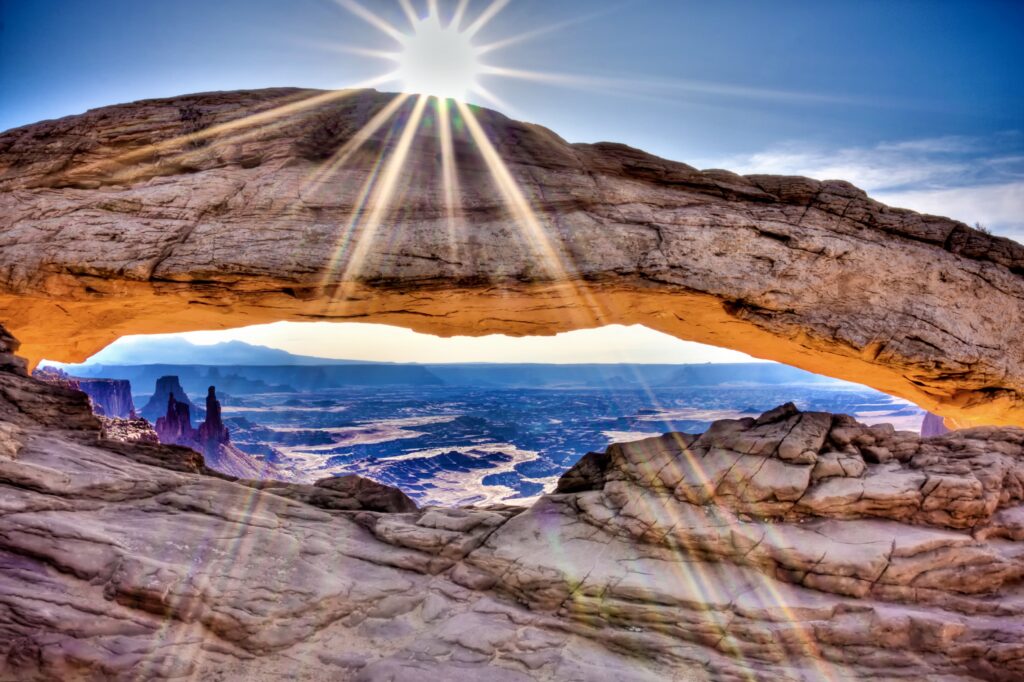 Mesa Arch
Mesa Arch is Canyonlands most famous arch. It's only a short walk from the parking area, making it an easy stop with bang-for-your-buck impact. The arch itself sits atop the rim of the canyon and frames a spectacular scene of the canyon floor hundreds of feet below.
For early birds, this arch offers a highly sought after photo-op. For one hour after sunrise, the low light illuminates the underside of the arch, accentuating the sandstone's multitude of vibrant colors.
Upheaval Dome
Upheaval Dome is actually more of a crater than a dome. The name comes from the rock formation underneath the surface (be sure to read the infographics at the trailhead, as I won't do just to its fascinating geology).
The rock formation itself is a bit of a mystery, as scientists still debate whether the massive recess in the stone was formed by a meteor strike, a glacial event, or some other yet-to-be uncovered phenomenon. Regardless of how it got there, looking down into the dome is awe inspiring.
This hike to the dome is slightly more strenuous, with about 1.5 miles of trail and 215 feet of elevation gain. There are 2 initial viewpoints and a 3rd another half mile around the rim of the dome. Personally, I found the extra bit of effort to get to the 3rd lookout to be an excellent use of time and energy.
Green River Overlook
Perhaps the most easily accessible viewpoint in the entire park, Green River Overlook is only .2 miles from the parking lot and offers a unique vantage point of river as it meanders through the landscape.
Shafer Trail Viewpoint
One of the first stops you will encounter after the ranger station, the Shafer Trail Viewpoint overlooks Shafer Basin road. The road descends in an insane winding switchback down into the canyon to eventually meet up with the White Rim trail.
From this location, you can watch brave off-roaders take their supped-up vehicles down this torturous terrain.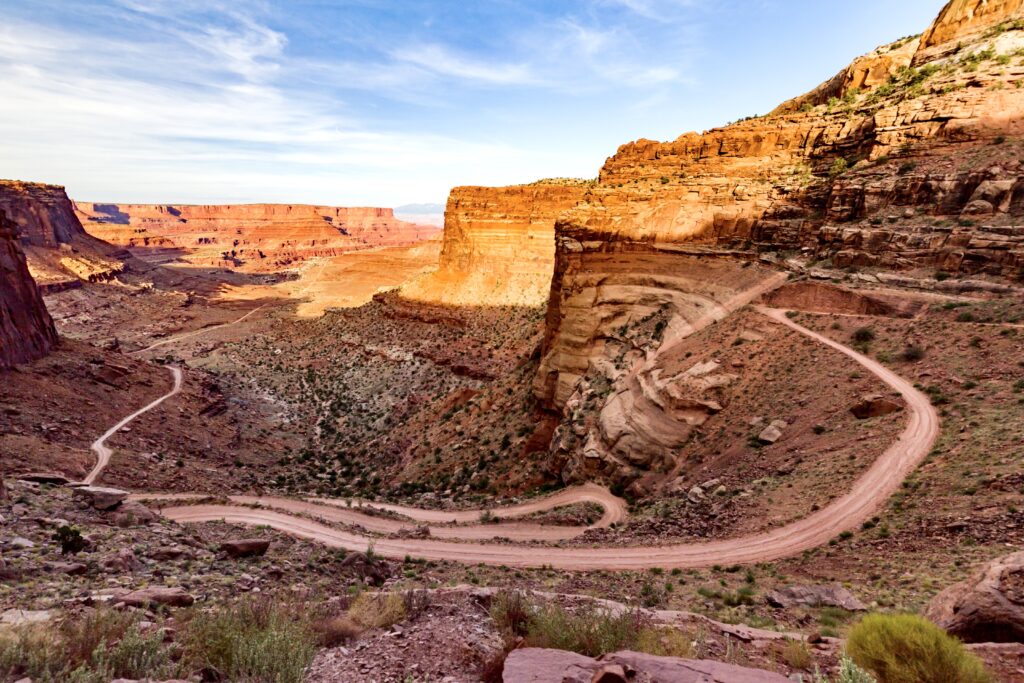 White Rim Road
The White Rim Road is a 100 mile loop. It starts on top of the Island in the Sky mesa before dropping down into the canyon itself.
During your day in Canyonlands, you'll catch glimpses of the road below from many of the overlooks mentioned above.
The famous road gets its name for white sedimentary rock that outlines the canyon's edge. The loop can be completed by vehicle or by bike, and involves significant forethought and planning.
You'll also have to procure a camping permit, which is obtained well ahead of time through a lottery system. I recently completed this route via mountain bike over 3 days and can attest to its beauty.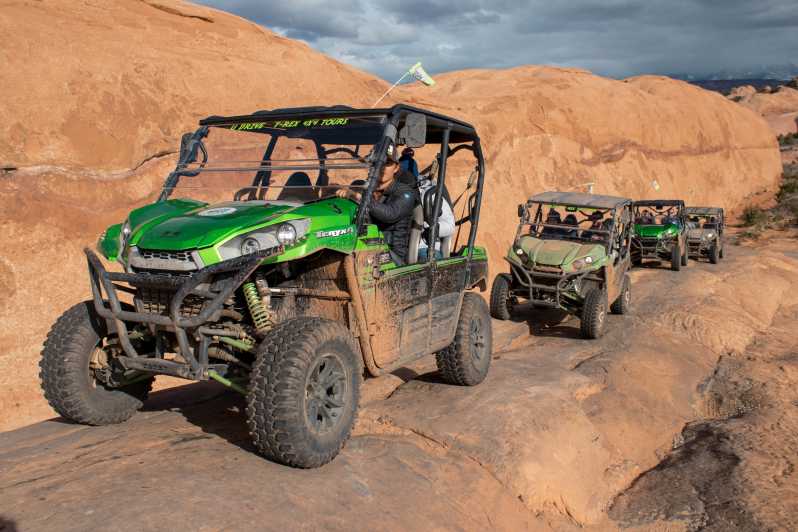 Guided Tours
If you'd like someone else to handle the logistics of visiting Canyonlands, there are several guided tours from Moab that may interest you.
This 8 hour outdoor adventure tour takes you off-roading through Canyonlands, followed by a guided rafting trip on the Colorado River.
You can also take a shorter 4 hour 4 x 4 jeep tour through Canyonlands or this 10 hour 4 x 4 jeep tour that also takes you to the harder-to-reach Needles district.
Where To Stay On Night 2
After finishing your day in Canyonlands, you could easily drive back to Moab and relax and recuperate before Day 3 in Arches National Park.
However, if you feel inspired to keep the outdoor experience going and have the necessary gear, there are lots of great camping options both inside and outside the park.
Willow Flat Campground is inside the park near the Green River Overlook. It's $20 a night based on first-come-first-serve availability. Sitting atop a small hill, this campsite provides a great vantage point for sunrise and sunset. The site has pit toilets, but no running water.
As you exit the park and drive back towards Moab, you will encounter the Horsethief Campground. Similar to Willow Flat, this is a $20 first-come-first-serve site.
If all else fails and all of the designated spots to camp are taken, there's plenty of open land where you are allowed to "dispersed" camp (essentially set up your gear wherever looks appealing). We ended up driving another 20 minutes past Horsethief on Mineral Point Road and found an amazing, secluded site to set up camp.
If you'd rather stay in a hotel, check out the ones I mentioned above in Moab.
Day 3: Arches National Park
On day 3 of your 5 days in the American Southwest itinerary, head to Arches National Park. It currently operates under a timed-entry reservation system during peak season (April 3 to October 3). Reservations can be made ahead of time on recreation.gov.
If you fail to score a reservation ahead of time, the park service withholds approximately 25% of passes for each day and releases them online the day before at 5:00 pm. We had no issue getting a pass using the latter method, but you should be ready to access the website right at 5:00 pm to ensure you score a coveted ticket.
The scenery in Arches is made of the same fantastical red sandstone as Canyonlands, except here millions of years of wind erosion formed large wall formations rather than deep canyons.
As its name suggests, Arches Park is famous for its magnificent arch structures, ranging from the massive Delicate Arch to many smaller unnamed arches. There are over 2000 arches in total!
The park is a great place to visit with young children or older folk, as the Arches Scenic Drive allows you to see most of the park with minimal exertion. The 19 mile road is the main corridor for travel in Arches, and many attractions are viewable from the road itself.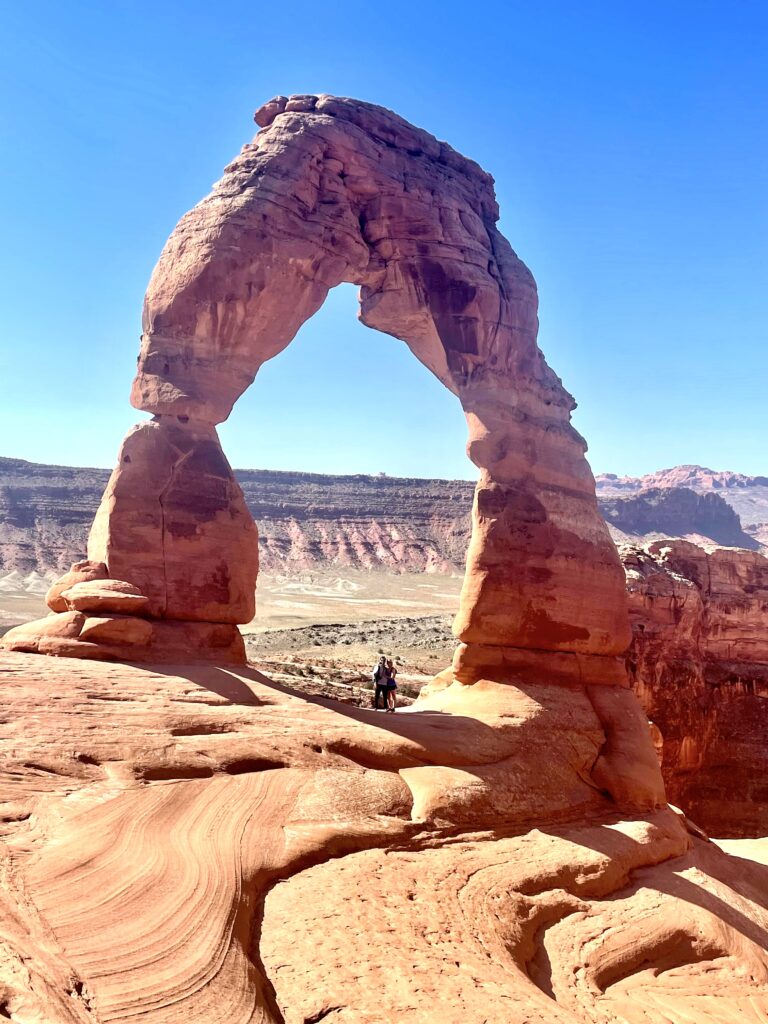 Delicate Arch is the most iconic of them all, and is an absolute must see. You can view the arch from afar or you can hike directly to the base.
For a more challenging excursion, try exploring Devil's Garden and the Double O Arch. It requires a difficult 4 mile hike with elevation change and even some rock scrambling.
However you decide to enjoy Arches, its a magical place that is sure to have something to offer for people of all ages and activity levels. Here's what to see.
Delicate Arch
When you think of Arches National Park, Delicate Arch is the image that most people conjure up in their minds.
There are 3 ways to view the arch: from a distance via Upper and Lower viewpoints or up close and personal after a 3 mile round trip hike. The viewpoints are both only a short distance from the parking lot, but their distance from the arch itself does limit its majesty a bit.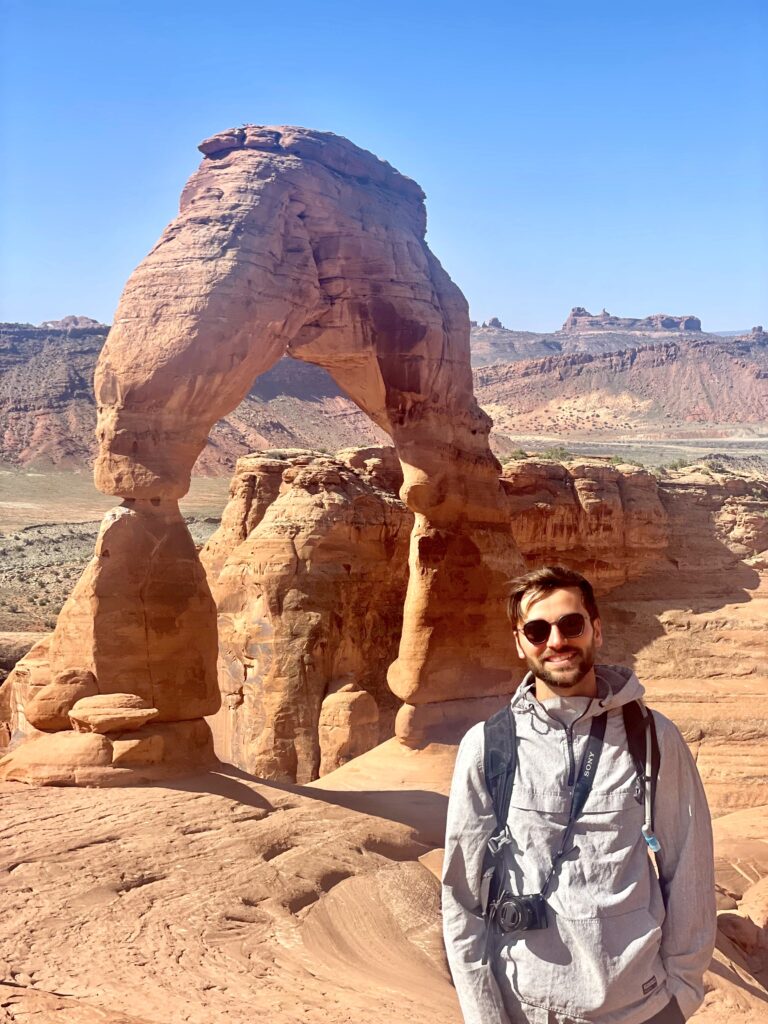 Guests who hike to the base of the arch will almost unanimously recommend this option. But the hike does have some difficult sections and is uphill almost the entire way out.
It would be best to do this hike in the early morning, so consider making this your first stop in Arches. This way you can beat the intense heat of mid-day and avoid some of the crowds.
As an added benefit, the arch is more photogenic in the morning before the sun is high in the sky.
The last stretch of trail, in which you will climb up onto the plateau where the arch sits, can be a bit daunting for those of us afraid of heights. Plus, be aware that, on certain days, it can get quite windy here as well. We saw numerous individuals lose their hats!
Landscape Arch to Devil's Garden
Landscape Arch is a long and seemingly wafer thin arch structure that's the world's longest natural arch. In the 1990's, a section fell and yet the structure still stands.
The hike to this arch is only .75 miles one way and there's very little elevation change. This could be a good option for travelers trying to limit their walking distance but want to see a lot, as the Pine Tree Arch and Tunnel Arch are also just .1 and .2 miles off the trail and definitely worth checking out.
From Landscape Arch, you can continue on into the Devil's Garden section of the park. This is the most remote area you can access by foot and is generally considered the most beautiful hike in the park.
The trail culminates at the Double O Arch. From the parking lot to Double O and back is about 4 miles total. Alternatively, you can take the Primitive Trail as well to get another mile worth of steps in.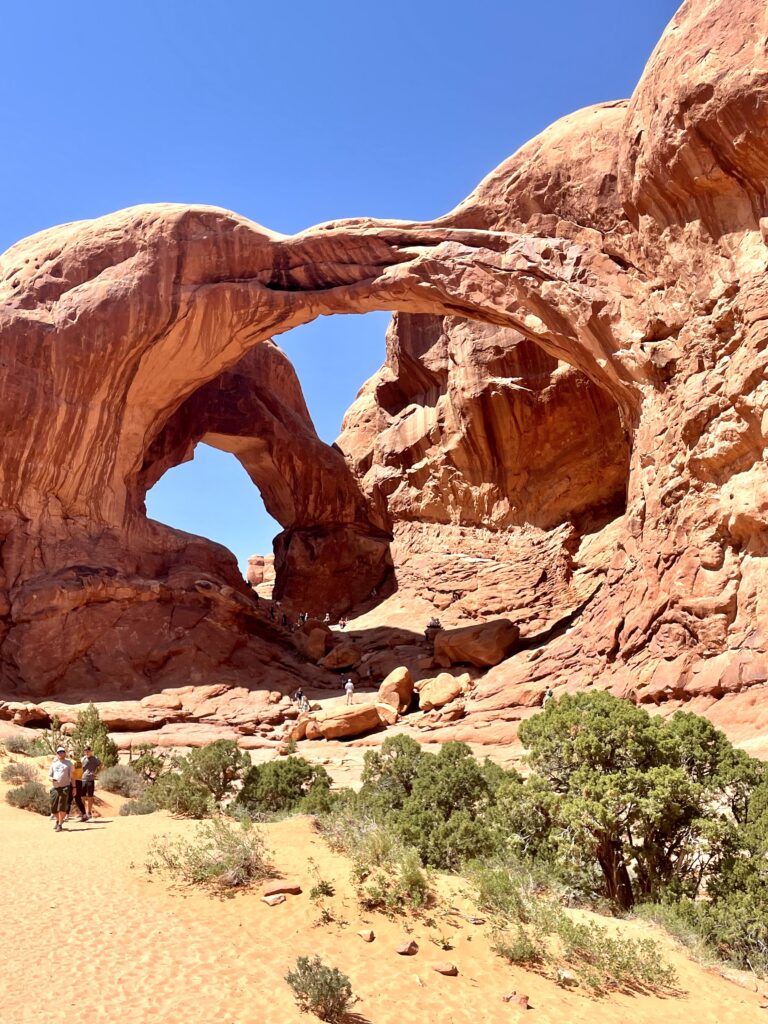 Windows Loop And Turret Arches
This 1.2 mile roundtrip hike features 3 unique arches: North Window, South Window, and Turret.
When you head off on the main trail towards the arches, you'll encounter a turn off onto the Spur trail on your right, which leads to the Turret Arch. Standing underneath this arch provides a unique perspective of both Windows.
I recommend you make Turret Arch your first stop and then head to the Window Arches themselves for a closer look.
You can hike back to the car on the Primitive Trail, which takes you behind the backside of the Windows. This trail is sandy and not as well marked as the rest in the park. But if you hug the wall to your left, you'll find your way back.
Double O Arch
Here, two arches conjoin together to form a triangle in the sky. This is actually the tallest arch structure in the park and easily one of my favorites.
It looks incredible from a distance, where you can really take in the magnitude. But it's even more awe inspiring when standing right underneath.
There's some opportunity to climb to a shelf underneath the second of these two arches, which offers a unique perspective of the park to the south.
This area is accessed from the same parking lot as the Window Arches, making them easy to do in succession.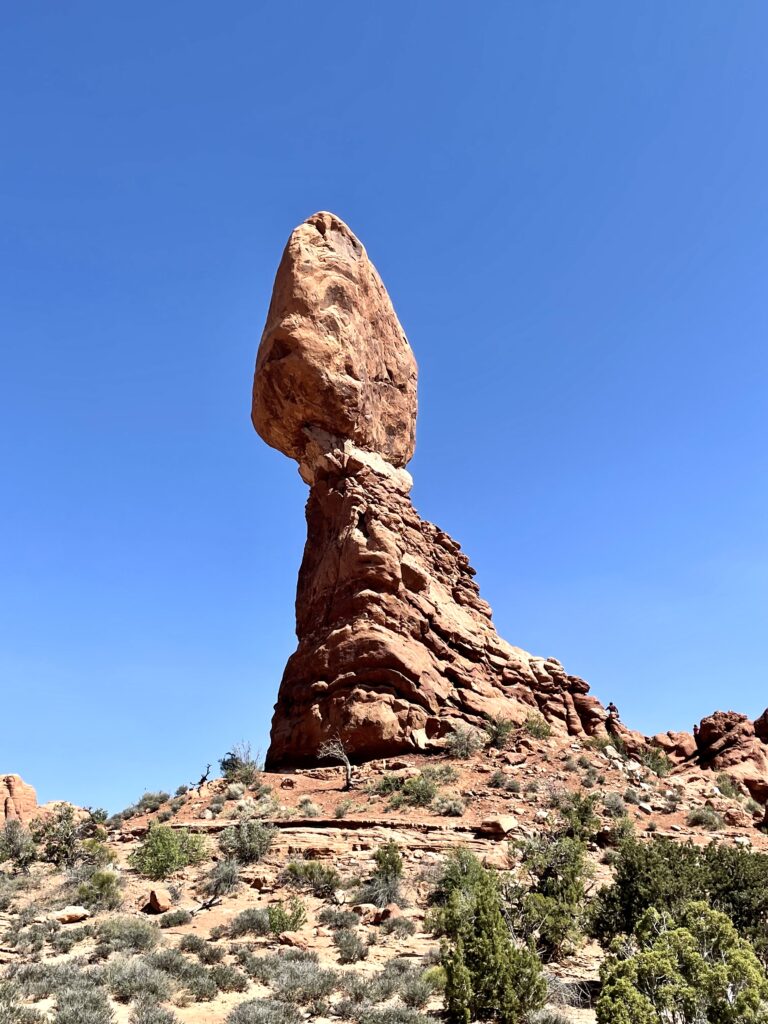 Balanced Rock
True to its name, Balanced Rock is a massive boulder perched precariously atop a skinny neck.
This gives the impression that it could topple over at any second, and truthfully, one day it surely will. For now, it remains a central attraction of Arches, as it sits just off to the side of the Scenic Drive.
I personally feel this is one stop that can be appreciated just as well from a distance as from up close. But should you feel inclined, there's a short hike that goes around the base of the foundation.
Courthouse Towers Viewpoint
Just a short walk from the pull-off, this viewpoint offers a scenic overlook of the Courthouse Towers. This rock formation features steep, sheer-faced walls that give the impression of a cityscape.
Some notable features include views of the Three Gossips, the Tower of Babel, and in the distance the La Salle mountain range.
From the parking lot, there is a short one mile loop to the base of the Courthouse Towers where you can see two more arches, Ring and Baby.
The great thing about Arches National Park is that it really lends itself to a day trip. This entire itinerary can be completed in around 5 hours, though you could easily spend 2-3 days there as well.
Where To Stay On Night 3
Where you decide to stay on night 3 of this 5 day Southwest itinerary may depend entirely on how long you spend in Arches.
You might consider staying in Page Arizona. The town is home to both the famous Horseshoe Bend and Antelope Canyon, which you'll visit on day 4. From Arches, this southwest vacation town is a 4.5 hour drive. It's a long haul and ultimately proved to be too much for us after a full day of sightseeing.
Apart from a few small towns, there's not much in the way of destinations or attractions along the route from Arches to Page. So look on the map and choose a strategic stopping point based on distance.
We opted to stop in Monticello Utah after only an hour of driving and got an early start the next morning. White Mesa Utah is 1:40 from Arches, followed by Mexican Hat at 2:20, and finally Kayenta at 3:10.
I doubt you'll have much left in the tank for exploring these towns, so it may be advisable to find the most reasonably priced accommodations available and shoot for that.
Day 4: Page Arizona
Day 4 of your 5 day Southwest road trip itinerary sees you in Page Arizona. Page is a small Arizona city just over the northern border between Arizona and Utah. It's most famous for its proximity to Glen Canyon Dam and Lake Powell.
There's not that much of note to do in the town itself. But its setting is absolutely stunning. Page is surrounded by sandstone mountains and mind blowing slot canyons.
While Page is a popular destination for tourists looking for water recreation opportunities on the lake. Unfortunately, this revenue stream has dwindled recently as the water level in Lake Powell has dropped substantially.
Luckily, for the purposes of our Southwest itinerary, we were focused on the star studded attractions of Antelope Canyon and Horseshoe Bend.
Horseshoe Bend
Horseshoe Bend is one of the most photographed geographical features in all of Arizona, and rightfully so!
It's a social media darling that's a horseshoe-shaped bend in the Colorado River. This famous Arizona attraction features emerald waters and vivid mineral rich canyon walls.
Just a short half mile hike from the parking lot, you'll find a dedicated viewing area on the top of Glen Canyon. 1,000 feet below, the Colorado River carves its way through the sandstone, forming the iconic horseshoe shape. From this vantage point, the boats and people below look like children's toys.
Most people visit this site around sunset, as the lighting is spectacular, but the scenery is equally amazing in the early morning. Consider making this the first stop of the day to avoid the crowds.
Unfortunately, national park passes don't apply at Horsehoe Bend. The parking lot is open from sunrise to sunset. Car entry cost $10 and pets are allowed.
Be careful around the rim. There are plenty of unfenced vantage points where a wrong step could be disastrous.
For a unique perspective, consider taking a boat ride on the Colorado River to see this massive structure from below. Companies like Antelope Canyon Boat Tours and others offer these tours. You can also book a half day guided tour from Page.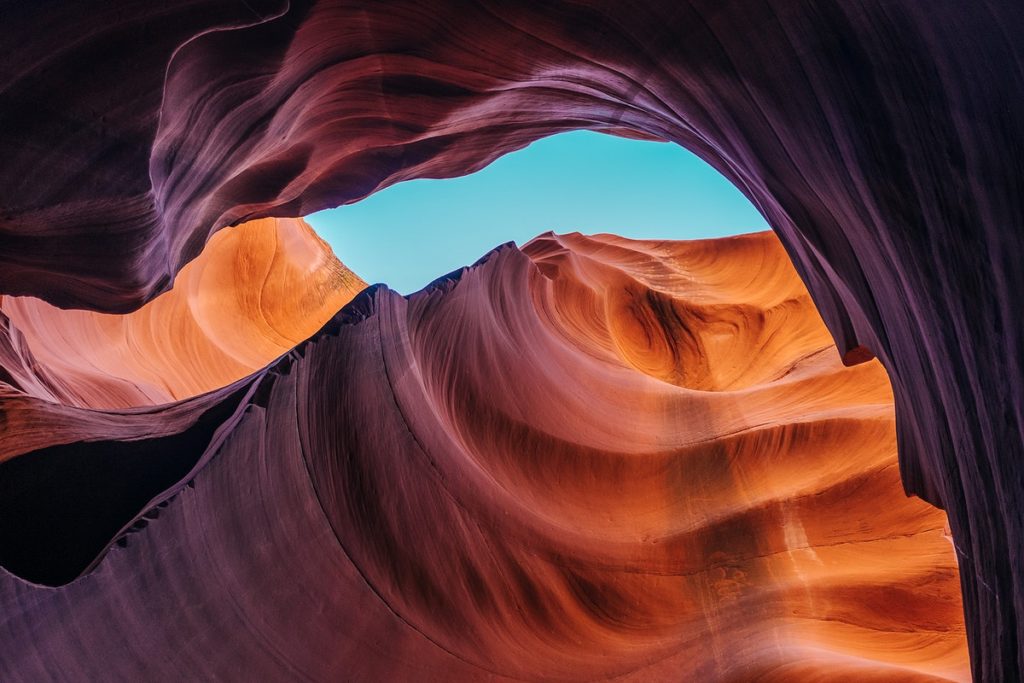 Antelope Canyon
Antelope Canyon is a world famous slot canyon that's on everyone's Arizona bucket list. It's one of the world's deepest and longest slot canyons. This otherworldly spot was created by water and winds over thousands of years.
The resulting impression is of a beautiful swooping ribbon. Combine this unusual texture with vivid reds and yellows and striking lighting from above, and its no wonder this is a must-see for avid landscape photographers. People say there's nowhere else on earth like it!
On a visit, you can explore the Upper Antelope, the Lower Antelope, or Canyon X. All of the local slot canyons are on Navajo land.
For this reason, you must have a guide to access them. This helps control the crowds in the canyon and support the local Navajo community.
Click here for an admission ticket and guided tour. You can combine the Lower Antelope with Horseshoe Bend on a guided tour from Page. You can also get a ticket + tour for either the lower canyon or for the upper canyon.
The Upper Canyon tends to be the most popular option as this area has easier access. The Lower Canyon requires climbing ladders down into the canyon floor. Be sure to choose your tour options accordingly.
Most tours will last between 1.5-2 hours, and range from $40 – $90 per person depending on which location and tour length. Both sites are equally impressive, so you really cannot go wrong.
Be aware that accessing the canyon involves a ride in the back of a converted 4 wheel drive vehicle over sandy backroads. It can get quite windy here on certain days. Consider bringing a handkerchief to cover your face and definitely sunglasses to protect your eyes.
The canyon can be accessed year round, but there is a possibility of closures during high rain season (generally late summer months).
Where To Stay On Night 4
Because Page is a town that relies heavily on the tourist economy, there are plenty of lodging options ranging from AirBnb/VRBO to classic hotels.
I would encourage you to help support the local community and stay at an airbnb, maybe even one which shares the space with the owner. We stayed in a cute bed and breakfast style AirBnb in which we had a private room in someone's home and really enjoyed both our stay and getting to know the owner.
Another great option is Shash Dine' EcoRetreat. This unique stay is about a 20 minute drive south of Page on Highway 89. It's a great option if you are looking for a photo-worthy stay to end the trip on a high note.
This rural bed and breakfast has a variety of accommodations on Navajo land, including glamping tents, rustic cabins, "hogans" (a traditional Navajo dwelling), or the more luxe "KYOOB."
Dreamkatchers Lake Powell is another good hotel option. It's a boutique bed and breakfast offering up a rooftop hot tub with great views of the lake and surrounding mesas, as well as stylish rooms and an open air desert facing breakfast area.
You can also stay at traditional standbys like the Hyatt Place, Hampton Inn, or the Courtyard Marriott.
For dinner in Page, check out El Tapatio (Mexican), Bonkers Restaurant (Italian), or Sunset 89 (American classics and craft cocktails).
Day 5: Attractions Near Antelope Canyon
On the final day of your 5 day Southwest itinerary, check out some hidden gem attractions near Page.
Recently, Antelope Canyon has come under some criticism for its crowds. Personally, I felt that the people on the tours with me did not diminish my experience much. But I can also understand people wanting to avoid the commercialization of this natural wonder.
Luckily, there are plenty of alternatives to Antelope Canyon, ranging from less crowded tours to unguided, lesser known slot canyons.
Canyon X And Secret Canyon
A popular slot canyon with far less visitors is Canyon X. This canyon is unique because the tour trucks can drive right into the canyon.
Click here to book a ticket or here to book a guided tour. Unlike Antelope Canyon, you can get tickets at the last minute and take photos without anyone in them.
Another slot canyon to visit is Secret Canyon, also know as Horseshoe Bend Canyon.
The company Horseshoe Bend Tours is the only group with access to this particular canyon, which helps to significantly diminish the impact of other visitors. The company offers a double feature tour of the canyon and a private viewpoint of Horseshoe Bend itself.
Buckskin Gulch
You should also check out Buckskin Gulch. About 45 minutes northwest of Page, this slot canyon is one of the longest in the world. It's 16 miles long and offers sightseeing that rivals Antelope Canyon with significantly less foot traffic.
Day use permits are required and cost $6 per person. They can be purchased on recreation.gov. You can also book a guided hiking tour.
The great thing about Buckskin is that it's the antithesis of the Antelope Canyon tours — a true make-your-own adventure. From the trailhead, you will reach the canyon entrance after about 1.3 miles of hiking. From there, you can explore as deep into the canyon as you'd like.
Take caution to factor in the time and energy to get back out, as the only way out is to backtrack the way you came. Most visitors say you can get the full effect of the canyon with a 2 mile out-and-back hike. Be sure to keep your eyes peeled for petroglyphs.
Hanging Garden Trail
If you are looking for a shorter activity before getting on the road, check out the Hanging Garden Trail.
This 1.5 mile out and back is an easy hike. It leads to an area where a slowly dripping spring in the sandstone creates a lush oasis in an otherwise arid landscape. The overhanging wall is covered in all sorts of native plants and makes for a great photo backdrop.
Right nearby is the Potato Hill Scenic Overlook, which is an excellent place to get a vantage point of Lake Powell.
Any combination of these stops would be a nice send off to wrap up your 5 day American Southwest road trip itinerary.
More Than 5 Days In The American Southwest?
If time permits, there is plenty more to do in this area of the country.
If you have more than 5 days in the American Southwest, you can add a quick trip to Zion National Park and/or Bryce National Park.
Zion is just over 100 miles west, about 1.75 hours away from Page. Zion is known for it 2,000 foot sandstone cliffs. It's a great place for canyoneering.
Once you've enjoyed the beautiful scenery of Zion, start heading back north to Bryce (only 72 miles, 1.5 hours northeast). Bryce boasts the world's largest collection of rainbow colored hoodoos.
Of course, you can also visit the Grand Canyon, which is 124 miles from Page. The Grand Canyon is massive. It's the largest canyon in the world at 277 miles long and over a mile deep from the river to rim.
If you have 7 days in the Southwest instead of just 5 days, you could easily spend your last two days in the Grand Canyon.
There are quite a few ways to experience the Grand Canyon. You can take a:
If you're pining for a city break after all the parks, you can also head south to Sedona. This scenic desert town is surrounded by glowing red buttes and steep canyons. It's an adorable town and New Age healing paradise, with shops, boutiques, and killer eateries.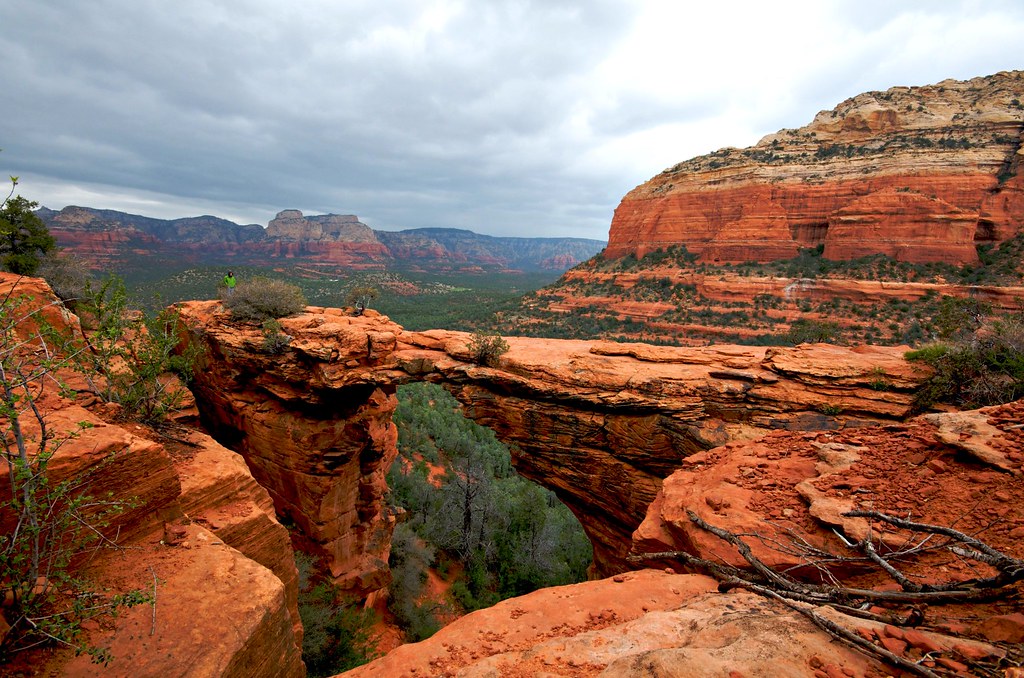 So that's a wrap. I hope you've enjoyed this 5 day itinerary for the American Southwest. Look out for future articles detailing these places as well!
You may enjoy these other US travel guides and resources:
If you'd like to spend 5 days in the American Southwest, pin it for later.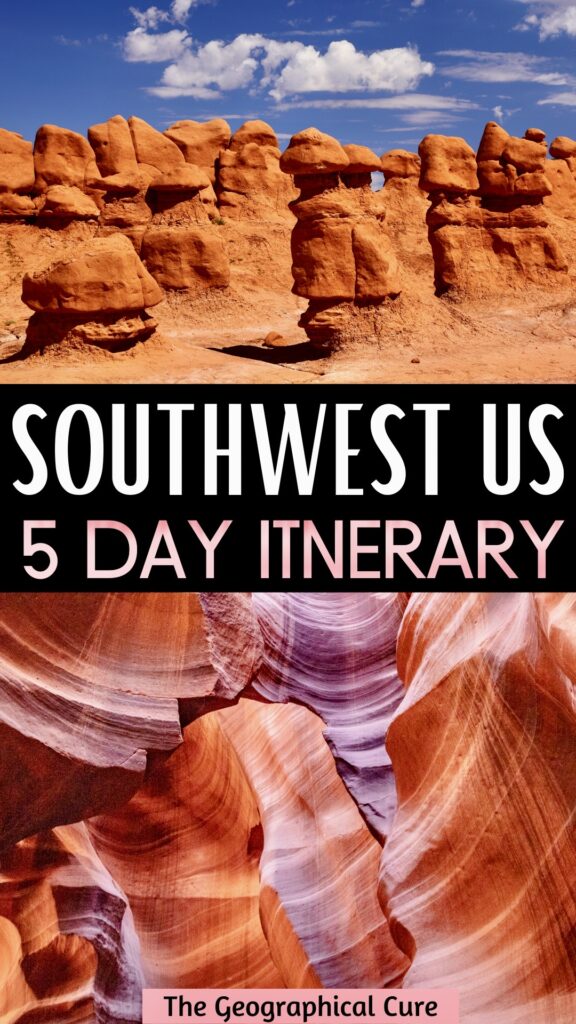 This 5 day American Southwest itinerary was written by David Rothfuss. David lives in beautiful, sunny Boulder Colorado. He's a physician assistant by trade and enjoys exploring the outdoors in his free time. He loves traveling with his girlfriend Ali and their pup Maple, and sharing his adventures along the way.