Hungry for art or cultural inspiration? Do you want to see Europe's best modern art on vacation? Look no further!
This list, created with my own subjective views and the objectively immortal status of the listed artists, will satisfy your cravings.
I identify the most famous and groundbreaking works of modern art in Europe and tell you where to find them.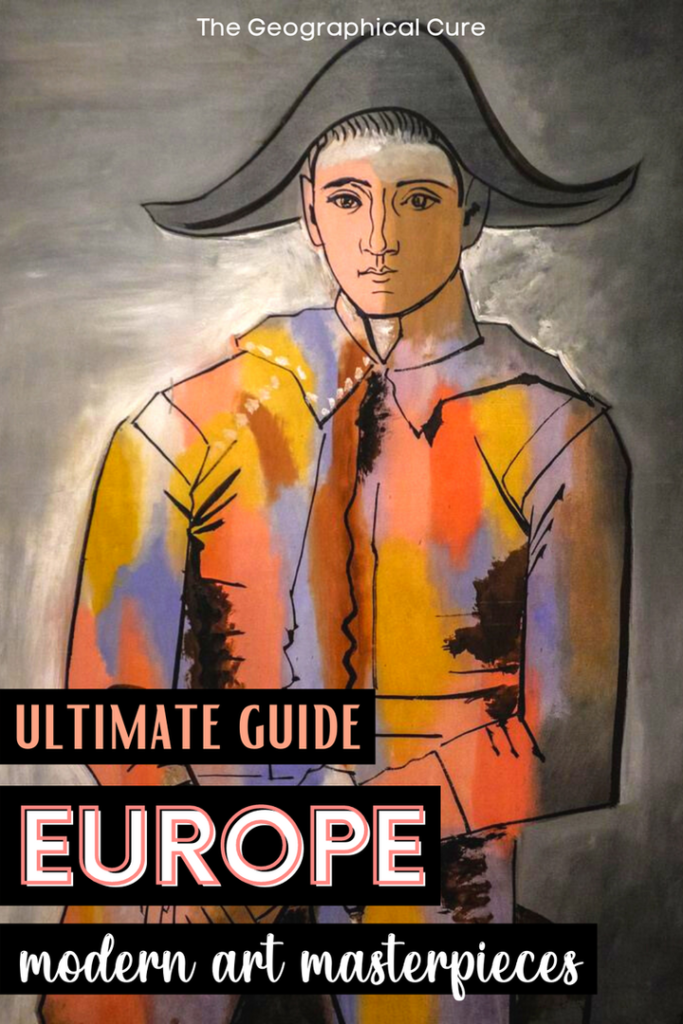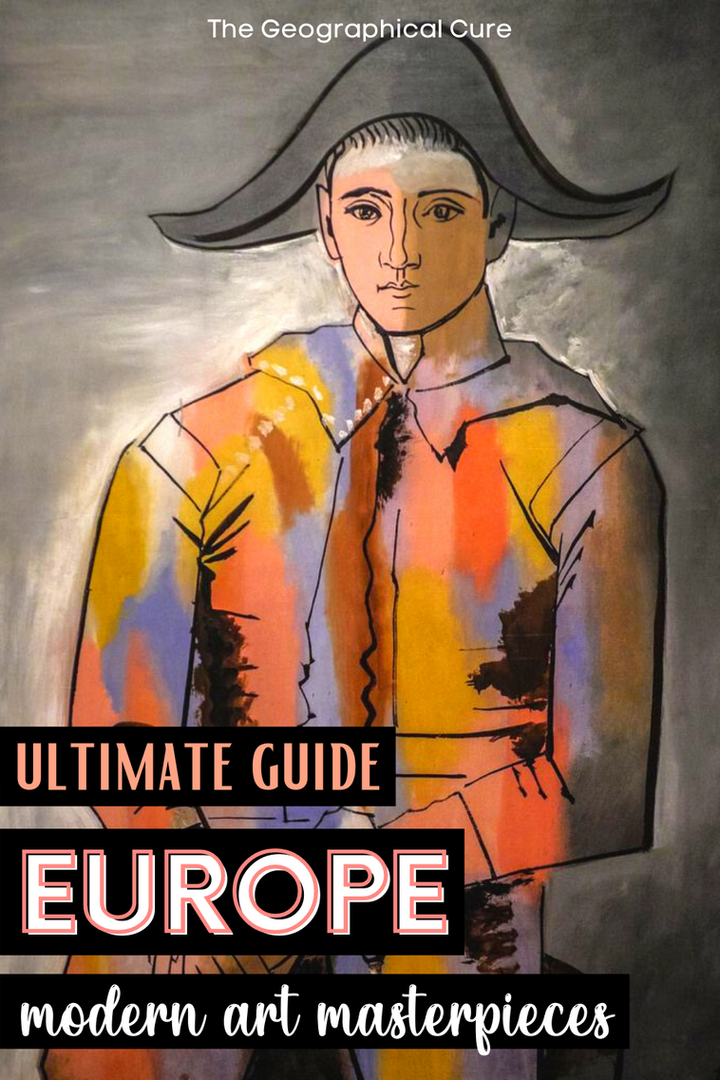 I created this list because travelers typically just find listicles of museums to visit, without specifying the best individual works of art to see.
I've picked a smattering of amazing museums throughout Europe, for your art bucket list. No matter where your travels take you in Europe, you'll find some great modern art.
25+ Famous Modern Art Masterpieces In Europe
Here are my top 28 must see paintings and masterpieces of modern art in Europe, to hunt down and admire.
1. Pablo Picasso, Guernica, 1937
Guernica is the star of the Reina Sofia Museum in Madrid. The famous painting is Pablo Picasso's most famous work of art. Guernica is the town that was casually bombed by Nazi planes in 1937 during the Spanish Civil War.
The dark chaotic subject matter is shown in gruesome detail, complete with a modern pieta, a hidden human skull, and daggers. The monochromatic color only heightens the emotional impact.
Picasso's haunting painting depicts the horrors of war and the human face of collateral damage. It's become an anti-war symbol. The surrealist photographs of Picasso's then paramour Dora Maar are said to have influenced the piece.
READ: Best Art Museums in Spain
Address: Calle de Santa Isabel 52, Madrid
Hours: Mon, Wed-Sat 10:00 am to 9:00 pm, closed Tues
Entry: 12 €, free admission on Mon 7:00 to 9:00 pm, Wed-Sat 7:00 to 9:00 pm, Sun 1:30 to 7:00 pm
2. Edvard Munch, The Scream, 1893-1910
The open mouthed agonized face of the waif-like figure in Edvard Munch's The Scream has become an iconic image of art.
It's effectively the Mona Lisa of the modern art world. In what Munch described as a "soul painting," he reveals an honest and perhaps even ugly glimpse of his inner anxiety.
As in any true expressionist painting, The Scream vibrates with swirling color and overwhelming feeling and emotion. There are three versions of the The Scream in Europe. Two are at the National Gallery Oslo and one is at the Munch Museum in Oslo.
The Scream in the Munch Museum was stolen at a gunpoint in 2004. Two years later, the robbers were arrested in a sting operation when they tried to ransom the paintings. They were jailed and the painting was recovered with some minor damage.
Address: Universitetsgata 13, Oslo
Hours: Mon-Fri, 10:00 am to 9:00 pm, Sat-Sun, 11:00 am to 9:00 pm
Entry: free
Address: Tøyengata 53, 0578 Oslo Norway
Hours: 10:00 am to 4:00 pm
Entry: 120 Norweigan Krone, approximately $14
3. Jackson Pollack, Alchemy, 1947
Alchemy is one of Pollock's earliest poured paintings, executed in the revolutionary technique that was his most singular contribution to 20th century art. After long deliberation before the empty canvas, Pollock used his entire body in a rapid fire picture-making process that is essentially drawing in paint.
By pouring streams of paint onto the canvas from a can with the aid of a stick, Pollock made obsolete the conventions and tools of traditional easel painting.
Pollack had immense help in his endeavors. He was essentially discovered by the eccentric art collector Peggy Guggenheim in New York. She gave the destitute artist a retainer and sponsored his first four shows. She even commissioned Pollock to paint a massive mural for her Manhattan apartment in New York, which is now one of his seminal works.
Address: 704 Dorsoduro Venice Italy
Hours: Open daily 10:00 am to 6:00 pm, closed Tuesday
Entry: € 16, Under 26 (with ID) € 9, Under 10, free
4. Andy Warhol, Marilyn Diptich, 1961
Is there any artist more American than Andy Warhol? He was obsessed with celebrity and wanted to be a superstar painter. He ambitiously sought to revise the idea of art, to blur the distinction between fine art and commercial art.
When Marilyn Monroe died in August 1962, Warhol made more than 20 silkscreen paintings of her. The paintings are all based on the same publicity photograph from the film Niagara.
READ: Guide To the Andy Warhol Museum in Pittsburgh
In Monroe, Warhold found a fusion of two of his consistent themes: death and the cult of celebrity. By repeating the image, he evokes her ubiquitous presence in the media. The contrast of vivid color with black and white and the effect of fading in the right panel suggest the star's harrowing fate.
Address: Bankside, London SE1 9TG, UK
Hours: Sun-Thurs, 10:00 am to 6:00 pm, Fri-Sat, 10:00 am to 10:00 pm
Entry: free, except for special exhibitions
5. Wassilly Kandinsky, On White II, 1923
Kandinsky was one of the pioneers of modern art. This early example of geometric abstract art is said to be Kandinsky's most famous painting. On White II is a colorful and imaginative abstract painting on white canvas with various abstract geometrical shapes.
The vibrant colors of the painting are Kandinsky's "transcendental expression" of life and opportunity. The color black represents death and how opportunity can vanish in an instant.
Address: Place Georges-Pompidou, 75004 Paris, France
Hours: Wed to Mon 11 am to 10 pm, Thur open until 11 pm, closed Tues
Entry: Adults: 14 €, Youth free
READ: Complete Guide to the Pompidou Center
6. Richard Serra, The Matter of Time, 2005
Richard Serra is one of the most important sculptors of the 20th century. The Matter of Time is an installation comprised of eight pieces of torqued ellipses made of weathering steel. In this installation, the entire room is a sculptural field.
Serra's minimalist scupture encourages viewers to move around — and sometimes on, in, and through — the work and encounter it from multiple perspectives. The unique installation creates an unforgettable, dizzying feeling of space in motion.
I loved it, a full mind and body experience. Plus, the setting of the piece is perfect. It's housed in the world famous Gehry-designed Guggenheim Museum in Bilbao Spain.
READ: 2 Day itinerary for Bilbao
Address: Abandoibarra Etorb., 2, 48009 Bilbao Spain
Hours: Tues-Sun 10 am to 8 pm., closed Mon
Entry: Adults: 13 €, Youth free
7. Pablo Picasso, Portrait of Dora Maar, 1937
There's no doubt that the art of Pablo Picasso was revolutionary and unparalleled in terms of quality and quality. Most art historians consider him the greatest artist of the 20th century. He certainly had plenty of charisma and genius.
This is possibly my favorite Picasso piece in Paris' Picasso Museum in the Marais neighborhood. Dora Maar, then Picasso's mistress, is represented majestically seated in an armchair, smiling and resting her head on a long-fingered hand. The face is shown in a combined frontal and profile view, with a red eye and a green eye facing in different directions.
READ: Guide To All the Picasso Museum in Europe
These deformations are the very hallmark of Picasso's art. They primarily serve an expressive purpose: the idea is less to remake reality than to express its possibilities and to capture all aspects of the sitter.
Address: 5 Rue de Thorigny, 75003 Paris, France
Hours: Tues-Fri 10.30 am to 6 pm, Sat-Sun 9.30 am to 6 pm, closed Mon
Entry: Adults: 14 €, Youth free
8. Mark Rothko, Seagram Murals, 1950s
Rothko was originally commissioned by Seagrams to create these murals for the Four Seasons restaurant in New York. In 1959, Rothko abruptly quit the prestigious gig. Apparently, he didn't want his art to be mere decoration for wealthy patrons.
Instead, the Seagram Murals took on a darker and more contemplative turn. Michelangelo's Laurentian Library in Florence influenced Rothko's meditations on red, grey and brown.
Rothko sought to re-create the library's claustrophobic and sepulchral atmosphere. At the time, some criticized them as "Apolcalypse Wallpaper."
In the 1960s, Rothko gave nine of the Seagram murals to the Tate Modern, which the director called "a princely gesture." Rothko insisted on a permanent, exclusive room for the murals, resisting any attempt to mix the bleak murals with sunnier examples of his work.
The murals are therefore displayed as Rothko intended — in an enclosed, dimly lit space that allows the viewer to take in their morose and meditative character.
Address: Bankside, London SE1 9TG, UK
Hours: Sun-Thurs, 10:00 am to 6:00 pm, Fri-Sat, 10:00 am to 10:00 pm
Entry: free, except for special exhibitions
9. Marcel Duchamp, Fountain, 1917
As few artists did, Marcel Duchamp challenged the very nature of art. He rejected what he called "retinal pleasure." His first "readymades" sent shock waves through the art world. Appropriately, Duchamp viewed art as an "inner current in a human being."
Fountain is one of Duchamp's most famous mass-produced, readymade works.
It prompted aesthetics specialists to analyze and question the definition of art.
Fountain's widely seen as an icon of 20th century conceptual art. The original, long lost, consisted of a standard urinal, usually presented on its back for exhibition purposes rather than upright, and was signed and dated "R. Mutt 1917."
Address: Bankside, London SE1 9TG, UK
Hours: Sun-Thurs, 10:00 am to 6:00 pm, Fri-Sat, 10:00 am to 10:00 pm
Entry: free, except for special exhibitions
10. Otto Dix, Portrait of the Journalist Sylvia von Harden, 1926
Dix is know for his ruthless and unflattering portraits depicting German society. He painted what he called "life undiluted."
This expressionist painting is representative of the Neue Sachlichkeit, New Objectivity, wave of art. It was a German art movement that appeared around 1920 and refers back to the German masters of the 16th century.
Dix ressucitated the use of older technics, such as tempera on wood, but still used a modern choice of subject. While other artists abandoned portraiture, Dix embraced the genre with savagery and satire.
Address: Place Georges-Pompidou, 75004 Paris, France
Hours: Wed to Mon 11 am to 10 pm, Thur open until 11 pm, closed Tues
Entry: Adults: 18 € (permanent + temporary exhibits)
11. Jean Fabre, The Man Who Measures Clouds, 1998
Most visitors to Ghent or Bruges aren't aware that a contemporary masterpiece is hidden on the roof of an old casino, now converted into the SMAK museum.
The SMAK Museum is renowned both for its permanent collection and for its provocative exhibitions. You'll have to actively look for the 450 kilo silicon bronze sculpture of The Man Who Measures Clouds by Jen Favre.
The sculpture shows "Fabre himself balancing on a small stepladder, both arms outstretched in an effort to do something impossible" — measure the clouds with a school ruler. Suffused with poetic imagery, the sculpture is Fabre's tribute to his brother and a stunning public work.
"SMAK" – Stedelijk Museum voor Actuele Kunst
Address: Jan Hoetplein 1, 9000 Ghent, Belgium
Hours: Tues-Fri, 9:30 am to 5:30 pm, Sat-Sun 10:00 am to 6:00 pm, closed Mondays
Entry: € 12, Youth under 18 free
12. Vincent Van Gogh, The Bedroom, 1888
Vincent Van Gogh has cast almost a religious spell on art history and his avid fans. We're spellbound by the unstable artist who locked himself in a Provencal asylum and may have killed himself.
I say "may" because there's a theory that his death might have been the result of murder or accidental manslaughter.
Van Gogh's Post-Impressionist work is beloved — notable for its swirling line, emotional honesty, and bold vivid color. Van Gogh had a profound impact on 20th century art. Who else do you think inspired The Scream?
When he lived in Arles, Vincent Van Gogh made this iconic painting of The Bedroom in his "Yellow House." It may be the most famous painting of a bedroom in art history. The bright colors and straight lines were meant to express absolute repose and serenity.
Although the picture symbolized relaxation to the artist, The Bedroom canvas seems to teem with nervous energy, instability, and turmoil, and the effect is heightened by the sharply receding perspective.
The rules of perspective are not accurately applied in the painting. This was a deliberate choice.
Address: Museumplein 6, 1071 DJ Amsterdam, Netherlands
Hours: 9:00 am to 9:0p pm, except holiday
Entry: € 19, Under 28 free, accepts Amsterdam Card
13. Umberto Boccioni, Elasticity, 1912
Boccioni was the leading artist of Italian Futurism. He was based in Milan.
During his short life, he produced some of the movement's most iconic paintings and sculptures. He captured the color and dynamism of modern life in a pre-Cubist style. A style that he theorized and defended in manifestos, books, and articles. Boccioni termed his style "physical transcendentalism."
Boccioni's Elasticity is a literal demonstration of horsepower. It has a mechanistic, cubist appearance. But it's not quiet like Cubism. This painting is so dynamic it seems like it might burst.
Galleria d'Arte Moderna di Milano
Address: Via Palestro, 16, 20121 Milano MI, Italy
Hours: Tues-Sun, 9:100 to 5:30, closed Mon & holidays
Entry: € 5.00, Under 18 free
14. Van Gogh, Cafe Terrace at Night, 1888
The Kröller-Müller Museum boasts the second-largest Van Gogh collection in the world, at almost 90 paintings and over 180 drawings. Cafe Terrace at Night was one of the first scenes Van Gogh painted during his time in Arles France. More significantly, it was the first painting in which he used a nocturnal background.
Using contrasting colors and tones, Van Gogh achieved a luminous surface that pulses with an interior light, almost in defiance of the darkening sky. He thought that "the night is more alive and more richly colored than the day."
The cafe in the painting still exists. It's been renamed the Café Van Gogh. And it's now a bit of a tourist trap.
Address: Houtkampweg 6, 6731 AW Otterlo, The Netherlands
Hours: Tues-Sun 10:00 am to 5:00 pm except holidays
Entry: 12 €, Youth 6-12 € 10.00, Under 6 free
15. Henri Matisse, The Dance, 1909-10
The Dance by Henri Matisse is housed in St. Petersburg's Winter Palace, one of the most breathtaking buildings in the world.
Matisse created this painting in 1910, at the request of Russian businessman and art collector Sergei Shchukin. Shchukin then bequeathed the large decorative panel to the Hermitage Museum.
The composition of dancing figures is commonly recognized as a key point of Matisse's career and in the development of modern painting. The dancers are largely formless and have a childlike spontaneity.
Other versions of Matisse's dance theme can be found in the Matisse Room at the Paris Museum of Modern Art. There, you can see his large free flowing cut out murals of La Danse and La Danse inachevée.
There's also a prepartory sketch of The Dance at New York's Museum of Modern Art and an arched Dance II triptych in Philadelphia's Barnes Foundation.
Address: Palace Square, 2, Dvortsovaya Square
Hours: Tues, Thurs, Sat, Sun: 10.30 am to 6:00 pm, Wed & Fri: 10.30 am to 9:30 pm, closed Mondays
Entry: 700 rubles, approx $10.50
Address: 11 Avenue du Président Wilson, 75116 Paris, France. Until Fall 2019 entrance is on 12-14 avenue de New York – 75116 Paris
Hours: Tues-Sun, 10:100 am to 6:00 pm
Entry: Free except for special exhibitions
16. Amedeo Modigliani, The Peasant Boy, 1918
Amedeo Modigliani is an Italian painter that worked mostly in France, living with Picasso and the bohemian crowd at the Bateau Lavoir in Paris' Montmartre neighborhood.
Modigiliani's style is characterized by elongated faces and bodies, a style which modernized figurative painting.
The Peasant Boy is one of a small group of paintings of youths by Modigliani. The artist inscribed the work's title on the bottom right of the canvas, identifying the sitter as a "peasant boy."
The same model appears in a painting in the Jean Walter and Paul Guillaume Collection in the Orangerie Museum in Paris, titled The Young Apprentice.
Modigliani had long been deeply influenced by the painter Paul Cézanne. It seems likely that this series of paintings was a homage to the latter's series of country workers.
Address: Bankside, London SE1 9TG, UK
Hours: Sun-Thurs, 10:00 am to 6:00 pm, Fri-Sat, 10:00 am to 10:00 pm
Entry: free, except for special exhibitions
Address: Place de la Concorde 75001 Paris
Hours: Open daily from 9:00 am to 6:00 pm, last admission 5:15 pm, closed Tuesday
Entry fees: Full rate: € 12.50, reduced rate € 10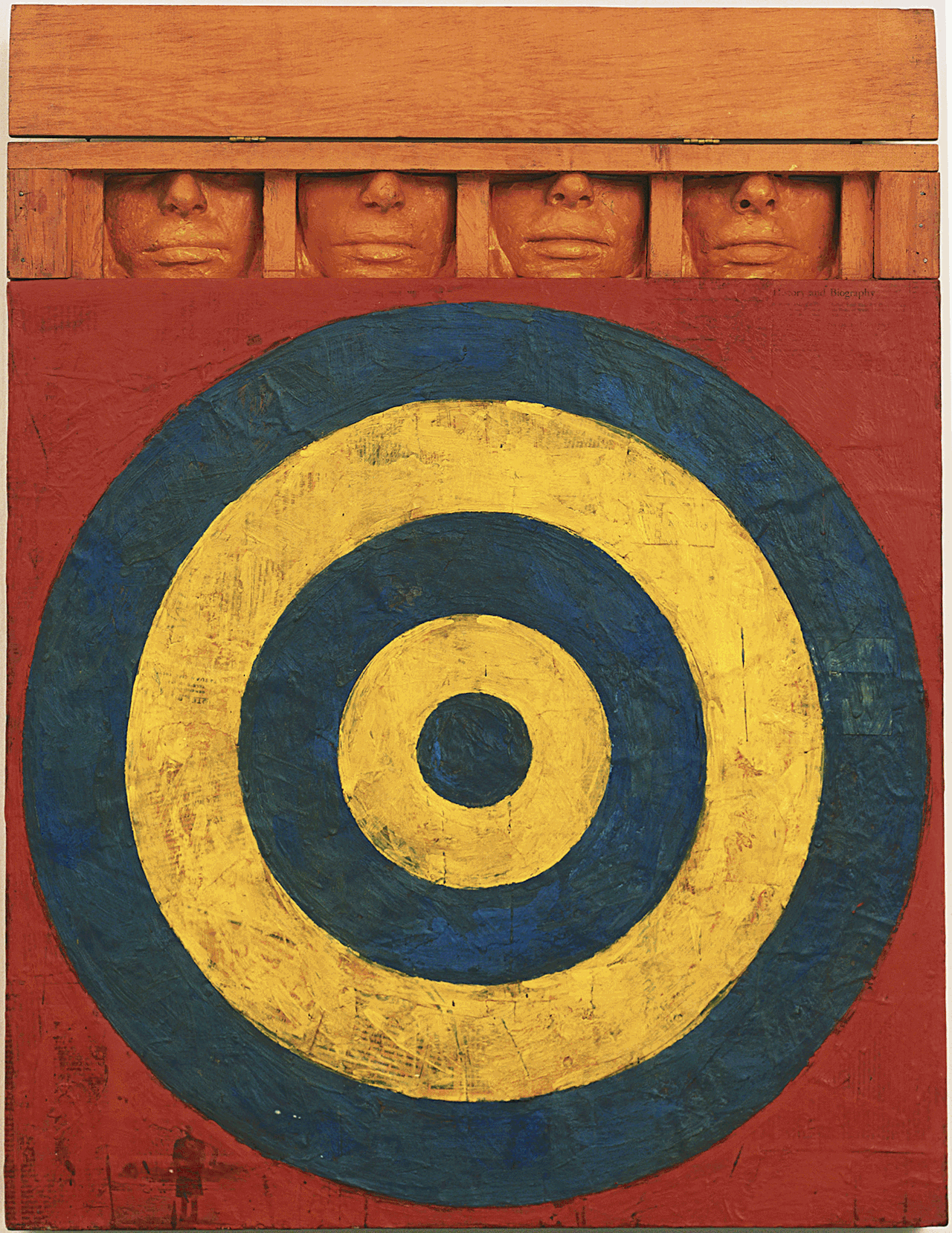 17. Jasper Johns, Target With Four Faces, 1955
Jasper Johns rose to fame in the 1950s, the heyday of Abstract Expressionism. But he is usually placed in the Neo-Dada or the Minimalist school of Pop Art. Johns liked to use familiar objects that "the mind already knows."
The image of the target emerges in John's work in 1955, in paintings that incorporate frieze like arrangements of plaster casts taken from parts of the body.
Target with Four Faces links looking and aiming. It features an eyeless deadpan depiction of an actual target that is, for all practical purposes, utterly interchangeable with the real thing. The flat target is simultaneously representational and abstract, which makes it ambiguous.
Address: St. Alban-Graben 20, 4052 Basel, Switzerland
Hours: Tues-Sun 10:00 am to 6:00 pm, open Wed until 10:00 pm, closed Mon
Entry: 25 €, Free Tues-Fri after 5:00 pm, Under 29 8 €
18. Salvador Dalì, Lobster Telephone, 1936
When one thinks of Spanish Surrealist artist Salvador Dalì, his extravagant persona and iconic waxed mustache immediately leap to mind. Dalì was a self-proclaimed dandy, a showoffy megalomaniac who loved nothing more than creating a sensation. He avidly embraced money and fame.
READ: Guide To the Dali Museum in Figueres Spain
The Lobster Telephone is a classic example of one of Dalì's Surrealist objects. It's created from the weird conjunction of two items not normally associated with each other, resulting in something both playful and menacing.
Dalí believed that surrealist objects could reveal the secret desires of the unconscious. Lobsters and telephones had strong sexual connotations for Dalí. The lobster telephone also appears in his paintings in the late 1930s.
Address: Bankside, London SE1 9TG, UK
Hours: Sun-Thurs, 10:00 am to 6:00 pm, Fri-Sat, 10:00 am to 10:00 pm
Entry: free, except for special exhibitions
19. Ernst Ludwig Kirchner, Potsdamer Platz, 1914
Kirchner is one of the most famous artists of the German Expressionist movement. He used strange colors (look at that green!) and abstract shapes. Kirchner said he didn't want to paint the world as it actually was, but "as he experienced it."
Potsdamer Platz shows two prostitutes in Potsdamer Platz, Berlin's most congested square. Scenes like this were the focus of Kirchner's work. He painted a very different picture of life in Berlin from the mainstream view of the time.
Potsdamer Platz forms part of Berlin's Neue Nationalgalerie collection. It can be admired at the Hamburger Bahnhof while the Neue Galley is under construction.
Address: Invalidenstrabe 50-51 Berlin Germany
Hours: Tues-Fri, 10:00 am to 6:00 pm, Sat-Sun 11:00 am to 6:00 pm, closed Mon
Entry: 14 €
20. Raoul Dufy, The Electricity Fairy, 1937
This splendid Raoul Dufy mural measures 10 x 60 meters. It's the world's largest painting. It was commissioned to decorate the curving walls of the Pavilion de L'Electricite et de la Lumiere at the 1937 World's Fair in Paris.
Dufy's fauvist painting was inspired by the story of the Electric Fairy from the ancient Roman poet Lucretius's poem On the Nature of Things. It's in Paris' Museum of Modern Art, which is one of Paris' free museums.
The composition is divided into two main themes: the history of electricity, and its various modern applications. It took 10 months to complete. It's a marvel, with Dufy's characteristic bright, clear and luminous color palette. When viewing it, you can't help but feel wrapped in a 360 panorama and part of Dufy's vision.
Musée d'Art Moderne de la Ville de Paris
Address: 11 Avenue du Président Wilson, 75116 Paris, France. Until Fall 2019 entrance is on 12-14 avenue de New York – 75116 Paris
Hours: Tues-Sun, 10:100 am to 6:00 pm
Entry: Free except for special exhibitions
21. Salvador Dalì, Face of the Great Masturbator, 1929
The name of this painting is a little shocking, isn't it? And Dalì meant it to be.
The Face of the Great Masturbator is a glimpse into the anxious 25 year old psyche of the Surrealist artist. He had just met his future wife, Gala Dalì, who appeared in so many of his paintings. The Great Masturbator is an odd, otherworldly self-portrait that swirls with sexual angst and erotic thoughts.
And it's got plenty of Dalì symbols — the distorted human rock head, the grasshopper that he feared, a swarm of ants (death motif), a phallic lily flower, and a trickle of blood. It's topped with a portrait of Gala, the likely inspiration for the painting.
Museo Nacional Centro de Arte Reina Sofia:
Address: Calle de Santa Isabel 52, Madrid
Hours: Mon, Wed-Sat 10:00 am to 9:00 pm, closed Tues
Entry: 12 €, free admission on Mon 7:00 to 9:00 pm, Wed-Sat 7:00 to 9:00 pm, Sun 1:30 to 7:00 pm
22. Marc Chagall, The Birthday, 1915
Though he was born in a provincial town in Russia, Marc Chagall became a pioneer of the modernist movement. He absorbed ideas from Fauvism, Surrealism, and Cubism. But he still preferred figurative paintings, although he adopted a flowing, supernatural style.
In The Birthday, Chagall painted his wife's birthday. It has Chagall's signature joie de vivre vibe. Chagall had just married Bella. The vibrant painting is an ode to their passionate union. As Chagall said, "love and fantasy go hand in hand."
If you're in Paris, you can also see a gorgeous Chagall painting at the glamorous Opera Garnier. In 1964, Chagall painted a mural on the opera house ceiling. He was 77 at the time and it was an act of love. He donated it to the opera house gratis.
The Chagall mural has his trademark features — luminous prismatic colors, dreamy details, and poetic lyricism. If you look closely, you'll see that it's an homage to music. It features 14 composers from different musical periods, musical instruments, and Paris' signature buildings.
Address: Abandoibarra Etorb., 2, 48009 Bilbao Spain
Hours: Tues-Sun 10 am to 8 pm., closed Mon
Entry: Adults: 13 €, Youth free
Address: 8 Rue de Scribe, Place de l'Opera 75009 Paris
Hours: 10:00 am to 4:30 pm, Guide tours in English are at 11:00 am and 2:30 pm
Entry fee: 14 €. Not included in Paris Museum Pass
Metro: Line 3, 7, or 8 to Opera
23. Joan Miró, The Caress of a Bird, 1967,
What a treat the Miró Foundation in Barcelona is. It's rare to see a large group of Miró paintings. In this fabulous single artist museum, you're surrounded by them. Miró himself founded the museum in 1975.
The colorful sculpture La Caresse d'un Oiseau, or Caress of a Bird, is part of the Miró Foundation's permanent collection, found on the rooftop. Miró created the statue when he lived in Mallorca.
The original statue was cast during WWII. But it was recast in the 1960s when deterioration was noticed. The work displays Miró's typical palette of bright primary colors, with his common theme of the female form.
Joan Miró Foundation, Fundació Joan Miró, Barcelona
Address: Parc de Montjuïc 08038 Barcelona
Hours: Nov to Mar 10:00 am to 6:00 pm, Apr to Oct 10:00 am to 8:00 pm, Closed Mondays
Entry fee: 13 €, under 15 free
24. Salvador Dalì, Gala Contemplating the Mediterranean Sea, 1976
I have another Dalì for you. This one, though, is found at the Salvador Dali Theater and Museum in Figures Spain, an easy day trip from Barcelona.
The pink museum is a surrealist object itself, encrusted with stone bread and eggs. You enter via the Grand Hall, which has a light-infused ceiling that's a glass sphere.
On the left wall is Dalì's Gala Contemplating the Mediterranean Sea. It's a clever double image. At first, it appears to be a cubist abstract with a central nude. You see Gala standing with her back to the viewer. When you step back 20 meters, however, the head of Abraham Lincoln appears.
Dalì was inspired by a scientific article exploring the number of pixels an artist needed to make a human head. Using 120 pixels, Dalì created this painting as a meditation on the dual nature of things. It was also an homage to Mark Rothko, who Dalì met in New York.
Address: Gala-Salvador Dalì Square, 5 E-17600 Figueres
Hours: Closed Mondays,
Entry fee: General entrance 14 € / Museum by night 15 €. Students 10 €
Pro Tip: There's not a lot of explanatory signage in the museum. You may want to book a guided tour or pick up a guide book at the museum.
25. Yves Klein, Blue Monochrom, Yves Klein
Artist Yves Klein aimed to capture beauty and reveal it to the world. Klein was part of the New Realism art movement of the 1960s. But he also had an enormous influence on Minimalism and Pop Art.
In 1960, Klein created nearly 200 blue monochrome paintings. The Pompidou Center's piece is a large version of his famous IKB (International Klein Blue). Klein registered the ultramarine IKB as a trademarked color. For Klein, the color blue monochrome represented abstraction in nature, "disengaged from all functional justification."
Address: Place Georges-Pompidou, 75004 Paris, France
Hours: Wed to Mon 11 am to 10 pm, Thur open until 11 pm, closed Tues
Entry: Adults: 15 €, Youth free
26. Paul Cezanne, The Card Players, 1894-95
Card games have typically been depicted as tawdry affairs, moralizing about the pitfalls of drinking and gambling. A prime example is Georges de la Tour's The Cheat With the Ace of Diamonds at the Louvre.
But Cezanne broke that mold, with a simple quiet scene. It's a traditional subject that Cézanne renders unconventionally.
Both Matisse and Picasso have remarked that Cézanne "is the father of us all." In this painting, Cezanne experiments with modern devices — composition, geometry, and tension. Cezanne painted slowly and this painting is similar to his well-admired still lives. The best and most complex version of The Card Players is in the Barnes Foundation in Philadelphia.
Address: 1 Rue de la Legion d'Honneur
Hours: 9:30 to 6:00 pm, except closed Mondays. Open until 9:45 pm on Thursdays
Entry fee: € 16
Metro: Solferino
27. Henri Rousseau, The Snake Charmer, 1907
Henri Rousseau became a full time artist at the age 49, after retiring from the Paris customs office. The job prompted his famous nickname, "Le Douanier Rousseau," which means "the toll collector." Rousseau was a self-taught naive artist. His best known works, like this painting, are lush jungle scenes.
Some derided him as untalented. But others, like Picasso and Kandinsky, hailed him as a genius for exposing the "new possibilities of simplicity." Rousseau's works have an oddly appealing exoticism and uniqueness.
Some critics say his bright colors and dream-like themes also inspired the Surrealist Movement.
Address: 1 Rue de la Legion d'Honneur
Hours: 9:30 to 6:00 pm, except closed Mondays. Open until 9:45 pm on Thursdays
Entry fee: € 16
Metro: Solferino
28. Gustav Klimt, The Kiss, 1807-08
Gustav Klimt was an Austrian Symbolist painter. He was a prominent member of the Vienna Art Nouveau, aka the Vienna Secession, a group who broke away from traditional paintings.
Klimt's glittering The Kiss is the artist's Golden Period masterpiece, housed in Vienna's sumptuous Belvedere Palace. Set against a black wall, the gorgeous The Kiss is a sumptuous celebration of love set in a speckled golden haze. It portrays two lovers in densely embellished robes, locked in a tight embrace and enveloped by golden light.
The woman is completely encircled by her lover's arms, almost in a golden cage. The male is a self portrait of Klimt himself. He cradles her face and leans in to kiss her. The absence of eyes means the viewer can't quite glimpse their intimacy.
READ: The Gustav Klimt Trail in Vienna
Address: Upper Belvedere: Prinz-Eugen-Strasse 27, 1030 Vienna
I hope you've enjoyed my guide to the modern art masterpieces of Europe. You may enjoy these other art travel guides:
If you'd like to put these modern art masterpieces on your art bucket list for Europe, pin it for later.