There's not one great thing but many small, beautiful things that make our city and region special." — Proprietor, N°5 Wine Bar, Toulouse
Here's my guide to visiting the beautiful and underrated city of Toulouse in southwest France.
This Toulouse travel guide covers all the top attractions and best things to do and see in Toulouse. You'll discover the top must visit churches, museums, and landmarks in Toulouse. I also give you must know tips for visiting Toulouse.
I arrived via TGV from beige Paris to colorful Toulouse, a city set ablaze with reds, pinks, and oranges.
Known as La Ville Rose, Toulouse is easy to fall for. Here's my "pink city" travel guide to Toulouse's must see sites, grand architecture, and museums.
Although Toulouse is supposedly pink, it's a bit difficult to decide what color it really is — pink, red, or orange. It changes, moodily and to sultry effect, depending on the angle of the sun and time of day.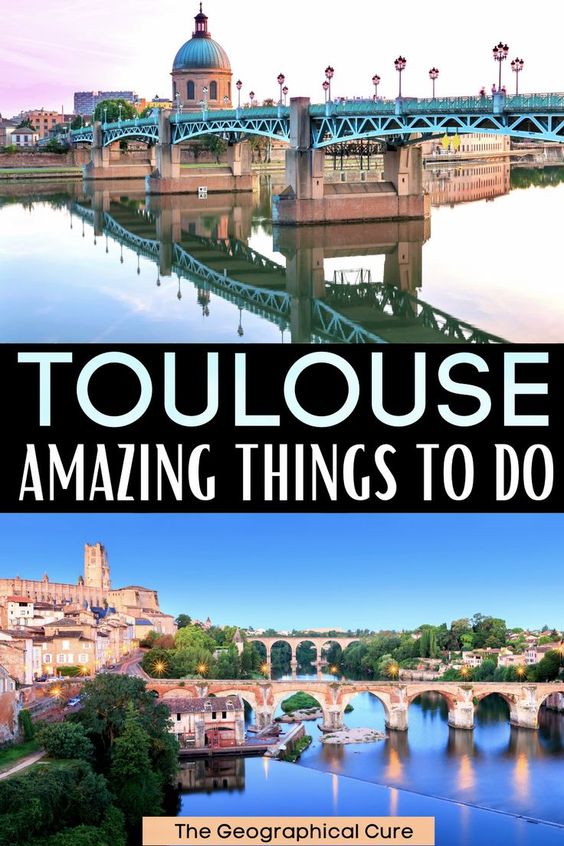 What's definite is that Toulouse is a feast for the eyes. It's a lovely, relaxing city with infinite restaurants, blushing churches, fascinating architecture, and a delicious regional cuisine.
Definitely not your Haussman Paris. And definitely not the overwhelming crowds of Paris. Toulouse is stress free in comparison, with a laid back friendly vibe.
Wrapped in pink, I ambled the cobbled streets and wandered in and out of churches and museums. Toulouse is a place to relax and enjoy life.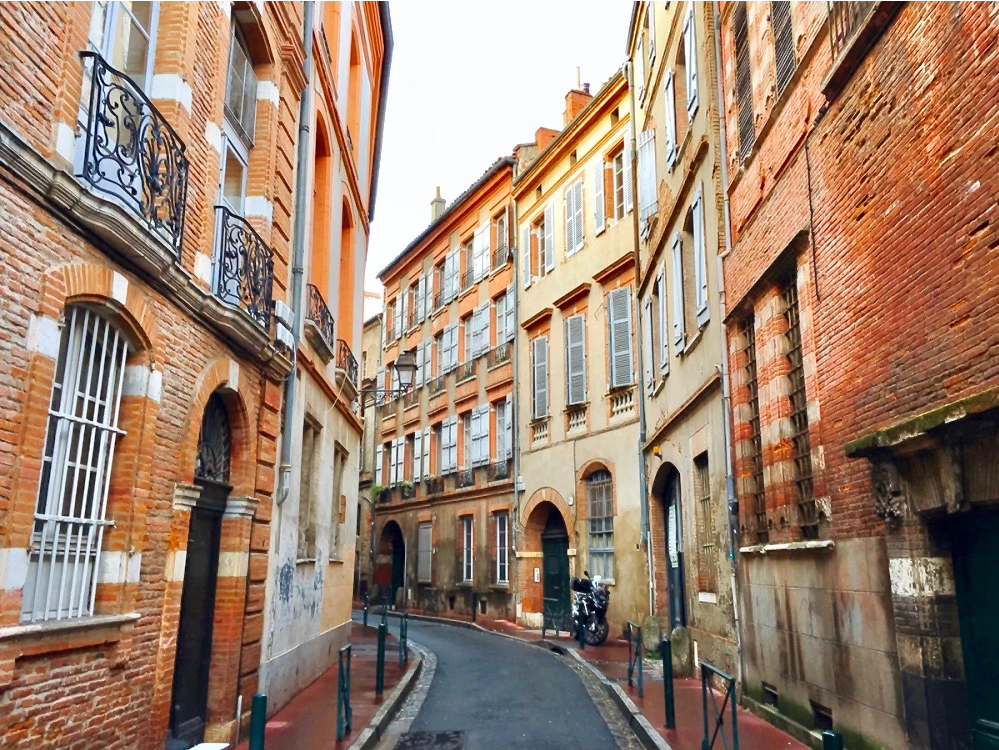 Top Attractions in Toulouse
Here's my list of the top attractions and best things to do in the lovely Toulouse, which I would gladly return to again and again.
1. Walking Tour
Start off with a walking tour of the cobbled lanes in the historic center to get oriented. You can book a small group sightseeing walk with a local. Or a private walking tour or a private history tour.
2. Place du Capitole
The Place du Capitole is the heart of Toulouse, the grand central square of the city. It's Toulouse's city hall and has been the seat of government since the 12th century.
Pedestrianized since 1995, the Place is lined with lavish red brick buildings. It has a polished marble floor emblazoned with the Occitan cross, a medieval symbol of the region.
There are plenty of cafes under the arcades, or covered arches. If you look up, you'll see an impressive collection of 29 paintings depicting episodes from the city's history.
The Capitole building is rooted in history. It's here that the Bishop of Toulouse, St. Saturnin, was martyred in 257 A.D.
The Romans occupied the building in the 13th century and it was a barracks during the French Revolution.
In 1873, the famous architect Eugène Viollet-le-Duc built a bell tower in the Flemish style atop the 16th century donjon in back of the building.
The Capitole itself is a grand Neo-Classical palace, reminiscent of London's Buckingham Palace and the city hall in Nancy France.
On the first floor, a grand staircase takes you to the over the top Salle des Illustres, whose flamboyant paintings call for some neck straining. (Not surprisingly, the Salle is a popular wedding venue in Toulouse.)
One of the Salle's most intriguing paintings is of Paule de Viguier. Her beauty was so extraordinary that she was called a "wonder of the world."
She was forced to appear on the balcony of the Capitole once a week to allow herself to be admired by the public.
Mostly, though, the Place du Capitole is where Toulousains and tourists congregate. It is a central hotspot filled with shops, cafes, and restaurants galore.
You can easily wile away time people watching over a glass of wine. A popular spot, where you'll have to vie for a table, is Le Florida.
At night, the Capitole is lit up, to stunning effect.
Address: Place du Capitole
Hours: Open daily 8:30 am to 5:00 pm, closed Saturday
Entry: free
3. Convent of the Jacobins
Founded in 1215, this monastery is a southern Gothic masterpiece. It's a prime attraction in Toulouse, and yet still an oasis of peace and quiet.
The convent was badly damaged during the French Revolution, but was restored in the 1950s. You can still see some of its 14th century frescos.
The adjacent church is exquisite and houses a column that resembles a "palm tree," called the "Palm of the Jacobins." It is an architectural wonder made up of a double nave and star-shaped vault under a massive column.
There is a floor mirror for you to view the unusual palm tree. It's one of the most photographed spots in Toulouse.
The convent also houses the relics of the philosopher Thomas Aquinas, sometimes called the Aristotle of Christianity.
Each year on January 28, his feast day, a service is held honoring the saint.
Address: Parvis des Jacobins
Hours: 10:00 am to 6:00 pm Tuesday-Sunday
Entry: 4 €, Church is free
4. Musée des Augustins
Set in a massive 14th century convent, the Musée des Augustins is Toulouse's finest art museum. It was definitely my favorite museum in Toulouse.
Musée des Augustins houses a treasure trove of Roman, Gothic, and Renaissance sculpture. And it has an eclectic cache of paintings from the 17th-20th centuries, including art by Rubens, Ingres, Delacroix, Courbet, and Rodin.
It even has a few prints by Toulouse-Lautrec, who was born in nearby Albi and is the region's celebrated son.
READ: Guide To the Toulouse-Lautrec Museum
The medieval cloister and garden are especially magical, surrounded by salons filled with evocative statues, sculptures, and gargoyles.
The museum's Jorge Prado Exhibition, with modern lights set against a terra cotta backdrop, is simply exquisite. The exhibit showcases the museum's collection of romanesque capitals.
The capitols, reflecting bible scenes, are placed atop modern pillars and lit with hanging lanterns. Instantly, the exhibition become an iconic feature of Toulouse, and is now a permanent display.
Address: 21 Rue de Metz
Hours: 10:00 am to 6:00 pm Wednesday-Monday
Entry: 4 €, Under 18 free
5. The Basilica of Saint Sernin
The Basilica of Saint Sernin is the top attraction in Toulouse. It's Toulouse's medieval heart.
The church is a magnificent well-preserved Roman basilica, and one of the greatest churches in France. It is Toulouse's most defining landmark. Built between 1080 and 1120, it's now a UNESCO site.
Saint Sernin is a fine example of Romanesque architecture in the characteristic Toulousian red brick, designed in a crucifix.
The basilica is holy ground in Toulouse. The site houses the remains of its eponymous 4th century saint.
Saint Sernin was Toulouse's first saint. He met his death in gruesome fashion, when pagans tied him to a bull and dragged him down the Rue du Taur (the Street of the Bull) in 250 A.D.
The basilica is also considered an essential stop on the pilgrimage road to Santiago de Compostela. Pilgrims:
"flock to the church not only to venerate the saint, who now lies in a baroque sarcophagus, but to see all the other saintly relics that rest here. They lie in chapels and two levels of crypts, along with a piece of the True Cross, which is in an enameled copper reliquary made in the 12th century."
On the weekends, the St. Sernin area is known for its Saturday brocante market, or vintage market, and its Sunday marché aux puces, or flea market.
Address: 3 Place Saint Sernin
Hours: 8:30 am to 7:00 pm Monday-Sunday
Entry: 2.5 € adults, 2 € children, free with Toulouse Pass, online tickets
6. Cathedral Saint-Etienne
Saint Etienne is also known as Toulouse or Saint Stephens Cathedral.
It's a 13th century Gothic-Romanesque structure, and a curious confusion of architectural styles. It has a lovely gothic nave, rose window, tapestries, and stone sculptures.
Originally, the Roman part was supposed to be destroyed. But funds ran out.
So the Gothic part was built adjacent to the Roman structure, creating a disconcerting confluence of architectural styles.
Address: Place Saint-Etienne
Hours: Daily 8 am-7 pm, Sun 9 am-7 pm, late opening on Thursday until 8:00 pm
Entry: 8 € (full price), 5 € (reduced rate), 2 € during the late opening
7. Quartier Saint Cyprien and Les Abattoirs
Across the Garonne River from the town centre, lies a quiet oasis, the neighborhood of St. Cyprien.
Start off with a plate of oysters at Madame Ginette's stall outside the covered food market, then wander across to the Matou, Europe's biggest poster museum.
Next, see avant-garde art at Les Abattoirs. Les Abattoirs was founded in 2000. Gruesomely, it was once a slaughterhouse in Toulouse.
Now, it's re-purposed as a well-lit and airy modern and contemporary art gallery. It has over 2300 works of art. Impressive Fernand Leger mosaics decorate its brick exterior.
The museum isn't for everyone. But if you like contemporary video art and installations, it will suit. One highlight is a theater curtain Picasso painted in 1936.
There's a series of "solid light films" by artist Anthony McCall. You walk through hazy, dimly-lit rooms while shards of light beam down, accompanied by eerie music.
The museum has frequent exhibits. When I was last summer, there was an astonishingly good and well-presented exhibit by the Spanish sculptor, Eduardo Chillada.
Address: 76 Allées Charles de Fitte
Tickets: € 4
Hours: Wednesday to Sunday from 12:00 pm to 6 pm, late closing Thursday until 8 pm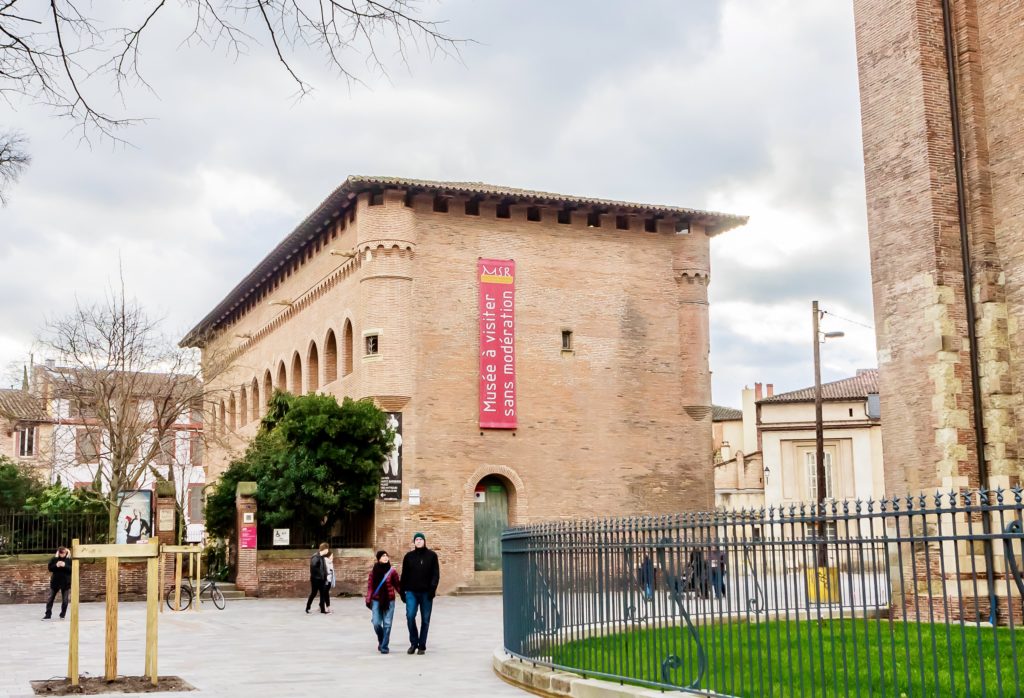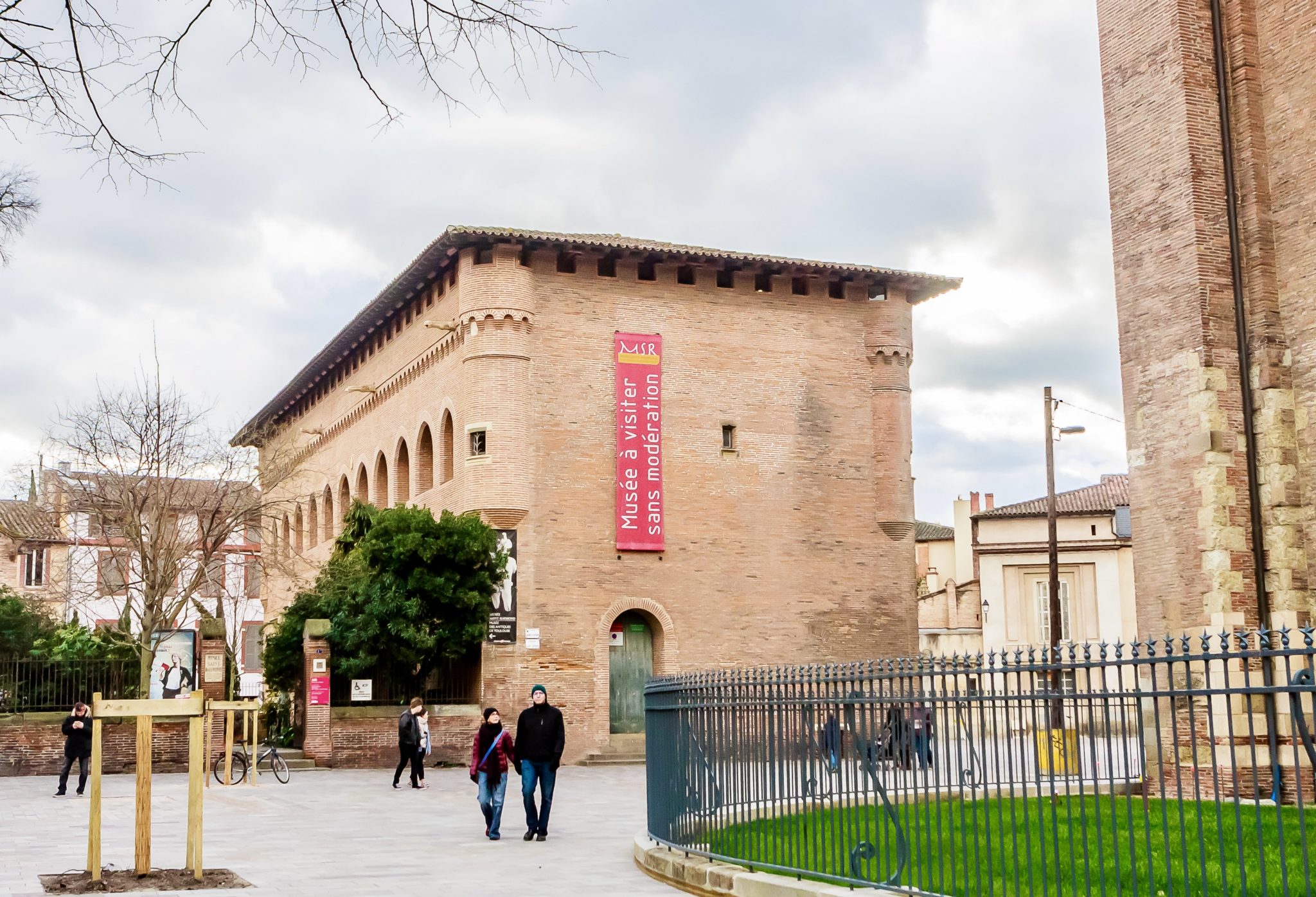 8. Musee Saint-Raymond
Located right next to the Basilique Saint-Sernin, the Musée Saint-Raymond is a top attraction in Toulouse if you have an interest in Roman history or archaeology. It's housed in a brick medieval building.
This little gem of an archeological museum was built on the site of a former necropolis. Inside, you can find a marvelous collection of artifacts dating back to Roman times.
They include sculptures and mosaics from the Roman villa of Chirigan, which dates from the 1st century A.D. You'll also see a "family tree" of Emperor Augustus. Apart from the Louvre, the Saint-Raymond has the most important collections of Roman bust in France.
There are two floors where you can discover the collections. There's also a cave, funerary artifacts, tombs, and an archaeological site.
Address: 1 ter Pl. Saint-Sernin
Hours: Open every day except Monday from 10:00 am to 6:00 pm
Entry fee: €5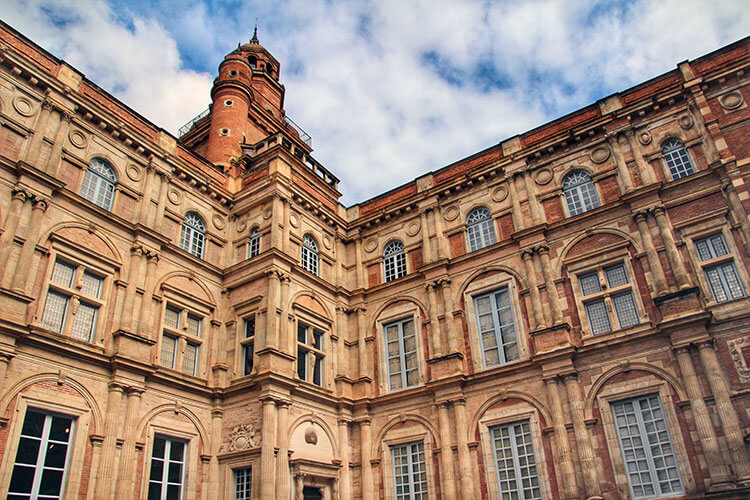 9. Toulouse's Grand Mansions
Toulouse is just brimming with gorgeous grand mansions from the 16th and 17th centuries, when Toulouse's merchants had unparalleled prosperity due to the pastel trade. Some of them are even open to the public.
The one that you shouldn't miss is Hôtel d'Assézat, known as the Fondation Bemberg. It is a 16th century palace and a hidden gem in Toulouse.
It houses a prestigious, if uneven, private art collection of medieval and impressionist art and antiques. It's not Paris of course.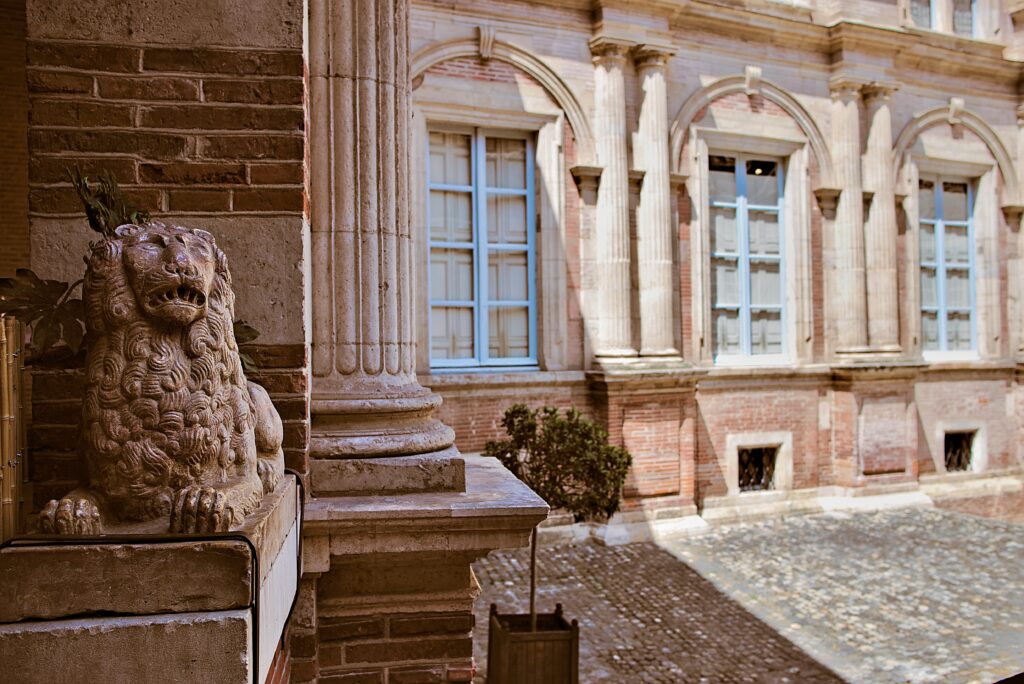 But the Bemberg Fondation has over 50 works by Pierre Bonnard, the Impressionist painter, and works by Picasso, Sisley, Degas, and Monet.
There's a Pointillist Room with Paul Signac works. There are even some works by Toulouse-Lautrec, though one wonders why the works are not in his eponymous museum in Albi.
The Fondation closes between 12:30 and 1:30 pm, which can be a bit of a nuisance, so plan your time there accordingly.
Address: Place d'Assezat
Hours: 10:00 am to 12:30 pm & 1:30 pm-6:00 pm Tuesday-Sunday
Entry fee: Full price 8 €, reduced price 5 €, Under 7 years Free
10. Toulouse Markets
Toulouse has several atmospheric covered markets, where you can indulge in the city's famed culinary delights. The best is Les Halles Victor Hugo, home to the top food producers.
It was built in 1892, and renovated in 1959. While the building itself is undistinguished, it is situated among the lovely mansions of Toulouse.
Inside, you'll find over 100 stalls selling a mouth watering array of beautifully displayed food, including salami, cheeses, fruit preserves, fish, meat, foie gras, chocolates, breads, and pastries.
The French really know how to eat. The market is considered one of the most prestigious food markets in France, and is really a must see. You can visit it on a 3.5 hour guided food tour.
There are cafes, bars, and 5 restaurants on the upper level of the market. Four times a year, there is a Victor Hugo Festival where you can stock up on victuals and listen to live music from 6:30-10:30 pm.
Victor Hugo Market:
Address: Place Victor Hugo
Hours: Open daily except Monday, 6 am to 2 am
11. Street Art: L'Enfant au bonnet d'âne
L'Enfant is a sculpture by rising Toulouse street artist James Colomina, who specializes in surprise installation. Colomina's sculptures are installed in a public space, and then often abruptly withdrawn and installed elsewhere.
L'Enfant is a life-size red resin sculpture of a child in a donkey or dunce's cap. The sculpture is perched on a non-accessible spot on the 16th century Pont Neuf overlooking the Garonne River. L'Enfant is intended to represent people stigmatized and isolated by society.
Famously, in the summer of 2017, L'Enfant was stolen by petty thieves. Police recovered the sculpture and Colomina cleaned and restored it to its iconic spot, deciding that the Pont Neuf was where "it was destined to be."
Many tourists mistake the sculpture for a devil or demon. You can even buy souvenirs of L'Enfant in many of Toulouse's shops and museums.
12. N°5 Wine Bar
In 2017, N°5 Wine Bar was voted the best wine bar in the world. It's a relaxed hipster spot with an expert-level menu for oenophiles.
You can purchase a prepaid card to access up to 30 wines from the Enomatic wine by the glass dispenser. Or, there is an impressive wine list offering 300 wines by the glass and more than 3300 wines by the bottle.
It is also a small and lively tapas bar. The cuisine is a gourmet French take on tapas: creative nibbles like truffled egg, scallop carpaccio, grilled artichoke, and plates of local cheese and charcuterie.
Just be sure to make a reservation if you plan to eat there because the place is tiny.
Address: 5 rue de la Bourse
Hours: Open daily except Monday from 6:00 pm to 12:00 am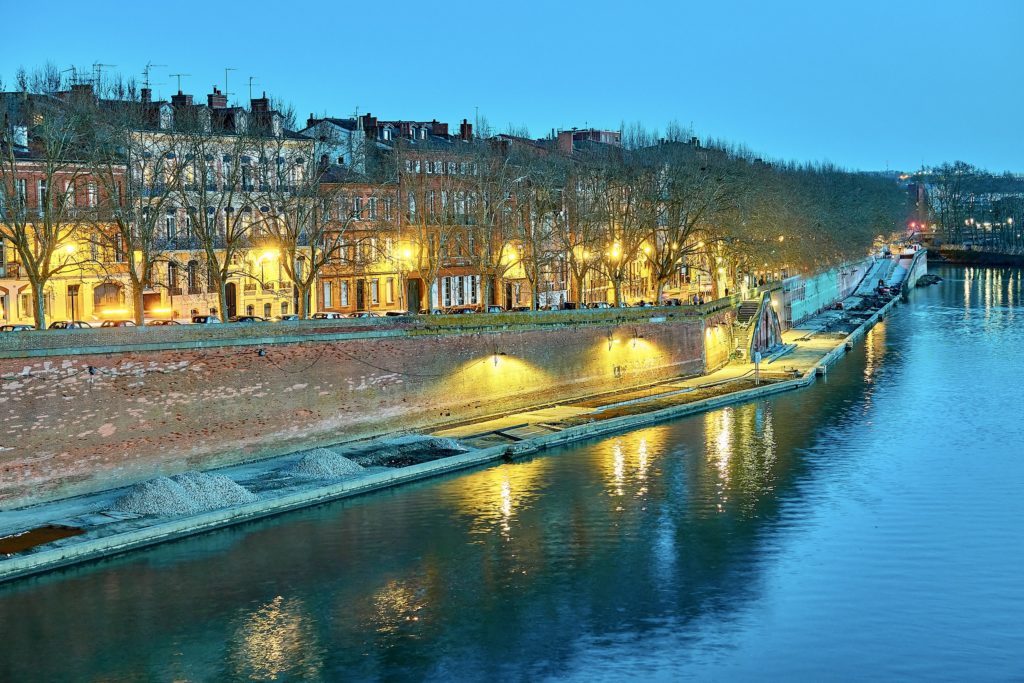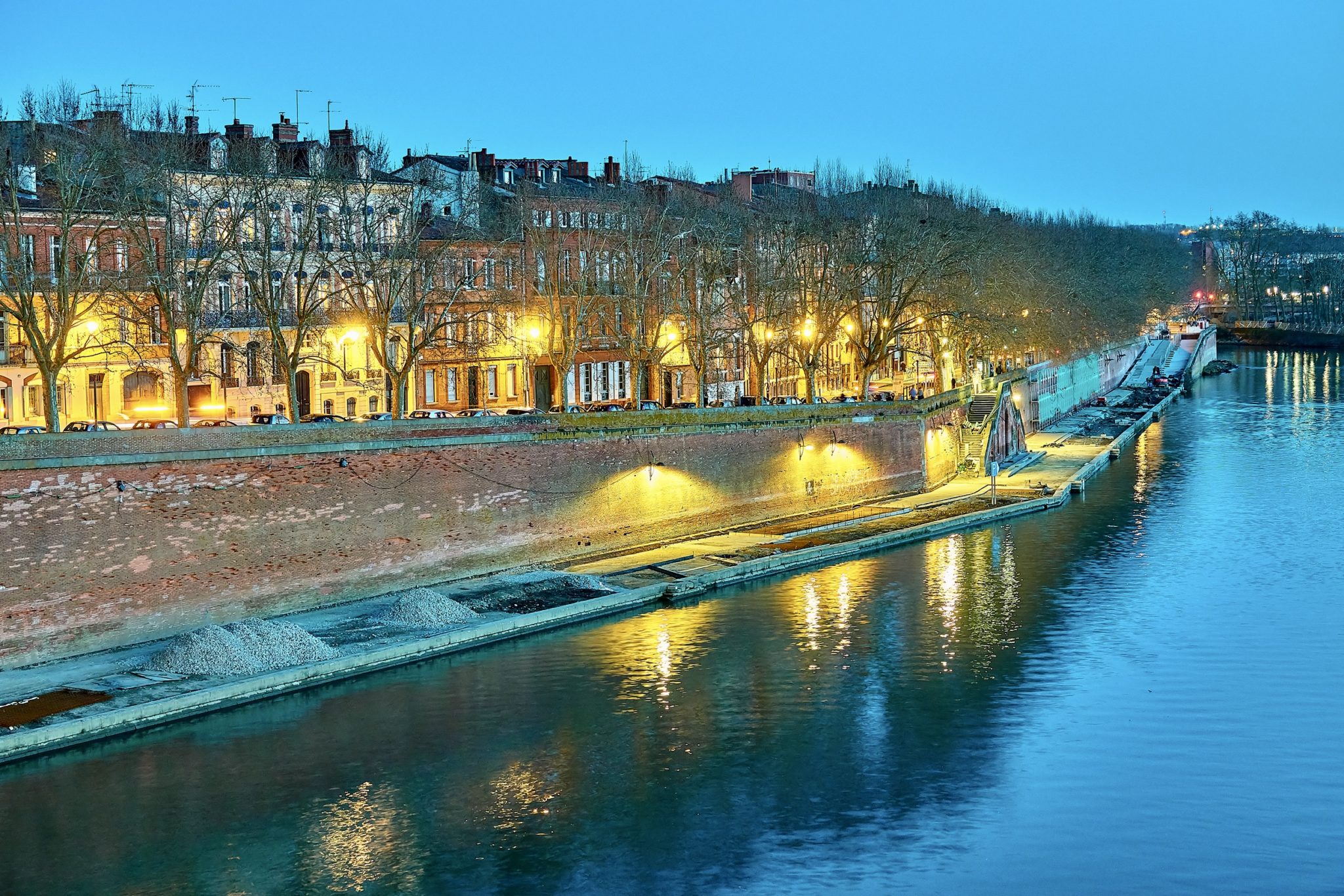 13. La Daurade Promenade
La Daurade is the promenade located on the banks of the River Garonne.
The river is one of the most popular attractions in Toulouse, both for visitors and locals. Once the sun is out, you'll see half the city's population siting on the banks or the quai.
The Daurade is a good place to take a sunset stroll and admire Toulouse's many old world monuments. you will get to see both bridges, the dome of La Grave hospital's chapel, and the big wheel.
It's a nice place for a picnic and there are some good restaurants nearby.
14. Canal du Midi
Running for about 150 miles, UNESCO site Canal du Midi links Toulouse with the Mediterranean Sea. The canal is up to 65 feet wide and is about 6.5 feet deep, and is the oldest navigable canal in Europe.
It is lined on both sides by the tall trees, providing shade and a peaceful ambiance. Locals using the banks for either cycling or jogging, and you can too escape in nature away from the teeming buzz of the pink city.
You can rent bikes or take a boat excursion lasting up to 2 hours or the entire day. Or book a dinner cruise.
15. Cité de l'Espace, The Space Museum
If you're interested in science and space travel, you should not miss the futuristic theme park and museum, Cité de l'Espace.
It's an interactive museum where, according to one of the museum's designers, "the general public could come to learn what space exploration was all about, and how it's done." If this sounds similar to the Air and Space Museum in Washington D.C., you're right.
Take a tour through the original Mir Space Station, gaze up at the towering Ariane space rocket, and vicariously experience travel to Mars. There is even special a playground for children called the Little Astronaut Square.
In July 2017, a completely renovated planetarium reopened with cutting edge technology.
Address: Avenue Jean Gonord, Parc de la Plaine
16. Carmes Neighborhood
I stayed in Toulouse's fetching Carmes neighborhood, in a lovely renovated red brick Air Bnb with an interior courtyard and stained glass windows.
I was absolutely entranced by this neighborhood. Carmes feels like a small village with ancient streets and an authentic, slightly hipster vibe.
And the architecture and architectural details are stunning. I fell in love with the colorful doors and windows.
Les Carmes is also home to a myriad of small organic food markets, restaurants, music shops, and small cafés.
It's a perfect neighborhood to stay in Toulouse and only a few minutes walk from the Garrone River and the Capitole.
17. Eglise du Taur
The Eglise du Taur is a 14th century Roman Catholic Church. It commemorates Saint Sernin, who was martyred on this very spot.
The church is a bit dark inside, but don't let that deter you. Inside, you will find a beautiful gilded fresco retracing the history of Saint Sernin.
Address: 12 Rue du Taur
Hours: 2:00 pm to 7:00 pm Monday to Saturday. Sunday open 10:30 am to 12:30 pm
Ticket: Free to visit
18. Cruising
Taking a cruise along the Garonne River is the perfect way to see Toulouse's top attractions. Cruises are offered by Les Bateaux Toulousians on the Quai de la Daurade. Cruises last about 75 minutes and operate from March to October.
Tips for Visiting Toulouse's Top Attractions
Here are some must know tips for your visit to Toulouse.
1. How To Get To Toulouse
Toulouse is easily accessed from Paris via high speed TGV from the Gard du Nord. Toulouse also has an International airport, the Toulouse-Blaganac Airport.
From the airport, you can take a tram, shuttle bus, or taxi to the city center. You can also book a private transfer.
2. How To Get Around Toulouse
Toulouse is a very walkable city. You can also take a guided bike tour, a guided e-bike tour, or take the hop on hop off tourist bus.
3. Toulouse City Pass:
You may want to invest in the Toulouse City Pass. You can buy a 1-3 day pass. It gives you free entrance to museums and monuments and discounts on the hop on hop off bus and cruises.
4. Where To Stay In Toulouse
Toulouse has some beautiful hotels to further your cultural experience, with both luxury and historic places to stay.
La Cour des Consuls Hotel and Spa is a stylish luxury property with a lovely terrace and spa.
Le Grand Balcon Hotel is a cool boutique hotel featuring 1930s era decor. Grand Hotel de l'Opera is an elegant boutique hotel with a central location.
Pullman Toulouse Centre Ramblas is a luxury hotel with modern decor.
5. Day Trips From Toulouse
Toulouse makes a great base for day tripping in southern France. Here's my guide to some easy day trips from Toulouse.
In particular, you may want to book a guided tour to the UNESCO-listed town of Carcassonne. Or a half day tour that combines Carcassonne and the Canal du Midi.
Another amazing guided day trip tour takes you to the UNESCO town of Albi and the medieval village of Cordes-Sur-Ciel.
I hope you've enjoyed my guide to the top attractions in Toulouse. You may enjoy these other France travel guides and resources:
If you'd like to visit the top attractions in beautiful Toulouse, pin it for later.